It's the era of hoarding our favorite DVDs and books, and magazines. The world is going digital, making everything hassle-free for us. This is why various techniques are coming up on how to save our space and how to manage our inventories. But what if we do not want to save space and show off our inventories by building beautiful spaces for the same around our houses or studios, or workplaces?
This blog is only for people refraining from their stacks of DVDs and Blu-Ray discs with a digital approach like hard discs, pen drives, or even on your laptops. Yes! We are the ultimate hoarders, and we are proud of it. We have spent years maintaining this gorgeous collection. Going through places to buy a single DVD and reminiscing the era of each Disc. We are sure a curated collection of DVDs will definitely take you through the memory lane of the era, the times we were going through, the breakup phase, and falling in love for the first time. It's like a memory book or a scrapbook of memories.
Looking at such an immense collection, we are sure no one would keep their hands to themselves and spring over these DVDs to play one or two.
Importance of DVD Storage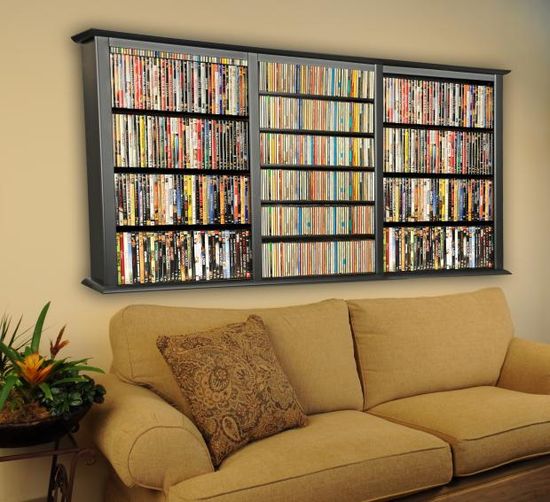 Not only are you taking advantage of physically holding the abundance of media and entertainment, including shows, documentaries, and personal videos. But you are also adding visual interest to your living space. Show off your beautifully designed and curated collection to your friends and house guests. You are never running out of entertainment for life. The internet connectivity can fail you, not this huge storage of DVDs. You also need to consider that liberating the physical space is necessary to make your house look clean and tidy. It will take a considerable amount of your shelves, cabinets, and storage rooms if not organized properly.
De-clutter your collection first by removing the unnecessary or your least favorite DVD. By doing this, not only are you creating space for other meaningful items but bringing some tranquility in embracing the minimalist lifestyle. De-cluttering your DVD storage will enable you to easily access the stacks of the DVDs and your favorite content.
With that being said, let's dive into these 21 fun and amazing DVD Storage Ideas.
1. Old Ladder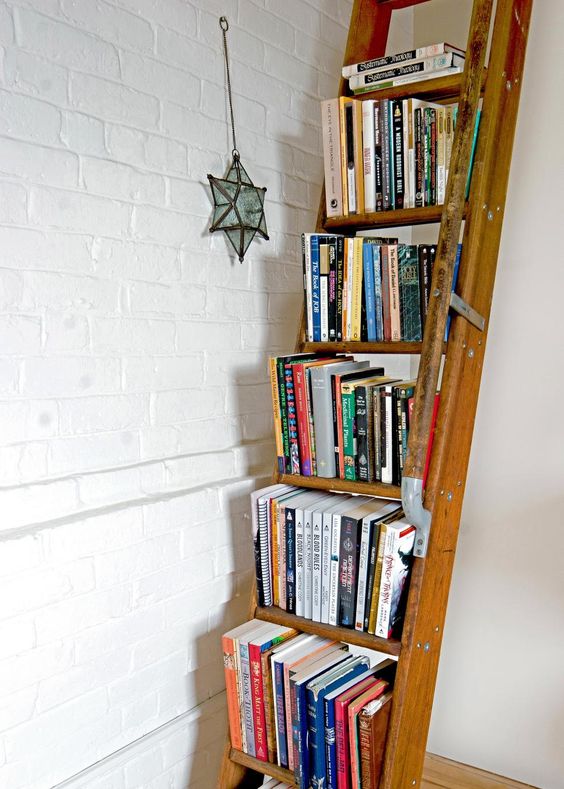 This remains the best yet basic storage idea for your DVDs. Complimenting your wooden frame, the vibrant colors of the DVDs will make it look even more chic yet elegant. Also, why settle for more basic and boring storage shelves when you can give an artistic touch to your basic ladder? Lather some vivid paint colors on your wooden ladder and put a back support to each step so that the DVD can take support while resting on it. The fun part of such ideas is you can keep this ladder or similar type of furniture anywhere in your house, exhibition, or even at your workplace. This can also become a cool display in some of the hotels at their receptions.
2. Wine Shelves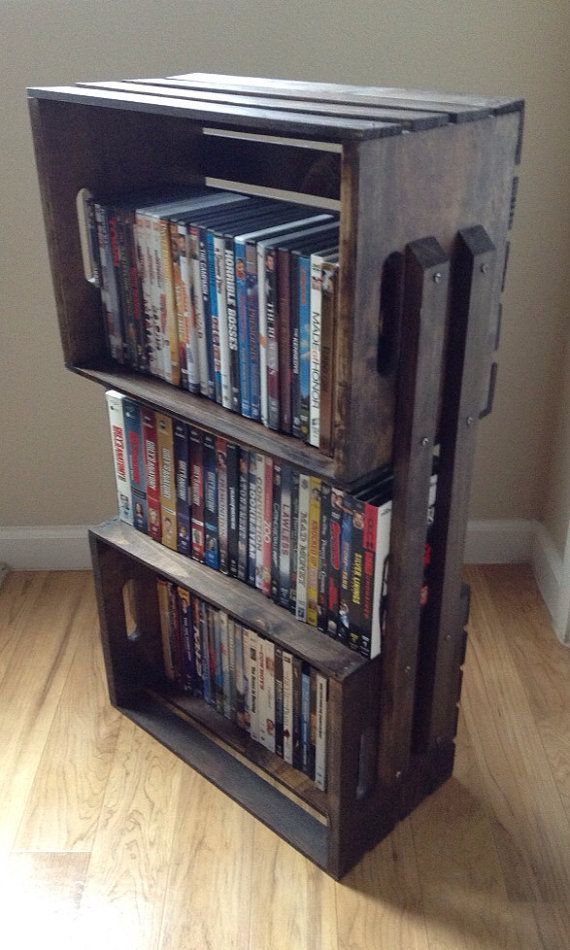 Vintage Wine crates can be repurposed in so many ways, from books to DVDs to some decorative compact show pieces. This is also a wooden frame. However, it's up to your discretion, considering the design and interiors, whether you want to paint these wine crates or not. Mostly it is suggested to leave it as is to give a more raw and earthy touch. You can still refurbish the paint by laying over one coat of wooden paint spray. You can gather 5-6 wine crates together either by pinning them using nails or sticking them using wooden glue.
3. DVD Binders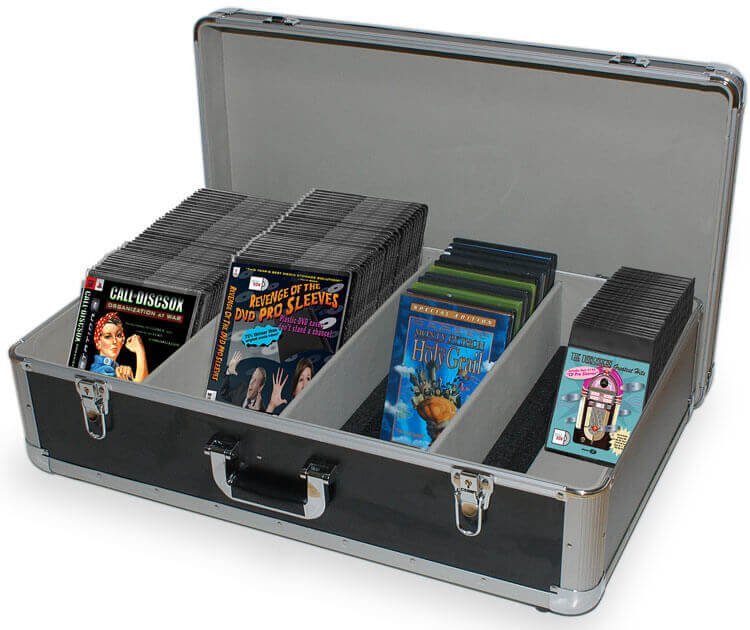 If storage is an issue for a large number of DVDs, you can invest in good and sturdy DVD binders. This is one of the most efficient and compact storage ideas. You can also customize these binders by putting stickers or labels as per the categories. This will make it easy to find your favorite DVD easily. This is the most hassle-free idea for keeping your clusters of DVDs.
4. Customized Lettering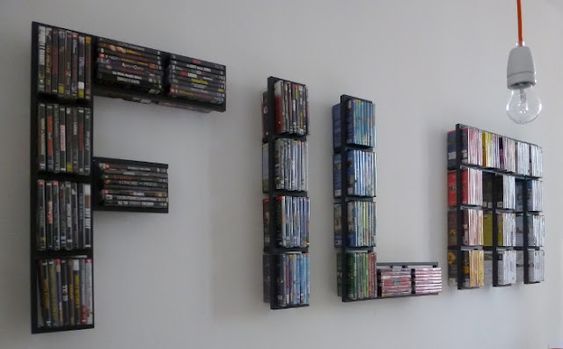 Make a statement with this fashionable storage idea. Reveal your inner artist out and curate big letters where you can fit these DVDs. If you are a hoarder of film DVDs, then curate big lettered boxes saying "FILM." Similarly, you can write DVDs with these boxes as well. Mount these lettered boxes on your wall and then start organizing them based on colors. Start with light colors and then end with darker tones. This will create a hue of colors.
5. Big Corner Cupboard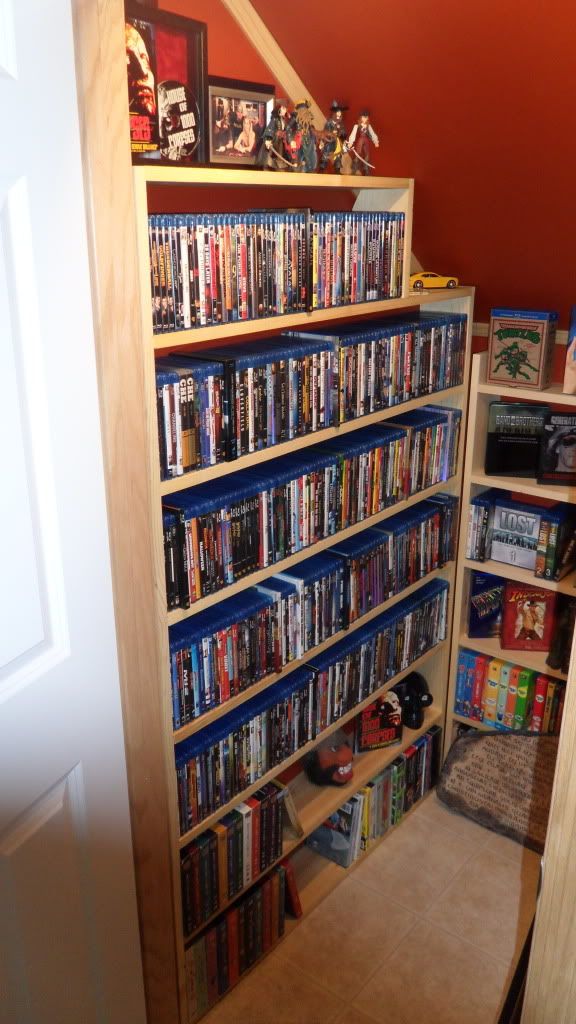 Cupboards are still not out of fashion. If you want to keep the look vintage yet simple, you can always bank on this DVD Storage Idea. Now, painting your cupboard is somewhere you can explore your creative side. The paint color should go with your furniture and the walls you are selecting. While organizing your DVDs, make sure you aesthetically stack them as per the color accordance and themes, as it should not overwhelm the pleasing settings.
6. Floating Shelves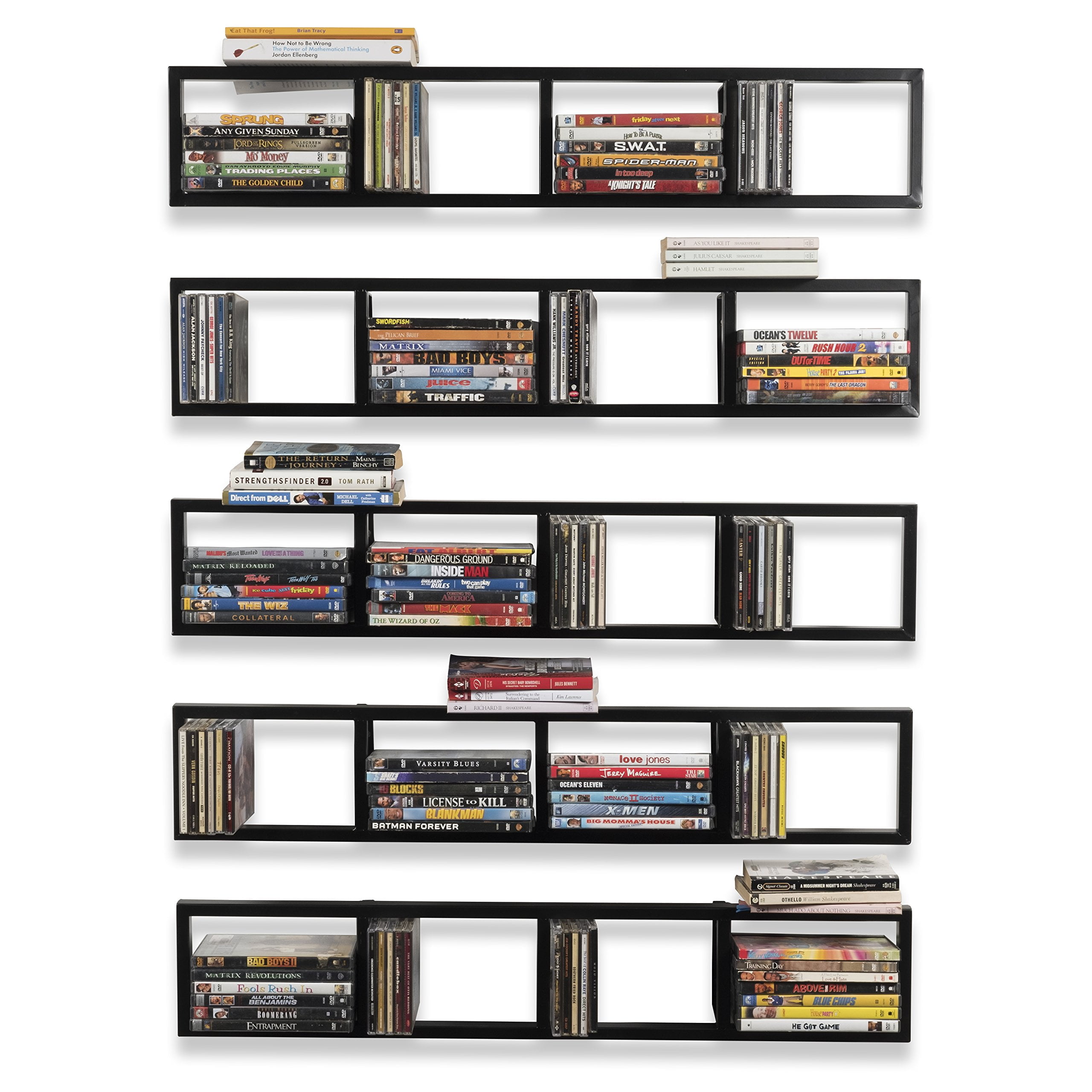 Nothing can go wrong with floating shelves. You can put your books there; you can decorate the shelves with some ornaments, vases, or your favorite DVDs. This is only suitable if you have a minimal collection of DVDs. You can not stack hundreds of them on floating shelves. These shelves can be mounted anywhere; however, this type of setting is most suitable in bedrooms or offices. To give more interest to this, you can add some ferry or LED lights to make this a center of attraction. The color of the lights should adjust with the intensity of your mood or the color palette of your room.
7. DVD Towers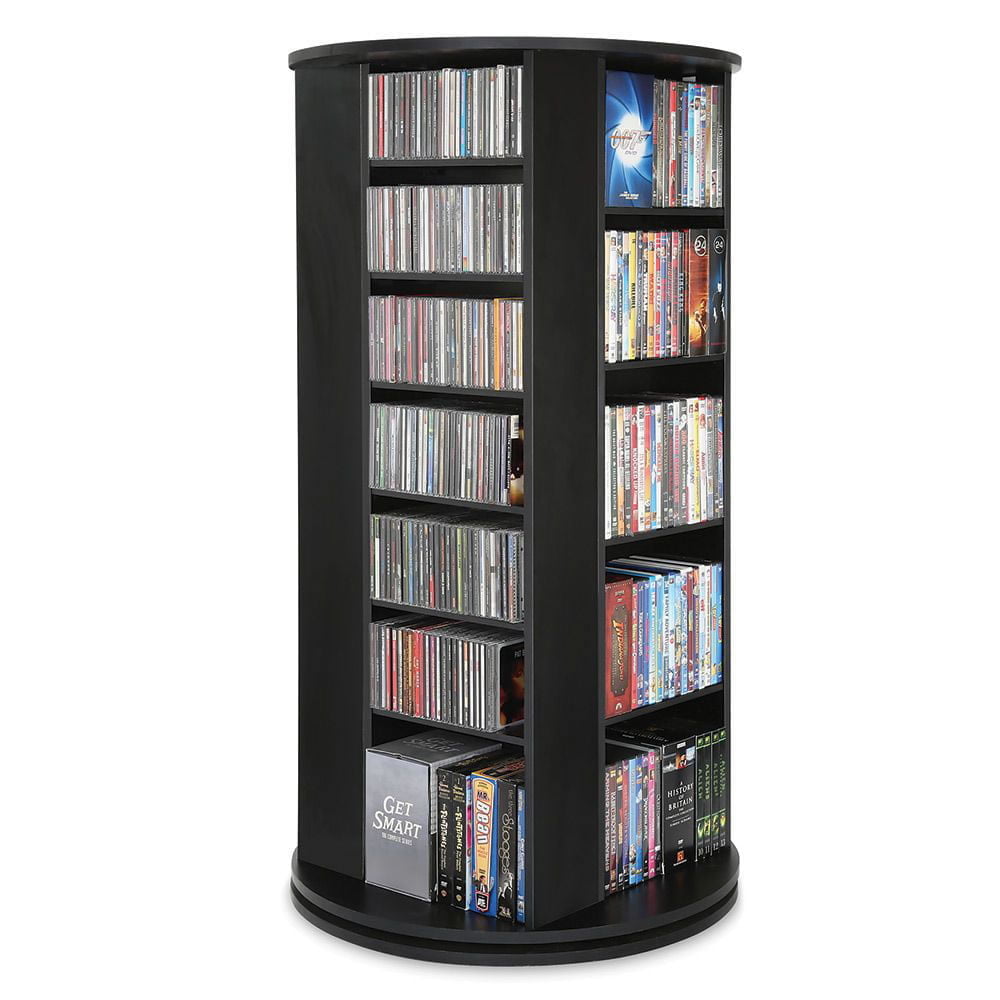 Go beyond your usual and basic DVD towers and build some interesting towers to stack these DVDs. For this idea, explore some innovative designs that will save some space and, at the same time, will add visual appeal to your place. For example, rotating towers, plain rectangular towers, spiral shaped towers. The designs should go with the overall setting of your place. For example, the spiral-shaped towers should go with the gallery-type place and not in your bedroom or drawing room.
8. Full Blown Walls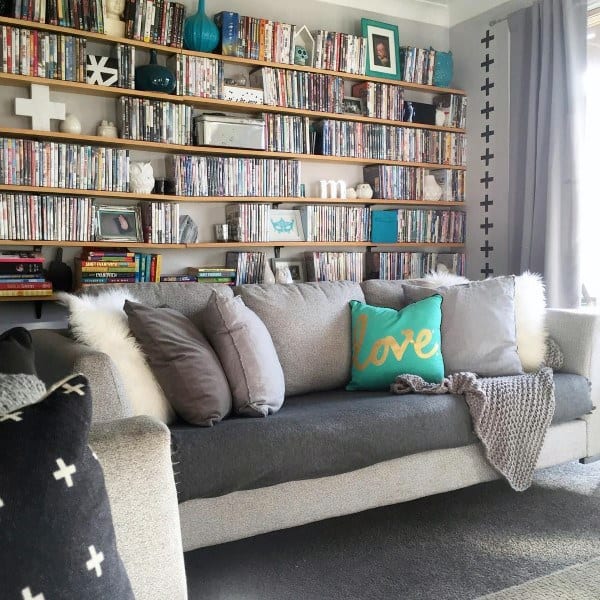 If you are an absolute hoarder of DVDs and you want to go full-blown with the display, then go with this theme. Dedicate the main wall of your living room to these shelves. It is not necessary to have just the DVD there. You can also add books, your other musical instruments, awards, and frames to offer the best visual interest. This is an English Victorian setting, and you can also add a fireplace adjacent to the main wall to keep the place warm and cozy. Do not forget to keep elaborate couches or armchairs.
9. Glass Display Cabinets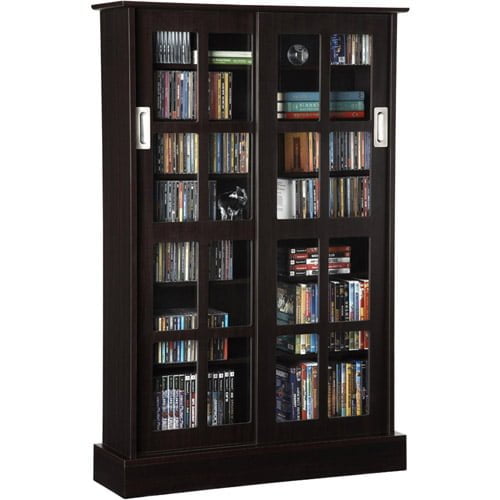 This one is the classy display for your DVD collection. Anything can go with the glass display. However, make sure you give a classy edge to your glass display. Avoid those sliding glass panes which seem to be very simple. Through this, you can show off your collection while keeping them safe and protected from dust and damage. Select a design where you can easily slide the DVD collection and arrange them as per the categories. A glass display cabinet will be suitable in your living room and maybe beside your kitchen. Not just your DVD collection, you can mix and match your DVDs with some books and masterpieces.
10. DVD Storage Closet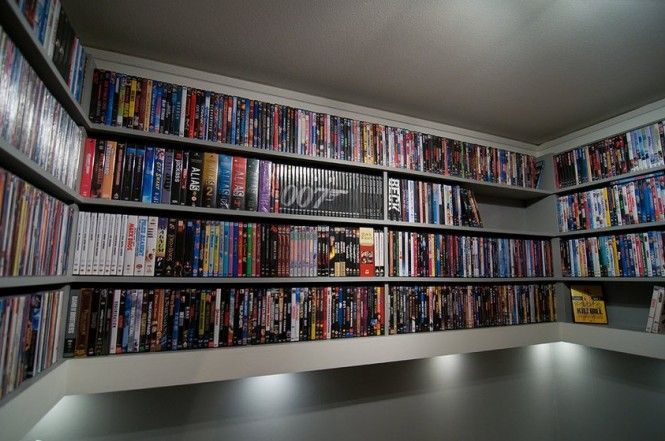 you ever dreamt about a walking closet for your clothes, shoes, or bags? We all have. But if you are a DVD hoarder, you should definitely try building a closet full of DVDs. I know that will take a chunk from your pocket. But you can always try converting your little store rooms into something like this. This will require a little woodwork. You can always use your fashion sense or interior sense to make it something fashionable and chic. Make it look cozy with few sitting as per the space available. This is too accessible and makes you look like an absolute fan of DVDs.
11. Small Storage Boxes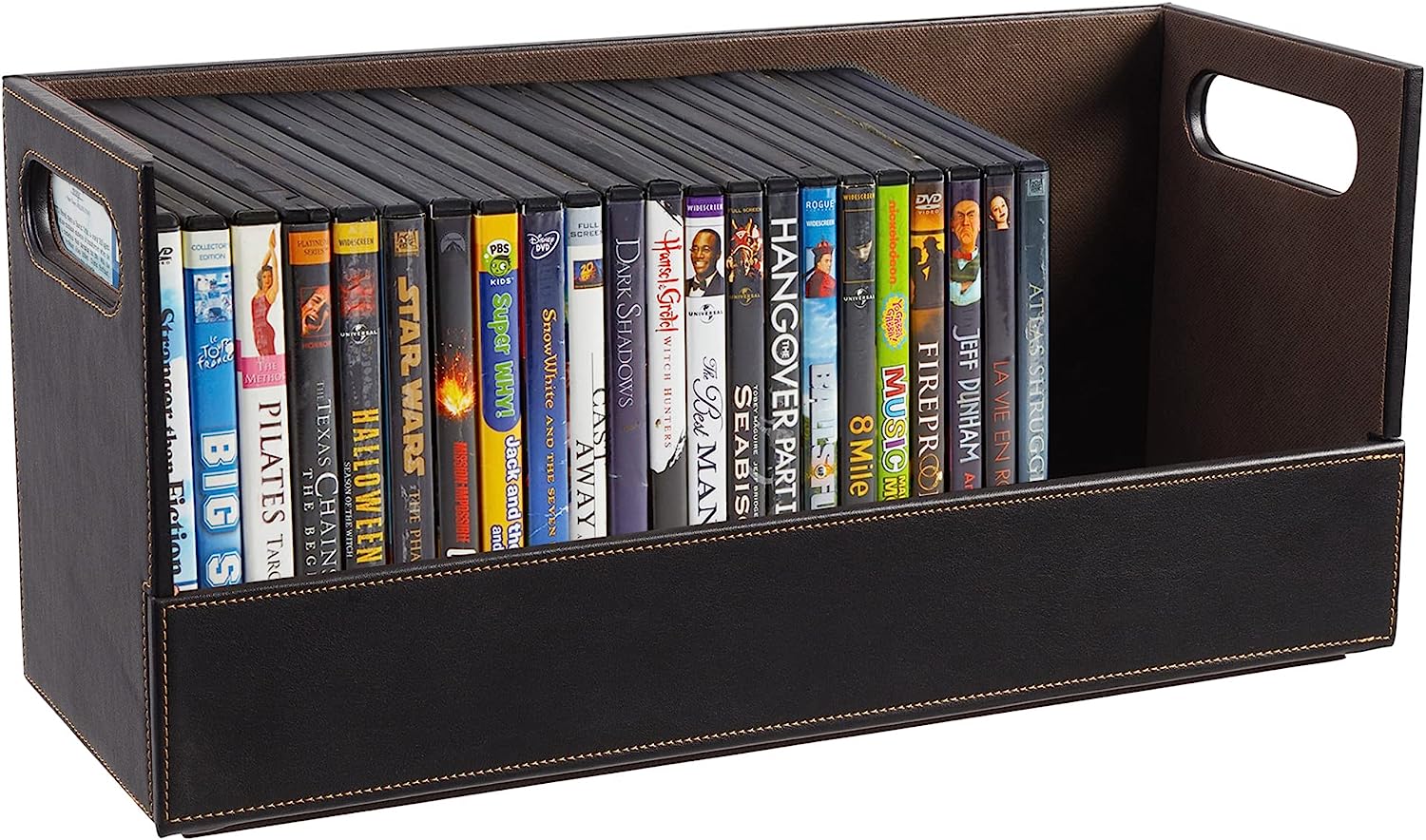 If you are someone who would not prefer showing off your collection and would rather keep it somewhere hidden and safe, then this is the easiest and most accessible way to store your DVD collection. The storage boxes are affordable, and you can easily get them from any supermarket. This is an excellent idea where there are kids and pets. As you know, they have the tendency to rummage through your entire DVD collection. You can get various prints in these storage boxes. Not just the prints, you can get so many options for materials, like jute, plastic, wooden boxes, and so on.
12. Sleek Cabinets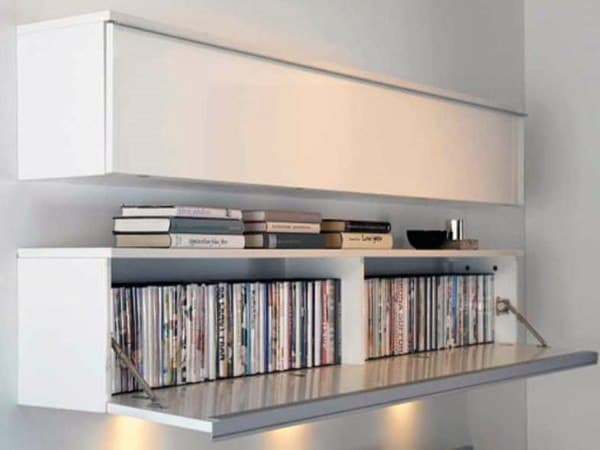 Go beyond your basic storage ideas for a DVD collection. These cabinets will cost you little extra bucks based on their material, the choice of wood, and the paint you would prefer. However, this will give a perfect minimalist look to your place. No one would know what you have kept inside these cabinets. It will be all hidden. It's a rust and dust-proof plan for your storage struggles. With this, you can definitely select different shapes and designs for the cabinet. Make sure you keep it a little basic, as you would want to give a minimalist feels to it.
13. DVD Storage Ottomans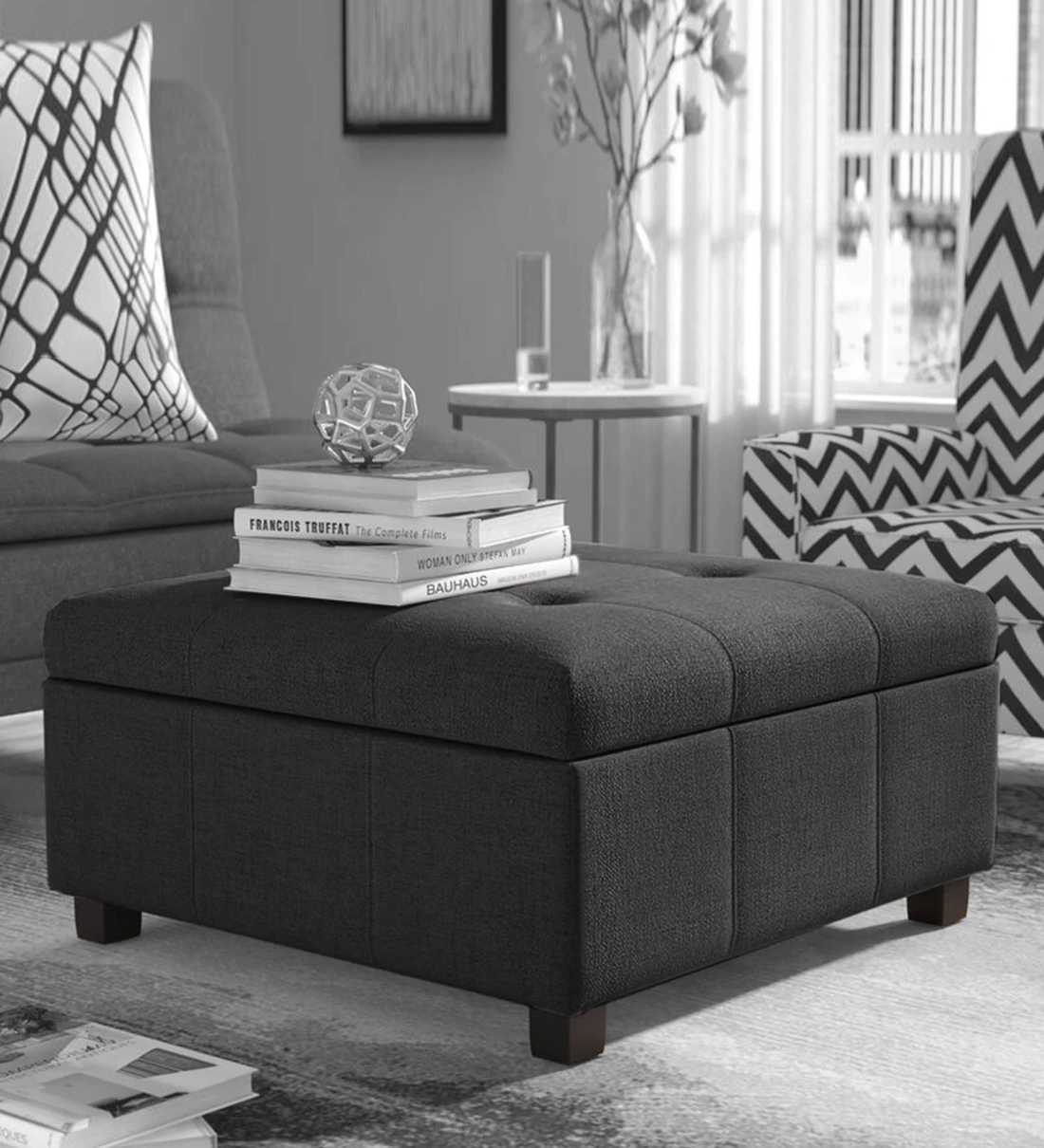 Storage Ottomans have revolutionized the concept of storage altogether for many of us. This is one of the DVD Storage Ideas that is multifunctional. It does not only provide a place for sitting but also helps with ample space for storage. This kind of furniture has various stylish seating options. You can also get a complete bench instead of an ottoman. This versatile furniture also looks beautiful in your bedroom, living room, and even in your walk-in closets. From sleek leather touches to cozy fabric upholstery, there's an ottoman to match every interior style. Not just DVDs, you can keep your books there and your towels and blankets.
14. Storage Under the Stairs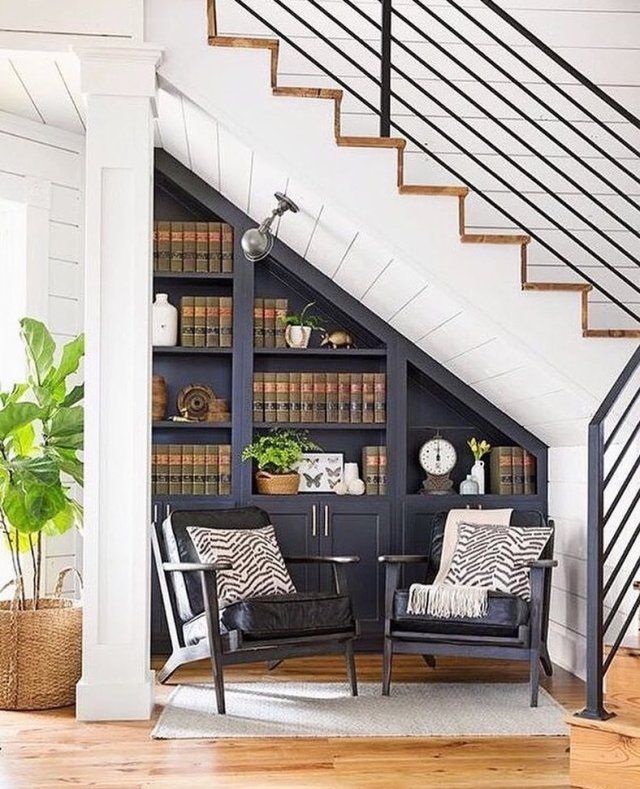 Are you tired of always reusing your old boxes and buying new furniture for every new item you want to store? Well, you have to add this to your home where the stairs are going up. This is a mandate that there should be stairs going upwards so that you can recreate a space for storage. This is a hidden gem and a creative solution for every individual struggling to look for storage. You need to create shelves or drawers to accommodate all the DVDs cleverly. The possibility is lying just beneath your stairs.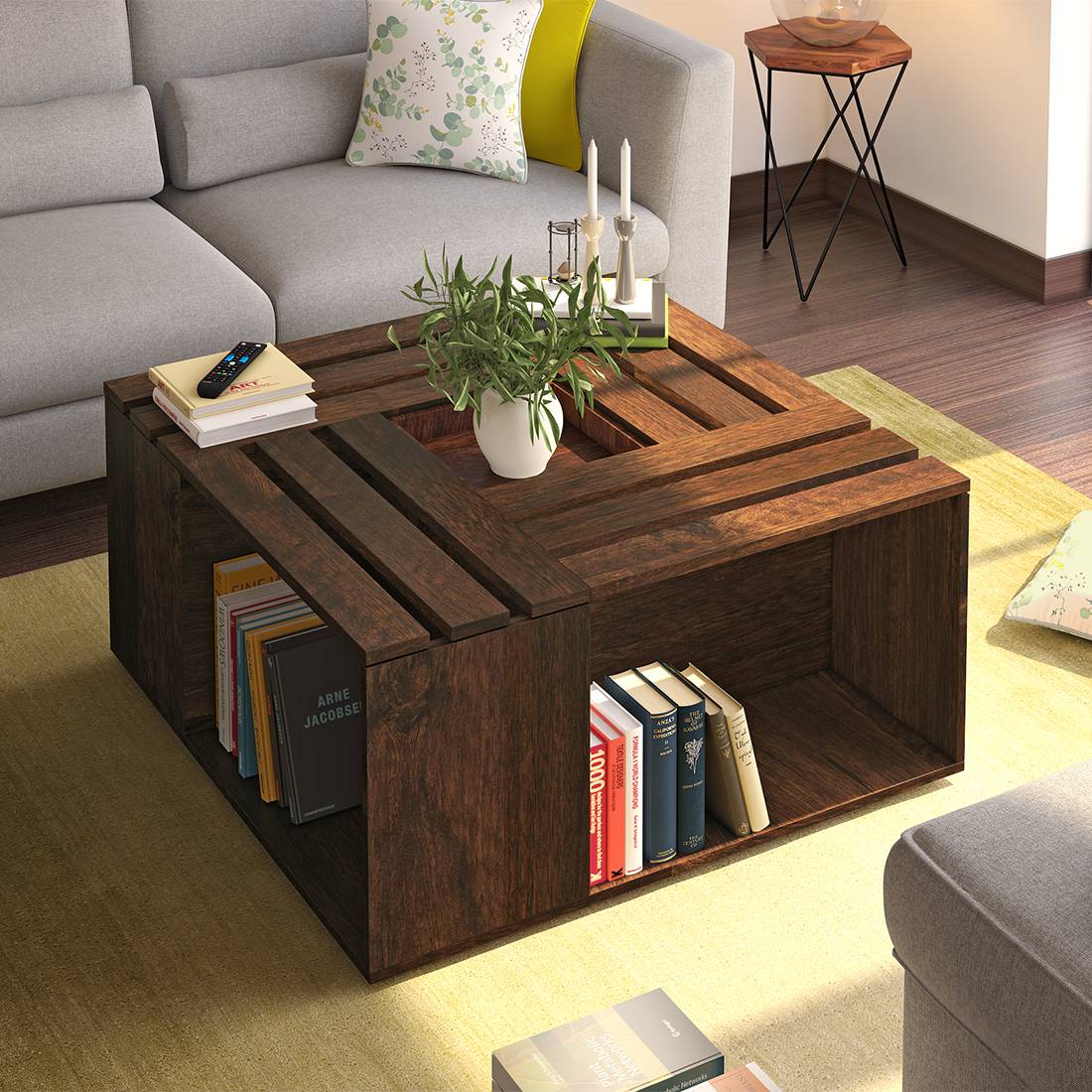 We have got you covered with functional furniture that can do you both. A table from the top and a storage place from the sides. It is a clever solution for all your cluttered places. Make sure to select a sleek exterior to blend with the decor of your house seamlessly. These tables can have drawers or compartments specially designed for DVDs. You can additionally add some spotlights to highlight your DVDs more.
16. DVD Stand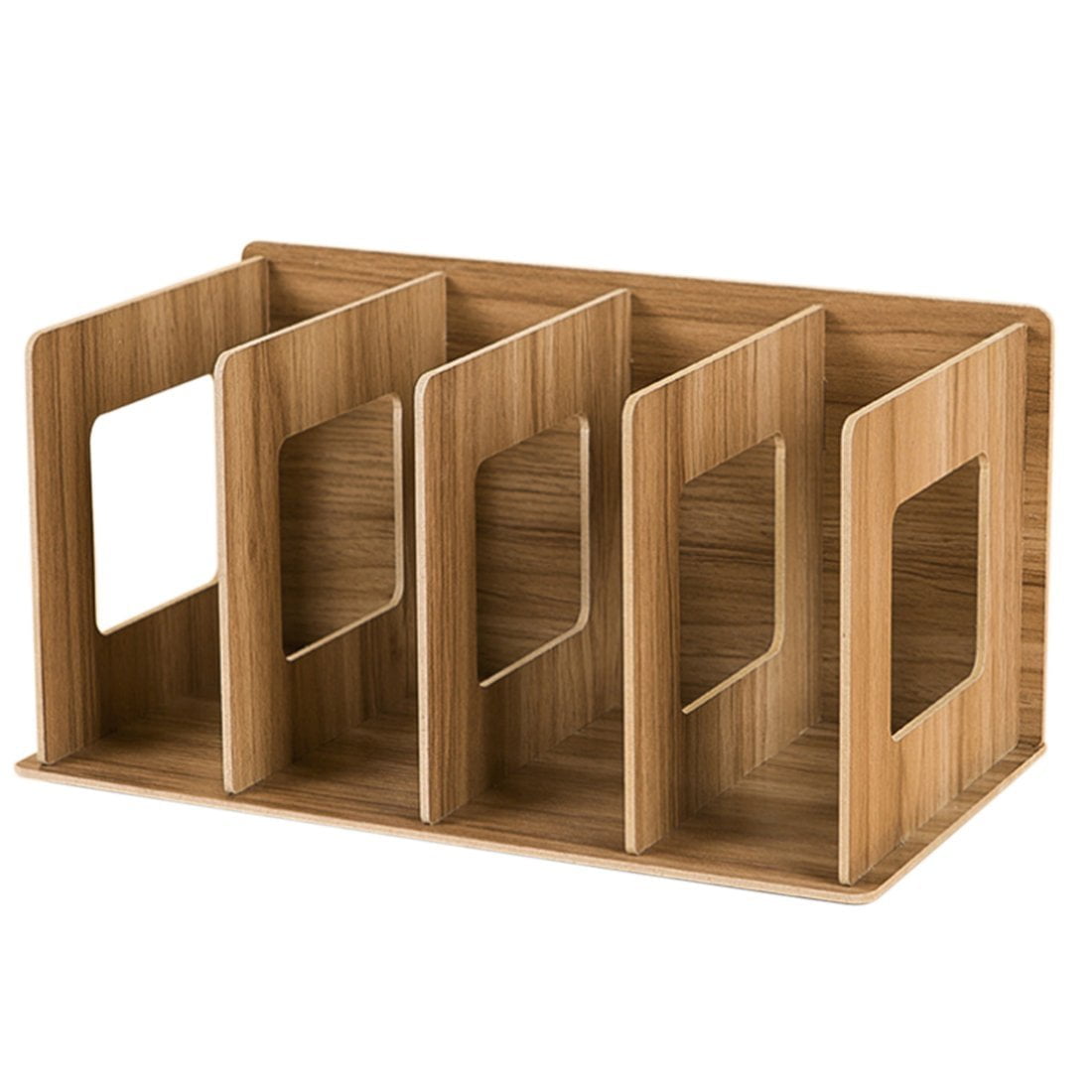 Talking about DVD storage ideas and we will not mention DVD Stands. That is something impossible. There are tons of designs present in the market for DVD stands. Something that revolves, something that is foldable, something that is in tower shape, yet you can convert into various shapes. Not to mention, these are also present in various sizes as well based on the storage requirements. However, you will have to look for extra space to keep these stands.
17. DVD Storage Sleeves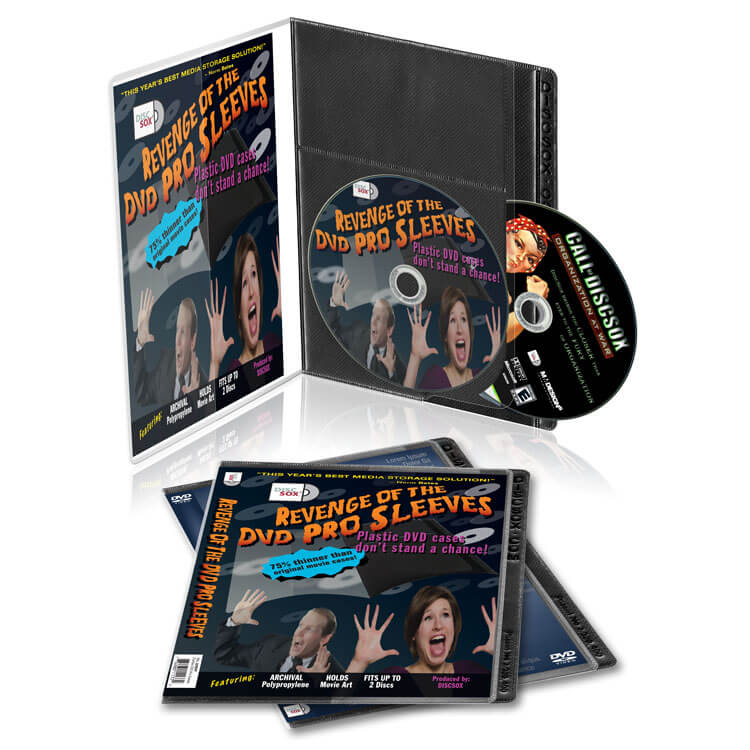 This is a compact and portable storage option. In this, you can also remove the covers of the DVDs and then stack them in these sleeves. The sleeves are made up of classy cloth-like materials which are durable in nature, like nylon and neoprene, and will have separate slots for each DVD. These are very lightweight and foldable. You can fold them and can also keep them in your backpacks or suitcases. If you are looking for something which will minimize the space, then you should definitely try this option which is portable in nature. Various colors and designs will be available in this.
18. Storage Bins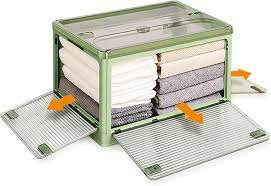 It's like normal bins, which are easily accessible for DVDs and discs. This is one of the versatile storage ideas. We are not recommending those basic plastic bins. You can opt for plastic; there is no harm in that. However, what if we suggest you elevate your basic bins with the kind of materials like jute bins and drawstring clothes hampers that look exactly like those laundry bags? You can stuff these bins with clothes and then can keep the DVDs to give the extra cushioning.
19. Small Storage Boxes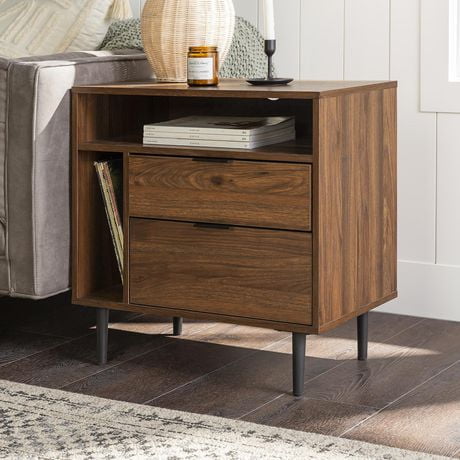 These storage boxes can be anything; a bedside table, a moving table part of your main furniture, a moving wooden box on which you can keep your vases, and so on. Talking about versatility, and we will not mention small boxes? That is impossible. The beauty of this storage idea is you can keep such boxes anywhere and everywhere. The space will not be of much concern. One day you feel like keeping it as a table for your vase, and the other day, you feel like a table for your magazines and a flower pot. But the storage remains intact for your DVDs.
20. DVD Drawer Cabinets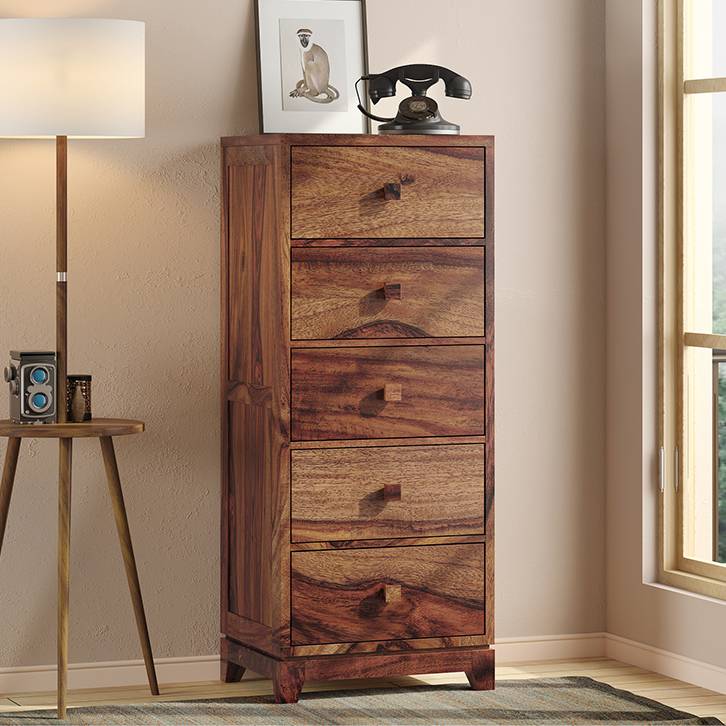 These are compact storage spaces for DVDs, and the drawers will be there to create sections. You can categorize these drawers as per your needs. It is a clutter-free solution and will keep the DVDs handy and easily accessible. This will keep the DVDs safe and protected from rust. The size of the drawers depends on the amount of DVDs you have. Through this, you may not be able to show off your collection as it will get hidden behind bars unless you choose clear and transparent drawers.
21. Bookshelves Storage for DVD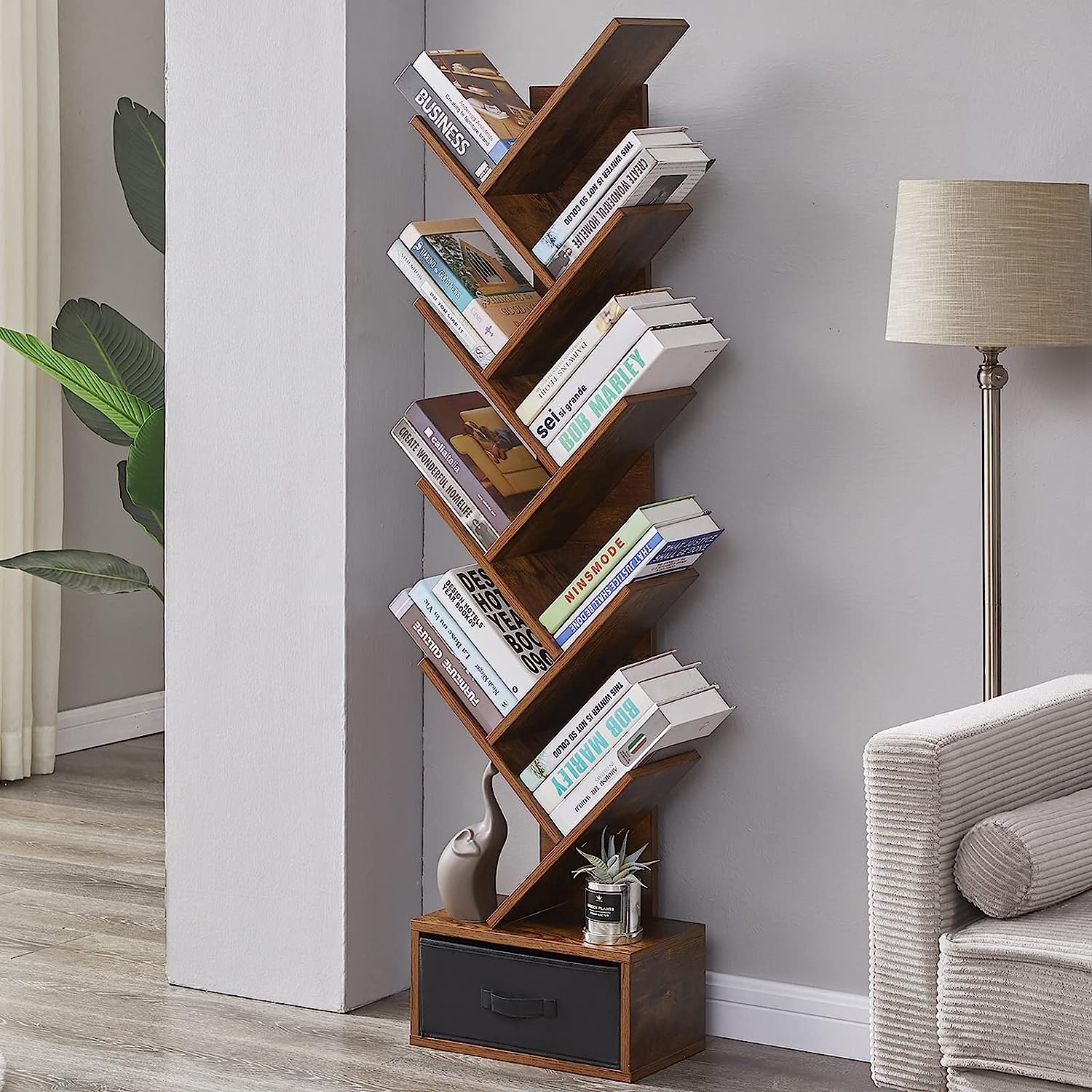 Why keep bookshelves only for books? You can use it in various other ways like DVDs, combinations of DVDs and books, and some ornaments as well. These are freestanding units and are an efficient way to organize your DVDs. You can get additional compartments for other things like key hangers, remote stands, etc. It comes in various styles, like vintage, industrial, and contemporary.
Summing It Up
All in all, do me a favor and invite some folks over to your place, preferably in your living room beside this elaborate DVDs collection. Not just are we flaunting the collection, but we would definitely end up visiting the memory lanes with loads of conversations brewing around it. It's amazing having movies and music collections at our disposal. While the digital age has undoubtedly revolutionized the way we consume media these days through OTT platforms, DVDs are still relevant and reliable in today's world.
The process of organizing DVD storage goes a long way beyond the act of just tidying up the space. So, let's bid our farewell to those unorganized or rather shabby spaces of the clutter of DVDs and welcome these fun yet chic ways of DVD Storage Ideas. In this modern world of the digital age, where our lives are completely taken over by cloud storage, streaming services, hard discs, and pen drives what not, the humble DVD is the absolute relic of the past.
And hence, the importance of storage of DVDs must not be ignored.