Let's explore the fascinating world of grey couch living room designs, shall we? You've come to the perfect place if you want to freshen up your living area and add a dash of flare and versatility. Grey couches may appear unassuming at first, but they are quite effective in generating a warm and stylish ambiance.
There is a grey couch option here that will make your heart skip a beat, whether you enjoy modern minimalism, rustic charm, or even a hint of luxury. In this journey, we'll look at 20 fantastic ideas that show how a grey couch can make your living room a beautiful and incredibly comfy space. Prepare to be inspired and learn about the countless opportunities that the world of grey couch living room designs holds for you!
What are you waiting for? Let's dig in and explore the array of ideas to elevate your living space.
1. Grey Slip – Covered Couch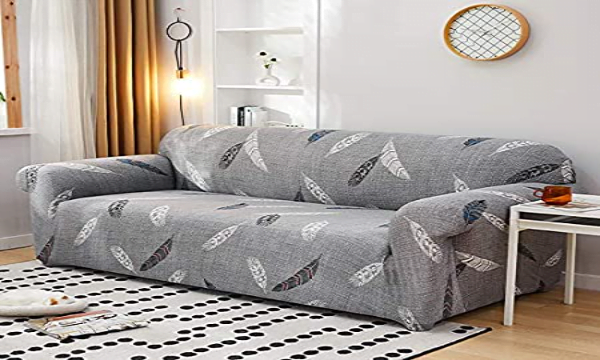 A grey slip-covered couch can give your living space a distinctive and alluring appeal. Its tranquil and sloppy design gives a sense of comfort and ease, making it a welcoming place for socializing and leisure. The appeal of this couch lies in how well it can be incorporated into a variety of home design aesthetics, from coastal and farmhouse to modern and eclectic. You can simply accessorize your living space with accent colors and patterns thanks to the soft, subdued grey that serves as a neutral backdrop. Since the slipcover is simple to remove and clean, it also provides a useful feature while ensuring that your couch is well-kept. This versatile piece integrates seamlessly with your desired aesthetic, whether you want a lighter charcoal grey for a chic and cozy ambiance or a darker charcoal grey for a brighter and airier atmosphere.
2. Grey Chesterfield Couch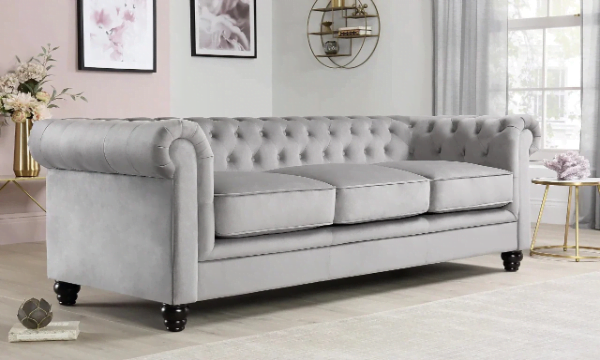 A grey Chesterfield couch in the living room has an alluring, timeless charm. Any room benefits from its timeless style, which adds a touch of sophistication and elegance with its deep button tufting, curled arms, and plush fabric. Because of its distinctive shape and meticulous attention to detail, the Chesterfield couch elevates the living room's overall design. The deep button tufting gives its depth and texture, while the rolled arms and backrest are supportive and comfortable. The utility of a grey Chesterfield sofa is an addition to its visual appeal. While the plush and soft upholstery offers a pleasurable seating experience, the strong construction guarantees durability. Overall, the timeless and opulent elegance of a grey Chesterfield couch adds a touch of class to any living space. Its blend of timeless style, adaptable color, and superb craftsmanship creates a smart and welcoming room where you may unwind and host elegant gatherings.
3. Mid-Century Grey Couch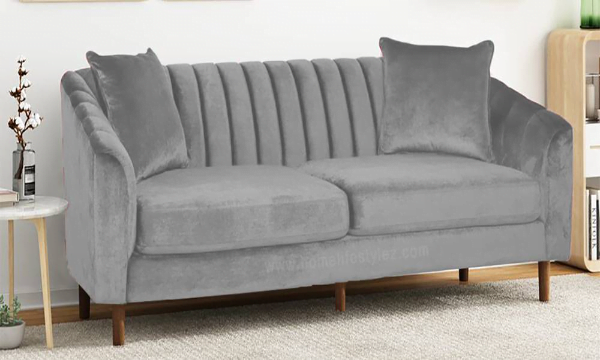 A mid-century grey couch oozes refinement with its streamlined shape. The couch may be the center of attention without taking over the room because of the design's simplicity. An air of elegance and refinement is created by the fitted upholstery and clear lines. These couches frequently provide lots of seating space and comfort. They are made with the user's comfort in mind, offering a supportive and cozy seating experience. All things considered, a grey mid-century couch gives a living space a feeling of timeless elegance and adaptability. It is a popular option for both modern and vintage settings due to its neutral color, simple lines, and practical design. A mid-century grey couch can be the ideal focal point for your living room, whether you want to go for a modern, retro, or eclectic look.
4. Grey Sectional Couch With Chaise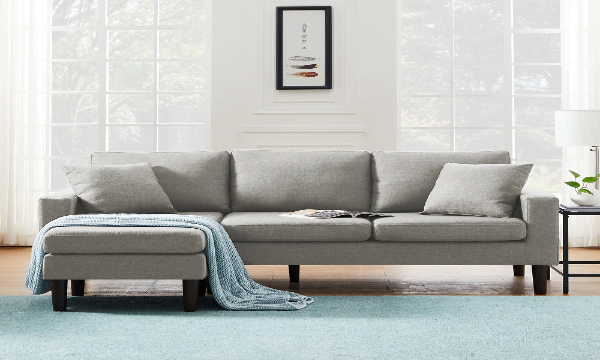 An elegant complement to any living space can be a grey sectional couch with a chaise, which combines design and usability. The elegance of this style of couch rests in its capacity to furnish an area with coziness and friendliness while simultaneously making a stunning visual statement. You can adjust it to your changing needs or tastes thanks to its flexibility in terms of arrangement options. To upgrade the aesthetic appeal of your living area, choose a grey sectional couch with a chaise. It combines elegance, comfort, and utility. It's a great option for both fashion-conscious people and those looking for functionality due to its neutral color, roomy seats, and flexible configuration possibilities. It creates a warm and sophisticated atmosphere in your living room, making it the perfect place to relax, invite guests, or just unwind.
5. Grey Velvet Couch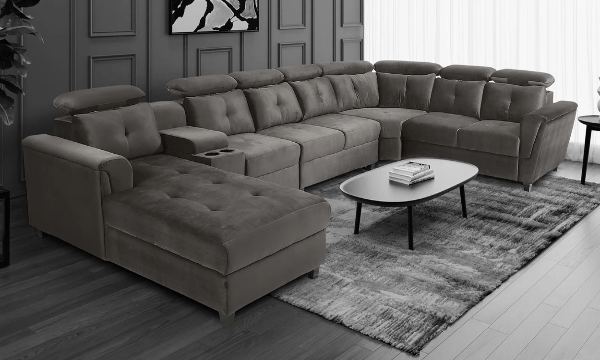 The velvet couch has a classic and elegant appearance thanks to its grey color. It blends well with a variety of interior design aesthetics, including traditional, modern, and classic. A grey velvet couch fits in perfectly and offers a sense of refinement whether your living room has a monochrome color plan or a bright palette. Velvet has a special way of reflecting light that gives objects depth and dimension. This quality enables the grey velvet couch to catch and dance with light, creating a soft sheen and a sense of glitz in the living area. It thereby turns out to be an eye-catching piece that elevates the aesthetics of your living room. A grey velvet couch also offers a welcoming and comfy place to sit. You are invited to sink in and unwind by the fabric's softness, which provides a sensation of luxury and comfort.
6. Grey Leather Couch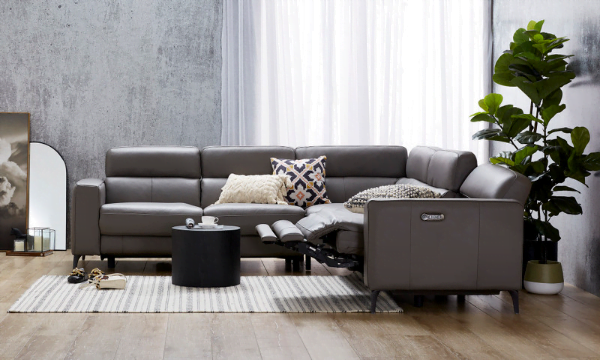 Grey is a neutral color that goes well with a variety of interior design styles and color palettes. A grey leather couch blends in beautifully with any living room decor, whether it has a modern, traditional, or eclectic theme, giving the space a polished and finished appearance. The natural sheen of the leather gives the living room a delicate gloss that reflects light and lends it an air of refinement. It may offer a sense of warmth and comfort while also opening up the room and making it feel more spacious. The contrast between the natural luster of the leather and the color of the grey leather adds to the overall beauty. A grey leather couch is functional and simple to keep clean. Given that leather is stain and spill resistant, it is a good option for houses with kids, dogs, or high traffic.
7. Grey Reclining Couch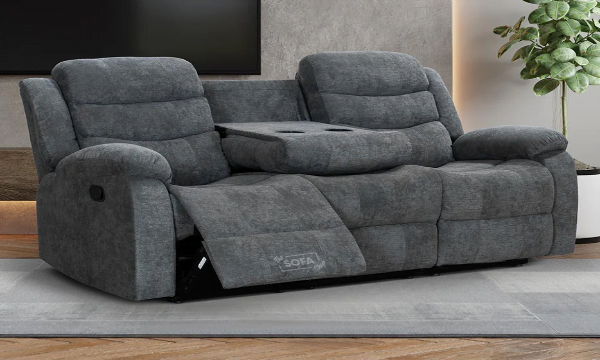 A grey recliner gives the living area the ideal balance of comfort and style. The appeal of this kind of couch is that it gives the room a sleek, contemporary look while also offering a comfortable seating choice. Furthermore, a grey recliner's sleek, contemporary form lends the room a hint of refinement and elegance. It adds a nice visual element to any living space thanks to its simple design and clean lines, which support a modern taste. By adding to the modern feel and resulting in a sleek and coordinated appearance, the color is grey. Functionality is another benefit of a grey recliner. Additional amenities like built-in cup holders, storage spaces, or even massage and heating capabilities are also included. The recliner is a practical option for regular usage thanks to these new components, which increase its convenience and utility overall.
8. Wood And Dark Grey Couch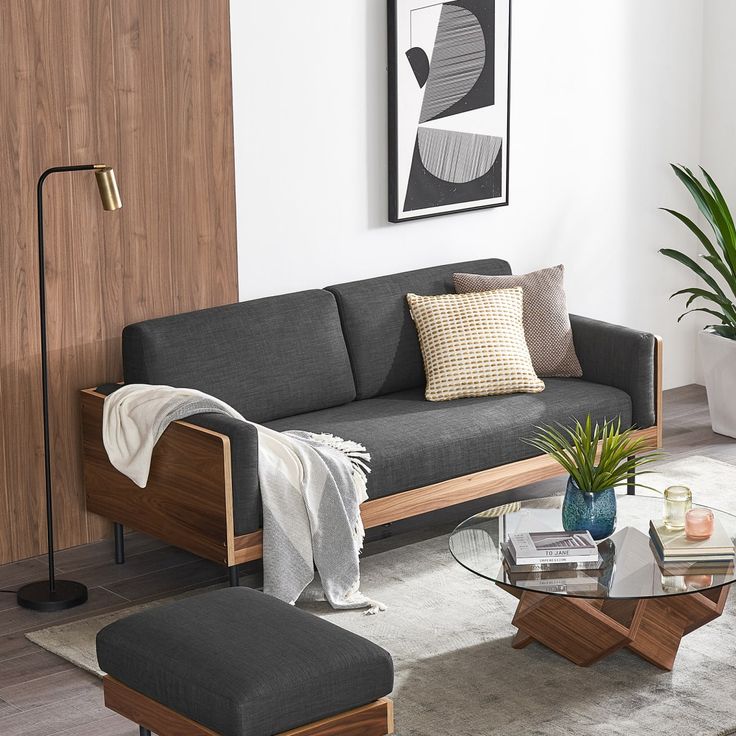 A dark grey couch paired with wood offers an eye-catching contrast. Wood's richness and warmth perfectly contrast with grey's cool, modern tones. This contrast gives the living room depth and dimension, which contributes to its visual appeal. Additionally, in terms of adaptability, wood and a dark grey couch go well together. You can experiment with different accent colors and patterns because grey is a neutral color that blends with many different color schemes without any trouble. As a natural product, wood blends well with a variety of interior design aesthetics, from rustic and traditional to modern and minimalist. A dark grey couch and wood accents lend the space a timeless, classic look. Both components are lasting and resistant to shifting fashions in design. They produce a harmonious and chic appearance that may change to reflect your taste, the seasons, and interior design upgrades.
9. Grey Upholstered Loveseat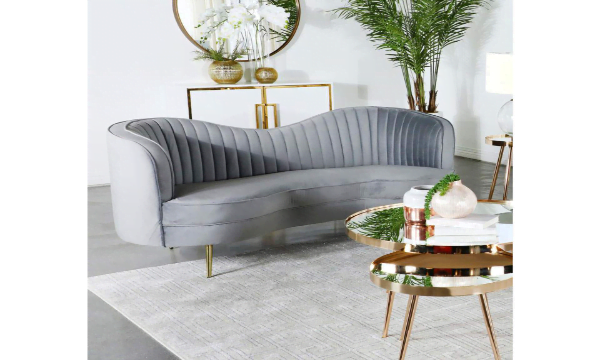 Any living space can benefit from a loveseat with grey upholstery that combines style, comfort, and adaptability. This furniture piece is stunning since it can turn a space into a cozy seating area for two people and has soft, welcoming fabric. A loveseat is a perfect solution for smaller living rooms or as supplementary seating in bigger spaces because of its compact size. Because of its small size, it encourages close interaction and provides a comfortable retreat. A grey upholstered loveseat adds coziness to the living room, whether it is positioned as the center of attention or in a corner. Moreover, a grey cushioned loveseat with clean lines and a modern design gives the space a dash of refinement and modernity. A polished and elegant appearance is complemented by its slim shape and customized upholstery.
10. Grey Sofa Cum Bed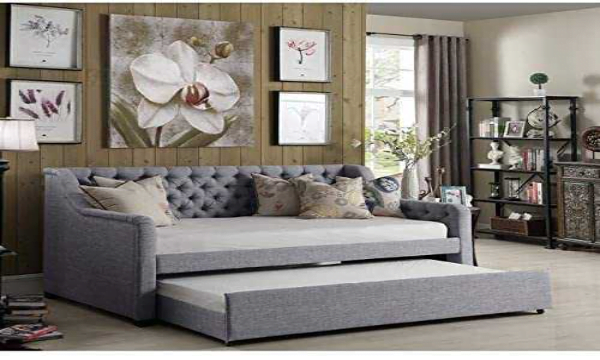 An adaptable and useful piece of furniture, a grey couch cum bed combines the functions of a sofa and a bed. This piece's appeal rests in its ability to maximize space while offering living room seating and sleeping choices. The sofa's ability to convert into a bed makes it simple to go from a cozy seating area to a sleeping area. Its adjustable backrest offers support for both reclining and sitting up straight. By pulling out or unfolding the concealed mattress, it may be quickly transformed into a bed to accommodate overnight visitors. A grey couch cum bed is a sensible option for multipurpose rooms or smaller living rooms due to its compact shape. Providing both seating and sleeping alternatives without taking up additional space maximizes the room's utility. Your living space may be utilized to its full potential and modified to suit various demands and situations thanks to its adaptability.
11. Tufted Grey Couch With Golden Legs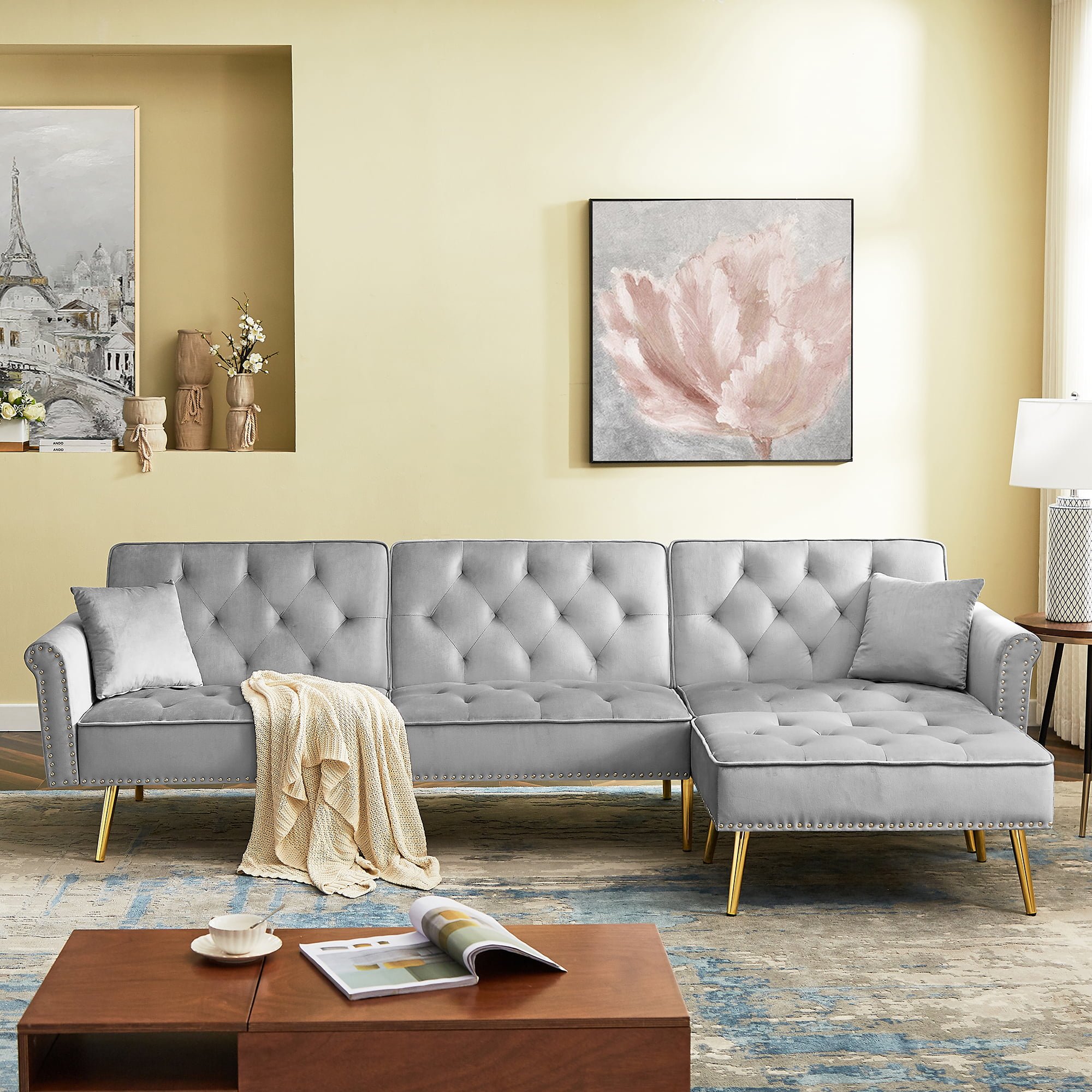 An eye-catching piece of furniture that adds glitz to any living area is a tufted grey couch with golden legs. Grey upholstery, golden legs, and the tufted pattern come together to produce a stunning contrast that improves the room's look. The couch has a timeless, vintage appeal thanks to the tufting, grey upholstery, and golden legs. It brings a level of refinement that can survive shifting fashions in interior design. An elegant touch is added by a tufted grey couch with golden legs, which mixes in with any living room's design, whether it is modern, classic, or eclectic. Also providing a comfy place to sit is the golden-legged, tufted couch in a neutral color. It is a comfortable and fun place to unwind and converse, thanks to the velvety cushions and firm backrest.
12. Grey Ponte Couch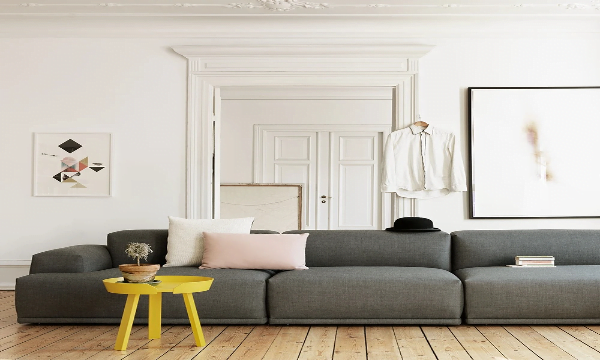 Couches made of Grey Ponte are functional and low maintenance. The fabric is frequently stain and fade-resistant, making it ideal for busy homes or those with kids or pets. It is simple to keep and clean, so your couch will continue to look welcoming and new for many years. A grey Ponte couch with a streamlined design gives the living area a contemporary feel. It creates a contemporary style that is chic and ageless because of its simple design and minimalist appeal. The couch's straightforward construction enables it to easily match a variety of interior design motifs, including transitional, eclectic, modern, and minimalist styles. Because of its neutral hue, you can accessorize with bright throw pillows, blankets, or carpets. By incorporating various accents and textures, you can simply transform the living room's appearance and turn it into a unique and welcoming area.
13. Quilton Tufted Grey Couch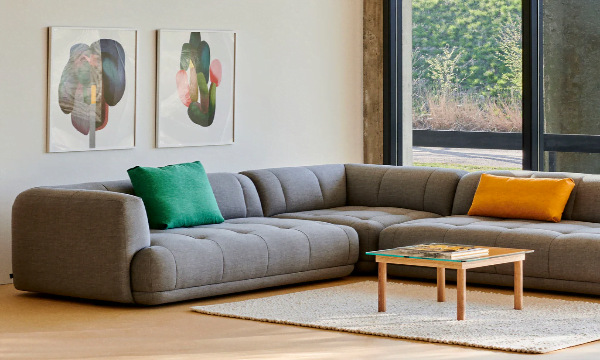 On the backrest as well as the seat of the couch, the Quilton tufting design includes making deep, diamond-shaped patterns. With the help of this tufting technique, the upholstery is given depth and texture, forming a striking center. The Quilton tufted grey couch provides a cozy and welcoming seating experience in terms of comfort. You may sink the couch and unwind thanks to the deep tufting's additional padding and support. A cozy and delightful space is created by cushioning and upholstery, making it ideal for reading, relaxing, or hosting friends. The couch has a traditional and timeless appeal thanks to the Quilted tufting and the grey upholstery. It gives off a subtle elegance that can resist shifting fashions in interior design. A Quilton tufted grey couch blends in beautifully and creates an opulent and fashionable center point in living rooms that are eclectic, traditional, or of any design.
14. Rounded Grey Velvet Couch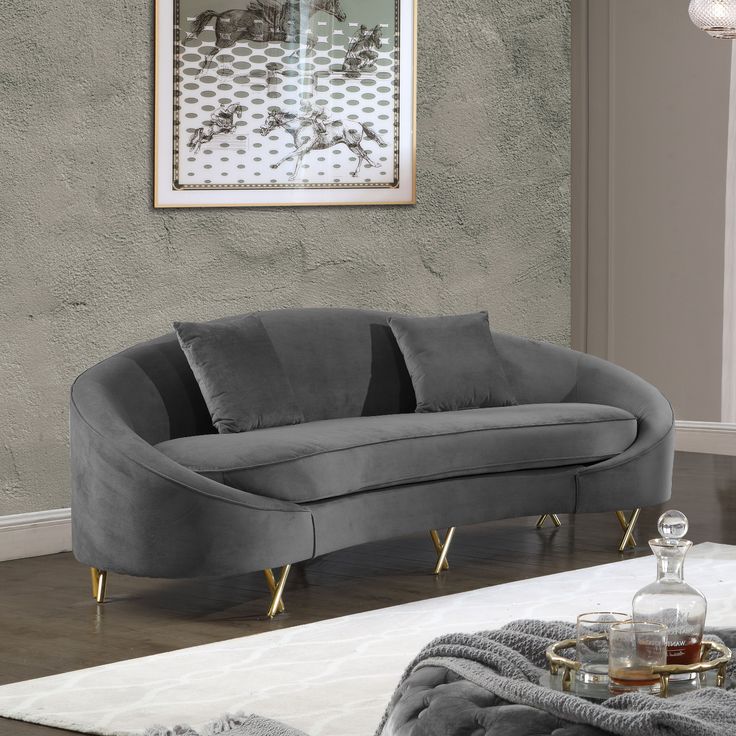 The living area is furnished with a circular couch made of grey velvet, which combines elegance, style, and comfort. A striking and appealing sitting alternative is created by its distinctive design, plush velvet fabric, and adaptive grey color. The couch's rounded shape gives the room an air of sophistication and elegance. A striking piece that is attractive to the eye thanks to its curved lines and soft contours. Compared to conventional rectangular couches, the rounded shape has a softer, more organic look that gives the space a whimsical, fun feel. A cozy and soft seating experience is offered by the circular grey velvet couch. A layer of softness is added by the velvet upholstery, and the rounded shape makes for a cozy and private seating space. It turns into a cozy retreat where you may unwind, unwind and take pleasure in leisurely moments.
15. Grey Tufted Couch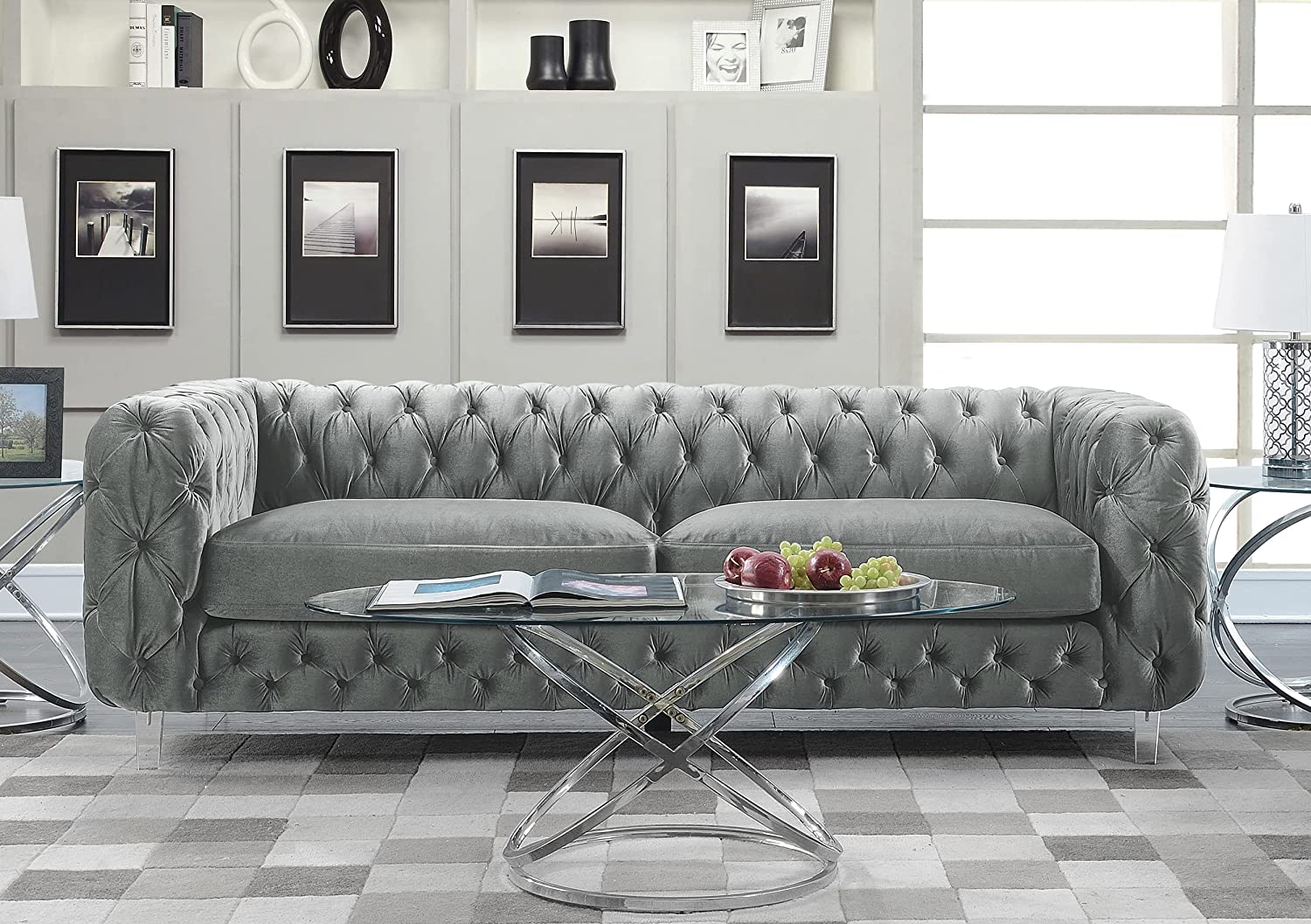 A grey tufted sofa is a classy piece of furniture that demonstrates tufting, a method where buttons or stitching produce patterns on the upholstery. The couch's grey hue gives it a feeling of refinement and neutrality that makes it adaptable and complementary to numerous interior design trends. The tufting gives the furniture depth and texture, which adds aesthetic intrigue and a hint of elegance. The couch is a striking piece in any living room, thanks to the way the tufting and grey upholstery combine to produce a timeless and traditional appearance. A grey tufted sofa gives both style and comfort to improve the appearance of your room with its comfy seating and aesthetically pleasing design.
16. Grey Fabric Couch With Nailhead Trim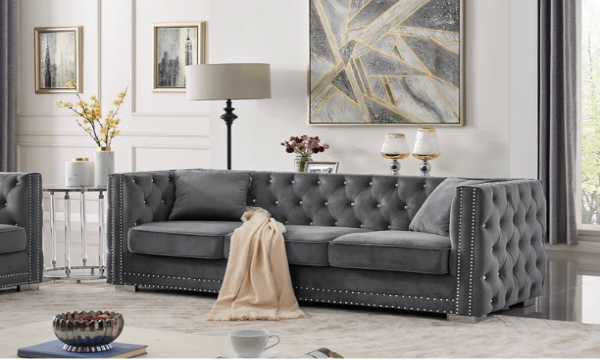 An elegant and sophisticated piece of furniture is a grey fabric couch with nailhead trim. The grey cloth upholstery offers a flexible and modern appearance, while the nailhead trim adds a little elegant decoration. The nailhead trim is a decorative feature made up of tiny metal studs that are thoughtfully positioned along the couch's edges. The visual appeal of the furniture is improved by the addition of these studs, which also offer a hint of glitz and refinement. Depending on the intended aesthetic, the nailhead trim can be applied in either a linear pattern or elaborate motifs. The nailhead trim lends a hint of sturdiness and sophistication, while the fabric upholstery creates a comfortable and welcoming seating experience. Because of its robust design, the couch can withstand frequent use without losing any of its aesthetic appeal.
17. Charcoal Grey Velvet Sectional Couch

A sectional couch made of charcoal grey velvet is an opulent and fashionable piece of furniture that gives any living space a touch of class. A distinctive and appealing sitting choice is produced by combining the color charcoal grey with velvet upholstery. A prominent element in the living area is the dark grey velvet sectional couch. It stands out in the room and captures attention thanks to its striking color and opulent materials. A sense of sophistication and elegance is created by the sectional design and velvet upholstery, which enhances the room's decor. The sectional design allows for individualized comfort, while the velvet fabric offers a delicate and opulent feel. The sectional couch gives enough room and comfort for everyone, whether you want to spread out and unwind or gather with family and friends.
18. Grey Linen Couch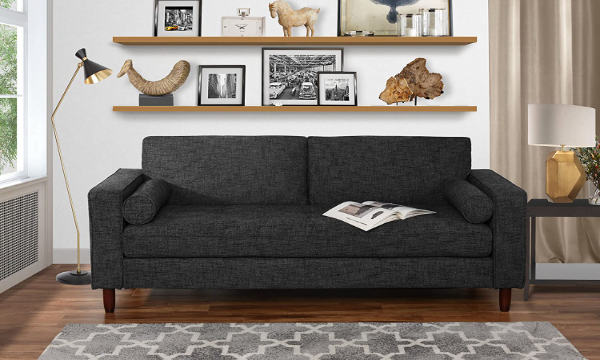 A grey linen sofa combines design, ease of use, and adaptability into one piece of furniture. While the lining fabric delivers a smooth and comfortable seating experience, the grey linen upholstery creates a neutral and quiet backdrop. It gives a sense of elegance and comfort to your living area, regardless of whether you want to go for a modern, traditional, or eclectic appearance. The grey color serves as a flexible base, making it simple to add various color schemes and decorative accents.s A grey linen couch also offers utility and simple upkeep. Given its reputation for toughness, linen is appropriate for daily use. Because fabrics resist pilling and fading, the couch will continue to look beautiful over time. Because the linen is generally simple to maintain, you can keep the couch appearing pleasant and new.
19. Grey Sleeper Couch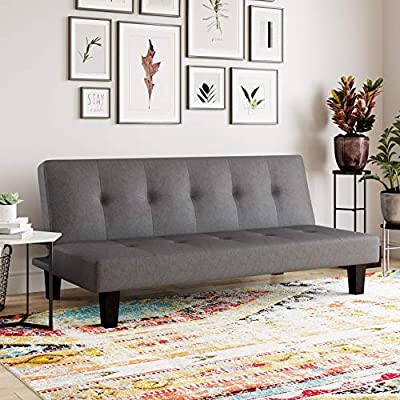 Having the capabilities of both a sofa and bed, a grey sleeper couch is a multipurpose piece of furniture. It's made to be a cozy seating area during the day and quickly converts to a bed for visitors or your usage at night. A sleeper couch's ability to save space is one of its main benefits. For people with small homes or those who want to maximize their living space, it is a perfect alternative. Without the need for additional guest rooms or large furnishings, the sleeper couch has a trait that enables you to have an extra bed. Grey sleeper couches are typically simple to maintain. The majority of models include covers that can be removed and washed, making it simple to maintain a fresh, clean couch. Additionally, the upholstery is frequently strong and made to survive frequent use, guaranteeing that the sleeper couch stays in good shape for a protracted amount of time.
20. Grey Modular Couch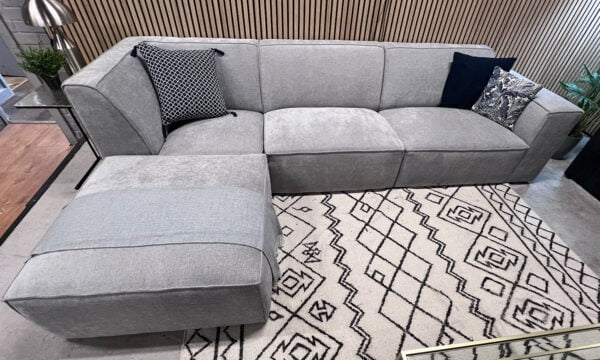 Any living area can benefit from the adaptability and customization that a grey modular couch offers as a sitting option. You can assemble the individual components in a variety of ways using the modular design to fit your demands and available space. Because the couch is modular, you can arrange the seats in a variety of ways to suit your tastes. The parts are simple to move around to accommodate various group sizes or to alter the room's configuration. Due to its adaptability, it may be used in both small and large places and can change to meet your changing demands. A grey modular couch is relatively simple to maintain. The couch can often be kept clean and fresh by washing or replacing the removable cushion coverings. It is simple to move and clean below the modular components, making maintenance and upkeep possible.
Summing It Up
Let me tell you about the wonderful 20-grey couch living room design we looked into! It was a trip rich with adaptability and breathtaking beauty. You see, grey isn't just a drab color; it's a backdrop that is neutral and offers a myriad of design options for your area. You may let your imagination run wild and play around with various designs and color schemes while still keeping that modern grey couch as the focal point of the room.
A grey couch has the advantage of being a dramatic focal point with an understated elegance that commands attention. It also effortlessly blends in with the rest of your decor, matching numerous designs like a chameleon if you prefer a more understated look. What a range of abilities! A grey couch is beautiful because it has enduring charm. The options are unlimited with these 20 grey couch living room ideas. It's time to turn your room into a stylish and comfortable retreat centered on that amazing grey couch.
Prepare to design a living space that truly embodies your personality and enhances your quality of life.