Picking up the right sink for your bathroom can elevate the look of the whole space, making the choice of choosing the right sink overwhelming. If you look deep, there is a wide range of sink ideas available in the market, and the decision is going to be a tough one. You have to consider the look and feel of your washroom, the theme you are going with, which materials you would prefer, and the shape, size, and design of it before choosing your bathroom sink.
There are different types of sinks, but however, they can be categorized broadly as vessel sinks that look like bowls and sit on the countertop, drop-in sinks that are installed into the countertop, vanity sinks that are built-in with the countertop, sinks that can directly be installed with wall support, pedestal sinks that use and take support of a pillar and console sinks that have 2-4 legs for support.
In this piece of bathroom sink ideas, we've added a variety of sink ideas that would help you decide on the right that blends with your design.
1. Natural Wood Bathroom Sink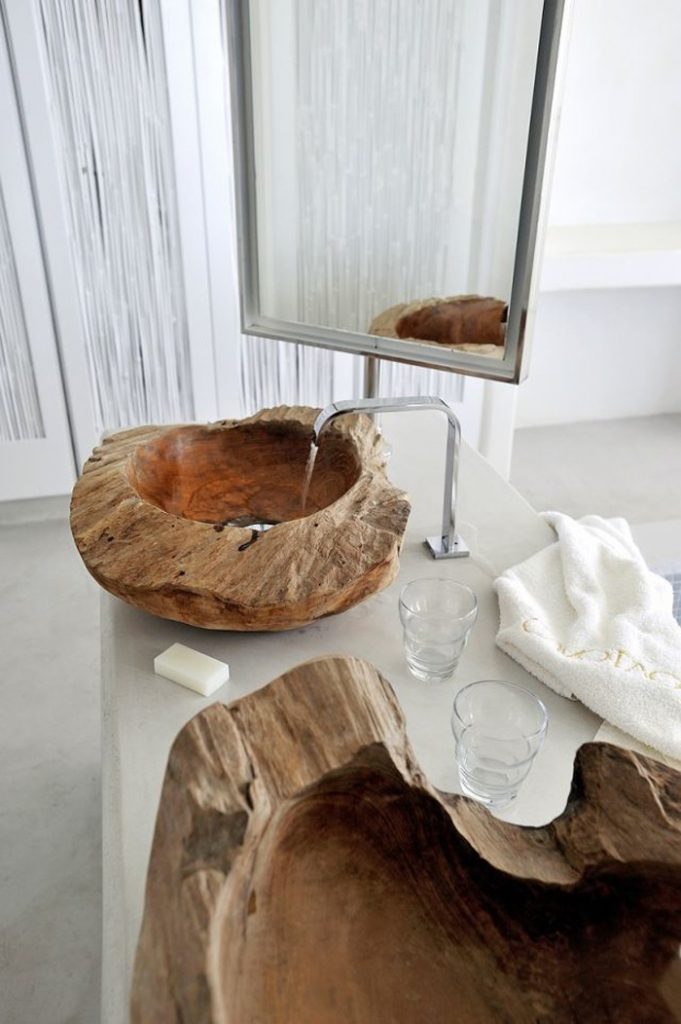 Adding a touch of nature or natural elements to your bathroom sink is one of the best ways to create your unique style. Use any natural wood like bamboo to create a basin to add to your sink. With durable and fine polishing, you'll be able to add natural luxury to your modern bathroom. This wood is stronger than your other metals, almost impossible to break with a free hand, and woods like Bamboo are also resistant to high moisture. This bathroom sink idea will give your washroom a vintage and luxurious look.
2. Rectangular Vessel Bathroom Sink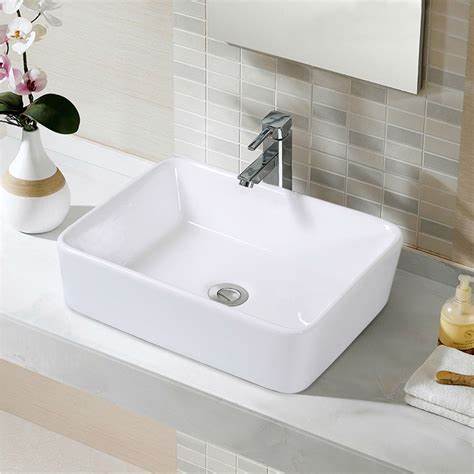 It's time to embrace modernity with new ideas and say goodbye to old and round bathroom sinks. Bathroom sinks in the shape of rectangles will add an exquisite touch to your bathroom. You can opt for wood, steel, ceramic, or any material sink in the shape or rectangle, and that can set your bathroom sink apart. Even just a white rectangle-shaped ceramic sink with a white countertop can elevate the look of the bathroom and make it unique. This is a simple yet clever way to add a touch of modernity to your bathroom sink.
3. Marble Finish Bathroom Sink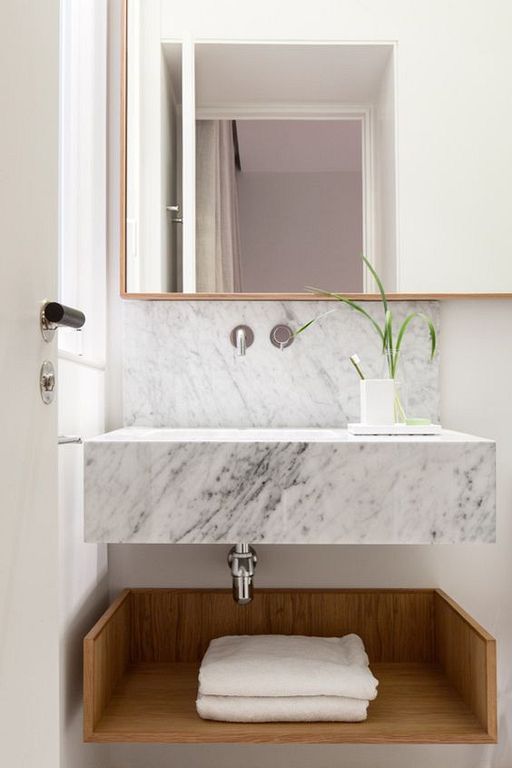 If you wish to add a quirky yet earthy look to your bathroom, then you need to bring marble to your bathroom sink. This bathroom sink idea is inspired by countries like Italy and Greece, where marble was commonly used for bathroom sinks. This historical rarity on your countertop will incorporate an earthy aura in your bathroom. The marble can be in any shape, any design with a finish that you wish, and it is simple to create yet gives a tone of luxury to your bathroom. It gives both vintage and contemporary vibes that only enhance the look and feel of your bathroom sink.
4. Vessel Bathroom Sink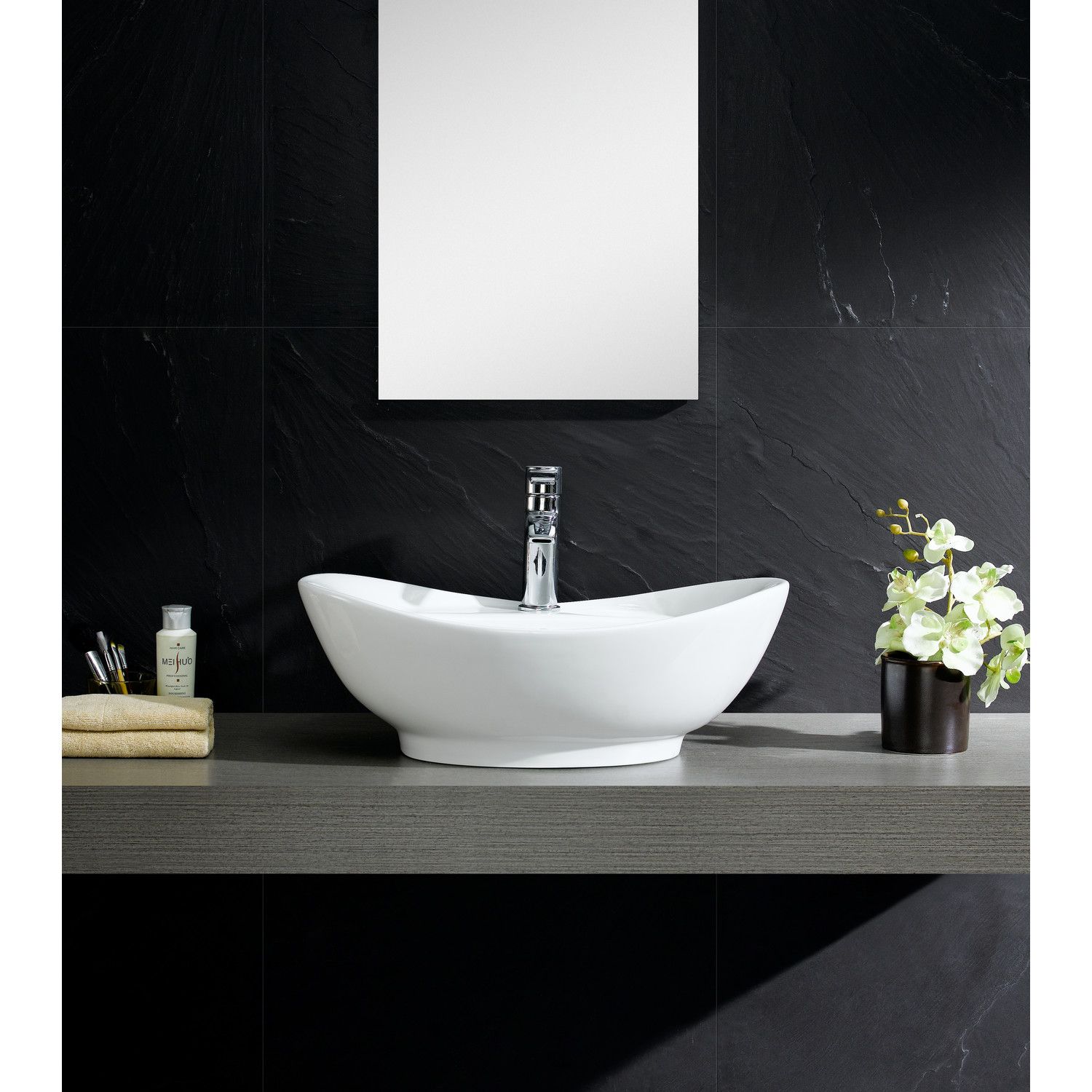 While there can be a number of bathroom sink ideas in your mind, you can use any of the ideas that you're inspired by and create a vessel for your sink. This will give a sleek and modern look to your bathroom. You can have the vessel in any shape, such as round or oval, with irregularities in size on both sides, turning your bathroom sink lavish. The material you choose and the finish on your sink decide if your bathroom inspiration is vintage, earthy, or contemporary.
5. Artsy Bathroom Sink Idea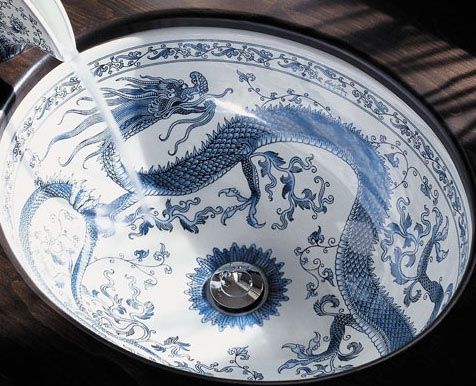 There's nothing better than having a pinch of art added anywhere and everywhere possible. You can design your bathroom in any way that you wish, be it any metal or any shape, but if you have kept the look of your complete bathroom minimal, then it would be nice to add some art to your sink to elevate the look of your place. You can think outside the box and add any art you want to your bathroom sink that expresses your love for art.
6. Clear Glass Bathroom Sink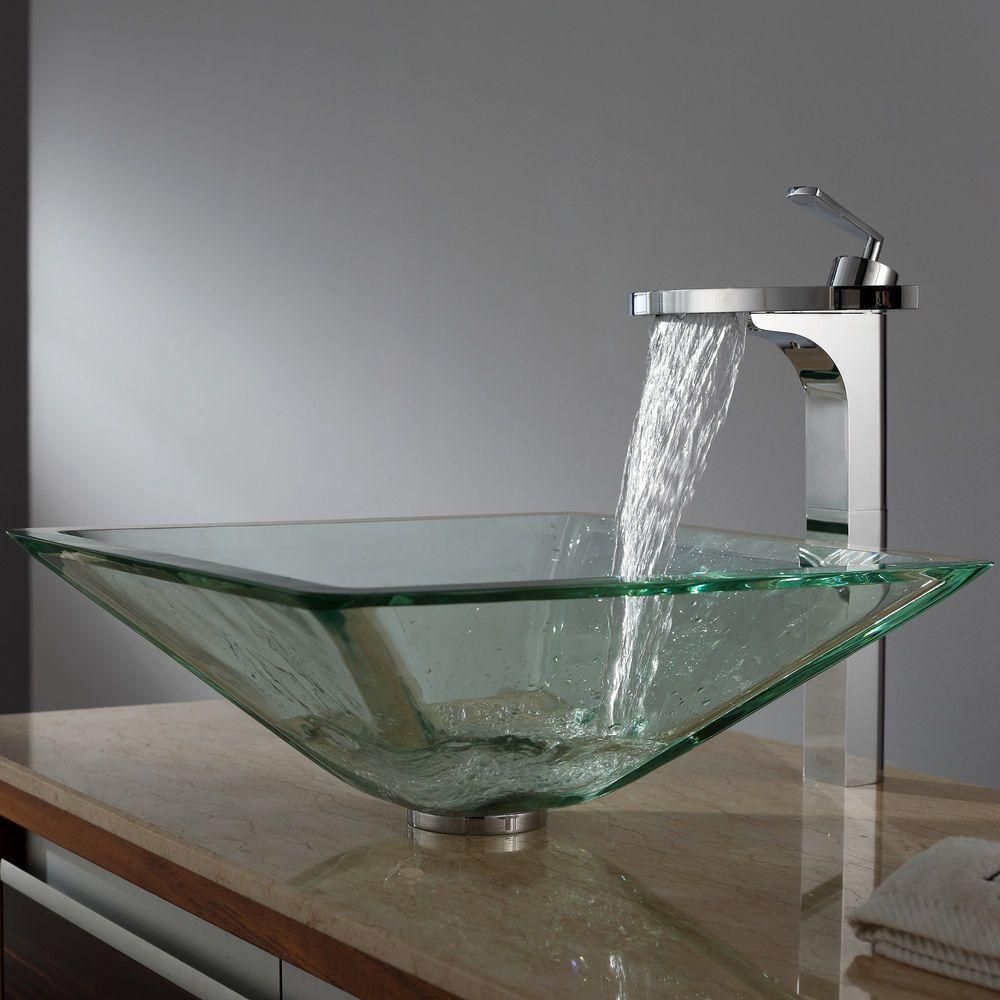 This is one of the latest contemporary-style bathroom sink ideas you will come across. If you're going with a very minimal design for your bathroom and keeping it all as transparent as possible, then this clear glass sink style is best for you. In this bathroom sink idea, you can install a clear glass sink in the washroom of your desired and convenient shape and size. The installation of this sink is very easy, and it is very budget-friendly. It looks sleek, modern, and lavish and gives an exquisite look.
7. Modern Rustic Bathroom Sink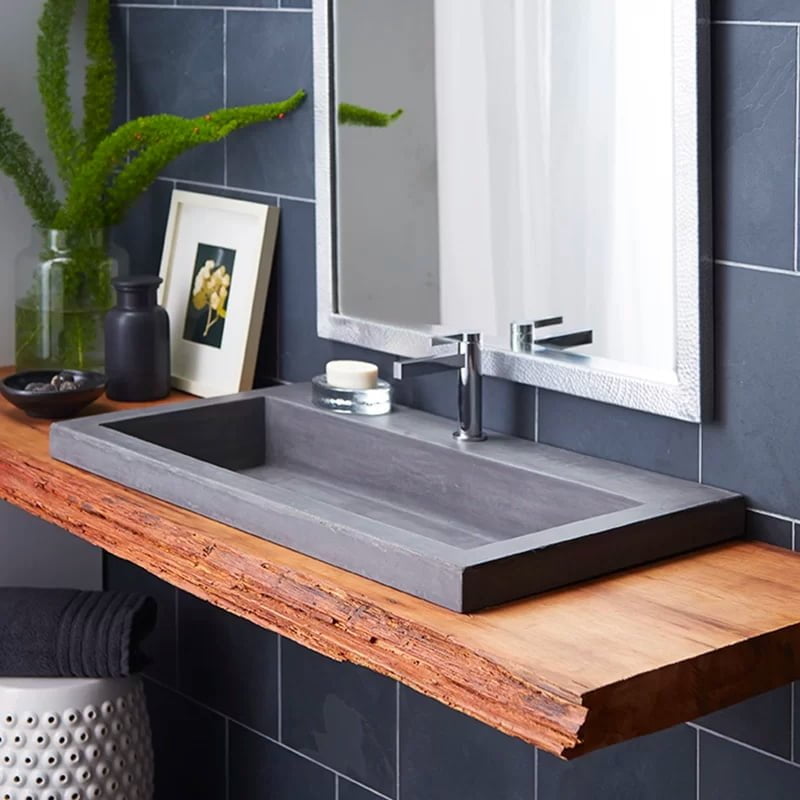 Rustic designs never go out of style, and this bathroom sink idea is just a modern version of it. If you're going with a rustic look for your bathroom or keeping it classic with light colors, in both ways, this modern rustic sink is perfect for you. Made out of any stone, this rustic sink is stylish and stronger than the rest of the sinks. They're scratch and crack-resistant, and strain-proof, something that we would long for in any sink we install. Moreover, most of these pieces work well for a lifetime, which makes them more economical than most other sinks.
8. Galaga Stone Bathroom Sink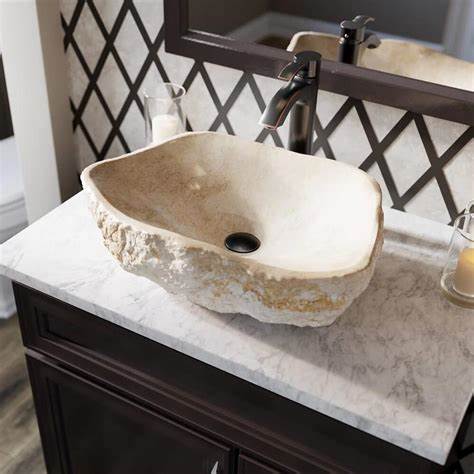 This bathroom sink idea is unique and rare to find. But after knowing the advantages that come with this sink made of the Galaga stone, every household would want to install it. Apart from the lifetime warranty that sinks made of this stone provide, they are very resistant to high moisture, any stains, rust, scratches, cracks, etc. This bathroom sink is interestingly made from carving on a single piece of Galaga stone, and this will definitely be the centerpiece of your bathroom.
9. Suitcase Bathroom Sink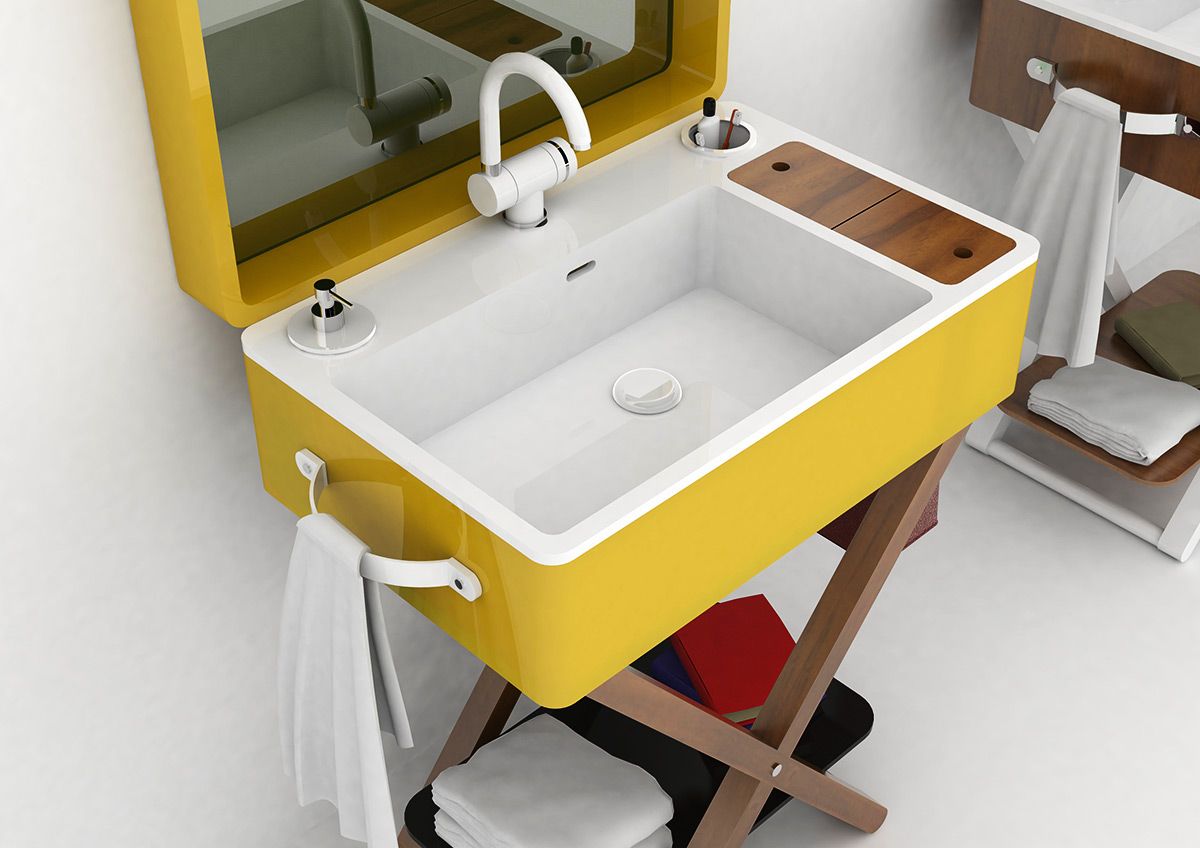 Inspired by a hand suitcase, this suitcase-themed bathroom sink idea has definitely caught the attention. This sink idea revolves around a trunk suitcase that has hidden cabinets inside it. Now, the cabinets of this out-of-the-box modern design idea consist of everything that you would find in a traditional sink system with no compromise on shape or space. This suitcase sink will have a sink on a countertop with space to store napkins or tissue paper. Additionally, it also consists of a drawer to store based on your requirements.
10. Frosted Bathroom Sink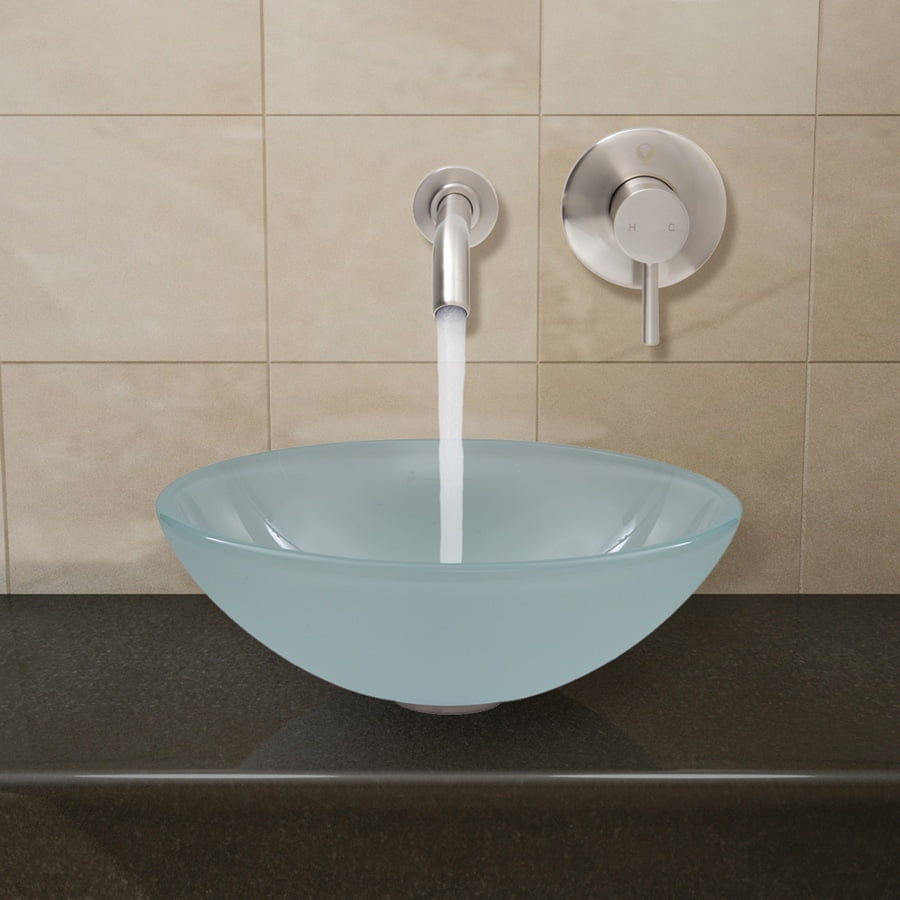 "
Inspired by the colors of the sea and water, this frosted glass-themed bathroom sink idea will definitely bring coastal vibes to your bathroom. The frosted glass is cut and made in the form of a sink with a fine finish and polishing of the glass to make it resistant to scratches and cracks. The sink can be made in any shape that you wish to incorporate in your bathroom, and the result will not disappoint you. This frosted glass bathroom sink idea is sleek, chic, modern, and quite economical.
11. Pedestal Bathroom Sink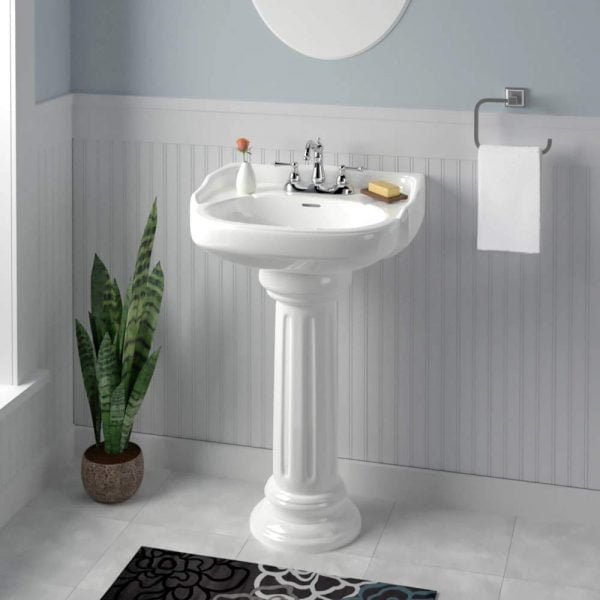 This bathroom sink idea leaves space for our introspection and allows us to finish it according to our inspiration. In this idea, the sink is basically placed on a pedestal or pillar, and this supports the sink. The idea is unique, but the final look is very distinctive from all the other sink ideas. The pillar even acts as the pipe system and is attached to the sink. You can have any finish on the sink you want, use materials from steel and ceramic to any stone and carve it in your desired shape to ensure that it meets your individual comfort, style, and needs.
12. Plate Shaped Bathroom Sink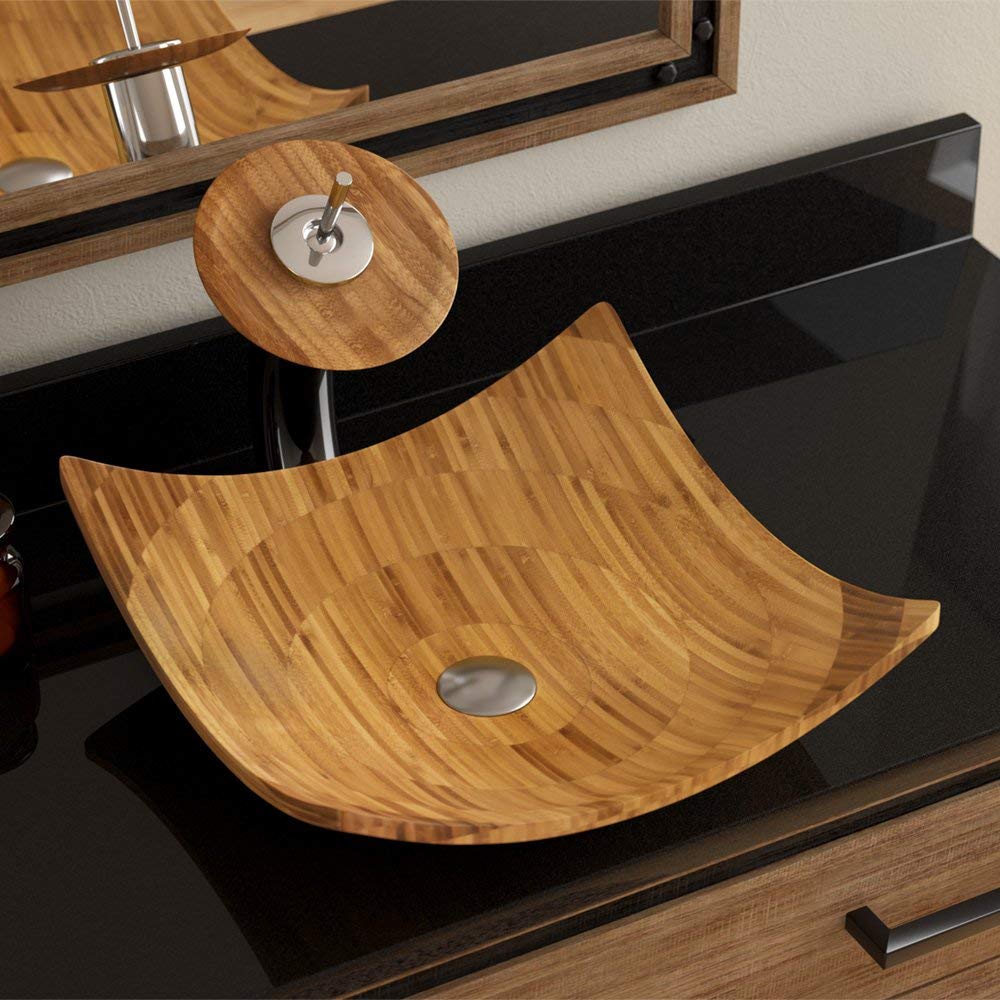 This bathroom sink idea is quite straightforward, with no significant changes to define it. However, this simple look adds a classic touch to your bathroom with no brainstorming of extravagant ideas. In this plate-shaped bathroom sink idea, the sink is in the shape of a plate with enough curves in the corners to make sure that the water isn't overflowing. It can be square or rectangle-shaped and steel or stone, according to one's personal requirements and interests. This look may be difficult to carve, but it is quite economical and adds a lavish look to your bathroom.
13. Bucket Shaped Bathroom Sink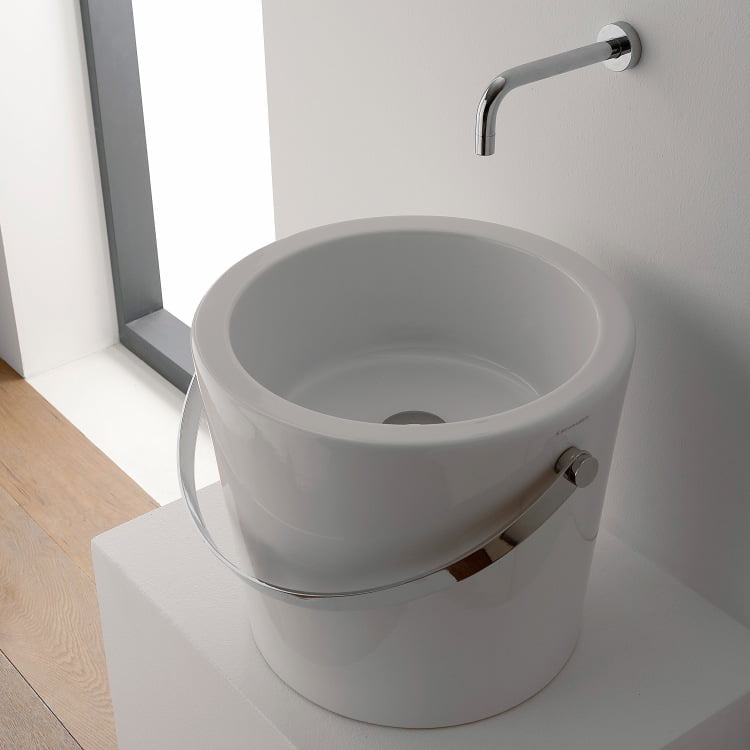 This idea is simple yet very unique and interesting to anyone looking at it for the first time. To achieve this, instead of adding a sink with a countertop, you can install a bucket-shaped container that will act as a sink. This sink needs no balance on the countertop and can be attached to the wall. You can add any material, from white ceramic to stone, and everything will look classy. Even the handle of the bucket can be used to hang napkins or tissue papers, providing us with the amenity with no wastage of space.
14. Gold Bathroom Sink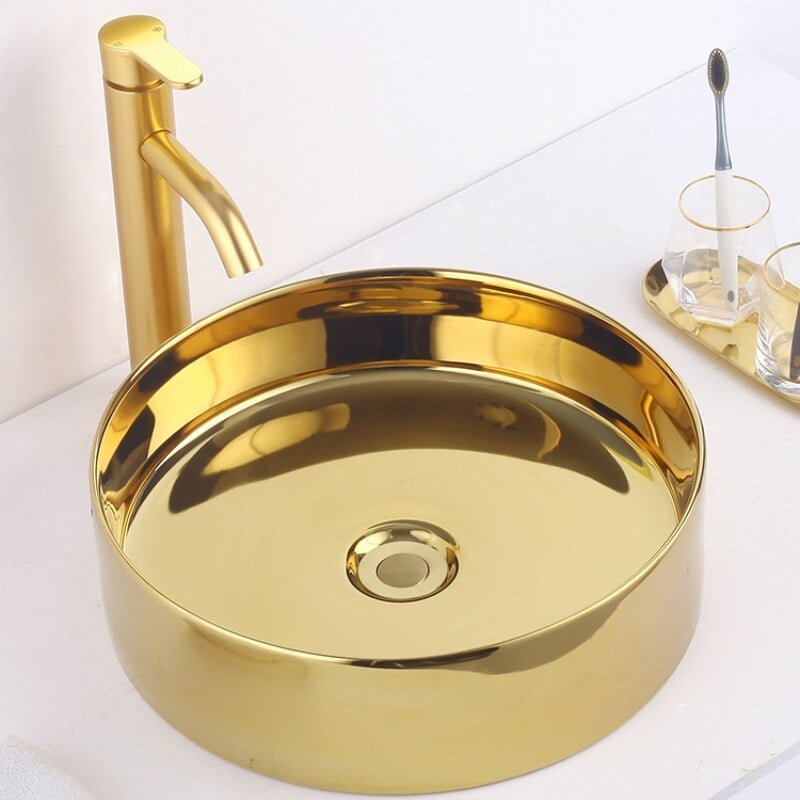 A gold finish would make anything look great, and bathroom sinks are no exception to this. Gold coating on the exteriors with a design or finish on the inside, these gold bathroom sink ideas will steal the show. Made of high-quality materials with gold coating, these contemporary sink ideas give a vintage cook in your washrooms. This can be done using either ceramic, steel or any other materials like copper, etc. With simple shape, finishing, and design, they are great in your washrooms.
15. Copper Vessel Sink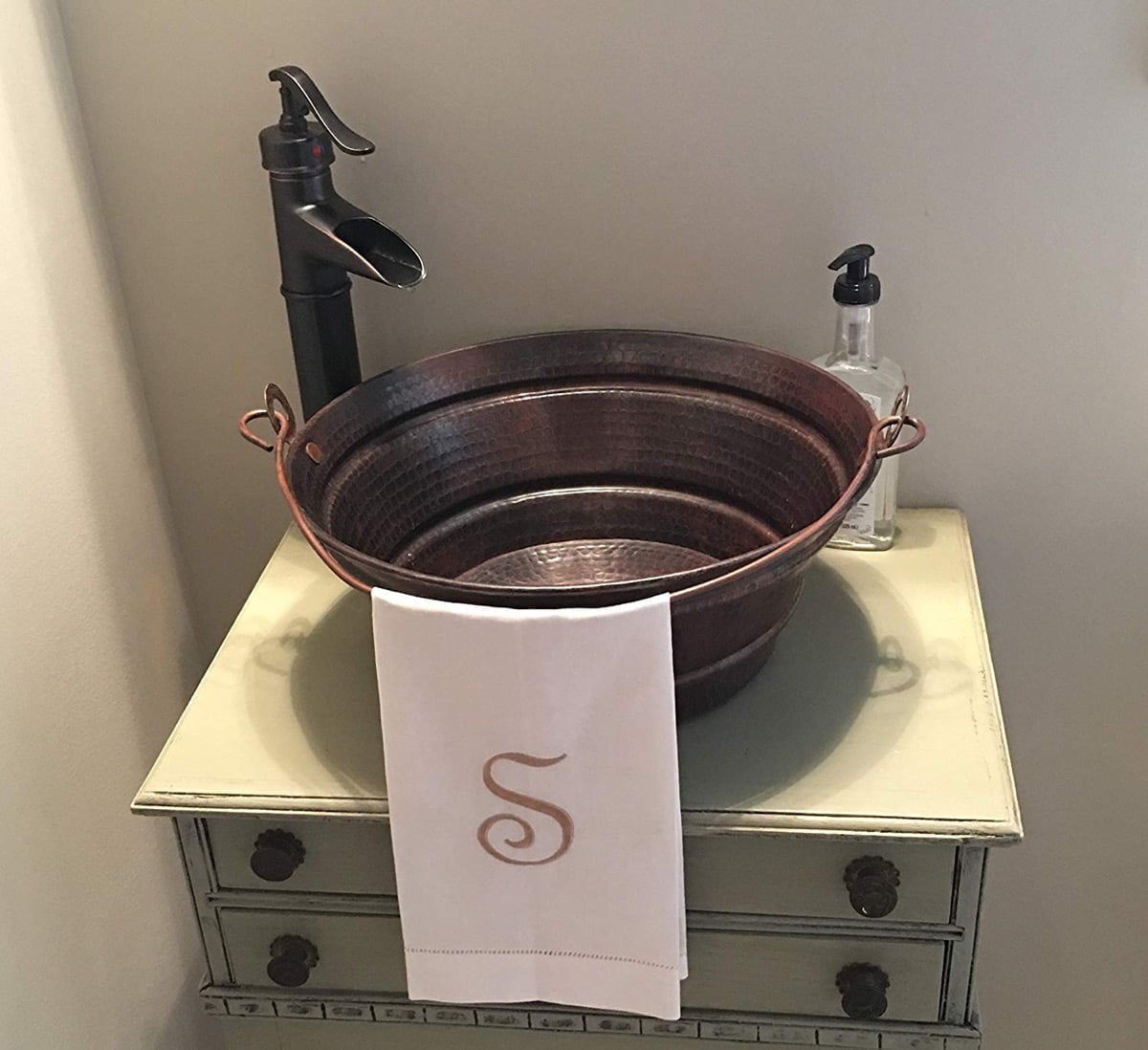 While all the other materials like stone and ceramic are carved into the shape of the sink, these old copper vessels can be directly installed into your sink with little modifications. Using copper vessels as sinks has been a tradition from ancient times and gives a lavish vintage look to your bathroom. They have a rustic look and feel and can be installed on your countertops with a pipe system. These sinks also come with a handle that is ideal for storing napkins or tissue papers. In this way, there's no compromise on the functionality of the sink; it saves space and is extremely budget-friendly.
16. Flower-Shaped Bathroom Sink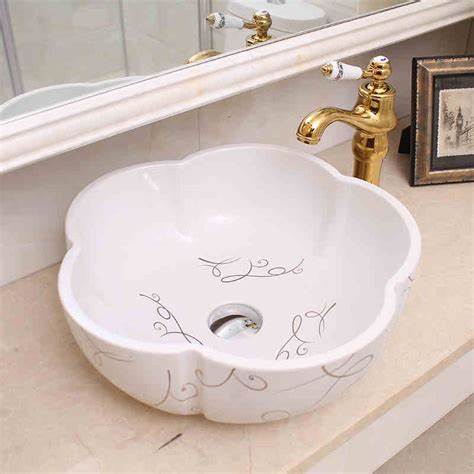 If you're going with a minimalistic theme for your washroom, small tweaks can completely elevate the look of the place. This flower-shaped bathroom sink idea is one that is uncomplicated and painless. Choose any materials that you wish, ceramic, stone, etc., and the only change to make here is to carve your sink into the shape of a flower. This contemporary style will make your bathroom sink look unique. This theme goes well with classy white ceramic and any stones such as marble, granite, etc.
17. Granite Sink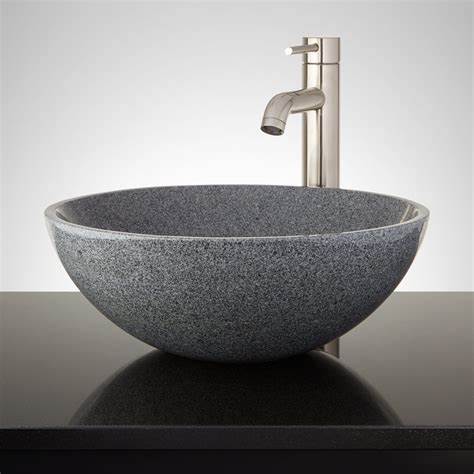 Granite stones are often deemed as some of the strongest stones, and using this for your bathroom sink is a warranty for a lifetime. Granite can be molded into the desired shape of an individual, be it a vessel, rectangle, square, flower, etc., and installing it will add a touch of natural and earthy vibes to your washroom. You can keep the rough exteriors and polish the interiors smoothly, and they will look stunning. If you're looking for a more natural or raw theme for your bathroom, then this sink is perfect for you.
18. Rounded Bathroom Sink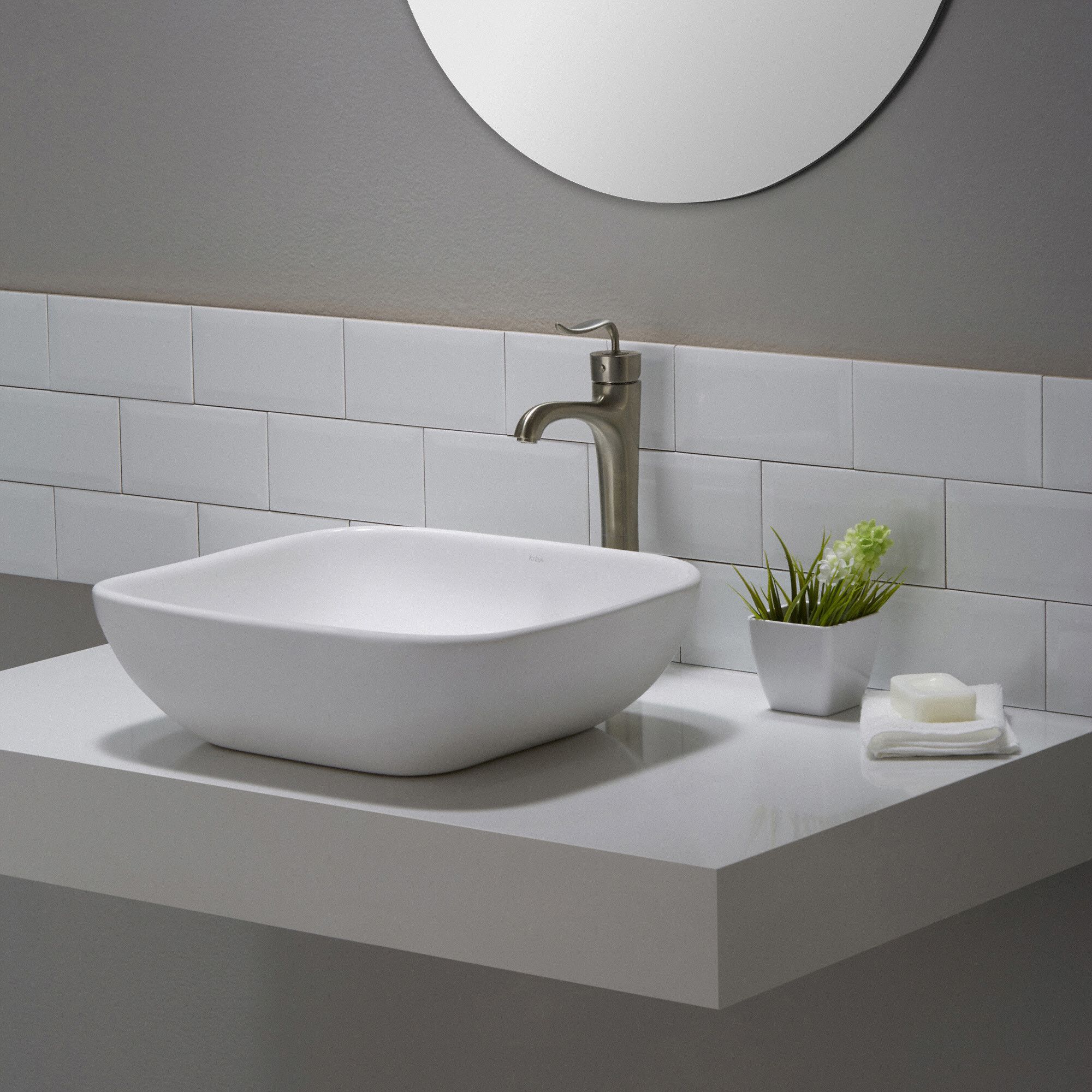 With a minimalistic design and idea, this rounded bathroom sink definitely gives out a classy finish without much effort and thought. The sinks are simply carved into rounded square or rectangular shaped vessels according to the desire, with any materials like ceramic, stone, etc., at the disposal. They can be found in a number of shapes and sizes commonly and are attached above the countertops. This sink is versatile in nature, and with a smooth finish, it is a great addition to your washroom if you want to keep it classy and minimal.
19. Metal Vessel Bathroom Sink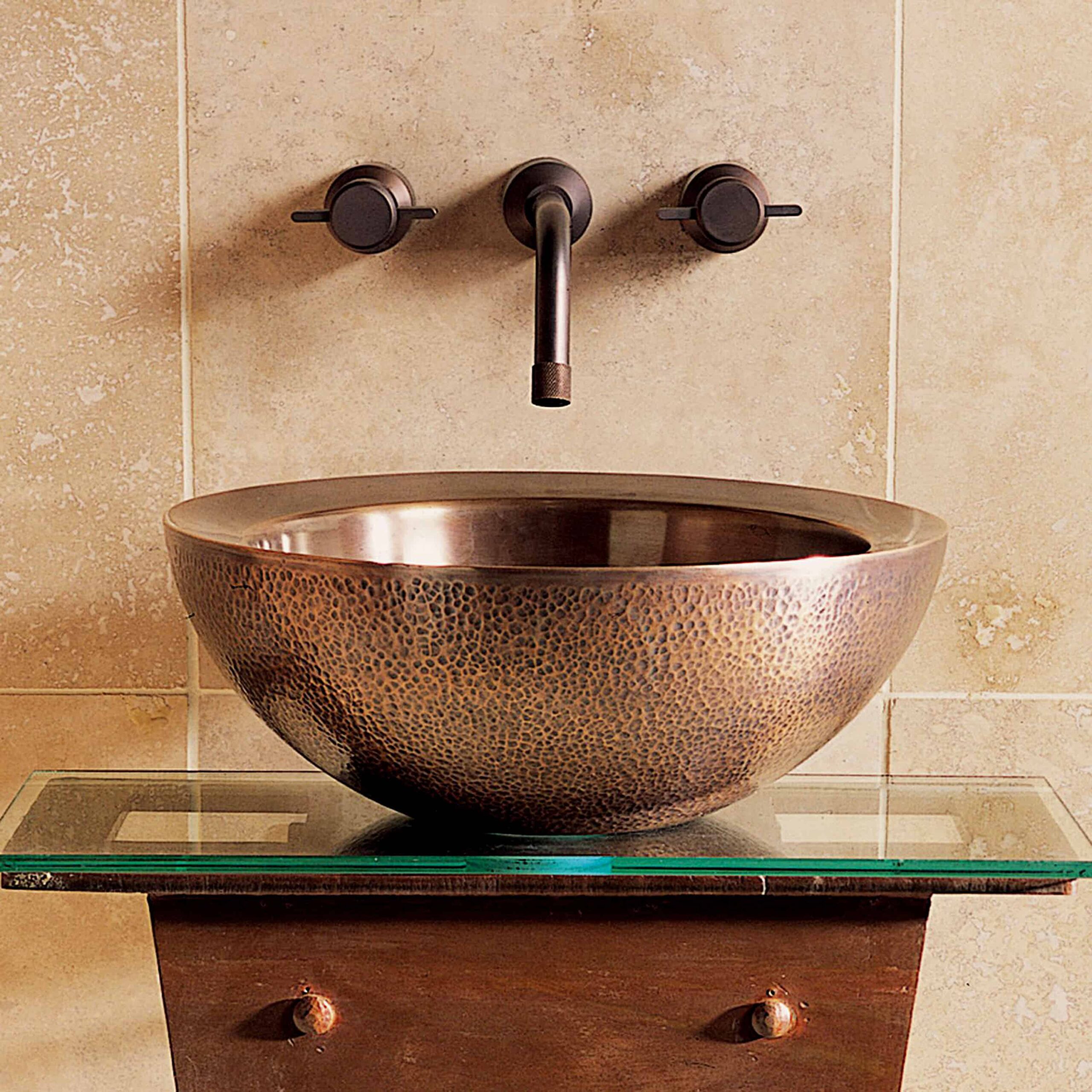 The metal vessel bathroom sink idea is a modern touch to the vintage vessels used in the ancient days. These vessels can still be commonly found in farmhouses, cottages, and rural settings. A circular vessel in the modern style is unique in today's bathrooms, and the clean finish is alluring. The finish can be gold, rustic, copper, or anything that goes with your bathroom theme and design. Minimal design, clean vessel, and clear finish are details you would want when going with minimalistic or vintage looks.
20. Eco-friendly Bathroom Sink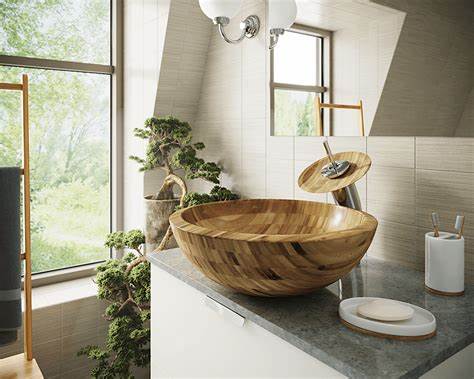 If you lead a sustainable life or wish to, then we have the perfect options for you for your bathroom sink. Even being eco-friendly, you don't have to compromise on anything. Choose your desired shape, like vessel, plate, mermaid, or rounded, and all of these unique shapes will elevate the look of your bathroom. Use woods like bamboo or stainless steel; these materials will give your washroom an exotic look that is stylish yet eco-friendly. These materials are highly renewable, strong, and better for the environment and your pocket.
21. Mermaid Bathroom Sink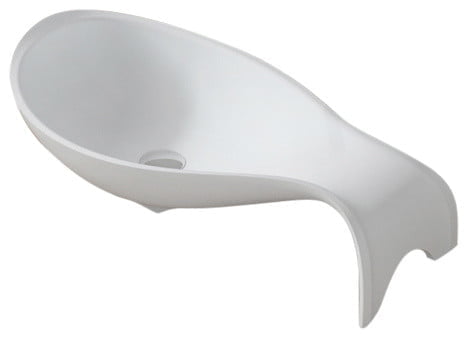 This bathroom sink idea is distinct from all others, inspired by the mermaids; these sinks are directly carved into a resembling shape. In this idea, the sinks first have a spacious vessel and continue to have a tail that is quite long and looks similar to that of a mermaid. While this mermaid bathroom sink idea might have taken up some extra space, the contemporary style final look of the place that is unique is all worth it. These sinks do not have a countertop or pedestal like the traditional sinks making it look simple. The tail can also be smartly used to store your sanitizers, napkins, tissue papers, etc.
It's Time to Finalize Your Bathroom Sink Idea!
All in all, your bathroom sink communicates the style of your bathroom, so make sure that you're pondering over different bathroom sink ideas before making the decision. There's classy white ceramic, vessels like copper, sustainable wood like bamboo, stones like marble and granite, and the list of bathroom sink ideas are endless.
Ensure that you're choosing the one that's comfortable for you, blends in with your style and design, is under the budget, works in the long run, and is easy to maintain. While many view these sinks as merely functional in a daily routine setup, the right bathroom sink ideas can enhance the look and feel of your bathroom.
After all, they are the most important places for you with access to water to cleanse and groom.