The air is filled with a symphony of love as two souls embark on a journey of eternal togetherness. Yes, it's that magical day when vows are exchanged, hearts are entwined, and dreams transform into reality. As the couple takes center stage, their love story deserves nothing less than a breathtaking backdrop to capture their union's essence. It's time to delve into the world of inspiration and explore these 25 fantastic and cheap wedding backdrop ideas that will elevate the ambiance and create lasting memories.
Imagine a rustic garden adorned with delicate blooms and dense foliage. The couple stands beneath a beautiful floral arch, reminiscent of an ethereal fairy tale. Each petal dances in harmony with the gentle breeze as if nature celebrates its love. Each couple's love story is unique, and their chosen backdrop should reflect the essence of their journey.
So, embrace the beauty, ignite your creativity, and let these 25 wonderful wedding backdrop ideas inspire you to create a day that is truly unforgettable.
Cheap & Wonderful Wedding Backdrop Ideas
A majestic golden frame embellished with intricate details serves as the backdrop for the couple's grand entrance. Luxurious drapes fall elegantly, reflecting the hues of a sunset sky. Crystal chandeliers cast a soft glow, illuminating the couple's love and radiating the warmth they share. This captivating backdrop sets the stage for a wedding that defies the boundaries of ordinary reality, also while still being a cheap wedding backdrop idea.
From vintage-inspired settings to whimsical wonderlands, the perfect backdrop is waiting to be discovered.
1. Backdrop Floral Grid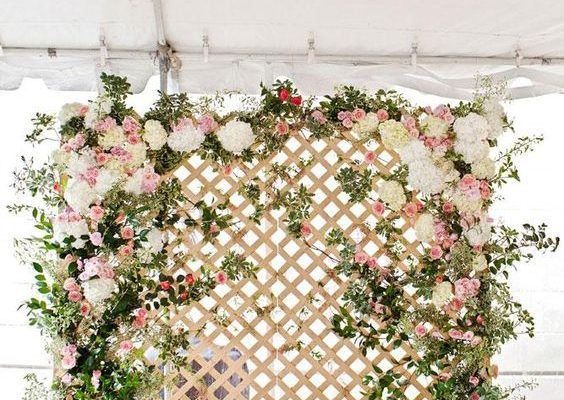 When creating stunning DIY wedding backdrops, grids are your friend. They provide you the freedom and structure to build a completely unique background that will wow your visitors. Make your favorite floral canopy the centerpiece of your wedding by spreading it out across the grid. Utilizing the beauty of a forest may also offer a hint of wildness. This can be one of your many cheap wedding backdrop ideas.
2. The Geo Arch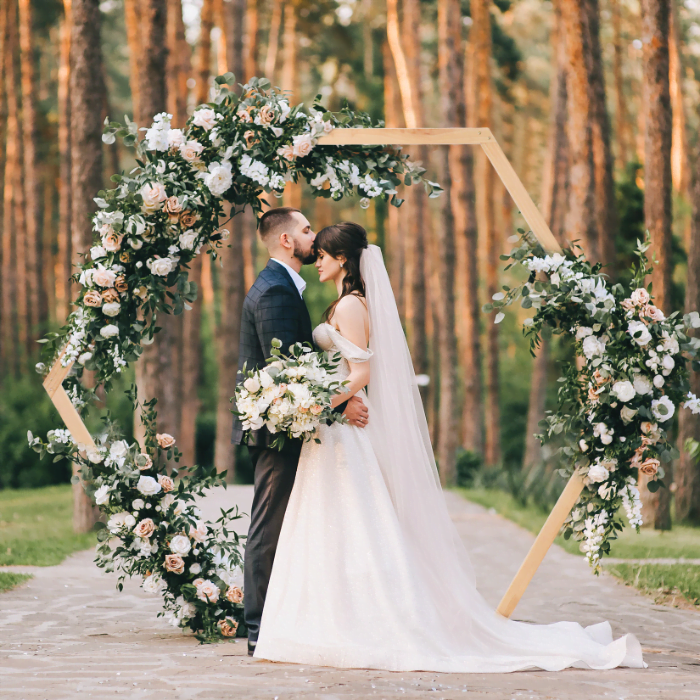 You may certainly dispense with the background if your wedding ceremony is held on top of a hill with breathtaking views of the surrounding area. However, if you wanted to bring attention to the ceremony location, having a straightforward arch like this would do that by giving the celebrant and the couple a frame-like aspect. You can experiment with different shapes and flowers. It will give an edge to your wedding in a literal way.
3. Backdrop of Fairylight Chandelier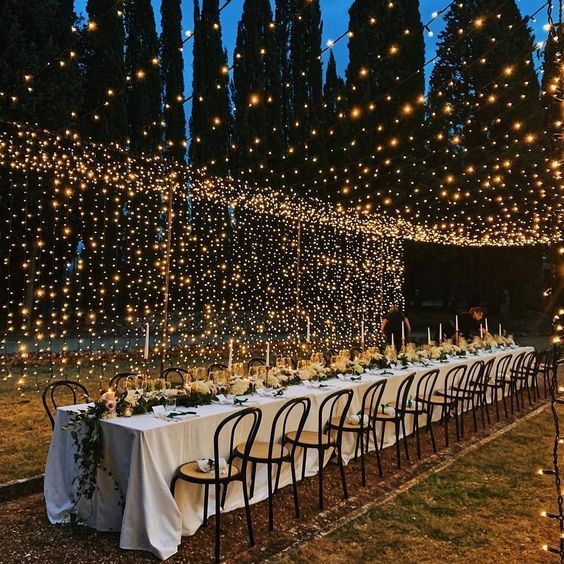 What better way to adorn your golden stone barn background with illumination than a chandelier composed of teeny, flashing fairy lights? We are extremely confident while saying that we can't go wrong with fairy lights. The dazzling lighting has the capability to make any wedding completely memorable. They make it feel like a dream which is as far off from reality as possible. It will make the party look unreal and offer you all the simple, golden sensations.
4. Customized Screens
Screens are great for creating original floral arrangements or hiding unsightly backgrounds. These screens can cover a lot of areas and can eliminate the need for minor decor pieces. These are perfect for use as photo booth props. You can give it an abstract feel or turn it into a classic Asian backdrop with bright decorations all around the screen. To add a special touch to your wedding, you can use it with a floor seating arrangement.
5. Fireplace with Flowers and Candles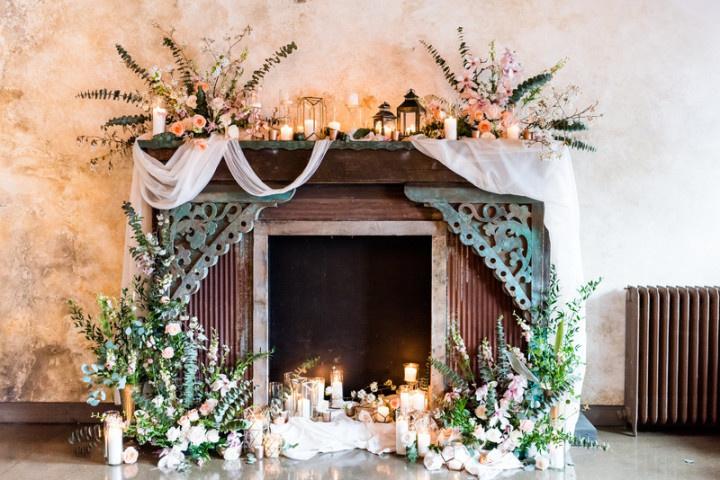 A lovely brick fireplace decorated with foliage and flowers is perfect for an intimate winter wedding. It can be elevated by the glow of warm flickering candles lit to perfection. As far as simple and romantic wedding altars go, a fireplace can be an effortless alternative to highly decorated heavy backdrops. Additionally, if your wedding reception is held in this same location, it will serve as a gorgeous background for the newlyweds' sweetheart table.
6. Natural Art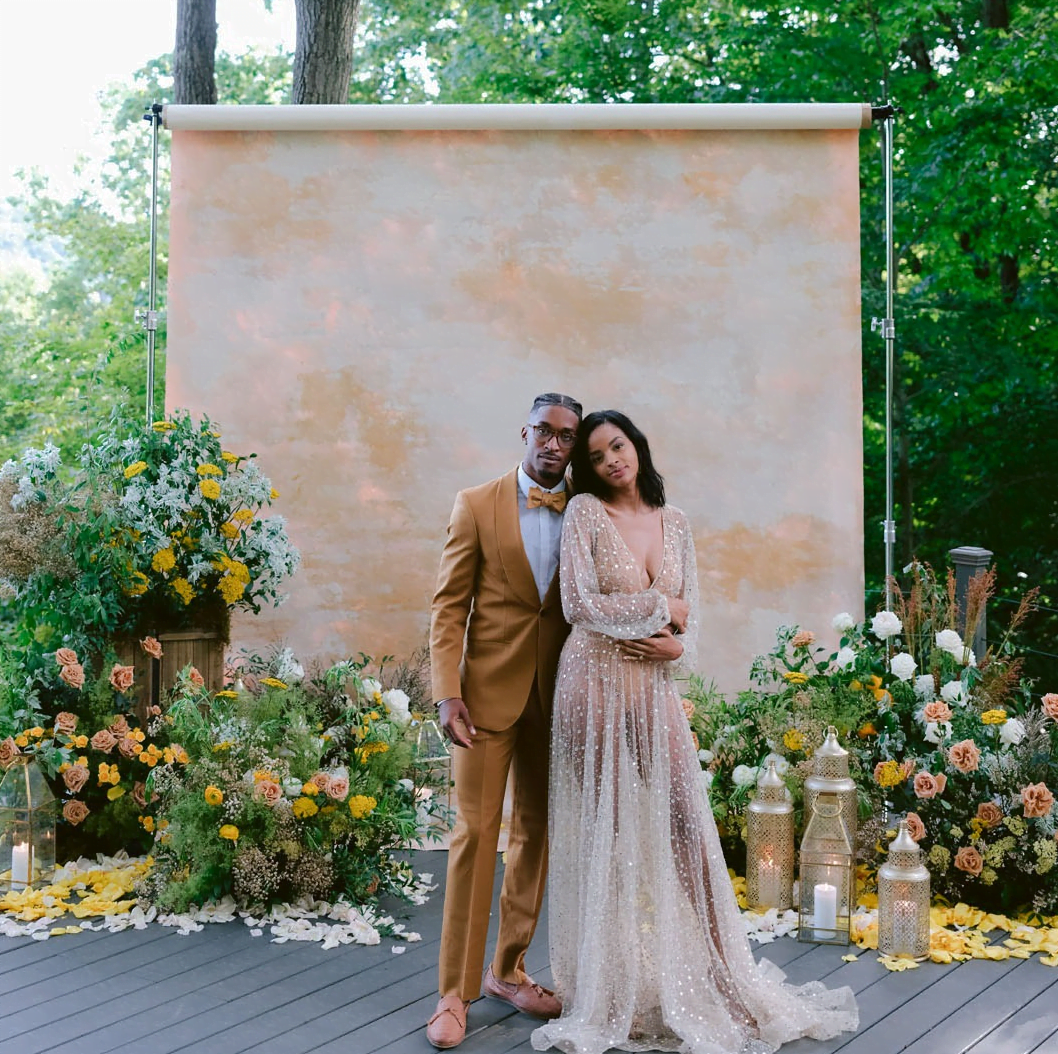 This decor idea offers a great way to add personalization to your wedding decor. You may create a light-filled bridal background by combining drapes and a hand-painted runner. This will provide a backdrop that is unique to your wedding, something that your guests would not anticipate. The finishing touches can be made using taper candles on the floor and gorgeous foliage accented with light flowers. The ideal plain and cheap wedding backdrop idea with a lot of character.
7. Paper Lanterns and Marquee Lights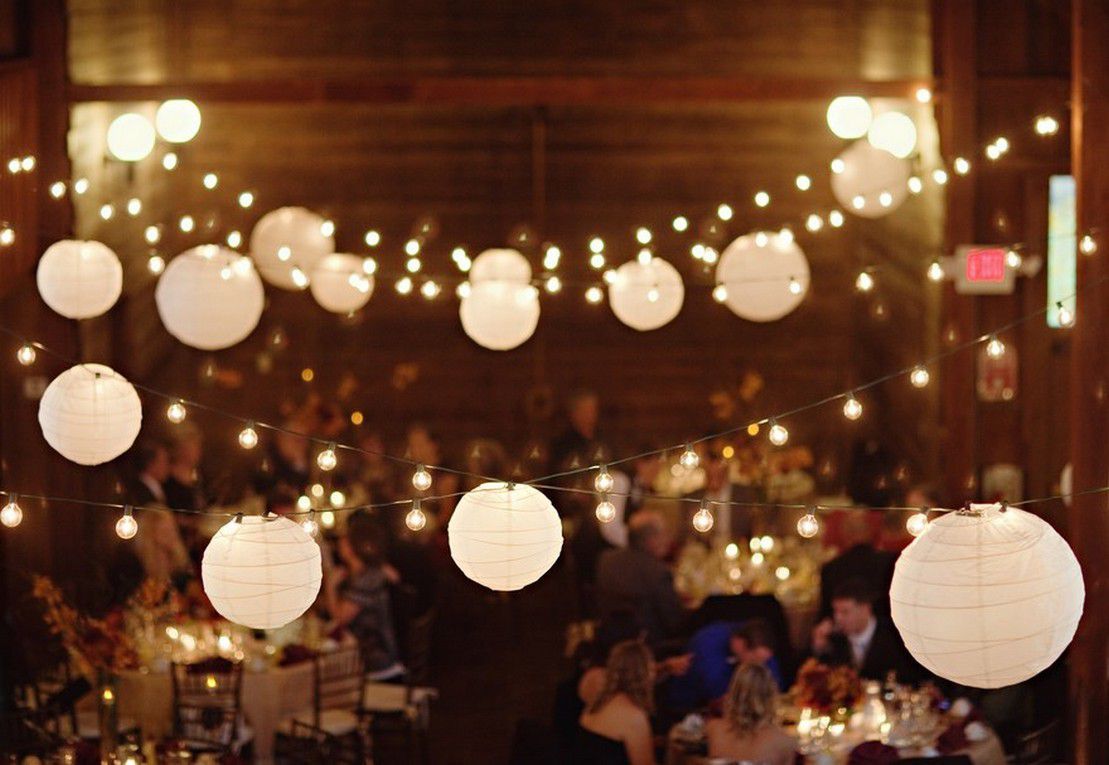 Marquee lights and paper lanterns create a magical backdrop, casting a soft, whimsical glow over the wedding celebration. The twinkling lights and vibrant lanterns bring a playful and enchanting ambiance, symbolizing love and joy. Both items are inexpensive and not uncommon. Yet together, they illuminate the couple's journey by infusing the atmosphere with warmth and wonder. It offers a captivating canvas for the love of newlywed couples' to shine bright during their first dance.
8. Whimsical Tropics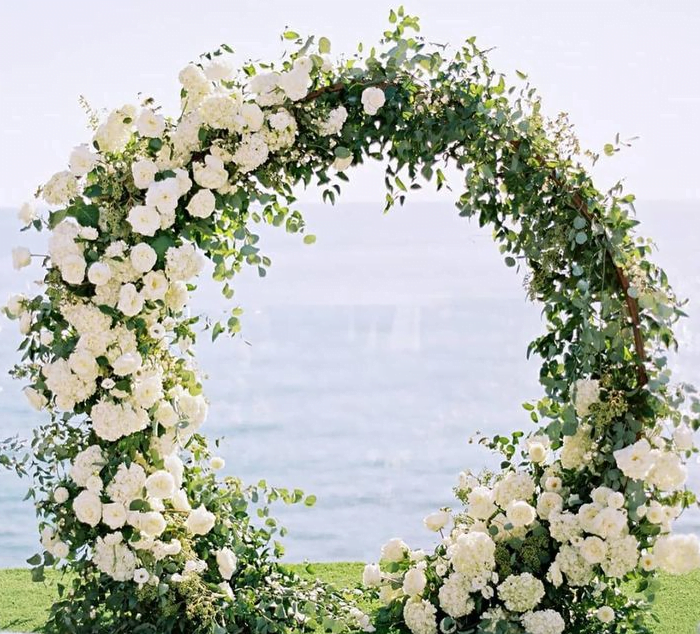 This green elliptical background is a perfect balance between maximalist and minimalist. It can make your wedding look like a tropical fantasy. The background is decorated in a crescent form with monstera leaves, rich foliage, white roses, and tulips to create a contemporary look. It creates a picture-perfect look while the couple holds hands and exchanges their vows. To evoke a sense of closeness at the altar, you can extend your gaze into a semicircle.
9. Hooped Backdrop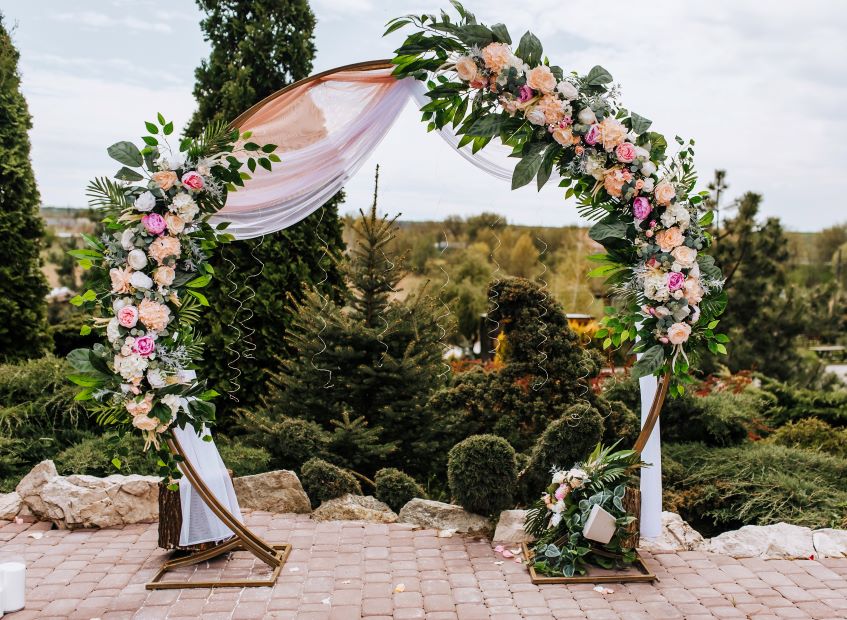 You can make some wonderful DIY backgrounds with hoop structures; it's awesome. This is one of my favorite DIY wedding backdrops to make, whether you go for a single statement hoop or a group of hoops. Additionally, if you want to make a single statement hoop backdrop, think about using a gold hoop as your frame, as it will complement delicate white and pink roses. You can use a number of zip ties to fasten the flowers to the hoop. Finally, a couple of sheer curtains will help you steal the deal.
10. The Flower Wall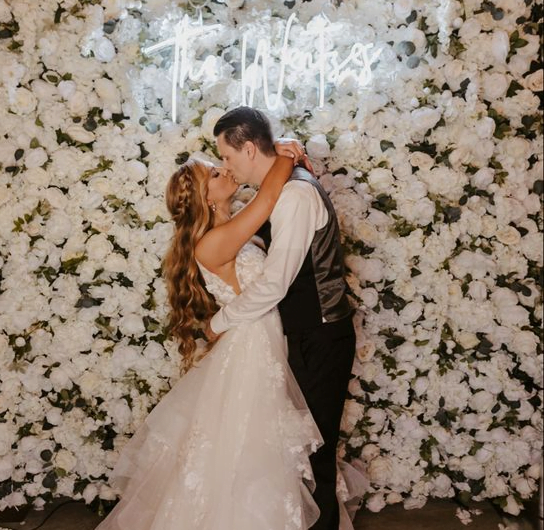 This flower backdrop is ideal for a wedding celebration held indoors. Picture it holding your wedding cake in the ideal location on the wall behind the table. With the rise of social media, dedicated photo booths and picture zones have grown popular at events. If you want to have one at your wedding, the background for that space would be this floor-to-ceiling flower décor. Having this many genuine flowers may grow expensive, but there are always less expensive artificial flowers available.
11. Blossom Trees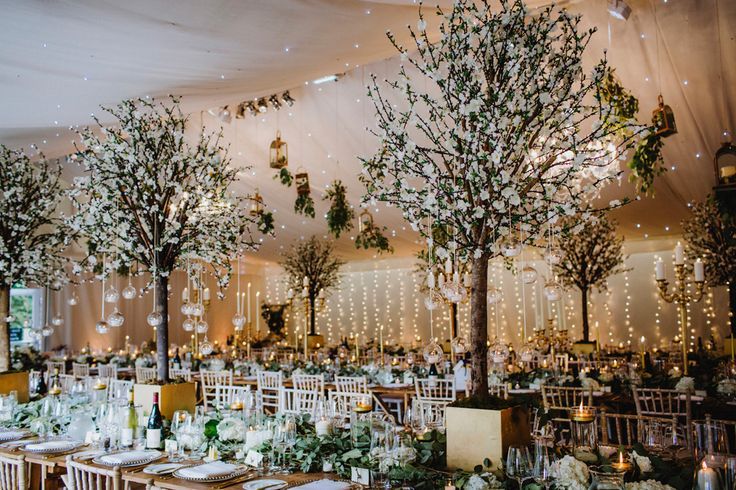 Spacious rooms, tall ceilings, and ingenious decor are common in a marriage happening in a rural home. By adding towering blooming trees to your wedding decor, you can let nature do its magic. The blooms minimally decorated with mini lanterns and lights can make the most of both the reception and ceremony halls. It will bring the attention of your guests upwards and give a lovely, fairytale final touch.
12. Standing Pillars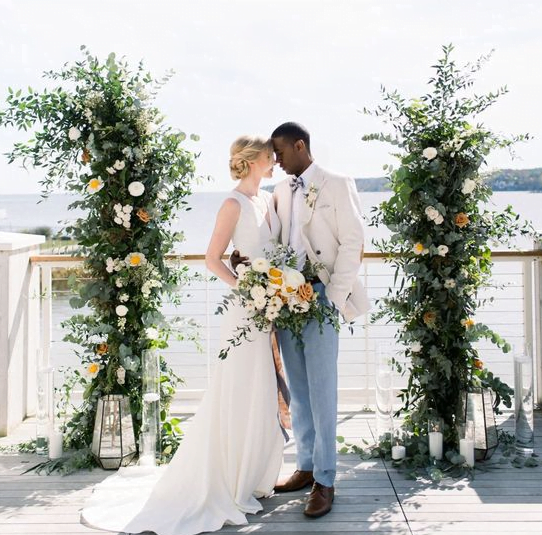 A stunning sculptural piece to surround your ceremonial space is a pillar. You can use wireframes to support the floral arrangements so they may naturally climb over wine barrels, tree stumps, or acrylic plinths. The pillars may be used as a frame or used just as-is. These pillars can add an abstract tropical element to your wedding decor. It can also accompany contemporary decor style.
13. Palm Leaves Backdrop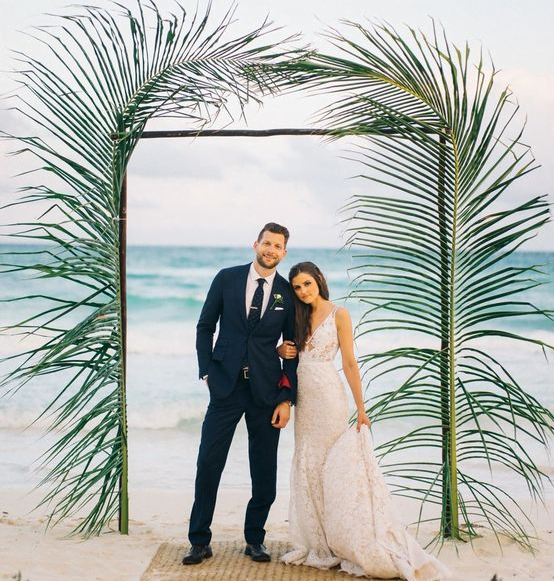 This idea has that sense of amazement even after being so effortless, don't you think? This pair used some basic, natural palm leaves to create an Instagram-worthy aesthetic environment. You may utilize pillars to surround your ceremonial space in case you want to add density to the decor. Palm leaves, arches, and pillars can be great sculptural elements together. This simple yet offbeat idea will help you ditch mainstream wedding decorations in the most affordable way possible.
14. Go Rustic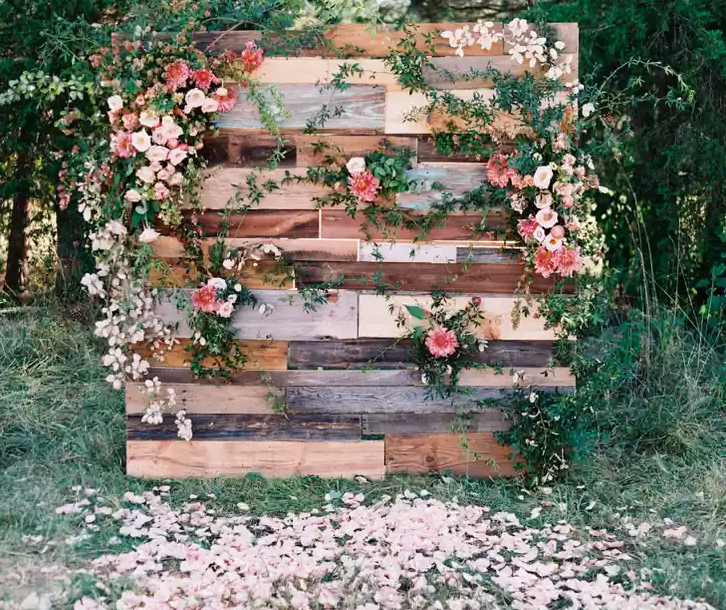 Consider attaching a collection of pink flowers and trailing foliage to a free-standing wall made of wood panels in a variety of stains and tones, like this one, to go completely natural. An old crate or a wood shipping pallet might also be used to make something comparable. After the ceremony, you can move the installation to the reception area, where it may serve as the background for a photo booth or a station where guests can take selfies.
15. Boho Chandeliers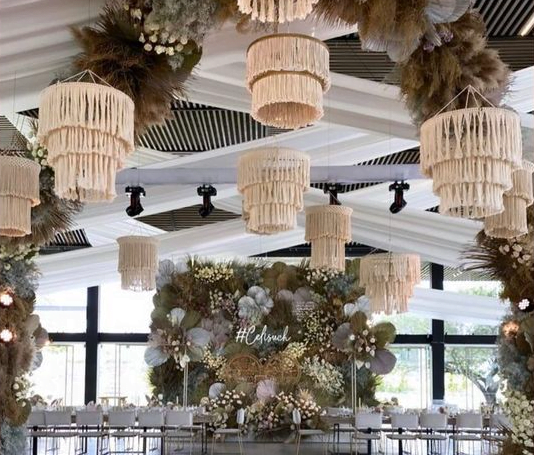 Boho chandeliers make a captivating backdrop, infusing the wedding with a touch of free-spirited elegance. It can signify a celebration of love intertwined with the bohemian spirit, where beauty and individuality shine brightly. The boho chandeliers can adorn a rustic artsy screen. The delicate crystals and natural elements of the decor can capture the essence of romance and artistic expression.
16. Hang Your Flowers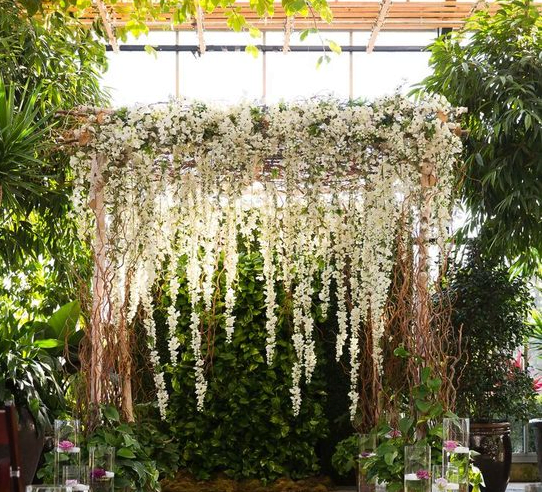 Make your arch unique by hanging flower strands from it. This arrangement keeps things straightforward, with white flowers strung at various lengths for a natural appearance of timeless beauty. You can make the arrangement using natural flower vines or artificial hanging flowers. Additionally, you may alter your color scheme to fit your wedding's theme. It's floral; it's pretty! You can also make it a cheap wedding backdrop idea by using paper flowers. This will not only be affordable but also give you the flexibility to experiment with colors.
17. Multiple Layered Hoops with Tropics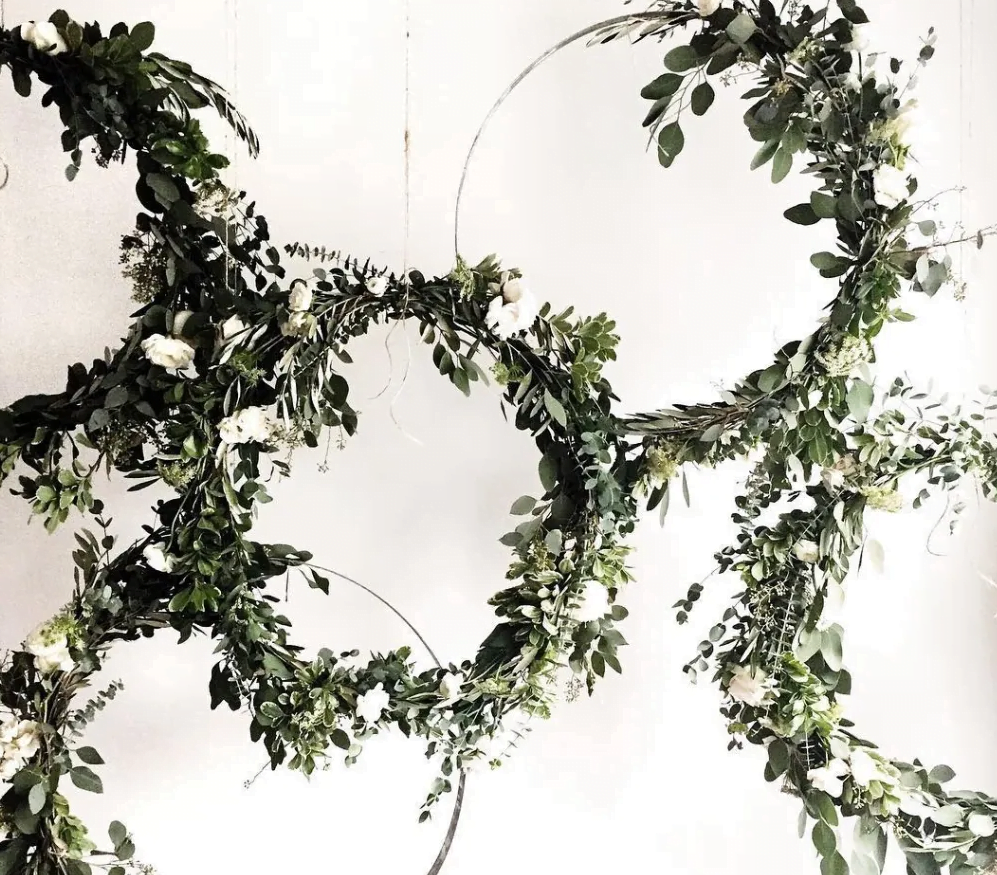 Use hula hoops to create these multi-layer tropical loops. You can paint them with spray paint or use embroidery hoops as your base. Then you just need to attach the foliage with floral wire or zip ties according to your preference. The concept is the same, but this DIY for flowery hoops is done in a smaller size. Make sure your venue can assist you in figuring out how to hang them!
18. Monogram Wall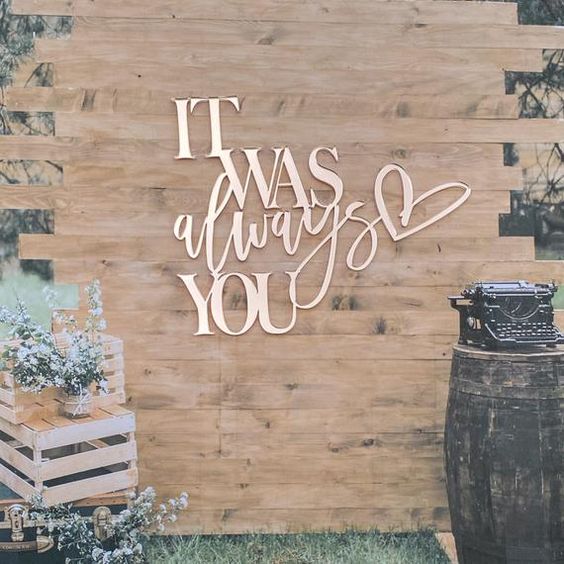 In this extremely neutral yet elegant-looking backdrop, less is most definitely more here. These monogram signs are highly customizable and easily available. You can ask one of the photographers to place this near the reception venue's entrance and utilize it as a backdrop for visitors as they arrive. After everyone has entered, you can place it beside the gift table or close to the exit. You may use it as an artwork in your house after the wedding.
19. Stacked Rustic Crates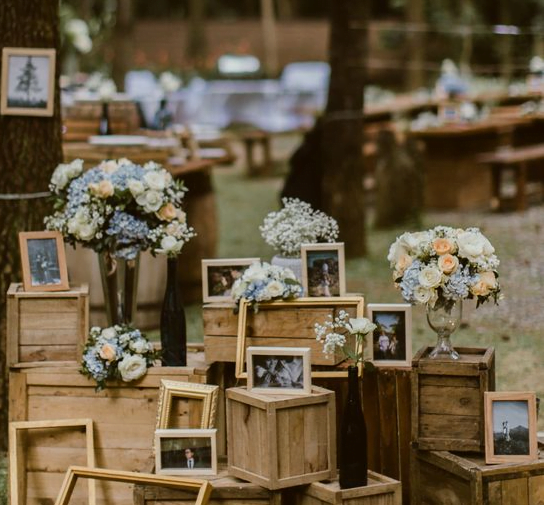 Make a crate display using ideas from rustic furniture shops! Stack a variety of oddly shaped wooden boxes and fill them with thoughtful extras like personalized storybooks, messages, flowers, and signs. Consider whether your barn venue has any original boxes from its agricultural heritage that you may utilize. This is a great background for ceremonies occurring in open areas since it diverts everyone's attention from the surroundings and puts it on you. The cherry on top: if you're creative enough, you could create this background for nothing!
20. Tapestry Backdrop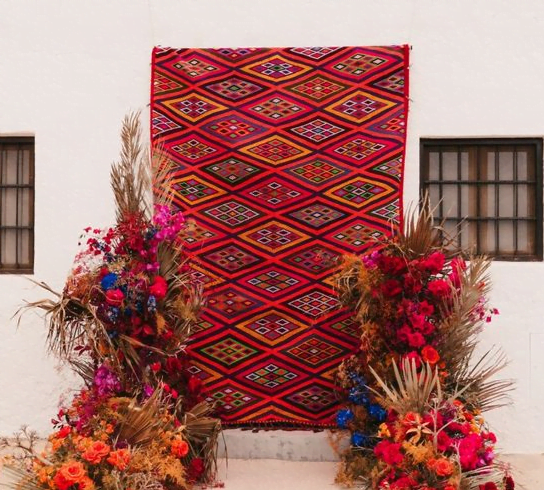 Using Tapestries and textured papers as backdrops can provide a great mixture of modern and bohemian aesthetics. This idea is perfect for couples who want to cover a lot of areas without much effort. The unique texture of your tapestry is bound to stand out. You can choose from tons of colors in which these rugs are available to suit your vibe. This way, you can also add a hint of your personality to the wedding decor.
21. Celestial Element Centerpiece Backdrop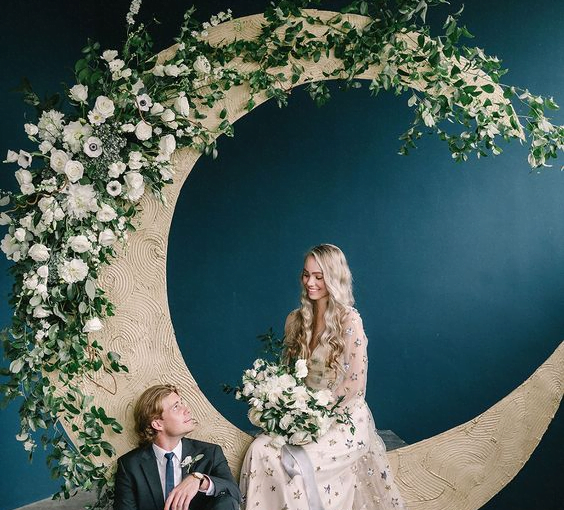 A pampas grass crescent moon, perhaps? Beyond compare! This extraterrestrial manner of framing a pair is especially appropriate for a lakeside wedding. Air and water blend in the distance as the ethereal building flutters in the wind. Talk about appreciating the natural world. To add a distinct touch, you may also use dream catchers. This statement piece can prevent you from spending on other minor decor items as it can become the talking point.
22. Go Mosaic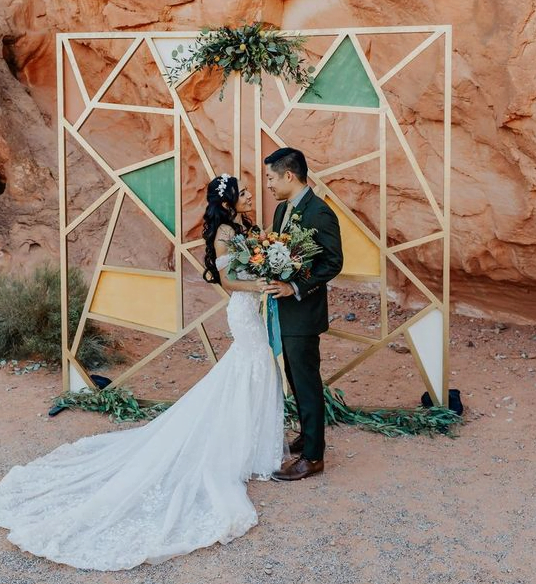 Particularly if you hold your outdoor wedding ceremony in a very wide space, this wall mosaic is the ideal background. The presence of these exquisite panels directs attention to the bride and groom and the wedding celebrant. Mosaics are beautiful and vibrant. They can elevate any mundane background. Just be careful that your mosaic's colors aren't too strong so as to clash with your wedding attire.
23. Macrame Wedding Backdrop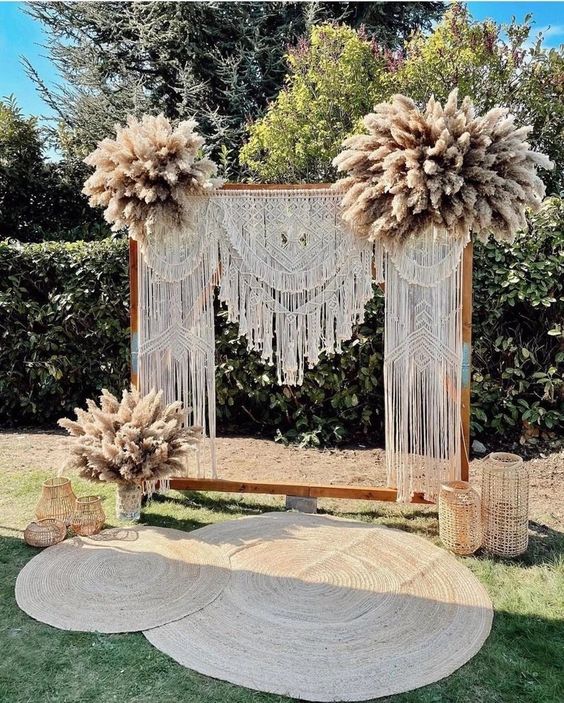 Without a doubt, this macramé wedding backdrop is required for a bohemian wedding! You may make them yourself or purchase them already produced. Long macramé cords are available if you choose to make them yourself. It can take you a few days or weeks to finish, but try to look at it this way. It's a great sort of treatment to get rid of wedding anxiety. Besides, it can act as a memory from your wedding that stays with you throughout your marriage.
24. Colorful Canopy Background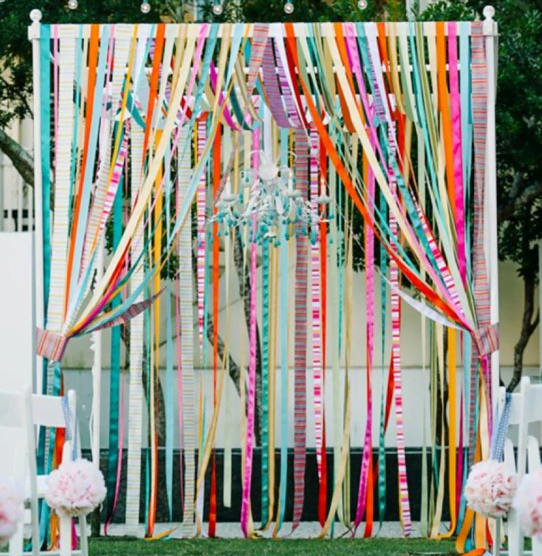 You can highlight the stage of the bride and groom through a swirl of colors. This backdrop, made out of colorful ribbons and ropes, looks bright and absolutely stunning. It can be a unique way to give a Hawaiian touch to your beach wedding. Besides, it can act as a perfect background for the fun candids of the bridegroom and their friends. So if you are planning to keep unsophisticated aesthetics nowhere else and choose this background.
25. Refurbished Old Door Backdrop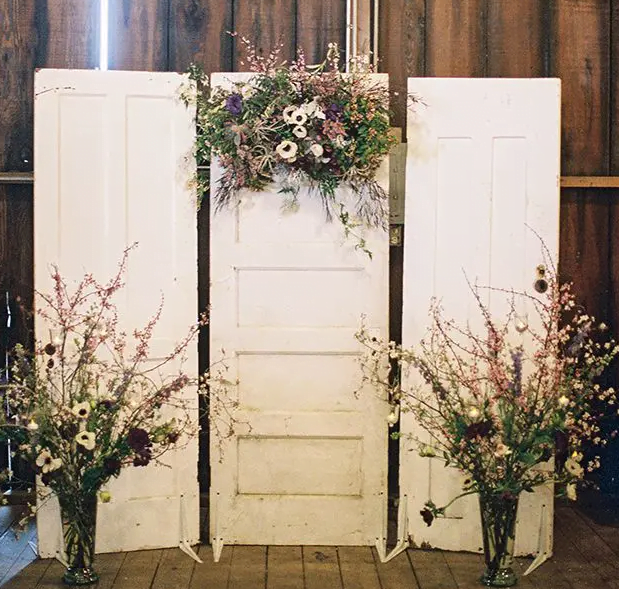 Using antique door panels as a background for a rustic or vintage-inspired wedding saves money. You don't even need to paint them over because their worn appearance enhances their charm and perfectly matches your rustic or antique decor. The doors may either be rested against the wall or let to stand freely by being fastened with L-brackets. It is sturdy yet elegant and beautiful!
Some Creative DIY Backdrop Ideas
You can definitely try all these amazing wedding backdrop ideas. If you are looking for a cheap wedding backdrop, you can also be creative and DIY one for yourself! Here's how-
Select a backdrop that goes with your wedding's theme after deciding on one.
You'll need to gather supplies like balloons, paper, fabric, lights, or foliage, depending on the backdrop you've chosen.
Be sure to schedule enough time to design your background and to plan ahead. By doing this, you can be sure that you have everything you require and that your backdrop will be prepared in time for your wedding.
With your backdrop, be imaginative and inventive. To make it even more memorable, you may add personalized details like your name or wedding date.
Do not be afraid to enlist the assistance of friends or family if you are feeling overburdened.
Measure the area before hanging your backdrop. Mark it with tape or twine. This way, you can ensure that your background is of proper size and placed properly.
Attach all the components to your background to complete the assembly. Use the proper equipment and supplies to connect the pieces, such as a fishing line to hang lights or a hot glue gun for paper flowers and balloons.
To ensure that everything is in its proper location and is safe before the big day, test the background.
Celebrate Your Special Day with Dreamy Decor
Creating a beautiful and unique wedding backdrop doesn't require you to be a professional. A DIY backdrop you can create for your special day is as simple as being creative, planning, and patient.
Summing It Up
As we reach the end of our journey through 25 wonderful wedding backdrop ideas, we are left inspired by the limitless possibilities that exist to create a truly magical celebration. From ethereal floral arches to regal golden frames, whimsical fairy lights, to modern geometric designs, each backdrop we explored offered a unique glimpse into the world of love and romance.
The beauty of wedding backdrops lies not only in their visual appeal but also in the emotions they evoke. They become a canvas upon which cherished memories are painted, forever imprinted in the hearts of those who bore witness to the union. These cheap wedding backdrop ideas can be more than just a decorative element. It can be a manifestation of love itself. With every stroke of inspiration, every choice of design, and every moment of creativity, we have the power to craft a backdrop that tells a story.
An unforgettable story of love, unity, and the beauty that exists in our hearts.