Over the last couple of years, the popularity of arched cabinets has gained momentum. As is true for many popular and trending things right now, this sudden rise in popularity was due to the product being advertised on many social media platforms, and as a result, many interior decorating publications also picked it up. The best thing about an arched cabinet is probably its versatility and how it can be used for a multitude of purposes. Be it for storing silverware, antiques, picture frames, medals or books, and decorative pieces, an arched cabinet can hold it all. Their sleek and well-formed design makes it possible for these cabinets to blend into any kind of home decor and add a touch of luxury to them.
In essence, an arched cabinet is a style-friendly storage option that can be placed almost anywhere in your house without it looking out of place. No wonder why they are so popular these days.
So, are you not curious about the various kinds of arched cabinets available? If you are, then do read on.
18 Stylish Arched Cabinets for 2023
Here is a list of 18 beautiful arched cabinets that you can add to your home.
1. Mason Storage Cabinet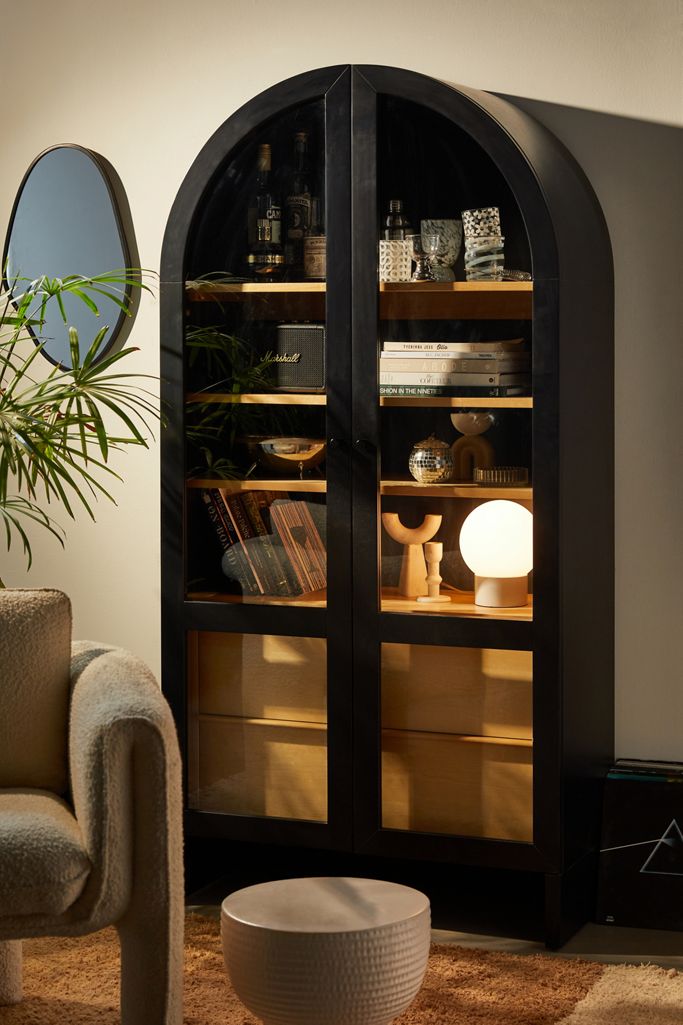 This arched cabinet from Urban Outfitters is a beauty to behold. It has a sleek and compact design that also has a touch of antiquity to it. In a way, this cabinet is perfect for those homes that have both modern and traditional elements in their interior decor. As an added bonus, this product is available in five different shade options, and if you wish to have a vibrant pop of color in your home, then this cabinet is the one for you. In terms of storage, too, the Mason Storage Cabinet has plenty of place with 4 average-sized shelves and some additional storage at the bottom.
2. Fern Storage Cabinet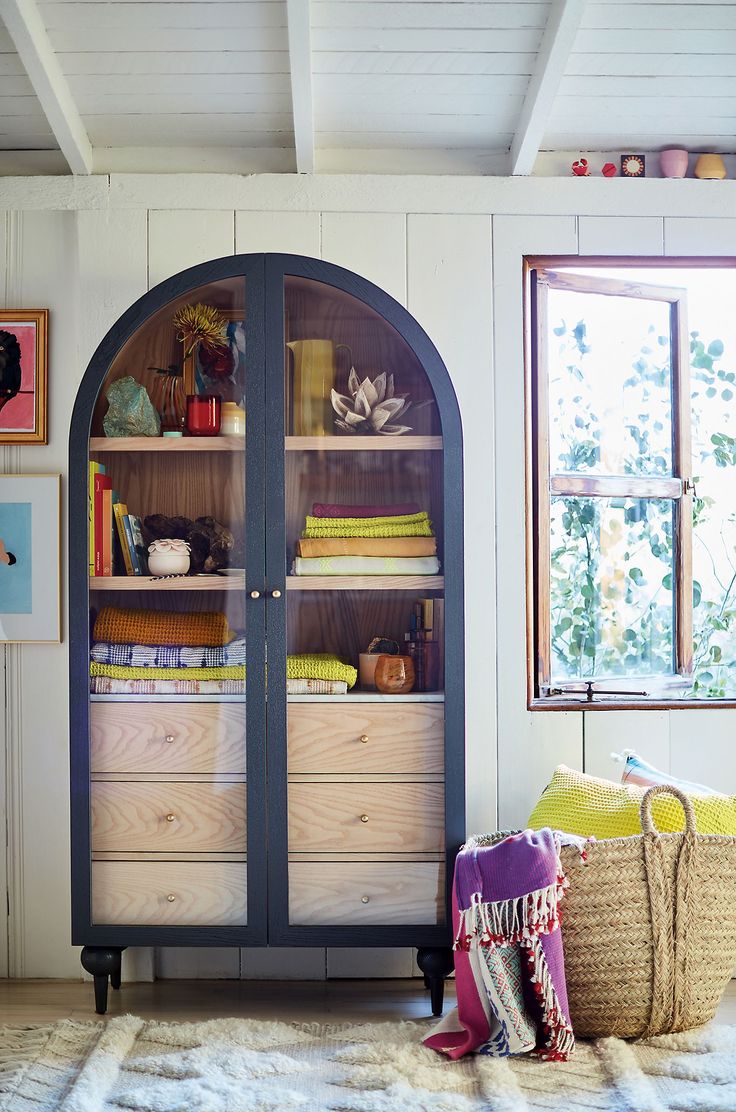 This is by far the most popular listing here, and you can probably see why. This cabinet from Anthropologie has impressed thousands of social media netizens and interior design enthusiasts with its sleek body and sturdy but stylish frame. The marble-topped drawer is a cherry on top. There are three layers of wooden shelves that are expansive enough to accommodate your entire silverware set. As if that was not enough, the Fern Storage Cabinet also has three pairs of buttoned-up drawers and a signature silhouette. The cabinet rests on ballooned legs which gives it a touch of fun and liveliness. This cabinet is also available in 7 different colors, so place it where you want, be it in the living room, the study, or in the entryway.
3. Guthrie Cabinet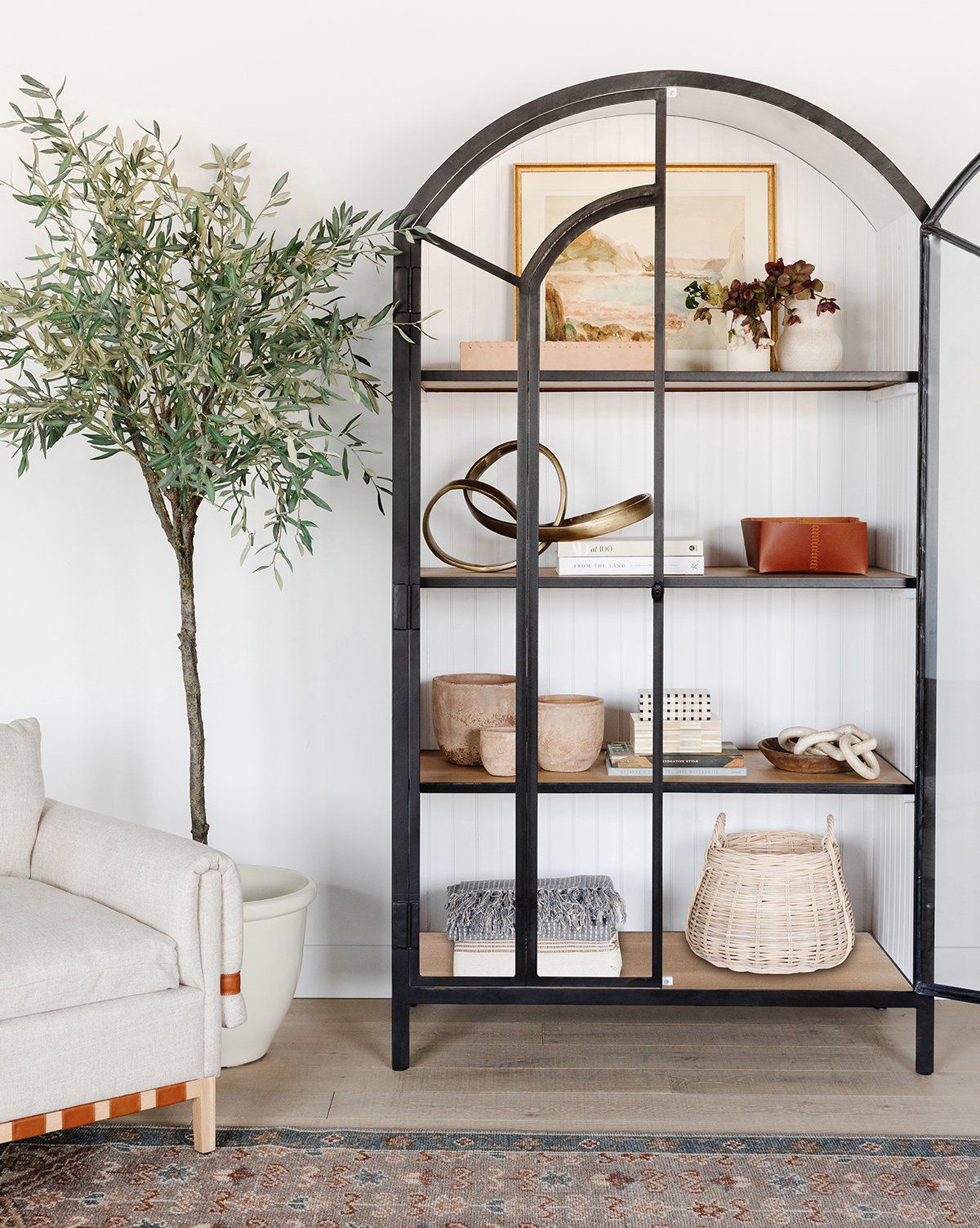 This cabinet by McGee & Co is a bit expensive. But with its large dimensions and unique design, the price seems worth it. The main attraction of this arched cabinet is its sophisticated iron frame, which is also the focal point of the design. The frame is powder coated with a white beadboard surrounding the interior of it. You get 4 shelves made of oakwood that add to the beauty of the design. These shelves are fitted from top to bottom, and they are quite wide in dimensions which gives you the liberty to place almost any relevant thing inside the cabinet. The Guthrie cabinet features an impressive balance between style and functionality.
4. Apolline Curio Cabinet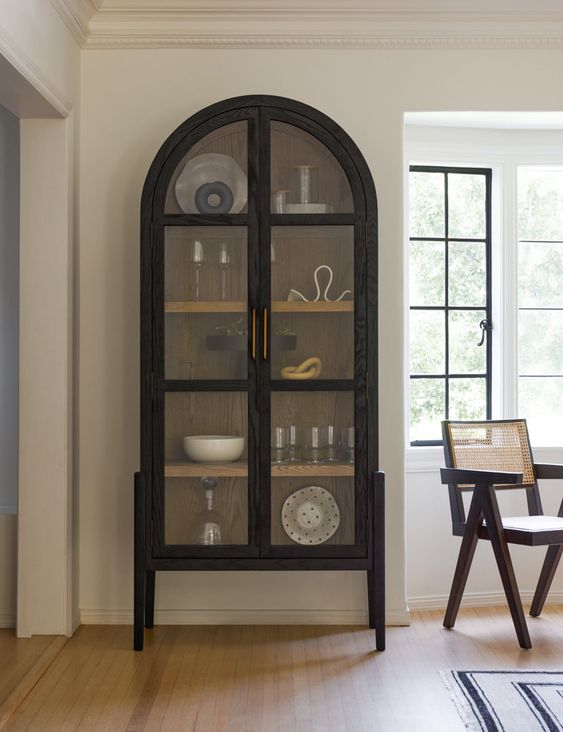 With the functional organization of stuff in mind as well as style and elegance, this arched cabinet is perfect for the living room, the study, or even the kitchen. It is available in three shades of wood- natural, black, and oak & black. Lulu and Georgia. It features a beautiful body of strong oak wood with four spacious shelves with a glass front that allows a clear view of the precious items you place inside. The sturdy body paired with the tempered glass makes it proof of minor damages like scratches and such. But it's vulnerable to water stains, so make sure to keep moisture away from it.
5. Tolle Arch Cabinet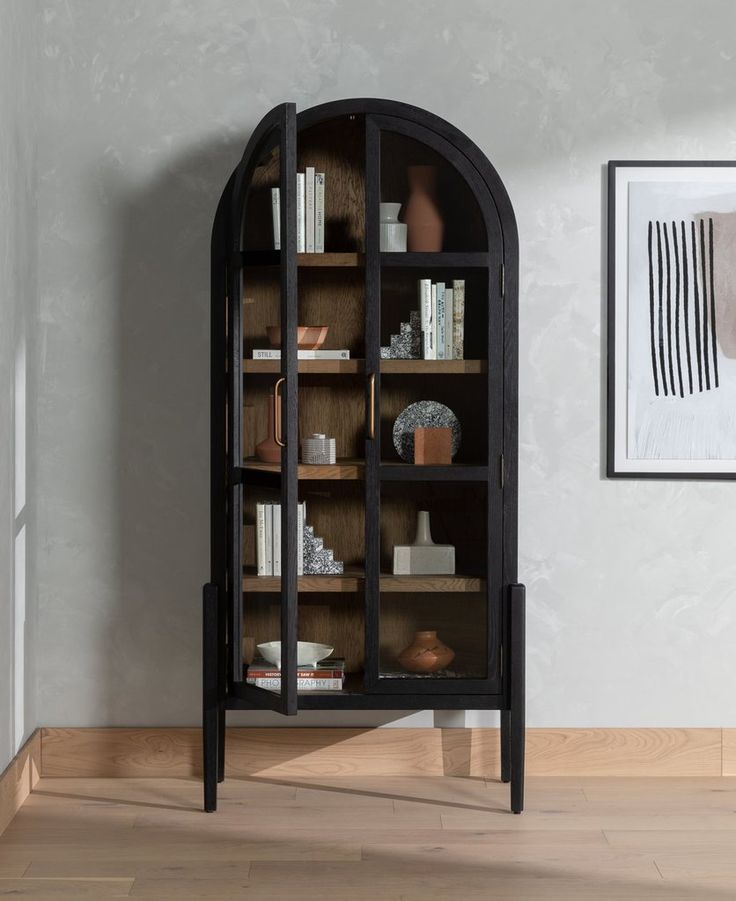 The Tolle Cabinet from France and Son is available in three colors- black, oak, and matte black solid; the first of the three shades is the most popular one because the black makes the already nifty structure of the cabinet seem more sophisticated. The body is made of sturdy oak wood, and it is accented with brass in the handles and door joints. The shelves are covered with clear glass, which makes it possible to use the cabinet as a showcase for decorative items and photo frames. Whichever room you choose to place this cabinet in, it is sure to be a great addition to the whole visual appeal of the room.
6. Christopher Black Iron Arched Cabinet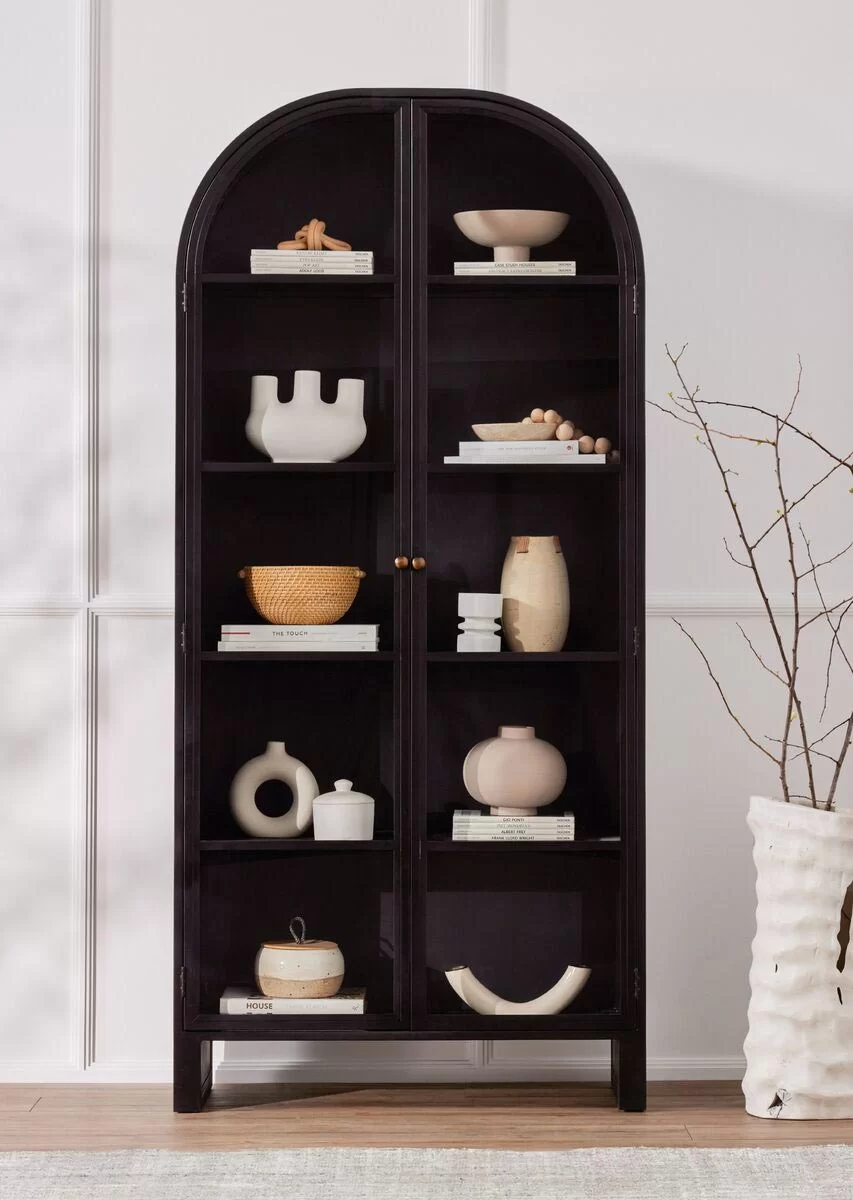 This is possibly one of the coolest-looking arched cabinets out there. The cabinetry is made completely of Black Iron which gives it a commanding presence no matter where you place it. It is an eye-catching piece of furniture that is every bit worth the money you spend after it. The cabinet front is covered with shiny tempered glass that pairs very well with the rough but alluring exterior of the cabinet. The Christopher Arched Cabinet is narrower when compared to other cabinets, but what it lacks in width, it makes up in the availability of space with its five interior shelves, which can house a variety of objects as desired.
7. Aris Glass Door Cabinet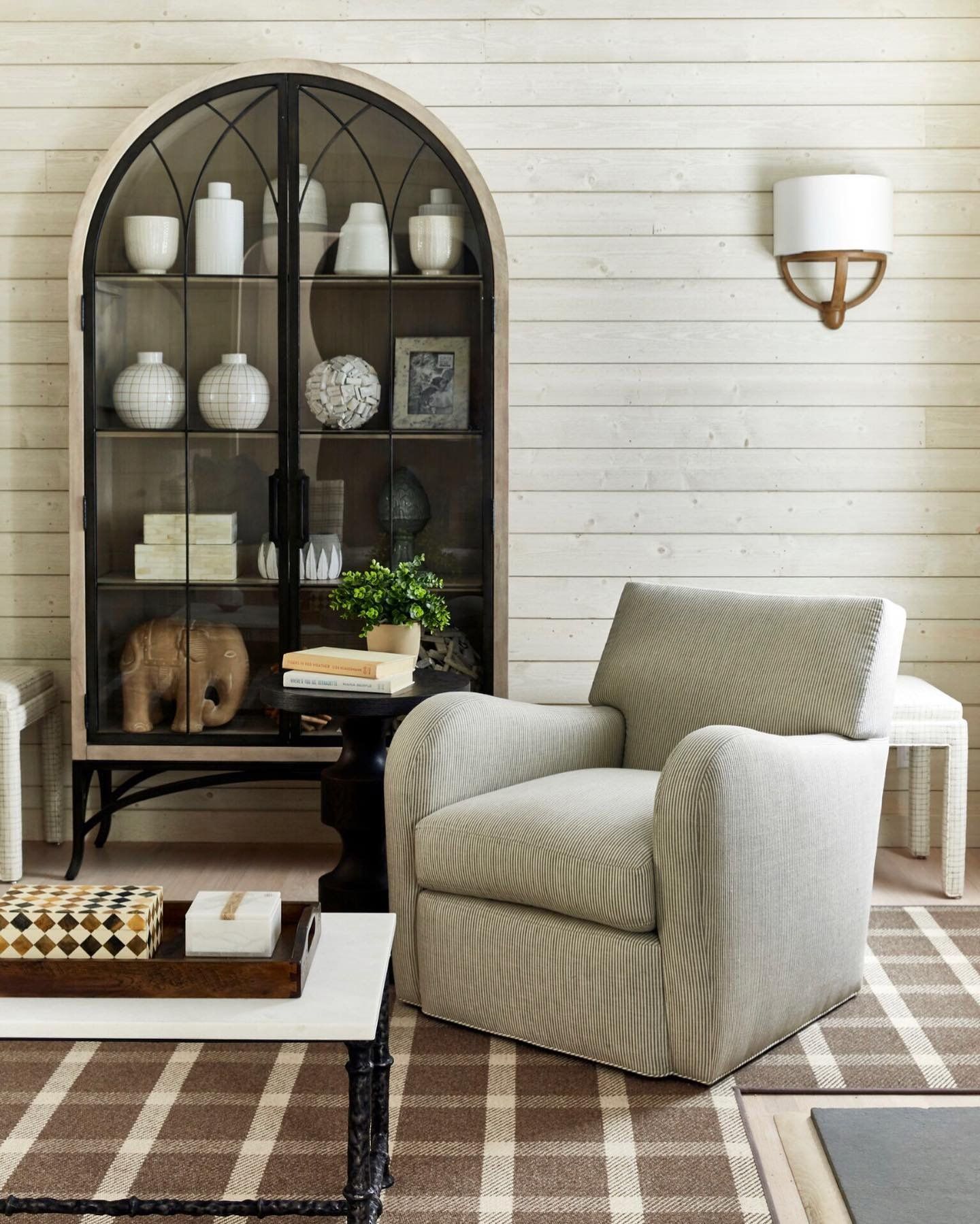 As the name suggests, glass is a primary part of the cabinet's design. According to the sellers, the structure of this arched cabinet has been inspired by European Gothic windows. One can definitely see some reflection of Gothic architecture in the paneled door that is custom-welded with bronze metal, which is also the material that has been used to make the feet. The main body of the cabinet is made of mango wood and mahogany. Given its sleek frame, it is perfect for narrow spaces or for small areas where space maximization is essential. It has one fixed and two removable shelves with plate grooves that offer a lot of room for display.
8. Hattie Glass Cabinet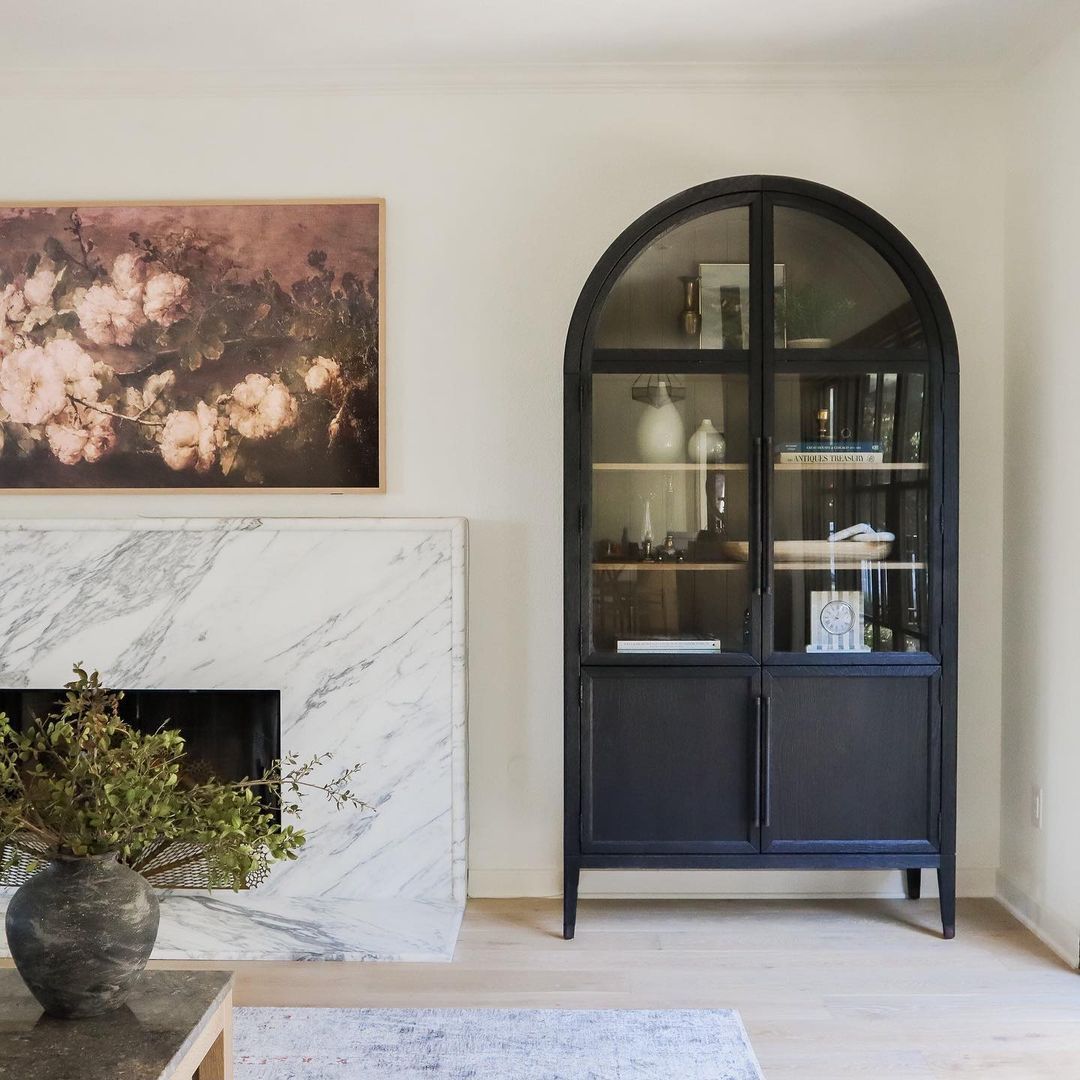 If you are worried about space despite taking a liking to this arched cabinet,Arhaus has got you covered as they sell the Hattie Glass Cabinet in two widths of 36 and 46 inches. The body of the cabinet is made from oakwood with two types of shades available. There is ample storage space on the spacious shelves for display purposes, while there are also drawers at the bottom where other important stuff can be stored. This cabinet truly caters to all kinds of requirements as you will find holes for accommodating chords and wires at the back, and therefore, you can place electronics in this cabinet easily.
9. Payson Tall Cabinet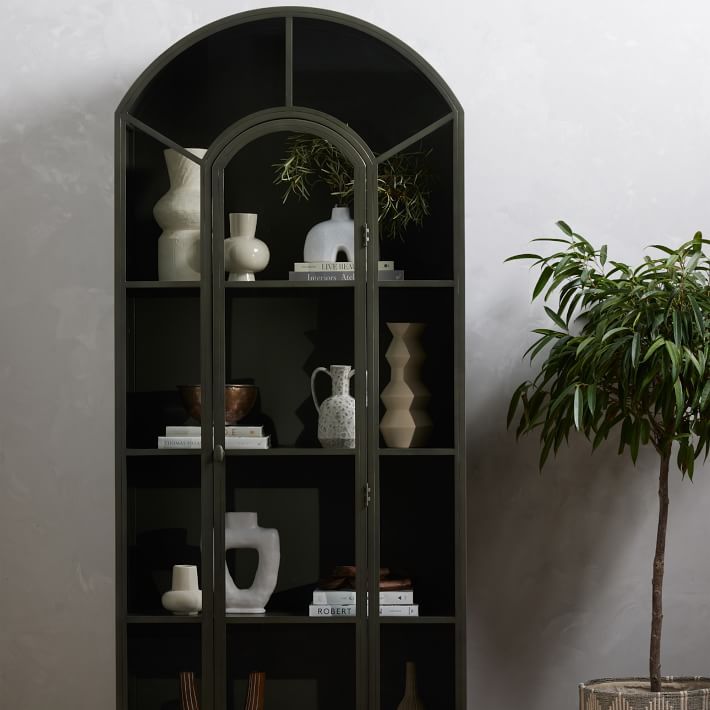 If your intention is to create a focal point around the treasures you choose to display inside the arched cabinet, then the Payson Tall Cabinet sold by West Elm is the one you have been looking for. It is available in two colors which are Gunmetal and Black. All four shelves are fixed, but space is not a constraint here as the expansive design of the shelves can firmly hold anything. The shelves are covered with clear transparent glass, which is also the door. The frame of the cabinetry is made of iron, while the hardware has brass accents, and the combination of the two lends a chic aesthetic to the room.
10. Albany Bookcase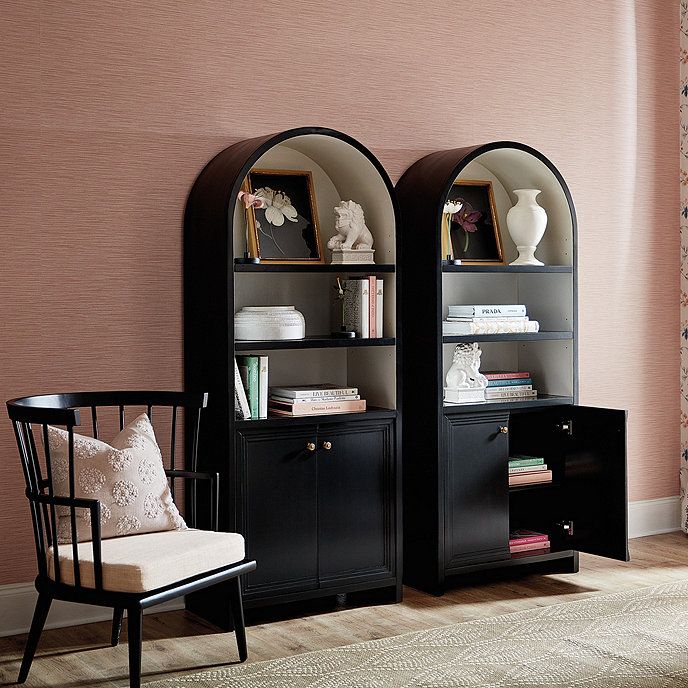 Despite being listed as a cabinet, this is more like a bookcase, as the way it is built is perfect for storing books. But, of course, you can use it as a regular storage cabinet. This is also sold by ballard designs, making it one of the cheapest options on this list. This cabinet has a very compact build and is perfect for being placed in a tiny nook or corner. It has three adjustable shelves that give you a lot of space to work with. Its beautiful black exterior goes very well with the interior painted white and knobs of accented gold. The other color available is a flawless white exterior with a taupe interior which is an equally pretty combination. There is also additional storage at the bottom, so space is not an issue.
11. Javier Arched Cabinet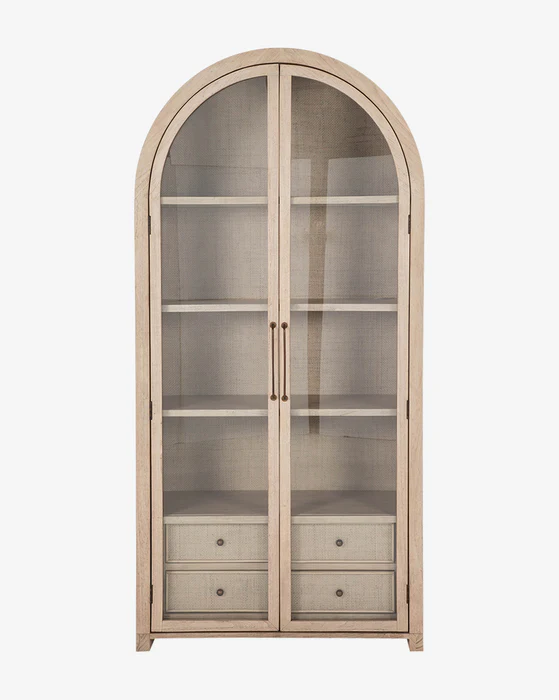 Another listing from McGee & Co the Javier arched cabinet, making it the priciest item on this list so far. It is available in an exclusive white which is the color of both its exterior and interior. The luxurious structure of the cabinet makes it a perfect addition to minimalist home spaces. Its wooden cabinetry and rattan interior are endlessly refined, with its glass-paneled door elevating the simple yet classic arched silhouette on top. Additionally, there are four drawers at the bottom that open separately, and it sure takes care of storage issues for items that don't need to be displayed but has to be kept securely.
12. Gabby Elsa Arched China Cabinet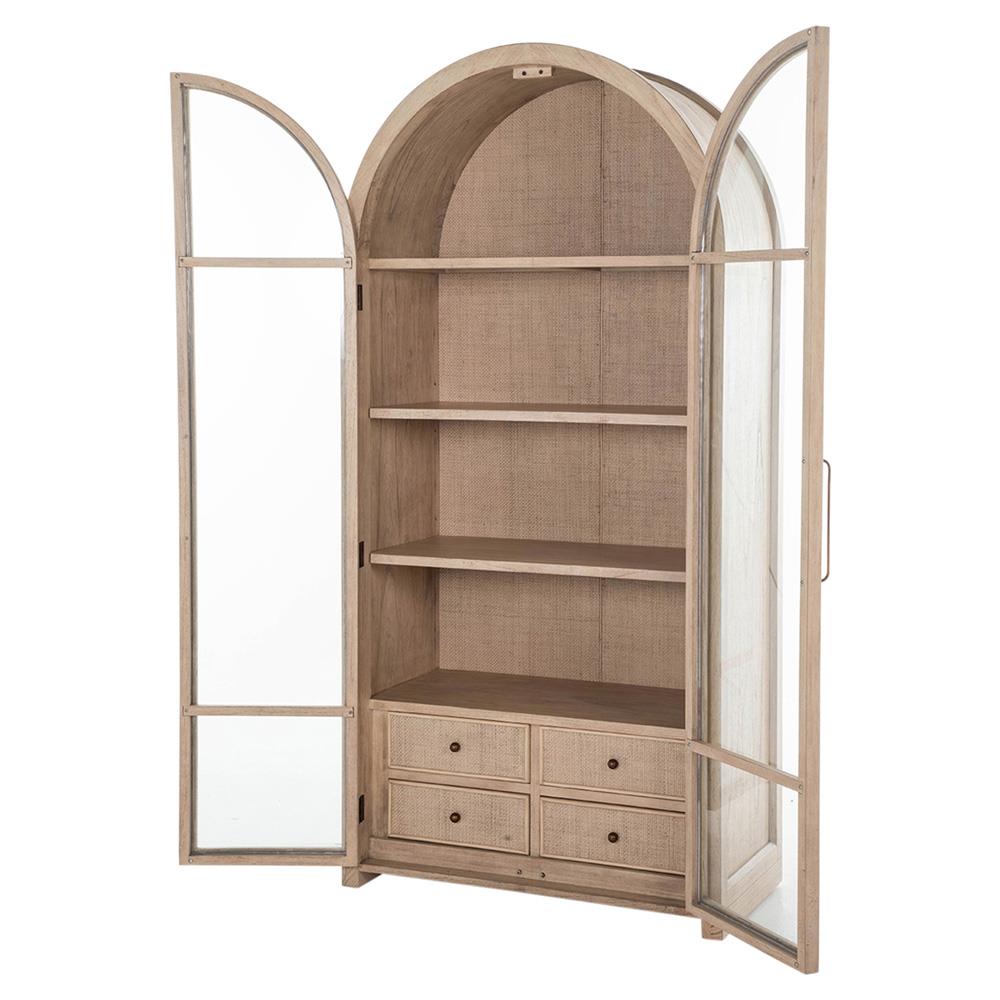 Available on the Kathy Kuo Home site, the Gabby Elsa cabinet or Gabby Elsa Natural Wood Glass Door Woven Rattan Drawer Arched China Cabinet is quite expensive. The name might be quite a mouthful, but it perfectly surmises all the main perks the cabinet has to offer. Without much-complicated features and details, this storage cabinet wins for its simplicity and natural yet classic look. It features four shelves for display storage and four more rattan drawers for miscellaneous items. The delicate shade of beige with brass accents makes the cabinet somewhere between modern and vintage. It is a perfect dining room addition to store all your favorite chinaware and plate collection, but it will look just as good in the living room or entryway as well.
13. Breya Cabinet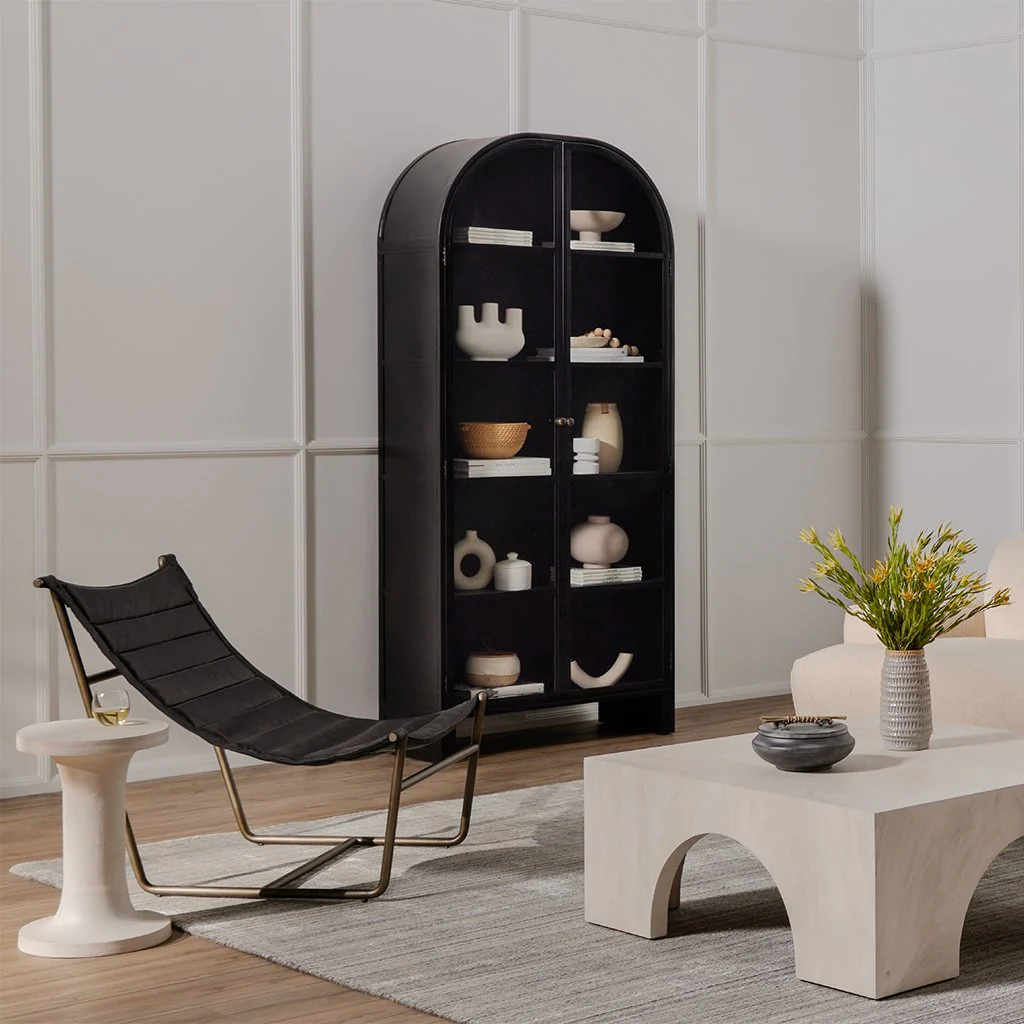 If you are among those who believe that black and refinement go hand in hand, then the Breya arched cabinet is perfect for you. The main body is made of black-finished iron that is polished to perfection lending the cabinet its sophisticated allure. The door is built with tempered glass panels, which go very well with the overall design of the cabinet. Be it in gothic home decor, minimalistic, or Greco-roman, this cabinet is a good fit anywhere. To bring out the best, consider displaying items of a neutral or lighter color on the spacious shelves and make them a focal point for your room.
14. Natural Woven Arched Wardrobe/Cabinet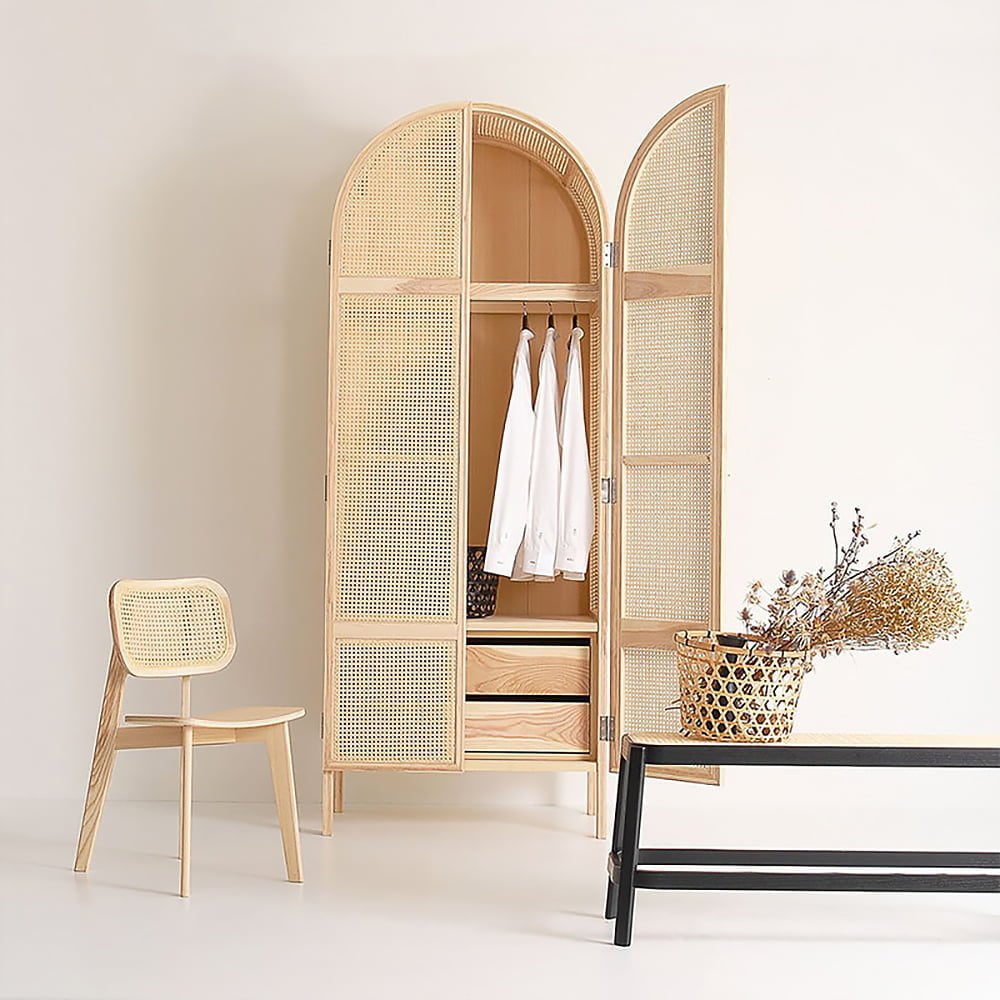 This one is slightly different from the other items on this list, both in terms of appearance and purpose. This arched cabinet lacks a display storage option. But that is hardly a negative aspect of the design because it features a beautiful rattan woven door instead of a glass paneled door which is enough to make a statement by itself. Its high-quality ash-wood frame provides the sturdy cabinet stability, which keeps it grounded in its place. If you are looking for an arched cabinet to go with your beach-themed or bohemian interior decor, this is ideal for you. It is both very trendy and subtle and is sure to be an eye-catching addition to your room.
15. Mason Curio Cabinet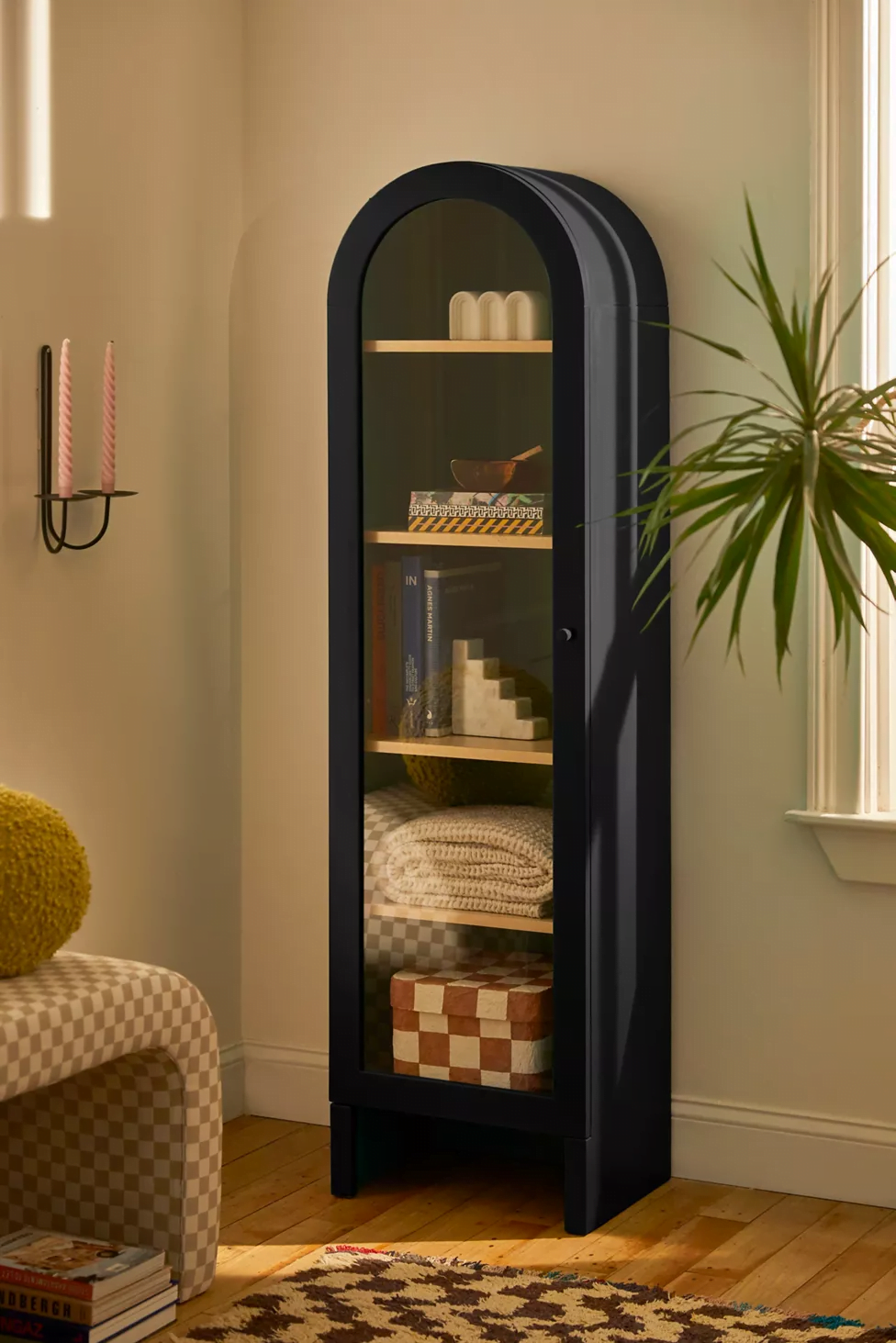 This narrower version of a Mason Cabinet from Urban Outfitters has all the best qualities of an arched cabinet but in less space. Urban Outfitters has listed this at an affordable and reasonable price. It has one glass paneled door and 5 shelves which have enough space considering it is around 14 inches wide. It is a perfect addition to your bathroom or the entryway, but you can place it anywhere you want to. It comes in two colors- black and natural. Both shades are very versatile and can be added to almost any type of decor without it looking out of place.
16. Isadora Armorie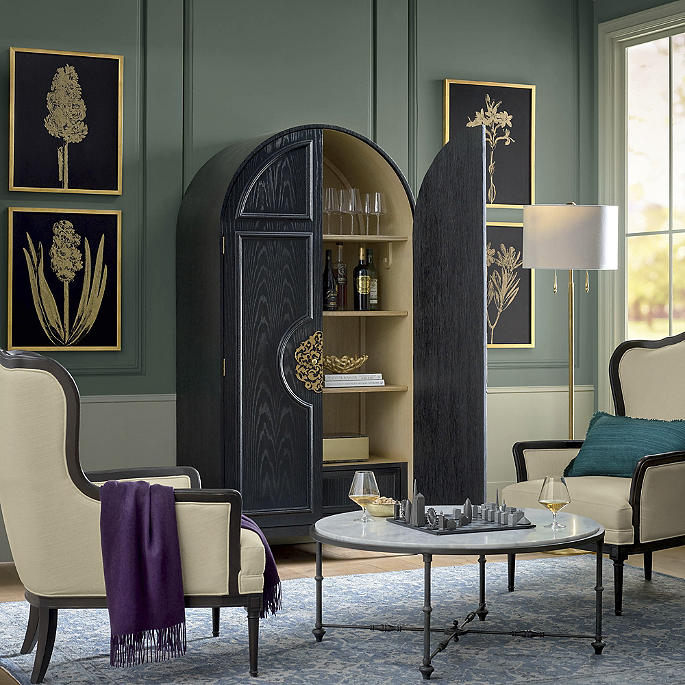 This is a gorgeous arched cabinet that is unique in design as well as practical in its utility. The structure of this cabinet is inspired by Spanish architecture, and it does not feature any glass door with paneling as is common with arched cabinets. Instead, it has a hardwood door with an intricate wooden carving in the center. The cabinetry is also covered in oak veneer. The interior is spacious, with two adjustable shelves, a removable clothing rod, three metallic hooks, and a lower drawer for extra storage space. Ideally, most would like to fill this with dinnerware or but it also is built to house electronics as it has holes for chords in discrete invisible areas at the back.
17. Scout Display Cabinet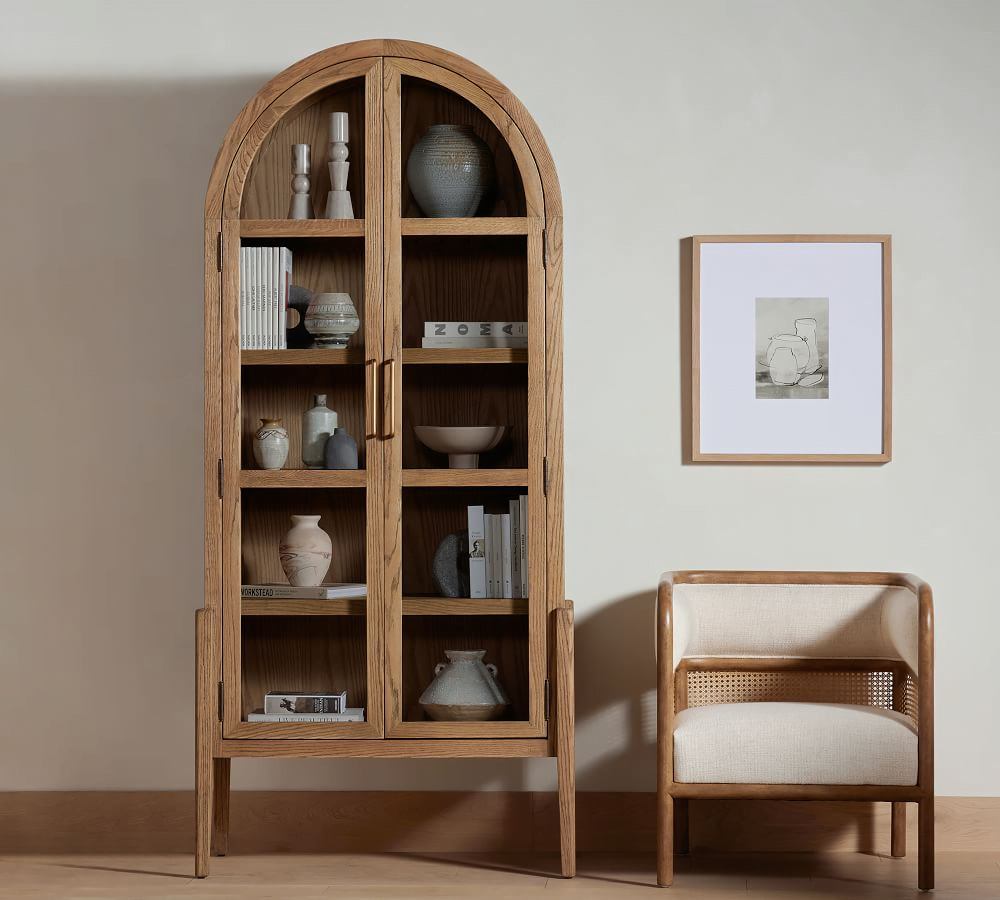 Are you on the lookout for a display cabinet that has a simple, rustic charm but is still modernistic enough in its design? Then the Scout Display Cabinet from Pottery Barn has got you covered. It is expensive and every bit worth the price with its sturdy cabinetry made of wood and veneered finish, as well as the brass accents added to it. In every sense, this is the classic display cabinet with an arched silhouette and paneled doors fitted with clear tempered glass. You can fill its four spacious shelves with your precious treasures and make a showcase out of the already elegant cabinet.
18. Grooved Arched Cabinet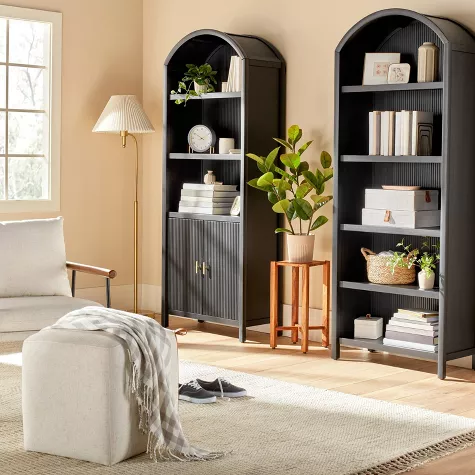 This cabinet by Hearth & Hand is unique in its shelving in the sense that it does not have any doors covering the display area. This is also the cheapest product on this list. It still has the arched top that we all like but no glass door panels. This allows you to freely access books, magazines, CD players, and other treasures that you choose to store there. This is a modern take on the classic arched cabinets, and rather than being majestic and grand in its appearance, it carries a subtle but refined charm. The shelves are adjustable, and the bottom two can even be converted into closed-door storage. The cabinet has a grooved body which is also one of its primary selling points.
Summing It Up
All in all, from the immense popularity that arched cabinets have gained over the years; it is clear that the obsession over these elegant storage options is not just temporary but is here to stay.
A few decades ago, most houses would have a huge arched display cabinet to showcase their silverware, medallions, photographs, etc. With the rise of minimalism in home decor, these went out of fashion for a while because people simply did not want to allow such a huge space just to display items.
But thankfully, designers have taken this into consideration, and now there are also cabinets available that consume less space but look just as good.