Renovating your bathroom, kitchen, or floor can be expensive and time-consuming. However, with the popularity of stick-on tiles, you can give your space a fresh new look without breaking the bank. These tiles come in various designs, colours, and textures and can be easily applied to walls, backsplashes, and floors without needing professional help.
Not only are they budget-friendly options, but they also save time and effort with their quick and simple installation process. With so many options available in the market, it can be overwhelming to choose the right one.
To help you out, we have curated a list of the 15 best stylish stick-on tiles for bathrooms, kitchens, and floors. From classic subway tile designs to 3D effects and mosaic patterns, these tiles will surely add a touch of style and sophistication to any space.
1. Art Deco Peel and Stick Backsplash

Art Deco Peel and Stick Backsplash is a convenient and stylish tile to update their kitchen or bathroom. The design features geometric shapes and bold colours, creating a sophisticated and modern look. The peel-and-stick design makes installation quick and easy without the need for professional assistance. High-quality vinyl was used to create tiles and is water, heat, and humidity resistant, making them easy to clean and long-lasting. It comes in various sizes, allowing homeowners to customize the design to fit their space.
2. Wooden Look Wallpaper Self-Adhesive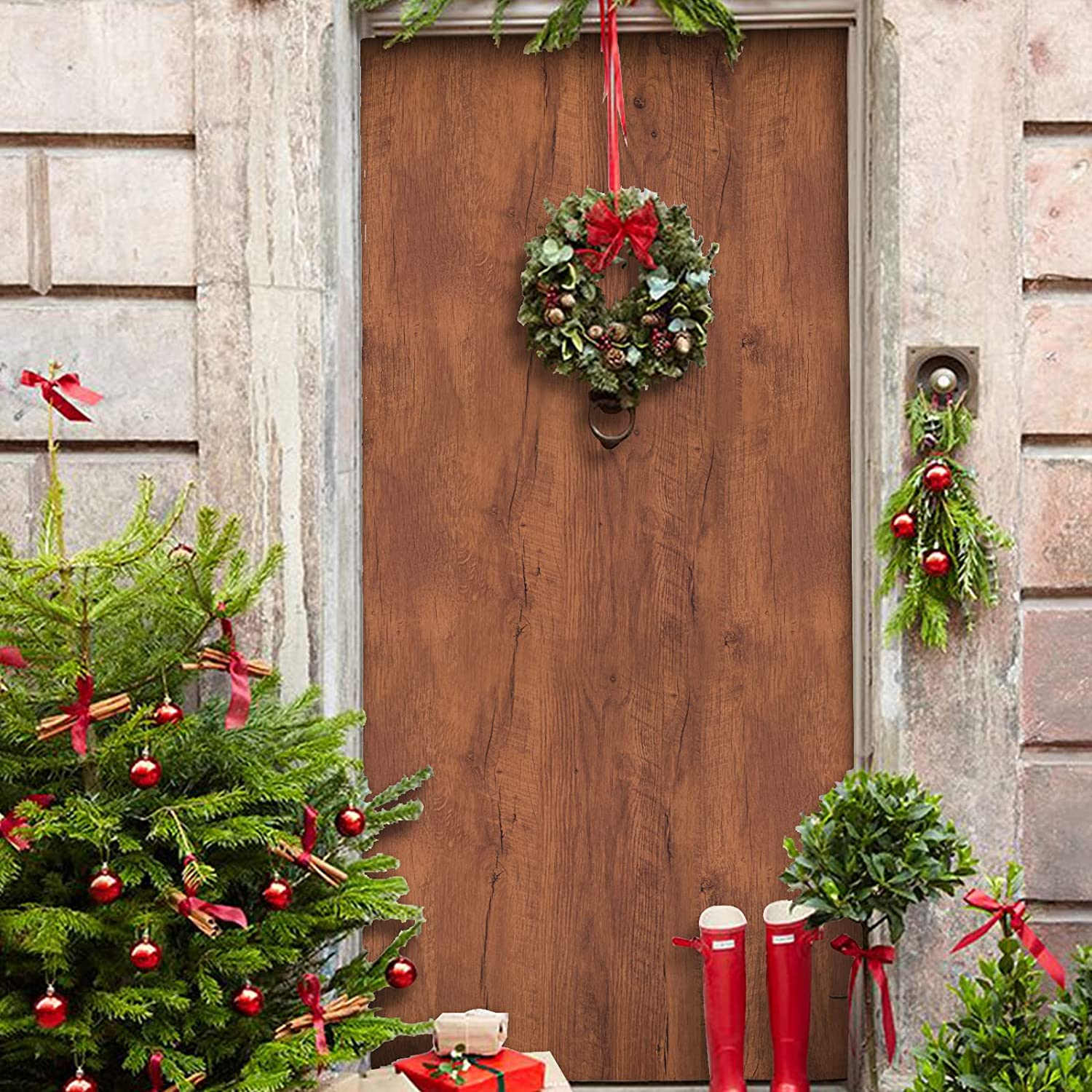 Wooden Look Wallpaper Self-Adhesive is a stylish and easy-to-use option for those seeking stick-on tiles to update their home decor. With its self-adhesive design, this vinyl wallpaper can transform old furniture with a wood grain effect. Made of high-quality PVC material, these stick-on tiles are durable and practical. This option is a budget-friendly and unique solution for transforming old furniture into a stylish new addition to your home decor.
3. Smart Tiles Mosaik Metro Peel and Stick Tile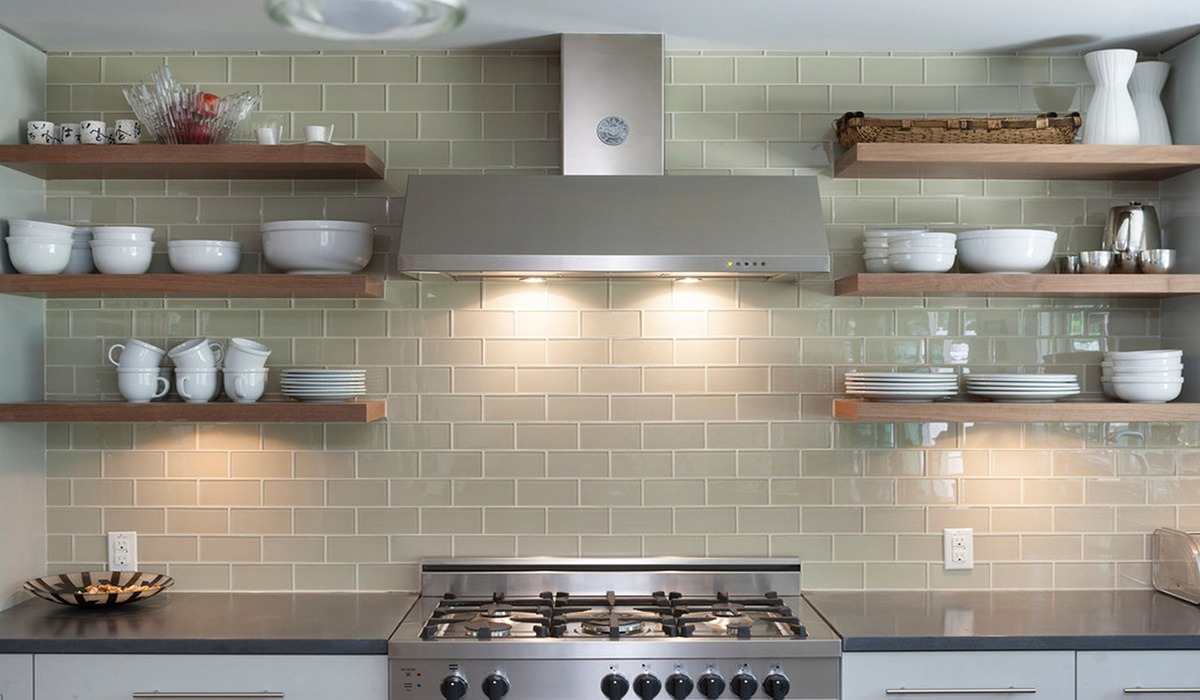 Smart Tiles Mosaik Metro Peel and Stick Tile is a contemporary and useful solution. These tiles have a glossy finish and a subway tile pattern, giving them a sleek and modern appearance. You can install them easily without special equipment or expert assistance since they are designed to peel and stick. These stick-on tiles are made of premium vinyl and are long-lasting, water-resistant, and simple to maintain. It is adaptable and inexpensive, and it is available in a variety of colours and sizes for any house renovation.
4. Art3d Peel and Stick Tile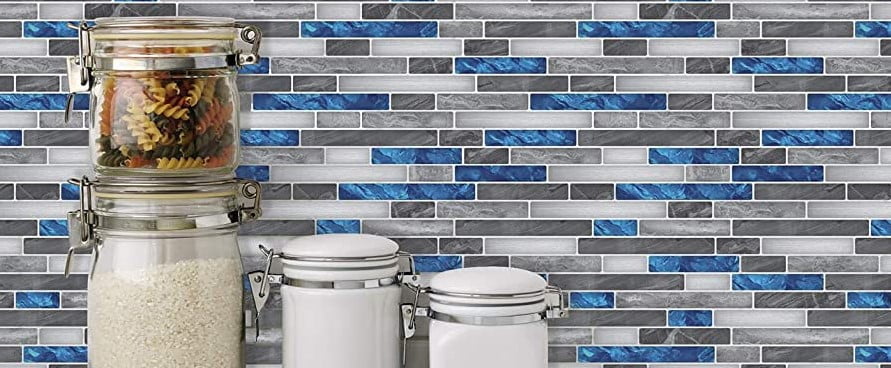 Art3d Peel and Stick Tile is a practical and fashionable solution for people looking for tiles to update their interior design. These tiles have a 3D impression and a mosaic design, giving them a distinctive and contemporary appearance. Installation is quick and simple thanks to the peel-and-stick design, which eliminates the need for any mechanical aids or outside help. These adhesive tiles are constructed from high-quality vinyl material, which makes them durable, water-resistant, and easy to clean.
5. Peel and Stick Wall Decals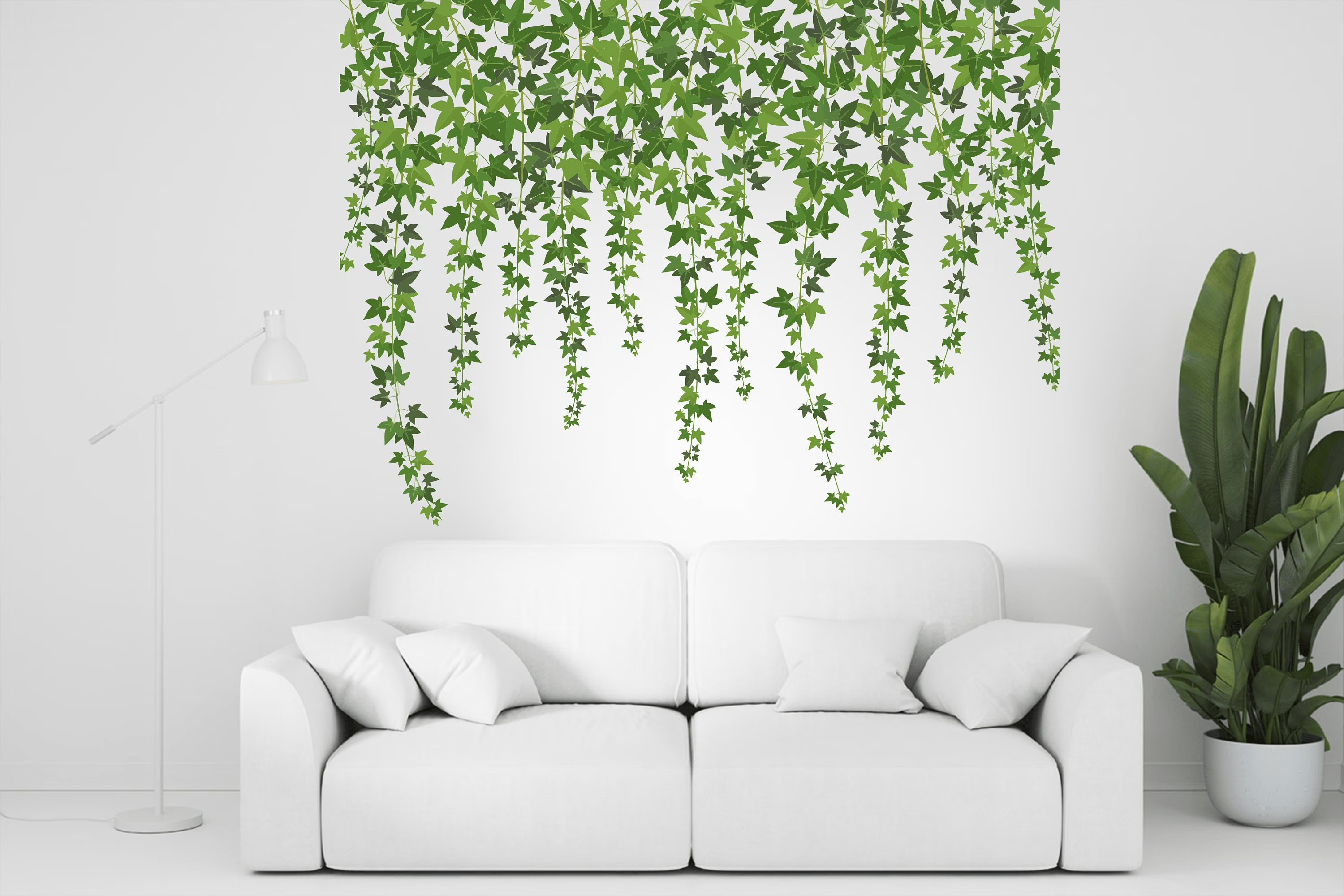 These are such tiles that come in a variety of designs, from inspirational quotes to nature scenes and cartoon characters. The removable and repositionable nature of these stickers makes them a great choice for renters or those who like to change up their decor frequently. With Peel and Stick Wall Decals, homeowners can add a personal touch to their living space without the need for professional assistance or extensive renovation.
6. InHome NH2361 Sea Glass Peel & Stick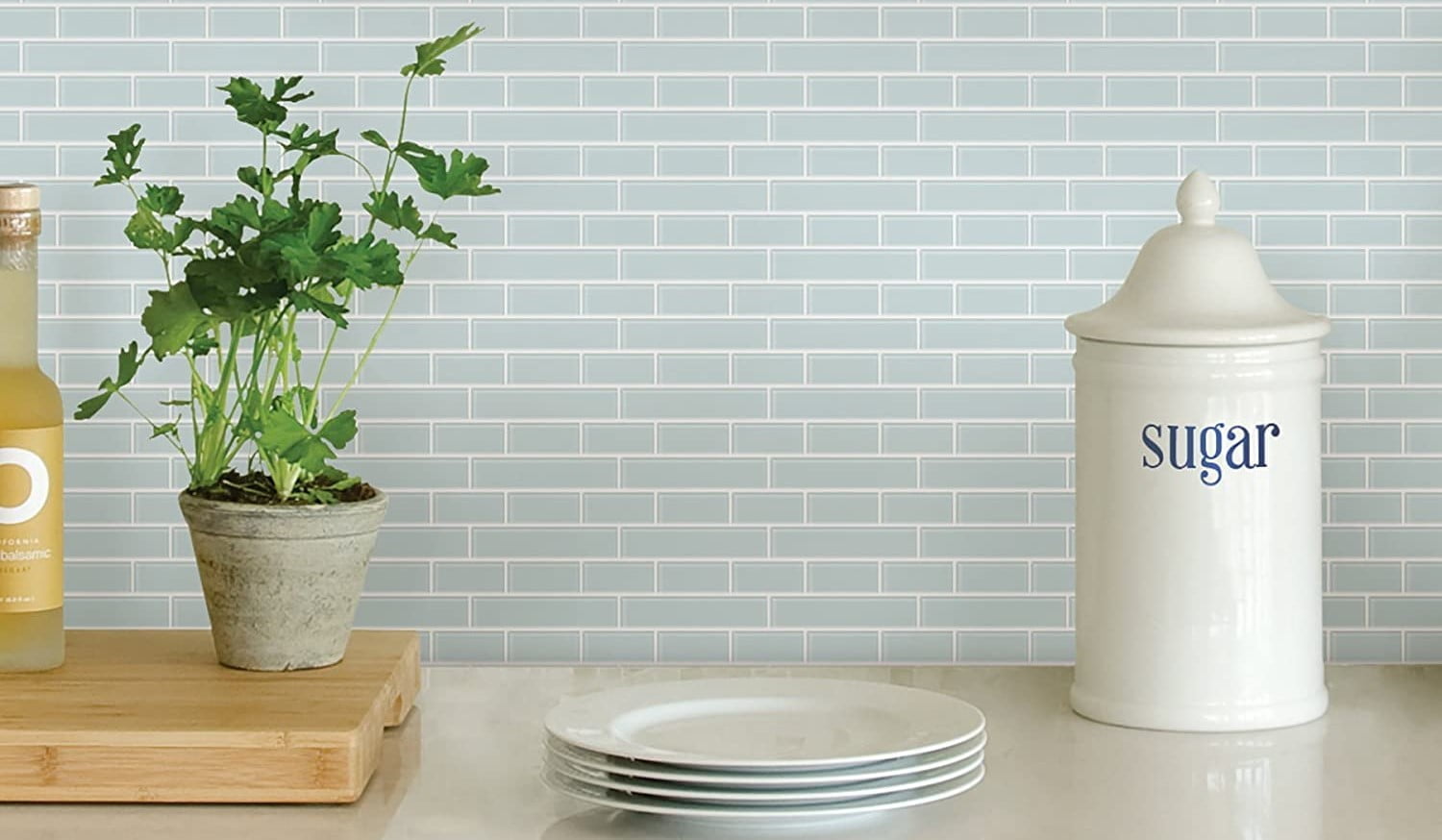 These tiles feature a stunning sea glass finish with a textured and rippled pattern, creating a unique and coastal look. It offers a perfect blend of style, durability, and convenience for any homeowner looking for a fresh update. With these stick-on tiles, homeowners can add a touch of seaside charm to their living space with ease. If you prefer a calmer look, combine pink kitchen furniture with natural rustic elements, like wooden shelves that are open.
7. Smart Tiles Fiona Green Peel & Stick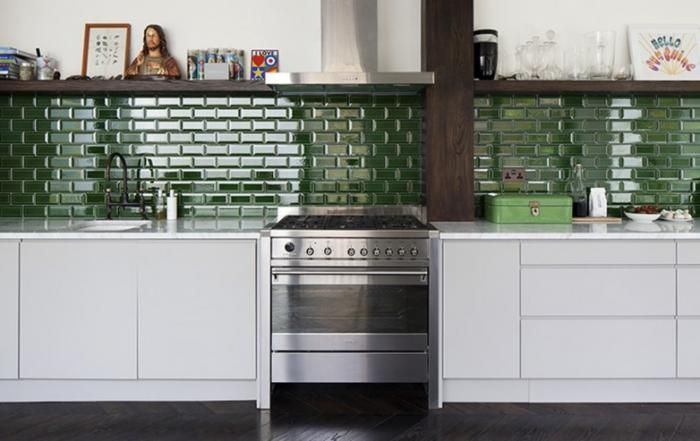 The Smart Tiles are highly durable and can withstand the heat from stovetops, making them a suitable option for kitchen backsplashes. Additionally, they can be used as a backsplash in bathrooms or around fireplaces, but not inside the shower. These adhesive tiles have a 3D effect and do not turn yellow or crack with time, thanks to the advanced Gel-O technology. They are designed to stick firmly in place without peeling off or cracking, ensuring long-lasting use and easy maintenance.
8. Aspect Peel & Stick Collage Tile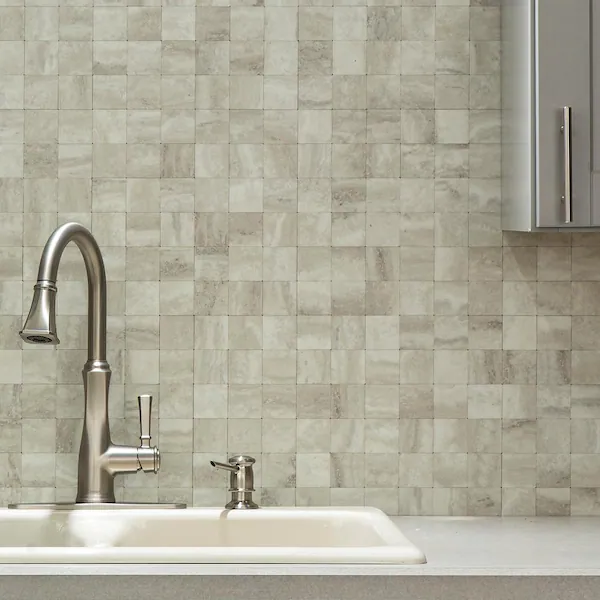 Combining brushed metal with a robust composite material results in an elegant backsplash tile that can enhance the beauty of any room in your home. These stick-on tiles are not only gorgeous but also highly durable, and their installation requires no contractor, grout, mortar, or expensive tools. Therefore, it is an excellent choice for DIY homeowners who want to upgrade their homes without spending a lot of money.
9. Forest Green Mediterranean Peel and Stick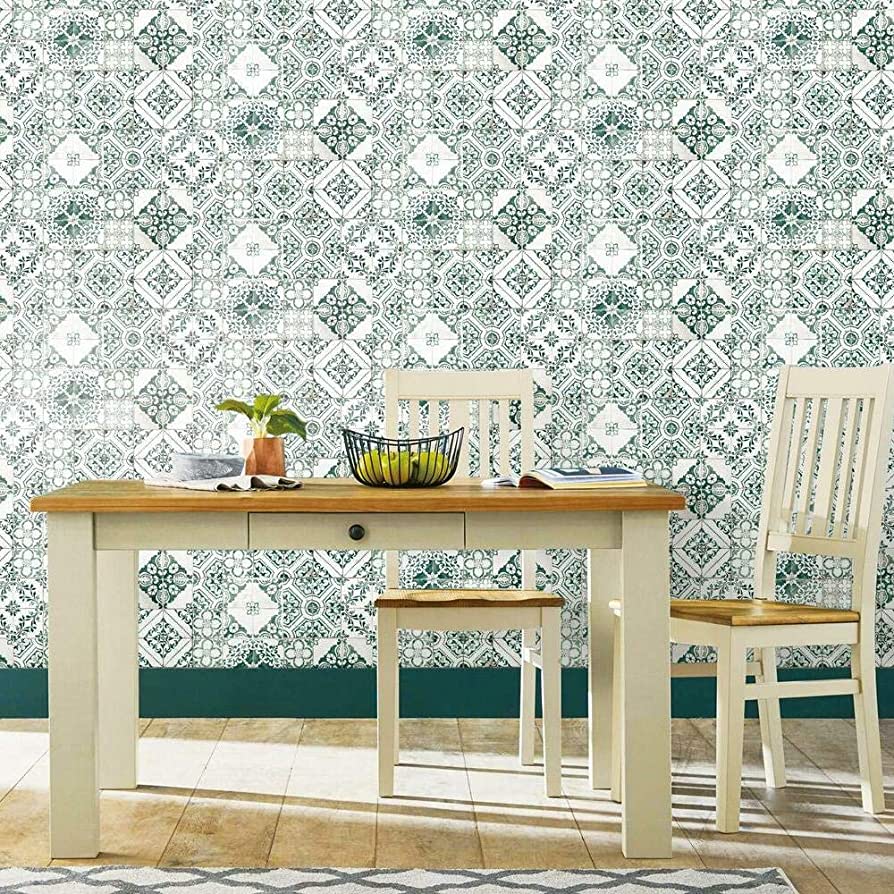 This product can effortlessly transform any room with its high-quality material and unique removable and repositionable technology, leaving no sticky residue behind upon removal. It is repositionable, washable, and strippable, making it an ideal choice for both renters and homeowners. With superior strength and properties over regular contact paper, it is thicker and doesn't leave any stickiness, providing a hassle-free experience.
10. Penny Round Tile 3D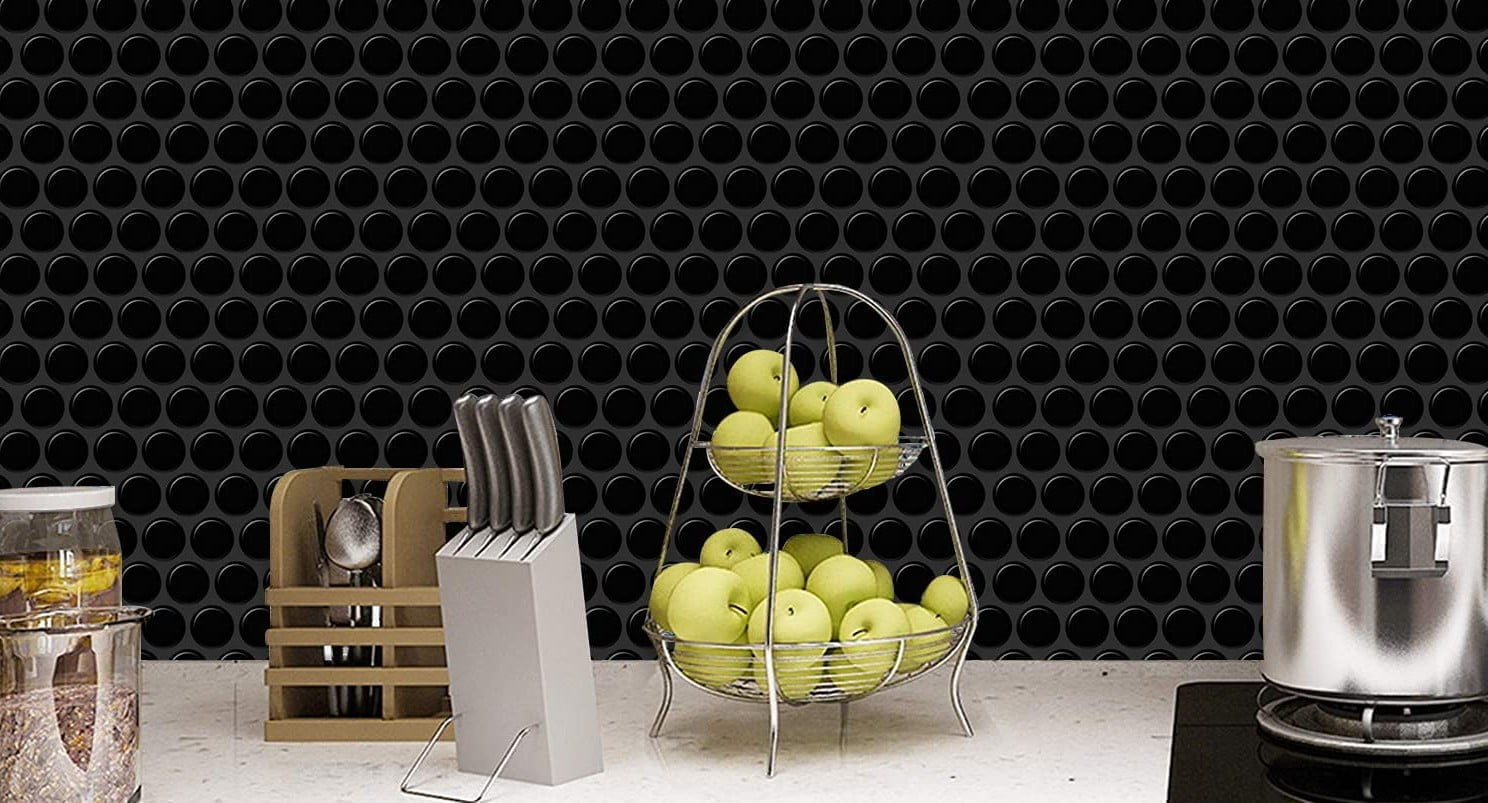 These eco-friendly vinylstick-on tiles have a stronger adhesive force than ordinary vinyl tiles. They are easy to stick and remove on smooth surfaces without damaging walls or leaving stains. These tiles are waterproof, moisture-proof, heat-resistant, and easy to clean. They can be used to decorate walls in various spaces like kitchens, bathrooms, bedrooms, and more. With these tiles, you can design your own unique style.
11. Bleucoin Mexican Talavera Peel and Stick Tile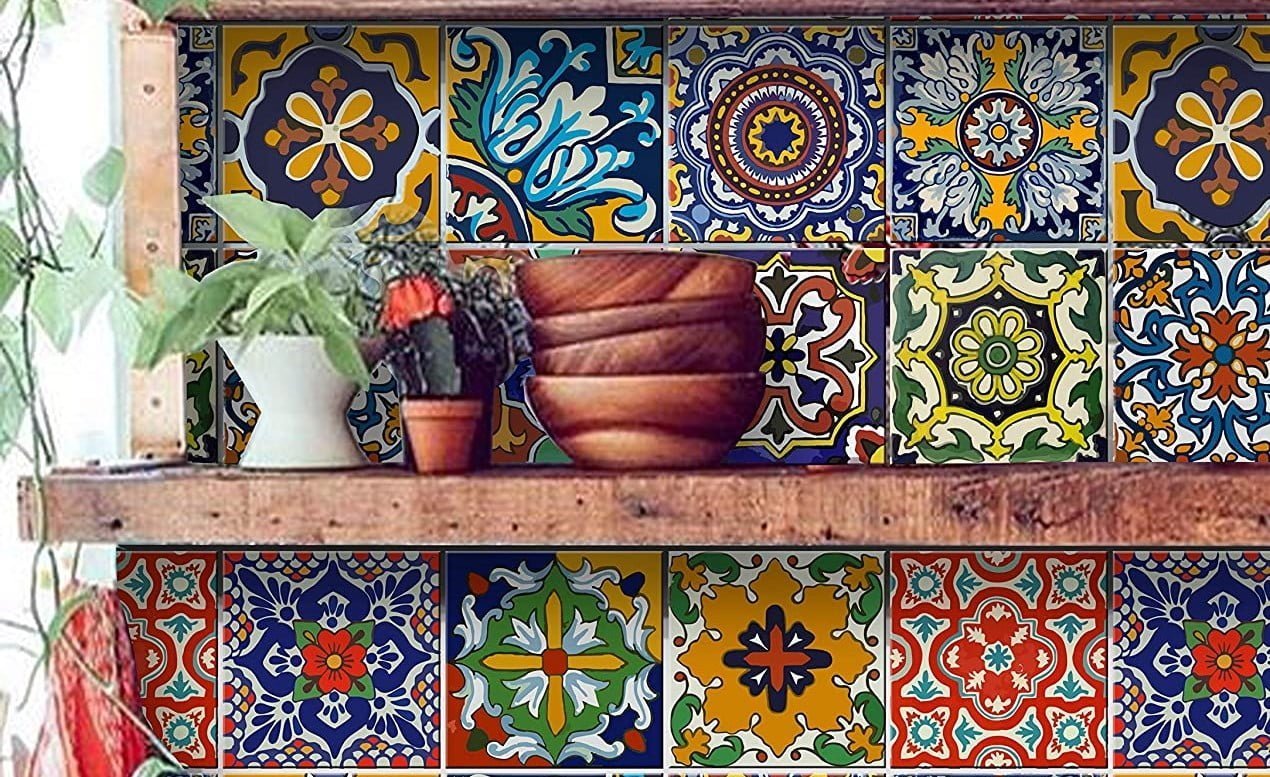 Bluecoin is a high-quality stick-on tile with a realistic look that can be easily installed on pre-existing tiles. They are oil-proof and can be cleaned easily with a wet cloth. These stickers are waterproof, durable, and opaque, covering the installed surface completely. You can cut or trim them easily to fit any surface, and they can instantly transform the look of your space at a lower cost than real tiles. They are perfect for renters, as they can be easily removed without leaving any marks or residue.
12. Mirror Glass Mosaic Tile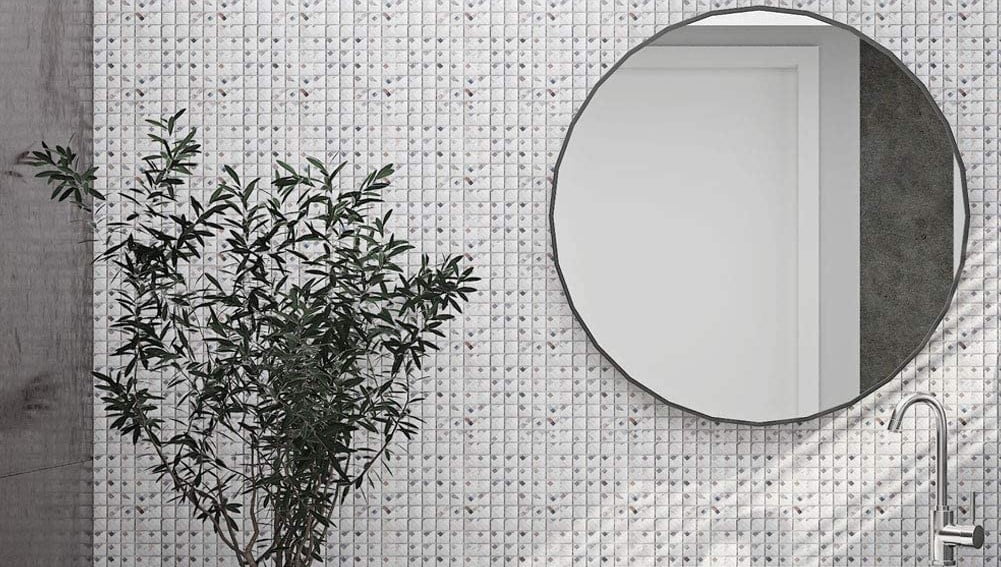 This product offers superior clarity compared to aluminium mirrors and comes with a commercial-grade adhesive backing that provides a strong hold. It has low water absorption, is durable, moisture-proof, and offers good corrosion resistance with long service life. These mirrored tiles are perfect for wall decoration, including kitchen backsplashes, bedroom wall trims, laundry rooms, and DIY projects like mirror frames.
13. Fresh Turquoise Glossy Stick-on Tiles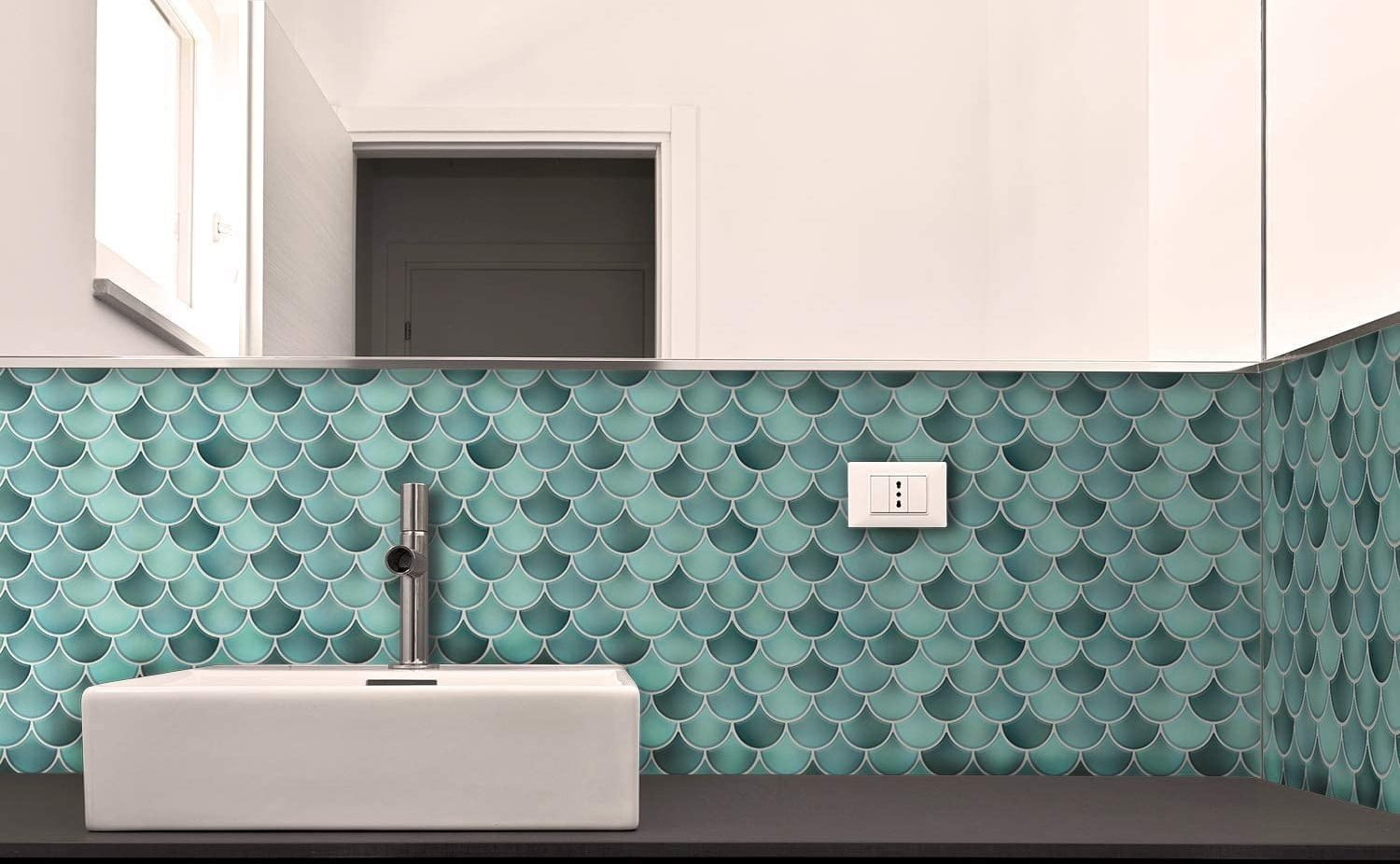 These eco-friendly tiles are heat and moisture-resistant and can be easily wiped to remove stains. They are suitable for use on smooth and clean surfaces and can be installed on the wall without the need for extra glue. These tiles will not turn yellow over time and can be bent to fit corners. Even people with little to no experience can easily install them because they do not need any special tools, glue, or grout. Using 3D epoxy technology, these premium tiles offer a stunning design for your home.
14. Herringbone Peel and Stick Backsplash Tile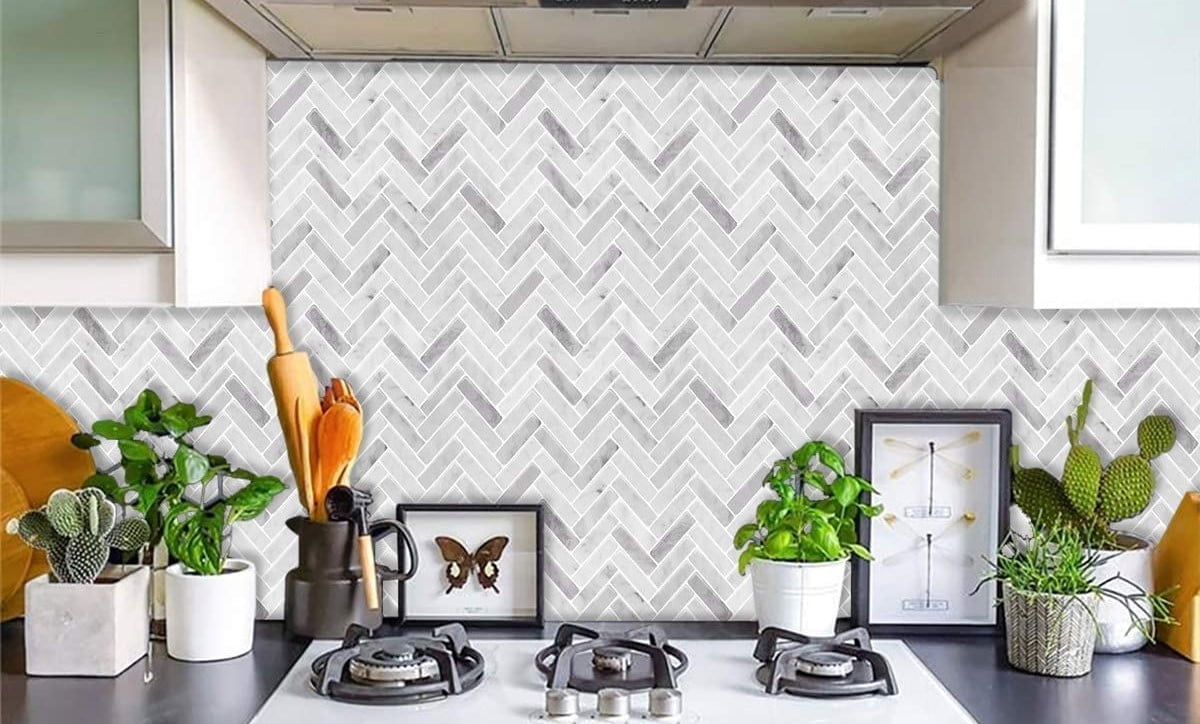 This tiles backsplash is made of a stone composite material that is colourfast and scratch-resistant. It is also made of PVC composite laminate that is waterproof, oil-proof, and heat-resistant, which helps to protect the wall from oil splashes. It is easy to maintain, with a simple peel, interlock, and stick installation process. By upgrading your space with this product, you can give your home a new and improved look that will last.
15. Metallic Gold Faux Rust Brown stick-on tiles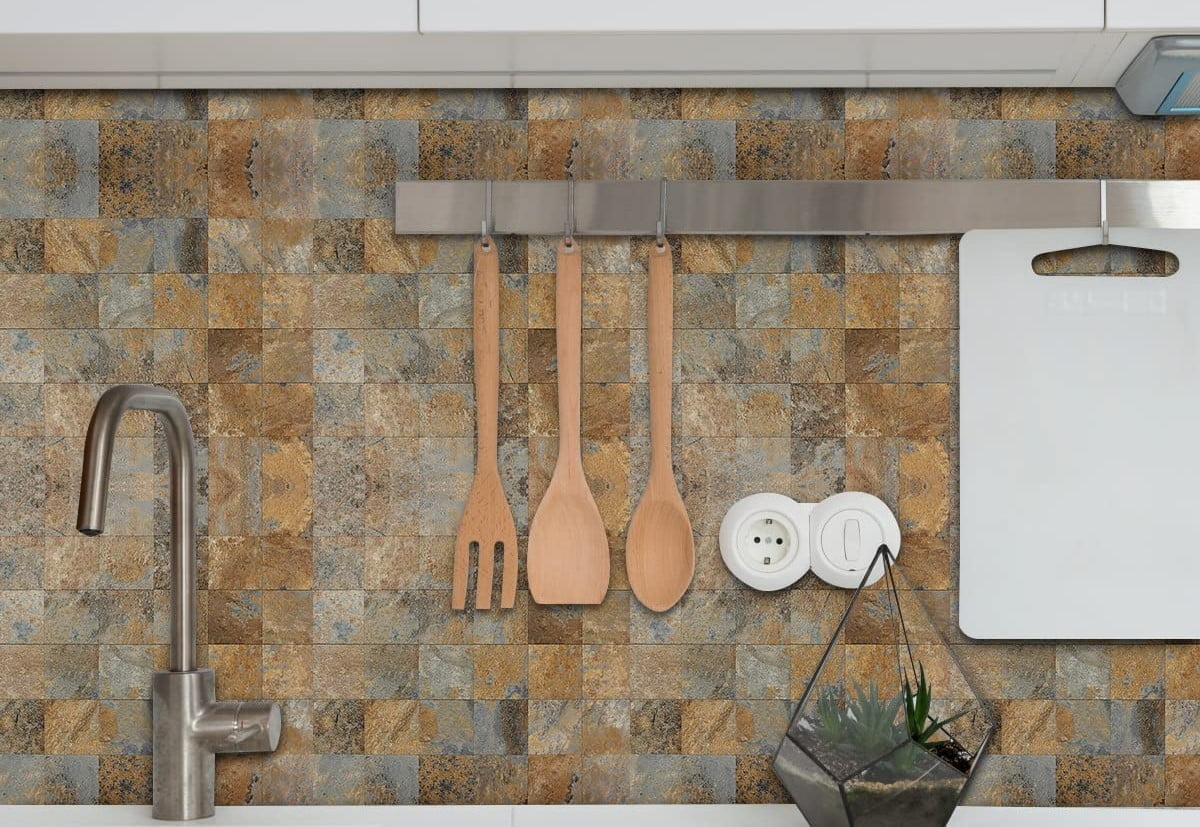 The product possesses a potent adhesive at the back that can stick to both sleek and uneven surfaces. Made of durable PVC composite laminates, it is scratch-resistant and easy to maintain. It is waterproof and heat-resistant, making it perfect for kitchen islands, bathroom backsplashes, and more. Installation is easy with a peel-and-stick method, and it can be cut with a sharp knife without needing overlap or grout, saving both time and money.
So, which one do you think would enhance the aesthetic appeal of your living space?
Conclusion
Overall, there are many choices of adhesive tiles available in the market that can change the appearance of your bathroom, kitchen, or flooring at an affordable cost. These peel-and-stick tiles are easy to install, requiring no special tools or experience, and are a perfect solution for renters or those looking for a temporary upgrade.
With a variety of styles, colours, and materials to choose from, it's easy to find the perfect fit for any decor. From realistic stone and tile looks to trendy geometric patterns and bold colours, stick-on tiles offer a stylish and cost-effective solution for home improvement projects.
Whether you're looking for a sleek modern look or a traditional touch, there's one that's right for you.