Planning the decor for a living room can seem like a very difficult task, especially where the ideas you have are many while the space is limited. Then again, in this economy housing crisis is a rampant problem, and maximization of the available space is of utmost importance, especially if you are dealing with a small one.
Many would assume that deciding and executing the decor for any part of the house can only be accomplished by professionals and thus is a matter of high cost and all that but truth be told, that assumption is not always true. While it cannot be denied that professionals will achieve flawless results, you can go DIY as well. With a little help and a few purchases, you are good to go.
As a person who has decided to go the DIY way, the main thing to focus on is functionality. Essentially, utilizing the available space without compromising on functionality is the key to an ideal living room space. The question is how to execute it, as not all living rooms can be decorated in the same manner.
Therefore, here are20 Small Living room ideas that can be perfectly executed in a rather small space.
1. Use Multi-purpose Furniture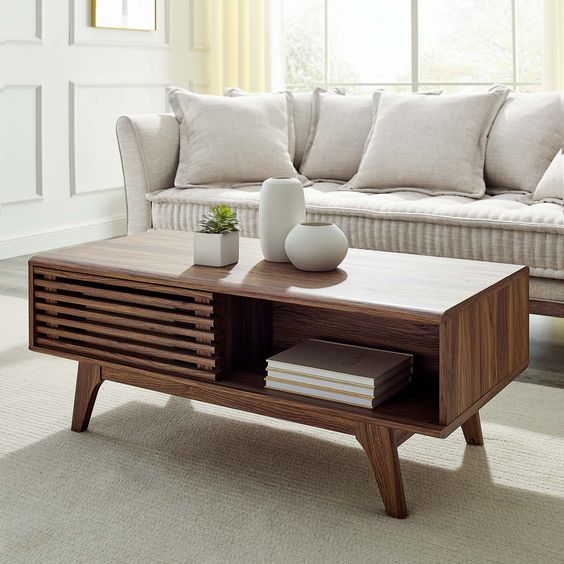 Truthfully speaking, furniture happens to be the main culprit behind excessive cluttering in most spaces, and the living room is no exception to that. Bulky and large pieces of furniture often take up so much space that mobility becomes an issue in the concerned place. The best way to avoid that is to opt for furniture that can be put to more than one use. For instance, use a mid-high bookshelf, the top of which can double as a vase stand or a utility table for keeping miscellaneous stuff such as keys, mobile phones, clocks, etc. Another small living room idea for multi-purpose furniture is to use small coffee tables with storage or drawers which can be used to store, say, the TV remote, the book you are currently reading, magazines, etc.
2. Add Dimension to the Room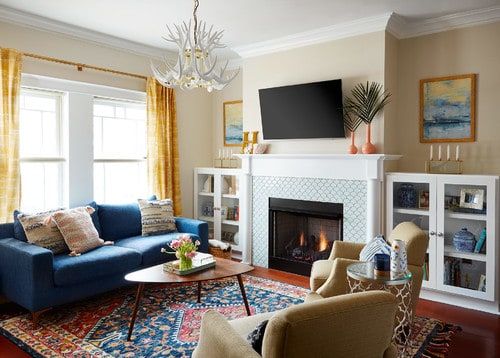 How we arrange items in a limited space can largely affect the aesthetic, and since we are here to discuss small living room ideas, it is necessary to state that merely reducing items in your living room will end up hammering the functionality. But if we cannot do that, we can at least achieve the look and feel of a classy living room simply by adding dimension to it. The furniture, shelves, and wall decor should be of varying heights and depths so that the room does not look monotonous. The science behind this is that when the lights bounce off surfaces of different heights and depths, the place just looks larger/wider.
3. Neutral Color Palette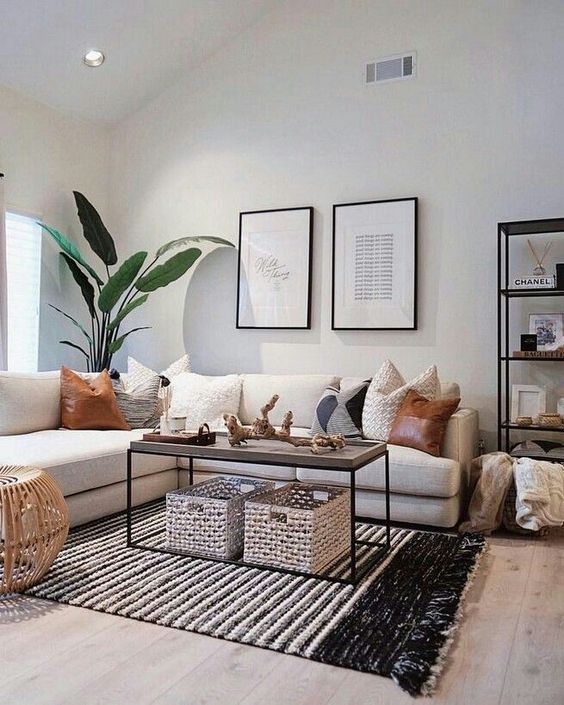 One of the most important ways to widen the actual space available is to make it seem so. What happens is when you use lighter and neutral colours that complement each other for your entire living room, including walls, furniture, accessories, etc., light easily reflects off from the surfaces and makes the place look large, while using darker colours for walls may stunt the open and free design of the room. Ivory or white walls, a beige, peach, or grey sofa with a light brown wooden coffee table as the centre of the living room is something to begin with, and you can then work your way up the wall decors and also add a small indoor plant or two alongside a loud coloured sofa cushion to throw in some colour and offer contrast to the colour palette of the room.
4. Add Inbuilt Cabinets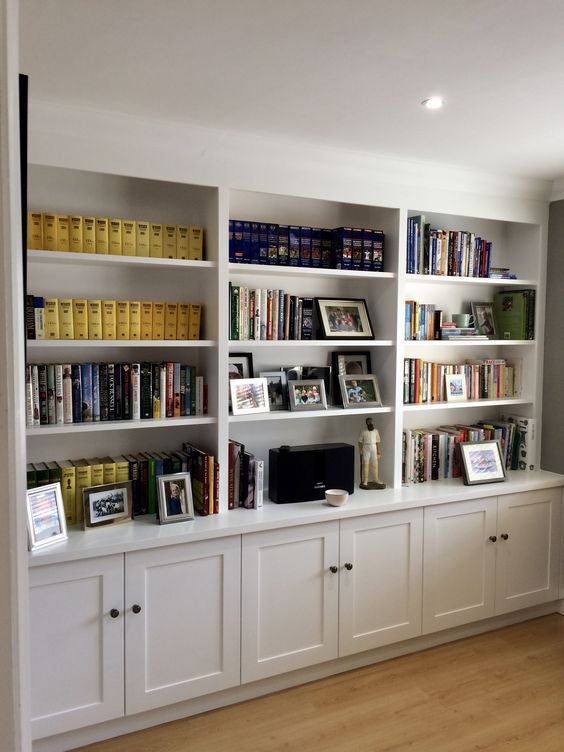 Coming back to the topic of storage- the living room is a place where you house a lot of miscellaneous items. They might include your collector's edition manga sets, trophies from high school, merchandise for your favourite band/ movie/ shows, or elaborate family photos. The best idea for a small living room to store the above items is to get shelves built-in with the walls. That way, you do not have to add extra furniture for the same. These shelves will essentially serve as showcases, and if you need more storage space for items that do not need to be displayed, you can opt for in-built cabinets under the shelves.
5. Hang Curtains from the Ceiling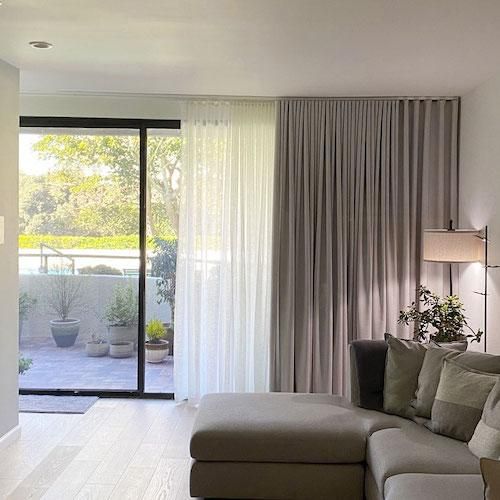 One of the most tried and tested small living room ideas is experimenting with curtains. Curtains that hang down from the ceiling instead of from the window frame give the viewer an illusion of length, i.e., it makes the room seem taller than it is. Make sure to maintain the colour palette while choosing the curtains and use a neutral-coloured one. Although dark colours block light better, you can achieve the same results by purchasing curtains made from any thick or layered material. A similar alternative is to go for blinds which can even be preferable in some cases due to the interior decor of the living room.
6. Use Furniture with Legs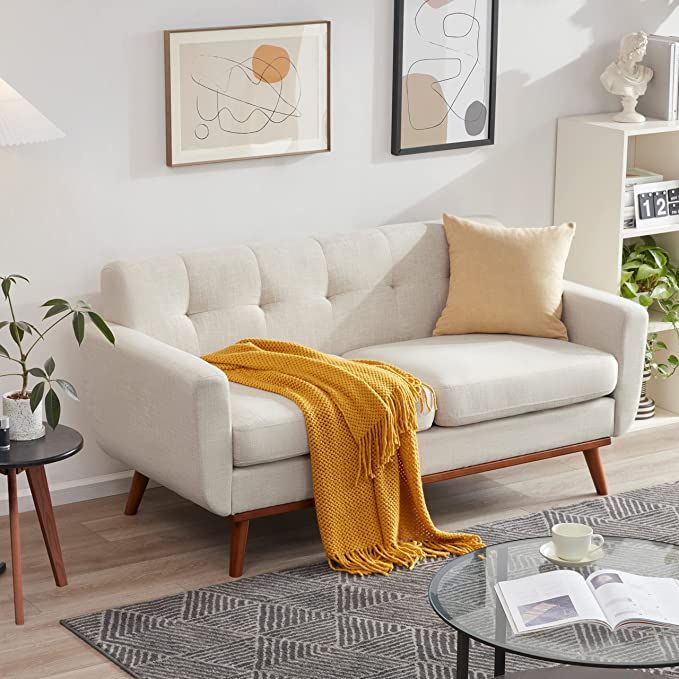 Another small living room idea to make the space seem larger than it is is to add furniture that has legs, and the space underneath is visible and empty. This gives the viewer an illusion of more free space, and since that spot was not going to be utilised anyway, it can be used instead for visual symmetry. However, adding too many of such types of furniture can reduce places of storage, so add only one or two. You can go for a sofa with legs and a similar table beside it. Using this trick in a corner which has more visible clutter will help lessen the overcrowding. If the entire room is filled with furniture with bases touching the floor, it might make a small living room even stuffier. So, to avoid that, open the area up with this method.
7. Artwork on the Wall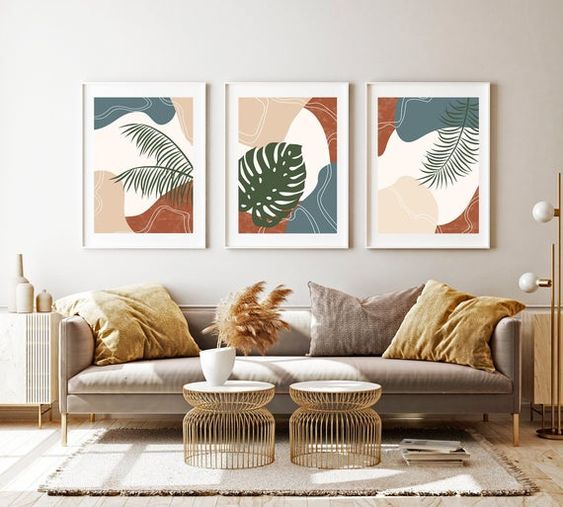 Hanging wall paintings are great for living room aesthetics as long as you do not overcrowd the Wall. You may be reluctant to part with any of your favourite paintings and use them all in the living room, but it will only load the place up, making it look clumsy and messy. A favourable small living room idea for hanging artwork in the concerned place is to limit it to one Wall only. Use the Wall behind the sofa to hang one big frame that covers the Wall or two side by side. You can also use multiple artworks of varying sizes to add contrast to the Wall.
8. Utilize the Corners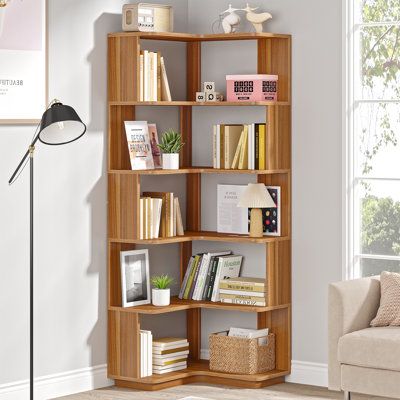 A room's corners are that one spot whose potential often goes unutilized due to inaccessibility. But here we are working with a small living room with limited space; it is inadvisable to let any area go to waste. Thus, the corners of the room can be used efficiently by placing a long corner shelf which you can use as a showcase, bookshelf storage for miscellaneous objects, etc. That said, not all the corners should be fitted with furniture, in which case the room will look cluttered. Use only two- directly opposite ones or diagonally opposite ones.
9. Floor Length Mirrors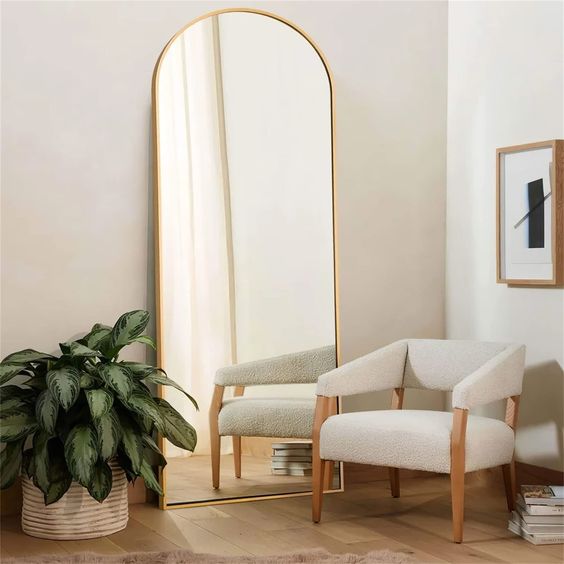 Reflective surfaces offer the viewer an illusion of there being more space than is, and this is the very reason why adding a full-length mirror is such a great small living room idea for space maximization. The length of this mirror makes the room seem longer, and the reflective surface itself makes the room seem horizontally wide. Place the mirror strategically to reflect a part of the room without much furniture to further the illusion of more space.
No products found.
10. Strategically Placed Lights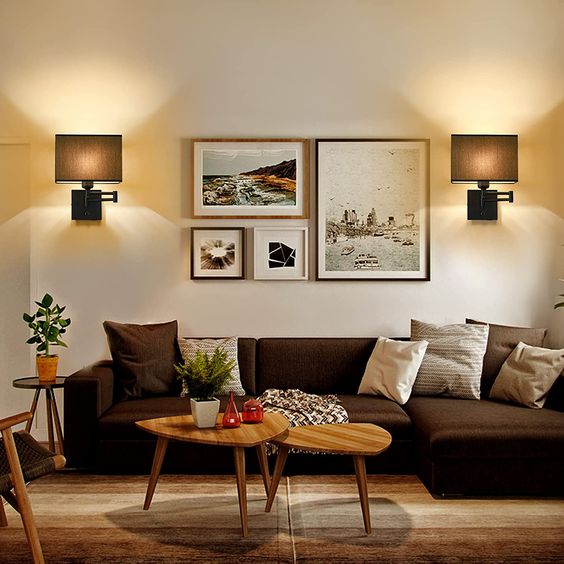 When trying to style a small living room, avoid using lights or lamps that need to be placed on the floor, as they will only obstruct foot traffic. Instead, go for wall scones that will gently illuminate its surrounding without making the lighting loud or a strain on the eyes. If you want proper lighting for reading and such, you can always go for LED bulbs fitted on the ceiling but do consider the colour of the lighting. For example, add contrast between warm yellow lights and white to open up the space more.
11. Wall Unit for Storage and Mounted TV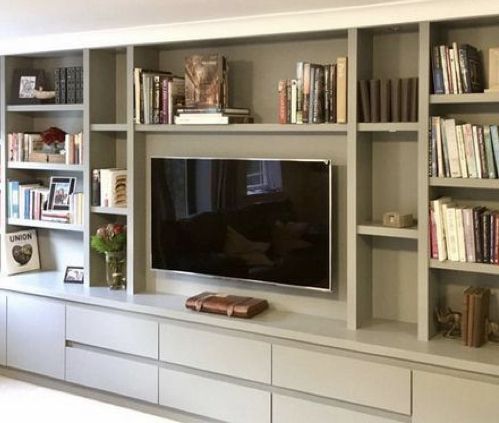 Gone are the days when living rooms would need specific floor stands for housing the TV. These days it's all about minimalism and aesthetics, which is why a great idea for a small living room is to add a wall unit for both storages and to fit the mounted TV in one of the alcoves. In this way, you will be able to place the TV in a prime spot and not have to sacrifice the entire Wall behind it. Wall units also come with cabinets underneath for additional storage space. And with a wall unit, there are many ways to decorate. Some of the shelves can be purely for storage purposes, while some can be for keeping show-pieces and collections.
12. Avoid Eye-catching Rugs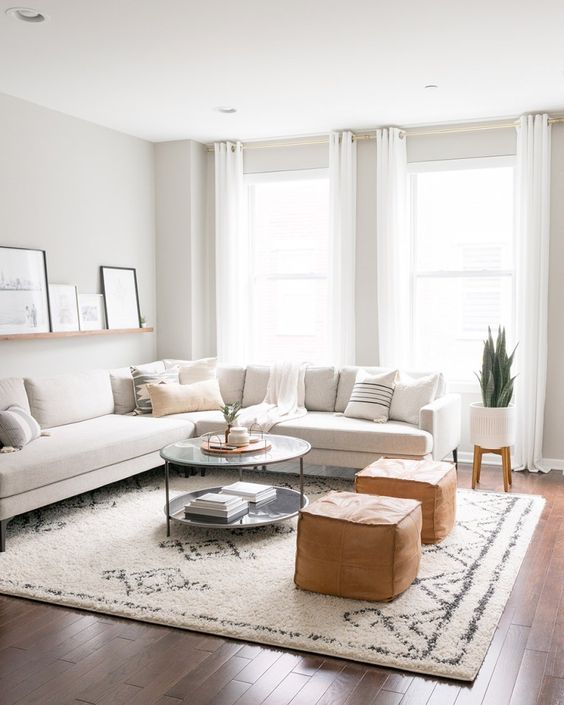 You may have stumbled upon the well-celebrated maxim of interior decor, which is adding statements rugs to transform your living room from simple to sophisticated. But that cannot be applied to all types of spaces as it may not necessarily complement the general decor. That is to say, if you are looking for small living room ideas and stumble upon a beautifully made rug that you want to add to the space, best not to go ahead with it. The reason for advising against that is a statement rug will arrest all attention and make the room seem even smaller than it is. Consider a rug of neutral shade instead. Try and match it with the colour palette of the whole room in general.
13. Create a Focal Point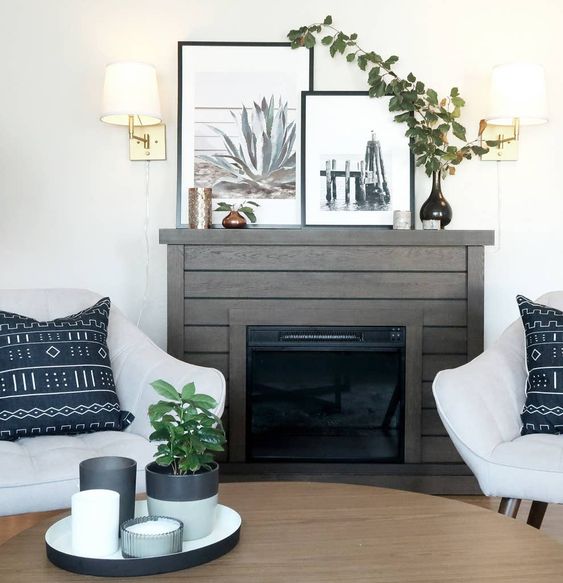 The idea behind giving your small living room a focal point is to give it character and to draw attention away from the rest of the room, making it seem larger. Usually, interior decor artists transform fireplaces into the mentioned focal point. They then plan the rest of the decor around this mid-point. But not many houses have a fireplace, nor can it be afforded. But do not worry because you can build yourself a central point of focus in the living room by using a medium-high shelve and using the top of it for statement art pieces. Instead of hanging the frames on the Wall above, just let them rest against the Wall for a casual and chic look.
14. Minimalist Approach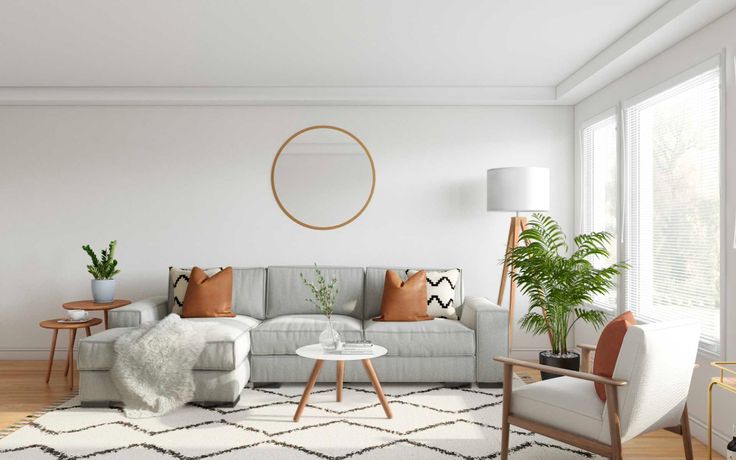 Minimalism in terms of interior decor can be defined as the use of rather simple but large objects to fill a space. One reason why this interior design is so popular is that people do not need to buy too many items for the decor, which ends up as quite the economical choice. For a small living room, this just happens to be the perfect type of decor because you cannot put many things in the room anyway. Instead, you can go for multi-purpose furniture and hidden storage options to let the room breathe,
15. Add Low-back Seating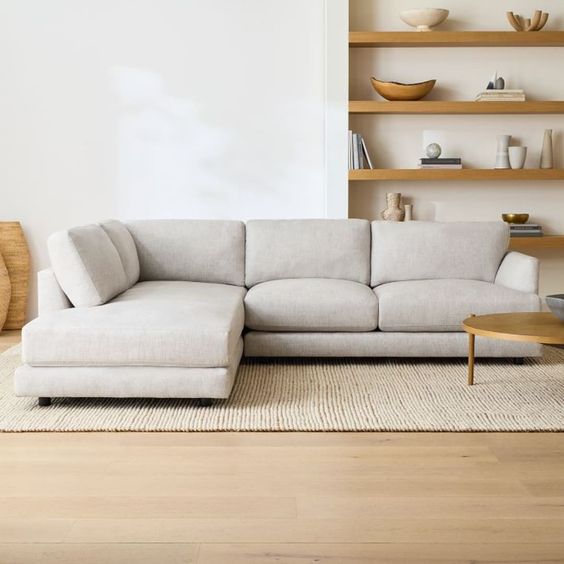 The true dimension of any place can be altered with illusionary tactics, and if you are looking for small living room ideas to expand the look of the place, then consider adding low-slung sofas. These sofas are lower in height than average sofas and are perfect for small living rooms. This is because when you place alow-back sofa against a wall, the low height of the sofa makes the Wall look longer and the ceiling much higher. The best way to make something look large is to place something smaller next to it, and this is exactly the logic behind this method. Also, these sofas carry a very sophisticated visual appeal, so it is great for interior decor.
16. Utilise Natural Light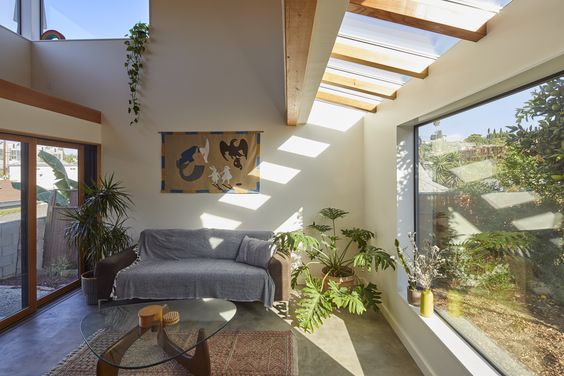 The best way to open up and enliven a room is to let the sunlight in during the daytime. A great idea for a small living room is to use this natural light to its advantage. You can do that by painting the walls in a light colour so that natural light can reflect off from it. Also, if you are placing mirrors in the room, then add them to the Wall opposite the windows so that sunlight hits the mirror and gets deflected throughout the room, illuminating the place.
17. Black and White Decor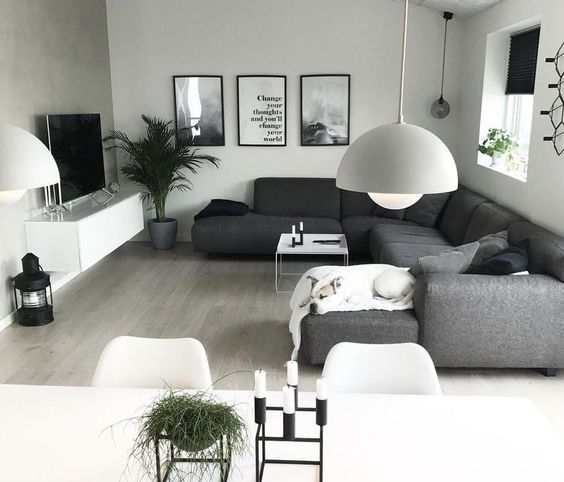 At a glance, the combination of black and white may seem rather bland as we are used to vibrant colours all around us. But there are very few ways to make a room look sophisticated yet charming, and one of them is using this colour palette. Add just one black Wall as the focal point and paint the other walls white to draw attention away from the size of the place. You can also do this in terms of furniture, i.e., keep the walls white and opt for black furniture for one side of the room, preferably the main seating area.
18. Move Sofa Away from the Wall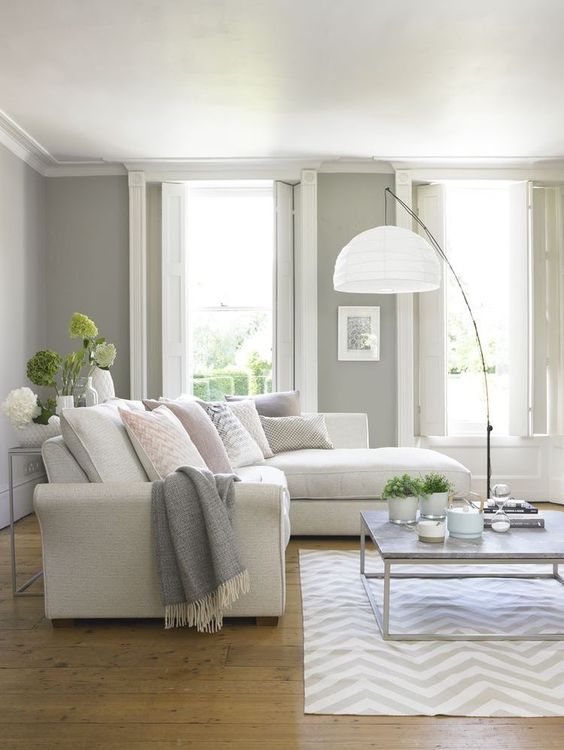 Instead of lining the sofa against the Wall and placing things around it, you can opt to place the sofa at a distance from the Wall and utilize the space behind to place items that are not actively required all the time. This may include a small table that houses the vase and magazines. This accomplishes two things- firstly, it reduces the chances of people knocking the table over as it is no more in the way of your walking. And secondly, as the actual amount of space in the room is now less, you will have lesser chances of adding new items to the room.
19. Sofa with Storage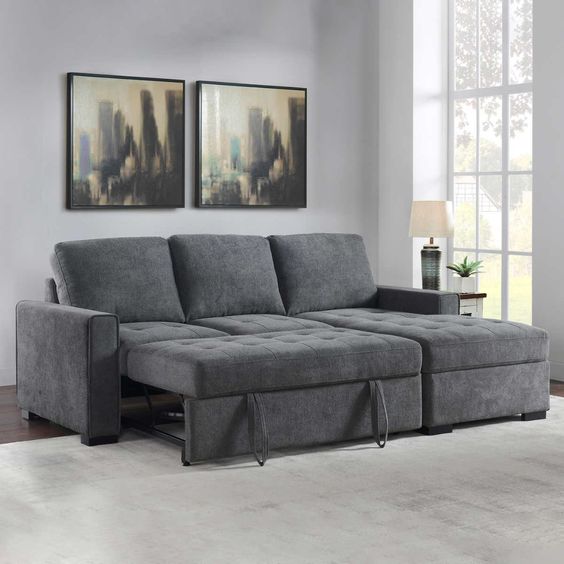 A sofa that has storage space is the ultimate way to declutter your living room because, in this manner, all the miscellaneous items that would have been lying around otherwise can go inside the sofa storage, away from open view. This will also open up possibilities to add new things to the room as now you have more space than before. The space that would otherwise be occupied with a cupboard or shelf with drawers can now be kept free for something aesthetic such as a tall plant or a lamp stand.
20. Easily Movable Furniture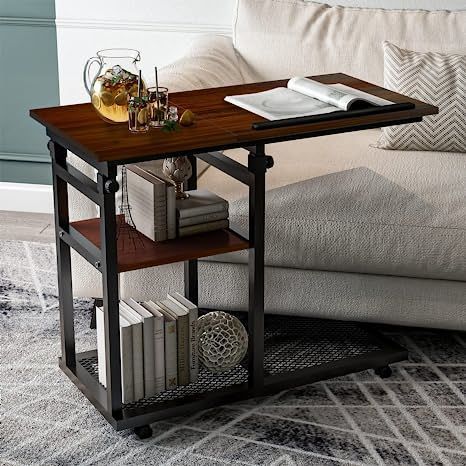 No Matter how much you like the current decor in your small living room, it is inevitable that you might want to change it up sometime in the future. This change does not necessarily mean adding new items or discarding old ones. It can simply be a process of rearrangement and seeing the room from a new perspective. In such a case, it will be easier if the furniture is easily moved. In this way, you will also be able to clear up space at short notice to add new furniture. Easily moveable furniture is a good addition to a small living room decor as the interior can be made into a more dynamic one. This will, of course, be good for space optimisation as well.
Wrapping Up
Limited space does not always mean limited options for interior decor. There are plenty of ideas that can be done within a very small space. The most important thing here is creativity and making use of available space in the best way possible.
Budget issues can also be a constraint for many, as it is fair to assume that not everyone can spend a lot after decorating a living room, whether small or large. After-all interior decor needs many areas to consider, and before you realise it, the expenses may just keep on increasing.
Keeping both of these things in mind, the above article has been written for you. The small living room ideas that you have already read through include both elaborate and simpler interior decor. This will make sure that no Matter what budget the readers have in mind, they can take a valuable idea away from here.
So, which of these ideas caught your eye? And how soon do you plan to execute it?