Decorating a nursery for the special little one is a precious experience that people get to savor only a limited number of times in their life. Therefore, a small room should not be a constraint to bringing out the best the room has to offer and building a cozy nursery space over there. This sounds like a very difficult task, right?
Although your baby girl or baby boy will have no idea or any complaints about the kind of nursery you build for them, you will still want to do your best. In most cases, a nursery is a little smaller than an average bedroom. On top of that, the crib takes up most of the space. So, the task at hand is to utilize each corner of your designated nursery room in such a way that will add value to the space.
Let us begin by showing you some small room nursery ideas for the newborn baby.
21 Small Nursery Ideas for Baby Girl
Here are 21 ways in which you can maximize the space in your nursery room to make it a mixture of functionality as well as creativity.
1. Get a Smaller Crib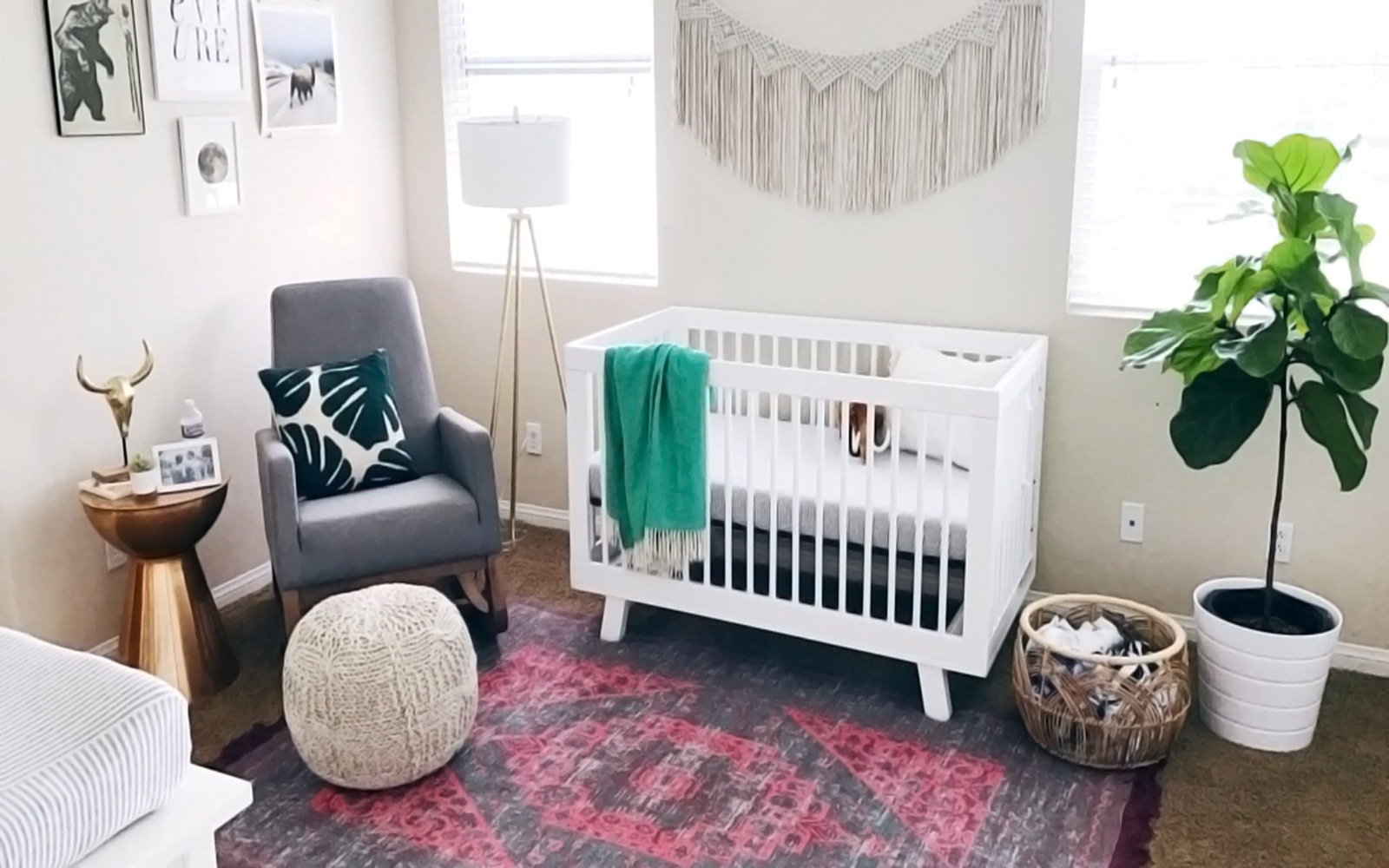 Traditional cribs take up a lot of space in the room. In most of those cribs, an adult human can lie down and lie along with their baby. That's how big they are. But what if you downsized the crib and got a smaller version instead? It will not affect the baby's comfort because mini cribs can also accommodate a baby until they grow into a toddler, after which they will be relocated into a bigger room with a bed. It will be just like a regular large crib, as you can get bedding sets to suit the size of your smaller crib. Much space will be saved by decreasing the size of the crib, space that can be used for other purposes.
2. Multitasking Products Are a Must
One of the more practical small-room nursery ideas will be to fill it with products or items that serve more than one purpose. This will save not only space but also money as you will no more be spending after multiple items. For instance, the baby changing station can be put aside for a dresser. The top of the dresser is the new changing table. Similarly, you can go for a crib that has drawers under the sleeping area. This will perfectly blend the bedding and dressing options into one compact space.
3. Do Not Waste the Wall Space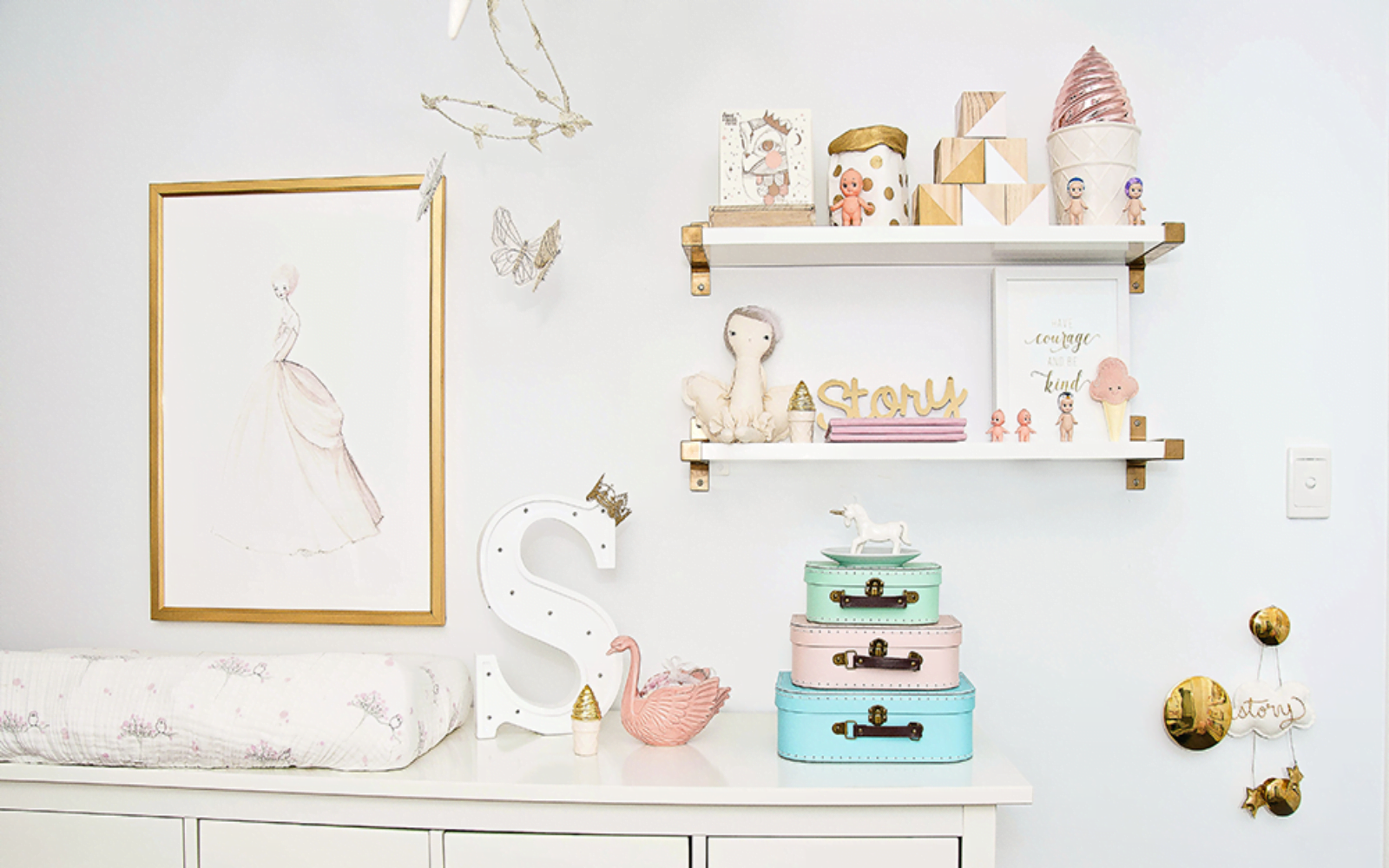 When space is an issue, we must scramble to use every available corner of it. One such unutilized area is the wall which should be put to use. Not all the walls, just one with the maximum open space available. Install shelves on that wall to hold the miscellaneous things that are needed in a nursery. Moreover, storing things on shelve will help to keep the small nursery organized. Items such as diapers, towels, tissues, and skin-care products can be stored on these shelves as they are needed frequently while grooming a baby and can be retrieved in a short moment when required.
4. Use Hooks on The Wall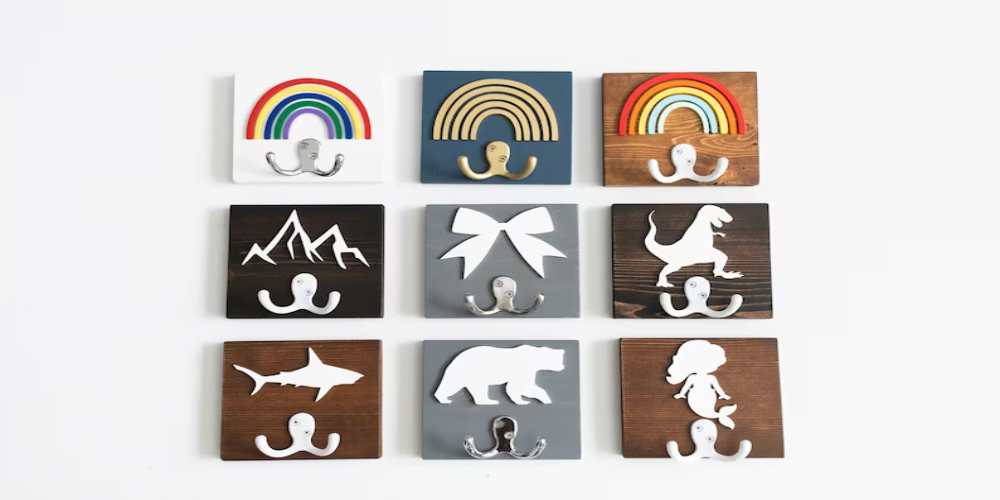 If too many shelves on the wall seem to create clutter, then we have another of the better nursery ideas for a small room for you. Since shelves take up considerable space in the level on walls, we can create multi-leveled storage space by using hooks. Baskets can be hung with strings of varying lengths from these hooks, which will make sure that the wall does not look cluttered. Besides being a practical solution to disorderly storage, this can also be a creative decor idea. You can pick baskets with cute designs that will complement the color and decor of the room.
5. Utlise the Corners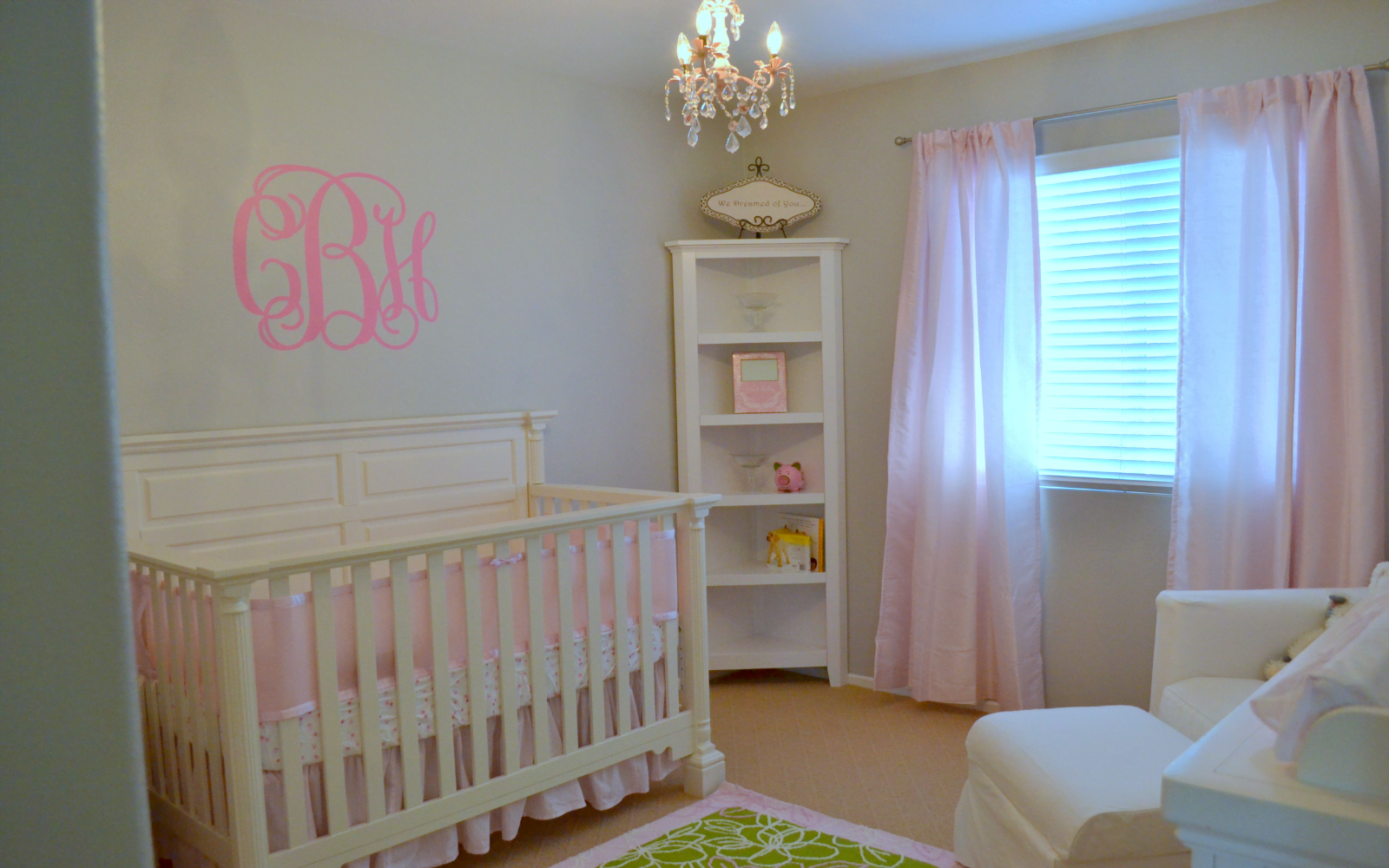 Due to how space is allocated in a room while construction, many corners become unreachable and thus unutilized. And a decor idea for a small room should have no unused corners. Installing corner shelving is the best way to deal with this issue practically. In a nursery, or any room for that matter, storage takes up a lot of space and cannot just be limited to one dresser or one drawer. You can use multiple spots for storage and use the corner shelves for housing the toys, rattles, feeding bottles, etc., of your baby girl or boy.
6. Declutter the Room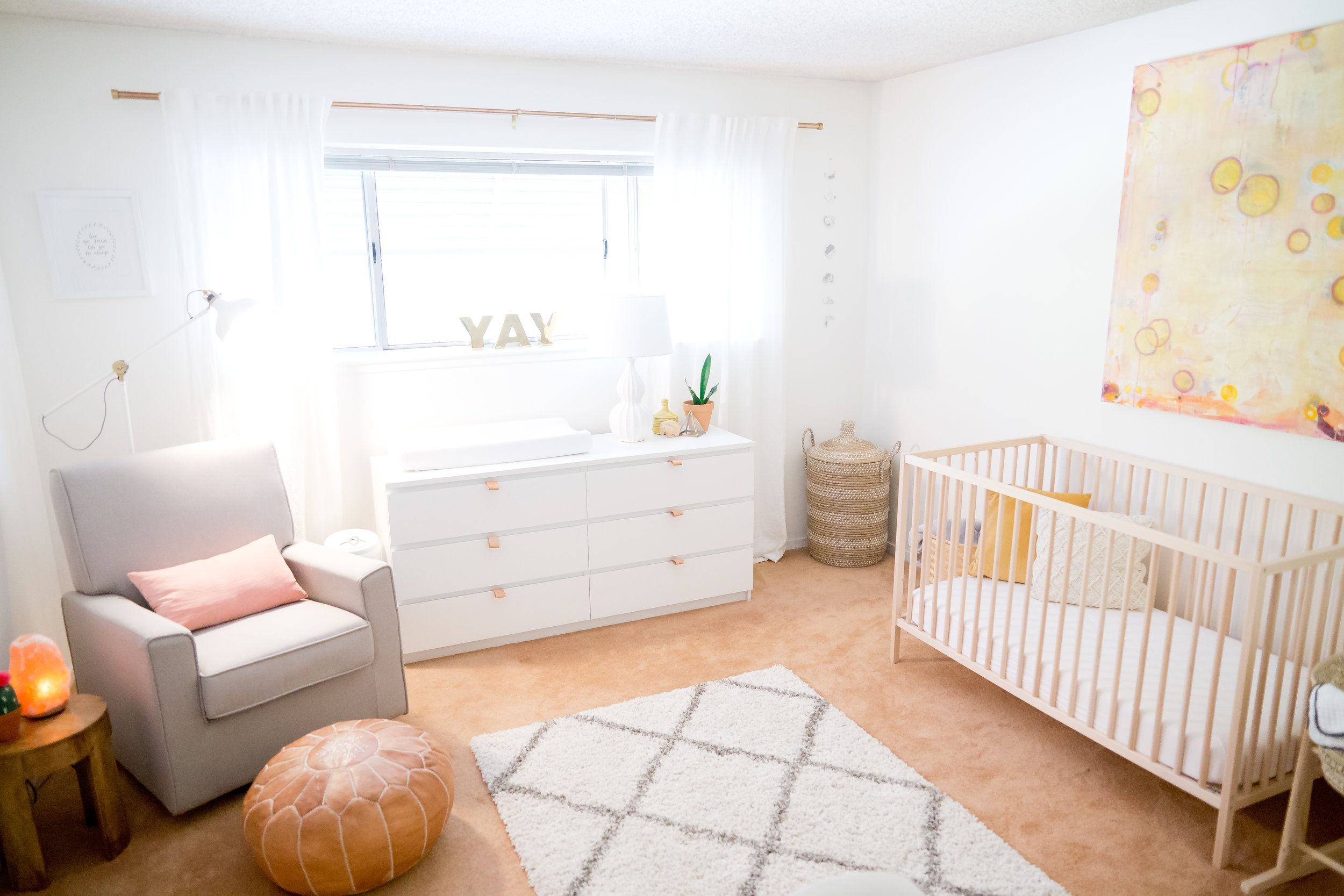 To be fair, this hack should have been the first one to be mentioned, but better late than never. This is the first thing you should be doing before the baby comes or even afterward. As you may have already gathered, the crib and dresser will take up a lot of the space inside the nursery, and thus, you should dedicate some time to thinking about what you will and will not need in the room. For instance, a bookshelf or showcase is a good addition to a room but is unnecessary in a nursery. Whatever children's books you wish to keep can be stored on shelves in the room.
7. Opt for a Closet without Doors
One of the most useful nursery ideas for your baby girl or baby boy you can implement is to have a closet that has no door. Wondering how the two are related? Here's how- taking care of a baby is hectic, and more often than not, mothers/caregivers will have their hands full. Imagine trying to balance a howling baby on the one hand and trying to fetch clothes or supplies from behind a closed closet. Besides giving you easy access, the open concept of the closet will also give the room a feel of more space, making it seem larger than it is.
8. Go for a Neutral Colour Palette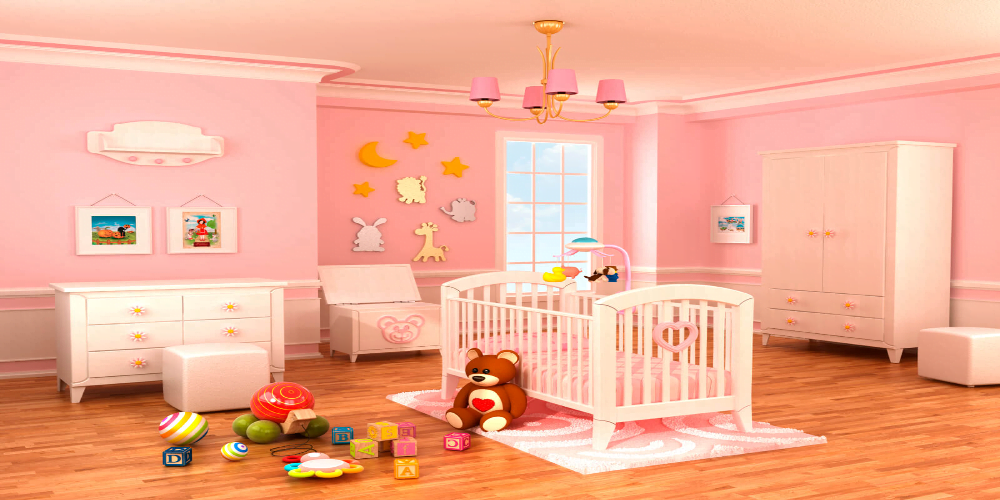 When we speak about nursery ideas for a small room, we automatically also mean the color palette on the walls. While what color you use has no direct correlation with the space utilization in the room, it is still true that some colors create an illusion of more space. Neutral shades such as light pink, light blue, off-white, peach, cream, and light yellow are some of those colors. Use these both on the walls as well as on the furniture and items that you add to the nursery. This will make the room feel opened up. Additionally, these shades are also said to have calming effects on humans and babies.
9. Install Book Ledges on The Wall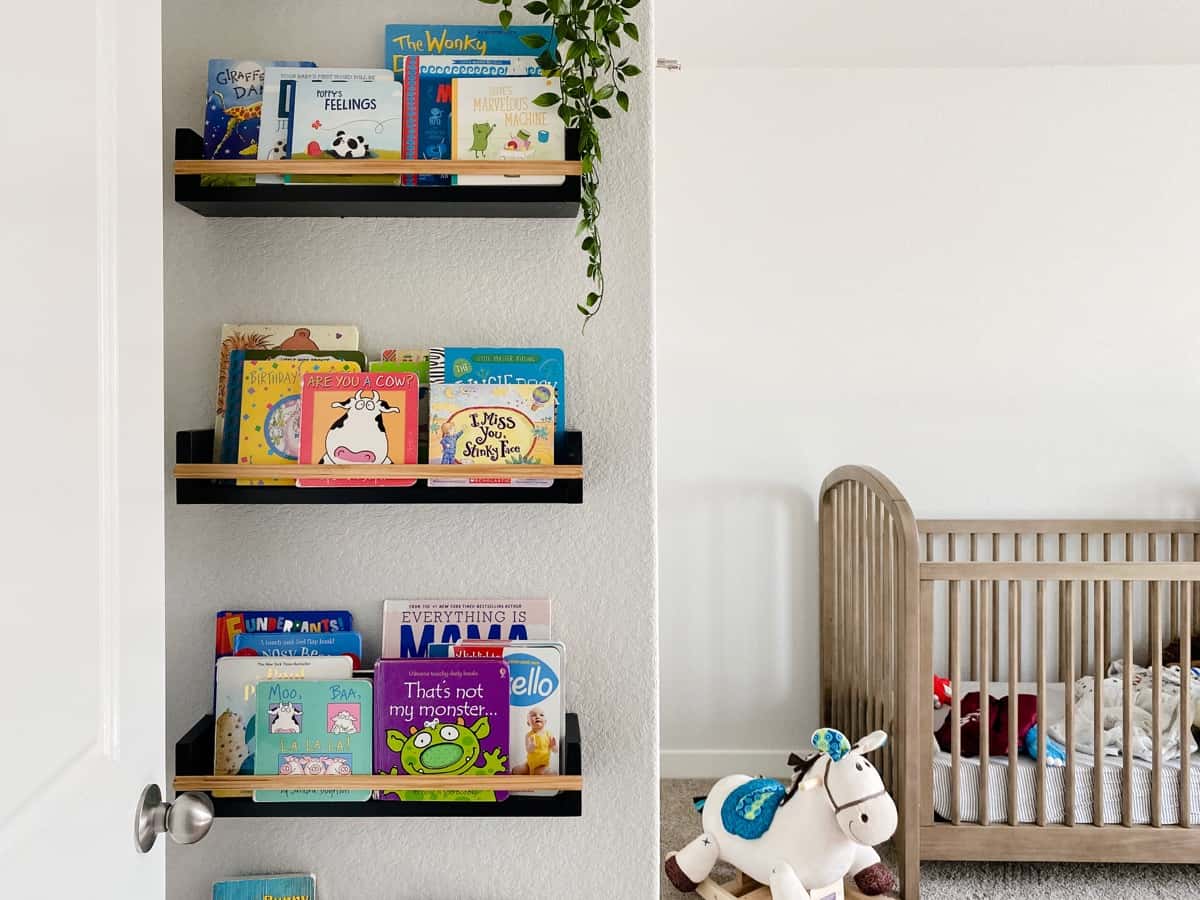 A parent who loves to lose themselves in the world of fiction would naturally want their baby to grow up to be a vigorous reader. What better way to ensure that than to have a mini library right inside the nursery where you can keep your baby's picture books? But a bookshelf is too bulky and eats up space which is why a better alternative in book ledges is recommended. Ledges are like shelves but with boundaries on 4 sides. They are literally like the shelves of a bookshelf but installed on the wall. They can hold many books while taking up only a little space. Fairly convenient, don't you think?
10. Floor-To-Ceiling Storage Space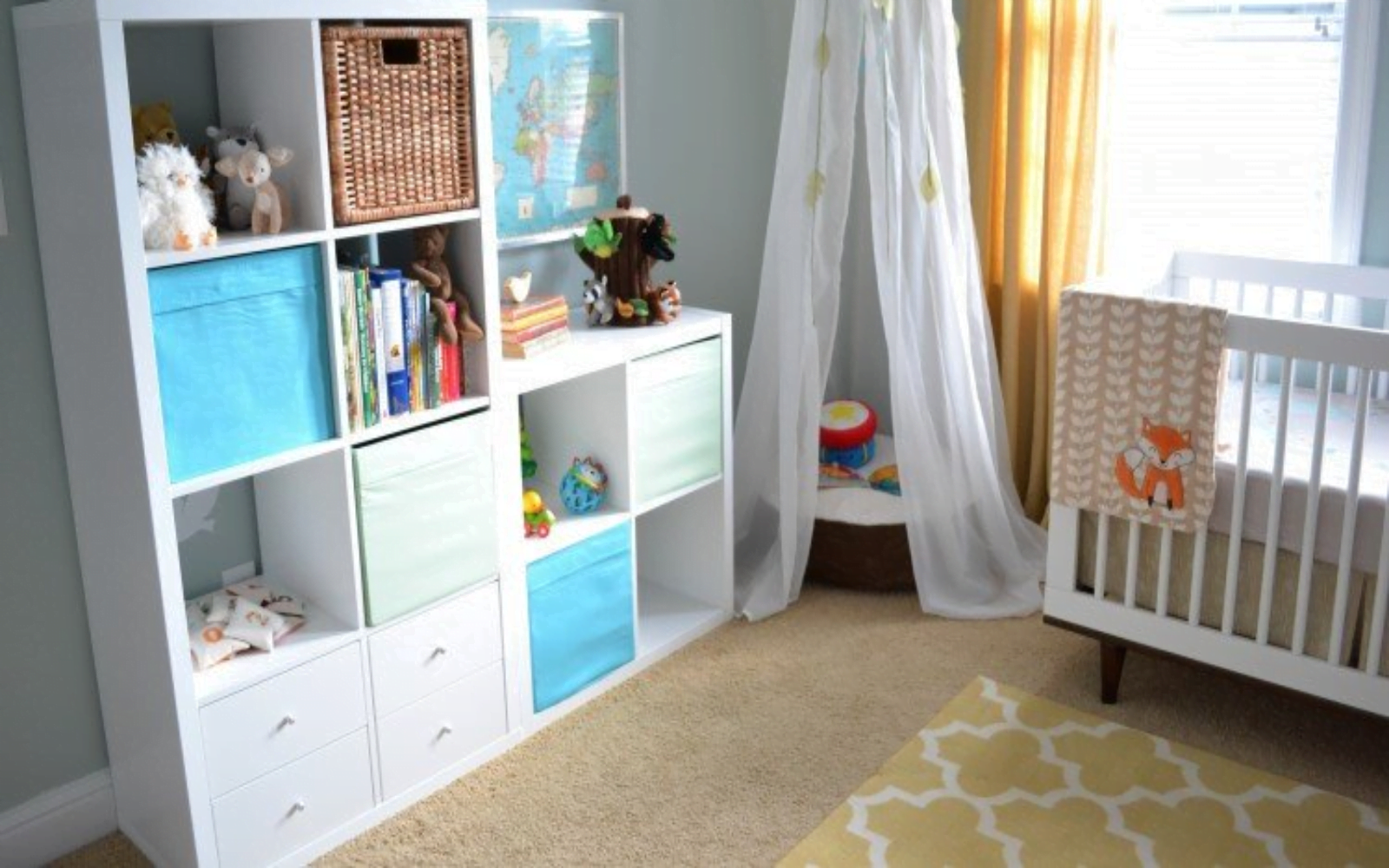 It may not look like it, but keeping more than enough storage space is essential when building a nursery. Before you know it, stuff for your little one will pile up one by one, and you won't know which one to keep and which to discard. That is why as additional storage space, you should be looking at the vertical length of your room and fill a section wall with storage units. This will not only help you keep the important things stored safely in a small nursery but also will leave room for less functional items such as plushies and toys.
11. Use a White Colour Scheme for The Room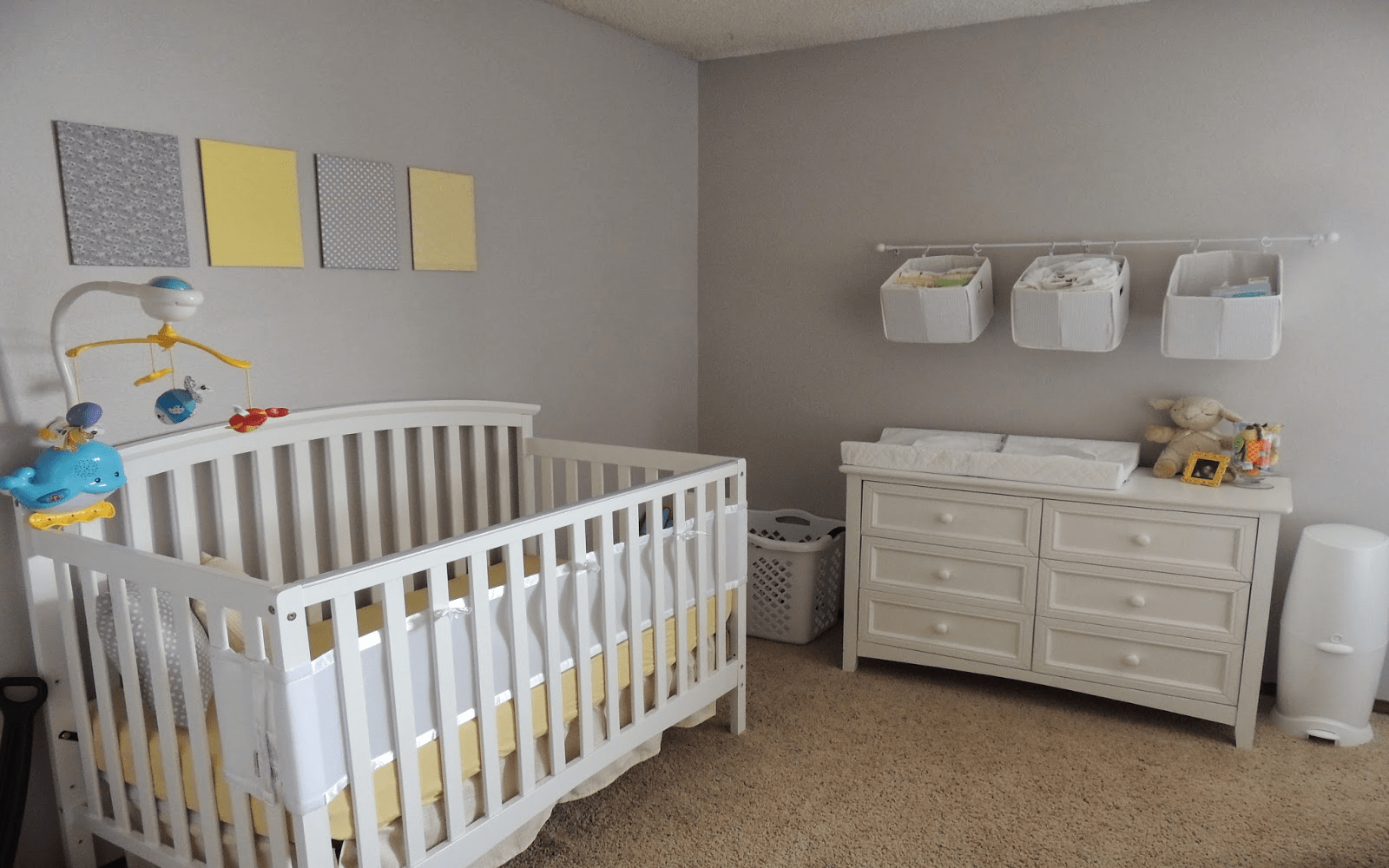 Among the clever but useful small room nursery ideas is to use of a white color scheme for the entire room. This includes walls, furniture, shelves, doors, windows, etc.; the logic behind this is that when light strikes white surfaces, it gets reflected off. The constant reflection of light within them creates a picture of an open and free space. This will obviously not increase the size of a room but will help to make the room feel less packed up.
12. Install Rods with Hangers Under Shelves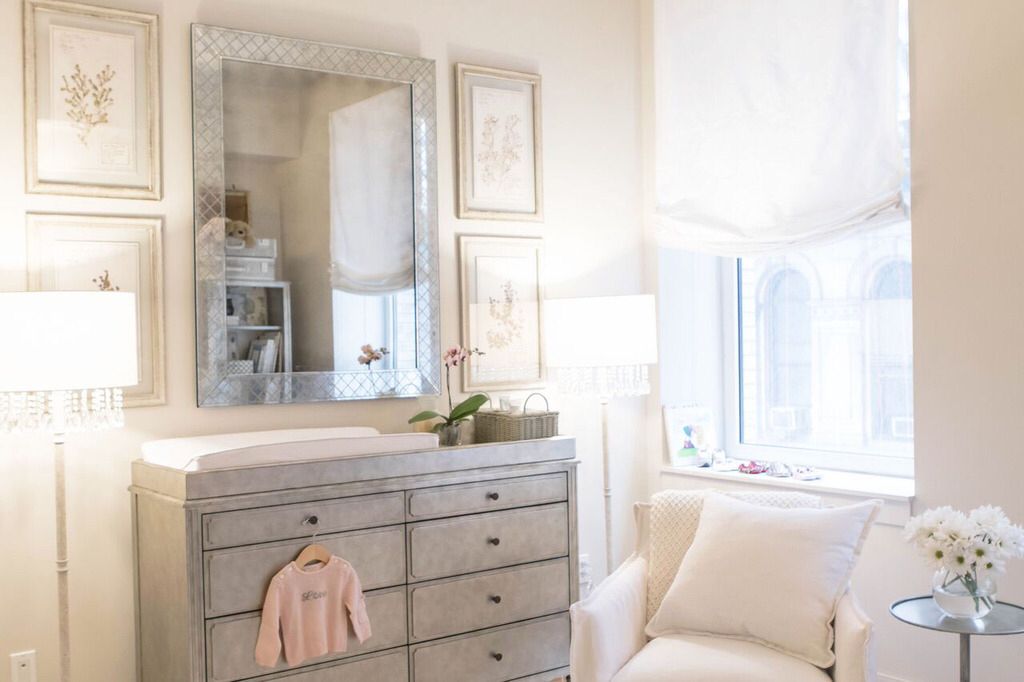 Assuming that you have gone ahead and installed shelves on the walls, you can utilize the space under the lowest shelf to attach rods with clothes hangers. You can use this spot to hang onesies, towels, nappies, and other such daily needed items. Always opening up the dresser while you are in a hurry can be a hassle, so the hanger will come in handy when you have your hands full and need to get the stuff as soon as possible. Besides being a creative way to house your baby's clothes, this will also give you additional space in the dresser for more items.
13. Storage Behind the Door
Depending on how much storage you have already added to your baby girl or baby boy's nursery, consider the backside of the door to install small hooks or shelves to keep miscellaneous items such as bows, headbands, shoes, burp clothes, baby thermometers, nail clippers, first aid kits, etc. This list is practically endless because taking care of a baby is an intense task needing lots of things. Therefore adding a separate area just to keep these above-mentioned products that are necessary but not needed every day can help to organize the room much better.
14. Make Full Use of Natural Lights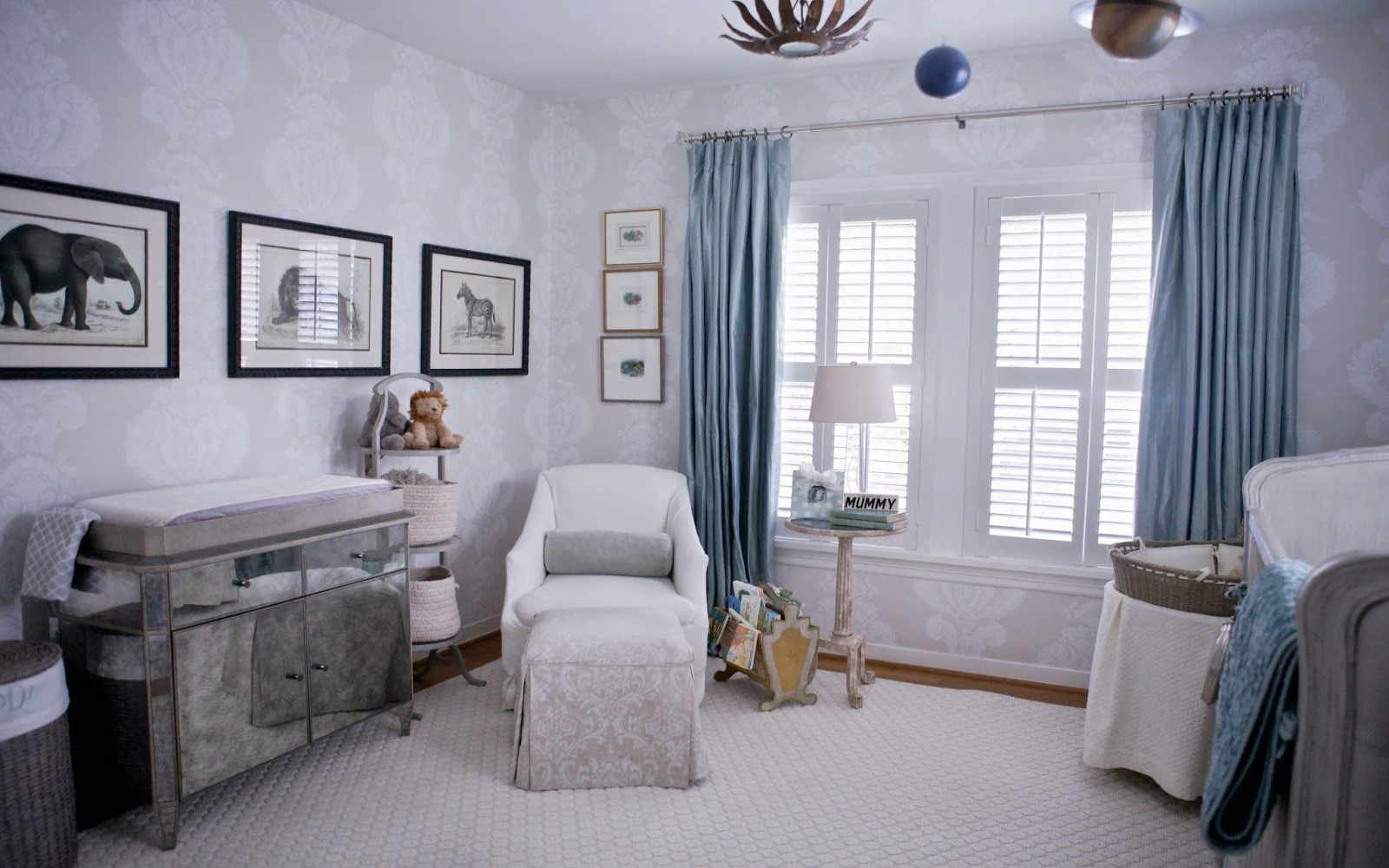 When it comes to lighting, nothing can beat natural sunlight. Not even fancy artificial bulbs and lamps. If we're talking about daytime, that is. If your nursery has a window or multiple windows, then don't cover them up with blinds. Sunlight entering a room can open up the place a lot, especially if the walls and interior decor follow a white or neutral color scheme. Moreover, sunlight also has antibacterial properties, and the room must be exposed to sunlight every day for good hygiene.
15. Plan the Layout Meticulously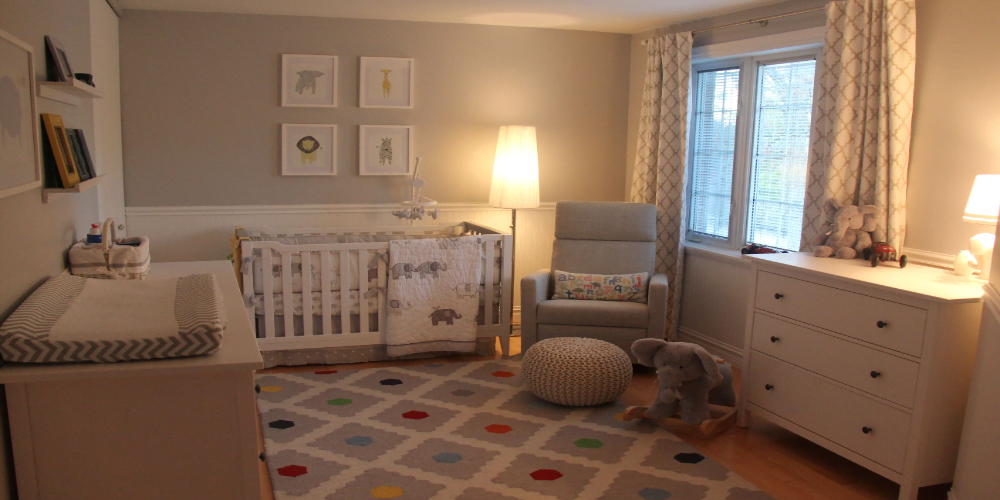 When planning to execute nursery ideas within a limited space, the layout is everything. You have to plan it in such a manner that it will utilize all the available square feet. You also have to keep your convenience in mind. For example, placing the dresser, wardrobe, and cleaning supplies closely together will allow you to coordinate changing your baby's diaper and clothes and/or feeding them, drying them, etc., without having to move all over the room to fetch different things. You will be surprised to learn how effective floor planning can open up new ways to maximize space usage.
16. Add Layered Lighting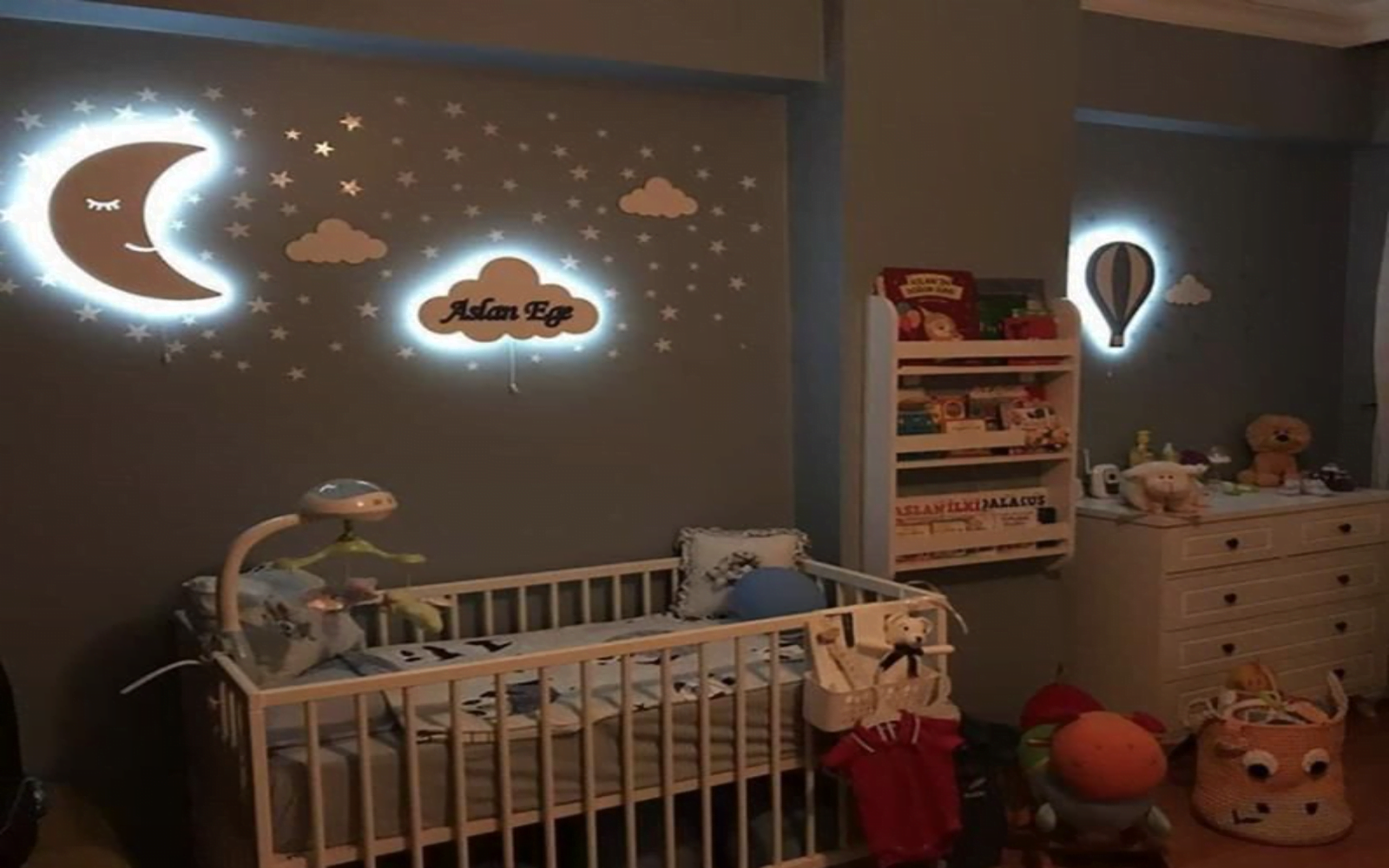 Daytime lighting can be taken care of by the sun but what about illumination after sundown? You can, of course, go for simple LED bulbs or tube light but consider layering the artificial light to create a warm ambiance as well as an illusion of more open space. Install a main overhead light in the center of the ceiling. To complement that, you can add sconces on the walls either in a single line or on either side of big furniture such as the crib or the dresser. This will bring visual symmetry to the room. Moreover, choosing to fit the lights on the ceiling and on the walls will also save floor space.
17. Add a Mirror to The Room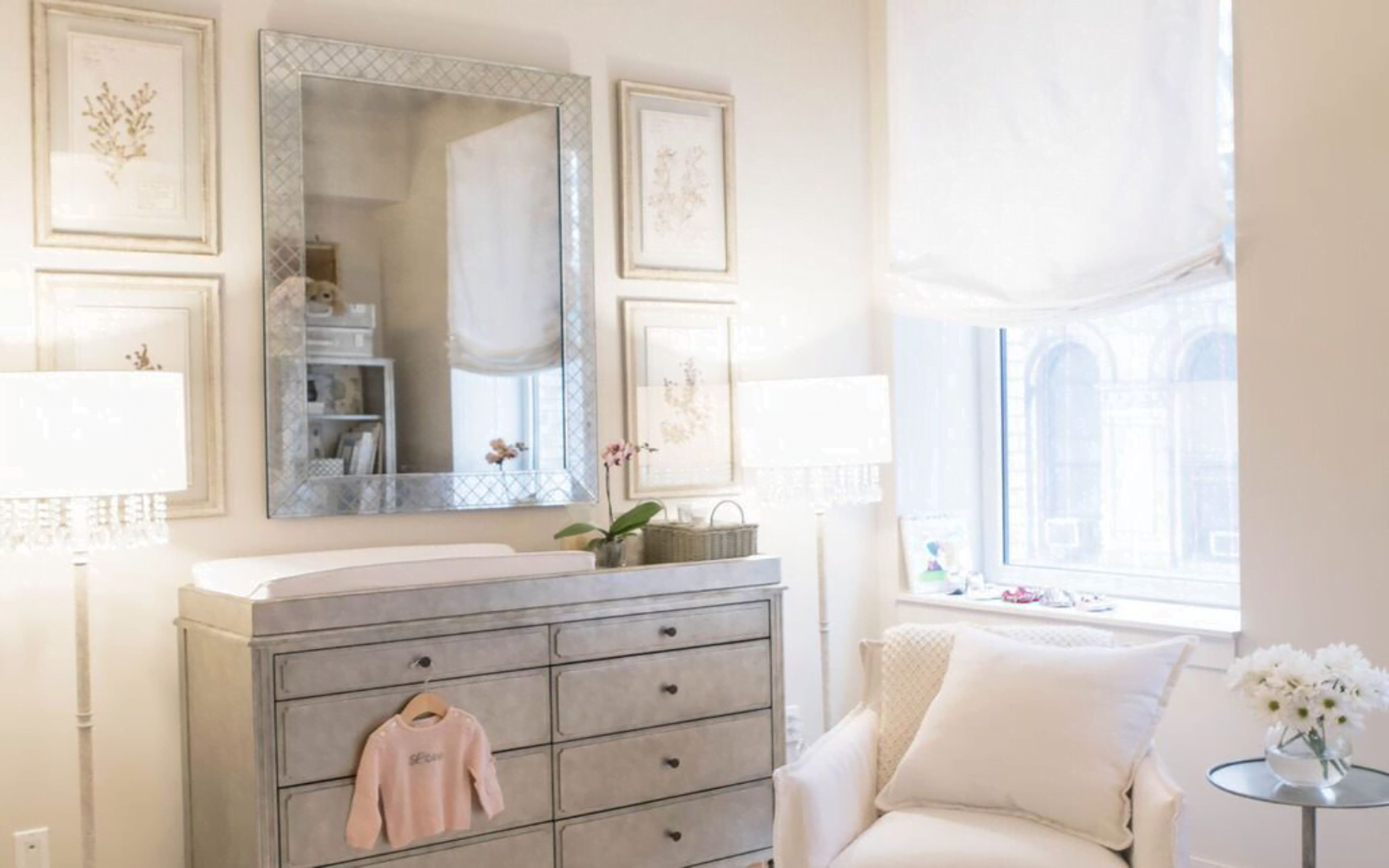 Placing a large mirror on any wall adds dimension to any room. With overflowing sunlight during the day and artificial lighting at night, the room will seem much larger than it actually this. For this hack to actually work, you have to get a large-length mirror and place it opposite the open window or the wall with artificial lighting. To make the mirror more attuned to the decor of a nursery room, you can go for ones with frames that match the color of the room. You can also decorate around it with cartoon characters or pictures of animals and birds.
18. Create a Focal Point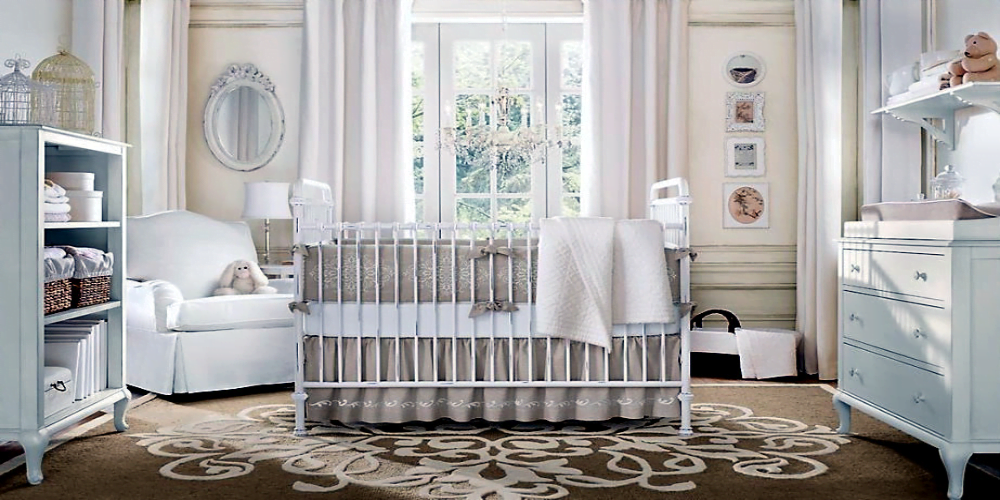 The purpose of a focal point is to build an area that will take away people's attention from the smallness of the room. And if you are on the lookout for small room nursery ideas for your baby girl or baby boy, this will be a convenient option for you. In most nurseries, the crib serves as the aforementioned focal area of the room. To maintain symmetry, consider placing the crib in the center while keeping the dresser and a lampshade/ some other less bulky furniture on either side of the crib. Place a rug underneath and decorate the wall above with something grand. Mostly parents plaster the name of their baby on the wall above the crib, but you could also go for other designs, such as scenes from a children's movie or an elephant print, for instance.
19. How About a Statement Wall?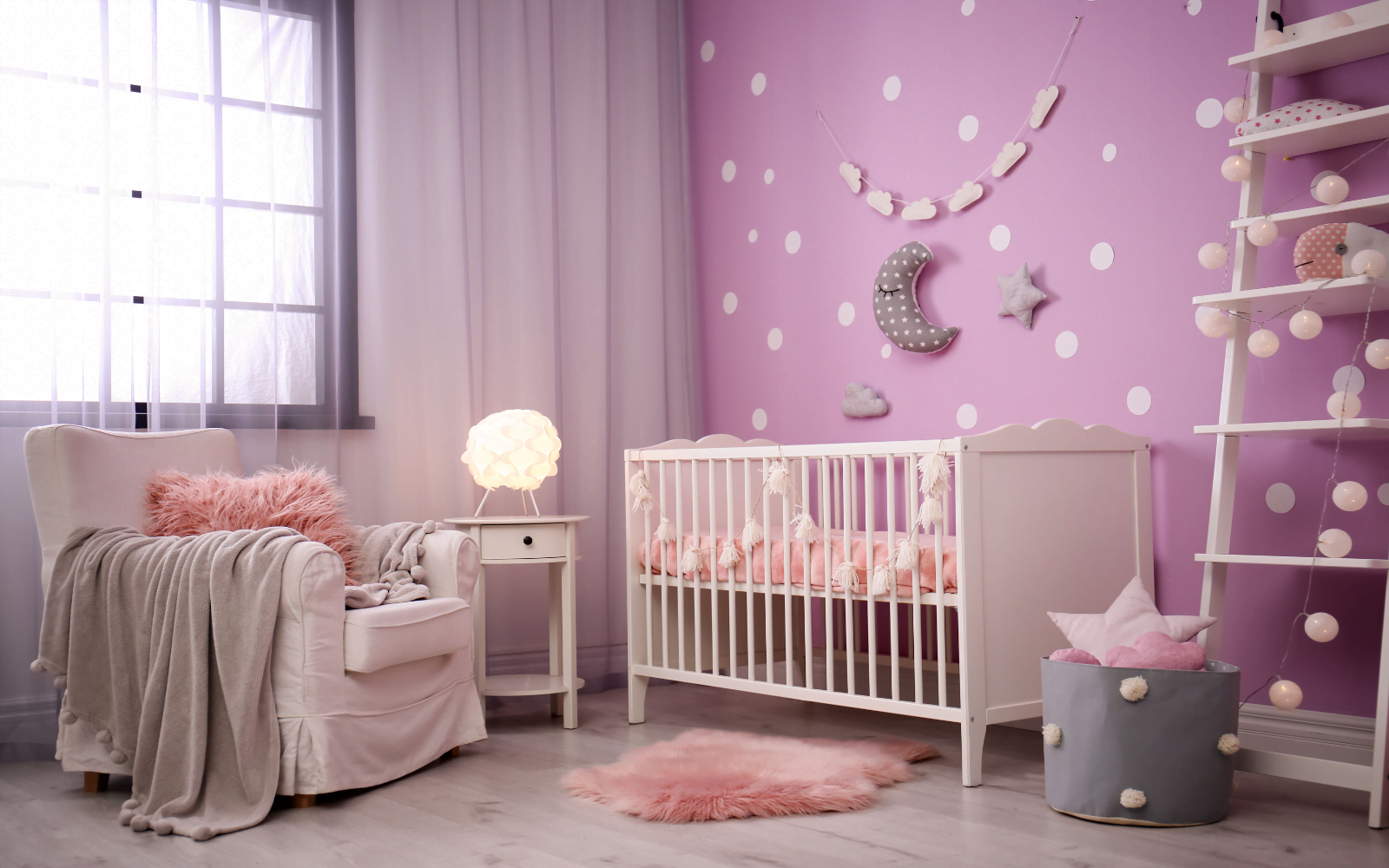 Following the same logic as the hack provided above, this nursery idea will also invite people's attention to the decorated wall. The prerequisite for this is that you should have three neutrally colored walls while you accentuate the fourth wall with an eye-catching color or design. And since this is a children's nursery, there are endless cute designs for you to choose from. This accent wall is usually the wall behind the crib which parents like to decorate with their baby's name. There are other options as well, as you can make it a textured wall or animal prints all over. Flowers, stars, hearts, bubbles, rainbows, etc., are some commonly chosen design items for baby nursery decor.
20. A Corner for Being Comfortable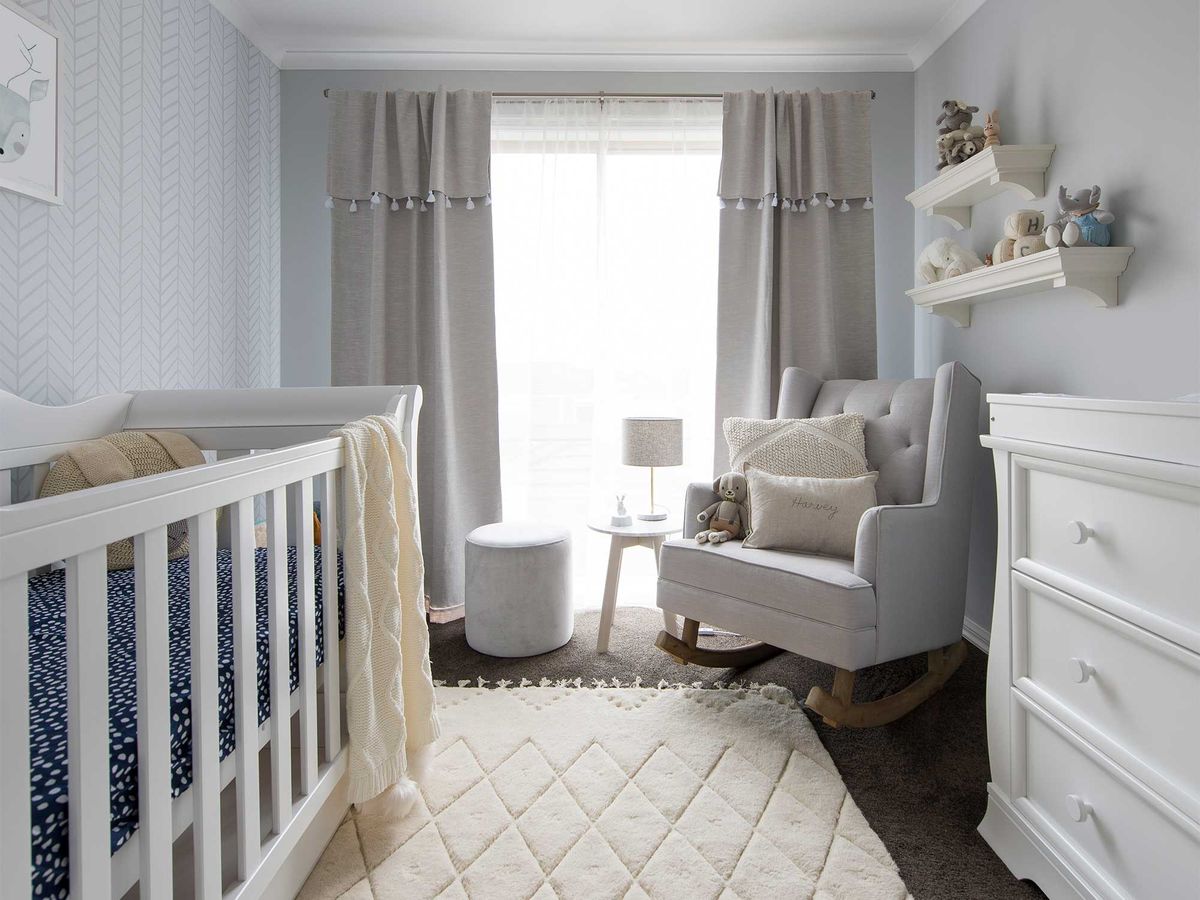 While the nursery is a place for the baby to reside and rest, it is also where the feeding is done. Feeding a baby and then putting them to sleep is a process that often takes a lot of time. Therefore, your nursery room furniture should always include a cozy rocking chair with an armrest for the mother to comfortably settled down in while feeding the baby and a footstool with soft padding. These two pieces of furniture can be settled in one corner, which is otherwise unutilized. In this way, the chair will not be in anyone's way while the corner is also put to use.
21. Accentuate the Tall Ceiling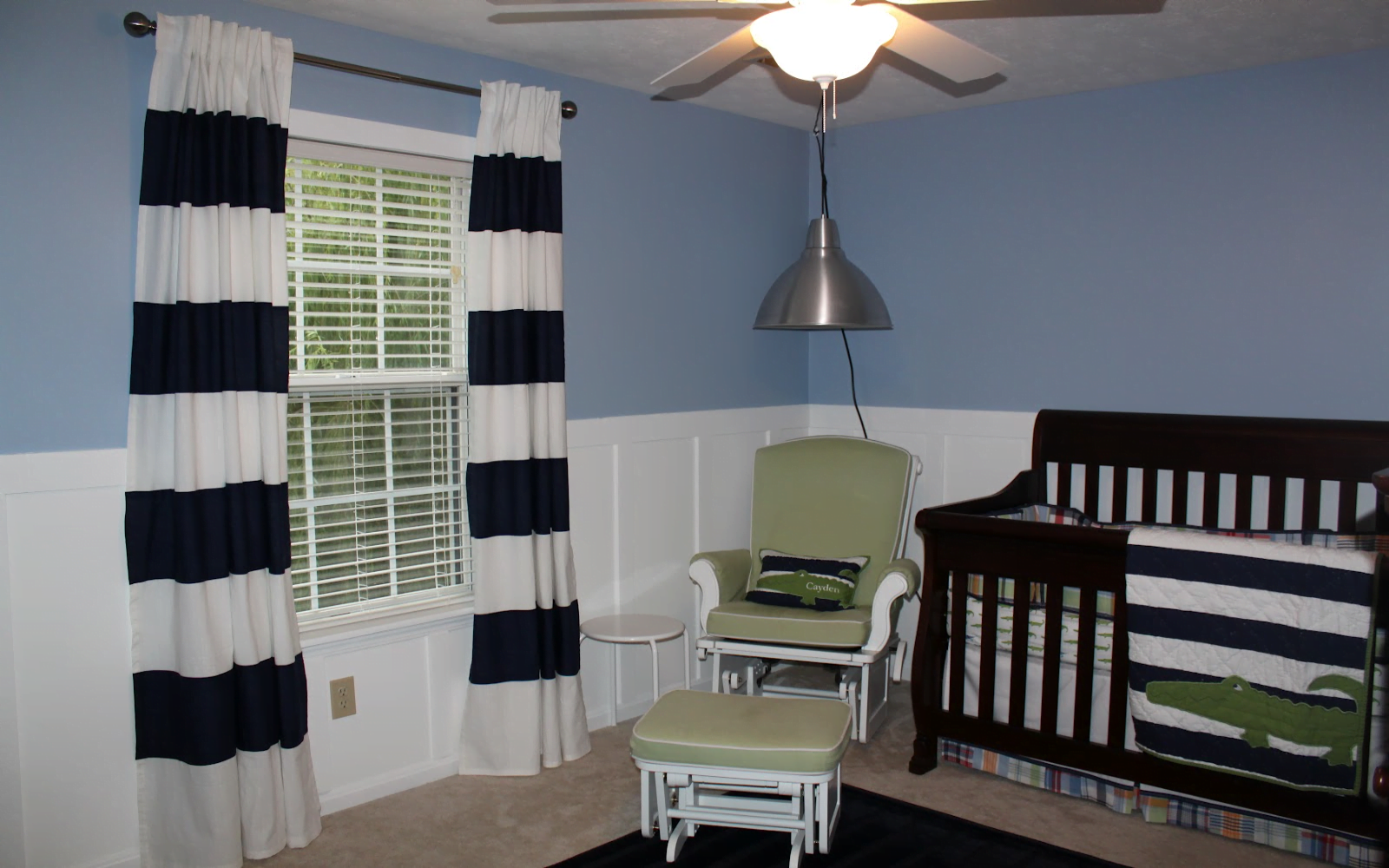 Your room may be small, but if the ceiling is tall, you still have a good chance to capitalize on it. Getting ceiling curtains that hang from the ceiling to the floor is a good way to add length to your walls and extension the ceiling. Hanging artwork on the higher parts of the ceiling can also make it taller than it actually is. You can also go for floor-to-ceiling storage options like shelves and wardrobes. Similarly, hanging light fixtures from the highest part of a tall ceiling will also give the illusion of length to the wall and add more dimension to the room.
Wrapping Up
All in all, decorating a small nursery is a bit different than interior decor for other types of rooms because here, things such as accessibility and hygiene are more important than how the room looks and its visual appeal of it. The nursery must be set up in such a manner that the baby receives maximum comfort and there is an efficient system in place for taking care of them.
Thus setting up the best type of sleeping, feeding, and changing zones are necessary. However, with limited space in the room, you have to optimize it well. Thus here are 21 ideas that incorporate the latest trends in nursery room design for little ones.
Check them all and see which ones can be used for the nursery you are about to build.