It is often said that breakfast is the most essential meal of the day. It also marks a new beginning for us where we leave yesterday behind and start our work afresh. And this is a very good reason why you should be beginning your day in a beautifully made nook that has been made for the very purpose of enjoying a good breakfast.
Moreover, breakfast nooks if more cozy and comfortable and can also be used for multiple purposes throughout the day. You can treat it as a spot to unwind after a day of hard work or even take your evening coffee there. It can also be made into a reading corner. All of these can come to friction with a good seating arrangement. A breakfast nook bench will be ideal for this purpose.
Adding a bench instead of only getting traditional chairs will not only be more practical in terms of adding more space but also will add a fun touch to the breakfast nook.
25 Cozy Breakfast Nook Bench Ideas
So, without wasting any more time, let us quickly look at these 25 super cozy breakfast nook bench ideas and see which one suits your requirements the best.
1. Built-In Corner Bench
The literal meaning of a nook is "corner," and to stay true to this definition, you should start off by featuring this breakfast nook bench idea where the corner of an open-plan living room is utilized. The bench is built-in and immobile and is built along the margins of the wall. To make it more comfortable, the main seating area is cushioned as well as has throw pillows set on it. This is a perfect idea if your living room has large windows, as you can build this breakfast corner beside one of them so that it overlooks the outside.
2. Breakfast Nook Beside Bay Window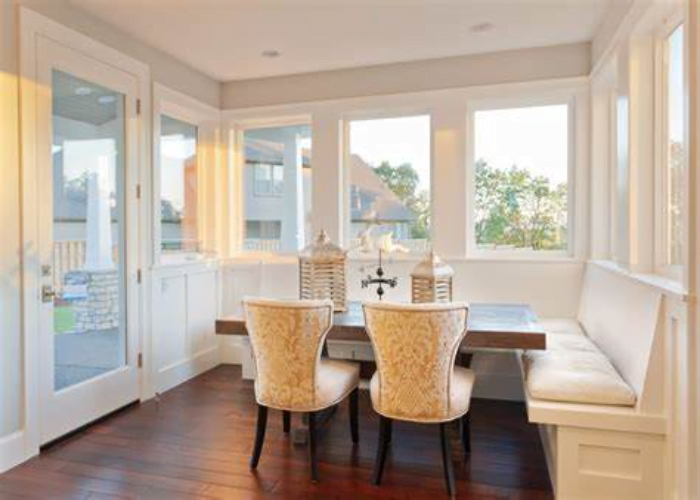 If you have a living room that has decor consisting of glass windows and doors, then you should consider making a comfy nook right there. The main focal point will be the natural wooden table in the center, and for seating, you can opt for a combination of chairs and a breakfast nook bench. The benches can be set along the bottom of the windows as this will open up the seating area more. For added comfort, consider using throw blankets and cushions on the bench.
3. Breakfast Booth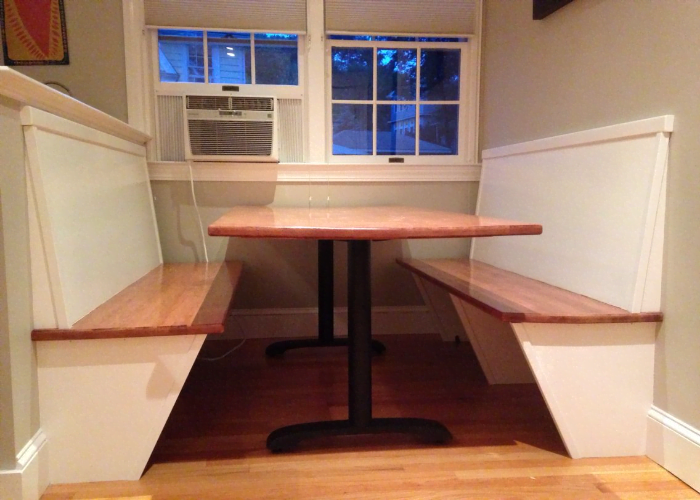 A simple yet unique restaurant-style breakfast nook can be built if you have some unutilized space in your kitchen. Remember the booths that are so prevalent in old diners? Yes, you can make something similar inside your kitchen. Booth dining table and bench sets are available ready-made, and all you need to do is place them in a convenient corner and enjoy the new breakfast spot. This idea is not just fashionable or unique but is also quite practical as it will be very convenient to carry cooked food from the oven to the kitchen booth and the used utensils back to the basin. If you have little ones in your home, then the booth can be used as a daytime study table where you can both keep an eye on the kids and cook at the same time.
4. Breakfast Nook with a Curved Bench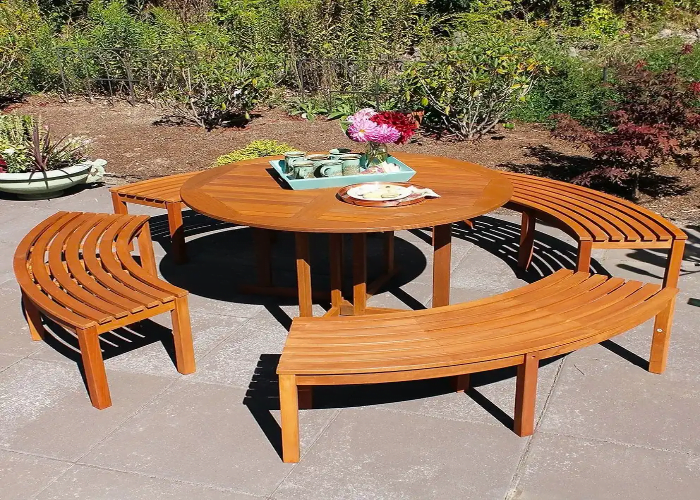 In most home decor, the most common shape that is noticed is square with its sharp corners. But you add an interesting element to your breakfast nook by placing a bench that is curved and without any corners. It will be a welcome change in sight from the monotonousness of squares and rectangles in your room. Consider getting a round table to maintain the curved theme. This idea will go best if there is a curved niche in one of your walls but executing it on a straight niche will also look just as nice. Moreover, you can also consider upholstering the curved breakfast nook bench to make it look visually more appealing.
5. Modern Take on a Breakfast Corner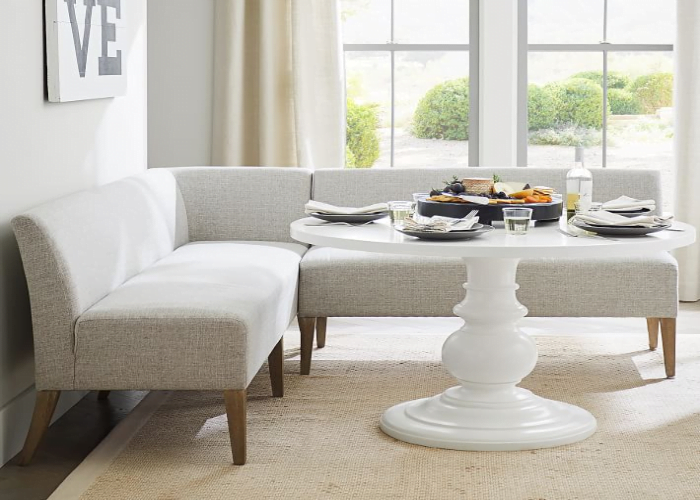 Do you have a mind to build a comfortable breakfast nook, but the idea of adding a bench sounds unappealing to you? Well, there is no need to worry because there is always an alternative to everything. Go for this modern breakfast nook bench instead. With its upholstered seats and exposed wooden legs, it doesn't have the rustic vibe of a bench but still serves the purpose well. Moreover, such a setup also means that you can add it to literally anywhere in your home and not just dedicated eating spots. Finish the look with a small one-legged table to bring in a touch of sophistication.
6. Solid Wood Breakfast Nook Decor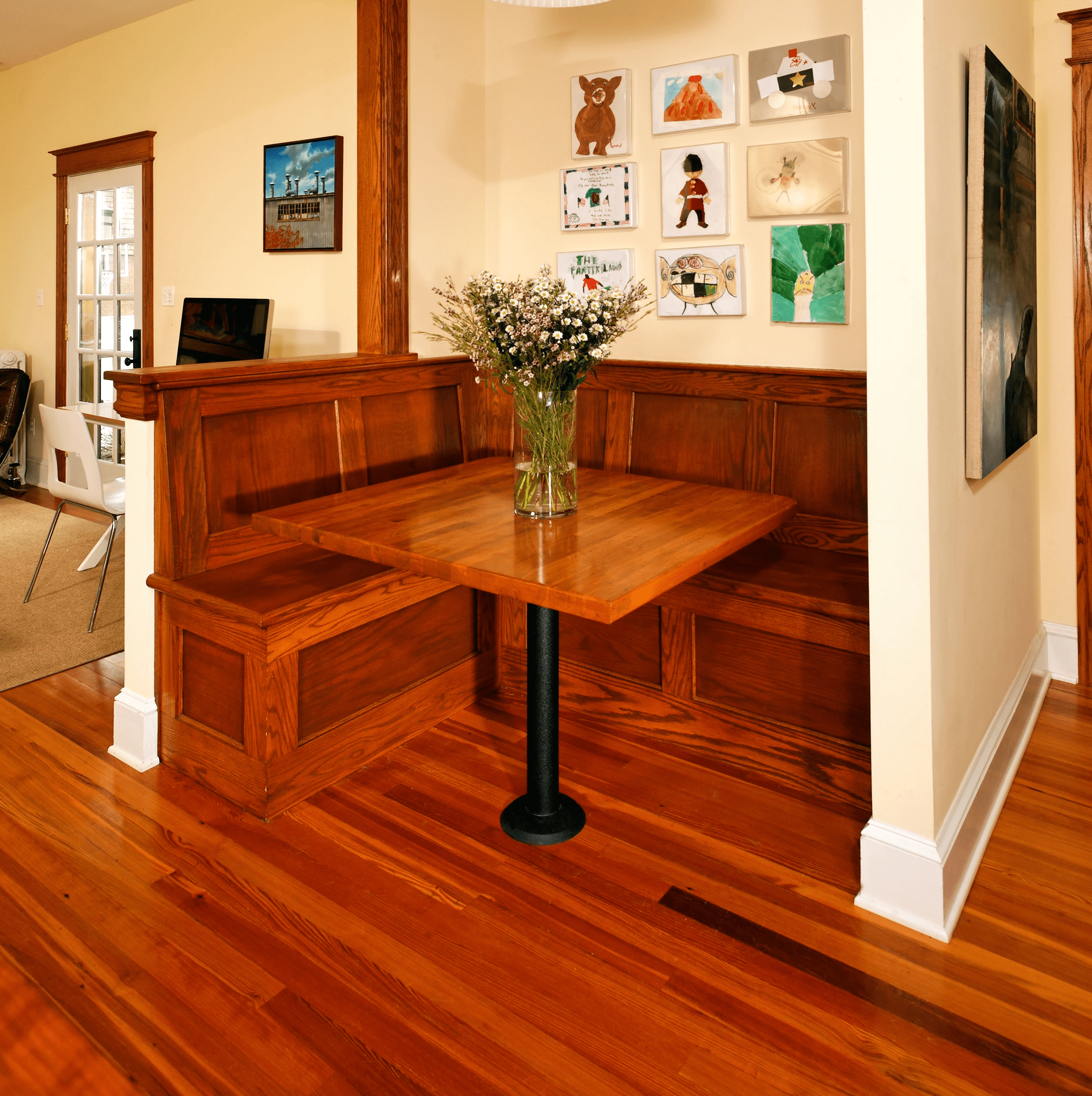 This breakfast nook idea prioritizes the solid natural wood dining set. It blends right in with the floor and the accents in the decor, as is commonly found in midcentury modern homes. All by itself, this bench may seem rather shabby and lacking in charm, but when placed inside a room that compliments it, the true potential is seen. There are several styles of natural wood breakfast nook benches you can opt for, and not all of them have to be fitted in with midcentury home decor even. The main thing that you need to make sure of is whether natural wood goes with the decor in your home or not, and if it looks good, then you should go for it.
7. Breakfast Nook Bench With Storage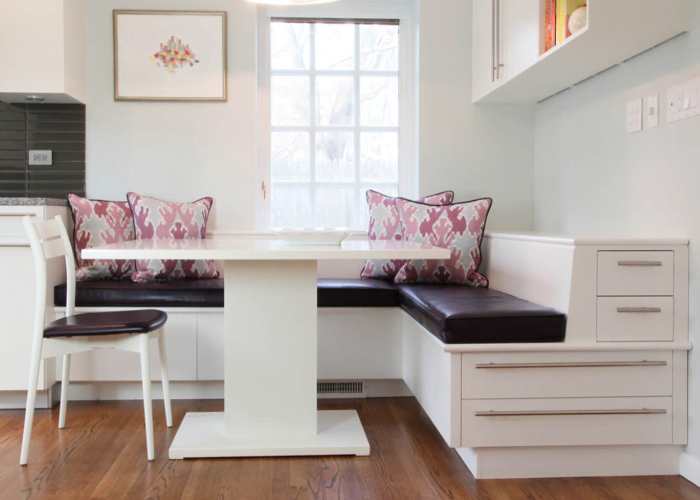 When space is a constraint, then we will naturally look for all ways possible to find new ways of organized storage. One such option that you should consider is getting a breakfast nook bench that has storage underneath. In this way, you do not have to choose between turning the additional space into a dining corner or keeping it as extra space for housing things. Both purposes are achieved at once. These benches can either be opened from the top, where the cushioned seat is lifted to open up the space inside. The other method is equipping drawers under the seating area. An average-sized bench can be fitted with two drawers at the most. If you are getting two benches for your breakfast corner, you can opt for both types of storage to get the best of both worlds.
8. Combine Mainstream Storage with The Breakfast Nook Bench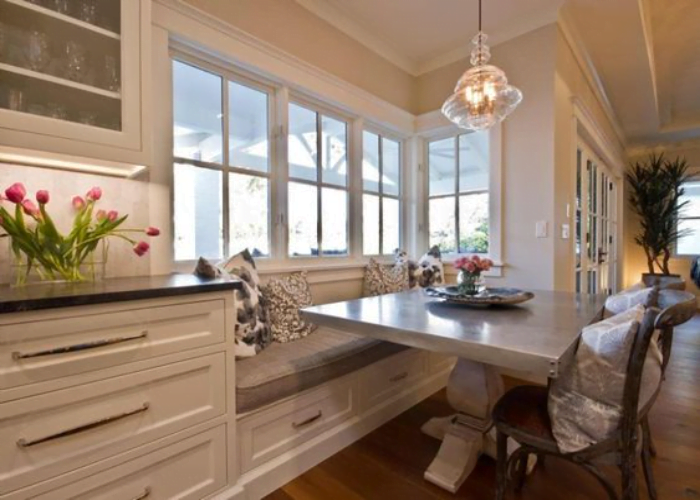 While we are on the topic of maximizing storage options, let us look at another combined storage and seating idea in a breakfast nook. Instead of simply getting a breakfast nook bench, you can also get a chest of drawers beside it. This is, of course, possible if the layout of your home allows these changes. You can either opt to build the bench attached to the chest cabinet or separately but consider coordinating the colors of the bench and the drawer chest for a more seamless look. The top of the drawer can also be matched with the tabletop to make the whole set-up have visual symmetry.
9. Minimalist Bench and Dining Set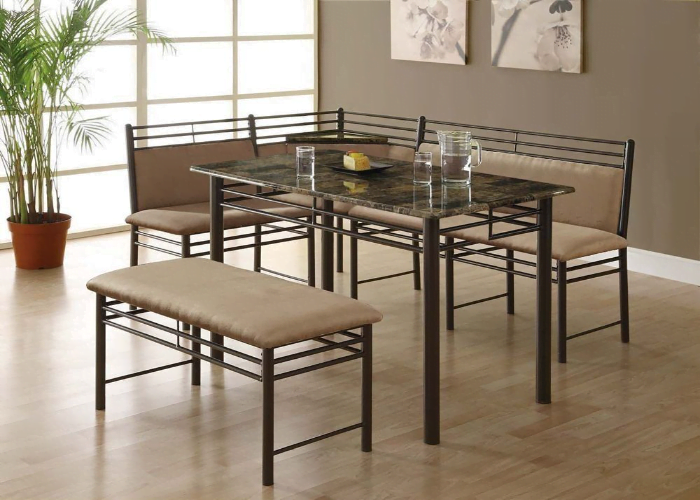 If you keep tabs on the world of home decor, then you will know that minimalism is all the rage right now. And there is no reason why this unique home decor should not be extended onto your breakfast nook as well. In this idea, the bare minimum is used to create a beautiful dining corner. The benches are made of iron frames, while simple upholstering on the seat and backrest is used. To increase seating, a bench without a backrest is also added. The high table, too, is a simple one with a wooden tabletop with a veneer. The whole set-up is without any complex details but still adds character to a room because of its sleek and simple charm.
10. Breakfast Nook Bench for A Large Family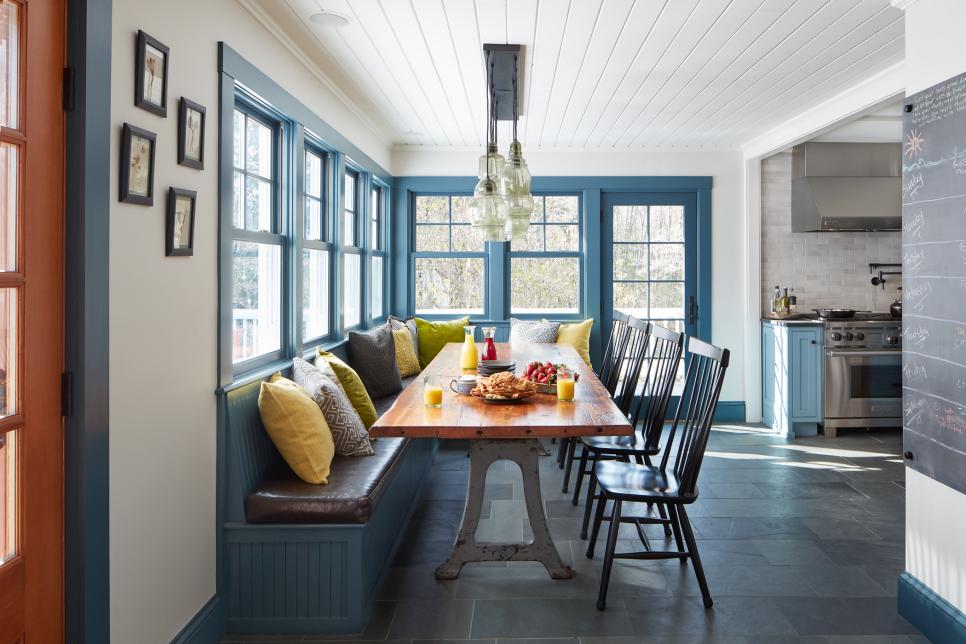 There is no point in building a breakfast nook if it cannot accommodate your whole family. And some families are larger than the average ones, and that is why you need a dining corner that will have enough seating and table space for everyone to eat and have fun together. To make this possible, you have to mark out a spot near your kitchen or any other suitable place that can fit a rectangular banquet table. You can surround this with one long bench on one side and opt for chairs on the other. The two smaller sides can also be used for seating. A banquet table of average size can easily fit a large family of 10.
11. Cozy Breakfast Nook Bench in The Kitchen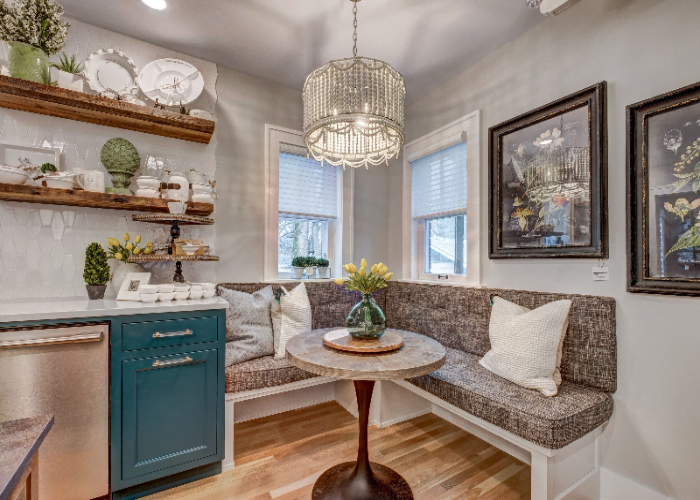 Traditionally, breakfast nooks were always built in the kitchen or an adjacent space, but these days you can build them anywhere. That said, getting a dining corner somewhere in or around the kitchen has its own traditional charm. Transform one corner of your kitchen into a comfy and intimate spot to enjoy a good meal with your beloved family or friends. In a kitchen where space is limited, you can opt for a one-legged table of a smaller size and a corner L-shaped bench. For large spaces, more seating can be added with chairs.
12. Breakfast Nook Against the Kitchen Island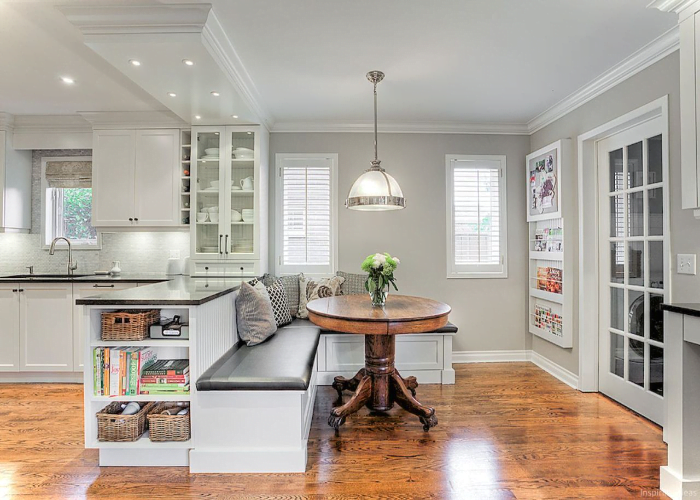 In most of the ideas so far, you might have noticed one similarity, and that is most of the benches featured here are built against a solid wall or window. However, there is no hard and fast rule that says it has to be this way. That is why if you have enough space on the outer side of your kitchen island table, you can easily set a bench against the counter and place a table in front to transform the space into a breakfast nook. You can opt for a narrow banquet table or even a small high table instead to go with the breakfast nook bench.
13. Outdoor Breakfast Nook with Curved Benches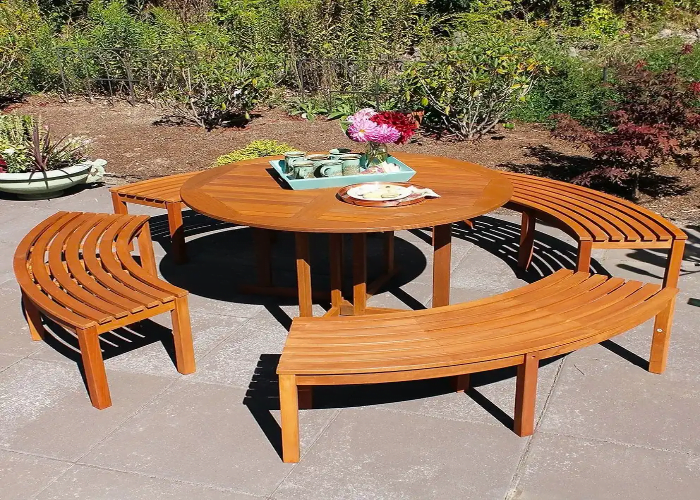 Enjoying a delicious meal in the lap of nature does not feel like a bad idea, right? If your home has an outdoor space or a patio, then utilize the place to its fullest by building a breakfast corner. Although this will be more like an outdoor dining spot, what is the point in dwelling on terminologies when you can make use of the place? This breakfast bench idea features a set of four curved benches in the shape of a broken circle. A round table is placed in the center to maintain consistent visual harmony.
14. Color Pop Breakfast Nook Bench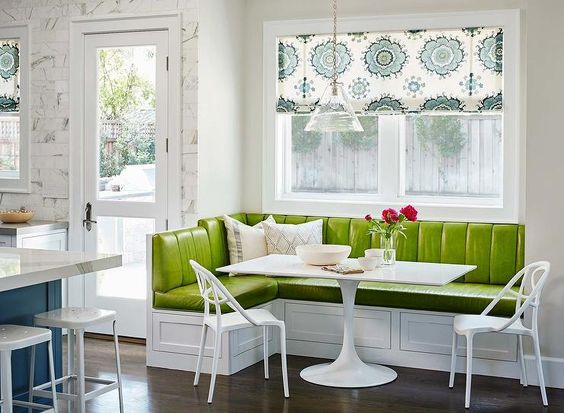 Add a fun and interesting element to your kitchen by adding a breakfast nook bench that carries a pop of color with it. For home decor that does not feature many colors in them, it is a good idea to use splashes of color here and there to remove the blandness that comes with a lack of decor. The color that you choose should, of course, be complemented by the interior decor but do consider a loud color that arrests your attention immediately. Yellow, Lime Green, Red, Teal, etc., are some of the recommended colors that you should check out.
15. Upholstered Bench with a Very High Back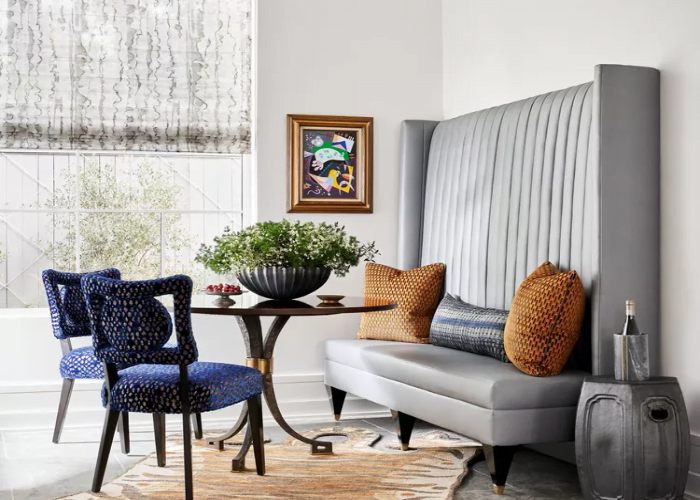 For the most sophisticated result, you can choose to get a bench that has a very high back and is upholstered. This tall dining bench adds dimension to the room by becoming the focal point, and with strategic placing, you get the best of this piece of furniture. It can be easily said that this bench is the star of the show with its endless elegance that makes your dining from a simple to a luxurious experience.
16. Breakfast Nook Bench Idea for Small Spaces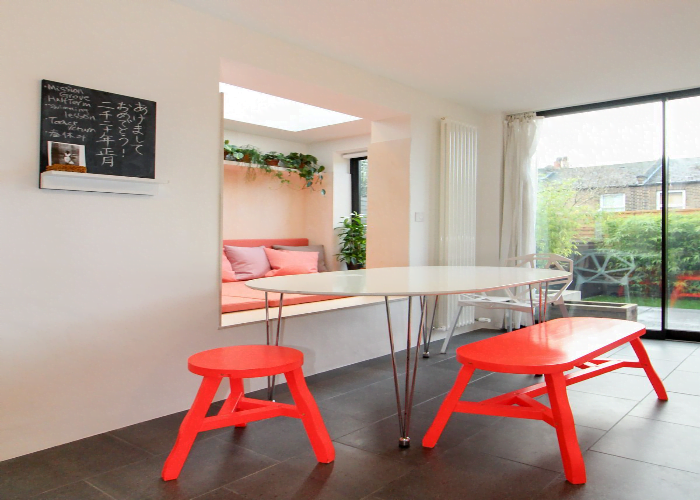 More than places with lots of square feet to spare, more planning is required for small places. Trying to build yourself a breakfast nook in a small space means that you have to downsize any one of the furniture that takes up maximum space. In most cases, that is the table, but you could also opt for a smaller bench and replace the chairs with stools. This will be a compact little spot but will be a great addition, nevertheless.
17. Rustic Breakfast Nook Bench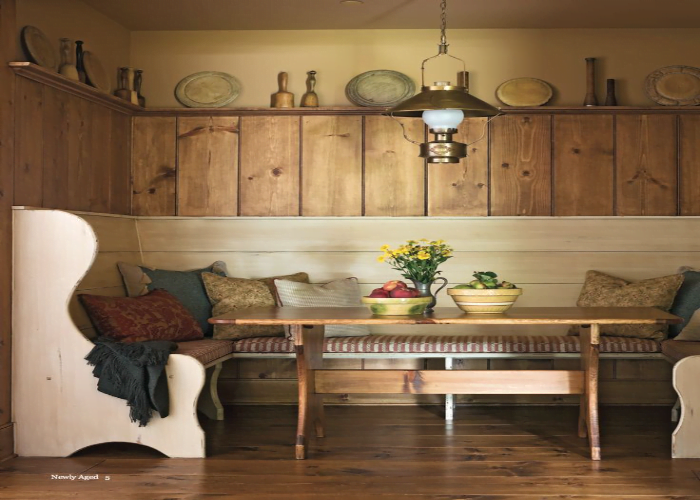 If your house has a wooden accent on the walls or the floor, then you should make full use of it by complementing the decor with a rustic wooden bench with sectional seating on both sides. In this breakfast nook bench idea, there is a bench with a high back and an armrest with a curved silhouette shown, and that perfectly blends in with the country charm of the room. Some throw cushion and a blanket is also added to the decor, and that adds to the elegance of the whole setup.
18. Breakfast Nook with Built-In Bench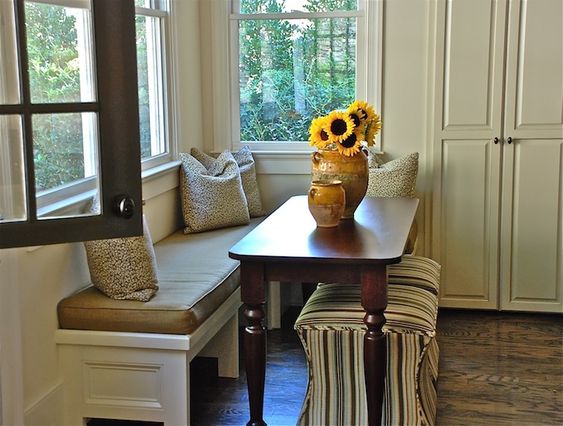 There is already one built-in bench mentioned earlier in this list, but what sets this one apart is that this bench idea is executed in a much smaller spot and in a more compact than its earlier version. In the spirit of saving space, this idea does not add any chairs. For additional seating apart from the built-in bench, an upholstered bench is used, which can easily be pushed under the table when not in use.
19. Cozy Breakfast Nook with An Outdoor Bench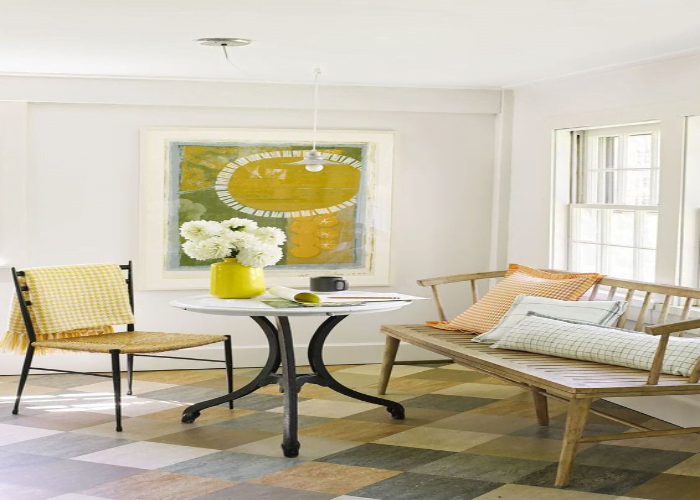 Not everyone likes elaborate designs and layouts for everything when there is a simpler alternative that looks just as good. Build a cozy-looking breakfast nook with an outdoor bench as the main seat. For a touch of drama and beauty, you can opt for an outdoor bench with an intricately built backrest frame. If space is an issue, then go for a small one-legged table, and to finish the look, add one or two tigullina chairs.
20. Intimate Breakfast Nook with a Bench by The Grid Window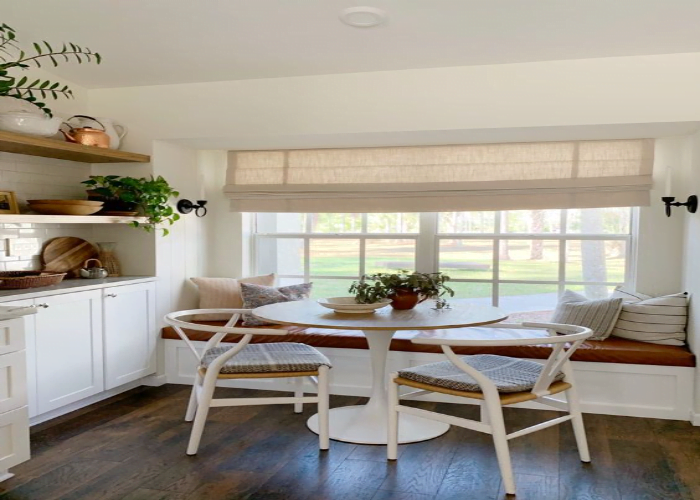 Something about grid windows is very charming and welcomes one to stand by it and have a moment to themselves. So if your kitchen decor features a grid window in a wall alcove, then you should capitalize on it by adding a comfy bench in the alcove and surrounding it with a table and chairs to make a perfect breakfast spot. The image shows a one-legged table and wishbone chairsfor a crisp but delicate look but does feel free to bring in anything else.
21. Breakfast Nook Bench with Striped Upholstery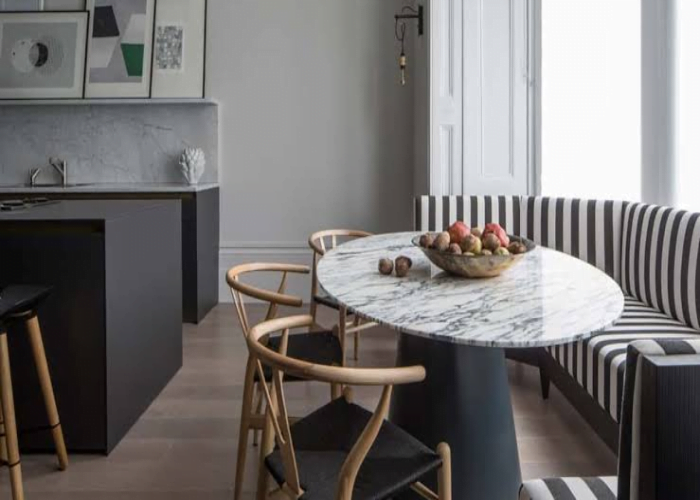 Bring some newness to the decor of your kitchen by getting this breakfast nook bench that has a striped color combination for the upholstery and cushioning. This is a welcome burst of color for an otherwise monotonous kitchen. It not only serves the purpose of being a cozy seating area but also adds character to the room. Placing such an interesting and pretty-looking bench by your breakfast table elevates the look of the place and also looks inviting to an onlooker.
22. Hang an Artwork Over the Breakfast Nook Bench
Even if the breakfast nook you built occupies an unnoticed corner of the room, you can still make it the focal point of the room. Wondering how? With strategic placement of the bench against an empty wall and adding artwork, posters, or paintings to the wall can open up the place and make it the visual center of the room. Choose one big artwork or multiple smaller ones. Basically, anything that will cover up the majority of the wall will do.
23. Go for a Floral Printed Breakfast Nook Bench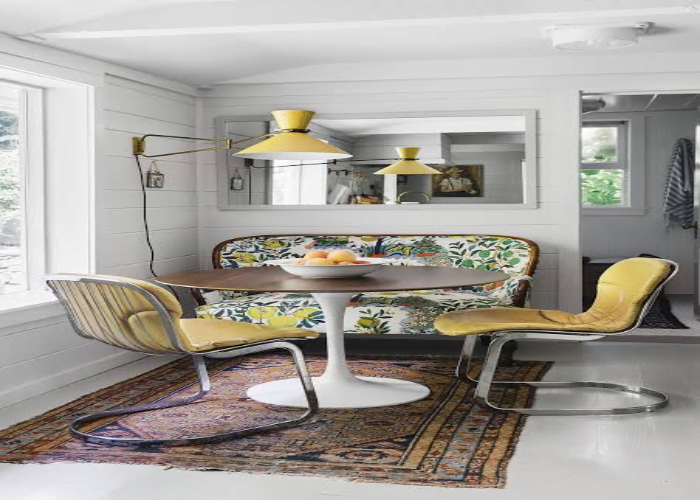 Floral prints are not very popular when it comes to home decor, especially these days when minimalist sophistication is all the rage. So if you are willing to work with a design that is a little different from the current trend, then go for this floral-printed breakfast nook bench. The unique color combination will be a welcome change to the decor as well as a point of attraction. Although it will be an uncommon design, it will have a distinct charm of its own,
24. Tufted Leather Corner Breakfast Nook Bench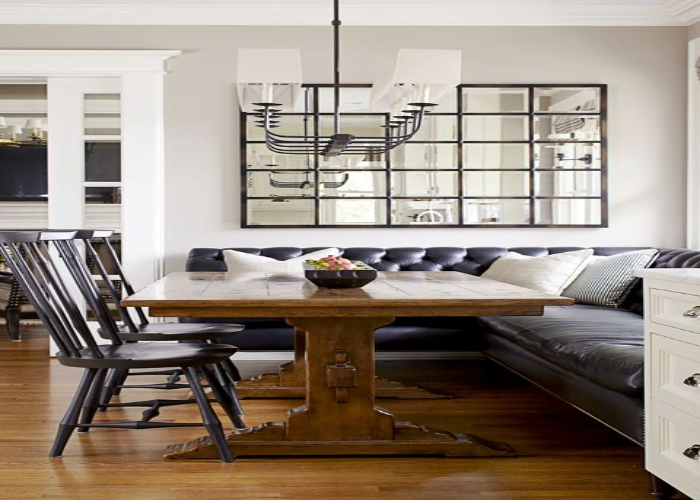 We have already established that corners are the best spots to turn into a breakfast nook because that way, the dining set-up will not obstruct foot traffic. But there is no need to be so low-key when making a Breakfast nook. Even if it is in a corner, consider choosing a tuft leather bench for the main seating. Not only will this be a luxurious choice, but it will also be practical because tuft leather is resistant to soft scratches and water spills. It also does not get dirty very easily.
25. Breakfast Nook Curved Settee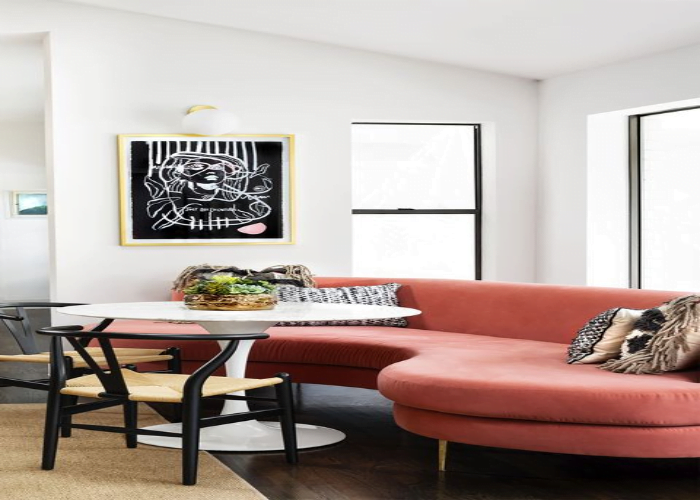 A settee is like a regular bench, but what makes it special is the curve in its silhouette. That alone lends it an endlessly chic charm. However, such a unique piece of furniture deserves a center spot, so do not push it to the corner. Add some throw cushions with contrasting colors to increase the visual appeal of the breakfast nook, and consider wishbone chairs for additional seating.
Wrapping Up
All in all, a bench is an uncommon piece of furniture to have in a residential home. But that is only true when we are talking about traditional wooden benches. As you can see, benches are a popular furniture item for building breakfast nooks, and there is more than one kind of bench being put into use over here.
So, this was a list of 25 ways to add a bench to your Breakfast nook. To be fair, chairs can do the job perfectly fine, but benches and especially the cushioned kind, just look more welcoming and inviting. That kind of vibe befits a spot like the breakfast nook, which is all about comfort.
So which one are you going to choose from here?