Want to upgrade your home with a stunning basement bar? But do you know which basement bar type will match your house interior? Well, don't panic! We got you covered. Modern homes are more than just a place to live. Nowadays, it is the gateway to all the luxuries at home. Today building a house means adding all the comforts and necessities you desire, whether a luxurious pool in the backyard or a stunning basement bar.
Many people find it enough to have a sleek swimming pool to relax after a long tiring day. In contrast, others may prefer to sit in the comfort of a home basement bar and relax. You can even add a television, a bookshelf, a comfy couch, and fun games like pool and foosball to declutter your mind while relaxing.
If you are also one of those who loves home bars, continue reading. Here we will discuss some brilliant basement bar ideas, from budget-friendly to premium ones.
Top 25 Basement Bar Ideas
When it comes to the basement bar or home bar, you will get multiple options. You can opt for a minimalist casual home bar or choose a semi/fully equipped luxury basement bar.
1. Opt for a Mirrored Backsplash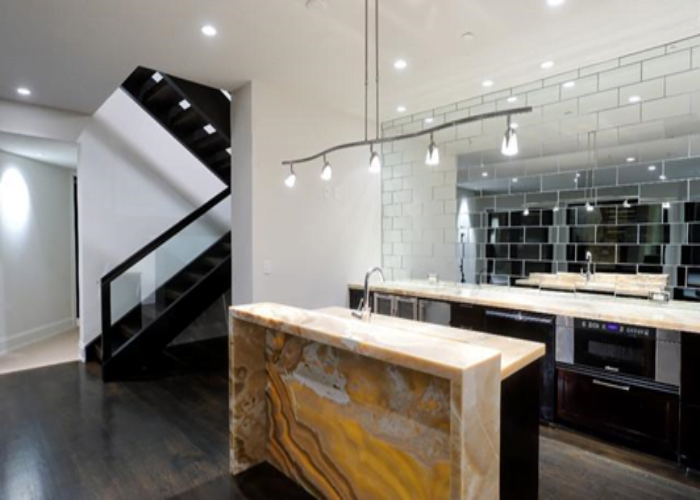 Adding a mirrored backsplash is an excellent choice to make your basement bar look more spacious and comfortable. This is one of the best basement bar ideas for a beach house or a city space home. A mirrored backsplash also gives your place a clean and formal look. So, if you are not a fan of dramatic atmosphere, you will love this basement bar setup. 3″ X 10″ Glass Mirror Subway Backsplash tiles are excellent for basement bars and help enhance your home bar's beauty.
2. Incorporate a Banquette Seating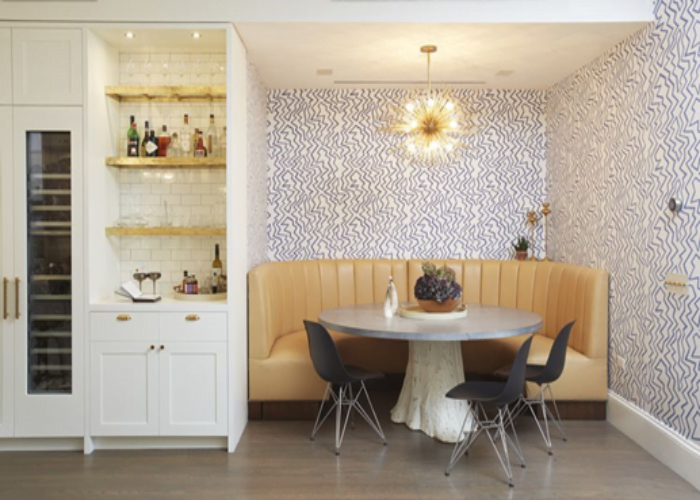 Incorporating banquette seating in the corner of your basement bar is a great way to make it cozy and comfortable. Also, what can be better than installing a comfy banquette if you want to convert your basement bar into a stylish corner for the entire family? Here you can also have all wine, beverages, and glasses nearby. It does not require much space and creates a sophisticated seating zone. Riverbay furniture wood storage nook dining table set can be an ideal option to create a classy basement bar.
3. Go for a Compact Built-In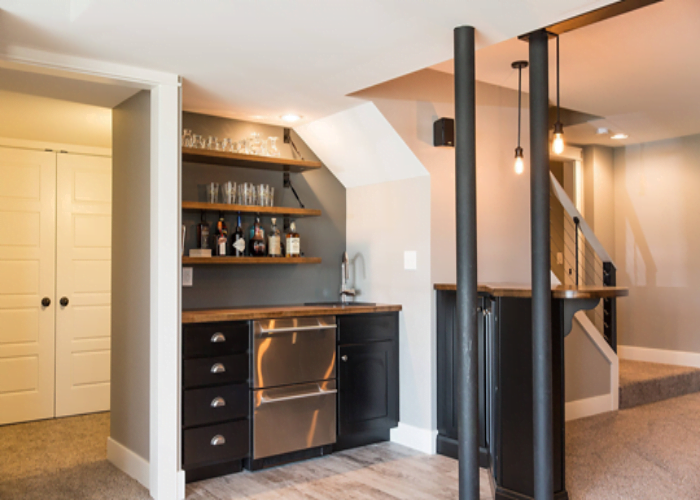 Built-in basement bars are quite popular these days. You can try this if you are looking for some cost-effective basement bar ideas. Compact-size built-in basement bars can easily go well with different building architecture and give a modern touch to the space. Also, if you do not want to waste much space on the home bar and keep it casual, you will love compact built-in basement bars. You can install it next to your dining room or under the staircase.
4. Display It All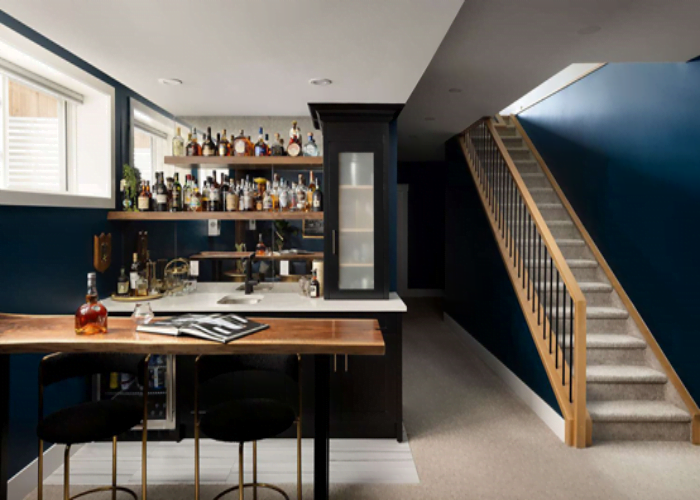 You can opt for an all-display format when looking for classy and elegant basement bar ideas for your home. All display style is a new-age design for basement bars, making your home more luxurious and glamorous. Also, if you love to collect and display expensive and limited-edition wines, it will be a good idea to go for an all-display design. Keep the setup simple and add oversized metal pendant lights or globe-shaped warm lights and comfortable bar tools to complete the look.
5. Match with Kitchen Cabinets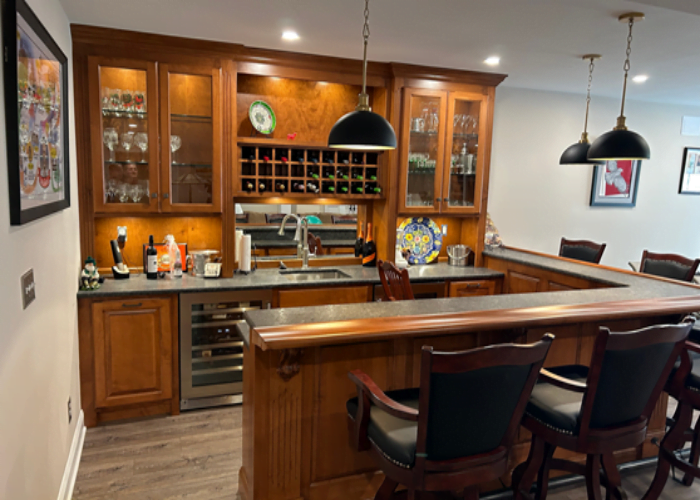 If you want to combine your house bar with the entire home decor, you can try matching it with the kitchen cabinets. It is an easy and convenient way to make your basement bar look stunning. Also, using the same pair of cabinets for your basement bar that you have in your kitchen creates a beautiful visual balance and easily fits modern house setups. You can install this type of basement bar in the living or close to the kitchen counter to make it simple and accessible.
6. Farmhouse Style Basement Bar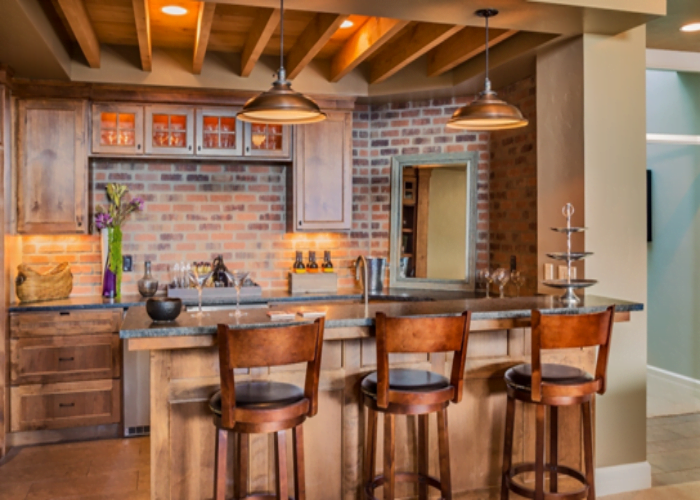 Searching for basement bar ideas that can go well with a countryside house? You can try our next option. A farmhouse-style basement bar is a functional and convenient design for basement bars. If you have a wooden floor with neutral tones on the wall, you can create a beautiful farmhouse-style basement bar. Adding a full wall dark tone cabinet and a simple, clean edge bar with some high-stand bar stools for a smooth finish is very simple. Try QNICE Industrial Wine Bar Cabinet for a classy farmhouse bar look.
7. Cottage Style Basement Bar
Another interesting way you can make your basement bar look great is by making it cottage-style. Cottage-style basement bar ideas can differ slightly from one to another, depending on the place and interior you choose. The main concept is creating a rustic look with shaker cabinets, a wooden bar, and a shiplap wall. Cottage style bar can add a casual look when you can hang out with friends or spend quality time with family. Remember to keep it simple to ensure it fits in modern house architecture.
8. Pair Black Tiles and Wood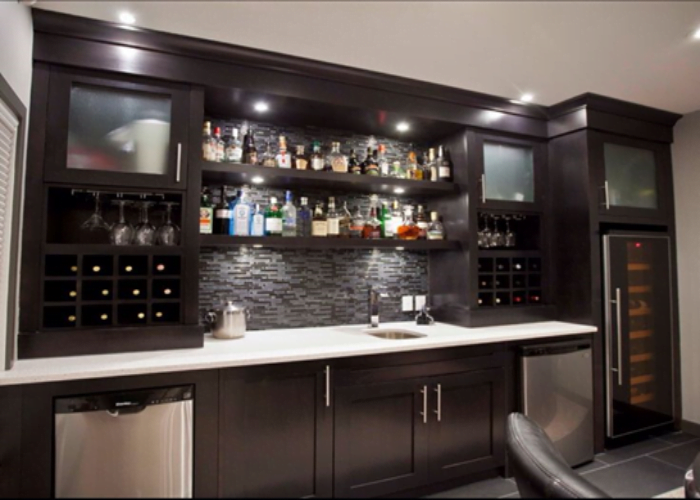 When you want to upgrade your home with a basement bar, you can try to pair wood and black for a classy look. Wood and black tiles look great together when you pair them in a proper manner and create an amazing display. It goes well with modern architecture, but you can also incorporate it into semi-luxury homes. Cover one wall in black tiles and install some Wall-mounted wooden racks. You can also go for an all-built-in basement bar with wood and pair it with black tiles cabinet to get a dynamic look.
9. Go for a Dropped Ceiling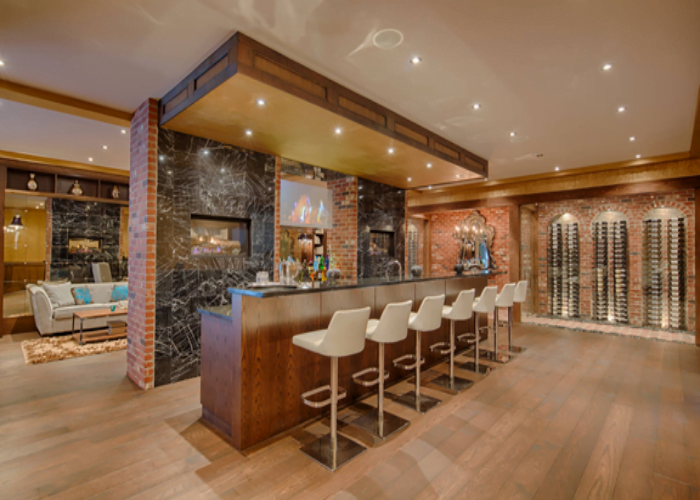 A dropped ceiling is a new concept in home architecture that allows you to add a new dimension to a particular space. If you have some innovative basement bar ideas, you can definitely go for the dropped ceiling. A dropped ceiling for the basement bar will help you redefine your space and create a statement with it. Dropped-ceiling basement bars are quite popular nowadays and match well with modern house setups. Remember to keep your home bar interiors simple for a natural look.
10. Create a Room for It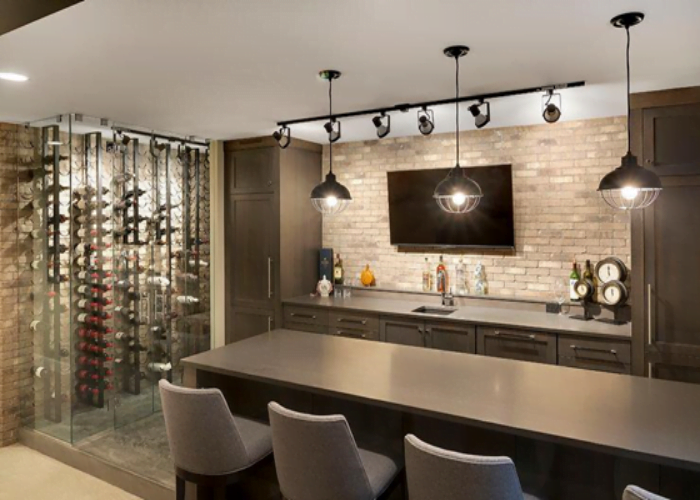 Creating a room for your wines and beers is a great way to display and store them in your basement bar. In most cases, you display your wine bottle open at a natural temperature, and light increases the chance of affecting your stock. But when you create a different partition with a glass room for your wine bottles, you can keep them safe and create a fashionable look. Also, try to match the color of your glass door wine rack and bar top to complete the look.
11. Bring the Magic with Bricks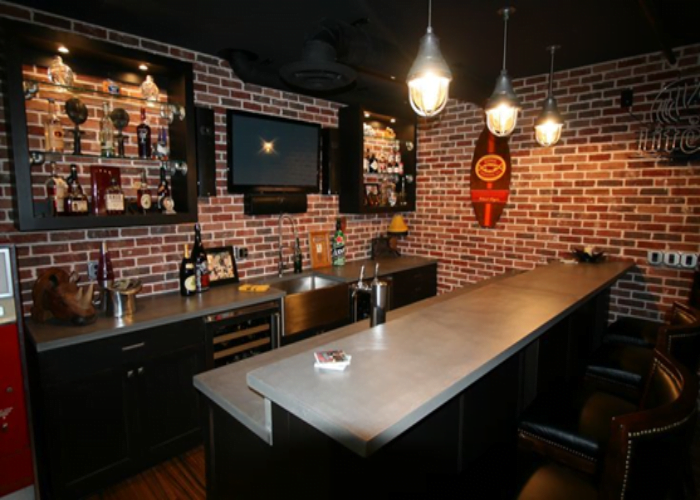 Mason walls are also an ideal option for creating a beautiful basement bar; looking for out-of-the-box basement bar ideas? Then you can build a basement bar on a brick wall. It can help you get an edgy look for your home bar. You can add a dark complexion wood cabinet with light brown or honey wood countertop and Wall-mounted shelves on the brick wall to get the perfect look. Also, you can add some natural lights or build them near the window for a good light source.
12. Make It Off Beat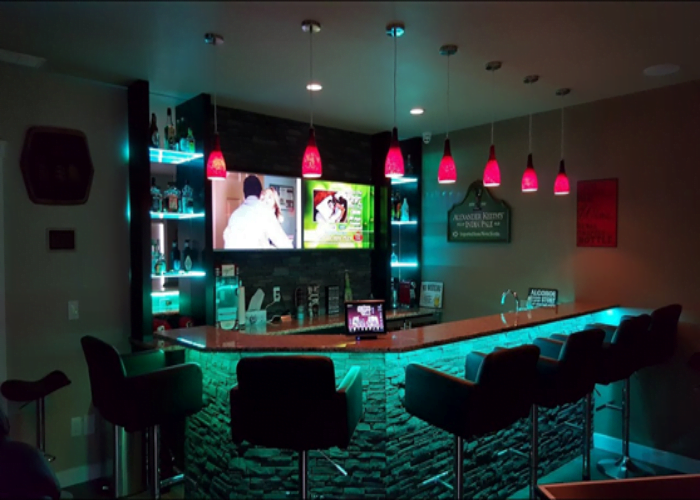 Planning to install a home bar and looking for some cool basement bar ideas? You may love our next idea. If you do not want to make your home bar typical and try something new, you can make it off-beat. Today you have various options to make your home bar unique, like installing a fully equipped bar cum cabinet with multiple outlets, cool lights, and storage. Some also incorporate coffee makers at the top. Homieasy Wine Bar Cabinet is an excellent choice for an off-beat home bar.
13. Add a Dramatic Touch
Love dramatic and eye-catchy backsplash? If you are searching for bright and dramatic basement bar ideas, you can simply add a dramatic backsplash to make it stand out. For instance, add bright blue or yellow cabinets under the bar and an open shelf at the length of the bar. Fill the space with marble or quartz backsplash to give it an edge. Try Eazart Peel and Stick Backsplash Marble for quality marble backsplash.
14. DIY a Wine Cellar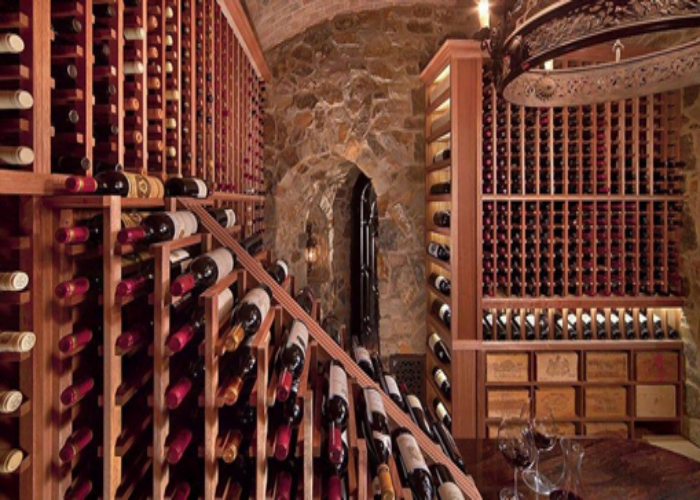 Want some beautiful DIY and low-budget basement bar ideas? Build a DIY wine cellar for your basement bar. It is a very easy and convenient way to set up a cool basement bar at home where you can store your wine bottles and enjoy quality time with your friends and family. You can also repurpose old furniture like an old wooden table set or kitchen cabinets to install in your home bar for storage and seating. It has a personal touch that makes it unique and interesting.
15. Incorporate In Living/Dining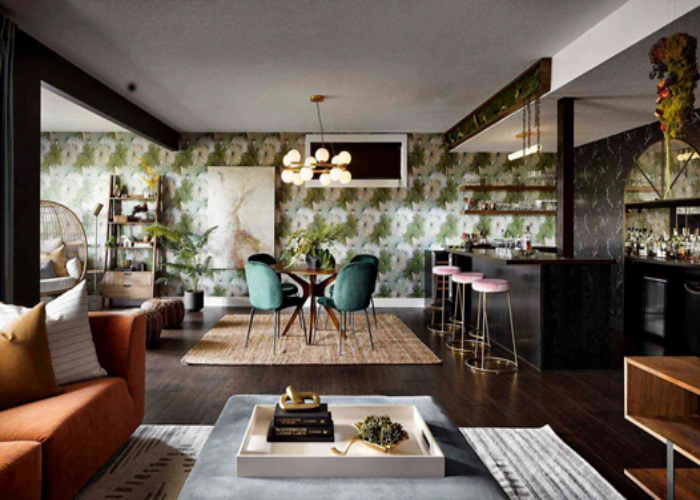 Do not have a separate space for your basement bar. Do not worry; you can turn a corner of your dining room or living room into a compact home bar. All you need to do is a fully functional and well-equipped bar cum cabinet. They have adjustable storage, a wine rack, utensils, drawers, and a sturdy bartop. Also, they come in various elegant shades that fit different interiors. OKD Farmhouse Coffee Bar Cabinet is a stylish, elegant choice for a compact bar.
16. Add a Vintage Touch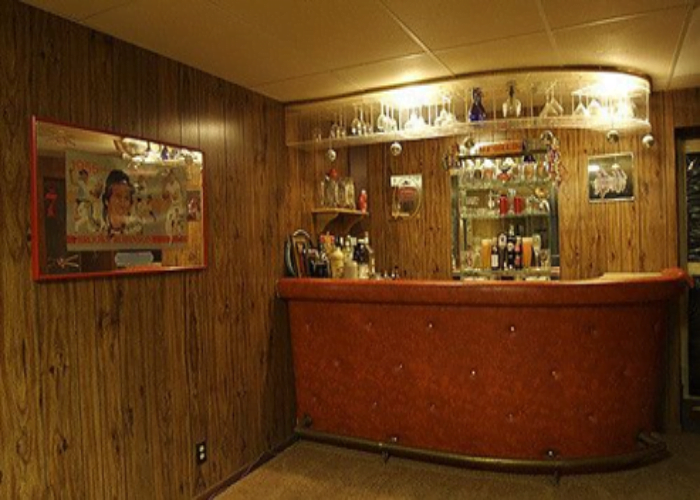 If you love a vintage look or have vintage-themed home decor, you will love to make a basement bar vintage style. Giving your basement bar a vintage look can help you make it stand out. Also, it is very simple to design, and you do not need a huge budget to arrange it. Hang some oversized vintage floral on the wall, and install a pair of vintage-style tables and bar stools. You can also place a retro cabinet or built-in niche to store your wine bottles.
17. Put Some Paintings/Pictures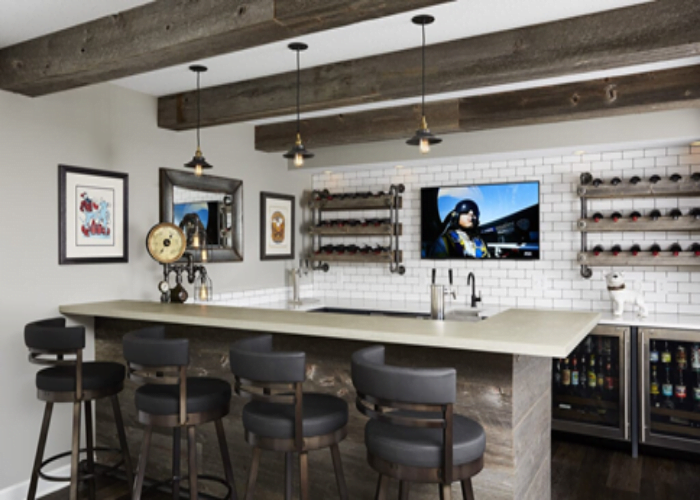 If you have an artistic soul, then reflect your taste in your basement bar ideas. It is also one of the cost-effective and convenient basement bar ideas you can try to upgrade your home bar. You can make it artistic with a simple painting installation if you have grand white tiles home interior and basement bar setup. Put a painting/picture on the wall of your bar. GREATBIGCANVAS Thicket Wildflowers by Tim O'Toole can be ideal for a snow-white basement bar.
18. Put It on The Black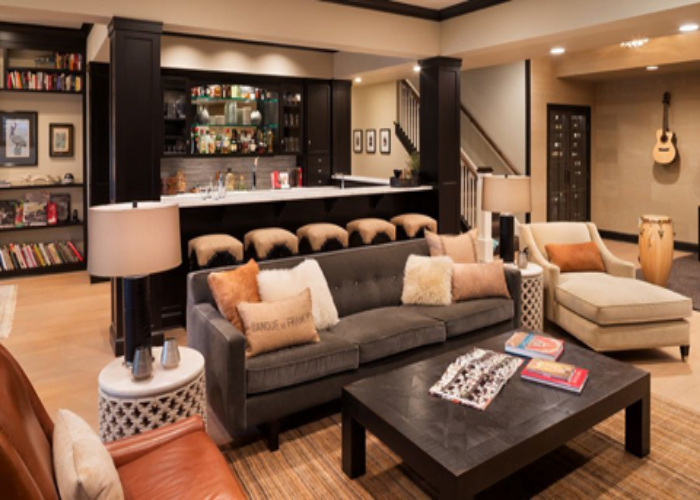 Putting the entire basement bar behind a living space is a great method to skip typical bar stools. It also makes your basement bar look unique and inviting for guests and friends. To create a back basement bar, tuck a sofa set in front of the bar (facing the back of the sofa to the bar). Add a couple of comfy armchairs and an ottoman coffee table to complete the setup. It gives you a comfortable seating space with all your drinks at arm's stretch length.
19. Opt for a Freestyle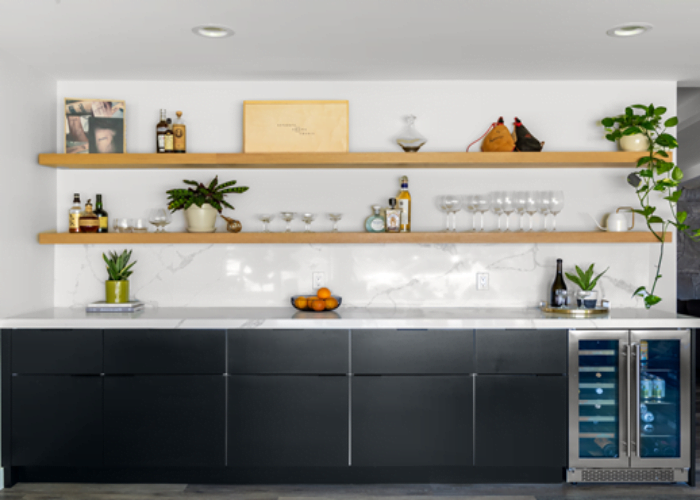 Freestyle home bar concepts are very attractive, and many people love this style as it can go well with all home setups. Also, when you choose freestyle basement bar ideas, you can transform any corner of your house into a gorgeous basement bar. Place a vintage buffet sideboard, some bare wall-mounted shelves for storing, and two plant pots to separate the space from the rest of the room. You can use the wall-mounted shelves to display your wine bottles and fancy glassware.
20. Include Some Fun Games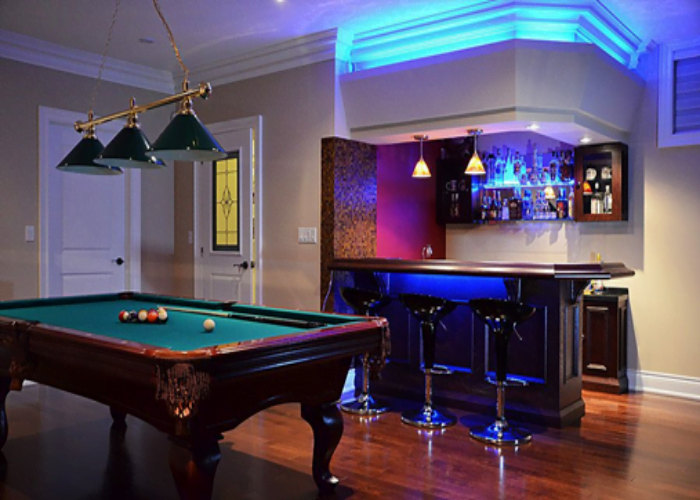 When searching for basement bar ideas to make your home bar more entertaining and enjoyable, you can opt for the following option. You can install some pool board, dining space, or foosball table next to your basement bar, according to your choice. But remember to keep them in the same color palette as your basement bar to bind the overall space and give your home bar a spacious look. Hathaway Fairmont Portable pool table can be a great option for your basement bar.
21. Build It Under the Staircase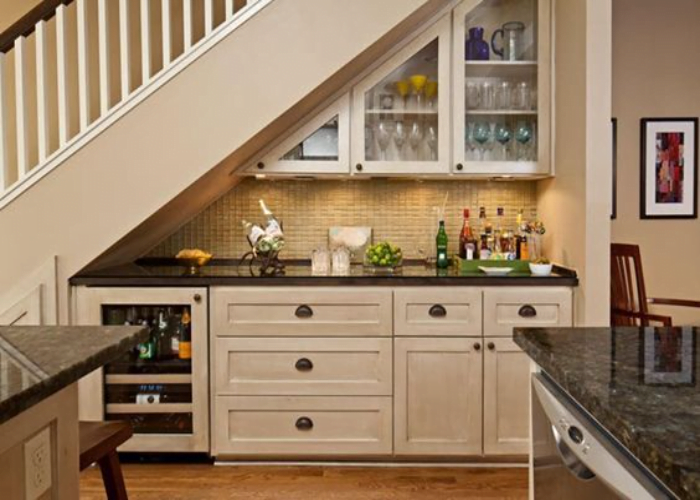 If you are searching for some space-saving basement bar ideas, you may find the next option more appealing than others. Building your basement bar under the staircase can help you save space and utilize the space under the staircase. It can be an ideal solution if you have a small space and do not have extra room for a basement bar. You can convert the space under your staircase into a home bar. Try STICKGOO Polished White Subway Tiles to make your basement bar look more spacious.
22. Give It a Frame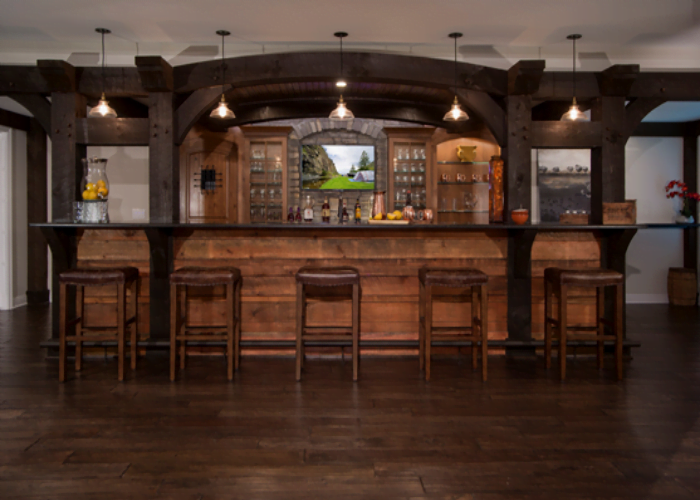 When building your basement bar in a long hallway or next to your living, you can give it a frame to define the space. Building columns on both sides of your bar counter helps it stand out from the entire building structure. You can add wood bar stools with a well-polished wooden counter to give it an industrial vibe. You can also build a back bar behind the counter to store expensive wine bottles. You can also add some pendant lights to enhance the bar's look.
23. Go Traditional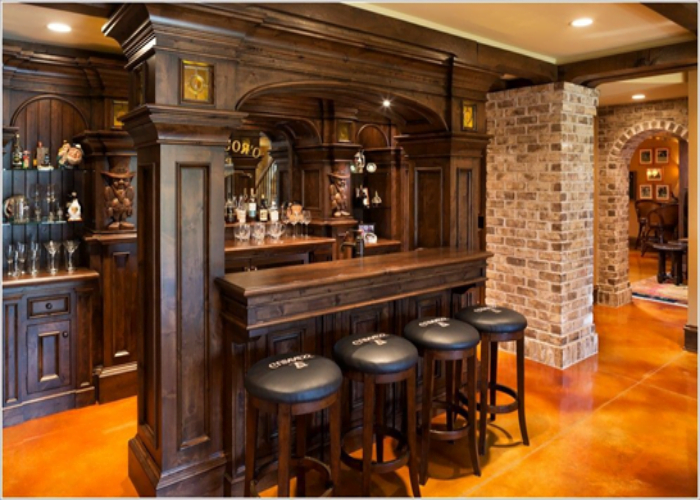 Searching for traditional or classic basement bar ideas that are budget friendly yet effective? We can help you with it. Many people think creating a traditional basement bar setup can be expensive and hazardous. But the reality is exactly the opposite. You can create a traditional basement bar setup with a little renovation. For example, use stone walls or brick walls instead of backsplash. You can even install a chandelier and old-style cabinet to give it a more traditional look.
24. Add Floating Shelves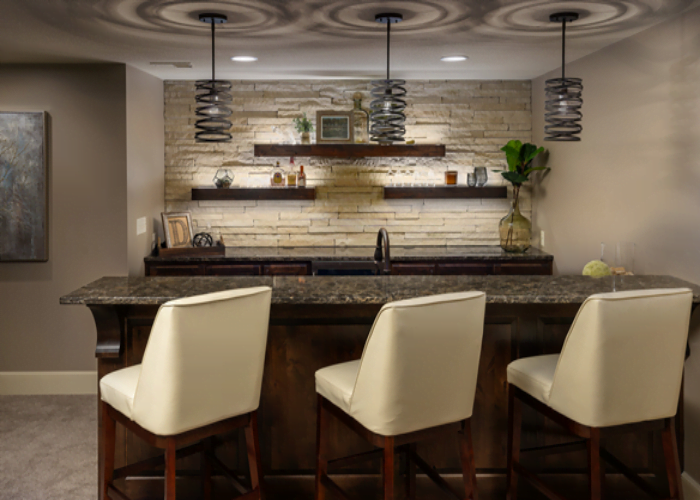 Adding some floating shelves in your basement bar can be a good opportunity to give your house basement a light look. It is one of the low-budget basement bar ideas you can DIY yourself. If your bar counter is built on a room wall, cover the wall with white or bright-looking tiles. Then place the storage shelves on the wall in a manner that they appear to be floating. Decorate them with wine bottles and glasses to complete the look.
25. Add a View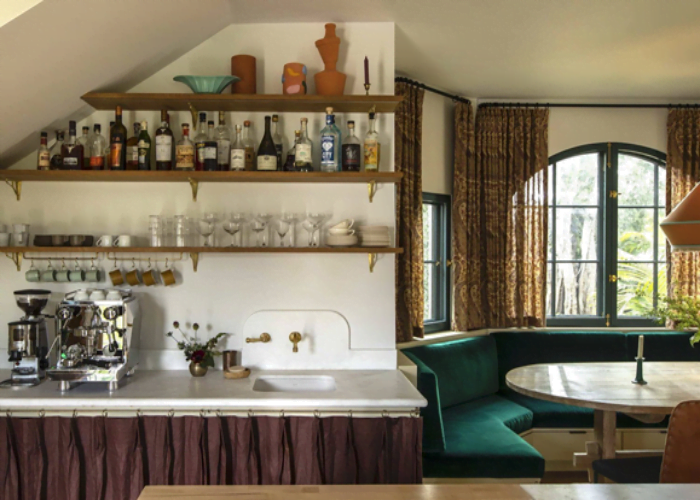 If you live in a beautiful place, like in a valley or near the sea, you can use the opportunity to incorporate a view of your basement bar. Adding a view will give the place a new dimension and make the place more enchanting to spend more hours. But remember to keep the place cozy and comfortable so that you can enjoy the view with ease. Also, choose a large window to set up your bar to make the most of the view.
Summing It Up!
All in all, a basement bar is a place where you can sit back and relax. It is also a place where you can hang out with friends and family when you do not want to step out for a drink. You can make your basement bar as simple as a compact, portable bar cum cabinet or expand it by introducing a next-stop dining table, pool table, or a cozy sofa set with a wall of books.
You can create a theme for it, like, freestyle, traditional, vintage, etc., or opt for a space-saving option like under the staircase or on the living or dining room wall. You will find multiple options when installing a basement bar in your home, from premium and luxurious to compact and budget-friendly. In addition, you can try some DIY hacks to set up your basement bar. Above, we have covered the 25 best basement bar ideas of 2023.
So, what are you waiting for? Pick a plan and create your unique basement bar.
Frequently Asked Questions
Is Installing a Basement Bar Expensive?
No, it is not mandatory. You can get thousands of cost-effective solutions when you wish to install a basement bar in your home. It depends on your preference and budget. If you want a low-budget basement bar, you can get a bar cum cabinet setup or even DIY a wine cellar to turn a corner of your house into a gorgeous basement bar.
Can I DIY a Basement Bar?
Yes, of course! You can DIY a basement bar if you wish. You will find many online ideas to DIY a basement bar. Some of them can be as easy as repurposing a cabinet or kitchen countertop to create a beautiful basement bar. You can also install some wall racks and build a seating space for a basement bar.
Which Is the Best Material for a Bar Countertop – Wood or Stone?
It depends on the other interior of your place and your preference. If you have a farmhouse-style basement setup, going for a wooden bar counter will be a good idea. But if your interior is full of marble, tiles, and metals, it would be best to go for a marble or stone bar countertop.
Where Can I Buy Basement Bar Cabinets?
Basement bar cabinets are essential to keep your wine bottles and utensils safe and well-stored. You can get both of them online and at local furniture stores. But most people prefer to shop for bar cabinets or other accessories from online stores as they offer a wide range of products from various reliable and leading companies.
Can I Repurpose Kitchen Cabinets to Make Basement Bar Cabinets?
You can also buy a kitchen cabinet for your basement bar storage. But remember to get something that has open shelves. You can use it to display your wine bottles and glasses. You can also repurpose your wall cabinets to create a Wall-mounted wine bottle storage and display them next to the bar countertop.