Are you having a family get-together? And worried that your tiny home dining table might not accommodate them well? Then it would be best if you try an extendable dining table that matches different environments. Extendable tables make it easy to turn into a compact size or expand to accommodate large groups depending on the need. If you adore having friends over for dinner or hosting large family get-togethers, an extendable dining table confirms you'll never run out of room.
Dining tables frequently form the center of a home, making our family a place to meet and chat about the entire activities of the day. Earlier, the extendable table looked too plain, weak, and hard to set up. However, now you have various options that match different settings and are easy to set up. You can get these tables from classic to rustic or modern to contemporary. So if you are not sure about where to start your search?
Here, we will list the 21 best extendable dining tables for every design and style.
21 Best Extendable Dining Tables
Today, you have endless options to choose from when you look for an extendable dining table. They are easy to maneuver, come in various styles, and are durable. Try incorporating them.
1. Salcombe Rectangular Extendable Dining Table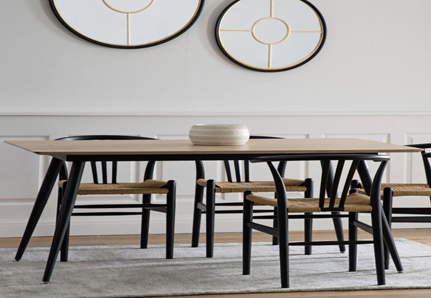 The Salcombe Rectangular extendable dining table is perfect for a minimalist or modern house environment. The table uses reclaimed wood and offers a simple and relaxed style design. It is well-structured and looks excellent with natural wood patterns. The natural pattern of the upper surface beautifully matches the dark olive frame. This Salcombe Rectangular table gives a chic look and inviting atmosphere ideal for family get-togethers and everyday use. One table can accommodate 6 to 8 people and comes with a self-assembly guide to set up. Pairing it with a Salcombe bench will help you complete the look.
2. Ozzio Italia Extending Round Steel and Wood Table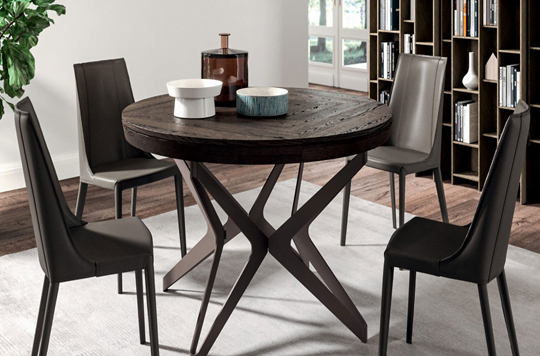 Another extendable dining table you may like is the Ozzio Italia Extending round steel and wood dining table. This round steel and wood table of Ozzio Italia represents the revolution of the round table mechanism. The table features a central Inlay and oak veneer finish. Also, the central Inlay is only visible when it is fully open. Also, the Ozzio Italia round table comes in various wood finishes like Open Poro Oak, Natural Ancient Oak, Wild Tobacco Oak, etc. It can accommodate 4 to 10 people at once. Also, it comes with different metal covers such as Champagne, bronze, and Matt graphite coating.
3. First Extendable Dining Table in Rustic Oak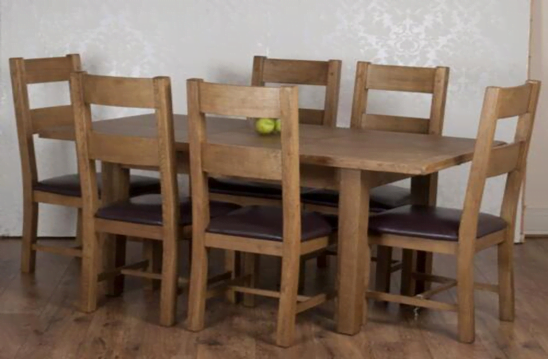 The First extendable dining table in Rustic Oak by Mobili Fiver is one of the popular choices for extendable tables. The smooth finish and user-friendly system make the First extendable table ideal for all environments. The table can accommodate 6 people usually and offers a stylish and durable setup ideal for family meals. Also, you can easily extend the table by moving the end parts and adding one of both extra leaves from underneath according to your need. The table comes in flat-packed, along with a self-assembly guide. Plus, you can choose from various wood finishes like Rustic Oak, Black Ash, Walnut, Pearled Elm Grey Concrete, etc.
4. Habitat Drio Extending Dining Table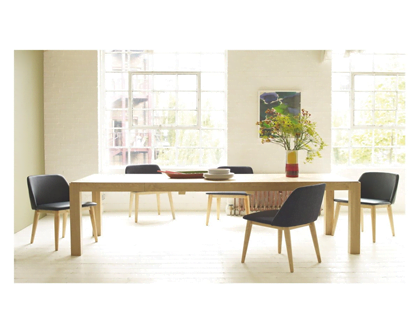 If you want something simple and convenient, try the Habitat Drio Extending Dining Table. It is one of the popular extendable dining tables with various house setups. Due to their simplicity, you can use them in country houses, apartments, or even cottage homes. Habitat Drio is a well-structured, extendable dining tablewith one or two extensions. You can keep the extensions underneath when you do not need them. And when you need more, slide the end parts and insert the extensions accordingly. Also, the mix of oak veneer and solid oak gives it a natural finish and creates a homely atmosphere.
5. Provence 6-Seater Rectangular Extendable Table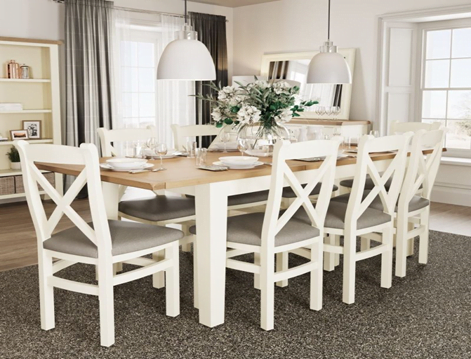 The Provence 6 Seater Rectangular extendable dining table is also a great option. The table has an elegant look and durable structure. Also, this Provence 6 Seater extendable table looks great in most house environments and gives a classy look. The table has a butterfly extension system that makes it easy to extend in minutes. The table seats 6 people in a compact size and accommodates 8 people when you extend it. The limited oak and grey lacquer finish offer a beautiful and Provincial look ideal for countryside homes.
6. Sonoma Extending Dining Table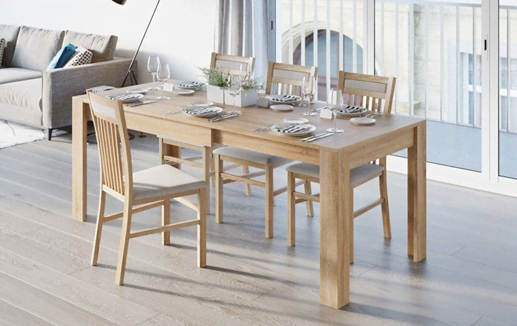 Are you looking for an extendable dining table that looks simple yet durable? Then you can try the Sonoma extending dining table. The oak veneer and solid oak finish give it a sturdy and rustic look. The table accommodates 6 to 8 people, and the extension is safely hidden under the tabletop. Try this extendable table if you want a farm kitchen look at home. The warm tone and smooth finish give Sonoma's extending dining table a classic and expensive look. Also, you can choose self-assemble or assemble at the time of delivery, depending on your preference.
7. Junior Giant Extending Table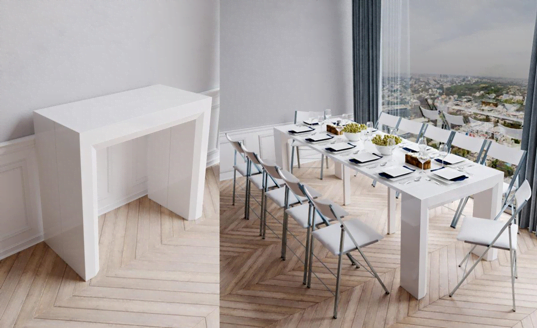 Another excellent option for an extendable dining table is that you can try COSCO Deluxe. This revolutionary extendable table can be ultra-compact, offering one sitting. Also, while extended with five extensions and one revolving leg, it can easily accommodate 12 people. You easily assemble and disassemble the table and store it in any corner of your home. In the compact mode, the table can easily fit inside a cupboard. And the smooth and sturdy structure makes it compatible with most house setups. And you can get the extendable table in various finishes like wood veneer in black wood, glossy paint in white and red, and exciting panel editions.
8. Bronx Oak Effect Dining Table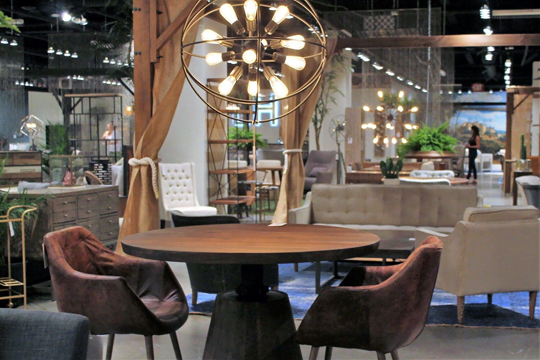 Another attractive extendable dining table you can try is the Bronx Oak Effect dining table. Round tables are always a hit whether you are looking for a drawing room or dining or outdoor table. They encourage conversion and give total exposure for easy conversation in get-togethers or family meals. The Bronx Oak Effect dining table has an oak table top with smooth metal legs, giving it a New York apartment look. And if you want to create a modern minimalist environment, it can go well. The table is extendable from the center. You need to pull the sides and press up to the leaf to align it with the sides.
9. Jurate Drop Leaf Trestle Dining Table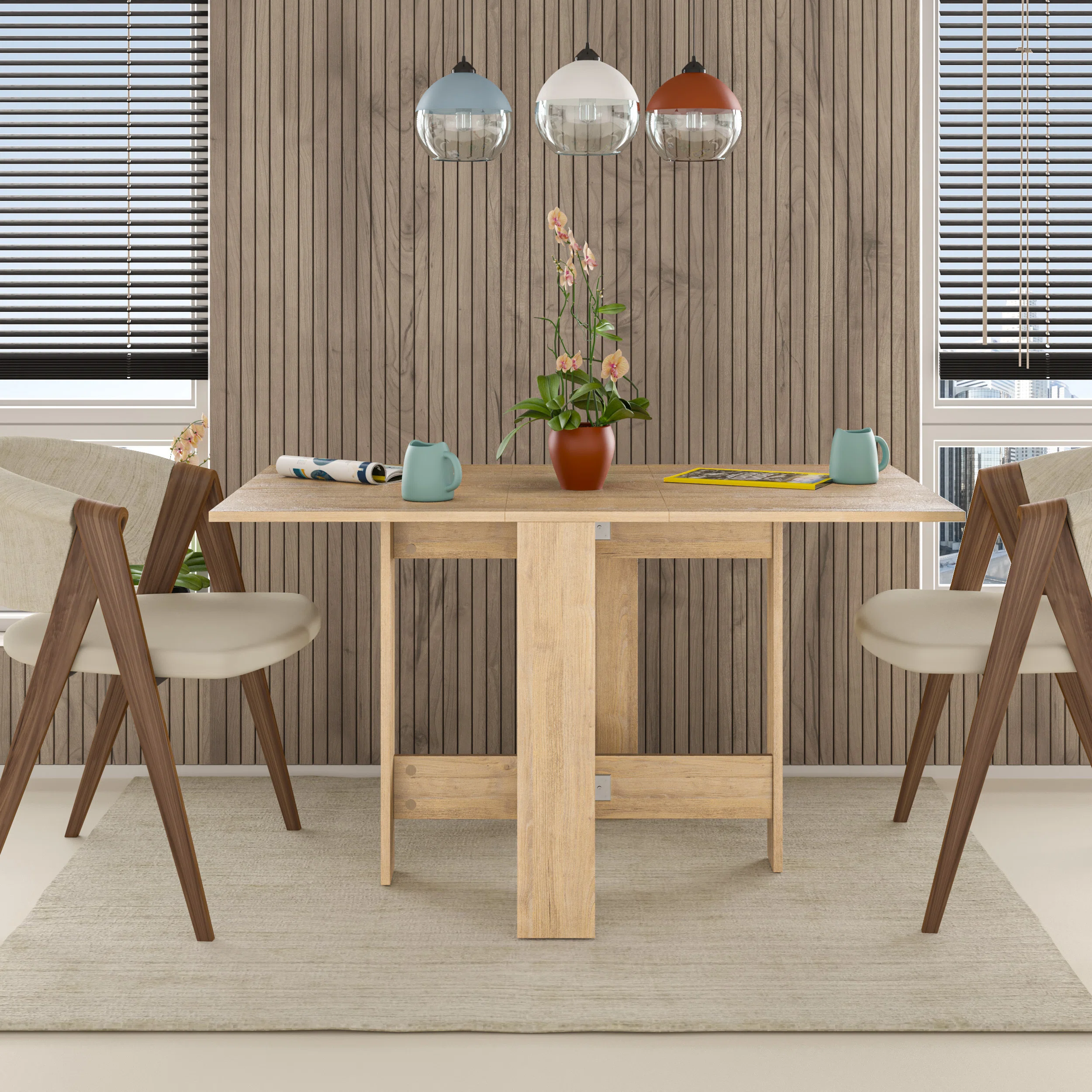 Jurate Drop Leaf Trestle Dining Table is a compact table by Wayfair. The table has a simple drop-leaf extension mechanism. It makes it easier to extend the table and fold it back again when you do not need it. The table sits two people in compact mode, and when you extend it can accommodate 4 people. In addition, the table is made of manufactured wood and looks simple, sturdy, and lightweight. It is ideal for a small family or home with little space but unsuitable for large family get-togethers. Also, you can quickly move it from one place to another without trouble.
10. Woolton 220cm Extending Dining Table in Earl Grey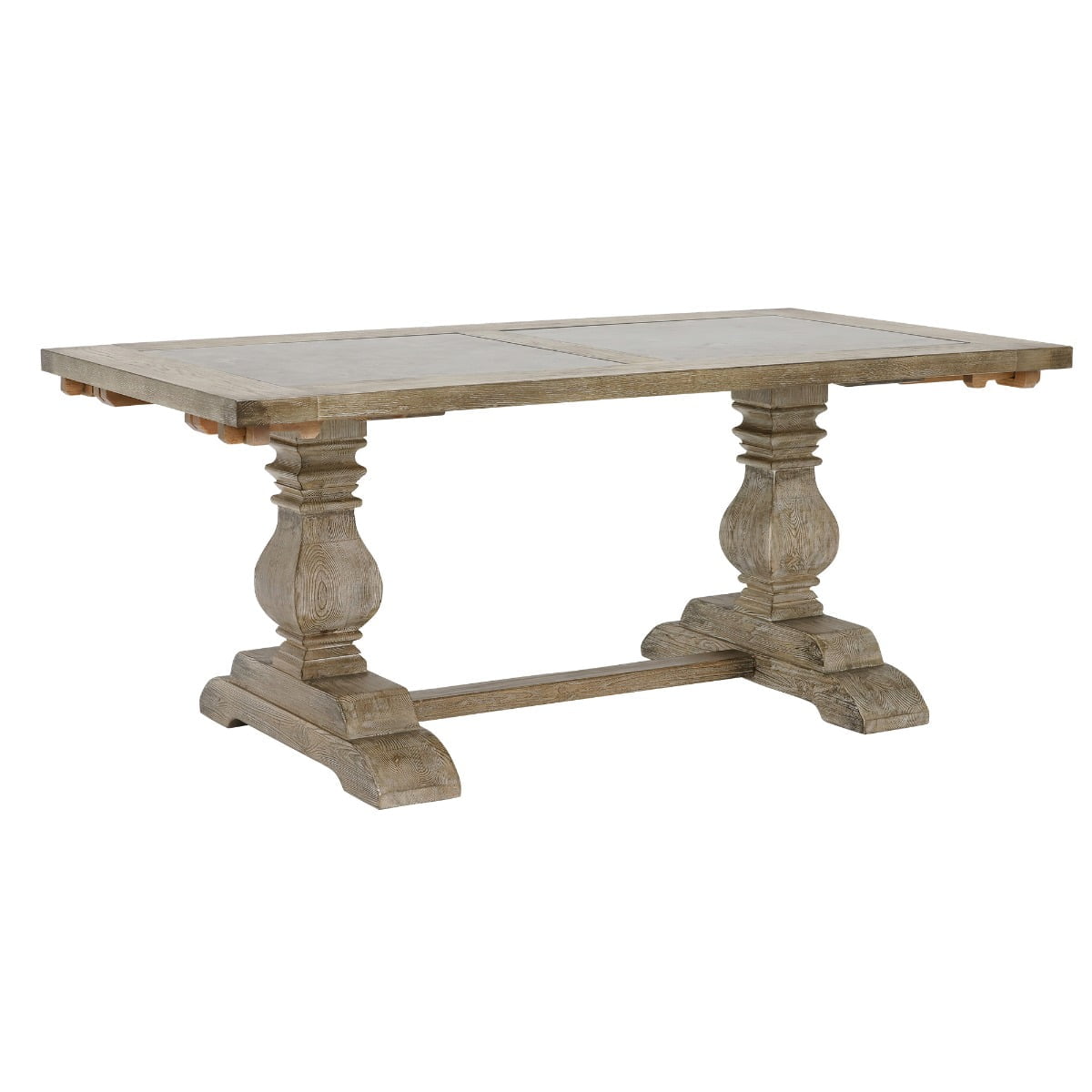 The Woolton 220cm Extending Dining Table in Earl Grey by Stonehouse and Barker can be a great option if you want something classic. The Woolton 220cm Extending Dining Table in Earl Grey finish has a rustic look that can be ideal for any country house. Also, they will look excellent in modern setups. The table is made of rough pine and oak wood with a grey earl finish. It displays the wood's natural patterns and expands up to 360 cm. And provide maximum seating for 8-12 people.
11. Florence Furniture Round Extended Table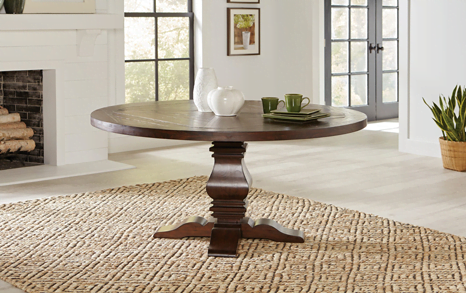 Another round table on our list is the Florence Furniture round extended table. If you are looking for an extendable dining table with a round shape and a casual look, you will surely like it. This extendable table top is made of acacia hardwood with an oil guard, and its legs have multiple layers of matt lacquer for additional protection. The best part is it comes in various shades like navy blue, grey, white, green, black, red, etc. And it can accommodate up to 4-6 people maximum and is suitable for small dinner parties or get-togethers. You can get similar options at Julien Bowen.
12. Case Dulwich Extending Dining Table- Mathew Hilton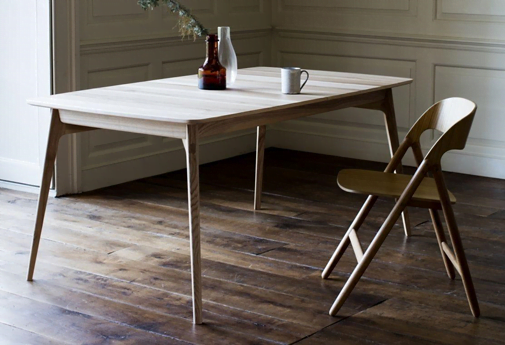 This classy piece of Dulwich extending dining table is an innovation of award-winning designer Mathew Hilton. The Case Dulwich extending dining table is a simple, elegant, modern piece of furniture ideal for contemporary settings. The table has a natural oak wood veneer finish giving it a glossy, sleek design. The extensions are safely placed underneath the table, using gliding metal runners and a ball-bearing mechanism for a smooth extending experience. It comes in three different sizes and easily accommodates up to 10 people. However, you must only use colorless, soft, damp clothes with mild detergent for cleaning.
13. Furniture Village Earth Dining Table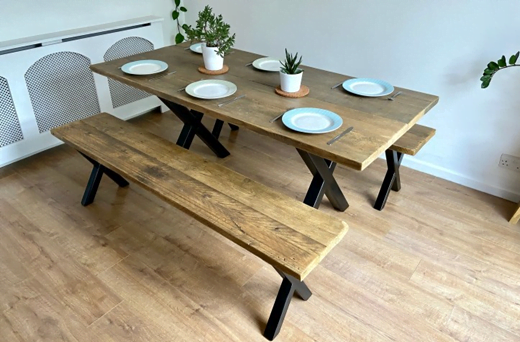 The Furniture Village Earth dining table is a chic-looking extendable table with a picnic-like vibe. If you are looking for an extendable dining table that gives a relaxing and casual feel, you can opt for it. It is a solid oak wood table with a wire brush and oiled finish that gives it an aesthetically appealing look. Also, the x-frame makes it ideal for outdoor get-togethers and holiday dinners. The table has two extension leaves underneath, and each of them can accommodate two people. You can use coasters and placemats to protect them from direct sunlight.
14. Argos Home Banbury Extending Dining Table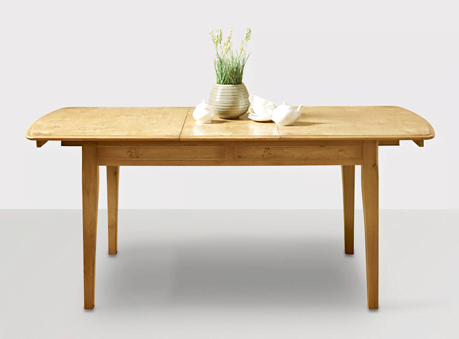 Another great option you can add to your wishlist for a low-budget, extendable dining table is the Argos Home Banbury Extending Dining Table. The table is made of honey-blond rubber wood and looks casual. This Bunbury extending dining table uses butterfly mechanisms at the center. The table displays natural patterns of wood and gives a rustic look. Also, this Banbury extending dining table has a solid structure with a round-to-oval shape. It is a budget-friendly option, so if you are on a tight budget and want something reliable, you can go for it.
15. Anthropologie Beau Extendable Dining Table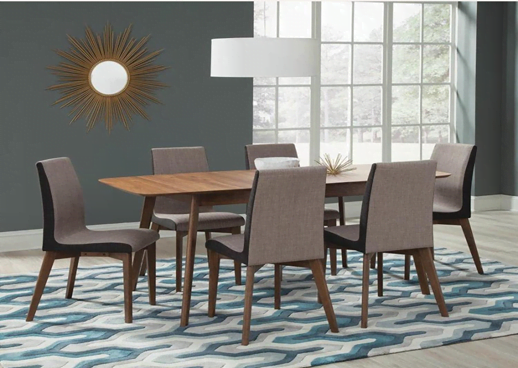 This Anthropologie extendable dining table is another addition to the extended round table on our list. Like other Anthropologie furniture, the Beau extendable table is a statement piece. The table has blue undertones with a slate grey finish, which elegantly contrasts with the bold metallic accents. The beau dining table is made of acacia hardwood and has a 60cm leaf at the center. Also, the legs are attachable, and you can easily disassemble the entire table and store it in a cupboard when you do not need it. And the best part of Beau dining tables is they are handmade, and each piece is unique in texture and color.
16. Ingatorp Extendable Table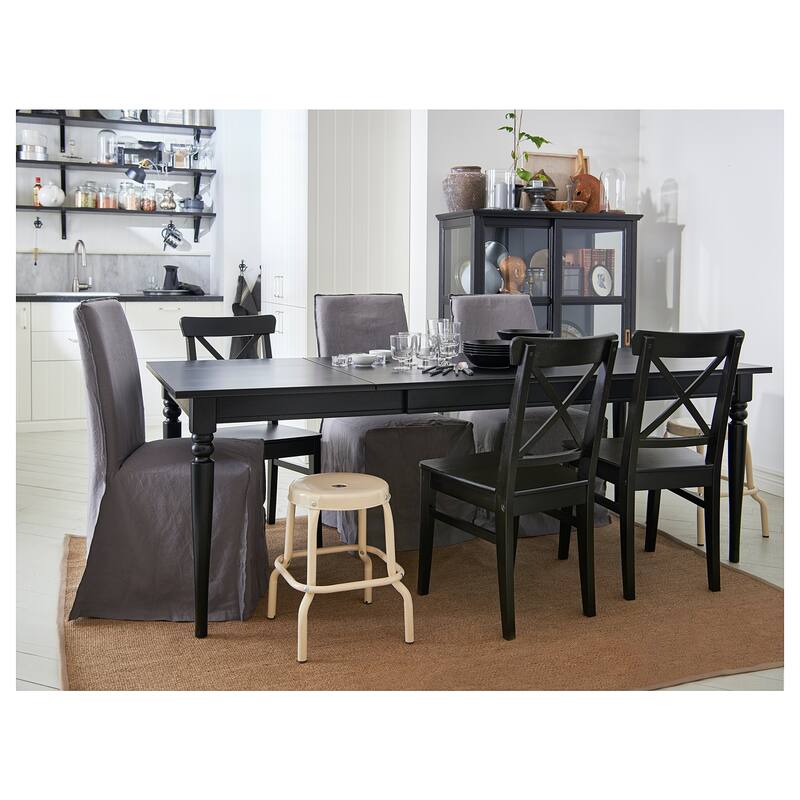 Ingatorp extendable dining table is by Ikea and comes in black and white shades. The table has a minimalist look and sturdy structure. Also, the table is made of melamine foil, Particleboard, solid wood legs, plastic edges, and acrylic paints. Ingatorp tables have a leaf extension that you can store underneath the tabletop. Ingatorp extendable dining table is a lightweight of furniture with an elegant look, and you can easily make it the center of attention in your dining room. It requires some assembly as an extendable table, but it is pretty easy, and you get a complete guidebook.
17. Tikamoon Mezzo Solid Sheesham Extending Table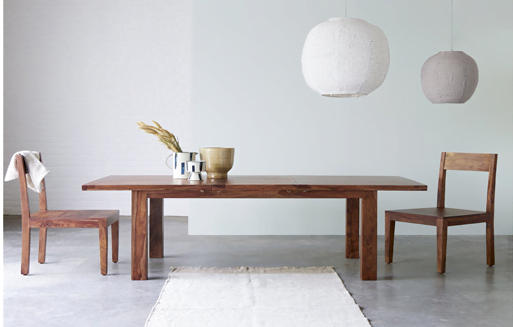 This Tikamoon extendable table is not only beautiful but also sustainable. The table is made with Sheesham, which makes it sturdy and sustainable. Its vibrant beige-brown-gold texture can amaze your guests. The table is a six-seater, and that can become an eight-seater through extension. An integrated extension panel can be fitted in the center to extend the table. The table also incorporates small brass latches on the exterior that helps to keep the panel in its place. This dining table has many plus points, like being visually appealing, solid, and fuss-free.
18. Dwell Lille Extending 4-6 Seater Dining Table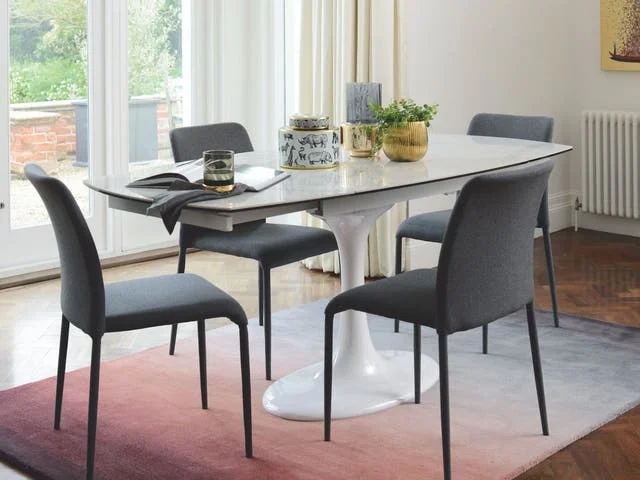 Dwell's lille is inspired by Eero Saarinen's mid-century tulip table. Dwell mixes a retro look with a hi-tech extension mechanism. The table incorporates materials like metal, ceramic, glass, and fiberglass, giving it an elegant look with a little marble effect on the top. These materials do not make this table fade, or heat, and are completely stain resistant. Extending the table and locking the parts in their places takes only a few seconds. The table is brilliant in functionality as it has a trendy and durable look. It can incorporate 6 diners when extended.
19. Metro Lane Trimble Dining Table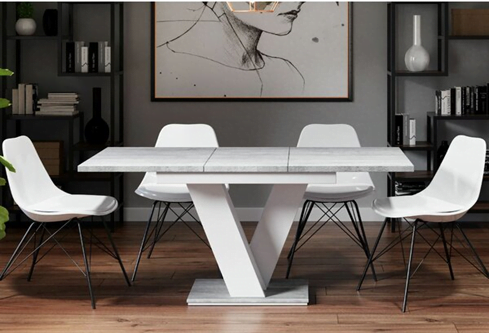 The Metro Lane Trimble dining table is ideal for people searching for budget-friendly, stylish, extendable dining tables. The table reflects contemporary aesthetics that comes at a reasonable price. The table top is grey and white, made from laminated board and manufactured wood. There is a central removable leaf that helps to extend the table. The Metro lane also becomes an eight-seater when extended. The V-shaped leg of the table gives it a classy look and makes leg room for diners to sit comfortably.
20. Made Yates 4-8 Seat Extending Dining Table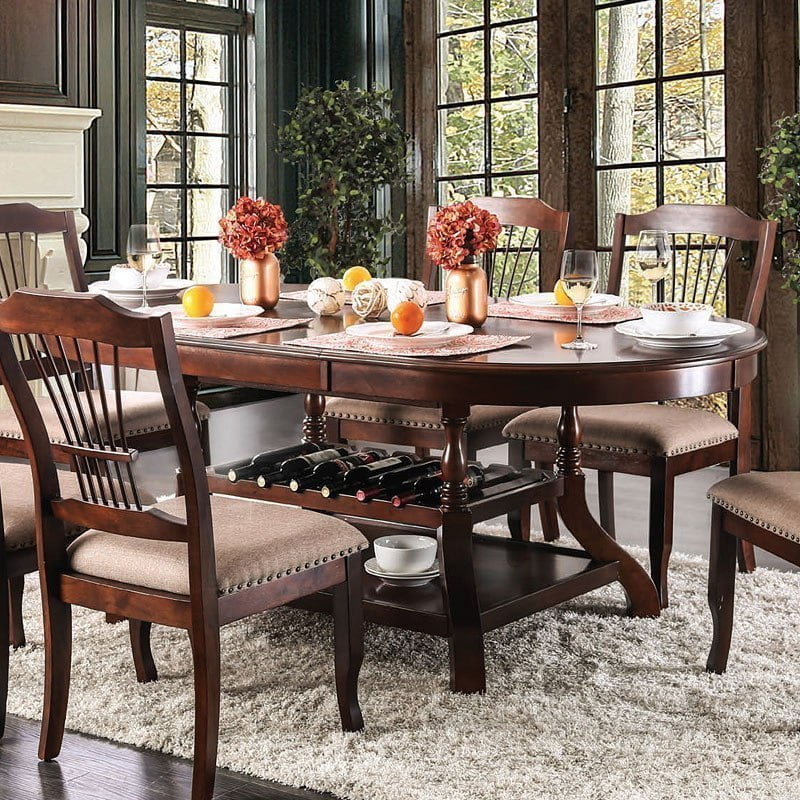 This extending dining table by Made will please your aesthetic sense. Made with mango wood, the table is solid and quite beautiful. The tone of the material has rich variations. This table comes with two separate leaves to help extend the table. These leaves can be added to either side of the central piece. The table can be a statement piece of furniture, combining sculptural and well-crafted Y-shaped table legs, modern-style table tops, and functional brass accents. Finally, the table is elegant, solid, and hassle-free in its functionality.
21. Loaf Pantry in Heritage Blue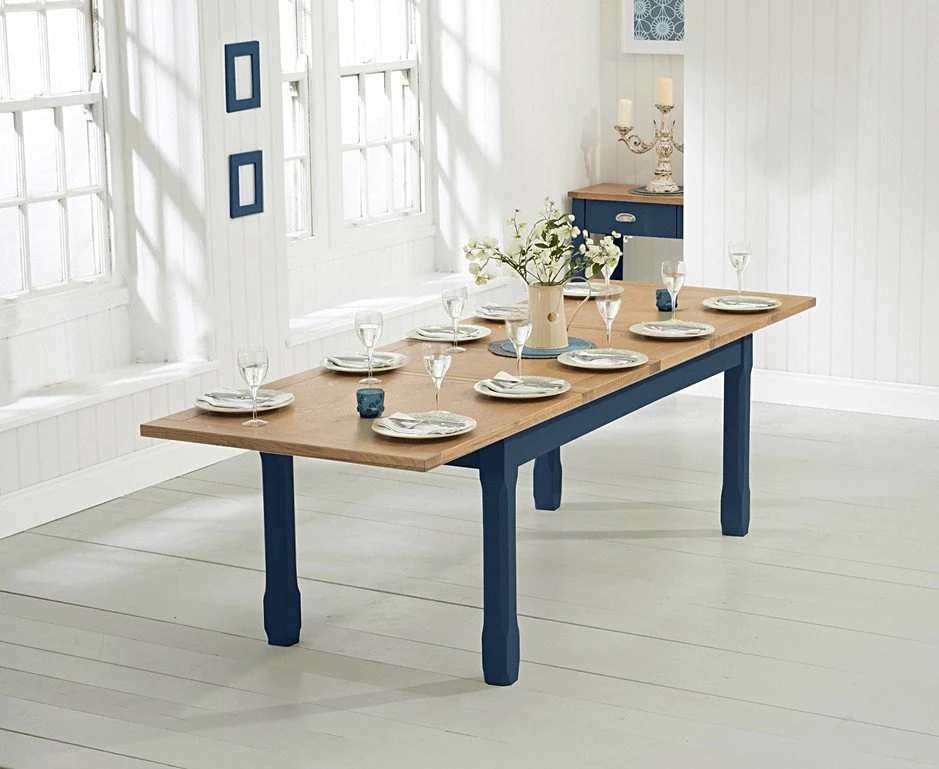 If you love bringing a bit of the country charm to your home, this is the best option. It has a chalky blue base juxtaposed with a pale-colored oak table top. This table is a bit hefty, but it is strong and reliable. It also comes with two separate leaves on either side that you can use for extension. You can slide these leaves into the main frame and bolt them (for extra safety) when not extending. The table can incorporate 10 seaters comfortably when extended. You can choose this pantry table for a rustic look and heavyweight functionality.
Summing It Up
All in all, dining tables are a crucial part of every household setup. However, if your house dining table has a fixed accommodation facility, it can become problematic during a family get-together or a dinner party. You can face embarrassing situations of elbow brushes or plate knocking. Getting an extendable dining tablecan help you breathe and enjoy your food at ease with family and friends.
And here, we have listed the top 21 extendable dining tables you can try. So, are you ready to replace your old and small table with a new extendable one?
Try any of them as per your choice now!
Frequently Asked Questions
What Are the Different Types of Extendable Dining Tables Available?
Depending on the extension type, three types of extendable dining tables are available: leaf drop leaves hidden under the tabletop and leaves you need to store in a different place like a cupboard or storeroom. The drop-leaf tables are ideal for small spaces. But if you have enough space at home, you can try others too.
Which is the Best Size for Extendable Dining Tables?
When understanding the right size of your extendable dining table, you must measure the space where you want to keep it. You must measure the space correctly and select the size according to the measure. Also, remember to calculate the area to enter extra seats. However, you must not forget to evaluate both the expanded and compact size of the table with your measures while buying one.
How Much Should I Spend to Get a Quality Extendable Dining Table?
It primarily depends on the type of extendable dining table you want to buy and your budget. You can have many options, from premium rates to low-budget tables that suit different budgets. However, if you want a budget-friendly yet functional extendable dining table, you need to spend 600$ to 12000$. So, always know your budget and needs to pick the right table.
What is the Best Shape for Extending Dining Tables?
When choosing the shape of the extendable dining table, most people go with their individual preferences. For instance, some like round while others like rectangular or square. Also, you can choose a rectangular table if you have a small space. Also, round tables make up great for large rooms and open spaces.
Which is the Best Style for Extendable Dining Tables?
You can have multiple styles in extendable dining tables; it is up to you and your choice. Also, you must consider the environment of your home and where you are placing it. For instance, if you have a countryside house, you can opt for rustic Oak wood or classic-looking solid wood tables. On the other hand, if you live in an urban apartment, you must choose something minimalist and modern.