Do you want to capitalize on the unused corner space in your dining room? A corner cabinet or corner hutch is a great addition to your dining room. Not only can you manage your space better, but in the process can increase the aesthetic of your dining room.
The dining room is the place where we eat and spend quality time with family. A well-organized dining room will evoke a sense of peace and calmness in your life. There are many options when it comes to choosing a corner hutch. There are many things to keep in mind while browsing the options for corner hutch. For instance:
What style to consider? Vintage, modern, or minimalistic?
How big should the cabinet be? Depends on your space requirements and needs.
What color would you go for? Depends on the overall aesthetic.
The single most foundational thing to keep in mind is it should complement your dining room and not stand out! Let's look at some of the dining room corner hutch ideas to elevate your dining experience!
Dining Room Corner Hutch Ideas
1. Accents Walnut Corner Cabinet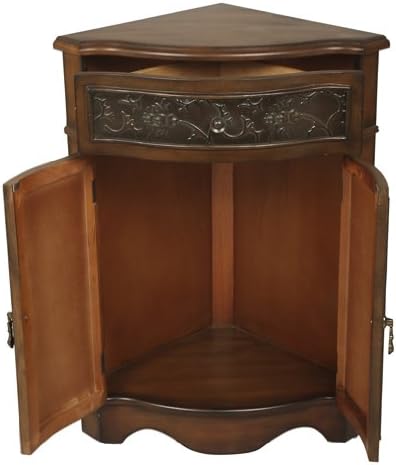 Have a small corner in your room and want to utilize the space with a hutch? This hutch should be your go-to choice if you have a small corner. A cabinet with a triangular drawer on the top and a single shelf with a double door on the bottom is enough for your everyday crockery needs. The Walnut color cabinet gives it a very traditional look and will blend with your room's aesthetics. The intricate designs, which are ornated on the doors and drawers, are a cherry on top. It also gives this simple and functional drawer a sophisticated look.
If you feel like this corner hutch is way too short and won't suit you well, you can put an indoor houseplant on top of it. It will enhance the look of your corner hutch and make it look elongated as well.
2. Free-Standing Corner Storage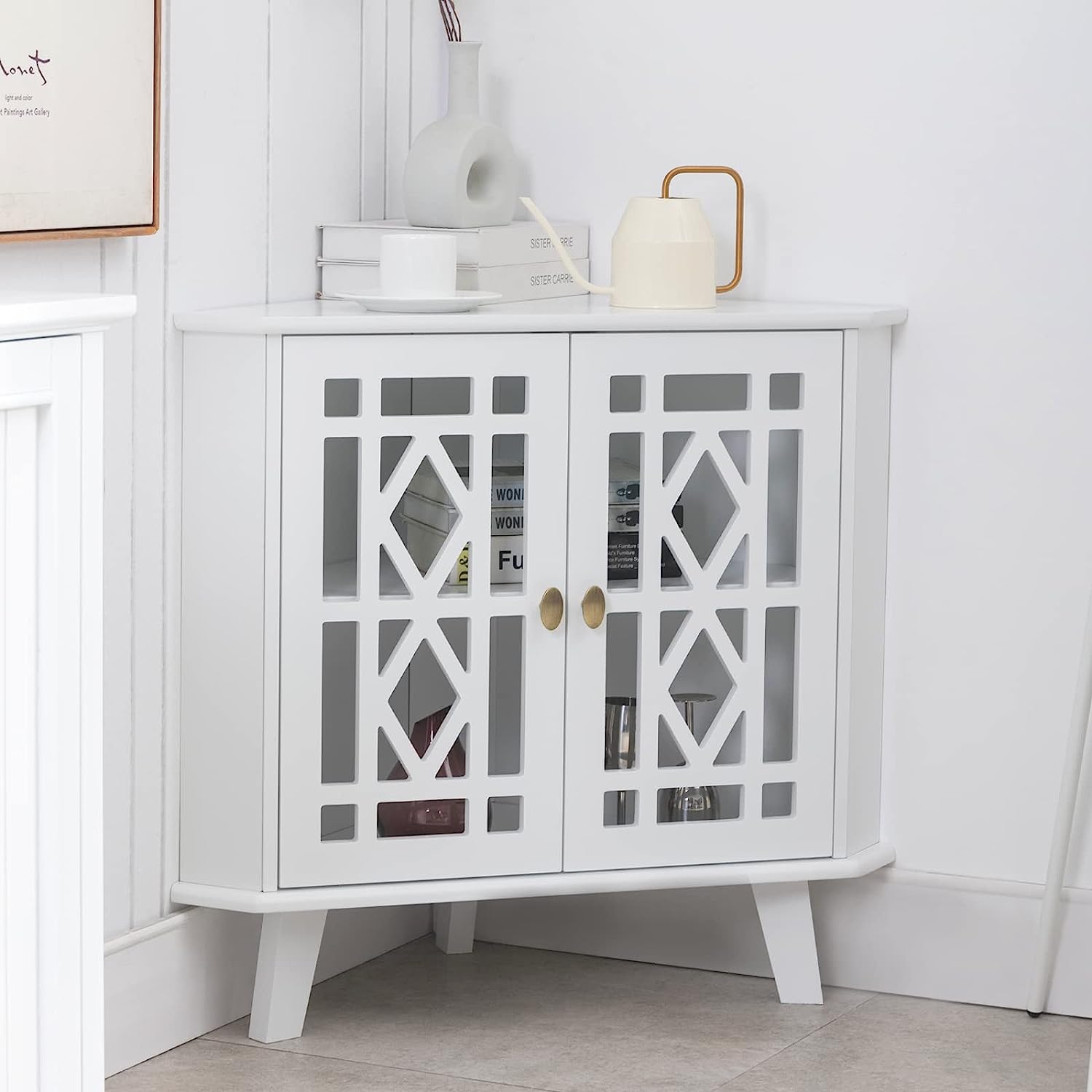 This retro and unique design will bring the much-needed balance to your modern architectural homes. It will make your home look more layered and aesthetic. The 2 door glass cabinet with a symmetrical pattern and white finish overall is sure to stand out in your dining room. The wooden shelf at the bottom gives you 2 separate storage spaces. You can adjust the shelves 2 inches in case you need a little bit extra space in one rack. Moreover, this corner hutch is very easy to install.
For better sturdiness and support, you can nail this cabinet to the wall. It can also save up some ground space if you plan to nail this hutch above the ground. Coming with waterproof paint, you cannot go wrong with this cabinet.
3. Sliding Barn Door Storage Cabinet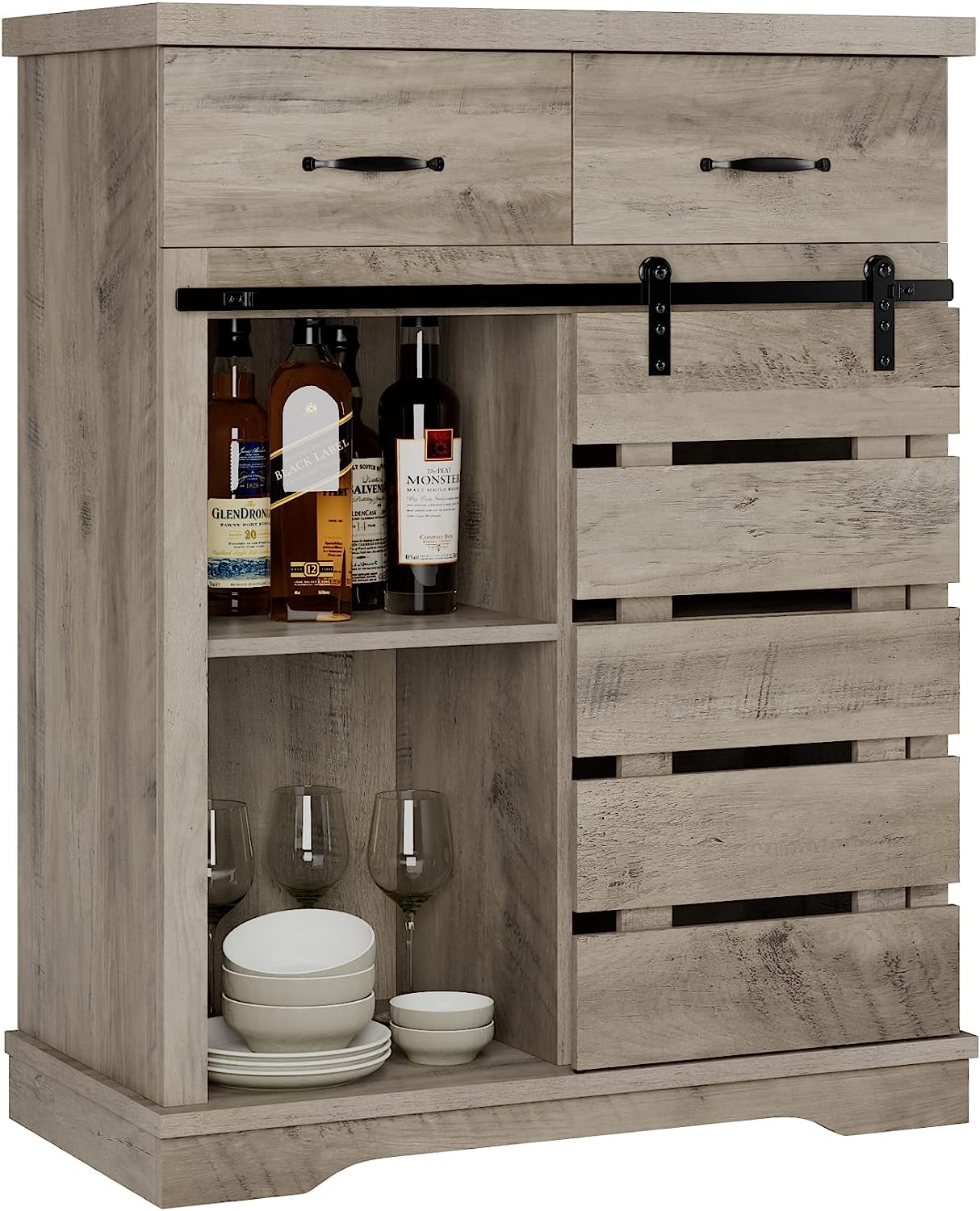 It is made up of premium medium-density fiberwood (MDF) wood and comes with sturdy quality and premium craftsmanship. This corner hutch understands your different storage needs. Hence, it comes with 2 drawers and fixed shelves, having ample space for all your dining needs. Additionally, due to its big size, the tabletop of this corner hutch is quite big, which can be used for various purposes like putting a microwave oven or a coffee machine for frequent usage.
The look of this table is quite exquisite. It comes in a slightly distressed finish. It goes well with the black metal parts of this cabinet, making the color tones seems pleasing to watch. The USP of sliding barn doors put this corner hutch much ahead of its competitors.
4. Storage Cabinet with Rattan Decoration Door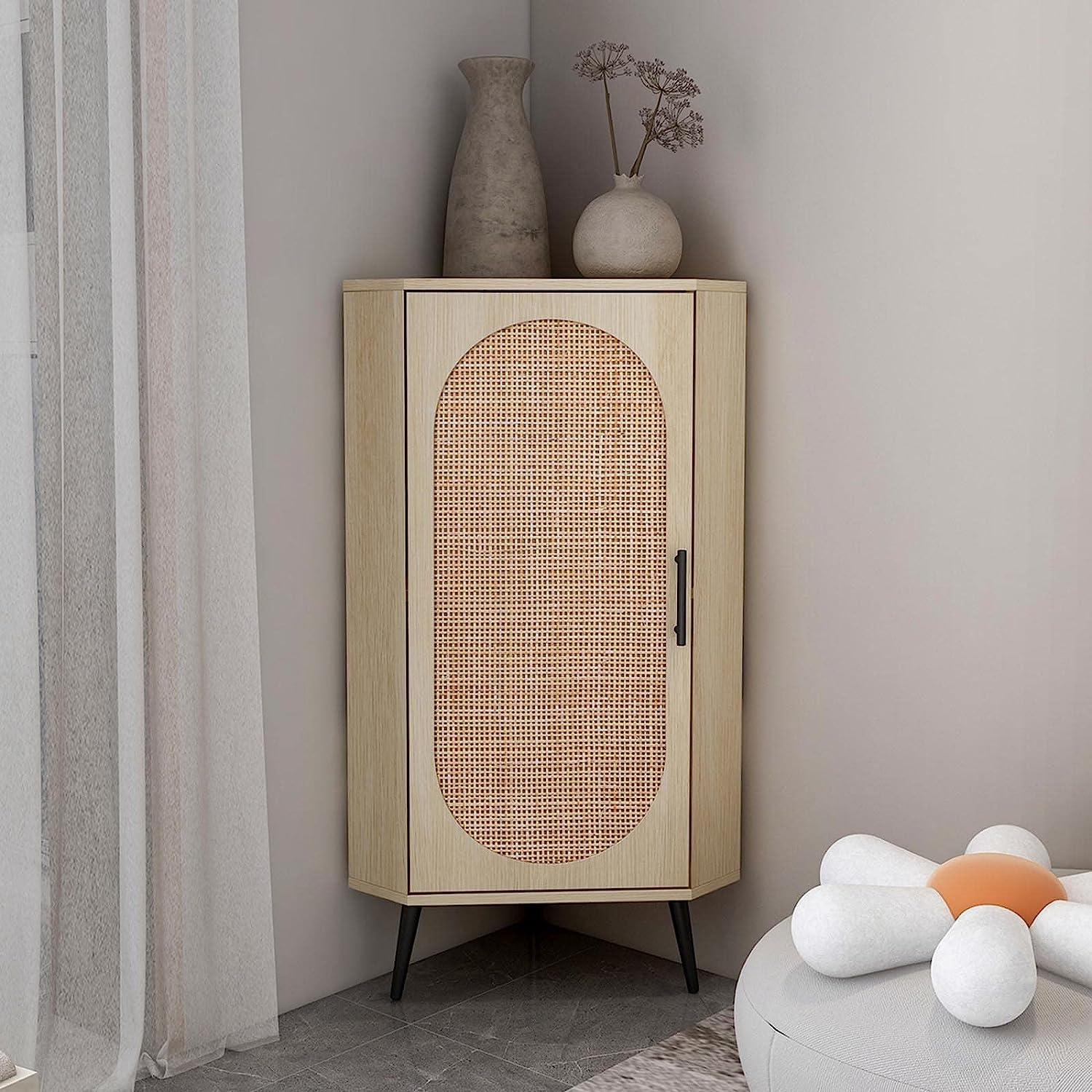 A very minimalist tall storage cabinet with decorated doors. This corner hutch has no drawers, which might be a disadvantage to some people. However, it makes up for that by providing 3 different compartments of storage. These shelves are adjustable so that all your items can be easily accommodated. It has metal legs, giving this hutch a premium look. Thanks to the durability of the metal legs, this hutch can hold up to 88 pounds with ease. So you don't have to worry about storing something heavy in this hutch.
It comes with a detailed manual on how to install this, making it very easy for anyone to follow without any professional help. The metal legs of this cabinet are covered with a non-slip mat, which ensures that your floor doesn't get affected if you ever move this hutch.
5. Corner Cabinet with Adjustable Shelves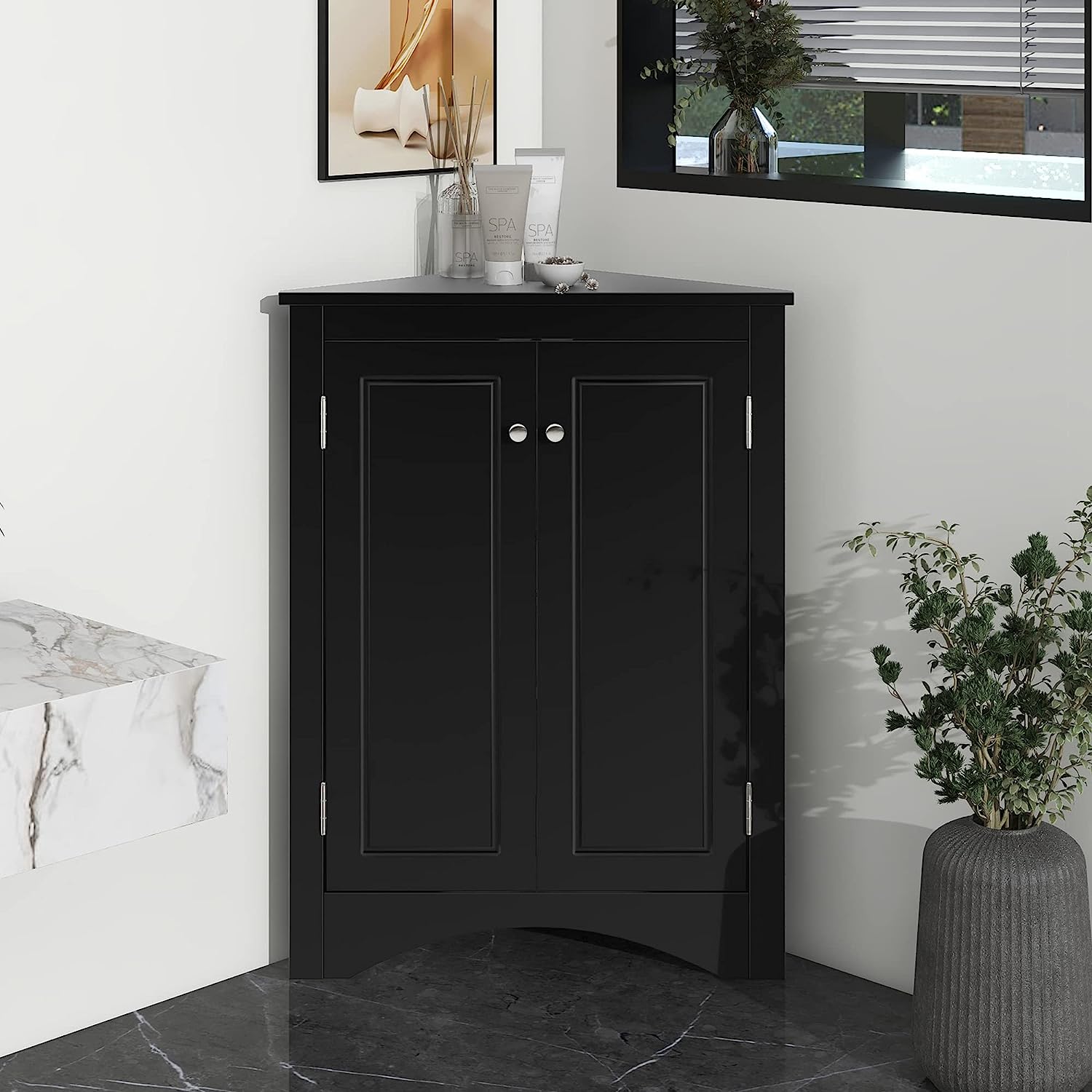 This cabinet is also made up of high-quality MDF wood, and it is also waterproof. It ensures that even after long usage of this cabinet, it won't lose its utility or beauty. Some of the key features of this corner hutch are round cabinet knobs, stainless steel door hinges, a magnetic door stopper, and the arc base at the button.
All these features give a very rich feel to your dining room. Talking about the durability and capacity of the shelves of this cabinet, it can easily carry 30 pounds on each shelf. That means you don't have to worry about putting heavy objects on the shelf. Moreover, it is not wall-mounted like most shelves, which means you can easily move around if need be. Even though wall mounted has its own perks, the flexibility of moving your hutch easily should also be the priority, especially if you shift homes frequently.
6. Farmhouse Storage Cabinet with Barn Door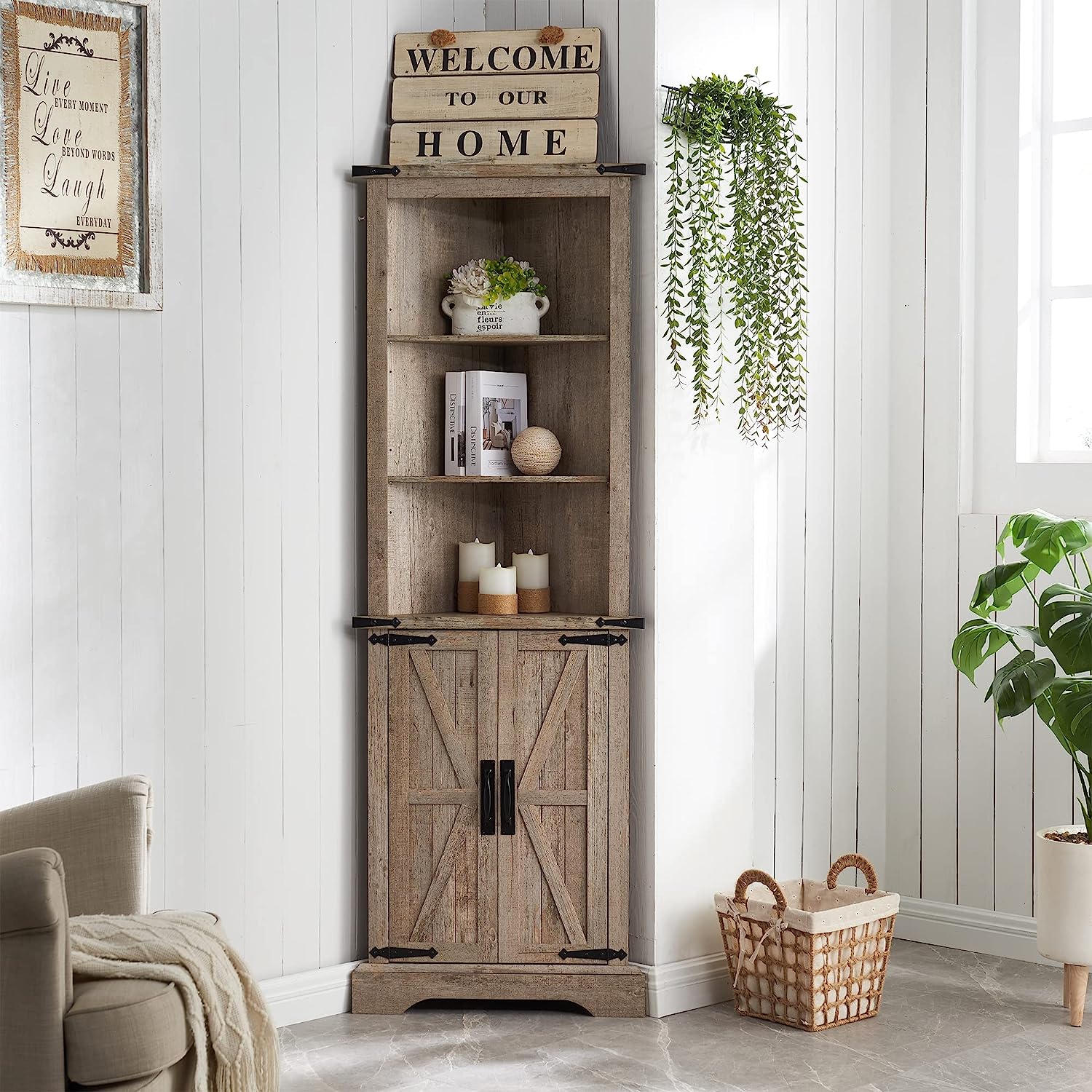 This corner hutch has ample storage space to store all your dining room needs, like cutlery, extra crockery, fancy dining ware, and so much more. It is made up of engineered wood and has a unique silhouette giving a very rustic feel to the whole room. It has 3 compartments at the bottom divided by 2 shelves, and it has 3 open compartments on the top, which seems very practical. You can use top shelves for the items which you use frequently and store away the items which you do often need in the bottom.
They can be mounted on the wall for sturdy support and to prevent wobbling. The metal hinges of this cabinet are coated with anti-rust technology, which is beneficial. It ensures that the moisture in the air won't damage your corner hutch. So go ahead and install this corner hutch for organizing your dining room space efficiently!
7. Vintage Corner Hutch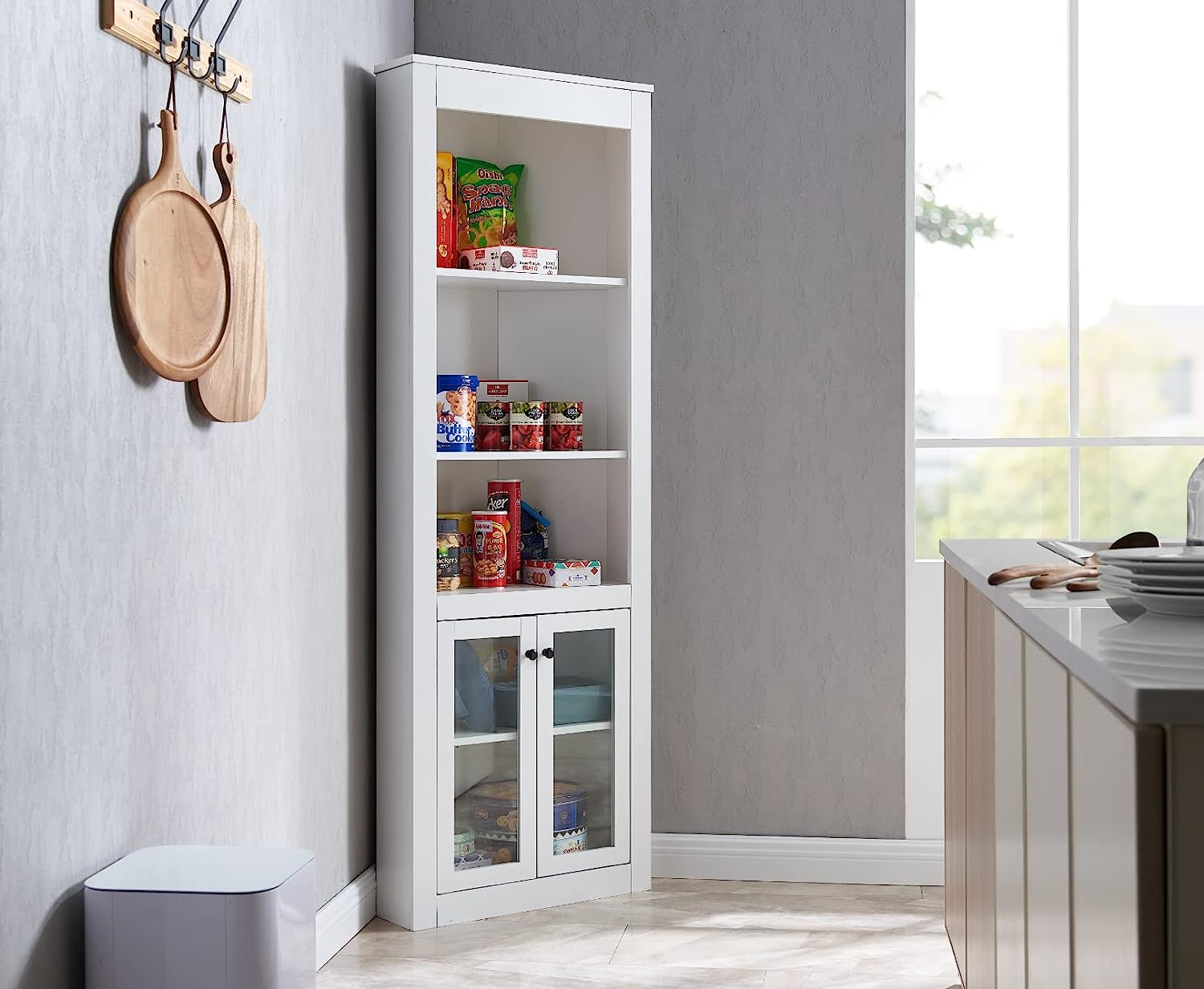 A multipurpose cabinet that can be used as a bookshelf, a wine cabinet, or a dining room storage. This corner hutch doesn't restrict your storage requirements. It has 2 adjustable wine racks, which can have 6 bottles of wine each, so now it's possible for you to showcase your wine collection in one place. Equipped with glass doors at the bottom, you can display your fancy dinnerware and impress your guests. It is floor mounted and weighs just 65 pounds, making it very portable and light for added flexibility.
It comes in various color options, and the minimalist design is sure to complement most of your other furniture without much effort. Moreover, the assembly instructions provided in the manual are very easy to follow and fairly detailed, so you don't have to struggle at all. Add a touch of nostalgia with this vintage-inspired corner hutch featuring intricate details and glass doors.
8. Oak Corner Hutch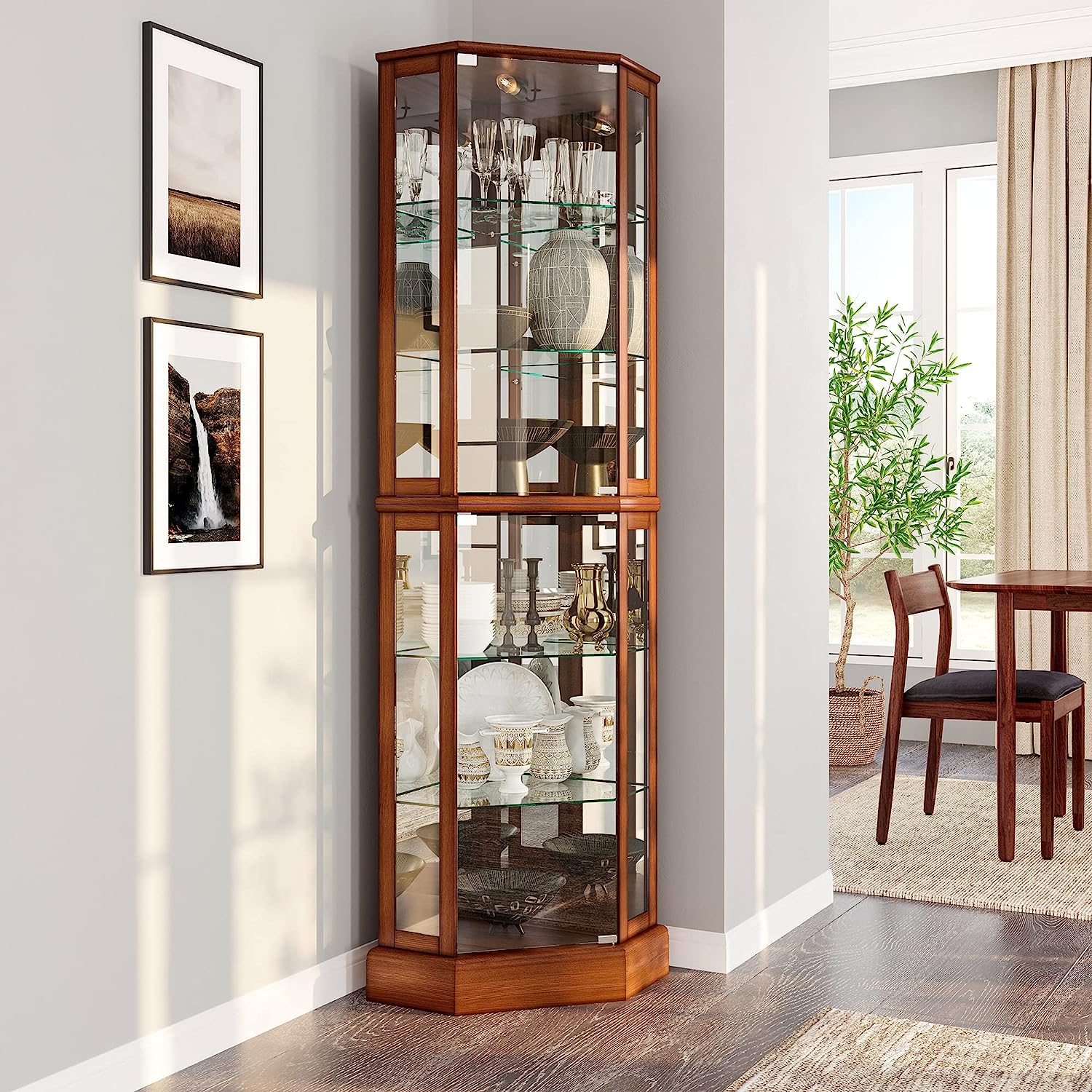 Designed and furnished while keeping the antique charm intact, this hutch creates a timeless aesthetic that effortlessly complements any decor, seamlessly blending with your existing furniture. This tall corner cabinet features six adjustable shelves concealed behind its glass doors, offering abundant storage for your items. Its sturdy glass shelves, with a thickness of 0.19 inches, can each accommodate up to 25 pounds, catering to your needs easily.
Its glass display cabinet comes with a 25W bulb, providing a gentle glow that beautifully highlights your favorite pieces, no matter the hour. Made from solid oak, this sturdy corner hutch is a classic choice that blends well with any dining room decor.
9. Glass Front Corner Hutch
This corner hutch cabinet comes in two fresh colors, white and dark espresso. They both are classic colours that are versatile enough not to stand out in your room. The detailing on this hutch is something to admire. With its arched bottom skirting and premium chrome knobs, it's sure to delight the viewers. Even though a little more compact than other cabinets, it totally depends on your requirement. It is made up of durable engineered wood along with tempered glass ensuring the longevity of this hutch. The shelves of this corner hutch are adjustable so that tall items can be stored easily.
It comes with assembly hardware so that you can assemble it right when you get it without any wait. Just read the mail and follow the instructions for your storage to be ready. Showcase your cherished dining ware with this elegant glass front corner hutch!
10. Contemporary Floating Corner Hutch
Who doesn't want a cabinet that has LED installed in it? Its not just a cool feature but a very functional one too. Because it helps you navigate the closet even in darker environments. This hutch showcases an easy play-and-plug LED light feature, making this cabinet accessible in dim environments as well as making it fancier. Not only this, you can choose among 16 different ambient lights with the help of an RF remote, and you can also adjust the intensity of those lights. All these features make this corner hutch quite unique. It helps you organize your things as well as acts as a premium home decor item.
This cabinet comes with a total of 5 shelves (3 at the top and 2 at the bottom), providing ample space. It also comes with a lifetime warranty and easy returns, for which the window is 100 days. It has anti-toppling straps, which are really useful for stability, and it becomes a necessity if you have kids and pets in your home. This unique corner hutch creates a modern and space-saving solution for your dining room.
11. Cherry Wood Corner Hutch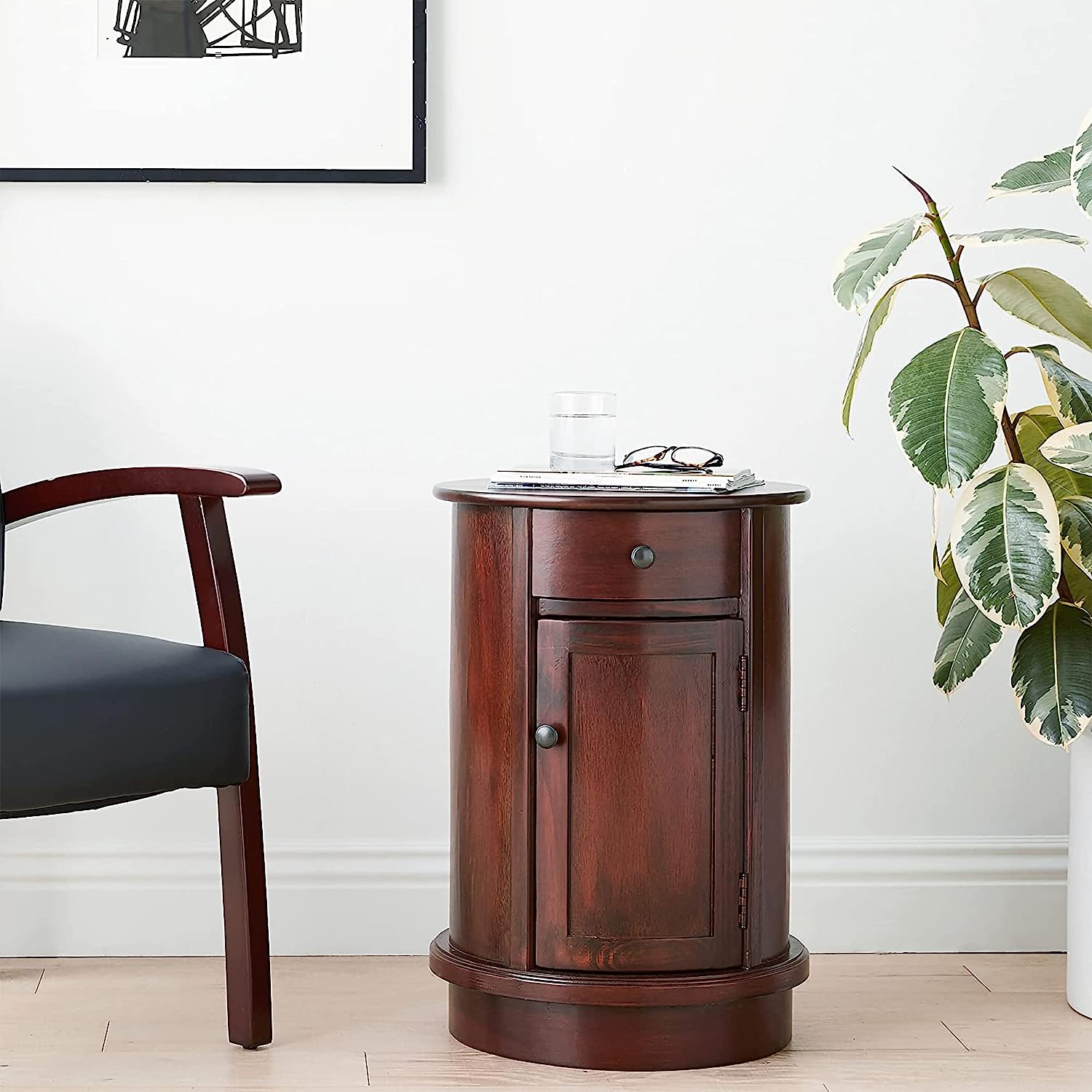 We know that it is not exactly made for corners because of its circular design. However, the shape of this hutch suits the corners as well. It comes in vintage cherry color. It is made up of Chinese oak, making it quite sturdy and unique. This corner hutch may not have ample storage since it only features one drawer on the top and a single shelf at the bottom. However, this seems like a practical option if you want to use enhance the decor of your room and need only some storage. With its vintage cherry color, it blends well within the room with your other furniture.
Add warmth and sophistication with this cherry wood corner hutch featuring carved accents. Adorn this corner hutch with an indoor plant on the top, and this will instantly become a statement piece.
12. Mirrored Corner Hutch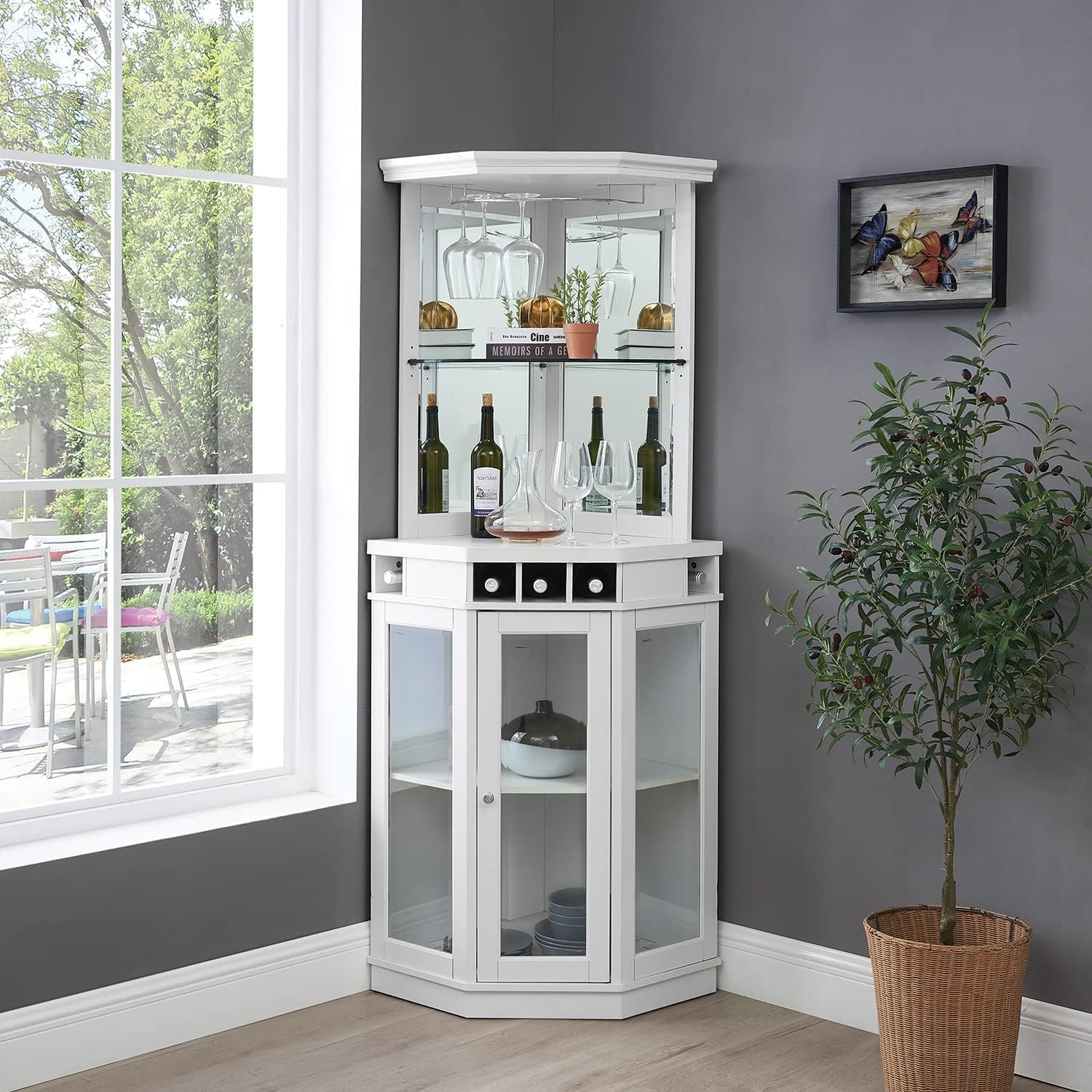 This cabinet is styled in a wooden frame with an oak finish, striking a perfect balance of traditional and modern home decor. It is equipped with a specialized wine rack for easy storage. It has 5 racks for you to show off your wine collection. This corner hutch cabinet is essentially made for storing liquor, wines, and other beverages. However, you can also use the glass cabinet at the bottom for your fancy dining ware.
You can use the top portion of the cabinet as a shelf, too, and put home decor items for display. Since it's a wine cabinet, you can showcase your fancy different types of glasses. This corner is sure to make your dining room appear more spacious. The mirrored corner hutch reflects light and adds a touch of glamour.
13. Modern Corner Hutch with Wine Rack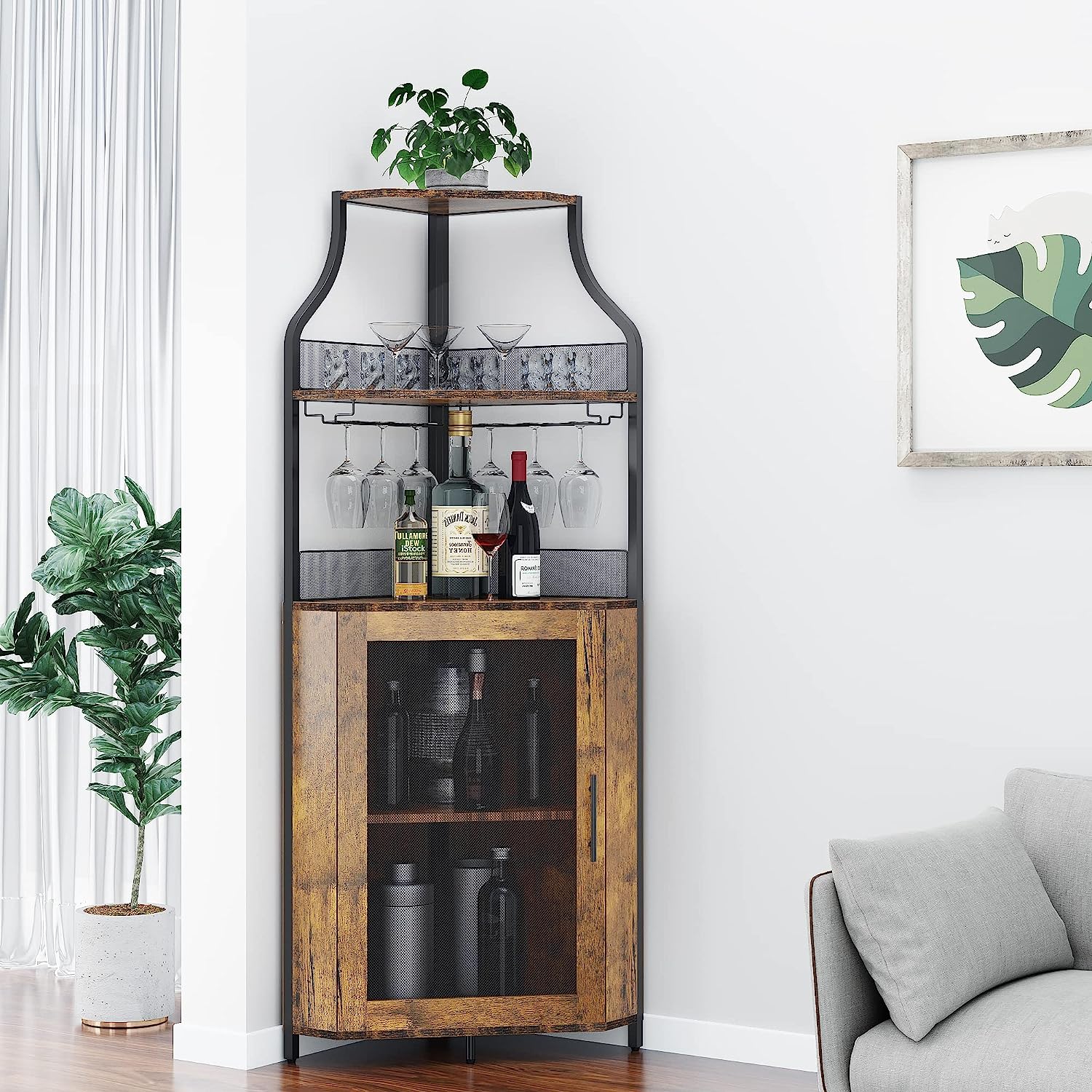 This is also a wine cabinet but looks a world's apart from others because of its sleek and unique design. Talking about its physical attributes, it's made up of an MDF board, which promises added resistance to bending and long life. Its black surface is anti-rust and waterproof, so you can be safe from accidental spillage on the surface. The bottom wine cabinet can hold around 30+ bottles of wine. Moreover, this corner hutch has a dedicated wine glass rack in which you can easily hang 6 glasses.
With its adjustable feet and matte finish handles, this corner hutch scores serious points on practicality and style. So why wait? It's high time to Combine storage and style with this modern corner hutch that includes a built-in wine rack.
14. Two-Tone Corner Hutch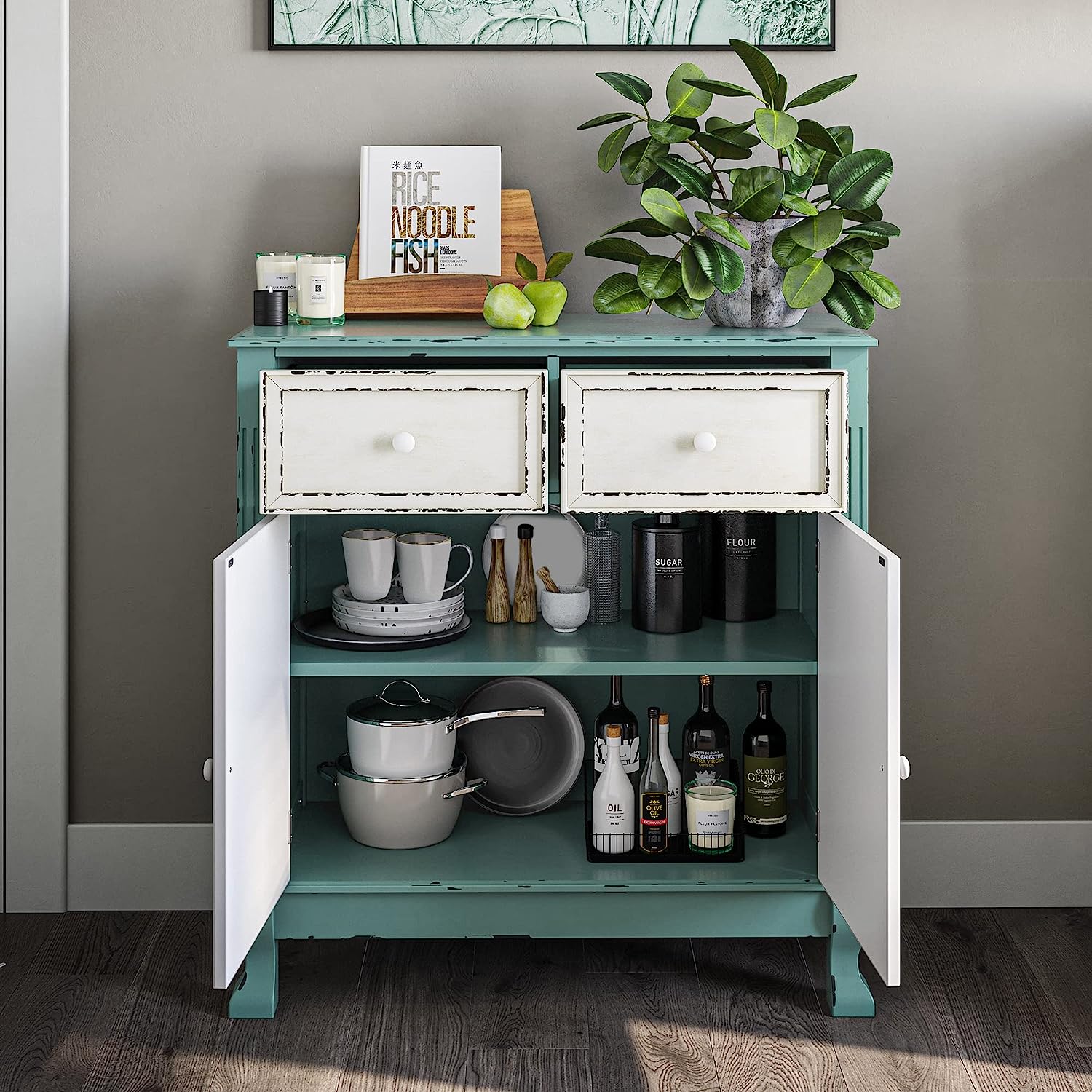 This vintage and antique-looking corner hutch comes in dual-tone color options, i.e., seafoam green mixed with brushed-off white. It is made up of an MDF board and gives a distressed look, accompanied by a matte paint treatment. The matte finish acts like a dust repellant and makes the surface very easy to clean with just a piece of cloth. With two drawers and shelves each, this hutch has enough storage for your everyday needs. Not only this, this hutch is easy to assemble and comes with a detailed assembly guide. For added stability, it's wall mounted so that it doesn't get tip over and your crockery remains safe.
This product also has a return window of 100 days from the date of your purchase. So why not create a visually appealing contrast with this two-tone corner hutch featuring a combination of wood finishes? The colors are evergreen and will instantly grab the attention of your guests.
15. Pine Wood Corner Hutch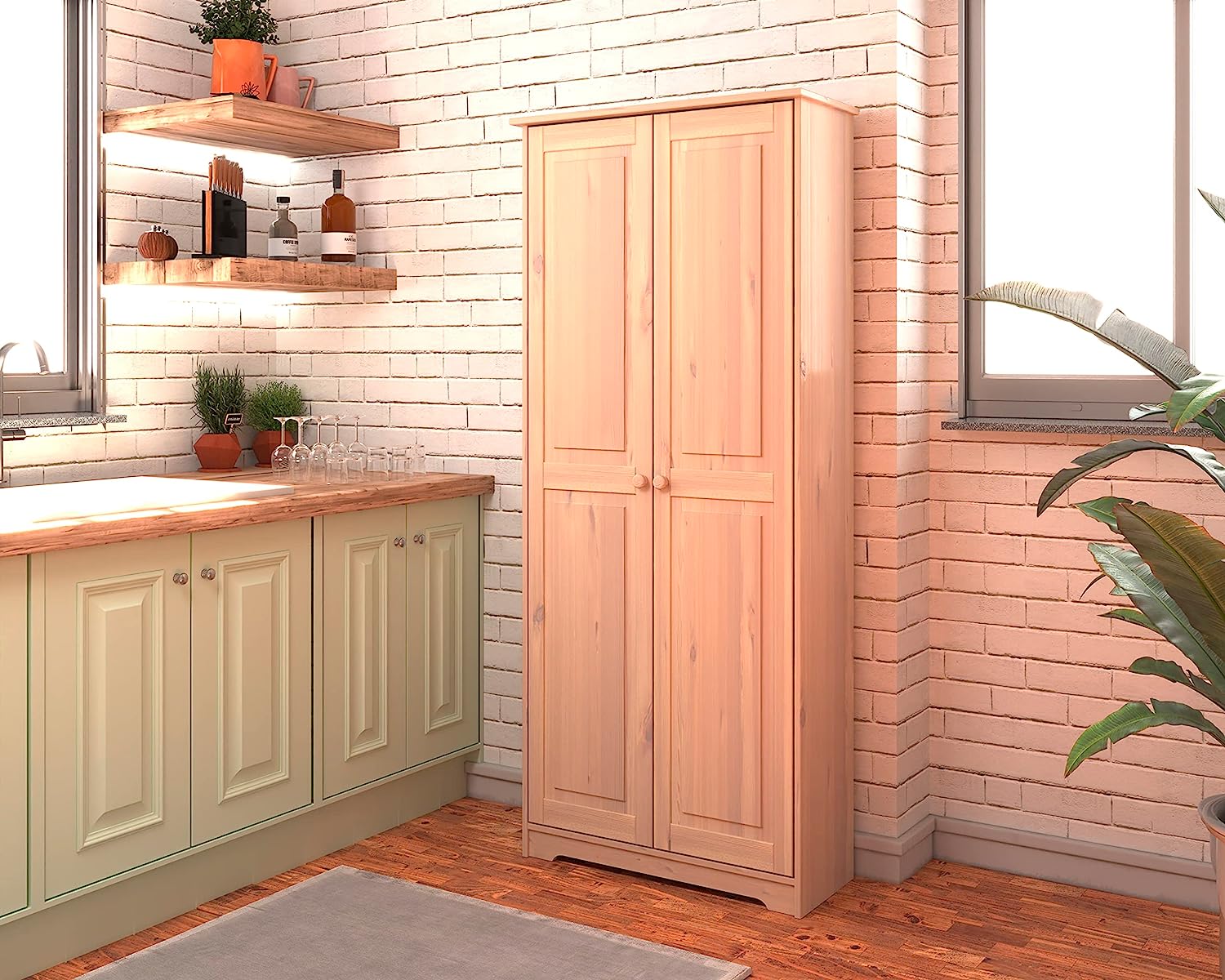 This is essentially a pantry cabinet, but we believe it is as functional as a hutch in the dining room. It is made of pine with a solid unfished look, making it look raw and sleek. It is a long cabinet with plain old selves. However, what makes this special is the size of each compartment, i.e., 13 inches. Not only this, each shelf is adjustable, making your storage really flexible for all your tall items.
Since it's in unfinished home decor, it can easily blend with any other decor. Since it's a tall cabinet, it will be a good idea to store items that you rarely use on the top shelf since it's not easily reachable. To get the best utility from your corner hutch, store all your frequently used items on shelves you can easily grab. Enhance your dining room with the natural beauty of maple wood with this exquisite corner hutch.
16. Traditional Corner Hutch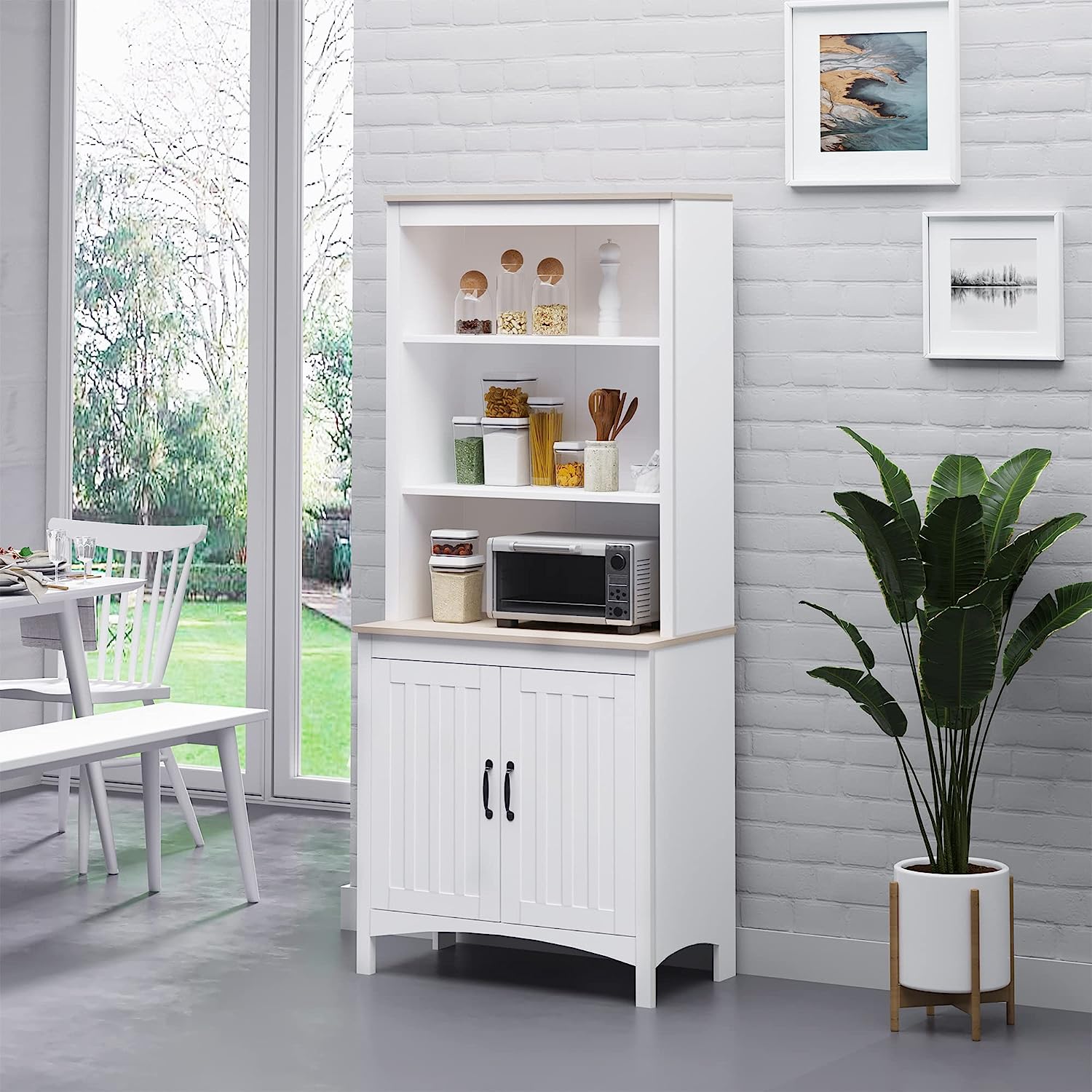 It comes with 3 tier shelves, equipped with adjustable shelves, and an open countertop. It comes in two of the most versatile color options, i.e., traditional white and dark coffee. It is made up of engineered wood, giving it a minimalist look and adding to the premium appeal. The shelves are 3-step adjustable to accommodate all your tall items with ease. With 3 open shelves on the top, including a large countertop that can be used for putting a coffee maker or a microwave oven for easy access.
Since its build quality is top-notch, you can put rarely used items above the cabinet. Just remember that each shelf can carry a maximum weight of 11 pounds. Use this corner hutch if you want to upgrade your dining room space to a more elegant look!
17. Distressed Corner Hutch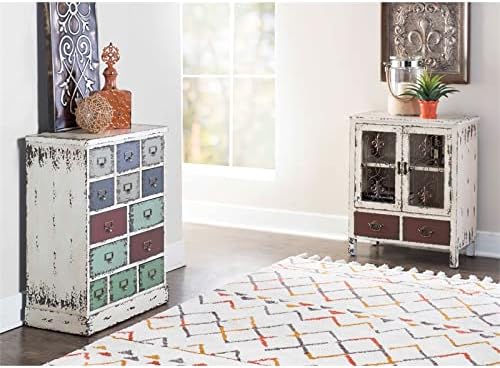 This is one of the most vintage-looking corner hutches on this list. Its distressed finish adds a touch of character, giving it a charming vintage appeal. The distressed look is carefully applied, enhancing the natural beauty of the wood while creating a unique and rustic aesthetic. It also comes in a dual-tone finish, i.e., cream color body with drawers having a dark brown color.
It arrives fully assembled, which means you just have to place it and start using it right from the get-go! Invest in the Distressed Corner Hutch, and you'll bring a combination of beauty, functionality, and character to your living space. Experience the charm of this thoughtfully designed piece and enjoy its lasting appeal for years to come.
18. Espresso Corner Hutch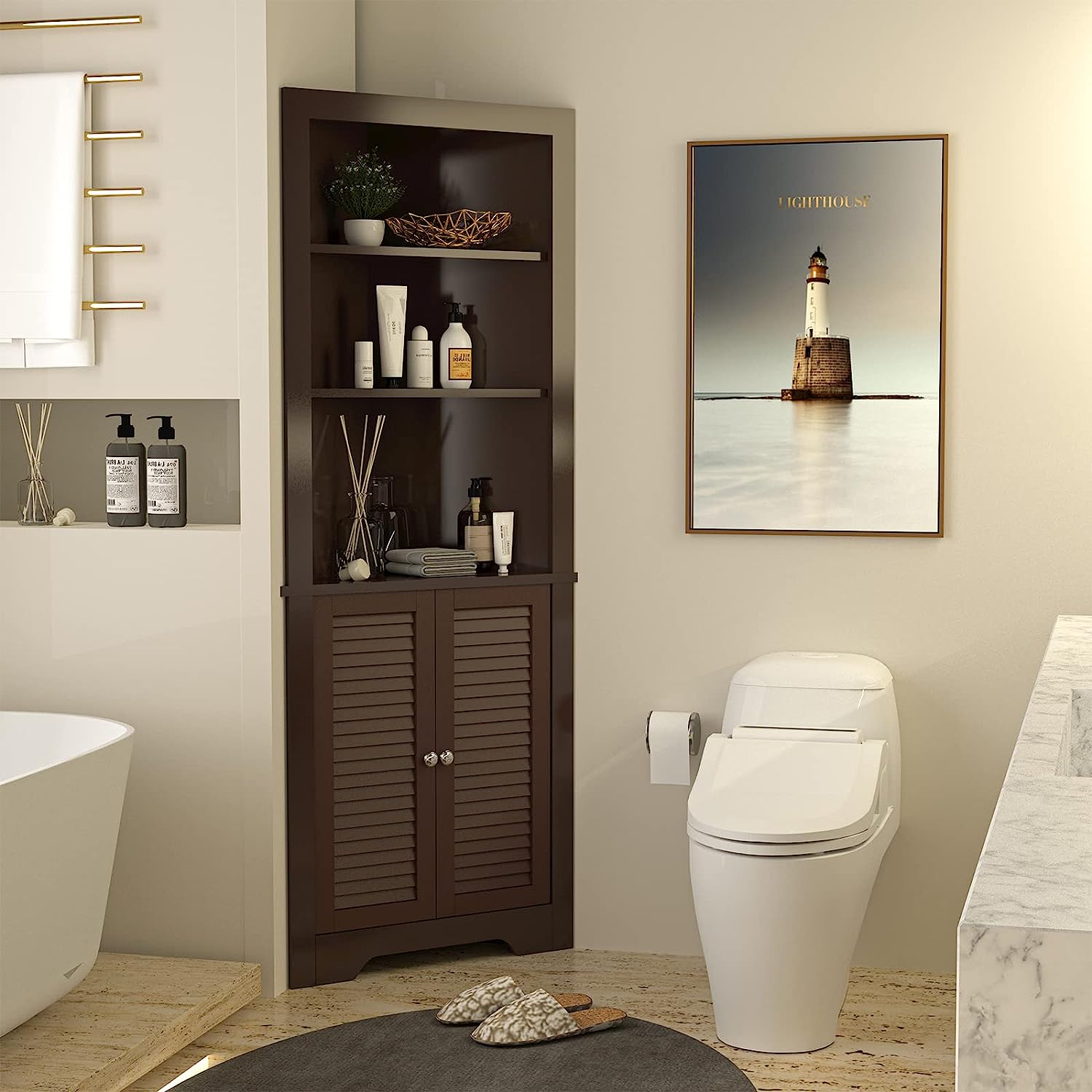 A tall corner bathroom cabinet that capitalized on vertical space while providing ample storage. This innovative corner hutch is designed to make the most of limited space, offering you a well-organized and clutter-free environment. It features three open shelves, each with a weight capacity of pounds, allowing you to access frequently used items conveniently. The double shutter doors promote air circulation and prevent dust accumulation. Inside the storage cabinet, an adjustable shelf offers flexible storage options, with three positions spaced 2.5 inches apart. The surface is treated with waterproof painting, ensuring durability and longevity.
This dark espresso corner hutch adds a touch of sophistication to any dining space.
19. Coastal Corner Hutch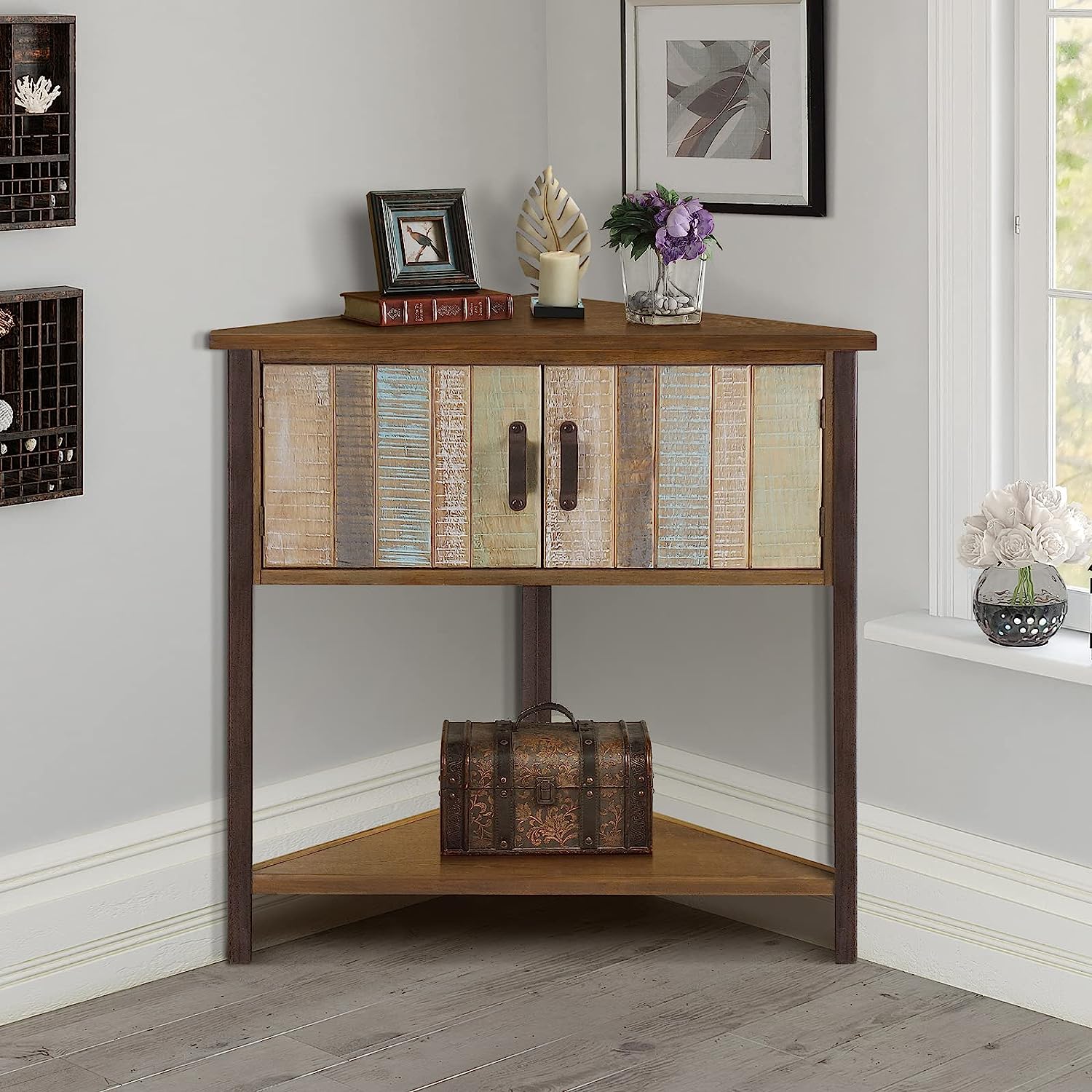 It is a hand-made accent cabinet with a rustic and warm color, serving both as a practical piece of furniture and a captivating decoration. Its right-angle structure ensures it takes up minimal room while a built-in anti-tipping device prevents any collapse, providing added safety and stability.
Despite its compact size, this corner console table offers generous storage space. In addition to the tabletop and bottom plate, it features a 9.6-inch high interior area, allowing you to store and organize various items such as books, photo frames, spice bottles, potted plants, and crockery. Its triangular design ensures stability, while the metal door handle and magnetic base enhance its resilience. With an impressive load capacity, it can withstand years of use.
Bring a coastal vibe to your dining room with this beach-inspired corner hutch featuring a distressed white finish.
20. Mahogany Corner Hutch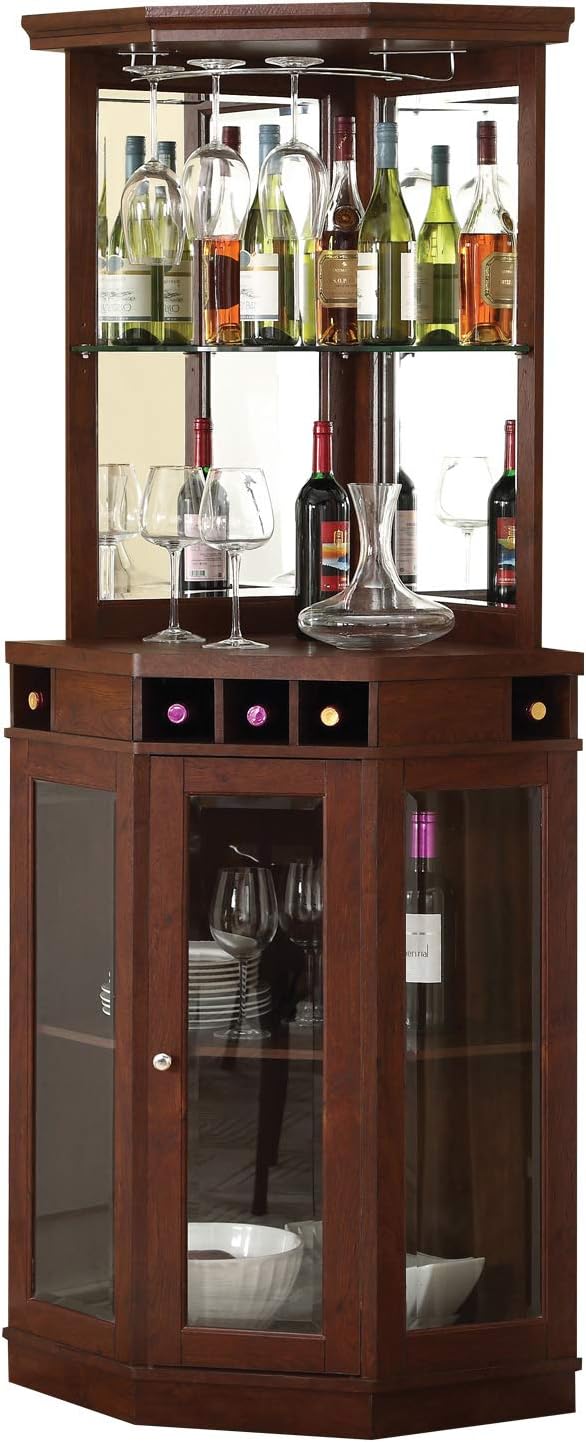 This cabinet offers an exquisite corner bar cabinet featuring a captivating wooden frame with a charming mahogany finish. This timeless piece effortlessly combines old-fashioned charm with a strikingly modern aesthetic, making it a stunning addition to any home décor.
This corner hutch boasts a convenient built-in wine rack capable of showcasing five of your favorite wines. Elevate your wine-drinking experience as you proudly display and access your cherished selections. With ample cabinet storage in the bottom compartment, this corner cabinet offers plentiful room to accommodate your whiskey, liquor, or beverage collections. It also serves as a versatile storage solution for your household items like plates, glasses, wines, and more.
Add richness and timeless beauty with this mahogany corner hutch that complements a range of decor styles.
21. Walnut Corner Hutch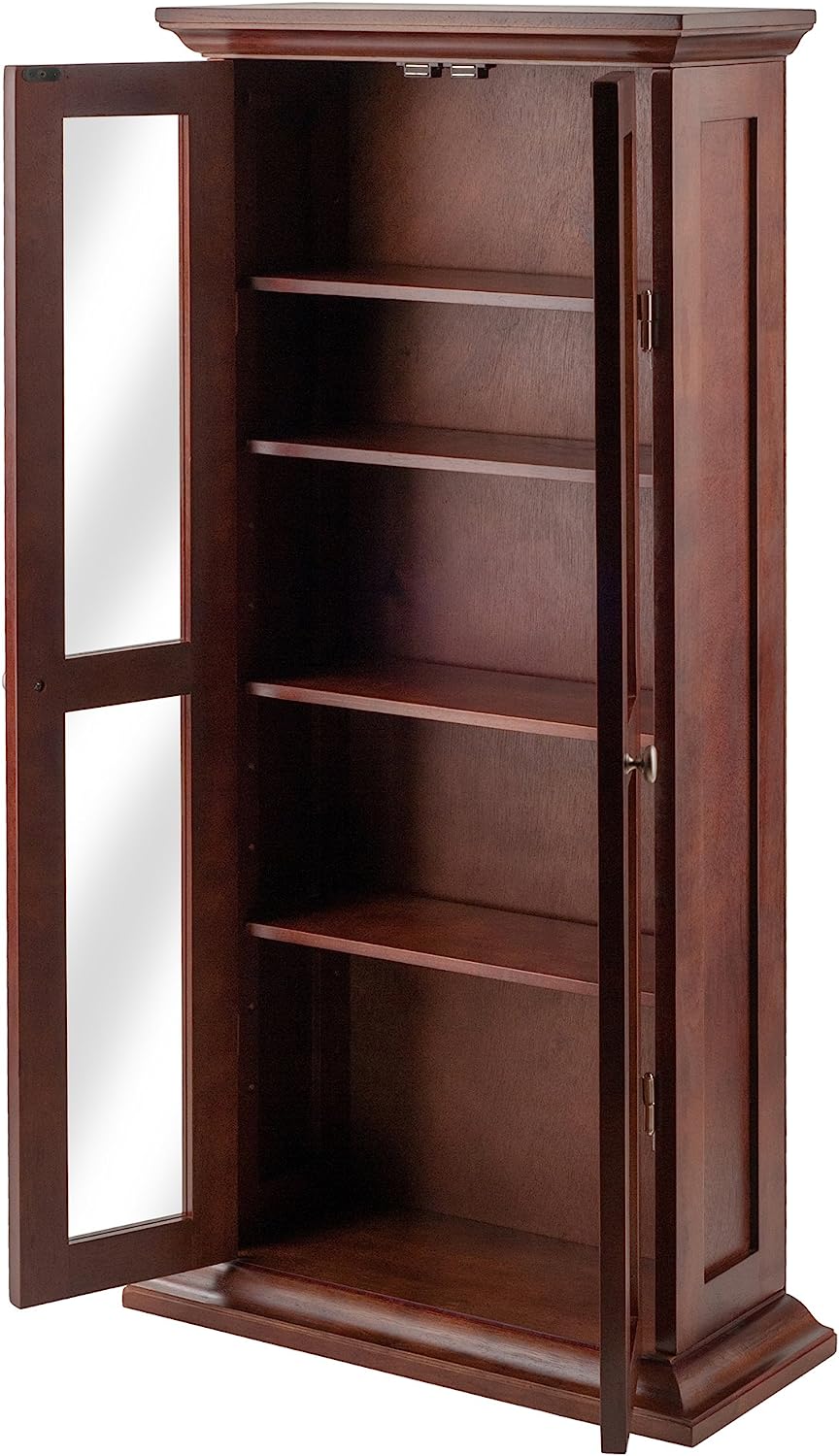 Want a hutch that has a minimalistic appearance and doesn't compromise on storage, either? Look no further! This corner hutch is a sleek and functional solution to organize your crockery collection. With its clean lines and simple design, this cabinet is the perfect addition to your dining room. Even though it is marketed as a media cabinet, you can still use this as a dining room corner hutch. It features ample storage space. This media cabinet boasts five adjustable shelves, allowing you to customize the height to accommodate your CDs, movies, games, or media cassettes, and even your crockery. Keep everything neatly organized and easily accessible while creating a clutter-free entertainment area.
The warm tones of this walnut corner hutch make it a perfect choice for adding a touch of elegance to your dining room.
Final Words
We have covered 21 corner hutches for your dining room, explaining the features and USPs of all the hutches. Corner hutches, in general, are a great hack to use the space in corners of the room, which otherwise goes underutilized. The above-mentioned corner hutches are all unique in style, catering to different purposes and aesthetics. Ranging from a simple cabinet to a corner hutch having LED lights, there is something for everybody. To get the best out of your corner hutch, it's important first to determine your requirements and then go ahead with it.
For instance, whether you want it for showcasing your beverage collection or just want to store away some items. If you want to showcase your items, it would be wise to spend on corner hutches which has a glass cabinet. On the other hand, if it's just for storing purposes, cabinets with wooden doors will work just fine.
For your easy reference, we have attached easy links to all the hutches. So say goodbye to the cluttered, unorganized dining room and say hello to the organized dining room today!
Frequently Asked Questions
How to Select the Best Design for Your Dining Room?
Selecting the best design for your corner hutch is important for your dining room to look well put together. Choose a design that goes with the color of your walls, your existing furniture, and the overall vibe of the room. In general, selecting the best cabinets boils down to a few factors, like the aesthetic of your room, the storage space that you require, and the budget.
How Do You Fill a Corner in a Dining Room?
A dining room corner can be efficiently utilized in several ways. Corner hutches are the obvious choice because it provides additional storage space. However, you can also consider going for artworks like paintings and life-size statues, or if you're into gardening, then an indoor houseplant will do a great job.
What to Display in a Dining Room Corner Hutch?
Corner hutch are great storage spaces, especially when it comes to the dining room. To fill your corner hutch, use items you might frequently require while dining. For instance, napkins and crockery such as plates, glasses, etc. If your corner hutch has a glass door, you can put your fancy crockery so that it looks luxurious and sleek. You can also stash away items that you don't often use on the bottom shelf of the kitchen cabinet.