Pink, a versatile color, is a mood setter for most of us. Whether it is wearing clothes, painting walls, or accessorizing your hair, pink is always a top choice. However, have you ever thought of a pink couch in your living room?
Seems weird right, but if we break it to you, then buying a pink couch for your living room can change your whole aesthetics, and if paired rightly, you'll be not short of compliments. The pink color comes in various color schemes. Whether you are a bright shade lover or a subtle one, you can choose your couch according to your personality.
Speaking of which, we are here with a guide that will help you re-decorate your living room with a pink couch.
Ideas for Pink Couch for Your Living Room
If you are planning to buy a pink-colored sofa set on sale, then here are our top 21 picks for you. You can choose the suitable one for you as per your requirement. Without wasting any further time, let's explore all the options available.
Oversized Pink Couch
Buying a sofa set for a nuclear family is quite easy, but when it comes to a joint family, where everyone watches TV together, it is difficult to host all. Hence, oversized and big pink sofa sets work best. If you are planning to buy something similar, then here are a few options for you.
1. U-Shaped Sectional Couch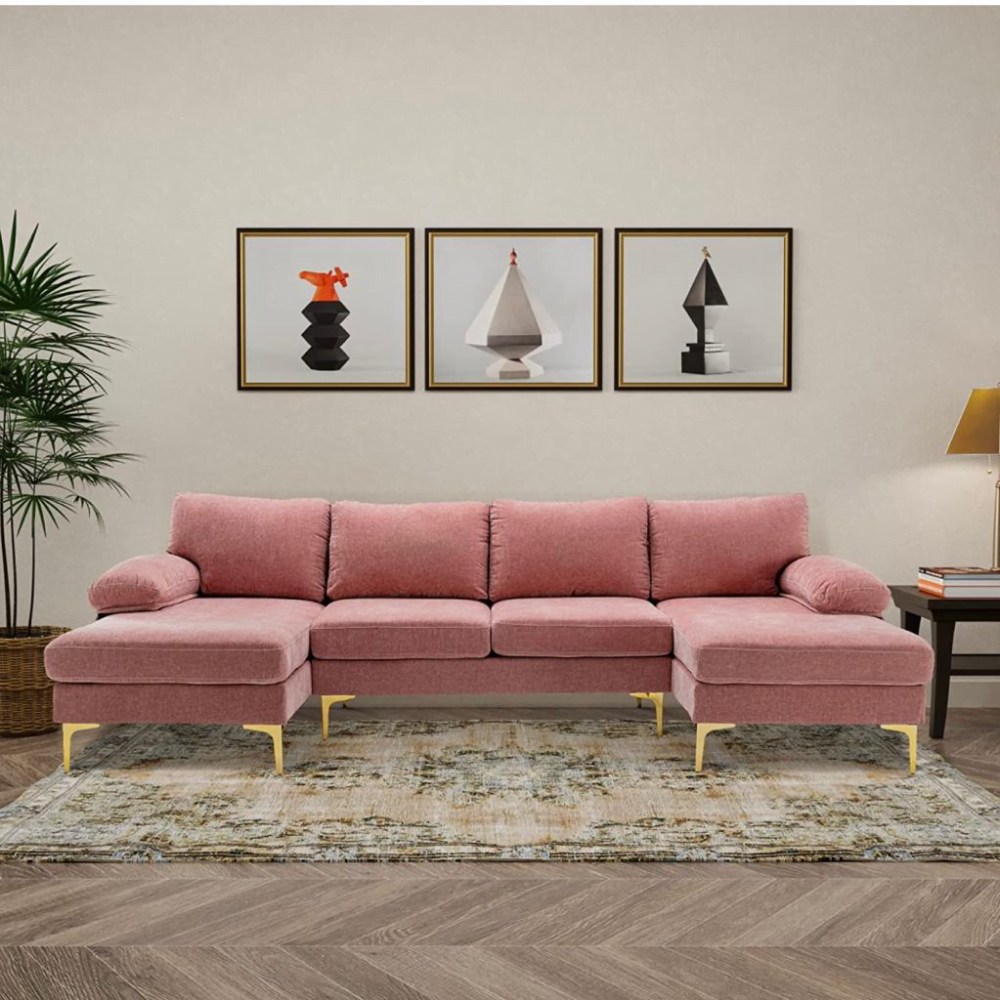 If you are someone who is more into subtle shades but still wants their living room to look glam, then the U-shaped Pink Couch is for you.
The pink sofa set is a 6-seater that offers a lounge feel and ample seating space.
The fabric used is super soft upholstery.
The springs are quite comfortable as they are neither too hard nor too soft.
The sofa set is in a semi-circle shape and has loose cushions for back comfort.
The frameset of the pink couch is made from plywood, and the legs are golden in color with a metal body.
2. Sectional Sofa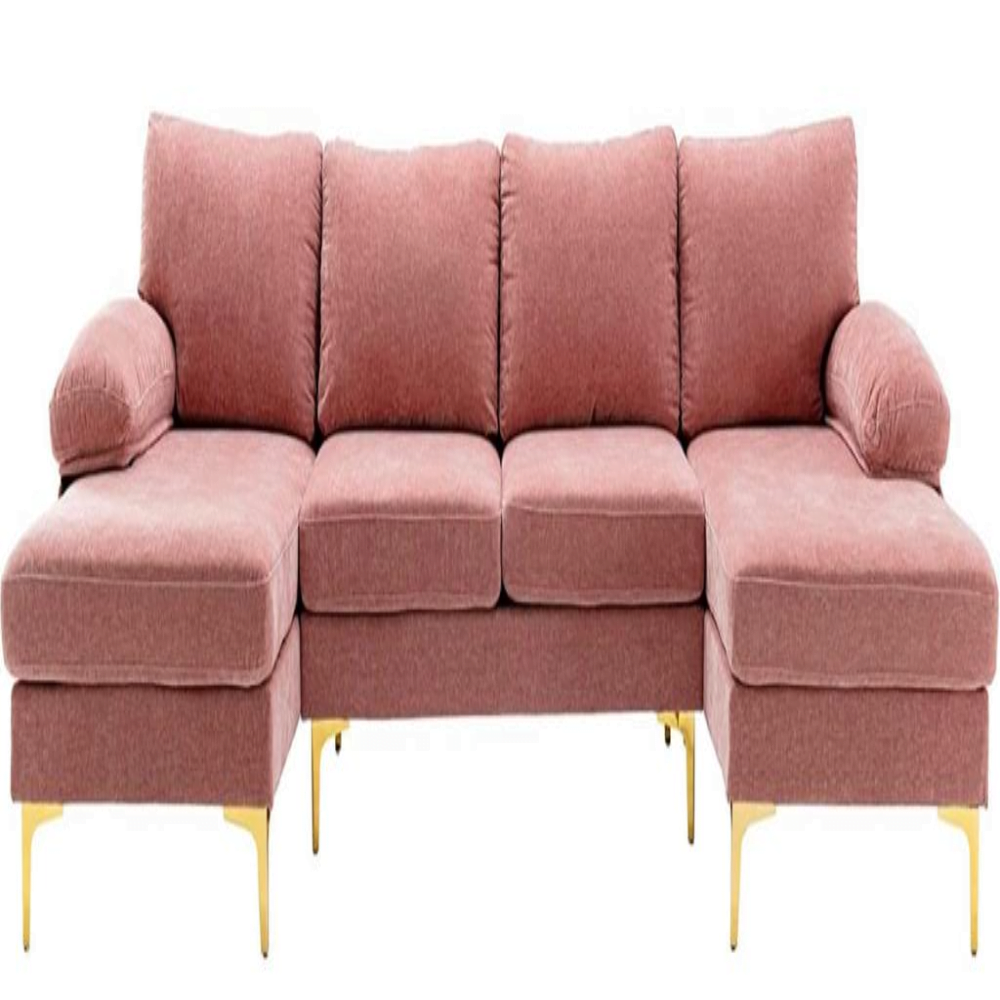 Presenting to you next on the list is Olela U-shaped 6-seater huge pink couch set on sale.
It is U-shaped and features a combination of pink and golden colors.
It is semi-circular in shape and hosts almost 6 people at a time.
The design focuses a little on the Modern era.
The pink sofa set has loose back pillows and a stable armrest for support.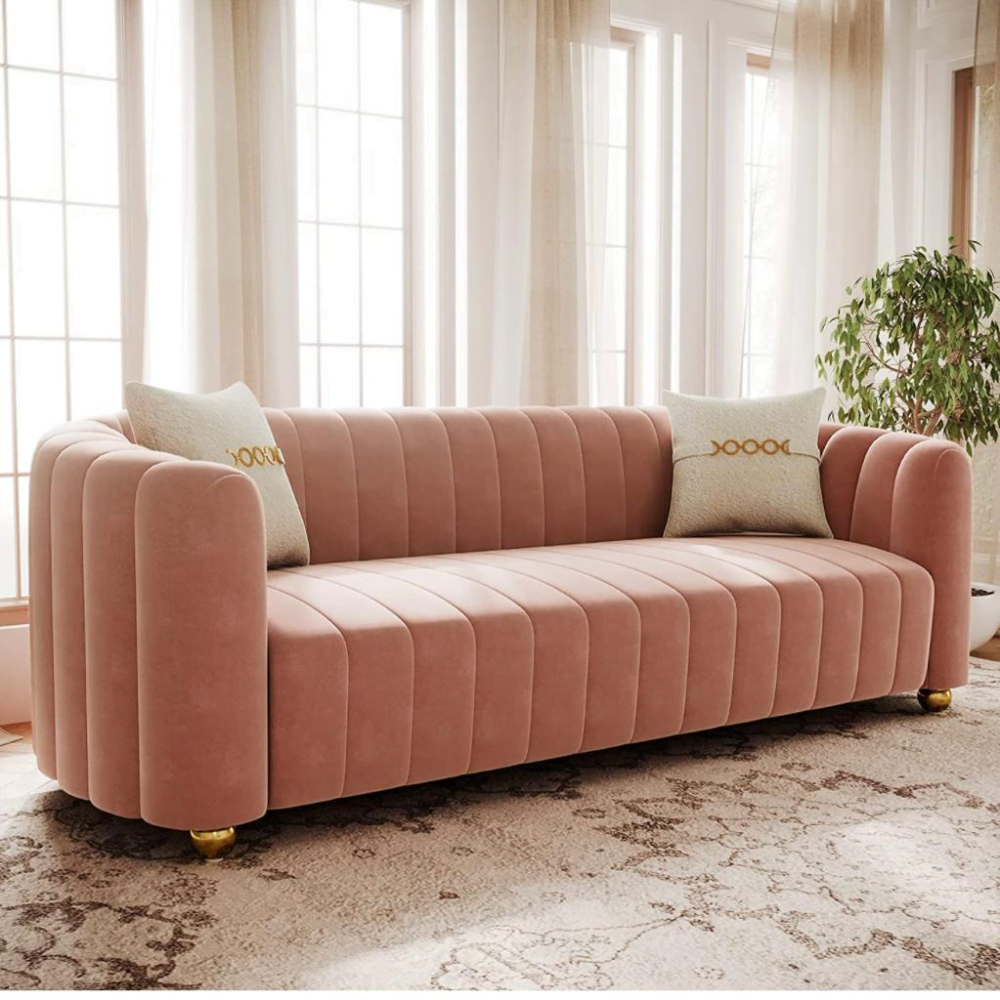 Round sofa sets are popularly in trend because they not only offer a comfortable seating space but also look stylish. This round sofa set is best for people willing to have something unique yet want their room to look spacious.
This >pink sofa set by Yunqishi KEA weighs 50 kgs approx.
The design of the sofa represents a vertical fall that looks unique.
It has golden metal legs and features a shape of a Seattle.
Tufted Pink Couch
A basic designed pink couch set is everywhere, but a sofa set with something different is not easy to get. A button-tufted pink couch is quite a piece if you want to add structure to your living room. Here is a list of all possible pink couch sets for you.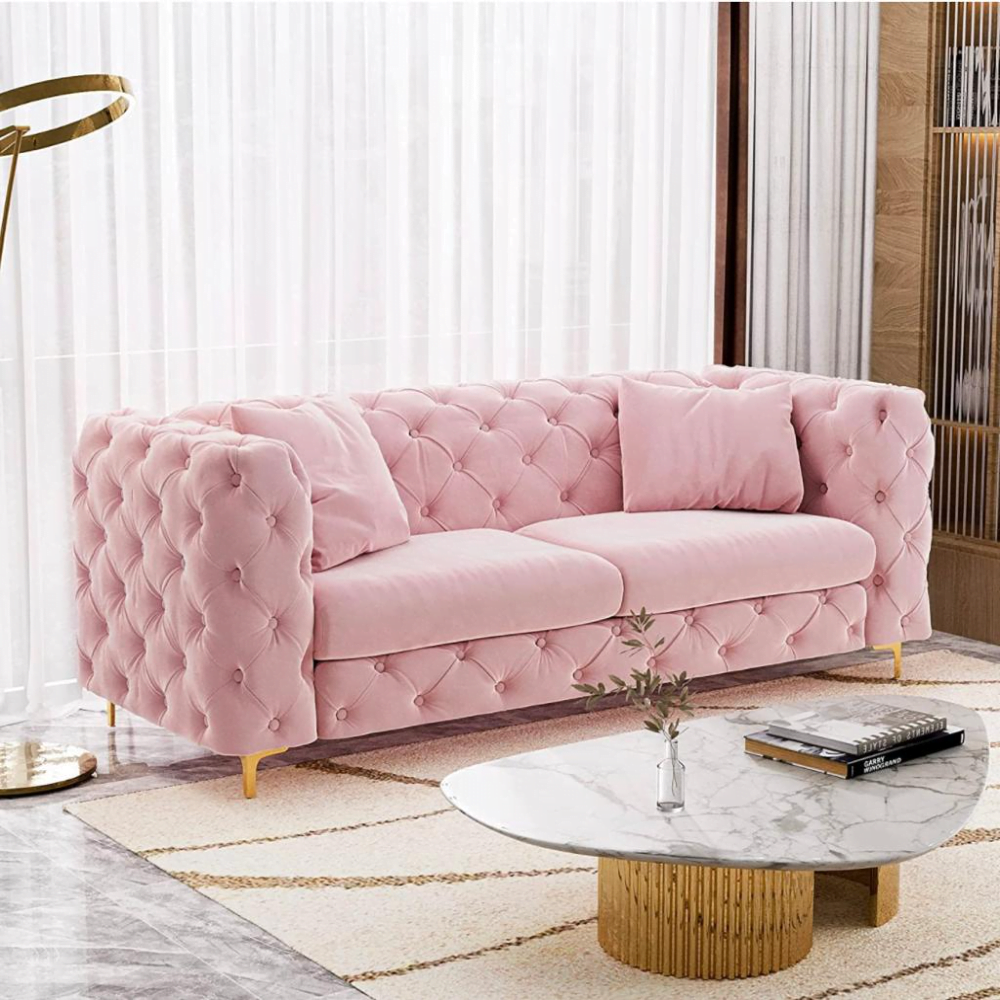 Having a nice pink couch is mostly on everyone's list. Hence, opting for this comfortable, light pink sofa is a great catch.
It is built with a velvet padded seat and golden iron leg that offers you a classy modern look.
It has a button studded design all over it and has built-in high-density cushions.
It is a 3-seater rectangular sofa with a weight capacity of almost 600 pounds.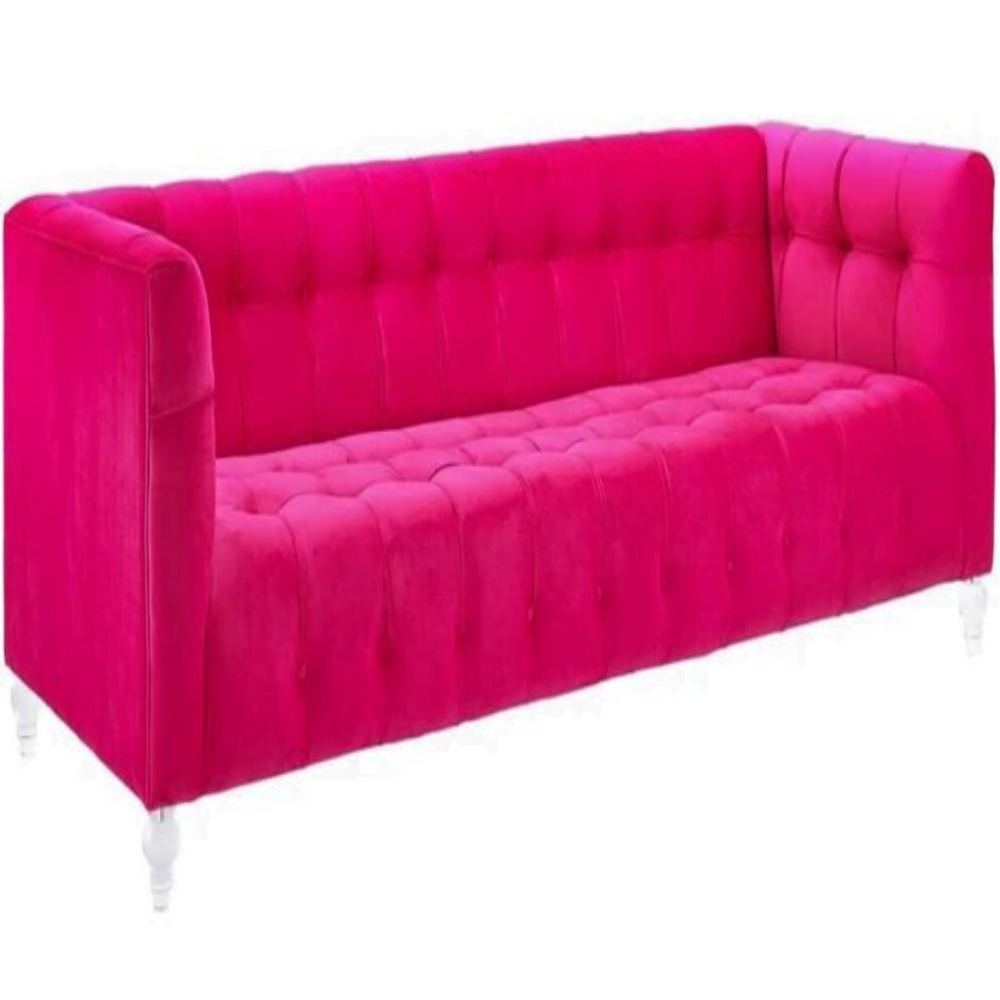 Fluorescent pink is yet another unique color to add to your living room. Buying this Furniture fabric sofa set in Florescent Pink is a great option for you if you like bold and eye-catching colors.
The seaters are made with high-quality foam and velvet fabric.
It is made of a strong Kiln Dried Wood Frame and Sturdy Lucite Legs.
It has a button-tufted design and comes in a rectangular shape.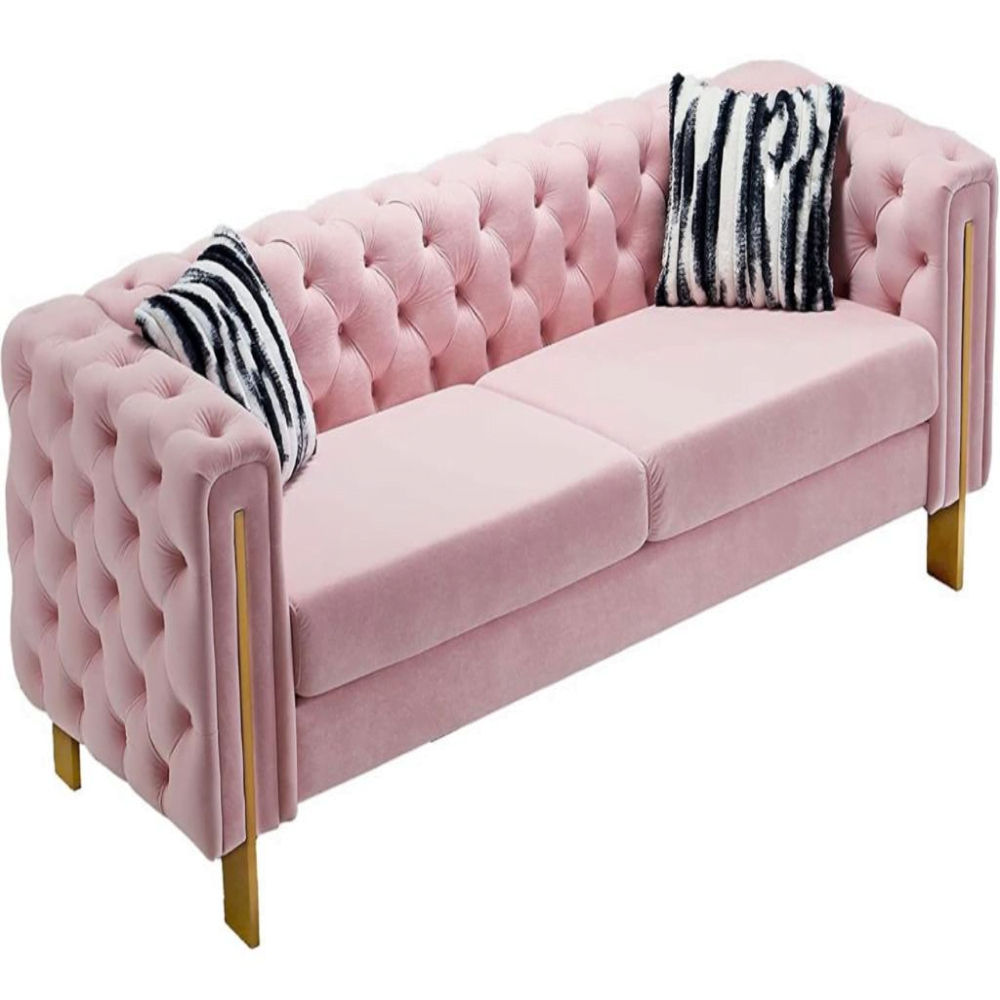 Modern pink sofa is a 3-seater couch adding a contemporary look to your living room. It has a beautiful subtle pink color with a wooden body.
It has a diamond-studded backrest design that adds urbanity to your room.
The sofa set is completely covered with fabric and comfortable foam.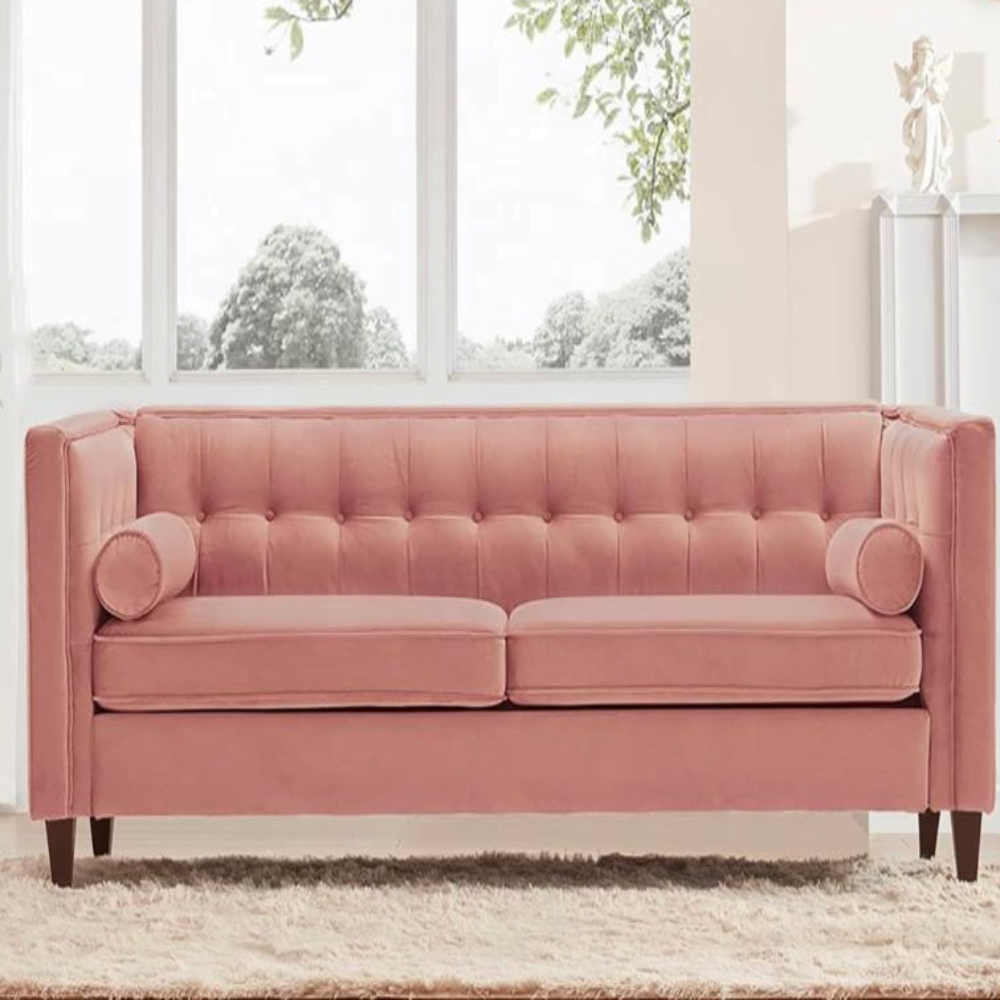 The pink Couch Set is in pastel pink color and is best suited for living rooms. If you are not in a lot of styles and want a simple pink couch set for your living room, then this one's for you.
It is a 2-seater sofa set made with solid wood and cushioned foam padding.
It has a rectangular shape and a tuxedo arm style with a button-tufted back.
The design of the sofa is a comfortable rectangle shape with armrests.
The fabric is 100% velvet and looks stunning.
Ottoman Styled Pink Couch
Ottomans usually add an extra sitting space in their living room. They neither have arms or back but add a little seating space for one. If you want something that adds more space to your living room and comes with an ottoman, then the below list is for you.
8. Legend Vansen Velvet Sofa Sectional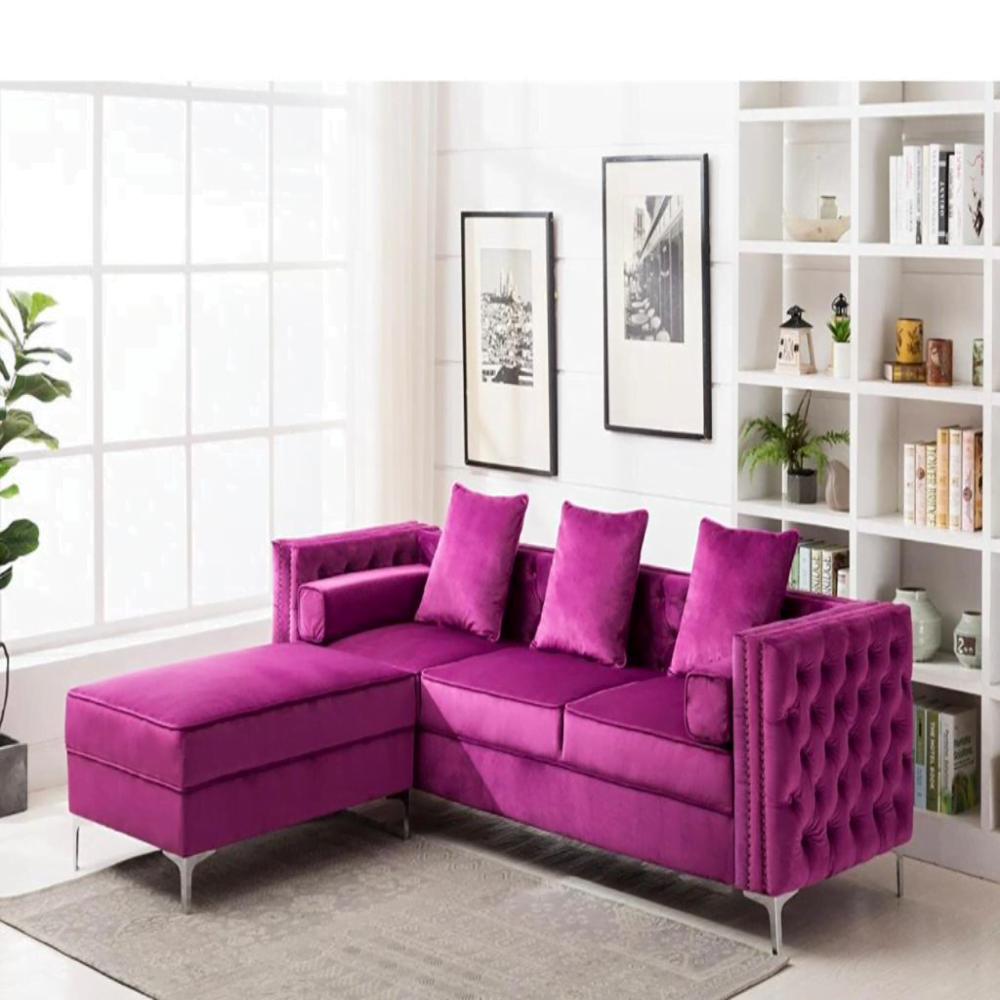 This modern pink sofa set for your living room is L-shaped with 3 square and 2 rectangular pillows.
It is a 3-seater square pink sofa with a solid wooden frame and high-density foam.
The design of the Velvet Sofa is button-tufted and sits perfectly in your living room and office.
It has a dark violet-pink velvet fabric that looks stylish and aesthetic with white European walls.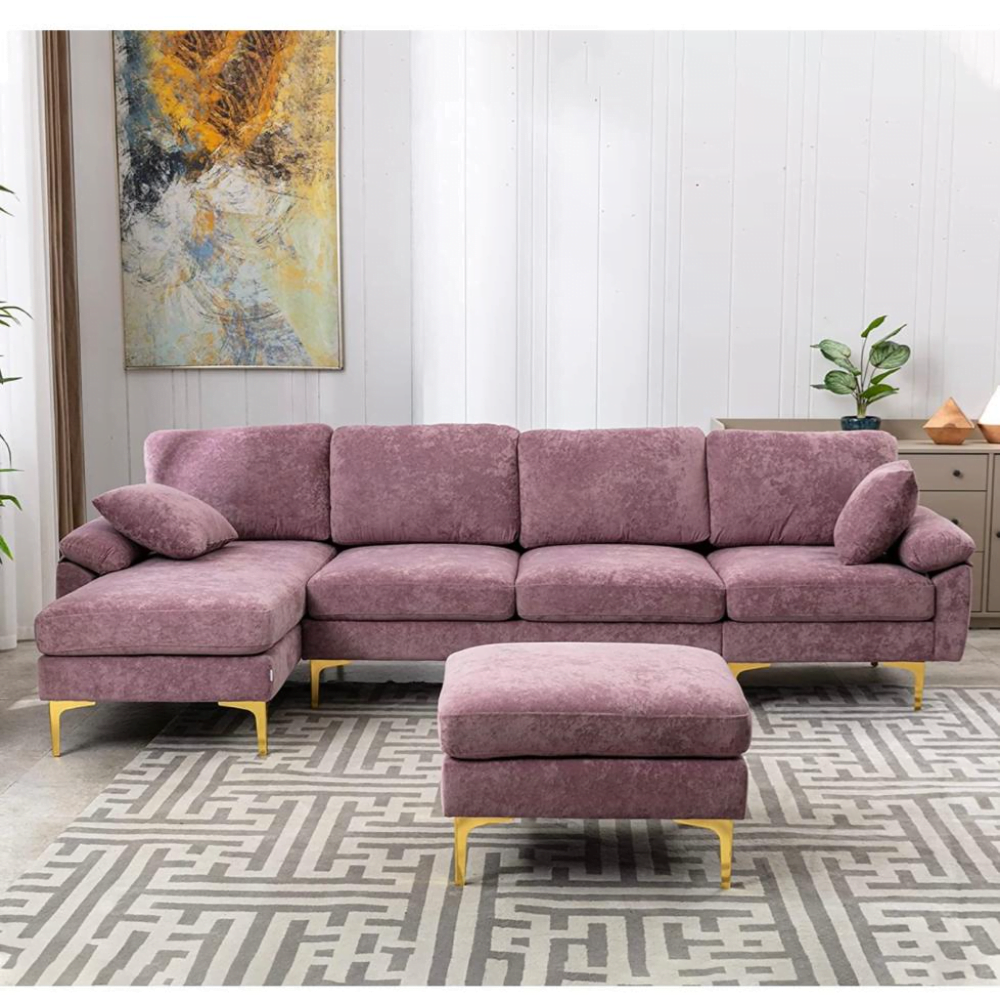 A modern L-shaped pink sofa set is a must-have for your living room. It is a four-seater sofa set with a reversible chaise and ottoman.
Not only an ottoman, but it also contains 2 cushions.
It has natural finish golden legs and velvet finish fabric that makes it quite a charm.
The frame of the pink couch set on sale is made from hardwood.
You can grab Sectional Sofa Couch online as well.
Convertible/ Reversible Pink Couch Set
Are you looking for something that has multiple uses? You can easily convert your sofas in bed and have a reclining back. If yes, then buying a convertible and reclining pink couch is best for you.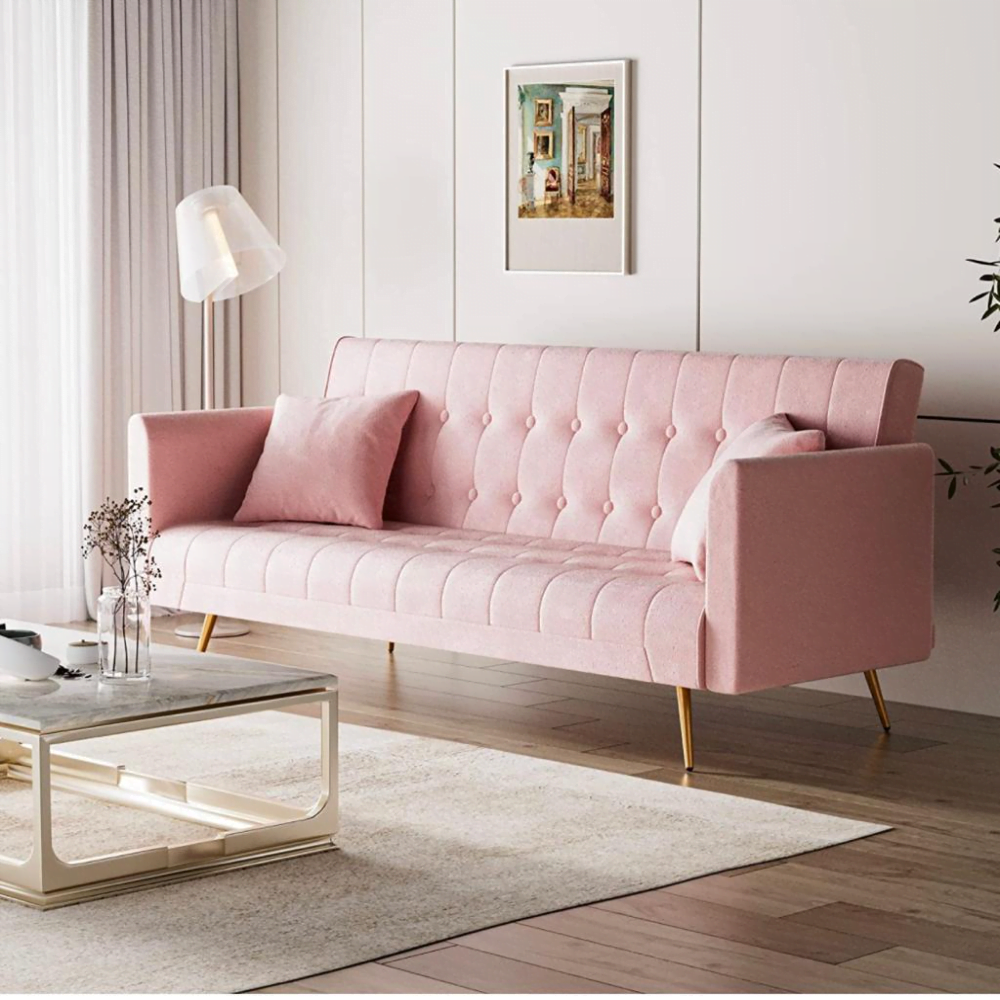 A luxury convertible pink sofa set with a wooden frame is here for you.
The rectangular shape of the couch offers 4 seating capacities.
The pink velvet fabric is in a muted shade and offers complete back support.
The back of the Velvet Futon Sofa Bed is button-tufted and cushioned with a 300-pound capacity.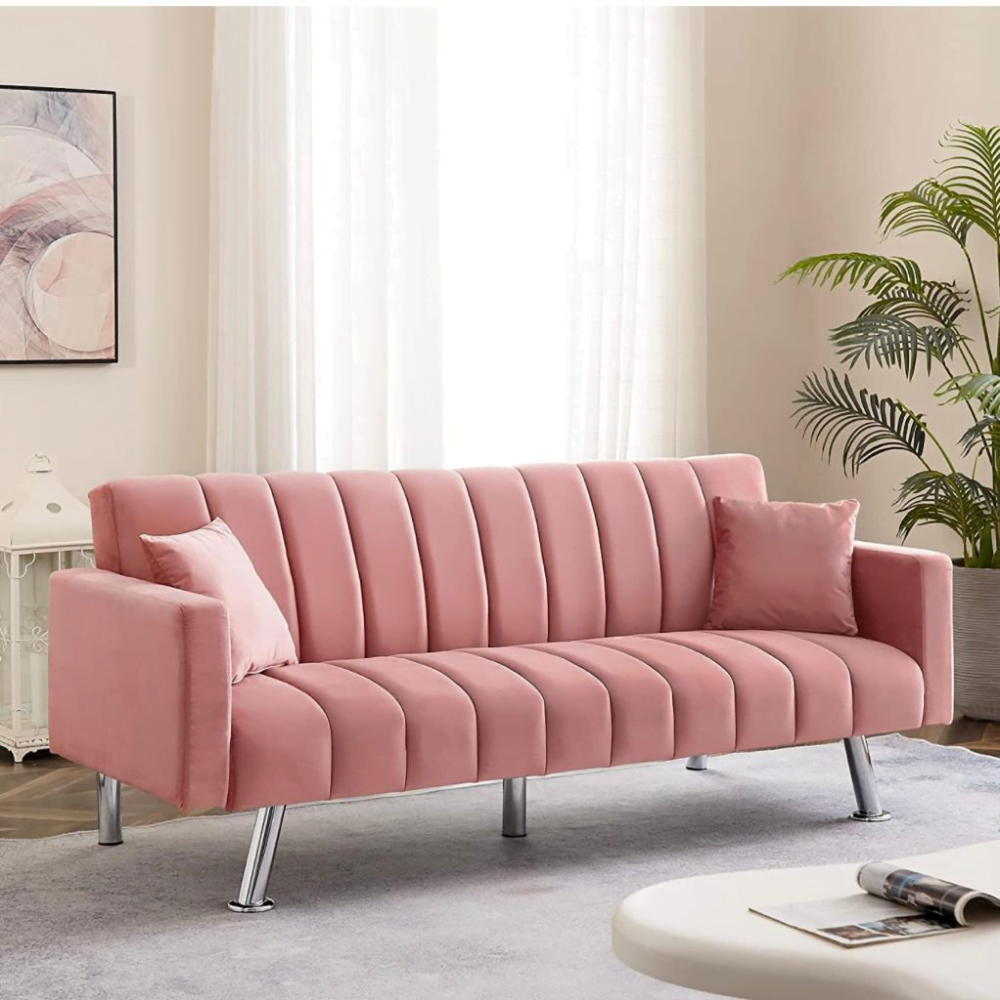 If you are into a neutral palette, then this sofa is a great choice for you. It is made with pink velvet fabric that is scratch resistant.
The sofa has a classic rectangular design and offers a 3-seater capacity.
The sofa has a beautiful piano design with a backrest representing the shape of keys.
It can be converted into 3 styles. You can either use it as a lounge chair, couch, or bed.
The compact design of the pink couch can easily be kept anywhere.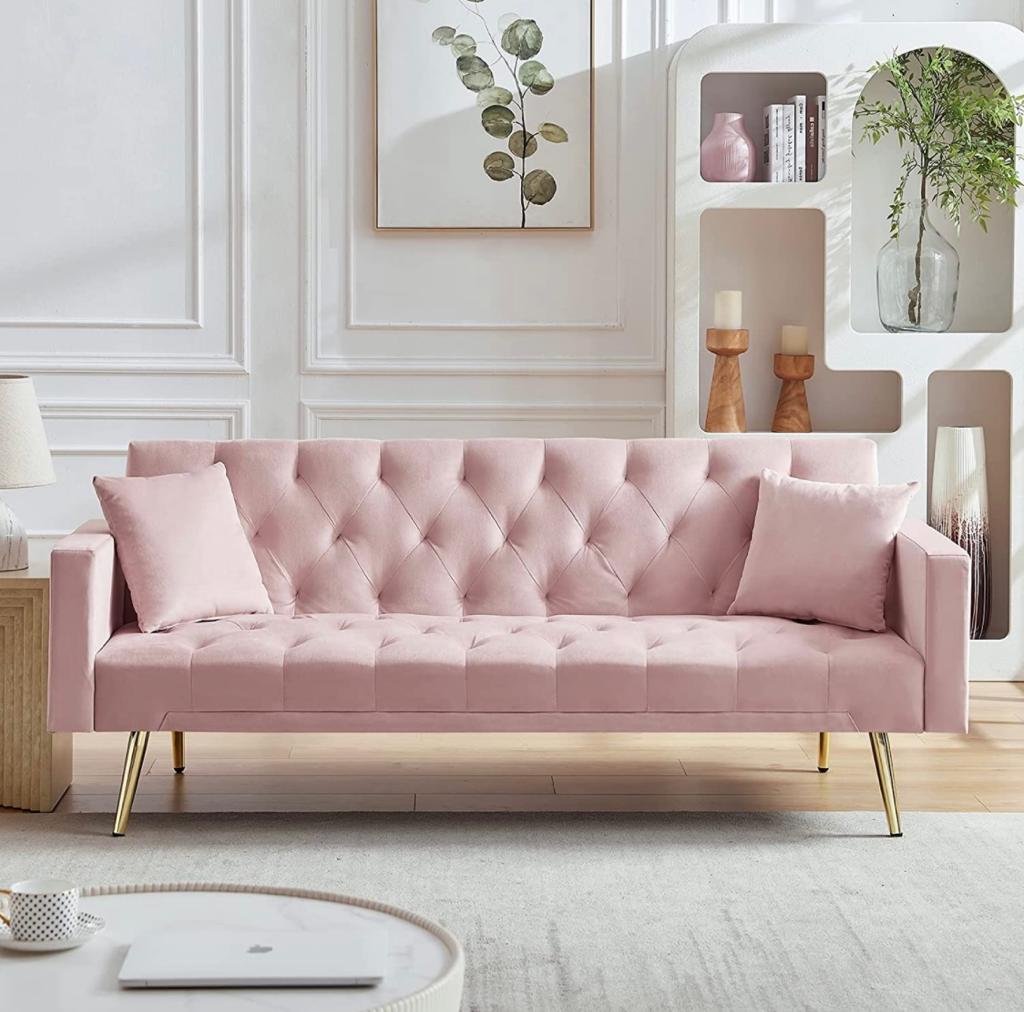 The convertible Futon velvet pink couch set is perfect for your modern living room. The design is super classy, and when paired with complimenting rugs, it can become the center attraction of your home.
It is a light pink button-tufted sofa with golden metal legs.
The pink sofa set is made from premium quality velvet fabric that doesn't fade its color.
The convertible Velvet Futon Sofa Bed has 3 recliner angles that you can adjust as per your need.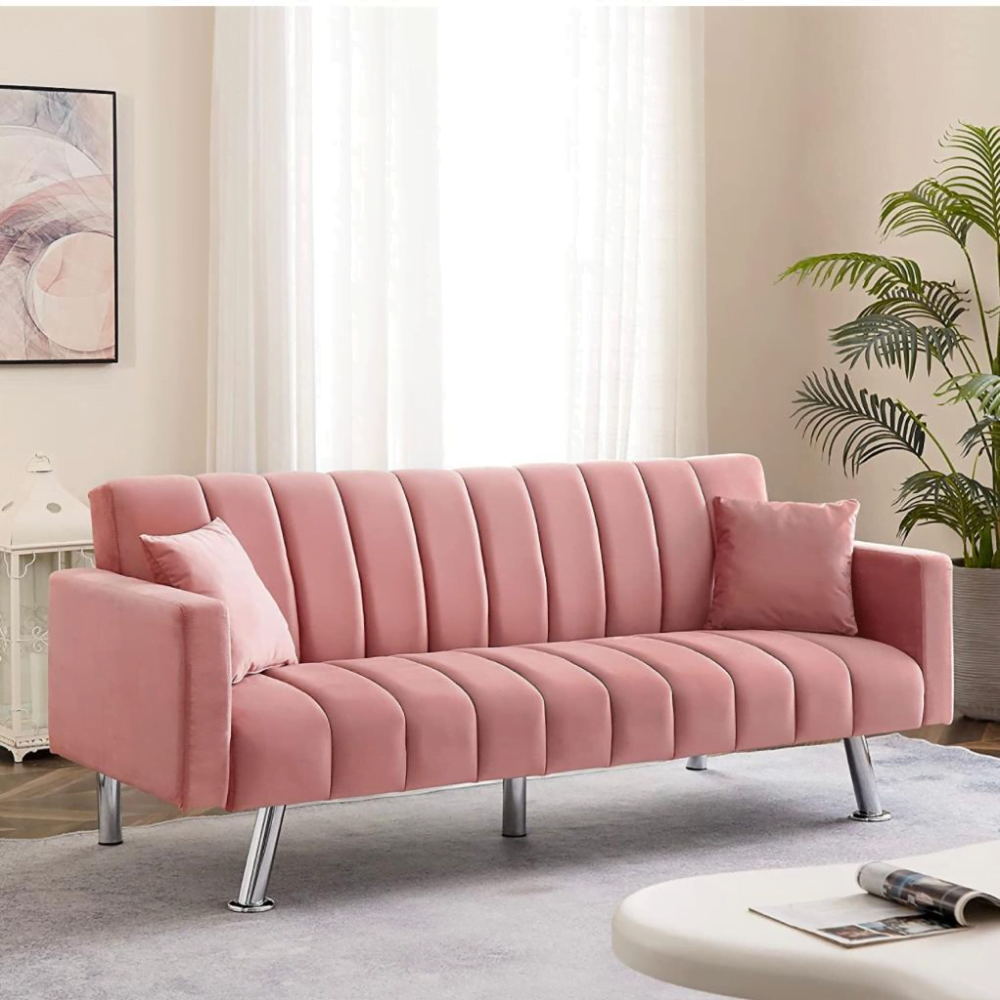 A perfect solution for a small living room, guest room, or bedroom. You can pair this 4-seater subtle pink sofa set with the white and beige room.
It is a convertible pink sofa set that can be converted into a recliner or a bed.
It has an all-over line design that adds texture to your room.
Modern Futon Sofa Bed set includes two movable pillows for extra comfort.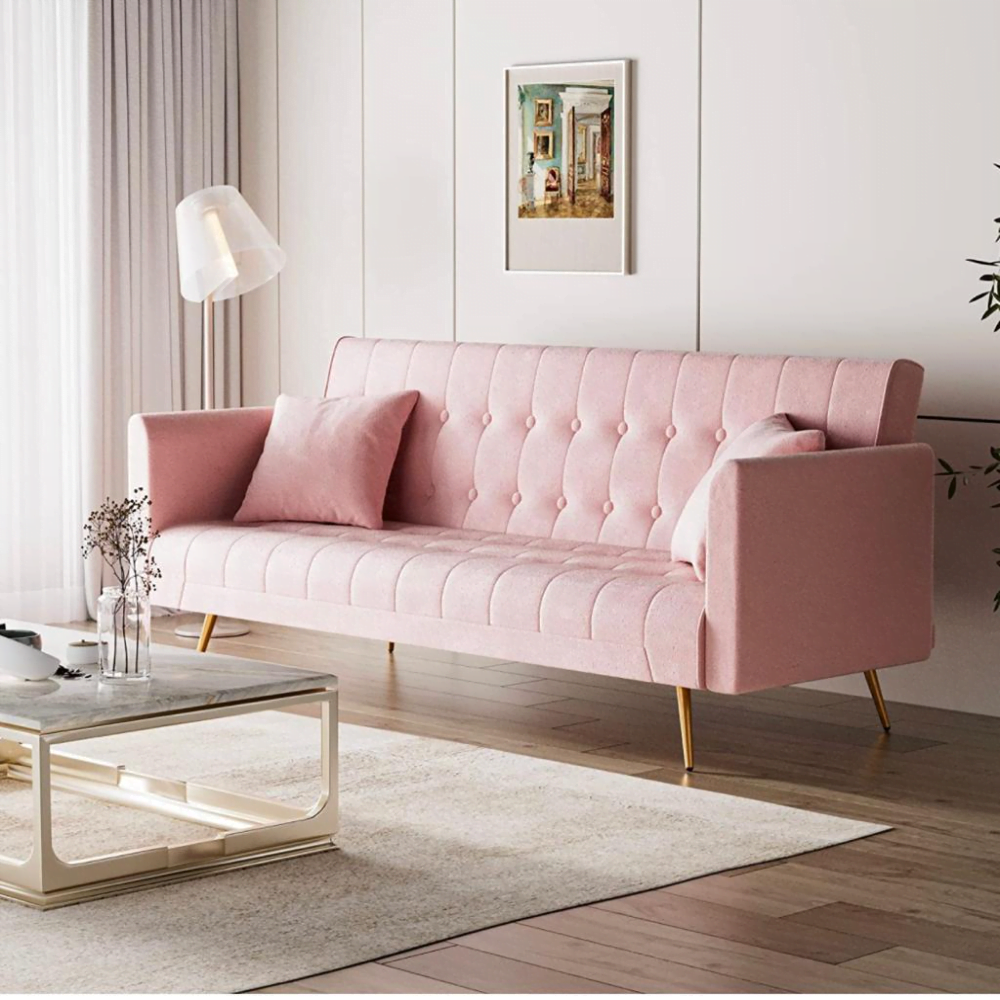 Want something in a plush pink color that looks cute and offers comfort? Buy this plush pink 2-seater convertible sofa set.
It is a round pink sofa set that has a beautiful diamond design.
It has a beautiful pink shade that adds a cute vibe to your room.
The seats are made from breathable velvet fabric and come with 2 pillows.
Velvet Futon Sofa Bed has golden metal legs.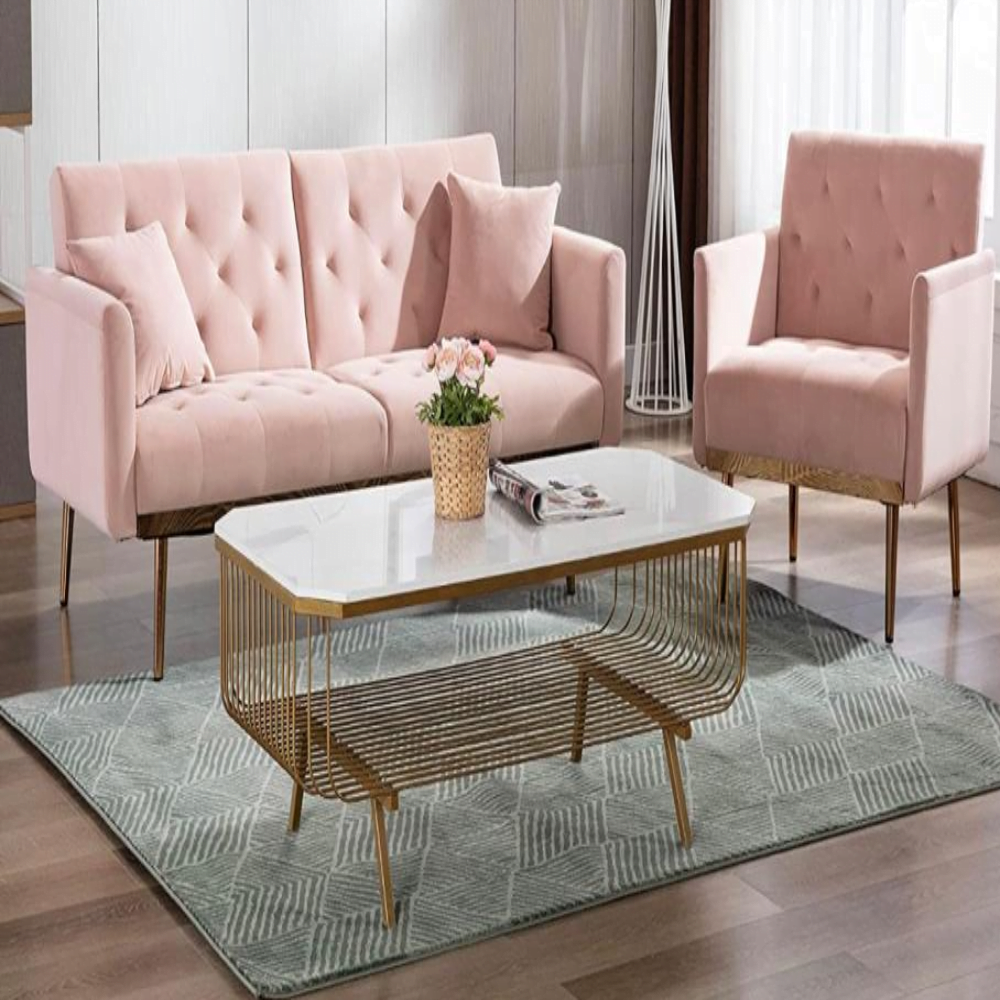 A reclined straight pink couch set can add a vintage and classy look to your living room. Owning this one is a great deal if your vibe is subtle yet classy.
It has a European design and is rectangular shaped.
The fabric of the Loveseat & Single Sofa Chair is light pink-colored velvet that is soft to the skin.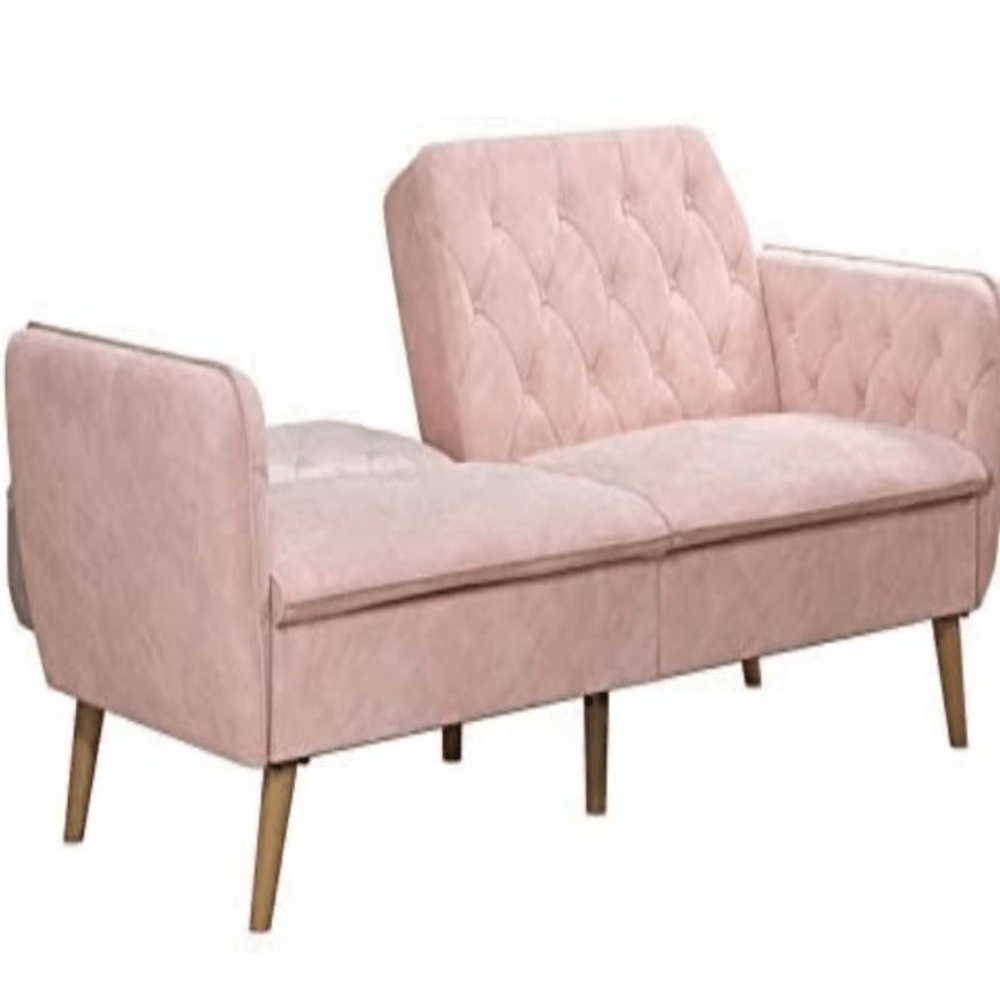 Having a combination of golden legs and the pink fabric is still common. However, if you are more into old brown wooden frames, then this pink couch is a great deal.
It is a pink velvet button-tufted sofa in a rectangular shape.
It has a brown wooden frame and legs that add an ancient yet modern vibe.
The fabric of the Memory Foam Futon is not a usual pink but is a nude pink that is good for people with a subtle taste.
The back can be reclined for a comfortable lounging or sleeping position.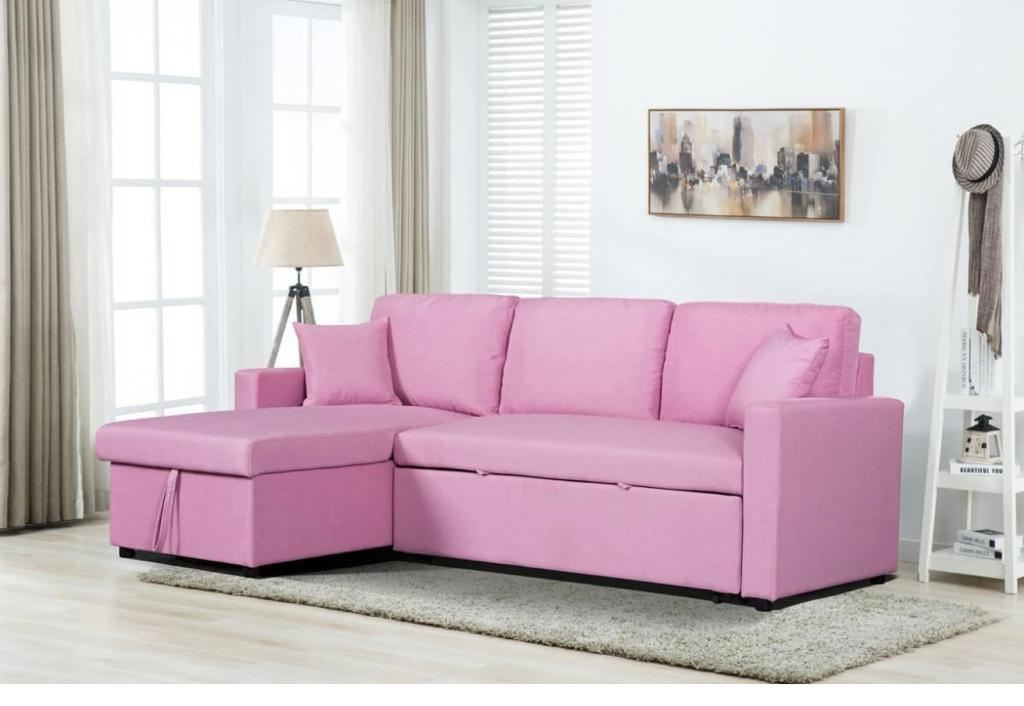 It is a perfect lounging sofa for you and your family if you like to watch TV while lying on the sofa. It is comfortable and soft to give you an experience of style and comfort together.
Reversible Upholstered is an L-shaped modern rectangular pink couch set for the living room.
It is made from pink linen fabric and comes with additional cushions.
Pink Loveseat Sofa Set
Pink Loveseat sofas with unique shapes and designs are quite in trend. They have additional cushions for your comfort and work perfectly for two seating. We present you a list of pink loveseat couch sets.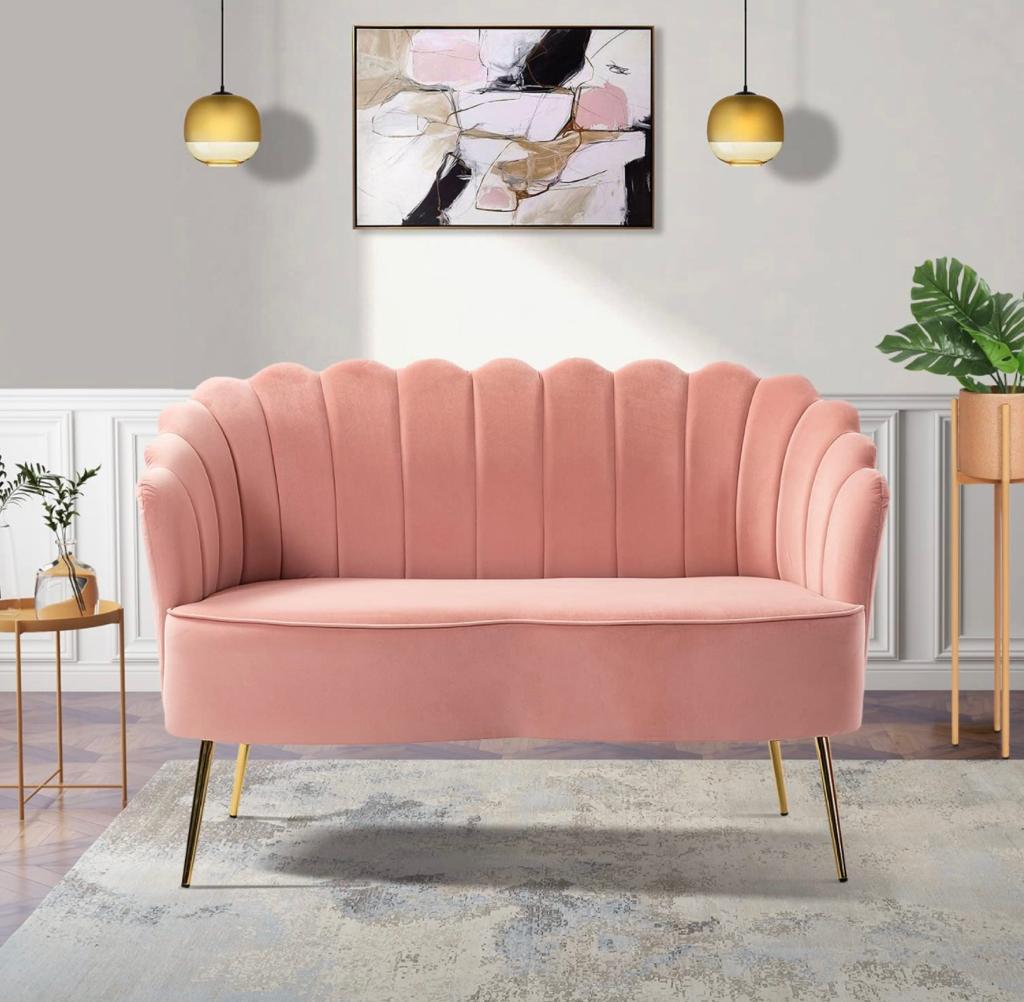 If you are looking for a comfy flower-shaped pink couch set for your living room, then grab this one from Hulala Home. It is a 2-seater sofa set with velvet fabric and a rectangular flared shape.
The arms and legs of the chair are in a beautiful golden color that compliments the fabric well.
Velvet Loveseat Sofa has a 50.2 inches loveseat that gives comfortable seating space.
It can hold up to 400 pounds of weight.
If you are looking for a comfy flower-shaped pink couch set for your living room, then grab this one from Hulala Home. It is a 2-seater sofa set with velvet fabric and a rectangular flared shape.
The arms and legs of the chair are in a beautiful golden color that compliments the fabric well.
Velvet Loveseat Sofa has a 50.2 inches loveseat that gives comfortable seating space.
It can hold up to 400 pounds of weight.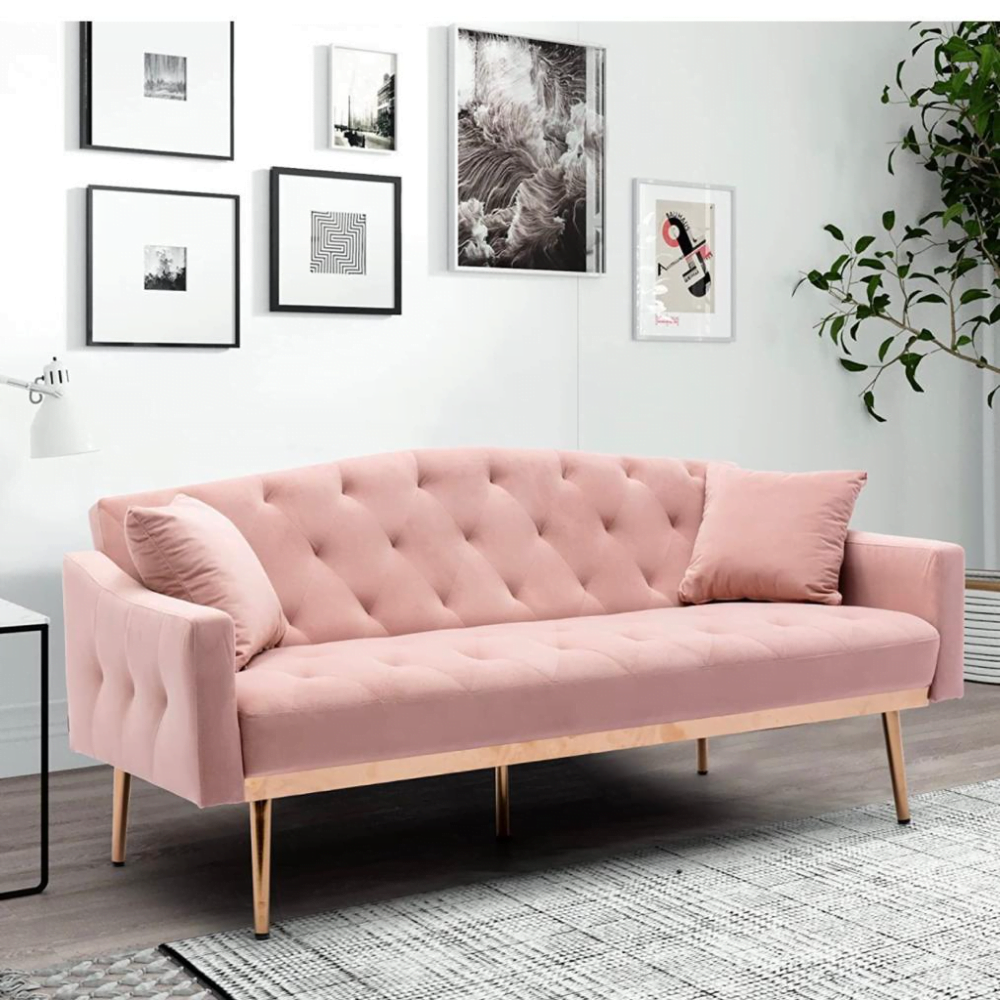 Little tight on budget, but still want something stylish? Don't worry; this Loveseat living room set is perfect for you.
Made with a solid poly-wood structure and comfortable velvet fabric.
Loveseat Sofa Chair has seat cushions that can be replaced or removed if needed.
Suitable for small apartments, offices, and restaurants.
The golden metallic legs are eye-catching as they add the right amount of structure.
20. Life and Upholstered Loveseat
This 4-seater sofa set is available in light pink shade and goes well with modern-style living rooms.
The hardwood frame offers durability, and extra pillows are available for back support.
Life and Upholstered have hand-side pockets to keep small things like books, remotes, and more.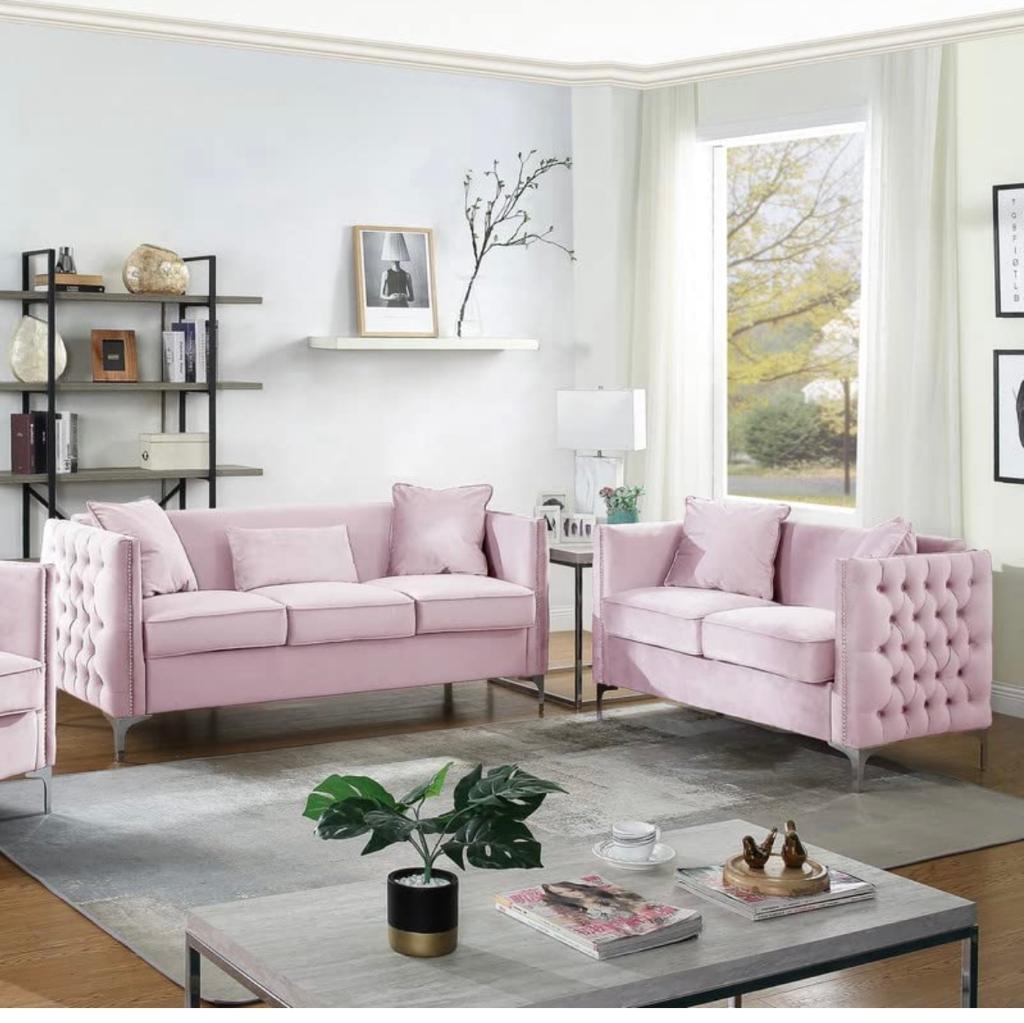 A hand-made nail-trimmed sofa set in light pink color is here for you. It has velvet soft plush seaters. And cushioned back panels.
It has five matching cushions made with high-quality velvet fabric and foam.
Pink Velvet Sofa seaters have silver metal legs and square arms for support.
Things to Keep in Mind Before Buying a Pink Sofa Set for Living Room
Before moving ahead with what works best with a pink sofa, let us look at some important things that one should keep in mind.
Choosing the Right Pink Colour
You might think that pink is just one shade, but my friend, pink as a color is quite versatile. Depending upon your vibe, it is important to pick the right shade and then decorate your room according to that. If you are into subtle colors, then a light pink couch and a nude pink couch will be perfect for you. However, if your choice is quite bold, then mauve pink and blush pink can be your choice of color.
Choose the Right Shape and Size
Couches and Sofas come in various shapes and sizes. A nuclear family would expect something different, whereas a joint family would want something as big as a 9-seater sofa with puffies. Apart from the sizes, sofas have different shapes too. Some are bucket shaped, some are straight-styled, whereas some are round-armed. You can choose the one per your convenience and your requirement.
Cushions to Go with Your Pink Couch
Pink is an all-purpose shade, and many colors go well with it. You can either opt for something as nude as white or beige, or you can simply choose something bright. Certain colors like deep green, sea green, light blue, or yellow complement well. You can also add some texture by adding cushion covers with printed shapes and lines on them.
What Works Best with a Pink Sofa Set for The Living Room?
The living room is the main attraction of your house. Hence, getting it right is essential. The living room represents your overall personality and your vibe, and when you are choosing something like a pink couch, it is important to get the overall aesthetics right. Always go for neutrals if you are choosing a bold pink color like blush pink or Fuschia. Nude walls, blush light walls, or white walls with golden and black/ brown aesthetics complement each other.
If you are choosing a light pink couch set for your living room, then wall colors like green work great. You can also play with a color wheel to find your room style.
Summing It Up
After reading this piece, you might have made up your mind about what you want for your living room and how you want to style it. No matter what your vibe or personality is, you can easily add a pink couch set in your living room. You can easily choose how you want to decorate and add warmth. The best possible way to revamp your room with a pink couch is by adding neutral colors like beige and white. You can also add green plant paintings or abstracts to make it appear more modern and spacious.
Once you choose your piece, style it in your way, it will not only be a chilling space but will surely get you compliments.