Closet doors are a way to add personality and character to your bedroom. Whatever kind of closet arrangement you are choosing, its door defines the feel of the space inside and outside the closet.
There are so many options and ways to design it. From the material you use to color and style, there are no boundaries, and it depends on your taste and the theme you follow for your bedroom design.
Overall, how your closet looks from the outside is equally important to its inside look. If you really want to install a closet door and have no idea how to design it and you are looking for inspiration, here are 18 creative bedroom closet door ideas to upscale the overall look of your bedroom.
We are sharing our favorite creative closet door ideas to add style and functionality to your space, so keep reading.
1. Barn Style Closet Door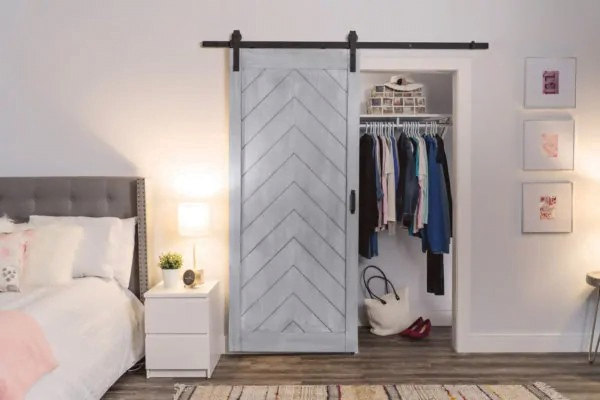 Barn-style doors are quite popular in the interior design industry. These large doors come in single or in pairs which glide on a slide track that hangs on top of the doorway. You also need a large space to install these doors because you need a blank wall adjacent to the door to slide them open. For a natural rustic style or a traditional barn look, use natural wood with iron hardware on it. If you are not going with that aesthetic and you are looking for something modern, skip the traditional iron handles and pick something smooth and shiny.
2. Bi-fold Closet Door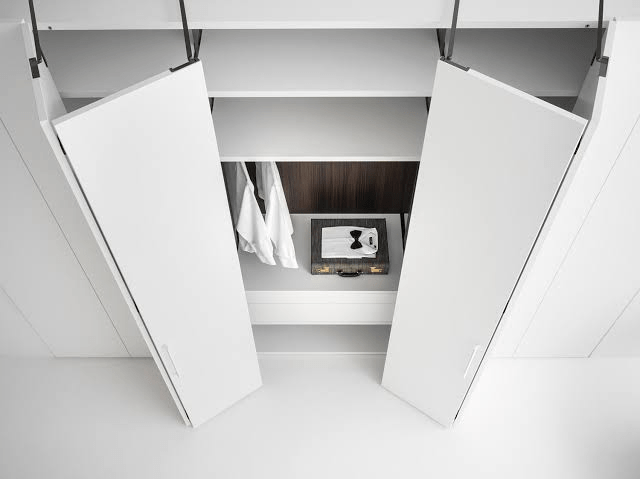 This closet door design includes pairs of panels that move on a track and are all dependent together. One of the panels will have a handle, and when you push them, it will slide on the track, with the door getting folded in the middle. A large closet will have two pairs of folding doors, while a small one will have two pairs. You can paint your bifold door white for a classic look. While picking the hardware for your bifold door, you can choose knobs because they keep things minimalist and are also easy to grab.
3. Sliding Closet Door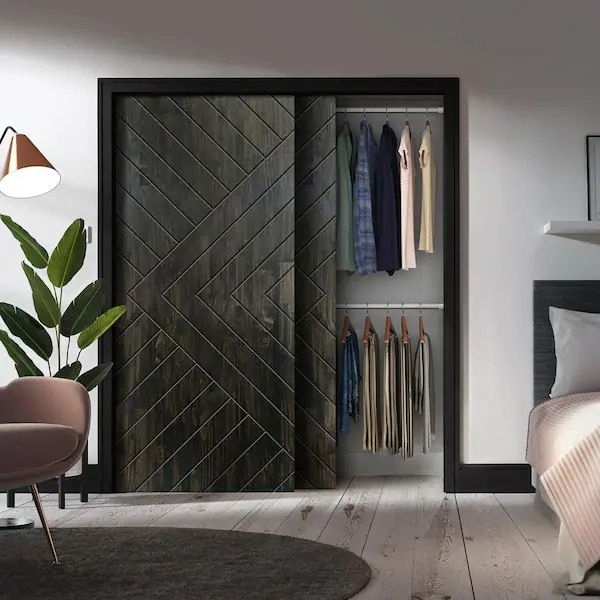 Sliding doors for the closet are preferable when the space is limited. Sliding doors work in two kinds of systems; first, when the door slides into the side pockets, which are made into surrounding walls at the time of installation. Second, if you do not have side walls or space, then the sliding doors will slide in front or back of each other. With this, you will be able to access one side of the closet at any given time. The greatest advantage of installing sliding doors is they do not need any extra floor space in front or on the top for the sliding.
4. Mirrors as Closet Door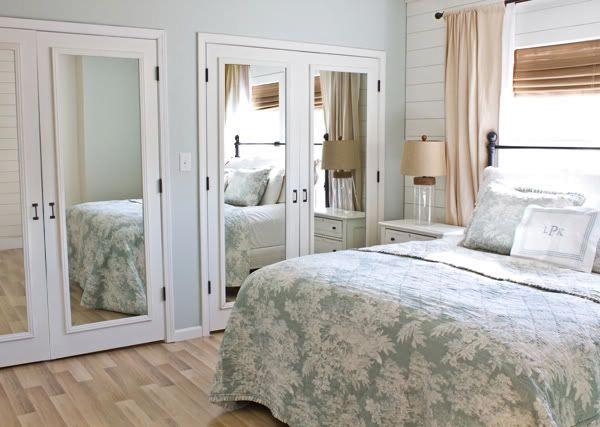 Using mirrors on your closet door is one of the smartest things you can do because you will anyway need a full-length mirror in your room to check your outfit; this can save you some space. Mirrors can be used on any kind of door, sliding or bifold. While you can cover the whole door with a mirror, making a wooden edge around it can give your doors a frame-finished look. Mirror doors work really well in small spaces because they give a sense of elongated space and also keep the place bright by reflecting all the light in the room.
5. Double Doors or French Doors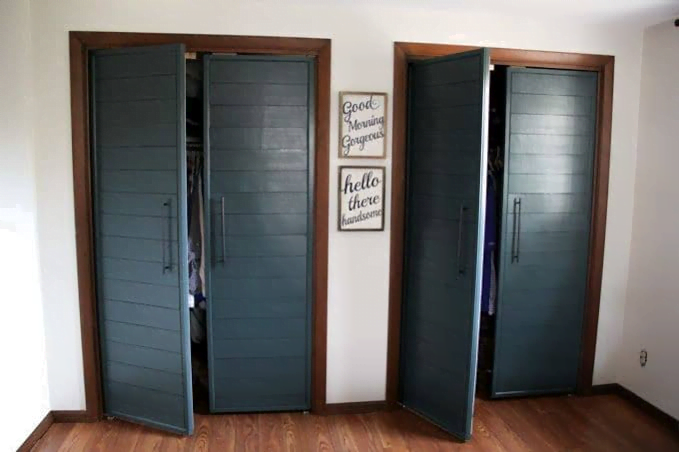 If you have enough leg space in your room, french doors are the best kind of doors you can have to give your closet a larger and more spacious feel. Double doors give you the impression of having more closet space. The doors meet in the center and are attached to the closet with hinges. To open by swinging the doors outward, you will need enough space in front. And if your closet is too large, install two sets of doors with the help of the support beam between them. You will also need handles or pull bars to pull the doors out. French doors work well with both modern and traditionally designed homes.
6. Wooden Closet Door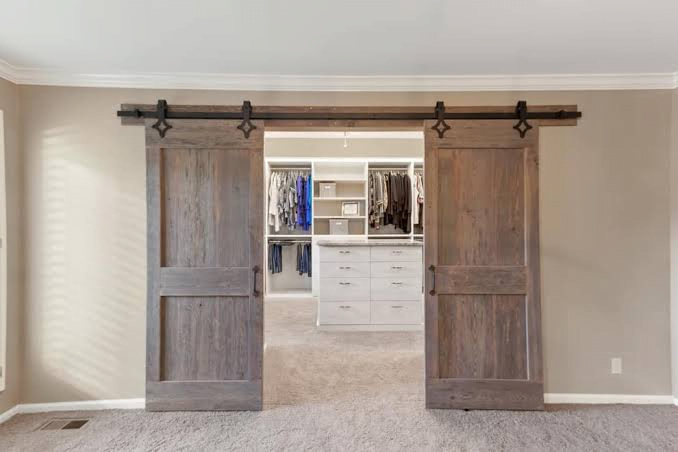 When plain white doors look boring and the color pop does not excite you, wooden grain doors can be the best choice. Natural wood adds a lot of warmth and beauty to your space. Wood can be used to make anything, so you can make any kind of door you wish with wood. But there are a lot of varieties of wood to choose from. Pick something according to the style you are looking to create. You can choose pine or maple wood for a light and subtle look or walnut or mahogany for a dark rich look.
7. Keep It Transparent with Glass Doors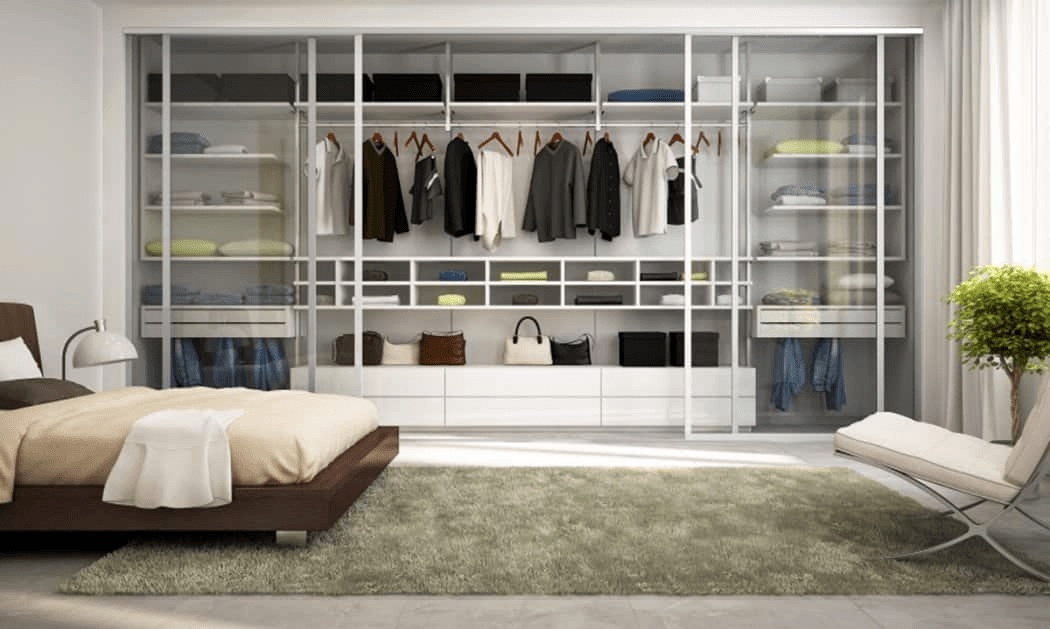 Transparent glass doors look very elegant and make the outward appearance of your closet very attractive. Transparent glass can go with French doors or sliding doors. Make sure to install a frame to support the glass and complete the look. These doors are a perfect suit if you are looking for a modern and minimal look. It puts the inside of the wardrobe on display, so you need to make sure the clothes and shoes are always organized. These doors are also often used to show off bag and shoe collections. If you are someone who keeps it messy, we are sorry, but these are not for you.
8. Louvered Doors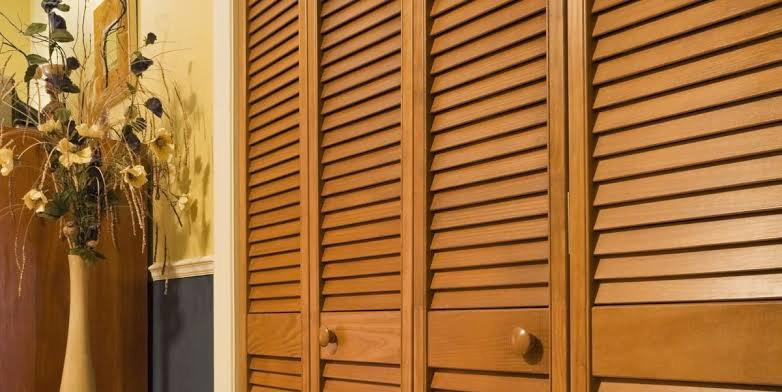 Louvered doors for closets are classic and have been used for years as closet door designs. These doors add a texture to your room and also provide ventilation throughout the closet, all while keeping your belongings concealed. Louvered doors can be easily recognized by their horizontal slats on the door, which look like a shutter. The panels, which are called louvers, are arranged in a manner that does not allow a horizontal view through them. They are widely used in bi-fold doors and even for small and narrow single doors. Louvered doors look timeless, though you can add custom handles to make it look modern.
9. Pop-Colored Closet Doors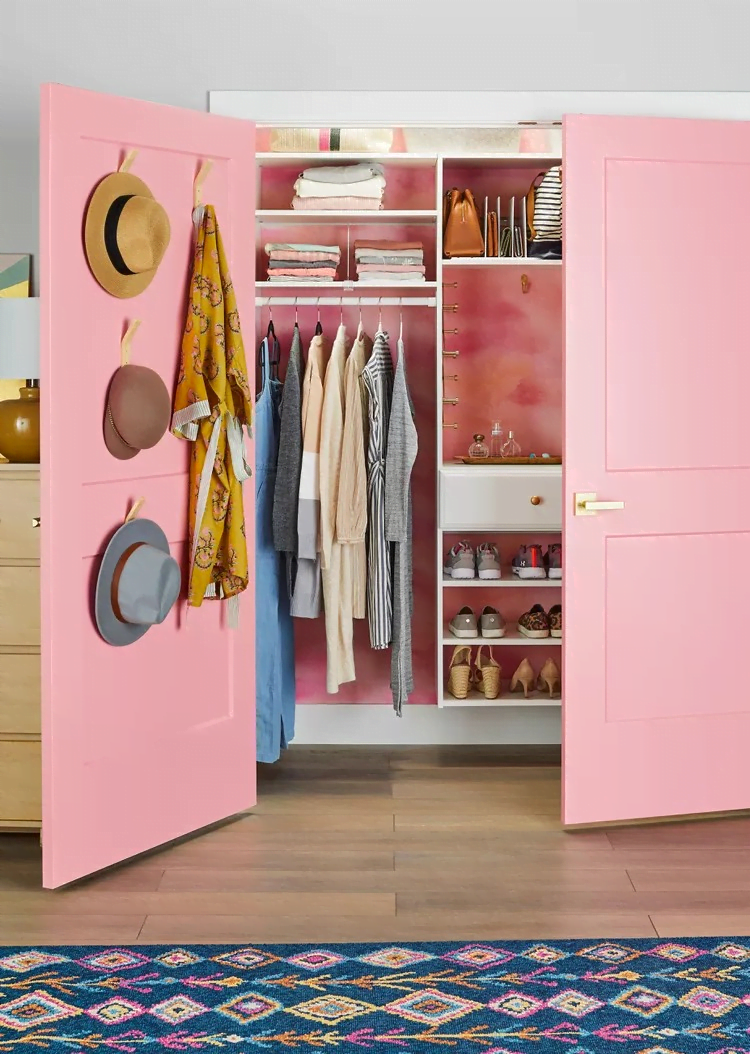 Paint your door in some bright, attractive color to make your door pop out from an otherwise neutrally painted room. The color is meant to grab all the attention and work as a focal point. It brings a happy vibe to your space with its playful colors. You can paint them in fancy pink or bright yellow to make a bold statement or go with teal or dark brown to stay on the classier side. If you are bored of your old neutral painted door, give them a makeover by painting them in your favorite color to add zing to your bedroom.
10. Cane Closet Doors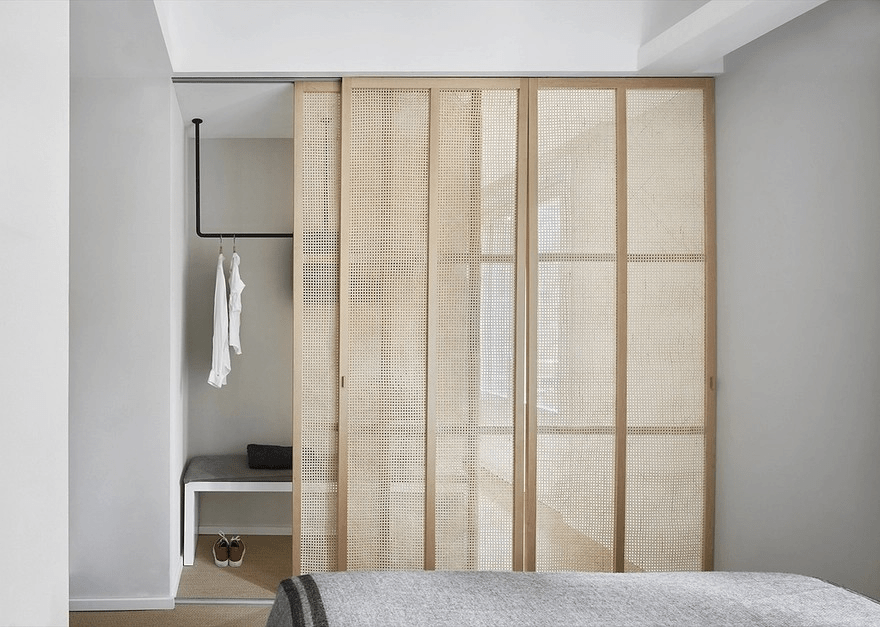 Cane has been quite popular in furniture for a long time ago. Cane furniture is made of webs that are weaved together to make cane furniture sheets. These webs are fitted on wooden frameworks to make doors. They are pretty low maintenance and are also a sustainable choice for making closet doors. There are a lot of people who make these doors by themselves. So, if you are a DIY kind of person, cane closet doorsare for you. Cane brings in a very vintage vibe, and it makes a space feel fresh and light with its natural texture.
11. The Blended-In Door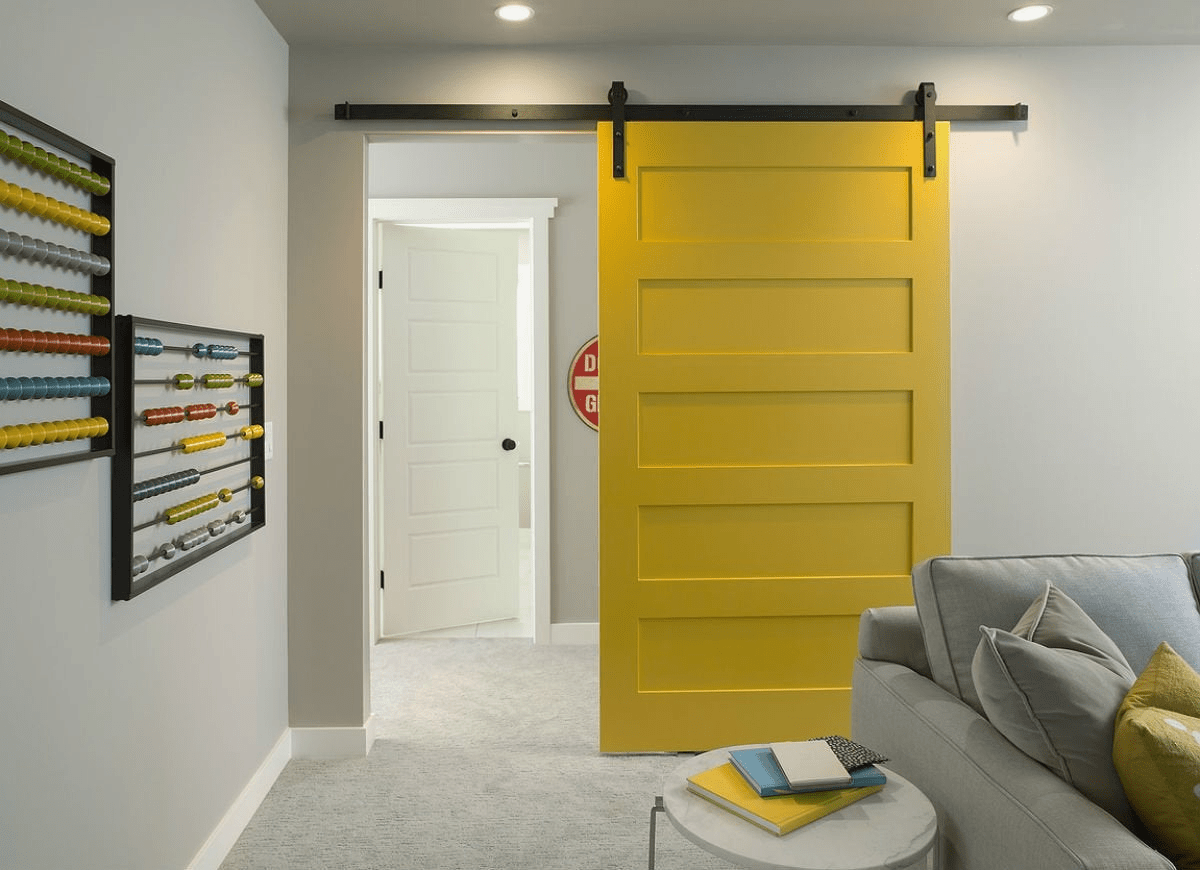 We are talking about the kind of doors that you do not even notice, the doors that start and end without asking for any special attention. The doors blend in well with the surroundings seamlessly. It can be done when you follow the same theme on walls and doors. For example, if you cover your wall with wooden panels and use the same wood and design for the door, no one will know which one is the door among all. Follow this style when you do not want too much going on in your room or any visual interruption. This style is very much in trend these days and is widely used in luxurious homes for a modern, sleek, and minimal look.
12. Use Curtains Instead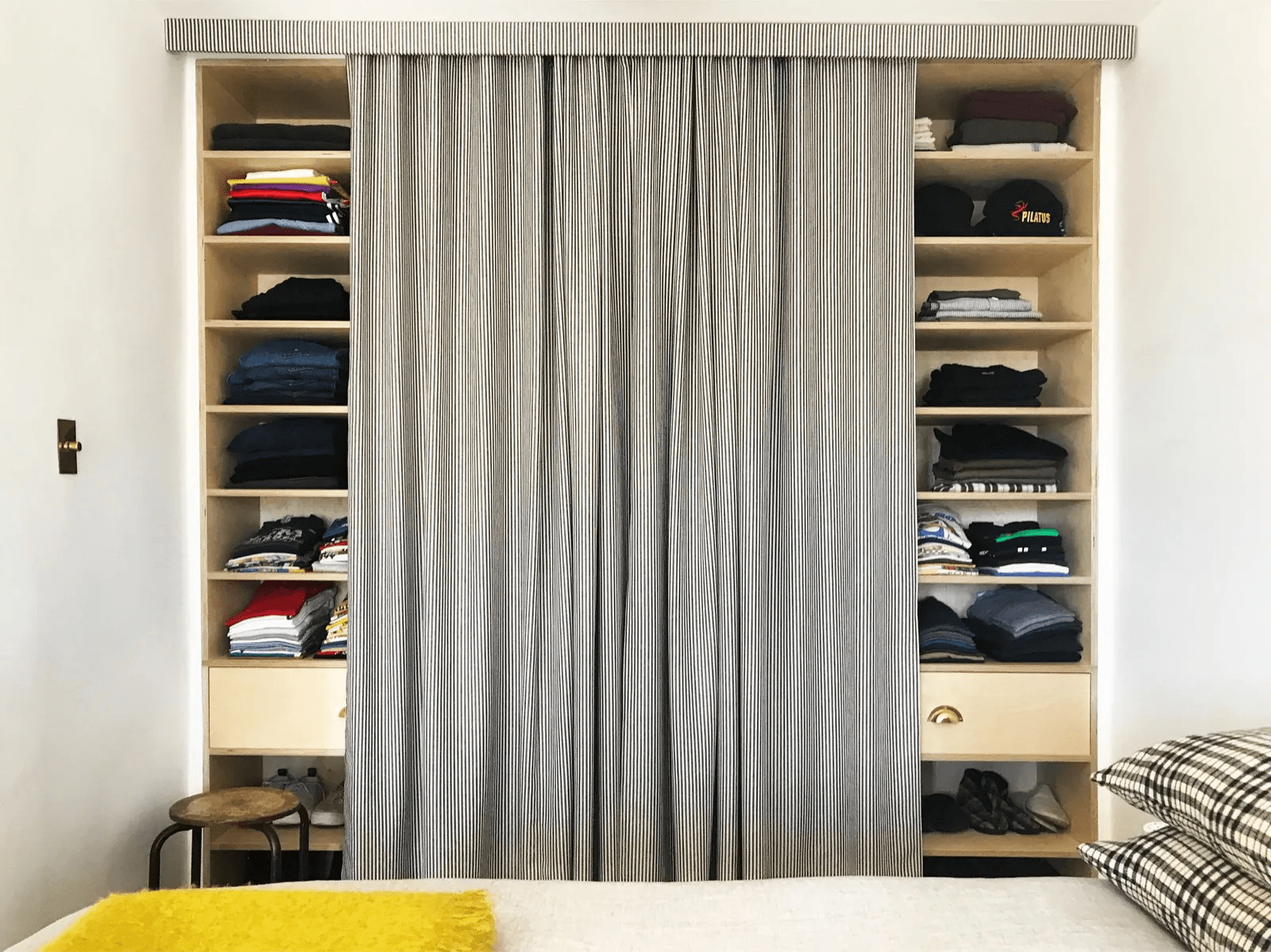 Using curtains over your closet is a simple alternative to doors. They are not only super easy to install but also consume very less space. You just need to fix a single rod to hang curtains, and they can be changed easily if you need a decor update. There are countless ways in which you can design your closet curtains. Match them with your room design and style; whether your taste is bold or subtle, there are numerous color shades and designs for every kind of look. Lastly, you are going to open and close these curtains a lot to make sure to use a study rod.
13. Accordion Closet Door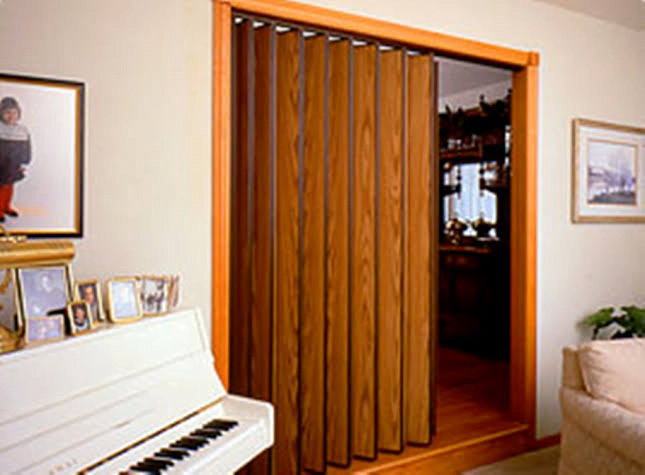 Accordion doors are multifold doors that are usually light in weight. They are made from multiple hinged panels, which are not that wide. They slide on the track when pushed from one side, which resembles the bellow of an accordion and hence the name. They take up much less space than bifold or hinged doors because of their narrow panels, making them ideal for a small closet. Accordion doors or folding doors are not attached to the wall with hinges. Instead, they move on a track with rollers, which makes the opening and closing of the door really smooth.
14. Wallpaper On The Door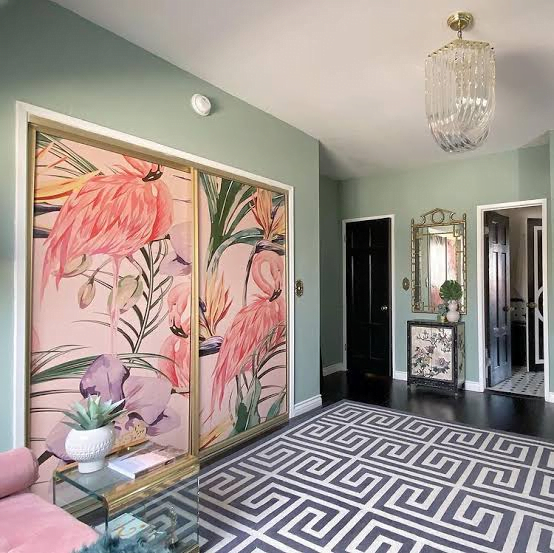 If you want to add some color and pattern to your bedroom but do not want to cover the full wall with it, you can cover your closet door with wallpaper. Adding wallpapers on doors is a low-cost solution and an easy task. With peel-and-stick wallpapers, you can do it in no time without creating a mess. The best thing about using wallpapers is you can take them off anytime or replace them with new ones without much thinking. There are so many options and themes available, from geometrical patterns to coastal leaves design; there is a huge variety for each taste and theme.
15. Pivot Closet Doors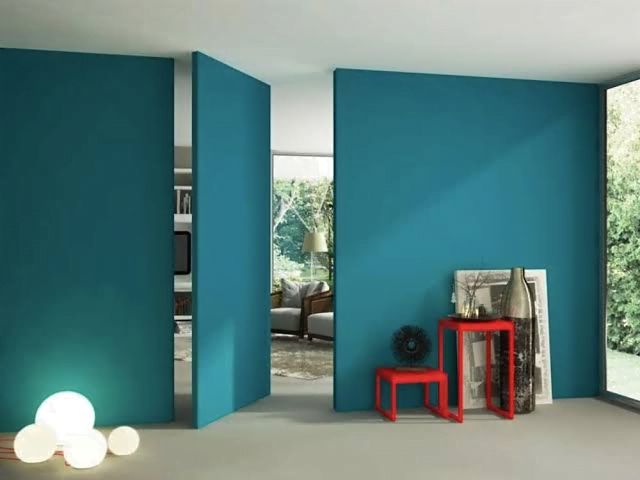 A pivot door is a large door that has vertically aligned hinges attached to the top and bottom of the door. The hinges are attached away from the door edges, which allows vertical weight transfer instead of horizontal weight transfer. They are unique and look extremely luxurious. You can install a single large door for your closet, but it will take up a lot of space. In case you do not have that much space, you can use two doors. Pivot doors are meant to make a statement, and the way they operate is fascinating.
16. Chalkboard Closet Door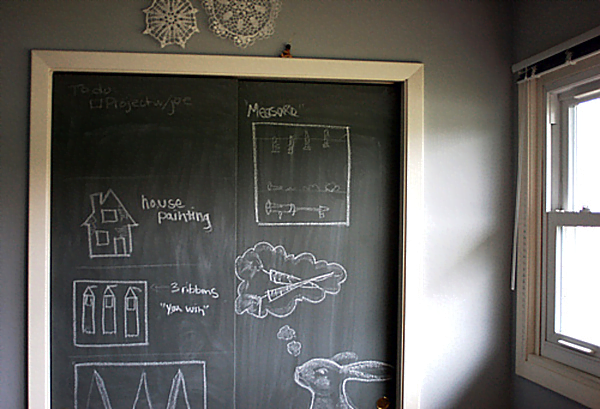 Paint the closest room in your child's room with chalkboard paint and turn it into an open canvas for your kids. And this is probably the coolest thing to do as parents. Chalkboards call for a lot of creativity and fun to flow in your kid's room. They can be drawn on over and over again, so they won't get easily bored of it and will be loved for years. The kids can draw on it, solve their math problems, or use them to make lists when they get older. You can even makeover the old sliding doors into a giant chalkboard by painting them.
17. A Rotating Door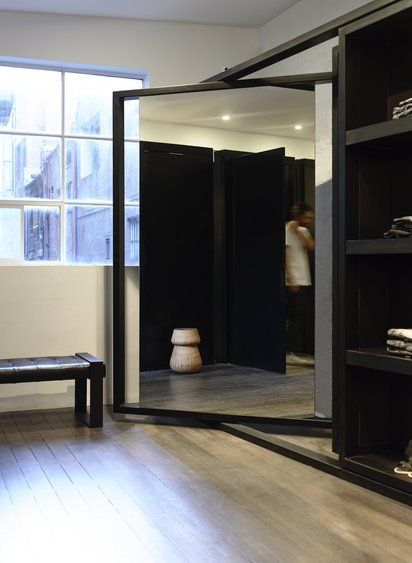 This may sound quite fancy to you, but if you have the luxury of a big space, a rotating door for a walk-in closet is a great choice. You can get creative with wood, paints, or wallpapers on one side of the door and cover the other side with a full-size mirror. A full rotatable door enables you to switch the theme of your room between two very quickly to deliver the best of both worlds. Also, a full-sizzled mirror is always welcomed in a room in your closet. A rotating door adds versatility to your space; you can never get bored of these.
18. Privacy Screen as Closet Door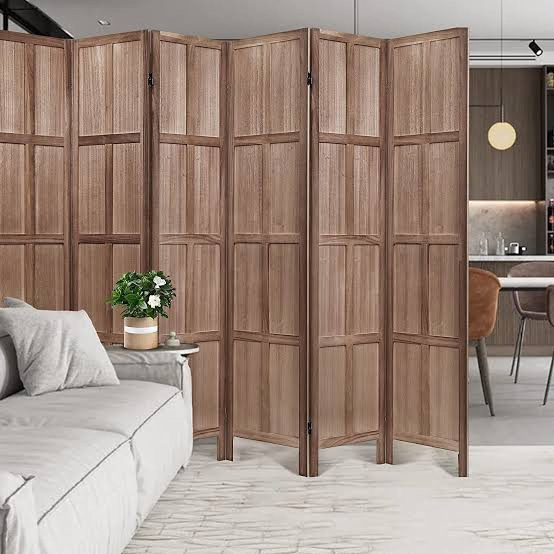 What about privacy screens as closet doors? Why not! They are easy to move and handle and do the job of concealing your belongings pretty well; you need to place them in front of your closet. Privacy screens are mess-free, no installation needed and no screws and drills. And the best thing is you can pick it up, fold it in, and place it anywhere in the house easily, which makes investing in a privacy screen a smart idea. You can also use a privacy screen to conceal your clothing racks or an open wardrobe when they are too messy, and your guests are coming over.
Summing It Up
All in all, installing closet doors is a fun process. But make sure you choose the right type according to the space available in your bedroom, the width and length of your closet, and the mood or theme you want to create in your bedroom. The options are limitless and depend more on your creativity and style.
Closet Doors are an important part of your bedroom furniture, and there are numerous modern and traditional ways to make it look perfect for your space. You can also remodel your old closet doors by giving them a new look. These Creative bedroom closet door ideas will help you to choose the right kind. Many of these are very easy to install and are also pretty low on maintenance.
So let's get creative and playful while designing a perfect bedroom closet door!