Sherwin Williams is inarguably one of the most renowned names in the segment of paint and coatings. It has consistently impressed home and business owners around the world with its artistically magical range of products.
Over the years, paints by Sherwin Williams have helped people give their buildings and offices a serene touch. However, amidst all the vibrant and captivating color options, one shade that has earned huge popularity more than any other is Evergreen Fog, your 'Colour of the Year for 2022!' This graceful hue has perfectly held the essence of tranquility besides offering a rejuvenating touch to your premises. 
Evergreen Fog is a fascinating composure of gentle green and breezing blue undertones with a greyish touch, resulting in a perfect soothing outlook wherever it is applied.
In this segment, we will be diving deep into the versatility of Sherwin Williams Evergreen Fog with its review, the magnitude of its impact on different lighting conditions, and its overall compatibility with the other shades.
Sherwin Williams Evergreen Fog
Paint is essentially a powerful tool and a super fun way to rejuvenate your home. Paint does not just helps in establishing a positive note; it is also a parameter responsible for creating a long-lasting impression. When it comes to Sherwin Williams, Evergreen Fog arguably has been one of the best presentations by the company in the paint segment ever.
The composure and tranquility it presents have an immense depth that works well for giving your living room an elegant touch helping to create a moodier space. However, an important role is played by the color it is being paired with. The best part about this hue is that it works as a neutral color, although it can show more inclination towards blue or green based on the lighting.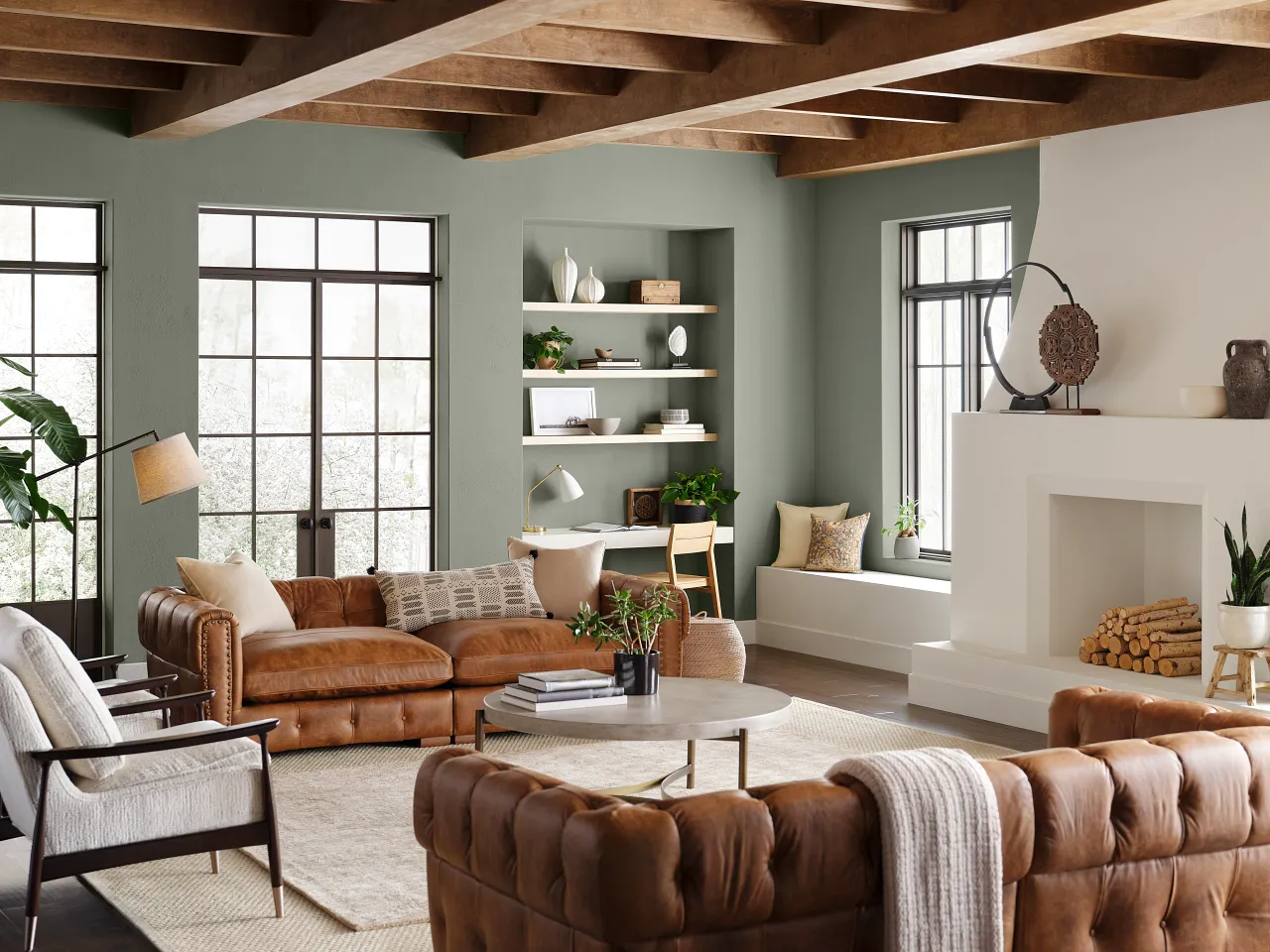 Evergreen Fog comes with an LRV (Light Reflectance Value) of 30, which implies that it will reflect its original shade in almost all kinds of environments and will remain perfectly on the spot in shade or sun. Its property of changing appearance to too dark or light depending upon the light availability throughout the day has earned 'Evergreen Fog' the title of being a 'Chameleon Colour.'
Applications for Evergreen Fog
The hue's application makes it one of the prime options for homeowners who wish to have a little nontraditional touch for their homes. It makes a perfect choice for your home's accent when well complemented with different colors, including white.
However, the room's color will entirely be based on the kind of color that has been used in the space all around. As in the case shown below, had the walls been painted with colors of lower LRV, they wouldn't have resembled as brighter as it looks.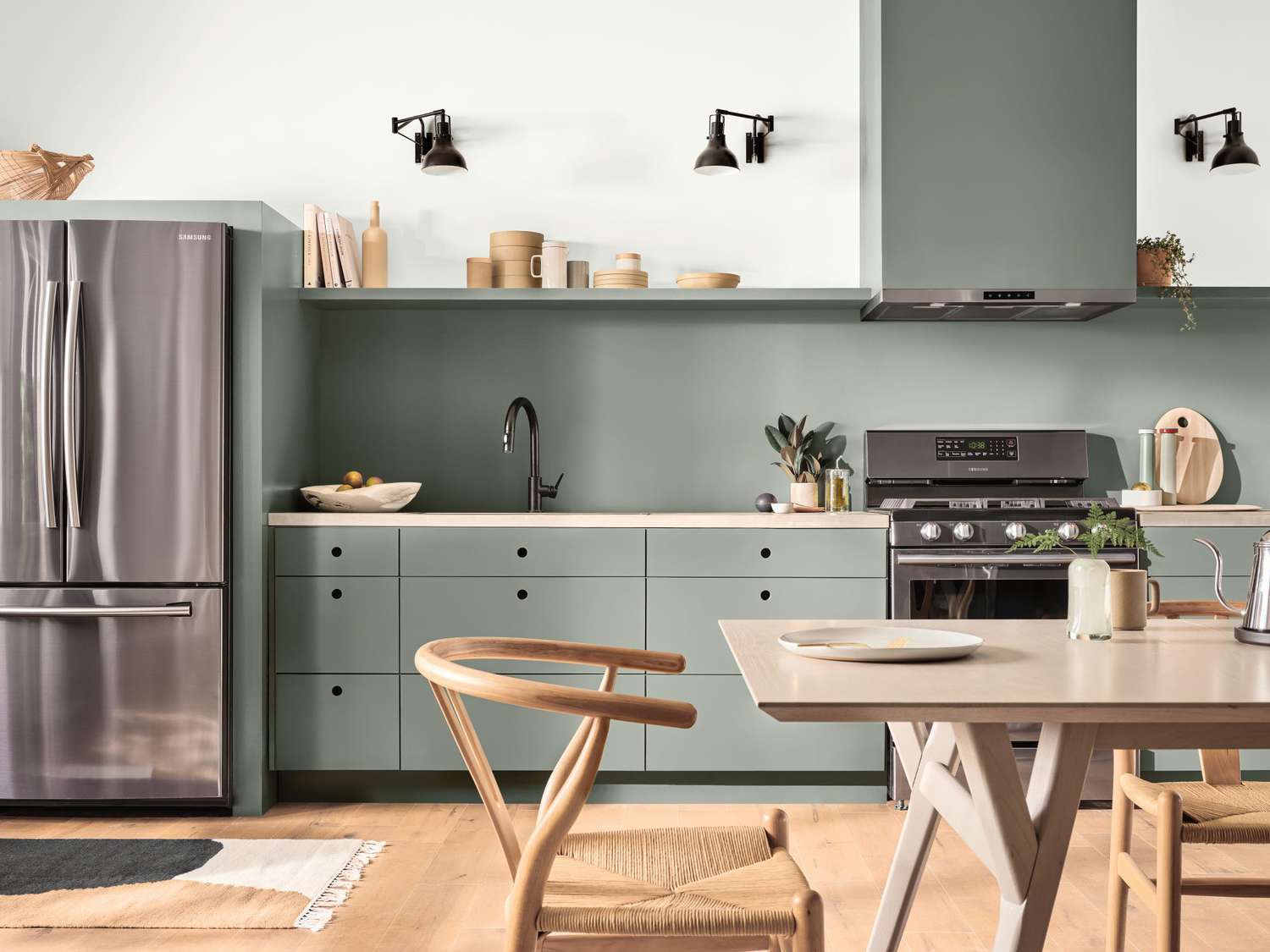 Here are a few places in your home where you can get the best out of Evergreen Fog.
Wall Spaces – The hue suits homes perfectly with natural light. To receive the best of it, it is essential to have the entire zone of the wall completely covered.
Exteriors – Shutters, Doors, Window, or even the Siding area in your premise, this color suits any of the following accents. Applied outside, this color will appear much lighter than in the interiors.
Furniture – You can paint any of your furniture, be it inside the living area of your house or the bedroom, get the best look that will help complement the overall interior decor. 
Cabinet – Applying the color on the cabinets of either your kitchen or bathroom will not just enhance the beauty of your home but will also help amplify its utility by catering to its aesthetic pleasure.
Being a field color, it is grounding and brings along a tone of natural connection, although despite being artistically pleasant in multiple ways, Evergreen Fog looks more elegant on homes with a much more craftsman and traditional touch. 
The Undertone of Sherwin Williams Evergreen Fog
SW 9130 Evergreen Fog possesses neutral undertones. In some of the rooms, it will exhibit a cool outlook, while in others, it will look warm. Because of its neutral undertone, its appearance can easily be influenced by the way it looks with other colors, materials, and materials that are kept in the room.
In terms of the color contained, Evergreen Fog is a cool shade of green, which implies that its green with a blue undertone. However, what actually makes Evergreen Fog this much popular is the presence of a Grey undertone. The blend of green and gray in a definite proportion calms each other down to leave a perfect, glorious green impact on the surface. However, this is not all from Sherwin Williams; there are plenty of other colors on the bloc presented by SW that might not be as enchanting as Evergreen Fog but are in huge trend with immense market value.
Vibrance of Evergreen Fog
There are plenty of reasons to pour your love into this 2022's 'Color of the Year.' Its Chameleon nature makes it worth investing in, which serves a range of purposes both in and out of your home altogether. This is the only color that can cater to your multiple aesthetic needs; here are a few points why you must consider this before going forward:  
Artistically Dramatic and Striking
Moody, Chameleon nature
Neutral
Green Accent 
Serves Multiple needs.
Trendy Sherwin Williams Colors that You Must Explore
1. Shoji White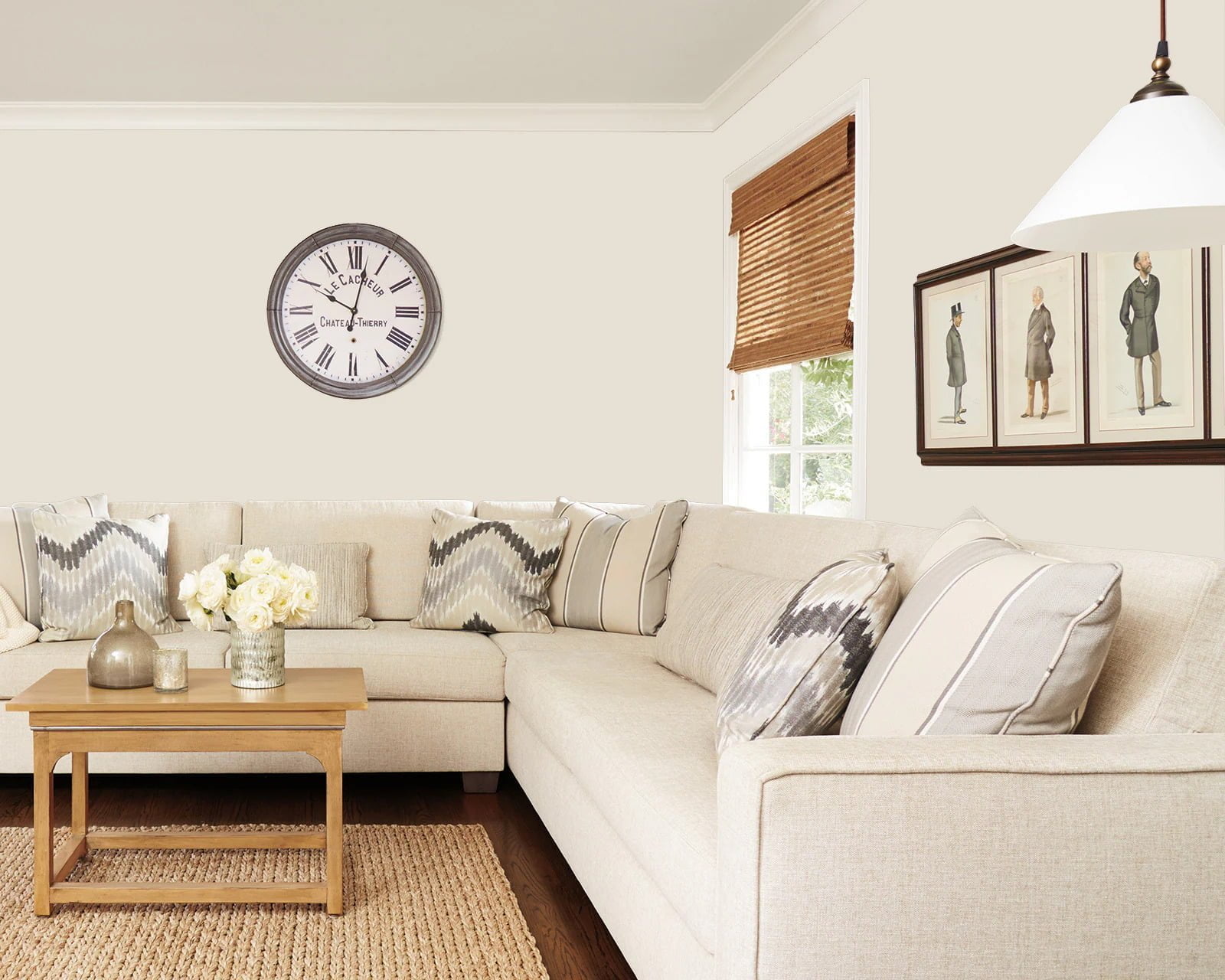 Shoji White (SW 7042) is one of the brand's best-selling paint colors. Like Evergreen Fog, it is also light neutral, making it a versatile choice and settling it as a top seller. The color is elegant and welcoming and is a must-go-to choice for the decor option. With a Light Reflectance Value of 74, Shoji White is not among the top reflective white colors but still stands at a much decent position. SW 7042 belongs to the Yellow Hue Family, which is an important aspect to know about the paint because this is something that gives you a wider perspective on the qualities of light.
2. Urbane Bronze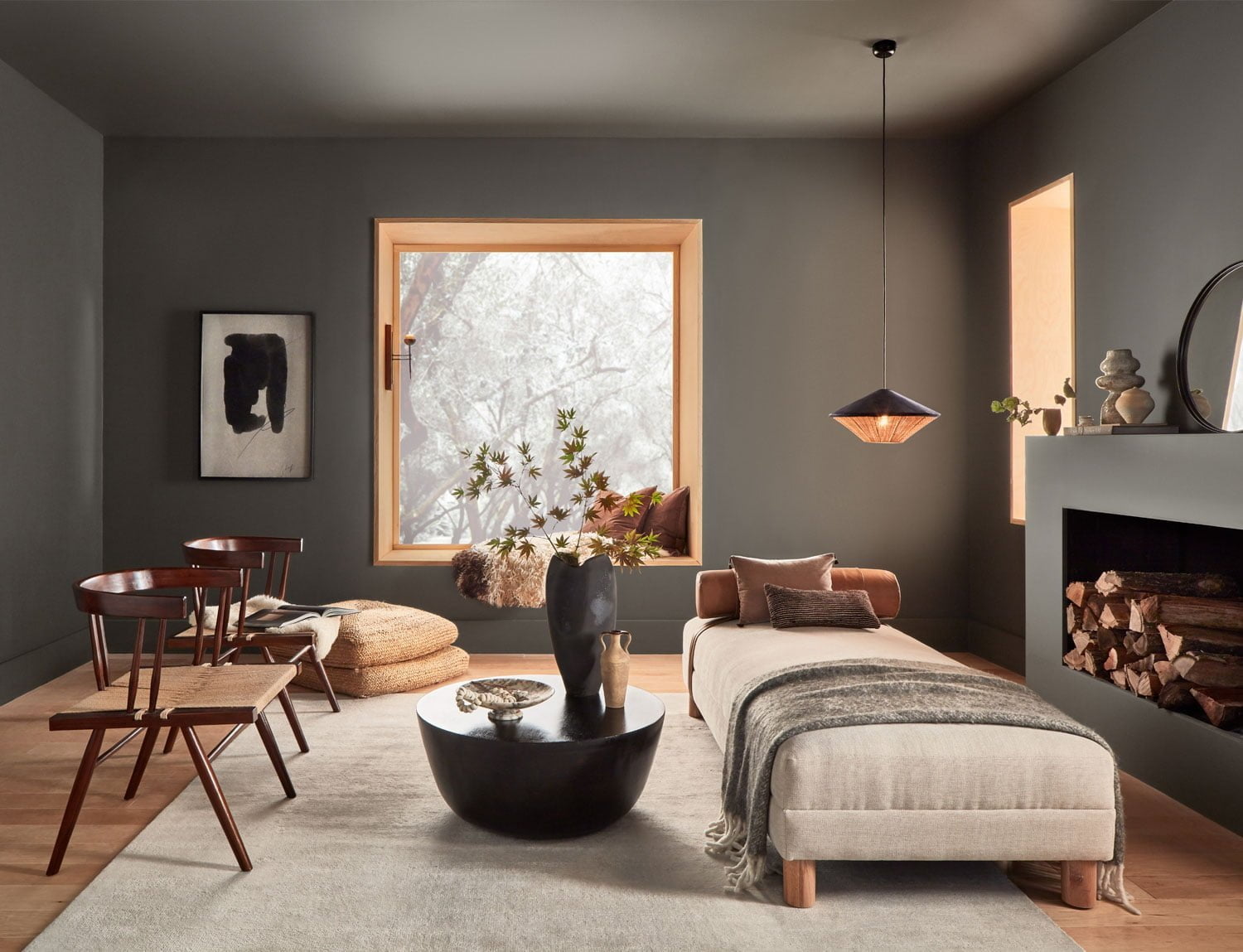 Urbane Bronze (SW 7048) is a warm gray paint in a presentation by the company. It gives its best look when paired with colors and elements that are inspired by nature. Before Evergreen Fog, it stood atop the Sherwin Williams Color of the Year in 2021 and remained the popular choice of people in both the exterior and interior segments. Despite being a dark color, it is extremely neutral and works well with paints of warmer shades. It is a perfect earthy color and can ground your room, giving it a serene touch, and it makes one of the best choices for cabinets, doors, and exterior panels.
3. Uber Umber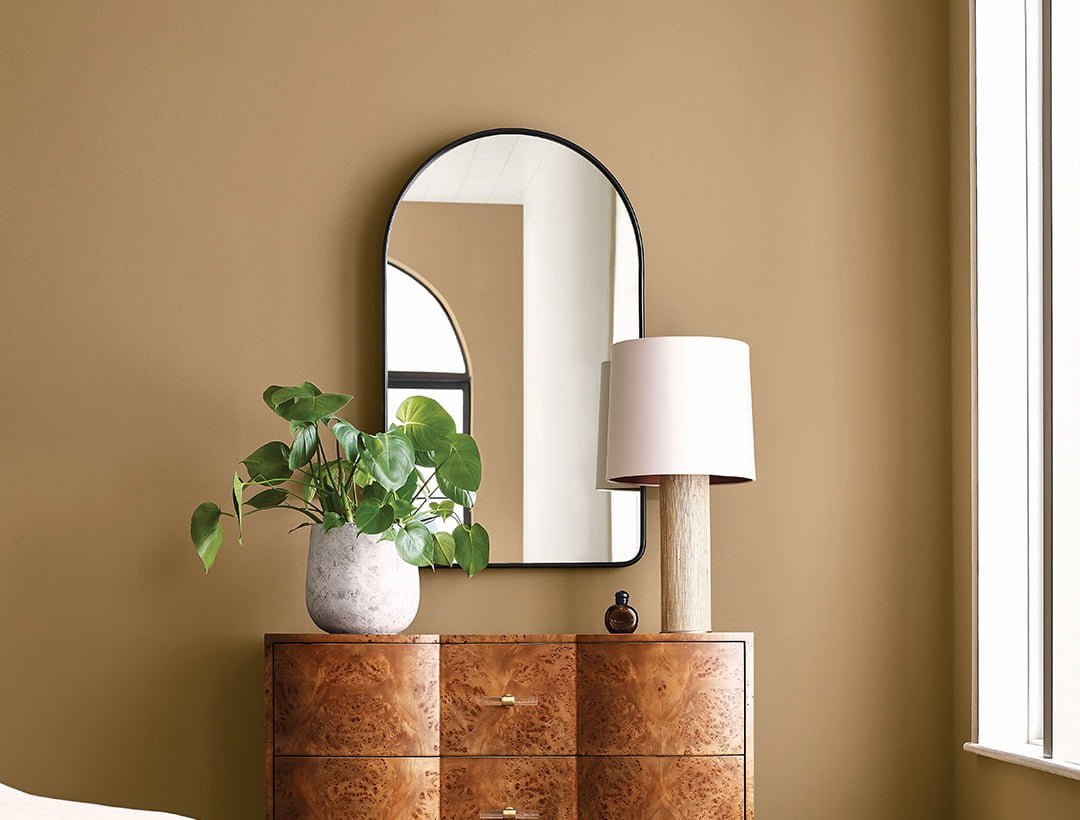 Uber Umber (SW 9107) is a high-quality, versatile paint color that brings along a range of benefits. Its premier utility comes with its feature to transform any space, whether applied in interior or exterior areas of your home. This deep and rich brown shade not just brings sophistication but brings warmth and calm to the surface wherever it is applied, including walls, furniture, and elements of architectural beauty. Its coverage and durability have set the bar high for this shade, marking it as exceptionally apart. Whether you are trying to hand your home a cozy touch or enhance the appealing look of your home Uber Umber is the perfect find for you.
 4. Accessible Beige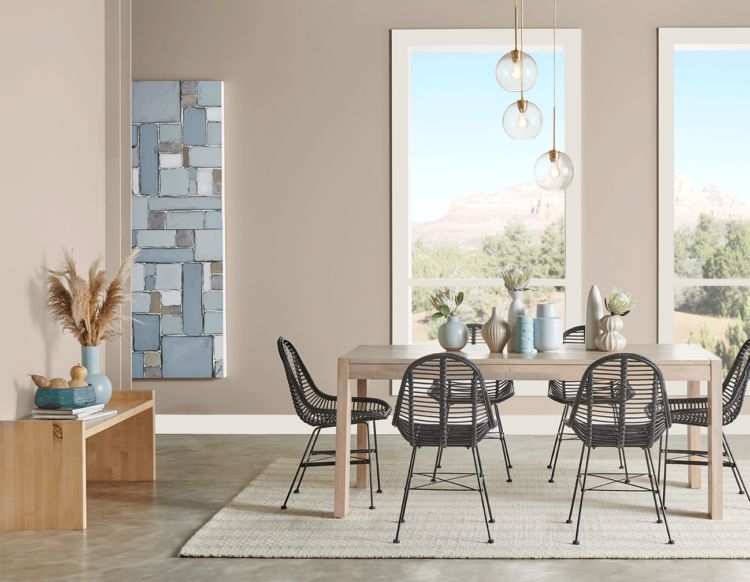 Accessible Beige (SW 7036) is one of Sherwin Williams's top-rated neutral paint colors and has remained one of the top choices for both designers and homeowners. It is different from the traditional beige color; its more complex than other neutral colors on the bloc, which makes it more versatile. With an LRV of 58, Beige is one of the most viable choices for those who wish to maintain a light attire for their home.
5. Woven Wicker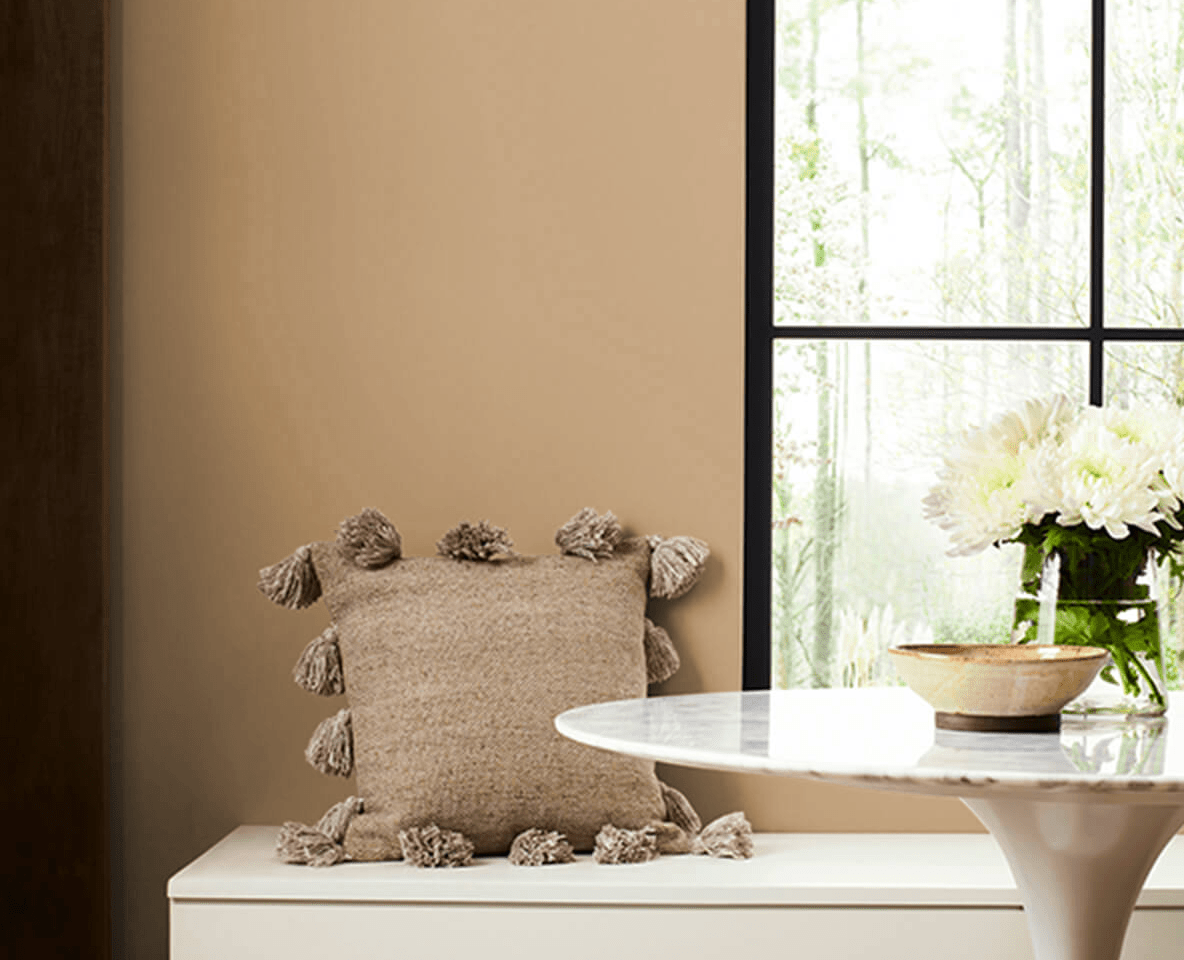 Woven Wicker (SW 9104) is prominent among the most trendy options. Due to the utility that it brings along by bringing natural elegance to any space, whether it is applied to any space, interior or exterior of your home. Woven Wicker creates an inviting atmosphere. The versatile texture of this paint color complements designs of a wide range ranging from traditional to modern. It also offers excellent coverage and durability, which every home or business owner seeks for the prevention of fading and wear. It is a perfect choice if you are looking to hand your home a sophisticated and soothing get-up.
6. Bakelite Gold
Bakelite Gold (SW6368) by Sherwin Williams offers a unique utility and has cutting-edge striking features. It is capable of adding a glamourous stroke of sophistication to whichever surface it graces. The lustrous shade of gold gives aesthetic pleasure to decorative accents and cabinets as well. Its ambiance sets the tone going and makes it stand way apart from colors in the same range. With the LRV of 38, it adds depth and dimension to the room. Above all, it has been finely crafted to ensure excellent coverage and durability. Your hunt for perfect elegance and luxury will end with the find of Bakelite Gold by Sherwin Williams.
Summing It Up
All in all, Evergreen Fog by Sherwin Williams presents a host of exceptional qualities that justifies the purpose of your trust for both interior and exterior design. Its versatility and timeless appeal make it stand out from the other choices available. It leaves a long-lasting impression of calm and composure in the atmosphere of any space.
It possesses the ability to complement a wide range of color palettes and styles which ensures a great deal of popularity. The paint's eco-friendliness showcases a commitment to the sustainable approach besides fulfilling multiple forms of requirements in different areas of your home.
Over to that, there are other trending paint colors apart from a few mentioned that cater to the aesthetic and creative needs of the home and business owners. What essentially needs to be taken care of at the time of finalizing the paint for your house is to ensure that the composure of the shades brought into use must complement each other to bring out the overall look of the space where applied.
Frequently Answered Questions
Which Green Color is Similar to Evergreen Fog?
Evergreen Fog is one of the finest options one can go with; however, there are a few colors that are not as pretty as SW 9130 but are at par with it. Magnolia Silverado Sage is one such option that infuses life on the surface wherever it is applied. It helps to enhance the natural light in the room. Farrow & Ball Green Smoke is another stunning option that helps in detailing the color as close to Evergreen Fog. It is the best option if you want to have more depth and green to show up on the surface.
Which Colors for Accents Are Best Compatible with Evergreen Fog?
The best accent colors that would go compatible with the SW Evergreen Fog are the colors you will find in nature. It is great to go with options ranging from Deep Blues, Whites, and Golds. Apart from that, you can also bring natural elements into use, including wood, stone, and metals, that help enhance this color's richness. Some of the best color options match the compatibility of Evergreen Fog from the collection of Sherwin Williams includes, including Agreeable Grey, Accessible Beige, and Aesthetic White. 
To add a contrasting feel to your interiors, off-white paint colors like White Duck can be a great option with Evergreen Fog to enhance the room's visual pleasure, which will help keep a long-lasting impression.