Planning to get a modern grey house exterior scheme, but still wondering if it will look up to the mark or not. The exterior color scheme of a house plays an essential role in the feel and overall look.
Grey is a beautiful color, and it is not limited to only the black and white combination. It comes under a neutral palette and looks stunning when paired with other color combinations. The best way to find the right combination for grey is to use a color wheel. Yes, you heard it right. Color Wheels are a perfect way to find complimenting color schemes. You can either choose shades opposite to grey on a palette, or you can go with corresponding options.
However, if you are still confused about the modern grey house exterior color, here are the 21 best options for you. These options will definitely help you build your own house with grey exteriors without any hustle.
21 Modern Grey House Exterior Colored Scheme
Once you have made up your mind that you want to choose a grey color exterior color scheme, then it is essential to know what options are available. Some of the best options that you can use are mentioned below.
1. Classic Grey House Exterior Color Schemes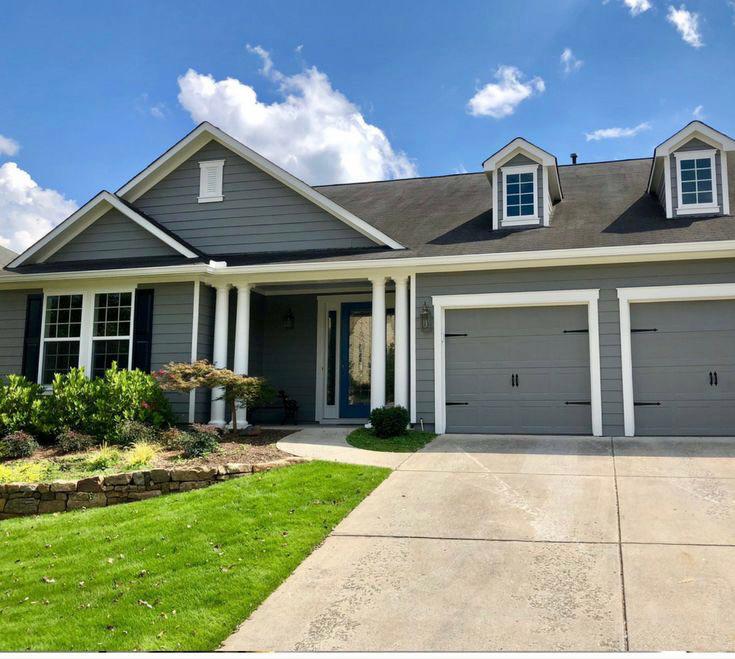 Classic does not always look boring, but it is one of the best ways to give a subtle yet experimental look. A classic blend of Grey colored walls with hints of white can look great. Choose a subtle grey shade that is not hurtful to the eye and paint your exterior walls with it. Now, choose white as a trimming color.This particular combination is classic but looks modern and stylish.It is not required to play with only one shade of grey; you can try various shades and choose the one that reflects your personality more. Back in the times, this classic combination of modern grey house exterior color schemes was mostly done on sloped roofs and front porches.
2. Stained Wood Combination with Modern Grey House Exterior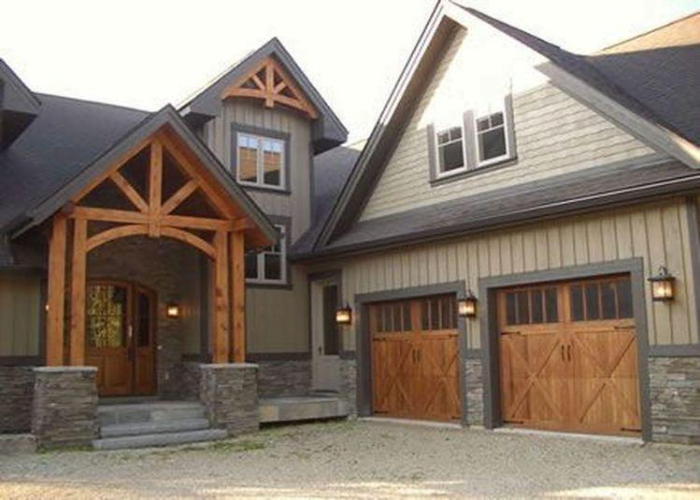 Greys and woods work perfectly with each other. It not only gives a classic ancient feel but looks rich and deep. However, it is important to know what kind of grey shade you are choosing and then pair it with medium-toned woods. You can use medium-tone woods for gate and pillar attachments with your modern grey house exterior color scheme.
3. Modern Grey House Exterior Colour Scheme with Rich Woods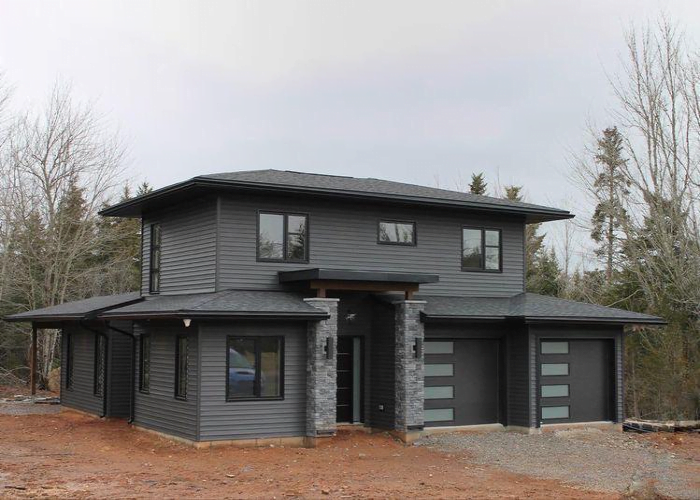 If you are more into old aesthetics and want your house to depict history through the exteriors, then this one is for you. Using a darker grey shade on the spectrum can be paired with rich and deep wooden doors. You can also add white trimmings to add more depth and make the house look rich and ancient.
4. Modern Grey House Exterior Colour Scheme with Blue Front Door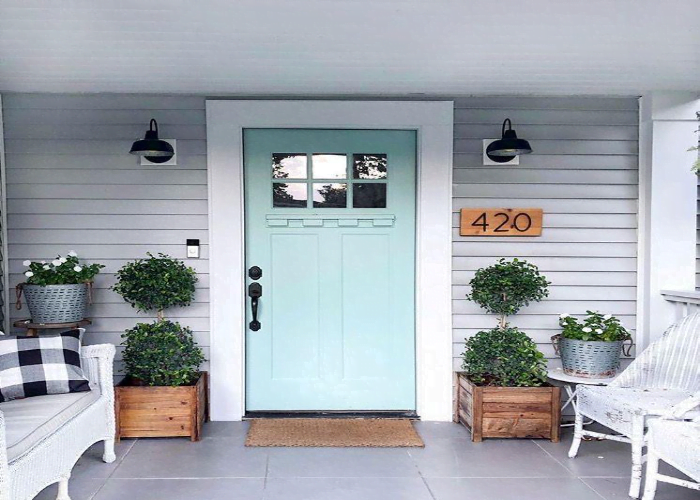 Following a normal and basic grey facade is quite old-school, whereas if you want a more modern touch to your grey house exterior, then you can opt for something bold. Therefore, choosing a blue colored front door will look great with your exterior, and it will pop out its color.Make sure to balance the modern grey house exterior color scheme with only one bold piece. Using too much color can make it look tacky and hurt trespassers' eyes.
5. Stone Textures to Go with Modern Grey House Exterior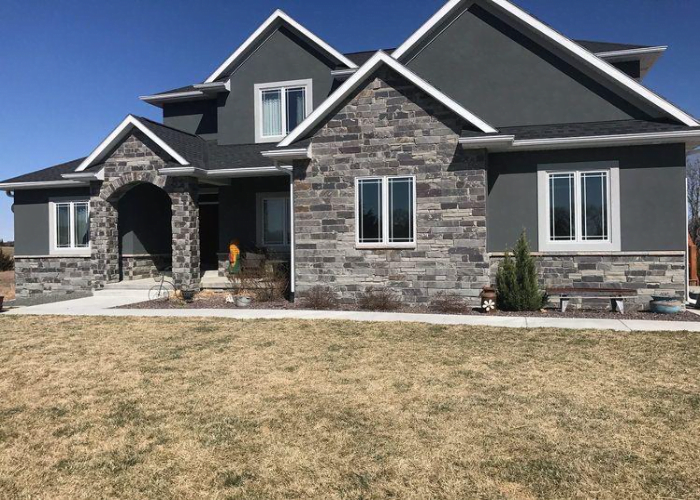 It is not essential to only play with the doors or paint. You can even choose a different texture for a modern grey house exterior. Talking to which you can combine different materials at the base, like masonry veneers or real stones, to add more depth and texture.It will make your house look different from the classics.Make sure to match the grey base color with complementing shade stone. Choose something that's more on the neutral side and adds a finish.
6. Modern Grey House Exterior Color Scheme Paired with Black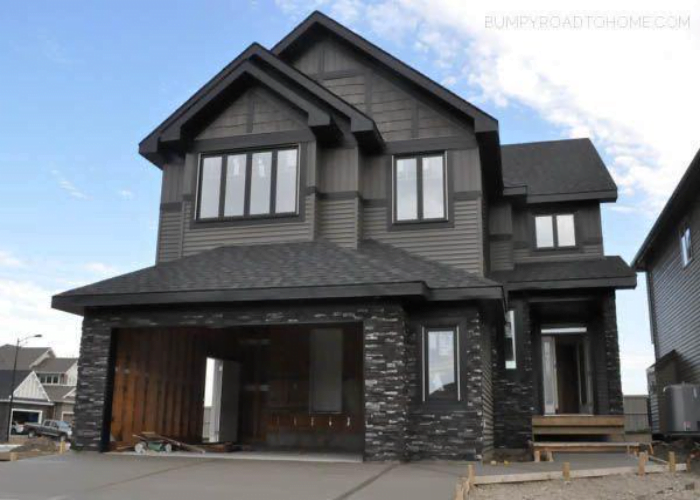 Grey stands on the neutral palette and comes under the family of black color. You can use both colors together and play smart. For a modern grey house exterior, pairing the grey-colored base with a little tone of black will look great.The color black can be smartly incorporated with black doors and window panels. Adding little black in this form to the majority of grey will make it look out of the box.
7. Modern Grey House Exterior With Country Styled Brown Elements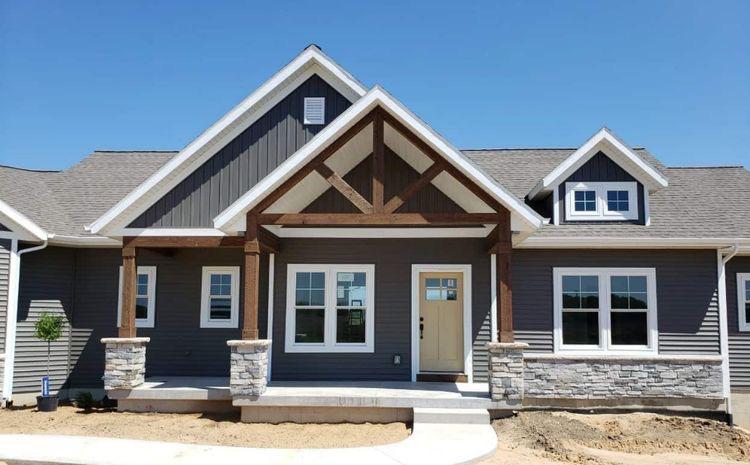 Brown and Grey are two neutral shades that are soothing to the eye. When you combine both these shades from a neutral palette, it gives your house a different look. You can easily choose a grey-colored base in lighter tones and add wooden shades to the roof.Make sure to choose a brown shade with more earthy tones. You can also add this brown shade to your doors and windows for your modern grey house exterior color scheme.
8. Red Door with Grey House Exterior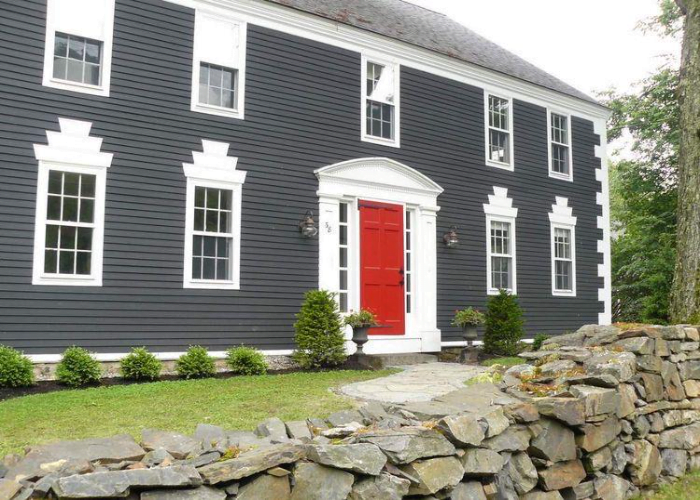 People who love a little pop-up of color in their dress have a bold personality. Hence, this same bold personality should be reflected in your house too. Adding a red color main door can do that for you!Combining a deep shade modern grey exterior color scheme with the red door can change the overall basic look. You can also play with various shades of grey as per your taste for a bold yet stylish aesthetic.
9. Modern Grey House Exterior with Shades of Brown and White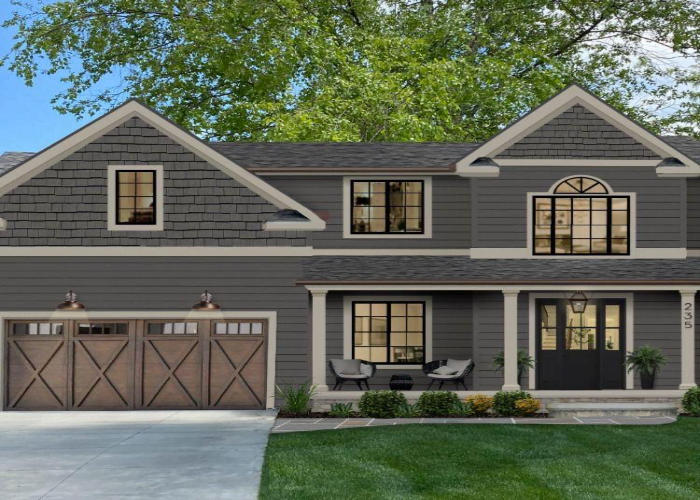 Neutrals' colors work tremendously with each other. Whether you choose white, nude, grey, or brown, all of them have their feel and sight to the eye. However, rather than pairing only two shades of a neutral palette, you can go for three shades for your grey house exterior.You can go for dark-toned grey color with brown colored doors and window panels and white trimmings. It will beautifully bring all three shades together and give your eyes a treat.
10. Blue Undertoned Grey Coloured Exterior with Wooden Accents
Light to moderate shades of grey complements the wooden aesthetics of the facade. You can choose a blue undertone grey-colored exterior majorly and add wooden accents in the form of walls, openings, or doors.The majority of the grey exterior will add depth, whereas wooden accents will add modernity to it.They will complement each other beautifully and gives a whole new feel.
11. Modern Grey Coloured Exterior with Shades of Dark Green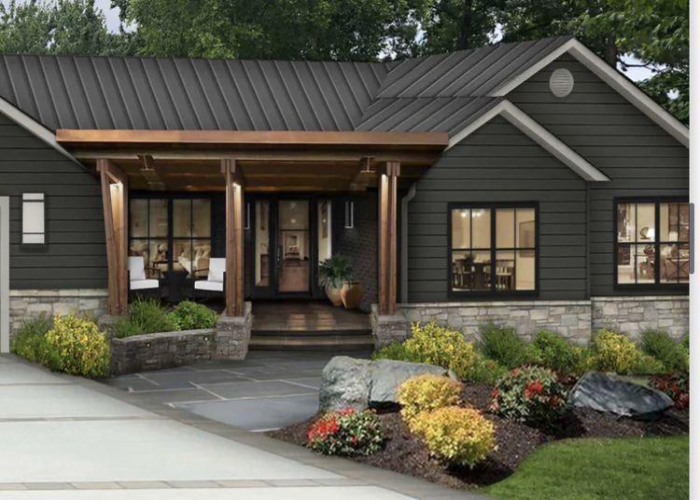 Mixing complementing colors with neutral grey can either turn into a subtle sight or a bold look. Going with a dark grey colored exterior with tones of forest green can be a perfect combination.Adding the dark green with medium tines of grey can make this exterior stand out alone. You can use this combination with equal division of shades, or you can just go with more greys and fewer greens.
12. Dark Grey Exterior Color Scheme with Wooden Textures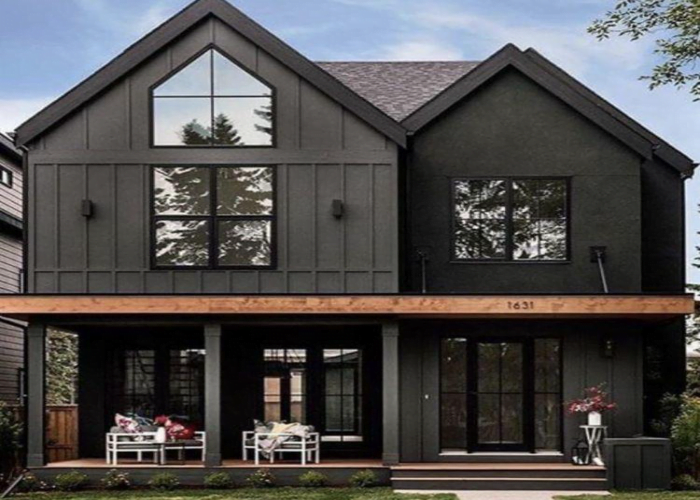 You can use wooden textures in a balance with deep shades of grey to your modern grey house exterior scheme and make it look far away from traditional. It is quite a flashy aesthetic and takes you to modern living, where darker shades of grey are paired with wooden door frames and window panels. To re-create this look, you need to have larger window panels in a dark shade that compliments your overall aesthetics. Also, try to use window films to create an illusion of reflecting mirrors. It will not only look good, but it will reduce the sunlight from entering your house.
13. Dark Grey House Exterior Paired with Red-Brown Undertones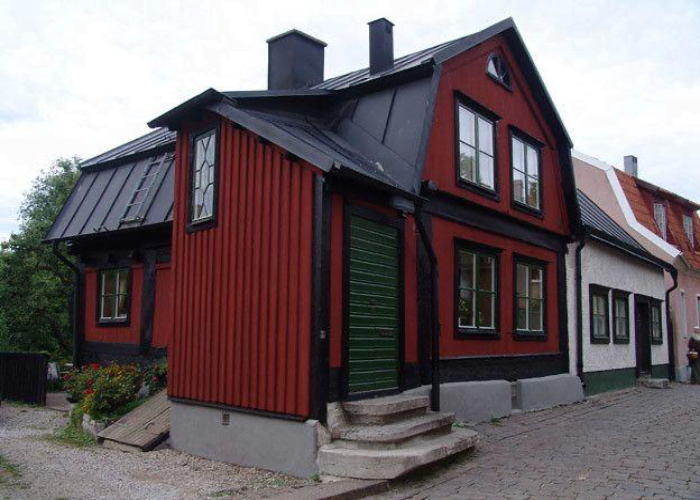 The dark Grey exterior color scheme works great with a brown that has shades and undertones of red in it. It looks quite rich and offers depth to the overall exterior of your house. You can start by getting the exterior of your house with a majority of dark grey shade and then add wooden accents with a deep red undertone.You can play with it by adding wooden accents to doors and windows. Also, you can add another outline with off-white pillars. All these three shades are quite different in color scheme but blend extremely well together.
14. Blue and Modern Grey House Exterior with Brown and Whites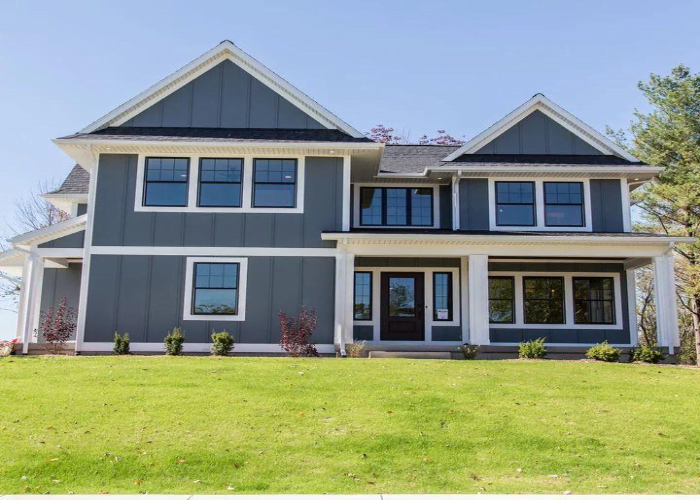 The next combination for a modern grey house exterior color scheme is a mix of grey color with blue undertones. It can be easily blended with shades of brown and white to add more modernity and color. You can smartly use brown shades for roofing and the outer surface base with off-white tones.Furthermore, blend the grey-blue shade with the exterior by adding to the windows and doors.
15. Green Wasabi Accent Door Blended with Modern Grey House Exterior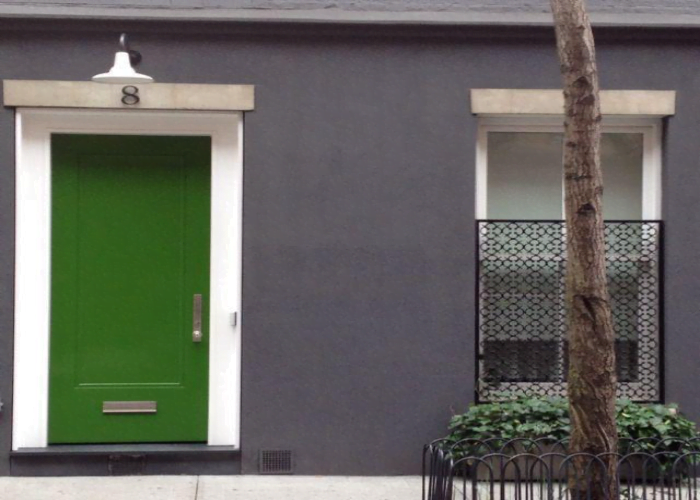 If you are planning to add a little change to the basic modern grey house exterior color scheme, then adding a bright shade of color works best. Take the wasabi green colored shade and warm to medium undertones of grey and blend them.You can use grey color for the maximum exterior and add the right amount of green shade with a door. Lastly, you can add clean white trim to add more texture to the overall look.
16. Wood-Grey Combination for Modern Grey House Exterior Color Scheme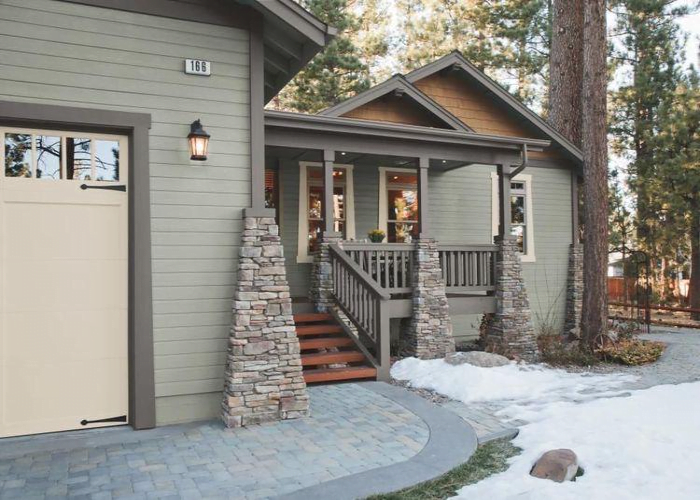 Shades of grey work best with wooden elements and add the right amount of modernity to your house. It is a perfect combination of modernity and contemporary. You can opt for the base color with major shades of dark grey and balance it with a wooden texture.This particular blend looks great and offers a treat to the eyes.
17. Classic Grey House Exterior Color Scheme with Red Door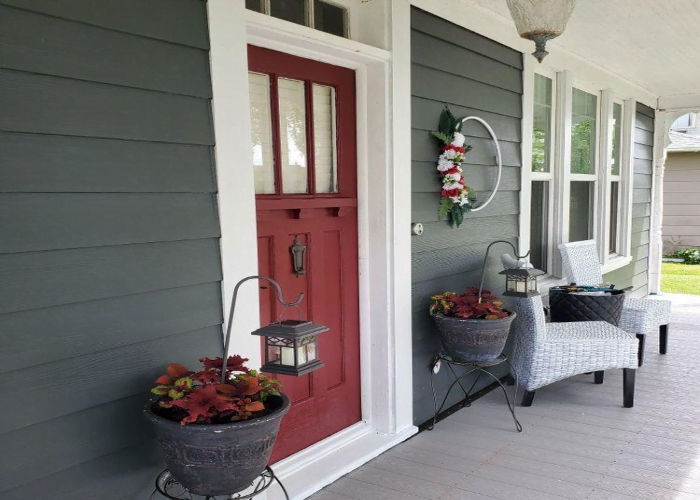 Red color complements best with dark grey exteriors. It is a traditional yet modern way to add color to the basic combination. A dark grey exterior with the majority and a little red door can offer a little touch of spice.You can also get white trimmings that will add more texture.
18. Modern Grey House Exterior with Combinations of Beige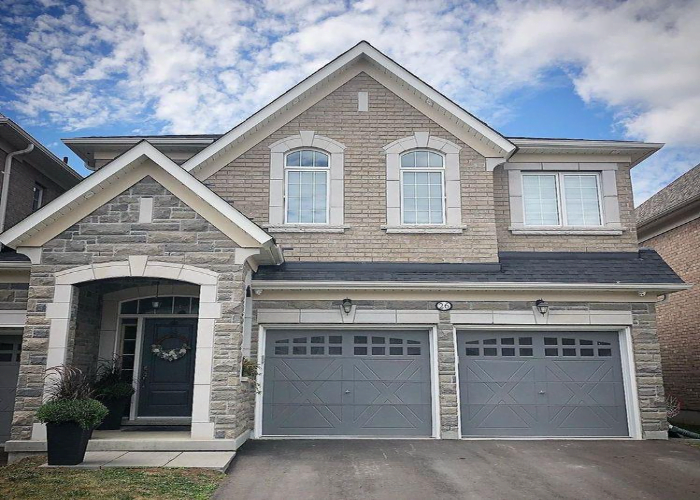 A subtle yet beautiful combination of dark grey exteriors and beige. It can be used in a particular balance that will look classic and modern altogether.If you are planning to recreate this grey house exterior, then you should get a similar blue-toned grey door for your house. It will add the right amount of depth to your overall exterior.
19. Modern Grey House Exterior Color Scheme with Shades of Red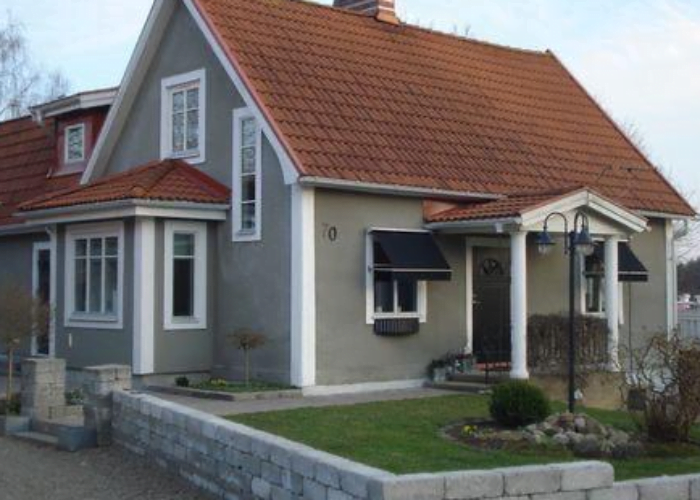 Red is a shade that can be beautifully used to replace white trimmings with red ones. It will add the right amount of boldness to your modern grey house exterior color scheme.You can use it with whites for framing the doors and windows. However, keep the majority of red in doors and panels and only add little trimmings of white.
20. Modern Grey House Exterior Color Scheme with Two Tones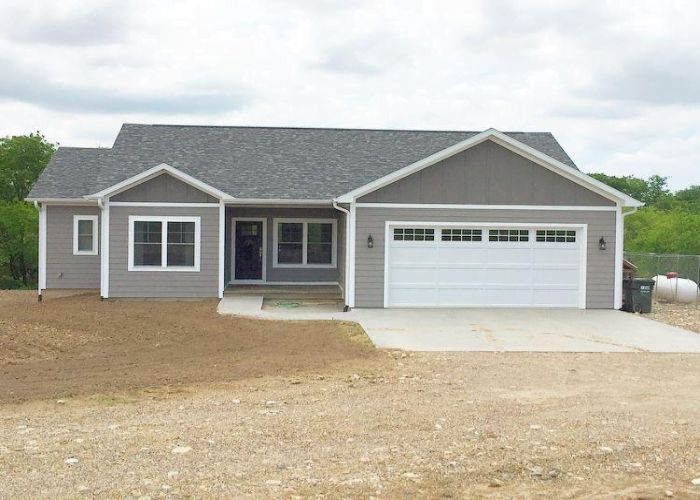 Combining the classic grey color with bright and bold shades can also look great. Choose the bold shades opposite on the palette and add them to frame your overall outline of a house.You can opt for a brighter shade with grey and add little taps of it all over the modern grey house exterior.
21. Pastel Blue Blend with Modern Grey House Exterior Color Scheme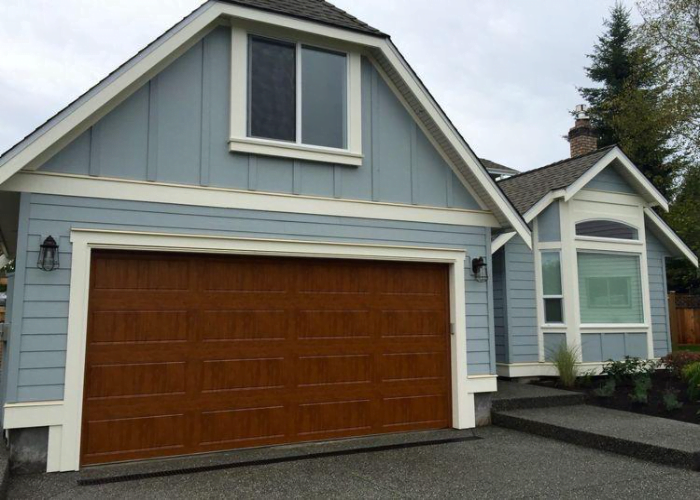 If you are planning for something that gives Greece vibes, then this one on the list of modern grey house exterior color schemes is for you. You can start by choosing a light shade of grey for the majority of your exterior. Also, add pastel blue for the doors and window panels with white trimmings. It will not only be a beautiful sight but will give you a feel of vacation in Greece.
Summing It Up
All in all, grey is usually considered a boring color, but it has a lot to offer. It is a versatile color, and many designers use this neutral color as their backdrop. Using it as a backdrop offers them a clean yet complex palette to pair different shades. Also, it comes in various shades, and one can use it with a dab of green, black, or blue to get their desired modern grey house exterior.
When we talk about exteriors, we mostly look for shades that blend perfectly with other colors. And when we talk about it, white and nudes are the ones with the highest preference. This is where you can feel that a grey house exterior can be left behind because it is neither popular nor, if not used in the right shade, can look horrible.However, the grey house color scheme can be used perfectly with other colors to add neutrality and a pop of color to your modern grey house exteriors.
You can easily work with different shades of grey and add more neutral shades or bold shades as per your preference over the windows, roofs, and doors. We have offered you classic 21 modern grey house exteriors that will look good and suites everyone's taste palate.