Ivy plants, scientifically known as the genus Hedera, are some of the popular plants that grow indoors and outdoors. These are the plants that creep or crawl on walls, buildings, ground, corners of concrete, etc. We often find ivy plant types growing on buildings or towering canopies of the forest.
Ivy plants need very little maintenance, which makes them a perfect choice for indoors as well. There are around 15 species of evergreen climbing and creeping plants that belong to the Ginseng family, Araliaceae. As Ivy has a widespread habitat, there are many ivy plant types to pick from.
For example, English Ivy, Irish Ivy, Japanese Ivy, etc., where each category again has varied types of plants. This can be a tough task if you are trying to find an Ivy plant, but through this article, you can select easily according to your choice.
Have a look at these 21 diverse ivy plant types, which might give you an idea of what blends with your interest.
1. "Anne Marie" – English Ivy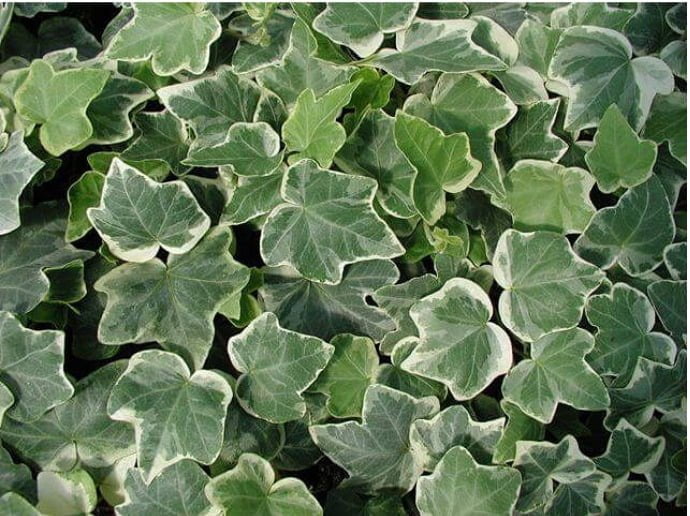 English Ivy plants are the most popular among all other ivy plant types. They are often chosen to be houseplants as they can grow well in full sunlight and partial shade. They go by the botanical name Hedera Helix and have originated in Europe. "Anne Marie" is a gentle and vintage-looking plant that has shallow gaps between lobes. These plants have delicate veins with hunter-green colour leaves in the middle and cream at the edges. But, they might turn to light green when exposed to sunlight which gives a very beautiful look. They maintain an aura of the classical and old world with a romantic appearance. They are highly suitable for urban gardens. They grow up to 3 – 4 feet tall and spread up to 3 feet. If you are someone who has an old soul, then "Anne Maire" might be a great ivy plant type choice for you.
2. Bullock's Heart Ivy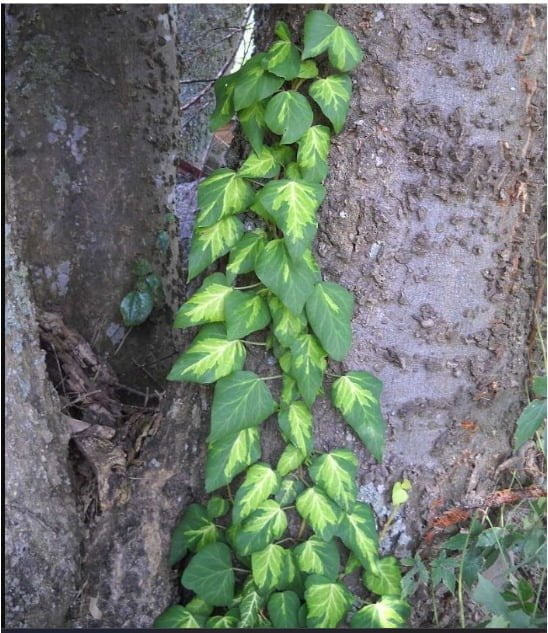 This Ivy plant type has attractive dark green evergreen foliage on the plant. It is perfect for the ones who are looking for an ivy that produces different varieties of flowers. As the name defines, the leaves have large shiny heart-shaped leaves that stay completely dark green. It grows up to 40 feet and has a spread of 3 feet. It is recommended for mass planting, general garden use, and container planting. It grows at a medium rate and, under ideal conditions, can be expected to live for approximately 30 years. It is very easy to maintain this ivy plant.
3. Boston Ivy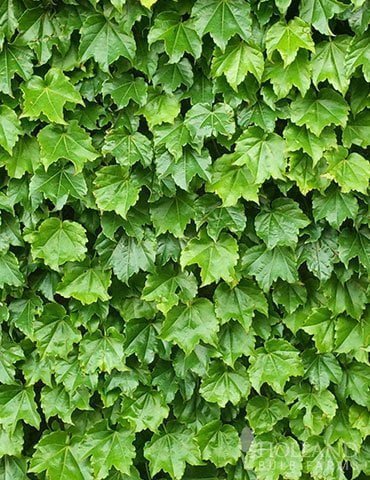 Boston Ivy, also known as Parthenocissus tricuspidata, is known for its evergreen leaves spreading on large buildings and other plants. This ivy plant type turns absolutely beautiful in the autumn season. This ivy plant type's beauty at the end of every year makes it special from other ivy varieties. This plant needs direct sunlight but needs shade in the summer season as it grows very rapidly. However, it is considered to be invasive; you need to do regular maintenance if they grow as outdoor plants. It is advised to trim them on a regular basis. This plant also produces small blueberries that birds enjoy eating.
4. Adam Ivy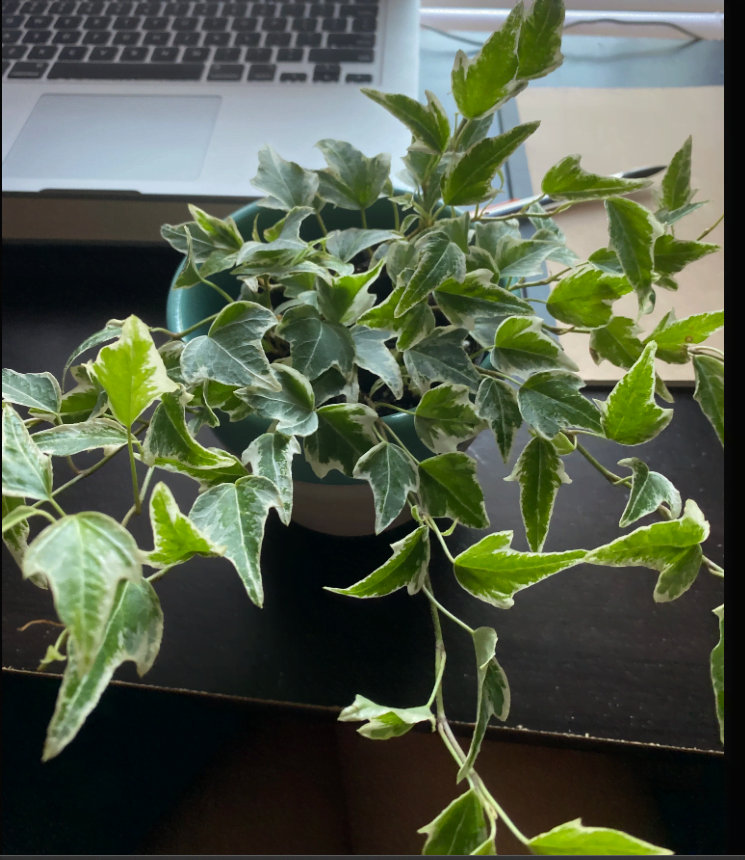 Adam Ivy is a lovely evergreen houseplant that has variegated mid-green leaves bordered with light green shades. It is a climbing plant and is known as the Hedera helix 'Adam.' botanically. This ivy plant type has 3-4 lobes, and when mature enough, they produce yellow-green clusters, followed by black berries. Even though it's a houseplant, it is toxic and direct contact might irritate the skin or cause allergic reactions. So, it is to be handled carefully with proper gloves and trimming techniques.
5. Japanese Ivy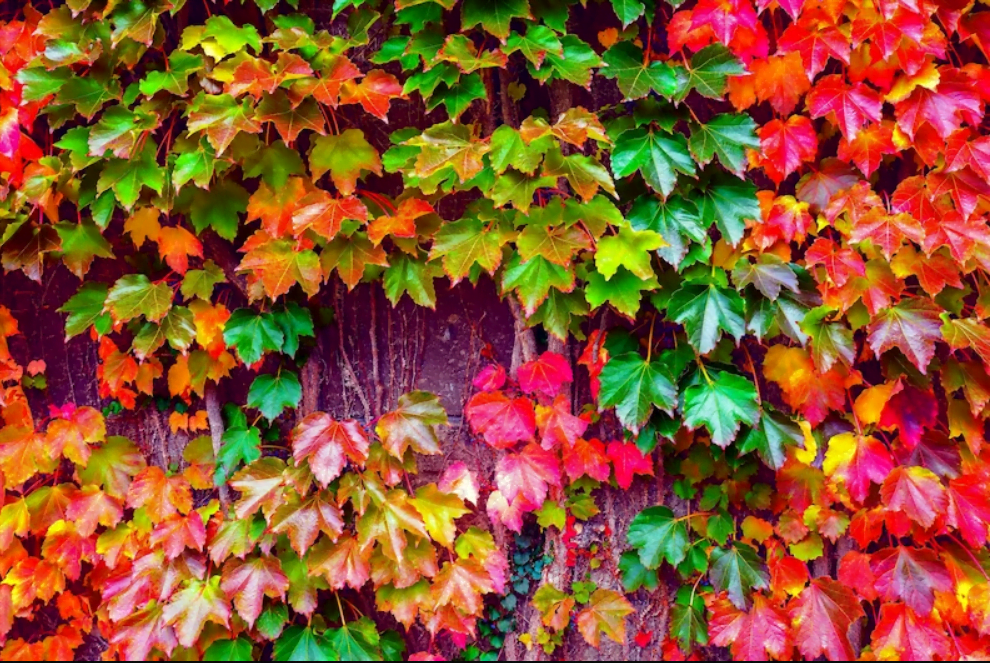 This ivy plant type is an evergreen shrub climbing plant that is beautiful when mature. It has aerial roots, and its stems are green. It is scientifically known as 'Hedera rhombea', and the leaves of this ivy are medium green, rhombic diamond-shaped. Leaves have petioles and are glossy and dark green. It produces bisexual flowers that are yellow-green having 4 to 5 mm in diameter. It grows up to 10 meters in length, and it bears flowers in different colors. These plants need full sunlight to grow rapidly, and watering once a week is sufficient during the early stages of the plant.
6. Creeping Charlie Ivy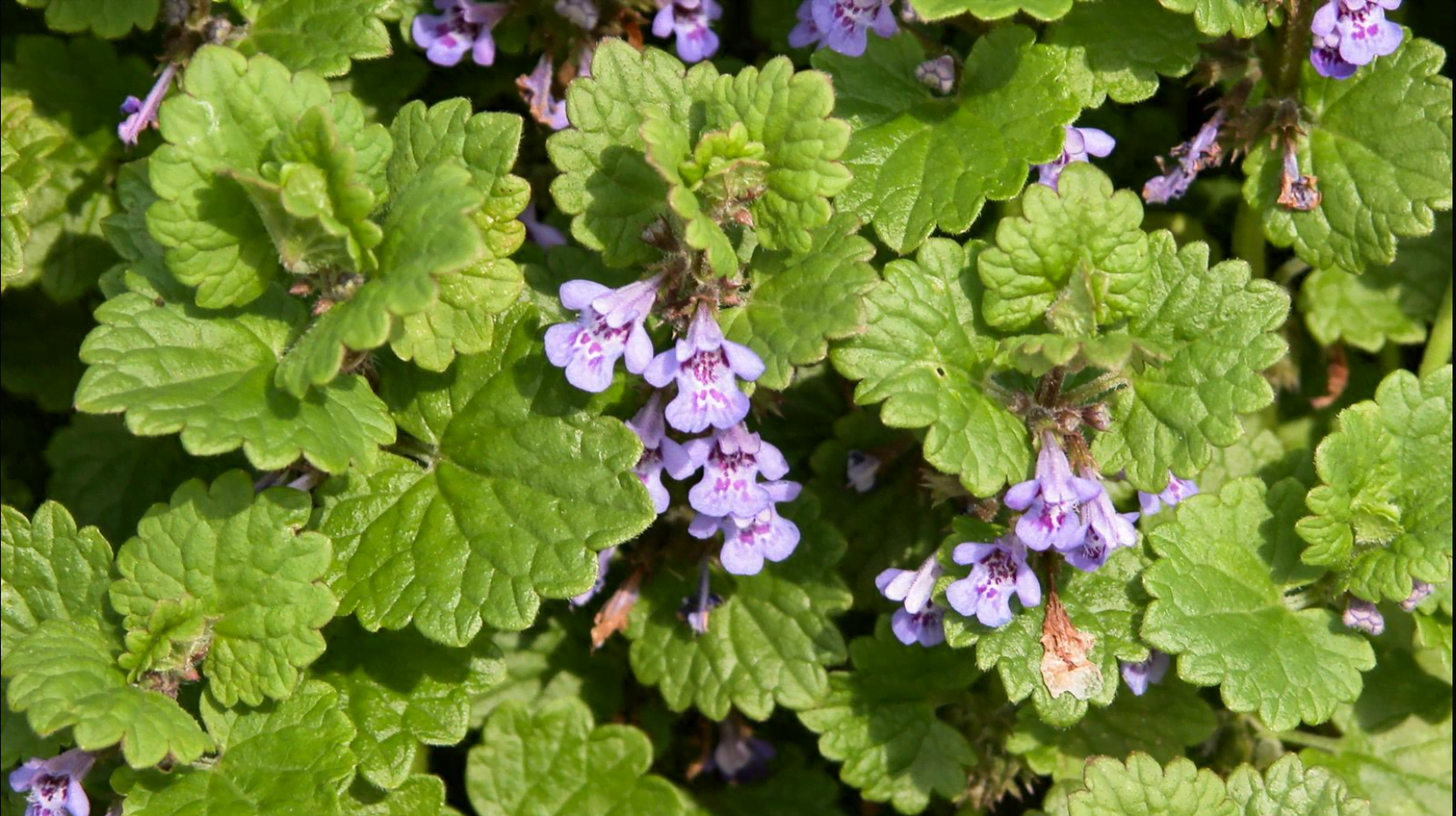 Creeping Charlie is also known as ground ivy and is one of the plants that you can be least worried about. These ivy plants grow rapidly and spread all over the ground. But if you are planning to choose it as a houseplant, then you might need hanging baskets, and you can see it grow completely differently. This ivy plant type has round and heart resembling leaves with symmetrical edges and purple flowers. It is really an attractive plant that grows healthily away from the sun in areas with good moisture.
7. Canary Island Ivy
Popularly known as the Algerian Ivy, this ivy plant type is native to the US. It has large dark green leaves that look attractive as ground cover or on walls. This plant grows very quickly and takes over any space where it is put. So, it is very important to keep it in control and trimmed at regular intervals. It is recommended to be an outdoor plant as it can cause skin irritation when touched directly and can be poisonous if eaten by a child or pet. So, it is always advisable to handle it with caution, and it is better to grow outdoors.
8. Gold Child Ivy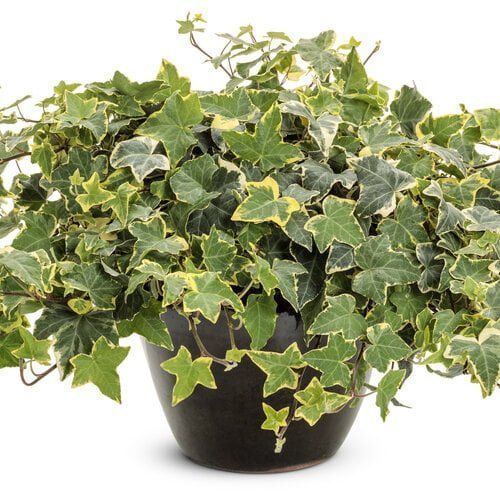 Although the name might seem a little funny, this plant has won an Award of Garden Merit from the Royal Horticultural Society and was also named 2008 Ivy of the Year by The American Ivy Society. Botanically, it is known as Hedera Helix 'Goldchild,' and this ivy plant type features variegated grey-green foliage with yellow margins. It grows very fast and is small-sized when compared to other ivy plants. This plant is a great pick as a houseplant and can be easily maintained at a low cost and effort.
9. German Ivy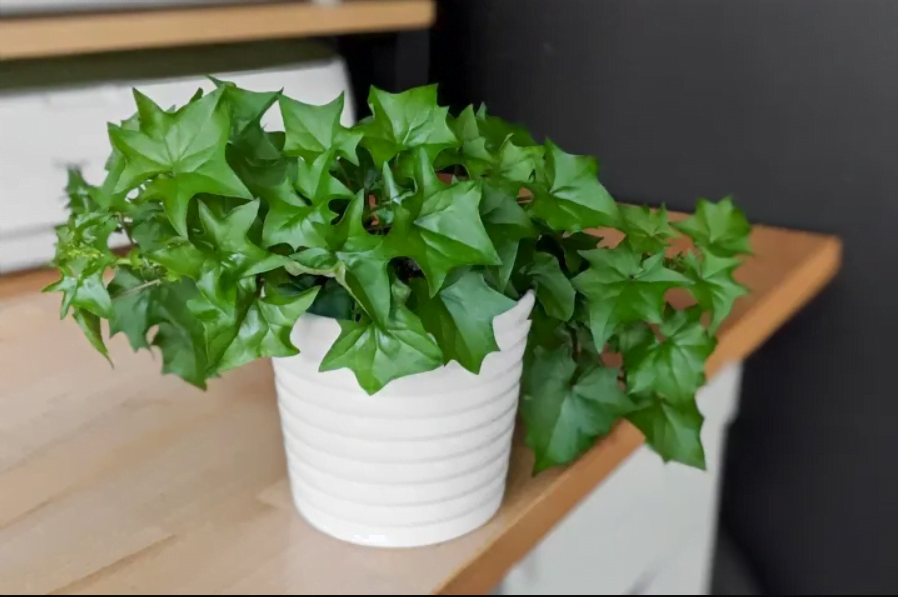 Also known as Cape Ivy, this ivy plant type can be seen across California state and in the mountains of San Gabriel. The ivy plant forms a dense base on the ground and easily kills any other plant that covers the same area. It reproduces by sowing seeds along with stems. It is a beautiful-looking plant with dark green leaves. So, it is suggested to fixate on a certain area for it and grow it in your yard.
10. Angel Snow Ivy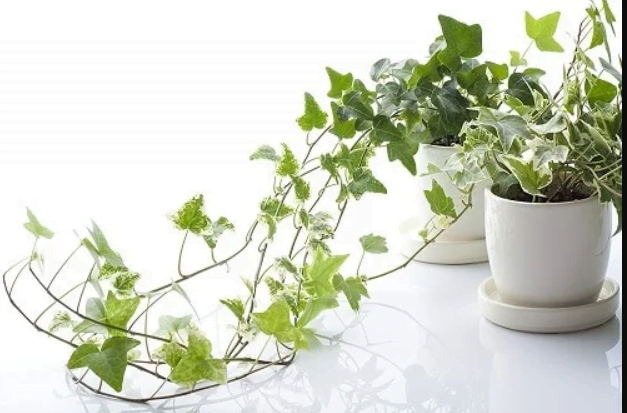 Angel Snow Ivy is a great choice to brighten up your home; it has rich green leaves mottled and edged in cream and white shades. The plant can be grown in small pots, too, as it has a compact size. This makes it a perfect table plant and gives a classy nature touch to your table. They are easy to maintain and can be grown in sunlight or shade.
11. Himalayan Ivy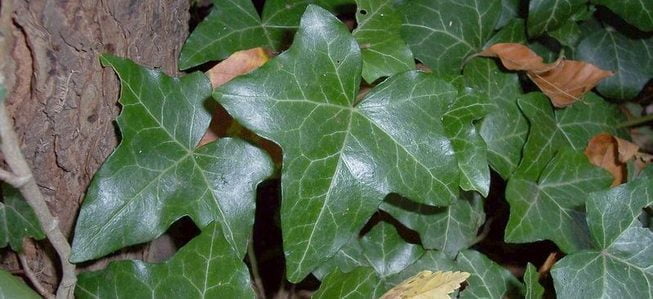 This Nepalese Ivy plant type is known to have originated in the Himalayas and is seen popularly in Bhutan, India, and Southeast Asia. It has a unique design on each leaf, with the centre of the leaf being longer than the rest. While the plant can tolerate full sun, partial shade would help in the healthy growth of the plant. It is also a little drought-tolerant and prefers partial shade. The plant is typically cultivated and used as a climbing vine or trailing ground cover. It is harmful to humans because they contain saponins. So, it is better not to grow this indoors or anywhere near human contact; rather, use it as a cover on brick walls.
12. Azores Ivy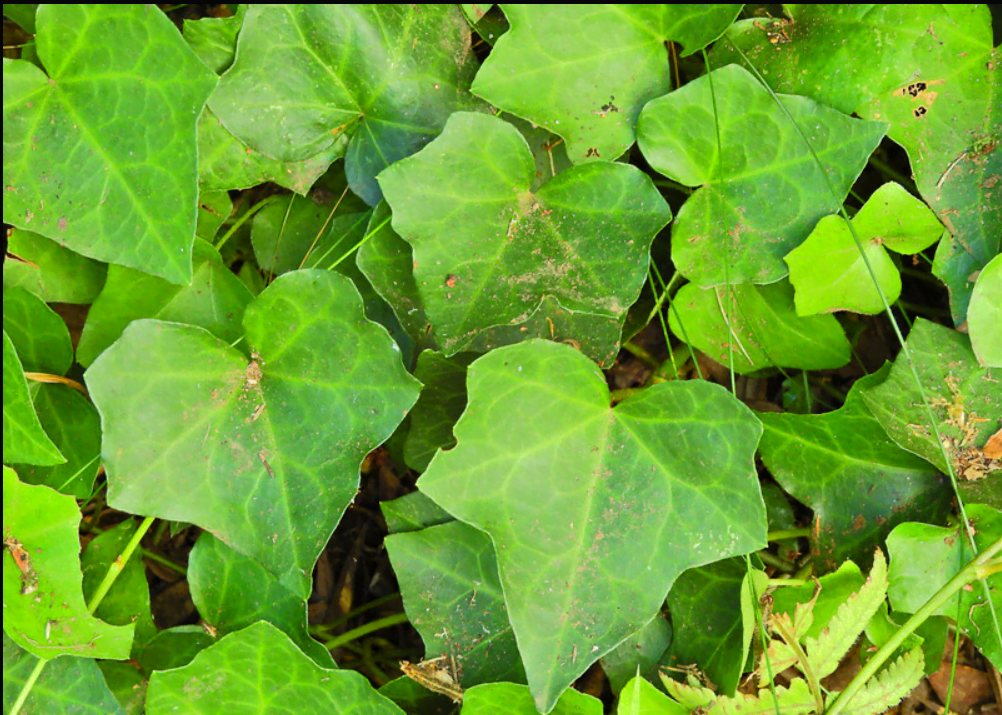 Azores ivy, scientifically known as Hedera Azorica, is difficult to find but is a climbing ivy with five-pointed, medium-to-lime green leaves that resemble a rough heart. This ivy plant type produces tiny yellow flowers and berries, much like every other plant in the Hedera genus does. They are dangerous and should not be eaten. This ivy plant is very attractive and is known to have originated in Portugal. It is not a houseplant but can be used as decor on buildings with regular trimming and maintenance.
13. Irish Ivy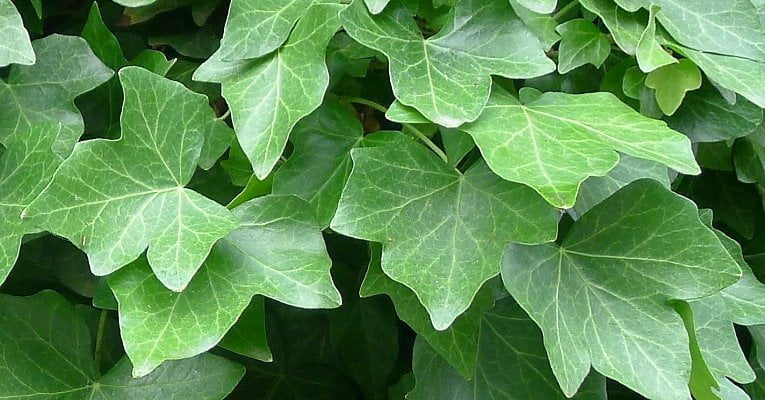 Botanically known as Hedera Hibernica, this ivy plant can adapt to and tolerate almost any condition and is usually preferred for mild to cool climates. If you are not from that climate area, then you may have to grow it indoors. Medium or dark green leaves suggest that they are healthy. The leaves are triangular-shaped, which makes them look pretty. They grow up to 20 to 30 meters high where suitable surfaces are available. This ivy plant type also bears blue-black berries as fruits. They are preferred in sand, loam, chalky, clay, acidic, neutral, and alkaline soils with excellent drainage-capable pots.
14. Buttercup Ivy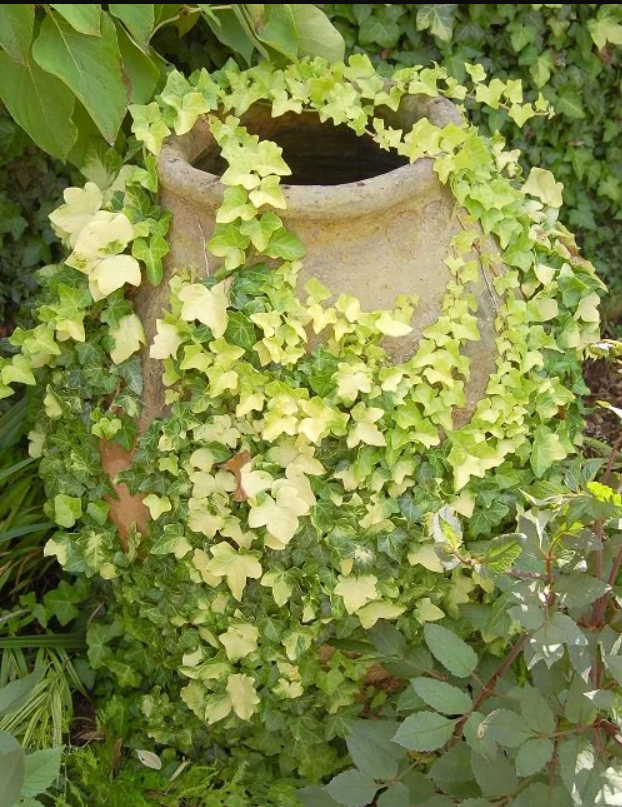 It is another variety of English Ivy, which is a woody evergreen that grows rapidly. It grows up to 6 feet tall and can tackle from full sun to shade. When the ivy plants are not exposed to enough sunlight, they turn into light green or golden coloured leaves, hence the name 'Buttercup.' The lobed leaves remain yellow throughout the winter. The recommended soil is sandy loam to clay loam with water ranging from normal to moist.
15. Cyprus Ivy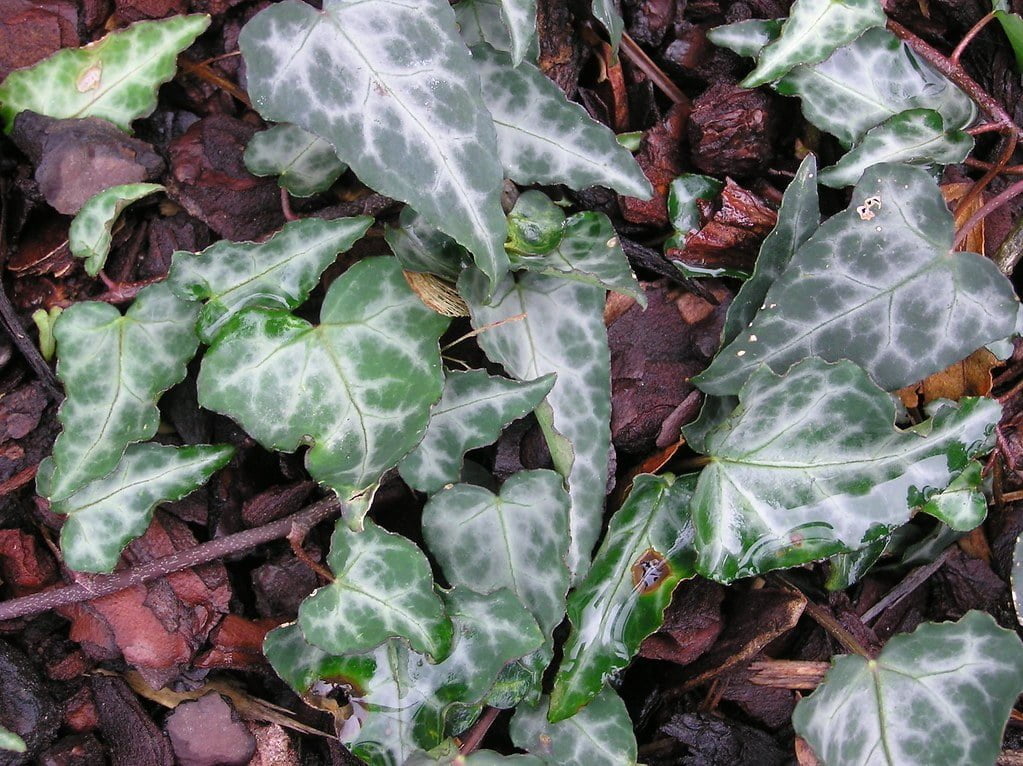 Cyprus ivy might be another ivy plant type that is elusive and can be a great add-on to one's collection with the fact that it is exclusively grown naturally in Cyprus, an island in west Syria. The unique pigment of this plant makes it exceptional from the other plants. The hoarier complexion of the leaves occupies the veins of the leaf. Moreover, the leaf has an unusually extensive shape, a lissome point. The attributes of this plant make it perfect for indoor and can be a great addition to your indoor decor.
16. Duckfoot Ivy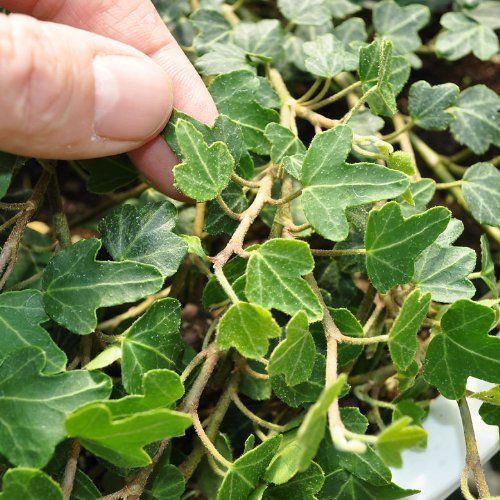 As the name suggests, this ivy plant type has small, matt, olive green, rounded, fan-shaped leaves that look just like little duck feet. These plants grow healthily when exposed to direct sunlight. They are usually grown for foliage and grow up to 3 to 6 inches with a spread of 10-14 inches. They are usually preferred in pots, hanging baskets, on walls, or as a ground cover. The flowering season for this plant is spring and summer, and only mature plants produce flowers.
17. Iberian Ivy Pant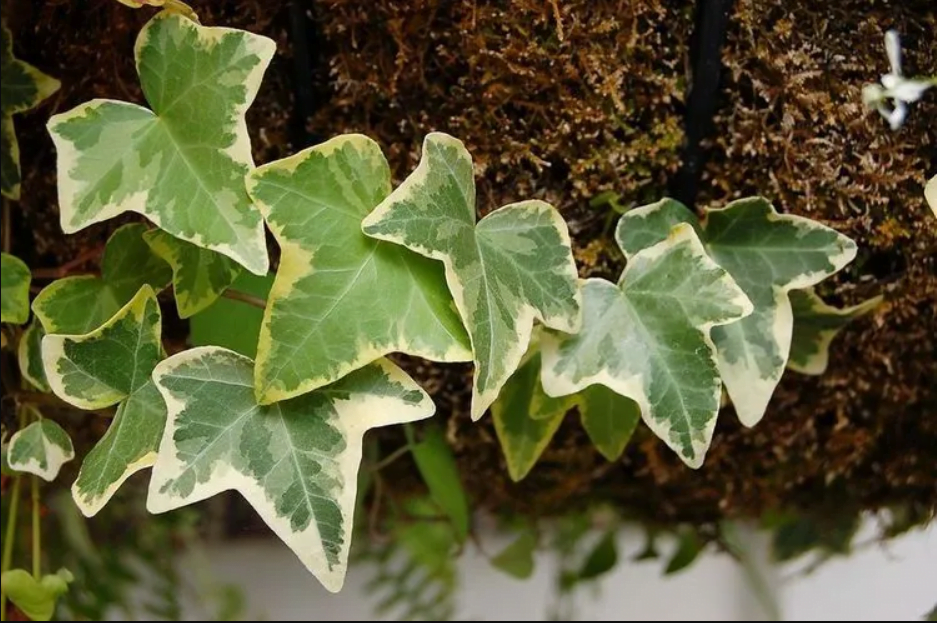 The Portuguese, Meridian, Spanish, and hyperborean Moroccan climates are where the Iberian Ivy Plant, which is an indigenous ivy plant, is most frequently seen. Ivy from North Africa frequently has circular-appearing sides, but the middle tip is more pointed, giving this plant a distinguishing quality that sets it apart from other Hedera kinds. This plant has three rounded points, which differentiate it from others. It enjoys warm weather and cannot survive chilly temperatures. It would certainly grow better indoors as a large portion of the US endures frigid winters.
18. Shamrock Ivy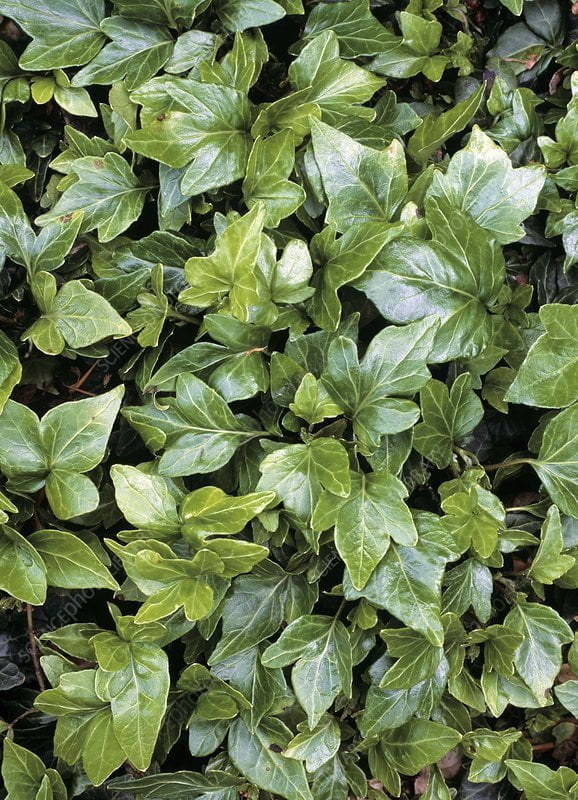 This miniature bird's foot ivy has leaves of three rounded lobes of nearly equal size, with the two lateral lobes overlapping the terminal lobe. The leaves are almost divided into three leaflets. Shamrock has a high number of self-branching, making mounds of growth. The colour of the plant is dark green with lighter veins. This green ivy will tolerate even the darkest corner of your garden but will also do well in the sun. The maximum height of this plant is 0.5-1 meters, and it takes around 2-5 years.
19. Manda's Crested Ivy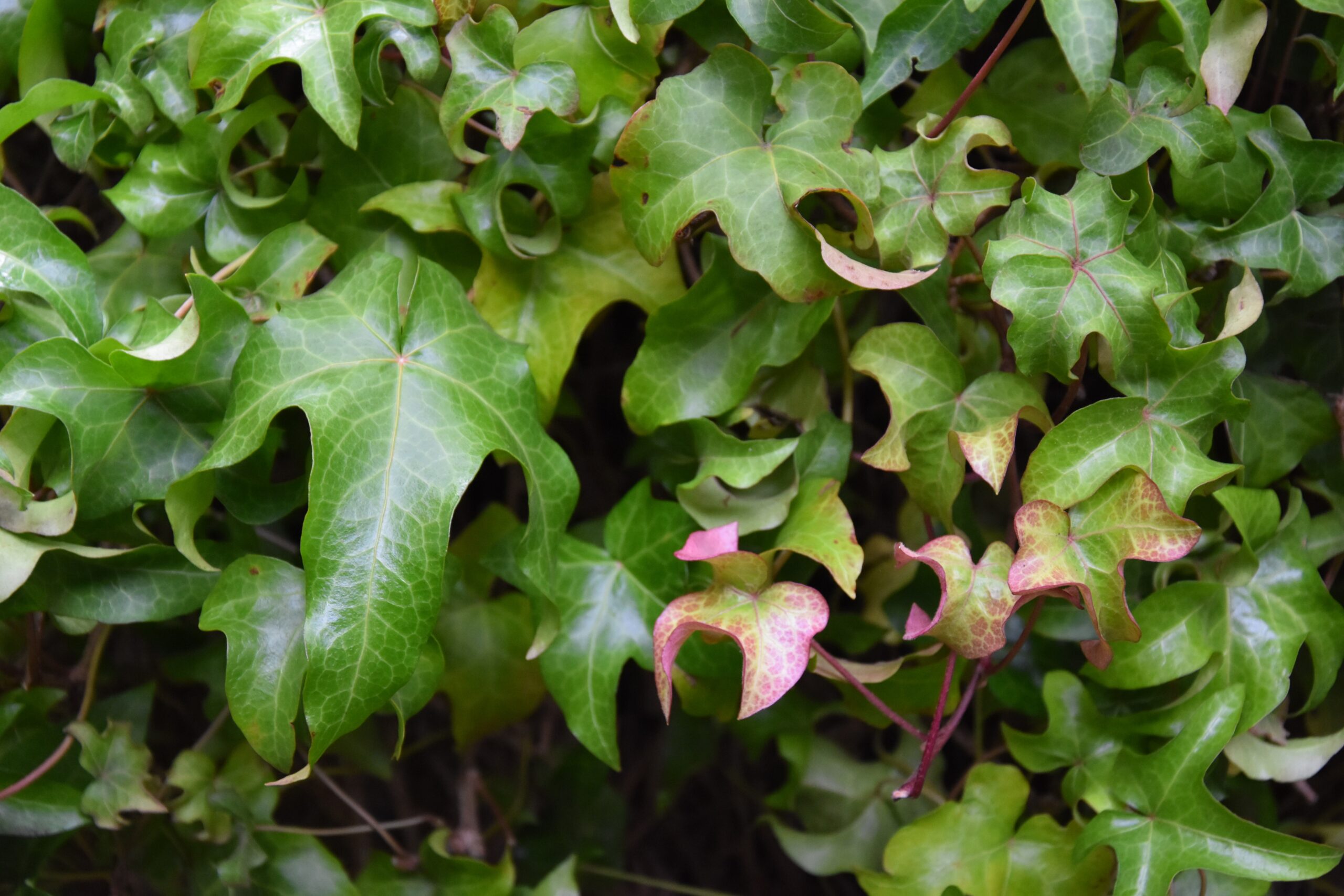 This ivy plant type is also known as "Curly looks" and is a medium-sized climber with dark green leaves and wavy edges. It grows in clusters and gains a purple tinge as the temperature drops; this keeps the garden or climbing wall colorful throughout the year. It thrives in full sunlight and should be fertilized once a month in spring, summer, and fall. It grows best in well-drained fertile soil and tolerates poor soil.
20. Colchica Ivy
Persian ivy, popularly known as Colchica ivy, grows and covers the land surrounding the roots and resembles a thick carpet on the ground. This ivy plant type has large, leathery leaves that have a dark green colour and white veins, although they can be pest-prone, making upkeep a little bothersome. Persian ivy plants need partial to full shade for healthy growth, so they are typically found in cool temperatures. Hedera Colchica, on the other hand, can cover and kill the other plants, so regular maintenance, like trimming the plant, is highly suggested. If cultivated to cover the ground, it is trimmed to regulate the height. The large, leathery leaves have a dark green colour and white veins and are vulnerable to pests, making their maintenance a little bothersome.
21. Algerian Ivy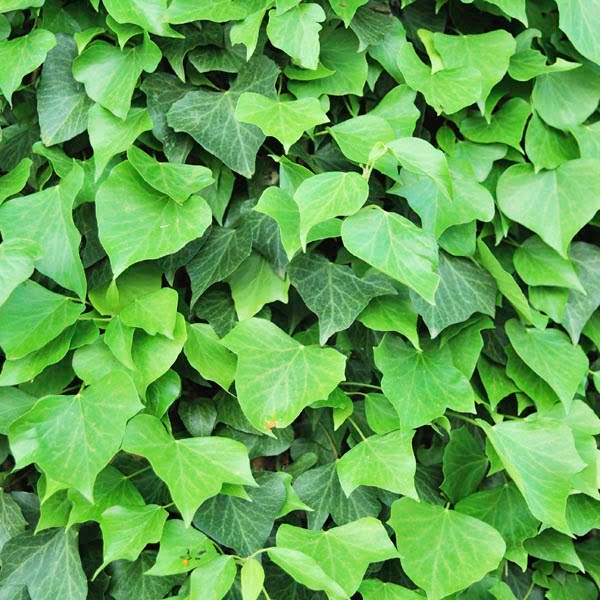 Algeria ivy may reach a spectacular height of 10 feet and a width of 3 feet. They have lovely leaves that are heart-shaped and dark, lush, and gorgeous. This ivy plant type is tremendously vibrant, breathtakingly dramatic, and ideal for many types of trellises. You can also consider growing them on walls and slopes. Although the Algerian Ivy can survive some drought, it still does best in full sun and some partial shade. But make sure the soil should be continually well-drained.
Conclusion
These were some of the unique and various ivy plant types which are suitable for homes, outdoors, gardens, walls, etc. Some of these plants can be a great addon to your houseplant collection, and the others can be an amazing decor on walls or buildings. With proper maintenance and trimming, these ivy plants can be no less than a masterpiece of art.
All of the mentioned plants have their own characteristics and requirements that differ from one place to another and season to season, which gives one a task to properly analyze and choose the ones that align with their interests. Most people deem ivy plants to be a common and regular plant species.
Yet, this family includes some of the rarest types of plants that a plant-lover would be thrilled to add to their collection. At the end of the day, all of these plants are nature's way of decorating, and they add beauty wherever they decide to grow.