Every living room in a house should be distinctive, attractive, and welcoming whenever family and friends congregate. It needs to be something that showcases your sophisticated taste.
Hence, whether you have more refined taste or are a giddy person, you will be amazed and excited by these minimalist bohemian living room ideas.
Decorating your living room with a bohemian taste isn't difficult, even if it's like fulfilling your unique taste with a boho style. Boho decor contains items made of woven or knitted fibers, vibrant colors, and, perhaps most importantly, a welcoming charm that enlivens your minimalist boho living space.
A minimalistic bohemian living room design approach is a combination that doesn't feel overpowering or overwhelming but adds personality with different materials and hues.
In this article, here are some of the boho-style decors for your living room that will design your space beautifully and traditionally, appearing captivating for your family moments and special gatherings.
Bohemian Living Room Design Ideas
1. Braided Baskets for Wall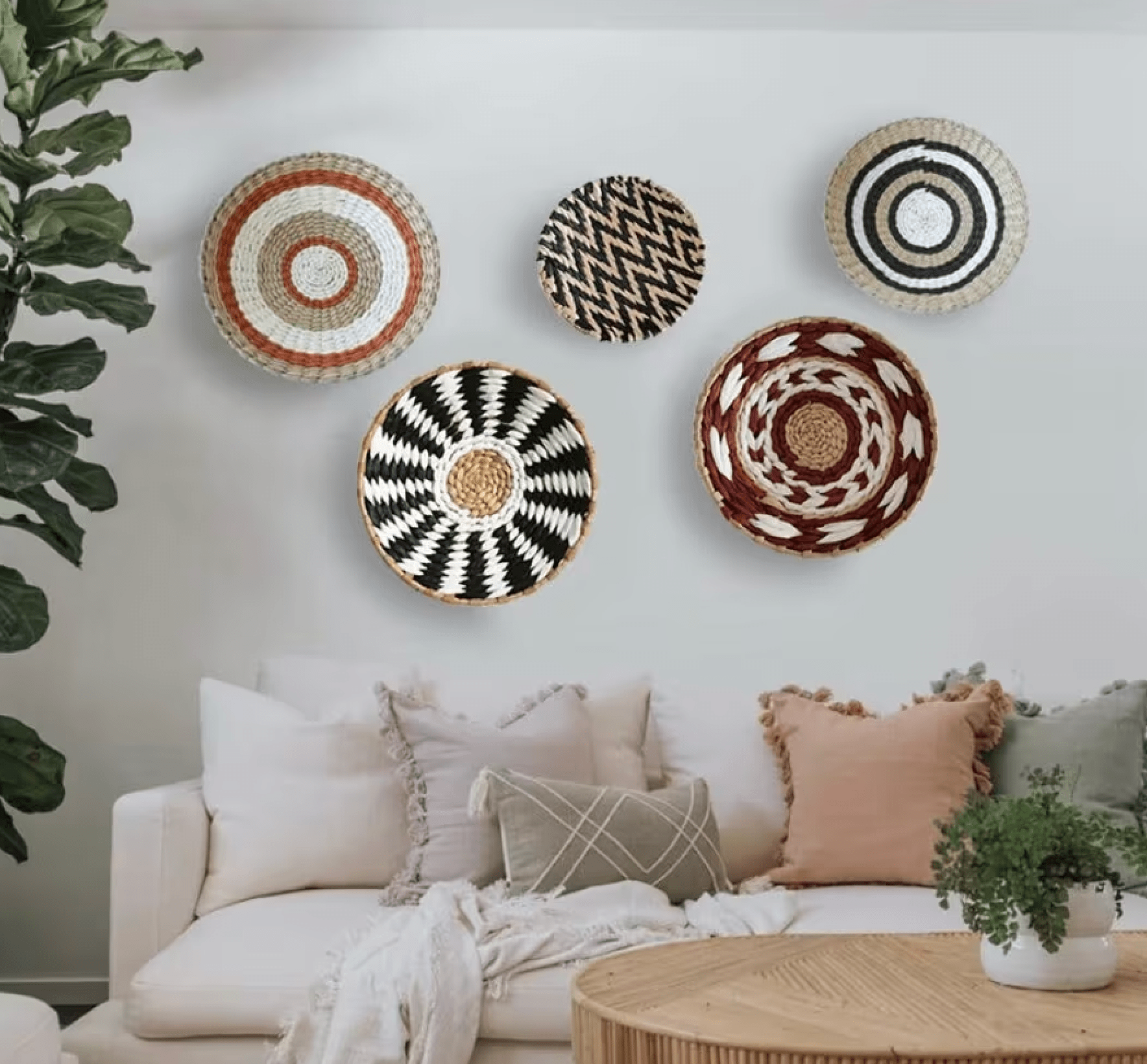 These wall baskets are made of sisal and jute and are famous for a look of bohemian decorations for your living room. For a plantation made of jute or other exotic fabrics that elegantly accent your living space, braided wall baskets are also used. These woven baskets are hung on the beautiful walls that look like a minimalist bohemian living room.
2. Ambiance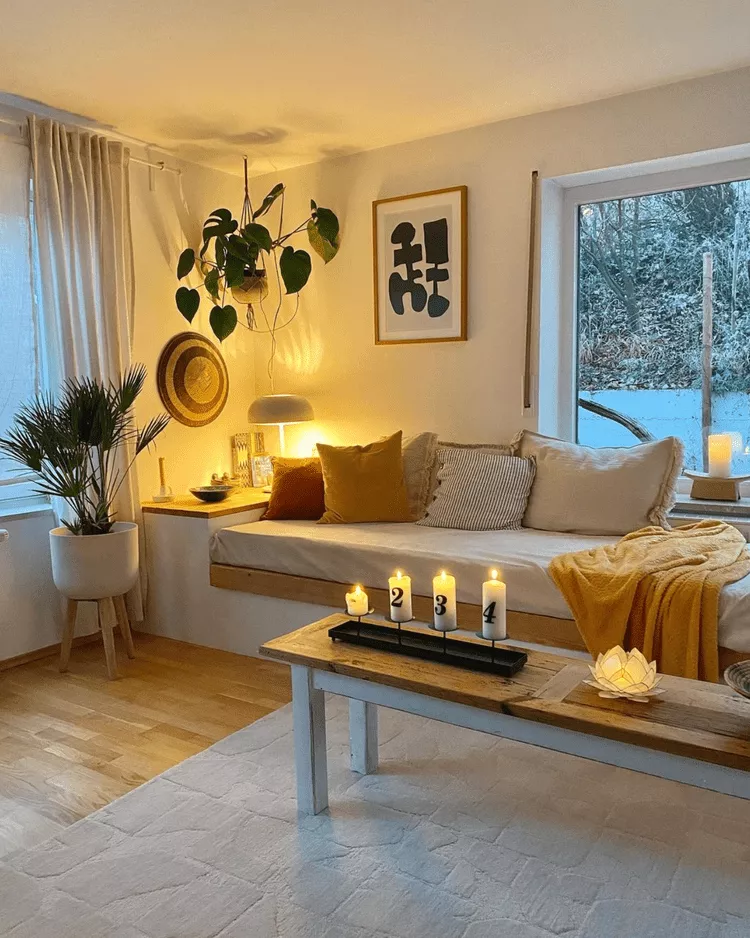 Ambiance, lighting, accessories, and accents can make your living room vibes beautiful and give an exciting boho-style look. Such as, the string lights can be used for hanging or on the ceiling, providing a welcoming and warm look and a perfect and different decor for your living room. Even a mix-match look using lights can give boho-style elements to your living room, such as Candles, Table lamps, Desk lamps, Lanterns, Pendant lights, and Pendant lights. These warm, colorful lights will create a soothing and enjoyable vibe.
3. Rugs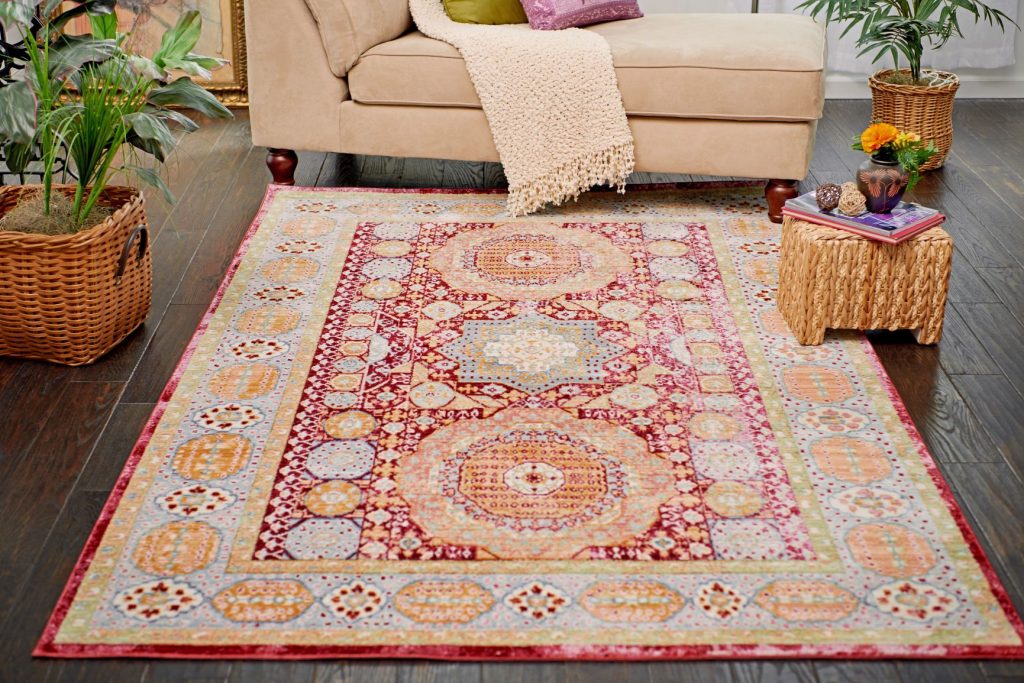 Adding boho-style rugs to your living room is simple, elegant, and classy. Carpets can give a bohemian look by adding a vibrant and different and captivating texture rug underneath to your sitting area of different and fun full patterns. It doesn't matter how many rugs you use; according to your living room and choice, the most important thing is that mats have been used in accurate size and the perfect texture for your space.
4. Textured & Colorful Throw Pillows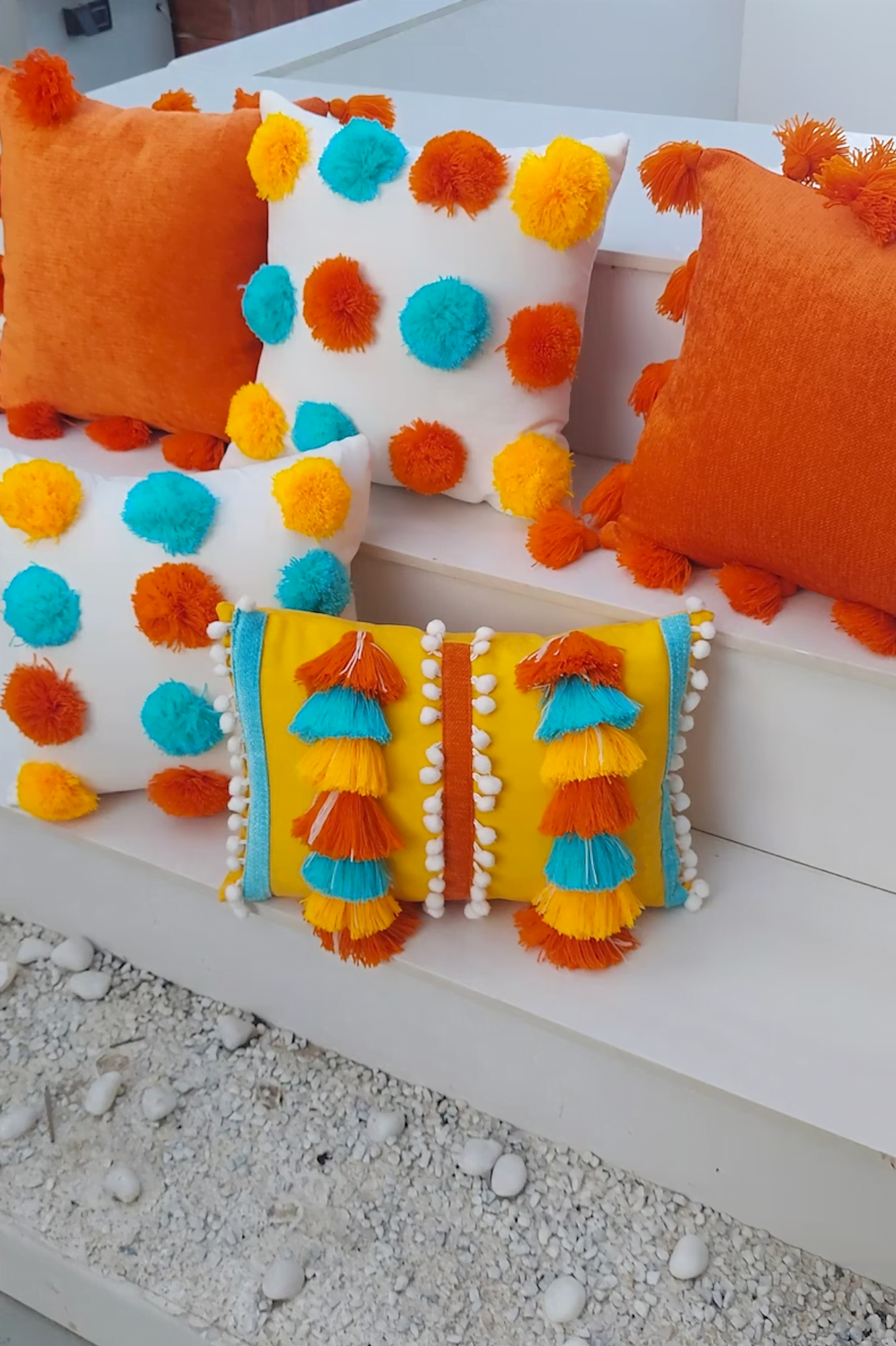 Another standard option for bohemian interior design is thrown cushions. A rattan accent chair, botanical wall art, and exotic throw pillows are the best options for the minimalist bohemian living room, giving the best aesthetic for your living area.
5. Opt for a Counterculture Room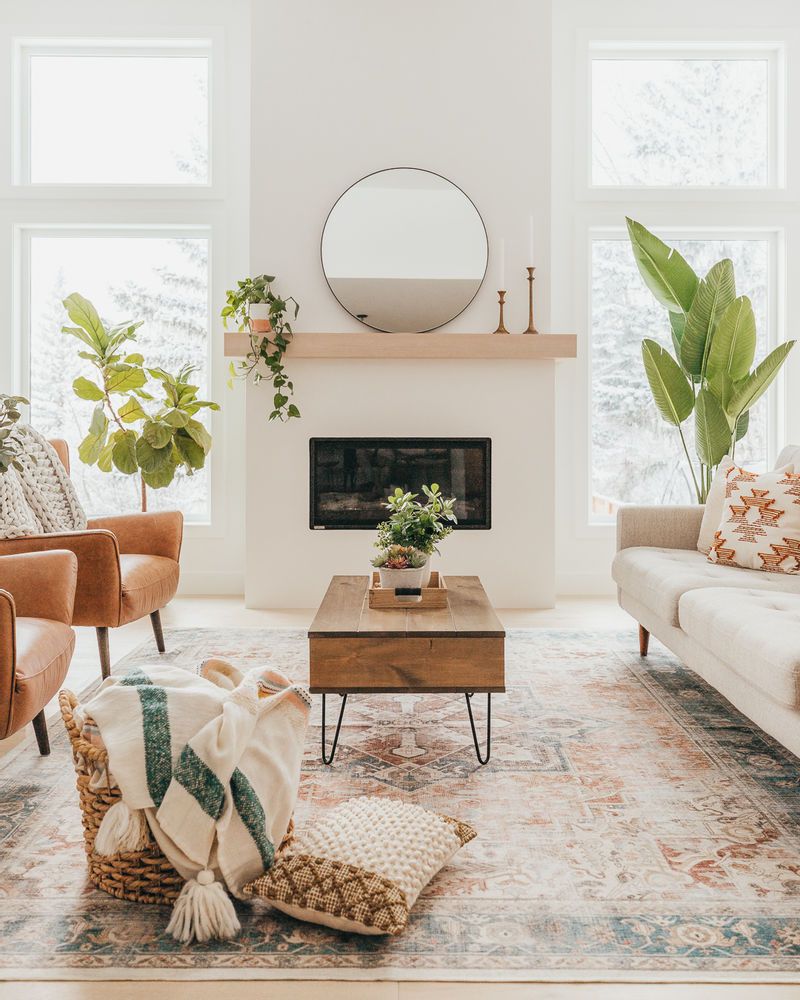 Any color scheme is acceptable. Apartments with bohemian decor often have white walls, but neutral hues are also popular. You may try an accent wall in black or blue if you like unpredictable and fun aesthetics. Artwork, wall glasses, and colorful borders make counterculture living apartments look lovely.
6. Indoor Plants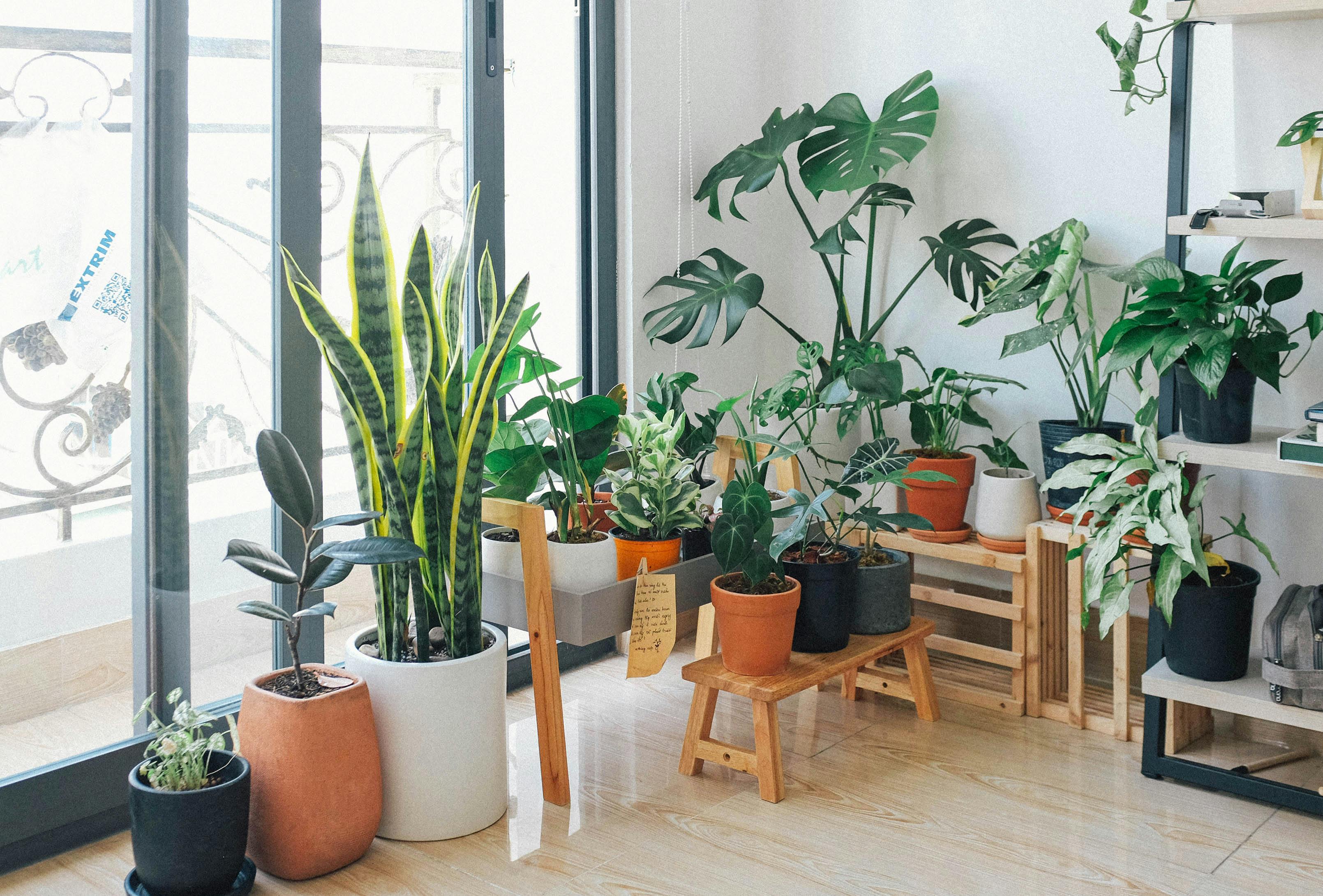 Indoor plants will help you a lot, and it's a must-have decor that gives you a minimalist bohemian living room. Greenery will help you to improve the air quality inside your room and enhance your mood. You can opt for artificial plants, which can be used for decor, such as hanging plants. They create a natural surrounding for your stylish living area.
7. Opt for Woody Furniture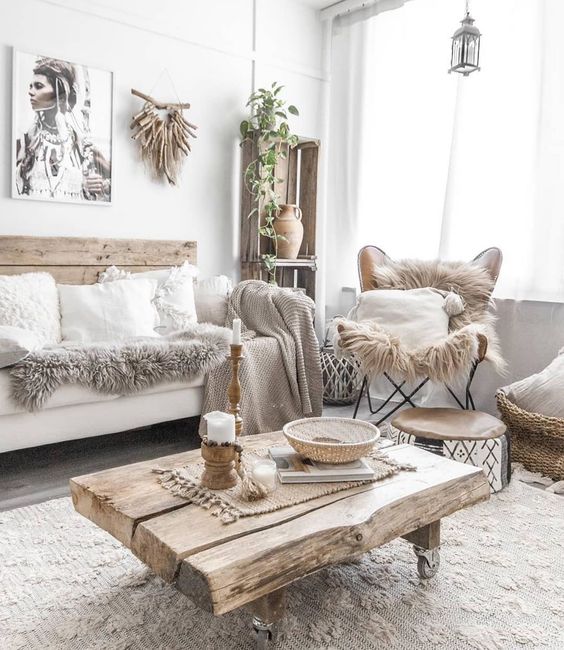 Bohemian living room decor or designs includes and involves the elements of woody furniture too. It will improve the aesthetics of your space and will also give it a serene feel. You can decorate your living room with traditional and modern elements, which will glam the room look. Such as for the sofa sectionals, poufs could be used; an accent chair, an accent stool, a wooden cabinet, and a side wooden coffee table will surely give a minimalist bohemian living room that will make your space sparkle. 
8. Wall Mirrors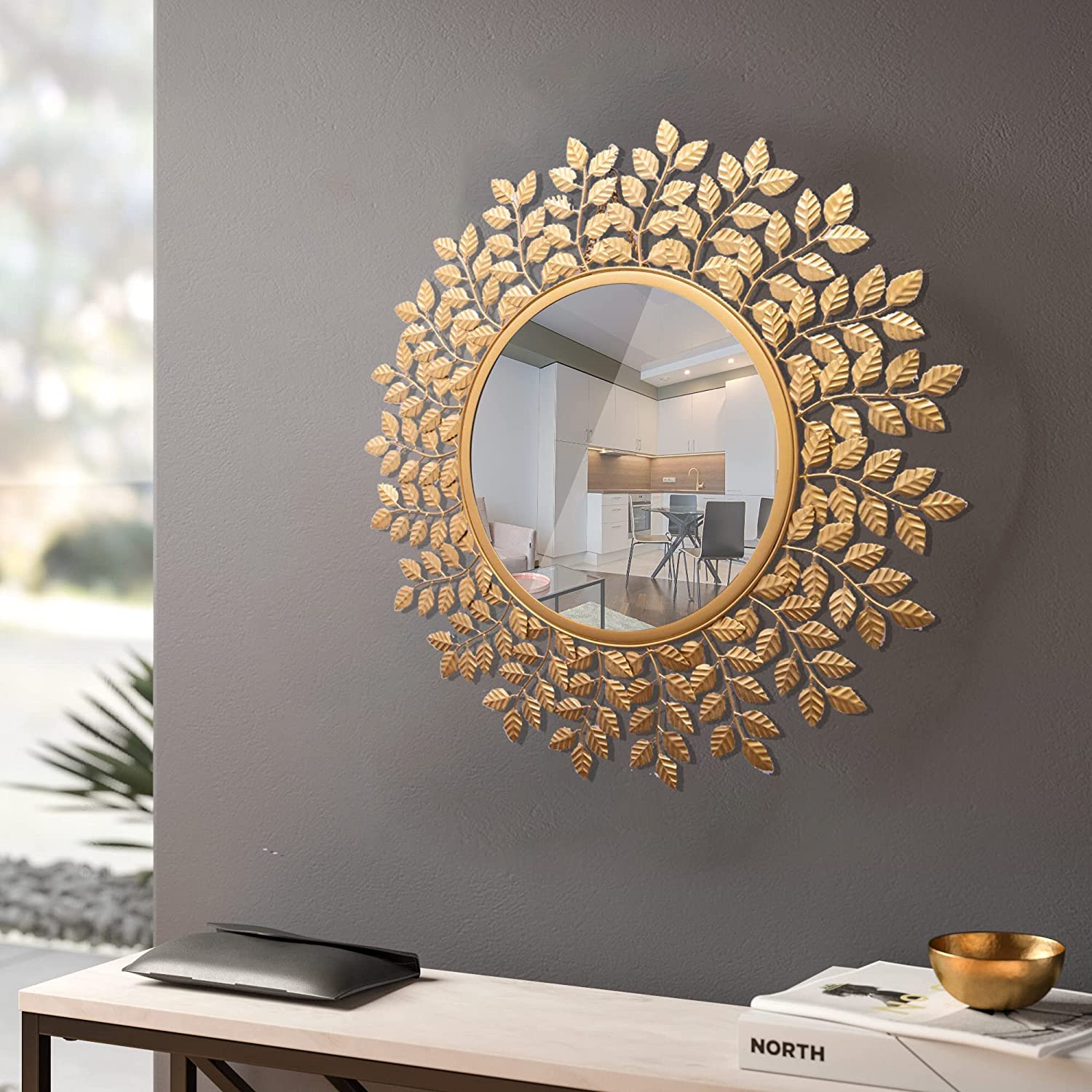 Mirrors are the most creative pieces for boho-style decor for your living room. It reflects the versatility of your personality and your taste regarding interior decor. You can put on wall mirrors of different patterns and textures that attract and, most importantly, beautify your wall and your room. So, it's also an option to use aesthetic wall mirrors of different shapes and colors to create a bohemian look in your living area.
9. Swing Bed/ Chair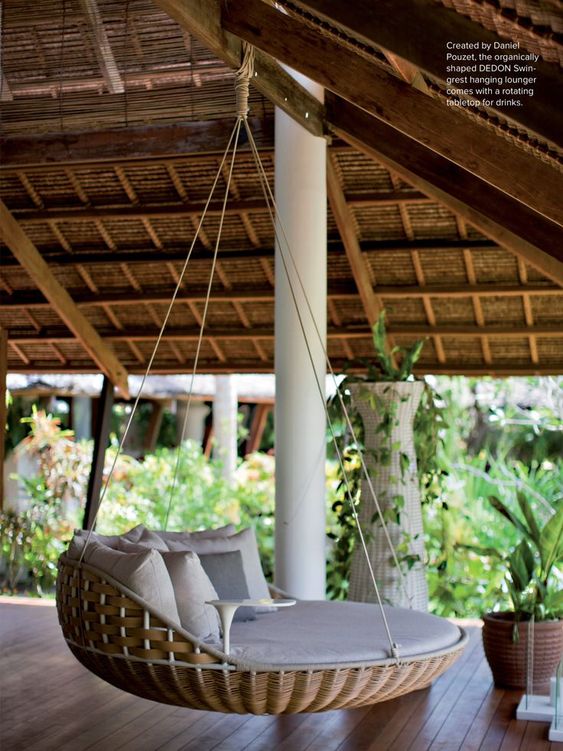 A swing bed or chair is best for abstract, excellent, and unique decor. It also makes the living room decor more exotic and exciting for visitors. Just imagine how amazing it would be to relax and calm yourself on the swing bed or the chair while following your fascinating hobby, whether listening to songs or reading books at that time. The most fabulous living room decor will give your boho living room a refined, beautiful, and captivating look, so overall it's a pleasant environment.
10. Boho-Style Artwork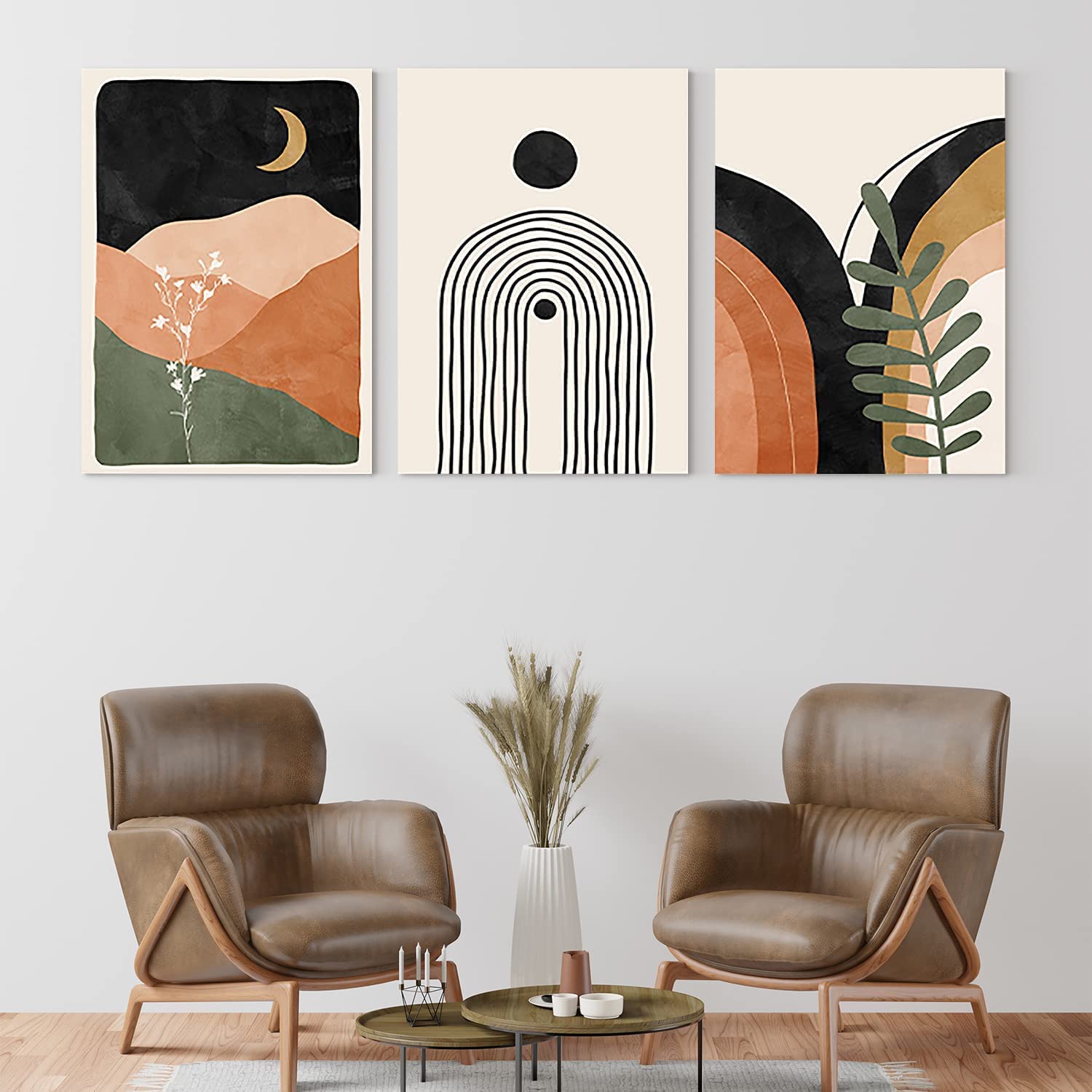 The free-spirited boho aesthetic emphasizes the outdoors and natural materials while mixing many cultures and artistic expressions. Boho-style artwork includes artwork that is based on various color palettes. It has different textures, souvenirs, and woods and combines multiple patterns for a beautiful and highly designed boho-style living area. On the other side, pretty illustrations or painting is done on canvas or pots that depict some Indian culture that looks traditionally beautiful.
11. Accents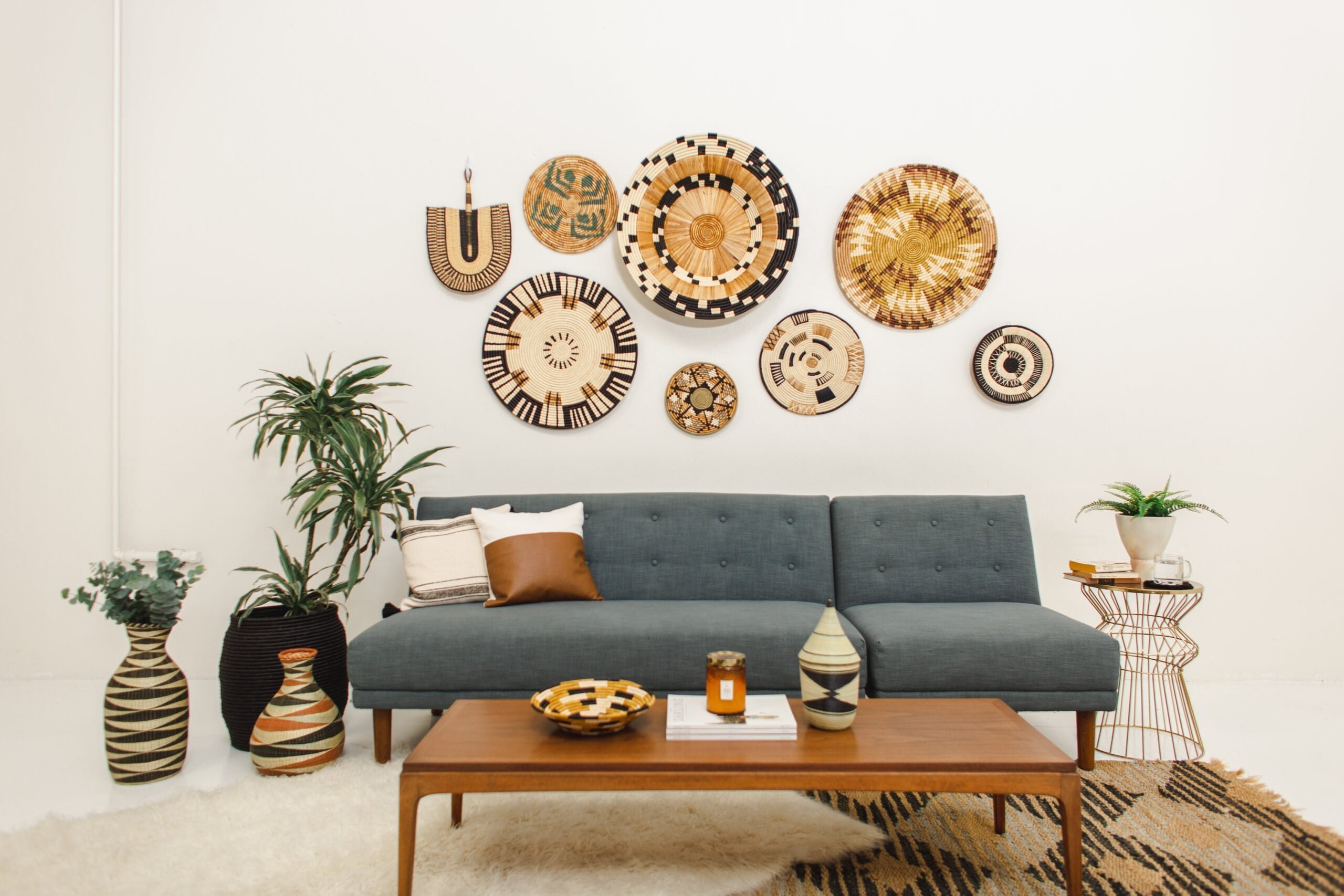 If we talk about accents, handmade crafts, DIYs, hand looms, woven wall hangings, and handmade paintings are the best examples to make your living room designs and decor the best. It shows the lavishing and traditional lifestyle of your personality and upgrades your living room decor at the same time. When the classic and modern eras are mixed, and the result is stunning, then the accents of the living area vibes become more energetic and look fashionable and exciting.
12. Go for Different Combinations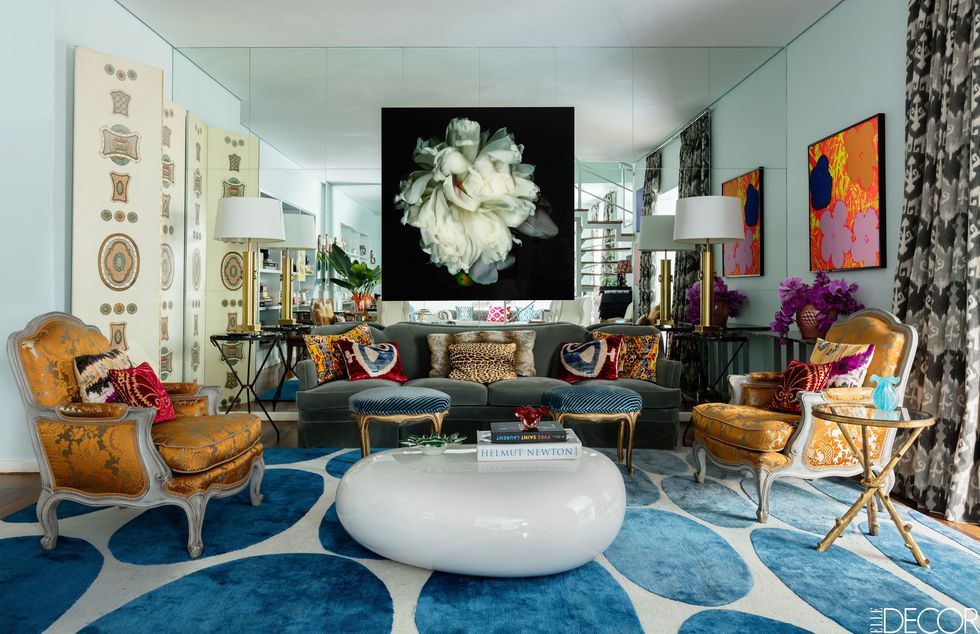 In a mix-match living room, warm ground tones, metallics, and gem tones are always excellent selections. Use argentine, green, and dark brown as base colors, sapphire blue, amethyst purple, and citrine unheroic to bring the room to life. The secret to mix-and-match design is to be beautiful using various color and accessory combinations, resulting in a dazzling minimalist boho living room.
13. Old World Finds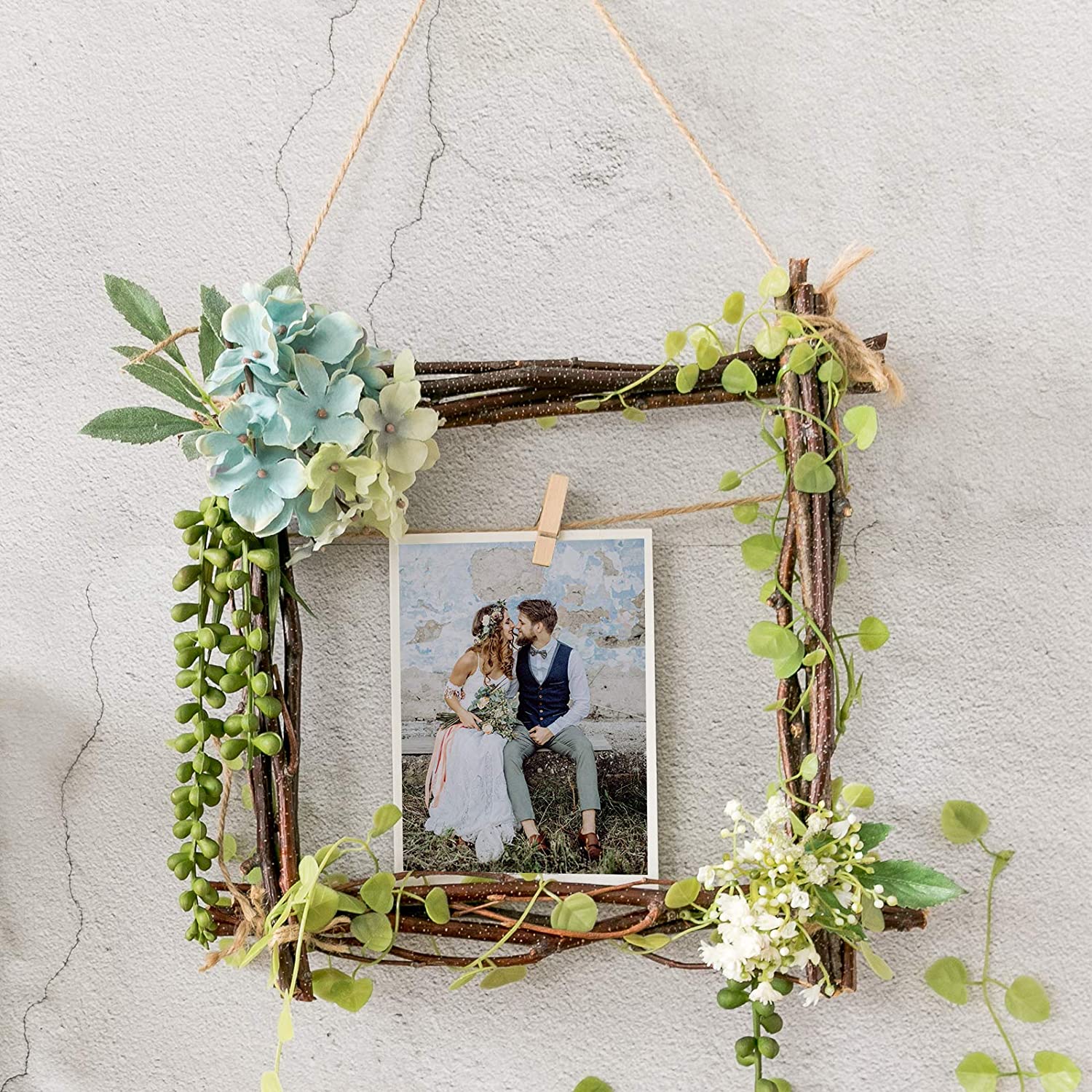 In a minimalist bohemian living room, prioritizing the vintage decors is the best. Instead, fill your room furniture and interiors with things that depict history, like antique pieces, including the coffee table, handmade statues, poultry decors, an antique wall unit, or vibrant rugs. Lying these kinds of decor around you gives you a knowledge of Indian traditions and culture that lease your designs and decor amazingly.
14. Bohemian Posters
Be sure that the bohemian or styled posters you choose align with your preferences and sense of style. Never go for endless designs that do not go with your overwhelming emotions; go with that poster that is according to your feelings and that will very well will decor your living area with lots of beautiful emotions. Even it will give a creative look to the room with your favorite boho-style poster.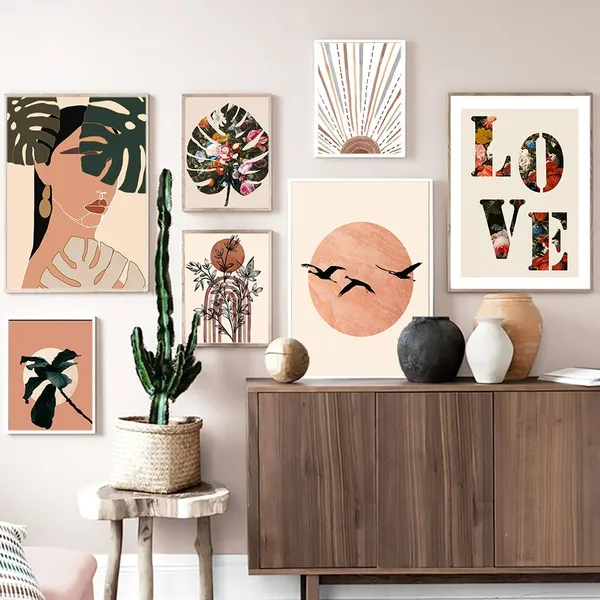 15. Shelves With Frames
Mix-match your shelves with chic and attractive frames and prints that perfectly go with your wall color and give a wholesome perfect theme that covers the vintage look on your walls.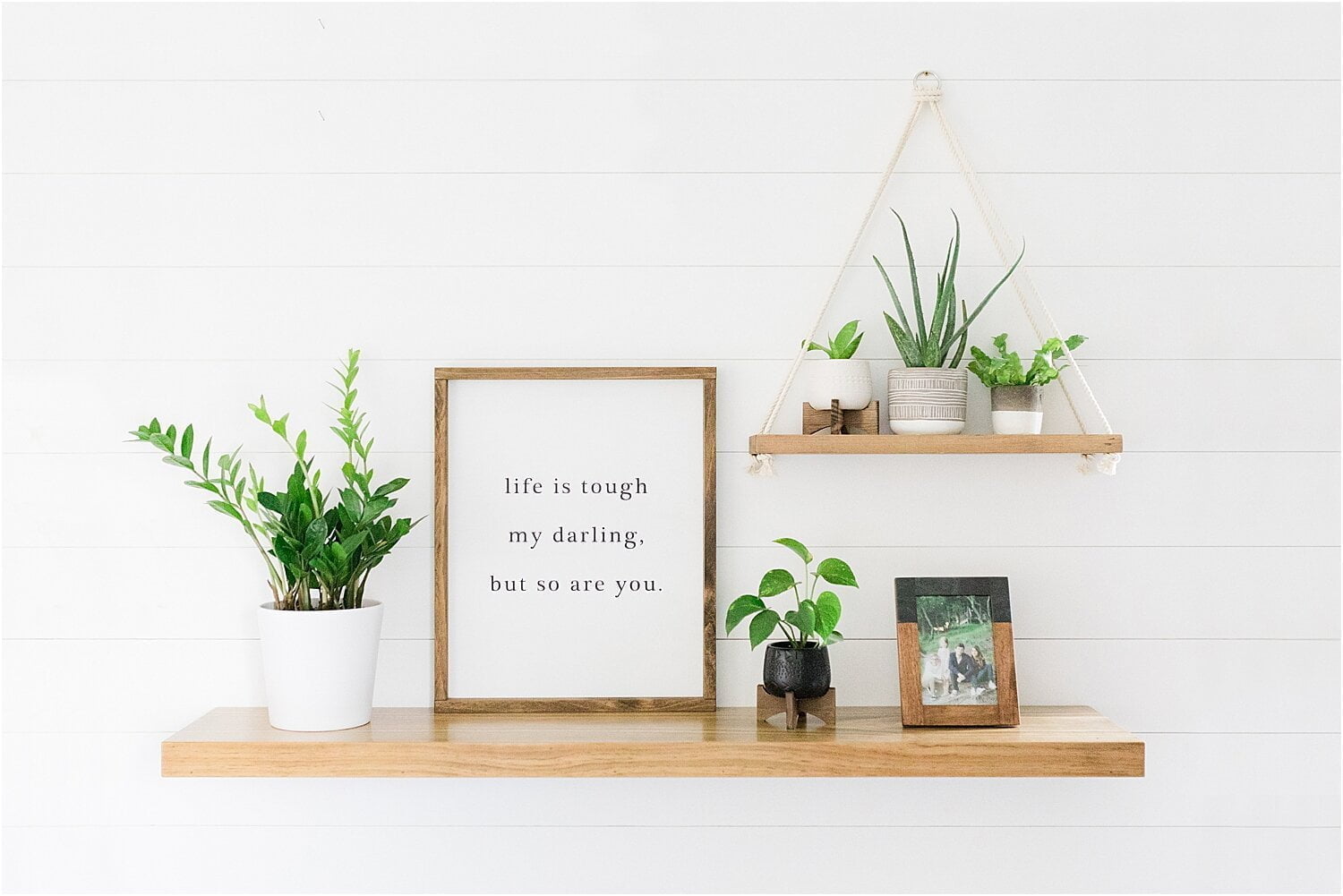 Wall shelves can be made more creative using the frames if something quotes or inspirational words prints are framed to keep on the wall shelves.
16. Airy Curtains
Add comfy decor to your living room with the help of sheer and airy curtains that ventilate the room's atmosphere and vibes. It will add a slaying look also to the boho-style decor room. Sitting in the living area, especially in the evening, with windy air and an inviting & peaceful environment, will also be relaxing and soothing.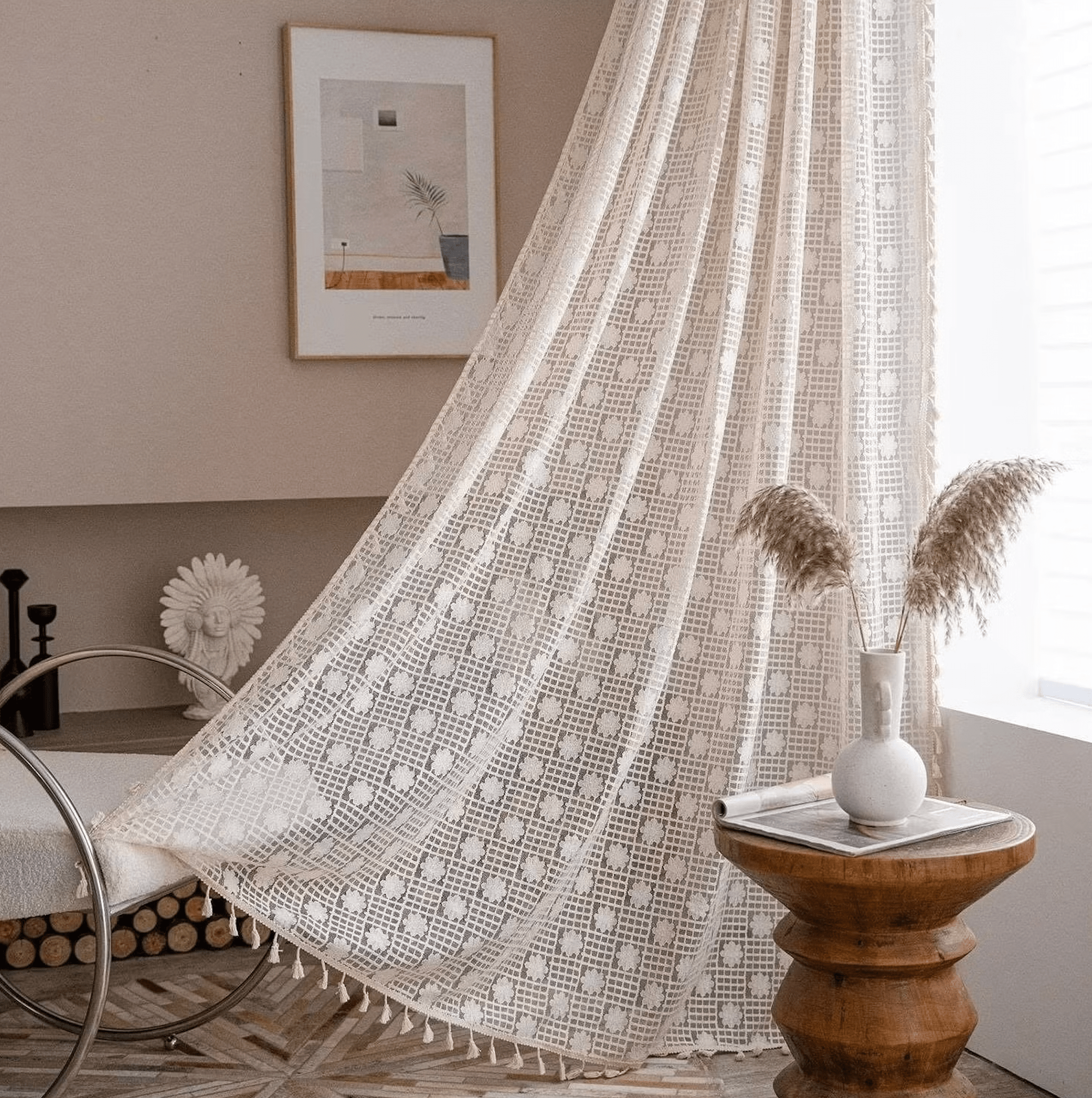 17. Invest in Cozy Materials
Make your living room with that kind of decor which is cozy and comfortable. Use fabrics, pillows, and decorating material on the couch or sofa, which is very pleasing. If anyone sits on that, it doesn't make them uncomfortable.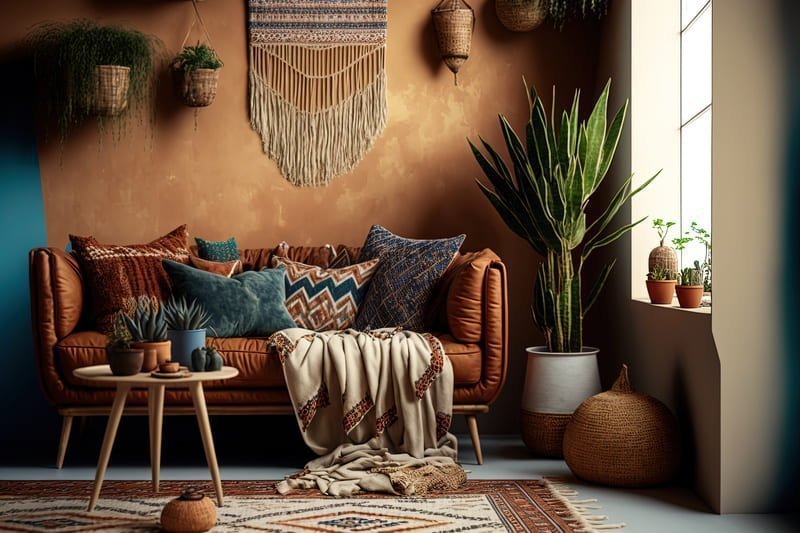 Just because of boho-style decoration and for the aesthetic look of your living room, wait to do the thongs that make the place uneasy while using any furniture. The decor used should be of soft & organic materials, and most importantly, the area f the rug should give a complete look.
18. Endorse the New Trends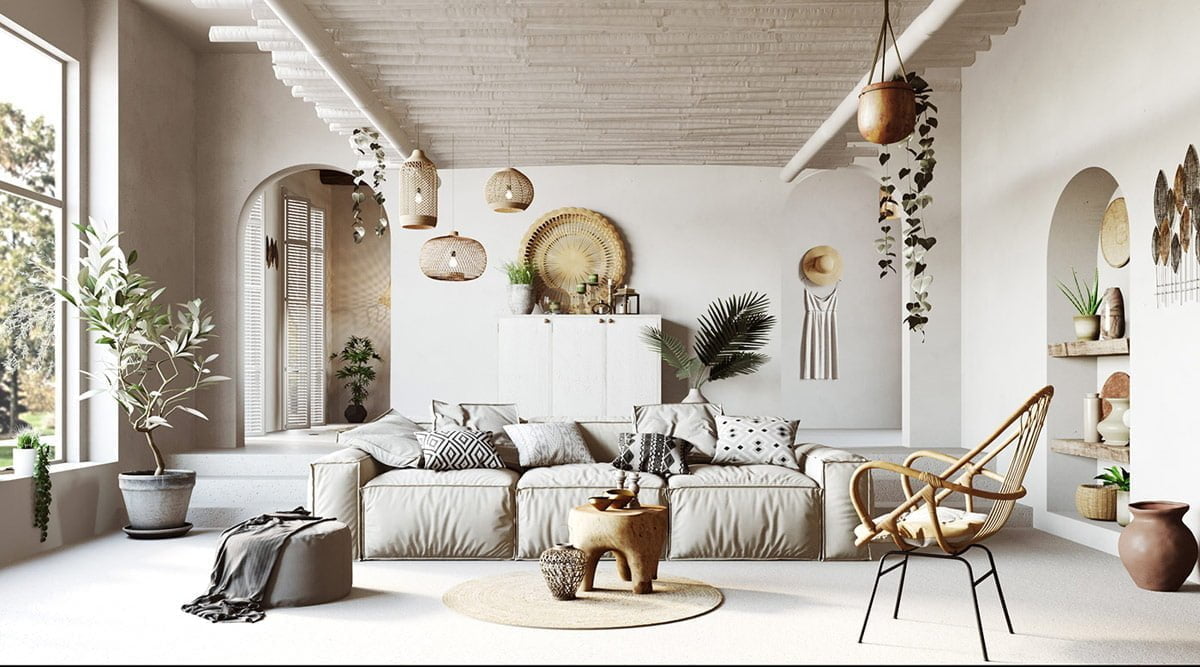 The bohemian look has been a new concept. But focusing on one trend or concept may make your living room less charming, attractive, and alluring. On the other hand, if the new trend is embraced in a very thoughtful and creative way, it will surely give your living room a damn fascinating look that will gleam the whole new look fantastically.
Conclusion
Minimalist Bohemian living roomis all about creating boho-style living area decors and interior designs comprising various colors and patterns. To achieve the bohemian aesthetic, add boho elements to your current decor.
There are no rules; blend multiple design elements to create a room that is uniquely yours! Bohemian fashion can be contrasted with the casual pattern, structure, and vibrant layering.
The style has some established conventions, but unlike modern or minimalist styles, it is not followed by strict guidelines. A bohemian aesthetic is all about personality and ease, which will bring change to your living room.