Want to add some rustic charm to your home decor? A farmhouse table might just be the perfect addition. These tables are not only functional but also beautiful, and they can bring a warm and welcoming feel to any room. Also, to your surprise, these plans are extremely easy to execute, even with basic DIY skills.
Through this article, we have compiled some amazing DIY farmhouse table plans for you to take inspiration from. Even if you are a complete beginner or experienced in woodwork, there is a perfect plan for everyone. Along with complex designs that will challenge your skills, there are simple designs that can be completed over the weekend. But what's so special about farmhouse tables? You might be wondering. Firstly, these tables have been used dominantly for many centuries. Their design is extremely sturdy and functional. The tables were planned to tolerate the rough and tough life on the farm.
So, if you are looking to brush up on your carpentry skills or just start a new hobby, this article will give you mindblowing ideas to add country charm to your house.
21 DIY Farmhouse Table Ideas to Try Now
One of the best features of farmhouse tables is they are highly customizable. They can be adapted to the style and size of your room. Be it a small kitchen table or a large dining room centerpiece, a farm table will give you the scope to personalize according to your convenience. You can end up with one of a kind furniture piece that everyone asks about.
Grab your tools and get ready! Some 21 beautiful and functional DIY table ideas are on their way.
1. Pottery Barn Inspired Farmhouse Table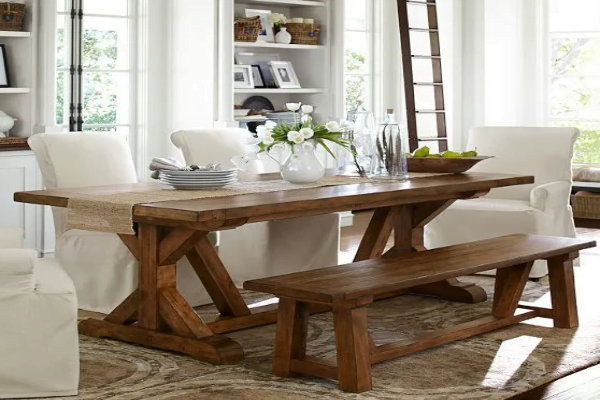 If you are a fan of chic and stylish furniture which won't burn a hole in your pocket, this idea is a must-try. It has an elegant wooden design and charming rustic details. This farmhouse table plan is the best way to bring the Pottery Barn aesthetic into your house without a high price tag. It has two chairs and two benches additionally. This makes it an ideal centerpiece for the dining room and kitchen areas.
The best part of this table is that it can be built for under $100. Even with less expenditure, you can make furniture that looks as good as the one bought from a high-end store. You just have to invest in good quality wood and some basic tools. The all-wooden style of this table goes perfectly with green plants and scented candles. When paired up with a neutral-colored carpet, you can get a picture-perfect dining room which is worth appreciating.
2. DIY Modern Farmhouse Dining Table
The warm summer months are just around the corner. This makes it the perfect time to plan outdoor living space. This creation can add some style and purpose to your boring outdoor deck or patio. Its comfortable chairs can give you and your family a chance to enjoy the meal and relax while admiring the outdoor scenery. It is perfect to create a cozy outdoor space for family or to entertain guests in style.
The unique factor of this table is that it has a luxurious parasol sun protection installed in its center. Besides, building this modern farmhouse table plan is easy as well as inexpensive. All you need are a few basic materials. Some 6×6 and 2×6 columns, stains, and weatherproof coats are enough to create this long-lasting piece of furniture.
3. Rustic DIY Farmhouse Table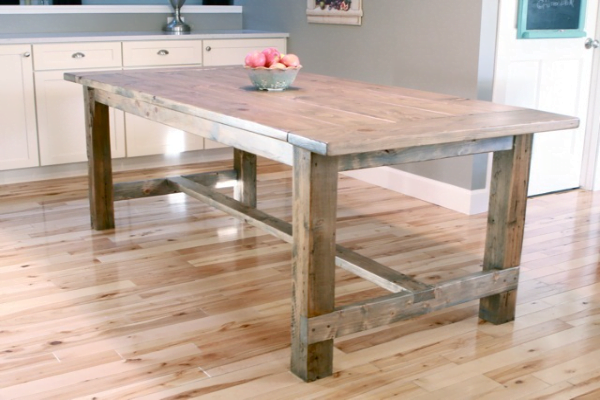 This design is for beginners who want to build a simple and elegant table without any inconvenience. With fewer tools required and a simple design, this table is a breeze to make, even for those with a limited DIY experience. But don't let the simplicity fool you. This table still packs a stylish punch. It has a rustic and timeless design that can give any dining room the feel of the countryside.
The most amazing part is this table can be created in no time at all! You can create this beautiful table with just a few basic materials and a little hard work. You should seriously consider this design if you are looking to make something easy and fun. It is a simple and hassle-free design. It can easily create some comfort and coziness for friends and family.
4. DIY French Farmhouse Dining Table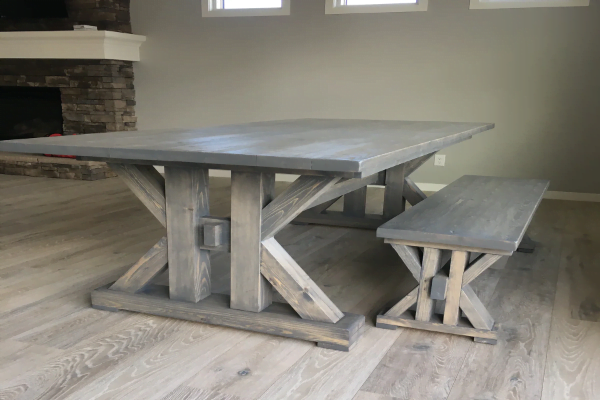 French Farmhouse Dining Table is a perfect addition to any dining room or outdoor living space. It can give your dining space a touch of elegance and sophistication. This design has a huge wide top and crisscrossed decorative legs. These legs are evenly flat at the bottom, making the design even more strong and solid. With a length of 84 inches, this farmhouse table plan can be ideal for hosting family dinners and parties for larger groups of people. The most astonishing part of this table is its beauty. The matching bench can be added to the side of the table to create a cohesive and contemporary look.
Also, this huge French table is surprisingly easy to build. This impressive design can be created using 2×6, 4×4, 2×4, and 1×4 columns. Printing the plan will make the construction process painless, even for those with limited carpentry experience.
5. Wide Farmhouse Table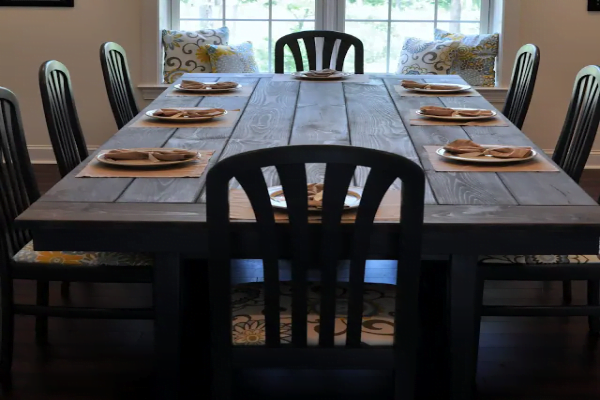 Does your family gather together to celebrate all the festivities? If yes, then this table is perfect for you. The wide farmhouse table can serve large gatherings. The wide top of this table can fit a full spread on itself. It has a square top that can accommodate large bowls and platters. This design eliminates the need for side tables.
So you won't have to invest in extra furniture during the festivities. This will make hosting parties and celebrating festivals like Christmas and Thanksgiving more convenient. In this way, you can give your family the joy of having festive meals together with love and laughter.
6. DIY Farmhouse Kids Table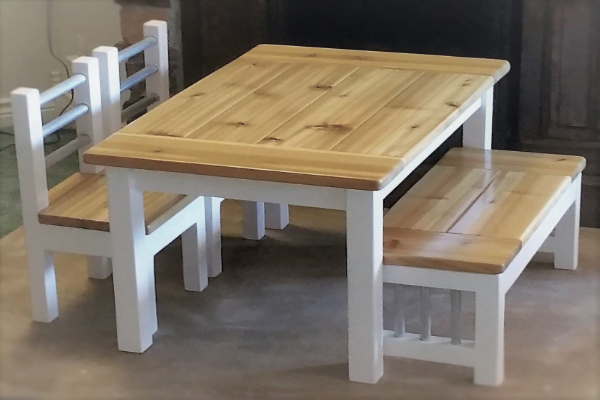 If you have kids in your family, this farmhouse table plan is a must-try. It has a white painted base and the top covered in choco brown color. This table is not only functional but appealing to the eyes. You can also further enhance the appeal by adding matching benches. It can be utilized to do crafting and other fun activities with the little ones. It is an easier option to build, even for beginners with close to no DIY experience.
The material that you will need is table legs, top planks, cross-sections, and stretchers. The finished table has a length of 36 inches, a breadth of 24 inches, and a height of 22 inches. These are the perfect dimensions for kids to use comfortably. This design can give your kids a fun and functional space that they need to unleash their creativity.
7. Round Top Farmhouse Table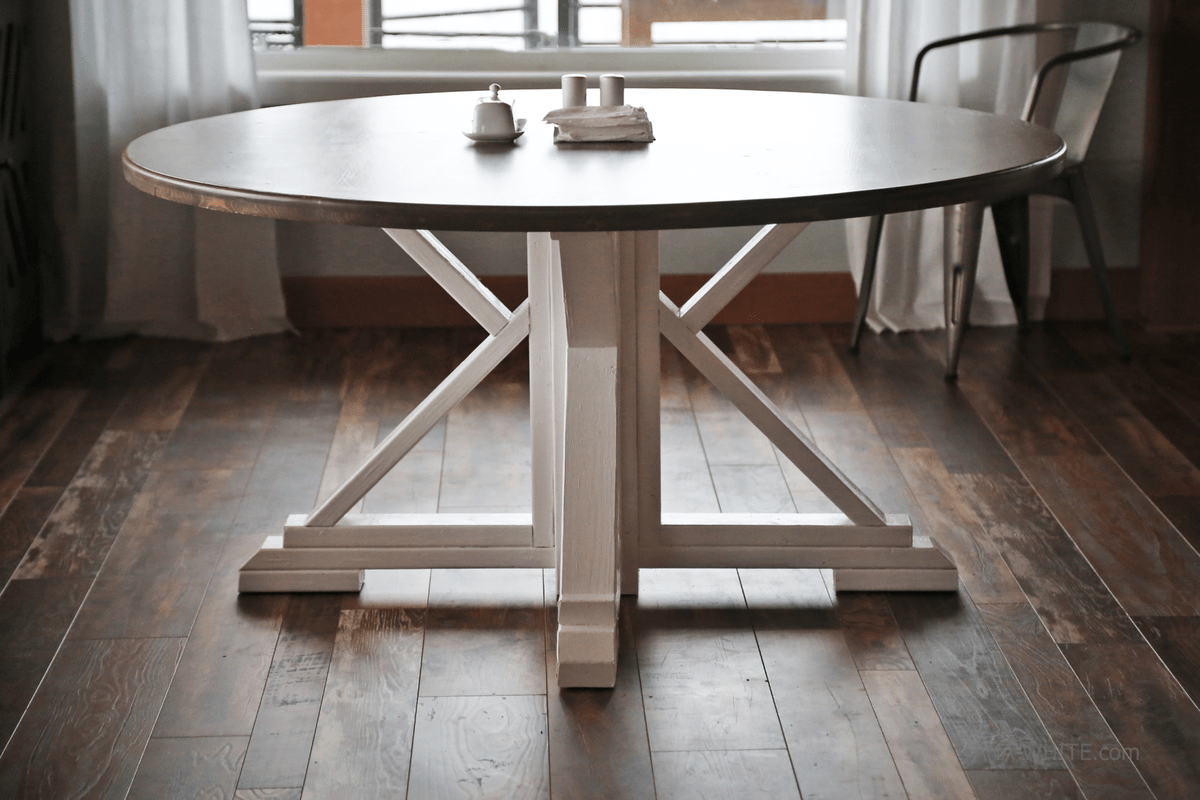 Round tables are famous for giving an intimate dining experience to the ones using them. This is why most restaurants prefer keeping circular tables to enhance the ambiance. Hence, the round table DIY idea is perfect for those who want to bring this experience home. What differentiates this farmhouse table plan from rectangular ones is that it allows people to have equal importance. It makes it easy to have conversations over dinner and instills a sense of closeness among the people sitting on it.
Besides, its compact circular shape makes it perfect for small spaces. With a few basic tools and skills, you can create this table that can be an integral part of memories created during fun-filled dinner conversations.
8. Outdoor Patio Styled Table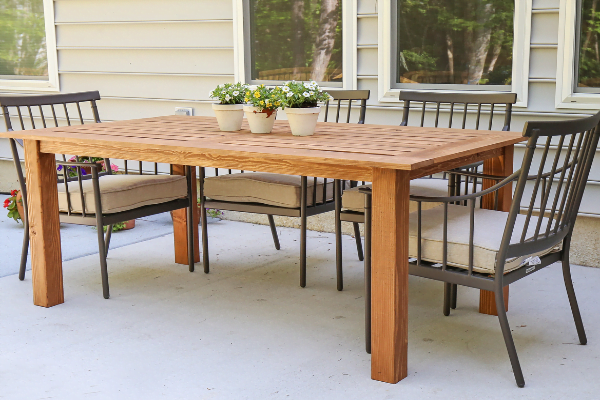 This beautiful wooden finish and sturdy construction and patio table can make it a perfect addition to your backyard or deck. This rustic and modern design is built using treated wood and some basic carpentry tools. It can be elevated by pairing up with outdoor chairs and a bench. Since this table is for the outdoors, a little bit of finish using wood polish is recommended to extend its life.
In this way, the table can survive any kind of extreme weather. Keeping a patio table will encourage you to spend more time outdoors and appreciate your surrounding.
9. Farmhouse Table Island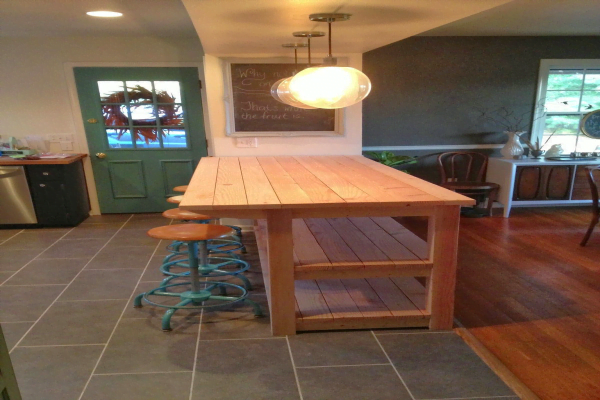 The island table design is practical and stylish, with a beautiful wooden finish. It is a great option to have in kitchens. Island tables can be utilized while preparing meals, cutting vegetables, and even serving food. It will let you hang out with friends and family as you cook. It can also be used to keep a watch on kids doing homework while you work in the kitchen.
For small apartments, it can also be used as a separator between the living room and kitchen that acts as a small dining table too. With its sturdy construction, it remains intact for years to come. It will enable you to implement the modern interior idea in an old country style.
10. 4×4 Farmhouse Table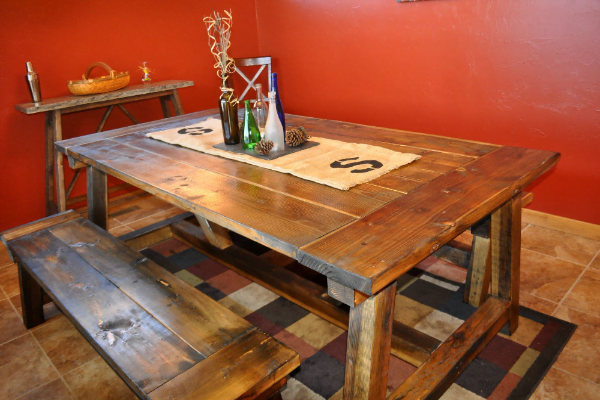 This 4×4 Farmhouse Table plan by DIY Pete is worth checking out. It requires minimal carpentry experience, making it ideal for beginners. Its table plan is easy to follow. It can be made using some columns of dimensions 4×4, 2×4, and 2×10. This design can be implemented using a few essential tools like a power drill, and miter saw in no time.
You can complete its looks with matching sets of rustic benches or chairs placed on each side. Its design is both sturdy and stylish, which perfectly suits a small family.
11. The Classic Farmhouse Table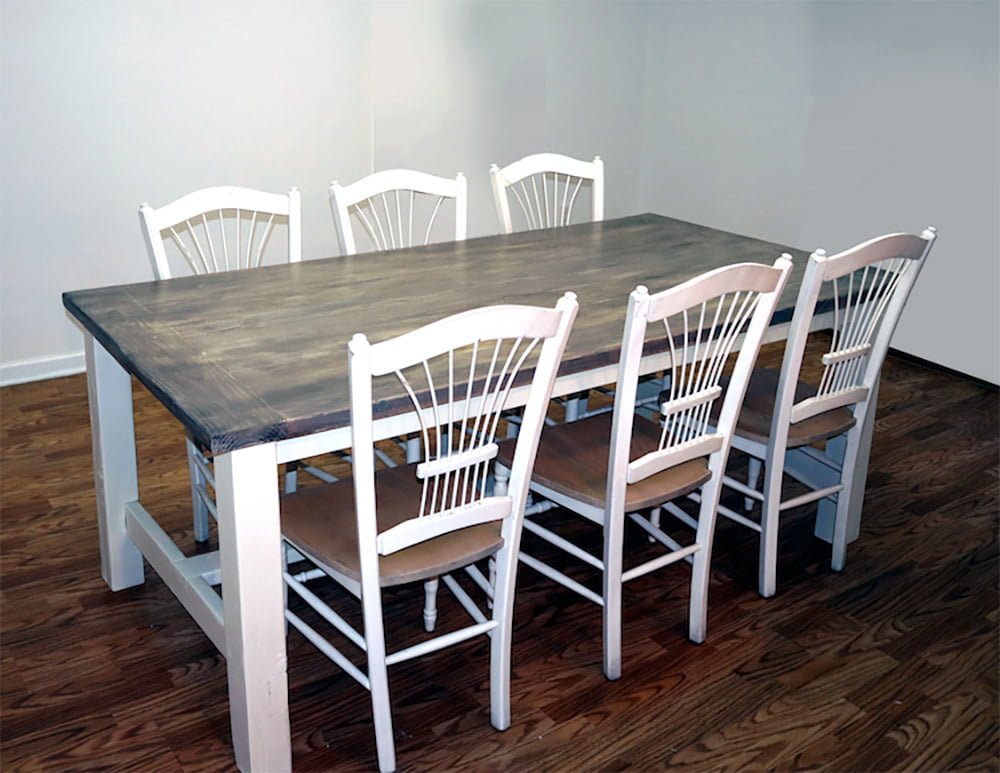 The classic farmhouse table is a perfect DIY option for those looking for a simple yet elegant design. The table plan is easy to follow, and building matching benches or chairs is a breeze. You can also customize the look by choosing contrasting seat colors to complement the walls or the background. This table is perfect for larger families or for hosting dinner parties.
The simplicity of this design ensures that it will blend seamlessly into any decor style. It complements the existing aesthetic and adds a hint of country flavor too.
12. Square X Base Design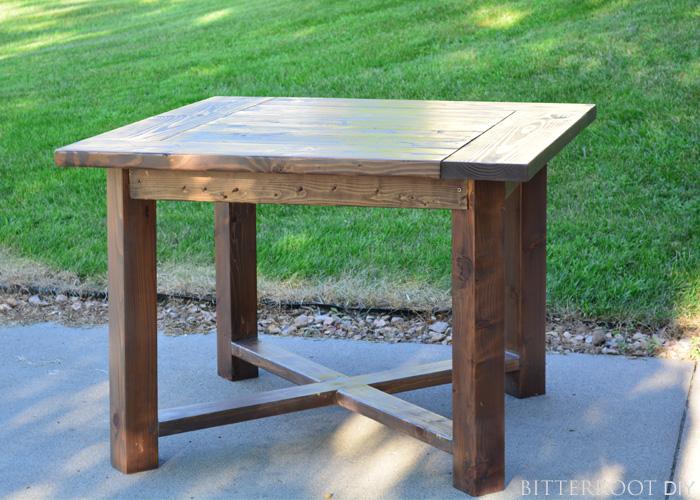 Bring a touch of rustic charm to your dining space with this square X Base Design farmhouse table plan. With a beautiful and unique base, this sturdy table is both stylish and functional. Intermediate carpenters will find the construction process manageable to follow.
The table comes at an affordable price of around $100, making it a valuable investment. Its truss beam design adds an extra layer of strength and character to this already stunning piece of furniture. You will be able to enjoy your meals in style with this solid farmhouse table.
13. Farmhouse Table with Extensions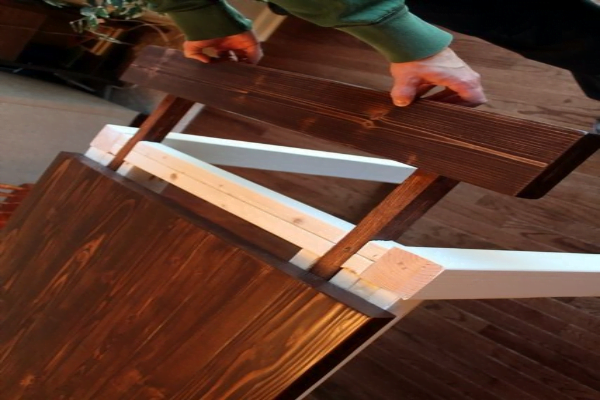 Do you have a huge family or like to host large gatherings frequently but have limited space? This DIY farmhouse table plan, along with extensions, might just be the solution for you. The table comes with leaf expansions that can be added or removed as needed, providing you with the extra space you need. You won't have to worry about cluttering the center of the table anymore, and you can even use the additional space to display your favorite decor or store extra utensils.
Plus, the table's classic farmhouse design will add a rustic touch to your home decor. Extendable tables are highly expensive in the market. It is much more affordable if you DIY it.
14. 8-Board Farmhouse Coffee Table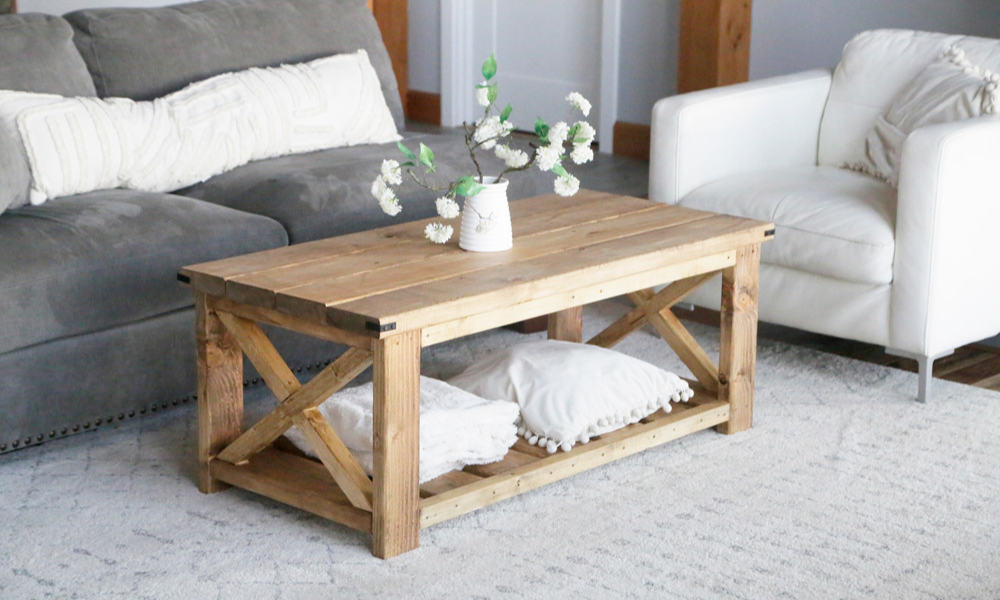 Transform your living room with this charming 8-board farmhouse coffee table. Its sturdy construction and unique X-base design make it both functional and beautiful. With only 8 boards required for the build, it's a fun and easy DIY project for any woodworker.
These crisscross sides add extra strength, while the bottom shelf provides additional storage; finish it off with a rustic wood stain for a perfect touch of farmhouse charm.
15. Picnic Farmhouse Table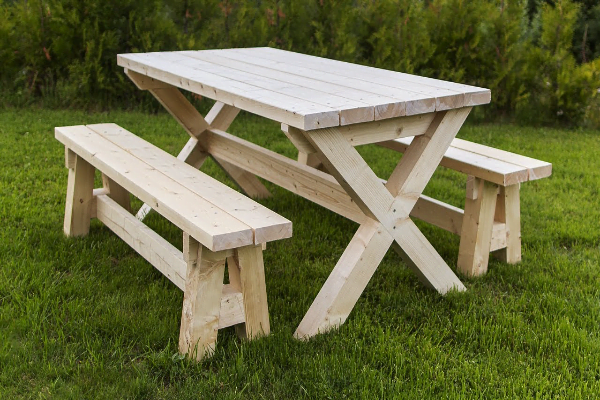 Built with treated wood and a few basic tools, this DIY Picnic farmhouse table plan is best for outdoor gatherings with family and friends. The table has a classic design which makes it both sturdy and stylish at the same time. Its rustic charm makes it perfect for backyard and patios. It offers ample space to accommodate the entire family.
Start working this Picnic table right away to get good times with delicious food and close people.
16. Chunky Farmhouse Coffee Table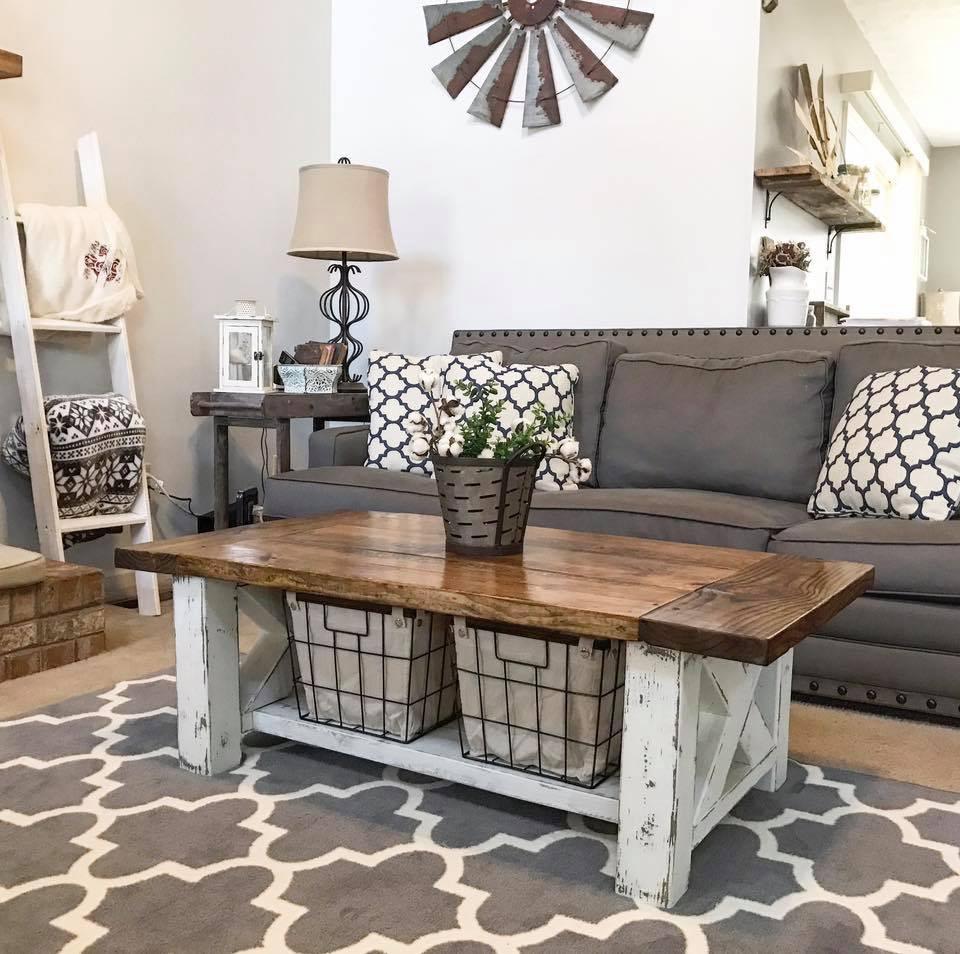 Want to add a touch of farmhouse to your living room? Look no further than this chunky Farmhouse coffee table. This table is extremely easy to assemble using an X-side design. All you need is sturdy columns of 2×10, 2×6, 2×4, and 4×4 dimensions. It has a dark stained wooden top that gives a nice contrast to the light pastel or white walls.
The bottom shelf makes it convenient to store magazines and daily newspapers. With an abstract vase on top, this table can help you give vintage countryside look to your living room. You can also use some creativity and modify this plan to build a matching dining table of a similar style.
17. Inexpensive Farmhouse Table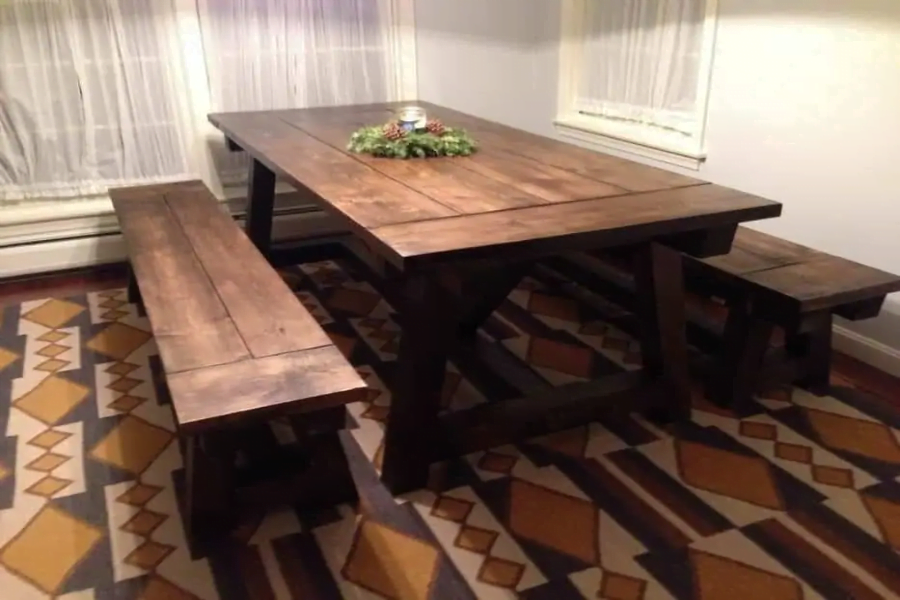 This DIY farmhouse table plan can be executed inexpensively using repurposed materials. They include easily available stuff such as old farm woofs, roof boards, pieces of timber, a cushion clincher, and even shower shades. Once assembled, it can comfortably seat twelve people and more. You can add hinges to the seat by the window to turn them into storage boxes.
You can use them to store root vegetables away from sunlight against an external wall.
18. Farmhouse End Table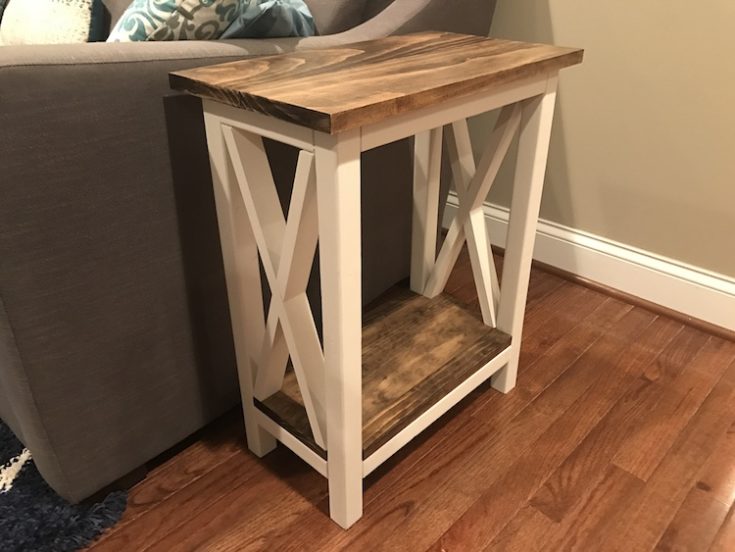 Indulge in the charm of the countryside with this beautiful farmhouse end table, crafted from 2×2, 1×8, 1×2, and 2x4s. The table boasts an exquisite antique base and an octagonal top that's perfect for holding your favorite book, a warm cup of coffee, or your TV remote. Standing at nearly 29″ tall, with a 16″ square criss-cross base, this table will make a glamorous addition to any modern living room.
If paired up with vases, it can help you revamp a plain corner of your room. Follow the simple instructions provided with it, and complete the look with a pre-stain, Espresso stain, white paint, and polyurethane finish.
19. Upcycled DIY Table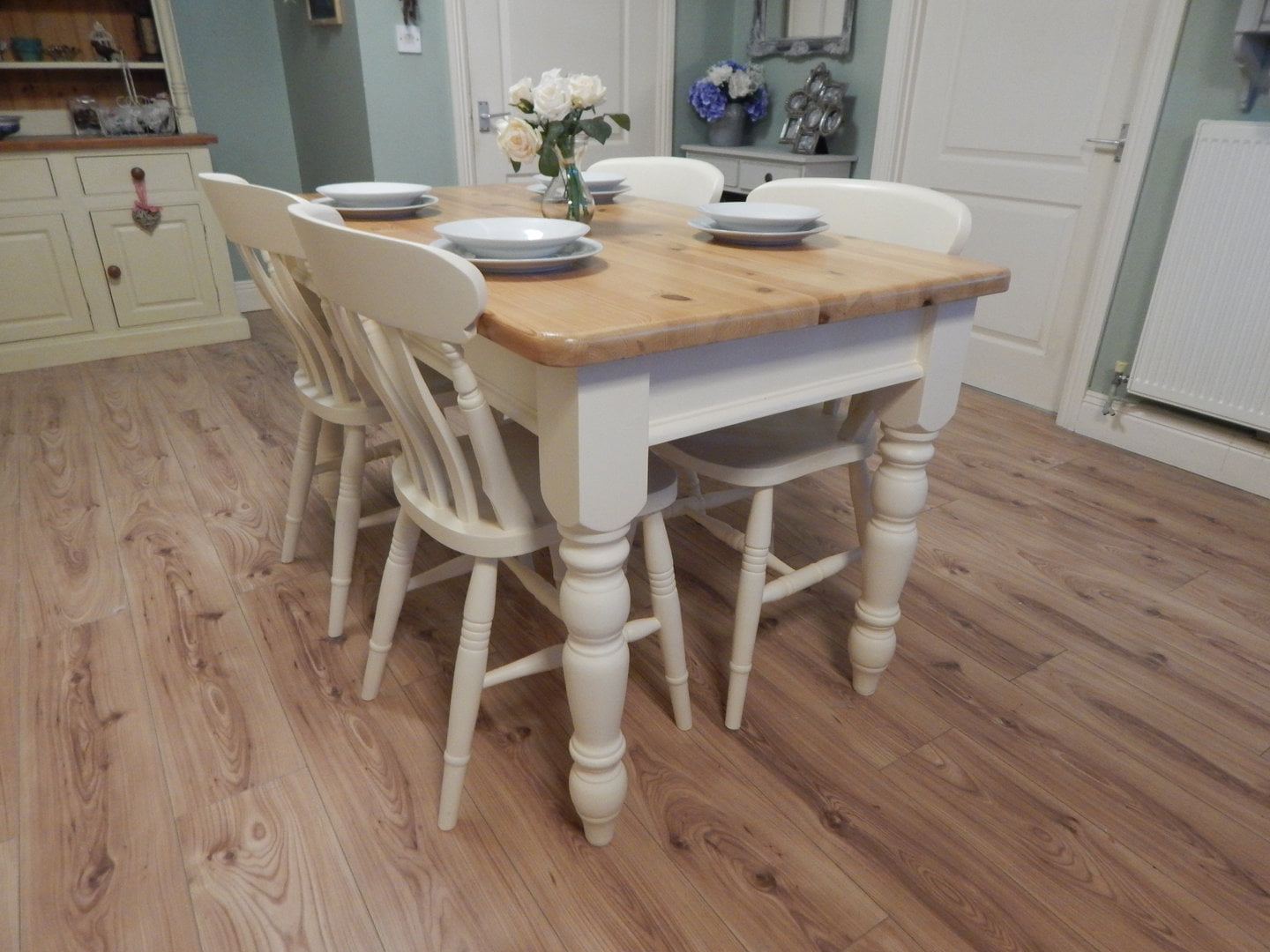 Looking to repurpose an old table into something new and unique? Look no further than this upcycled DIY farmhouse table! With just a few simple steps, you can create a whole new table from scratch. The first step is to dismantle your old table to use its wood for building the frame of the new table.
The next step is to create the top of the table and paint it with the colors of your choice. Finally, create some simple seats to go with your new table. Whether you're using it for indoor or outdoor dining, this farmhouse table is sure to impress.
20. Restoration Hardware-Inspired Long Dining Table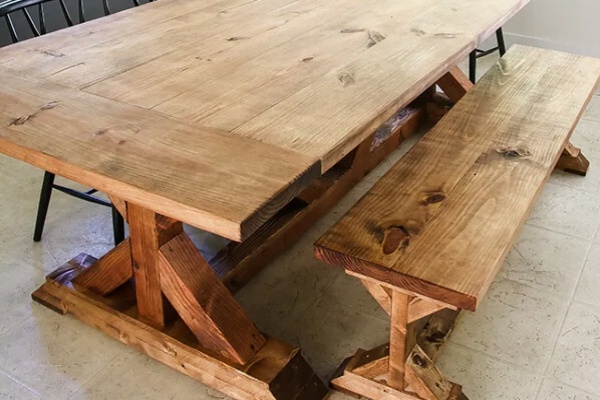 This long dining table design definitely has the potential to catch everyone's attention. It has a plain simple rough, and ready yet modern design that goes perfectly with present-day aesthetics. It has a sturdy X-shaped base made of beams and braces with flat bottom legs.
To create this durable table, you will need 2×8, 2×4, 2×3, and 1×4 columns. The dimensions of this table can be customized to fit your space perfectly. It can be used on various occasions like big dinner parties or small casual breakfasts in farm style.
21. Industrial Corbel Farmhouse Table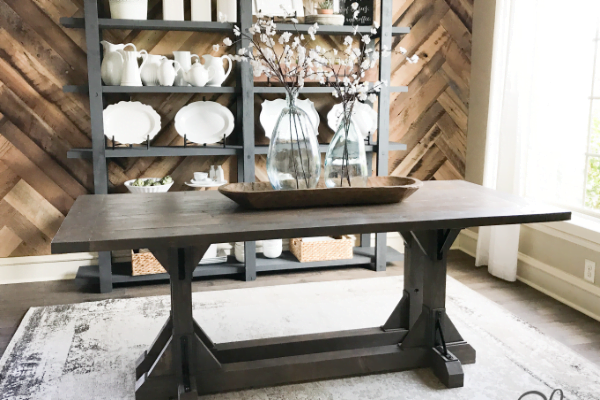 If you are looking to add a touch of industrial charm to your farmhouse-style dining room, this DIY industrial corbel farmhouse is the perfect project for you. The table's solid base is strengthened and visually enhanced with the addition of metal corbels. This makes it a sturdy and durable piece of furniture that will last for years to come.
You will need some 2×6, 1×6, and 2×4 columns whitewood or pine boards, as well as lumber wood worth around $150. Follow the instructions carefully, and you will have a beautiful handmade gift for any rustic lover in no time.
Summing Up
All in all, countryside aesthetics has turned out to be one of the most sort-after decors. Its welcoming, grounded, and unsophisticated vibe never goes out of style. People prefer to go back to their roots and ditch the modern theme to create a homely atmosphere. You can step into this world of charming rustic decor with these stunning DIY farmhouse table plans.
From simple and elegant to intricate and unique, these plans offer something for everyone's level and taste. Whether you are a seasoned woodworker or just starting out, these projects will provide endless hours of enjoyment and a beautiful piece of furniture to be proud of. You can impress your guests and create a cozy atmosphere with these farmhouse-style tables.
Woodworking can be a good hobby to take up to make your creative juices flow. Besides, it also serves the practical purpose of building something functional. It lets you own otherwise expensive pieces of furniture in a much more affordable way. It gives you the satisfaction of creating something that is useful and unique to your requirements. Besides, it helps you build a personal connection with your living space.
Now that you have gone through all the table plans, let me know which one you like the most.