A small round coffee table is the most important piece of furniture for your living space, as it is the center of attention and adds a lot of balance to the space. While the big coffee table may consume a lot of space with its overwhelming presence, the small ones fit just right with their versatility. A coffee table does not need to be enormous to work well in your space; a small one can prove to be more useful without consuming many places in your home, especially if you stay in an apartment where you are already tight on space.
The small round coffee table is versatile and can be used for many things to complete the home decor theme, like placing potted plants, vases, coasters, or figurines. They are both functional and aesthetic, adding a homely vibe to any place. Whether you are buying one for your home or office, make sure to pick a round table that serves the purpose right and looks pleasing as well.
Here are our favorite 24 stylish small round coffee tables that can compliment the theme of your living space just the right way.
1. Steel Coffee Table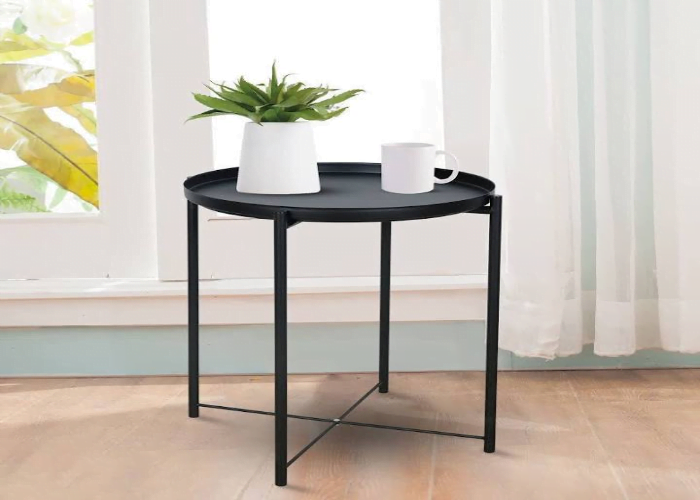 We are a fan of this round, sleek, and simple steel coffee table. It comes in many different colors to match your style and with a stone-like finish. This table goes pretty well with bold furniture pieces in your living room to balance the look. The bottom shelves make a pretty space to display an art piece or just to stack your books. The black looks bold and sleek and can be complemented with a white vase and a similar twin table to complete the look.
2. Wooden Drum Coffee Table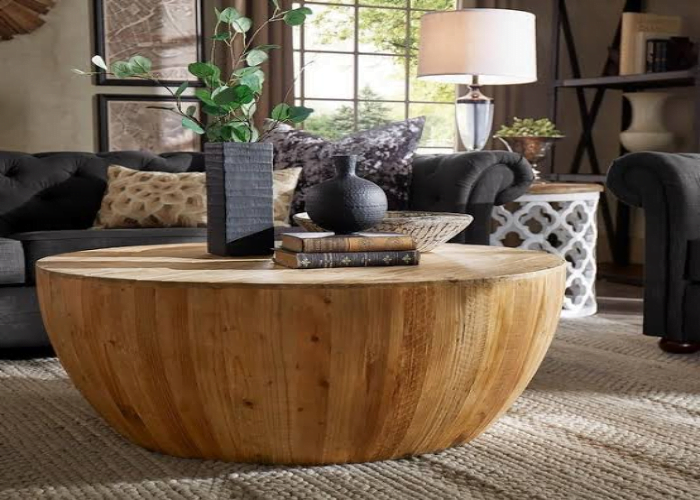 Wood is the most common material used to make coffee tables. There are so many different types of wood, and they all give a distinguished look with different shades of brown. This drum-shaped wooden coffee table is finely sculpted and looks very classic with its solid presence in any living room. The wood brings a lot of warmth to the space, and it can be used in any way because of its solid nature without being worried.
3. Glass and Metal Coffee Table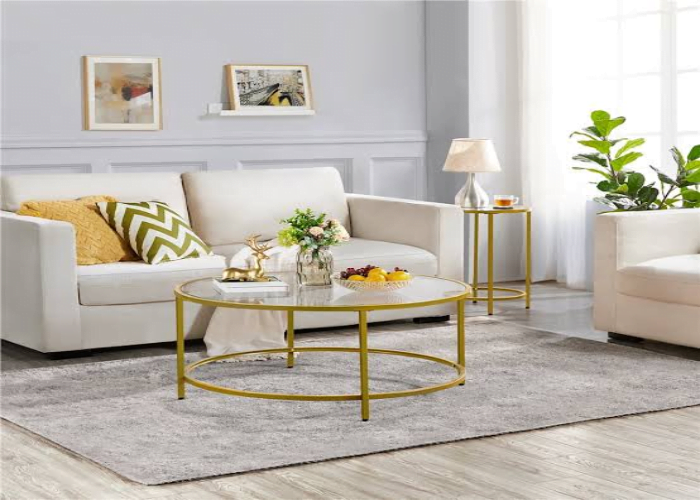 If you wish to keep things elegant and sleek in your living space, this glass and metal coffee table is for you. It beautifully contrasts the heavier pieces in the room, like the sofa or media console. It is also a perfect fit for an office where you want to keep things minimal and stylish. Though it can be a task to keep it intact around kids, efforts are worth it.
4. Rotating Tray Coffee Table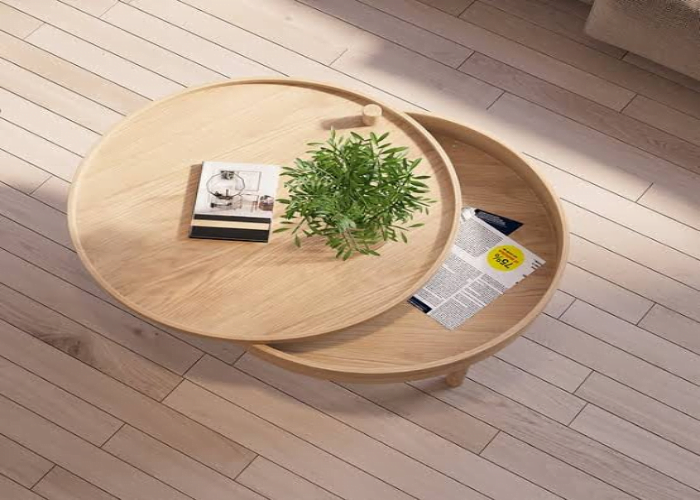 This modern round-tray coffee table is definitely going to be the talk of the town. It looks like a tray, but the best part is it can be rotated to open up to hidden storage. The multi-functional top does not need to lift to be open; it can be extended to serve coffee or just to stuff your remotes quickly under it. Here, the wooden table suits the wooden surface so well to maintain the aesthetics of the space.
5. Acrylic Coffee Table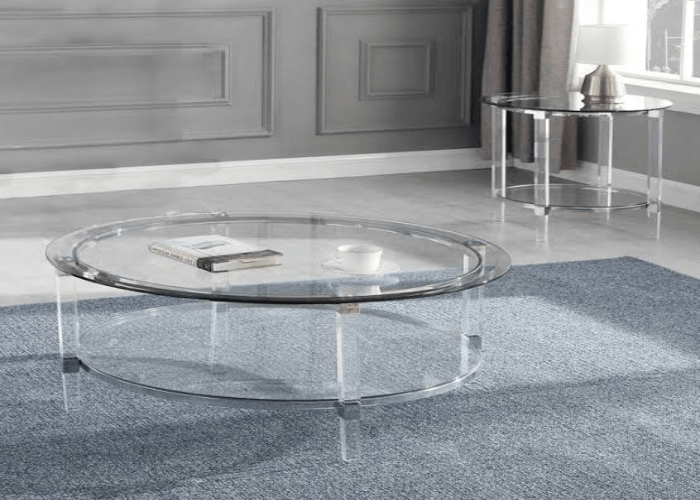 If you are looking for a coffee table that just is there without stealing any of the attention from your other furniture item, this acrylic round coffee table is for you. It does not add any color to make everything look less cluttered by not crowding the space and goes with every style. It is best used when there are already too many colors in your living room, and you need to balance it out.
6. Lava Stone Coffee Table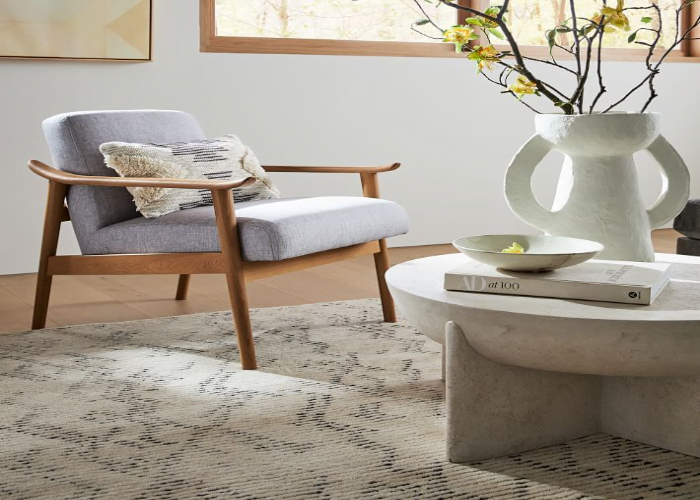 This lava stone coffee table is suitable for indoor as well as outdoor settings. This table is made up of volcanic ash, fiberglass, and sand resin. It looks sturdy and solid but is not that heavy. The cemented look is very trendy these days because it adds an organic element to every living room. Here, the tanned rug and the white vase look very pleasing with the stone table and create a perfect balance of colors.
7. Marble Top Coffee Table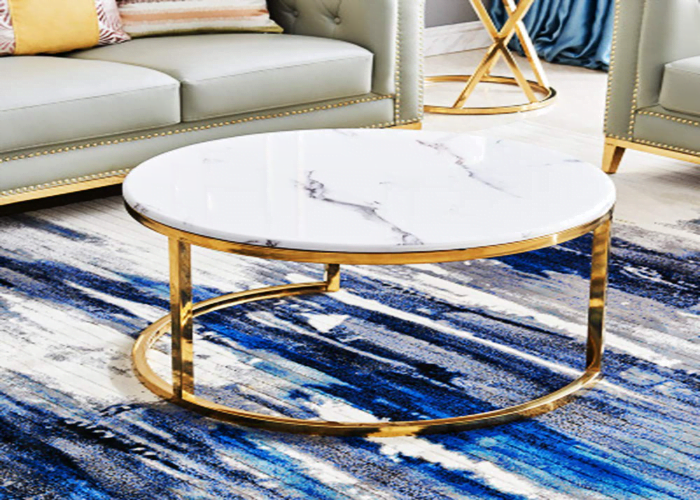 Marble and brass look quite glamorous together. It looks contemporary yet classic and fits perfectly well in urban-styled homes. The combination of gold and white is something you can never go wrong with. This marble-top coffee table looks very delicate and elegant, but it is also remarkably sturdy. Marble comes in various colors, finishes, and styles, but nothing beats the classiness of this white polished marble.
8. Nesting Coffee Table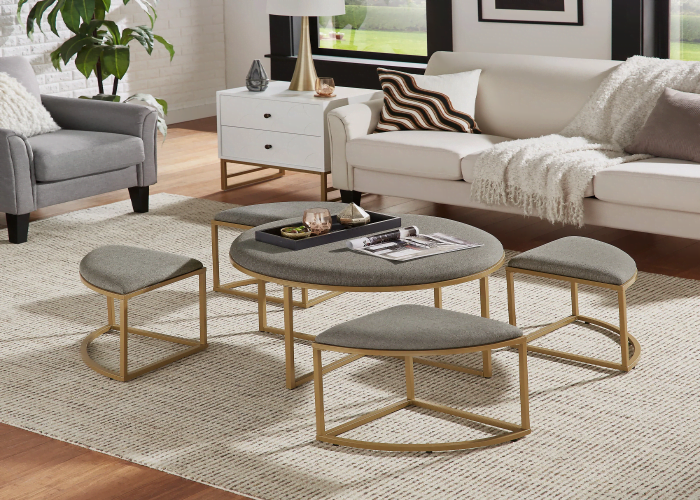 A nesting coffee table is a table with small stools tucked inside it. It can be a sitting stool or just a smaller version of the coffee table. It not only looks extremely stylish but is also multi-functional. The pieces can be used together or as individual furniture items in your living room. You can easily pull the extra seating out when the guests come over, which makes this table a complete package.
9. Antique Coffee Table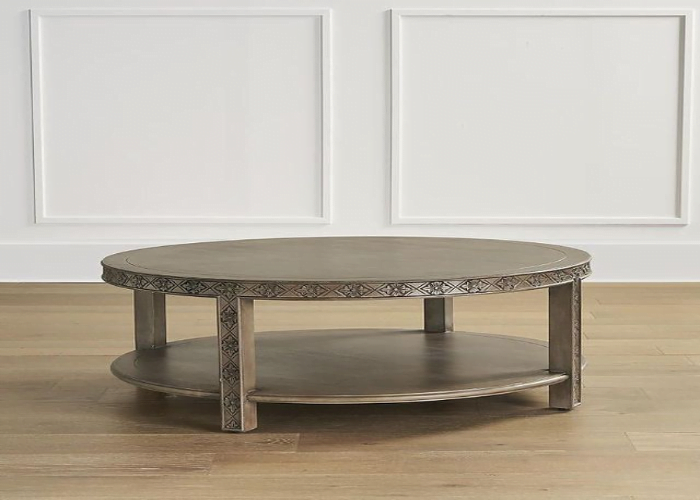 A unique, antique-styled wooden table that is handcrafted to minute details is going to scream luxury when placed in the center of your living room. They are a decoration in itself and are sure to give a very artistic feel. Crafted from acacia wood, they are sturdy and strong and not nearly as fragile. If you are an antique lover, you can explore local antique shops and markets to find some hidden gems for your living room.
10. Japandi Style Coffee Table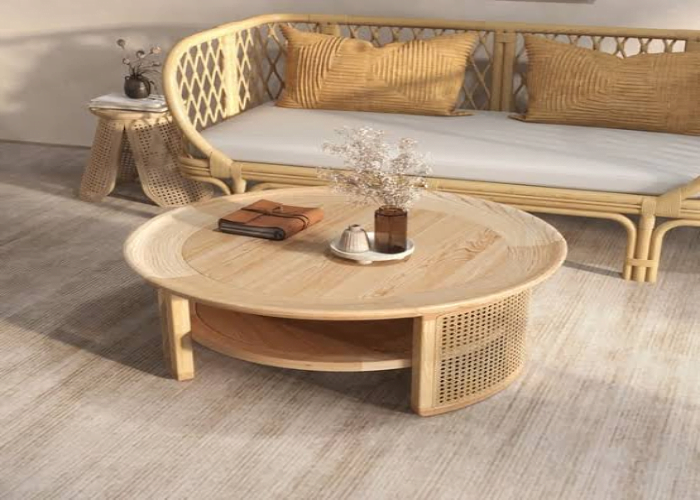 Japandi style is inspired by the mix of Japanese and Scandinavian lifestyles, which is clean designs, simple colors, and sustainability. The Japandi-style style coffee table is made from high-quality, durable wood and is crafted to detail to make it very functional. The half-open shelf at the bottom adds an extra element that can be quite useful in a living room. This japandi table is crafted so neatly and with the precision that it suits the modern style setting very well.
11. Wicker Coffee Table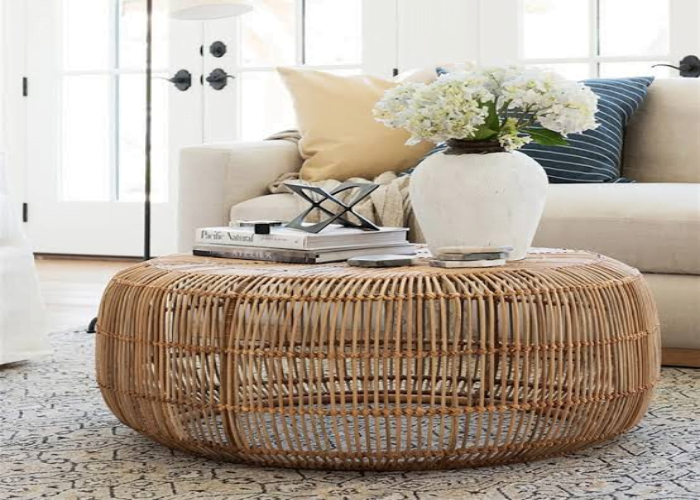 Bring the bohemian beach vibe to your living room with a round wicker coffee table. It looks very casual and has been used for years to create a coastal theme. It is very easy to move and handle and can be paired with a wicker sofa or other table to create a whole look. Wicker coffee table comes in various shapes and styles to be used in living rooms, bedrooms, or offices.
12. Lift the Top Coffee Table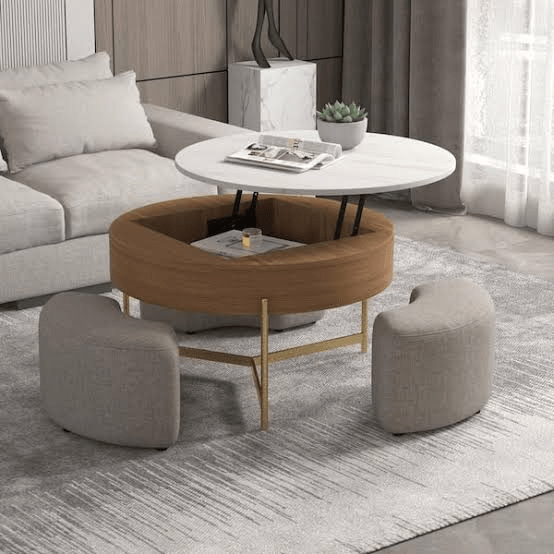 Extra storage is always welcomed in busy families and small spaces. The top lifts give some height with an easy mechanism to be used for working, and it opens up to a hidden cabinet underneath it to allow you to store your things. This lift-top coffee table is stylish and multifunctional, which makes it a good investment. This coffee table also comes with nesting sitting tables along with a lifted top for an urban-styled home.
13. Round Walnut Coffee Table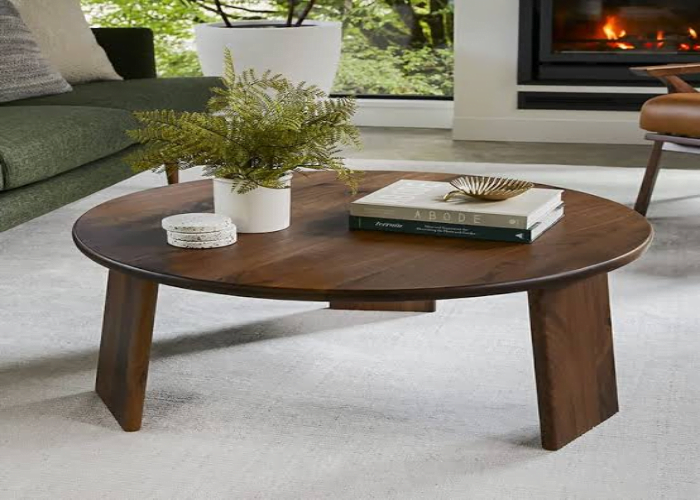 Walnut is a classic choice for many types of furniture. This walnut coffee table can be used in your homes or offices to keep things simple yet elegant. You can get a walnut wood coffee table in many styles and designs. A finely finished walnut coffee table will never disappoint to amaze everyone with its classic simplicity. Great options for study rooms or offices, because it is quite sturdy and can be piled up with books and magazines.
14. Round Ottoman as a Coffee Table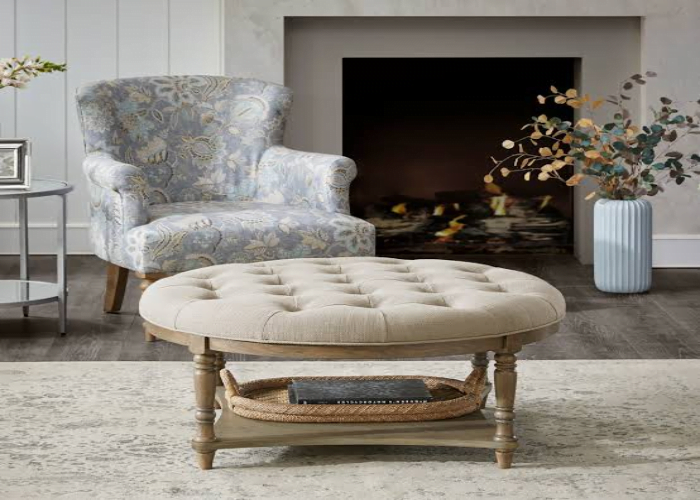 It is a great idea to incorporate a small round ottoman in your living space, as it can be used for both sitting and serving. You can keep it luxurious with bold, velvety colors to make a statement or just use calm tones for classic aesthetics. Plus, the storage shelf also comes in handy to put your things under the table. You can also buy an Ottoman that comes with a storage box if you are looking for a place to stuff your remotes and magazines.
15. Round Pedestal Coffee Table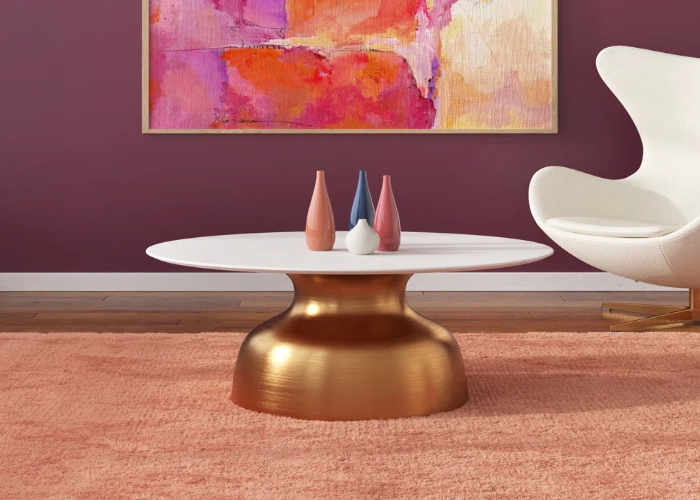 A round pedestal coffee table makes an impressive addition by bringing layers of texture to your living space. It can be a mix of everything, like a glass top, wooden bottom, and metal base, all coming together to create a contrasting mix that looks stylish and elegant. It looks luxurious and solid, bringing all the attention to the center of the space. Here, this marble and gold finished pedestal coffee table looks very elegant in this artistic setting with vases and paintings.
16. Round Leather Coffee Table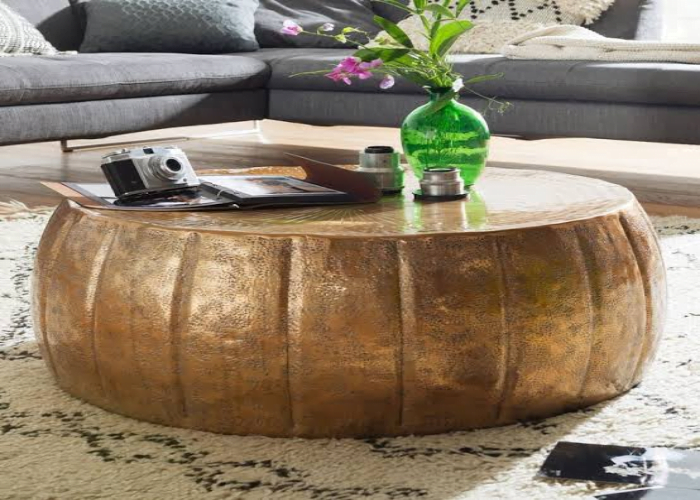 A round leather coffee table gives a perfect contemporary look to your living room, bedroom, or den. Made from high-quality leather with a natural finish, this table fits perfectly in your luxuriously styled home. Leather also complements the wooden furniture very well and can be used alongside them to enhance the appeal. Leather tables are an easy find with their rising popularity these days.
17. Black Marble Coffee Table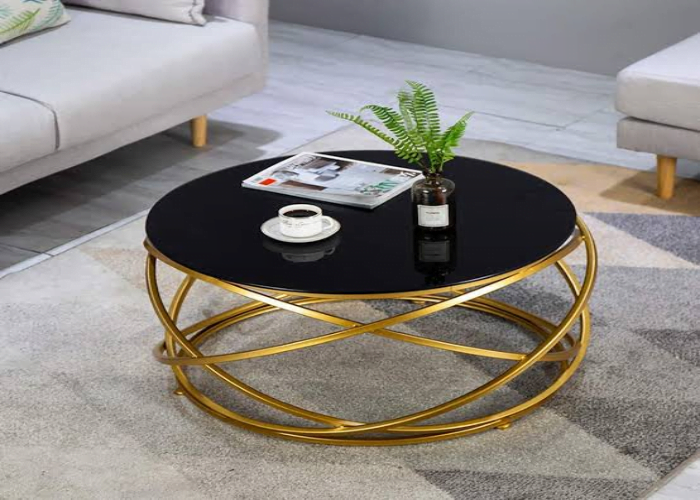 This black marble coffee table can take the elegance of your room to new heights. The brushed gold brass complements the black so well and gives a very luxurious look. This round coffee table can be used as the living room center or as a side table by your sofa to keep everything within reach. Opting for a black marble coffee table is the easiest way to upscale your living room design game.
18. Grey Concrete Coffee Table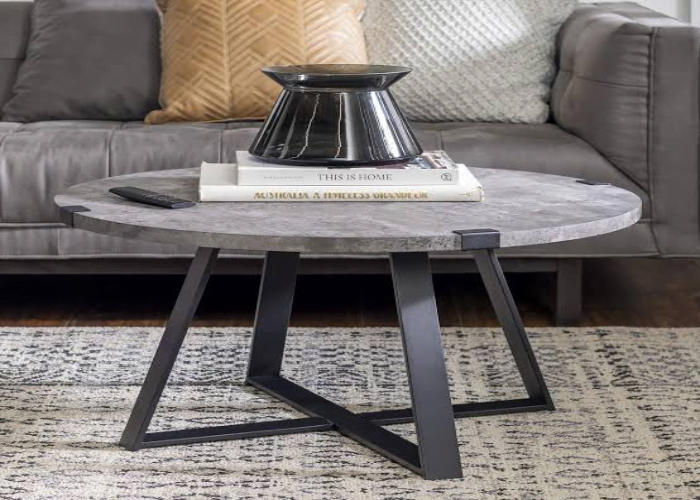 If you are looking for something durable and classy for industrial homes or outdoor living spaces, this concrete coffee table is for you. It is crafted from sturdy concrete for a modern feel that brings along a very fresh feel. This concrete table is in trend these days because of its ability to blend smoothly with everything in your space. Very durable and super easy to clean, it makes it everyone's favorite.
19. Ying & Yang Coffee Table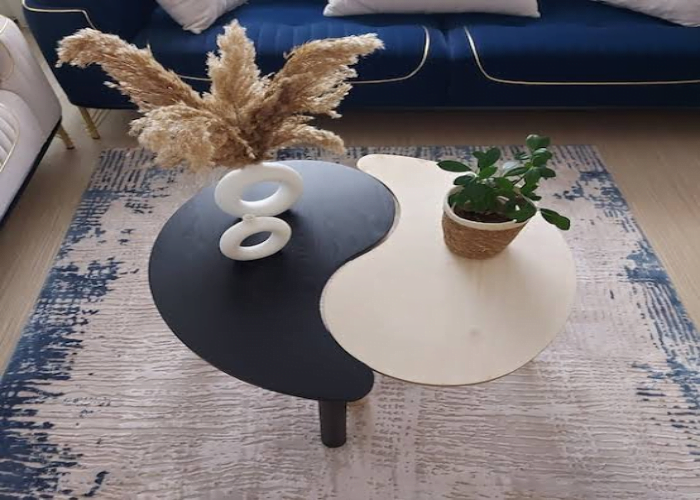 Ying and Yang style coffee table is a combination of two uniquely styled tables that fit together, making a very classy single table. It looks chic and modern, yet very simple. Made of a solid bamboo wooden top and metal hairpin legs, this table is meant to catch eyes whether being used together or apart. This black and white combination of two tables looks very attractive and modern.
20. Natural Rattan Coffee Table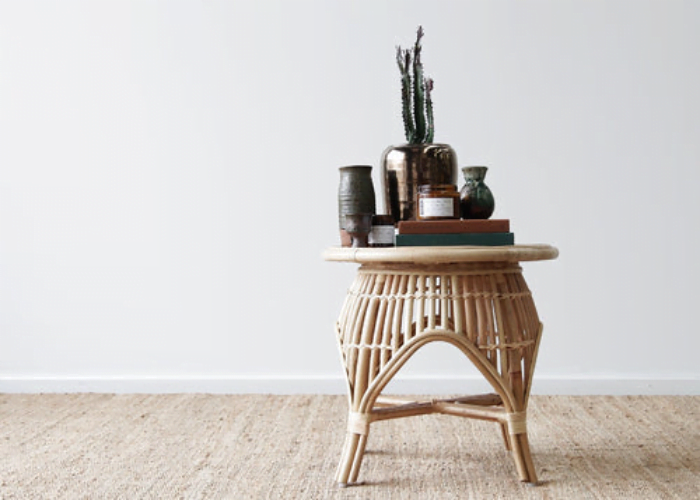 Rattan coffee table is usually used for outside garden sitting, but there is no rule to be followed. Sometimes it goes perfectly with the decor and can fit in your room and study with ease, especially in a coastal or bohemian-styled room. It can also be styled with your other wooden furniture pieces. They are comparatively light in weight than wooden tables but are quite durable and not so delicate.
21. Coffee Table with a Geometric Base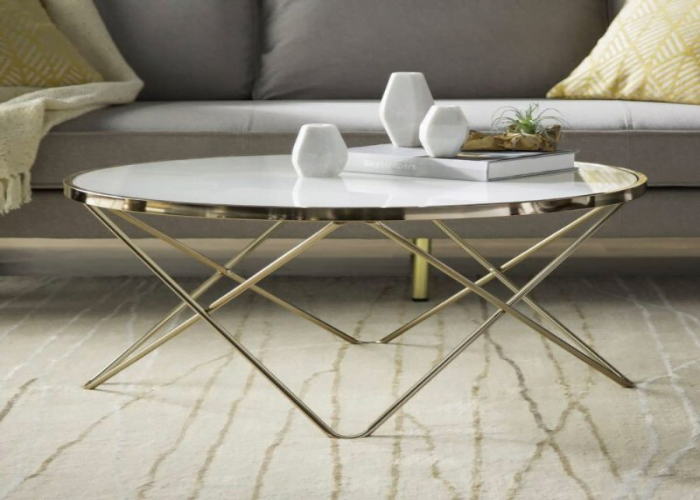 This stylish coffee table is all about the base, and you cannot help falling in love with it. With a gently curved top and hard angles at the bottom, this table is a great way to infuse zen style with your modern interior. A coffee Table with a geometric base is a bold statement piece that enhances the overall look of your area. This one is made from the classic combination of marble and metal, but you can pick the one that attracts your the most.
22. Four-Legged Coffee Table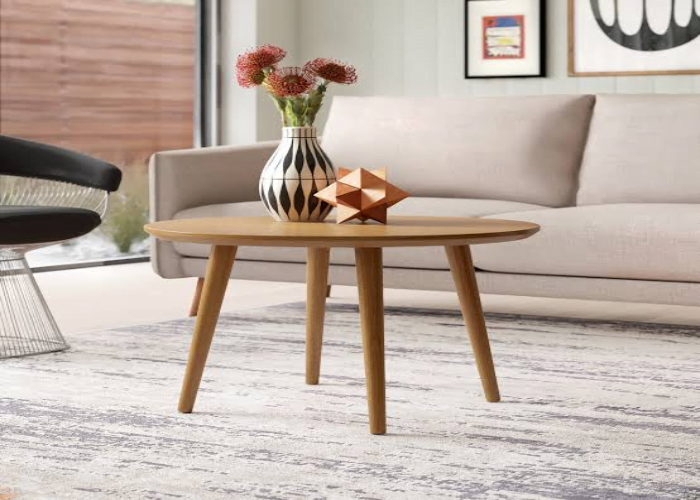 Going with the basics is often the best thing to do because you can never go wrong with it. You can place it anywhere, under any sitting, and these four-legged coffee tables will still fit right in. It is highly versatile; you can use them as a center table or a side table in your rooms or offices. They are easy to carry, easy to clean, and highly durable, and that is why you can easily spot one of these in any home.
23. Peak Log Coffee Table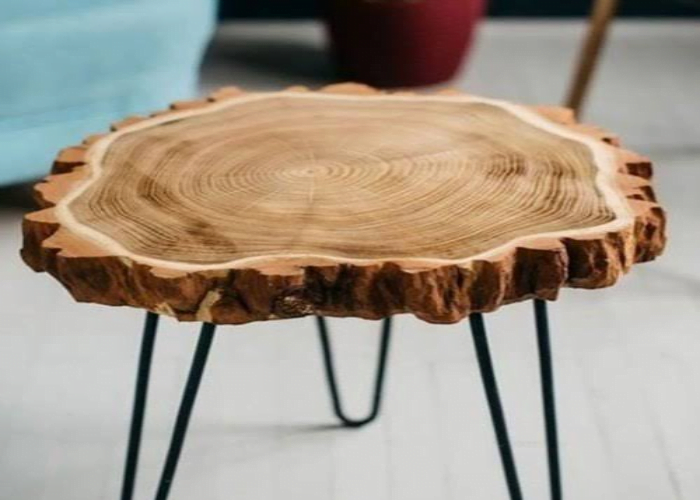 A wooden log coffee table gives a very raw and organic look to your home. It makes an artistic presence with a top supported by finely styled legs. A log coffee table can be a great addition to your art space, gallery, or your contemporary-styled home. The wooden top is meant to give an unfinished look, so it doesn't need to be perfectly round.
24. All White Coffee Table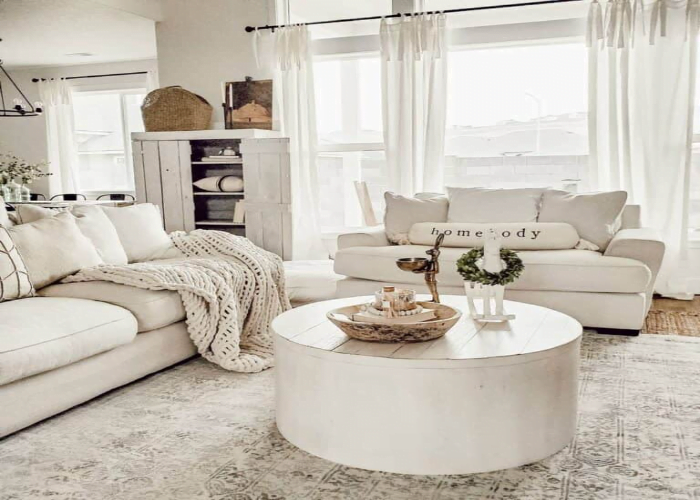 If you want to keep the theme of your house very cool and simple, an all-white coffee table can do the job right. It can be a white pedestal one or with legs, whatever matches your style. It adds simple elegance and goes with any kind of setting to bring it all together. The featured table here is brilliantly designed with its three layers, with the top one can be rotated.
25. Unfinished Wood Coffee Table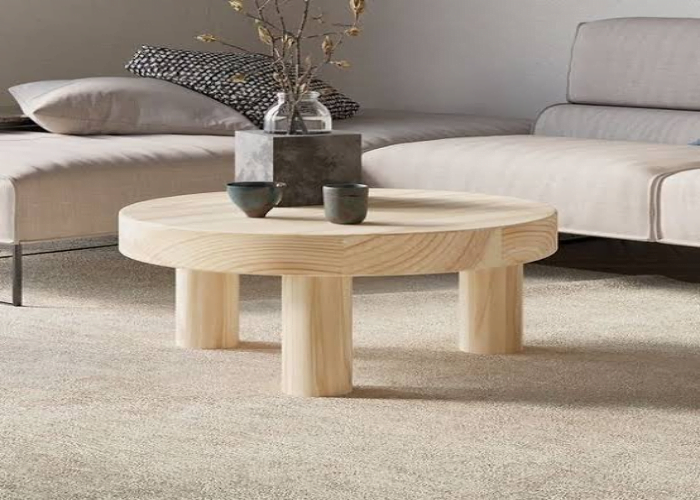 An unfinished wood coffee table brings a very farmhouse-style feel to your living area. It can work as a raised platform to display your center art pieces or just to serve coffee. Style it with a tan rug under your sofa in your sitting area to complete the look. The unfinished woods make the fine lines of wood visible, which enhances the overall feel the table portrays. Try this!
26. Green Retro Styled Coffee Table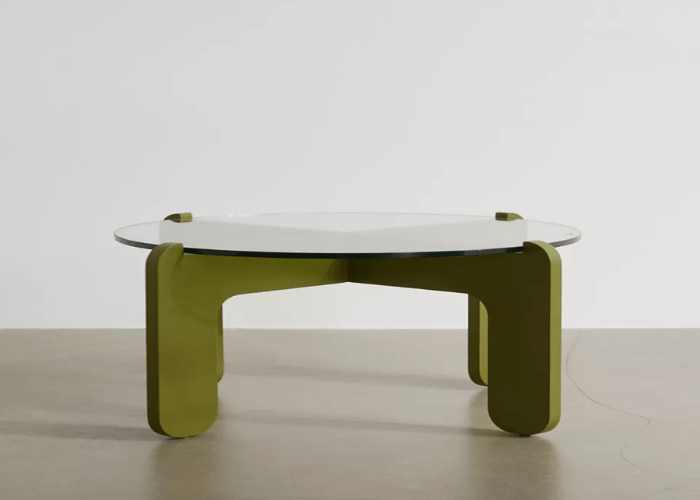 This table, with a retro olive base with mirrored top, gives a whole 80's retro vibe to your living room. This small and round coffee table is perfect for any square-shaped room. Use this retro-style table as a focal point, as it stands out among all the pieces of furniture to grab the attention of your guests. Also, the green shade provides a pop of color to your surrounding.
27. Wood and Glass Coffee Table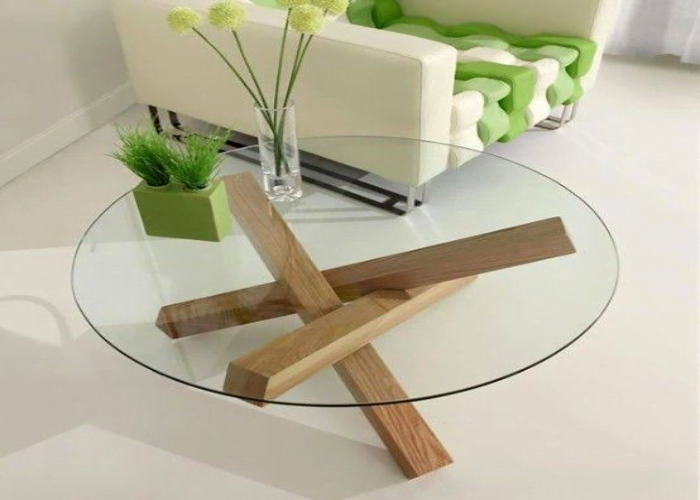 Glass and wood are a very common combination when it comes to round coffee tables, but there are plenty of unique designs that are beautifully structured to choose from, and we cannot resist including this combination on the list. A wood and glass coffee table looks classy with other furniture in your living room. This uniquely designed glass and wooden table is a top choice because of its unique design.
Summing It Up
All in all, while selecting a coffee table, consider the amount of space available, the sofa sitting height, and the theme and aesthetics you want for your space. With these factors in mind, pick your favorite one from the options available to match your style. Do not constrict yourself, and feel free to experiment with style and material to add character to your living room.
These 25 small round coffee table inspirations will guide you to pick something suitable for your living room, and if you are still not sure, just explore the markets around you to find the right fit. Decorating your space is so much fun, and a round coffee tally helps to bring it all together. Your living room says a lot about you and your personality, so make sure to tell the right story.
Get creative and start exploring to find a perfect round coffee table to elevate the beauty of your living room!