Do you aspire to a lovely, small-scale outdoor wedding but are sorry that the cost may be prohibitive? Not to worry! Your ideal outdoor wedding doesn't have to be expensive to organize if you use a little imagination and resourcefulness. On a tight budget, you may arrange the ideal outdoor wedding with the help of our 21 fantastic recommendations.
A garden wedding is a wonderful option for a small-scale, individual ceremony. Our guide contains everything you need to plan an outstanding event without sacrificing style or quality, from do-it-yourself décor to budget-friendly catering alternatives. These suggestions will help you arrange a spectacular and unique celebration that you and your guests will remember for years to come, whether you're having a more traditional wedding or a more laid-back outdoor nuptial.
So if you're prepared to begin organizing your backyard wedding, keep reading for some ideas and advice on how to make your big day both lovely and affordable.
1. Venue Preparation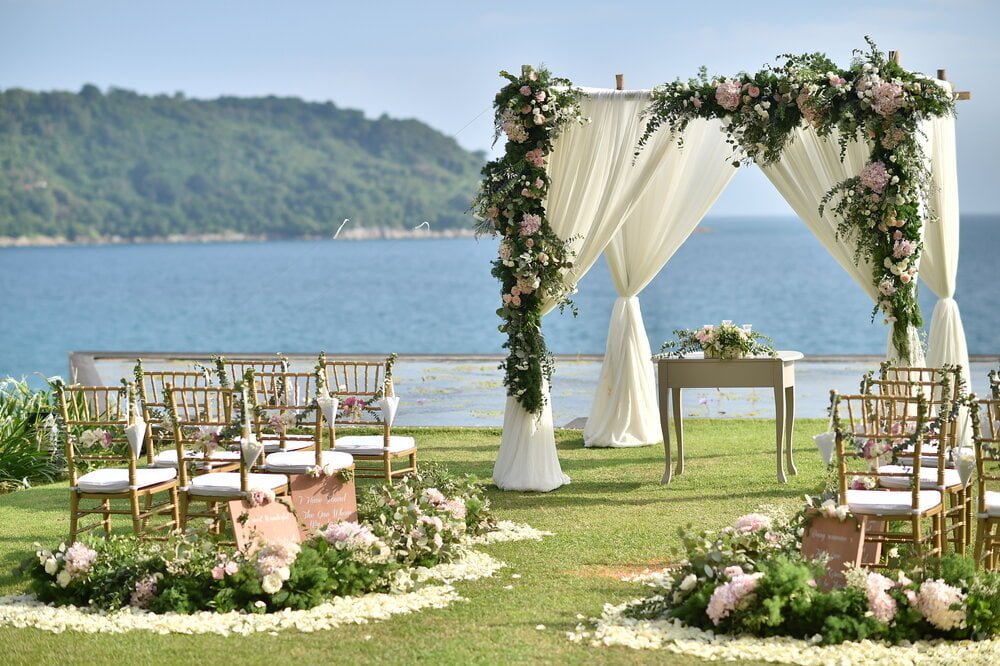 There are a few important considerations you must take when setting up the site for your backyard wedding. To begin with, check to see that the area is tidy and maintained. This entails trimming any plants or trees, mowing the lawn, and checking for clutter and trash. Additionally, you must guarantee that the area is secure for visitors, so if there are any steps leading up to the house, check to see if they are in excellent shape and equipped with a handrail. To make the area feel more like a wedding location, you should add some unique elements. The bride and groom's name could be displayed on a sign or banner, lights or lanterns could be hung, flowers or other decorations could be placed, and so on. You may be sure that your backyard wedding will have a successful beginning by using these suggestions!
2. Wedding Theme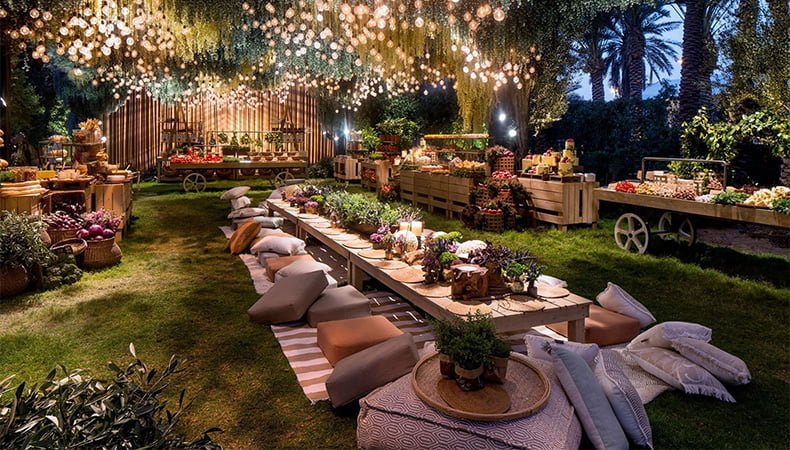 Making your outdoor wedding's various components fit together into a single, unforgettable experience is easy when you choose a wedding theme. Consider your preferences, hobbies, and the atmosphere you want to convey when choosing a theme. Any wedding theme that you prefer and that complements the general aesthetic of your house and yard is acceptable. Rustic, bohemian, garden, vintage, and coastal themes are a few of the most popular ones for backyard weddings. For instance, you might use antique vases and mirror centerpieces to create a vintage theme, or you can go for a more contemporary take on vintage style with Art Deco-inspired details. And if you want to throw a stunning garden party, think about hanging string lights from the ceiling, erecting a dance floor outside, and adding lovely flower accents.
3. Flexible Setup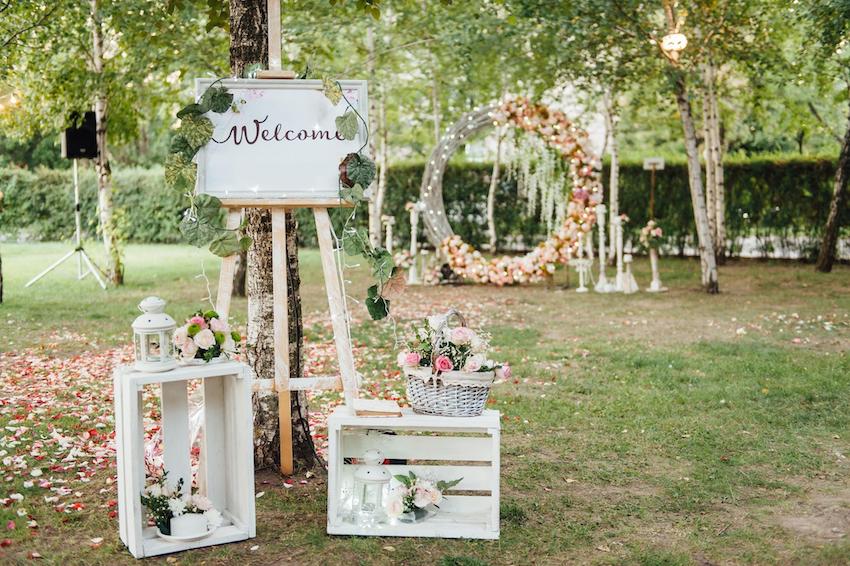 When organizing a backyard wedding, it's crucial to bear in mind that the setting should be adaptable and flexible enough to be changed or modified as needed. You'll be able to be ready for any unexpected weather changes or other things that can affect your plans thanks to this. Without spending a lot of money, it is possible to design a stunning and distinctive space for the wedding ceremony and reception. Consider DIYing your decor, repurposing thrift store finds, or creating a straightforward yet stunning ceremony location in your backyard. For your ceremony or reception area's archway or backyard, you can use scaffolding or trellises. These can be embellished with fabric, flowers, or other elements.
4. Entrance Gate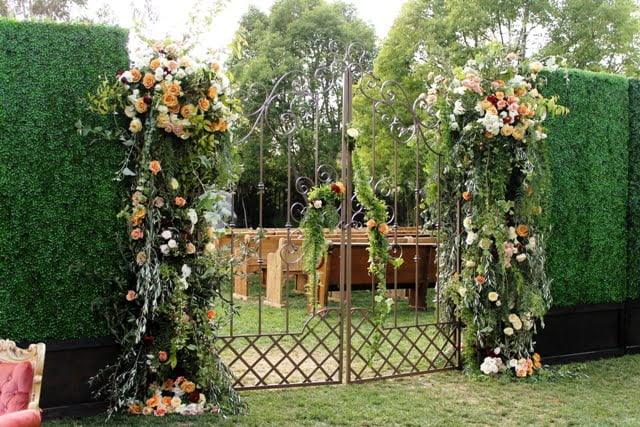 Making a fashionable and pleasant entrance is something else to consider. One choice is to utilize a straightforward gate or archway embellished with flowers or foliage. Why not paint it yourself or enlist the aid of a friend to come up with a special design if you want to give your entrance gate a more personalized touch? Even better, you can carve the name of the pair into wooden planks and hang them from the gate. Use fabric and ribbons to make flags and bunting for an eye-catching entrance if you're feeling daring. Just make sure your entrance is visible and well-lit so that attendees can find your party without any difficulty.
5. Utilise the Poolside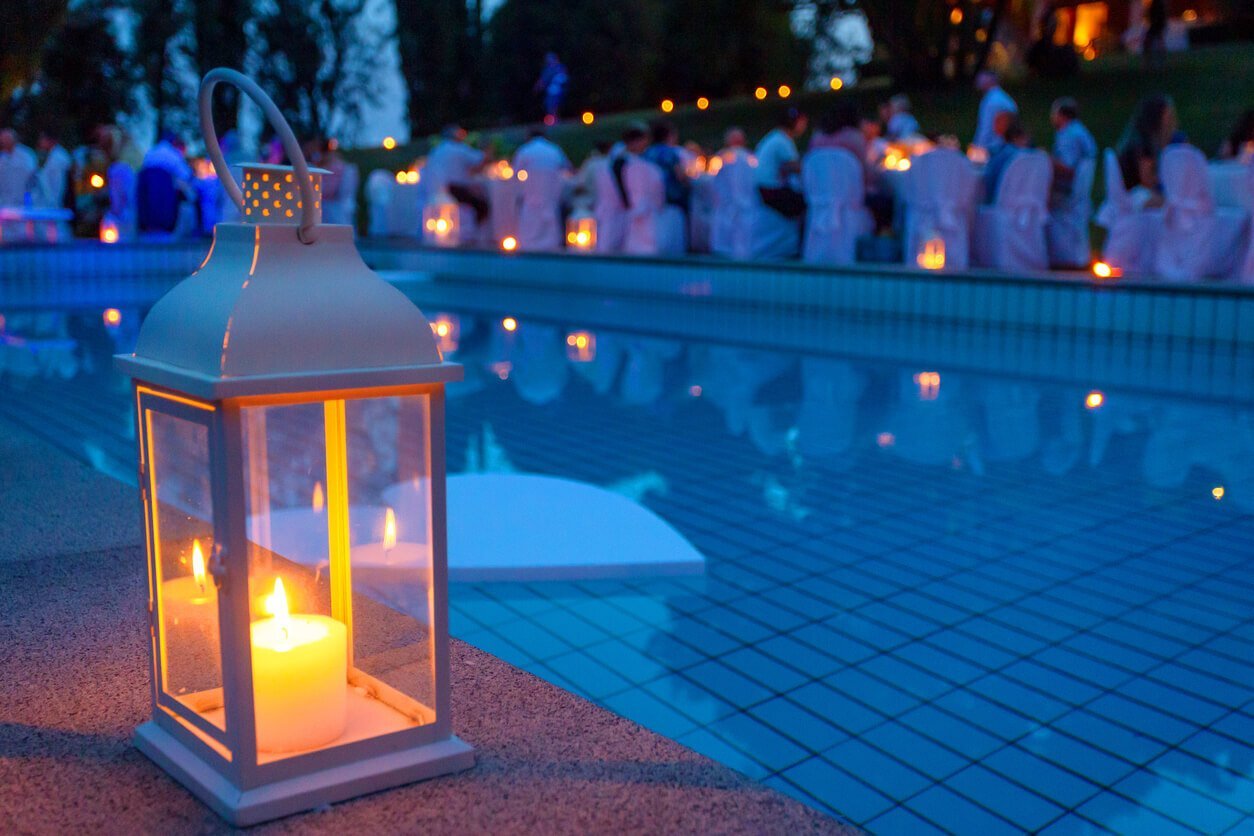 Make the most of your backyard pool on your wedding day if you're fortunate enough to have one! This is a fantastic method to keep your guests happy and cool, especially if your wedding is in the summer. To create a beautiful and enchanting atmosphere, you might make use of floating lanterns, flowers, and even fairy lights. Additionally, you can provide your visitors with beach towels, lounge chairs, and umbrellas. Additionally, you can build up a bar area for your visitors to use, and you can hold any planned entertainment poolside. You may transform your backyard pool into the ideal location for a memorable and enjoyable wedding celebration with little imagination. Take some entertaining pictures near the pool, don't forget!
6. Games for All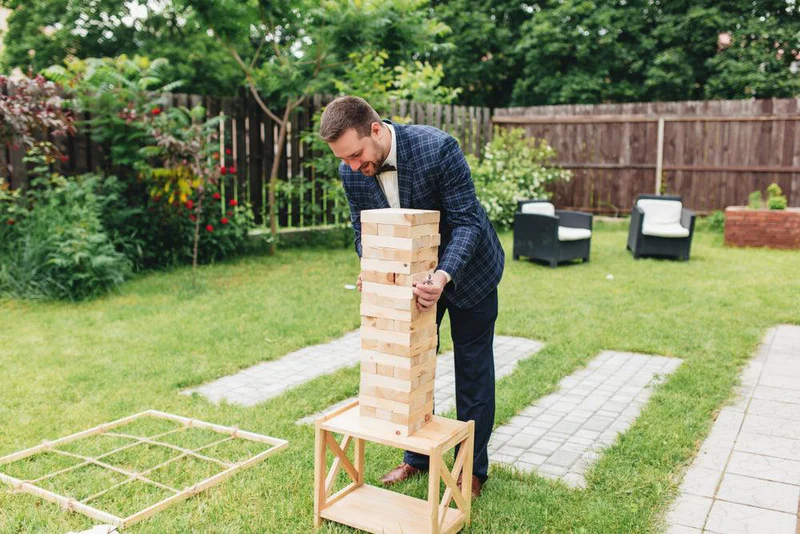 It is common knowledge that weddings can be expensive. However, there are affordable alternatives to having a lovely outdoor wedding. Getting inventive with your entertainment is one of the finest ways to cut costs on your wedding. You can set up a variety of games for your visitors, both young and old. Outdoor weddings are ideal for activities like big Jenga, horseshoes, and corn hole. Furthermore, setting them up and taking them down doesn't cost a lot. Consider setting up a photo booth or employing a caricaturist if you're looking for something a little more distinctive. These are merely a few suggestions to get you going. Having fun is more crucial than worrying about how much your wedding will cost.
7. Food Stalls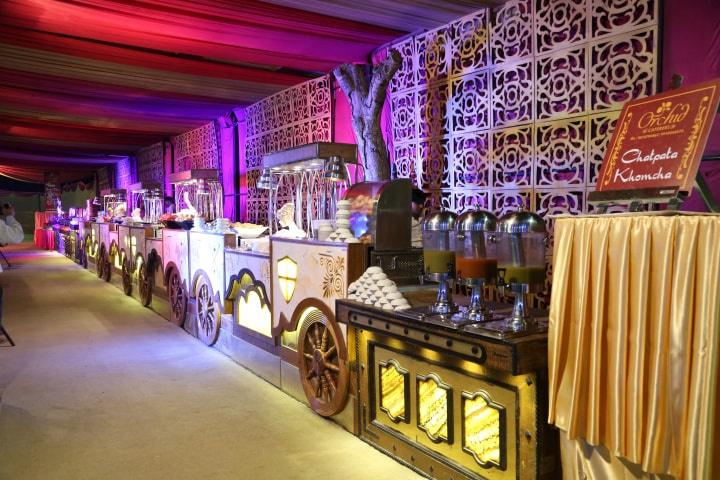 There are many inventive and affordable options available when it comes to food and drinks for your backyard wedding. Creating a DIY pizza station or providing a taco bar are two examples of such activities. A potluck dinner with everyone bringing their favorite food is another option. Other suggestions include having a picnic-style lunch of sandwiches, salads, and fruit. You might construct your specialty cocktail or set up a beer and wine bar for beverages. Ample non-alcoholic options should be available as well, such as lemonade, iced tea, and soda.
8. DIY Decorations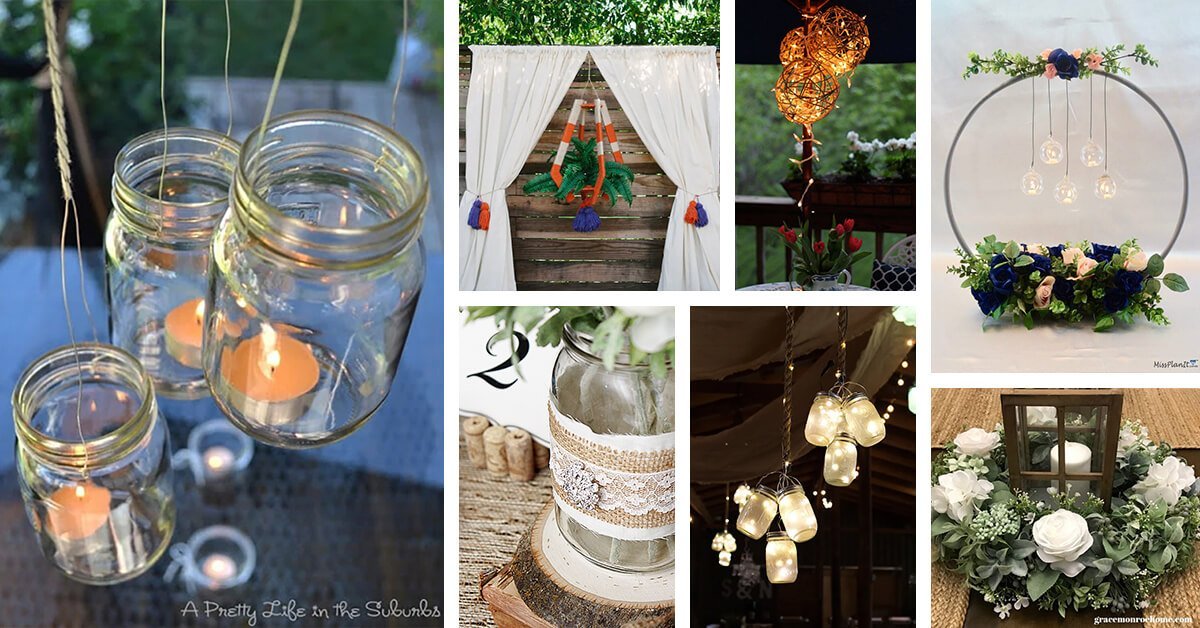 Utilize your creativity when decorating and things you already have lying around the house. Try to find them at a discount or in used shops if you need to buy some new products. Here are a few concepts for DIY decorations:
For a romantic lighting alternative, hang lanterns or string lights in the trees.
As centerpieces, use upcycled vases or Mason jars filled with seasonal flowers or wildflowers.
For a rustic effect, arrange candles in Mason jars or recycle glass bottles of various heights.
Use Fabric, paint, and markers to create your banner and signage.
Use hay bales, tree stumps, or vibrant cushions and blankets to create unique seating arrangements.
9. Photobooth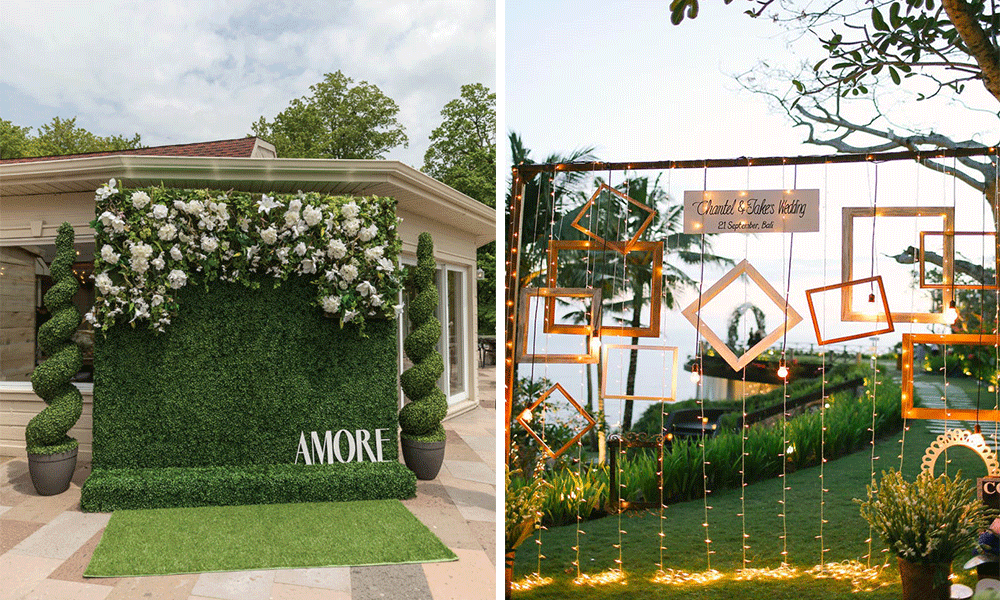 At your outdoor wedding, a photo booth is a fun and engaging way to remember the day. Using a backdrop, accessories, and a camera, you can create a DIY photo booth. Choose from a choice of backdrops, such as a floral wall or a sequin drape, and offer your guests props like hats, sunglasses, and humorous signs for them to utilize. This is a fantastic method to capture some silly and amusing images that you and your guests will enjoy for years to come. Don't forget to offer a hashtag or a digital album so that your visitors can post their pictures on social media. You may give your backyard wedding celebration a one-of-a-kind and unforgettable touch too on a low budget by using a photo booth.
10. Magic of Lights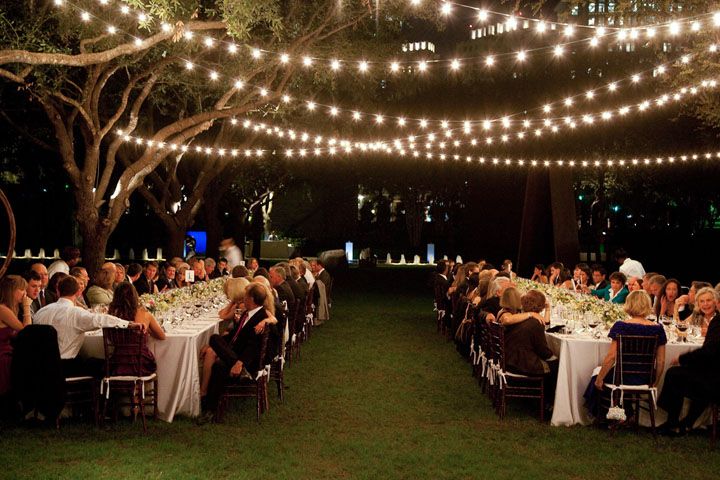 Some creative and DIY ideas on how you can work out of lights-
You may add ambient lighting to your backyard wedding at a reasonable price by using lanterns. You may even create your lanterns using mason jars and other things if you're feeling particularly inventive.
Another well-liked option for backyard weddings is string lighting. They can be utilized to spruce up trees, fences, and other exterior features in your yard.
Candles are a traditional lighting choice that can add romance to your wedding.
Another fantastic lighting option for your outdoor wedding is twinkle lights. They look lovely draped over fences, other yard structures, and trees.
11. Music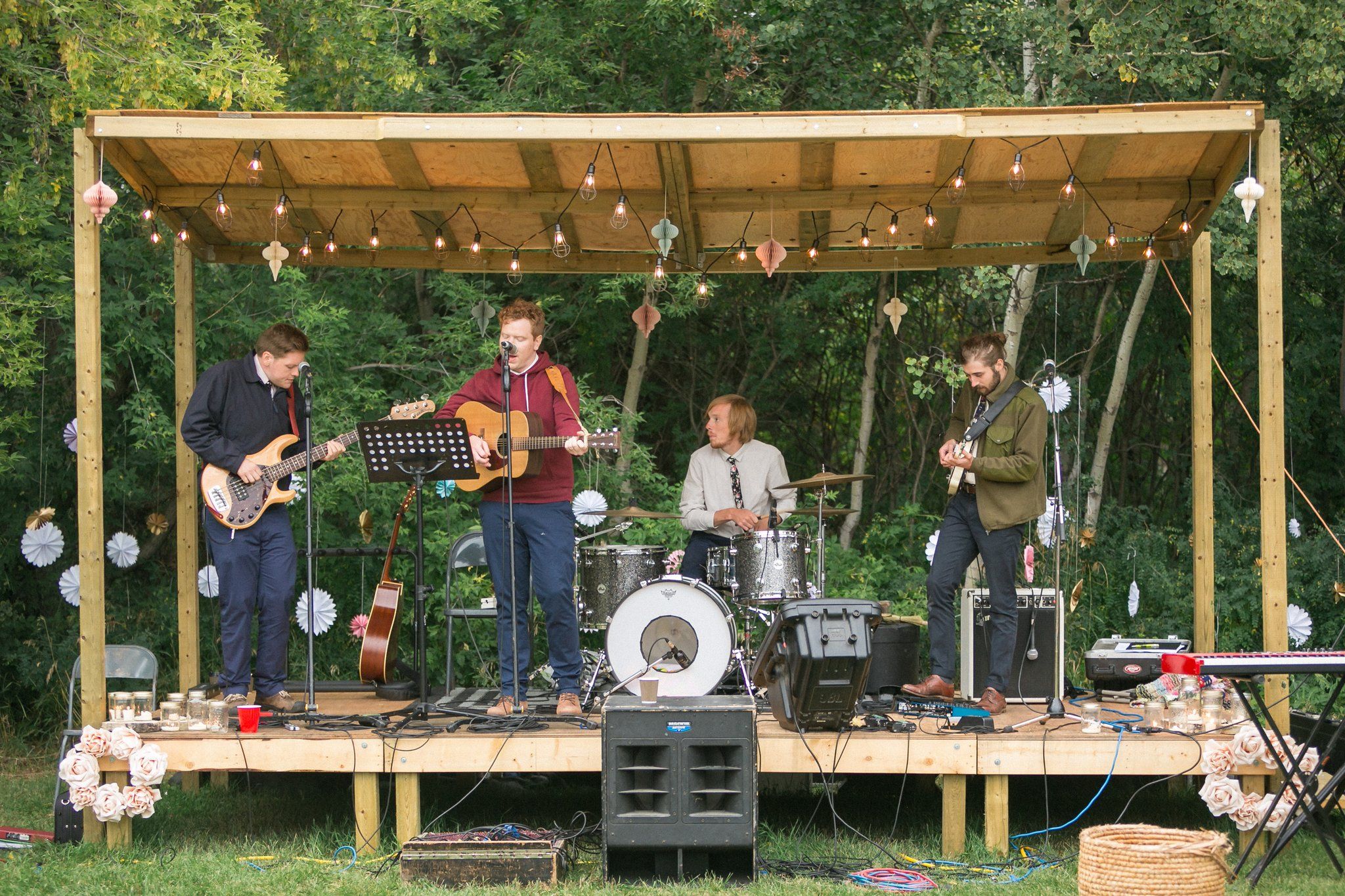 A backyard wedding is no different when it comes to the importance of music in wedding celebrations. To keep your visitors dancing and having a wonderful time all night, you need to give some sort of entertainment. A local DJ or band that specializes in weddings could be less expensive to hire a larger entertainment firm. To play at the ceremony or reception, you can also invite friends or family who are musically talented. A sound system can also be used to play your music all night long after creating a playlist.
12. DIY Your Bar Truck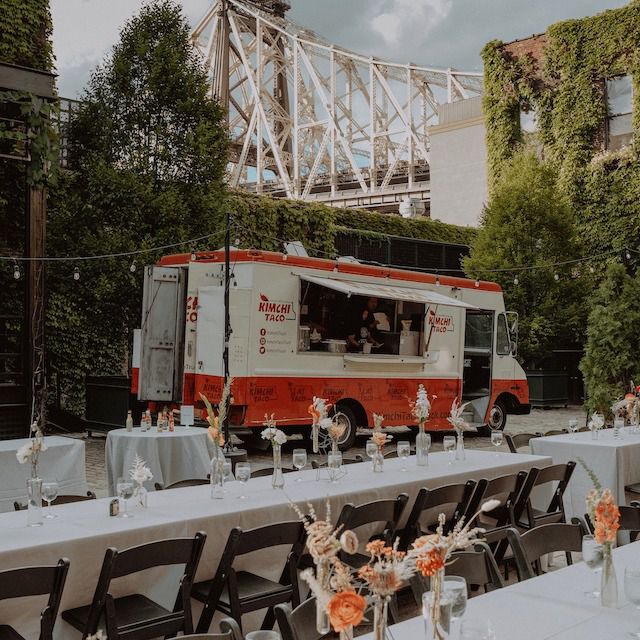 For a unique and inexpensive way to personalize your wedding decor and save money, consider building a DIY bar for your backyard ceremony. You can make use of things you already own or browse flea markets and thrift shops to acquire unusual items to use as a bar. Use a vintage table or dresser as the bar itself and add shelves or hanging racks for glasses and bottles. To list the available drinks and their costs, you may also make a custom menu or sign. Pre-made drinks in pitchers or dispensers can also be used to make a self-serve drink station. Be sure to include a lot of ice as well as garnishes like fresh fruit or herbs.
13. Nature to Your Rescue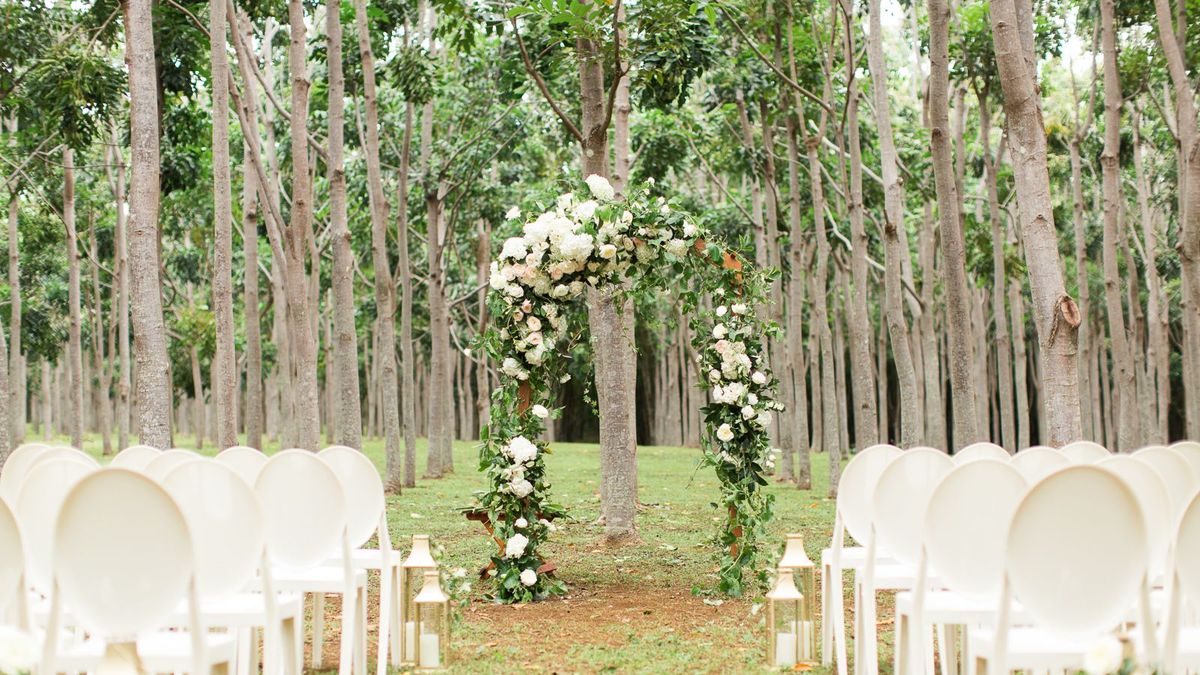 A lovely and distinctive atmosphere can be created without spending a lot of money if you're planning a backyard wedding on a tight budget by incorporating nature into your design. Start by utilizing your backyard's natural beauty, such as any trees, flowers, or other greenery. Using branches or vines, you may construct a straightforward archway or altar. For a romantic touch, add some straightforward floral arrangements or candles. Think of wood, rocks, or other natural materials as table centerpieces or place settings. To bind things together, you can also use organic materials like hessian or thread. Don't overlook the splendor of nature's soundtrack; chirping birds and rustling leaves might serve as a lovely background track for your ceremony and reception.
14. Raft a Unique and Memorable Table Setting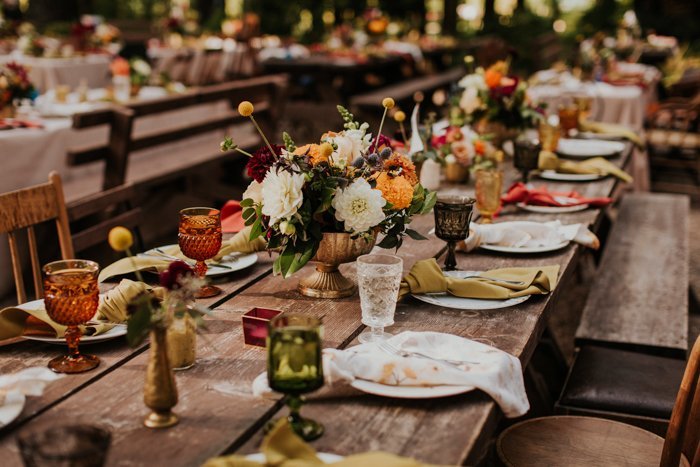 Your backyard wedding reception can be made more special with a distinctive and personalized table setting. Mixing and matching different types of dinnerware, such as vintage plates, vibrant glasses, and distinctive cutlery, is one way to make a one-of-a-kind table setting. Additionally, you can include organic components like branches, leaves, or flowers in your table decor by utilizing them as centerpieces or incorporating them into your table arrangements. To make each place setting more distinctive, think about utilizing custom menus or place cards. Using table runners or textured fabrics will help give your table design some depth and character. If you're feeling creative, you may make your homemade table decorations, such as painted Mason jars or handcrafted serviette rings.
15. Dance Floor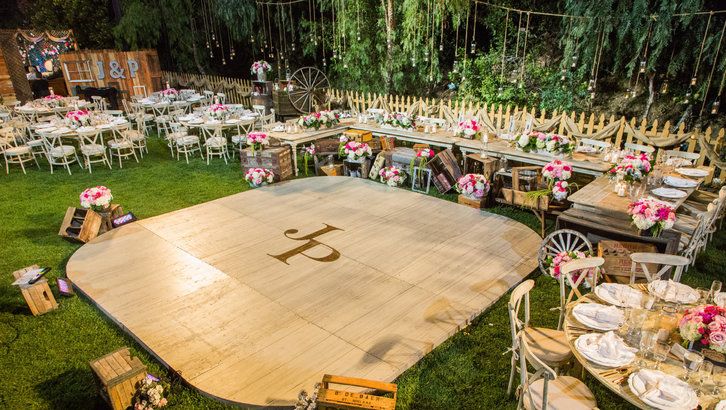 If you're having your wedding reception in your backyard, converting your patio into a dance floor is an excellent way to get everyone up and moving. To create a sturdy and secure surface for dancing, you can utilize interlocking floor tiles or snap-together decking. By adding organic materials like stones, gravel, or wood chips, you may also create a dance floor that is more rural and natural. Clear any furniture or other obstructions if you're utilizing your patio as the dance floor so that there is plenty of room for dancing. To create a joyful and romantic mood, think about suspending string lights or lanterns over the dance floor.
16. Plan a Creative Getaway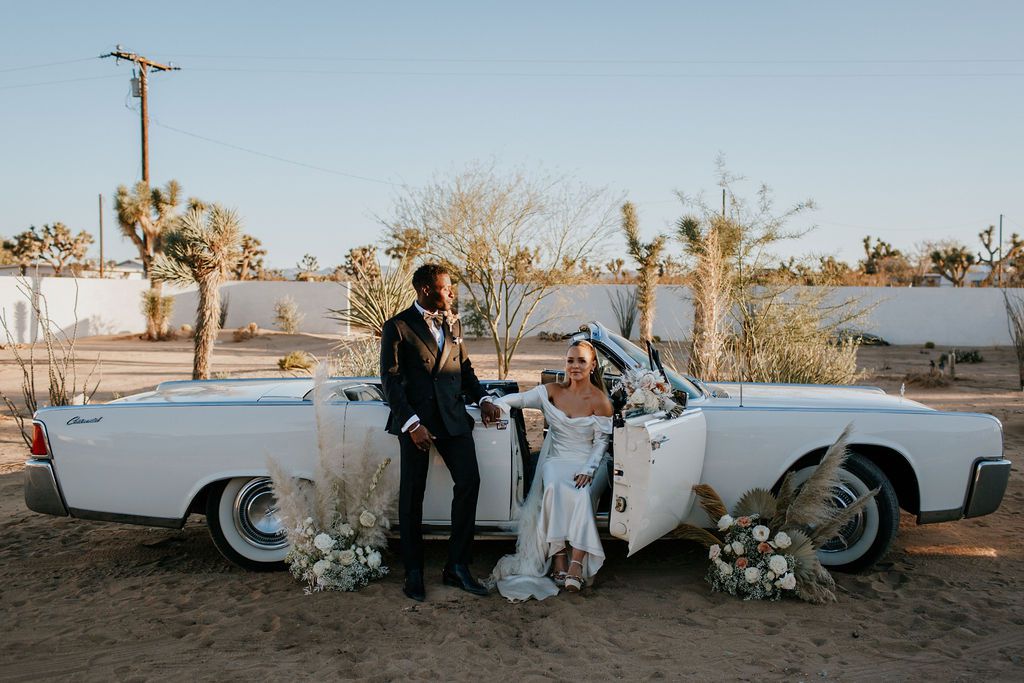 Your backyard wedding celebrations can be perfectly ended with a creative escape, and there are lots of interesting and imaginative ideas to consider. Renting a vintage car or convertible as your getaway vehicle is a well-liked choice that will give your departure a dash of retro charm and grandeur. You can even rent a hot air balloon or a helicopter if you're feeling very daring for a more spectacular departure. Consider a romantic horse-drawn carriage ride or bicycle designed for two if you're looking for a more relaxed and private vacation. Bubbles, confetti, or sparklers can also be used to provide an entertaining and playful exit. To get a good photo or film of this memorable moment, make sure to plan with your photographer or videographer.
17. DIY Lounge Area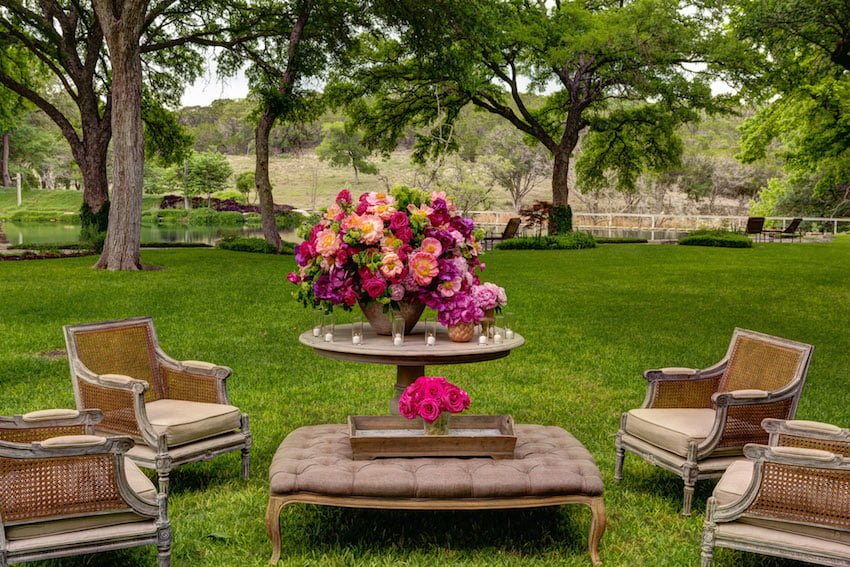 For your guest to unwind and mingle while enjoying your backyard wedding reception, a calm lounge area can offer a cozy and laid-back setting. Using cozy-setting alternatives like bean bags, sofas, or lounge chairs can help you create a warm and welcoming environment. Soft pillows, blankets, rugs, and other ways to give your lounge area some texture and color. String lights, lanterns, or candles can be hung to create an atmosphere. To establish a distinctive and private environment, be sure to select a position away from the main reception area. This can be the perfect low-budget DIY idea for backyard wedding decorations.
18. Diy and Unique Centrepieces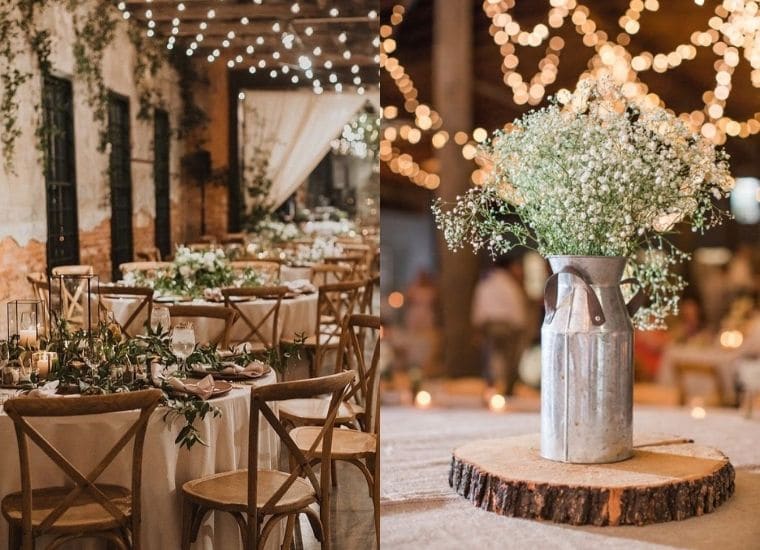 An inexpensive method to adorn your backyard wedding is with homemade centerpieces. This DIY idea is not only amazingly creative but also low in the budget to complete your wedding decorations. Wine bottles can be used to make candle holders, while mason jars can be reused as vases. Fruits can be combined with fresh flowers for a distinctive centerpiece, and succulent terrariums are another low-maintenance and fashionable choice. The bases of our centerpieces can be made of wood slices, which can then be adorned with candles, mason jars, or little vases filled with flowers or other foliage. Budget-friendly gorgeous, and unique centerpieces can be made for your outdoor wedding with little imagination.
19. Floral Arrangements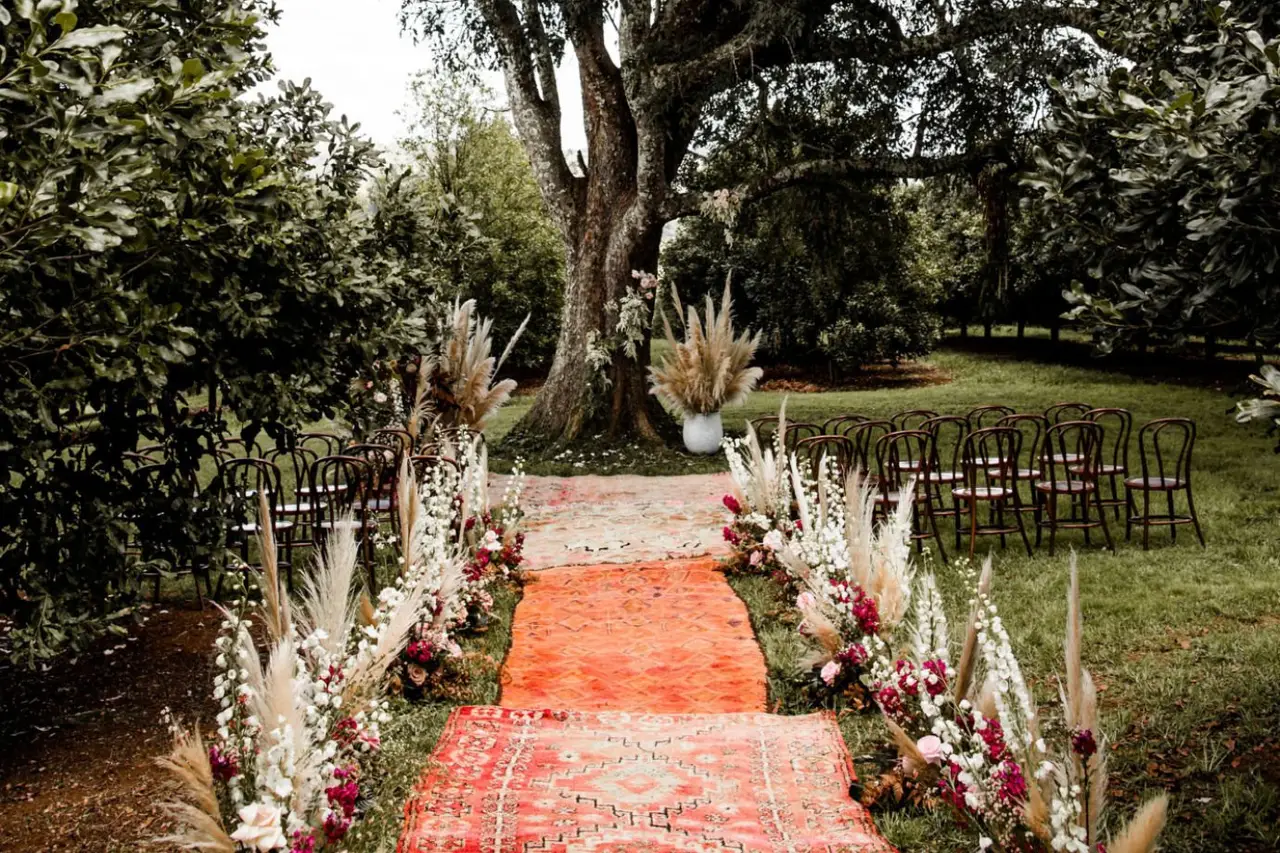 There are numerous possibilities for inexpensive floral arrangements if you're organizing an outdoor wedding on a tight budget. A cheap alternative that yields a rustic and natural bouquet is wildflowers. Another inexpensive flower that can be used to create a beautiful and simple centerpiece is the baby's breath. Herbs or succulents in pots can also be used as wedding favors as well as table centerpieces. You can go for single-flower arrangements too. Using a single stem, such as a rose or peony in a little vase or bottle, are simple and inexpensive. Buying flowers in quantity from a nearby farmer's market or florist can also be an affordable way to make your DIY flower arrangements.
20. Glamping For Guests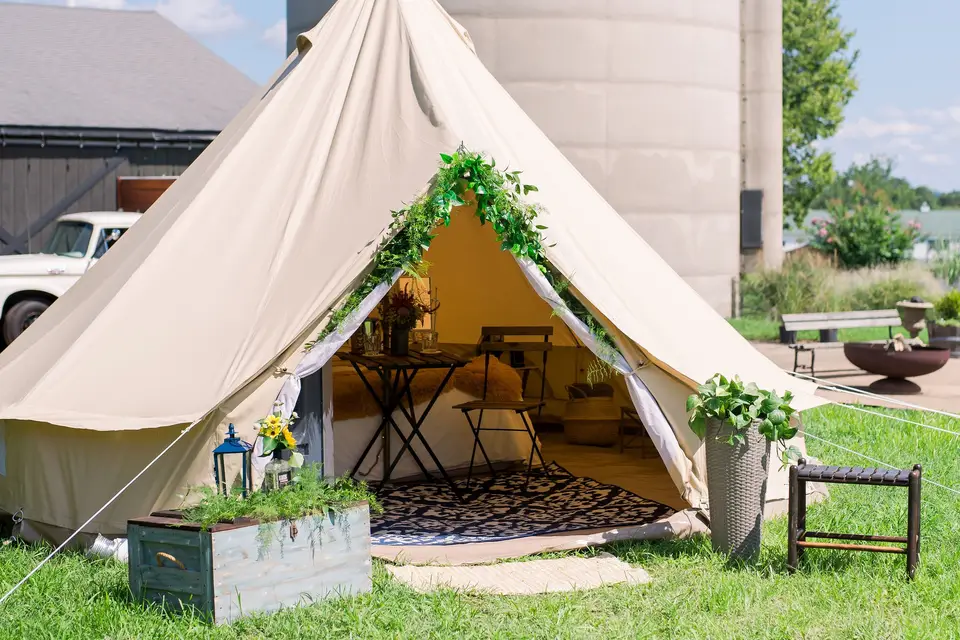 Accommodations for your guests can be made memorable and distinctive by creating a "glamping" experience for your outdoor wedding. Rather than staying in standard hotel rooms or rental homes, visitors can spend the night in comfortable tents or teepees outside. The tents or teepees can be customized in a wide range of designs, dimensions, and themes to match your wedding's overall style. Ensure to provide guests with bedding, including cushions, blankets, and cozy mattresses or air beds, to make their glamping experience as pleasurable as possible. Additionally, you can add decorative accents like rugs, plants, and string lights to the space to make it feel warm and welcoming. It's a fun and festive idea to set up a bonfire area for guests to hang around in the evening to promote conversations.
21. Let Your Furry Friends Enjoy Too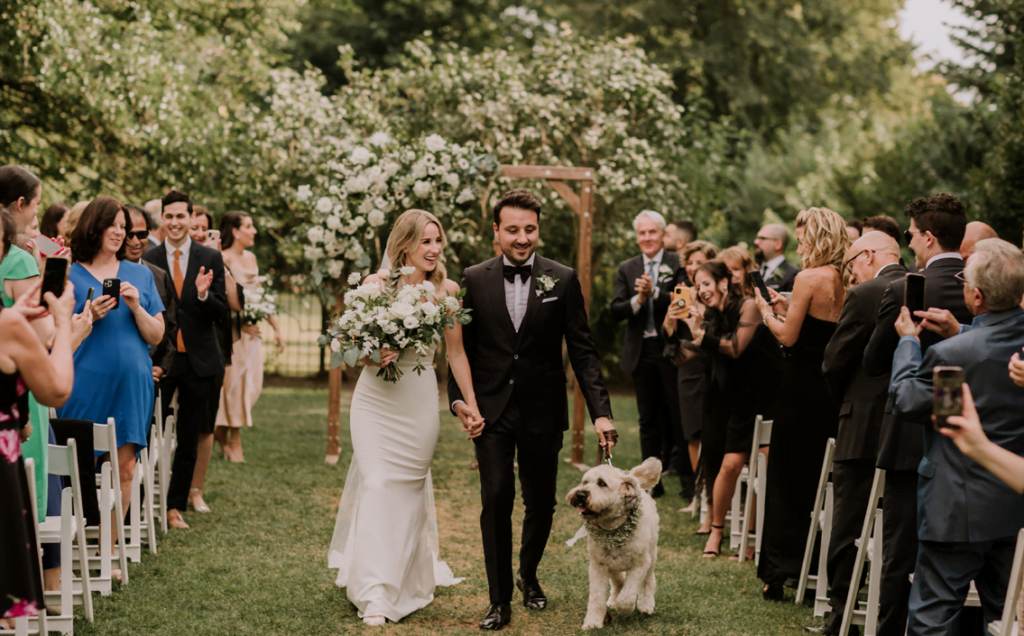 A fun and inexpensive DIY project is including your pets in your backyard wedding festivities. It gives your special day a personalized and distinctive touch and makes enduring memories for you and your loved ones. You can dress up your pets for your backyard wedding by giving them a bowtie or a floral collar and then incorporating them in the ceremony or wedding photos. It could be helpful to have family members or friends keep an eye on your dog during the ceremony and festivities, for instance, if they get anxious around people or loud noises. For your pets to unwind and have access to food and water throughout the event, you can designate a specific space.
Summing It Up
All in all, it might be difficult to organize the dream outdoor wedding. However, with these original 21 suggestions, you can organize your big day on a tight budget while still making sure that every wedding guest has a memorable time. You may plan your ideal wedding without going overboard in several ways, from arranging the catering yourself to involving family and friends in the decor and festivities. It is feasible to organize the ideal backyard wedding without going over the budget or losing quality with some careful planning and imagination.
To make your wedding truly memorable, think about using any of these suggestions or adding any distinctive and personalized touches. Last but not least, don't forget to stop and enjoy all the efforts you have put into organizing this wonderful day on your day off.
You have put a lot of effort into this process, so now it's time to relish your outdoor weddings to the fullest.