How are you going to choose a perfect couch that fits in your living room? You have traditional sets, modern sofa sets, leather sofas, fabric sofa sets, sectional couches, and sofa-cum sleeper beds. So, what is the type of sofa you would want to choose from?
Well, sofa sets can also be called couches. You have different types of couches out there. You may have to pick a perfect sofa set for your family members to lounge into comfortably. And you must allow your friends to sit on your sofa sets catching up with movies or playing the latest games on play stations or XBOX. You, therefore, need to choose a sofa set that perfectly matches your independent requirements. With the never-ending array of styles and designs available, choosing the perfect sofa set for your living spaces can be a daunting task.
Let us unveil 21 flattering types of couches and styles of sofas for your homes. Shall we get started right away?
1. Modular Sofa Sets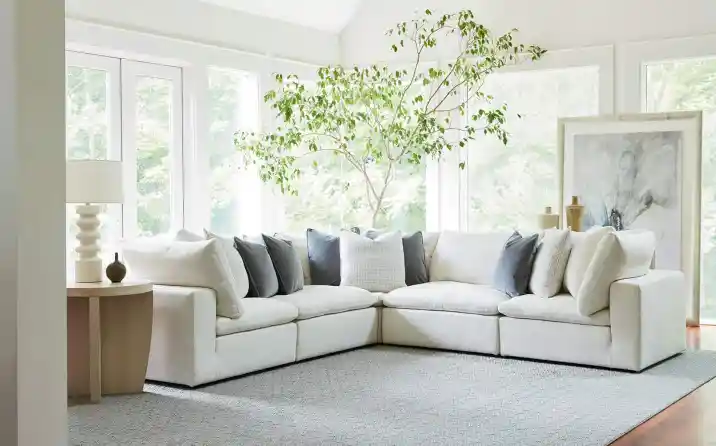 You have modular sofa sets that are multi-functional in nature. This is one of the most adaptable types of couches you can possibly look for. You can adjust the sofa set according to one's individual requirements. You can style up this sofa set using L or U shapes. This is a versatile variety of sofa sets wherein you can customize the shape according to your needs. You can increase the shape of the sofa set while you can also downsize it at the same time.
Therefore, this is a type of sofa set that gives you an added degree of flexibility. These are couches that are much in demand as you can reconfigure this sofa set using a number of ways, unlike traditional or fixed sofa sets. You can also add a number of chairs to recreate trendy DIY recreations to the modular set.
2. Sectional Sofas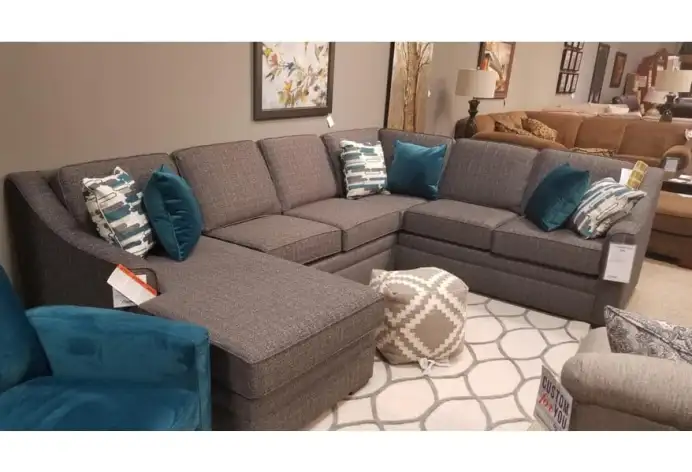 A sectional sofa set is a type of couch set wherein you combine two sofa sets together. This is a type of couch set that is more apt for larger living spaces. Apartment dwellers also find it convenient to own sectional sofa sets. As you section the sofa sets together, the sectional sofa set also acts as a divider between the bedroom and the living room. Or maybe, between the living space and the dining area.
This is one of the most practical types of couch sets one can own. For the simple reason, these sofa sets can also be accommodated in homes where there is a constraint of space. With the increased sitting area, a sectional sofa set can provide you with; you can allow many of your family members to remain seated on your sofa set.
3. Love Seat Sofa Sets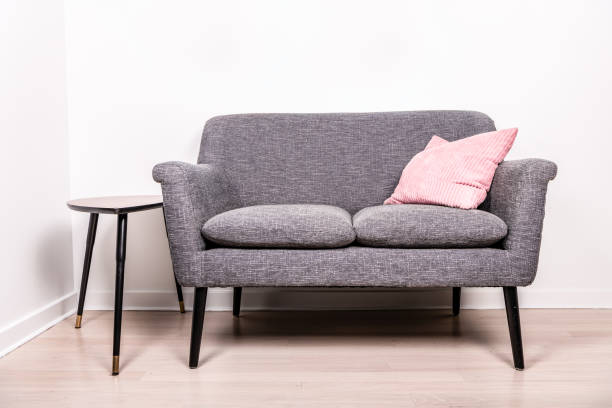 If you have a look at it, you have another sofa styling set that not many people know about. It is the loveseat sofa set. This is a type of couch that is meant for just 2 people to be seated. This is a sofa style adopted by couples at homes wherein the space in the rooms is lesser. Loveseat sofa sets can be flattering in a compact bedroom or in a study room. Here, lovebirds or romantic couples can use loveseat sofa sets to get cozy or even cuddle with one another.
Loveseat sofa sets are also known as two-seater sets. Here, the length of the sofa set ranges between 50-75 cm making it easier to fit into smaller rooms. You have loveseat sofa sets in a variety of trendy designs, shapes, and sizes. Velvety loveseat sofa beds are in trend among newly married couples.
4. Sofa Cum Bed Units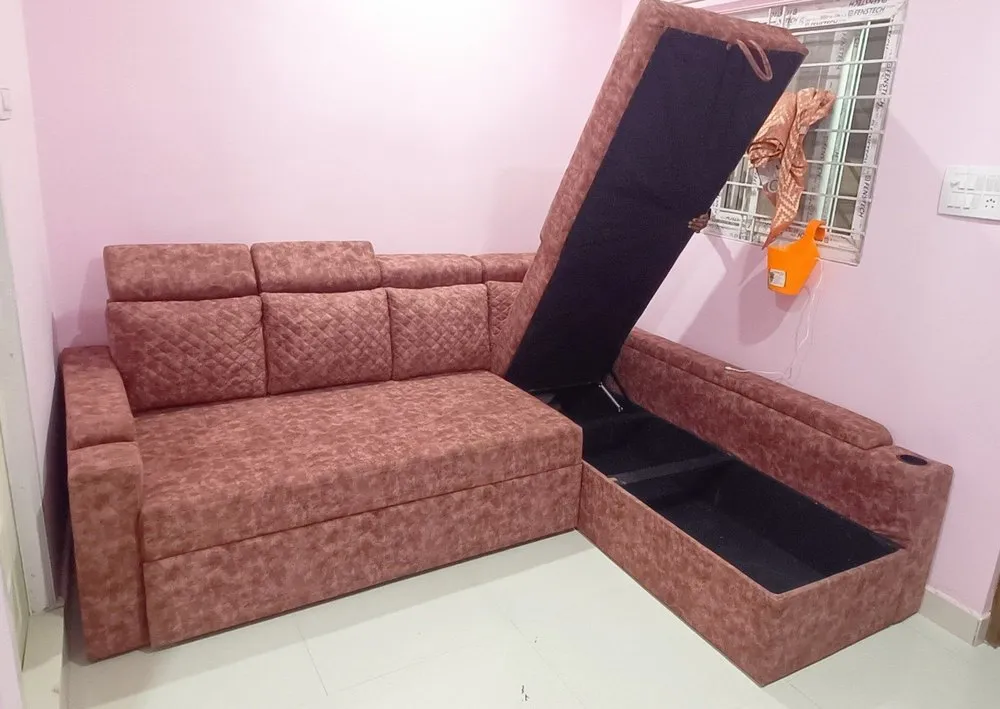 As the name suggests, sofa cum beds refer to couches that can be converted into sleeping beds. This is a sofa styling arrangement wherein you fold the mattresses the couch converts into a living-room couch. When you open the mattress, the sofa equipment features itself into a bed. Sofa cum beds can benefit condominium apartments where there is a space constraint.
Also, single-room decor goes in for this kind of seating cum bedding arrangement. At hotels or resorts, you find that the cabins are always equipped with flattering styles of sofa cum beds. You find them in a variety of styles, shades, and designs. You can opt for getting these comfy sofa sets at affordable prices online.
5. Experience Comfort with Lawson Couches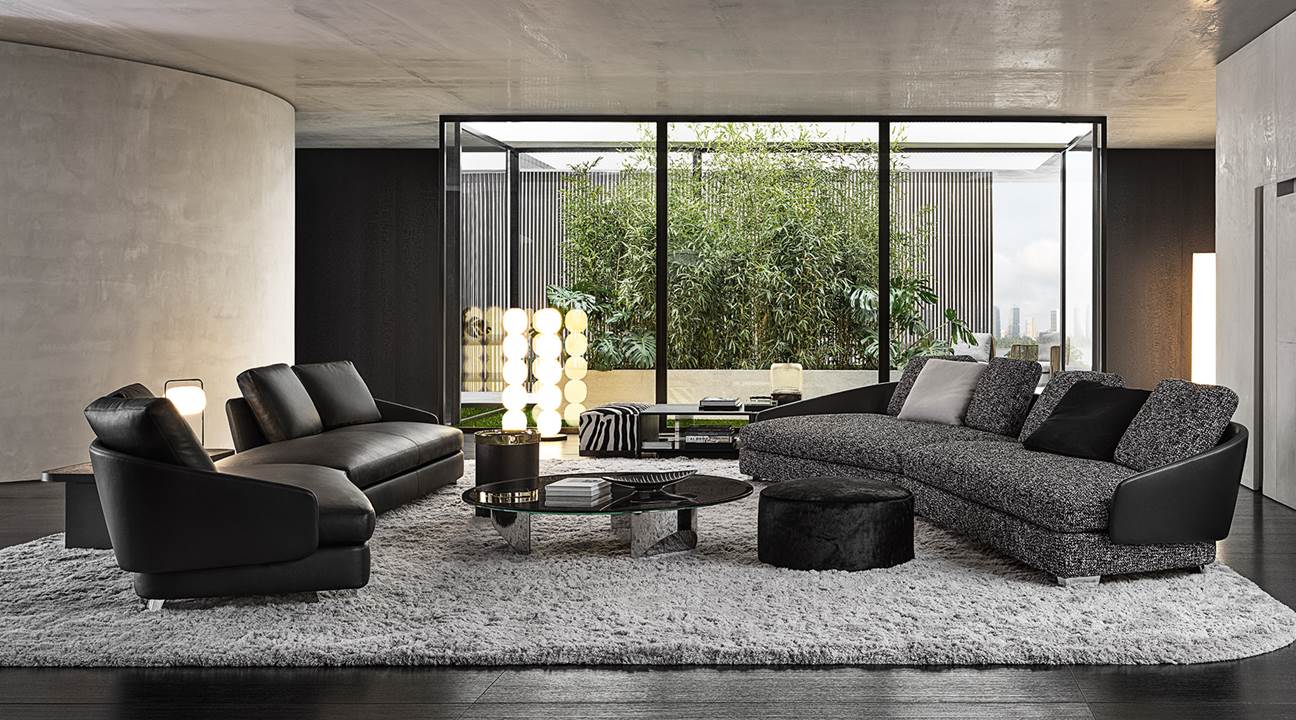 You can discover Lawson sofa sets that follow a minimalist design pattern. In this sofa-seater arrangement, you have back cushions or pillows on a three-seater. You have that extra seating arrangement even when you place trendy cushions to add to the decor of the cafe-style area. You have one more special feature attributed to this particular type of couch. The arm of the sofa set has a square shape.
Therefore, these are couches wherein you can have your afternoon sleep in a comfortable manner. These comfy sofa sets can also be called lounge sets. You can avail the couch sets in a variety of shapes, designs, and colors. As Lawson sofa sets come to you with back cushions, you can get more comfort out of the Lawson models as compared to the contemporary sofa styles.
6. Wedge Arm Sofa Sets with Spherical Edges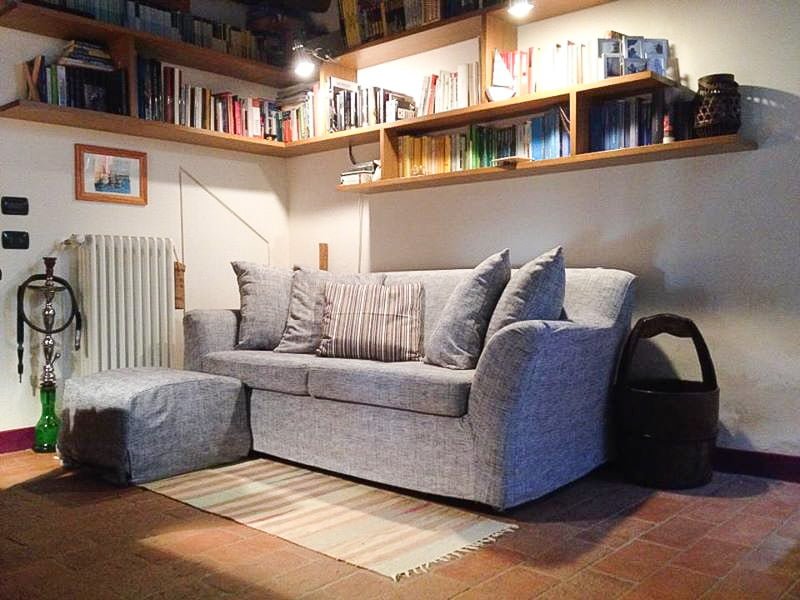 These are round wedge arm sofa sets. This is a kind of innovative sofa-styling arrangement wherein the couches have rounded arms as against the commonly styled square arm or traditionally round sofa sets. The style looks trendy, and these types of couches are pretty much in vogue. The grey sofa set with matching cushion covers adds a posh look to the ambiance of the living room.
You have stylized accessories and curtain drapes in off-beat hues. The greyish-white looks to complement the styling trend in a fabulous manner indeed. You can choose contrasting cushion covers for a more vibrant look. The jute carpet is something you cannot miss out on.
7. Chesterfield Sofa Sets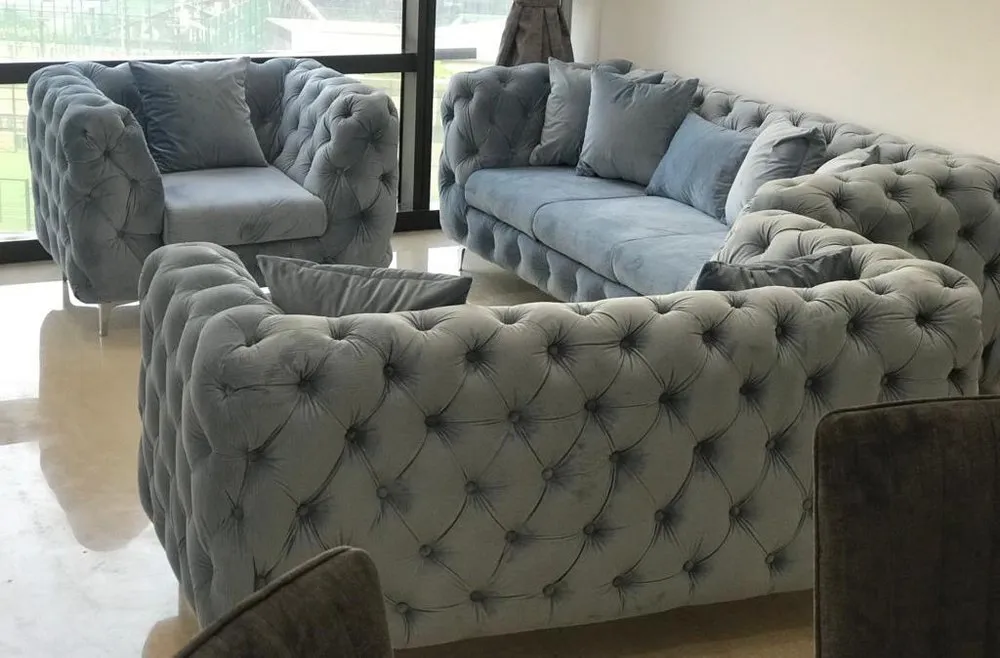 Chesterfield sofa sets are more of traditionally designed couches wherein the arm of the sofa sets are of the same height as the back of the couches. You have Chesterfield couches that are traditionally made from leather. However, in today's trendy world, you have these sofa sets made from other materials like velvet, fabrics, and other natural materials too.
You can also discover the couches having taller legs, flimsier arms, and unique back compartments. The silver-grey Chesterfield sofa made is made from skin-friendly fabric material indeed. The back of the sofa set looks visually pleasing to the eye. You have cushion covers matching the color of the couch.
8. Bridgewater Sofa Sets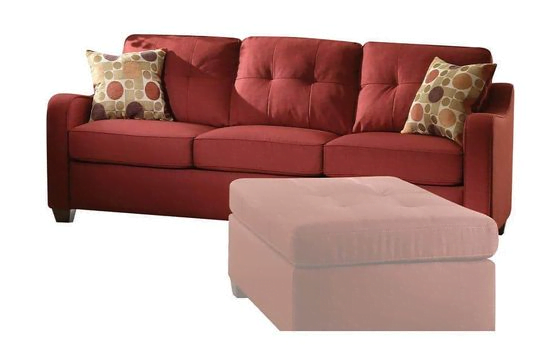 These are stylized couch sets that lend casual vibes to the sitting or living rooms of your home. If you look at the stylish of this particular sofa set, the vibes exude richness to the overall decor of the living room or spaces. The fabric is a luxurious maroon. You get a look of completeness looking at the couch. The cushion covers have trendy polka dot sequins adding to contrasting vibes. You have three sections neatly partitioned for three people to sit in. The sofa table has been upholstered using a white fabric cushion mattress.
On a general note, bridge water sofa sets have back cushions adding to the comfort factor in a great way. The arms of the couch sets have a lower width as compared to the back of the couch. You can choose these sets in stylish colors and vibrant ranges.
9. Belgian Styled Sofa Set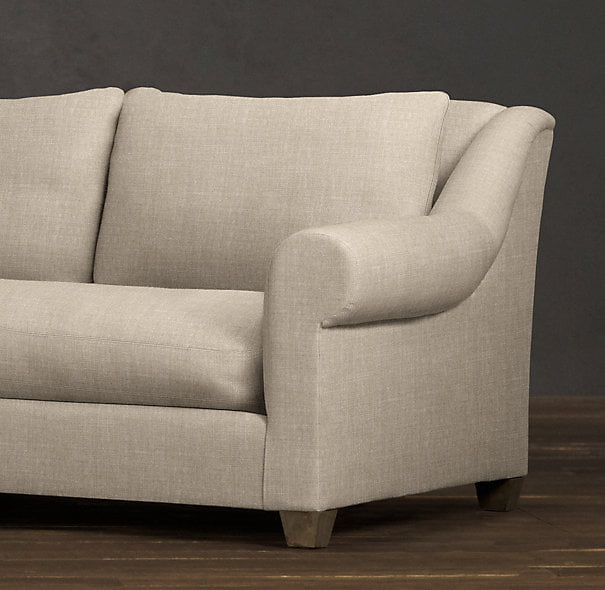 The Belgian sofa set has a couch decor with a rolled-up arm. The unique design of these sofa sets adds to a posh glam indeed. The arm of the chair has a sloppy edge, while the ends are rounded. This is an off-beat hue that has a fabric cushion for comfort. These sofa sets come to you in a variety of colors, sizes, and designs.
The Belgian Restoration model is a pick that is always in demand among sofa lovers. You can add this kind of set to your outdoor patio or garden spaces. You have narrow-width legs at four corners of the set as against sofa sets that have a flattened base. Resort homes have Belgian styles for their front office decors. The hardware accessory is a minimalist arrangement with non-fuss fringes.
10. Tuxedo Sofa Sets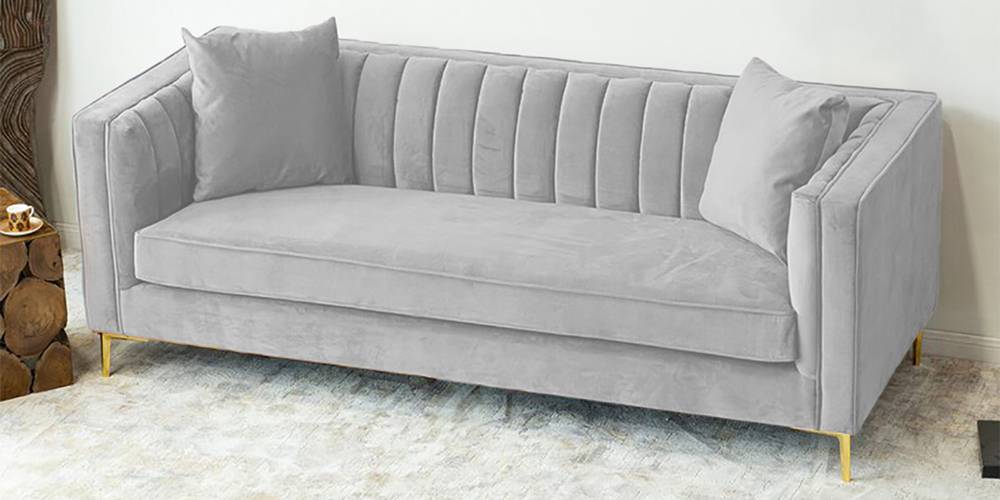 Not many of you are aware of the fact that the sofa set came into existence during the 1920s. This is a long-length sofa set that has flat arms on either side of the couch. The vintage styled Tuxedo sofa set has a grace that is comparable to none other. The classically styled Tuxedo couch sets have arms that measure the same size as the back of the sofa.
With excellence, this couch set beautifully fits into formal settings. You have cushions arranged on either side of the couch set. The sofa set is well-upholstered using high-end rexine fabric. The four legs of the sofa set depict elegance and charm to the accessory. You can accessorize the sofa with tea tables and decorate flower vases to make the decor even more inviting.
11. Sofas without Arms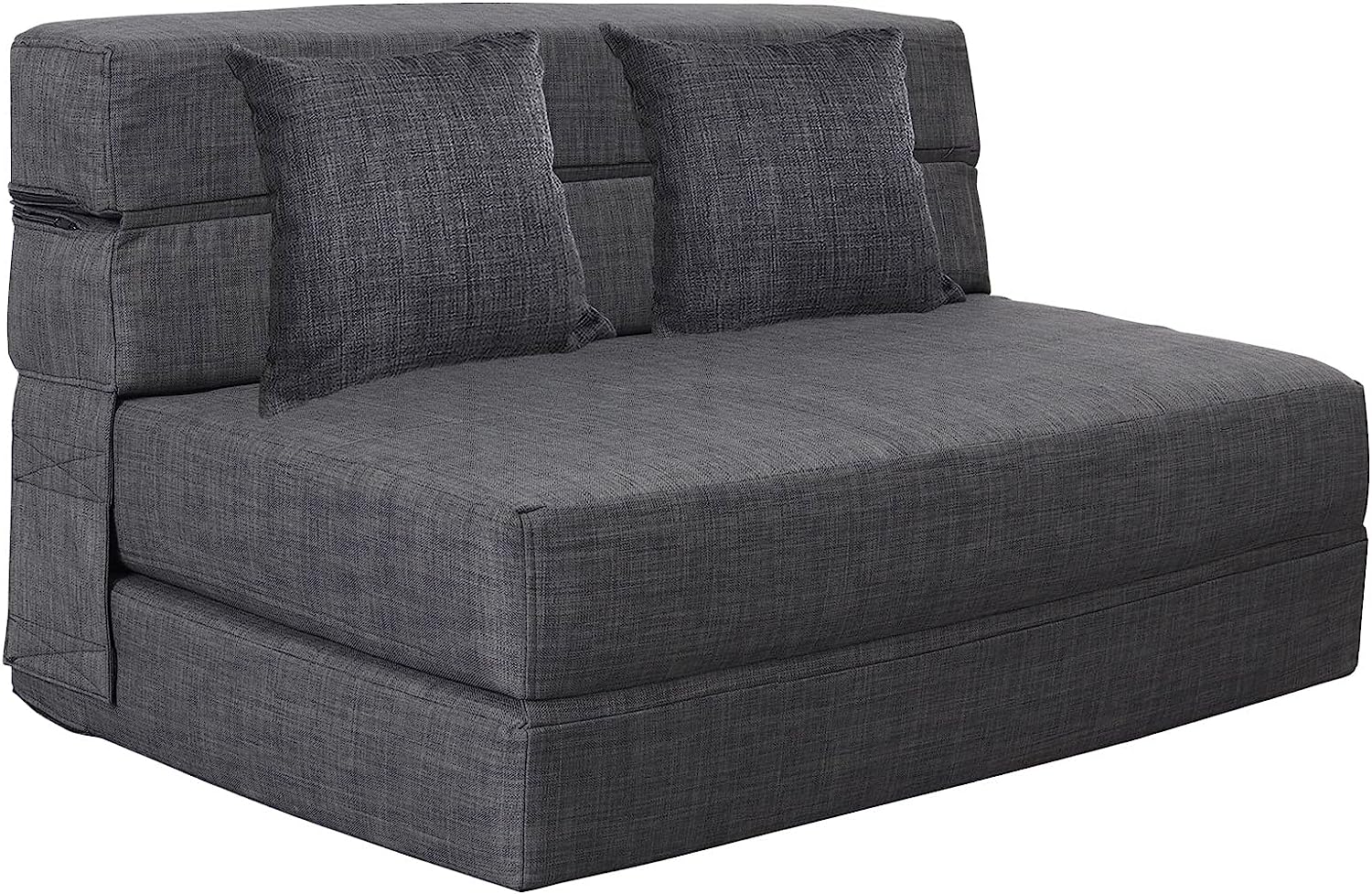 These are flatbed sofa sets without arms. The base of the couch set is of an elevated stature indeed. The ash-grey sofa set has a charm that is irresistible to the eye. The front design is of an ethnic style. The couch style has a minimalist look. The vibes these sofa sets provide can be formal. If you drop your remote controls or gaming equipment out here, this is not the ideal sofa set you are looking at.
Armless sofa beds are good to go if you want to relax at swimming pools just by lying on them. You will find these couches available in a variety of designs, color schemes, and sizes. In total, these sofa beds have a unique charm as compared to regular armed sofa sets.
12. Camelback Couch Sets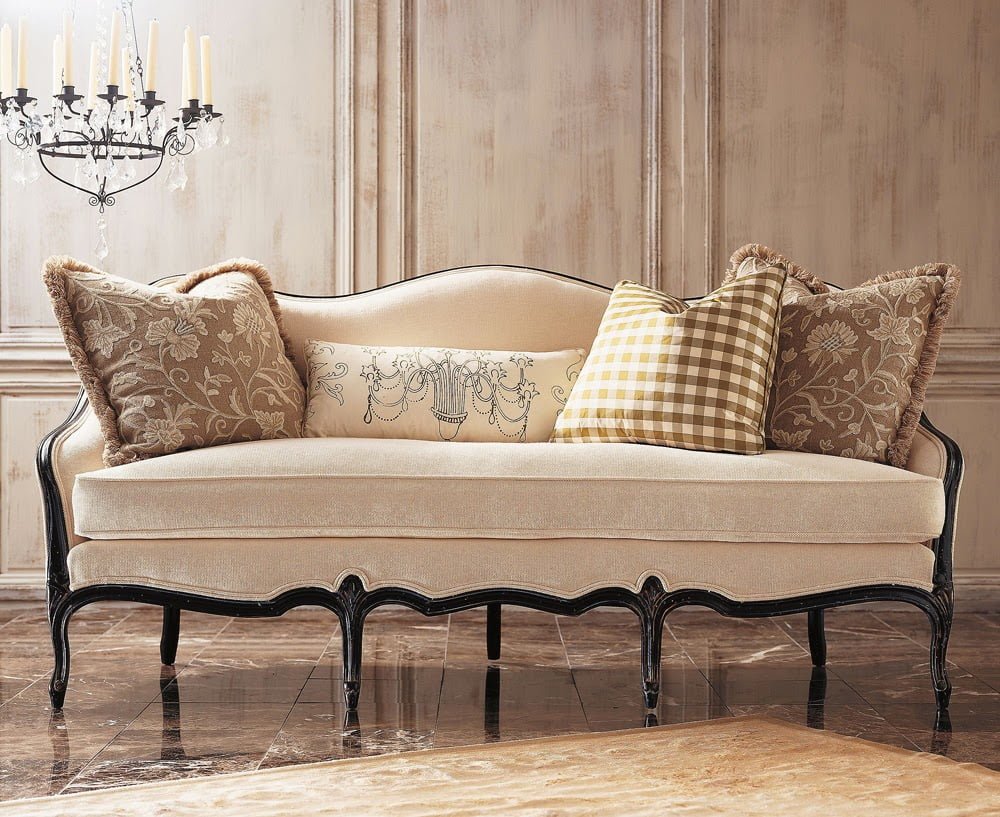 This is a posh-looking camelback sofa set that is irresistibly charming. These couches are named 'Camelback sofas' owing to the camel-like humps covering the back of the sofa. With the highest point at the center, the sofa's back area then tapers towards the arm of the sofa bed. You have single hump as well as dual hump camelbacks on the couch sets.
Placing these sofas can bring about a stylish appeal to your living rooms. This is an off-beat cream-shaded sofa set with printed cushion sets. The contrasting design is what adds a vibrant look to the couch on the whole. You have panel-designed walls and chandeliers matching the look of the sofa sets.
13. Wooden Arm Couches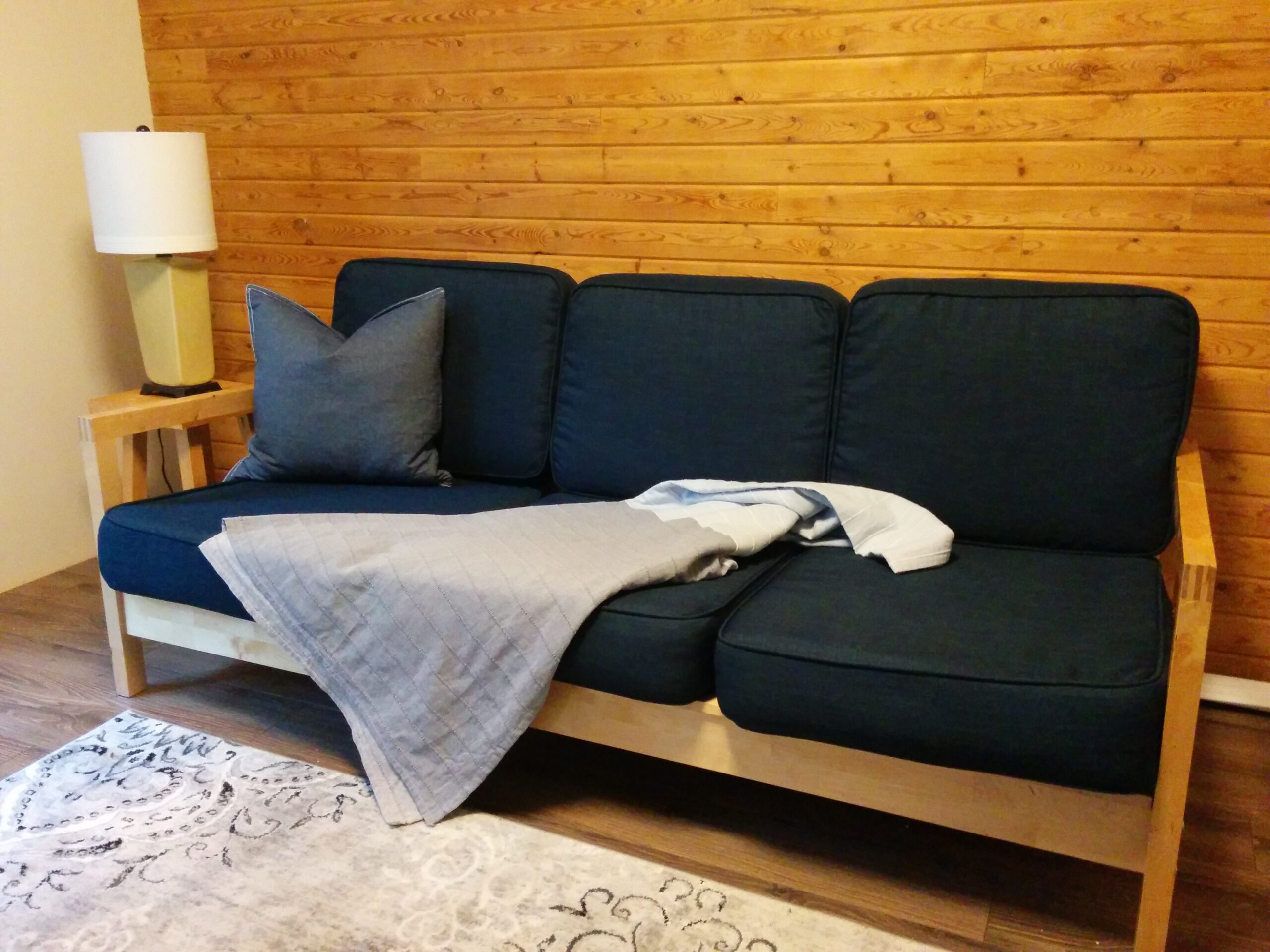 You have a neatly sectioned sofa set that has wooden arms on either side of the couch. The sofa sets have a professional silhouette that makes the decor look sophisticated. The cushions are upholstered using fabrics. The back of the sofa set has a wooden exterior finish too. You have a paneled wall that has earthy brown varnished on it.
The table lamp has been kept at a wooden table top just adjacent to where the sofa set has been placed. The printed rug adds to the well-defined look of the living space. Office spaces and event halls have mind-boggling wooden arm sofa setsthat can lend formal vibes to these outdoor spaces. The sofa styling is, therefore, rich and classy.
14. Vintage Styled Mid-Century Couch Sets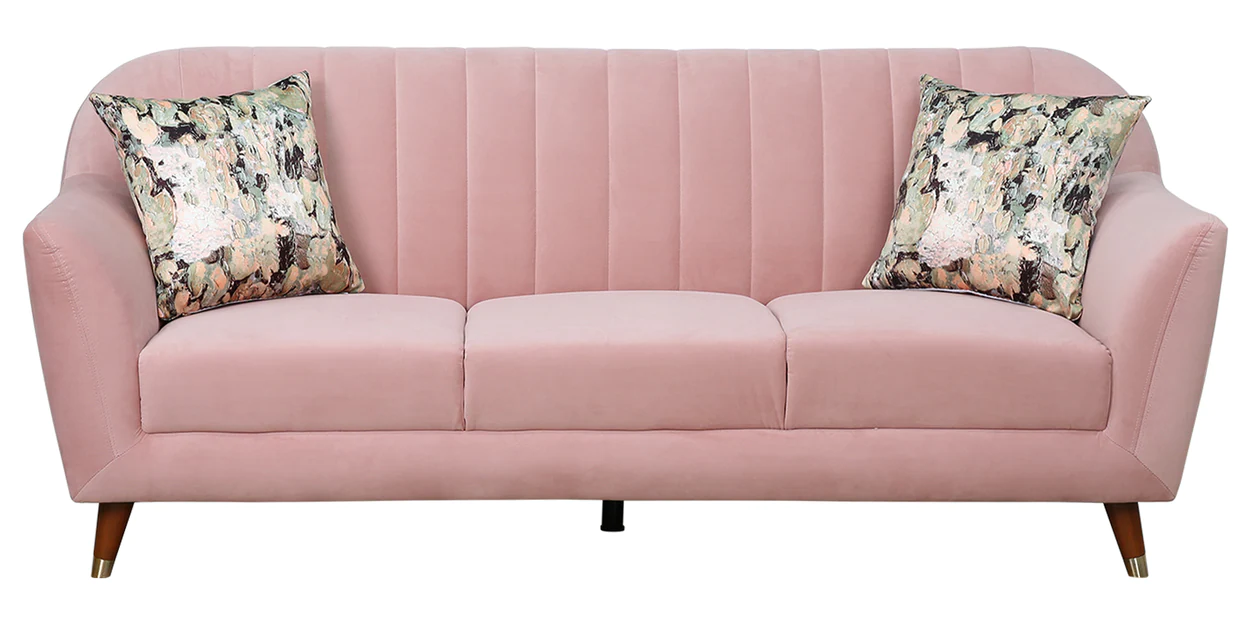 The mid-century furniture sets have always been in demand for their aesthetic beauty and charming elegance. You have different types of couches that belonged to the yesteryear era that are still in vogue today as well. Your Mid-century sofasare classic examples of the same. With the defining silhouette, the sofa set has, you can discover retro features the couch typically has. You discover a curvy-shaped design with lowered legs, square-shaped arms, a rectangular cushioned seating arrangement, and a wooden frame on the couch sets.
The Mid Century sofa sets lend royal vibes to your living rooms. You have retro vibes added to cushion rugs too. You can add matching or contrasting accessories to go with this sofa set. Vintage-style mid-century couches lend ethnic vibes to bungalows or palatial villas in an effortless manner.
15. Slope Arm Chair Sofa Sets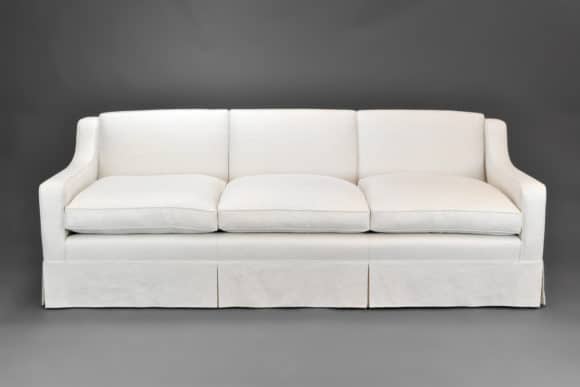 This is a type of sofa set whose design is a visually pleasing one indeed. The arm of the couch set has a sloppy edge attributed to it. When you have a further look at the design style the sofa has created, you have the height of the arms and the back that remains the same that tapers as you go towards the front of the sofa bed. You get a slope effect when you lounge into one. The couch set can lend aesthetic appeal to your living room areas, while you can have one installed on your verandas or balconies too.
You have well-cushioned upholstery at the back of the sofa that helps you sit on or relax comfortably. You can get the slope armchair couches in different shades from reputed furniture stores or via online marketplaces too. Slope armchair sofa sets are available in trendy design configurations for you to choose from.
16. Day Beds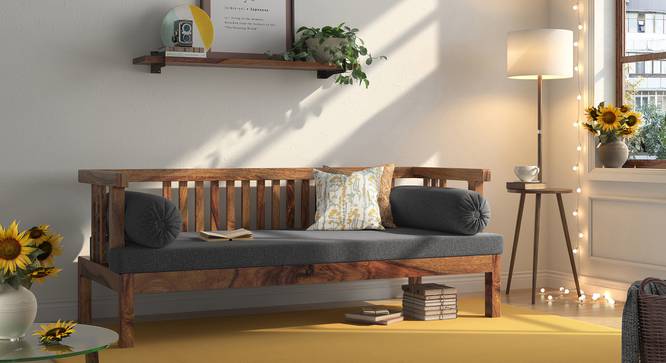 These are flat sofa beds that can also be called day bed couches. We call it Diwan sets. You can lie down on divan sets on a super-comfy level. You can lie down on these classic day bed couches to watch your favorite movies or web serials on Netflix. As this is a couch without a back, you can have the divan set placed against your walls. You can then arrange the beds with comfortable cushions to allow your family or friends to sit on them at ease. These are open-ended sofa beds that are more popularly visible at celebrity parties and showstopper events.
You can use these day bed couches by leaning them against walls and placing a number of cushions to add to a fabulous seating arrangement during the daytime, while they can be made beds to sleep at night. In a nutshell, the day bed couches are versatile in nature.
17. Storage Space Sofa Sets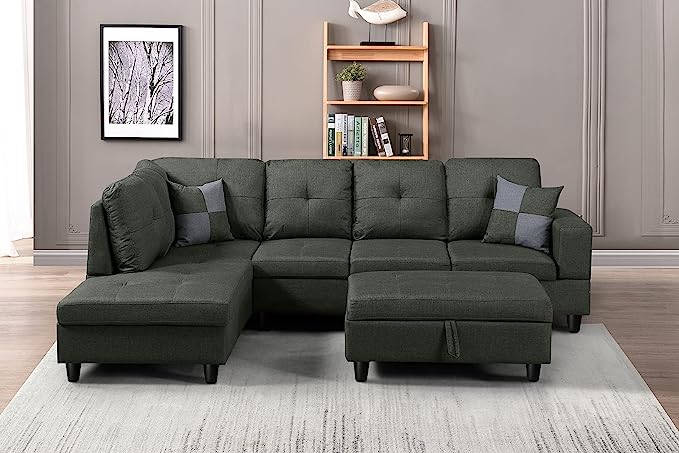 Here you have a couch that doubles up as a sofa set and a storage area. This is a classic example of a sofa set wherein you have a wooden cupboard at the armchair end of the sofa. You have plenty of compartments inside the sofa sets. You can place your wooden artifacts, books, and other bulky items as you have plenty of storage space inside the sofa sets. The ethnic sofa styling arrangement lends a contemporary feel to the living area ambiance on the whole. You have a pretty-looking alarm watch that is placed on the cute-looking wooden chest here.
Potted indoor plants keep the room decor well-ventilated. You have a greyish rug that has a chequered design to add to the posh vibes of the room. You have curtain drapes that have a combination of grey and white that exactly matches the color hues of the sofa set. Storage sofa beds can be a great accessory to your home.
18. Recliner Sofas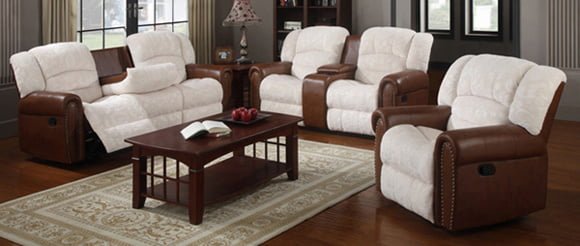 Out of different types of couches, the recliner sofa sets are the best bet in today's dynamic marketplace. These sofa sets are meant to relax those stressed muscles after a tiring day's work at school or the office. This type of couch has several names attached to it, like an armchair, recliner chair, or lounger. You have a backrest that can be adjusted or tilted according to your sitting posture, while the footrest can be adjusted according to one's independent requirements too. These couches are costlier as compared to the normal variety of sofa sets that are available in the markets. You find
Recliners in airplanes, guest rooms, movie halls, luxury hotels, and sophisticated event or banquet halls. With super adaptable features like a backrest, footrest, or even an armrest that can be made customizable to suit one's degree of comfort, these sofa sets add to the most relaxing effects when you allow yourself to sit on one.
19. Couch Sets with Curved Back Area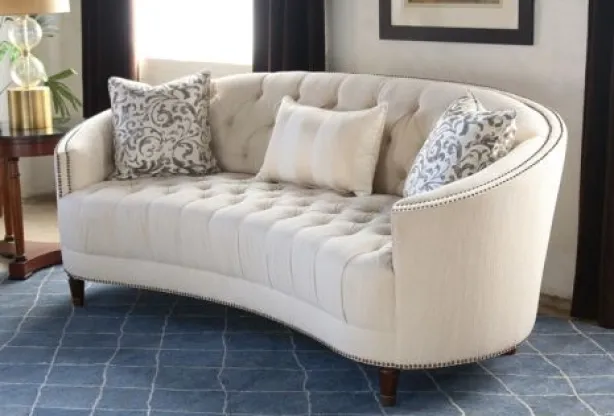 These are couches that have modern as well as retro vibes that are attributed to the same. You discover that the back of the sofas has a curved or rounded silhouette that lends an innovative design to the couch set. These sofa sets can lend pretty-looking vibes to your interiors. The curved back sofa set is creme-white in color. You have cushion rugs matching the sofa's overall decor. You can find this type of sofa sets in front office spaces, hotel rooms, guest rooms, waiting areas, indoor play area centers, etc.
The light blue chequered rug gives a highlighted tint to the decor of the living area as such. You have indoor plants and flower vases that are spaced at the rear end of the sofa set. You have contrasting black the curtain drapes are made of. The minimalist design of this sofa style makes the room look effortlessly cool.
20. Track Arm Couches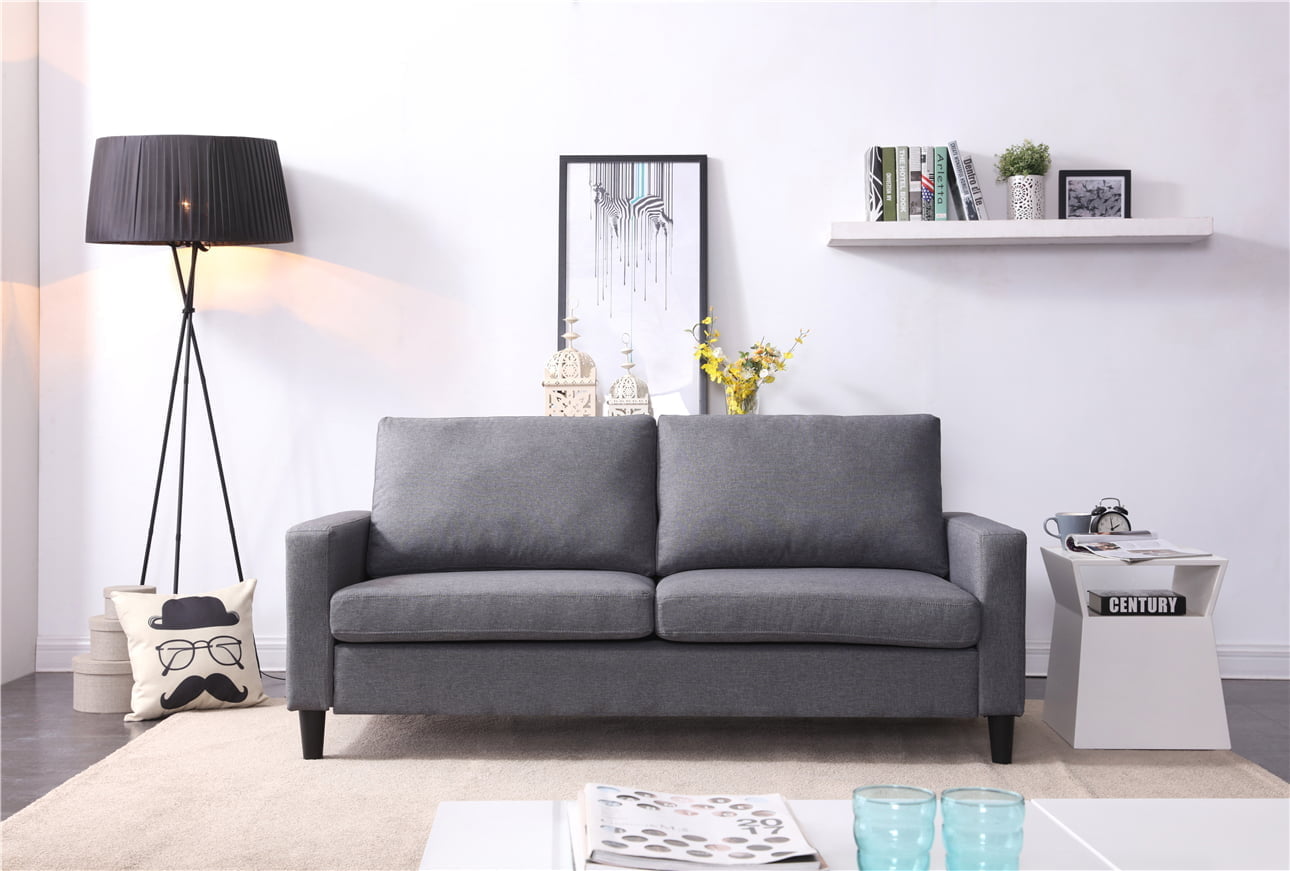 You get a contemporary edge to the way the sofa set has originally been designed. The arms of the sofa set have a squared shape. These couch beds have a rectangular frame with an equally partitioned two-seater. These are straight-line sofa sets that look neat and polished. The square-shaped arms and rectangular frame of the seating area go hand and hand.
As one feature complements the other, you have lower-length legs of the sofa set that are durable in nature. This is a navy blue sofa set that can be put into smaller spaces as traditionally designed couches occupy extra space due to their rolled arm tinges. The track arm couches are sophisticated and fabulous to look at.
21. Barrel Back Sofas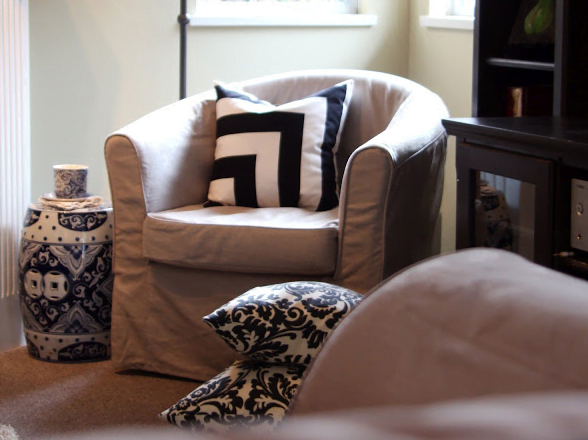 We call it the barrel-back sofa because the couch bed has a back frame that extends all the way to the arms of the sofa bed. Again, as the name suggests, the entire look of the sofa resembles that of a barrel. These sofa beds are comfortable to sit on. You have black and white striped designer cushions on the sofa set. There is a jar that resembles a pitcher, and this is made from ceramic.
You have pillow beds added to the sofa sets. The brown carpet completes the look of the room in a fabulous manner. You can get barrel-back sofa sets in a variety of shades to match the interiors of your living spaces. These are stylish sofa sets that give unique looks to your living spaces.
Final Thoughts
All in all, you have seen 21 different types of couches and sofa styling techniques on the whole. Sofa sets style up the glam quotient of your living rooms. You can spruce up a number of accessories and add DIY accessories to create the exact vibes you are looking for. You can add party wallpapers to get the feel of a party hall. Teapot tables also help recreate the magical effect you are looking for. You can keep flower vases filled with flower cuttings or fresh blossoms to give refreshing looks to your living areas.
These are must-have accessories that beautify your hall areas in innumerable ways indeed. Apart from just sitting on sofa beds, you have multi-faceted utilities these couches provide you with. A lot of sofa sets come with storage facilities where you can store your expensive stuff in.
So, which is the couch set you are looking at? And, what is the sofa style you are going to arrive at?