Are you looking for some interesting patio curtain ideas? Then you have come to the right place. A shaded patio is a great way to enhance your privacy at home and avoid the unwanted gaze of neighbors. Adding some stylish curtains can increase your privacy. Also, they will boost the beauty of your patio. Plus, curtains are crucial for keeping your patio warm during cold seasons and preventing scorching sun during summer. So, adding some curtains to your patio's sliding glass door is a must.
Today, you can have many options, from solid color blinders to silky and flowy ones depending on your choice. So, if you do not want to settle for less, keep reading. Here we will discuss the 21 best .sliding glass patio door curtain ideasfor your patio this year.
21 Best Sliding Glass Patio Door Curtain Ideas
Adding curtains to your patio is more than just a necessity. They can enhance the beauty of the place and help you showcase your taste and aesthetics. And here is a list of best-sliding glass patio door curtain ideas to help you:
1. Try Color Blocks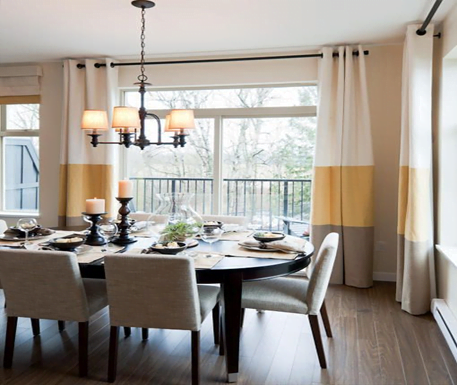 Try the color blocks for fantastic sliding glass patio door curtain ideas. Color block curtains are very trendy these days. They look elegant and help you introduce color to the room. Lush Decor Alexander Color Block Light Filtering Window Curtain Panel Pair is the best option as it's thick and offers a visual weight. They can be an excellent tool for adding weight to your patio interior when paired with a color-matching sofa or a couch. It will also help you prevent outside noise and light when needed. And the best part of color block curtains is that they are available in thousands of shades, and you can choose colors from pastel to bold or pale.
2. Vertical Blinders
Some people may claim blinders are too old-fashioned and boring. But the truth is that if you know the right way to incorporate them, they can create magic. Over the decades, vertical blinds have been idealized for condors and apartments. And we are also accustomed to this notion. However, recent interior designers have shown that you can use vertical blinds like patios and French doors in other places. Adding vertical blinders on your patio door can be a great way to give the site a casual look and shield your privacy. The Allbright Zebra Window Blinds can offer quality coverage with a classy look. Also, you can now get blinders in various aesthetically pleasing and interesting shades and patterns.
3. Add a Trim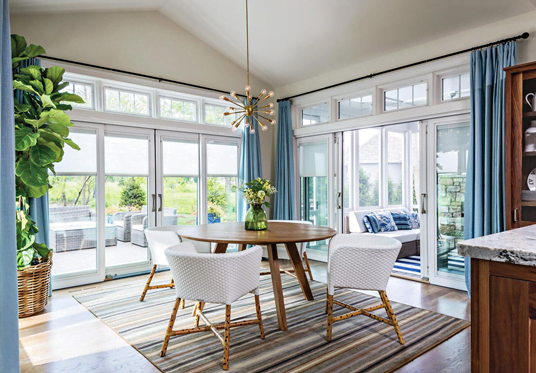 If you want sliding glass patio door curtain ideas to create an interesting view, try the trim and tie-backs. Tie-backs are suitable for both patio sliding doors and French doors. And many people are now using them to create a unique look on their patios. These types of curtains are thick and wall-length and make beautiful drapes when you trim and tie them back. If you have a beautiful outside view that you do not want to shut out but to enhance, the small curtains are an ideal option that you can try.
4. Use Paint and Curtains Together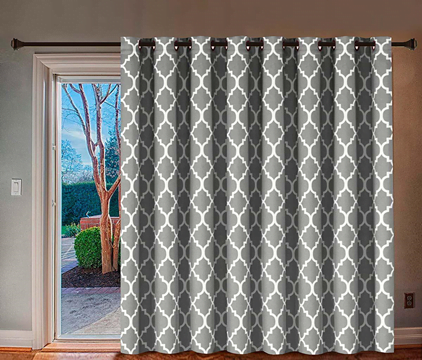 Are you looking for clever ideas to install curtains for your patio sliding glass doors? Then you can try the paint and curtain tip. It is also one of the most popular sliding glass patio door.curtain ideas you can use. To try it, you must paint your patio door frame and use solid color curtains matching the paint. You can also pair them in contrast to make a design statement. Also, if you are working with your interior designer to decorate your patio, you can pick your paint and curtain according to the color palette of your deck.
5. Try Double Curtains and Double Blinds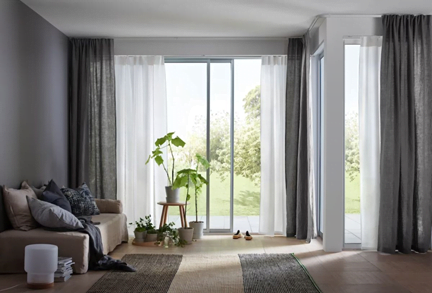 Another fantastic way to install your patio sliding glass door curtain is double blinds and double curtains. You must install double blinds or curtains on your deck sliding doors to do this. Using double blinds or curtains is familiar, yet it can create a chic look and increase your patio's elegance. Usually, you must pair a light shade with an opaque shade of the same color. However, you can use different colors that contrast well and beautifies the place. For instance, you can use similar colors like mint blue and indigo blue or, for contrast, dark grey and off-white.
6. Use the Primary Feature of Your Patio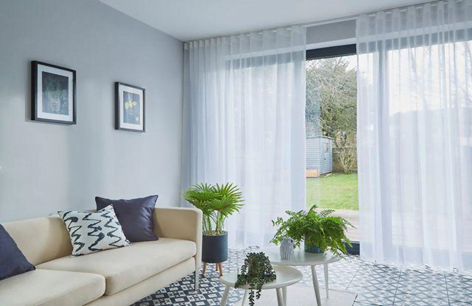 This tip can be tricky to understand initially, but it can offer excellent results if applied well. Using features of your patio means utilizing the architecture of your patio and its ambiance and picking the most suitable curtains for it. Also, when you use the main features of your patio and use your curtains according to them, you can easily highlight the best part of it and make it look more attractive. For instance, if your patio sliding glass door opens into a gorgeous balcony, you can benefit from shades or complete blinders instead of draped curtains. However, giving yourself some time will help you identify the best solution.
7. Use Curtain Panels to Add Patterns
Are you looking for some simple sliding glass patio door curtain ideas? Then you can add patterns to your curtain panels. As neutral shades look casual and help you easily create a formal set-up. Use sober color patterns for your patio door and pair furniture like a sofa, couch, and table with the same color palette. It will give the entire room a solid background, and you will get a formal sitting area. You can add a green plant on the table or in the room's corners to give it a green touch.
8. Incorporate Plantation Shutters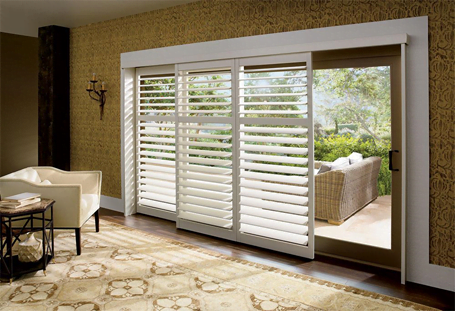 Another great way to make your patio door covers unique and exciting is by replacing curtains with plantation shutters. Plantation shutters are a crucial feature of the Southern architectural style. However, they are compatible with various house structures and look quite impressive. So, you can easily incorporate plantation shutters without worrying about whether your home architecture will match it. Also, these wooden blinders are easy to use and offer good protection from light and sound. The best part of the plantation shutters is that you can paint them in different colors or opt for patterns.
9. Frame with Abundant Flora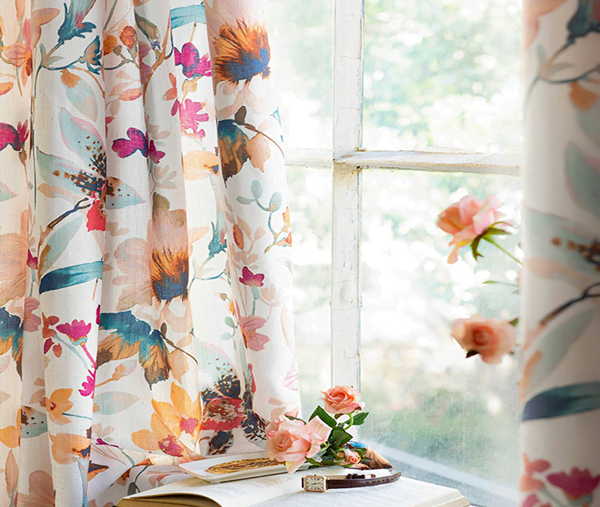 If you love the floral style, then take this opportunity to display your love and give your patio an exciting frame with great floral print curtains. Kotile Floral Curtains 84 Drop looks excellent on sliding glass doors and can provide a breezy ambiance to your place when you frame the sliding glass doors in beautiful floral curtains. The trick is to install the curtain panel a bit higher than the door frame. It will help to display the door frame and make it look taller. The curtain must also skim the floor; if needed, you can get professional help to measure the curtain size.
10. Make Sure to Install Practical Curtains for Patio Doors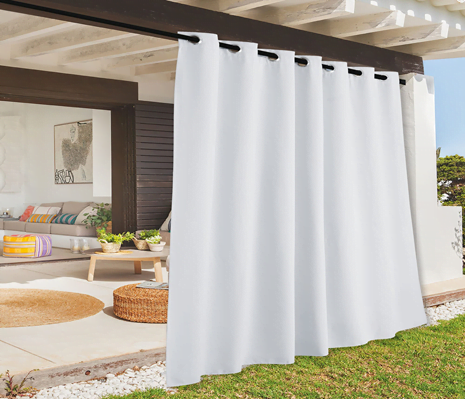 Remember to make your curtain choice practical while working creatively. Most people tend to go overboard to make their patio curtains unique. As a result, they choose the wrong material or style that does not go well with the environment or the patio door. For example, if you place drapers in the summertime, it will make the place more uncomfortable. But using the same curtains in winter will make you feel more cozy and warm. So, making a practical choice is a must when electing to select a sliding door curtain for your patio is necessary.
11. Match Patio Curtains with Other Furniture and Decor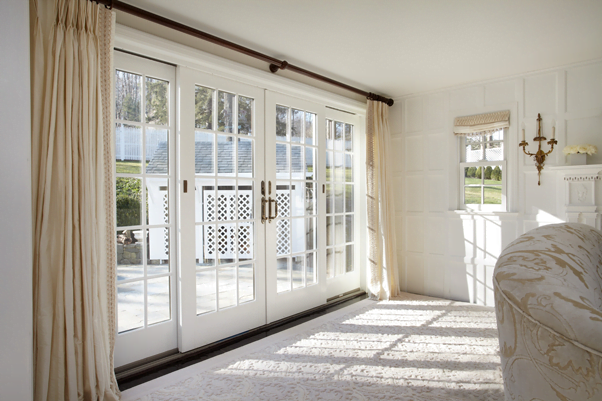 If you want sliding glass patio door curtain ideas that make your patio more beautiful, you must try matching curtains with other décors. Matching your patio curtains with other furniture and decors of the space helps you create a sense of balance and enhance the overall beauty of the place. It is also easy to do. For example, if you follow a black, white, and red color palette for your patio decor, you must pick a patio curtain with a similar color scheme. You can choose a solid color or try blocks and patterns (containing the same color scheme) for your patio.
12. Use a Print that Complements Your Outside View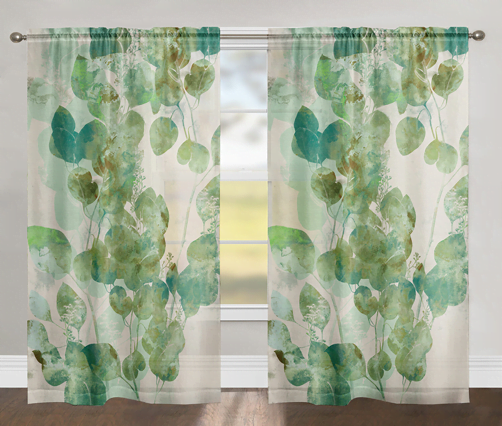 You can use a print that complements your outside view when you are looking for innovative sliding glass patio door curtain ideas. If your outside view is worth watching, you can quickly complement it with your curtain print. It will help you blend your patio with the exterior view and effectively blur the distance between two places. Also, it must have a subtle balance with the furniture to maintain the concept. Using curtains like Willow Voile Curtains Cute Green Sheers Leaf Curtaincan help you bind your patio curtain with the outside view. For instance, when you have a dark hazel tabletop and the outside is full of greenery with various plants and trees. Your curtains must also mimic the same color scheme to complete the look.
13. Coordinate Window Blinds with Patio Curtains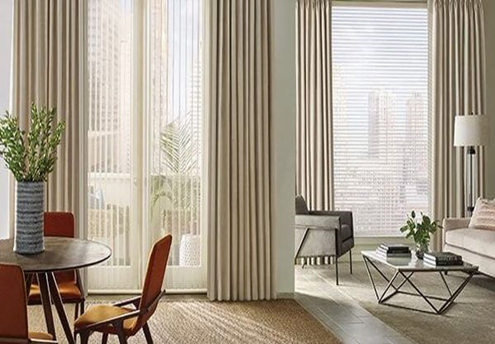 If you want unique sliding glass patio door curtain ideas, coordinate window blinds with patio curtains. Different types of doors or windows need different dressings. For instance, windows can look better with blinders, while draped curtains look fantastic on patio doors. So, if you have one or more windows on your patio, you can use the same materials for both your patio door curtains and window blinds. Also, using the same materials for your patio curtains and windows gives depth to the place and creates a beautiful pattern. It also helps to bind the place and develop a sense of visual harmony.
14. Roller Screen Shades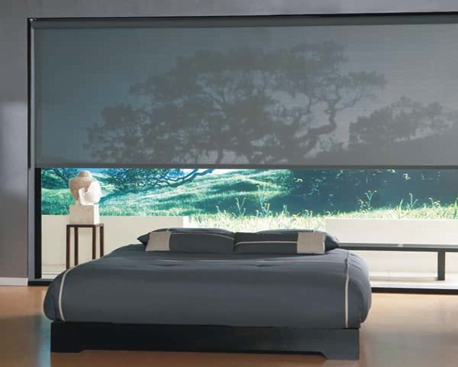 If you have windows and Patio doors of various shapes and sizes, roller screen shades are the ideal option for you. The roller screen shades look simple and casual. But they can efficiently control the light. Also, roller screens easily expand beyond your window, and patio door frames provide complete coverage for their edges. Changshade Cordless Zebra Roller Shade with Valance can look amazing on your patio doors, and it comes in various shades. You can use the roller screen shades if you have guests or do not want to create an odd look. Also, roller screens are more durable than some curtains, and you can easily adjust them according to your need.
15. Try French Motif Curtains
French motif curtains are a great way to improve your patio. They have an elegant look and quickly hide any place's flaws and help to highlight the best parts. French motif curtains also add a classy touch to the place with long drapes and delicate textures. If you want to highlight any furniture or decor in your patio, simply match it with the color scheme of your patio door curtain and see the magic. In addition, the French motif curtains can give your patio a light and breezy look when you choose materials of pastel or light shades.
16. Try Energy-Efficient Curtains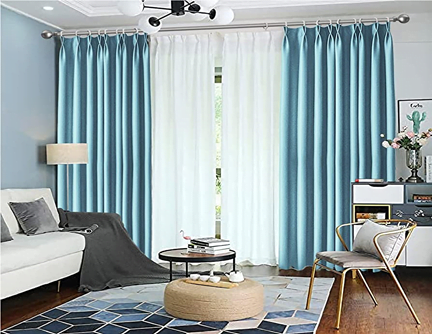 Another option to try for your patio doors is energy-efficient curtains. The energy-efficient curtains, also called thermal or insulated curtains, preserve the temperature inside and prevent it from escaping or vice versa. These curtains are made with thick fabric and a layer of acrylic foam inside. The acrylic foam helps in insulation and prevents the inside temperature from changing. So, when you use energy-efficient curtains for your patio, you can efficiently insulate the place and avoid unwanted colds or warmth. You can choose BGment Thermal Insulated 100% Blackout Curtains for premium quality protection and an elegant look. For instance, thermal or energy-efficient curtains help you keep your patio warm and cozy. On the other hand, it also helps to prevent the scorching heat from entering your place during summer days.
17. Use Blackout Curtains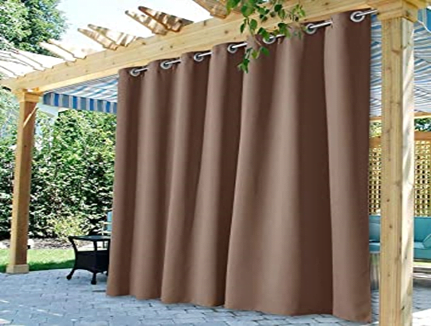 They are also a good option for patio doors as they go well with almost every environment and architecture. So, you also do not need to worry about whether it will look good on your patio door. Many use the terms 'blackout' and 'energy efficient' synonymously for curtains. However, that is wrong because energy-efficient and blackout curtains have different functionalities. Blackout curtains are thick and only prevent light. But energy-efficient curtains can also control the temperature from falling or increasing. Also, blackout curtains are less expensive than thermal curtains.
18. Light Up with Layered Curtains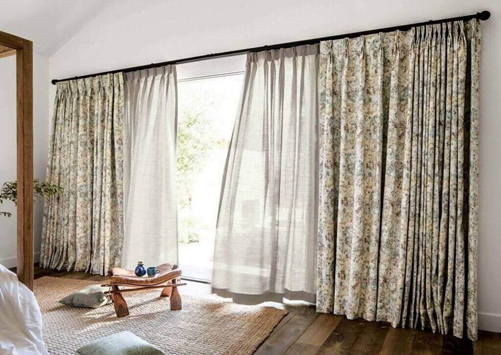 Ld curtains are also a great option when you are looking for sliding glass patio door.curtain ideas. Layered curtains combine blackout curtains with sheers. They create a beautiful look and add depth to your patio. When you place the sheers and blackout curtains in layers, they also develop a sense of balance. The soft shades sheers filter in soft light, while the blackout curtains can help to add color and pattern to the space. You can also layer them with the same color scheme as your patio to bind them well. Try layered curtains like PONY DANCE Blackout Window Curtains to revamp your patio.
19. Think of Indoor/Outdoor Curtains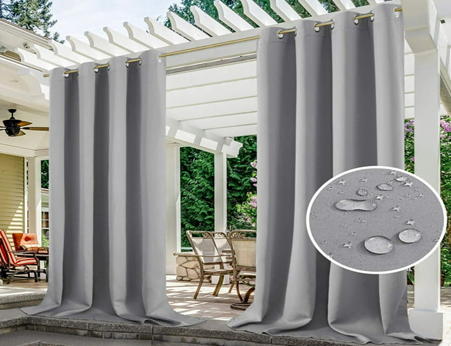 Indoor/outdoor curtains are popular now, and many people use them for their outdoor spaces. If you have a pool or any other waterbody close to your patio, you can try the indoor/outdoor curtains. These curtains are made with water-resistant materials and function well in the exterior environment. The indoor/outdoor curtains also easily resist mildew and last longer than others despite constant contact with water and moisture. They are versatile as they can handle outside weather like heat and water. And. Also, from the inside, they look like any casual solid color curtains. You can try BONZER Waterproof Indoor/Outdoor Curtains for Patio that provide high-quality privacy with an elegant look.
20. Valances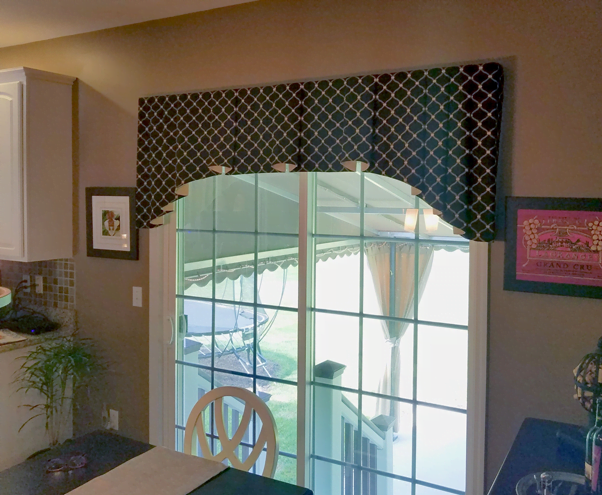 If you are looking for some interesting sliding glass patio door curtain ideas,then you must try Valances. Valances are not exactly door curtains. Instead, they can work as the cover of your patio door frame and curtain fitting. Valances are also known as windows and door scarves that help to conceal the main frame. It can easily hide the door frame; curtain panel heads, and fitting rod. Not only that, valances come in various beautiful designs and prints that can enhance the beauty of your patio doors. So, if you want to hide the curtain fitting of your patio door without ruining its beauty, you will love to try the valances.
21. Sliding Panel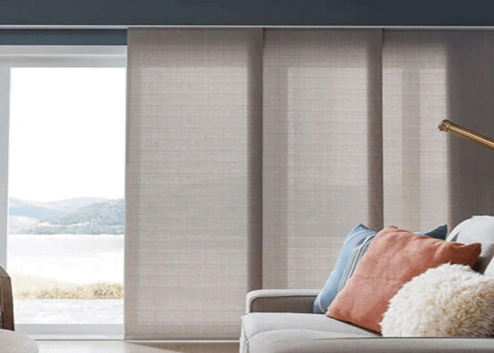 Sliding panels can be an excellent choice for your patio doors, especially if you are looking for some minimalist and casual. The sliding panel, also known as track blinds, have a modern chic look that goes well with modern architecture and decors. Sliding panels also open from side to side, like vertical blinds or vertical shades. The best part of sliding panels is that they are made with eco-friendly materials like bamboo, weed, reeds, or grass. So, if you want to use something environment-friendly yet effective, sliding panels can be the ideal option.
Summing It Up
All in all, the patio is a place where you can spend your leisure time and have some private moments. And nothing can be better than adding some stylish and functional curtains to enhance both the privacy and the beauty of the place. However, you must not put anything you have at home on your patio door without giving it a thought. Or it will ruin the entire atmosphere of your patio.
For instance, if your entire patio has a minimalist or green look and you add some classic or traditional curtains, they will look weird and somewhat awkward too. You can even try unique and versatile curtains like H.VERSAILTEX Blackout Patio Curtains, which combine both insulation and blackout curtain benefits.
Here, we have shared a list of the 21 best sliding glass patio.door curtain ideas. So, are you ready to redesign your patio with interesting Patio door curtains?
Frequently Asked Questions
What Can I Use to Cover My Patio Doors?
There are multiple ways you can cover your patio door and window, like curtains, blinders, sliding panels, rolling screen shades, etc. And above, we have shared some best sliding-glass patio door curtain ideas for your help. Most people prefer to use curtains to cover their patio doors. Still, if you wish, you can try blinders, sliders, and other options too. But never forget to pick the option by evaluating your needs and the environment of your patio.
How Should I Choose the Right Curtain for My Patio Door?
To choose the right type of patio door curtain, you must know the size of your patio door. You should measure both the width and height of your patio door to ensure you get the right size. You must consider other factors like the look and functionality if you want to find the right one.
Can I Put Curtains on My Patio Door on My Own?
Though it is not mandatory to take professional help to install your patio door curtains, if you do not know the task, you must hire professionals. Also, if you want a hassle-free installation, professional assistance is a must. Yet, if you are confident with your skillset and want to do it alone, you can always do so.
Are Patio Door Curtains Expensive?
Not all patio door curtains come with a premium price tag. You can get various budget-friendly and functional sliding glass patio door curtain ideas in the market. Also, you can search online to get the details of low-cost patio door curtains that easily fit your budget. But, you must remember that if you want the best quality and functionality, like energy-saving curtains or something similar, you must spend a bit of money.
Are Insulated Curtains Good for Patio Doors?
Insulated curtains are commonly known as energy-efficient curtains and are excellent for patio doors. Insulated curtains help to block temperature from going out and vice versa. They are crafted with thick fabric with acrylic foam inside. So, when you install them for your patio door, they help you maintain a comfortable temperature inside the patio.