Are you planning to have a pretty-looking style using a black couch living room?Or else, you just want to spruce up flattering styles by having sophisticated furniture or attractive lighting in place. Well, a black sofa can have multi-colored cushion sets. Or, you can have indoor plants done in stylish containers and add a better degree of ventilation or lighting to the room or ambiance you plan building a decor with.
You can paint your walls jet black. If you want something even more innovative, you can hire or appoint an interior designer to have your room fitted with black wallpaper. To add to the glitter, you can add gold accents to the wallpaper to make your living room ambiance even more rich and classy. And by adding black furnishings, it will look fabulous and bold.
Let's discover 21 beautiful black couch living room ideas that you will fall in love with.
1. Try Hands-On to Colorful Hues with Black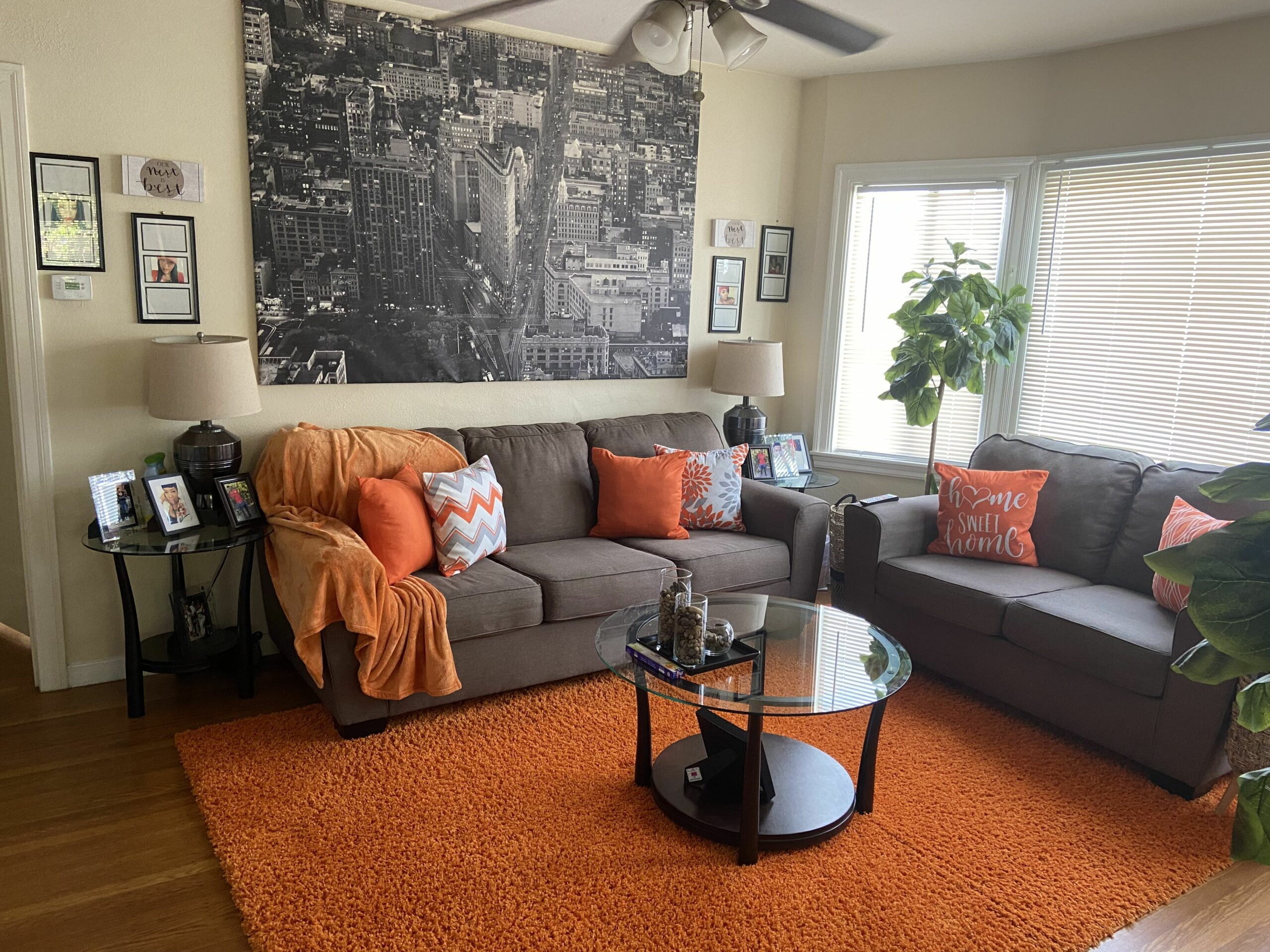 It is a general perception most of us have. When you have the walls painted black, you usually pair them up with white accents. This time around, you can go a little bold with hues, after all. You can weave warm rust tones to add to the vibes and mood of your living room ambiance. Trying shades like oranges or crimson browncan add to the warmth of the room while you can keep the room nice and trendy.
Earthy tones can set the mood for this kind of look. You have a posh tea table that adds a dash of fascination to your living room. And the cushion covers look colorful too. The French windows are covered with curtain blinds that go well with the theme. You have a playful wallpaper that completes the overall look of the room.
2. Going All Black with An LED Lighting Scheme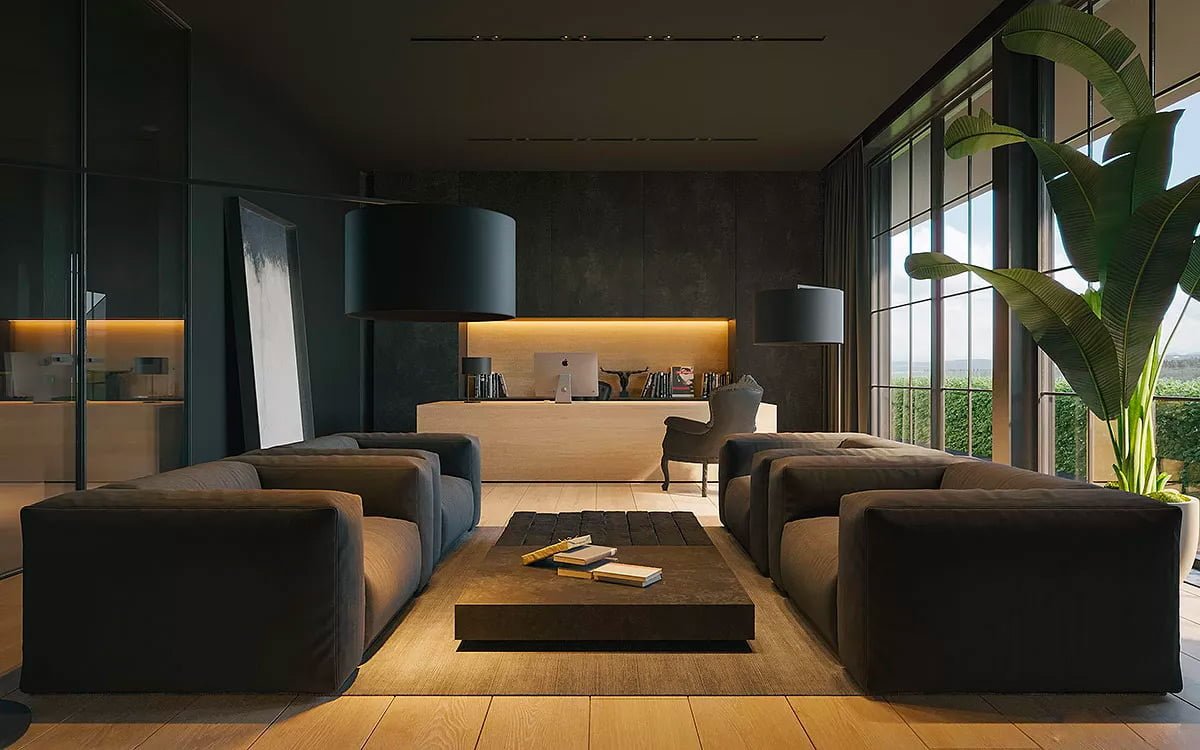 You can have your walls painted black. You have black table lamps that add spice to the looks of your living room. And having indoor plants planted near the French windows is an additional touch too. The windows are kept open to add to the lighting of the room decor. The scenic and natural views from the window look exotic. The sofa sets are pure black in color. You have a coffee table that takes its edge through black itself.
The LED lighting lends a golden glow to the entire room. The lighting gives a golden glow to the entire room. The furniture sets are made from natural wood that gives the space the looks it deserves. This is a black couch living room idea that is definitely worth giving a try.
3. with a Rug and Posh Living Room Accessories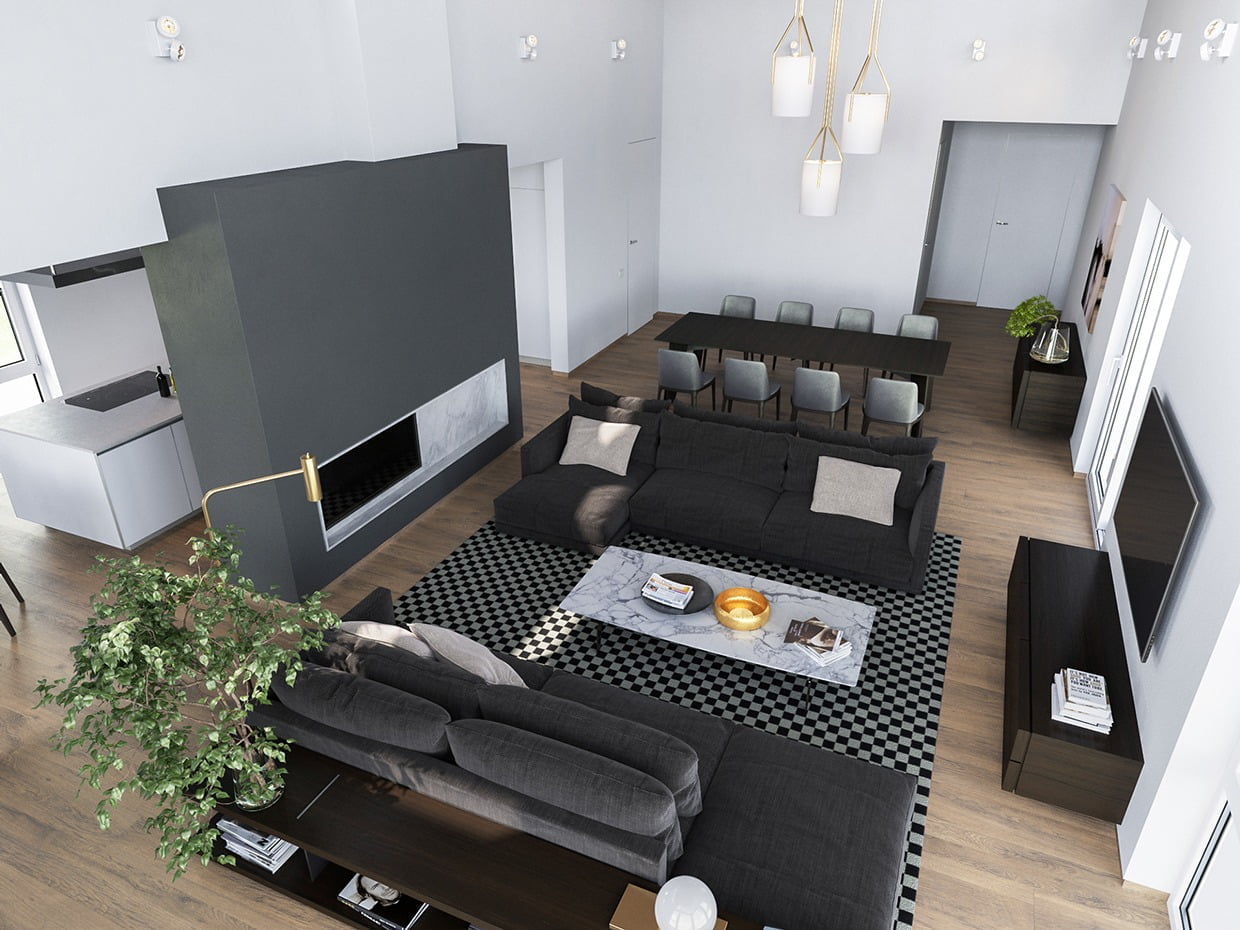 You can add a chequered rug to add to the extravaganza. The black sofa sets with grey cushions add to a sophisticated look of a living cum office room. The decor is chic and minimalist here. The dining table looks sleek with contemporary ash-grey chairs. With a wall mount covering the front of the living space, you can install a projector or enlargement screens to watch movies larger-than-life style.
The LCD TV gets neatly fitted at the rear end of the room. You have a balcony space that lends the room with the needed ventilation. Indoor plants make this black couch living room idea even more fascinating.
4. Give a Minimalist Approach to Decor-Making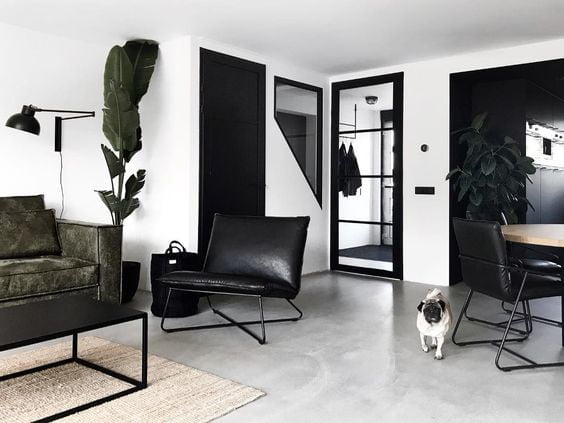 This is a perfectly poised minimalist approach you can have while you have your black decor revamped to perfection. The grey-black sofa set looks comfy. You have a black sofa chair that neatly tucks into the space. A jet-black night lamp is a picture-perfect accessory that can light up the sofa cum living area. You have the door painted black, and that becomes your laundry area.
By the side view, you find a dining table with sofa chairs put up for use. You can complete your office work right there. Indoor plants lend warm and pleasing vibes to the room while providing natural lighting. The room is well-ventilated and looks amazing.
5. Jute Rugs Are in Vogue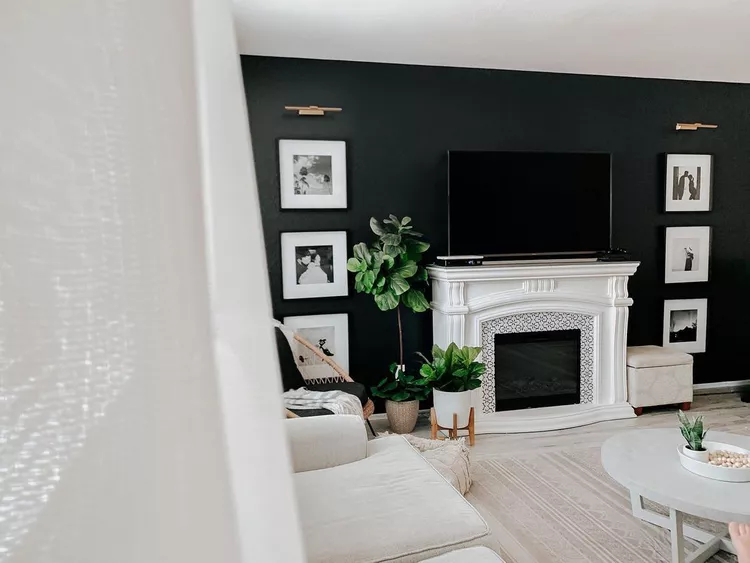 This is a classy room decor idea you can go in for. A perfect mix of black and white makes a great combination, indeed. The walls of the room are painted black, while the fireplace is painted white. You have a trendy array of photo frames that are hung inside the room. The jute rug covers the room decor, and this is an accessory that is in vogue and looks stylish too.
With pretty-looking indoor plants covering the fireplace, the room looks pleasing. An LCD TV sits on a neatly decked shelf. The tea table has pretty-looking accessories. This is a black couch decor idea meant for the stylish you.
6. Sofa Tables Can Add to Storage Spaces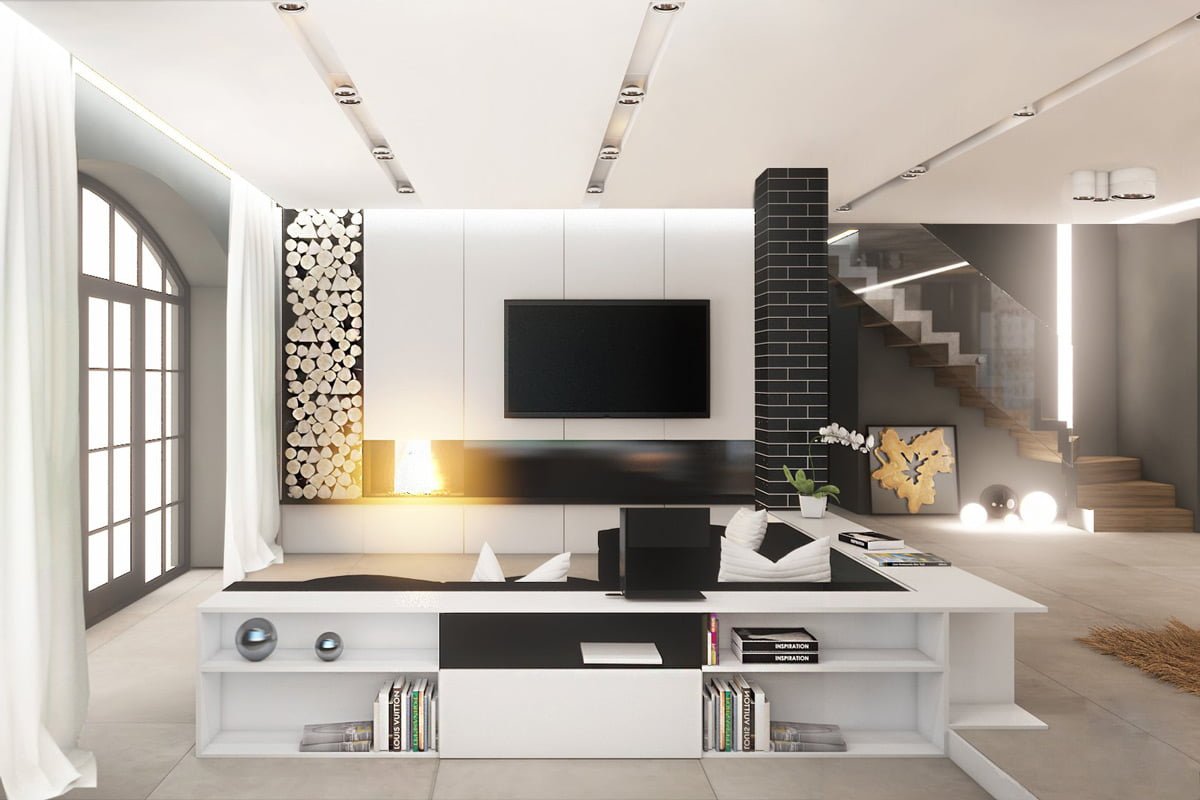 You can use sofa tables as extra storage spaces. You can store your books, office files, and stationery kits inside the spaces. The sofa sets comprise the bedding with white-colored cushion sets. You have a wall mount stand with the LCD TV installed. You have a French window that keeps the room well-lighted.
You also have an LED lighting system near the TV set that adds to the overall glow of the room. You have table lamps near a portrait, and the lights reflect through the staircase the rear end of the room leads you to.
7. Go for a Paneled Texture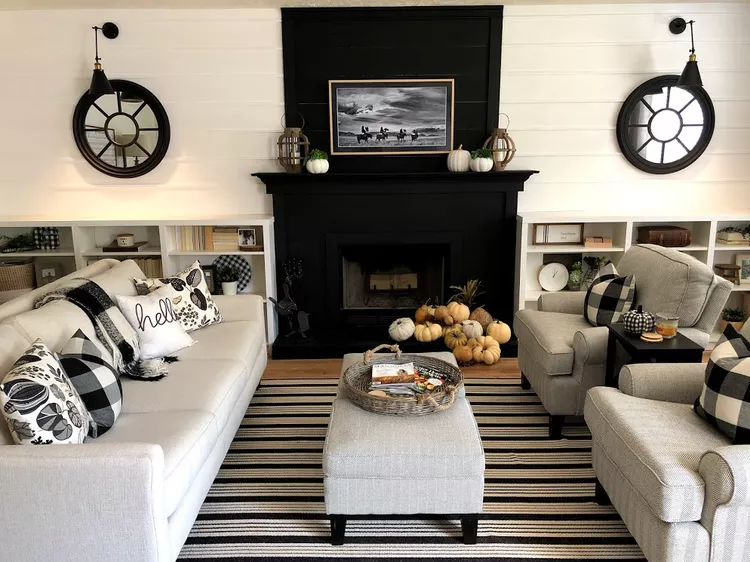 Here is a paneled texture you can go in for. To get this black room design into action, you just need to add a black-painted wall mount stand. The chequered rug adds to the glam. On a completely white sofa set, you have cushions that have a paneled texture of black and white. You have a pretty-looking basket that occupies its space on a textured sofa table.
You have contemporary-styled table lamps on either side of the wall mount stand. You also have a neatly tucked-in fireplace wherein you can light up wood and spend those cozy winter nights with family and friends.
8. Bold Furniture Sets Fill up The Room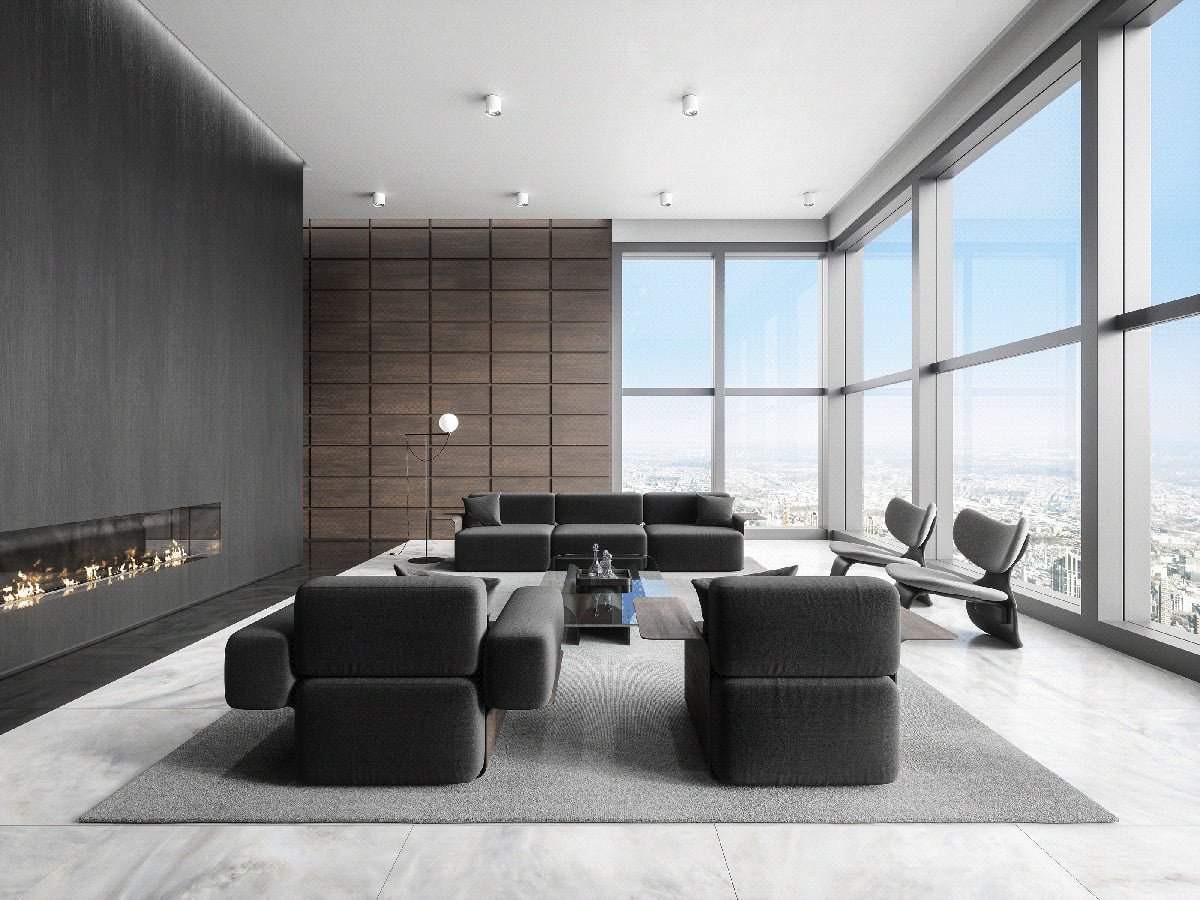 You can add bold furniture sets that lend a sense of completeness to the room. You have a sofa set with bold-looking side chairs. You have a wall mount that is painted all black. Just next to it lies a smaller wooden plank that is painted brown in color. It has huge French windows that light up the room, keeping it airy and spacious.
The chairs are just closer to the window layout. Inside the black wall mount lies a storage area. You can showcase your artifacts or collectibles out here. The suave black designing idea is here to stay.
9. A Black Room that Lets You Take a Sneak Peek Into Natural Surroundings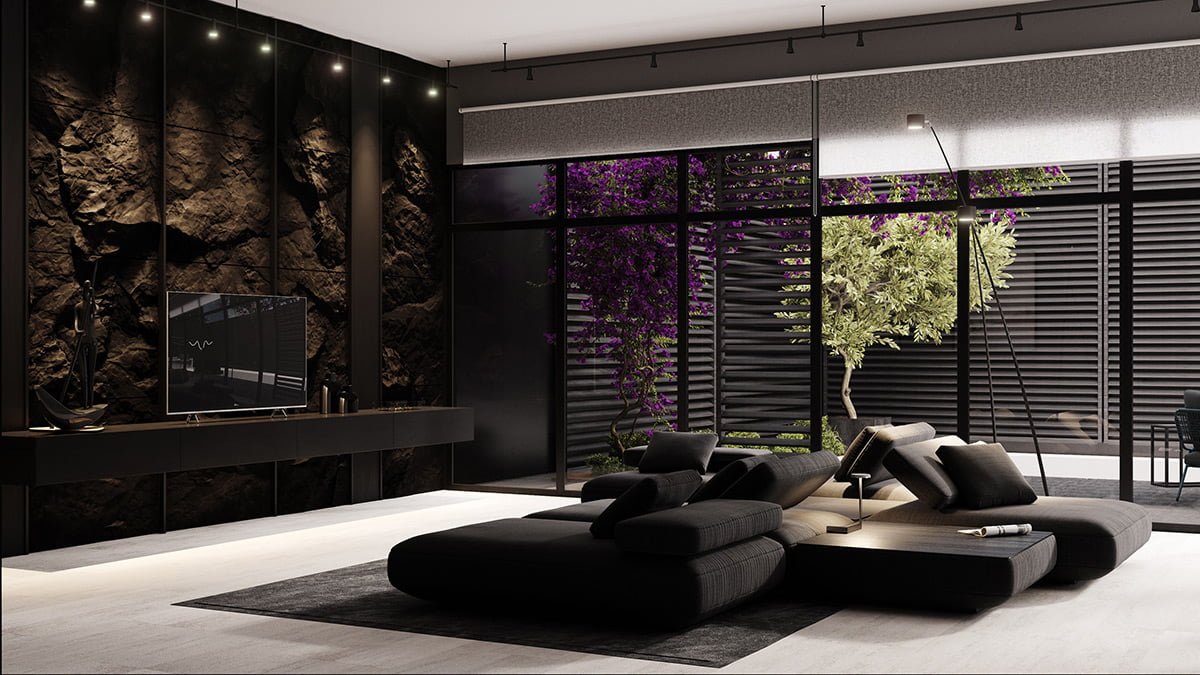 You can make black decor even more exciting by wearing your creative hat. You have the sofa sets tha are entirely black in color. The wall mount is painted chocolate brown. You have the LCD TV and the shelf installed within the space. You have a sofa table where office-related accessories are kept neatly. The curtain blinds lead you into the balcony.
It has ivy trees and colorful creepers that form natural landscaping for your black room decor. This is surely a design technique you can get hands-on too.
10. Electrifying Beam Lamps on The Go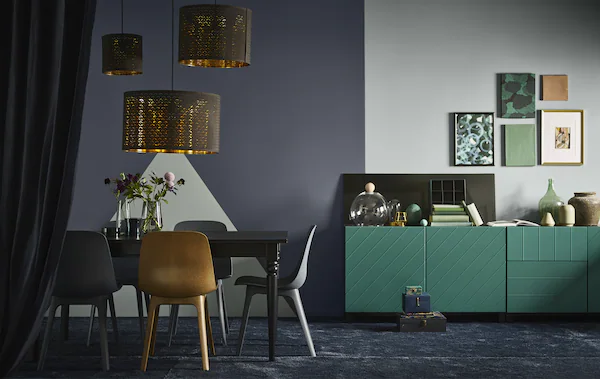 You discover a fascinating design idea to go in for a while by making your black couch living room exciting enough. You have photo frames hung on walls that are painted black and grey. The dining table has attractive beam lights protruding through. These lights tint the highlight of the room. You have neatly tucked-in flower vases that emulate richness and class.
The posh decor has storage cupboards where you can place your things in. Above all, a warm grey carpeted rug is a stylish pick you can go for.
11. A Living Room with a Showcase Curio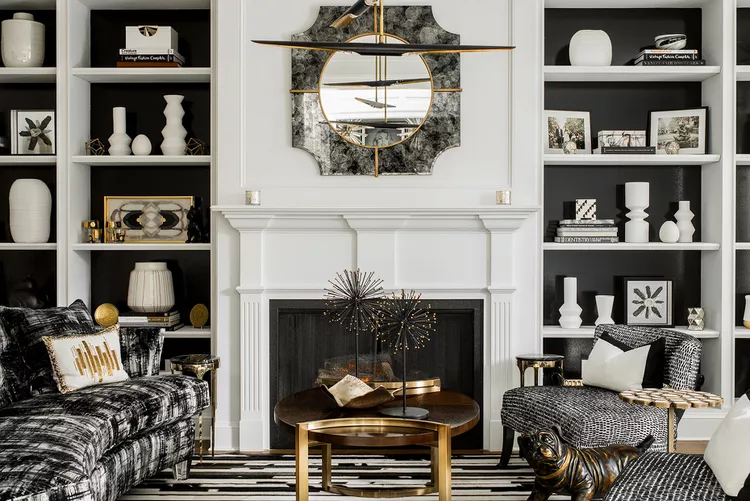 The living room has a curio setting attached to it. The black living room idea that is entirely eye-catching and irresistible must be chosen by you. You have sofa sets that get a chequered look with shades of black and white. It has a designer mirror that looks super cool and urban. The showcase curio has pretty-looking artifacts that are neatly arranged.
The lacquer-shaded table top has artificial flower blooms that add to the stylized look of your space. You have a copper doggie set that is all cute. In totality, you definitely get pleasing vibes when you decide to accessorize your black couch area this way.
12. Allow Your Garden to Enter Your Black Couch Area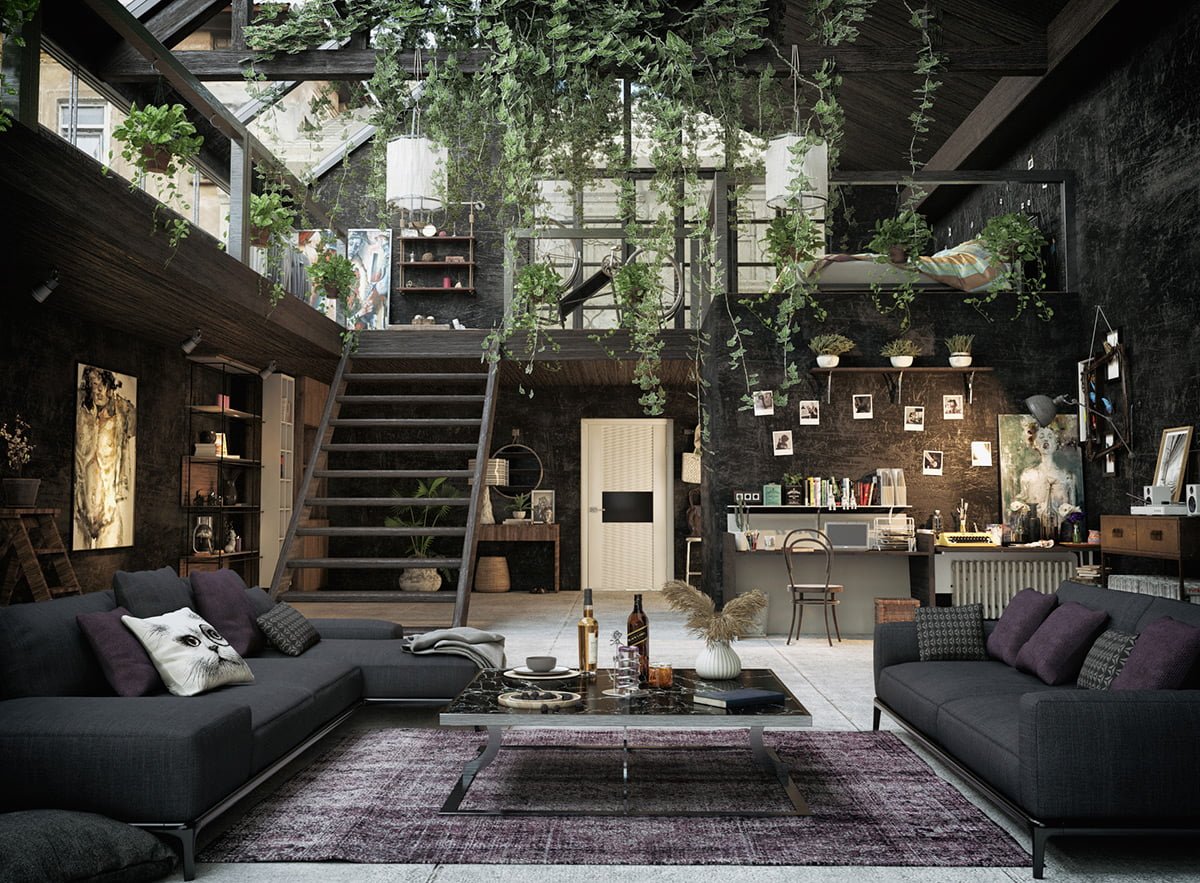 You can let the garden protrude into your living spaces, after all. You have a maroon-shaded rug that has white sequins added to it. The beautiful ivy plants give a natural and earthy vibe to your black couch living room. The beautiful staircase the room is fitted with can be visually pleasing. You have photo frames and stationery sets at the rear end of the room.
The cat designer cushion rug is simply too cute to miss out on. You have a funny-looking portrait on the other side of the room. The sofa tabletop has wine bottles that are arranged in a posh way. The styling ideas depict sophistication and class like none other.
13. Unveil Magic Using Black Wallpapers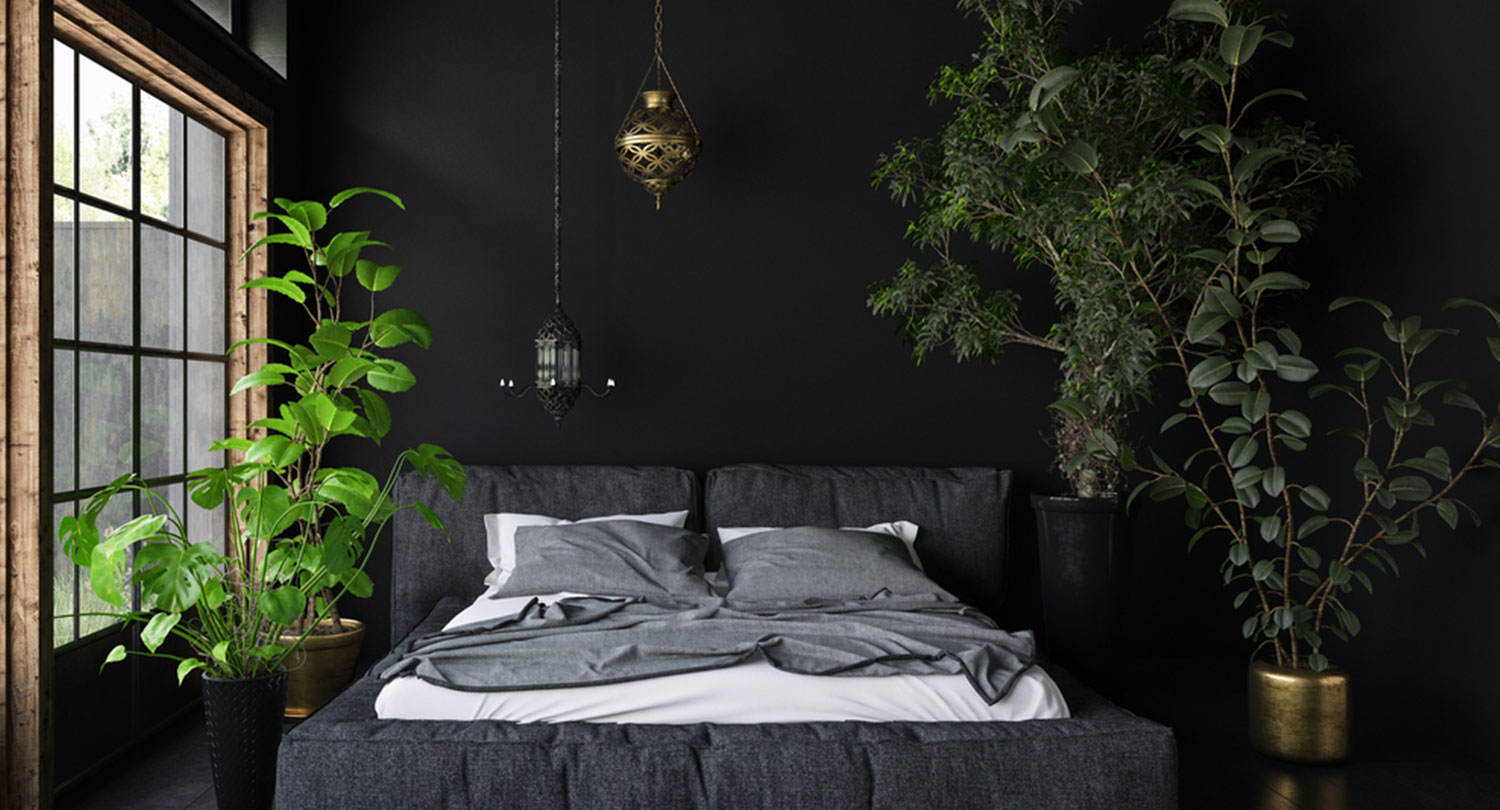 Don't you have time or the money to get your walls repainted? Then, this is a black decor design idea that is surely going to come to your rescue. You have a black wallpaper that covers the entire black ground, and you have subtle accessories that embrace style and sophistication. The bedspread has tints of ash-grey and white. You have catchy wall lamps that look fabulous, indeed.
You have a French window that is situated at the rear end of the room. Even though this is a dark room, the windows keep the decor well-lighted and ventilated.
14. Throw up Some Colors to The Room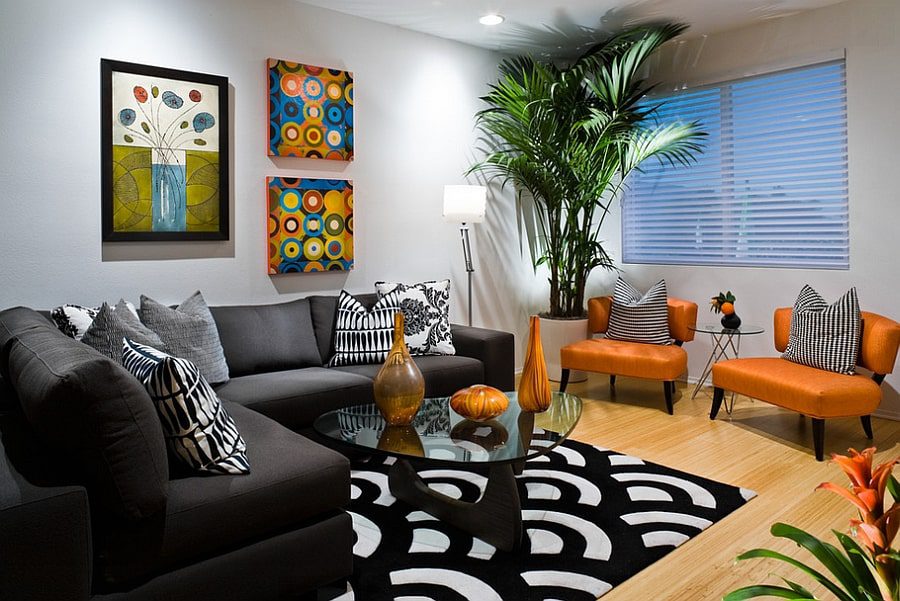 The design idea incorporates the theme wherein you add a spectrum of colors for a black couch living room. You have photo chromatic portraits that add a colorful and vibrant hue to the room as such. The sofa sets are black in color, while you have cushion covers that take a striped black and white. It has a huge indoor plant kept on each side of the room to keep it light and warm. The French windows add a better degree of ventilation.
You have a glass table with pretty-looking flower vases with an ashtray placed at the center. It has crimson red sofa sets, too, that complement the black sofa sets. The walls painted ash grey sparkle with the lighting system. With eye candy colors catching one's attention, this black couch design idea can never get you wrong.
15. Vibrant Art Work Can Add a Distinctive Look to Your Living Area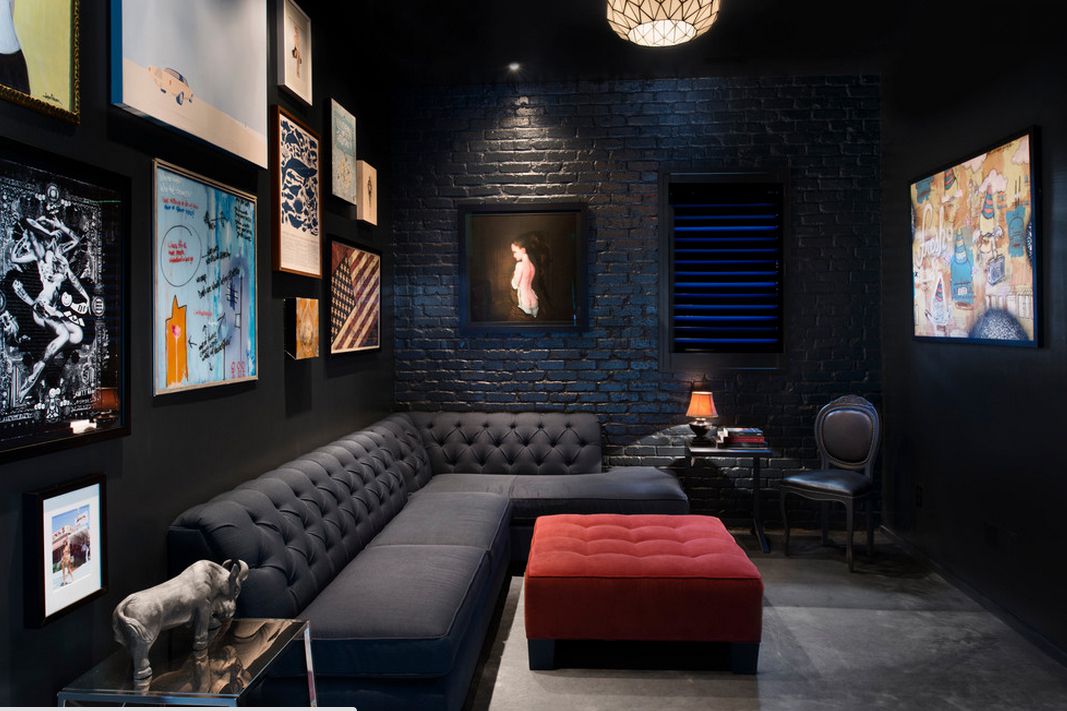 You can definitely lend inviting vibes to your dark room with this design idea that is put up in front of you. All you have to do is just add a spectrum of artworks to your living spaces. The black room has its sofa couch while you have a table with sofa cushioning too. The LED TV is mounted to the wall and painted black.
You have a brick area just adjacent to the TV while this area has been painted black too. For a minimalist lover, the rooms look classy. You can have a living area cum office room with this kind of setup. The grey animal looks sporadic to the eye and catches one's attention brilliantly.
16. Making Your Black Room as Stylish as It Can Get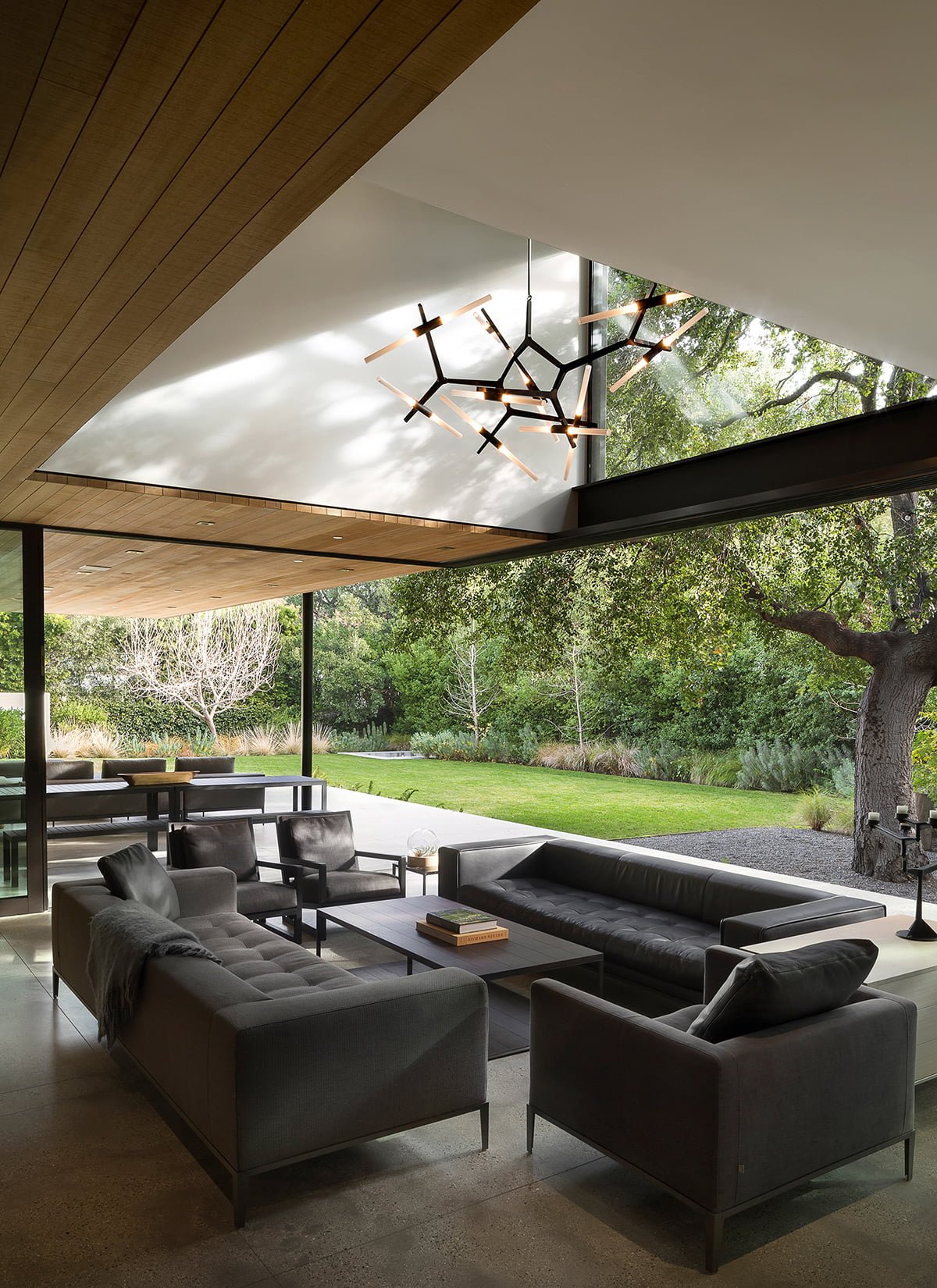 You just require an upholstered cushion sofa set and combine it with a regular one. The living room space comprises a dual sofa set with an additional number of chairs. When you have guests coming over, you can spend those quality moments with them over a cup of tea or coffee. Else, you can call over your colleagues to discuss projects that you have pipelined for your partnership business.
You have a table set with petite grey chairs that can look posh. You have a pretty-looking windchime that looks eye-catchy indeed. The best part is you have the living area just adjacent to your garden area. The outdoor space can keep the room naturally ventilated and airy. The black room couch idea looks exemplary.
17. Opt for The Bohemian Style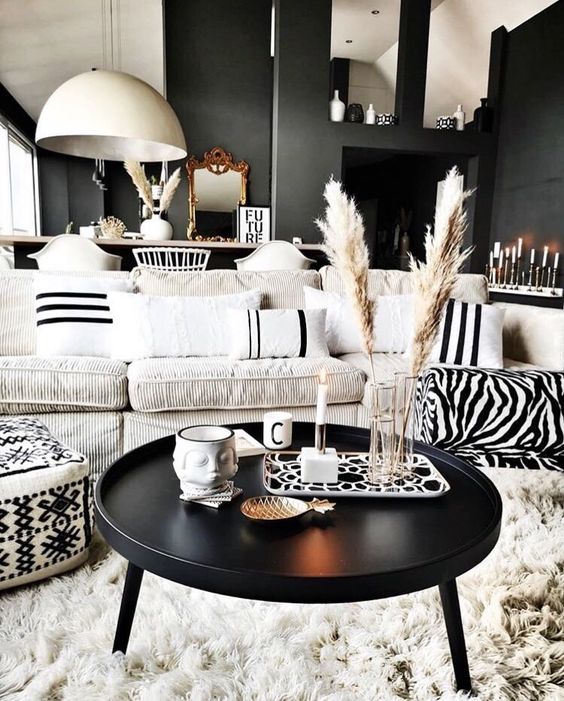 This is the Bohemian style for you. You have the walls of the room that are painted black. The sofa set and the cushions have white and creamy hues. You have a sleek cashmere rug the entire floor area has been carpeted with. The cashmere rug lends pleasing vibes to the room decor. Upon the cushion covers, you have zebra prints and monochromatic stripes that add visually pleasing looks to the decor.
The coffee table has been painted black. And you have flower vases, candle stands, and objects that accessorize the table in a classic manner. The Bohemian style is a hot favorite amongst interior designing architects as you decorate more using less.
18. Discover Bolder Designs Within the Ensemble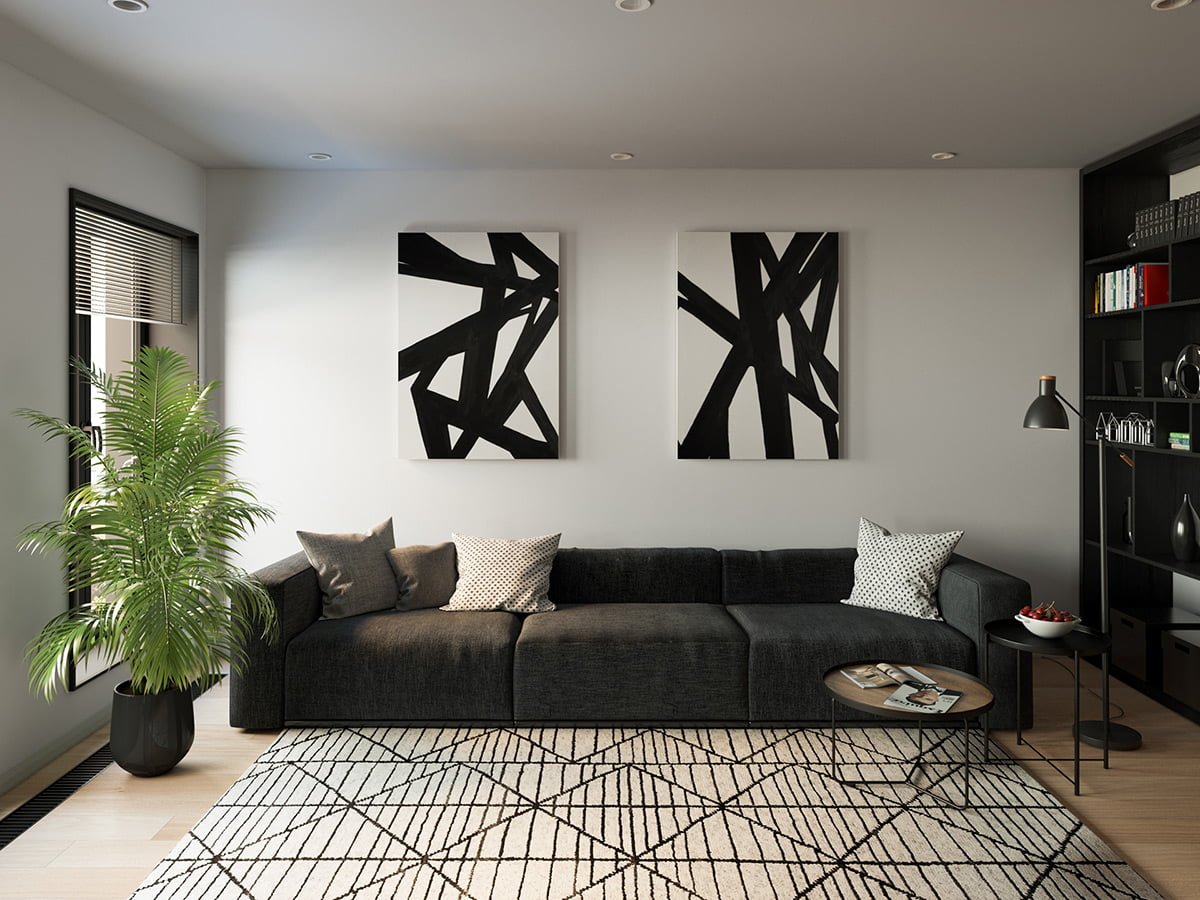 You have the black couch with spaced-out cushions. The bolder design portraits mark the highlighted tint of the decor. You have an indoor plant on one side of the room, while you have a chic table lamp facing the other side of the room. You have a carpeted rug that has geometric designs over it. The cute sofa table has magazines arranged over it.
You have a cupboard at the far end of the room with books and home accessory products that are neatly arranged. The French window with curtain blinds adds warmth and ventilation to the room.
19. Witness a Neo-Classical Room with a Magnificent Chandelier
The lavish black sofa sets are carpeted with high-quality Ottoman rugs. You also have the coffee table wrapped with the ottoman rug. The decor idea, therefore, looks polished and nice. You have a portrait of a pretty-looking woman covering the room. The magnificent chandelier is the highlighting factor of the decor.
The chandelier looks absolutely gorgeous to the eye. You have a mirror on the wall mount stand with a fireplace built underneath. With minimal accessories, the black couch living room looks absolutely delightful.
20. Adding a Retro Look to The Black Space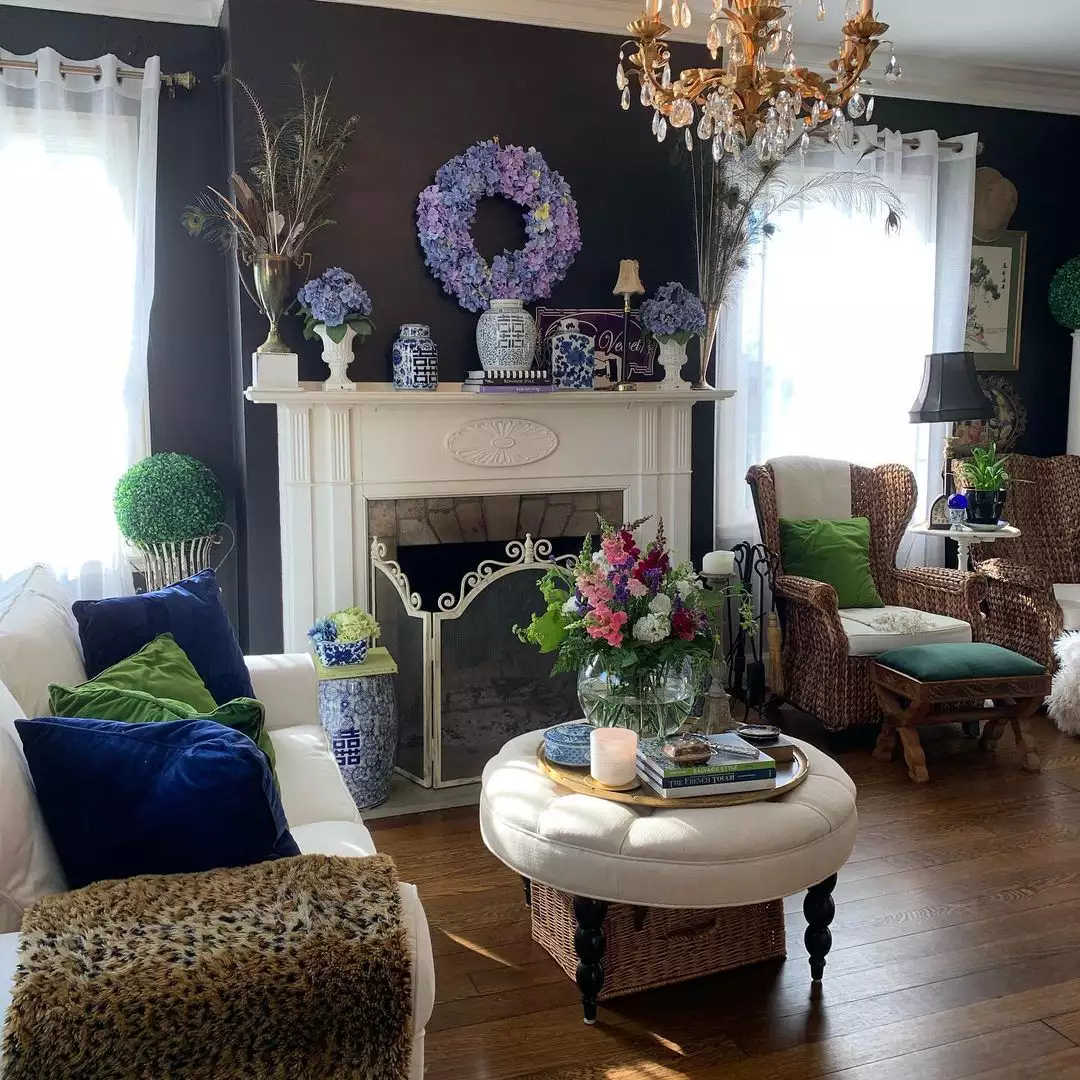 This is a complete retro makeover you are going in for. Although you have the room painted black, you have accessories that have bright and vivid shades, and this is the retro theme we all have been yearning for. The flower vase has designer flowers on the sofa table. The white sofa has a leopard print cushion set. You also have other cushion rugs in multi-colored hues.
The fireplace has a distinctive and rustic design that is of a contemporary style indeed. On top of the firelit area lies the shelf. You have designer flower vases and container plants in different shapes and sizes. You have pretty-looking cane chairs at the rear end of the room. And those French windows allow light to pass through.
21. Discover a Marble Touch to Your Room Decor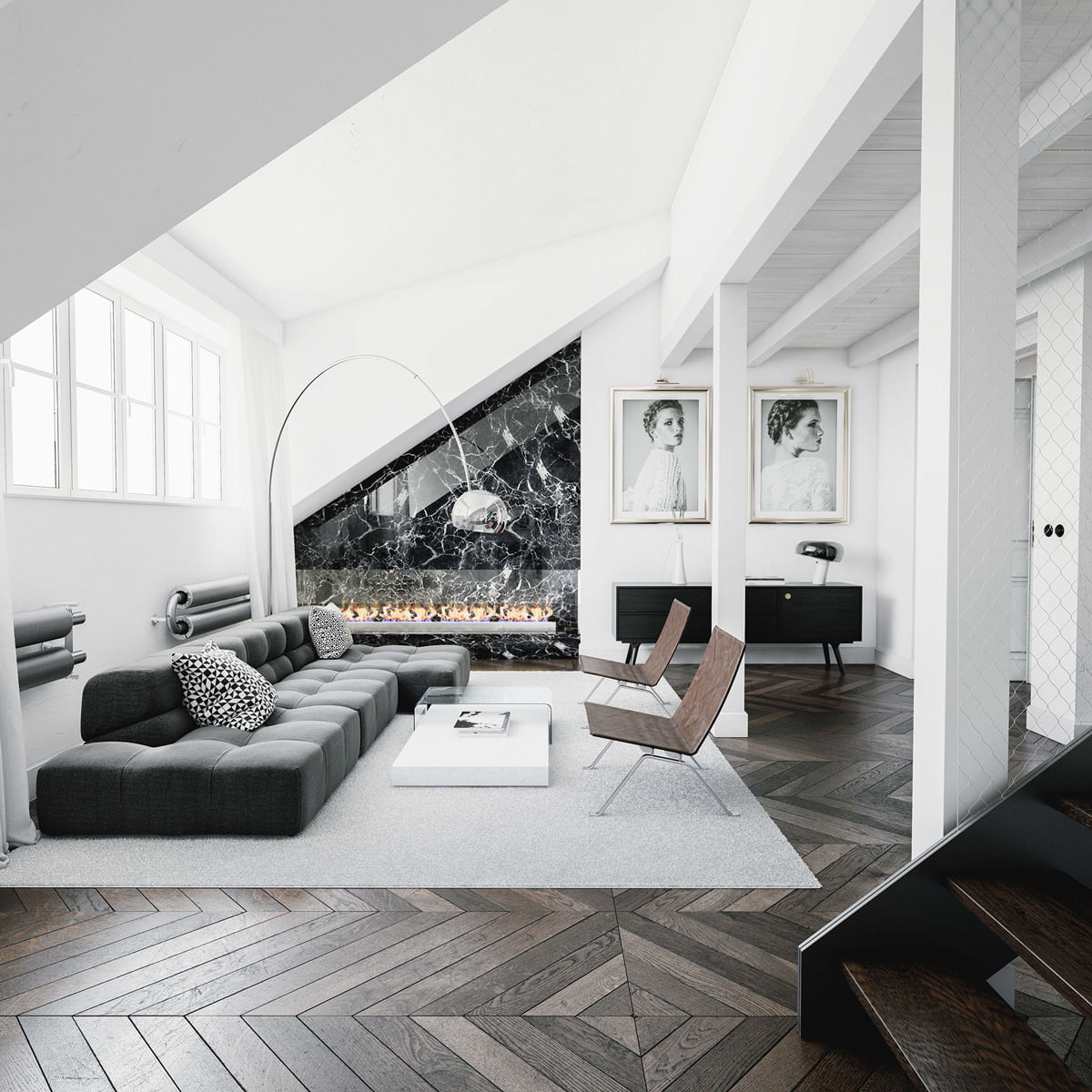 The sophisticated sofa set is black in color. Although the couch is black, the cushion rugs have a streaked tint. You have an enigmatic marble touch to the fireplace area. The marble coat lends a posh and mindblowing look to the entire decor space. You have stylized wooden chairs opposite a tiny sofa table.
You have windows fitted at the right angle, and this way, you have ample ventilation penetrating through the room. It has a sophisticated arch-shaped lamp that makes the room glam up. Along with that, it has a storage cupboard with portrait paintings hung above too.
Summing Up
All in all, black room design can come to you in ways more than one. You can add monochromatic accessories for that sober yet polished look. Else, you can play with colors by adding brighter accessories. You can spray paint black walls with a wide array of shades to recreate that magical effect on the room.
Dark rooms need better lighting schematics, and you may have to work around them. You must position the windows at the right angles so that the maximum amount of light or ventilation penetrates through. You can have multi-functional spaces by adding more sofa sets or chairs.
Couch room designing need not cost you the entire wallet if you use subtly tinted DIY ideas that go with the ambiance of the rooms. You just have to wear your creative hat to get the momentum going.
We have almost discovered 21 black couch living room ideas for you to ponder over. Which is the one you are going to incorporate right away?