Welcome to the world of modern coffee table styles! If you're tired of your old, boring coffee table, it's time to perk up your living space with some contemporary charm. These tables are like the baristas of the furniture world, brewing up a delightful blend of form and function.
These tables come in a variety of styles; whether you're a fan of the natural warmth of wood or the elegance of marble, there's a rectangle coffee table out there that will perfectly complement your taste. So, get ready to indulge in a caffeine-infused journey through 23 modern rectangle coffee table styles. Buckle up and get your living space ready to welcome the most iconic coffee table you've ever had.
Let's get started with a stylish adventure that will leave you buzzing with excitement.
1. Minimalist Wood and Metal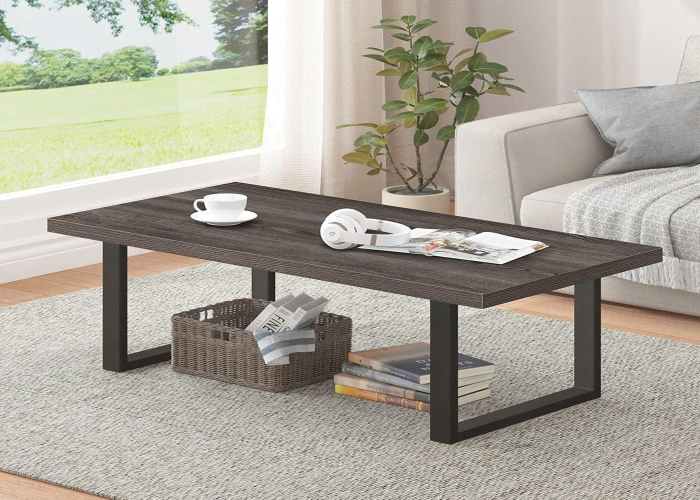 Upgrade your living room with this beautiful minimalistic wood and modern metal coffee table! This stylish table combines traditional charm with modern design. Featuring a sturdy wooden tabletop and sleek industrial metal legs, it exudes trendy sophistication. This table is a perfect match for your morning coffee and even hosting fun-filled game nights.
With its minimalistic appeal, it gracefully enhances any decor, making its way to the best-seller list. Elevate the look of your living room with a minimalist wood and metal rectangle coffee table now!
2. Glass and Chrome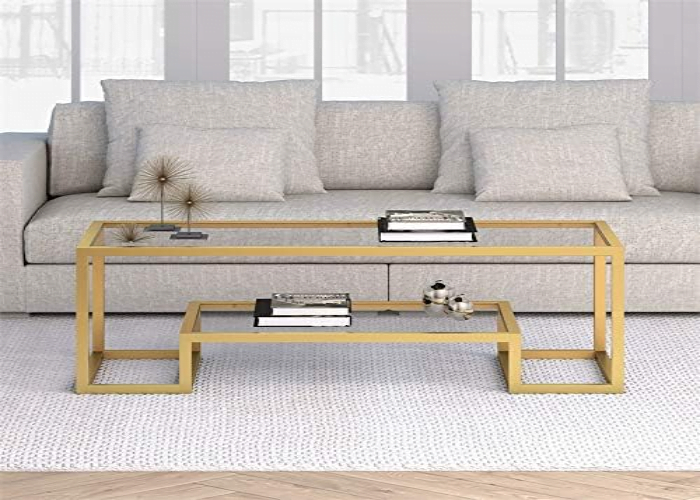 A truly unique glass and chrome coffee table, this stylish and functional table is here to bring a touch of modern charm to your living space. With its sleek metal design and high-quality metal frame, it is built to withstand everyday use, so sip your coffee in style with your brand-new glass and chrome coffee table.
Moreover, the glass tabletop adds a sophisticated flair, while the open space below offers you to store books and magazines. You're sure to enjoy this table and make a statement!
3. Industrial Reclaimed Wood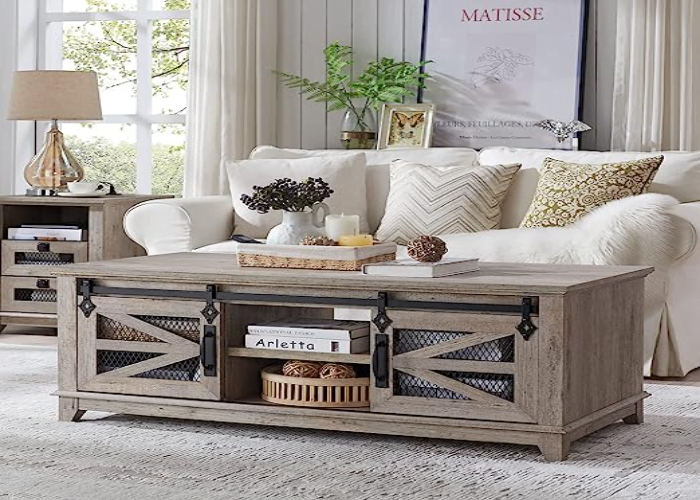 Elevate your living space with this amazing piece of decor, an industrial reclaimed wood coffee table. This eye-catchy masterpiece combines rustic charm with a strong build. This table is perfect for every house. You don't need to have any kind of theme; it just goes with everything.
With its timeless design and style, this has been in trend recently and can be a perfect addition to your home. Transform the looks of your living space with this beauty!
4. Mid-Century Modern Coffee Table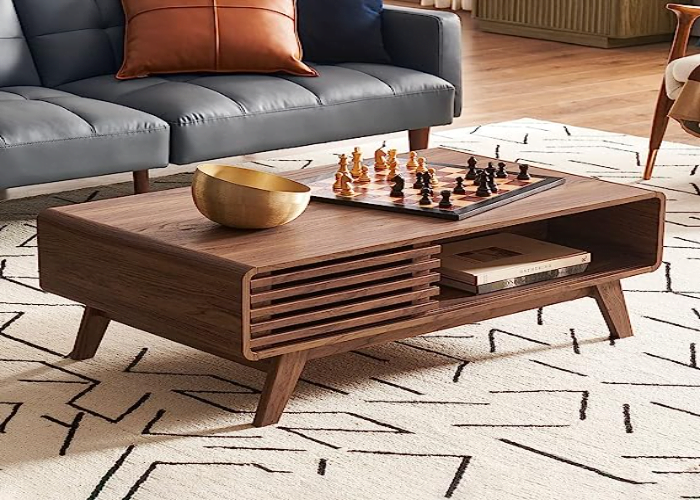 Unleash the hidden treasure of your living room with this mid-century modern coffee table. This sleek and stylish table isn't just a surface to place your mugs and magazines; it's a storage magician! With its hidden compartment, you can now discretely stash away the remote and other such clutter making your room look tidy and organized.
The table's round edges and durable construction make it family-friendly, while its modern design at a touch of smoothness. Upgrade your living room game with this amazing coffee table that is both functional and fabulous.
5. Scandinavian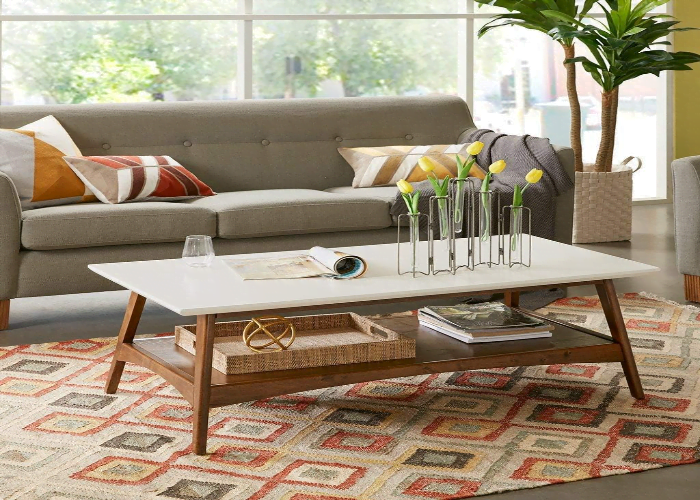 Ignite your living space with this Scandinavian Coffee table. This Scandinavian-inspired beauty is more than just a modern coffee table; it is a style statement. Crafted with a sleek, white tabletop, it effortlessly embodies minimalistic elegance. The spacious tabletop also provides ample room for your morning brew and your favorite books, while the lower shelf offers a perfect spot for displaying decor.
Bring a touch of Nordic charm to your home and let this beautiful coffee table be the center of attention in your living area.
6. Lucite and Acrylic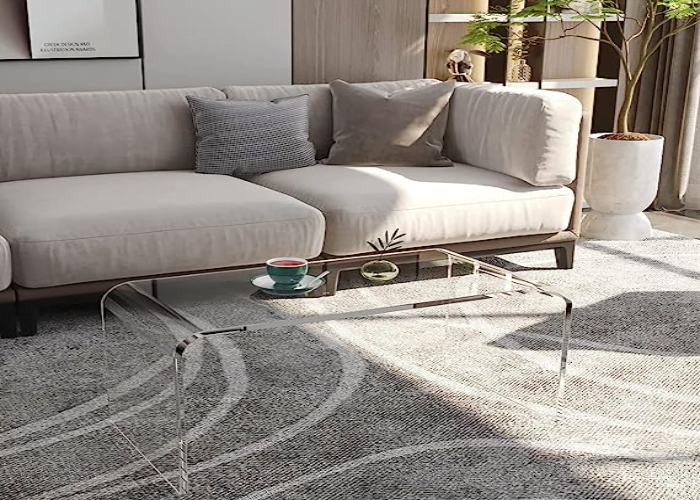 Step into the world of modern elegance with this lucite and acrylic rectangle coffee table. This transparent masterpiece will make your living room feel like a contemporary art gallery. Craft it with high-quality lucite and acrylic; it exudes a sense of lightness and sophistication. The rectangular design provides a spacious surface for your coffee ad essentials while seamlessly blending with any interior style.
It's not simply a coffee table; it's a piece of art that adds a touch of avant-garde flair to your space. Elevate your home decor with this coffee table and let your style shine through.
7. Marble and Metal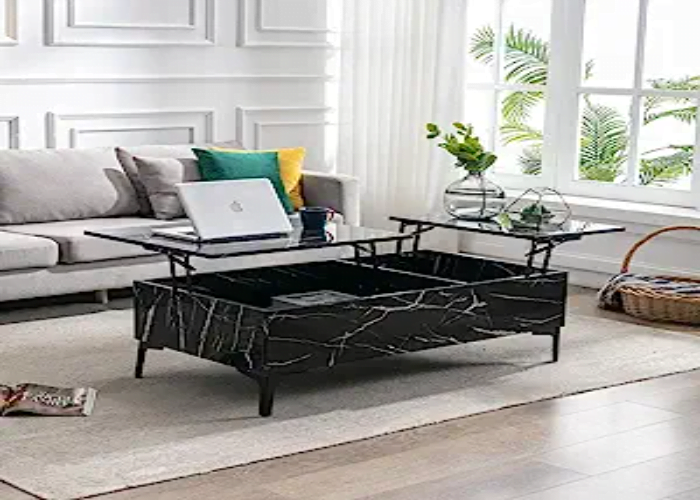 Explore the beauty of this marble and metal coffee table. This captivating masterpiece redefines elegance, seamlessly blending opulence and sleekness. Immerse yourself in the amazing texture of marble and metal, a stunning combination that demands attention. With its adjustable design, you hold the power to shape and adapt your living space to perfection.
Embrace the art of organization with a discrete storage compartment, keeping your surroundings pristine and uncluttered. Elevate your home with this table, where comforts and functionality converge in a symphony of style.
8. Geometric Shapes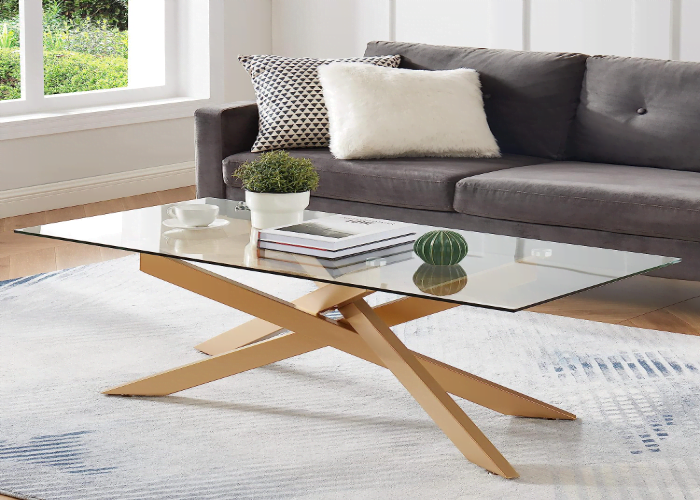 This captivating geometric shapes rectangle coffee table piece showcases a stunning interplay of smooth lines and shapes, embracing the beauty of your living space and elevating it to new levels. The tempered glass tabletop flaunts a contemporary charm, while the tubular metal frame adds a touch of industrial essence.
With its perfect blend of form and function, this modern coffee table is not just a piece of decor but a practical addition to your home.
9. Storage Ottoman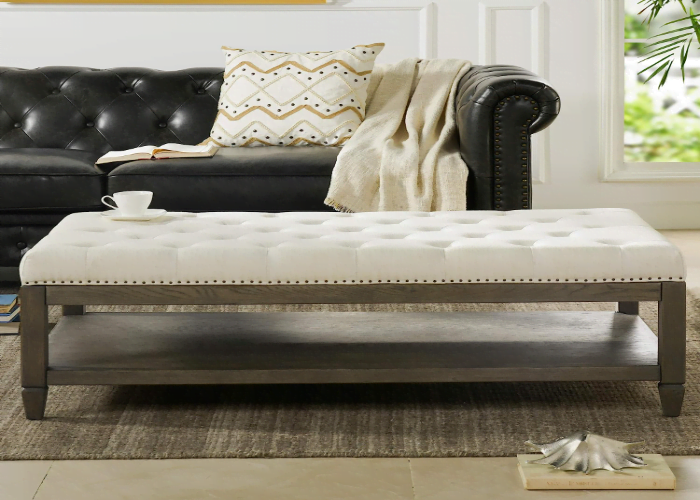 Step into the Realm of practical luxury with this cocktail ottoman coffee table. This captivating masterpiece is a true chameleon, effortlessly transforming from a stylish coffee table to a storage ottoman. Its spacious interior hides away your belongings, keeping your living space tidy and serene.
The unending beauty of this table is set to glamour any room it enters. Embrace this beauty at its best, style it in your living room, and enjoy the space and looks in one place.
10. Live Edge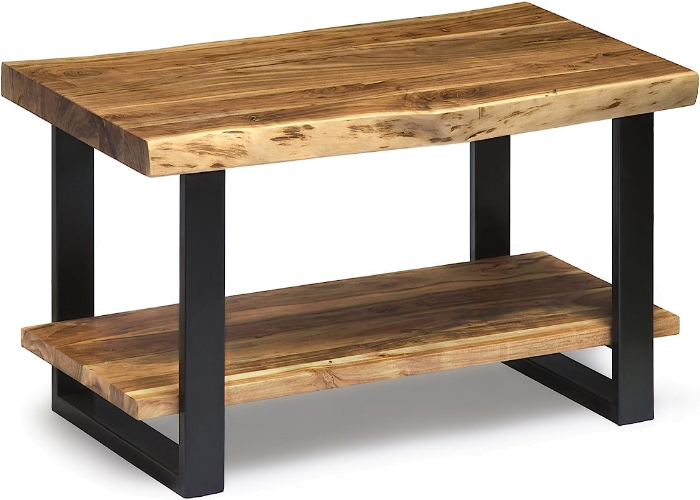 Looking to add a dash of eccentricity to your living room? Look no further than this live-edge coffee table! This marvel is like a cool, laid-back friend who effortlessly stands out in the crowd. Its live edge design gives it a rebellious personality, defying the traditional rectangle coffee table norms.
Made from the finest materials, it's the perfect conversation starter for your next social gathering. Trust us, and this table is a certified member of the "cool gang" club in the world of furniture.
11. High Gloss Lacquer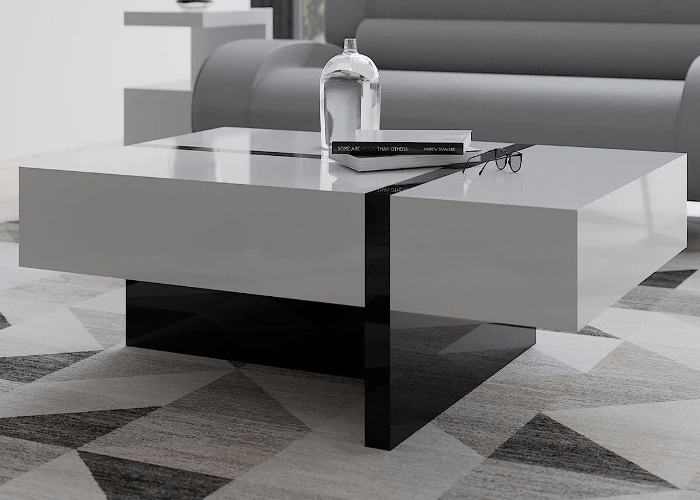 Prepare to be mesmerized by the captivating allure of the high gloss lacquer rectangle coffee table! With its glossy finish that shines like a million stars, this table is the definition of a modern coffee table. It's like having a sleek mirror right in your living room, reflecting not only your impeccable style but also the delightful chaos of everyday life.
Whether you're enjoying a cup of joe or showcasing your art collection, this table is ready to uplift your space with its beauty and undeniable glamour.
12. Concrete and Wood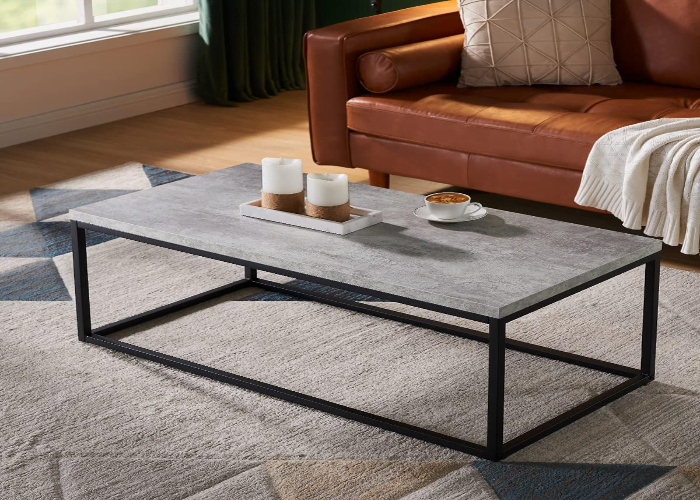 Get enchanted by the captivating beauty of a concrete and wood rectangle coffee table! This remarkable piece of decor brings together the best of two worlds, creating a harmonious blend of rugged and natural elegance. With its strong concrete surface, it exudes an industrial coolness that is softened by the warmth and character of the wood accents.
It's like a yin and yang of materials, creating a visual delight that is both unconventional and inviting. Get ready to embrace this piece and style it in your home.
13. Nested Tables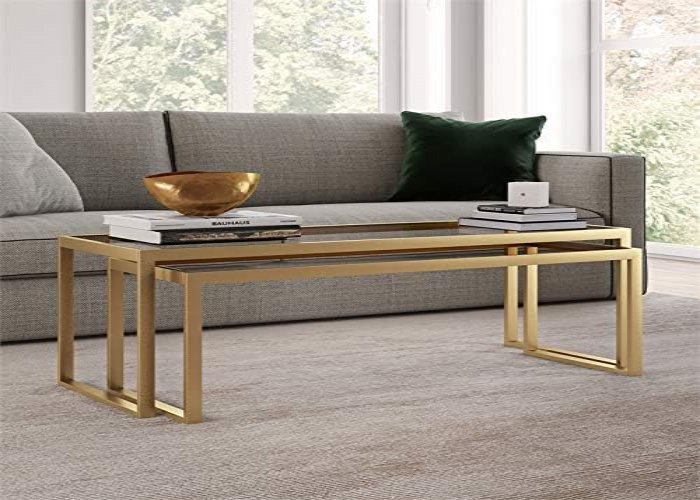 Get ready to enter the alarm of nesting magic with this rectangular Cocktail table! The nested tables are like dolls of the furniture world, bringing a dash of quirkiness and functionality to your living room. Just like a hidden treasure, the smaller tables snug inside, the larger one waiting to be revealed. It's like having the secret furniture handshake!
These tables are perfect for entertaining guests who create extra surface space when needed. Prepare to unleash the charm of the nested tables and experience the joy of furniture!
14. Open Shelving Modern Coffee Table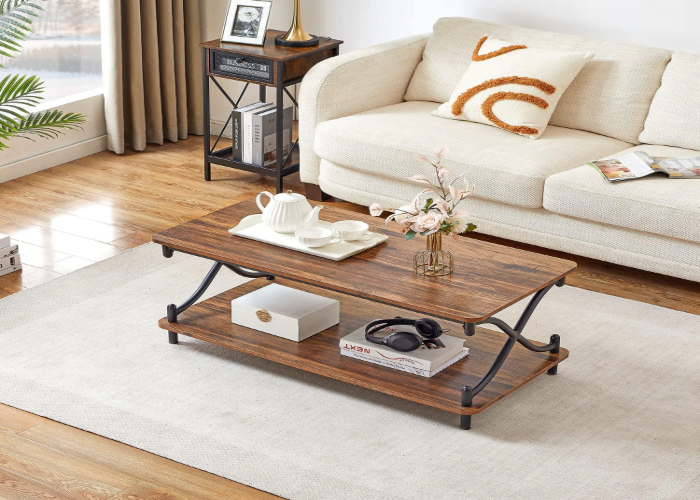 This open-shelving rectangle coffee table is a true masterpiece that combines functionality with aesthetics in the most enchanting way! Crafted with meticulous attention to detail, this table boasts open shelving that not only provides ample storage but also showcases your favorite decor pieces. The construction is strong and durable, while the industrial-inspired design adds a touch of modern style.
Upgrade your living room ambiance with the captivating look and practicality of this amazing open-shelving coffee table.
15. Leather Upholstery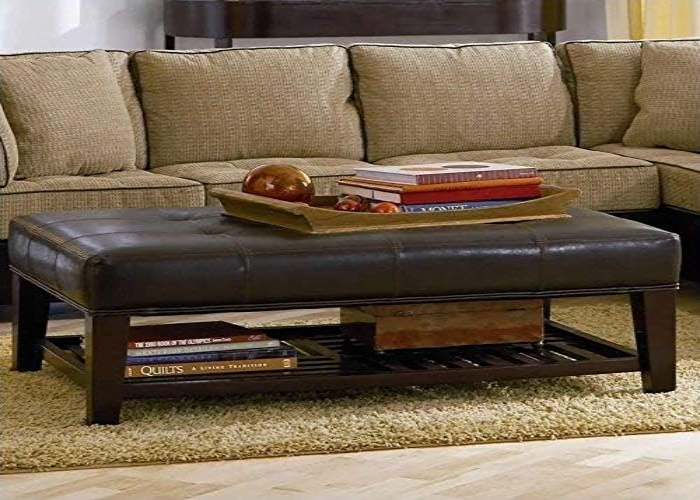 Get ready to indulge in a touch of luxurious beauty with this leather upholstery rectangle coffee table! It's like a suave gentleman dressed in a tuxedo, adding a dash of sophistication to your living room. With its tufted leather surface, it's designed to be felt and touched, beckoning you to sink into its sumptuous comfort. But wait, there's more! List the lid, and voila! Hidden storage space for all your treasures and secret snacks.
Treat yourself to the delightful charm of the leather upholstery coffee table, and let the beauty unfold!
16. Blackened Steel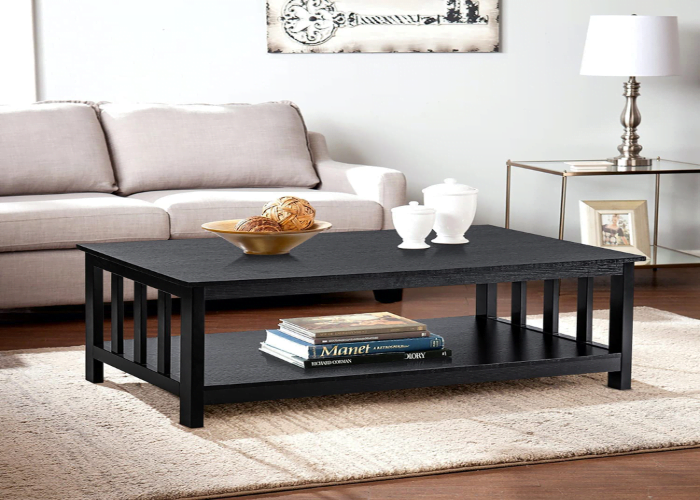 This blackened steel coffee table dares you to embrace the unconventional, inviting you to let loose and infuse space. It's a rebel among coffee tables, bringing a rock concert vibe right into your living room. Get ready to indulge in its captivating beauty and let it steal the spotlight, all while adding a touch of rock 'n' roll flair to your home.
So if you're looking for a coffee table that breaks the mold, this table could be your go-to choice.
17. Floating Slab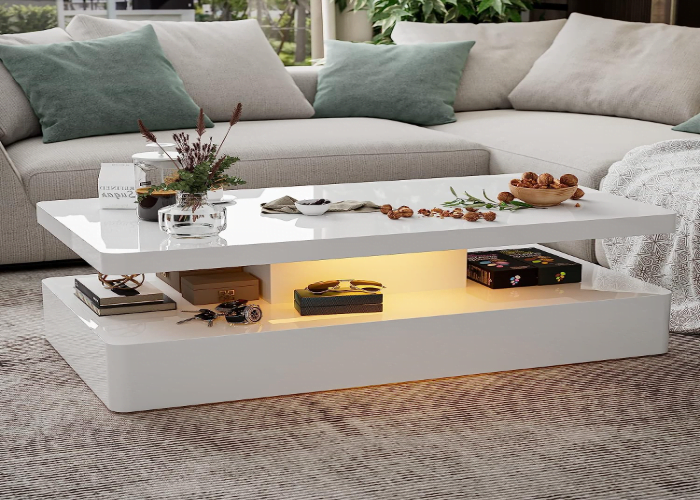 Prepare to be captivated by its mesmerizing design that defies gravity and surpasses all expectations. Like a magician's trick, this tabletop appears to be effortlessly hovering in the air. This floating slab coffee table is not just a piece of furniture. It's a work of art that adds charm to your living area. It blurs the boundaries between functionality and imagination, becoming a captivating conversation starter for all who gather around.
Imagine yourself lounging with the cup of your favorite Brew, marveling at the intricate pattern that seems to come alive on the floating slab.
18. Mirrored Finish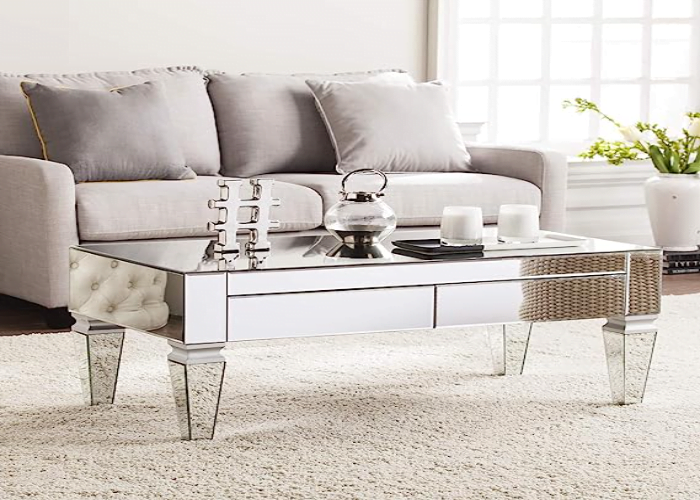 Introducing the mirrored finish coffee table, where style meets self-admiration! This mirrored marvel takes your living space on time travel back to the retro era with a touch of modern finish. As you drink your coffee and gaze upon its beautiful frame, you'll feel you're in an 80's disco, busting moves like a movie start.
With its reflective surface, it's perfect for checking if your hair is still on point after a wild dance party or just marveling at your own fabulousness. Get ready to make your living room the hottest spot in town!
19. Abstract-Art-Inspired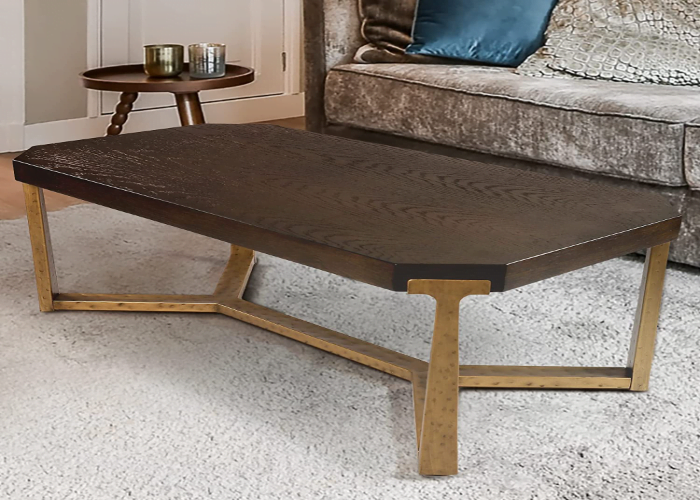 Step into the world of the abstract-art-inspired coffee table! Where art comes to life in your living room! This rectangular marvel is like a mischievous artist's playful creation inspired by vibrant abstract masterpieces. Its color and pattern are like brushstrokes that dance across the surface, capturing your attention and imagination.
Say goodbye to ordinary furniture and showcase your vivid personality with this amazing abstract art modern coffee table.
20. Multifunctional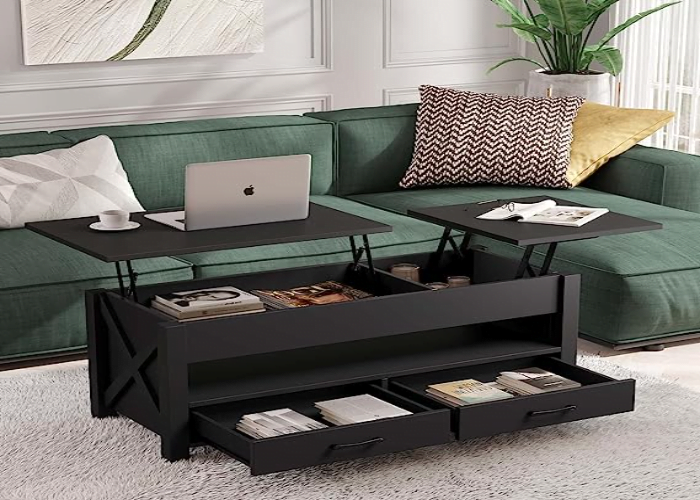 This multifunctional haven coffee table is an unrivaled multitasking maestro designed to revolutionize your living room. It can be used as a cozy ottoman, storage solution, and popcorn station. It blends functionality with versatility ensuring that your living room remains a dynamic and ever-adaptable space.
It offers endless possibilities and transforms everyday moments into extraordinary experiences.
21. LED Illuminated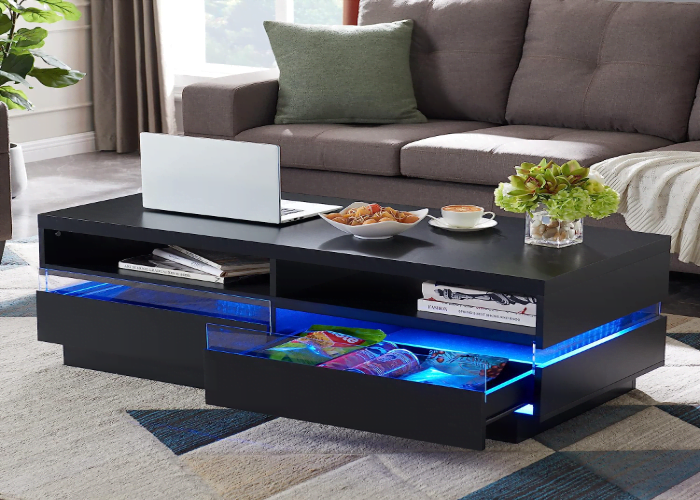 The LED Illuminated coffee table is a rectangular wonder that transforms a living room into a mesmerizing oasis of color and radiance. It casts an enchanting glow with soothing pastels and electrifying neons, creating a celestial light show that would lead northern light green with envy.
It is the ultimate companion for any moment, conversation, and pure enjoyment. This would be a true piece of art in your living room. Investing in this coffee table would be definitely worth it!
22. Walnut Veneer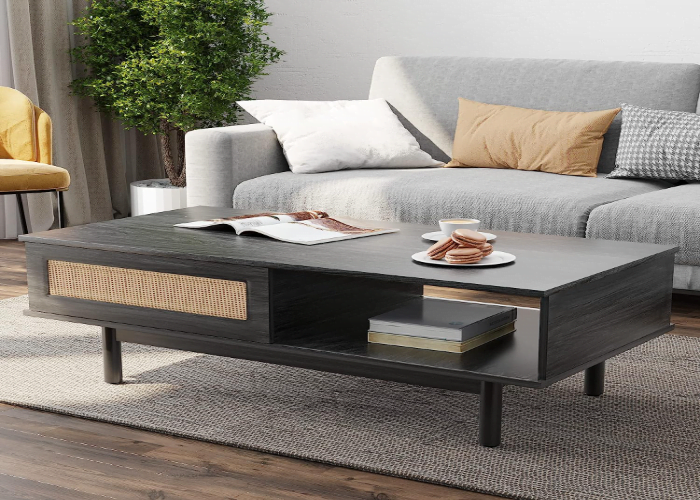 The walnut veneer coffee table is a rectangular Marvel elegance and woodsy charm in a harmonious fusion of Style and rustic allure. It adds a touch of refinement to the living room while subtly whispering Tales of forest adventures.
It brings a sense of grounding and a touch of organic Charm, creating a haven that embraces both sophistication and the untamed spirit of the outdoors.
23. Glossy Babe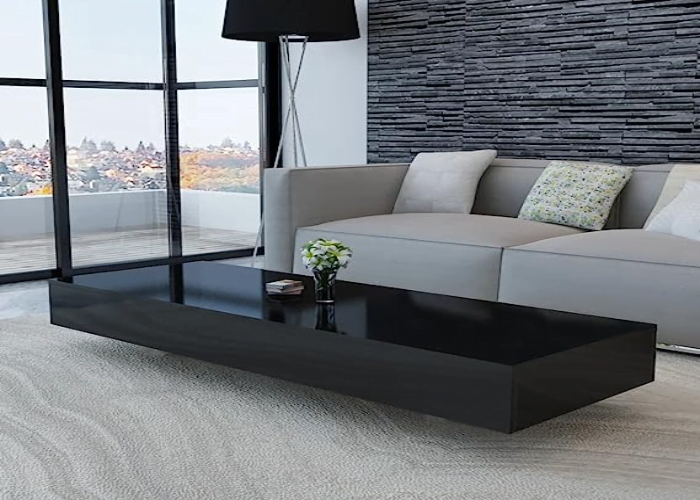 The glossy babe rectangular coffee table is the ultimate gloss-tastic masterpiece that is set to transform your living into a place of class and standard. Its mirror finish brings an undeniable sense of sophistication and showmanship and upgrades your gathering to a glamorous affair.
Having this in your living room is definitely making it the life of the party. Get your hands on the best ones on the list of modern coffee tables.
To Sum Up
All in all, modern rectangle coffee table styles are as diverse as a mix blend of espresso beans. From sleek minimalist designs to funky geometric patterns, these coffee tables add a touch of contemporary flair to any living space.
Whether you prefer the elegance of marble, the warmth of wood, or the edginess of metal, there is a rectangular coffee table out there that perfectly suits your taste and aesthetic. So, put your feet up, grab your favorite mug, and let these stylish tables be the caffeine boost your living room needs.
Remember, it's not just about serving coffee, its about serving a whole lot of style and aesthetic.
Frequently Asked Questions
How Can You Style a Rectangular Coffee Table?
When styling a rectangular coffee table, you should always consider creating a balanced arrangement with a mix of things that you require and decorative items. You always start with a unique centerpiece like some sculpture or a creative vase.
It's also a great idea to add small cute plants and try to make it personalized by adding elements like books, trays, etc., whatever says your personality aloud.
What Shape of Tray Goes Best with a Rectangle Coffee Table?
A rectangular tray would be the best fit for a rectangular table as it complements the table space and provides good visual balance. A rectangle tray can easily help you organize items such as coasters, candles, and even small decorative items.
Can a Rectangle Coffee Table Make Your Room Look Bigger?
Yes, a rectangular table can help you create an illusion of a bigger room. Opt for a coffee table with a sleepy and minimalistic design and transparent materials like glass or acrylic to further enhance the sense of space.
How to Decor My Rectangle Modern Coffee Table?
You can always start with a minimalistic centerpiece or anything that catches your eye and match your personality; it would be better if it's not too big. Here you have the scope to add multiple things, such as modern coasters, your favorite flowers, and much more. Finally, keep things that match your style and are not too big, and you're good to go.