Some extra space is something we all can use, especially in this fast-moving world and lifestyle. Not all of us can afford large rooms, condos, and apartments, and that is where multifunctional furniture comes into the picture. It can help us save space strategically by utilizing each corner of your house to optimal. Also, keeping it compact and uncluttered is the key to doing it right.
So, it doesn't matter if you live in a moderately sized apartment or a box size; make sure to get the best use of the space by utilizing it properly. You will be surprised to know how many ways there are to use a single piece of furniture, and nowadays, multipurpose furniture is a thing. From chairs and lamps to beds, we have found ways to use everything for many purposes at once. Here are 21 multifunctional furniture ideas for small spaces. Some are as easy as adding an extra shelf, and some are extensive with installed mechanisms.
You will love how each simple piece can be so useful; let's jump right in.
1. Shelf Floor Lamp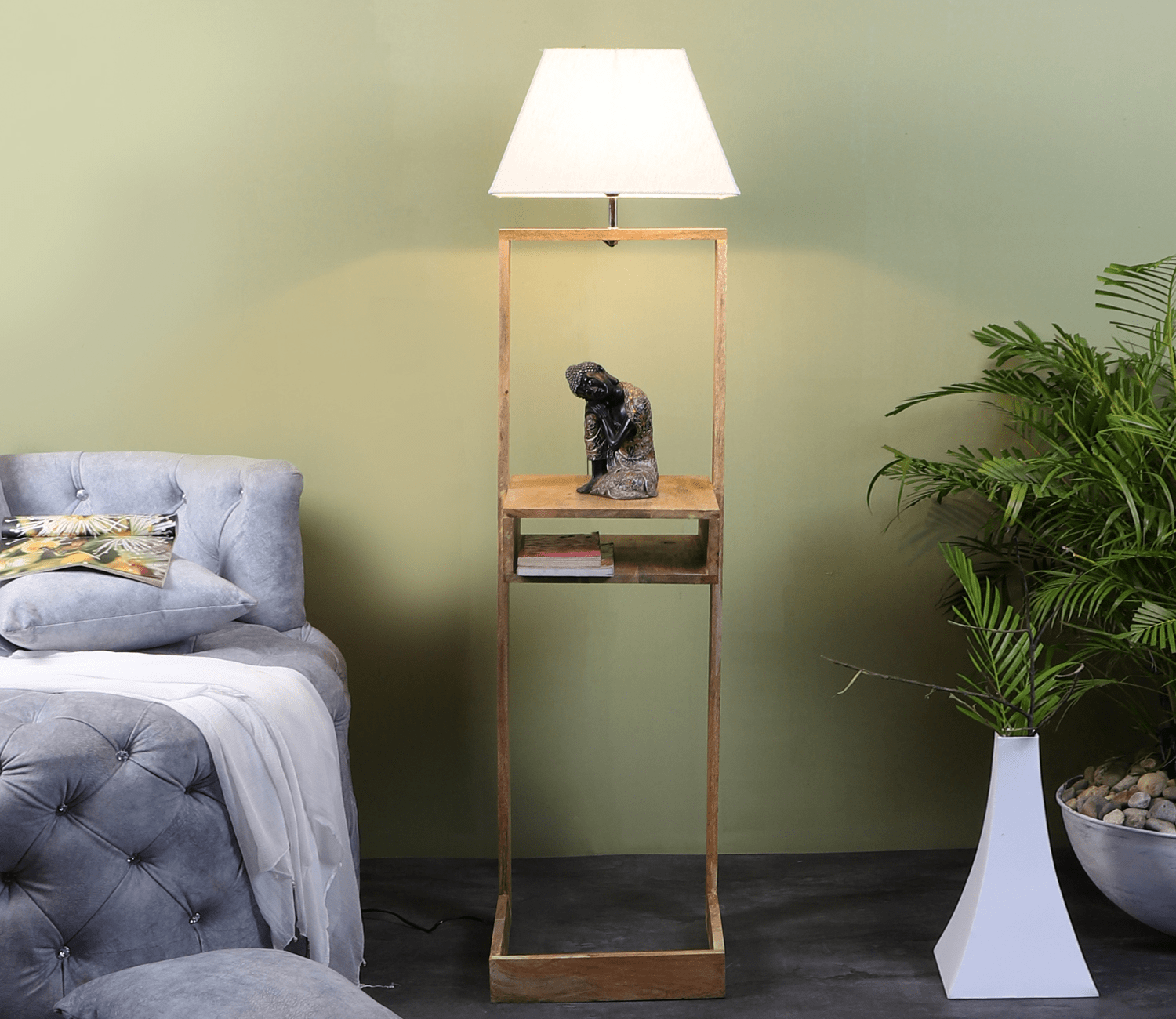 A bedside table and a bedside lamp are something we all want in our room; what if we combine them both? Shelf floor lamps are meant for small spaces, whether it is a studio apartment or a suburban house sitting, as they are not bulky and do not clutter your bedside by staying a little above. Plus, the extra shelf space can be used as an organizer for your alarm clocks, charging cables, and books.
2. Transformable Sofa Cum Bed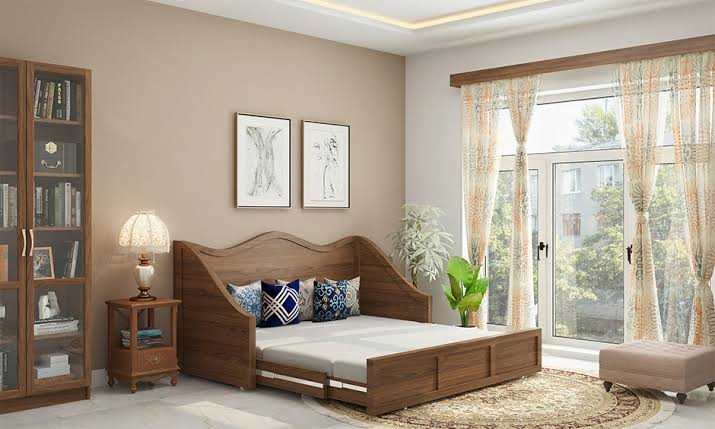 If you live in a one-bedroom apartment, what to do when guests come over for a sleepover? Turn your sofa into a bed. This is one of the best multifunctional furniture you can have in your home. This extendable sofa also comes with storage, which stays out of sight all the time. If comfort is your concern, there are numerous brands and designs available that promise magic comfort while sleeping in your sofa-turned bed, so it is a smart idea to invest in one.
3. Multifunctional Rotating Side Table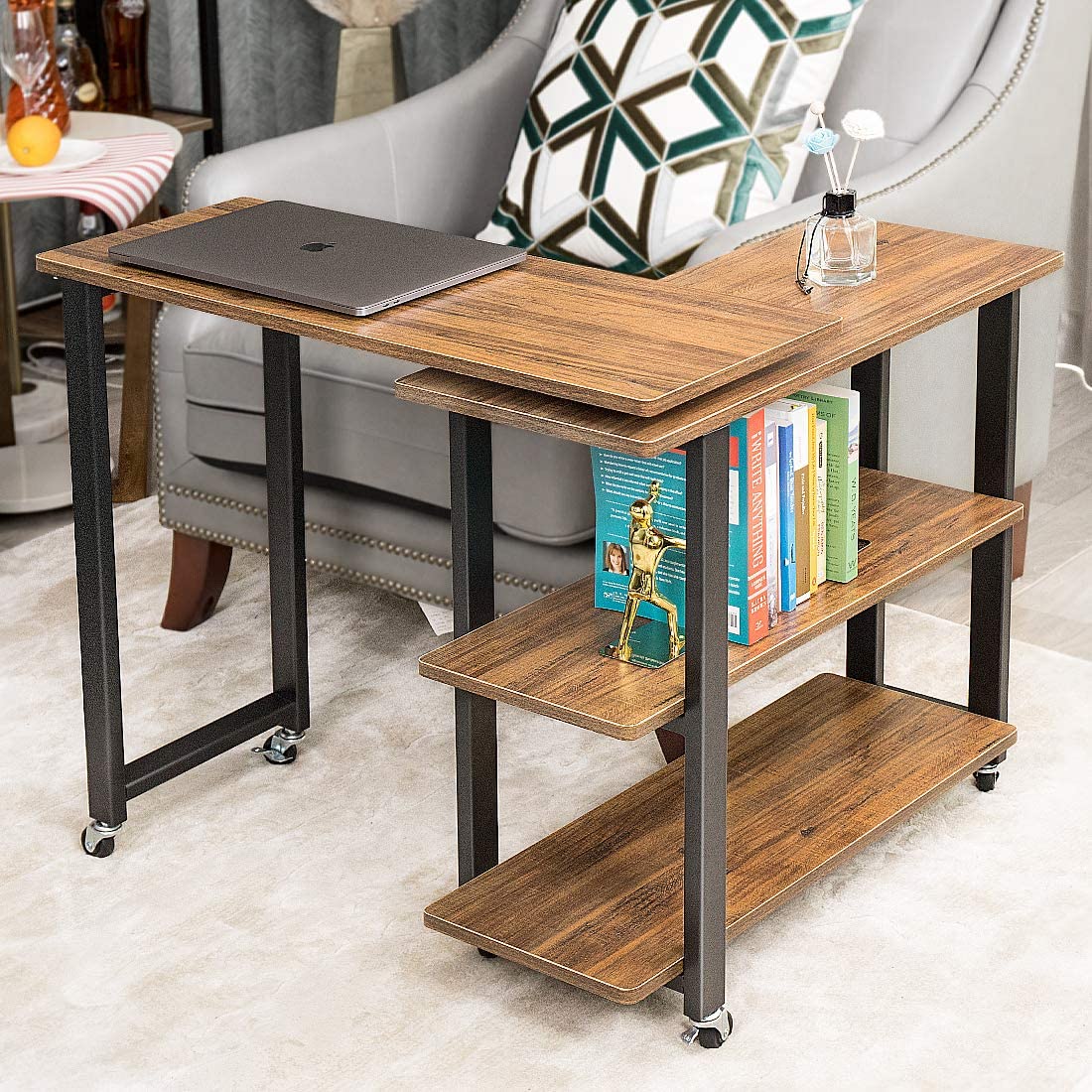 A multifunctional side table that can be turned into different shapes to meet your different needs. It comes with wheels that have brakes which makes it easy to move and set. There are shelves at the bottom of the non-extendable side which help you to organize all your essentials. It can be extended up to 180 degrees and is quite sturdy. In short, it is a table that can be turned into two when required, which makes it a perfect fit for bedrooms, kitchens, or office spaces
4. Convertible Sleeper Chair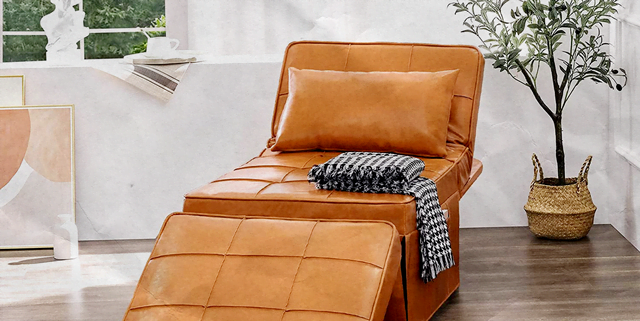 A chair for the living room that can be converted into a comfortable lie-down bed during game nights or movie nights can be a very thoughtful addition to your space. It is ideal for an urban setting, living room, or office where you need somewhere to lie down during long shifts. These are compact in space and won't demand much visual attention. Convertible sleeper chairs come in numerous sizes and styles according to your taste and utility.
5. Hanging a Mirror with a Shelf and Hooks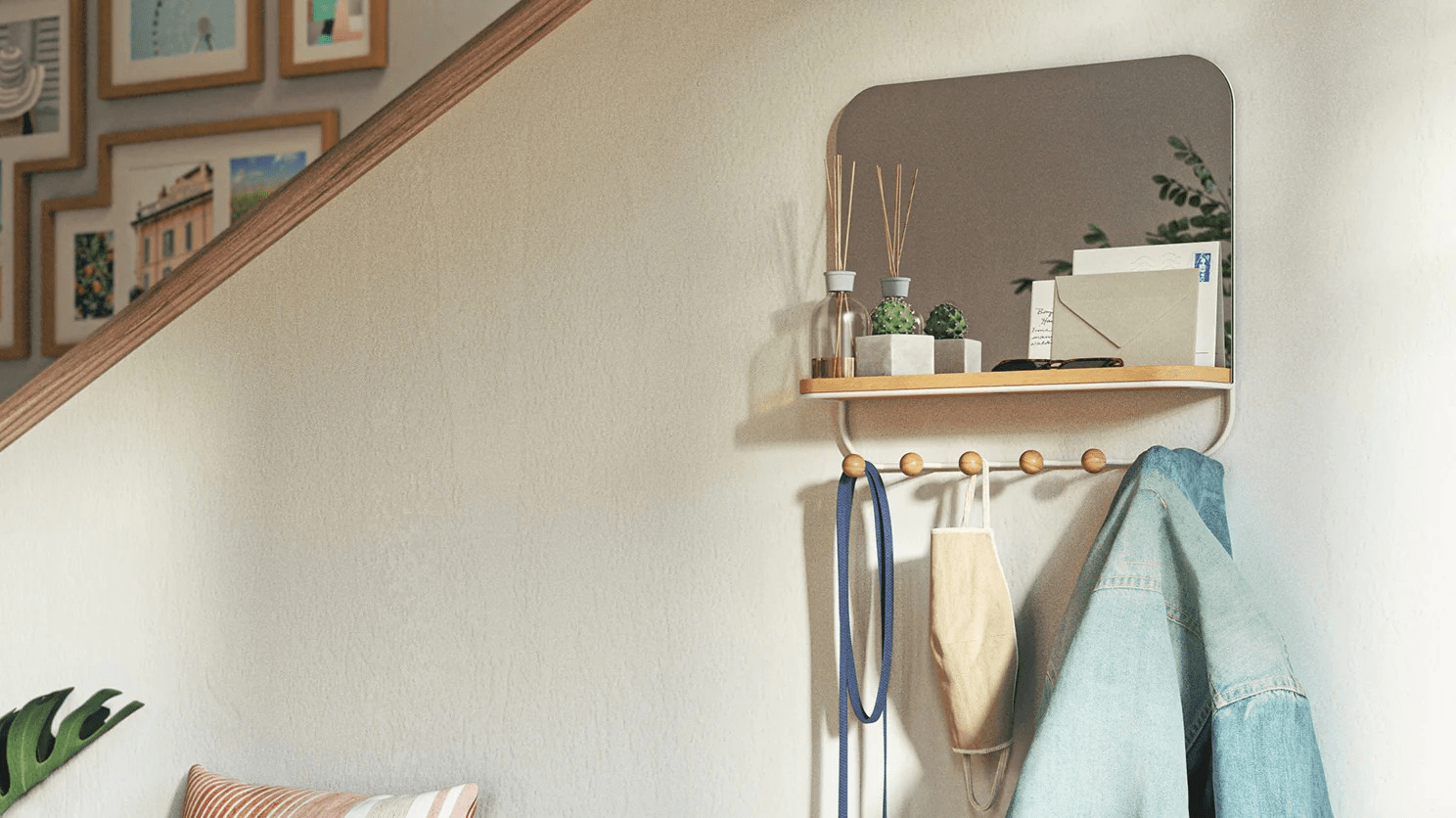 Multipurpose does not only apply to large furniture pieces; you can use every single tiny addition for multipurpose, like this small mirror that comes with hooks and shelves. You can hang your coats and caps, put your keys and check yourself in the mirror while entering or leaving your house. Your entryway is incomplete without all these things, and accumulating three things in one multipurpose mirrorpiece is the smart way to add utility to a tight-spaced entryway.
6. Lift the Top Extendable Coffee Table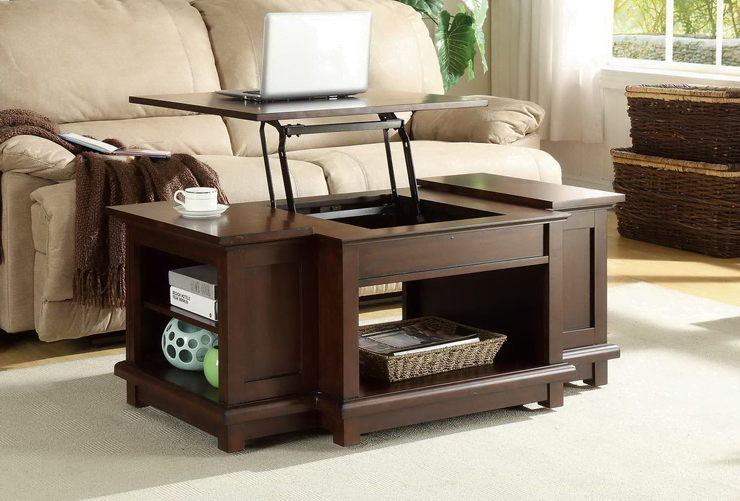 The coffee table comes with a top that can be extended with an easy pop-up metal mechanism. The solid metal mechanism allows a smooth and easy transition to adjust the top at a desired height. The heightened top can be used to serve food or as a work desk. This multipurpose coffee table also comes with a hidden compartment as wide as the top to store any table essentials like remotes, laptops, magazines, or newspapers, which makes it ideal for every living room.
7. Staircase with Built-In Storing Steps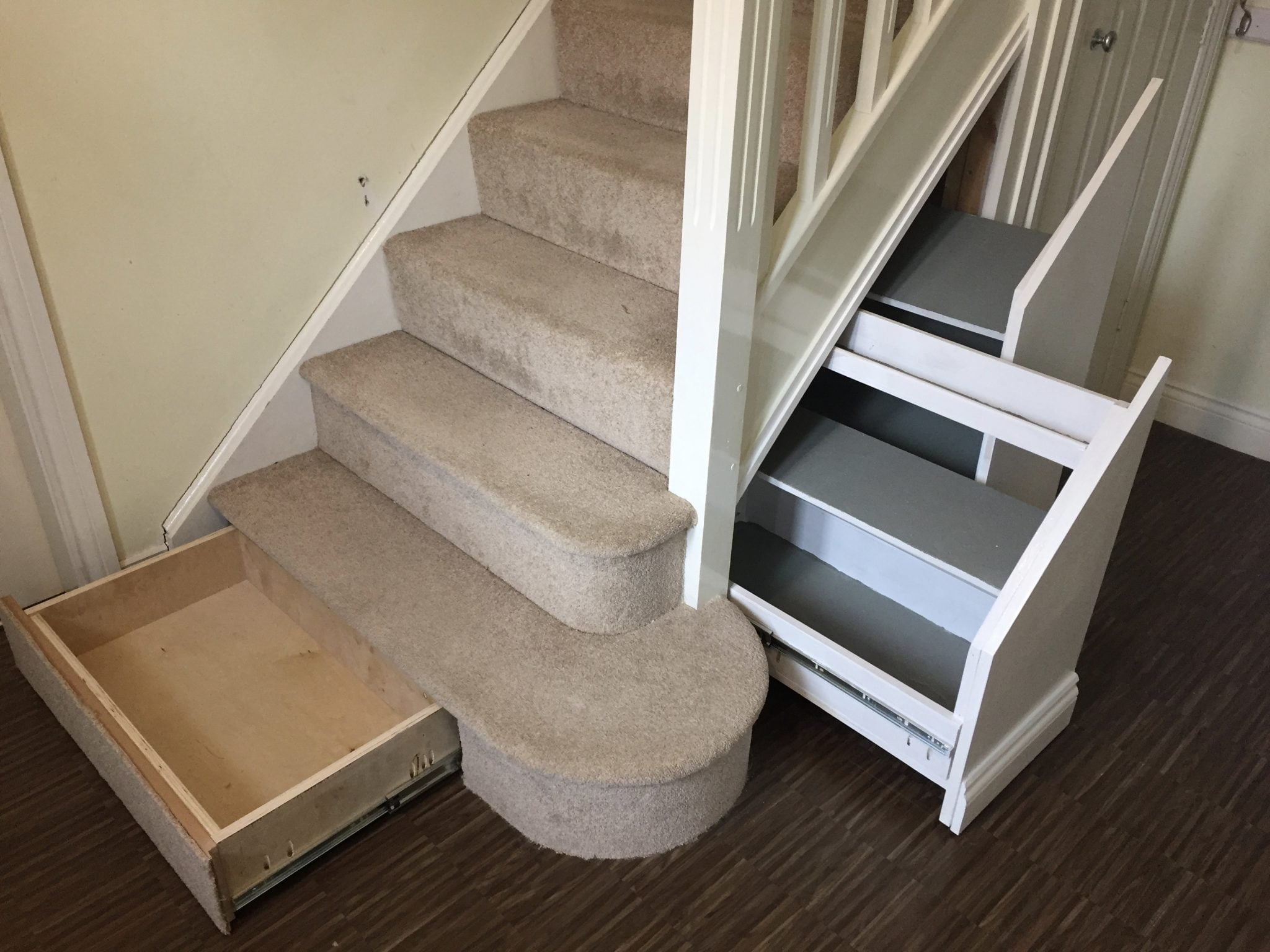 Yes, this is quite a smart way to use the staircase. Either you can convert each step into a drawer, or you can turn the step top into a hinged lid and store stuff inside them. This extra storage can help you declutter your house, especially if you have kids. The drawers can accommodate stuff lying around in the house. No one will ever know the secret of your tidy home with these hidden drawers. This extraordinary way to store your stuff stays out of the eyes and does not consume any extra space.
8. Stackable Beds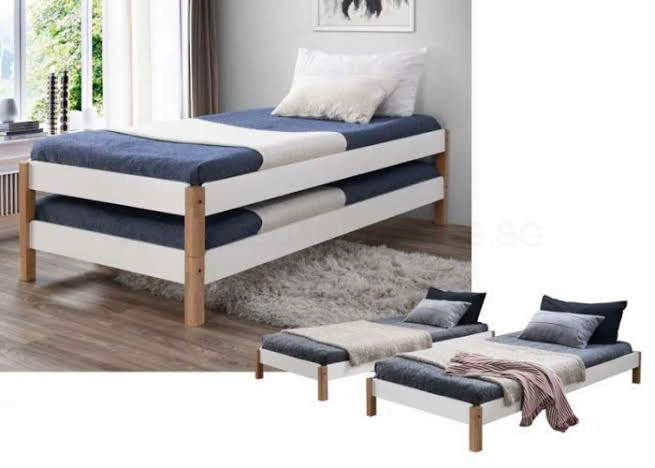 This is a very accessible piece of furniture for the kid's room or the guest room. You can stack them up one upon another with simple fitting settings and can unstack them to be used at night for sleeping. This way, the kids will have a lot of free space to play during day time. Also, stackable beds are quite comfortable and sturdy because the mattress is thick and cushioned, which makes it a worthy investment for the long run.
9. Storage Headboard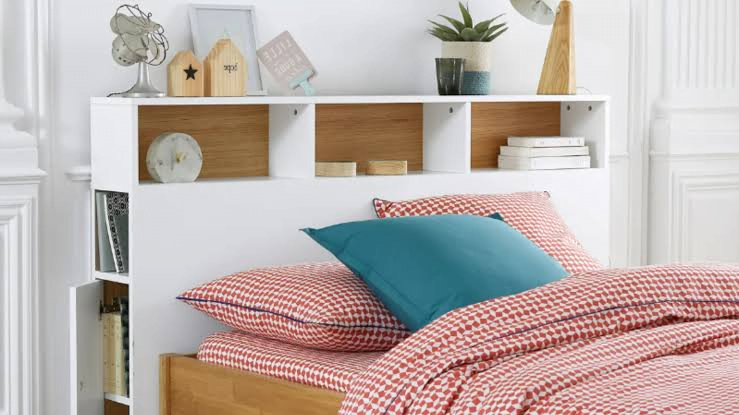 Headboards with built-in shelves are perfect for storing your books, charger, bedsheets, and other small little things. You can also put a lid on top and cover it to store blankets and pillows. Or make the shelves open and side outward facing for every other thing. A multifunctional headboard is a very smart way to store things when you are tight on space. The Top of this headboard can also be used as a display space for family frames or art pieces. With this headboard, keep your night essentials arranged on these shelves, and you won't need to get up to grab anything after coming to bed at night.
10. Built-In Cabinets Under Your Staircase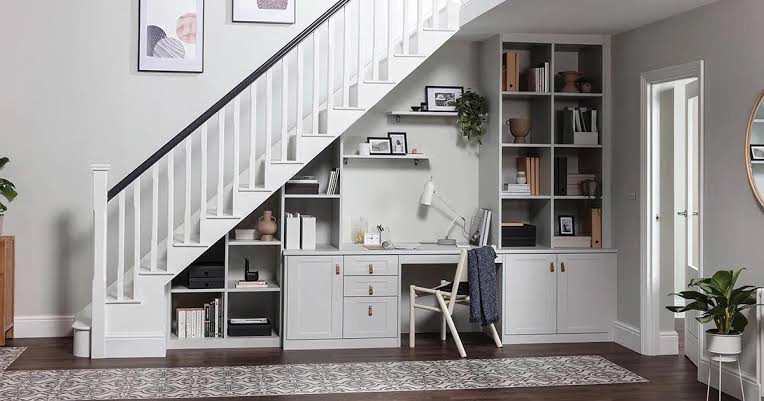 Staircase utilizes a lot of space; people usually just stuff their belongings under it or ignore that space altogether. Also, the slanting shape doesn't help, but you can use all that space by designing cabinets under it. It can be an entryway open wardrobe for coats, boots, and scarves with a low bench. Or you can even fit a pet house under it; the options are limitless.
11. Ottoman as a Shoe Box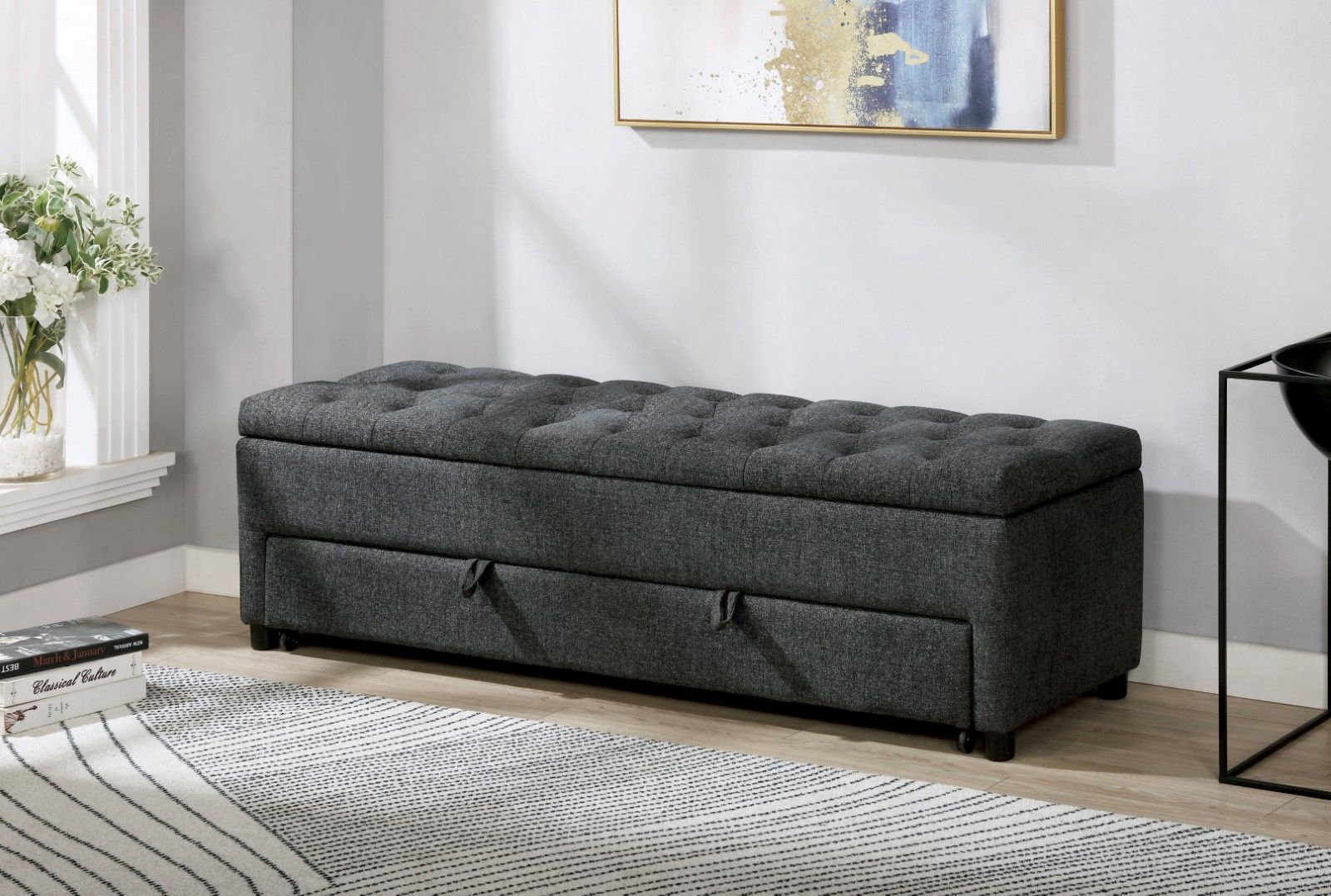 Ottomans are a gorgeous addition to bedrooms or living spaces, but while you buy them, make sure they come with a storage box. There are always too many shoes to be accommodated in the entryways. In compact apartments, there is not even a dedicated space for the shoes; you can convert your ottoman into just that by storing your shoe boxes or your blankets in them. The ottoman with storage in the living room can be filled with board games, cushions, and whatnot.
12. Under Dining Storage for Cutlery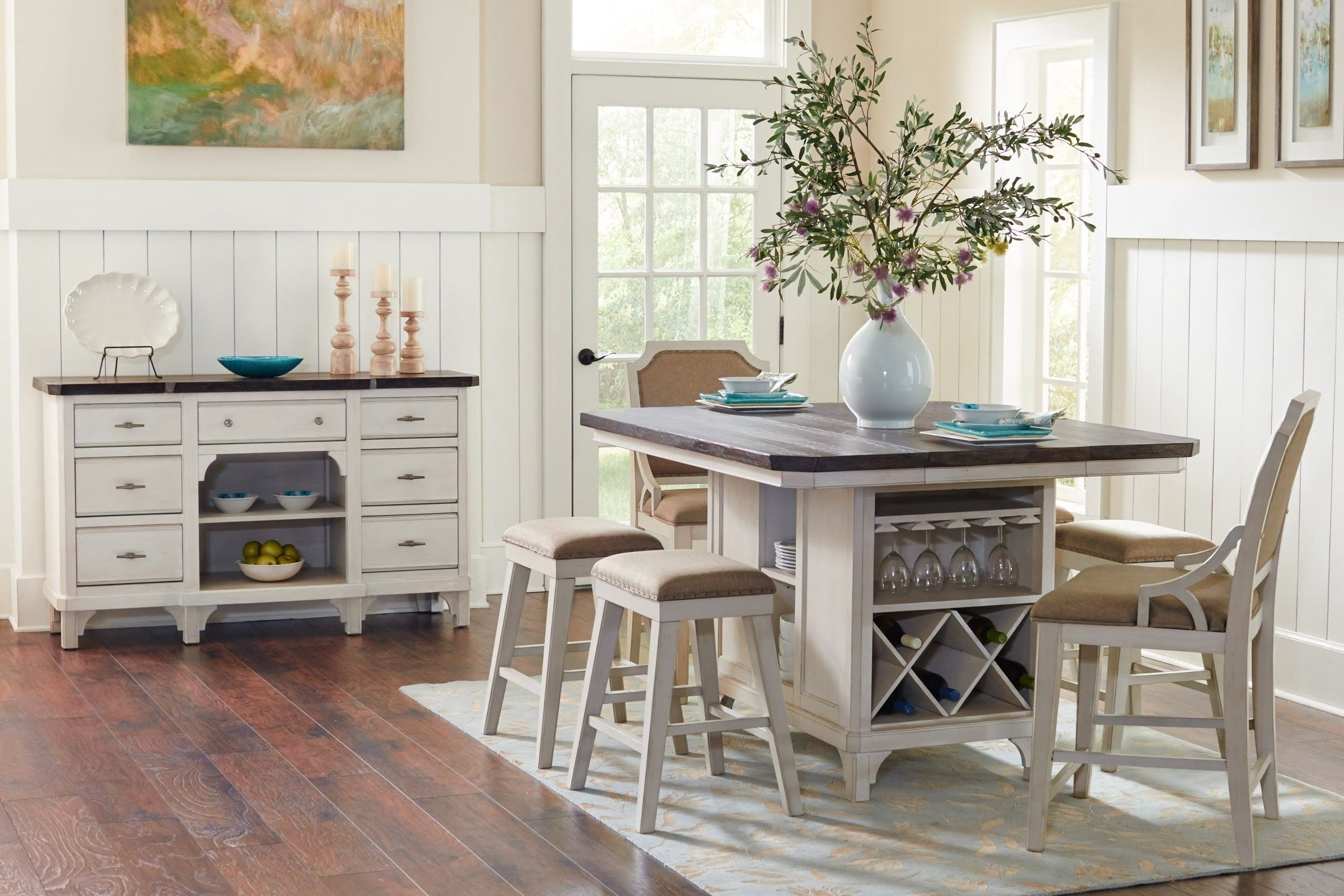 There are so many things you need just to set up a dinner table. There are plates, napkins, placemats, cutleries, and the list is endless. Where to put them off when the dinner is done? And there should be dedicated space for these things to grab quickly while setting the table. We just have got you sorted with this; the dining table with shelves for the dining essentials is the solution.
13. Bean Bag Stuffed with Soft Toys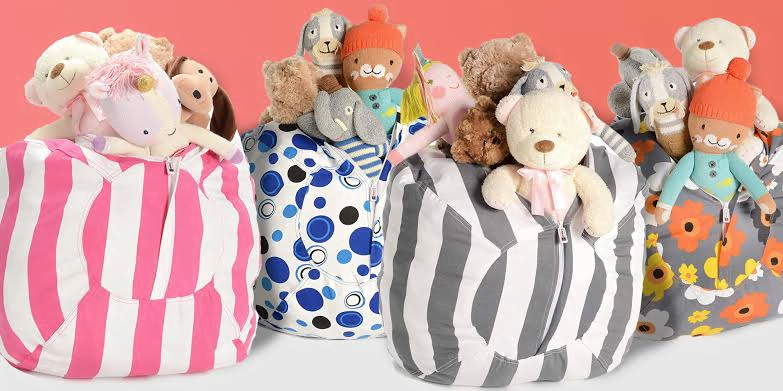 Kids love soft toys, and their rooms are usually piled up with them, and after a point, you have no idea where to put them. The kids also happen to love bean bags very much. So rather than filling up the bag with the beans, we can stuff it with soft toys. The best thing is the kids can unzip this multi-purpose beanbag anytime they want to play with the toys. You will be surprised by how this one extra addition to your kids' room can make the space look free of clutter.
14. A Mirror that Turns Into the Iron Board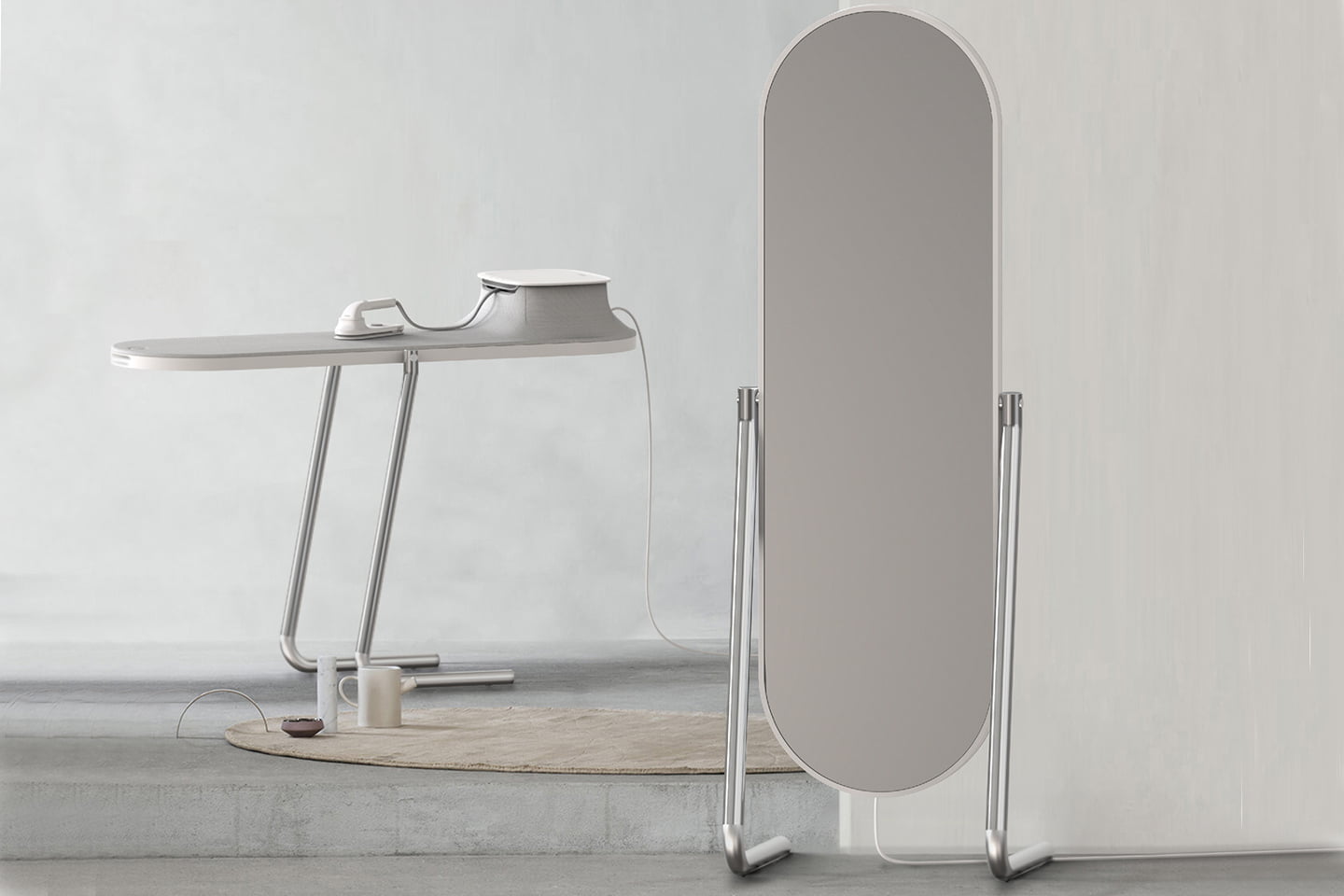 We need a full-sized mirror, and neither can we compromise with the size of an ironing board. So this mirror can be flipped off and can be turned into an ironing board by just locking it in place. This is an extraordinary and very thoughtful multifunctional design. The foldable ironing board is a thing, but finding a space to keep it after use is still a task. This way, you do not need to store it away; just flip it.
15. The Folding Chair Ladde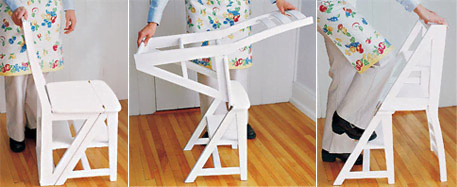 Kitchens usually have top cabinets for storage, and when we have to reach them, we climb up on the kitchen islands or the kitchen chair because we do not have space for keeping ladders in our homes. So this convertible chair can be a ladder in no time; how wonderful is that! We do not need a ladder every time, so making it disappear after use is what we all wish to do. It is easily accessible and foldable because of its simple mechanism. The best thing is a ladder will always be there in front of your eyes all the time without asking for attention or consuming extra space.
16. Reading Corner Under the Sofa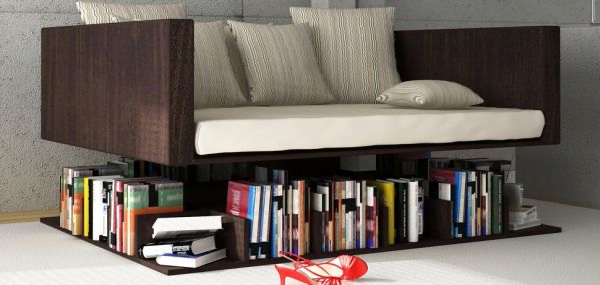 A comfy sofa in your reading room? Or a little reading nook by your sofa in your living room? Because a lot of people love reading while curling up on the sofa. So, Creating a tiny reading storage under your sofa is a brilliant idea. You don't even need extra shelves to stack the books. If this is not easily available, you can keep the books on an easily available sliding tray under the sofa, which will also serve the purpose right.
17. Cabinet with Extendable Desk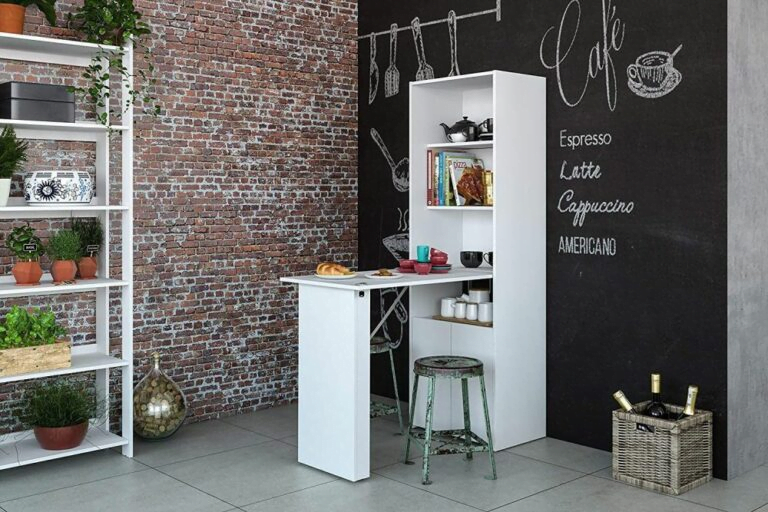 This is an exceptional piece for small spaces and can be used in kitchens, bedrooms, living rooms, or offices. This cabinet with an extendable desk can be used as a storage cabinet at all times, and the desk can be extended whenever required. Desks can be used to work or to serve food; the purpose of using them can be any. This can be easily swiped right off from the view and out of your way in no time when not in use.
18. Extendable Dining Table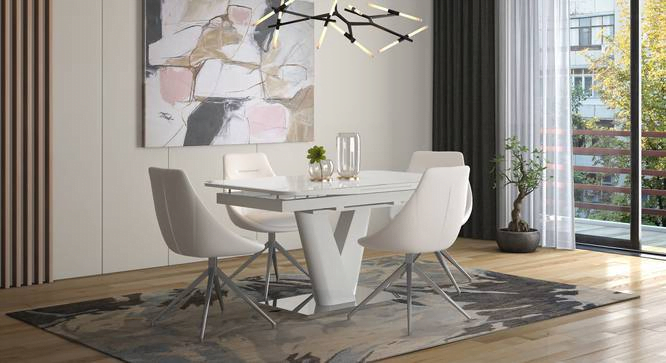 Four sitting dining table is usually sufficient for a small family, but usually, they want to buy an 8 sitting table for whenever the guests drop in, but that may need a lot more extra space that you do not have. This extendable dining table is a perfect fit for urban homes; it takes space for 4 sitting but can be extended to 8 whenever required. It will help your space look uncluttered and organized by not taking up much space.
19. Movable Kitchen Islands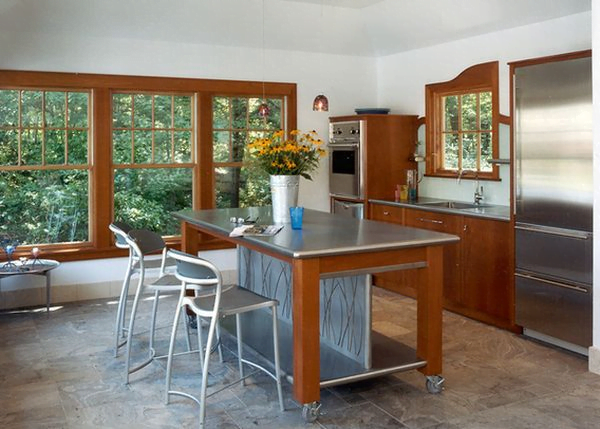 A movable kitchen island is something out of the box, but it does make a lot of sense when your apartment cannot accommodate a dining table, a workstation, and a kitchen island all at once. A kitchen island on wheels with storage under that can be tucked at the side after use seems very practical for a small spaced living area. When the island is moved aside, the available space can be used for a lot of things, and the island itself can be used as a display table, art station, or serving counter, according to the occasion. Try incorporating this!
20. Wardrobe with a Smart Tv Unit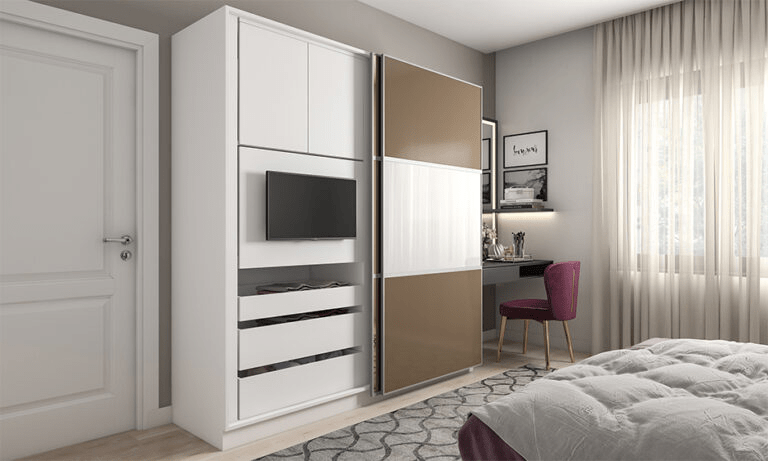 Most bedrooms have TV sets, and they have a wardrobe as well, and there are so many other things to accommodate in the limited space. This multifunctional wardrobe comes with a built-in tv unit, which can save you a lot of space. The built-in tv unit will take up none of your space and do not compromise on its efficiency. This is the magic of multipurpose furniture, which is worth investing in
21. Shelves as a Room Partition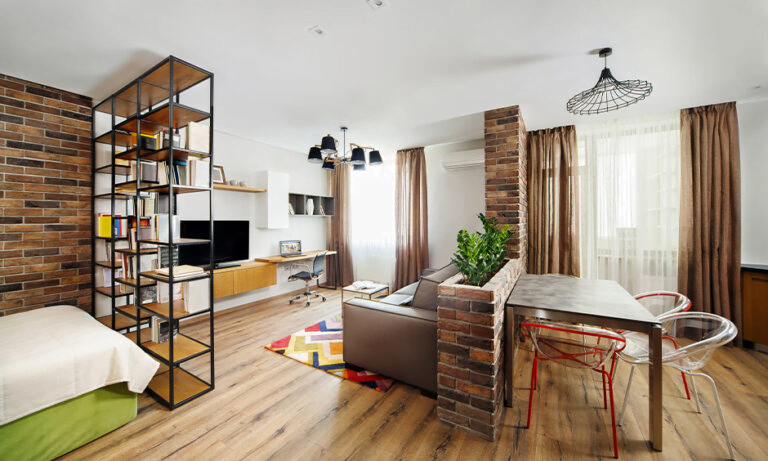 Most of the apartments have open layouts these days; in such a setting, most areas overlap each other, especially the living room and the kitchen. So, the designers create partitions to define each area properly. The best kind of partitions are the ones that serve dual purposes at once. Creating a partition with shelves maintains an airy and open atmosphere in the home and also serves the utility through shelves.
Summing It Up
If you are between shifting apartments or you want to redesign your current space, make sure to add some of these multifunctional furniture pieces to your space to use your space more effectively. The small space cannot restrict you from furnishing it. These multifunctional furniture pieces come in sleek and modern designs that go perfectly well for modern households.
With these versatile furniture pieces, you can easily turn your bedroom into a working space or your living room into a dining space; they unbound you from restricting to one pattern or purpose. So make a plan and explore the options before you furnish your home. Why get the same boring one when you can get everything at once?
It is time to put the creative hat on because it's not the size of the space that counts, but how you design it!