Have you ever heard anyone saying they have a lot of space in their wardrobe? Well, not at all! Because whether you have a lot of wardrobe space or are always struggling to find more space, the best way to organize your wardrobe is to shelve it properly. It is not about how much space you have but how you use it. So, if your wardrobe is cluttered all the time and there is never enough space, it's high time to reorganize it.
It often happens that to find just one particular t-shirt, the whole wardrobe gets turned upside down, but worry no more; we have these 20 closet shelving ideasto up your closet game and inspire you to give a makeover to your wardrobe.
Here are some exciting ways to keep wardrobes clutter-free; let's go ahead and organize!
1. Never Ignore the Corners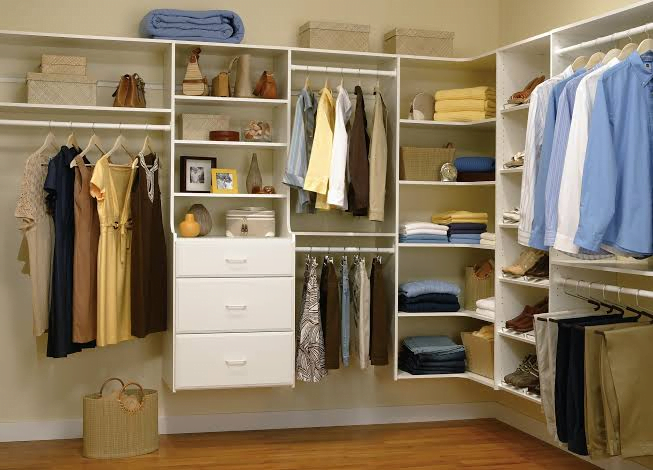 If you have an awkward corner between your closet or in a walk-in closet, do not just let it be. Put some corner shelves, boxes, or hanging rods in that space to utilize it. If the space is not that easy to access, you may put the items in there that you do not need that frequently, like a pile of clothes you know you never are going to wear but you are not just ready to let go. This way, you will be able to free up some space, and also, you will stop coming across items you do not often need every time you open your closet.
2. Install a Cube Organizer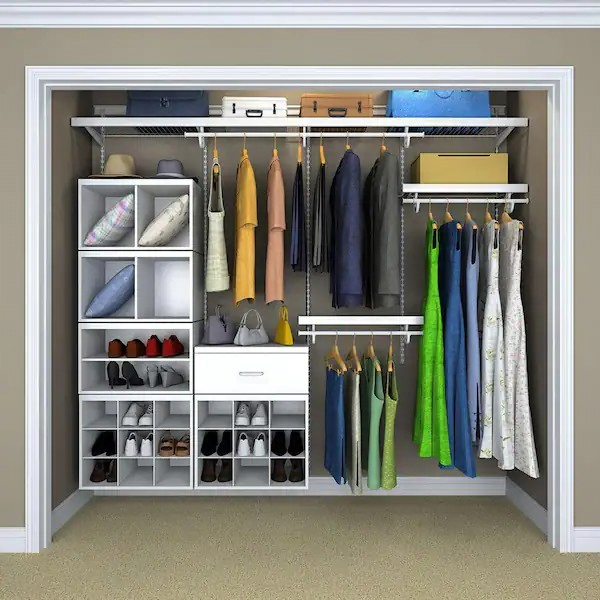 Cube organizers are easy to use, function smoothly, and are the simplest way to organize folded items. This one is a hit for kids' rooms because there can be a small different compartment for each small thing, like for clothes, toys, shoes, and everything else. You can also use storage bins or baskets if they are more convenient for you; they work the same way. The idea is to divide your clutter into small portions according to color, type, or utility and keep each group in a different box. This will enable you to find things easily without mixing it all up.
3. A Dedicated Shoe Area Is All We Need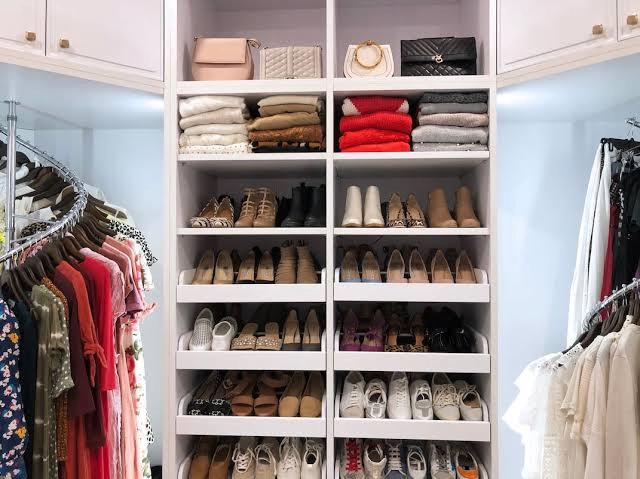 Shoes can create the most mess in your closet; they simply lie there and keep coming your way, so creating a specific area for them can solve a lot of your closet problems. You can use the space you already have or make a desperate space for them. If you have a small side closet, you can convert it into a shoe area, or you can install shelves on your wall to make a dreamy shoe wall. You can also dedicate the last bottom shelf of your wardrobe to your shoes. Do it according to the availability of space and the shoe collection you have.
4. Backlight the Shelves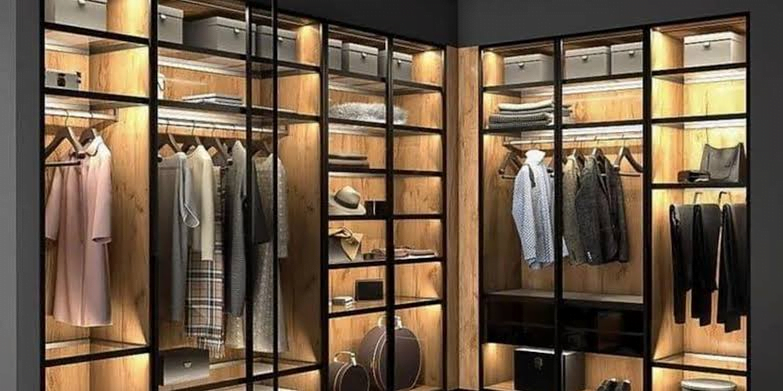 Backlighting the shelves is a great way to make your wardrobe look luxurious and also to light up each corner of your closet. It can easily be done with LED strip lightswhich are quite easy to install. You can do it yourself or contact a local electrician to do it. The lights provide a soft glow to your wardrobe. If you want to take this a step ahead, install the lights with a sensor to let the closet light up automatically whenever you open the doors; quite fancy!
5. An All-Accessory Drawer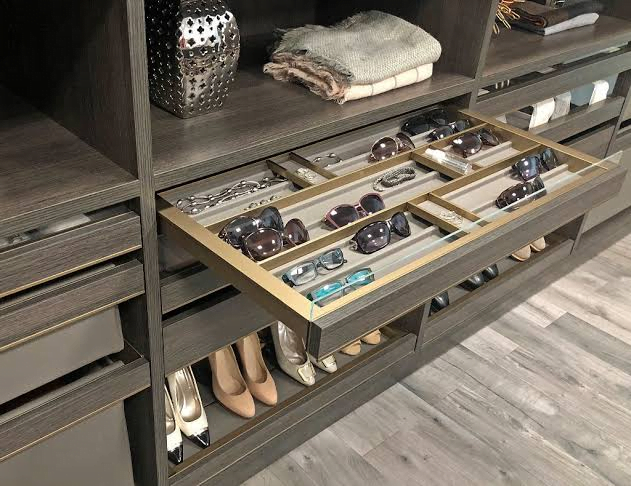 Small accessories like watches, scarves, earrings, and belts need an extra drawer, and we cannot emphasize more on the same. They are the last thing you add to complete your look, so it makes sense to organize them all together. But if you are a huge accessory fan and collector, no one can stop you from dedicating a special drawer to each of them. How amazing it would be to open a drawer and find all your watches placed together to choose one from. This can make things very easy for you and can save you from the chaos of that last-minute rush before heading out of home.
6. A Handbag Display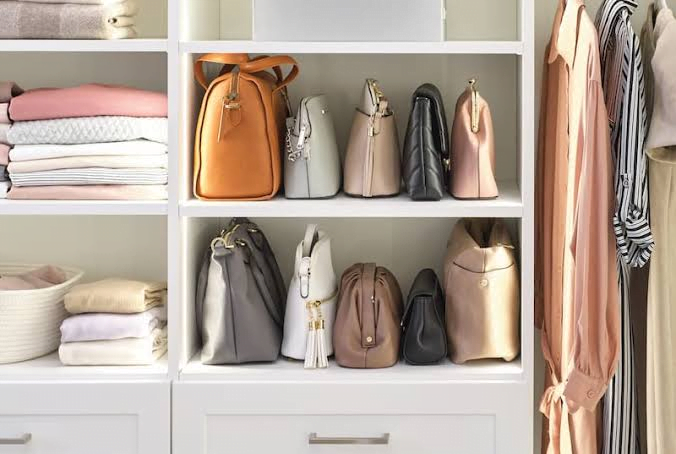 Your handbags do not deserve to be stuffed in that corner, one upon the other, and crumbled together. For all the price you pay for them, they should be treated well. It doesn't matter Weather you have an extensive collection of the types of bags or even if it is limited; give them a separate shelf. You can even install a handbag display cabinet with floating shelves to arrange your collection if you have a wide collection of brands. A smart thing to do here is to place your shoes near your bags because you will want to match them often.
7. Utilize the Area Above the Closet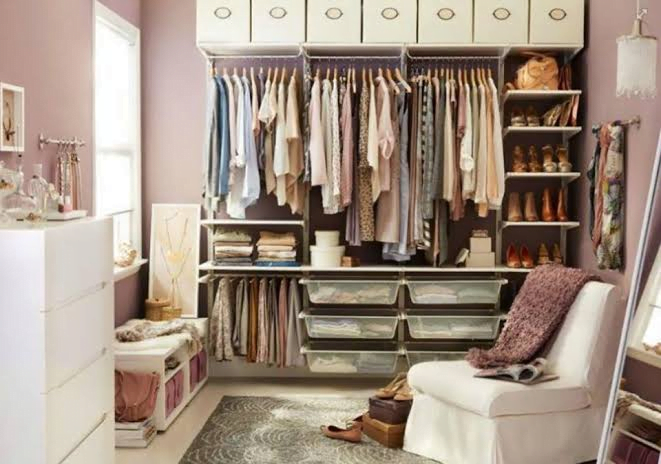 Always use the space up to the ceiling. If your closet is built up to the full height, well and good. But, if it is not, use that extra space by using storage bins and baskets or by putting up extra shelves there to shift some of the stuff there. You can put things up there to free up some from your closet. Like your wedding dress, your vacation clothes, or some special outfit you do not need that often. The area may look limited or small but never ignore it because it can do wonders for your closet.
8. Divide Your Shelves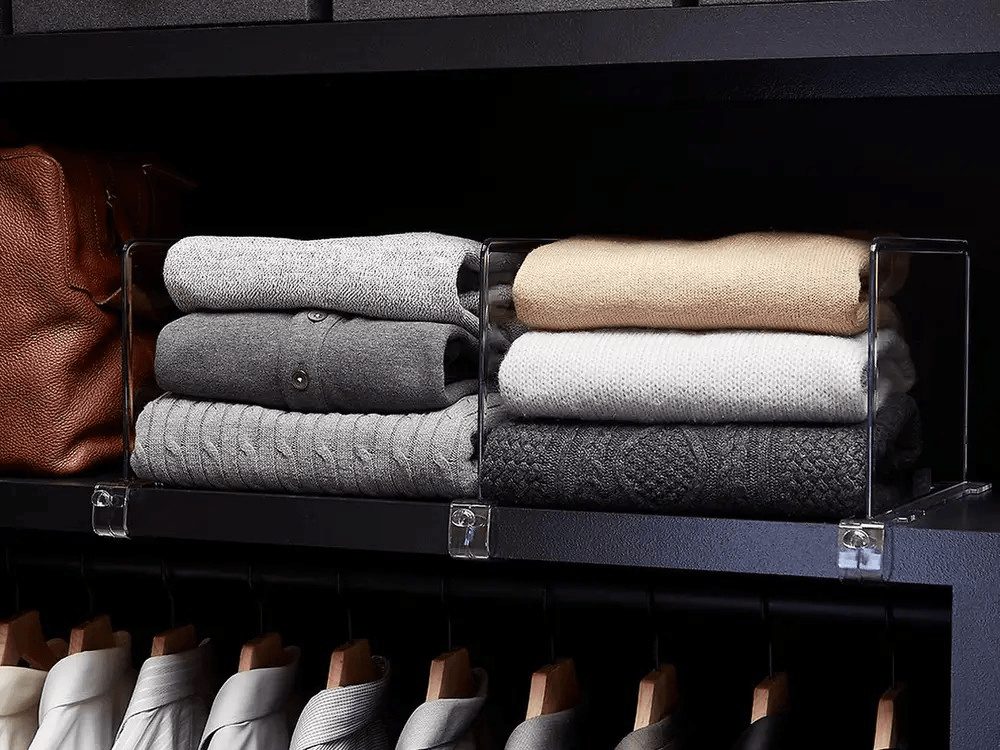 Usually, there are extended flat shelves in the closet, which no doubt provides a lot of space, but it can be a task to keep all the piles separated. In no time, they will be all messed up, and there is no definite arrangement you can see. Here comes the shelf divider. It divides your long extended shelves into smaller compartments for each pile of your cloth. The best thing is this shelf divider can easily be removed and replaced according to your need. If you are going to buy these, make sure to buy the transparent ones, they do not ask for any visual attention.
9. Convert that Extra Room Into a Walk-In Closet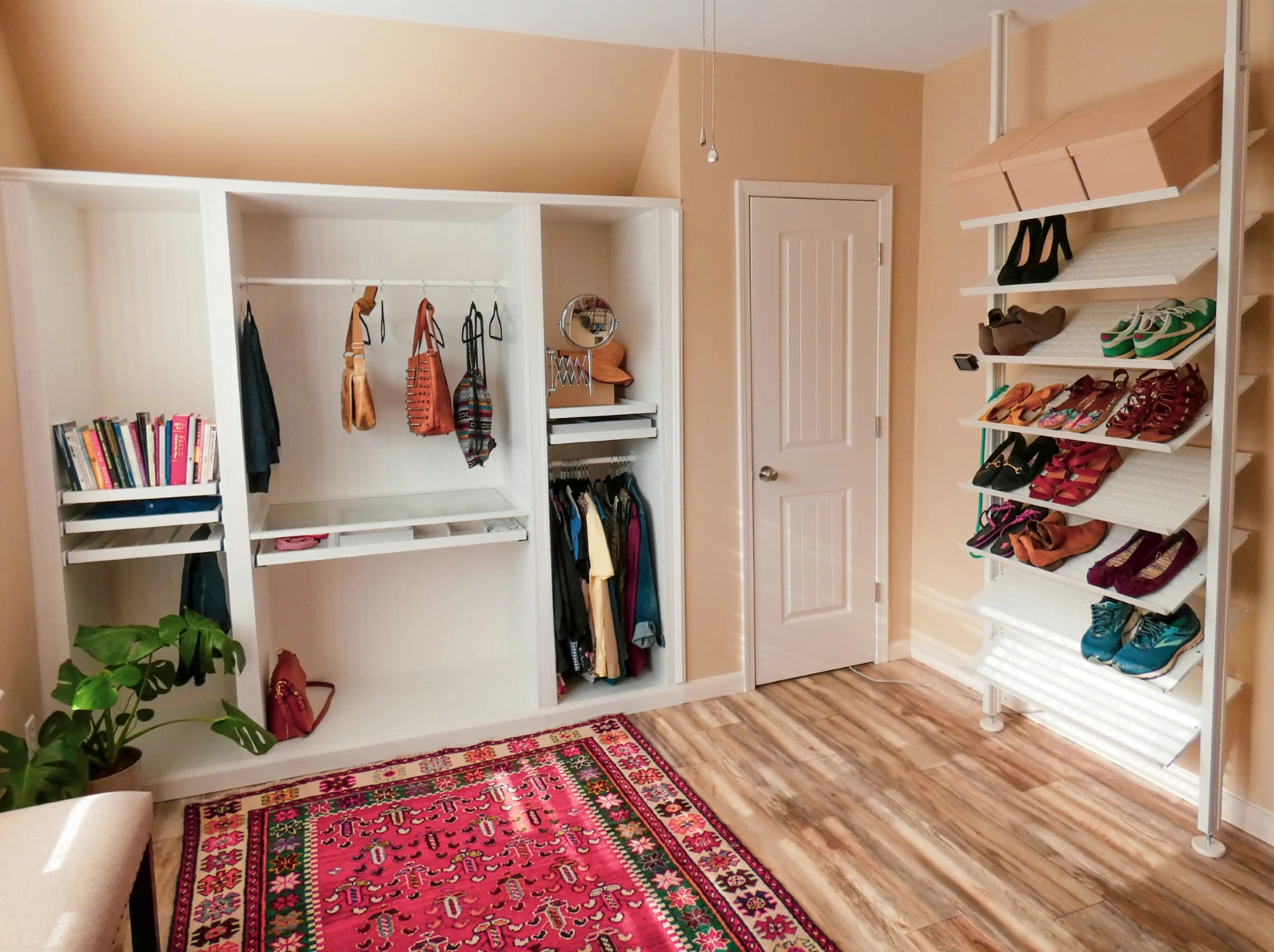 If you have the luxury of having an extra room that no one is using, or your kids just moved out, it's time to fulfill your princess dream and turn that into a walk-in closet. The idea may sound overwhelming, but shelf by shelf, you can curate a dreamy closet for you. There are so many things you can fit in a room. All your belongings that you did not have space for can be arranged. You can fit in a dressing table and mirror, a shoe closet, or handbag wall, or anything you fancy. This may take up a lot of work, but it is all worth it.
10. Use Storage Bin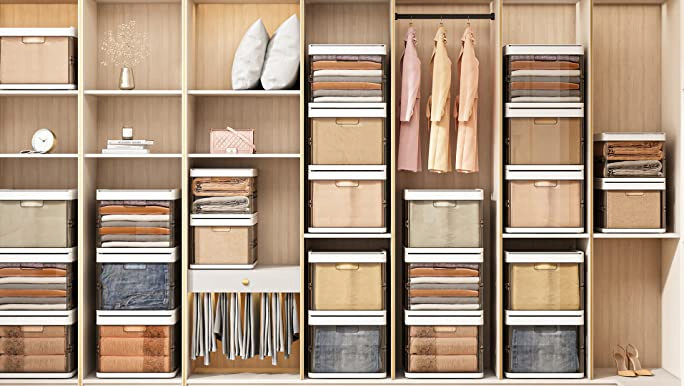 Using a storage bin is the best way to group similar things while also making it look all clean on the outside. They come in very handy when you are looking for something in particular without making any mess. They come in all kinds of shapes and sizes according to the space available on your closet shelves. You can also use open ones for the items that get frequently used. They are easy to move and work with; you can easily put your winter cloth bins away after winter and change them with summer collection bins within minutes.
11. Slide-Out Shelves for Clothes and Shoes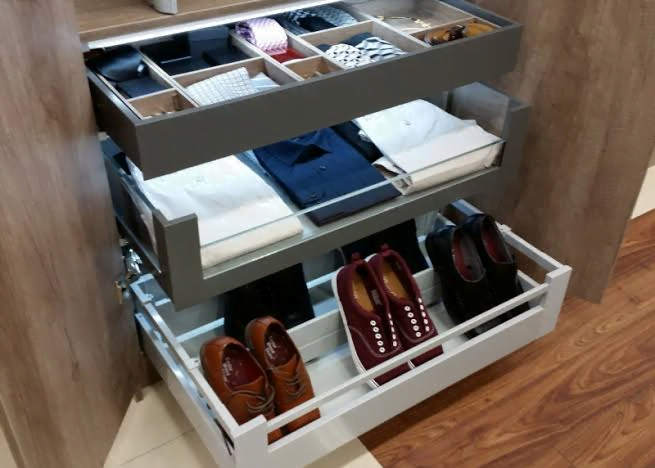 If your closet is wide and deep, this is the perfect solution to use the space to its full potential. When the shelves are deep, we often cannot use the backspace because it gets difficult to pull out clothes from there, and if we do, it ends up with everything turned upside down. Slide-out drawers allow you to use the space at the back without disturbing the pile of clothes in front. These functional shelves are also popularly used to store shoes. This will let you stack more shoes and also makes your space look organized.
12. Always Label Everything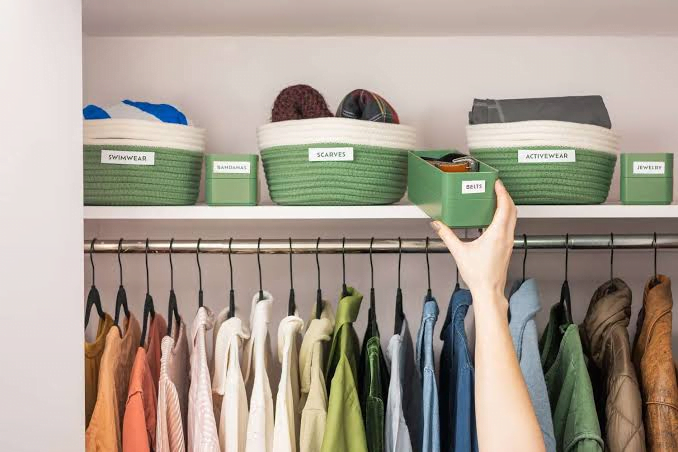 Always label the bins, baskets, or boxes that you use in your closet to make your life easier. It may take some time while doing this, but it is going to save you a lot of time in the future. It will be easier to keep things in and find them when required within seconds with the help of labels. Not only will you know where to put everything, but everyone in your family as well. You can tell your kids to grab something, and they will know exactly what shelf to check; how wonderful it would be. You can print your labels, get the label clips or just make handwritten ones.
13. Open Closets Are the New Trend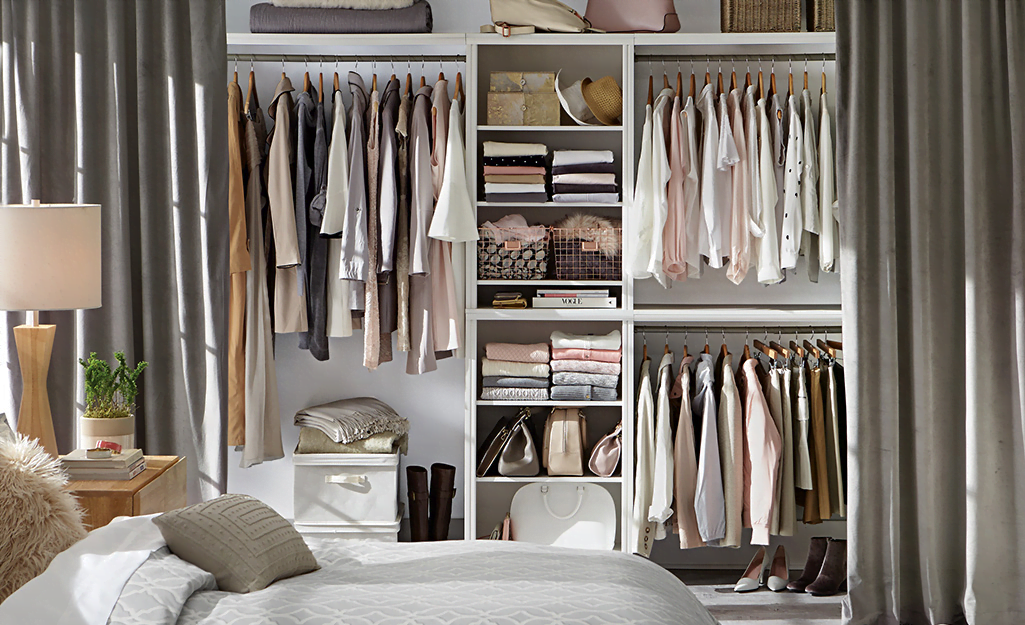 Open closets are just your regular closets but without any doors. A closet without doors opens up the space and gives you the freedom to organize. Here, everything is on display, so you arrange it by keeping the focus on your favorite things to make it attractive. You are kind of driven not to keep it clean because you cannot hide the mess away behind the doors. Open closets also work in the setting when you are low on space. They are so much in trend these days because of their functionality and minimal aesthetics.
14. Stacked Hanging Wall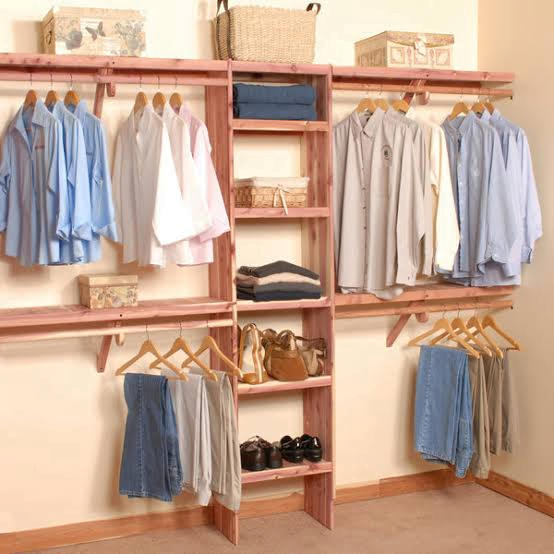 If you prefer hanging your clothes rather than keeping them in folded piles, a stacked hanging wall is for you. They usually have dual hanging spaces stacked one upon the other. When all your clothes are hanging, there will still be items that need to be folded to store, like sweaters and pants. While creating a stacked hanging wall, make sure to provide partitions in them to divide clothes into compartments and make it easy for you to organize. The area at the bottom of the hanging rod can still be used to store clothes in baskets and boxes.
15. Hanger Hooks for Scarves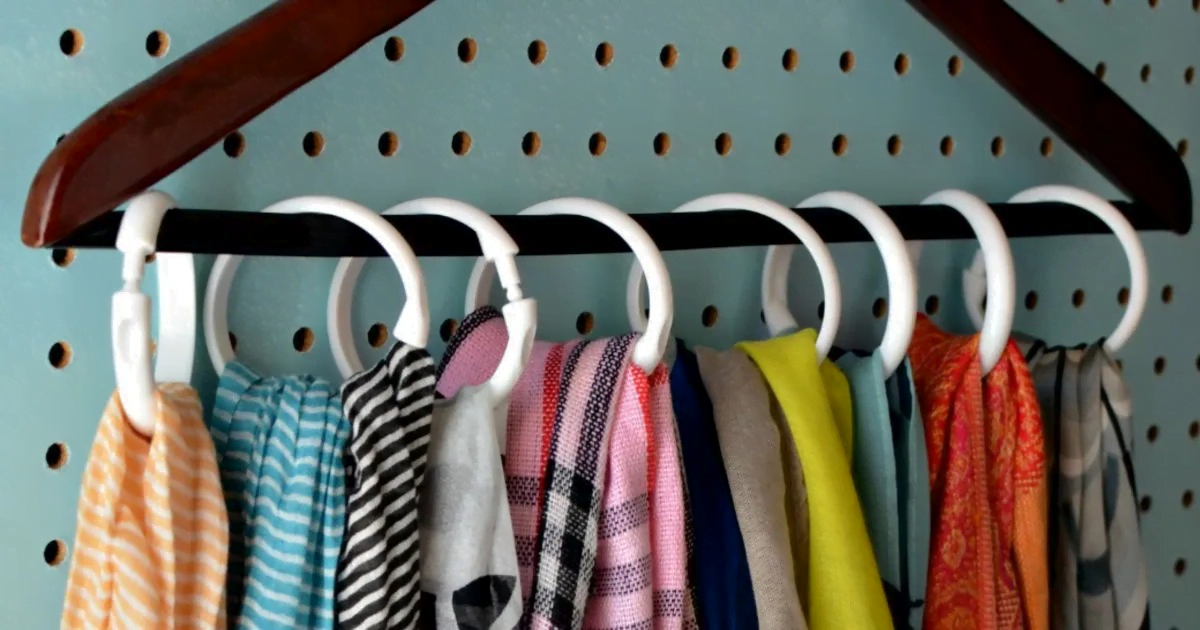 Scarves are difficult to fold, so it gets very messy if you try to store them in a drawer or on a shelf. So hanging them on the round hooks is a great way to keep them on display while also keeping them organized. You can fix the hooks on the back of the doors or the side of the partition, or on a hanger, as seen above. The hooks do not take up any extra space, and it makes it very convenient for you to access the scarf collection. It is easy to quickly grab a scarf from hooks before heading out and keeping them back in place.
16. Use the Back of Your Door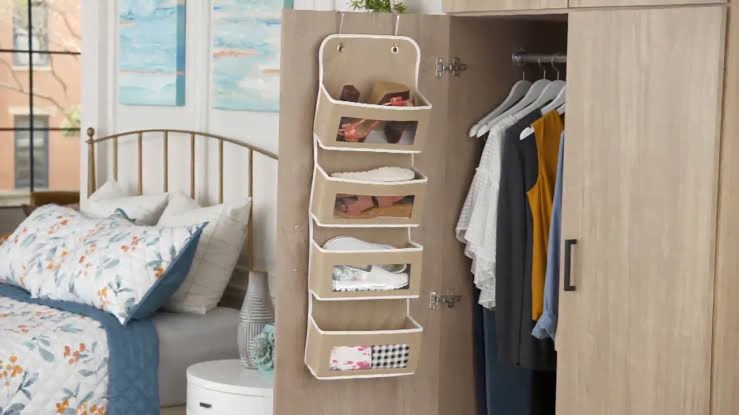 Not ignoring a single inch of your closet is the key to keeping everything organized, and the back of the door is something we usually tend to ignore. Install hanging rods or hooks there to hang some of your accessories there. Hats, belts, scarves, sling bags, and whatnot. Back of the door can also be used to hang the clothes you will be wearing again the next day. You can even install back door storage solutionsor shelves at the back of the door to keep small and lighter things. You can create extra shelf space in your closet by making use of the space you never knew could ever be this valuable.
17. Light It Right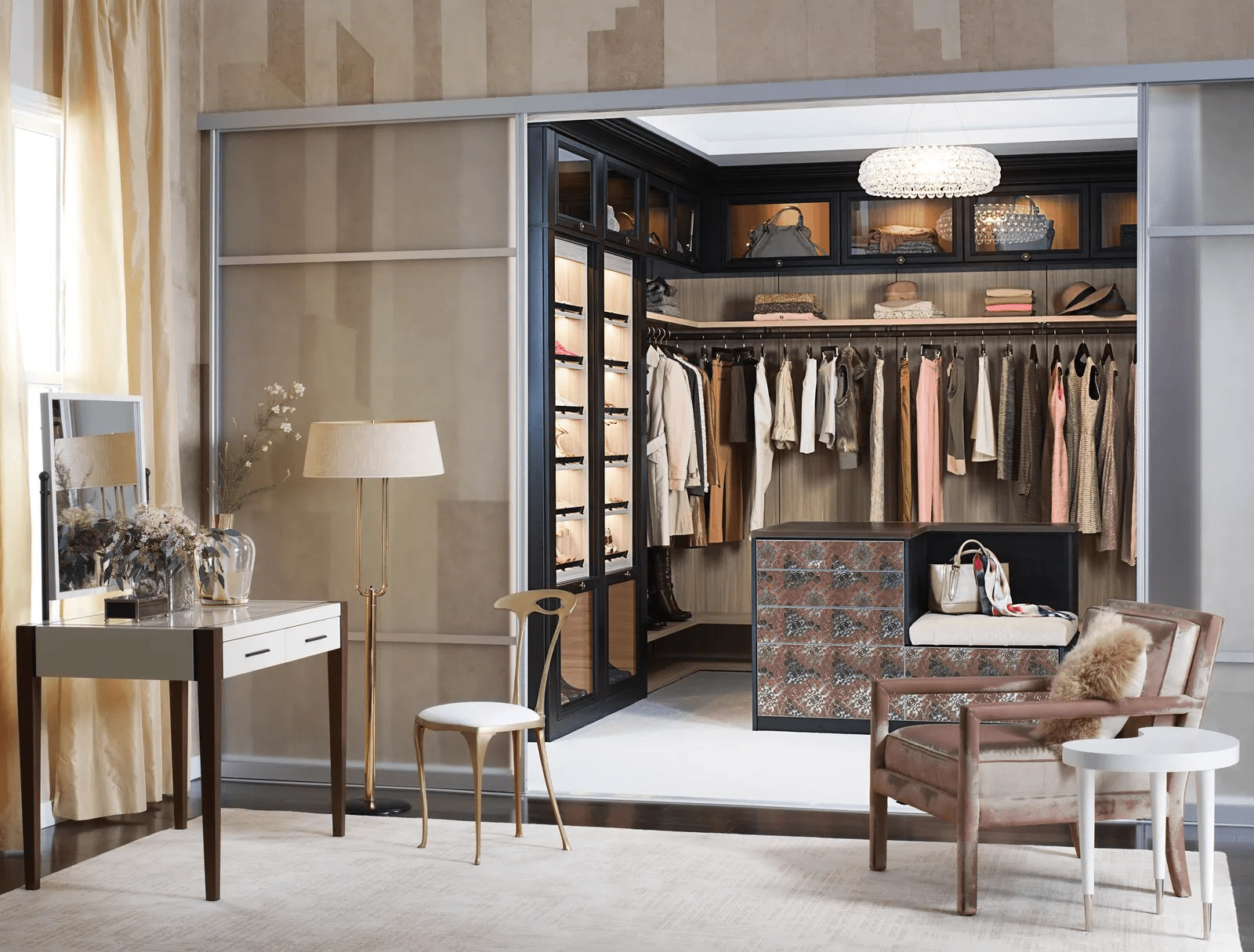 Light up your closet in a way that enables you to see all things you have. You can consider adding tap lights in nooks and crannies. The brightness will clear your mind as you will see what exactly is in there and will also save you from the frustration of not finding things. LEDs are most commonly used in closets. Avoid using colored lights in your closet area; always use clear white or mild yellow. You can also use mirrors in your space, which not only helps light bounce and keep things bright but also to keep a check on your look while getting ready.
18. Use Modular Shelving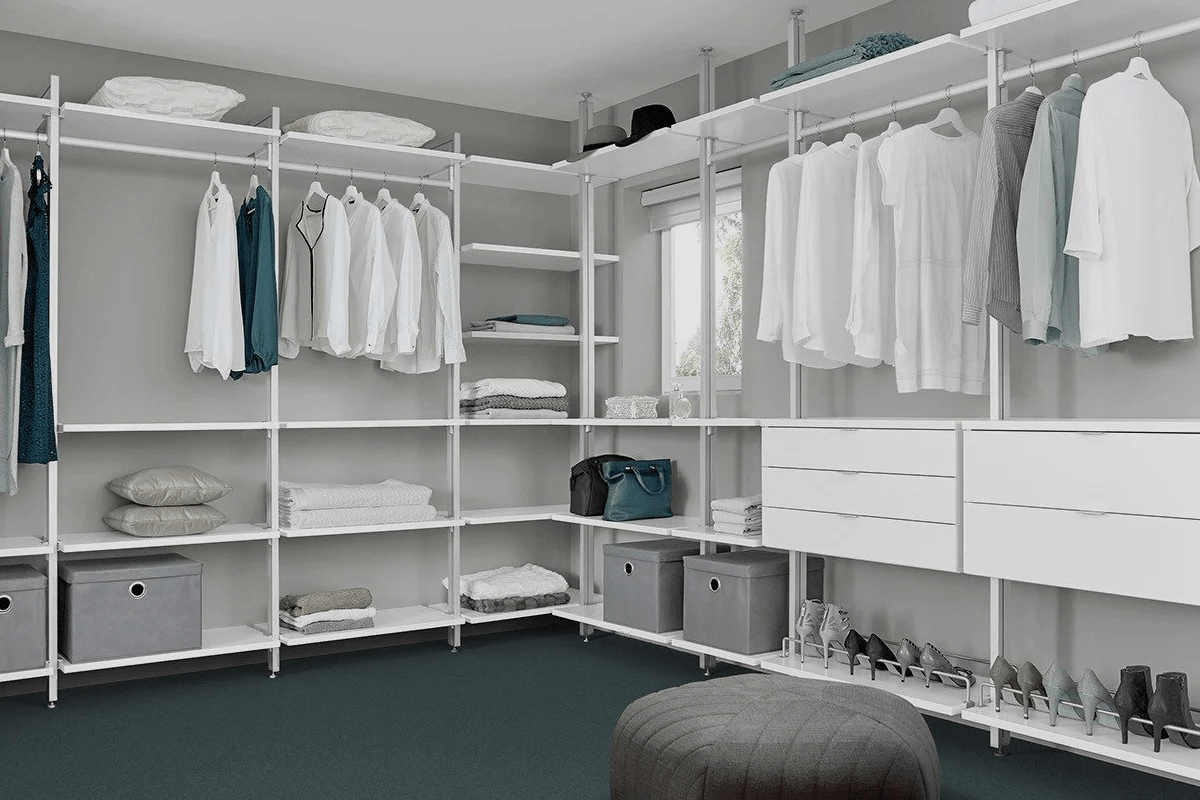 Modular shelving is a system where you can arrange and rearrange your shelves and drawers according to your need. The shelves can be adjusted to whatever height you wish. You don't have to stick to one shelf arrangement for always with modular shelving. It often happens that we do not need the same gap between our shelves, like for clothes, sweaters, and shoes. So, modular shelves can be fixed according to your personal needs. These customized shelving systems come in wood, melamine, and wired as per your budget and need.
19. A Clothing Rack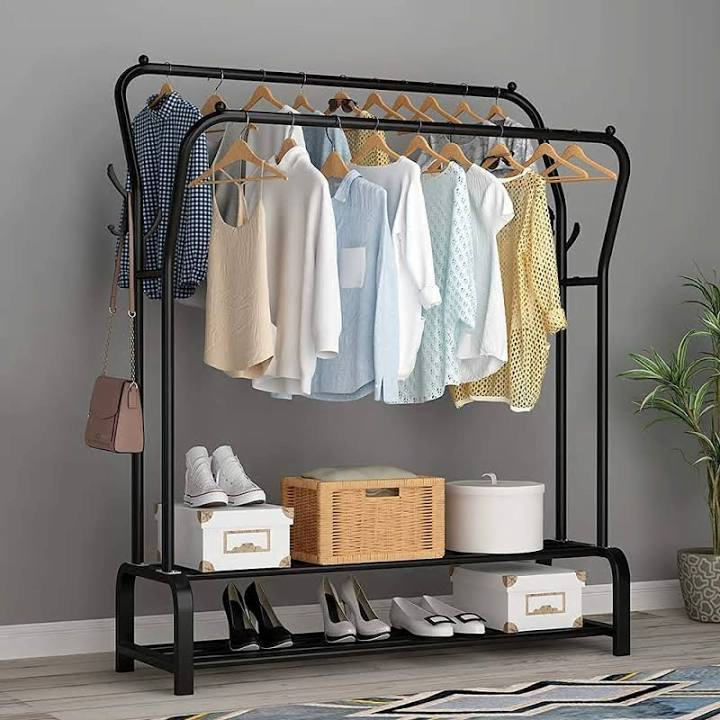 A clothing rack is a framework for storing and displaying clothes. Unlike cabinets, it is an open system. They are usually used in shops to display the whole brand collection at once. A clothing rack is a mixture of hanging rods and display shelves. Racks are lightweight and adjustable, so you can use them to hang shirts today and then can be extended to display dresses tomorrow. An open system allows you to see, pick and arrange clothes easily. It is a very practical way to store clothes for people who follow the minimalist style.
20. Upgrade to Wooden Floating Shelves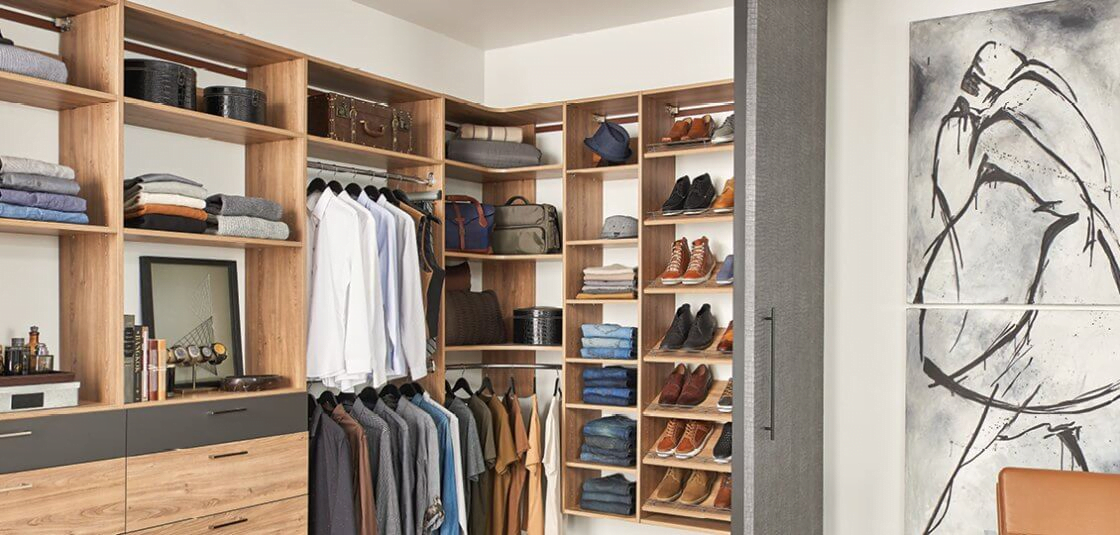 Usually, closets come with wired shelves, which look very cheap and are also not very durable. They also make your wardrobe look not that attractive, which may be the cause you never want to organize your stuff. Wooden shelves are very sturdy and very durable, which makes them the best kind of shelves to have. There are many types of wood you can choose from according to the kind of look you want to create. Adding wooden shelves to your closet is a sure-shot way to upscale your closet game.
Summing It Up
All in all, a clean, organized wardrobe is the best thing to go for. It keeps your mood in check, keeps your mind clear in the morning while getting ready, and gives you enough space to see everything through. Some of these ideas are very basic; you do not even need anything extra to keep everything in order. So no need to be overwhelmed with your outflowing closet; just make a plan and start working on it, and these 20 closet shelving ideas will help you through it.
You can create an organizing schedule, like cleaning twice a year or quarterly, to keep the closet tidy. Follow your gut instinct while organizing because you know the best about your belongings and space. You can use a good mix of these closet shelving ideas to curate an organized wardrobe.
Now that you know how to shelf things right, you will never want to go your old messy ways.