Are you planning to give a modern touch to the interior of your house? Well, there are plenty of home designs to choose from. Starting from adding a Victorian touch to your exterior decor to adding a Bohemian touch to your patio, you can have it all. These are enigmatic designs that can match today's trends, after all. You can think of open floor plans, minimally painted tiles, sleek decor rooms, and spaces that can offer you plenty of natural lighting. You don't have to literally spend your entire wallet on getting your exteriors done. With a mix of ergonomic ideas and contemporary themes, you can get the job done in a cost-effective manner indeed.
You can recreate modern ways of revamping your exteriors without all that fuss. Be it a Greek-styled vacation home or styling your exteriors resembling that of an urbane home in California, you can style up your properties in ways more than one.
Let us discover 18 on-trend modern house exterior designs for you to get into the groove:
1. Adding Sleek Furniture to Your House Exteriors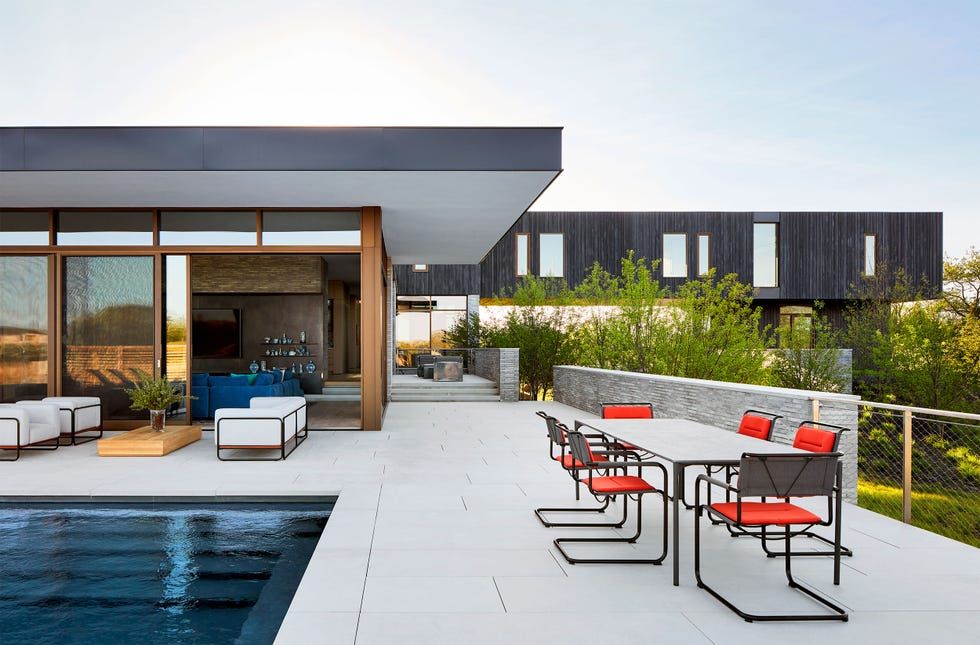 You can add sleek furniture sets to your exteriors in order to make your home even more inviting. You can add modern chairs to your outdoor swimming pool. Or, you can try adding a contemporary dining table with trendy chairs to add a sleek look to your frontal porch area. This way, you can lend eclectic vibes to your exterior space. You can also add comfy sofa sets to your front spaces covering your exteriors. By including state-of-the-art furniture sets, you add to a more fabulous ambiance.
2. Trying a Vintage-Styled Victorian Decor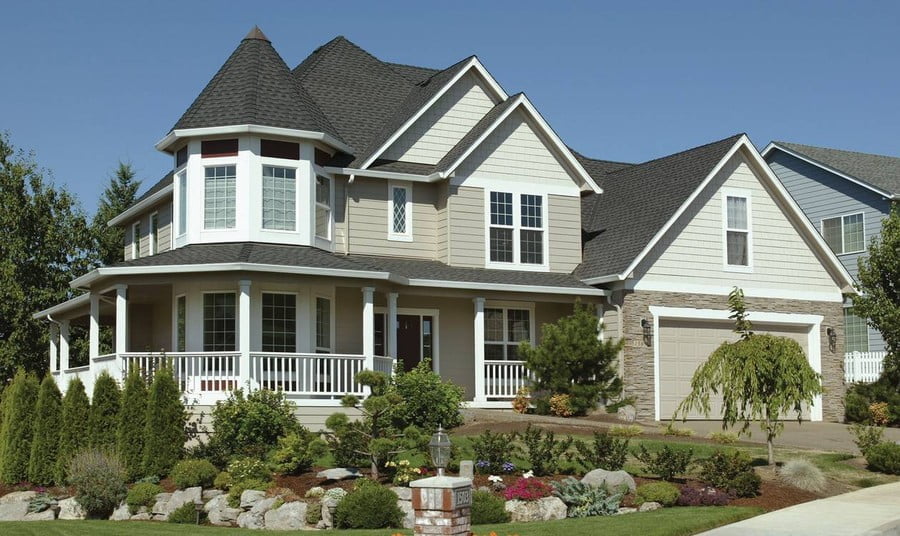 If money is not a constraint, then you can go a little overboard to add aesthetics to your house exteriors. This is a perfectly styled Victorian decor for you to splurge in. You can plant your garden, which comprises an exotic variety of shrubs and medium-length trees, for that fresh whiff of air surrounding the property. You can plant them in pretty-looking pots or containers to make your garden spaces look vibrant. The house looks posh and stylish as this home is made from marble with subtly tinted sequins to add to the glam. Those rocks that are spaced in between the trees add to the natural aesthetics of the property that you are looking at right now.
3. An Outdoor Swimming Pool Can Revamp Your Exterior
You can add an outdoor swimming pool to add cool vibes to your home or the villa property you stay in. As you want to keep your exteriors well-lighted and ventilated. You can choose pastel colors while you have your swimming area revamped. Lighter shades reflect a better degree of brightness in your living spaces. You can also have a gardening area near the poolside so that you have a cool breeze swaying into your property at all times. This is an ergonomic house exterior design idea you can surely go in for. The lamp curved into an arch makes the detailing even more perfect.
4. Try Sophisticated Rooftops to Add to The Exterior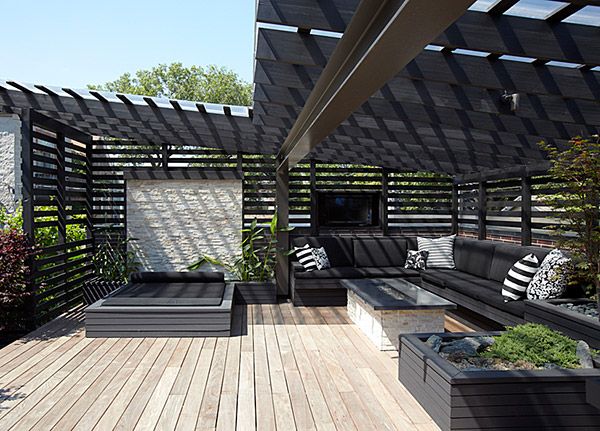 Without spending too much of your wallet, this is a design idea you can try. You can add sophisticated or stylized rooftops to your exteriors. The rooftops can be acrylic or metallic. You can add solar panels if you are living in colder places. As you can keep your spaces warm and cozy with heated panels. For those of you who are living in hotter zones, you can add ceramic tiled rooftops to keep your living area cooler and well-ventilated.
5. Give an Argentinian Style to Revamping Your Exteriors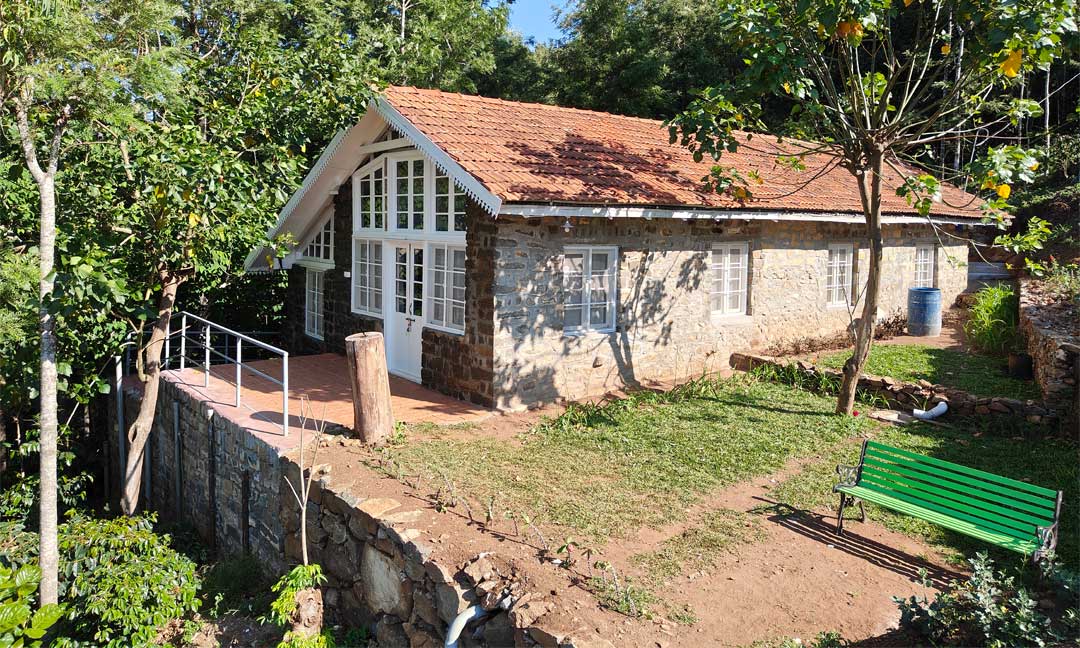 If you find barren zones in the wilderness, you can buy plots wherein you can build your projects on. With greenery all around, you have a natural landscaping zone wherein you have not spent a dime into. And from there, you can have the architect get your home built to perfection. The house exterior designing technique can get you a forest view every time you gaze out of your French windows.
6. Discover a Forest View from Your Private Terrace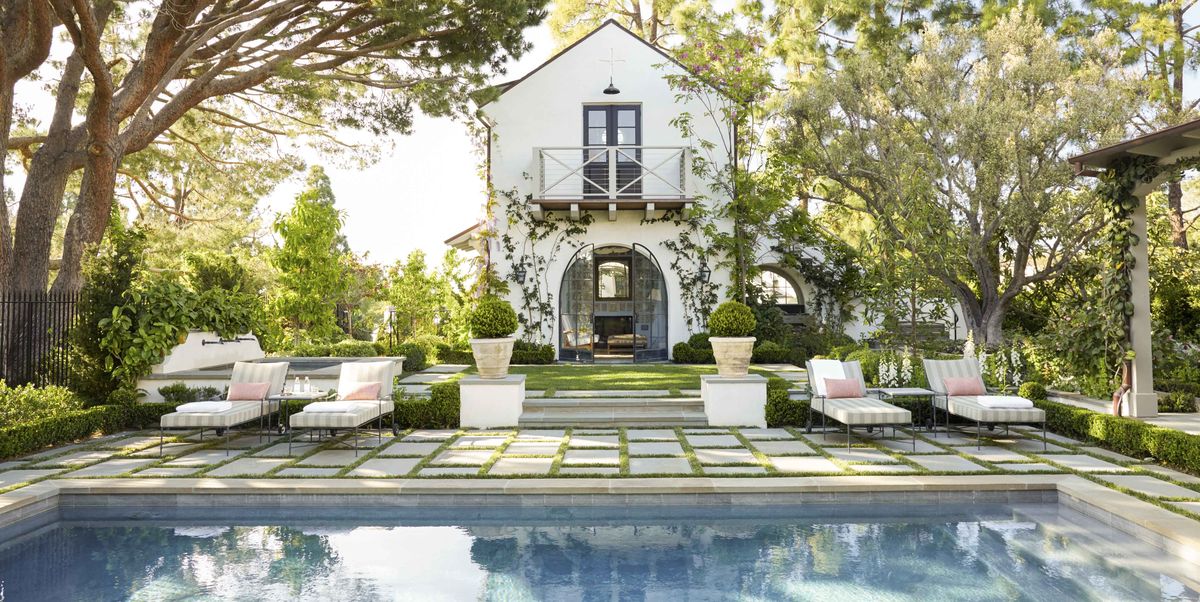 This is a trendy house exterior idea you can go in for. You have the swimming pool that sits between your main living area and the 1st floor of your home. The master bedroom has a terrace from where you can have magnificent forest views. Below is where the pool is, wherein you have an outdoor shower. The fabulous pool has posh zinc panel enclosures, while you have the outdoor pool facing the forest view too. It looks like this exterior idea is too good to sound true, isn't it?
7. Flat Roof Clubbed with Wooden Interiors
The conglomerate of modern architecture meeting contemporary art is something that is truly magical. The whopping 7200 sq feet Palm Springs Residence is a classic example of what is being talked about here. Sean Lockyer is the architect behind this mastermind exterior idea indeed. He tapped the idea of having a flat roof and architectural lines with wooden ergonomics. The insides of the home have authentic wooden artifacts. You, therefore, have a perfect combination of modernity meeting the era of the past.
8. Go Beach Style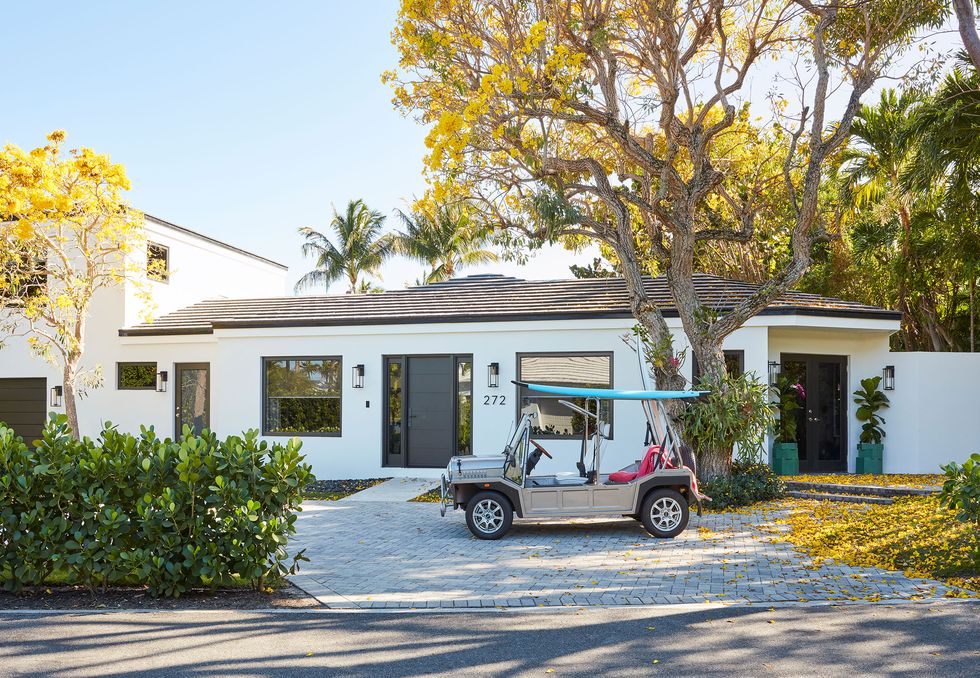 If you have one of those famous beaches nearby, you can go for beach-styled house exteriors. Caroline Rafferty is a leading interior designer who has designed beach-theme houses in Florida. With a beach-style home inspired by the theme prevalent during the mid-century and interiors that are also vintage-styled, this is an exterior design that can never go out of fashion. You have a vintage-styled automobile, too, and this way, you lend the perfect vibes for a beach home resort, after all.
9. Get Pro with This Farmhouse Design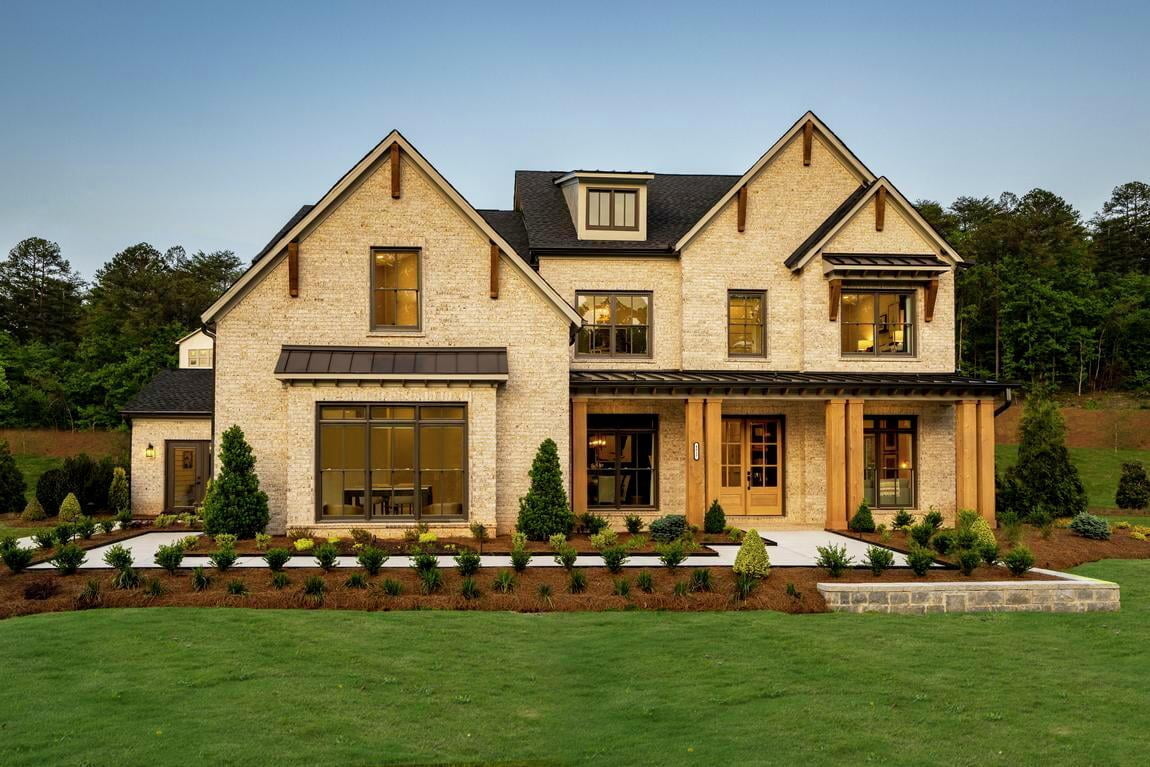 The farmhouse design is another fabulous house exterior design that you can go for. With cottage-style decor at the front, you have a fenced tiling that is done. Plus, you have greenery all around. You can add posh furniture, an outdoor pool and think of more creative ways to get the best out of the design. The Winslow designers from Boston have given us trendy themes for you to build on to. You can add French windows or stylized tiles covering the exterior rooftops to add a super-posh look outside.
10. Can You Think of a Garden Just Outside the House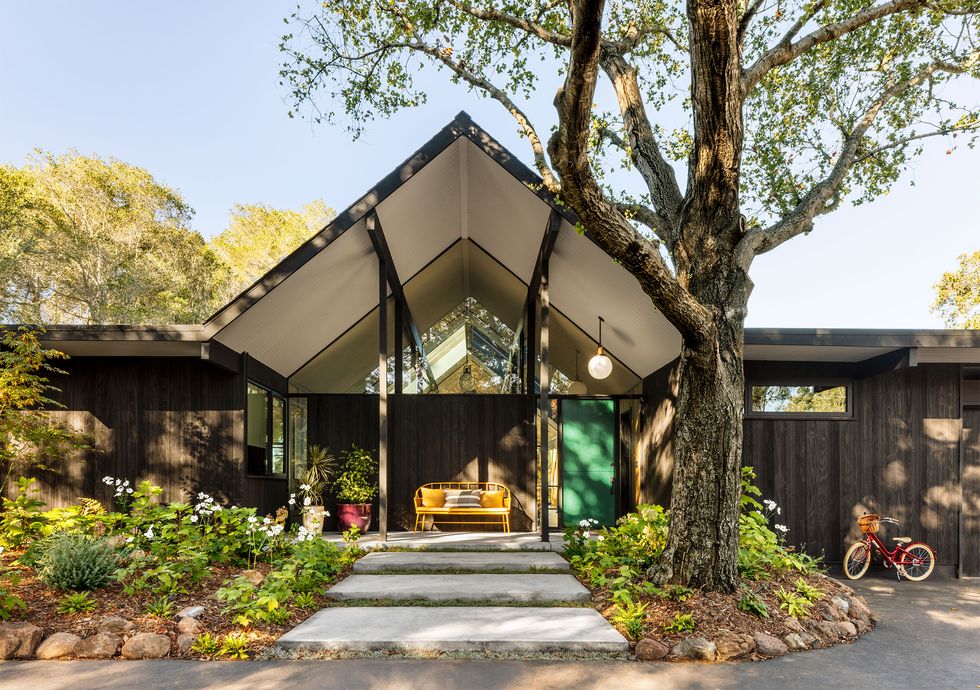 For those of you who are gifted with green thumbs, this is an exterior designing idea just for you. You have a compact garden right there in front of you, and the frontal door opens up. You can add a wooden swing or plush sofa set to lend ultra-modern vibes to your home. This is an eco-friendly makeover for your home exteriors in case you are planning to go in for one. Joseph Eichler is a leading architect that designs mid-century homes of the theme across Northern California, and the trend is a hot one amongst the masses.
11. Cottage-Styled Home with a Modern Twist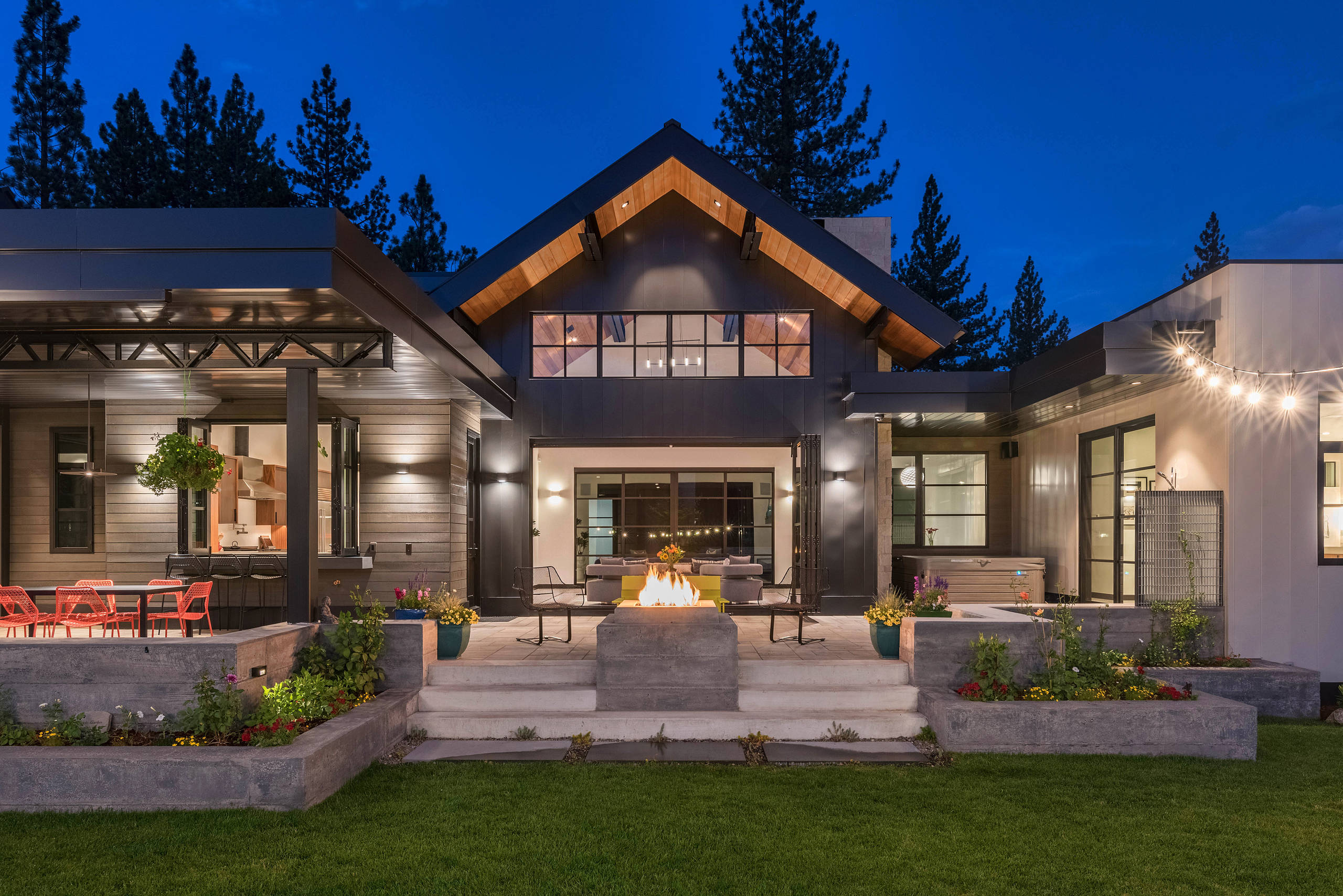 This is a cottage-styled rooftop with a modern twist added to the exterior. The design is truly one of a kind. The architects behind the trendy theme belong to M Gooded Designing and Architectural company. Inspired by a mid-century theme in Dallas, the design company builds inviting residential and commercial properties for the people of Dallas. You also have a fireplace outside, and this makes a great haven for family members to spend those lovely moments with each other.
12. An Oasis in The Middle of The Desert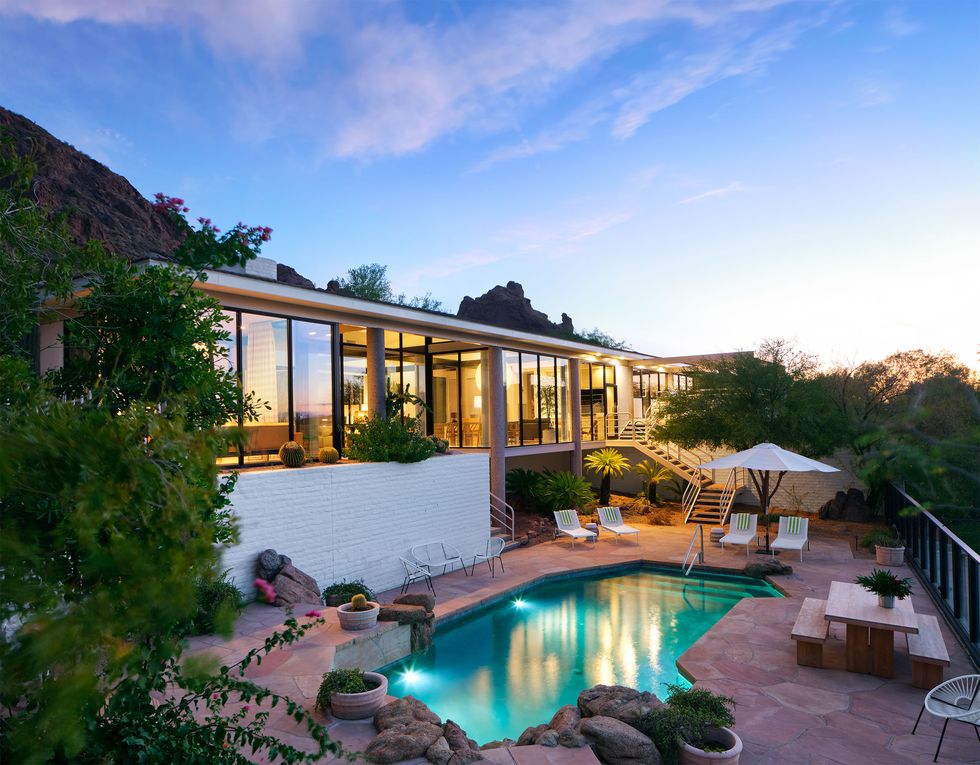 You can discover a palatial oasis in the middle of the home decor. The exterior theme is "oasis in the middle of the desert." You have a bungalow-styled posh home, and you have a small outdoor swimming pool to add to the extravaganza. You have stylish garden chairs that are placed in front of the fabulous pool. You have a rustic view with rocks and greenery. You have sunset views, too, that help you sit on the lap of nature. In totality, this is an exterior theme that is truly a stunner.
13. Woodstock Wonder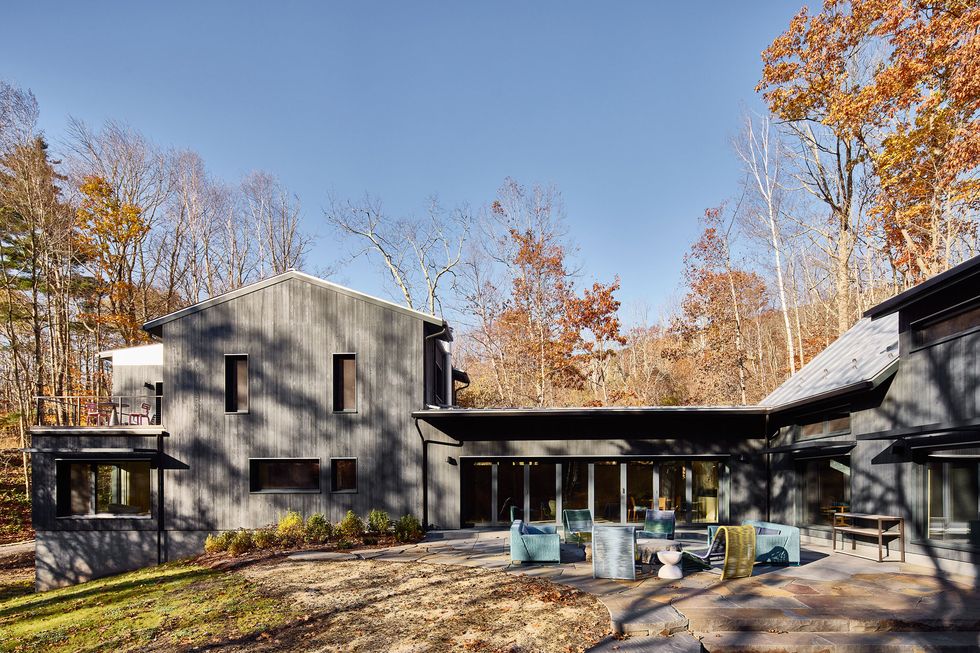 This is a wooden exterior decor theme that is styled in New York. With inviting interiors and a mind-blowing exterior, this is a design idea that can truly be an impressive one indeed. Initially, this was a hunting shack that was turned into a hippie hideaway. The architects, namely Barry Price and White Webb Interiors, got together to add some elements to what we see as 'Woodstock Wonder.' Those tall trees surrounding the palatial property help you live through the wilderness at ease. You can also include a beautiful kid's play area on the frontal porch to make the exterior designing idea even more exciting.
14. Looking for a Japanese-Styled Theme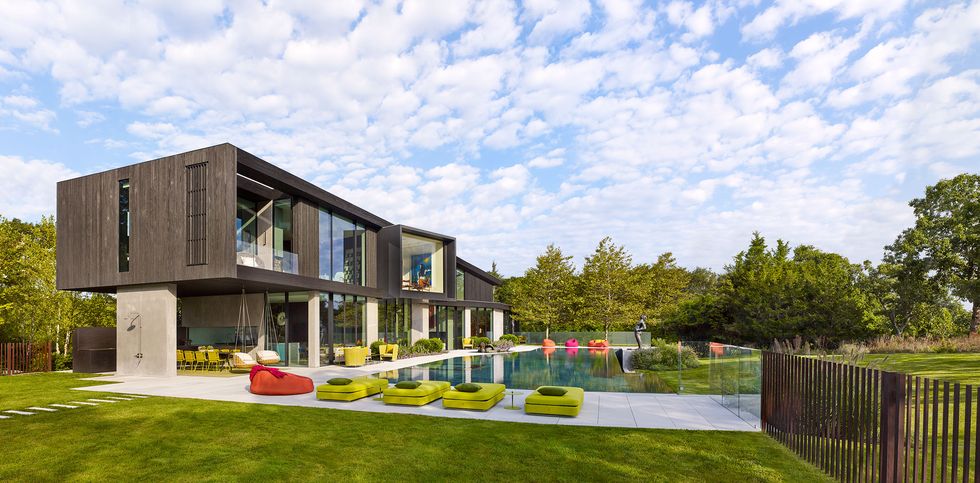 You can look for a Japanese-styled theme for your residential properties. With fabulous designs that are modern and trendy, you can never miss out on the aesthetics of the exteriors. This is a stylish property on Long Island. You have the architect named 'Blaze Makoid', interior designer 'Joe Naham' and landscape architect named 'Edmund Hollander' who are behind this wonderfully cool house exterior. This is a mid-century building that has ultra-modern vibes, and the property theme is named 'Shou Sugi Ban Sensation'
15. Deep Dive Into the World Where the Old Meets the New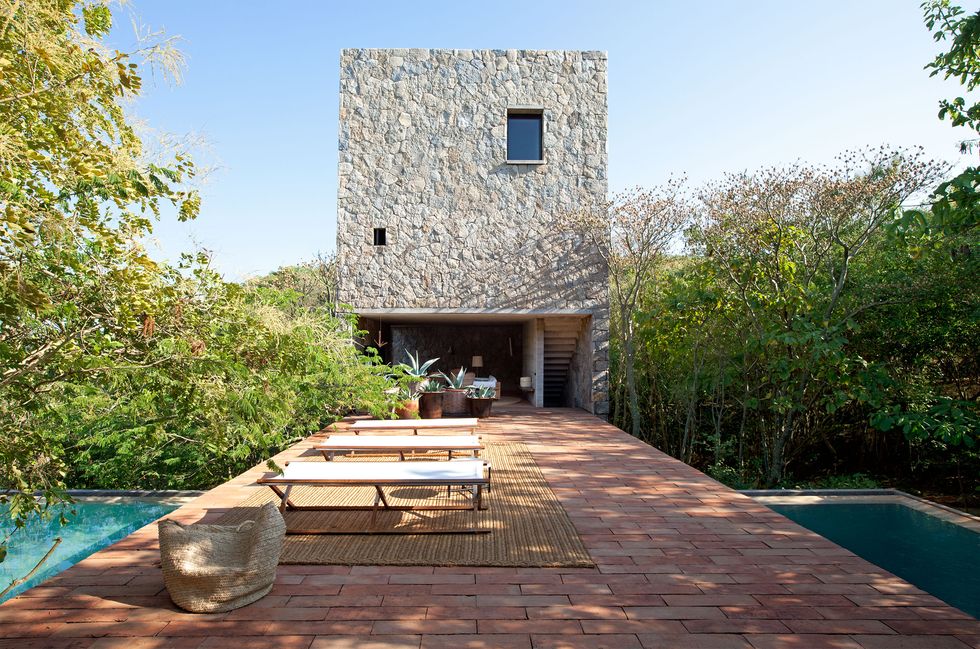 Would you want to have a mix of a home exterior that looks like a monastery styled into a fortress? The hotelier, namely Carlos Couturier, has styled his home in Mexico this way. This is a house exterior design for those of you who would love something Hispanic. The design architect behind this unique theme is named Mauricio Rocha. He actually visited the ancient Zapotec City of Monte Alben to look for inspiration. He then joined hands with another designing architect, namely Casa Malaparte, residing on the Island of Capri, to design this unique property.
16. Discover an Eerie Home Inside the Woods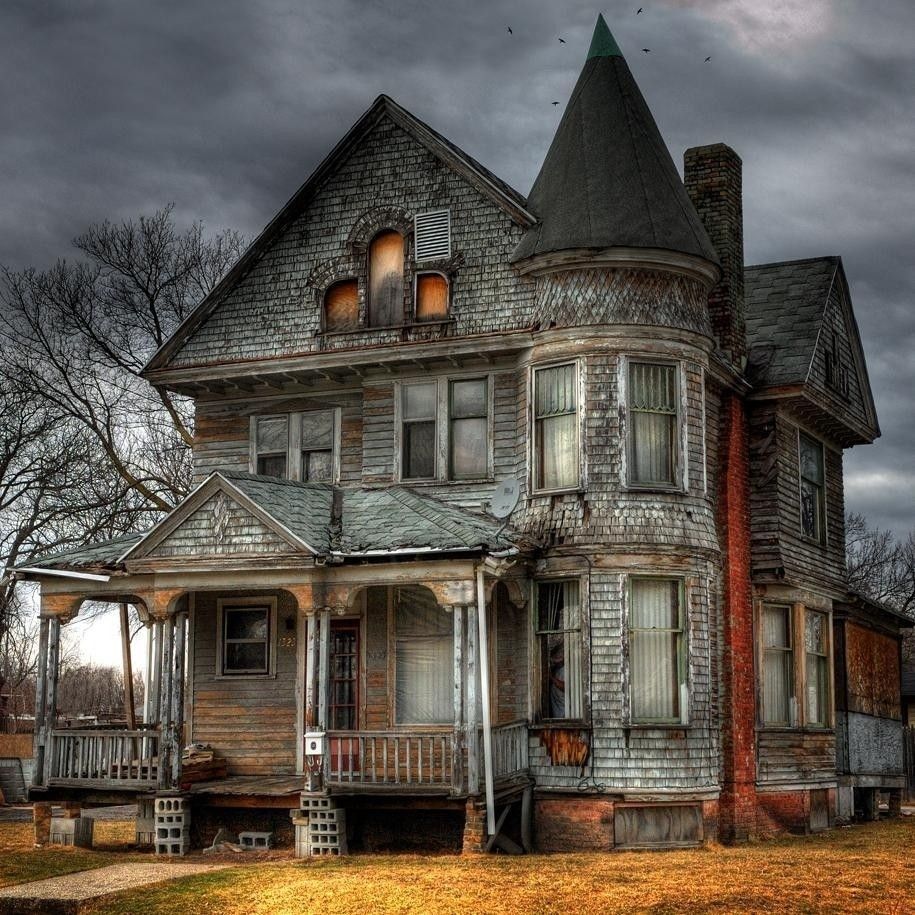 This is a palatial 10,970-square-foot home that was taken up by a Milwaukee household from an obsolete region. The house is a single one and reminds us of the eerie and spooky exteriors that are showcased in Hollywood horror movies. The modern design done to the property looks fresh and enticing. The home has been constructed, keeping its traditional context intact. The home is clad with a New York-sourced granite that has been manufactured from two different quarries to get the color merge we are looking for.
17. Win a Ticket to The Paradise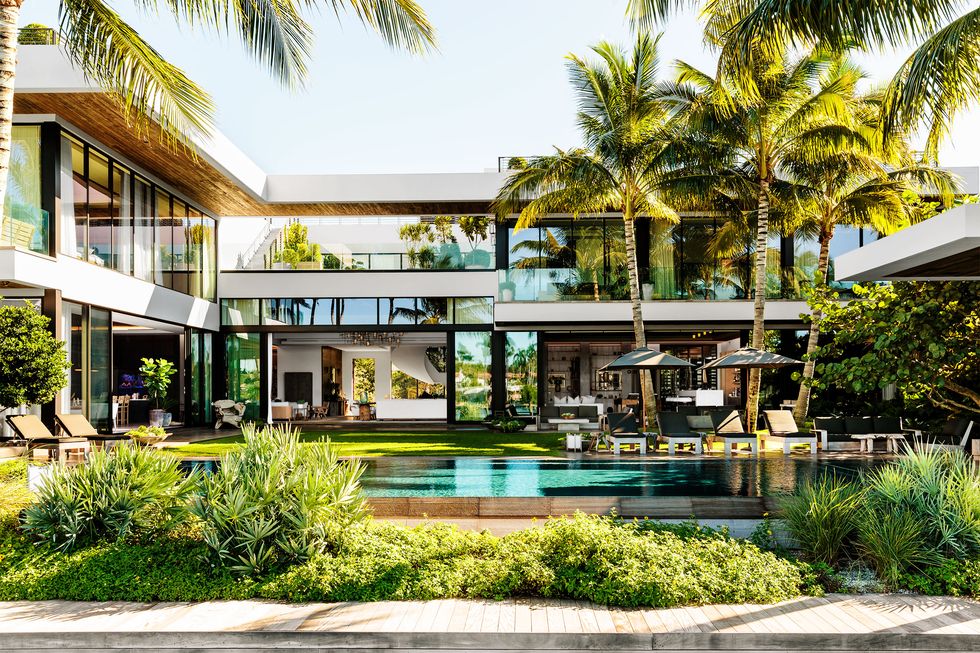 This is a home exterior that resembles a paradise out there on Miami Beach. The home exteriors are super posh with glass and steel enclosures to make it a perfect bungalow-styled home. You have a lavish swimming pool that spreads right in front of you with green surroundings. You have luxurious furniture that has been designed by the hotelier turned architect, namely Barry Sternlicht. He worked with another client of his, namely Clint Nicholas, working for the 'Haus of Design Company' to get you what you are looking for.
18. Through the Looking Glass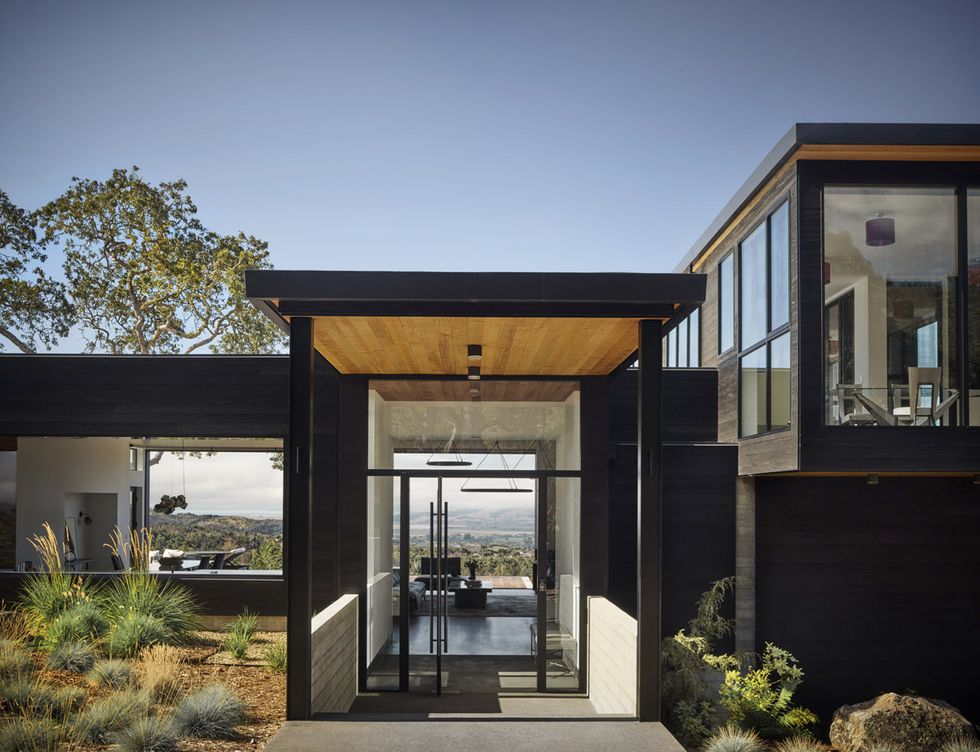 This is a transparent see-through home exterior you are looking at. This is a picturesque home that is located in the heart of California. Architect George Bevan interconnected shou sugi ban timber, glass, and steel so that the exteriors could get as transparent as they could get. You get a feeling as though the house sits on the landscape. You have natural landscaping done to suit the decor of the property in a picture-perfect manner. "You get into the house on a delicate footprint mode," says Bevan.
Final Thoughts
You have these 18 trendy and eye-catching designs for your house exteriors. You can add trendy DIY themes to add to the decor. Say, for instance, you can add a BBQ bar wherein you can cook barbequed delicacies right there in your gardens. You can have ivy plants or hanging baskets added to your outdoor patios to give fresh vibes to your home exteriors. You can have cut flowers decorated at your exterior spaces to lend pleasing vibes to the outside of your homes or properties that you stay in.
You can get into your creative hat and design a cafe bar on the frontal porch. All you need to prep up are a few sophisticated chairs, tables, and a vending machine to get this trendy design kickstarted. This way, you can look for DIY themes that do not cost you a bong on the wallet. At the same time, you can create an exterior theme that matches your overall style and attitude.
So, which is the exterior design that you would love to go in for?