Very well quoted by Laurie Baker that Bricks are like faces, made of burnt mud but vary in size and shape. Before going deep into its aesthetic sense, we should definitely consider the history of Red Brick first. Prior to this, the bricks were made up of dried mud and clay, giving a solid greyish color. However, these bricks were very easily breakable and not so solid. Then from 4500 BC to 5000 BC, Mesopotamia discovered the concept of fired bricks. The standard brick sizes in Mesopotamia followed a general rule: the width of the dried or burned brick would be twice its thickness, and its length would be double its width.
Clay brick is a basic formulation of clay, sand, stone, gravel, and silt, and some mixing agents that can be as basic as water, and sometimes wooden barks were also used to keep the mixture together as a binding agent. Then the mixture was given a shape to it and kept under the sun to bake and get rocky. Fired Bricks which are also called Red bricks, are kept in a Kiln. A kiln is a kind of oven or an insulated chamber used to harden some elements by keeping them under heat.
There are 3 processes to make fired bricks. Soft mud and extruded which is the most common as they are very economical. The other one is extruded.
Composition of a Red Brick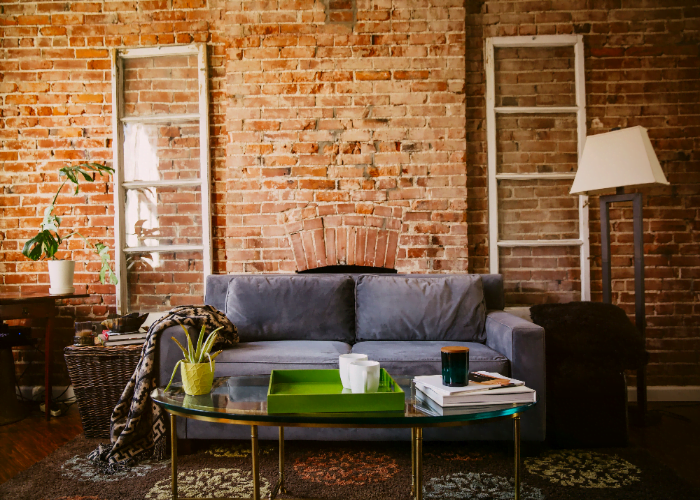 Shale and Clay are the raw materials of Red Brick. For dry-pressed bricks, a thicker clay mix is used so that it can form accurate and sharp-edged bricks. The method is almost similar to the soft mud molded method. The force is greater in pressing, and the longer burn makes this method more expensive. The chemical and mineral content is the influencing factor of the red color of the brick. The color of the brick also depends on the temperature and the atmosphere of the Kiln. For example, high iron content will have a pink color, and more lime content will make the bricks yellow or white. As the temperature keeps on increasing, the bricks will start displaying red hues from deep red to purple to black. Cambridgeshire Brick and London Stock Brick are the names given to these Red Brick based on the locations. The Red Bricks give an exposed and raw aesthetic to your interiors.
In many countries, this structure dates back to amazing architecture displaying a history of its own. Interior designers are not choosing Red Brick because of its sturdiness and easy availability but to accentuate the walls to give a more raw and edgy look. This is the most ancient method by not using any second layer of plaster or paint and leaving the walls exposed.
Let's discover some paint colors that go very well with red brick and can oomph up your interiors or exteriors with myriad housing styles. If your basic Red Brick structure looks less appealing, consider these combinations of paint colors that complement the Red Brick layout.
1. Sherwin Williams Alabaster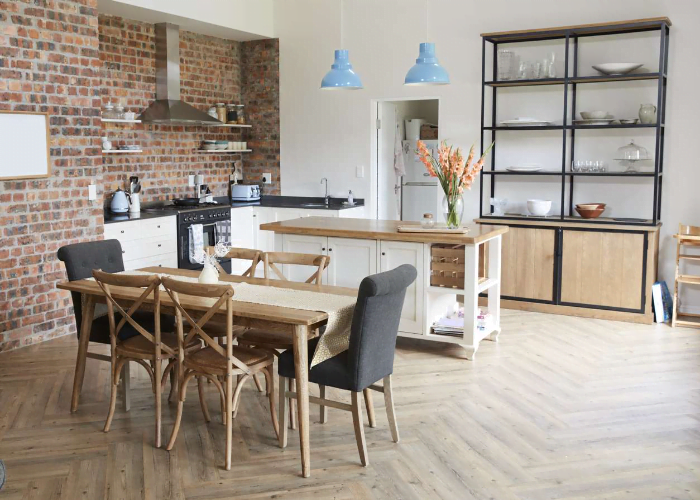 This is a premise-off-white color with a hint of yellow and brown. This neutral color goes very well with all the shades of brown. Consider this paint color as the most selected and inevitable combination with Red Brick. The hint of neutral tone picks hints of brick color and works cohesively. You can use this combination on the entrance of doorways, porch columns, and various other special architectural styles. This creamy off-white will definitely overpower the boldness of plain white.
2. Sherwin Williams Sea Salt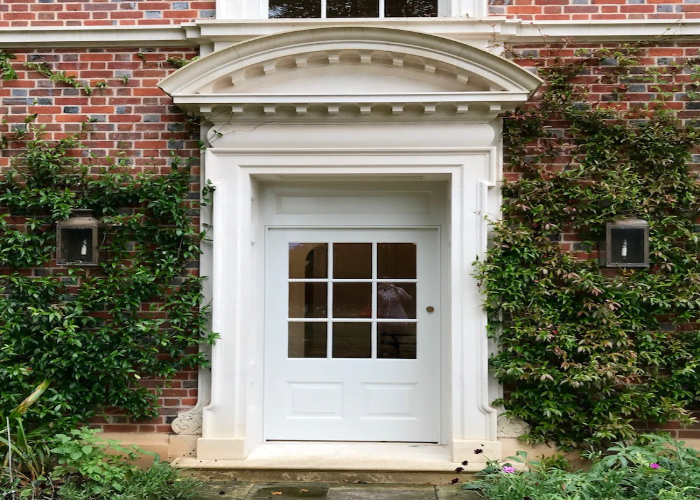 This is again a softer hue of light color, which is a blend of green and grey and off-white. This is a softer, subdued, and muted color, which will go well with the similar vibes of not shouting on your face with the color palette. This gives a subtle background to your woody interiors. This looks more of an earthy color which compliments the rusty natural color of red brick. You can use this color with a combination of dark grey or dark green. This palette can definitely be considered for the coastal or transaction theme.
3. Sherwin Williams Mindful Grey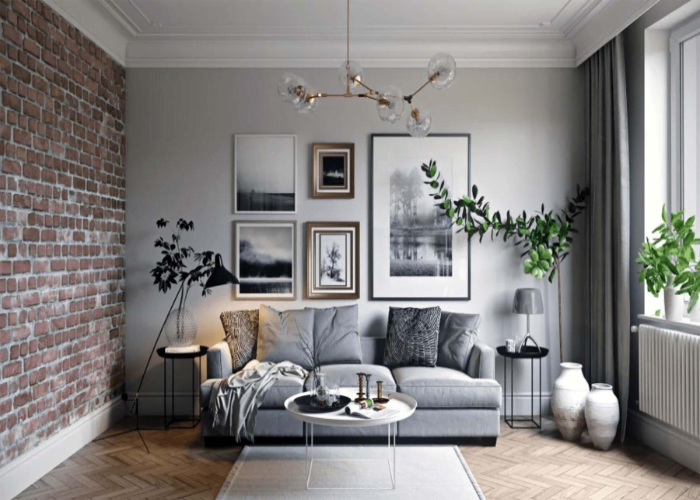 With minute green and blue undertones, this color is a mixture of grey and beige hence sometimes called Greige. This will very gracefully coordinate with red brick due to its undertone, which is a part of the neutral palette. For this combination, it is suggested to use a similar hue for the ground to complement. People often use this color to paint the exterior part of the horse with a subtle show-off of exposed red bricks.
4. Sherwin Williams Naval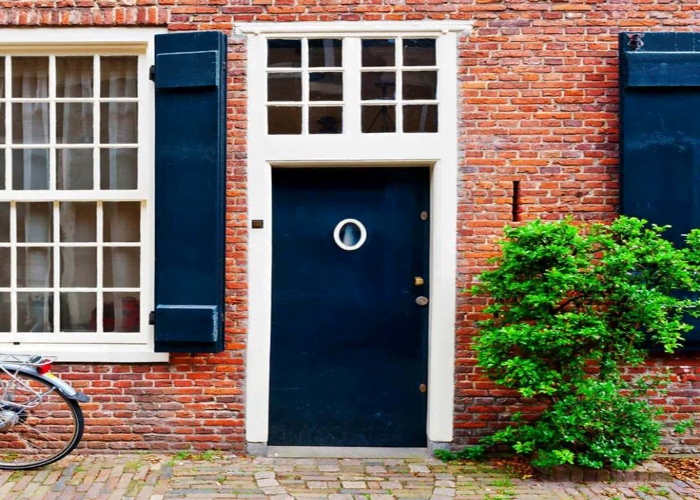 Enough of subtle and light colors. Let's talk about this dark navy blue color, which looks bold. Do not shy away from selecting dark colors with red bricks, as it looks equally flamboyant. One should definitely try out this color theme for exteriors. Perfect for someone who would prefer darker paints but not black. This can add an accent to the boldness of the red brick. Displaying the unique character, this combination not only demands high maintenance but pleasant weather as darker color attracts more heat into your hot summery days.
5. Sherwin Williams Iron Ore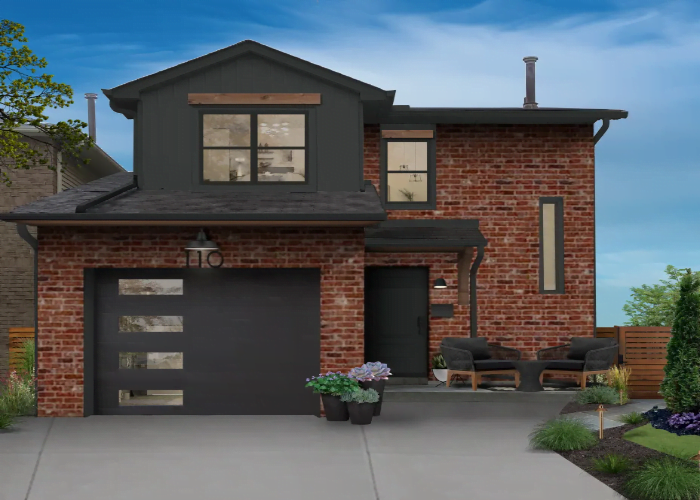 Iron Ore is a dark grey color which gives a hint of charcoal. This is the most timeless combination for the exteriors of your house or cottages especially. The rawness of red brick will be complimented by the smoothness of this color. It offers a great backdrop to your red bricks. You can consider taking less surface area for red brick as compared to this paint.
6. Sherwin Williams Urbane Bronze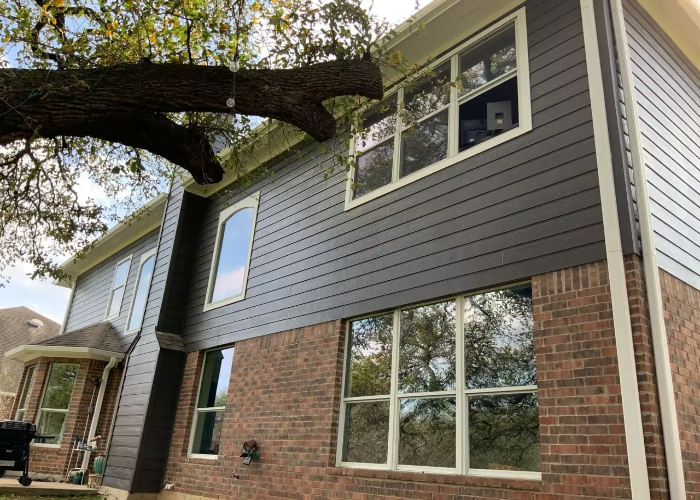 It is a dark grey color with a hint of golden and yellow, much similar to Sherwin William Iron Ore. This is quite a generic combination, yet the styling quotient is huge. If you are looking for a paint palette for an English cottage in the countryside, this is an appropriate combination displaying daring and bold vibes. To add more visual interest, you can add creamish white on the trims for a more elegant yet dramatic look.
7. Sherwin Williams Blustery Sky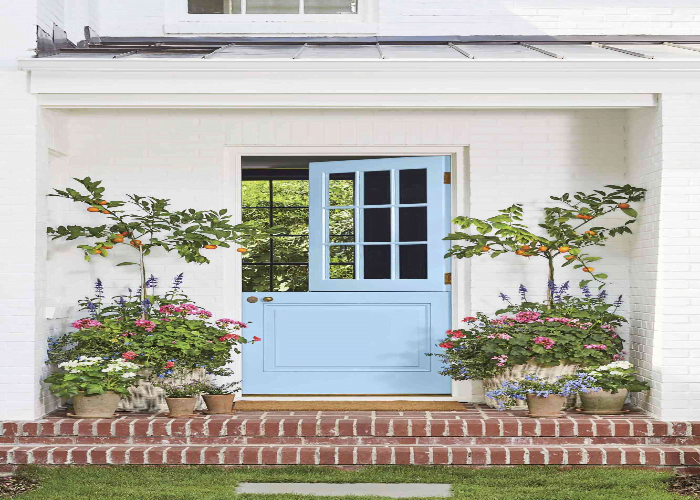 One can never get over greyish hues with Red bricks. This is an intriguing paint color which is in a dark greyish tone with a tint of blue. It's a very English color and is strongly connected with nature as it looks greatly similar to the clouds at night when it's about to rain. Image clouds and then these earthy Red Bricks together are one of the most interesting combinations of paint colors.
8. Sherwin Williams Tricorn Black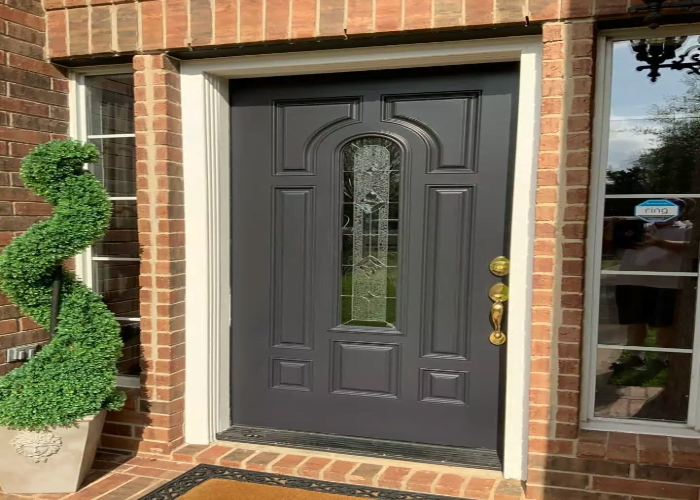 Talking about paint colors and can we forget black? Not an option. This bold yet so elegant paint color is a mixture of black with a tint of grey in it. Little light from zed black and an ultimate combination with Red Bricks. This can go with any era of interiors, be it a Victorian era or a modern one. Do yourself a favor and at this combination to at least one corner of your house. If possible, add it to the windows or the entrance hallway.
9. Sherwin Williams Dark Night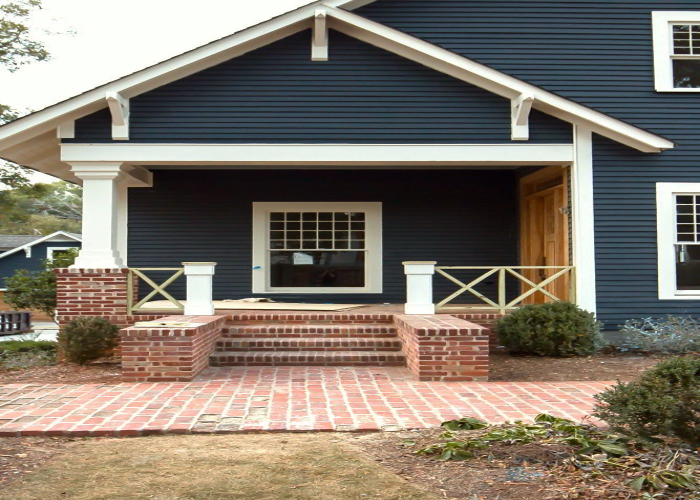 This is a bold and dark blue color with a deep undertone of green. It's dramatic and loud, but that doesn't make it look cheaper. However, make sure to pick a little darker color of Red Brick when selecting Sherwin Williams Dark Night. This combination can be paired up with a gorgeous and subtle cream color, which will tone down the loudness of this combination.
10. Salisbury Green – Benjamin Moore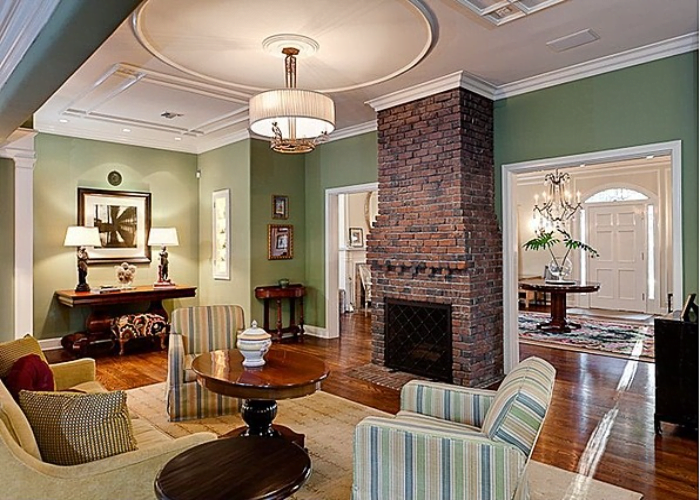 Talking about cool paint colors complementing Red Brick, and we will forget to mention green? That's not possible. This is a simple light green but with a yellow undertone. It's from Benjamin Moore's popular collection of paints. It gives a calming feel with natural vibes. You can definitely choose this combination of paint with Red Brick for your yoga or meditation rooms or centers.
11. Plum and Taupe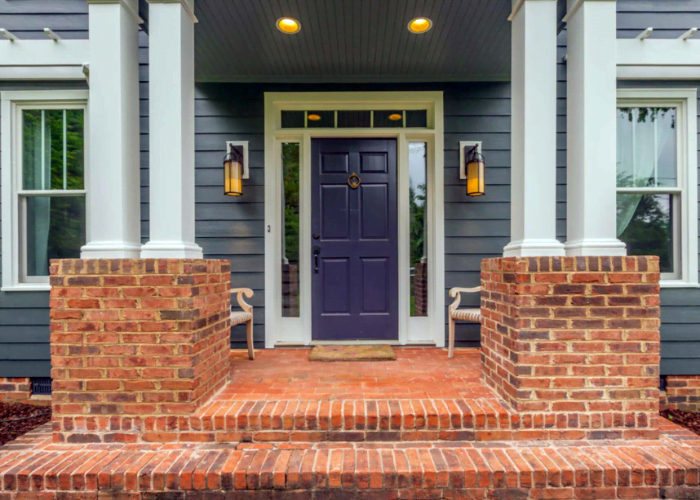 Plum and Taupe are themselves rich and high-end paint color combinations. Now imagine pairing this up with Red Brick. It can do wonders. Just be a little cautious while putting paint colors in your workplace or even your small bedrooms. This is a loud combination. However, it goes to only those places which demand playful vibes. This combination is not suitable for places with serendipity and togetherness.
12. Sage Green by Benjamin Moore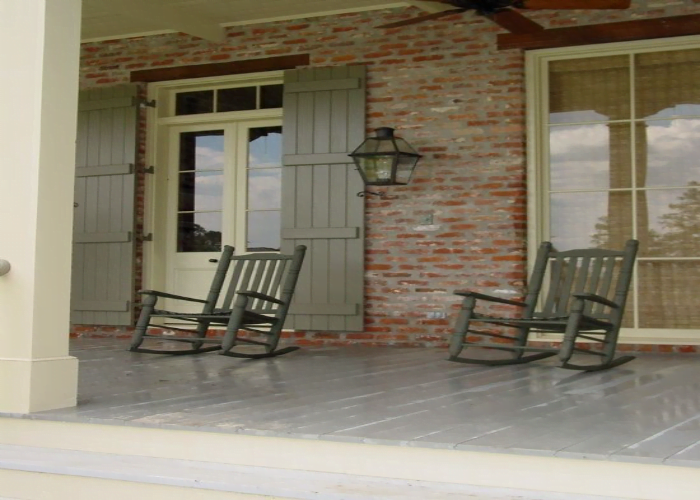 All hues of Sage green might be your local painter's primary choice. But why not also? It looks elaborative and adds more space to your small surface areas. Always try to use this paint color on the adjacent walls of your Red Brick wall when it comes to the interiors. You can also use this on windows, silts, areas nearby the swimming pool, and your indoor garden.
13. Yellow by Benjamin Moore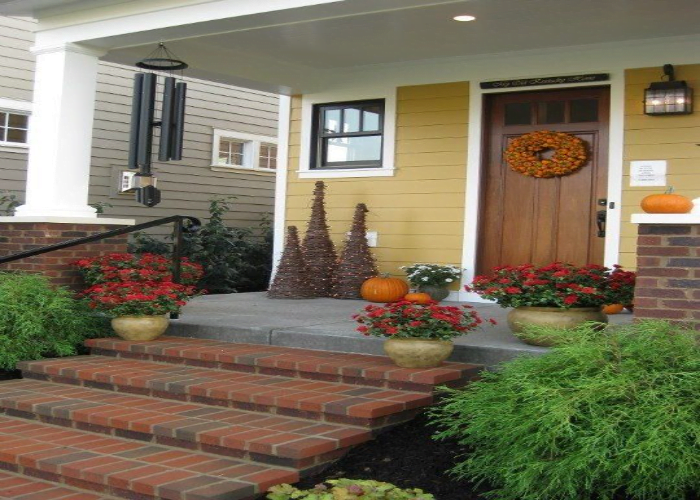 This might not be the first paint color that comes to your mind while deciding on a color palette for your place, especially when it comes to pairing up with Red Brick. But this seemingly incompatible paint color is letting you think outside the box. This will pull out the warm undertone of your Red Brick. You can try out this outlandish combination, especially in your kitchen or your drawing room, to draw warm vibes. To give this combination a wow factor, use red or brown to complement more.
14. Brown by Benjamin Moore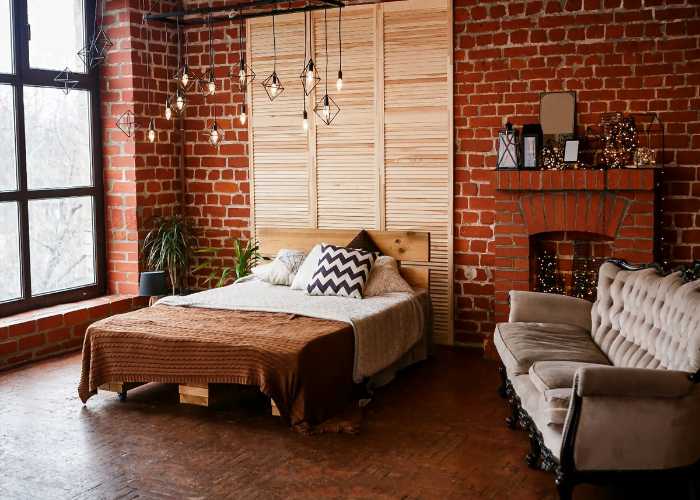 Do you want a more earthy and dynamic combination? Nothing is better than all the hues of brown with Red Bricks. You can use this paint color on your ceilings, flooring, and even your furniture. It is so effervescent that it can blend with the Red Brick seamlessly. It is suggested to use darker browns on the edges of the Red Brick, especially on the walls. And lighter browns on the corners of the windows of the main entry gates. One can never go wrong with lighter brown furniture around Red Brick to accentuate the beauty.
15. Benjamin Moore Himalayan Trek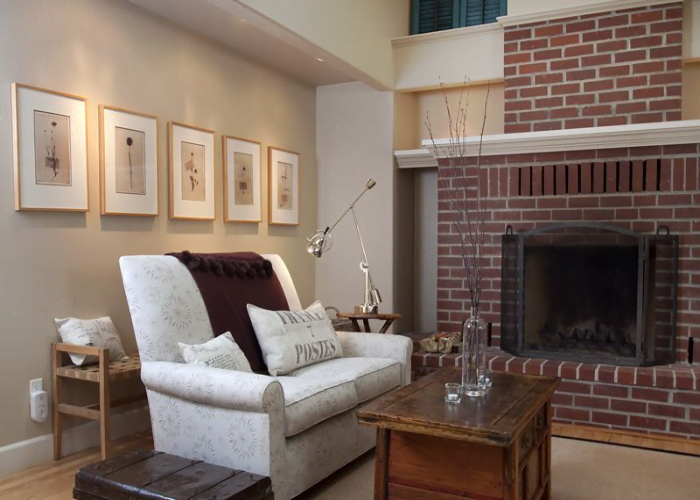 This is another simple yet classy greige paint color which is a combination of light brown and light grey. One of many reasons why Himalayan Trek is a persistent combination with Red Brick is it offers a great rich English texture because of its Taupe undertone. This combination can be very well used in your kitchen or areas with open barbeque. The richness of Himalayan Trek makes the entire experience elementary.
16. Behr Shark Fin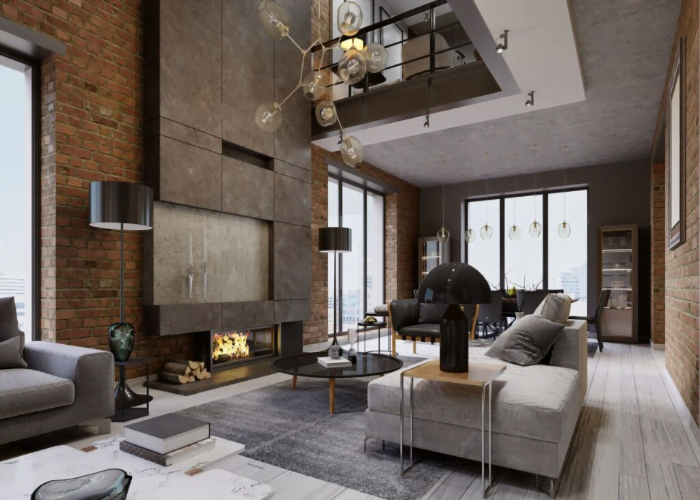 You love how this paint color has a greenish undertone with grey, which looks beautiful around the natural landscape around you. However, you can use this combination in your outdoor or indoor gardens or outdoor kitchens. This paint color is greatly accompanied by a hint of sunlight reflecting on the walls making it look extra rich and glossy. You can also add some lemon plants in your kitchen to make it look natural.
17. Gossamer Blue by Benjamin Moore
This paint color is a hue of blue and grey with a strong greenish undertone. It's one of the rarest paint color people would prefer in their main areas. However, this combination is best used in your laundry rooms as blue and green give you the washy and detergent fun. It will brighten your laundry space and make it look so unique, giving you a modern house vibe. Not just in your laundry room, this combination can be very well dwelled on in your store rooms, tool rooms, and garages. Make sure to give more surface area to Gossamer Blue than Red Brick, as you don't want to make your area look cluttered.
18. Sherwin Williams White Snow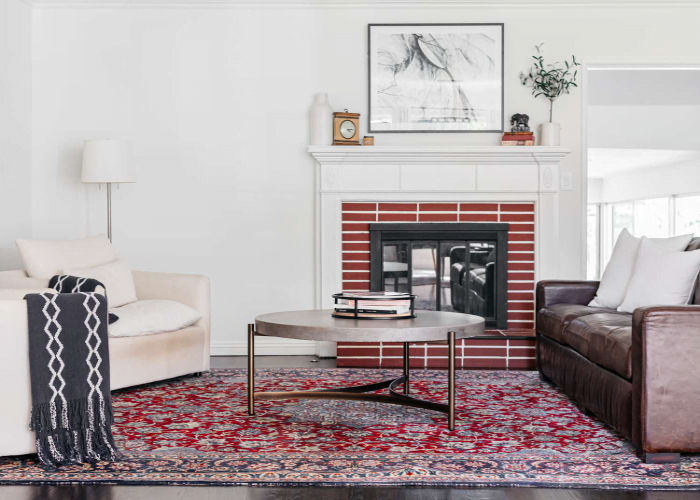 Ahh! One can never go wrong with crazy hues of creamish whites, especially with Red Brick. This combo can never go out of sight. The snowy texture Sherwin William White Snow offers is one of the best experiences offered to any place. This is in a deeper tone than Sherwin Williams Alabaster. Its cool pearl white looks awesome in the indoor jungle. Be cautious while using this paint as you don't want to create a negative space in your house or studio with this combination. It is always suggested to add more ornaments like plants, furniture, and beautiful paintings to cover up your negative space.
19. Functional Grey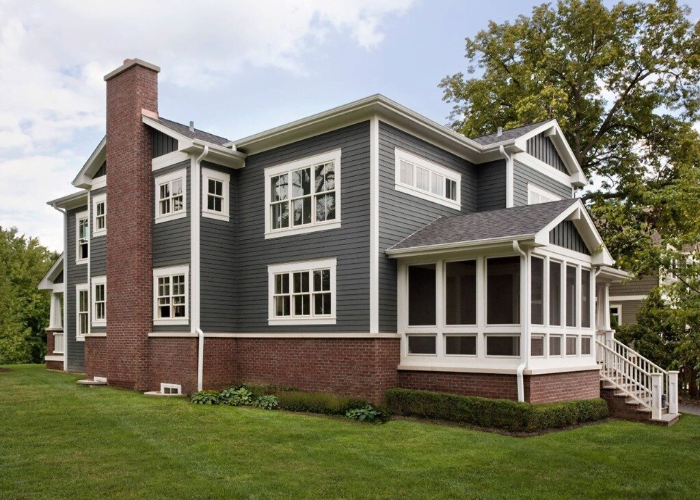 Functional Grey is a browning grey with a deep green and blue undertone. It looks similar to grey until you take a closer look at it and see through the hidden hints of brown. This paint color is so earthy that it offers the best experience with the Red Brick. The name itself suggests that this paint color can never go wrong in any setting, be it exterior or interior. Try pairing it with black on the borders of your windows or main entrance. The overall facade of this. If you want something lighter but still warm, functional grey, evergreen is on the trend.
20. Sherwin Williams Show Stopper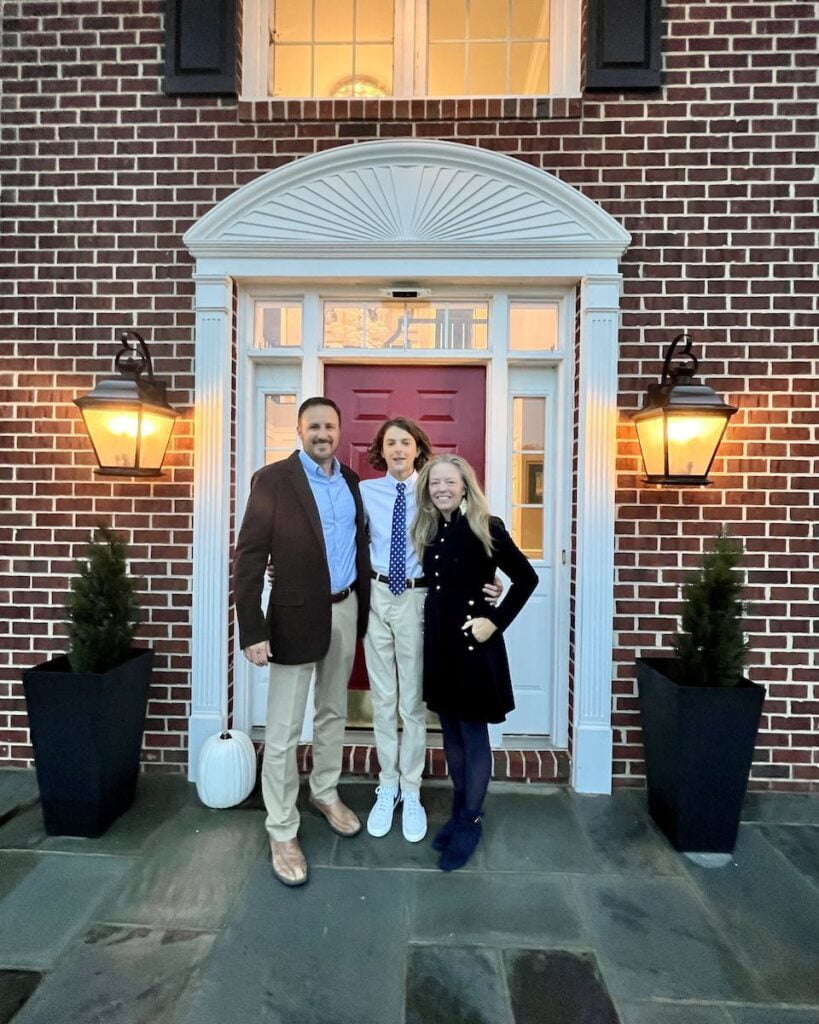 Show Stopper, as the name suggests, is a loud red color with a brown undertone. Hold your horses while going perplexed by this deafening paint color. You can make it subtle, too, if you know where to ink this paint color efficiently. When you are aiming for a more traditional look with huge gothic vibes, you can cautiously use this combination while serving the best look. While selecting this color, make sure the color of your red brick is more rusty and brown rather than completely red.
21. Sherwin Williams Cyberspace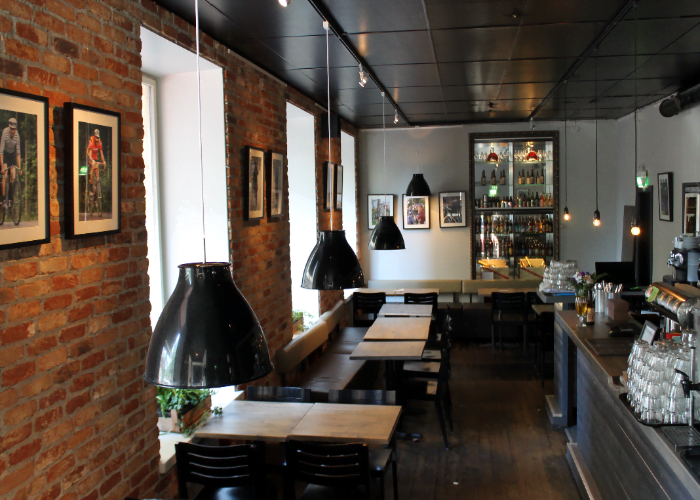 The state of the art is here. Consider this paint color to be a blend of navy blue and grey. When you take a first look at it, it looks plain black. However, try taking a closer look, and you'll realize the undertone of navy blue. It is very similar to the smokey black paint color. It's a charming combination with deep red brick, giving a more modernized look.
Summing It Up
Still confused about which paint color to choose with a red brick? We don't blame you. These options can get overwhelming sometimes. So list down the vibe and theme you would want for your place and then narrow down some samples from the above options. Always keep in mind not to select a color that would go against the warmth of red brick, for example, red or all the hues nearby rusty paint color. With Red Brick, Always prefer to choose cool tones. Brick is a simple common construction material used widely to build massive buildings and projects. Who would have thought that this material would one day become the epitome of beauty around the world? This material has been in use till day since 7000 BC. This is a timeless construction material that can be used in many ways, like can accentuate walls, installing any appliance, making pavements or a unit, and, most importantly, bones to our houses and the shed we got. This last process is called Masonry construction.
Have fun painting your desired place with Red Brick!