House gardens are your favorite part of the house, and you love spending time there taking care of the plants. But there are many things to be taken care of to give your garden a proper structure. There are some tasks like mowing, weeding, pruning, and raking the garden, which is done to ensure the healthy growth of your plants and make them look tidy individually. But there are some steps to take to add value to the garden, and edging your garden is one way to do it.
Edging your garden is a great way to keep your garden organized as a whole and a very practical way to keep your garden well-manicured. If you haven't yet edged your flower beds, this is your sign to do it right away. There are infinite ways to edge your gardens and no rules to stick to. You can use any sort of material and follow any shape to define your flower beds.
Still, if you are confused about what to do, here are 21 brilliant flower bed edging ideas to take inspiration from.
1. Rock Edging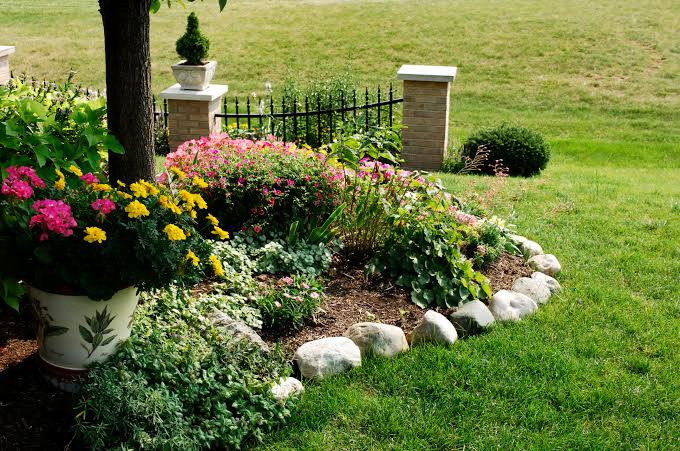 There are numerous ways to edge your flower beds with rocks. You can stack them, lay them in soil, and create straight or curved boundaries, or create a thick belt of rocks around your beds; the options are limitless. Rocks are also easily available, and you can get them at a very negligible price. The best thing is they are long-lasting and need zero care and maintenance.
2. Wood Edging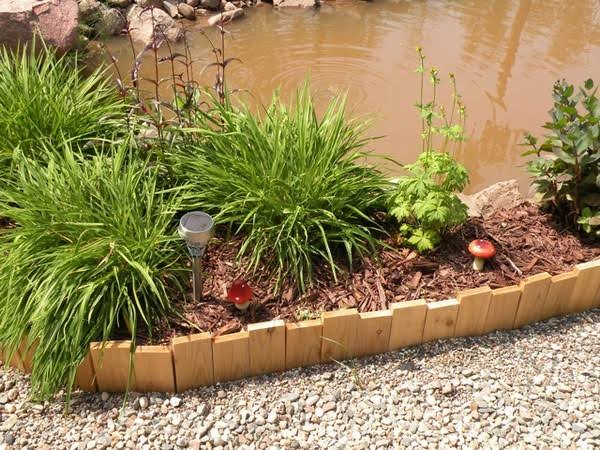 Wooden edging adds a lot of character to your garden. You can use them in different forms like blocks, palettes, stumps, or logs. There are also several types of woods to pick from- cypress, cedar, timber, redwood, and pine are some of the most popular ones. Your imagination is only the limit when you edge your garden with wood. You can look for some long-lasting, rot-resistant wood options while deciding what to install.
3. Trench Edging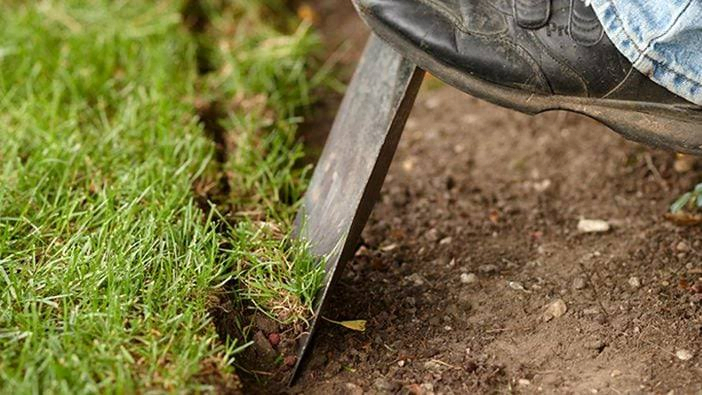 Trench edging is digging a shallow trench to separate grass from the planted area. This is the simplest way of edging your flower beds, but it is just as effective and serves the purpose right. You can just leave it there, or you can take a step ahead and fill the trench with mulch or install some type of boundary in it. You can use different types of gardening tools to create a trench; they make your work easy, tidy, and effortless.
4. Plastic Edging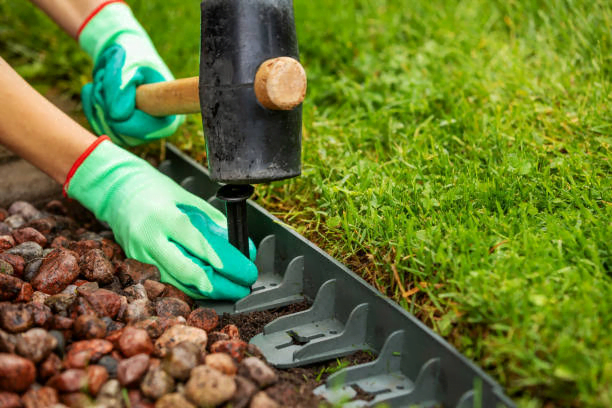 Plastic edging is one of the most inexpensive and long-lasting methods of ending your gardens. Good quality plastic edging is easily available in stores, but make sure to dig a trench before installing it. After this, the edging can be placed firmly in the trench with the help of watered-down mulch. Again, plastic edging can be installed in many forms, like in short individual sections or long rolls.
5. Recycled Rubber Edging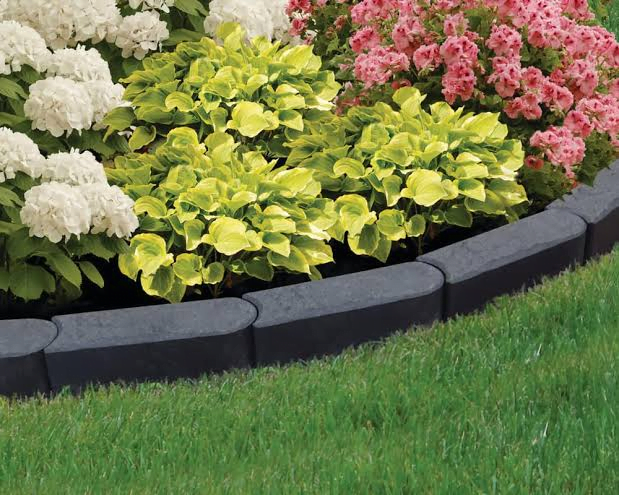 These are made from recycled rubber materials like tires and are an easy-to-install option for defining beds and paths in your garden. Rubber edging is more durable and long lasting in comparison to wood and plastic edging, as the temperature, season, and water will not affect it even a bit. They are easy to curve and bend as per your liking to provide a definite shape to your beds.
6. Brick Edging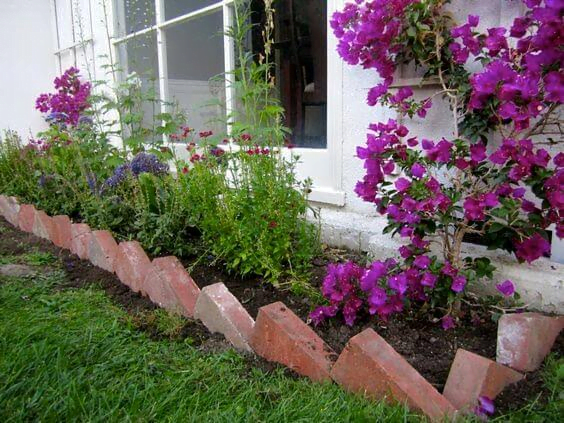 Brick edging is one of the most classic ways to edge your garden. The arrangement of bricks looks striking in your garden, and it creates a definite structure. You can play while arranging the bricks, lay them horizontally, vertically, or flat in the soil. Different shades of bricks can also be used to create an effect, but the classics are everyone's favorite, and it goes with every type of design. You can also reuse the old bricks lying around as they are.
7. Concrete Edging
Using concrete for garden edging is probably the most solid way; it is permanent and can last for ages. Concrete perfectly matches all kinds of landscape design; you can dig a trench and pour the concrete mixture directly in it or use molds and create any sort of shape with it to place at the border of the flower bed. You can create paths or borders with concrete to make edging around your flower beds
8. Bamboo Edging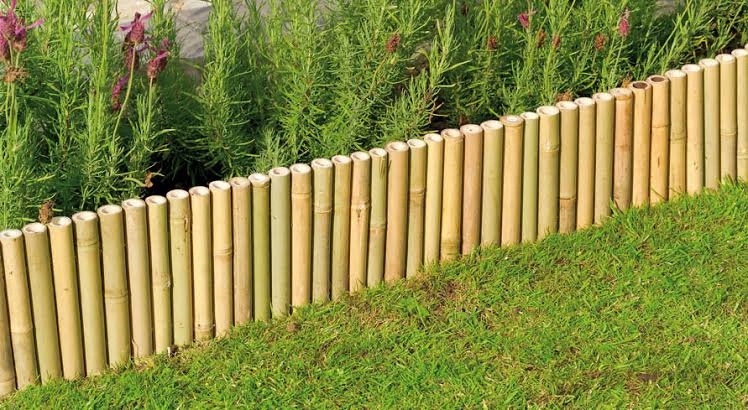 Using bamboo is a brilliant way to edge your garden naturally. It is a solid material that can last for years in your garden without any chemical treatment. Bamboo can be used as a raised fence of the desired height or can be further cut into smaller pieces that can be filled with soil and used to create small borders. Bamboos are easily available at low cost and are low on maintenance too.
9. Metal Edging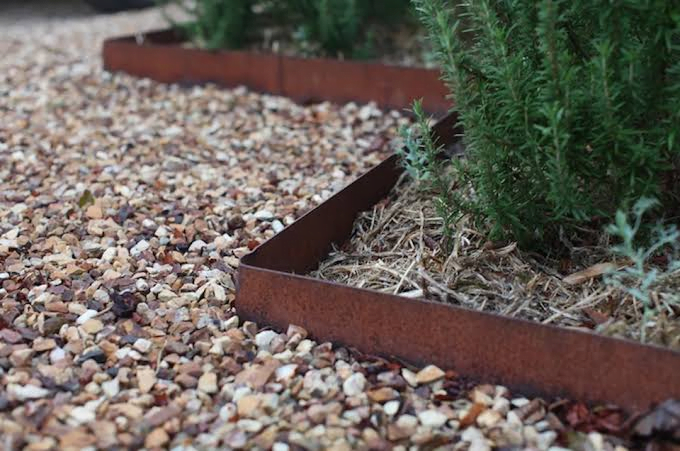 Many types of metals can be used in edging your garden, but aluminum and steel are the most popularly used. Usually, you have to dig a trench around the flower bed to install the iron fence in the ground. But, no dig metal edging is also available in the market, which can be hammered into the ground. Painted finished or galvanized metal edging lasts the longest, but unfinished ones provide a very rustic look to your country garden.
10. Paver Stone Edging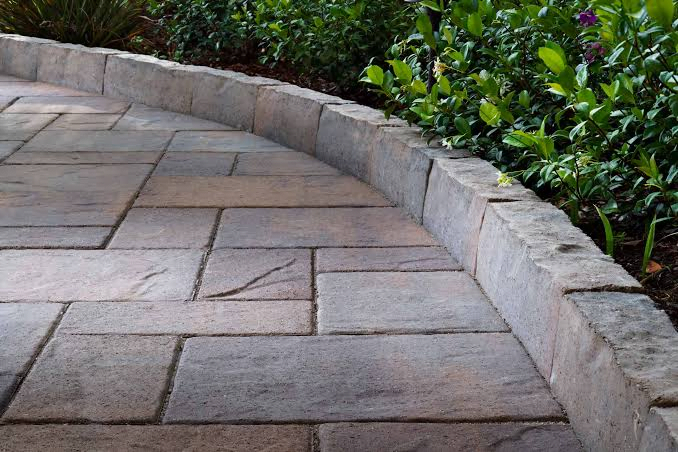 Paver stones can be used to make paths alongside your flower beds or just to edge them with a border. They are time-consuming to work with and are very heavy, but once you get done with them, you are sorted for a lifetime. Heavy carrying and digging can be too much, so plan your days with a garden design in your mind to make the process easy.
11. Woven Willow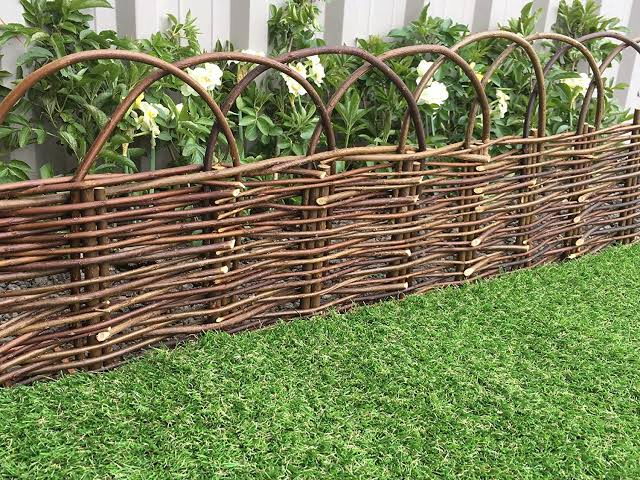 Interweave willow stems and ties them together to create a fence around your flower beds. This gives a very natural look and a perfect English countryside vibe if you want to keep up with that theme. Woven willow edgings are pretty low on cost and maintenance. You can easily weave them on your own, or you can buy the already woven ones from a garden market or an online vendor.
12. Flagstone Edging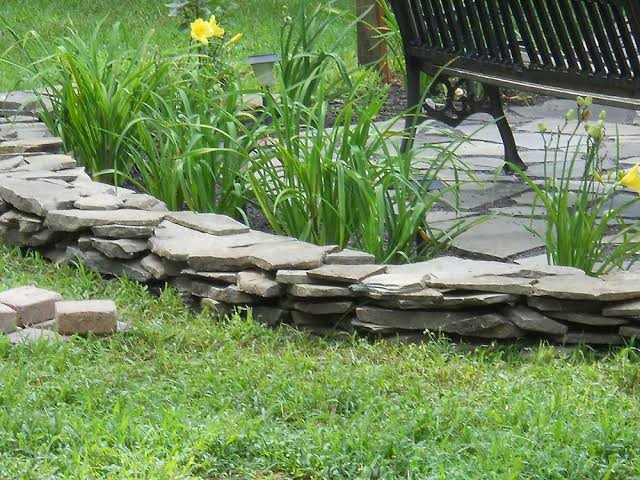 Flagstone is a sedimentary flat rock that is usually cut in undefined rectangular or square shapes. You can make a raised flagstone border by stacking three to four layers of stones, or you can install them vertically with their narrow side into the ground to create a barrier that is tall enough not to let grass find its way into the flower bed. You will have to dig a trench before placing flagstones to give them a solid base.
13. Shovel Edging
A shovel or a spade edge clearly separates the beds and the tree rings from the turf. The edge can be created with the help of a shovel or a bed-edging machine. This edge provides a buffer against weeds and grass that may enter the flower bed. Square shovels work the best to create edges. This one is the fastest and easiest method, but it may not be long-lasting.
14. Bosmere Edging Weed Mat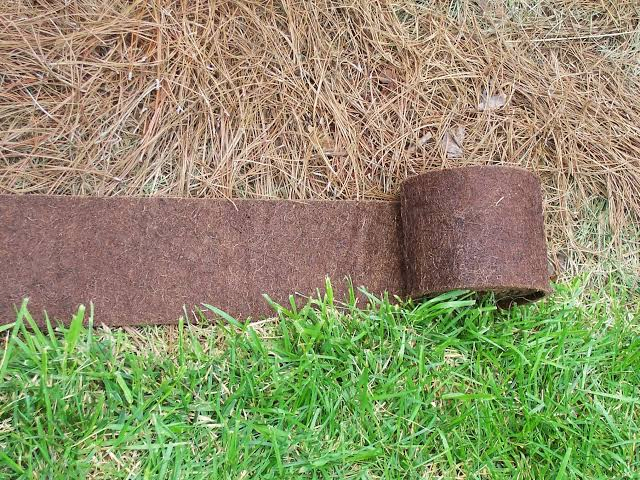 This belt-shaped bosmere weed mat gives a very natural look and is very easy to install. Just place them along the parameters of the flower beds and fix them in place with the help of landscape staples. They can be used to create perfect straight borders or slightly curved ones. These work as scatter proof mulch, and the lawn movers can easily move above them without causing destruction.
15. Edging with Containers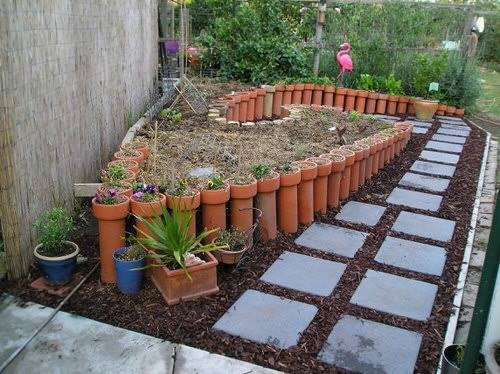 Containers and pots are a great way to separate garden beds from the walking paths. They look attractive and follow a very natural theme of the garden. Line the property with pots filled with colorful flowers to add a lot of interest to your garden. They also can be easily moved and shifted according to your theme. You can also follow a color pattern and plant every pot to beautify your garden.
16. Seashell Borders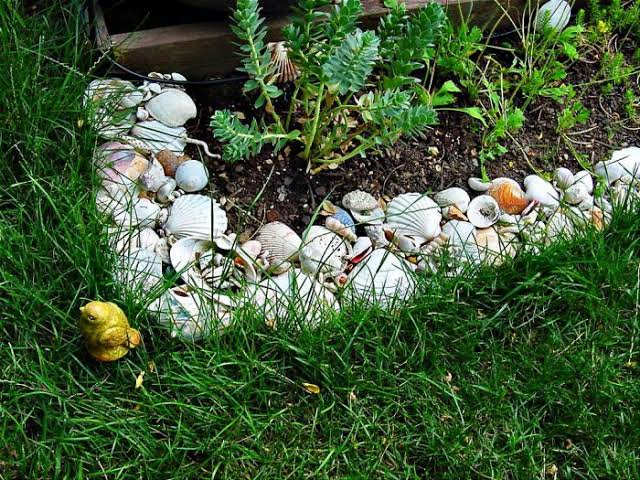 If you want a break from traditional materials to create a stunning look for your garden, shells are for you. When seashells are used for garden edging, they add a very natural tropical grace and beauty. You can mix the larger seashells with smaller ones to create a border pattern. Stand large clam shells by buying their base in the soil one after the other and use the smaller ones to fill the gaps.
17. Gabion Wall Edging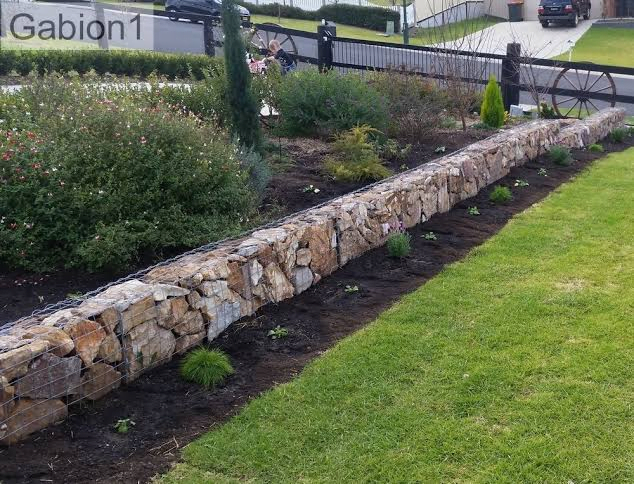 A gabion is a wired cage that can be square or rectangular and can be filled with stones and rocks to create a wall. They are strong and sturdy and can be used to create edges according to your preferred height. You can even create patterns by placing stones of different colors, shapes, and sizes in the gabion. They can be used instead of brick walls to support the raised garden beds for edging.
18. Roof Tile Edging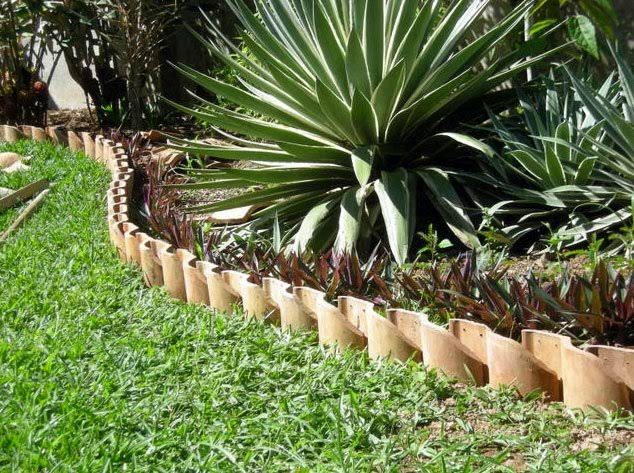 Do you have too many leftover clay roof tiles? Well, this is the right way to get them in use. It doesn't matter if they are new or aged; the terracotta finish is meant to stand out by adding texture and color to your garden. Even when your tiles are not in the right shape, they will end up being a perfect addition to your Victorian-style garden. You can even break them into pieces and create a pattern.
19. Edging Boulders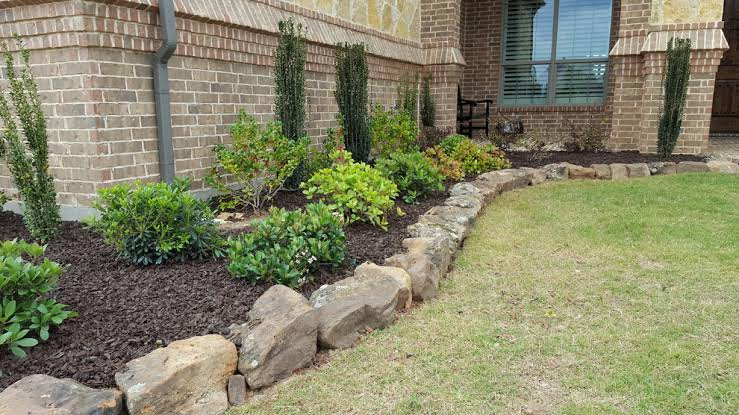 Large stones and rocks look stunning in the garden and create a very natural look. They are pretty low maintenance and do the job pretty well of protecting the flower beds. The boulders are so heavy that you do not even need to fix them with cement like the smaller stones; you just need to place them. They end up being the center of attention while complementing the flowers as well.
20. Railway Sleepers Edging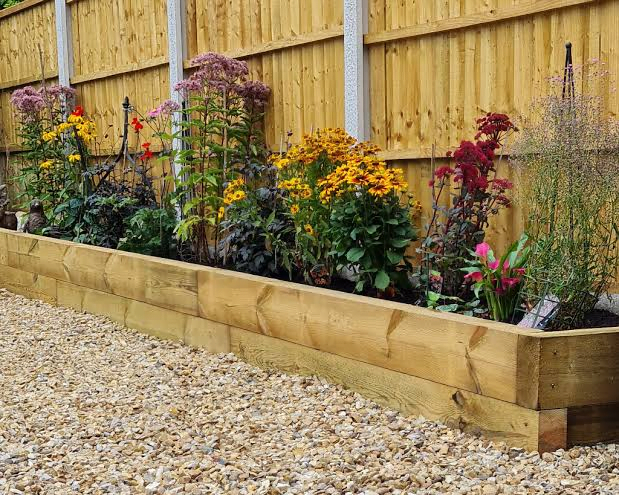 Railway sleepers come in Different sizes and can be any, new or reclaimed. Reclaimed sleepers have a worn look, as they are generally used to support railway lines, which makes them very suitable for creating a traditional rusty look. Whereas, The new sleepers can be used for contemporary garden design. You can use them to create a barrier, a raised bed edging, or to form a planter.
21. Fallen Log Edging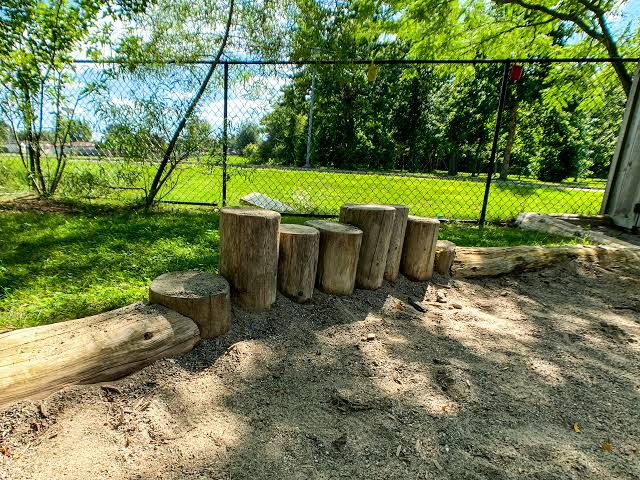 Yes, the logs that are lying around in your garden can be used to create a beautiful edging for your flower beds. You can either cut the log into pieces and then place them flat side down, side by side, to create a border, you can cut them in half vertically from between and use these two parts, or you can just use the log as it is. Logs can add a very forest-like rustic feel to your landscape.
Why Edge Your Flower Beds?
Edges make your garden look tidy by dividing the garden lawn from flower beds.
It gives a definite shape by preventing grass from crawling into the gardening area.
Edging provides a definite line while trimming and mowing prevents the mowers from damaging your plants.
Edging will not allow mulch and soil to get in the lawn when you water or when it rains.
Summing It Up
All in all, there are no rules to follow in designing your garden. You can work with the materials you like, with your ideas and creativity, as per your budget. You can take inspiration from any of these 21 flower bed edging ideas or create your idea by mixing them all up. Creating edging around your flower beds will help you, in the long run, to maintain your space by keeping it clean and tidy. Trust your instincts and work your way to make your garden style according to your personality
When you have decided what style of garden edging you want, make a garden plan by deciding where and how to implement it while keeping the overall structure of your garden in mind. You can always work with your imagination to use the easily available things or the ones you already own, which are of no use to create the garden edging.
Add character to your outdoor space by creating a one-of-a-kind garden edge!