Having a personalized movie theatre at home is a dream for many people. Do you know that it can be possible?
You can set up a private and comfortable home movie theatre in your living room.
Yet, all you need to consider are a few accurate decoration tips.
In this blog, you will learn 16 different ideas about setting up your living room with a home theatre. The ideas are unique and innovative. The simplest method to transform your living room into a personal movie theatre is to start with what you already have.
Then adding a few minor modifications will finally give you your dream home theatre setup.
1. Projector with Adequate Audio Devices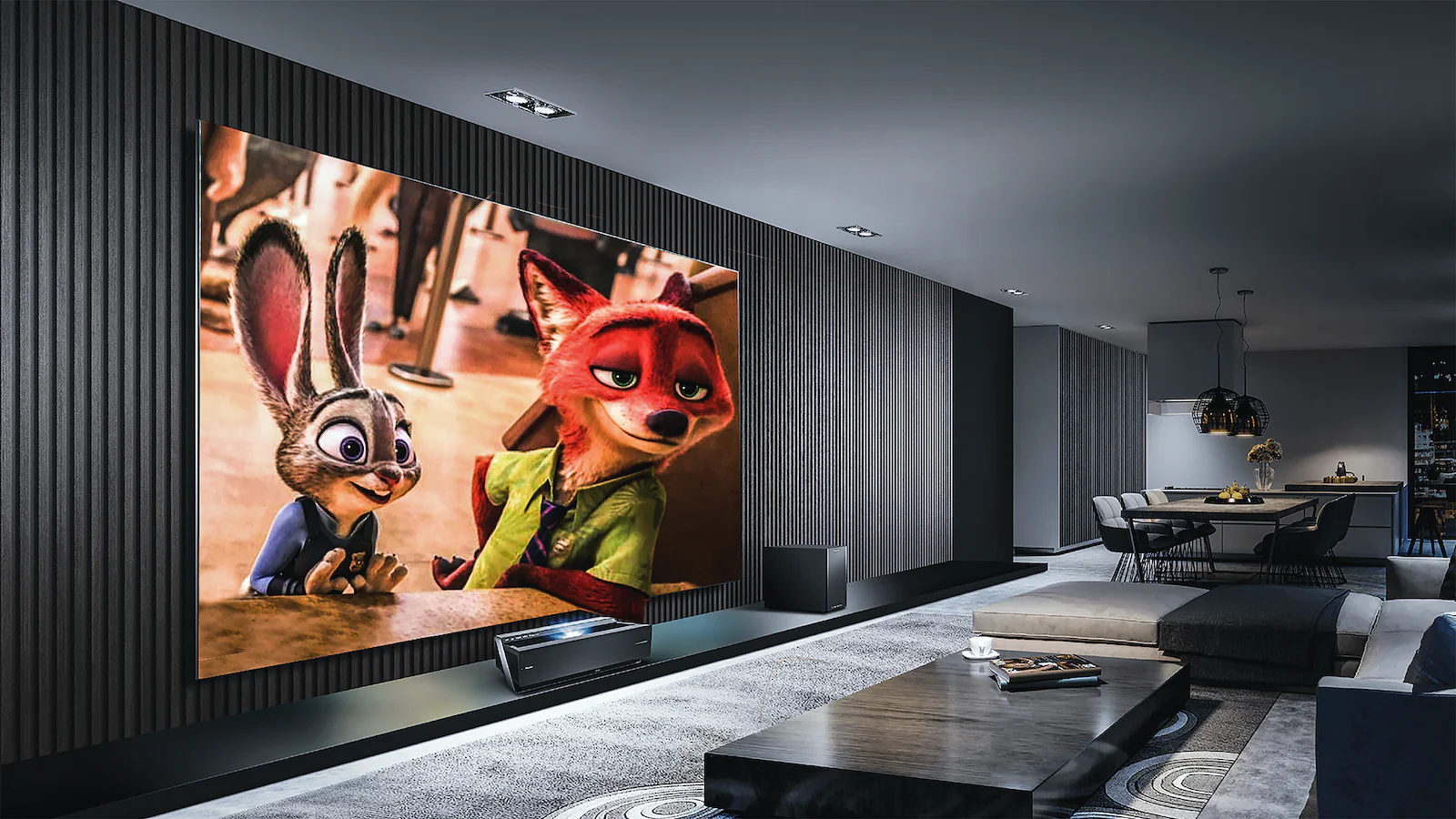 Everyone visits movie theatres to watch movies. But what is the first thing you notice every time you go to the theatre? A movie projector and the sounds. The movie projector lights the screen and displays the movie. After that, you will enjoy the movie. Installing a movie projector isn't a bad idea. It can make your living room a dream home movie theatre. You can connect the projector to your TV or PC and enjoy your movies or series. In addition, don't forget about the sound system. The audio is as necessary as the visualization. Add a good-quality sound system (audio device) along with the projector. It will make a perfect living room theatre.
2. Dark Decor and Lighting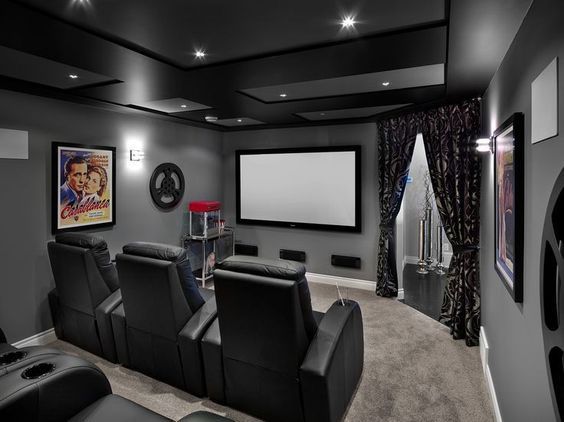 What happens when the projector starts displaying the movie? The whole movie theatre becomes dark. It's because they turned the light off for a better viewing experience. After that, you enjoy your movie with popcorn in your hand. Thus, to make your living room a perfect home movie theater, you must focus on the decoration. Just put some small LED bulbs and dark décor in the room. You can paint your walls with the following colors:
Dark Black
Dark Blue
Dark Brown, Etc.
Your home theater can appear amazing with the help of dark furnishings and lighting. Moreover, your living room will look more enchanting.
3. Adding Cozy Sofas or Couches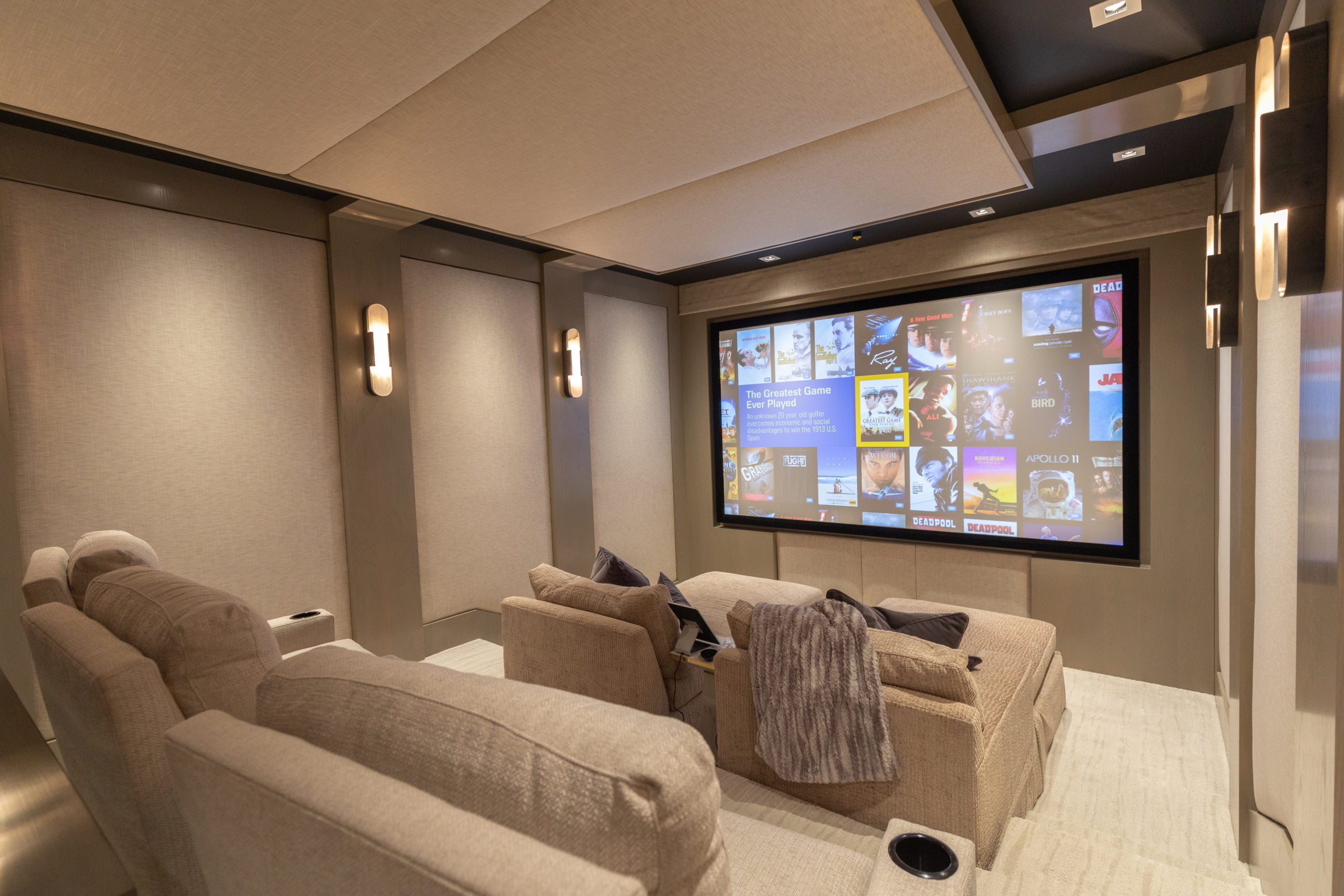 What's the third thing you notice in movie theaters after the movie projector and the audio systems? The seating system, right? A seating arrangement that provides a comfortable sitting position can enhance your viewing experience. You usually watch movies at home while sitting on a couch or sofa. Nowadays, many theaters have recliner sofas. It makes the viewing experience more impressive. Everyone adds sofas to their living rooms. Thus, adding a comfortable sofa or couch can make your home movie theater an iconic one. For example, you can try the following sofas or recliners to improve your viewing experience in the living room:
4. Creative Interior Ceiling Design for Your Home Movie Theater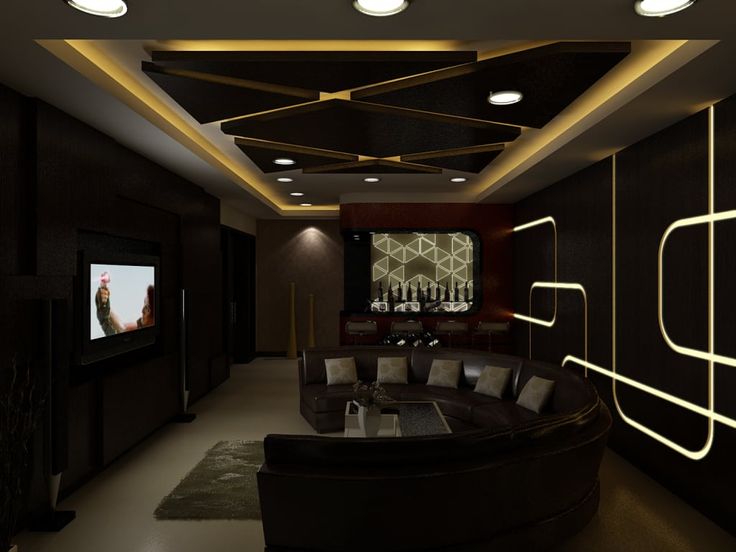 What about upgrading the interiors? A creative interior will give your home movie theater a charming look. A perfect interior design can furnish the décor of your desired personal movie theater. People may consider the wall patterns as perfect interiors. Moreover, they consider lighting. So, put some fascinating interiors. Not only the wall interior but also upgrade the ceiling interior too. You can add ceiling lights or lamps to your living room. People will appreciate it after watching creative interior designs in your living room. Apart from that, it may assure you of a better viewing experience. So, evolve your ceiling interior with proper painting, design, or LED lights.
5. Large Screen LED Television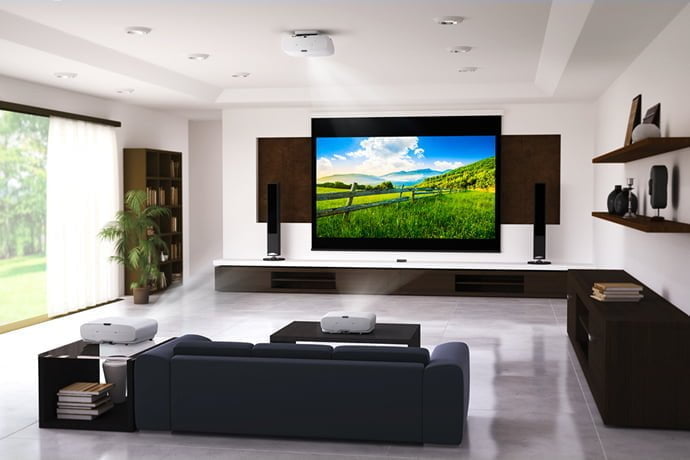 Who says that you need a projector and a big curtain to complete your home movie theater? You can still furnish your home theater setup in your living room with a television. Yes, you've heard that right. An LED television with a large screen can also help you establish a perfect personal theater at home. In addition, you can add a floating TV stand. Just ensure that you have a good sound-quality audio device. As a result, installing a large-screen LED TV can make you feel as if you are watching movies or TV shows in a big screen. You can enjoy your theater experience in your living room just by sitting on the couch with the TV remote.
6. Bright Living Room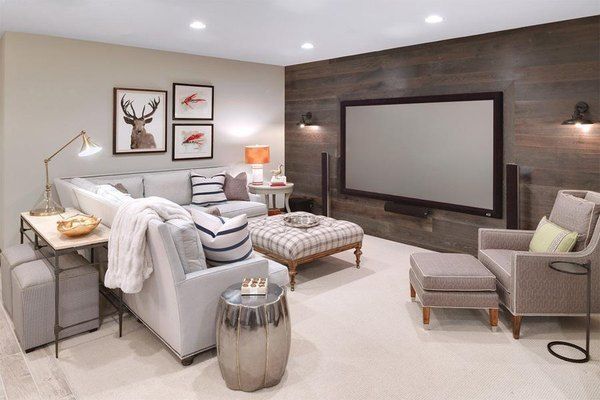 Let's add some brightness to your living room. It means adding bright textures to your wall. In the cinemas, you can watch a movie with a sufficient amount of brightness and contrast. Without it, you may not be able to watch the movie properly. So, put some brightness on your home movie theater. Put a bright color on the wall or add bright LED lights. The brightness of your wall can make your personal movie theater more fascinating. It can also add beauty to your living room.
7. Combining Indoor Plants in Your Home Movie Theater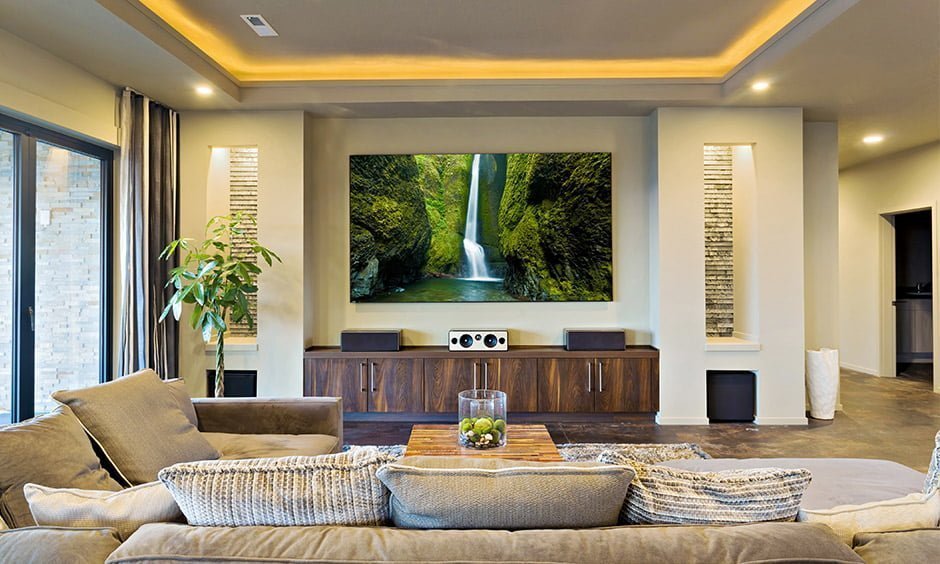 Now, add some greenery to your home theater setup. People keeping plants in the living room, bedroom, or even on the balcony is a trend. It not only uplifts the decoration of your home, but enhances the positivity pretty well. Adding indoor plants also has a few health benefits. If you want, you can combine your home movie theater with a few indoor plants. Apart from that, you can hang some indoor plants on the wall. If you have a bookshelf in your living room, just put it there too. Just make sure it goes perfectly with your home theater setup in the living room.
8. Combining with Other Types of Furniture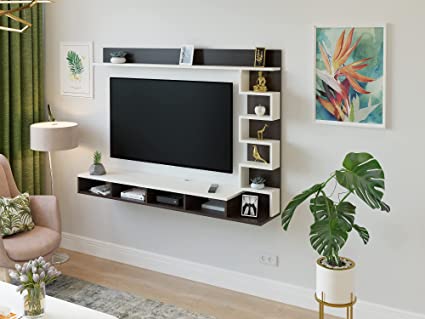 What else do you add to your living room other than the sofa or couches? A table or a desk, right? Thus, putting other pieces of furniture in your living room can set up your home movie theater. At present, in many movie theaters, a side table is installed with the seat. It helps you to eat popcorn and enjoy soft drinks while watching a movie. Similarly, what about creating the same environment at home? Yet, you can add a table or two and enjoy your meals while watching any movie or series. Apart from the table, you can add a bookshelf or CD shelf. If you have a large LED TV, you can put it in a large chest of drawers (TV Unit). It may look more creative.
9. Adding Art on the Walls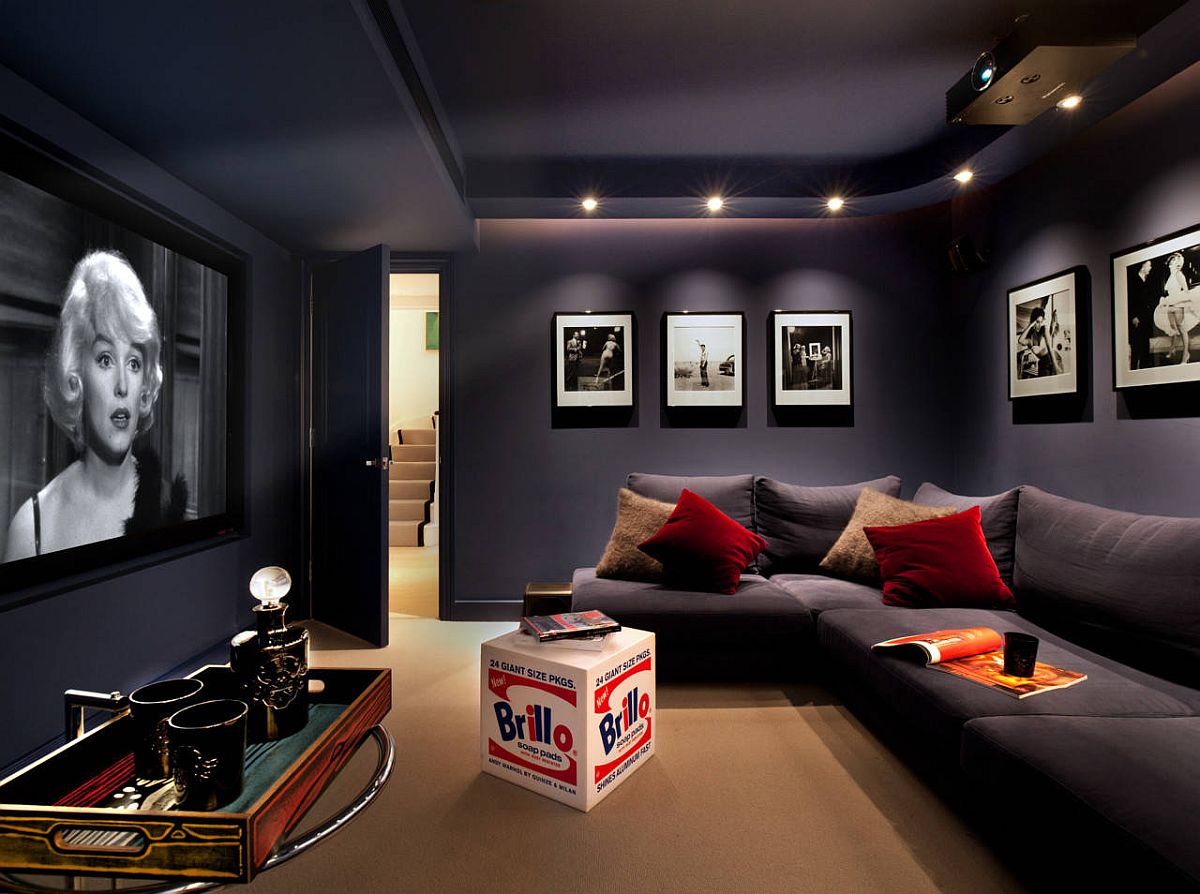 Putting art in your living room to set up your home movie theater is also a creative idea. It's a common thing to hang paintings in your house. People add beautiful paintings to their living room walls. Not only living rooms, but people also add paintings and portraits in bedrooms and study rooms too. Thus, you can attach a creative piece of art to your desired movie theater. You can add the following items to your living room through the combination of art:
10. Putting a House Bar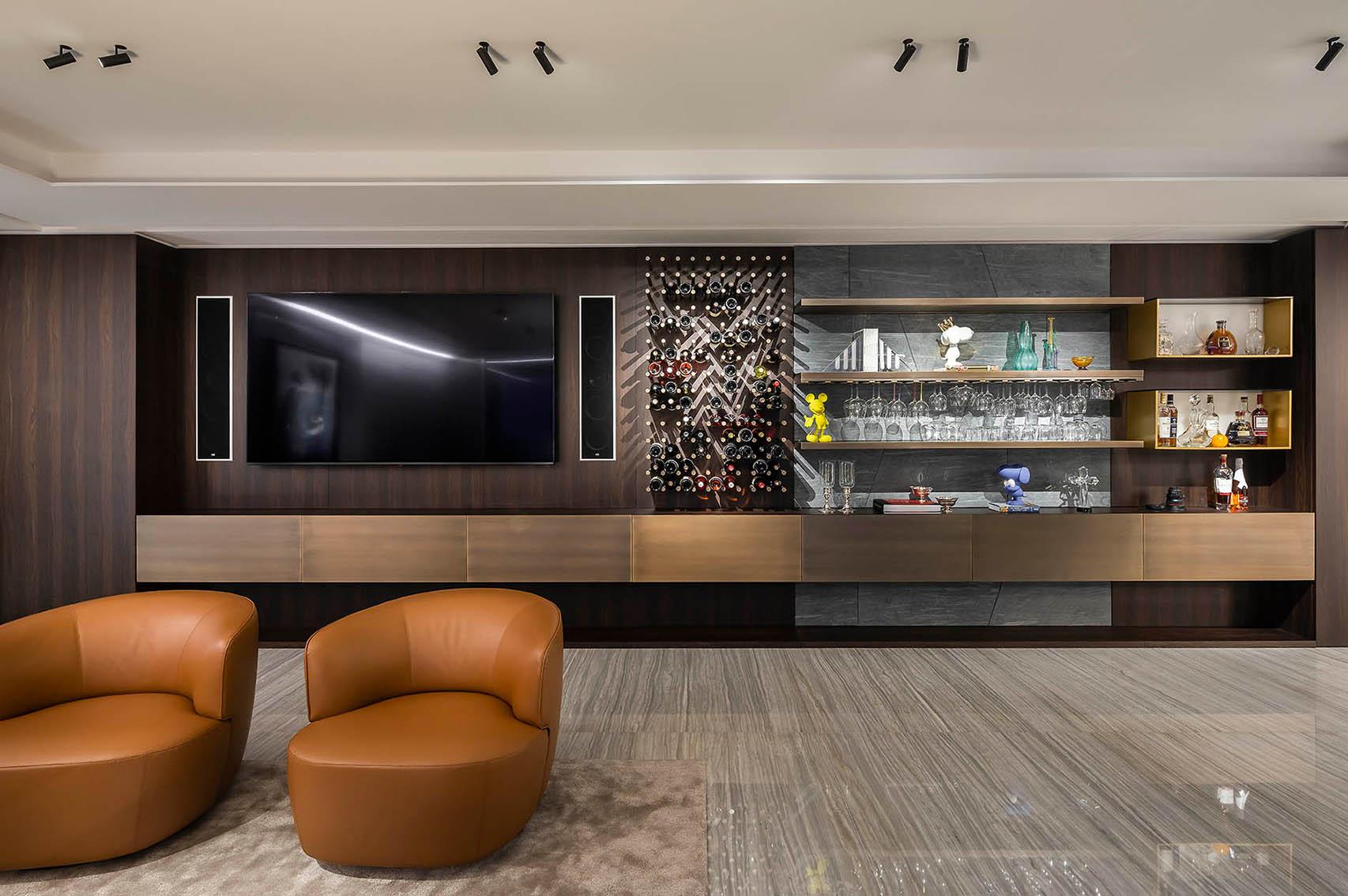 Humans are party lovers. But how do they celebrate at the parties? Eating food and having a drink. Then, add dining or a house bar near your living room if possible. A house bar can give your personal movie theater a different look. Thus, you can enjoy movie nights with food and beverages. Putting a dining zone with a home bar set up can evolve your living room's decoration. Moreover, your home movie theater will look even more astonishing. It can help you to create a good impression. Your friends and colleagues will also appreciate this. Adding a home bar can turn your living room home theater into an entertainment party lounge.
11. Putting Multiple Lighting on the Walls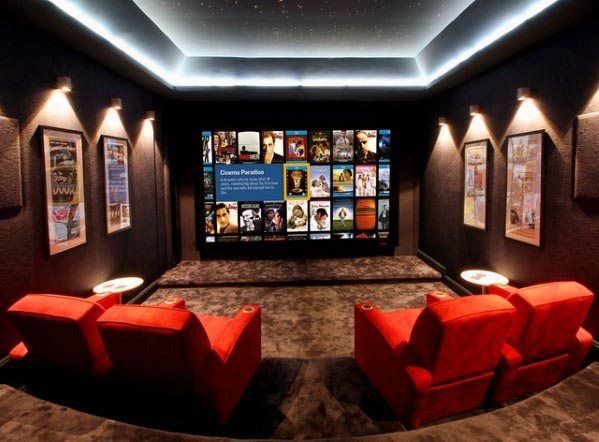 Adding multiple LED lights can make your personal home theater more glowing. Every time you visit a movie theater, you may notice that there are multiple lights on the wall. Before the movie started, there were still multiple white lights on. In a few places during the movie's runtime, there were a few night bulbs, mostly red ones, that remained on. Thus, adding multiple LED bulbs may lighten your living room. Not only that, but it will also make your home movie theatermore attractive. Nowadays, multicolor LED lights are also very popular. You can put that in your living room too. LED lights may not only save you money on your energy bills, but they may also have a positive impact on your guests.
12. Combining with Other Purposes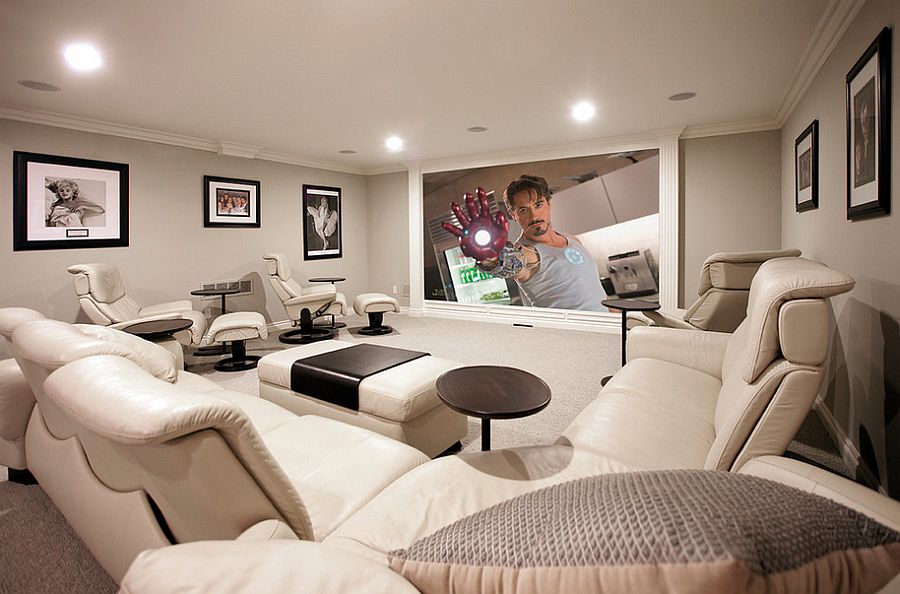 Use the remaining spaces for other household purposes. If you still have some space left in your room, you can combine it with your home theater setup. Even if you haven't, don't worry. You can use your living room home theater for multiple purposes. For example, you can set up a study room near it. Read books or magazines in the room. If you are working from home, then you can add your workspace to the same room. You can work comfortably with your PC or laptop by sitting in the living room home theater. This idea may not only look creative but also help you in terms of saving money. So, you should try this unique decorative idea.
13. Smart and Matching Textiles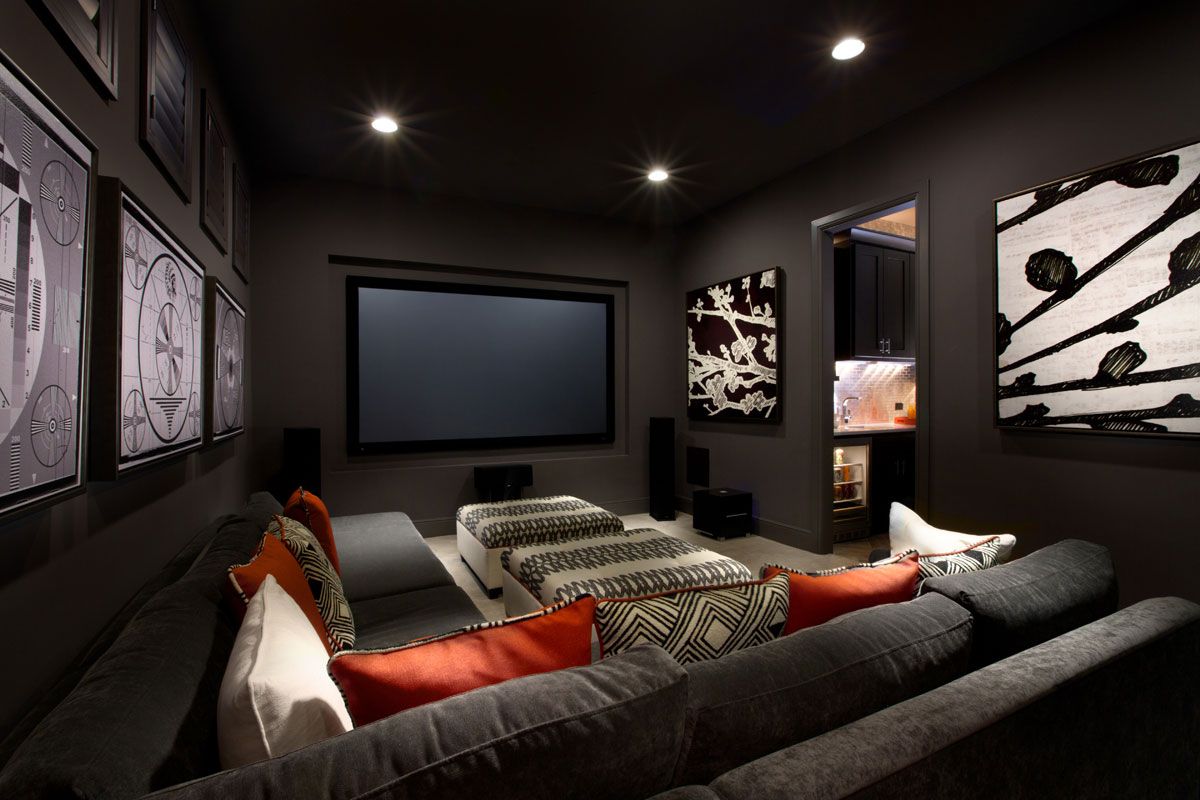 Putting a proper and matching textile can improve the decoration of your home movie theater. Every time you visit a movie theater, you may notice the smart and proper interior on the wall. What about creating the same environment in your living room? Adding a smart, matching textile can create a charming atmosphere in your room. For example, if your wall is black, then add some textiles matching that color. Add blue or relatable textiles if your wall's colors are blue. After that, you can decorate it with additional items such as art or movie posters, or celebrity wallpapers. Putting a smart and matching textile on the wall is as creative as adding creative lights to the wall. So, try this for your living room home theater setup.
14. Allow Both Sunlight and Moonlight to Become Visible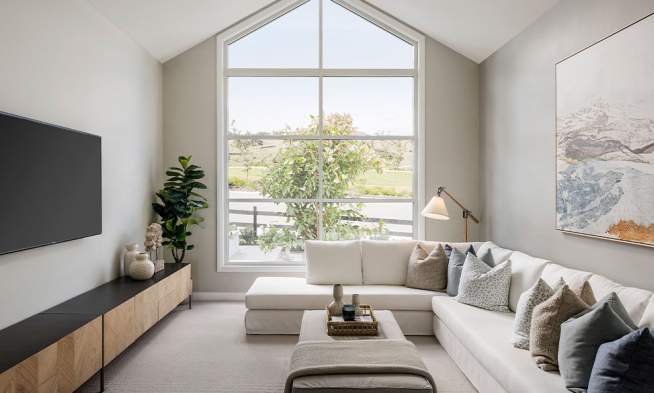 Allow the sunlight to come into your house. Open your curtains and let the sun rays freely enter your room. The same goes for the moonlight during the night. If you allow natural lighting to your living room home theater setup, it can be very beneficial for you. It may prevent you from putting up the costs of LED lighting and save you money on your electricity bill. The moonlight can assist you in creating a charming environment in your living room at night. Thus, the home movie theater will look more elegant. And by allowing natural lighting can enhance the beauty of your living room and also establish a pleasant, warm atmosphere too.
15. Comfortable and Long-lasting Flooring for Your Home Movie Theater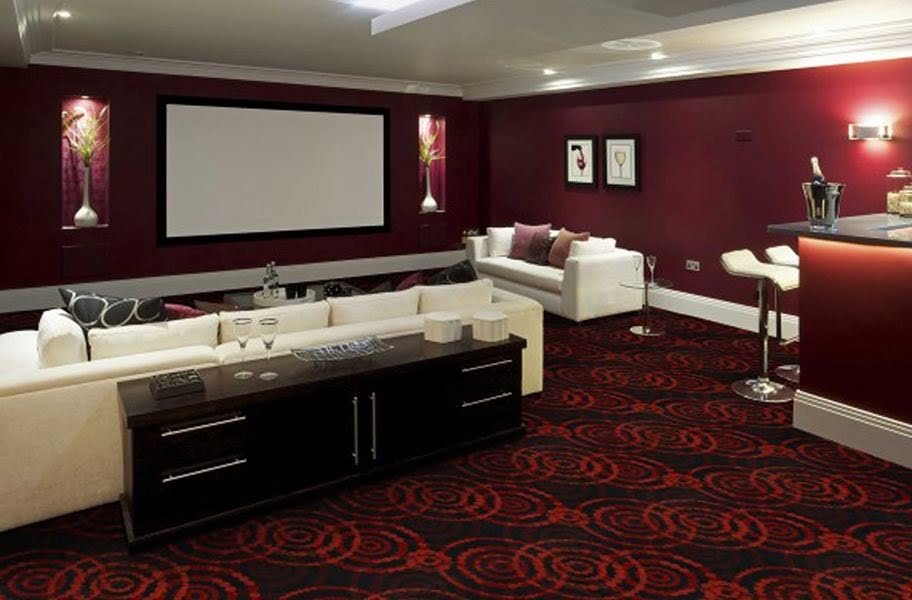 Have you noticed the flooring every time you visit the nearest movie theater? How does it look? It looks fascinating and enchanting. Isn't it? You can add comfortable and soft flooring to your living room to set up your home movie theater. Decorating your floor is as important as decorating your walls or interiors. An innovative home theater setup also requires unique flooring. If you want, you can add a well-designed carpet to the living room. Yet, it may not be worth it, as the carpet may catch stains. Thus, you can put a creative set of tiles in your living room. Creative tiles can make your living room more impressive. Innovative and long-lasting surfaces will help you to create a perfect home theater.
16. Designing Audio Systems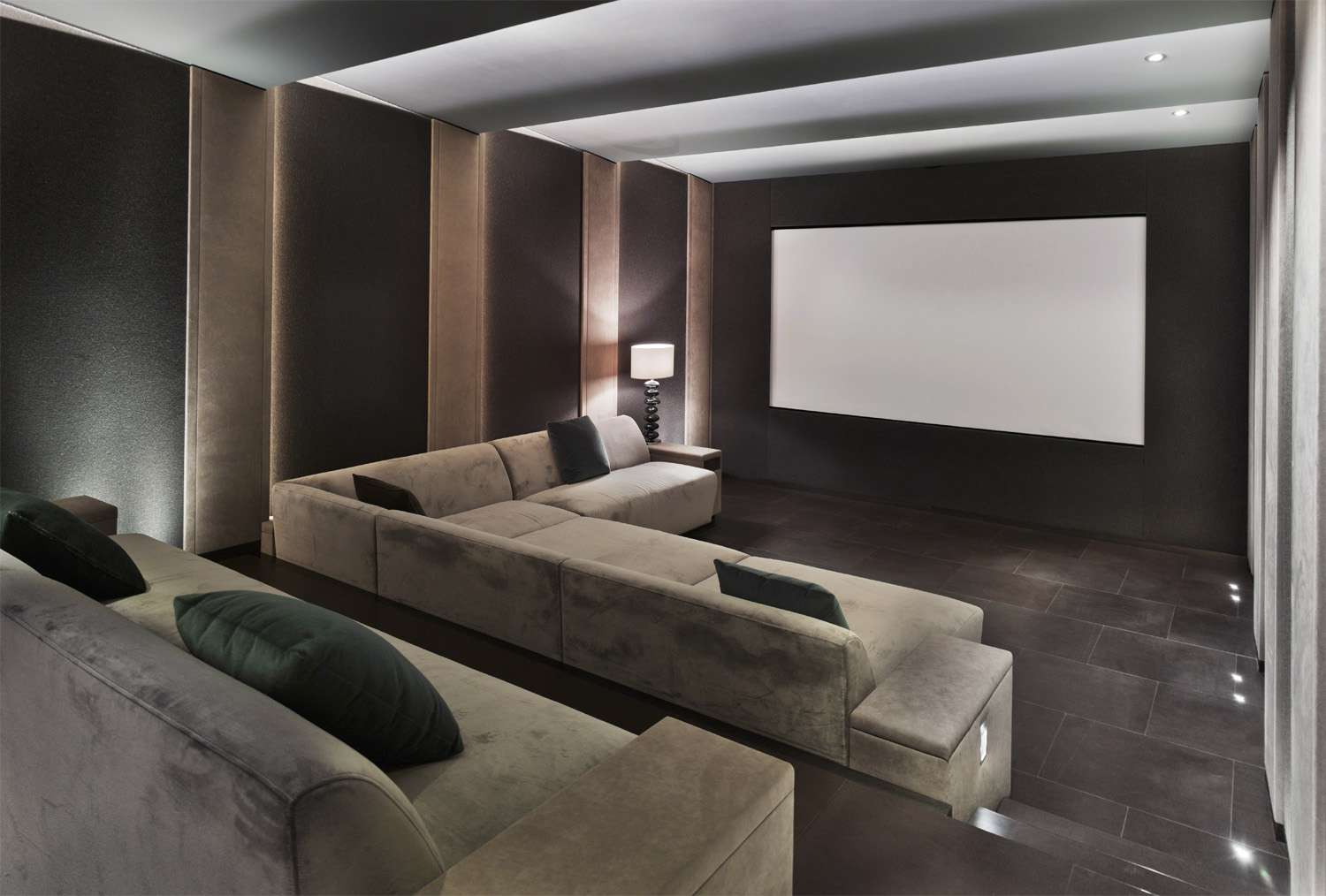 Previously, you have heard about adding audio devices. It is a basic step in the process of setting up a home movie theaterin your living room. Designing floors, interiors, and walls is essential. Similarly, designing the audio system is also important. Installing a soundproof audio system can help you enjoy movies in your home theater without disturbing others. It is assumed that the wall or floor design influences the audio design system. In this case, you can add a plush carpet that helps in the process of soundproofing. In addition, add a shelf or two for the decoration of your personalized movie theater. Nowadays, TV manufacturers build affordable LED TVs with good picturization. Thus, a TV with good sound quality requires an adequate sound system.
Conclusion
Everybody wants to have their personalized home theater in their living room. Yet, it may require several different decorating ideas.
The blog showed 16 unique design ideas to set up your home theater in your living room.
It may require a good audio system and high-quality visuals.
In addition, a proper home movie theater needs innovative wall, interior, and flooring ideas to look more fascinating.