A home office is a designated corner in your place of residence where you can work without being disturbed. For remote workers or employees that work from their homes using internet tools and, of course, their devices, it can sometimes become difficult to concentrate. Imagine an office setting where everything you need to work is arranged in a logical order for you to find it when you need to. The same cannot be said for remote employees who may simply be taking their laptops from their bedroom to their living room to work.
In such a scenario, it is only natural to be on the lookout for some home office ideas that can be accomplished either in the DIY way or by professionals depending on what you want.
Here are 21 ideas and plans for interior decor, a dedicated work spot in your home.
1. Minimalist Work Corner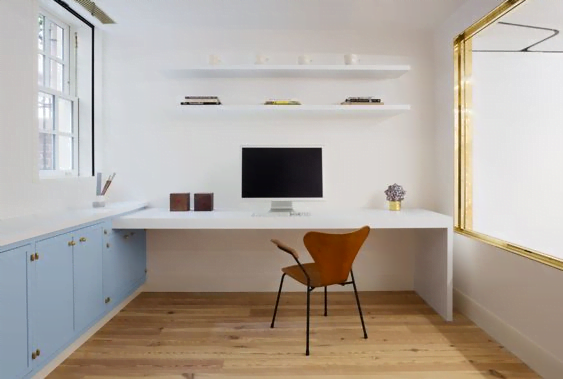 Home office decor can be achieved with very subtle changes and additions, while it can also be done by a complete make-over for the room. It is a matter of preference, and some may prefer the simpler version- better known as minimalism. For this, choose a place in your house or apartment with the least clutter and start by setting up a simple desk. Since we are sticking to the bare minimum, the most you can do for decor is a potted plant. Utilize cabinets around the space, if any, to store miscellaneous office stationary such as files, highlighters, pens, etc., and use the main table top for your device or devices. This will work best if the walls are white or of a neutral colour, and you can use the wall behind the desk for sticking memos and such.
2. In The Arms of Nature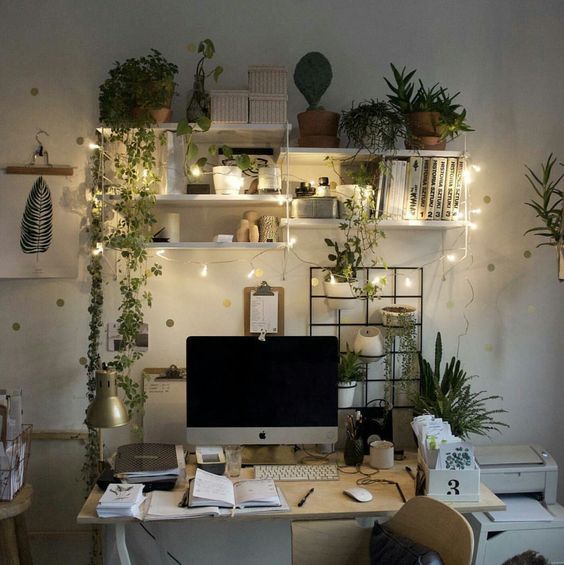 While it is impractical to want an office in the middle of lush forestry, we can still get a similar feel of it, right? Especially where we work. Because the presence of plants keeps our minds refreshed and calm and may also end up increasing productivity. So, why not execute a nature-themed home office idea? Potted plants are the way to go, but you can also use hanging plant stands, and climbers intertwined with fairy lights to make it pretty. To further accentuate the vibe of being one with nature, install linear wooden lighting on the wall above your desk.
3. Workspace for Your Tiny Apartment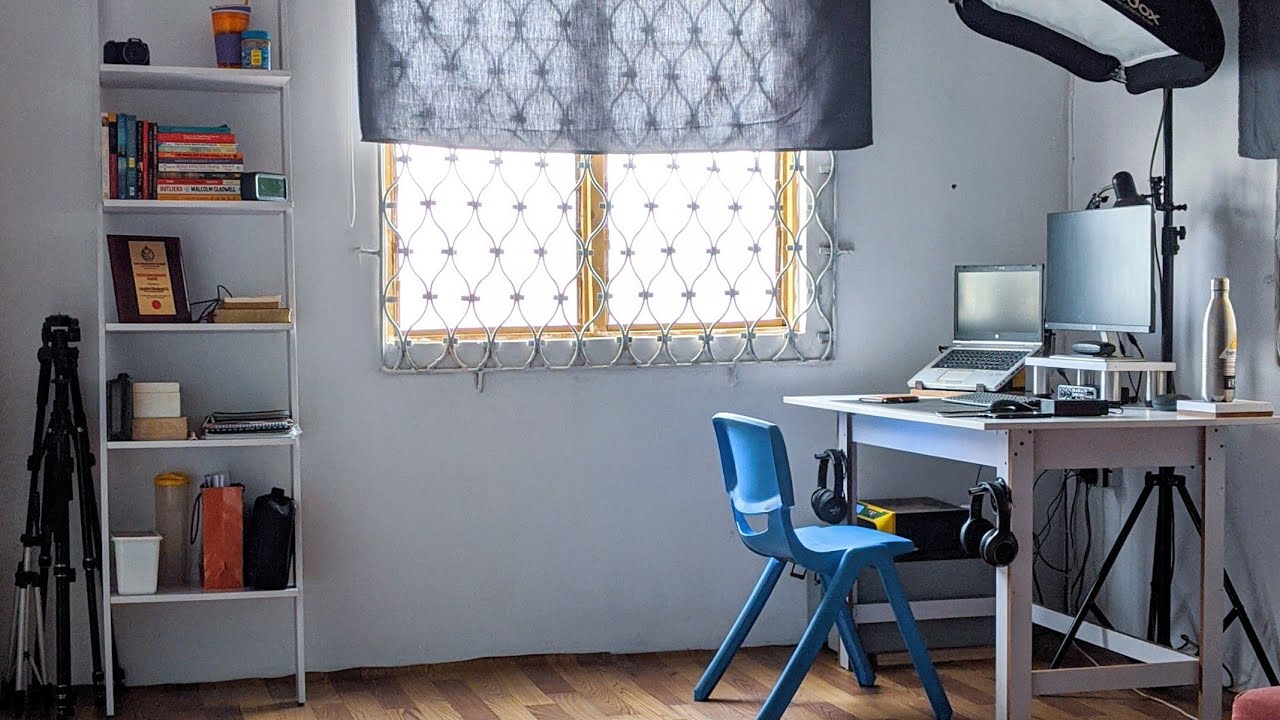 This is one of those home office ideas that are perfect for those who struggle with space management in their small apartments. Since we are working with limited space, to begin with, optimizing it is of utmost importance. Firstly, work out a spot in your home that is naturally illuminated by sunlight. You can install the work desk in a way so the sunlight from the window/ opening falls on it. Depending on the design of your room, fit wall-mounted shelves beside or adjacent to the main workspace for storage, or you can also go for desks with drawers below. A workstation will always need artificial lighting for hours after sunset, and a table lamp or ceiling light can meet the requirements. Finally, you can complete the decor by adding some showpieces, such as a decorative pen stand or vase, on your table.
4. Patterned Decor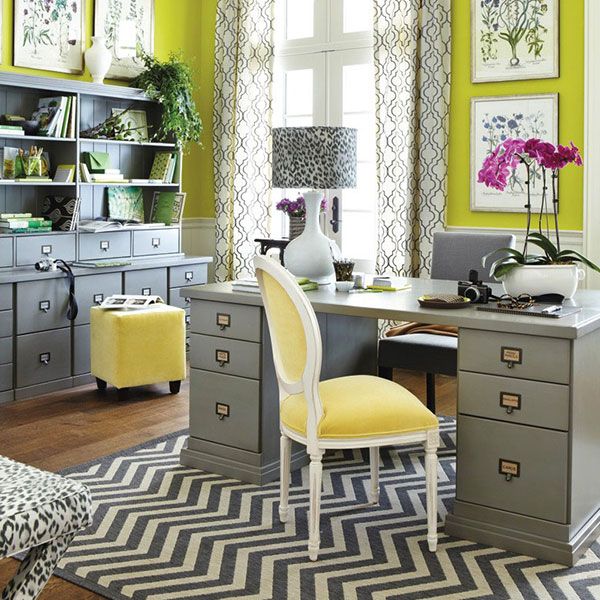 If you are tired of the monotonous and plain interior decor of your home and want to do something different for your work corner, then here is a home office idea for you. Introduce patterns for the workspace through statement curtains and rugs while getting neutral colour desks or cabinets. For instance, if you go for green curtains then to complement that colour, you have to tone the rug down. The main work desk can be of a light greyish colour, while the rest of the decor, including any vases, and paintings that you add, should also follow the neutral colour palette. Balancing one loud and one toned-down colour will make your workspace look both formal and comfortable.
5. Closet Turned Workspace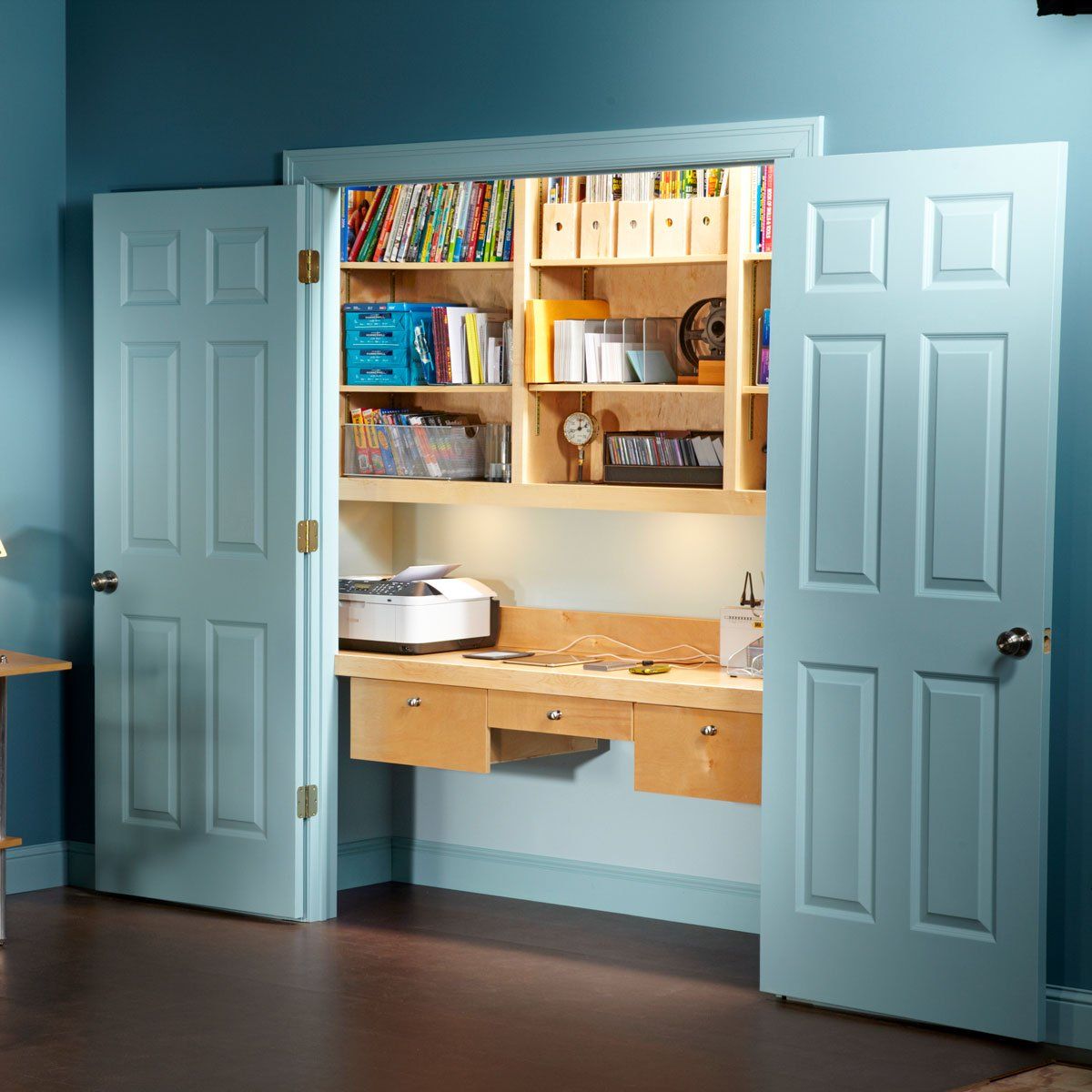 This is probably one of the most creative home office ideas out there and is ideal for when you have a closet in your home that is not particularly used for anything. Generally speaking, almost all home architecture incorporates closet spaces into homes which are later utilized for storing clothes or other random stuff. But what if you could fit a floating work deskinside it, equip a floating hutch, or a wall cabinet unit for additional storage? This will ensure that your workspace is made into a private spot, and the very closest doors can be used to open and close the space. You may have to customize the dimensions for the closet furniture for it to fit perfectly, but who knows? You may get lucky and find something that will fit perfectly inside your closet.
6. Color Pops in Monochrome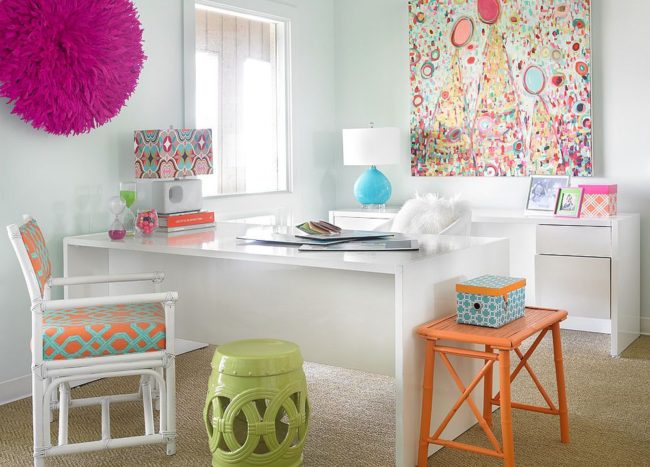 If you are on the lookout for home office ideas that do not need much effort in terms of decor, this is perfect for you. The primary requirement in this decor idea is monochromatic walls, or to put it simply- walls of any one colour. Let us go with white, for instance. Keeping the main colour white, the rest of the areas are made interesting by adding pops of colour in random places. These bursts of colour can be done through a coloured desk, vase, wall painting, cushions and the like. The colours that you use do not have to be the same. It is, in fact, preferable that you use different colours for a more vibrant visual appeal.
7. Turn a Basement Into Your Office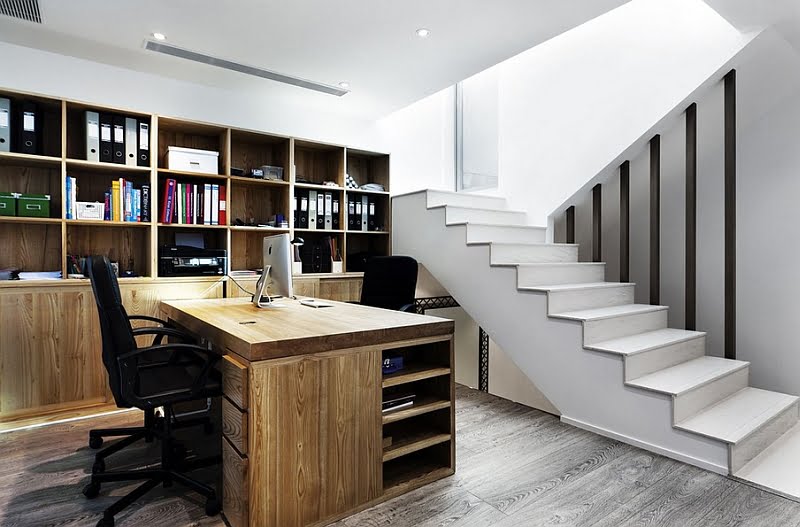 Who does not want to work in a quiet and private environment? But in a home where other members share the same space, noise becomes a definite problem. This can be easily solved by turning your basement into the home office with the ultimate industrial vibe. Here you can work in peace without any disturbance or noise from other family members. Figuring out how much space you need is the key to having a put-together basement office. Redecorating only a part of the basement for office use while leaving the rest of it bare will make the whole area look shabby. Using drywall or aroom divider to divide the basement into two is a good idea to demarcate space for storage as well as a home office. As for the rest of the equipment, you can install it according to the space available and the decor of the space. However, if a workspace with an industrial vibe is your goal, then sticking to either a black-and-white or brown-and-white colour palette is advised.
8. Use Statement Rugs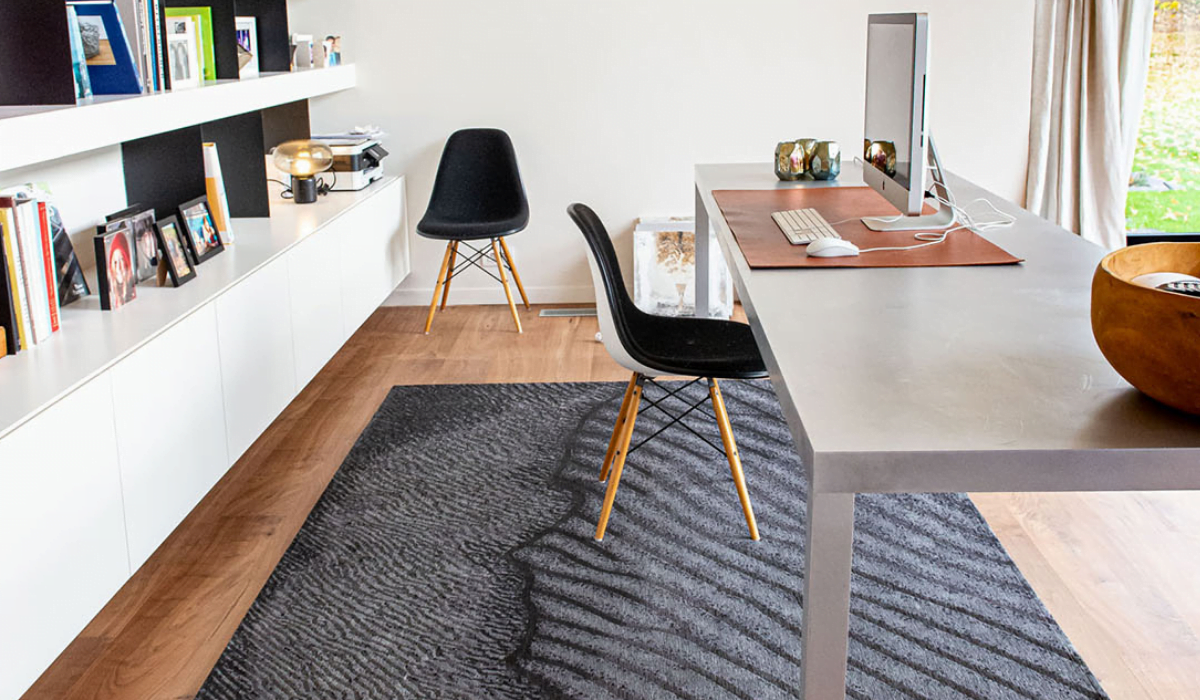 In this home office idea, we will keep the general decor muted and add focus on the rug. This will be both a minimalistic as well as budget-friendly choice. Such a decor idea is thus perfect for those who do not have a huge budget allocated to redecoration and do not want to purchase too many items. To add character to the office, the main point of attention is the statement rug on the floor which will make the rest of the room brighten up. To make the rug the point of focus of the room, make sure the colour complements the walls. For instance, if the walls in your room are of a neutral light shade, then go for a dark-toned rug for the best visual appeal. 
9. Touch of Metal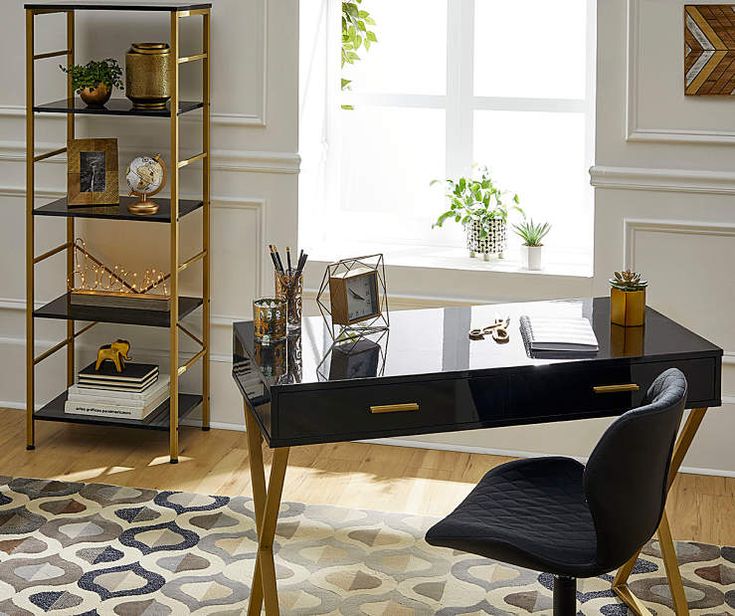 Opting to choose metal for interior decor can surely transform a simple room into a sophisticated and elegant one. However, one needs to be careful about not including too many different types of metals as this throws off the visual symmetry that can be maintained by uniformity or by using one material for every decor. For example, if you like the golden colour and have a knack for gilded decor, then you can consider adding metallic golden accents to your home office decor. The metallic colour can be used in gilded tables, chairs, vases, racks or shelves, or even objects such as clocks and pen stands. Black is a colour that looks very sophisticated when paired with gold, so mix the two in balanced proportions to bring a chic look to your workspace.
10. Art Gallery Theme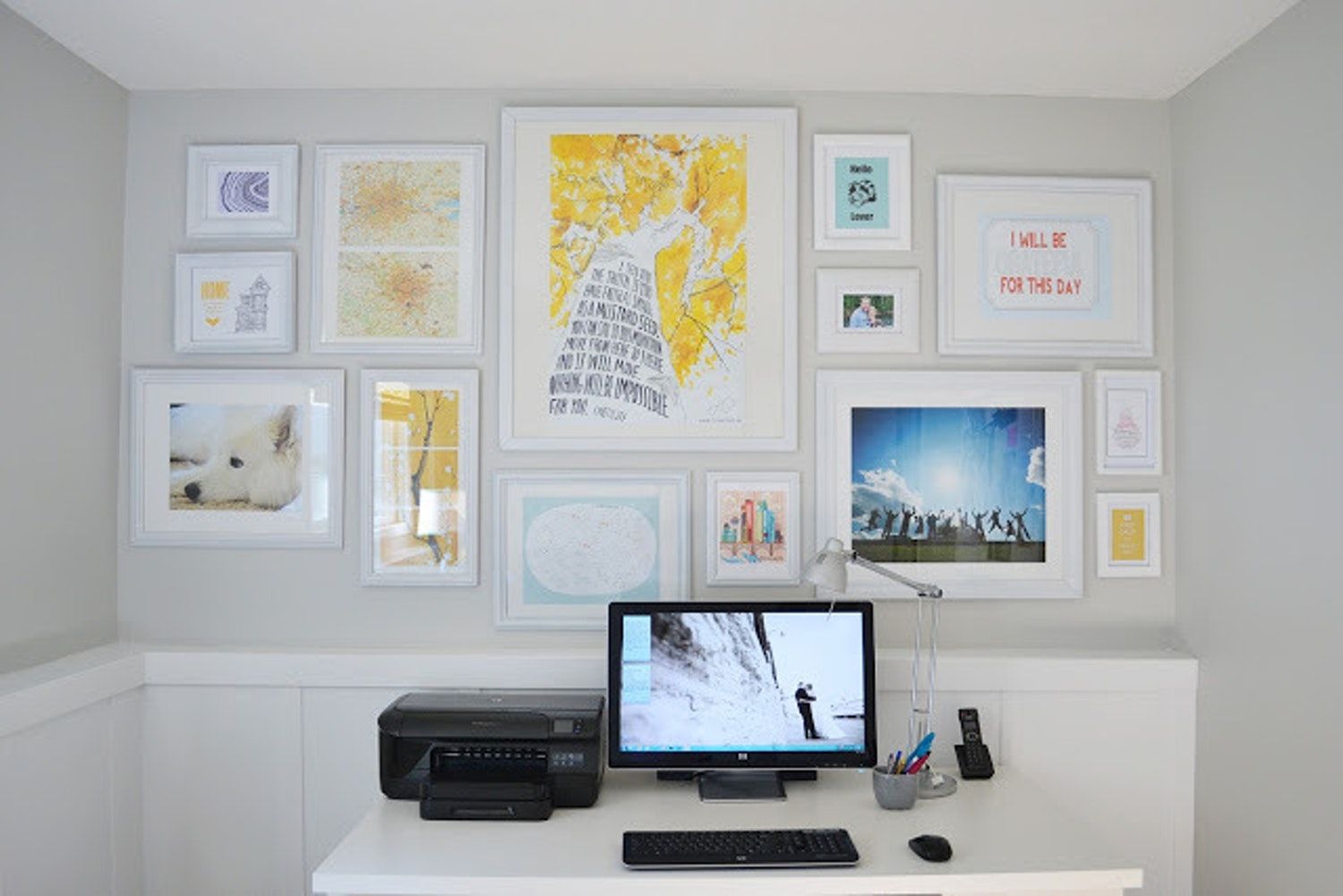 Home office ideas that will also include your interests or hobbies are a sure win-win, right? Lovers of art will enjoy curating this decor as it involves hanging a lot of paintings and such. For this idea, the most essential piece of decor is the art pieces hung on the wall adjacent to the main workstation. As long as you coordinate the general decor, including the colour of the wall, desk, etc., with the art pieces you choose, anything can be pulled off in this decor idea. Quite literally, the possibilities are endless. Keep in mind that we will use only one of the walls, and for that, a single large statement frame can be installed or multiple smaller ones. Ultimately, it's up to you as to what gets the symmetry going.
11. Get a Cross-Island L-Shaped Desk
When space is not an issue, many kinds of ideas can be implemented. One such home office idea is to equip the designated work corner with a long cross-island L-shaped desk that will house the computer as well as miscellaneous work-related items either on the desk as open storage or inside equipped cabinets. This might seem like an idea that will clutter your space but think about the space you are saving in terms of storage, and you will be getting additional tabletop space. One more thing about L-shaped tables is that it forms an angular blank space which is perfect for keeping bulky chairs. Besides, if your work needs more than one device or lots of paperwork, you can spread it across the entire table and work seamlessly.
12. Diy Chalkboard Calendar for Your Workspace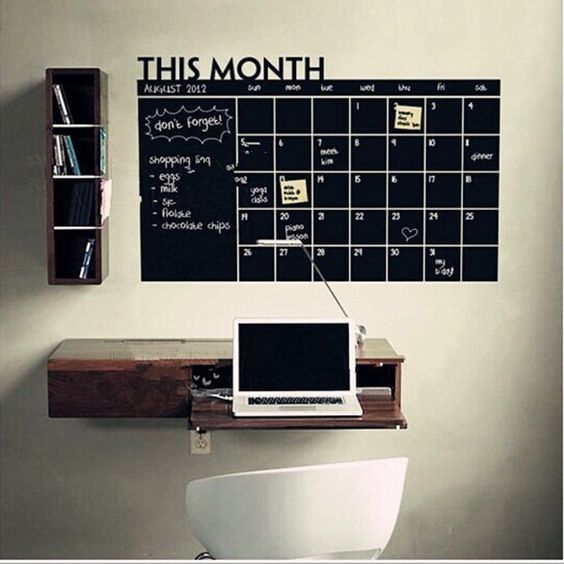 The best home office ideas out there are probably those that utilize organizational tools such as calendars as a decor element. An office worker has more than one task to keep track of, so why not build yourself a DIY chalkboard wall right beside your desk? You can use the chalkboard not only to keep track of daily tasks but also to doodle on it as a part of your decor! The best about having a chalkboard calendar is probably the fact that it can be used for many purposes. Since chalkboards are reusable, you can change the doodle whenever you want and use the board for something else. 
13. Retro Fashioned Decor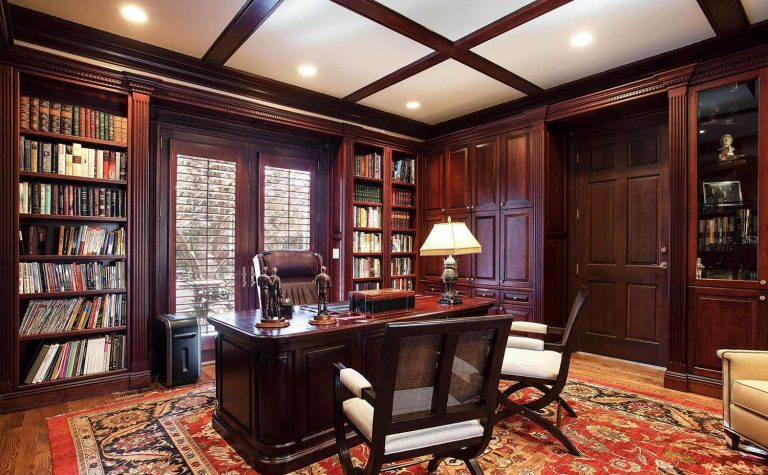 Who would not want their home office to look like it's the set for a 1960s-old Hollywood movie? The process of making that a reality is simpler than one might think. After all, such a home office looks very professionally made, with so much attention to detail. But the resulting visual appeal of this home office idea is worth the effort! The main item of decor here is furniture, so go as vintage as possible. Get a bench-style desk or table, cushioned chairs, bright curtains, and statement rugs. You can increase the vintage aesthetics of the room by adding items such as n old gramophone or a grandfather clock.
14. All Eyes on The Ceiling!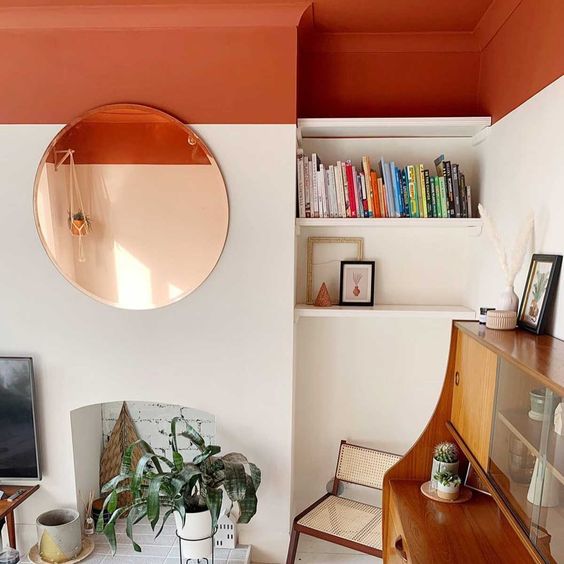 The ceiling is that area of a room which can get easily ignored. Although these days, false ceilings are quite popular in interior decor. We can take inspiration from that for this home office idea which focuses on the ceiling. While keeping the general decor simple, the ceiling is accented and modified as the eye-catching point of attraction in the workspace. In this home office idea, simplicity prevails as not too many items are added or installed to build it up. Almost all efforts are expended on the ceiling, while the walls and flooring are kept simple and neutral. Similarly, the desk or the workstation to is nothing over the top and thus complements the ceiling perfectly.
15. Install a Built-In Cabinet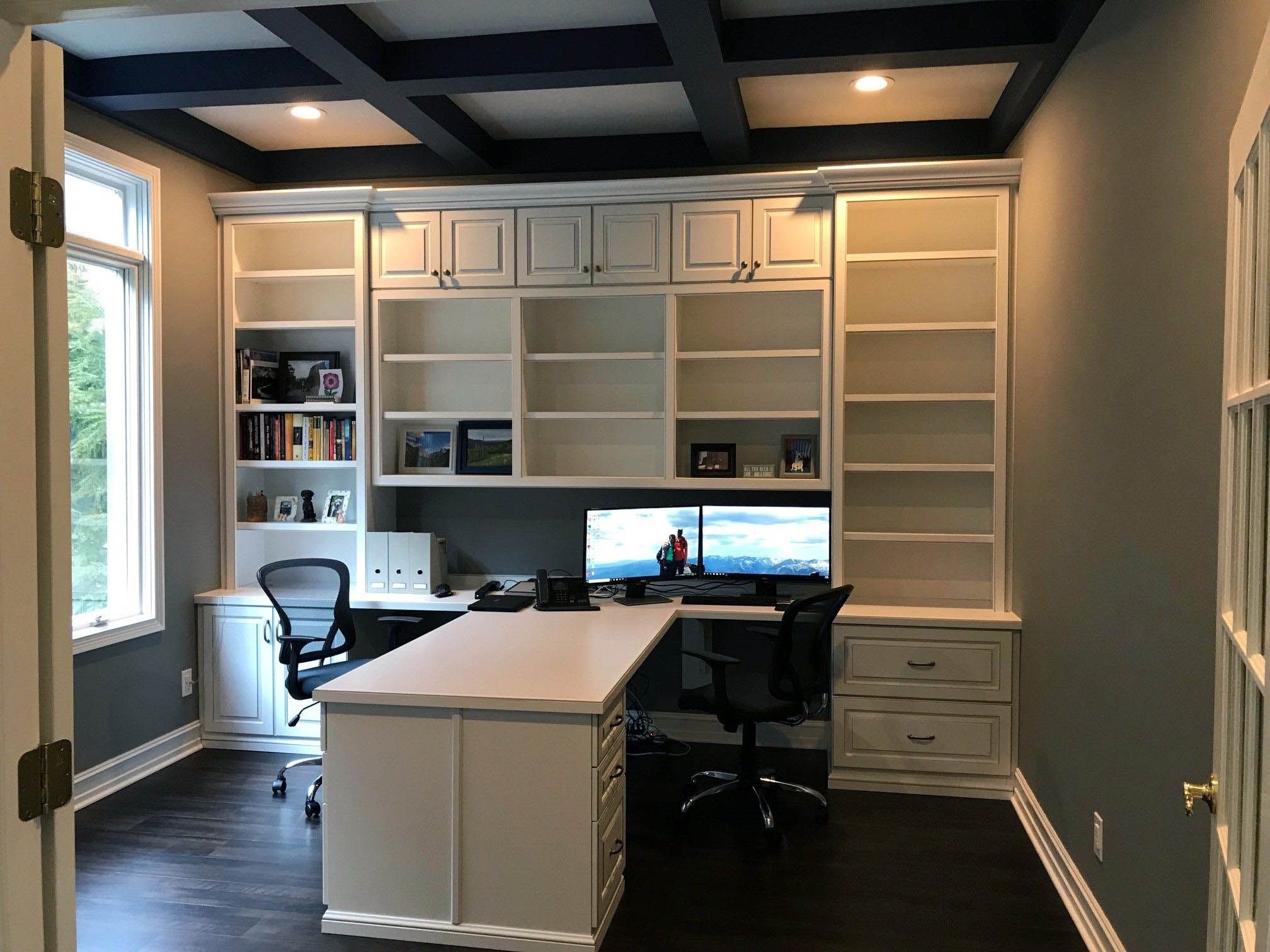 Cabinets are a go-to solution when storage becomes an issue. The same thing can be applied to decorating office space at home, where an entire wall is transformed into built-in cabinets with both open and closed storage. The visual appeal of this decor is both modern and formal, as well as sets the workspace apart from the rest of the house. These cabinets can be used for both keeping important items and for showpieces alike. This way, the office can mix a look of formality as well as carefully planned interior decor. You can also opt for mixed types of storage options, that is, open or closed storage, as privacy is an important aspect of every home office. 
16. Black and White
Nothing can make your home office look as sophisticated and chic as black and white decor can. These two colours are a quintessential combination that can turn around simple into gorgeous if executed appropriately. Since it is unusual to request all-black walls for a traditional home, we can stick to white walls and add black using accessories such as the desk, computer, rugs, and photo frames. Statement art frames for one wall or one accented wall in black will also achieve the same results.
17. Home Office Under the Stairs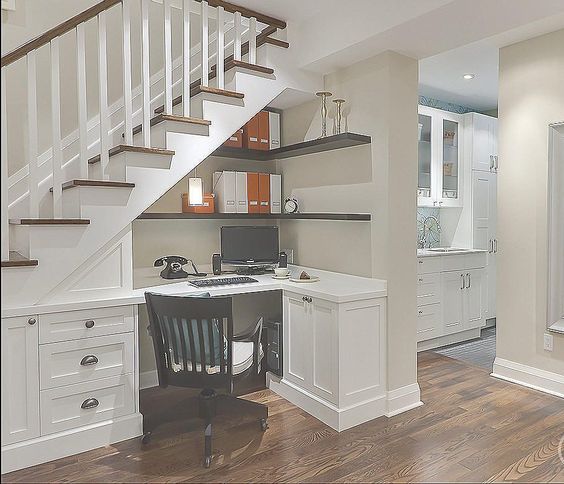 This is one of the home office ideas that is an example of space optimization at its finest. For turning the space under the stairs into a cabinet, you will have to have an open space under the stairs where the office equipment will go. After this, you will have to take measurements for the desk height, chair, and storage space as well. The furniture that will be installed in the workstation may need to be customized as this post is rather unusual, and the readymade furniture you find may not fit in the available space.
18. Exposed Brick Wall Decor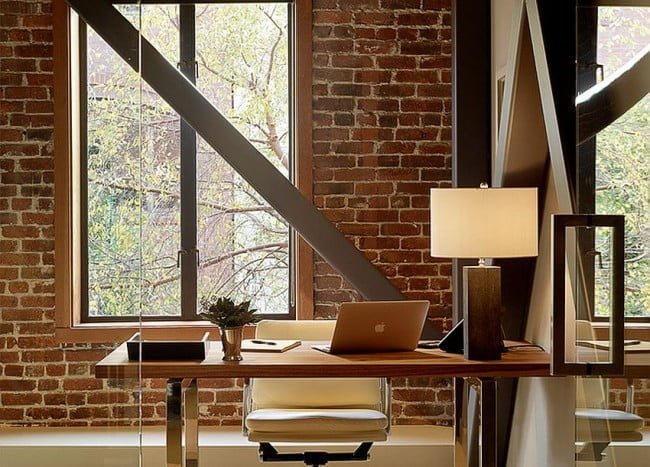 If you have an exposed brick wall, then do not be in a hurry to paint over it, as it can easily be transformed into a very trendy decor for your home office. This office decor brings a rustic charm to your workspace while also elevating it to something unique and simple. The surprising factor in this compact look is its simplicity and the low amount of effort it requires to be put together. Go for brown desks that will blend in with the wall while not taking away any attention from it. Any mix of brown and off-white colours will be perfect with an exposed and unpainted brick wall.
19. Warm White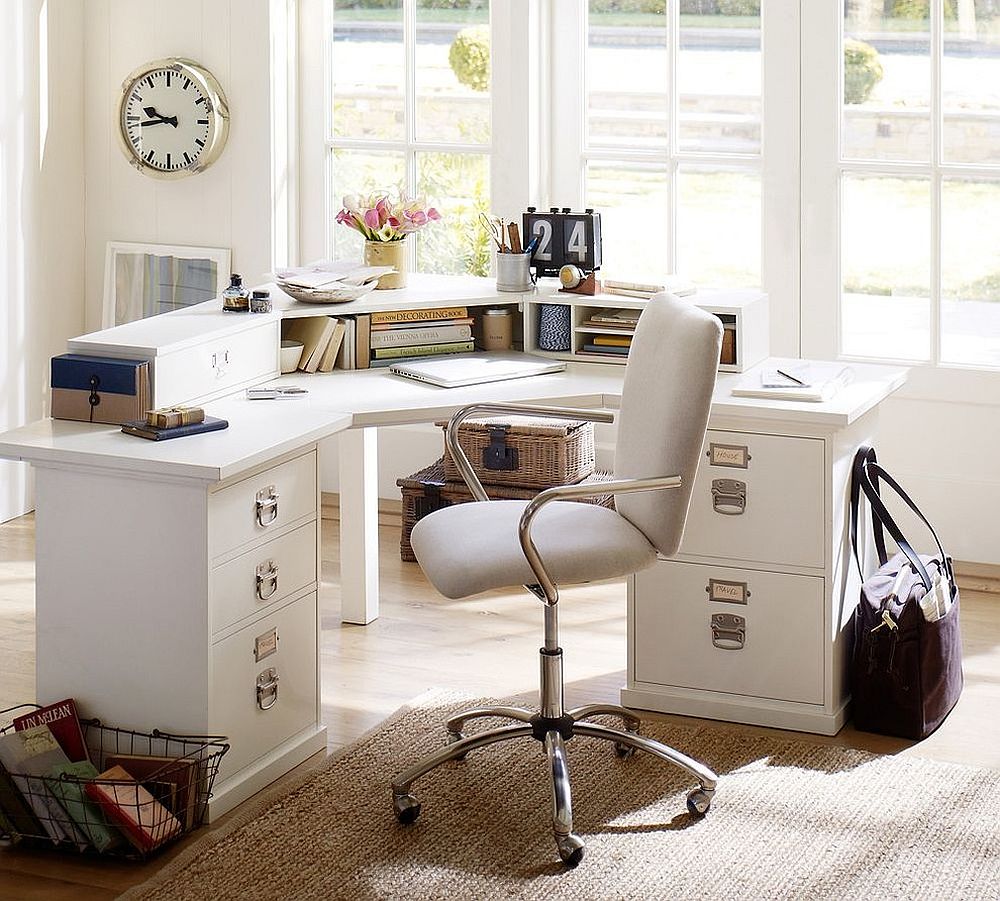 While we are on the topic of simplicity, have a look at this home office idea where a white colour palette is maintained. For homes that are crippled with limited space, white can be a great colour to help the area feel larger and more open. Moreover, a white-toned office creates a calming and non-distracting environment where productivity can be at its peak. However, not every item in the room has to be white, as that might look too bland. You can keep the major aspects white such as the walls, desks, and chairs. While the other miscellaneous items, such as vases, clocks, and photo frames, can be of a dark-toned colour. Consider using navy blue, black and deep maroon, as they pair well with white. 
20. One Highlighted Wall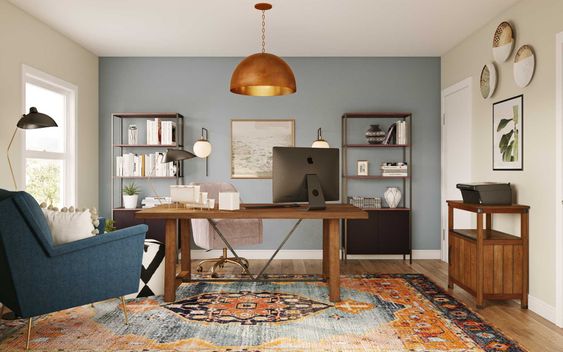 A home office can be a whole room or a specific corner of a room. In case you have an entire room to work with, executing decor ideas for all the walls can be a real headache. So, to reduce the trouble, you can paint three walls with the same neutral colour and use a bold colour for the fourth focus wall. This will be your accent wall, and it should also be the wall that people first see when they come inside the room. The desk or your workstation should ideally be placed in front of this wall so you can have your back to it while working. This will maintain the visual mystery of the room. Additionally, the wall you choose to accent should not have any windows or ventilators.
21. Go Midcentury Modern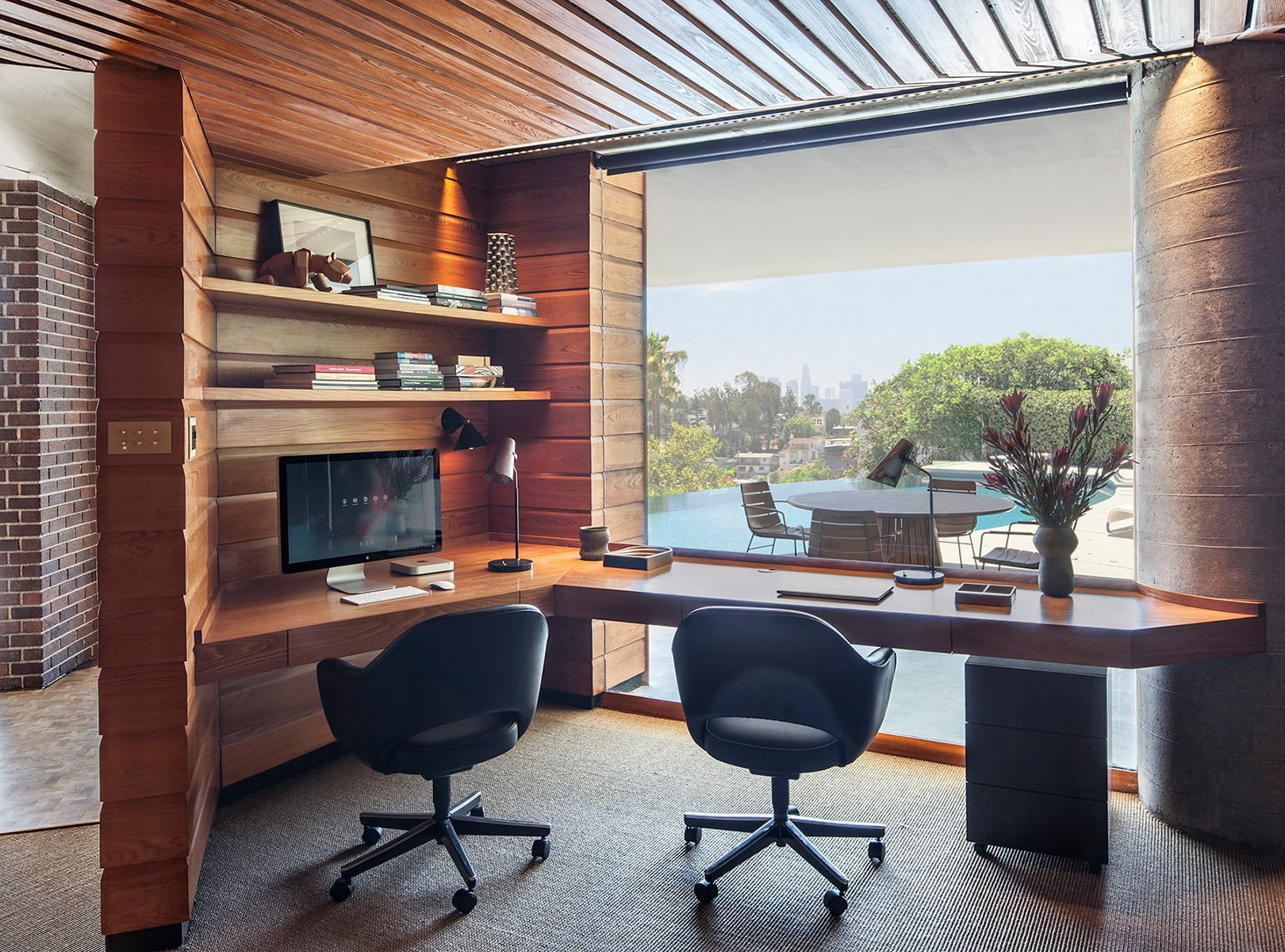 One of the most popular interior decor styles for home office ideas and decor is the mid-century style or even the newer version of it-the midcentury modern. This decor style is known for a specific aesthetic that includes open bookshelves, leather furnishings and polished wooden furniture. The traditional mid-century decor may seem bulky, but you can always make it less intense by adding some modern touches by getting newer models of sofas and bookshelves.
Wrapping Up
Many people refuse to make a home office for fear. It is a general belief that executing a decor idea is a matter of large spending. That is only partially true, as not all ideas will put a strain on your purse.
Also, to be honest, working from the sofa or the desk of your workstation at home does not affect the quality of your work, but having a spot dedicated only to work sure helps to maintain a consistent perspective. It can also help you to keep your focus away from distractions.
So, these were 21 popular home office ideas for your new workspace, and you have plenty of expensive as well as simple options to choose from. Do not wait any longer, and try them out for yourself.