What kind of geometric wood wall art will reflect your personality? Nowadays, wooden geometrical arts are bringing a new angle to art galleries. So isn't it a great idea if we could decorate our house walls with a fantastic art piece?
The wood wall art with geometric designs can change the overall appearance of your living place. So, if you want a beautiful house, but don't want to end up with a useless piece of wood, consider investing in a suitable wood wall art design. It will further make your place more welcoming and pleasing. There are several ways to decorate your house with different types of wooden art suitable for your wall type, furniture color, room size, and place.
Importance of Having a Variety of Geometric Wooden Wall Decor
Usually, every wall decor is not the same. Regardless of the material you use, all the pieces that are different in colors, texture, and patterns. People can tell a different story with each home decor that offers a different vibe. Hence, it would be best if you came up with various geometric wood wall art designs to help every room come alive in different ways. But you must ensure it matches other things in your room to give it a complete look.
However, you must know that as each room is different, you must decorate them with unique and colorful pieces. Including beautiful wood wall decor is the best way to bring newness to every space of your house. If you are in a dilemma of which one to choose and how to select wooden wall art with geometric design for different areas of your home, consider taking ideas from the following points to make the room look attractive and more inviting than ever.
1. Living Room Ideas
The living room is the most crowded corner in our house and is considered an entertainment place. Therefore, it must be decorated with different patterns, colors, and textures. As it is the first place your guests will notice, you must include a unique geometric wall art design to make them feel intrigued and welcomed. Consider integrating triangle or square wooden wall art if you want something rustic yet modern. Hanging the same two pieces on both sides of your wall can create a vintage look. Conversely, hanging the wooden wall art on one side with your family photo can be an excellent idea to make the corner extra special.
2. Dining Room
As the dining room is a personal space, you must decorate the wall with a DIY wood wall art design. Conduct adequate online research to find the more appropriate design with patterns that reflect your preference and style. Selecting a design that typically won't be considered art can be an excellent addition and catch the attention of your guests. The uniquely-shaped wood wall art with extraordinary or absurd designs can make the place look more exciting and eye-catching.
3. Bedroom
While decorating your bedroom with the geometric wall art design, you must remember to opt for a shape that will bring more peace to the room. Depending on your style, you can select wooden wall decor with vibrant colors or go with subtle colors. The bold and big geometric design may not look suitable for personal space. Instead, you can opt for coastal rustic pieces with some texture. If you wish to create a classic and fancy look, choose a wall decor with a vintage design.
15 Finest Geometric Wood Wall Art Designs that Make Your Guests Leave in Awe
Everybody is familiar with geometric forms! You have probably grown familiar with forms like triangles, squares, and rectangles from school. The geometric wood wall art resembles an artwork made of wood fragments in geometric shapes. Here are some unique ones-
1. Simple Geometric Art
Simple geometric wood wall art designs are abstract art made with wood. In one piece of art, you can see different colors of wood. It is a solid art. They are primarily single pieces of art. It comes with a frame. It can be placed on top of a table like a photo. Some 3D models are available online that can make your room look astonishing. Furthermore, you can also try Amanti Art Geometric Inlay, as they are elegant and natural.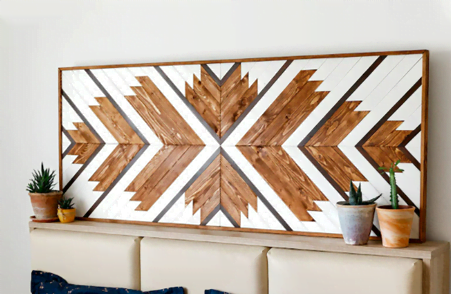 2. Landscape Geometric Wooden Art
Landscape wood wall art is a beautiful sculpture that represents real-life scenarios. They are available in the form of mountains, the sea, the sunset, and many others. They are lightweight as well. These pieces are usually wooden in color but can sometimes be found in other colors. It is a piece of art that can be a collection of two or three peace art making a single scenario. Landscape arts are available in oval, round, Square, and triangle shapes. In addition, you can decorate your room with a Geometric Mountain Canvas Wall Art, which fits your sofa shape and size.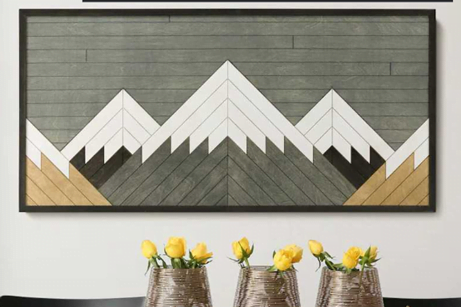 3. Wooden Art Hangings
It is another type of wooden art that make your walls more lively. They bring the most straightforward and elegant look to your walls. As their geometrically shaped pieces are arranged with a rope, you have to be very careful while cleaning them. They need a very delicate dusting or cleaning. There are available in different colors, shapes, and sizes. You also can hang them on your outer wall. It is a perfect design to pick if you have a small wall and want to decorate it further. However, you must consider the room size and color before buying it.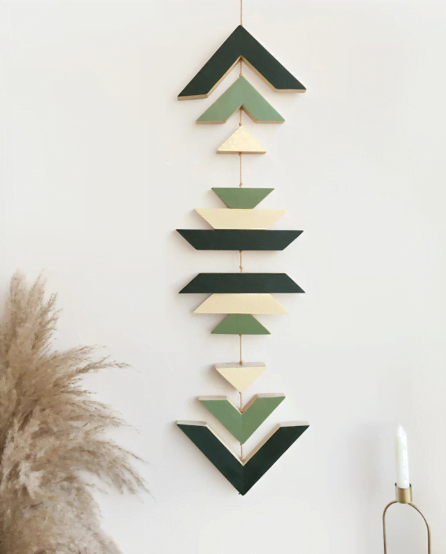 4. 3D Wooden Wall Art
3D wood wall art is an excellent addition to your beautiful wall. It makes a beautiful elution to your wall that grabs the attention of your home visitors. You can make Empire Art Direct Rugged Blocks a centerpiece and decor your furniture that perfectly goes with the entire look of your wall. You must also be very careful while cleaning them, as they are quite unique and delicate pieces. It can go with any room wall in your home and brings elegance to your wall.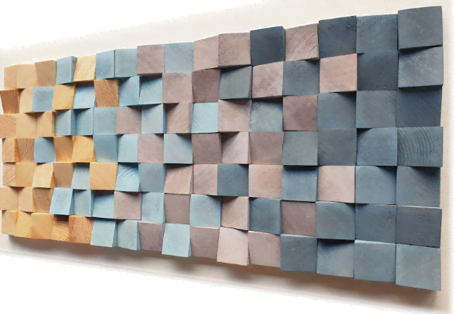 5. Mosaic Geometric Wood Wall Art
These are mosaic pattern wood wall art. Squares, rectangular, shaped wooden blocks are arranged in a beautiful pattern. It is also available in 3D. It can be square, rectangular, round, or oval frames. There are many colors available for light-toned and deep-toned walls. As they come in three, two, or one numbers, you can arrange them and hang them separately on different walls or rooms.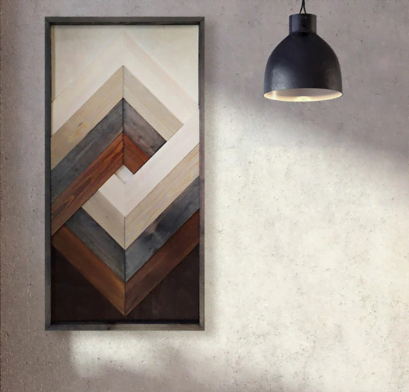 6. Wildlife Geometric Wood Wall Art
These wooden arts are based on wildlife animals. It's an art made with different colored or non-colored wood pieces to create an animal. They are available in the form of birds like eagles, owls, parrots, etc. Also, having animals like dear, wolves, bears, etc., on the wall of your home is unique and reflects your love for the animals. You can have a collection of them, including a Majestic Moose Animal Artwork Print on your living room wall.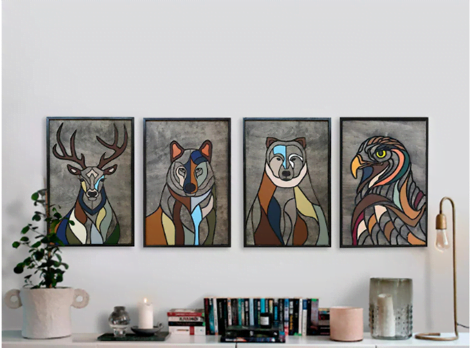 7. Coloring Wooden Art
Most geometrical wood wall art available in the market is of natural wooden colors. Along with that, it comes in various other colors as well. So, it is an amazing geometric wood wall art for people who love to play with colors. You can select your favorite color to make it your favorite corner. Also, even if you pick a wooden color, you can redecorate with any color you want. While buying a coloring art piece, you should consider some factors:
Remember the Inner Color You Want to Show to Your Guest
And the Color of The Room You Are Considering Putting the Art On.
The Shape of The Art and The Shape of Your Wall
Size of Your Wall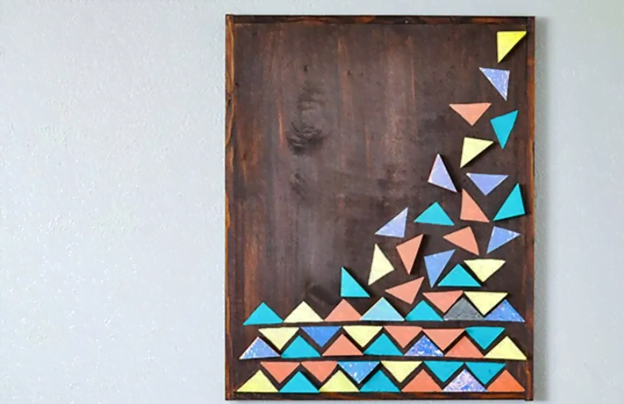 8. Floating Geometric Art
It is another unique and fantastic type of geometric art you can select. The geometric shapes of these pieces make a floating effect on walls. 2 Pieces Metal Wall Art Geometric Modernist could be the masterpiece in your bedroom. It could be a reminder of the days of vacation. They are also available in many colors and shapes.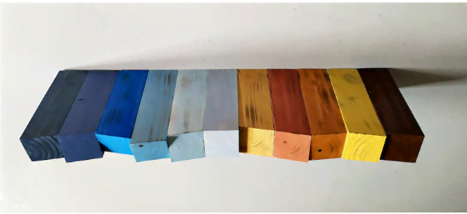 9. Functional Geometric Art
These are frictional art made with geometrical wood shapes. This geometric wood wall art generally makes a pattern that could be big or small. Also, they are available in many colors or the natural color of the wood. Therefore, it is a perfect decoration for a study room. You can choose Boho Wall Art Set to make your room look calm. Furthermore, it can be an excellent addition if you want to bring concentration to your work.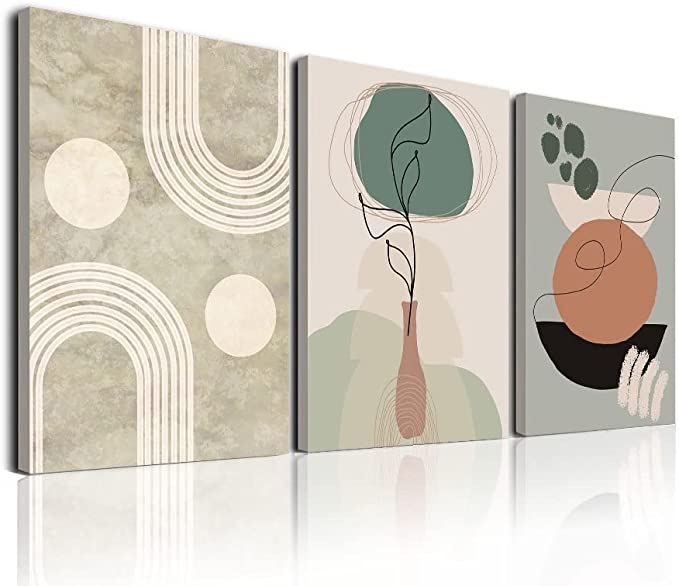 10. Lightweight Wooden Art
This piece of art is elegant and straightforward wood wall art. But they are lightweight. If you are moving somewhere, it could be the art you want to carry. As it is lightweight, it will be easy to carry. If you are a primary person, it may be the exact reflection of yourself. It is minimal and can go with every type of wall, size, and color.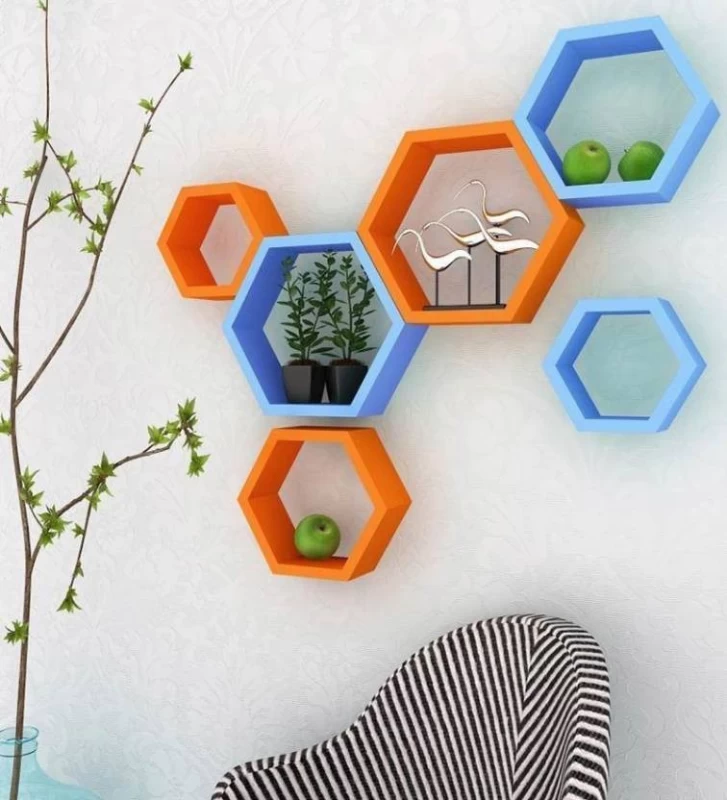 11. Burned Wall Art
It is also a significant art form. Woods are sunburned and reused to create a net wood wall art. It will give your room a retro feeling. It is a beautiful piece of art that a few can understand. They are eye-catching as well as simple. With the help of African American Abstract Wall Art, you can also represent your simple inner sole. You need to think about your room size, color, and shape of your furniture before buying this. It will go well with a rock wall, as seen in the picture.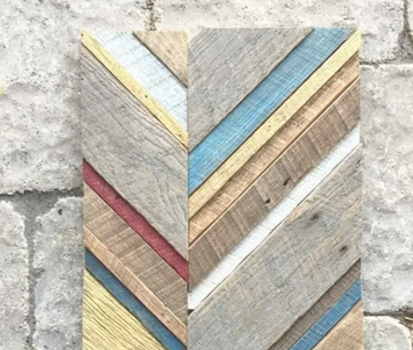 12. Fancy Wooden Art
Fancy geometric wood wall art is made by bending wood to a beautiful form. It is also a different type of modern and 3D art. It would be best if you relate to the art to understand the inner meaning it represents. It could be a cantered art, quickly attracting your guest's attention. Like every art, it also reflects your inner soul.
So, what factors do you need to consider while buying this fancy art:
What Is the Meaning of The Art You Are Representing
Shape, Color, and Size of Your Room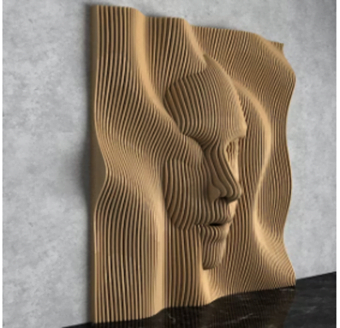 13. Room Dividing Geometric Art
These are bid pieces of wooden art. These are lightweight box crafts in geometric designs. You can make them to any size you want by cutting the number of squares. Die or the natural color of wood, they are available in both. You can use these wood wall art as wall dividers too. Also, you can glue or hang them on the wall to create a giant wall of art. They can be placed on your dining and living room dividers.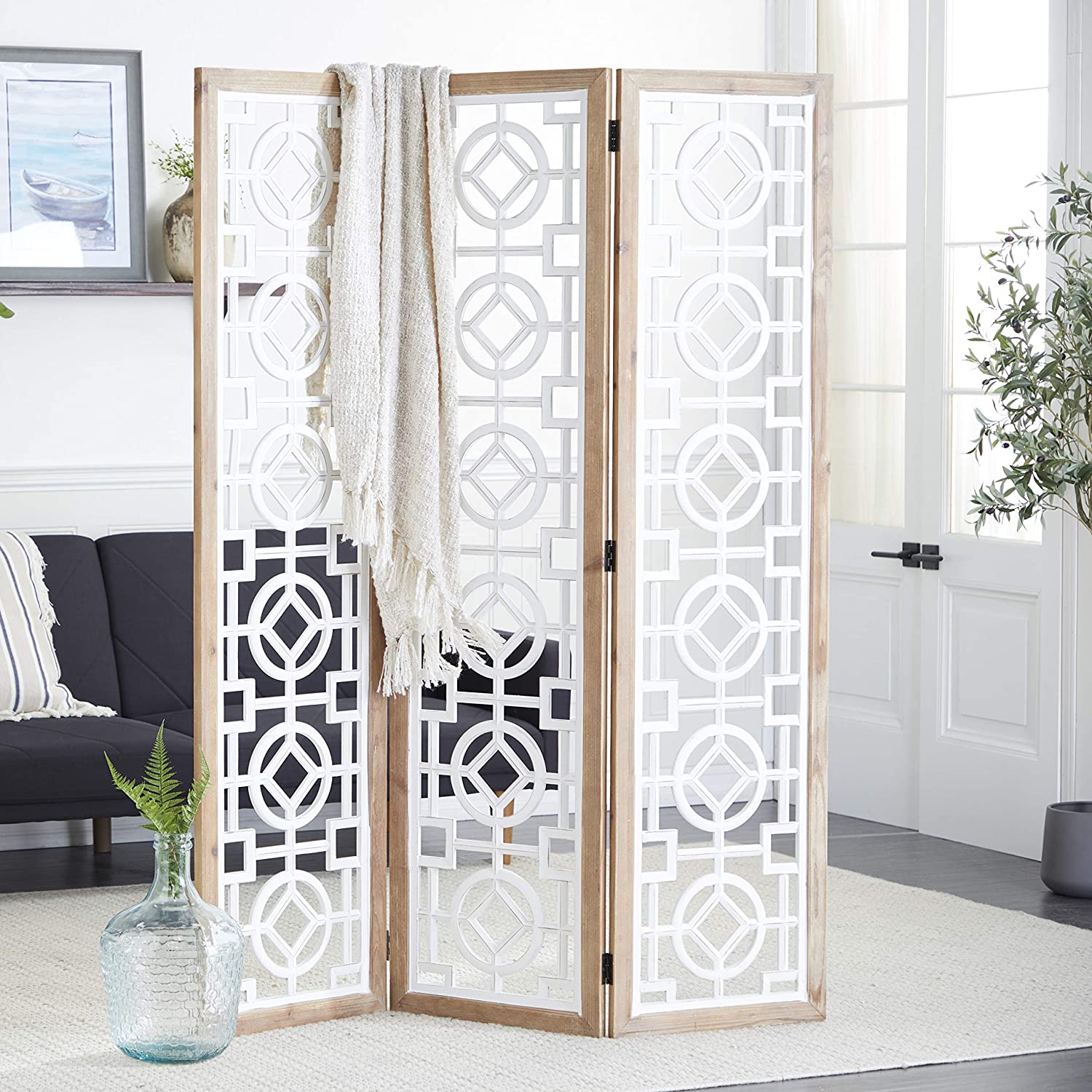 14. Collection of Wooden Art
These are small collections of geometric wood wall art. It can be of the same or different shapes or patterns. This type of wooden art comes with multiple decoration ideas. For example, you can use them vertically on your small wall to add an illusion of height. Or you can décor multiple walls. Also, you can arrange your pattern and style on a big wall. There are some significant collections available in the market too. Sometimes they come in two or three parts. They are perfect for your dining room or living room decor.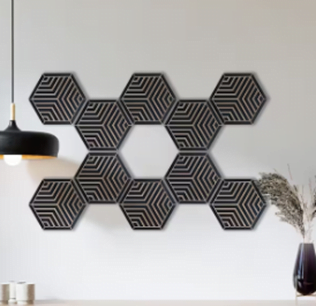 15. Geometric Modern Wooden Art
It is a modern representation of wooden art. This type of geometrical wood wall art shows your modern lifestyle. It can be of multicolored or standard wooden color. There are some factors you need to think about while buying modern wooden art-
What kind of decor do you want for your room walls
What kind of person do you want to show through your art
Try to relate to your art
Think about the room you want to place the art on
Or you can center the art and decor around that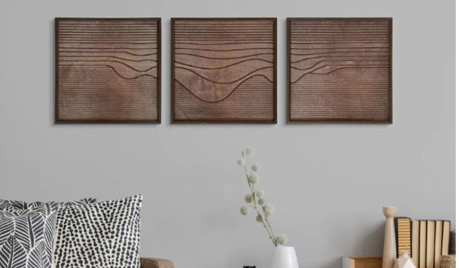 Conclusion
The wall art is mainly a visual representation of some fine art that you can use to reflect your inner soul to your guests. Also, you can redecorate your room, represent some old memories, and make more through these art designs. Make a list of things you want to add to your wall with suitable geometric wood wall art. Make sure you have a clear view of your room in your mind. 
Frequently Asked Questions
What Other Items Can You Add to Geometric Wood Wall Art?
Other items you can add to geometric wood wall art are
Mirror-centric geometrical wood wall art
Geometric wooden art with a title
Art with lighting
Collard wood art
What Can Be the Best Placement for The Geometric Wood Wall Art?
The best placement for the geometric wood wall art will be a hallway, where people will come and admire the art piece. Also, it could be on the entranceway wall; that's how people can directly see the theme of your house.
How Can You Select the Geometric Wood Wall Art Design?
It would be best to consider these factors for selecting a geometric wood wall art design.
Size of your wall
Color of your furniture
The shape of the place
Style of the room
Also, consider your personality style
You need to observe your place, and you will understand everything.
How Can You Make Your Wall Look More Decorative with Geometric Wood Wall Art Designs?
To make your wall look more decorative with geometric wood wall art designs, here are some tips
Use different sizes and shapes of geometric wooden art to create a dynamic display.
Use lighting around your wooden art to make it more highlighted.
Use the wood art as a focal point and start to decor the rest of the room.
What Are the Best Decorative Ideas for Making Geometric Wood Wall Art for Small, Less Spacious Walls?
Here are the best decorative ideas to have geometric wood wall art for small, less spacious walls
Bid goodbye to the smaller wooden art pieces, as they won't overwhelm the space.
Hang the wooden art in a vertical line
Choose white-washed designs
Make the wooden art the focal point and keep the rest decor simple