Renovating your bathroom can be an exciting task, especially if you're a fan of the colour green. And if you have made up your mind and you're considering going green with your bathroom scheme, we've got you covered with these 30 ideas that will make your green bathroom both modern and stylish. Green is a colour of rejuvenation. It's calm and centric, which adds a light, breathing spirit to your bathroom. This is all you need before a long day at work and to wind up at night before your bedtime.
Green bathrooms are so in trend and for good. The depth of its shades in your green bathroom can make your bathroom your favourite corner. From pastels, emeralds, and moss to olive, these shades bring a fun vibe. No more waking up every day to a boring bathroom experience. There are a lot of ways to play with paint, tiles, accessories, and wallpapers while making your bathroom green. If you are here for inspiration, you just landed right.
Let's dig right into the world of green bathrooms.
1. Play with The Shades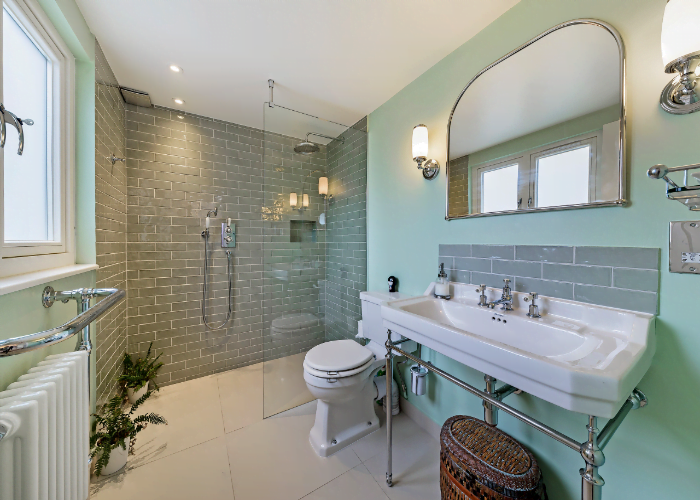 Pick your favourite green shades, or use different hues of greens all at once. Lighter shade on walls, darker tiles in the shower, and a pop of green plants are used here. Play around and add the elements as you go. Redecorating your bathroom green can be so much fun when the palate is so vibrant.
2. Use the Gold Pop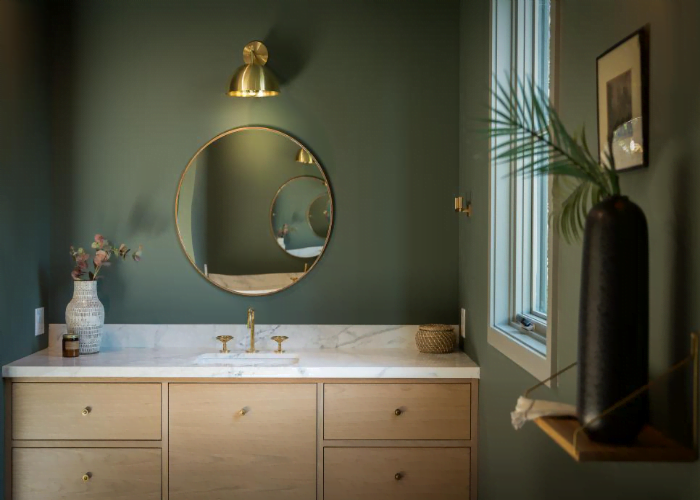 Gold to your green bathroom is the best kind of pop you can use to make your bathroom chic. You can never go wrong with this combination. Gold complements every shade of green, and there is a wide variety of accessories to choose from to create a cohesive look. Whether it's a side stand, a toothbrush holder, or taps, the options are limitless.
3. Green Marble for a Calming Effect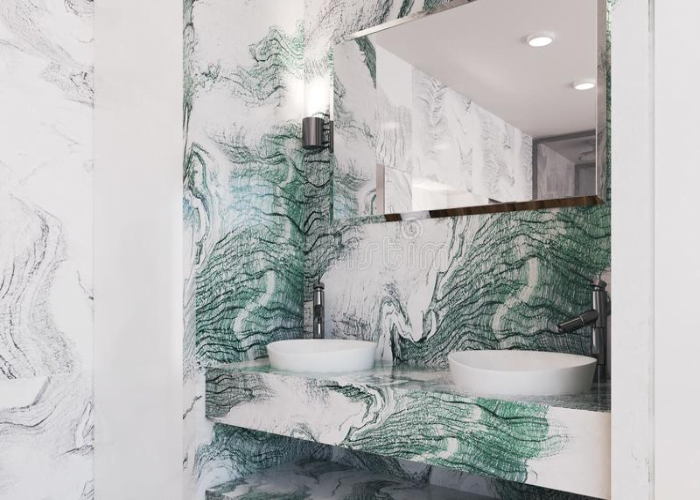 Marble floorings and tilings make the atmosphere cool and calm. The green marble can be used in the flooring or your shower walls. They are easy to maintain, easily available, and look classy. Making a green bathroom can sound overwhelming at first, but once you get to the task, it's all fun and play.
4. Pastel Green to Keep It Bright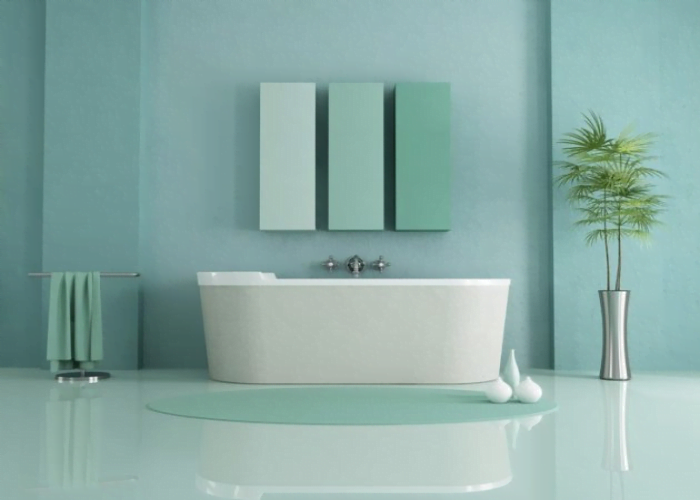 Pastel colours are a popular pick while making a green bathroom. Pastels never disappoint, and these shades of green work well to make your bathroom look bright and sunny. Some people are obsessed with making their bathroom look pretty; if you are that someone, adding pastels is a perfect way to do it.
5. The Boho Vibe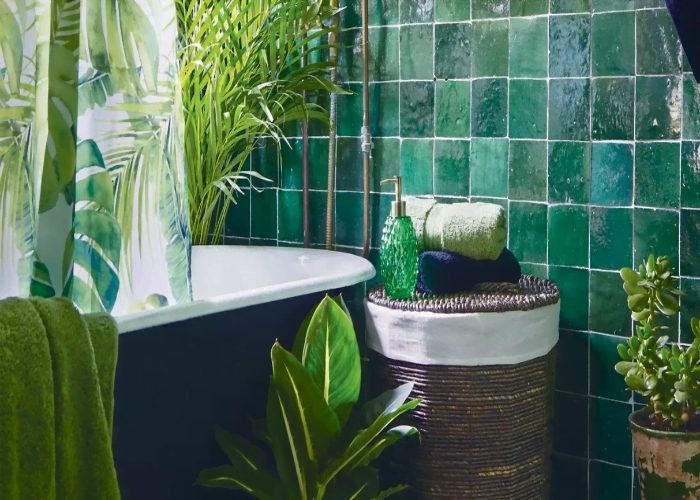 The Bohemian theme means adding a lot of character to your space. Make it personalized and playful. Usually, a lot of attractive elements at once can be spotted in a boho-inspired green bathroom. If you are someone artistic and love going with the flow, this is it for you. You will love the bathroom space that matches your energy.
No products found.
6. Mint Green for a Spa-Like Space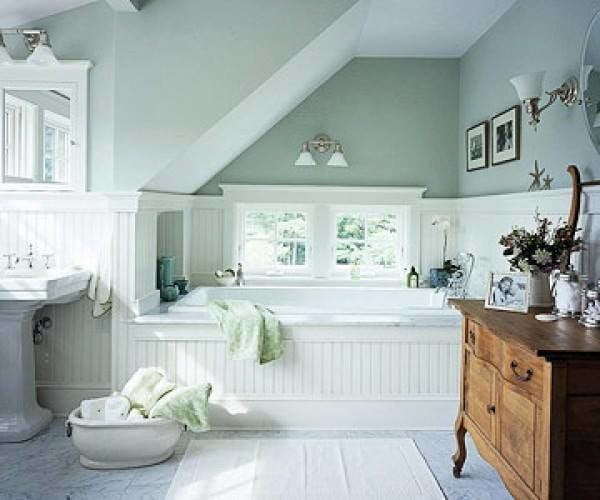 Mint green is soothing and serene. Every time you walk into this green bathroom, you will feel incredibly clean and fresh and hence "spa-like." Mint green asks for a teak wood pop; here, the natural wood cabinet is used to complete the look. But you can always explore your options and pick what suits your green bathroom the best.
7. Patterned Tile Flooring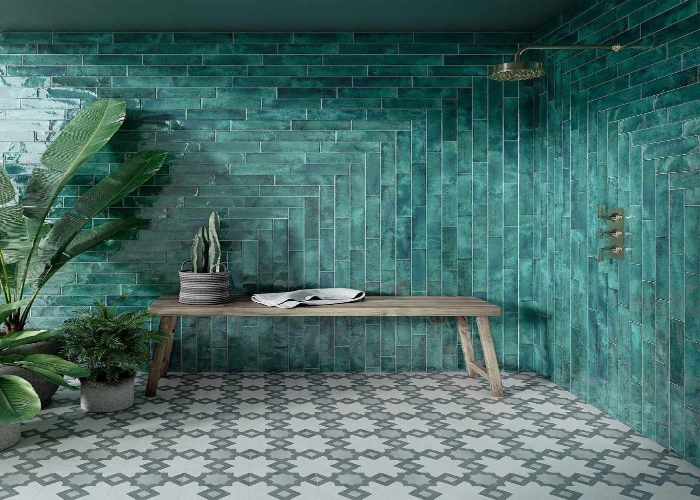 Adding pattern tile flooring is so much in trend now. It adds so much character and style to your bathroom. The variety is huge to pick from. From Bold, floral, geometric, minimal, or classic, choose what fits your style the best. The patterned tile floors will create an incredible visual effect in your green bathroom.
8. Subway Vertical Tiling for Compact Places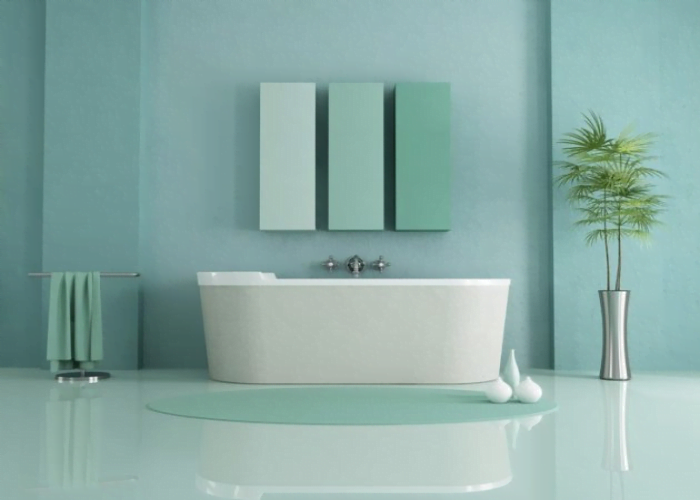 Subway tiles are durable, timeless, and can be used in whichever way. When placed horizontally, they create an illusion of heightened space, and this is a smart thing to do when your bathroom space is compact. They can be used in different colours and placed in different patterns. You can use it for the backsplash, shower wall, or bathroom floor in your green bathroom.
9. Tropical Green Bathroom Wallpaper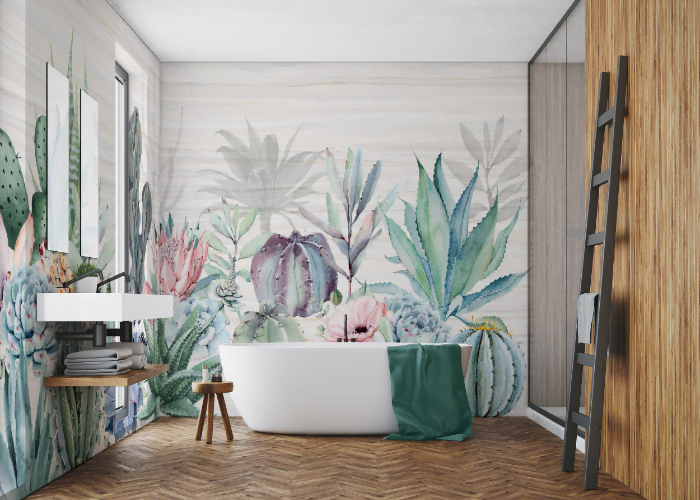 Doing over your bathroom with the colour green can be as simple as incorporating an aesthetically pleasing tropical wallpaper. Using tropical wallpaper is modern, audacious, and stylish. A tropical wallpaper will bring that environment to your green bathroom so that every time you step in, you can enjoy the tropical escape.
10. Green Bathroom Cabinets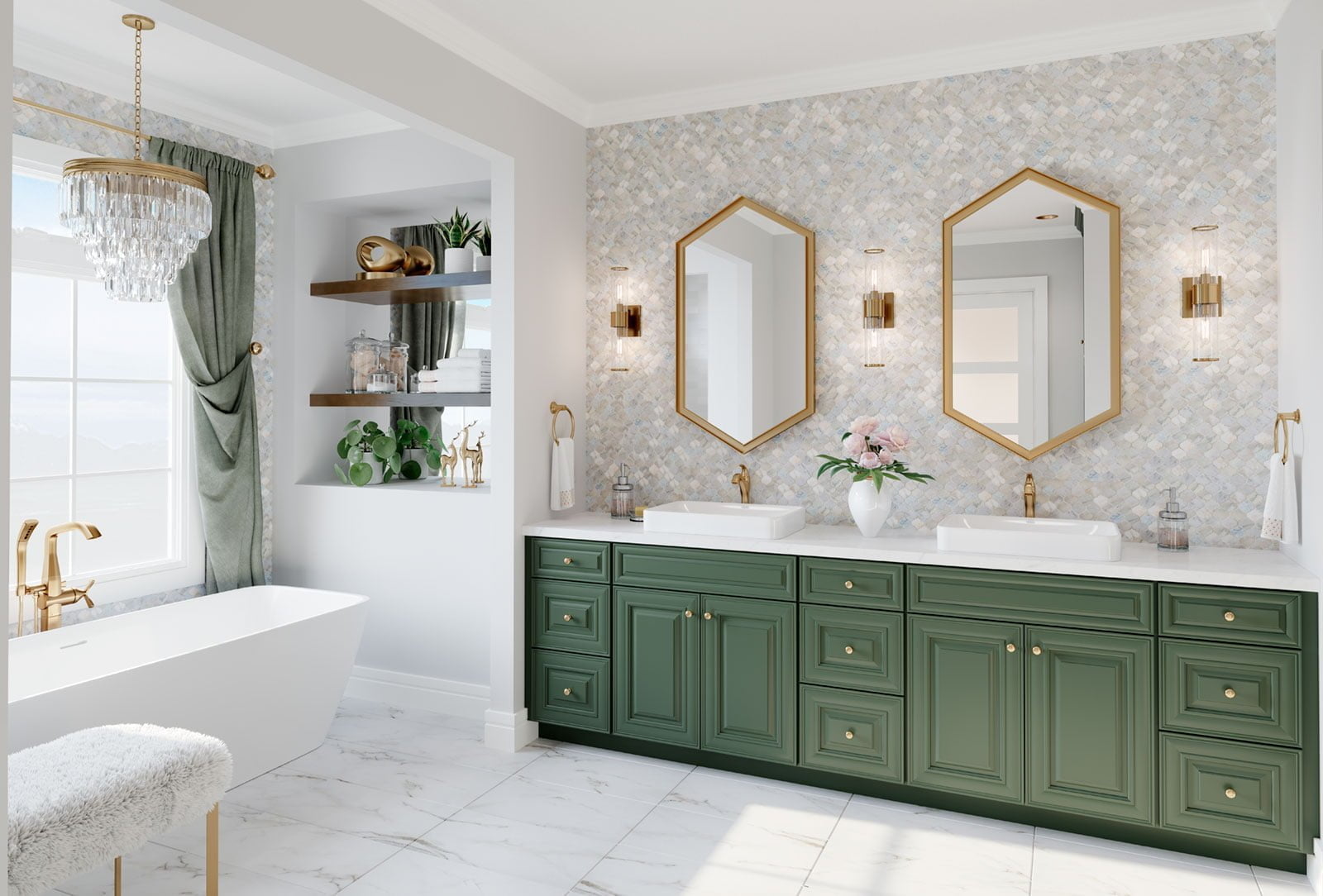 Paint your cabinets in teal green or add one to your usual all-white bathroom and notice the striking difference it can bring to the space. This green bathroom vanity adds a pleasing colour pop and will make you wonder why you didn't think of it earlier!
11. Green Oasis with Houseplants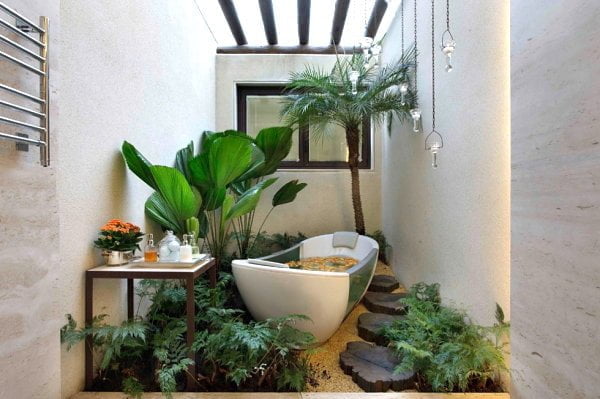 Create a personal oasis with these green bathroom inspirations. Indoor plants are the perfect way to incorporate green into your bathing space, as they not only provide natural beauty and a soothing atmosphere but also keep the air fresh and calm. Indoor plants have gained popularity in recent times, and the idea of a green-themed bathroom certainly feels incomplete without them.
12. Green Bathroom Curtains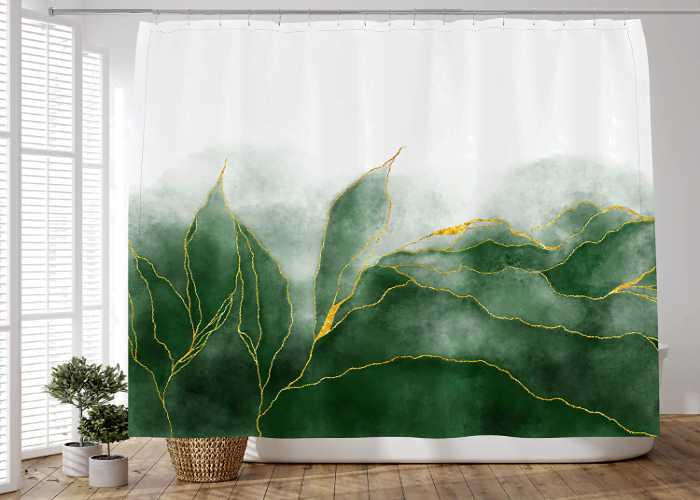 If you do not want to go through the trouble of making major changes but still want to add green to your bathroom, Simply replacing your existing curtain with something like a deep green or a tropical green is a smart and effortless way to do it. This small change can lead to a complete makeover.
13. Play with Tile Arrangements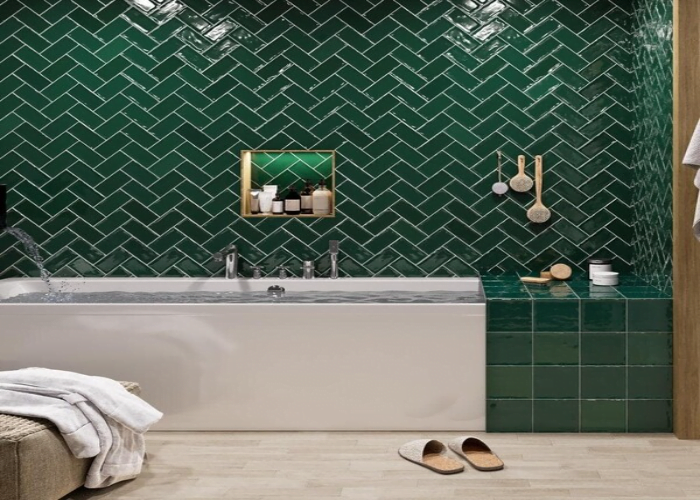 A fancy touch to your bathroom's tiled walls can be added by getting creative with the arrangement of the tiles. Arrange your tiles in different patterns to make everything look extra pleasing. A dark green tiled wall, along with a white bathtub, is as classic as it gets. Creating geometric patterns with tiles adds a lot of interesting structure to a green bathroom.
14. Peel and Stick Green Bathroom Tiles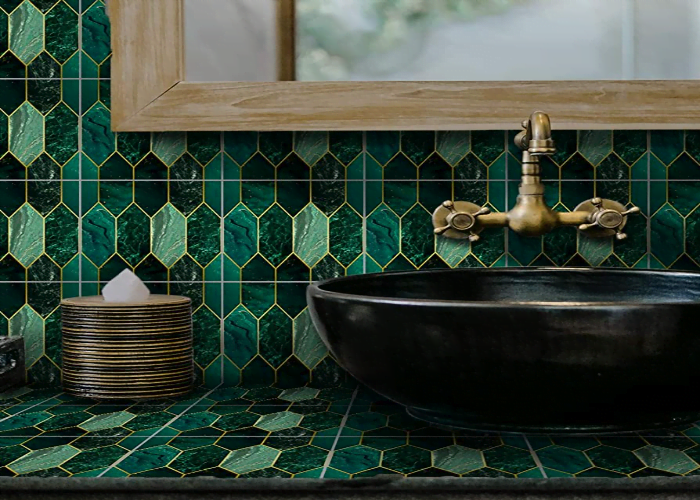 Do-It-Yourself projects are a popular trend nowadays, it saves you money and labour but does not compromise on the look. Save yourself from the hassle of replacing your wall tiles by using this peel and stick tile stickers which can be used on any surface and are waterproof.
15. Paint It, Hunter Green,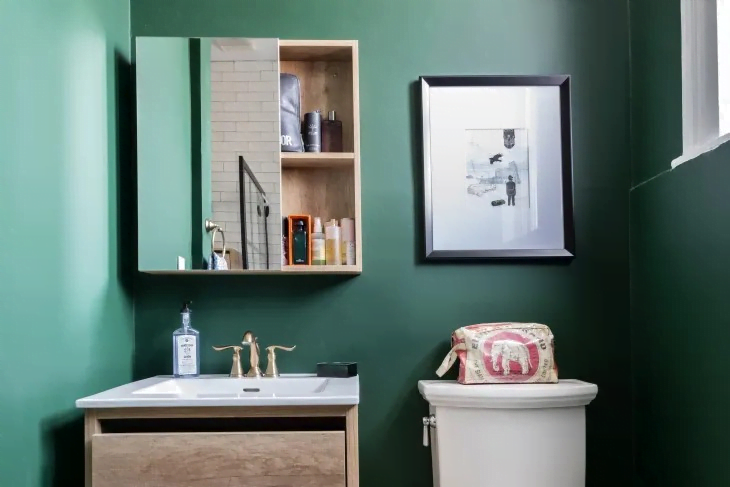 Just paint your walls hunter green and let everything else be just as it was. This is a magical way to turn the space into a green bathroom. The usual white, brown and grey go perfectly well with hunter green, and you cannot deny it.
16. Keep It Dramatic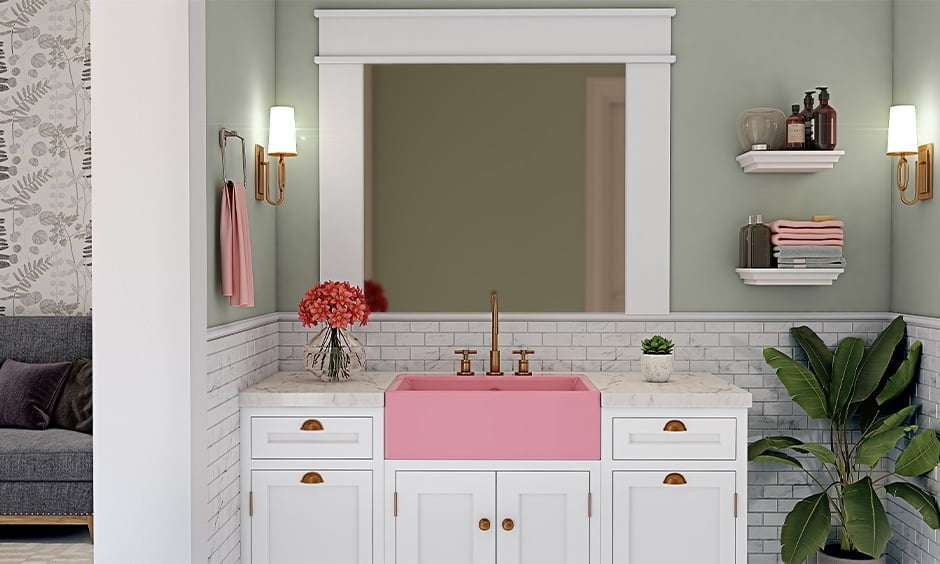 Add a bright surprise of pink or yellow to your green bathroom and watch the serenity of your comfort space unfold. These elements uplift your greens and whites and make them dramatically pleasing. The contrast goes well with the green and completes the look.
No products found.
17. Paint the Tub Green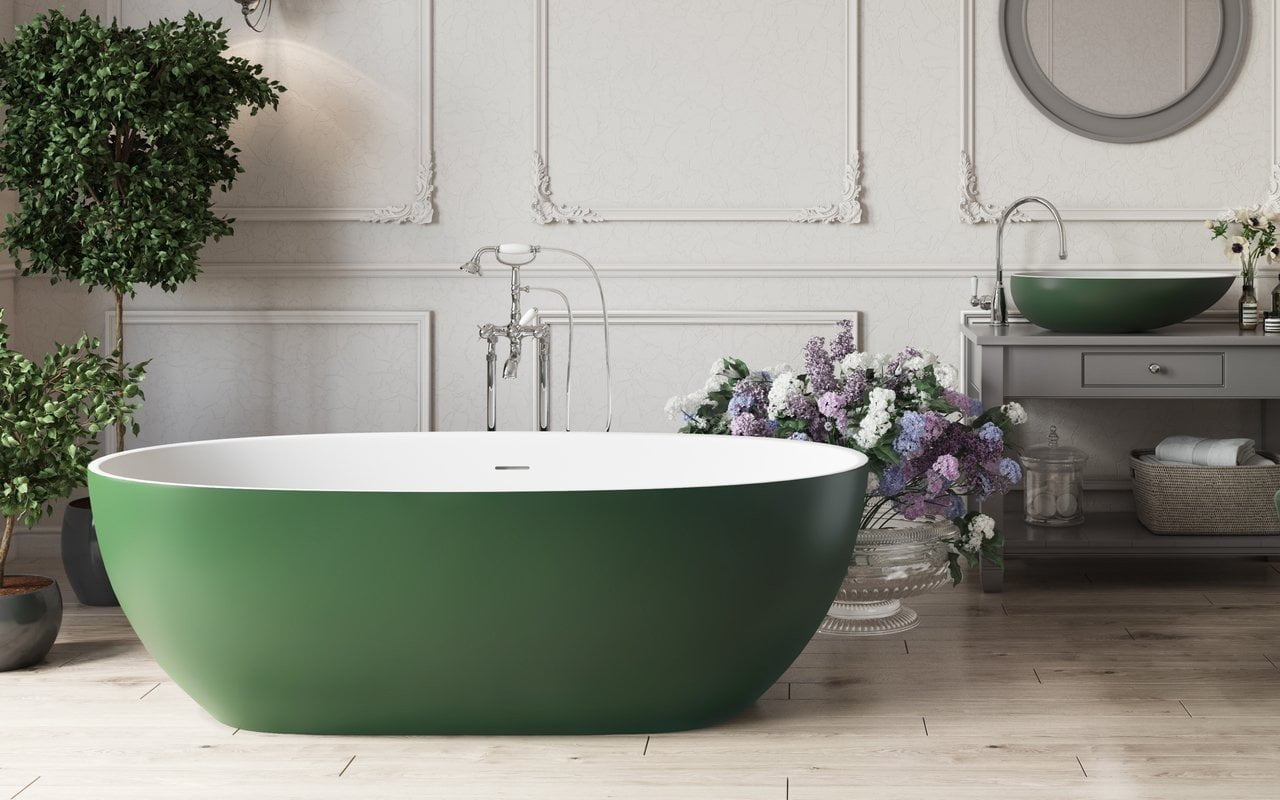 While talking about being dramatic, you can take a step ahead by painting your white tub green. It may seem like a bold move, but the charm it adds to a green bathroom is undeniable. In this particular bathroom design, the tub and sink are painted the same shade of green, and some houseplants are added to enhance the overall texture.
18. Grey Concrete with Green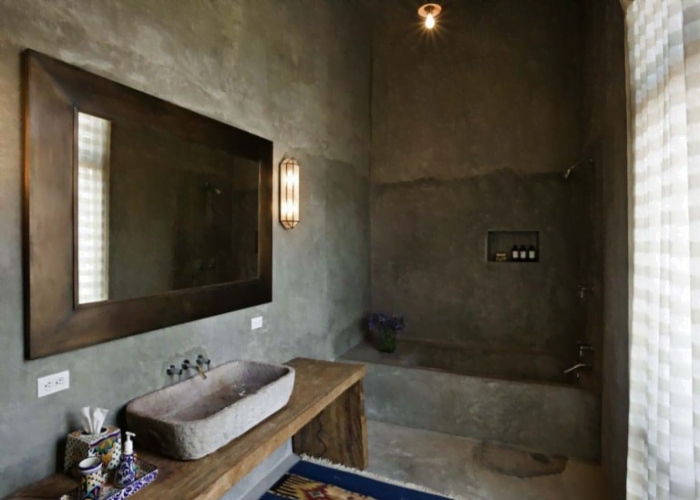 Concrete can be used in more than one way in your bathroom, and it is so much loved due to its durability and inexpensiveness. It can be used on the countertop, floor, tub, or wall in your green bathroom because it contrasts so well with the green colour palate.
19. Listen to The Minimalist in You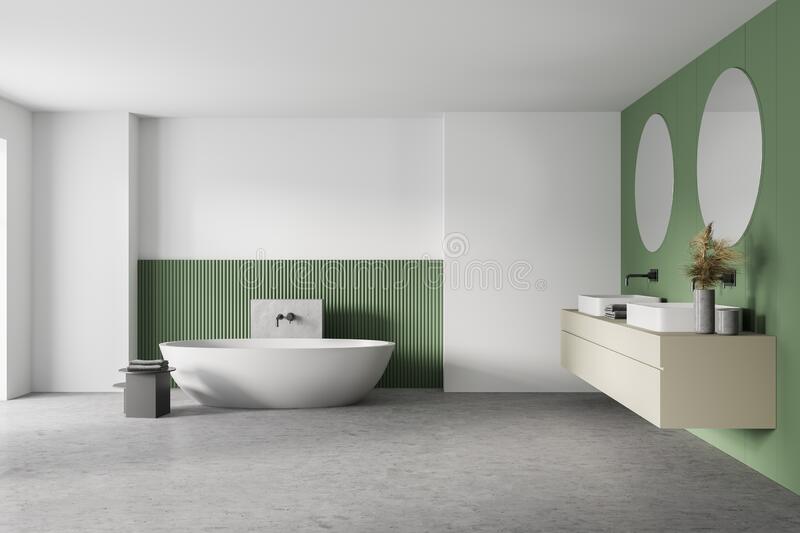 The minimal aesthetic is very pleasing to the eyes. To avoid cluttering the space with unnecessary objects, keep it minimal. Do not stuff the bathroom corners with random objects. Instead, assign a dedicated space for everything to make it look organized and tidy.
20. Go Mono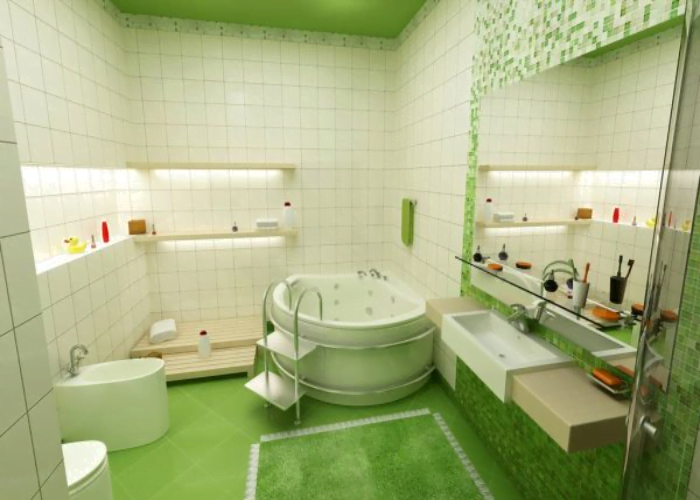 A Monochromatic green bathroom can add dramatic glamour, but it takes a lot of courage to do it. If you dare to take the challenge, the results can be breathtaking. Here, the wallpaper, flooring, and walls are all decorated with a single colour scheme. If you want to make a bold statement, go mono!
21. Earthy with Emerald Green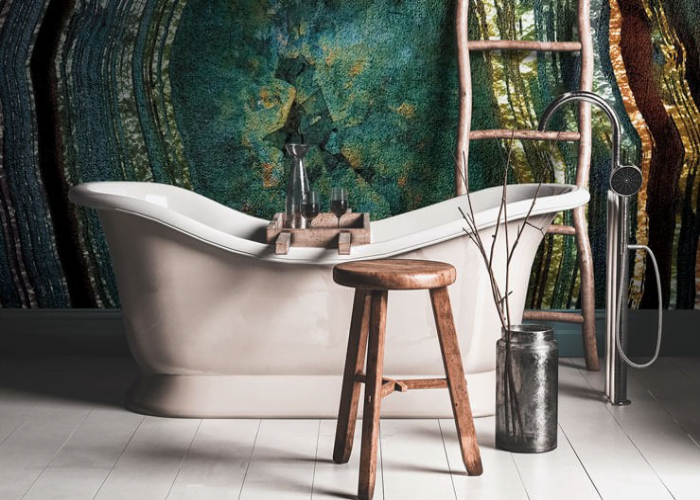 Earthy wooden accessories with an emerald green bathroom give a warm and natural feel. You can spend hours soaking in here. Paint your walls emerald green, or use wallpaper and add wooden decor to uplift the look. The addition of natural wooden touches will further enhance the organic ambience of an emerald green bathroom.
22. Geometric Pattern Green Bathroom Tiles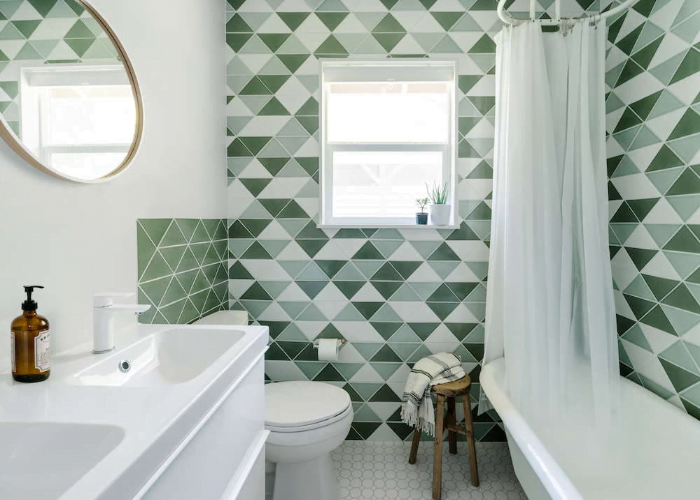 Geometric patterned tiles come in many shapes, like triangles, rectangles, diamonds, or hexagons. It can elevate the look of the floor as well as the walls of your green bathroom. Go subtle or go bold and design as you like because these geometric tiles look promising.
23. Split-Colored Walls
You don't need much to get a stylish bath area. Consider tiling half of the walls and painting the other half or using different shades of paint on each half. This can create the illusion of height and add a touch of elegance to your green bathroom. Additionally, the effect of split walls and patterned floors looks very attractive in bathrooms.
24. Keep It Breathy with Sage Green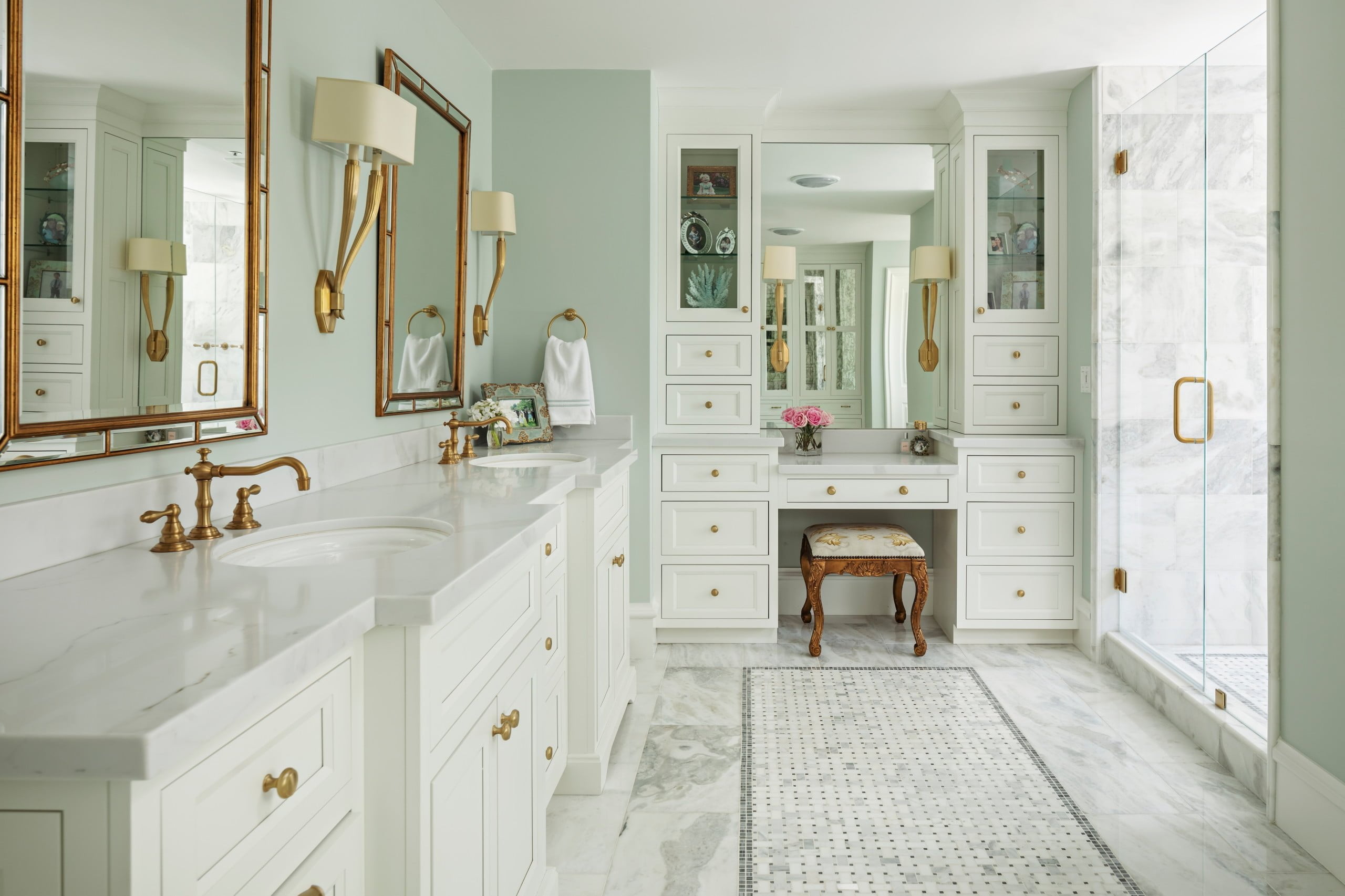 Sage green colour is like a breath of fresh air. Sage green, in all its intensity, is beautiful because of its neutrality. The popularity of this colour is on the rise, and it's not difficult to see why. Sage green shade on your walls, floor, or cabinets can give your green bathroom a millennial look.
25. Brass Accessories to Emboss the Bathroom Greens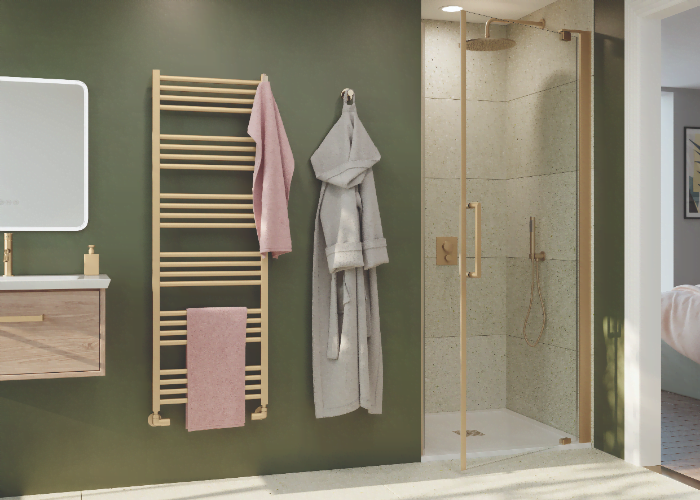 One of the most trending decor combinations these days is a green floor and green walls with a complement of brass everywhere. Brass Accessories give a simple yet modern look to your green bathroom. These brass fittings are easily available and are classic, which means there is no fear of going out of fashion anytime soon.
26. Bathe as Royalty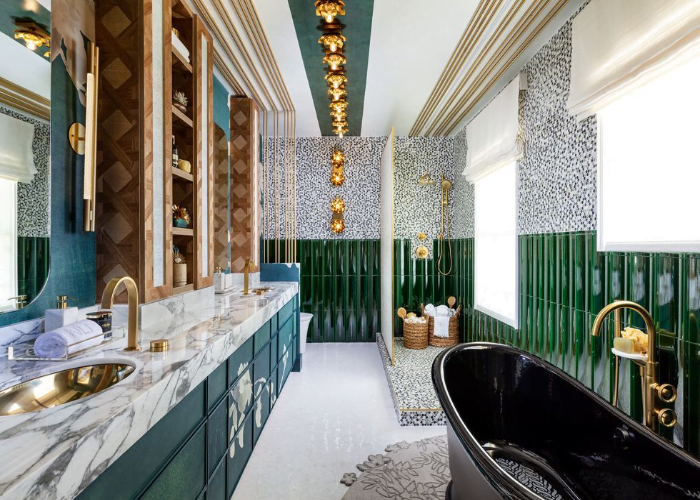 If you have a large bathroom space and a green theme in mind, turning it into a royal-themed space can be a great option. The colour green screams royalty, and it can give your bathroom a vintage-modern look with sleek designs and accessories. Using marbles, deep hues, and pops of gold can make you feel nothing less than royalty itself.
27. The Botanical Wallpapers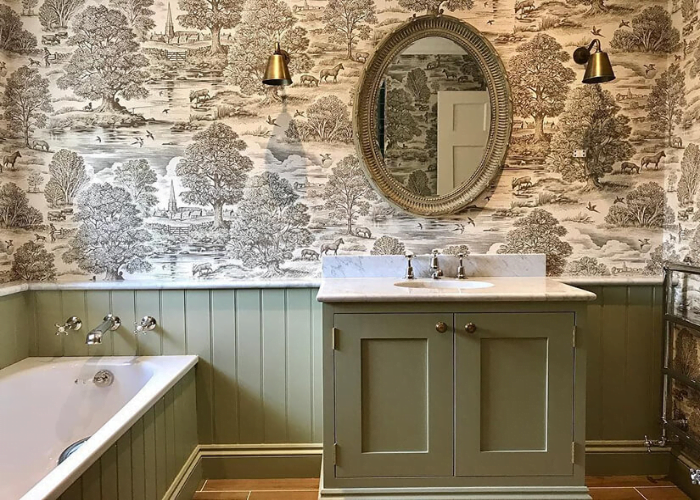 Botanical wallpaper brings the calm and beauty of nature to your space. Available in natural shades with statement green leaves or fern patterns, these wallpaper can add serenity to the green bathroom space without much effort.
28. Light and Bright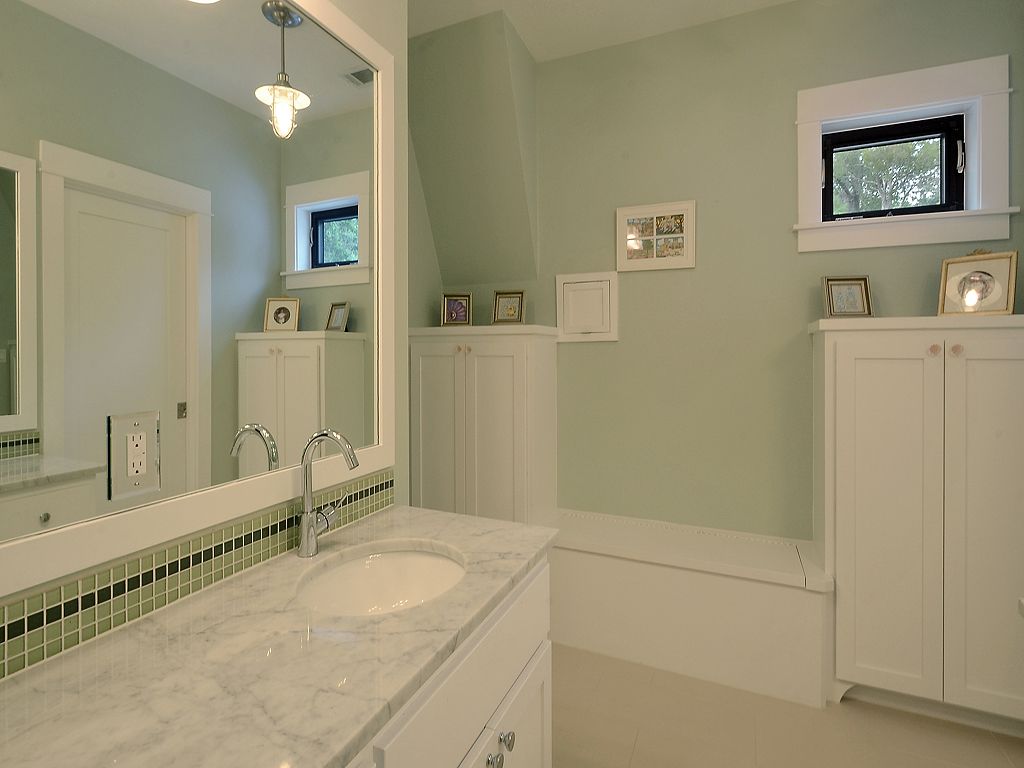 A light green bathroom theme creates a bright breathy atmosphere. If your bathroom has natural light, this colour will enhance it in folds. Light green is for those who like to keep things subtle and do not want to go overboard with the idea of a green bathroom.
29. A Fish Scale Standout Wall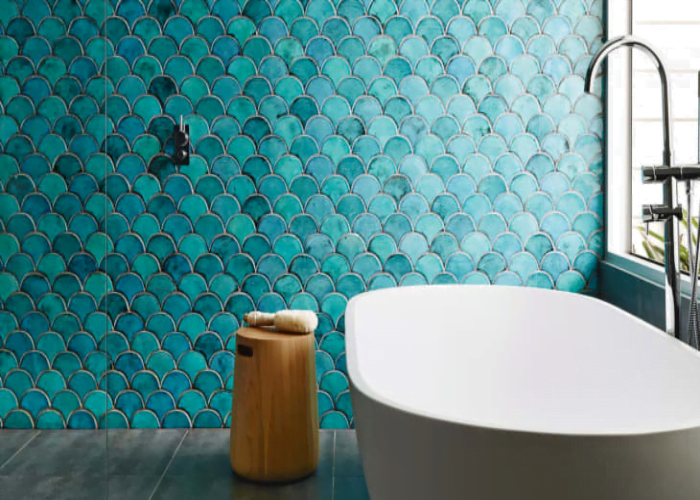 A standout wall is a major attraction to your green bathroom, and this green fish scale wall looks so stunning. The best part is this will go with everything else in your green bathroom seamlessly. Even if you prefer to keep everything else white, this standout wall will still work perfectly. The bottom line is that incorporating this eye-catching element into your bathroom is a surefire way to enhance its overall look.
30. Abide in Green Bathroom Decor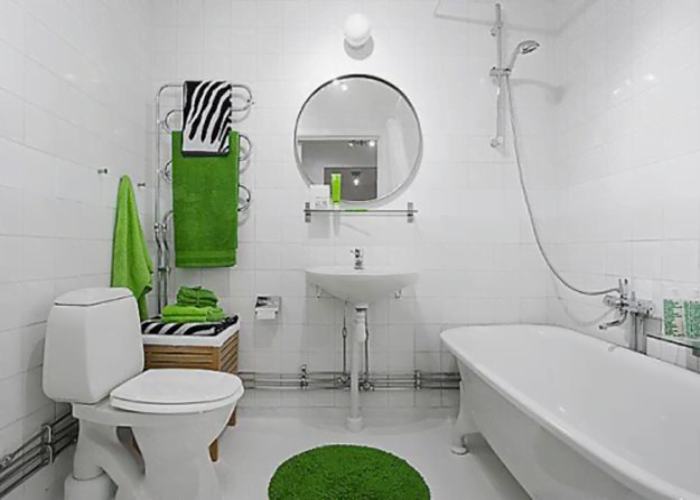 By adding some green plants at the right places and changing your curtains, mats, towels, and accessories with green accents, a complete look for a green bathroom can be curated. This can be a great makeover for your bathroom without significant effort. The hint of green also works magically with the regular white and grey-themed bathrooms.
Conclusion
These are just a few ways to experiment with colours, styles, and themes for your green bathroom. Seek inspiration, but don't feel constrained by any particular rules and style it to your liking based on your budget and taste. 
After all, the bathroom is a space where we seek peace and spend a lot of time with ourselves.
Opting for a green-themed bathroom is a great idea, and with a bit of creativity, your green bathroom is sure to turn heads and become the talk of the town.