Renovating your bathroom can be an exciting task, especially if you're a fan of the colour green. And if you have made up your mind and you're considering going green with your bathroom scheme, we've got you covered with these 30 ideas that will make your green bathroom both modern and stylish. Green is a colour of rejuvenation. It's calm and centric, which adds a light, breathing spirit to your bathroom. This is all you need before a long day at work and to wind up at night before your bedtime.
Green bathrooms are so in trend and for good. The depth of its shades in your green bathroom can make your bathroom your favourite corner. From pastels, emeralds, and moss to olive, these shades bring a fun vibe. No more waking up every day to a boring bathroom experience. There are a lot of ways to play with paint, tiles, accessories, and wallpapers while making your bathroom green. If you are here for inspiration, you just landed right.
Let's dig right into the world of green bathrooms.
1. Play with The Shades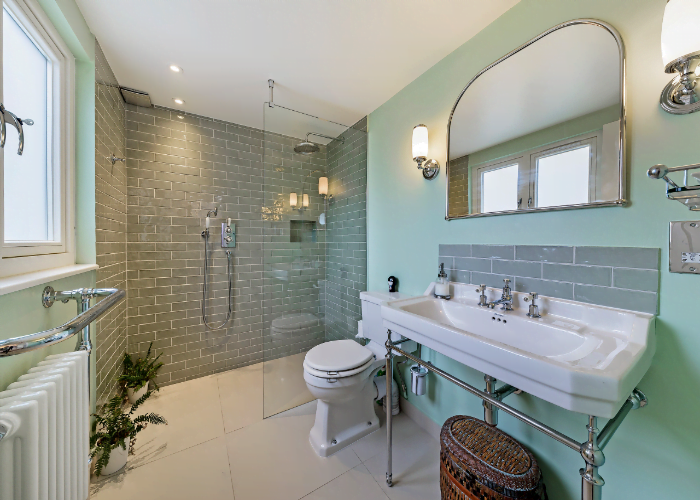 Pick your favourite green shades, or use different hues of greens all at once. Lighter shade on walls, darker tiles in the shower, and a pop of green plants are used here. Play around and add the elements as you go. Redecorating your bathroom green can be so much fun when the palate is so vibrant.
2. Use the Gold Pop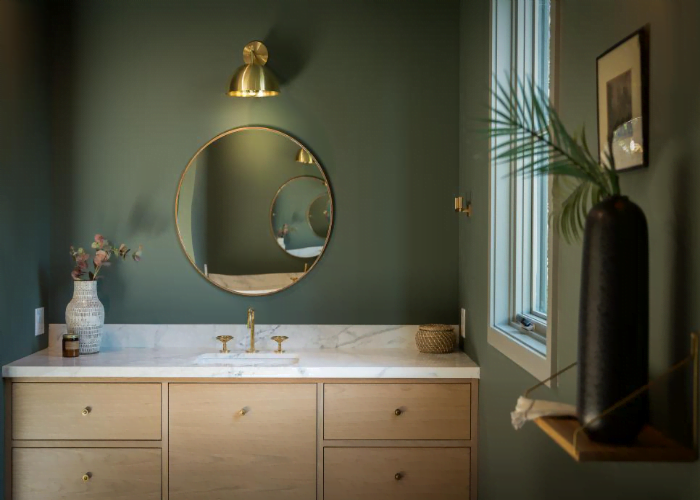 Gold to your green bathroom is the best kind of pop you can use to make your bathroom chic. You can never go wrong with this combination. Gold complements every shade of green, and there is a wide variety of accessories to choose from to create a cohesive look. Whether it's a side stand, a toothbrush holder, or taps, the options are limitless.
Sale
Gold Circle Wall Mirror 30 Inch Round Wall Mirror for Entryways, Washrooms, Living Rooms and More (Gold, 30")
Our stunning gold mirror is a wall hanging mirror, and is handcrafted with care and attention to both detail and design. High quality metals and mirror materials are used to guarantee the sturdiness and consistent aesthetic beauty of the design. Our mirrors are silver-backed, presenting a beautiful reflection every time. The classy gold finish really stands out making any wall look incredible!
This 30 inch mirror is the ideal size for a bathroom or an entryway. The gold circle mirror frame accents any room perfectly and matches any decor. Use as a classy gold bathroom mirror, gold vanity mirror, or entry mirror. Add light and to enhance the beauty of any room in your home instantly!
We use the highest quality mirror materials on the market. We use thicker glass and real silver backing (not cheap substitutes) to ensure you are getting a great mirror for your home. We chose metal as the frame material for its timeless and adaptable look. The frame is handmade with care and attention, adding a genuine and warm feel to beautify your home.
We have included 3 options of anchors to choose from to best fit your wall. The keyhole back hanger hanging hardware was chosen to ensure safe hanging. Please ensure to hang properly for safety.
3. Green Marble for a Calming Effect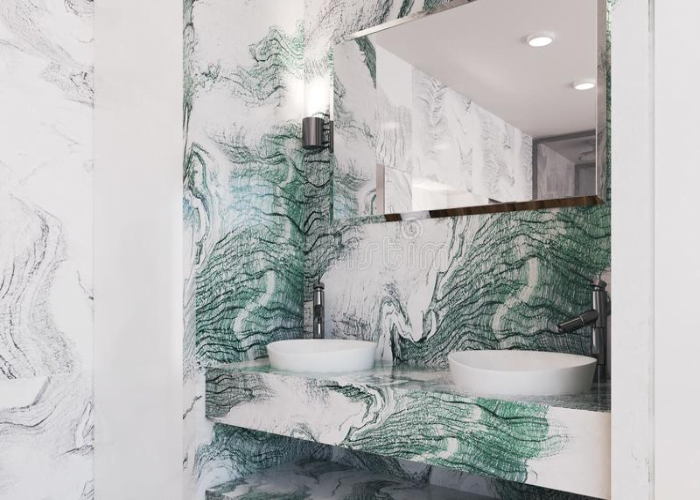 Marble floorings and tilings make the atmosphere cool and calm. The green marble can be used in the flooring or your shower walls. They are easy to maintain, easily available, and look classy. Making a green bathroom can sound overwhelming at first, but once you get to the task, it's all fun and play.
4. Pastel Green to Keep It Bright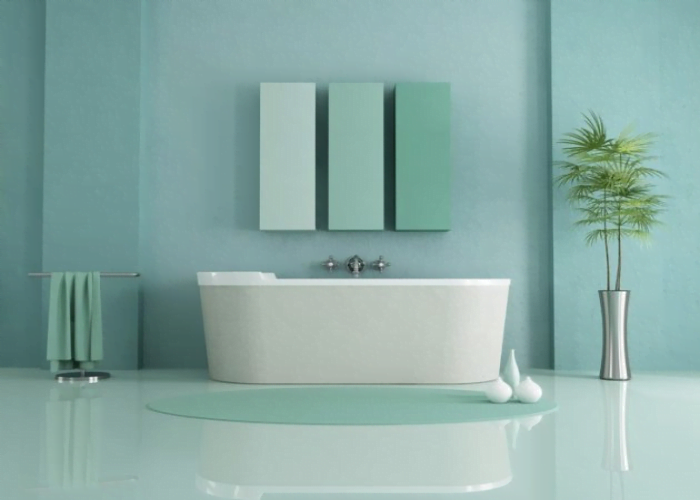 Pastel colours are a popular pick while making a green bathroom. Pastels never disappoint, and these shades of green work well to make your bathroom look bright and sunny. Some people are obsessed with making their bathroom look pretty; if you are that someone, adding pastels is a perfect way to do it.
Sale
5. The Boho Vibe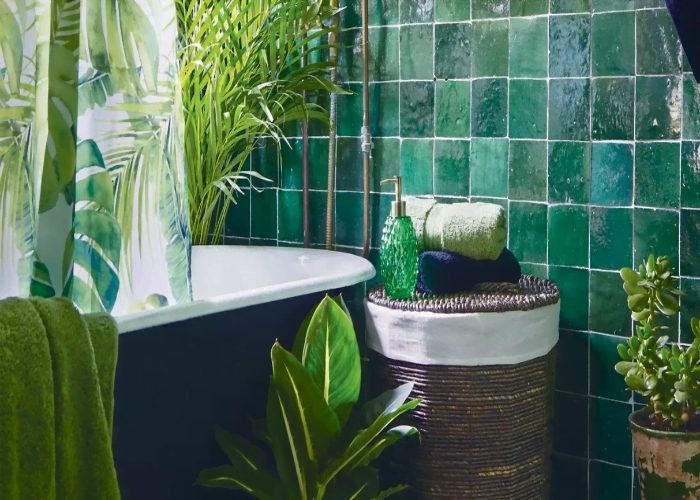 The Bohemian theme means adding a lot of character to your space. Make it personalized and playful. Usually, a lot of attractive elements at once can be spotted in a boho-inspired green bathroom. If you are someone artistic and love going with the flow, this is it for you. You will love the bathroom space that matches your energy.
No products found.
6. Mint Green for a Spa-Like Space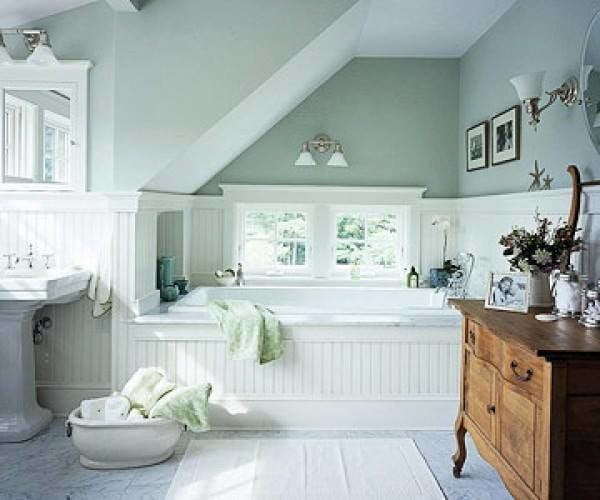 Mint green is soothing and serene. Every time you walk into this green bathroom, you will feel incredibly clean and fresh and hence "spa-like." Mint green asks for a teak wood pop; here, the natural wood cabinet is used to complete the look. But you can always explore your options and pick what suits your green bathroom the best.
No products found.
7. Patterned Tile Flooring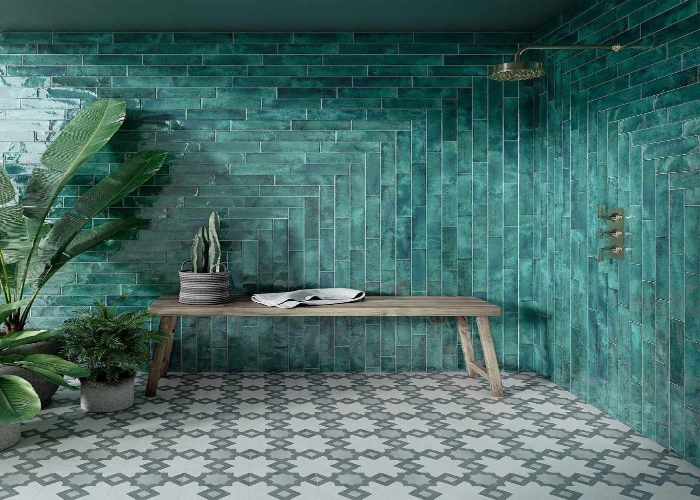 Adding pattern tile flooring is so much in trend now. It adds so much character and style to your bathroom. The variety is huge to pick from. From Bold, floral, geometric, minimal, or classic, choose what fits your style the best. The patterned tile floors will create an incredible visual effect in your green bathroom.
MU RONG Dining Bench, Wood Bench Solid Oak Wooden Bench Indoor Dining Room Table Home Bedroom Bed End Restaurant Modern Hallway Furniture, 31.5" W x 13.8" D x 17.7" H
【Premium Oak Wood Bench】Made of solid oak, this bench is more durable and sturdier than a veneer or MDF dining bench. The wooden bench surface is treated with a paint similar to wood, making it more modern and minimalist.
【Smooth and Stable】Benefit from the exquisite craftsmanship, the surface of the bench is rounded and soft, allowing you to sit comfortably. The widened support design can well disperse the pressure of the stool and make it more stable.
【Multipurpose Wooden Bench】The elegant and modern dining bench is the ideal dining or leisure furniture for home, dining room, kitchen, living room, bedroom, aisle, corridor, bed end, adding warmth and happiness to your life.
【Easy to Assemble】This dining room bench is easy to assemble, no additional tools are required, only need to tighten eight screws to complete, even the hostess can easily and conveniently complete the assembly. It makes a great housewarming gift.
【Worry-free Shopping】Our bench length: 31.5 inch, width: 13.8 inch, height: 17.7 inch. If you have any questions about our wooden bench, please feel free to contact us for replacement or refund. Please read the product size before ordering.
8. Subway Vertical Tiling for Compact Places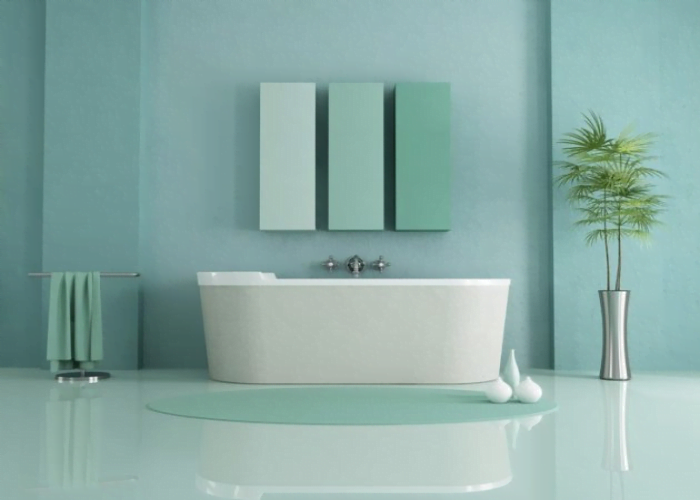 Subway tiles are durable, timeless, and can be used in whichever way. When placed horizontally, they create an illusion of heightened space, and this is a smart thing to do when your bathroom space is compact. They can be used in different colours and placed in different patterns. You can use it for the backsplash, shower wall, or bathroom floor in your green bathroom.
9. Tropical Green Bathroom Wallpaper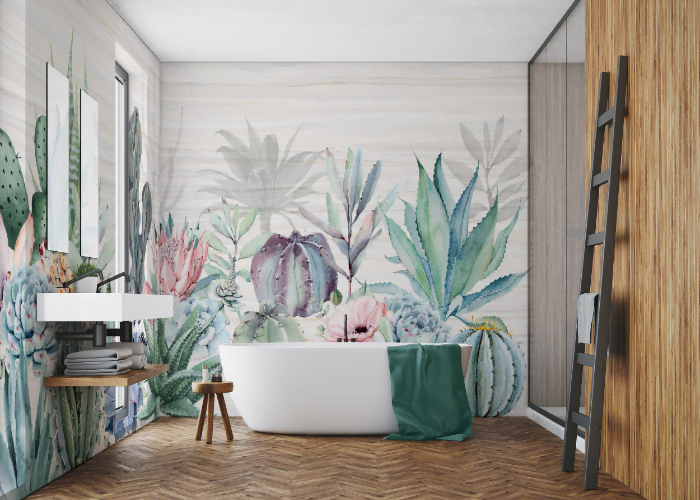 Doing over your bathroom with the colour green can be as simple as incorporating an aesthetically pleasing tropical wallpaper. Using tropical wallpaper is modern, audacious, and stylish. A tropical wallpaper will bring that environment to your green bathroom so that every time you step in, you can enjoy the tropical escape.
HAOKHOME 93095 Peel and Stick Wallpaper Tropical Banana Palm Floral Leaves Green/White Removable Bedroom Wall Decorations 17.7in x 118in
FEATURE: Quick and easy to install - Just peel and stick! No water, no paste, no mess! Textured material, matte finish, durable, washable, removable and repositionable. This tropical banana leaf wallpaper design is very forgiving, it has white calla lily flower in it. The watercolor effect make this print so speical and attractive, it's a great idea for a forest room decor. There have grid and measurement on the backing paper, you can easily cut for your needed size.
ROLL DIMENSION: 1 roll wallpaper - 17.7 inches wide by 9.8ft long, covers 14.5 square feet. 17.7" is the fixed wallpaper width of each roll, this width is perfect to install even just one person.
PATTERN REPEAT: H17.7" x W17.7" (H45cm x W45cm), straight Match. First to find the correct pattern repeat and then just directly match without overlap, it's very easy for beginner who never did peel and stick wallpaper before.
MULTIFUNCTION: DIY is available! Our peel and stick wallpaper can be used for smooth walls, shelf liner, cabinets, drawers, countertops, bookshelves, closet shelving, flooring, stairs, laundry, accent wall, kitchen backsplash, bathroom, windows, photo frames, locker, pantry areas and Christmas/Halloween decor etc.
TIPS: Our peel and stick wallpaper with stable quality, it's good value for money. Please place on any clean, dry and smooth surface and buy enough rolls at a time to make sure they come from the same batch to avoid color difference. *Attention: The texture or dirty surface may impact wallpaper stickness performance!
10. Green Bathroom Cabinets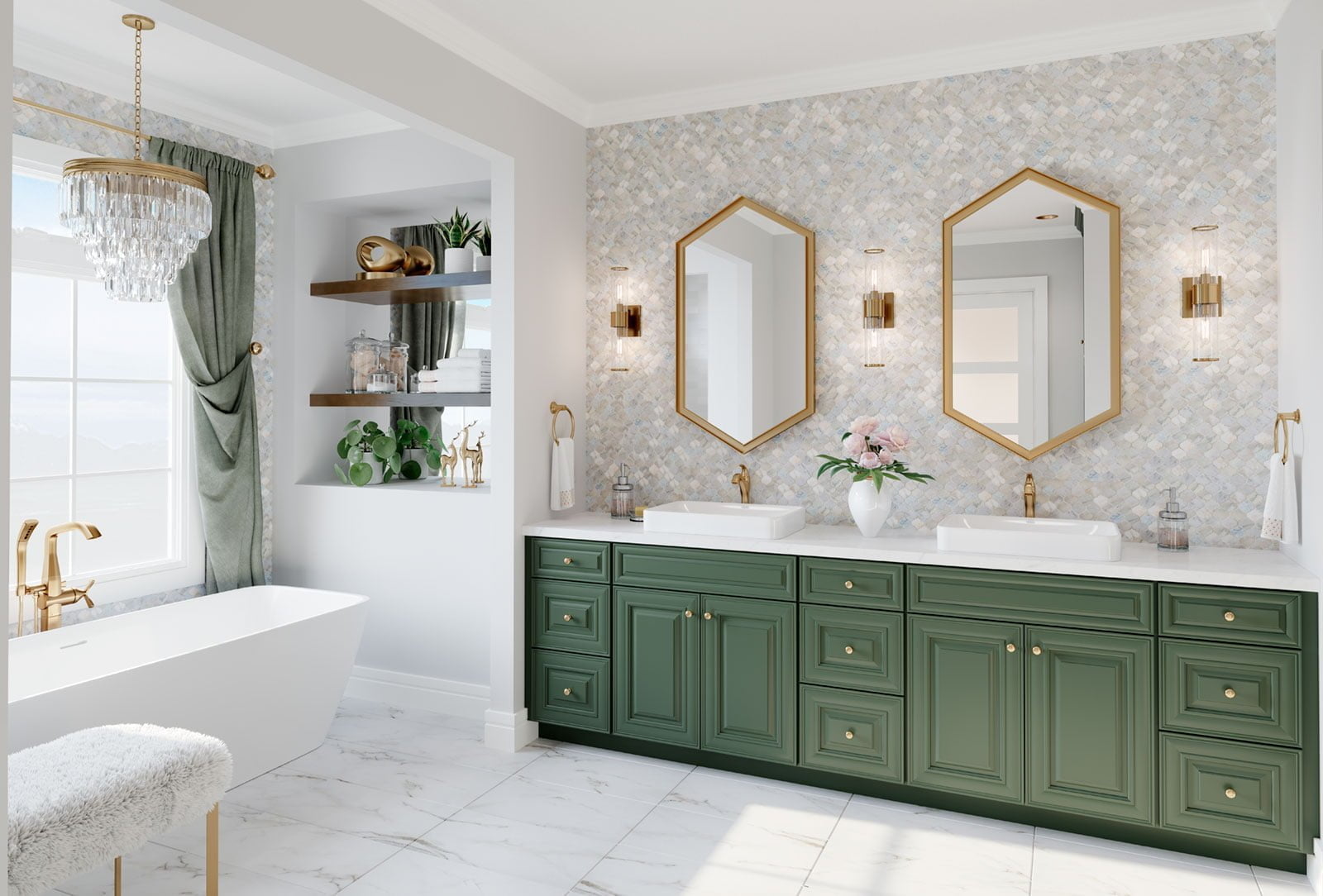 Paint your cabinets in teal green or add one to your usual all-white bathroom and notice the striking difference it can bring to the space. This green bathroom vanity adds a pleasing colour pop and will make you wonder why you didn't think of it earlier!
Sale
Martin Svensson Home Jules 63" TV Stand, Teal
PARISIAN DESIGN - Enchant your space with an elegant finish, intricate trellis details, an antique-inspired design and a durable solid wood build
VERSATILE TRANSITIONAL STYLE - Seamlessly blends as an Entertainment Console, Entry Hall Credenza, Sideboard, or Dining Room Server.
AMPLE STORAGE OPTIONS - Removable, adjustable shelves provide flexible configurations for audio, video, and gaming gear.
SEAMLESS WIRE MANAGEMENT - Vertical cutouts ensure easy cable access for a tidy setup and multiple shelf arrangements.
65" FLAT PANEL SHOWCASE - Ideal fit for up to a 65" TV, making entertainment a stunning centerpiece of your living space.
11. Green Oasis with Houseplants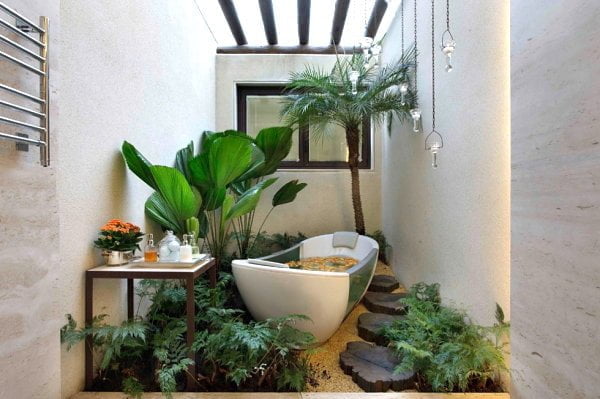 Create a personal oasis with these green bathroom inspirations. Indoor plants are the perfect way to incorporate green into your bathing space, as they not only provide natural beauty and a soothing atmosphere but also keep the air fresh and calm. Indoor plants have gained popularity in recent times, and the idea of a green-themed bathroom certainly feels incomplete without them.
Sale
American Plant Exchange Alocasia Elephant Ear California XL Live Plant, 3 Gallon, Green
Alocasia Plant Pot: Alocasia Gageana California, also known as Alocasia Elephant Ear, is a beautiful house plant with distinctive leaves. The plant's medium green leaves are glossy and stiff, with strong bony veins that give the edges a scalloped effect
Indoor Plant: The robust plant, capable of tolerating cold conditions (down to 41°F) for extended periods of time, is ideal for plant beginners. The USDA hardiness zone for outdoor planting is 9–11 year-round and 3–8 annually for this plant
Easy Maintenance: Alocasia Elephant Ear plants are low-maintenance and easy to care for; the plants prefer filtered sunlight or shade and rich, moist soil. A heat pack is also included for each plant if your region experiences cold weather
Home and Garden Decor: Our Alocasia Elephant Ear plant pot is perfect for windowsills, countertops, desks, and tables in your home or garden. The plant, which can reach up to 4' tall at full height, is also a great gift option for friends and family
Health Benefits: Live plants purify the air in their surroundings and thus enable you to inhale clean, fresh air while also helping to boost mood levels. The plant is toxic to both humans and pets if ingested
12. Green Bathroom Curtains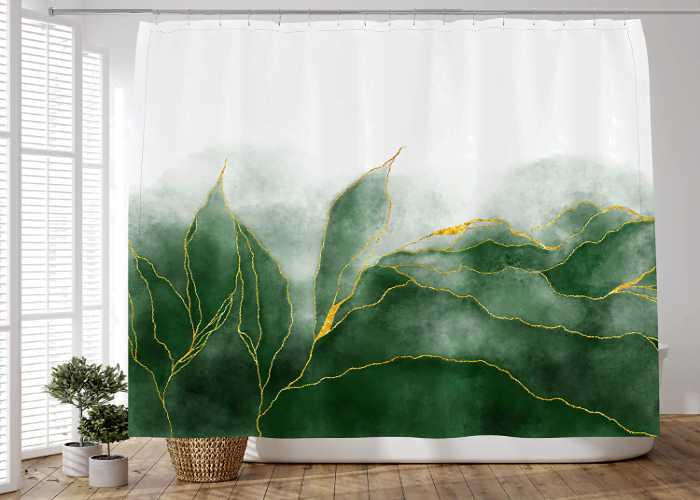 If you do not want to go through the trouble of making major changes but still want to add green to your bathroom, Simply replacing your existing curtain with something like a deep green or a tropical green is a smart and effortless way to do it. This small change can lead to a complete makeover.
Sale
De-Mediocre Marble Shower Curtain Ombre Green Gold Modern Bathroom Art Decor Emerald Green Golden Fabric Waterproof Polyester 72 x 72 Inches
UNIQUE DESIGN - Not a common shower curtain you can find anywhere. Unique ombre green and golden lines marble designs of print, High definition for bathroom decor, it is a modern style Home Decor for us to enjoy the bath.
PACKAGE INCLUDES - 1 shower curtain( 72 INCHES X 72 INCHES ) & 12 plastic shower hooks.
EASY TO CARE - Quick dry & Machine washable (Gentle Cycle, Tumble Dry Low). No Fading.
MADE FROM - 100% durable polyester fabric, water repellent for water easily glide off. Non-vinyl,Non-PEVA. Thick enough for privacy protection and Harmless to your family health.
WARM TIPS - Be careful when choosing the size that suits your needs. If you are not satisfied, return it for a refund. Enjoy your online shopping.
13. Play with Tile Arrangements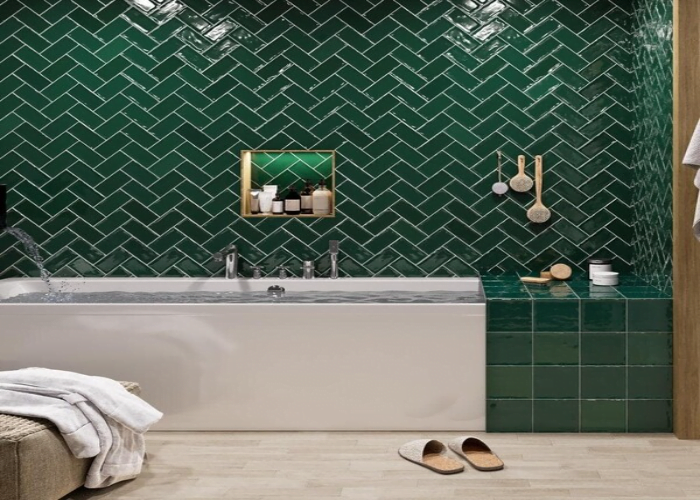 A fancy touch to your bathroom's tiled walls can be added by getting creative with the arrangement of the tiles. Arrange your tiles in different patterns to make everything look extra pleasing. A dark green tiled wall, along with a white bathtub, is as classic as it gets. Creating geometric patterns with tiles adds a lot of interesting structure to a green bathroom.
14. Peel and Stick Green Bathroom Tiles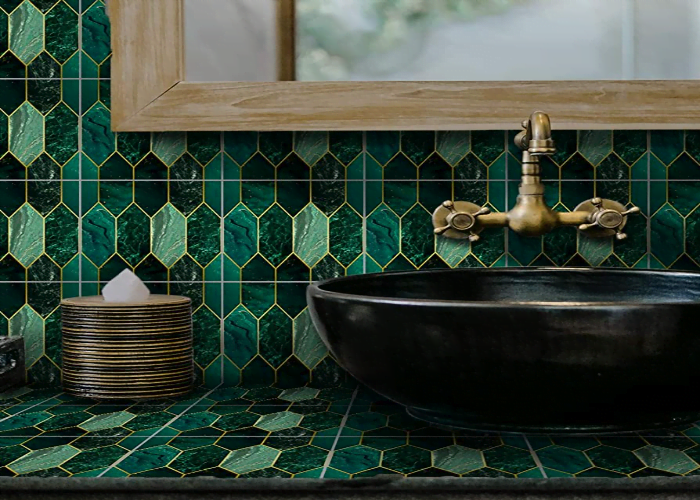 Do-It-Yourself projects are a popular trend nowadays, it saves you money and labour but does not compromise on the look. Save yourself from the hassle of replacing your wall tiles by using this peel and stick tile stickers which can be used on any surface and are waterproof.
funlife 50Pcs Art Deco Green Peel and Stick Thick Kitchen Backsplash, Self Adhesive Wall Tile, Flat Glossy Stickers for Home Decor, Holographic Emerald Kitchen Tiles 5.9"x 5.9"
[Product size]-5.9"x5.9"(15cmx15cm) 50Pcs, can cover 12.1 square feet.Thickness of each sheet: 0.023"/0.6mm, Not a thick real tile.
[High quality material]-Our funlife holographic emerald backsplash made of PVC, flat printed PVC tile sticker, water and oil resistant, easy to clean and maintain, stains can be easily removed with a wet rag.
[Quick to install]-Easy DIY,easy to cut with sharp utility knife, without extra glue, easy installstion, just peel and stick, no deform, no peeling. You can create a high-end look by yourself.
[Application scenario]-Our peel and stick backsplash is water & heat resistant. Most people used in kitchen backsplash, steamy bathroom walls, laundry rooms, RV, fireplace, etc. Easily wipe to remove stains, protect the walls from splashes and oil.
[Tips]-Be sure the surface is clean, smooth, flat and dry before applying. It can be used on kitchen wall, furniture, dresser drawers, bedside tables, and even walls.It is not recommended to use it on uneven surfaces such as frosted surface and wallpaper.
15. Paint It, Hunter Green,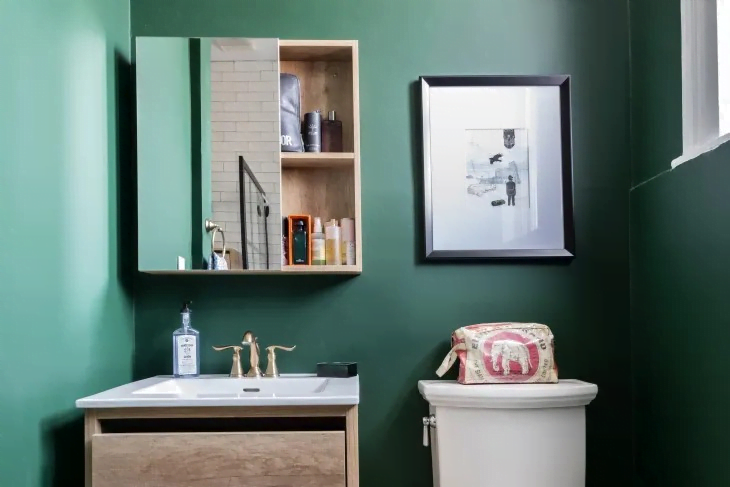 Just paint your walls hunter green and let everything else be just as it was. This is a magical way to turn the space into a green bathroom. The usual white, brown and grey go perfectly well with hunter green, and you cannot deny it.
16. Keep It Dramatic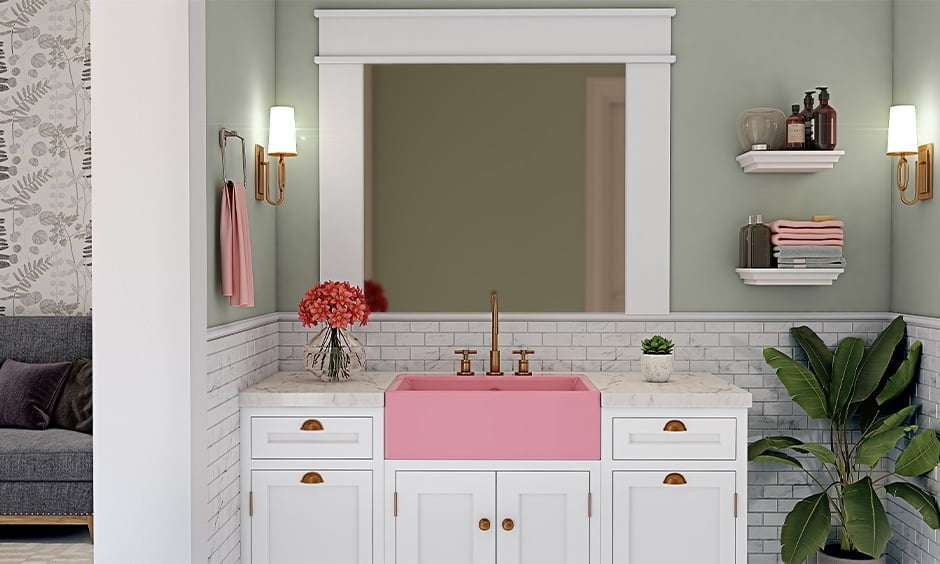 Add a bright surprise of pink or yellow to your green bathroom and watch the serenity of your comfort space unfold. These elements uplift your greens and whites and make them dramatically pleasing. The contrast goes well with the green and completes the look.
No products found.
17. Paint the Tub Green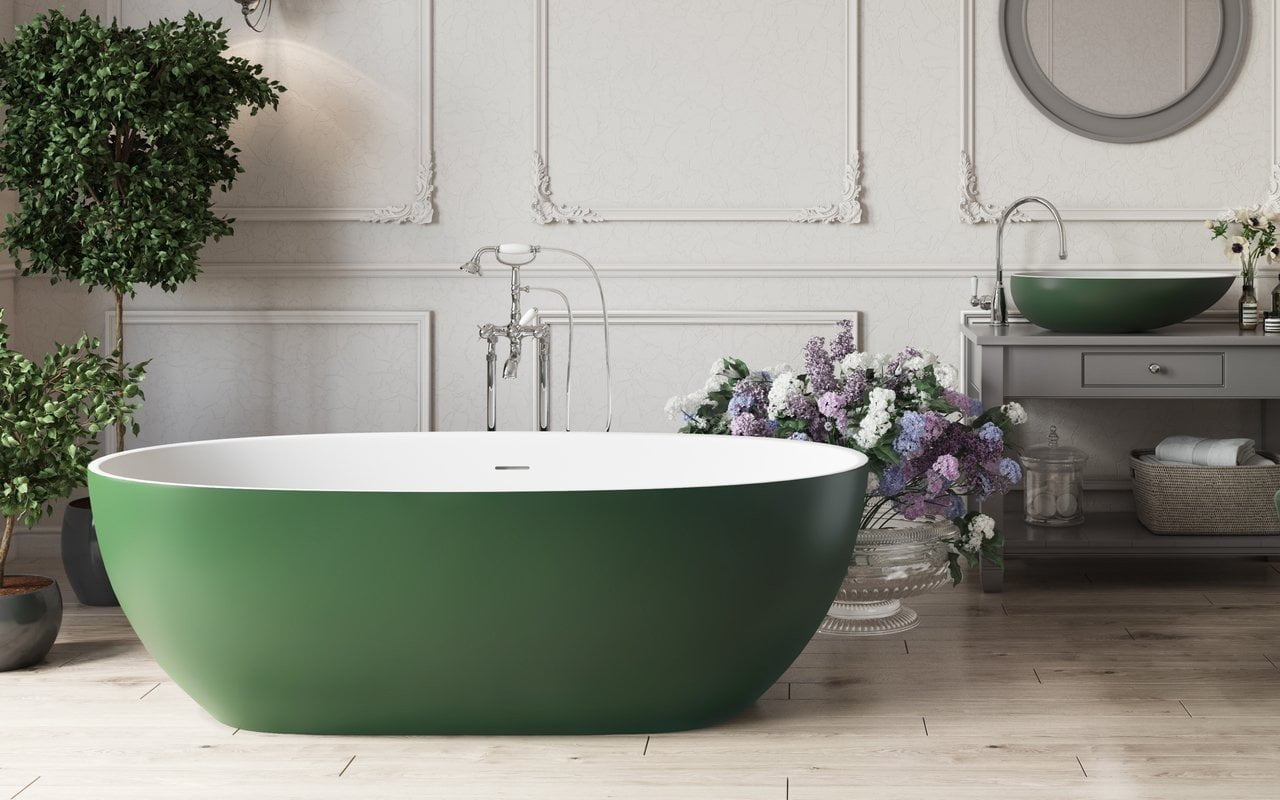 While talking about being dramatic, you can take a step ahead by painting your white tub green. It may seem like a bold move, but the charm it adds to a green bathroom is undeniable. In this particular bathroom design, the tub and sink are painted the same shade of green, and some houseplants are added to enhance the overall texture.
18. Grey Concrete with Green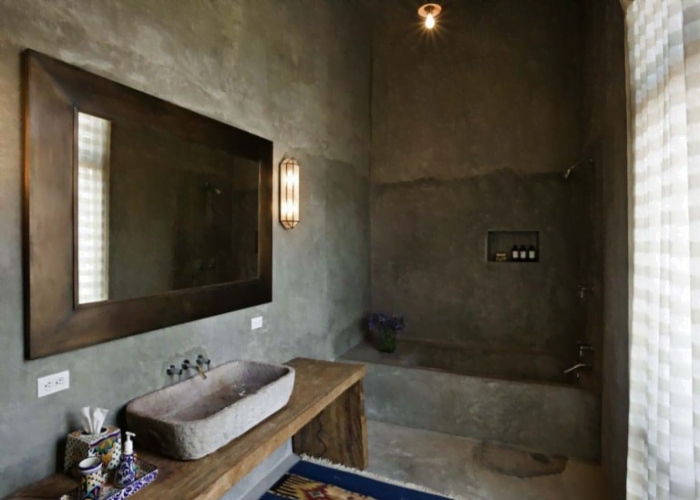 Concrete can be used in more than one way in your bathroom, and it is so much loved due to its durability and inexpensiveness. It can be used on the countertop, floor, tub, or wall in your green bathroom because it contrasts so well with the green colour palate.
19. Listen to The Minimalist in You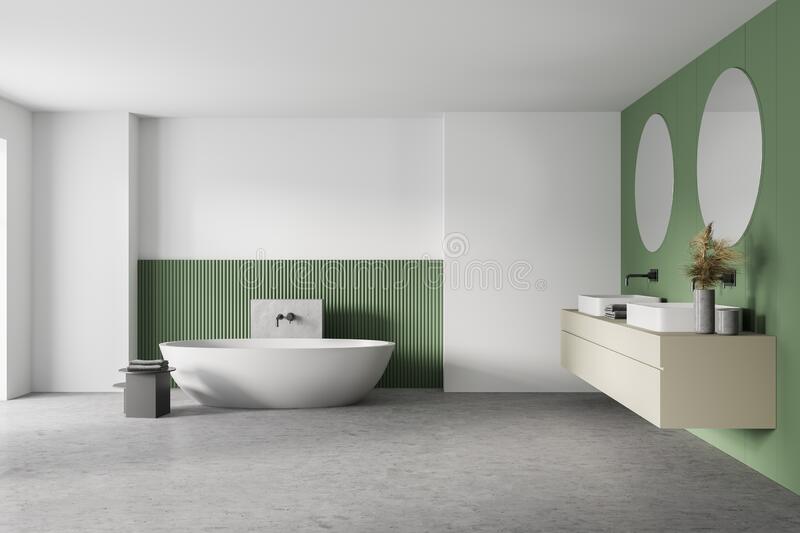 The minimal aesthetic is very pleasing to the eyes. To avoid cluttering the space with unnecessary objects, keep it minimal. Do not stuff the bathroom corners with random objects. Instead, assign a dedicated space for everything to make it look organized and tidy.
20. Go Mono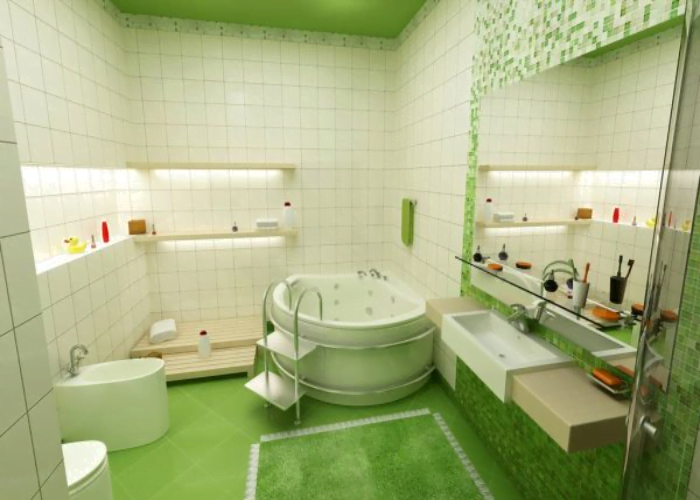 A Monochromatic green bathroom can add dramatic glamour, but it takes a lot of courage to do it. If you dare to take the challenge, the results can be breathtaking. Here, the wallpaper, flooring, and walls are all decorated with a single colour scheme. If you want to make a bold statement, go mono!
21. Earthy with Emerald Green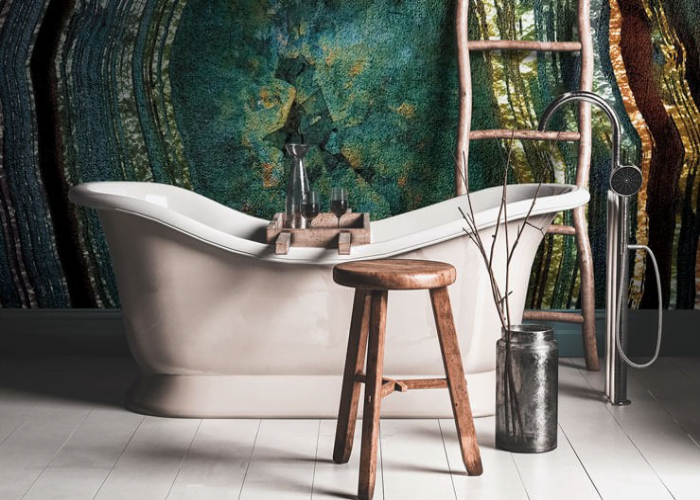 Earthy wooden accessories with an emerald green bathroom give a warm and natural feel. You can spend hours soaking in here. Paint your walls emerald green, or use wallpaper and add wooden decor to uplift the look. The addition of natural wooden touches will further enhance the organic ambience of an emerald green bathroom.
WoodShine Side Table Small Round Solid Wood Sofa Table End Tables Accent Nesting Coffee Table Natural(H:22inch)
【Good Material Quality】This round table is entirely made of natural rubberwood which is an excellent material for table due to its hard ,high density and good wear resistance. The table has no artificial synthetic materials such as engineered wood,MDF,etc.
【Multi Matching】Different size in heights,diameters and colors can form various combinations. size S to XL fit underneath each other at attractive golden section area (appro. 38.2%).
【Just a bit Unique】The edge of the round table is made into a unique shape to avoid sharp angle, which is both safe and beautiful.
【Small Details,Big taste】The shape of its legs are conical beauty that makes the table distinguish from other similar products.
【Sturdy &Steady】Solid structure sturdy enough to meet your daily needs such as placing books,cups,laptop,photographs,pot plants,telephones,etc.
22. Geometric Pattern Green Bathroom Tiles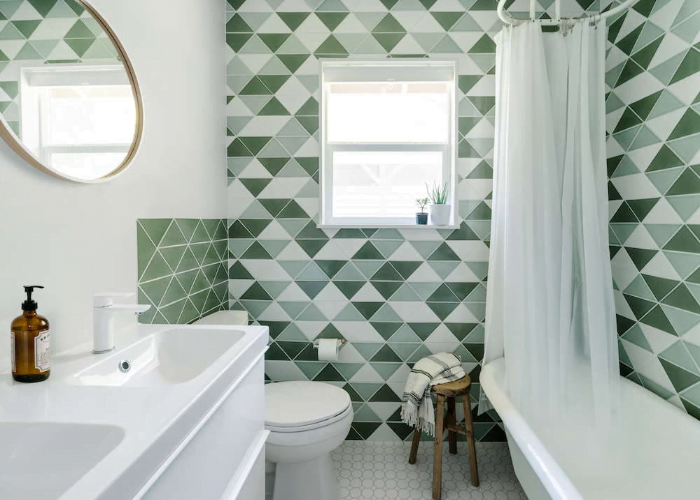 Geometric patterned tiles come in many shapes, like triangles, rectangles, diamonds, or hexagons. It can elevate the look of the floor as well as the walls of your green bathroom. Go subtle or go bold and design as you like because these geometric tiles look promising.
23. Split-Colored Walls
You don't need much to get a stylish bath area. Consider tiling half of the walls and painting the other half or using different shades of paint on each half. This can create the illusion of height and add a touch of elegance to your green bathroom. Additionally, the effect of split walls and patterned floors looks very attractive in bathrooms.
24. Keep It Breathy with Sage Green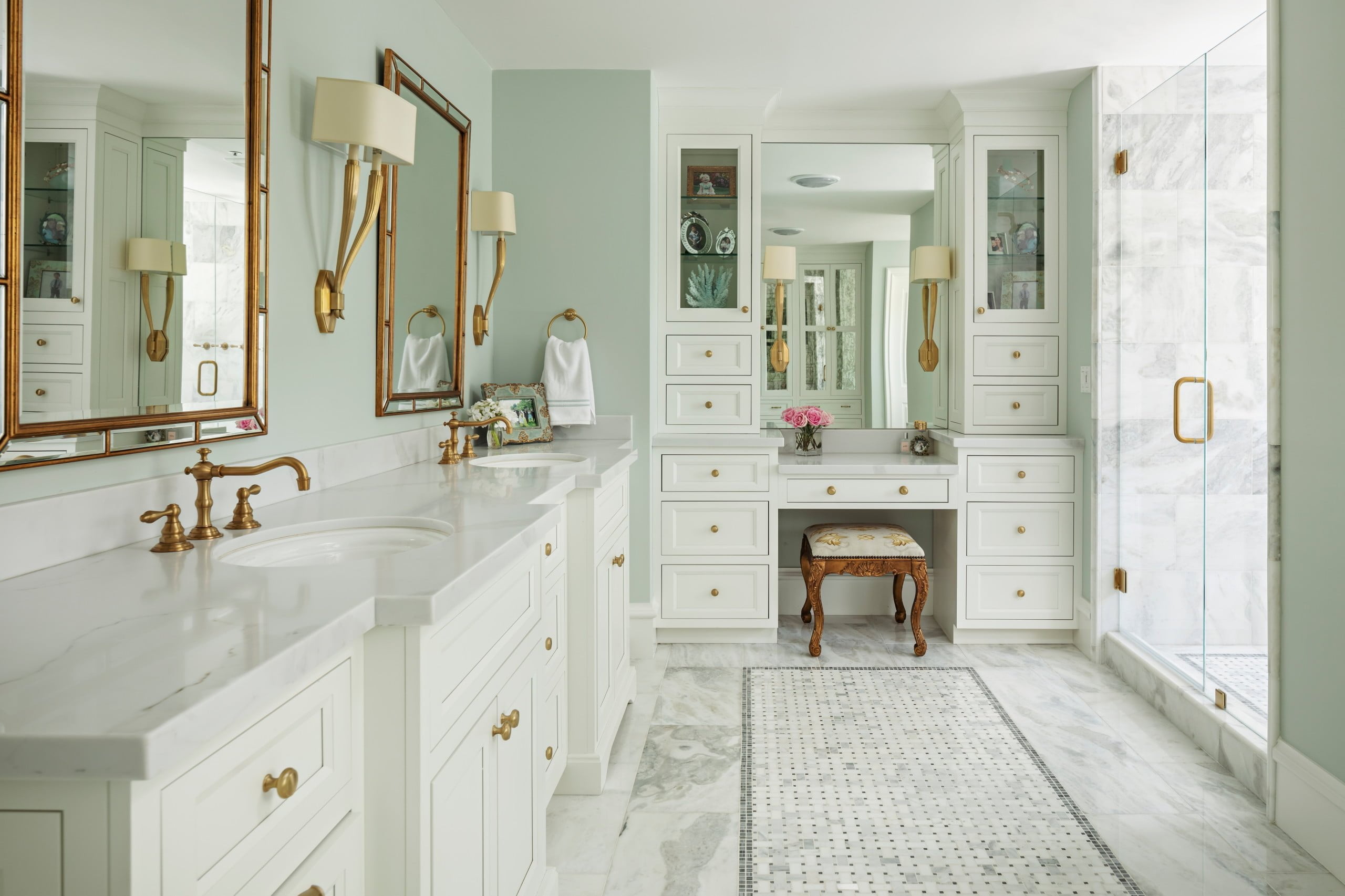 Sage green colour is like a breath of fresh air. Sage green, in all its intensity, is beautiful because of its neutrality. The popularity of this colour is on the rise, and it's not difficult to see why. Sage green shade on your walls, floor, or cabinets can give your green bathroom a millennial look.
25. Brass Accessories to Emboss the Bathroom Greens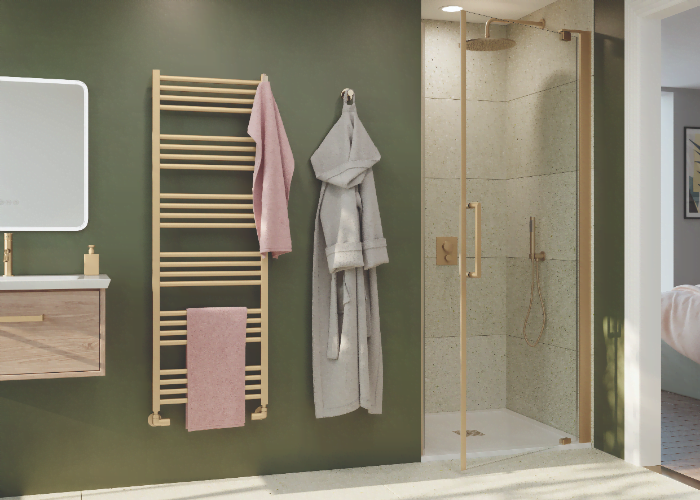 One of the most trending decor combinations these days is a green floor and green walls with a complement of brass everywhere. Brass Accessories give a simple yet modern look to your green bathroom. These brass fittings are easily available and are classic, which means there is no fear of going out of fashion anytime soon.
26. Bathe as Royalty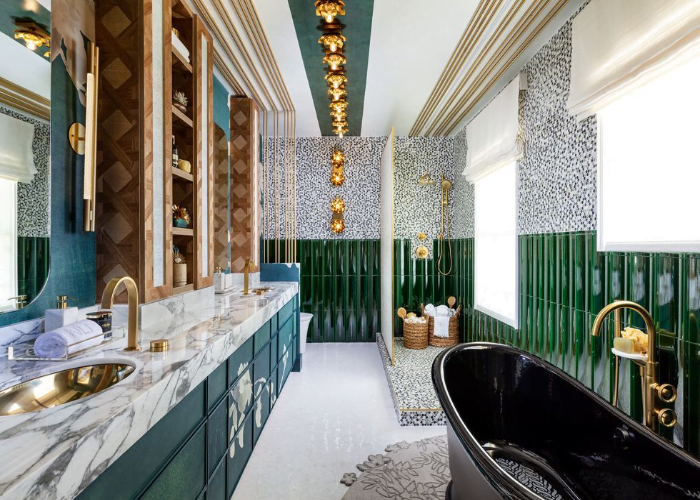 If you have a large bathroom space and a green theme in mind, turning it into a royal-themed space can be a great option. The colour green screams royalty, and it can give your bathroom a vintage-modern look with sleek designs and accessories. Using marbles, deep hues, and pops of gold can make you feel nothing less than royalty itself.
27. The Botanical Wallpapers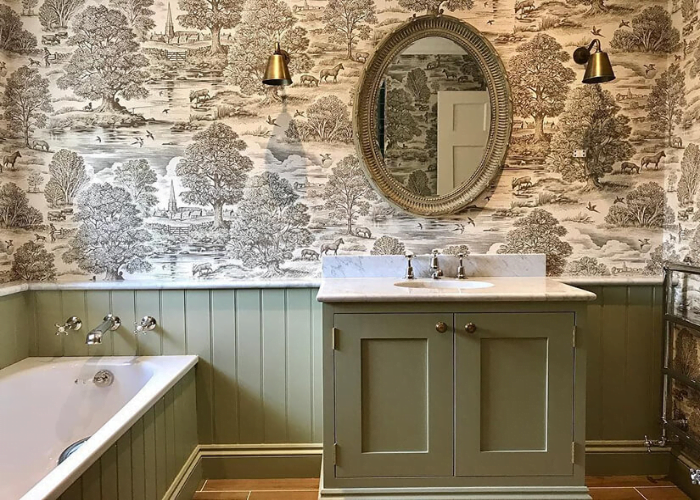 Botanical wallpaper brings the calm and beauty of nature to your space. Available in natural shades with statement green leaves or fern patterns, these wallpaper can add serenity to the green bathroom space without much effort.
Yullpaper Pink Rose Floral Wallpaper 17.5"x394" Floral Peel and Stick Wallpaper Floral Contact Paper Peel and Stick Floral Wallpaper for Bathroom Green Leaf Botanical Flower Wallpaper Adhesive Paper
【Floral Wallpaper】🌷The size of rose flower wallpaper is 17.5"x394", covering about 47.56sq.ft. Made of high-quality and upgraded material vinyl, the peel and stick floral wallpaper adhesive is durable, not easy to tear or damage. No worry about service life.
【Flower Wallpaper】🌷Decorative contact paper. The floral decorative contact paper is based on green background, featuring pink rose, green leaves. The well-designed pattern gives housekeeper and renter feelings of peace and relaxation. A good choice for home decor.
【Floral Contact Paper】🌷Self adhesive wallpaper. The self stick wall paper adhesive mural is easy to install. No extra glue needed for installation and No residue left after removal. The grid on its back facilitates measurement and cutting. Also this temporary wallpaper vinyl roll is waterproof wallpaper, easy to clean and retain.
【Botanical Wallpaper】🌷Renter friendly wallpaper. The stick on wallpaper mural can be stuck on most dry, clean and smooth surfaces. Sticky wallpaper can be used for walls, bedroom, bathroom, kitchen, countertops, backsplash, living room, etc. You can also use decorative contact paper to decorate and protect your furniture like cabinets, shelves, liner, drawers, table top, refrigerator, etc.
【Peel and Stick Wallpaper】🌷Warm Tips: Please make sure the surface is dry, clean and flat before adhering the peel and stick wallpaper. And to avoid color difference between batches, you are suggested to buy enough rolls at one time. Feel free to contact us if any problems.
28. Light and Bright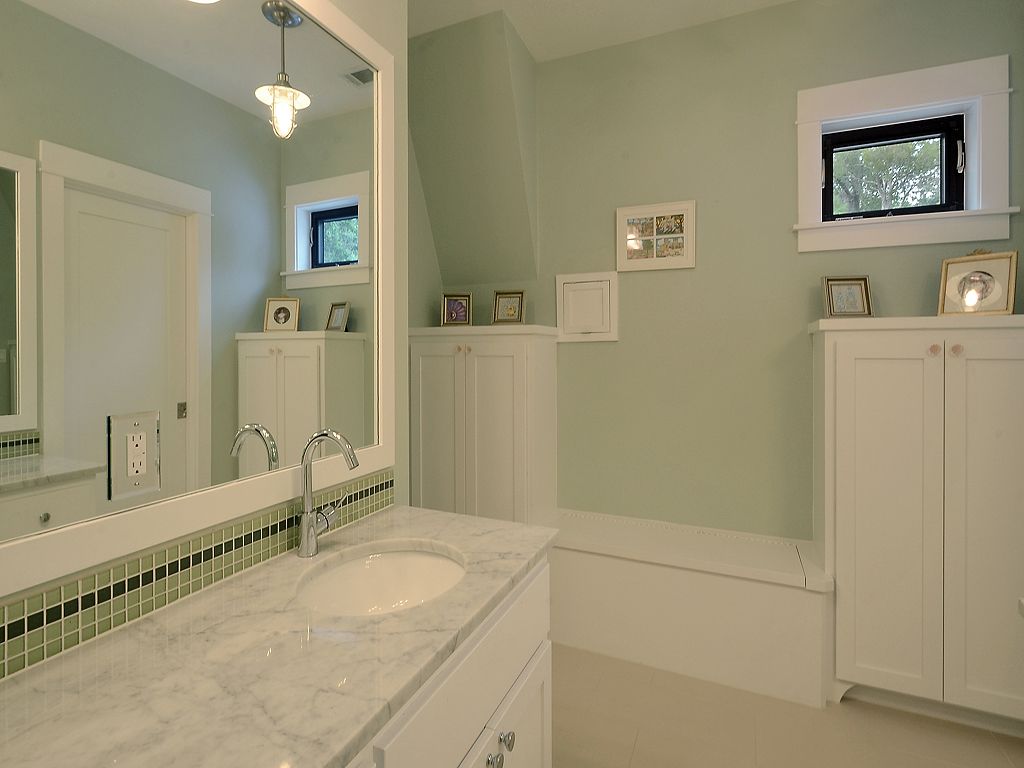 A light green bathroom theme creates a bright breathy atmosphere. If your bathroom has natural light, this colour will enhance it in folds. Light green is for those who like to keep things subtle and do not want to go overboard with the idea of a green bathroom.
29. A Fish Scale Standout Wall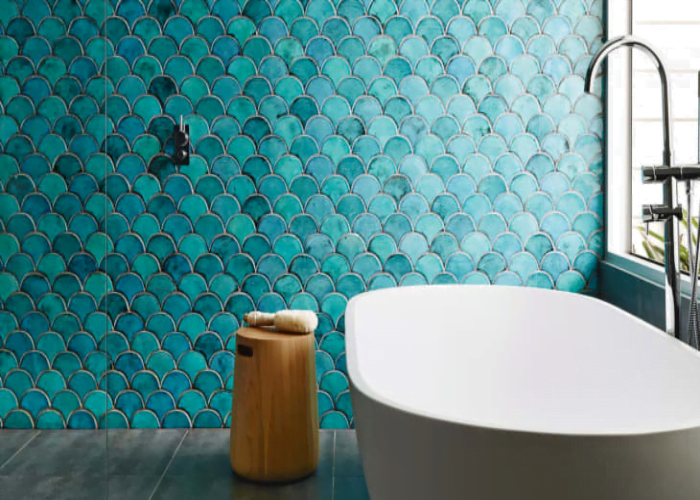 A standout wall is a major attraction to your green bathroom, and this green fish scale wall looks so stunning. The best part is this will go with everything else in your green bathroom seamlessly. Even if you prefer to keep everything else white, this standout wall will still work perfectly. The bottom line is that incorporating this eye-catching element into your bathroom is a surefire way to enhance its overall look.
30. Abide in Green Bathroom Decor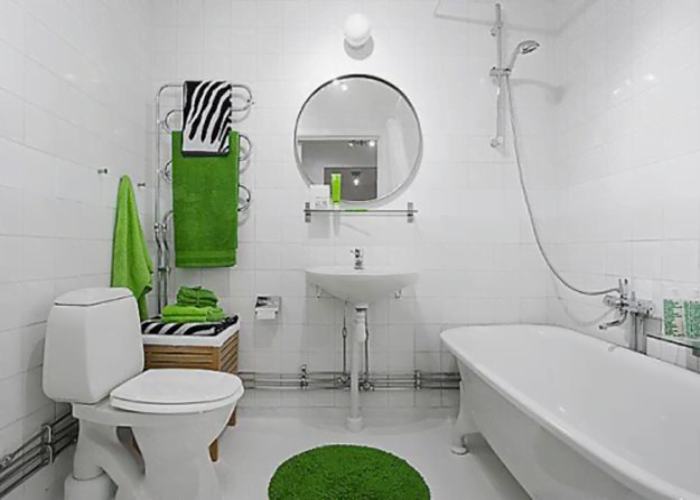 By adding some green plants at the right places and changing your curtains, mats, towels, and accessories with green accents, a complete look for a green bathroom can be curated. This can be a great makeover for your bathroom without significant effort. The hint of green also works magically with the regular white and grey-themed bathrooms.
MAYSHINE Soft Plush Chenille Round Bathroom and Area Rug, Absorbent Microfiber Bath Mat, Machine Washable, Non-Slip Grip, Quick-Dry, Great for Bath, Shower, Bedroom, Dog or Door Mat (Green, 3x3 Foot)
3 LAYER LUXURY! 1 INCH CHENILLE PILE : Our bathroom rugs made are made of 100% ultra-soft 1 inch tall plush chenille microfiber which keeps your feet nice and warm, your floors dry, and ensures you dont slip after your bath or shower. We use a machine washable PVC backing for long lasting use and minimum fiber loss, a 6mm thick foam layer for anti fatigue, and a non slip underside for extra safety. Color Code 17-0336 TPX.
FOAM ANTI FATIGUE LAYER 🙂 A 6mm sponge foam layer inside relieves pressure and fatigue on your feet, and keeps your feet insulated from the cold floor. Use our mat as a nice cushion and avoid fatigue when brushing your teeth, shaving and more!
ANTI SLIP SAFETY LAYER: Make sure you don't slip on your tile with our slip safe bath mat rug. An anti slip PVC coating underneath our mat helps keep it firmly in place. WARNING: To ensure that the rug does not slip, clean the floor and let it dry before placing the bath rug down!
MACHINE WASH AND DRY: Our mats are easy to clean, just toss them in the wash! DIRECTIONS : Machine wash warm on permanent press with like colors and tumble dry low. Do not bleach, iron or dry clean. The colors will stay vibrant after many washes!
ABOUT US: We know our mats and rugs! We work hand in hand with our factory to use the highest quality materials so that we only deliver top notch products. Need Help? Please contact us and we will help you with anything you need!
Conclusion
These are just a few ways to experiment with colours, styles, and themes for your green bathroom. Seek inspiration, but don't feel constrained by any particular rules and style it to your liking based on your budget and taste. 
After all, the bathroom is a space where we seek peace and spend a lot of time with ourselves.
Opting for a green-themed bathroom is a great idea, and with a bit of creativity, your green bathroom is sure to turn heads and become the talk of the town.