Porch plays a significant role in improving the overall look of your house, but is it the first feature guests notice when they arrive? A nicely arranged porch can also offer a tranquil and welcoming spot for you and your family to enjoy.
There are numerous ways to improve the design of your porch and make it feel warm and inviting, regardless of how big or small it is. From adding plants and comfortable furniture to including distinctive touches and DIY projects, you can pick any porch decor ideas that suit your style and preference.
So, can you make your porch a lovely and useful environment that reflects your particular style? Well, you can do it to leave a lasting impression on your visitors by taking note of the following tips and inspirations. In this post, we'll look at some attractive decor ideas to give your porch a fresh look.
25 Ways to Decorate Your Home Porch
So, can you make your porch a lovely and useful environment that reflects your particular style? Well, you can do it to leave a lasting impression on your visitors by taking note of the following tips and inspirations. In this post, we'll look at some attractive porch decor ideas to give your porch a fresh look.
1. A New Coat of Paint Has Power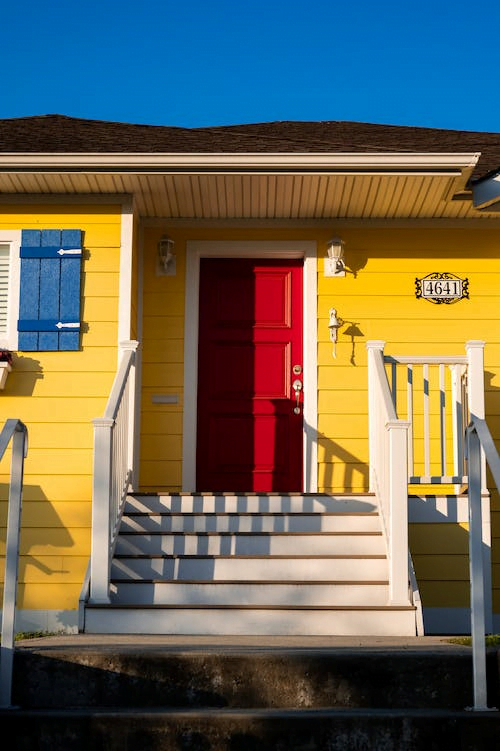 Applying a new coat of paint to your porch is one efficient way to brighten it up. A fresh coat of paint may improve the appearance of your porch. It is the simplest and most economical porch decor idea to update the exterior of your house. Be careful when painting your porch to avoid creating an unnecessary mess. Curate a list of the things you need before you start the procedure. It includes washing the surface, smoothing off any ridges, and patching any holes or cracks. Then, when your porch is ready, pick a colour that matches your house's exterior and fits your porch's design. Both options are an intense hue for a statement look or a more muted colour for a traditional look.
2. Include Greenery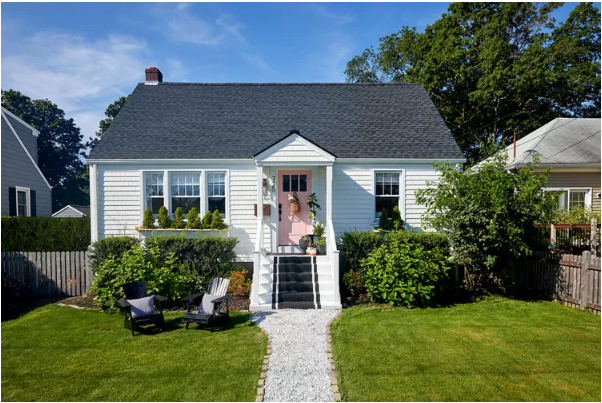 Adding some greenery is another excellent way to improve your porch's décor. Adding different plants to your porch area will offer a refreshing look. Furthermore, consider adding seating arrangements to elevate the entire look if your porch is spacious. Petunias, marigolds, and geraniums thrive in direct sunlight, whereas hostas, ferns, and impatiens thrive in shadow. You may also hang planters from the ceiling or set potted plants on the floor to add more Greenery to your porch. Planters fastened to the wall can also create a vertical garden. It is one of the best porch decor ideas to save floor space or have a small porch.
3. Comfy Chairs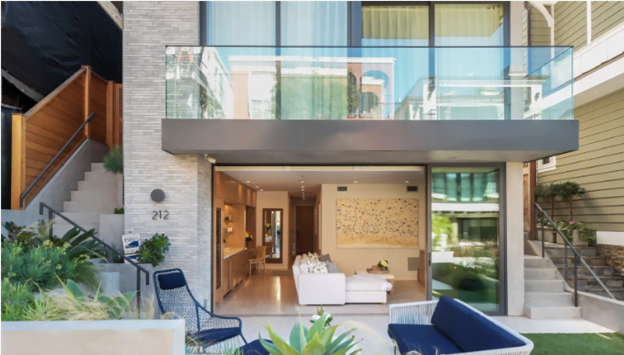 It is another excellent porch decor idea to add comfortable chairs. You can add a porch swing, comfortable, and beaches to create a comfortable environment. Cosy seating offers a lovely area to relax and take in the outdoors. It will also make your porch more welcoming. Consider the size and configuration of your space while selecting seating for your porch. Choose space-saving furniture for your little porch, such as a bench with built-in storage or a chair that collapses when not in use. If your porch is bigger, you can place chairs, comfortable couches, and a centre table as a great addition.
4. Lighting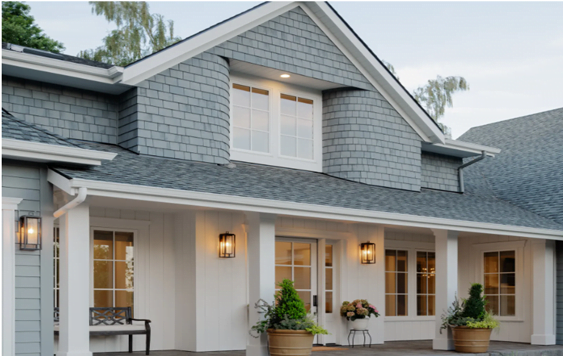 Installing lighting near your seating area will help to create a nice ambience. You can also install lighting over your front door to highlight your entryway. Consider LED or energy-efficient bulbs to save energy expenditures and guarantee that lighting lasts long. These porch decor ideas can turn your porch into a work of art. Perfect porch lighting will showcase the interior design of your house pretty well. However, adding outdoor accessories with proper lighting will make the porch area a happy spot.
5. Aesthetic Accents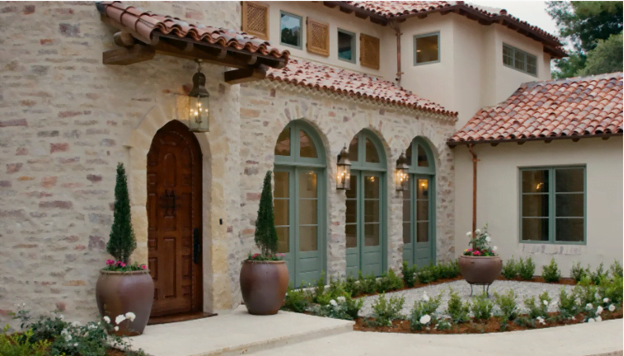 One of the best porch decor ideas is to add decorative accessories. Items like doormats, wreaths, planters, and artwork can be among them. Consider your taste and the overall effect you want when choosing ornamental elements. For example, add a traditional doormat and wreath to showcase traditional decor. Choose striking and vibrant pots and artwork for a more modern appearance. You can also produce a unified appearance by selecting decorative details that go well together. Pick artwork with the same design components as your doormat or pots with a similar colour palette.
6. Furniture Positioning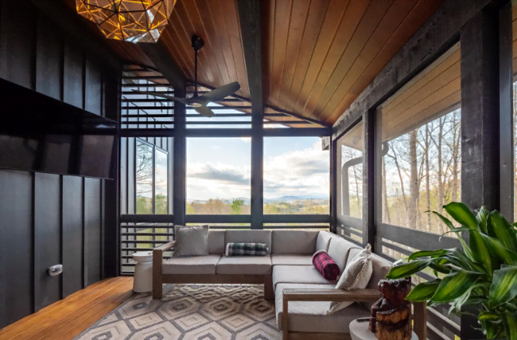 The furniture arrangement on a porch is essential because it can provide a comfortable and helpful environment for entertainment and leisure. Consider the size and shape of your porch and your needs and personal preferences when determining where to put the furniture. Start by choosing furniture that meets your porch's dimensions and has the number of seats you want. Consider a bistro set or a pair of chairs if your porch is small. Then, add GYUTEI sofas which are sectional, for more seating options on large porches, which you can buy online. These unique porch decor ideas will bring more people to your home.
7. Display Cases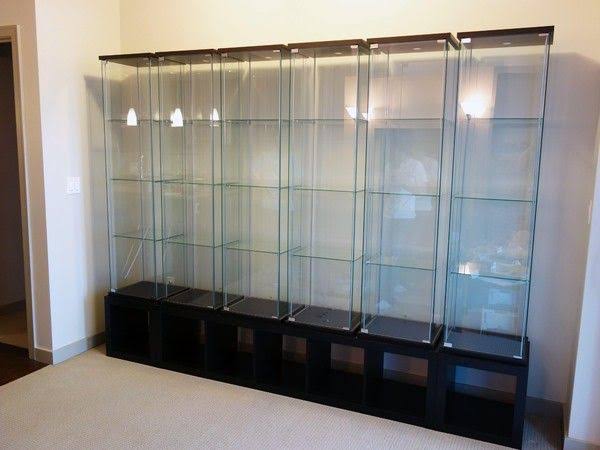 Window boxes are an excellent and straightforward way to give your porch colour and intrigue. Often made of metal or wood, these containers can be filled with various plants, including succulents, flowers, or herbs. Your window boxes can also include ornamental items like bows, ribbons, little garden ornaments, and plants. These porch decor ideas can give your porch a unique feel and improve its overall look. Consider the sunlight your porch receives and the overall aesthetic you want to achieve when choosing plants for your window boxes.
8. Rugs For The Outdoors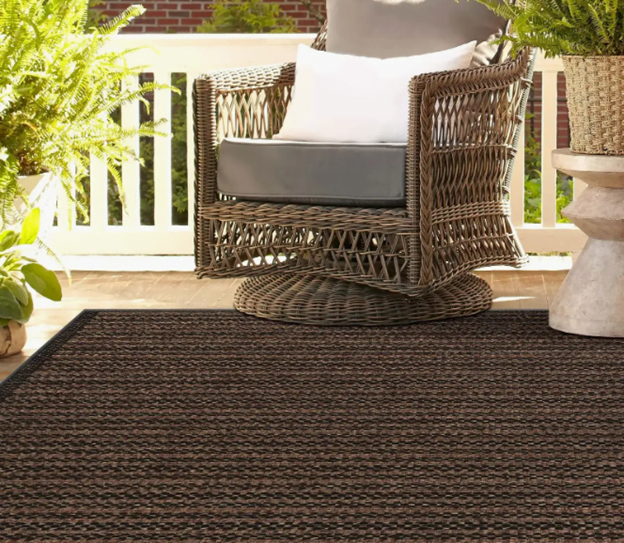 Outdoor rugs are another crucial porch decor idea because they may give the space more texture, colour, and comfort. These rugs often comprise rigid materials that can survive outdoor environments, including nylon or polypropylene. Consider your porch's size and shape and the overall look you wish to achieve when choosing an outdoor rug. You can select Gertmenian Indoor Outdoor Area Rug to give your room a splash of colour or pattern.
9. Painting The Ceiling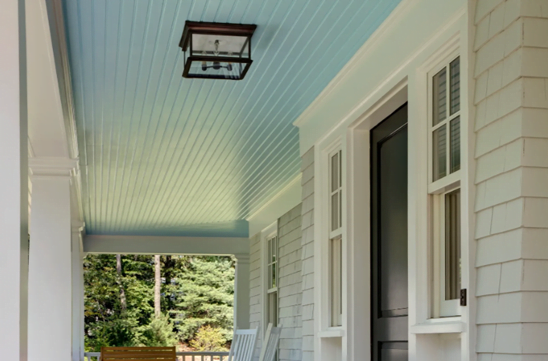 Many individuals ignore the ceiling as a chance to add interest and colour to their area regarding porch décor. However, painting the ceiling is a quick, low-cost method to give your porch a distinctive touch and make it feel more snug and intimate. Choose a paint colour for your porch that enhances your current decor, or add a splash of colour. You can opt for an intense hue for a striking effect or a delicate shade for a more understated appearance. Once you have decided on a paint colour, pick an exterior paint that will survive the environment.
10. DIY Initiatives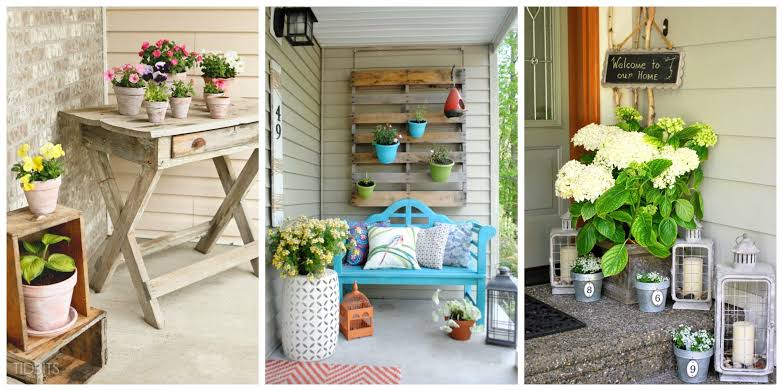 DIY projects can be an excellent way to offer a personal touch while decorating your porches with different DIY crafts and designs. They are among the top porch decor ideas that can be fun to accomplish together. Start by choosing a project that complements the size and aesthetic of your porch. For example, you can build a unique outdoor bench or make a DIY planter box to showcase your favourite plants for additional seating. You can also add unique touches to the current design by painting your own doormat or making colourful cushions.
11. Holiday Décor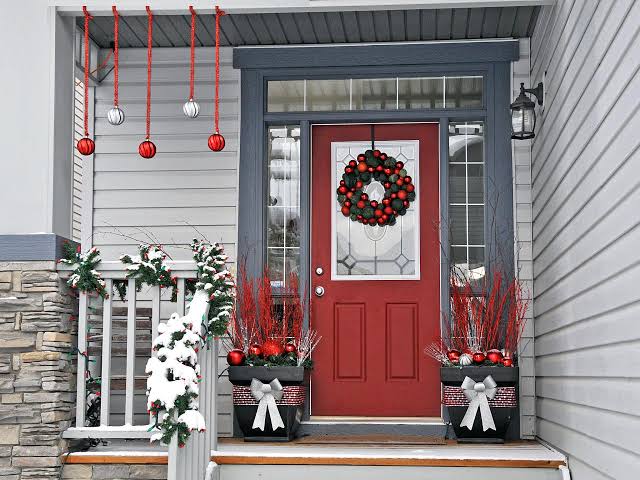 Most people search for seasonal porch decor ideas to keep their porches looking new every season. You may make a welcoming and joyous ambience that celebrates the passing of the seasons and special occasions by introducing seasonal themes into your decor. Start by choosing seasonal décor that blends well with your current decor and sense of style. For a warm autumn ambience, you can include fall-inspired components like pumpkins, hay bales, and fall foliage. Or, to create a festive winter mood, add winter-themed accessories like evergreen branches, pinecones, and holiday lighting.
12. Inspiration For Curb Appeal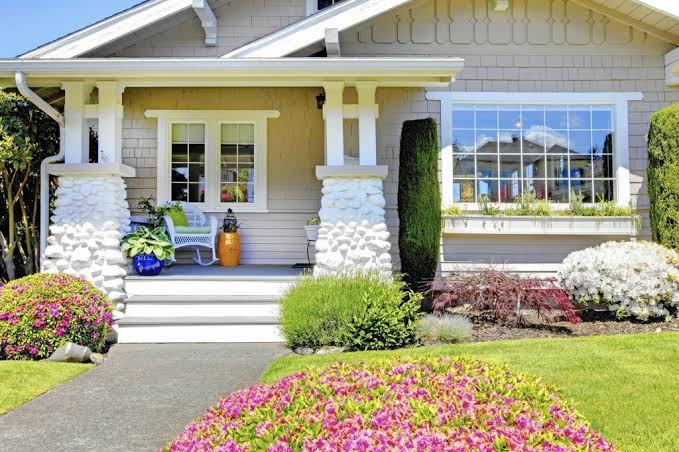 As a beautiful and well-decorated porch can catch guests' attention, people always look for unique decor ideas. You only need to look online or in your community. Walk through your area and look at any residences that appeal to you. Make a note of your preferences and incorporate those components into the design of your porch. Think of creative ways to spice up your porch, such as introducing a striking colour or using unexpected materials. Have fun and allow your creativity to run wild, remembering that your porch décor expresses your style.
13. Concentrate More on the Front Door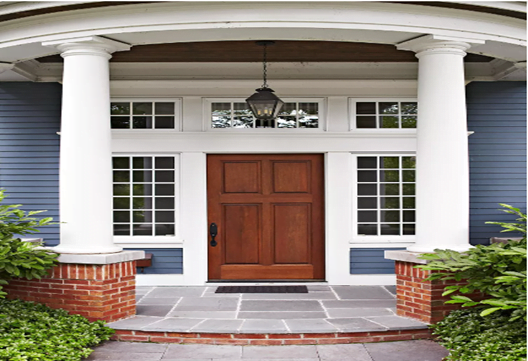 To impress your guests, you must come up with excellent front porch decor ideas. The best part is that you can go bold and include pop colours, distinctive architectural shapes, etc. Furthermore, you can also add excellent wood tone colour to highlight the overall entry area. It is going to be a really quick and low-budget decoration idea. Hence, it is suitable for people with a constrained budget. If you do not like the idea of wooden colour, you can paint it with red brick to complement the overall appearance.
14. Walkways For Porch Decor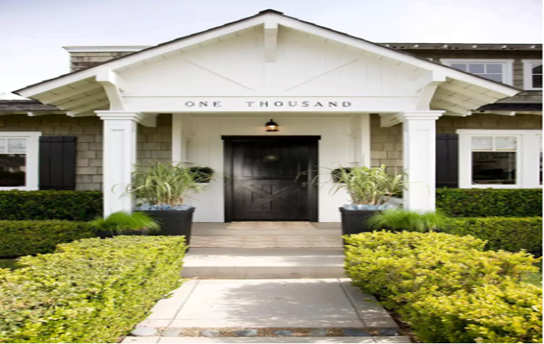 Welcome your guests from the driveway or the street to the front door through a well-maintained and clearly marked path. It can be one of the finest porch decor ideasthat will catch the attention of your guests. Adding a welcome mat or a large outdoor rug offers your porch a cleaner and more polished look. In addition, if your space allows, you can swap your house number and address, making it easier for the guests to locate your house.
15. Spill the Interior Style Outside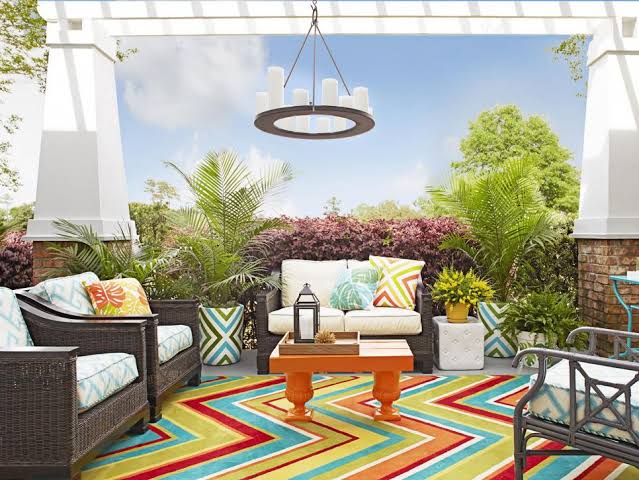 One of the primary decoration tips to enlarge the front space of your porch is to make it a continuation of the interior design. As the porch is the first thing your guests will notice, you must do something unique. Spilling your interior design outside can be one of the unique porch decor ideas offering an aesthetic vibe. Adding side tables and comfortable chairs can be an excellent addition. Express your creativity by adding a few plants, accessories, and lanterns to make it more unique.
16. Folding Front Door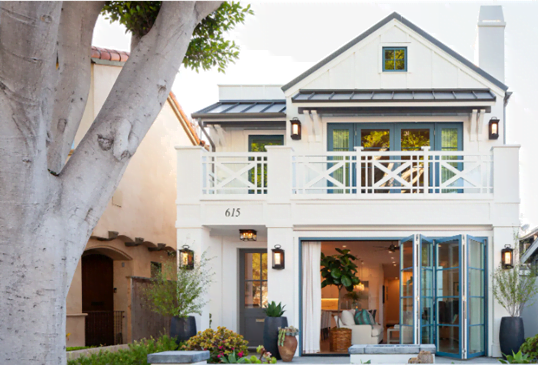 Along with the main entryway, the folding front door can be an eye-catching and extraordinary addition. An open space can offer a greater view and a comfortable atmosphere. In winter, the folding doors will connect the outside courtyard and your living room. As a result, it will allow you and your guests to enjoy the outside view and the garden from the comfort of your living area. If you want something different and to make your porch look exceptional. So, if you are looking for unique porch decor ideas, this is the one for you.
17. Porch Landscaping Ideas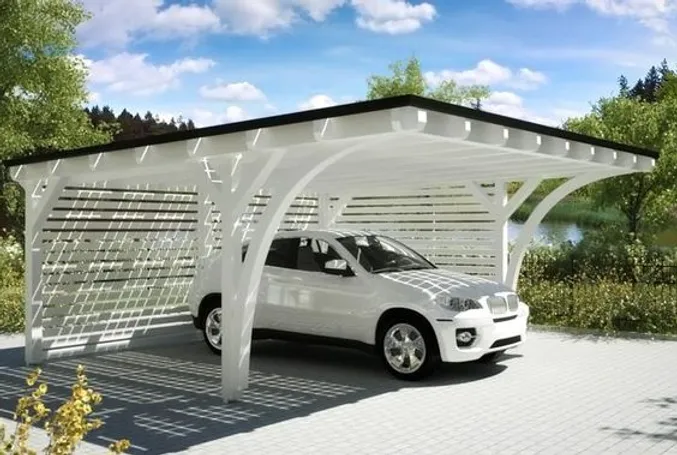 Porch landscaping is one of the eye-catching porch decor ideas that will look best if you have a smaller porch area. You must cut down the overgrowth plants constantly blocking the front door views. Additionally, keep the plantings short so they won't overshadow your walkways. Next, you can change the positions of your plants to keep the landscape looking cleaner. Also, pay close attention to the significant places that will impact the overall appearance more. Finally, keep the plants and flowers in specific containers to maintain them well.
18. Hang Porch Swings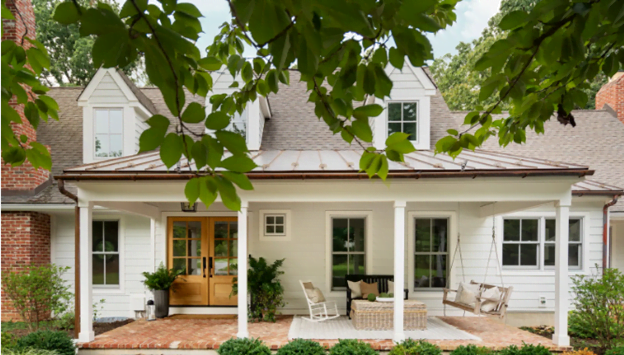 An inviting seating corner with a beautiful porch swing will do justice to making your porch area look mesmerizing. An intimate and defined place with swings will be affordable while offering a luxurious vibe to the front entrance. Adding a swing will help you separate a longer porch area into smaller sections. For example, if you have a space behind the swing, you can design it like a dining area for informal gatherings. However, you must strategically place the swing so it won't come close to the surrounding elements when someone uses it.
19. Play With Different Architectural Designs
Conduct proper research before you jump to any conclusion. You must play with different architectural designs supporting your existing home's style. Adding adequate architectural details like mouldings, decorative brackets, plants, columns, etc., will make your place look astonishing. If you have these items in your home, consider redecorating with a fresh and clean coat of stain or paint. It will improve their overall appearance and make your place look different. Consider selecting any contrasting colour to make the included architectural elements pop brightly.
20. Go All Black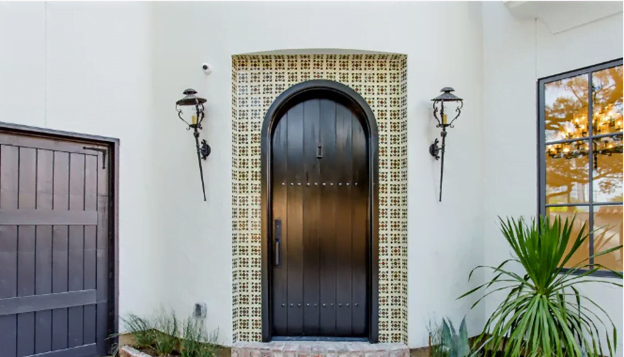 Professional designers will agree that decorating your porch areas with black will never go wrong. It is one of the most popular porch decor ideas that you can pick to combine with rolling stones. Additionally, darker colours like black will hide flaws while offering your porch a classic appearance. You can add different black elements to decorate the front yards further to make them look more appealing and exciting. Also, you can keep the walkway clean and add some small plants on both sides.
21. Include Glass Panel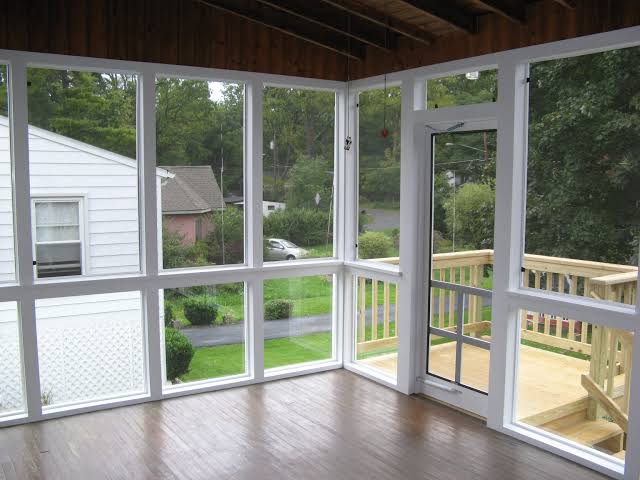 If you have a more extensive porch area, changing the door to an entirely different type of model is recommended. Decorating the porch area with a glass door will elevate the overall look of your home. Also, it will usher more light into the interior design of your home to make it look prettier. However, you must select the door connecting and coordinating the rooms with your porch to create a more cohesive look. Consider selecting a door with bevelled glass if you want to go for a DIY setup.
22. Consider Installing Innovative Flooring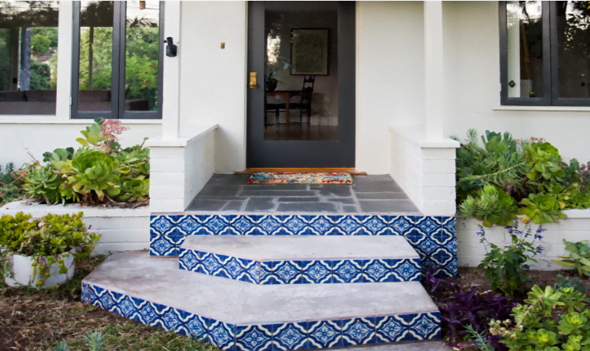 If you completely change the look of the porch area, installing innovative flooring can be a great option. Material selection can be a big ticket to offering additional value to the front porch. Consider adding unique flooring to make the place special instead of investing in generic concrete. Wood, stone, or tiles are one of the best contenders. However, remember to pick a floor design that will match your interior design to make it a continuation. In addition, you can add comfortable chairs and tables to make the area more inviting.
23. Showcase Your Creativity with Concrete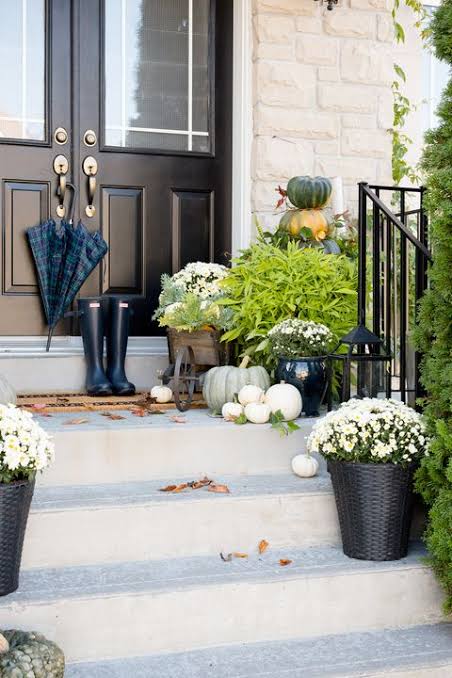 The best part of selecting concrete is that you can develop new decorative ideas as it is still not outdated. But, to have an eye-catching porch area, you can select pavers instead of basic concrete. Pavers are mainly flat concrete or stones that come in square shapes. Concrete porches have gained popularity due to their cost-effectiveness and numerous options. So, you can opt for this porch decor idea if you are low on budget.
24. Create Schemes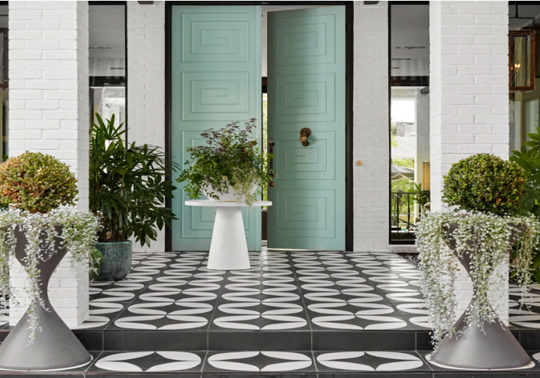 You can use the front porch area to combine the colour schemes and patterns to create an excellent look. However, you must concentrate on the entryway to make it look more sophisticated and polished. You can search for the metal finish or select the same colour for other decorative items to create a balancing look. For example, you can add porch lights, mailboxes, house numbers, entrance hardware, and door knockers. Do not always go for the same type of design, as it will create a boring look altogether. Instead, you can select items with different shapes and designs.
25. Benches Can Be a Great Idea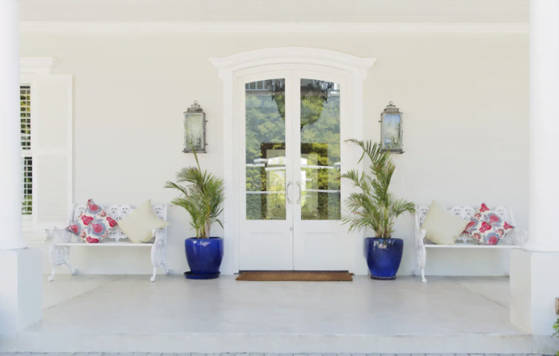 Like the rocking chairs, porch benches such as Her Majesty Patio Metal Bench Porchcan be a great addition to serve as a staging space where you can receive parcels daily. To make it innovative, you can match the bench colour with the front door or play with different bold colours. It is one of the best porch decor ideas to offer liveliness and evoke a casual feel. However, you can also use a monochromatic look to exude elegance and offer playfulness.
Conclusion
Decorating your porch area with adequate and interesting materials will elevate the appearance of your house.
A well-decorated and well-maintained porch can make a great impression on your guests. Hence, to help you make your porch area look more presentable, we have given a list of the 25 finest porch decor ideas. All of them are quite budget-friendly and do not require too many elements.
Do you like any one of them? What is your imagination regarding decorating your porch? Feel free to write it down.
Frequently Asked Questions (FAQs)
What Additional Items Can Be Put to Decorate the Porch?
The two primary items that you can put to decorate your porch area innovatively are decorative lights and Greenery. The lights will illuminate the entire porch area and make it brighter. On the other hand, a touch of Greenery will make the place breathable and cosier.
How to Decorate Your Porch When You Have a Small Space?
Adding colours and plants is the best way to decorate the small porch area. Consider investing in small yet matching plants. You can add small chairs or a round table to make the place more comfortable. Including outdoor accessories according to your choice can also be a great decorating idea.
What are the Best Porch Decor Ideas for Privacy?
Adding blinds or shades is the simplest way to decorate your private porch area. The exterior porch blinds will safeguard your privacy while allowing you to peek through the outside. Also, these decors can help you block direct sunlight, rain, etc. However, you can add furniture to make your porch more private.
What are the Ways to Make the Porch Look Cozy?
There are many ways to make your porch area look cosy and comfortable. Add benches or swings to your porch area and keep soft cushions. Furthermore, you can add a designer rug to make the space look clean and sophisticated. You also can add lanterns, string lights, and plants to make it look posh.
What Types of Colors Can I Add to The Porch Area?
You can pick any eye-soothing colour or vibrant pop colour according to your choice. It is subjective as everyone's choice is different, and so as their porch areas. You just need to ensure that it creates a balanced look to make your porch area look more inviting.