Decorating a home can be overwhelming but, at the same time, exciting. The entryway of your home holds a lot of importance as it is the first area that greets your guests. The way you design your entryway can reveal a lot about both your home and your personality. Thus, creating a positive impression in this space is crucial. An entryway accommodates a lot of things, so it's important to keep it stylish yet functional. The entryway is a multipurpose space that serves as a storage area for various items, including mail, shoes, umbrellas, coats, hats, scarves, and keys. Whether you have got a small compact space or a big area for your entryway, keeping it functional is a must. But the task is also to make it look appealing and turn it into something that reflects your personality.
These modern entryway ideas will guide you on how to use your space optimally by adding modern elements. Learn about the latest entryway trends and various ways you can incorporate them into your space to enhance the look.
1. Make an Organized Corner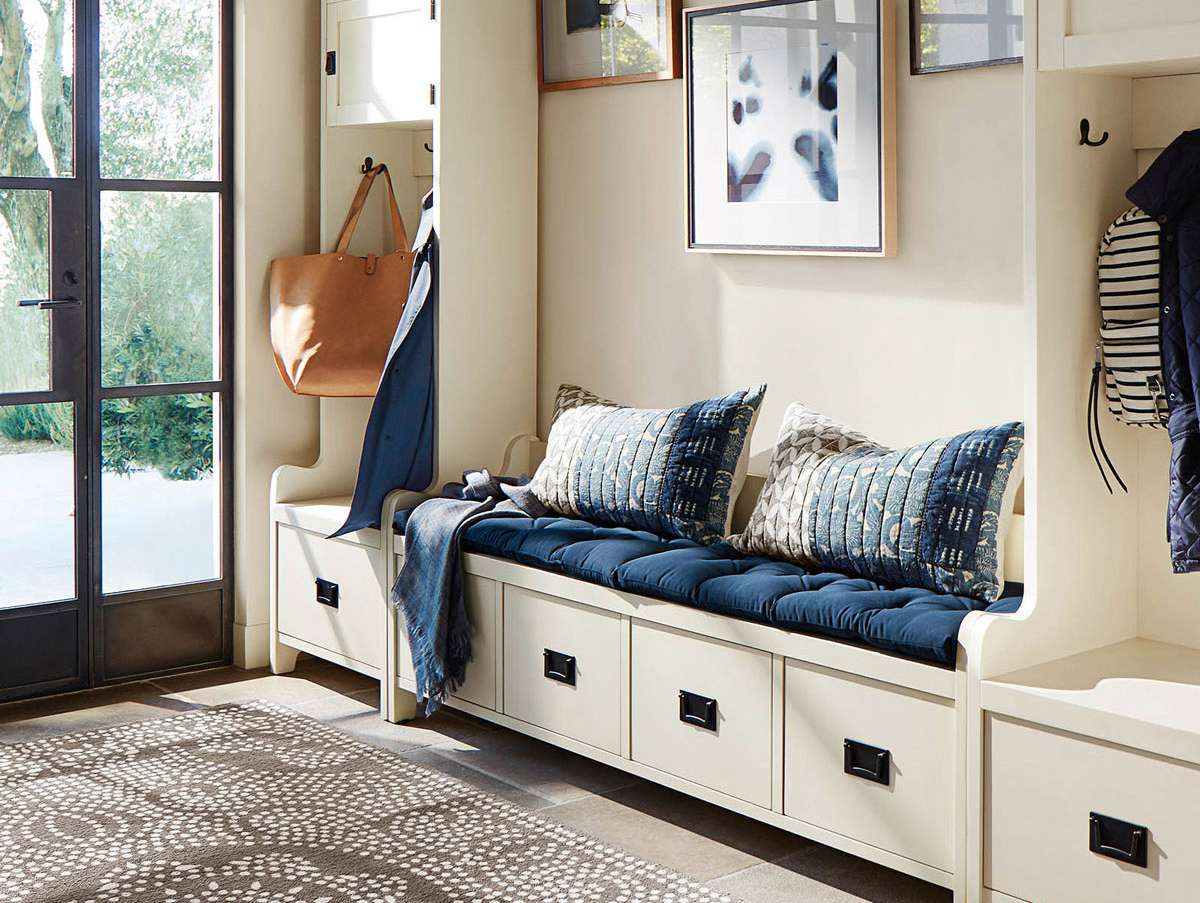 A multipurpose, customized corner with storage space to keep shoes, bags, coats, and hats, along with a comfy place to sit to wait or to wear shoes, is an ideal entryway space. In the design above, a classic combination of blue and white is used to make it look sleek, and the added frames add a little personality. This type of entryway fulfills its purpose by providing ample space for everything while also creating a tidy and orderly appearance. We do not deserve a messy welcome every day into our homes.
2. Use a Statement Rug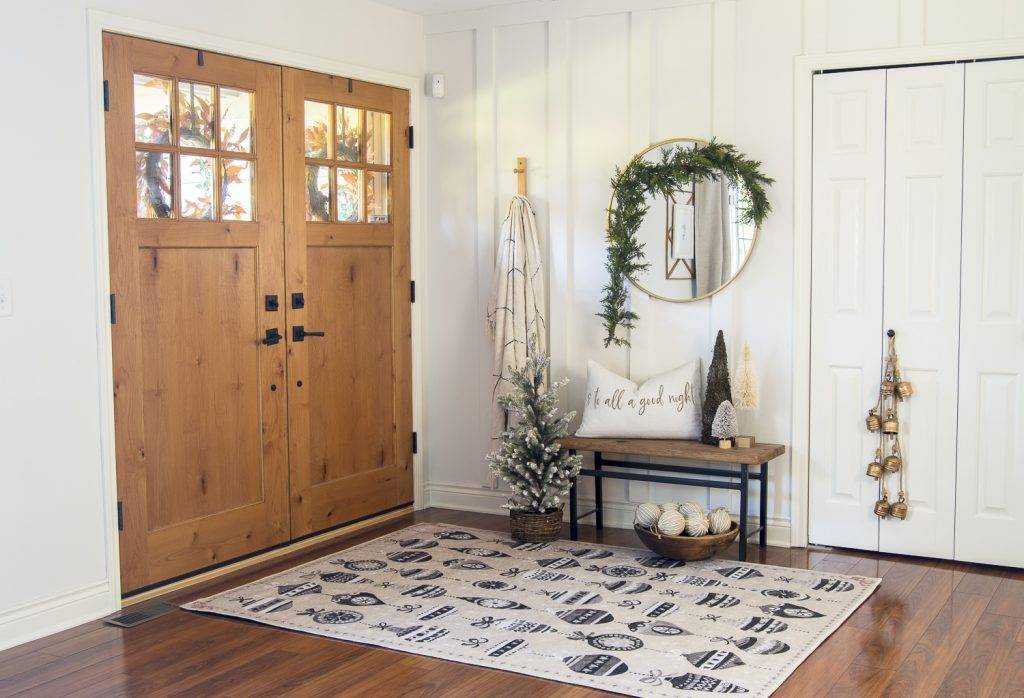 Rugs are a great way to add tones and textures to your entryway, it provides a center to your design and makes it look elegant. Rugs make your entryway warm and approachable and also prevent dirt from entering your home. There is a wide range of rugs easily available. From bold to simple designs in loud and calm colors, pick the one that matches your theme. Adding a rug is one of the easiest modern entryway ideas to uplift the overall appeal of your design.
3. Keep It Grand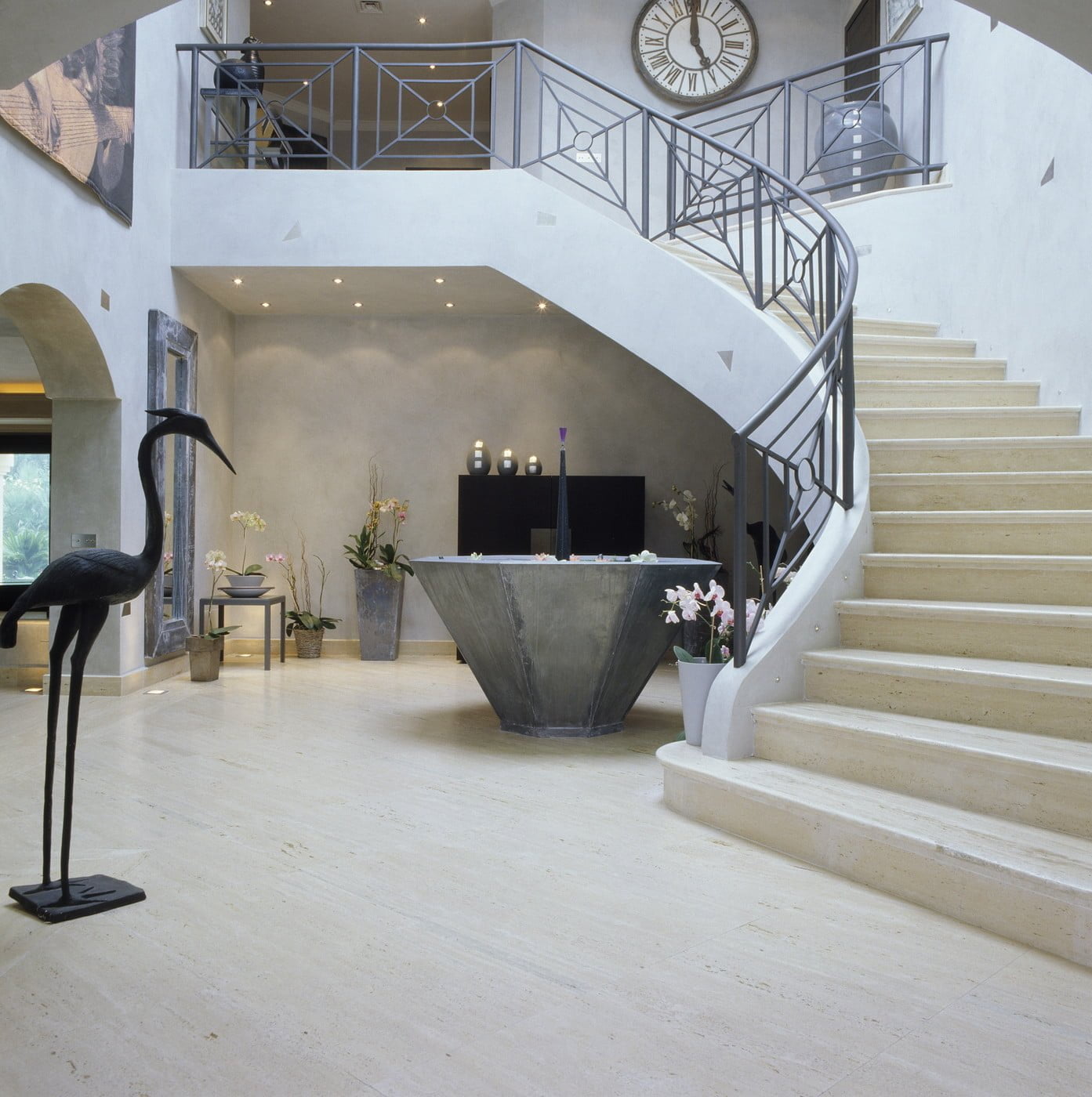 Modern entryway ideas typically demand a luxurious look that incorporates magnificent elements to elevate the overall ambiance of your space. There are several elements like the right light, a huge door, a sculpture, a piano, a couch, or a wall clock that intensifies the grandness of your entryway. In the era of compact housing, if you are fortunate enough to have a spacious entryway, keeping your modern entryway grand will certainly work in your favor to provide a cozy welcome to your guests.
4. Explore the Wood Hues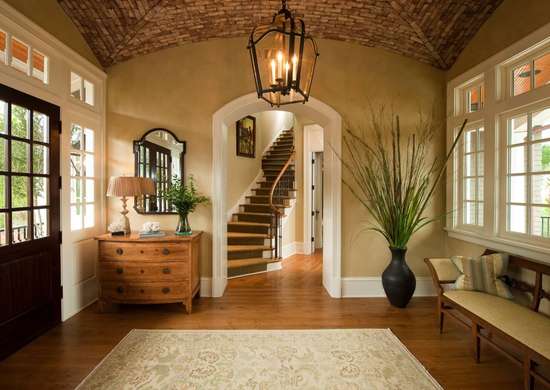 Among a lot of modern entryway ideas, one that stands out the most is a wooden-themed entryway. Wood brings a lot of warmth and zeal to your home. You can create a classic, modern, or rustic look with wooden flooring and paneling according to your design and preferences. Wooden furniture like a bench or console in your entryway looks naturally stylish and functional at the same time. On top of these, wood can never go out of style.
5. Turn It Into a Gallery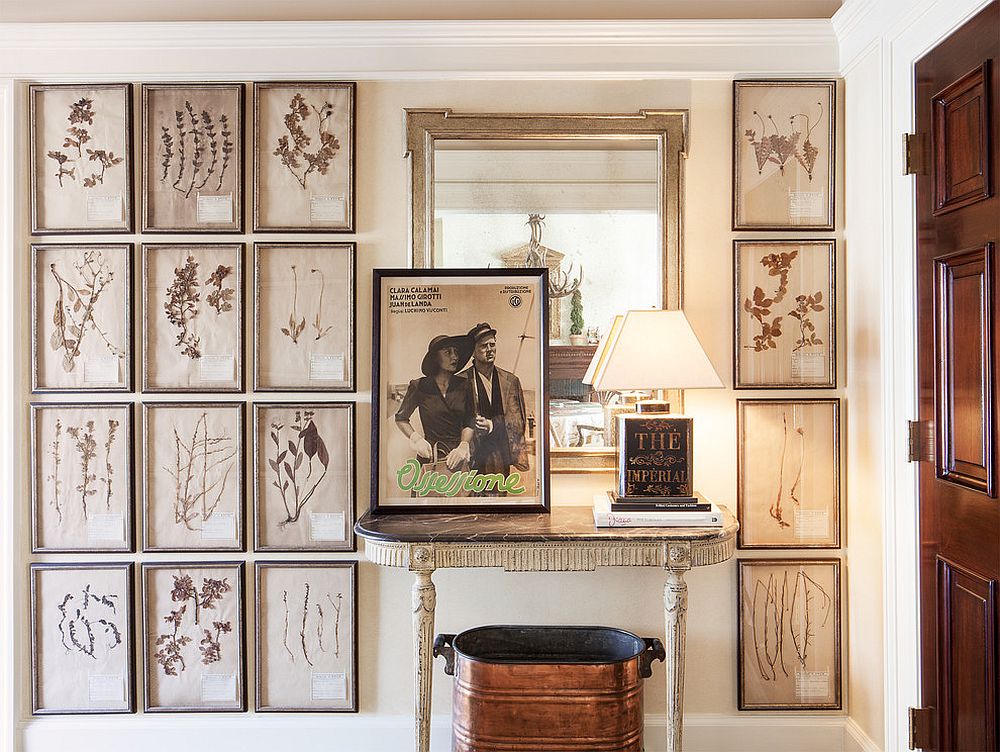 Assembling your personalized art gallery in your home is a great modern entryway idea. Use family portraits, professional paintings, or drawings by your toddlers. These frames add a lot of personality to your entryway and often tell a story to anyone who visits. The pressed flower frames used in this design are a quick DIY project and look amazing in an entryway.
6. Use Antiques for a Vintage Look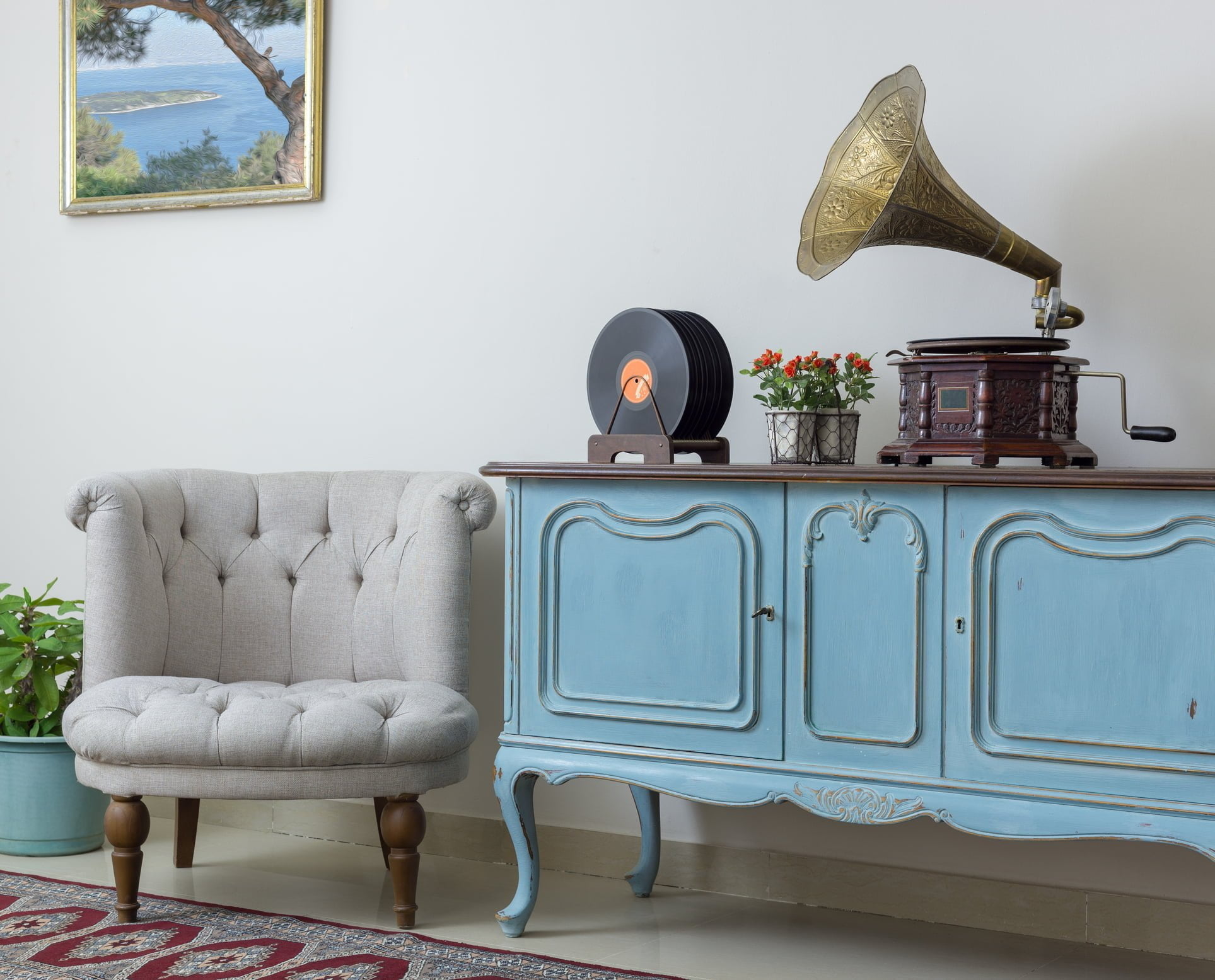 If you are looking for a vintage-contemporary look for your entryway, there are many modern entryway ideas to choose from. Using antique fixtures, vintage wall art, or an old-style table can add charm and character to your entryway. Vintage decor in an entryway portrays timeless elegance and welcoming energy to your home. To get the aesthetics right, you can either buy antique items from a flea market or blend a family heirloom into the scheme. 
7. Wallpapers to Up the Game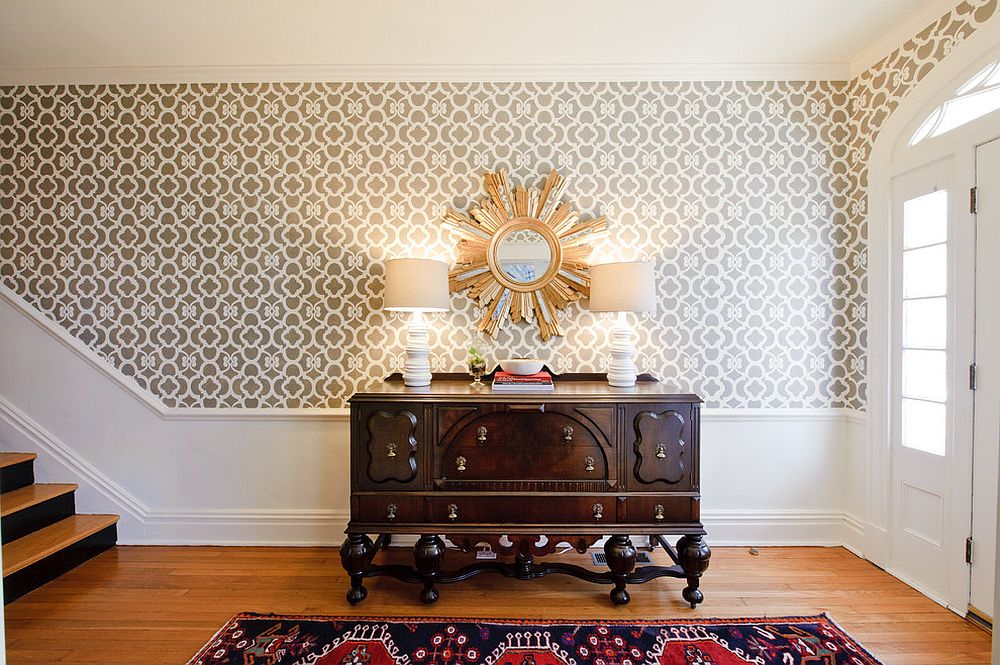 Wallpapers can add a captivating and varied dimension to any space in your home. Using wallpapers can deliver a gorgeous entryway with minimal effort. They come in various printed patterns, color schemes, and themes, and the options are limitless. Whether you want something bold, dramatic, subtle, or classic, there are many options for each kind. Wallpapers can also be customized these days according to your design theme. The best thing about wallpapers is that they are easy to install and budget-friendly. 
8. Add the Mirror Effect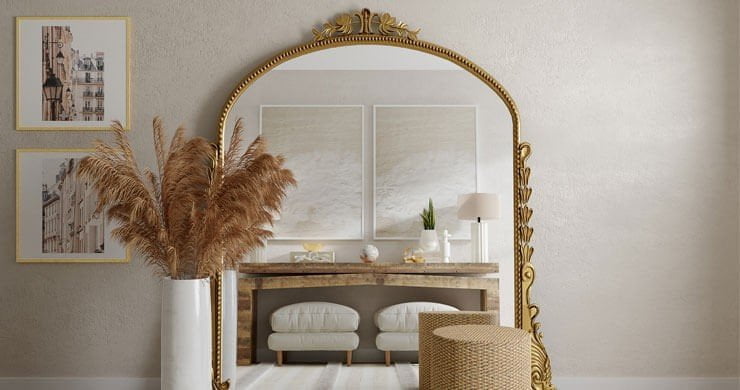 Mirrors are the best way to make your entryway look impactful. They create an illusion of vastness, which makes your compact space look bigger. A mirror also catches the light and makes the space brighter. It blends very nicely with all the themes, be it vintage or a modern entryway. And it's always a good idea for a quick check before heading out for your day. Similarly, you can put any antiques you are fascinated about and bring magic to your entryway walls.
9. Utilise the Area Under the Stairs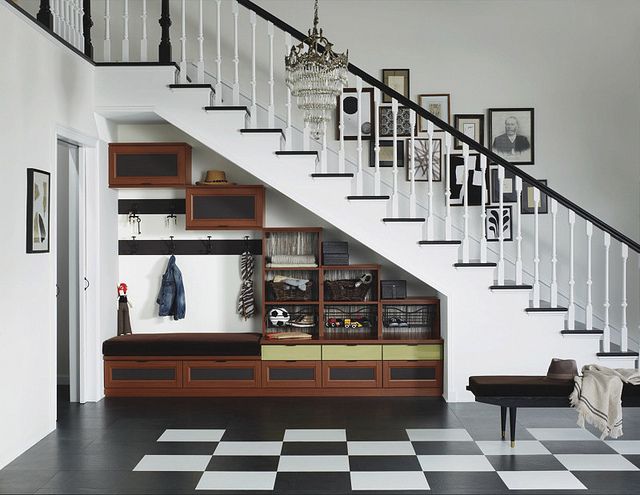 The space under the stairs can be used in a lot of ways; you can convert it into a bookcase, a laundry space, a pet area, or a play area. However, using it as an entryway area is probably the best idea. This kind of entryway gives the space a modern yet functional look. There are a lot of things you can fit in that little space, including shoe storage, a bench, coat hooks, and storage drawers, all at once. This little corner under the stairs can prove to be a lot more useful than you might think.
10. An Open Closet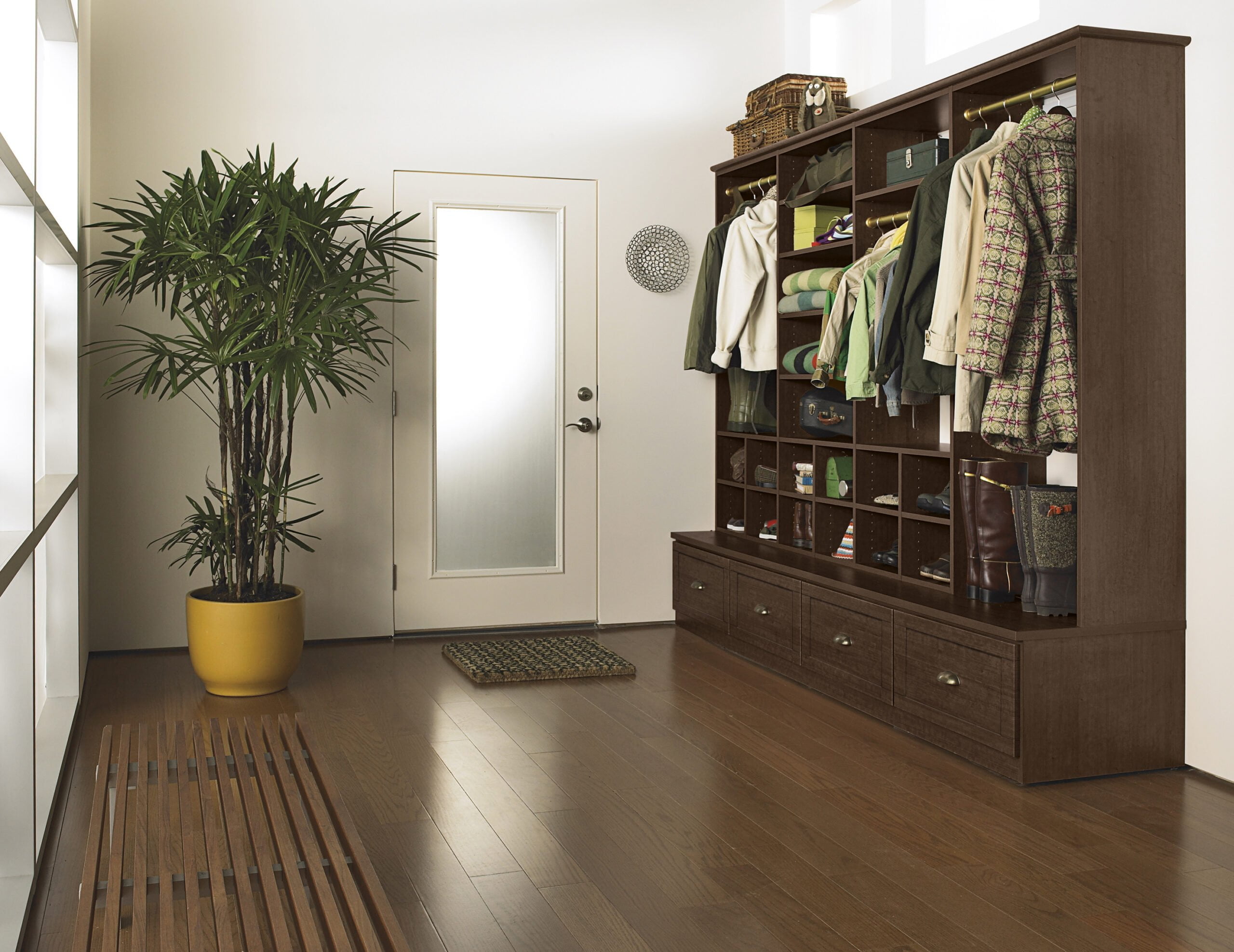 There are a lot of things that we need when we enter or exit our homes. If you make a list, you will be surprised at the number of items listed, especially if you have kids. And clearly, they all cannot fit in a console or under the bench. That is where the idea of an open closet at the entryway comes into the picture. Open closets are a convenient modern entryway idea accessible to all, allowing easy organization for guests and kids without your assistance. An open closet is a great way to add some style and functionality to your entryway.
11. Welcome Them with Flowers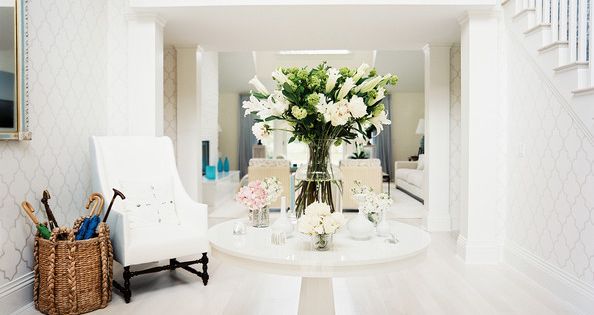 Flower arrangements in our home are the best way to bring the beauty of nature indoors. Using flowers in your entryway can instantly brighten up the place and make it inviting for the guest. Placing a flower vase on the entryway shelf or a three-legged small entryway table can become a major attraction. You can also play around with the flower arrangements according to the theme of festivities and celebrations.
12. Show Off Your Artistic Side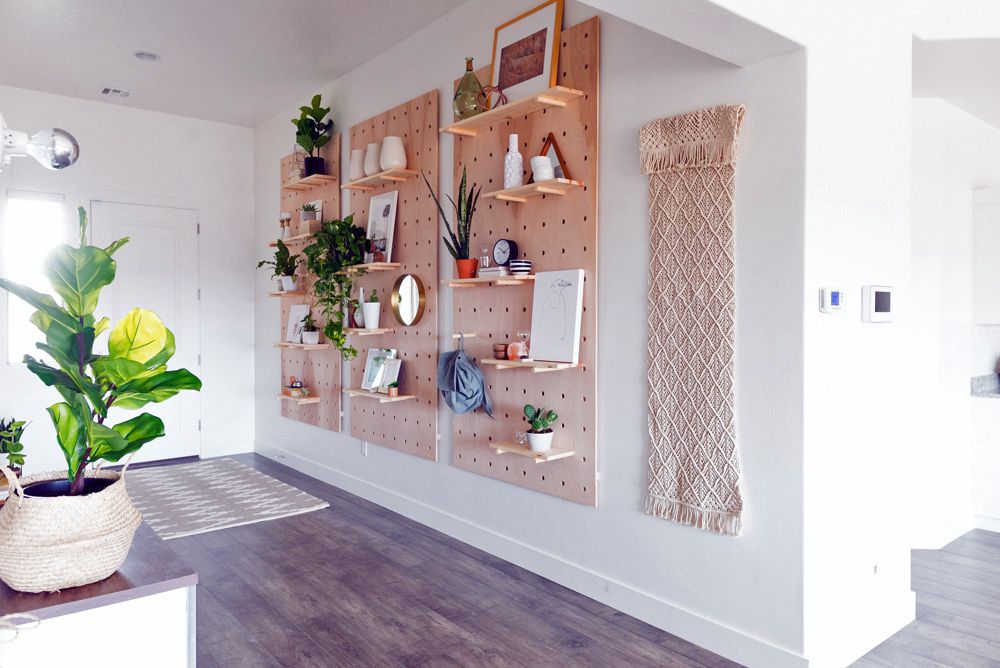 An artistic entryway suggests an expertly designed home. Entryways are the best place to showcase your art collection; it is a beautiful way of expressing yourself through art. When placed in the entryway, your art will immediately catch the attention of anyone that is entering the house and will make them linger for a bit. It can be a display of pottery, paintings, or your macrame skills. The boho vibe of this modern entryway idea is sure to captivate anyone who steps inside.
13. Build-In Storage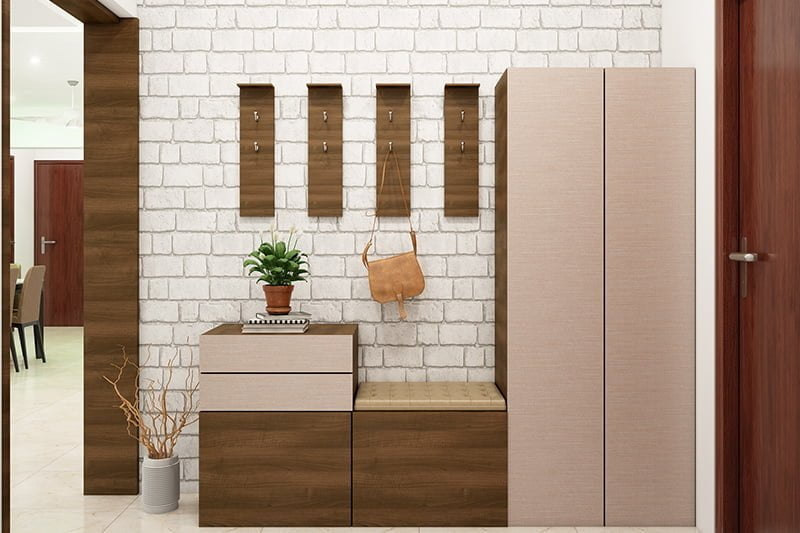 Usually, the entryway is the busiest corner of the home and hence is always cluttered. Installing built-in storage at entryways is a smart way to keep your entryway organized. This modern entryway design works wonders when the space is compact, and functionality is key. A custom-made closet or cabinets can be designed according to the space by adding hooks, drawers, and shelves. Utility storage creates a functional and non-messy space, which is always a welcoming sight for ourselves and the guests.
14. Wall Hooks Do the Job Right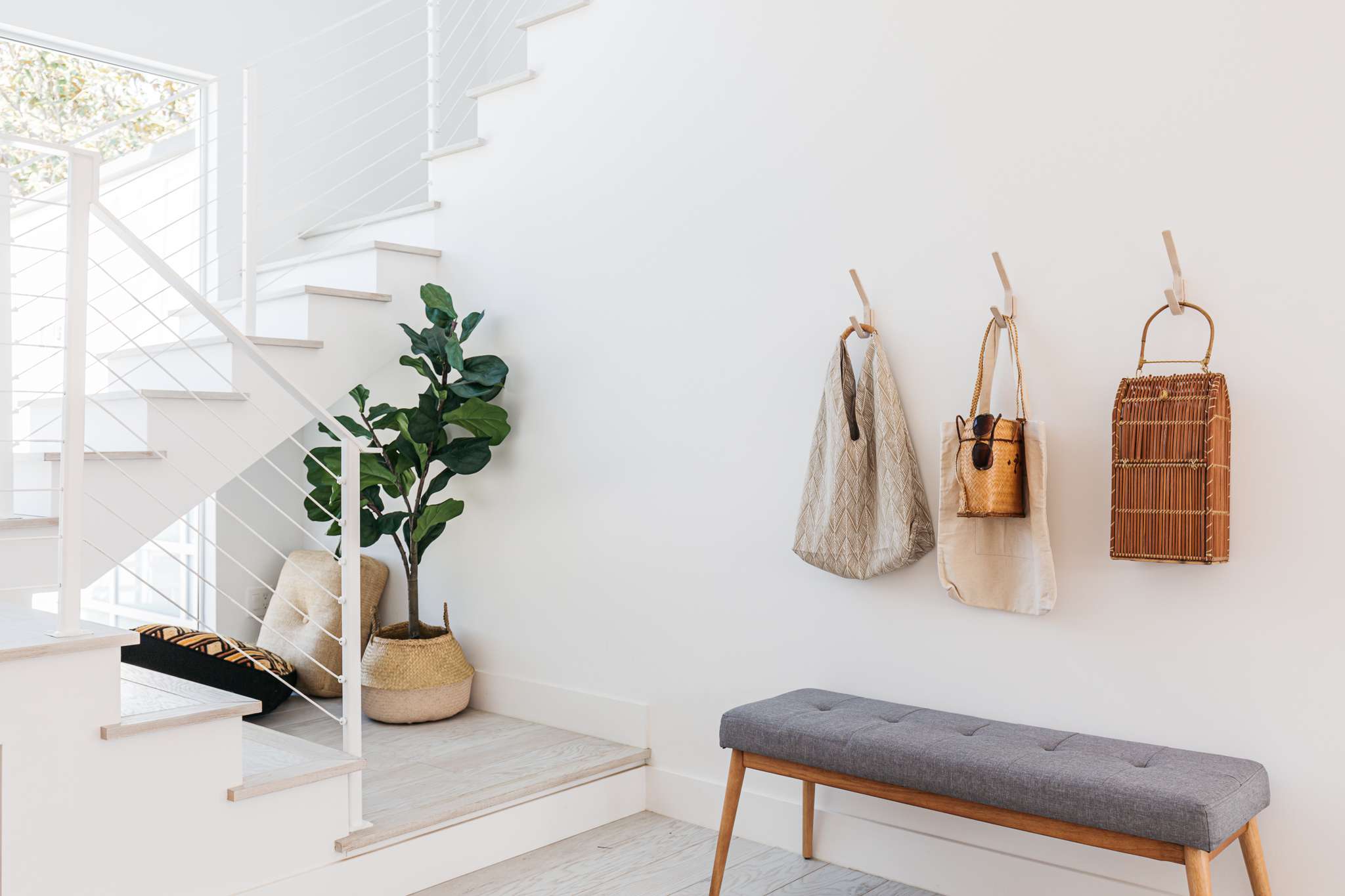 Adding hooks to the entryway is a minimalist way to add functionality to the space. They keep your most frequently used items like keys, hats, coats, and purses within reach, as you rush out of the door. Many modern entryway ideas can be enhanced with the help of different styles of hooks which come according to your theme in different finishes, styles, and mounts.
15. A Floating Shelf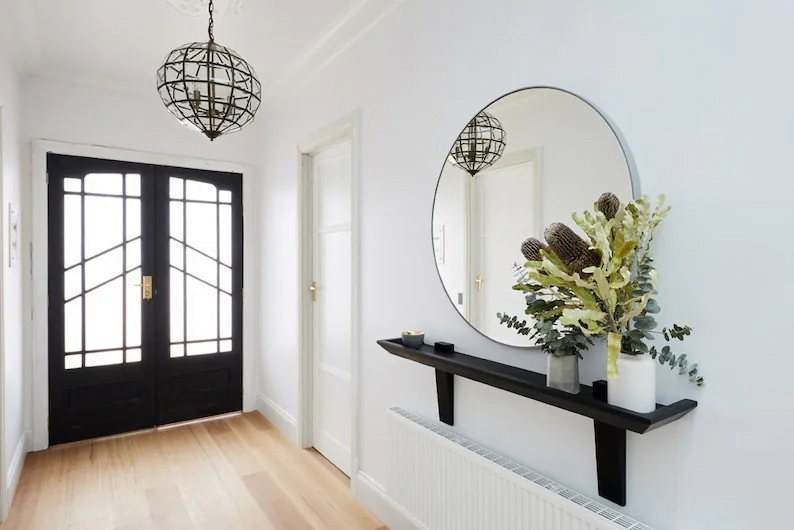 A floating shelf on your modern-style entryway can be a great addition to your space. The drawer provides a convenient place to store small items like keys, wallets, and sunglasses, and it can also be used as a shelf to assemble decorative items like plants or picture frames. The floating design gives a modern and sleek look to your space without consuming much space and also makes your entryway organized.
16. Patterned Floor Drama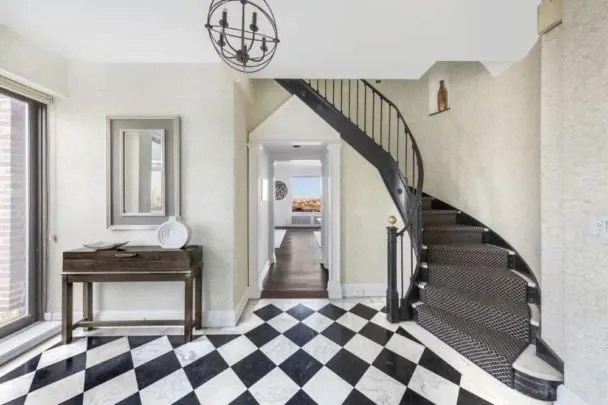 Patterned tiles add a lot of structure to your entryway and set it apart from the rest of the house. The patterns are a fun element that is pleasing to the eyes and delightfully surprises guests who step into your home. You can use dramatic patterns and colors according to the theme and your taste. From classic geometric shapes to modern mosaics, there is a wide range of designs to opt for.
Conclusion
Ultimately, many creative and practical modern entryway ideas can enhance the look and functionality of your home.
A well-designed and nicely organized entryway can make a big impact on your everyday life.
It doesn't matter if you have a tightly spaced apartment or a grand three-story mansion; you can still reflect your style by taking inspiration from these modern entryway ideas.