Planning a kitchen requires a great deal of effort from your end. You may have to decide how to allocate spaces for your storage cans or cupboards where you can keep your kitchen supplies in. You have to have a strategy in place as to where the kitchen stove or hob has to be spaced.
You may need a solid idea to have a clean and easy space for your sink counter top too. At the same time, you also need a space that is aesthetically pleasing to the eye. What is your understanding of what an L-shaped kitchen design is all about?
Here goes the explanation for the same. You have a hallway inside the kitchen space with the kitchen sink and the countertop situated on one side, while you have the stove area parallel to the kitchen countertop. Two parallel sections connected by the hallway get you the 'I' shape.
Let us discover 16 exciting L-shaped kitchen designs for your culinary hub:
1. Dust a Pop of Color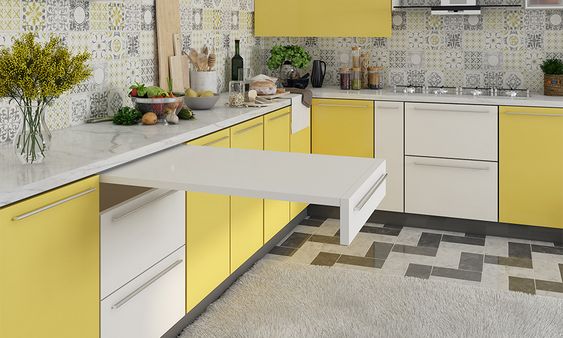 This is a fascinating parallel kitchen idea that lends an element of elegance and adds to a minimalist style for your kitchen space. Within the kitchen hall, you can add a shade to the stove and the countertop area of the kitchen, while the opposite space covering the sink area and kitchen cabinets gets a different shade of its own. Contrasting shades for the stove and the sink area can add a duplex feel to your dining space after all.
2. Cafe-Styled Design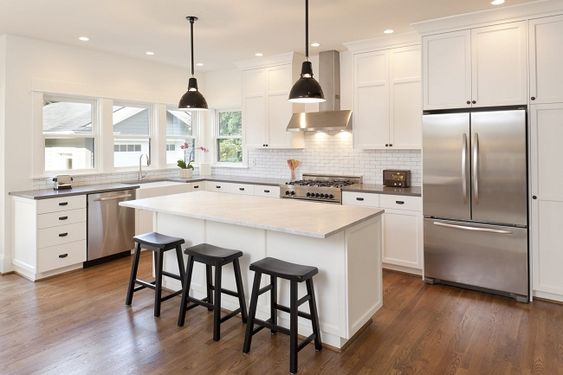 The renowned architect of Alamo Residence II in San Francisco decided to have the contemporary kitchen designed in a perfect cafe-style manner. Resembling a perfect L-shaped design, you have the kitchen hob, stove, and countertop spaced out in a creative manner. You have the dining table in front. This is followed by the sink combined with the dishwasher and neatly tucked kitchen cabinets at the rear end. You have a design that is inspired by a cafe-style pick, as you can eat the food right there in the kitchen space where the delicacies are prepared.
3. Olive Kitchen With a Balcony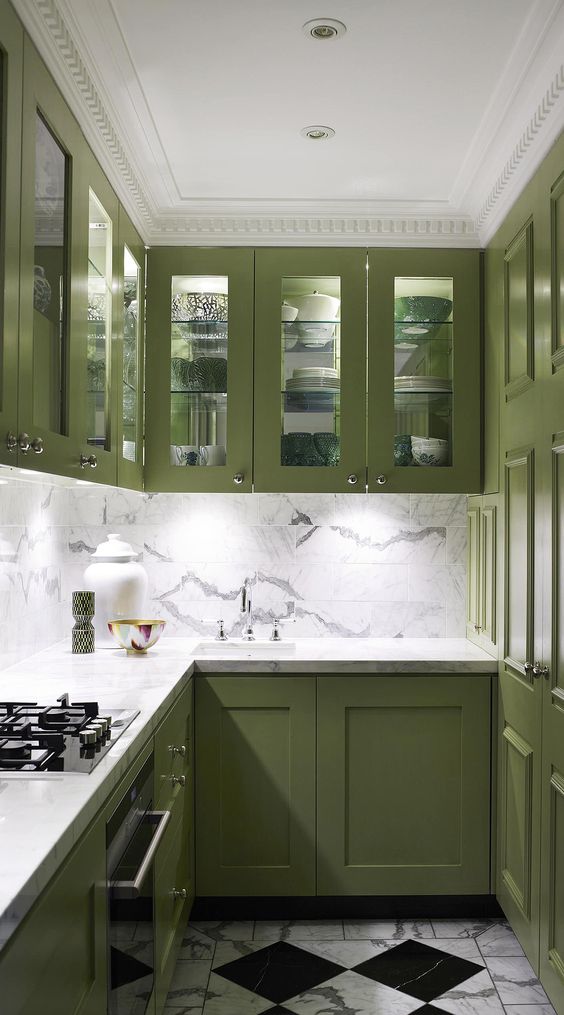 Olive green can be a shade that is visually pleasing to the eye. Olive green can therefore be a hue that can add to the cosy look of your kitchen. The hall separates the stove area and countertop on one side, with the sink area on the other. Rustic browns fill the attic on both sides. While this is one of the best L-shaped kitchen designs you can look for, the balcony that is situated adjacent to your kitchen can add extra space after all.
4. Woody Alley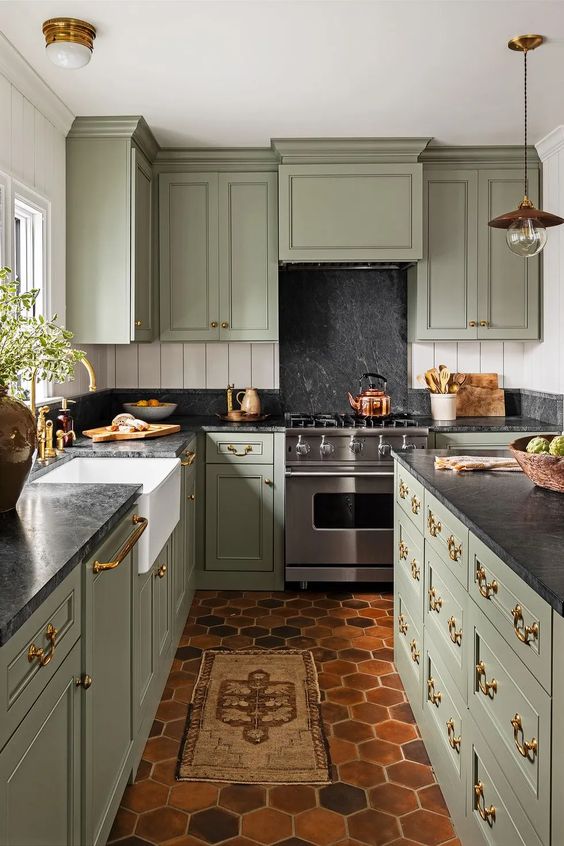 Wood-in-ville Retreat is the architect behind this lovely l-shaped kitchen design. If you are fond of Nature, this is a design model you are going to love. The kitchen hallway takes a lighter tinge of oak wood brown. The Seattle-based interior designer gives a granite finish to the sink and stove countertops, while the kitchen cabinets are painted grey-white. This kitchen's design outlay allows plenty of natural light to penetrate through, as you have lighter shades like brown, white and ash grey that reflect the maximum amount of light or ventilation into the kitchen.
5. LED lighting adds to a golden gloss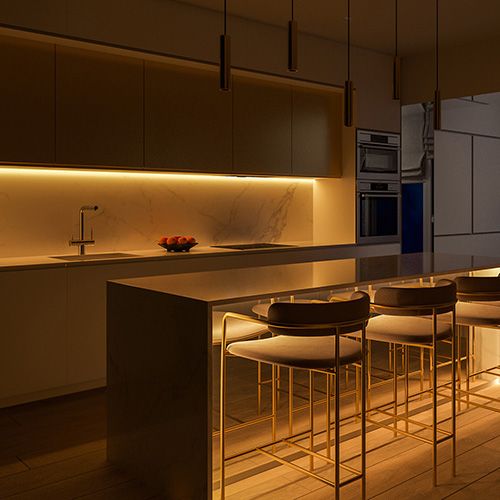 You have a compact small-space kitchen that is spruced up with LED strips. The organic shades and the lighting lends a golden glow to your kitchen space. Again, as it is a parallel galley for an L-shaped design, you have the kitchen hob and the furnace on one side while you have the sink and the countertop on the other. The look of the kitchen replicates a cafe-design style. You have stylish chairs that add to a posh vibe, indeed. You can invite your family and friends to flaunt them with your culinary design.
6. Pretty-Looking Lights and Other Accessories Inside the Kitchen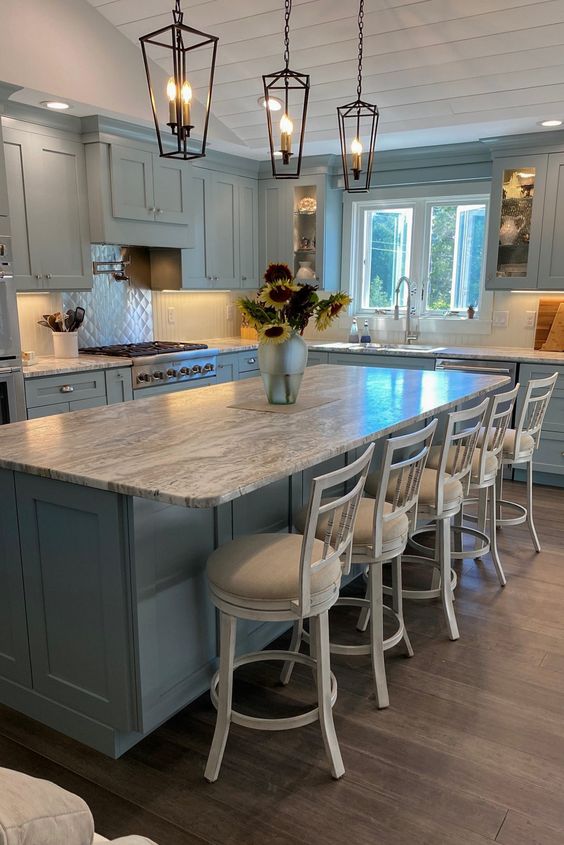 The Mill Valley in California brings a continental twist to adding transitional and contemporary kitchen spaces. You have the kitchen hob, countertop space, stove, and a side sink with the dishwasher occupying a neat row on the same side, while you have a dining table at the centre with pretty-looking lights above. You have the other side of the kitchen space with French windows and a balcony. To top it all, you have a mirror that reflects the amazing foodie moments you would have with friends and family.
7. Compact-styled kitchen with Big Storage Doors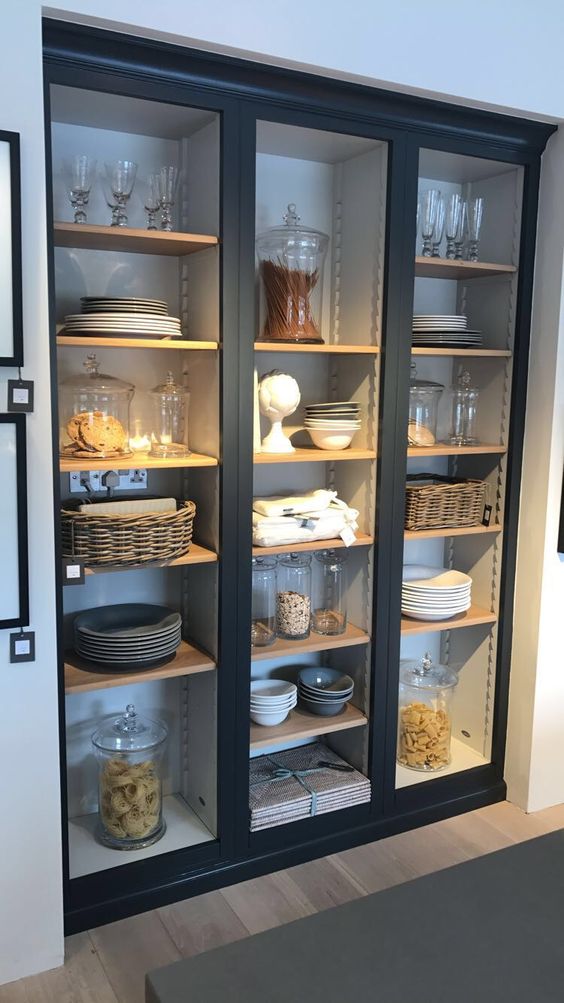 This is one of the superlative's L-shaped kitchen design ideas that minimalist dwellers would fall in love with. Although the kitchen space is compact, you have big storage doors to keep your kitchen supplies in. Fitted with glass doors, it is easy to identify what kind of jars you have kept inside the cabinets. Alongside this, the kitchen space has LED lighting, which gives a glow to your kitchen space.
8. Classy White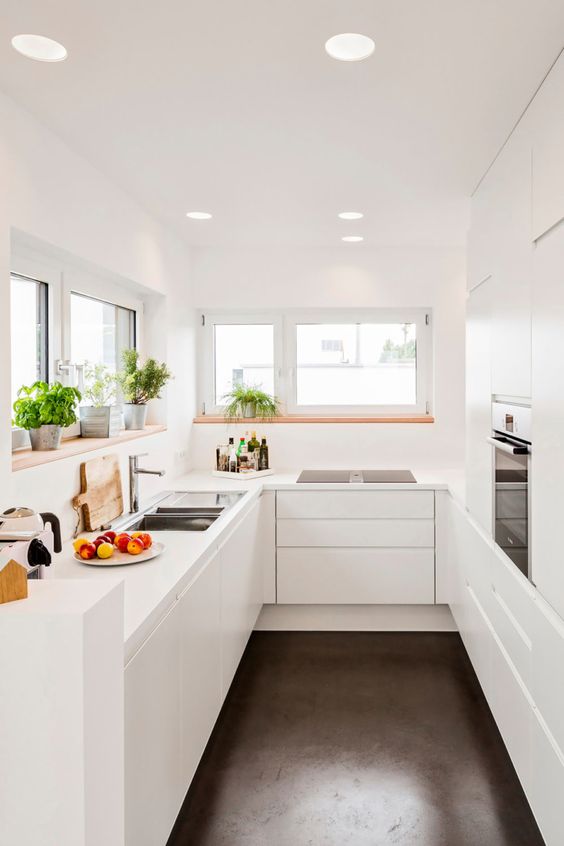 A renowned kitchen decor company named Harry Braswell Inc brought classy vibes to the L-shaped kitchen decor on the whole. The kitchen hob, sink counter, and tray top is all painted white. You have a glass window at the rear end of the kitchen. The other side has uniquely shaped kitchen cabinet doors. The all-white kitchen lends a posh decor to your kitchen space.
9. The Power of Neon Shades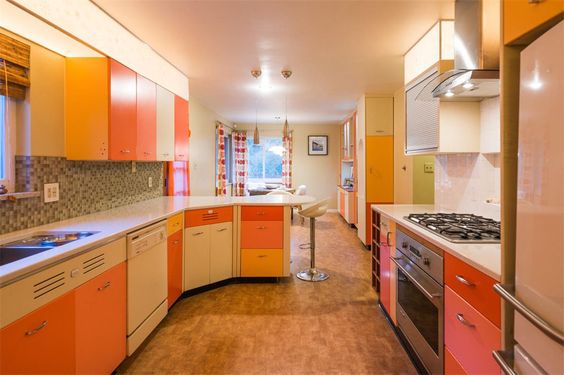 You can add neon shades like orange or yellow to bring a new twist to your kitchen space. The peppy neon shades can lend feel-good vibes and add a dash of freshness to your kitchens. You feel happy cooking dishes in your trendy kitchens indeed. You can add decorative tiles or add panelled designs to make your kitchen spaces sophisticated. Designer curtains were added to the French door at the back -the end of this stylish kitchen adds to a decorative feel. You have a dishwasher below the kitchen hob. This is a stylish L-shaped kitchen design that is flattering indeed.
10. All Brown L Shaped Kitchen Design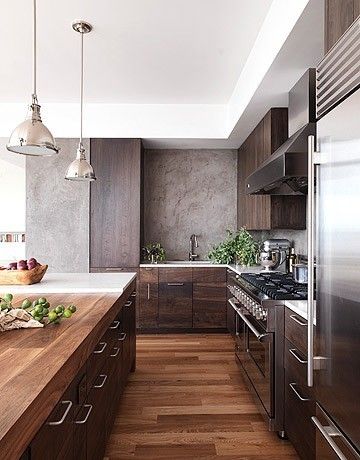 For a rustic and natural look, you can design a kitchen space that takes the colour of polished wood. The kitchen cabinet can take the colour of oak wood or teak wood. The tables or chairs you want to place inside the alleyway can be varnish brown. The sink and cooking hob can have brown wallpapers made of woody brown. You create an aesthetic appeal with this kitchen decor idea. This is a kitchen design idea that can surely be given a thumbs-up!
11. Elegant Blue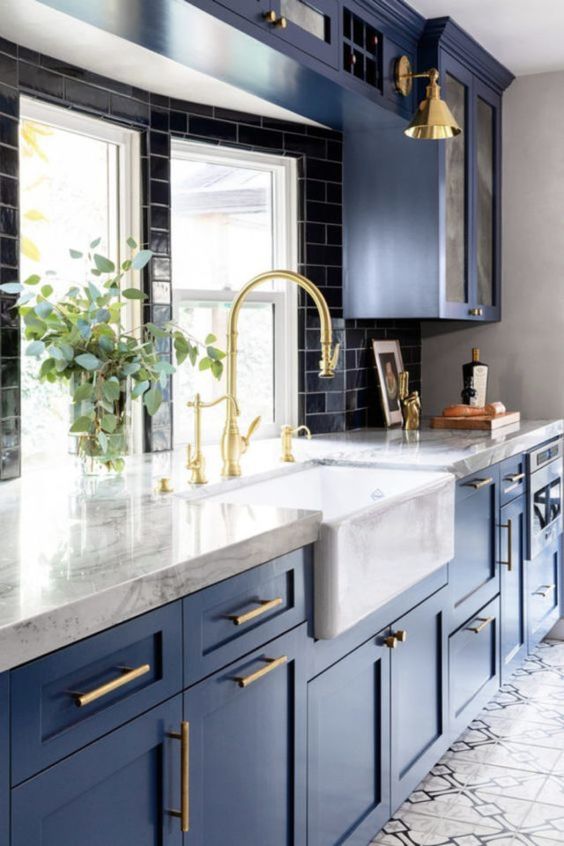 Do you love to recreate posh and stylish designs for your kitchen spaces? Then, this is a sophisticated kitchen design you can opt for. You can have a Matt white finish for kitchen cabinets, while you have blue undertones for kitchen doors. These are typically the doors wherein you keep your kitchen supplies. You can have a balcony setting or add glass windows to add to the aesthetic charm. This is one of the best L-shaped kitchen designs you can go in for.
12. Marble Sequins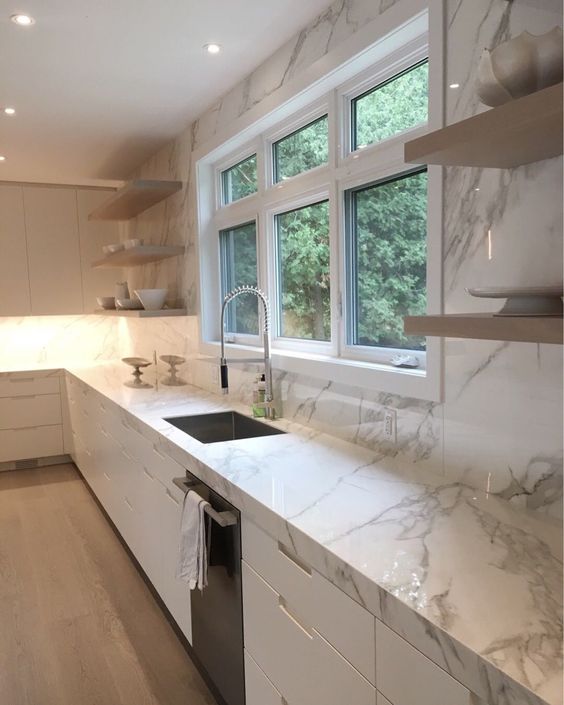 This is yet another classy design that is brought forward by the Bradford design team. Titled 'French Vanilla', the traditional kitchen takes marble sequin undertones adding elegance and charm to your kitchen decor. The parallel kitchen has a huge hob and stove area. The walls are painted white, and the tiles have marble sequins. You can place your refrigerators, dishwashers and other appliances in a hassle-free manner. Plus, the marble sequin space adds more light and room to the kitchen space. You have a classy yet modern style with this kitchen decor idea.
13. Fall In Love With Monochromatic Kitchens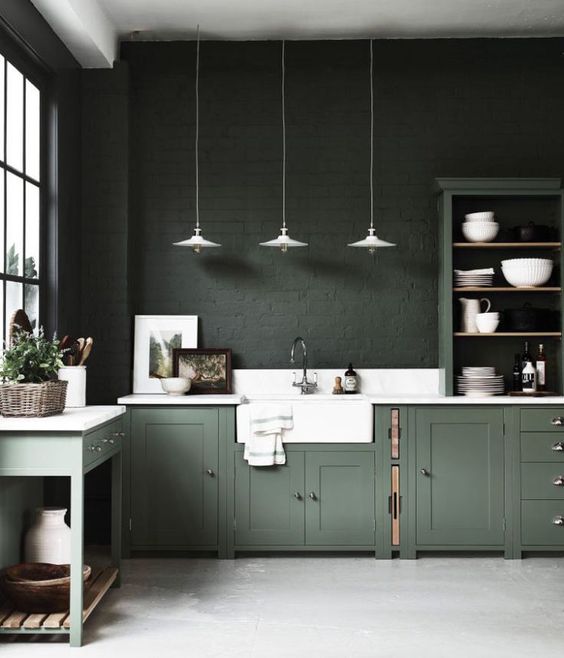 For those of you who would want to style your kitchens with cool monochromatic shades or designs, then this is an idea you can pretty much relate to. You can add black or ash grey to add a minimalist yet trendy vibe to your kitchen space. With a mix of grey and black, you can add glass windows to allow more light to penetrate into your culinary space. This is a spectacular kitchen design idea you can select.
14. White and Black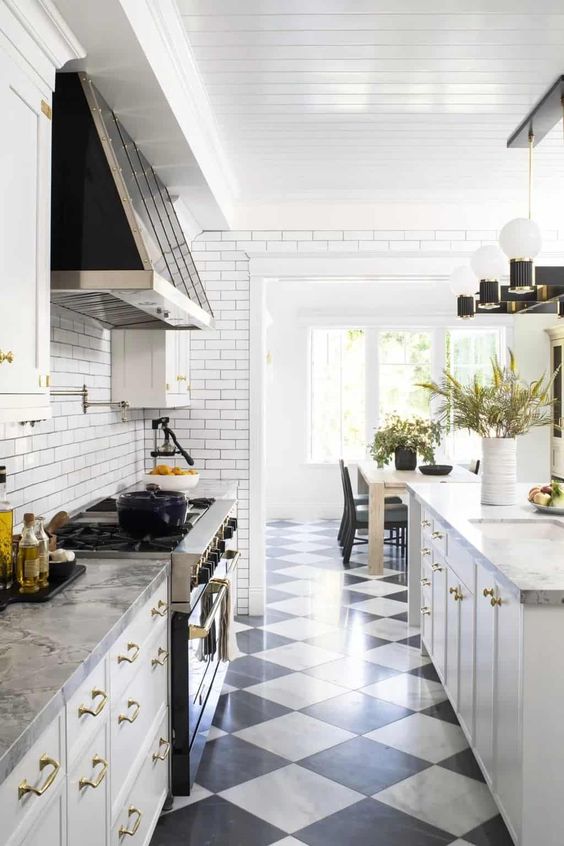 You can choose a trendy chess design for your L-shaped kitchens. You can include a decor of black and white to get a posh appeal for your culinary spaces. The lighting is white, and the tables are black. The flower vases are white, while the kitchen countertop is jet black. Likewise, you can have your kitchen architect design your spaces. You get a seamless look with contrasting shades like black and white. This is a sure-shot stunner, indeed.
15. Purple and Pink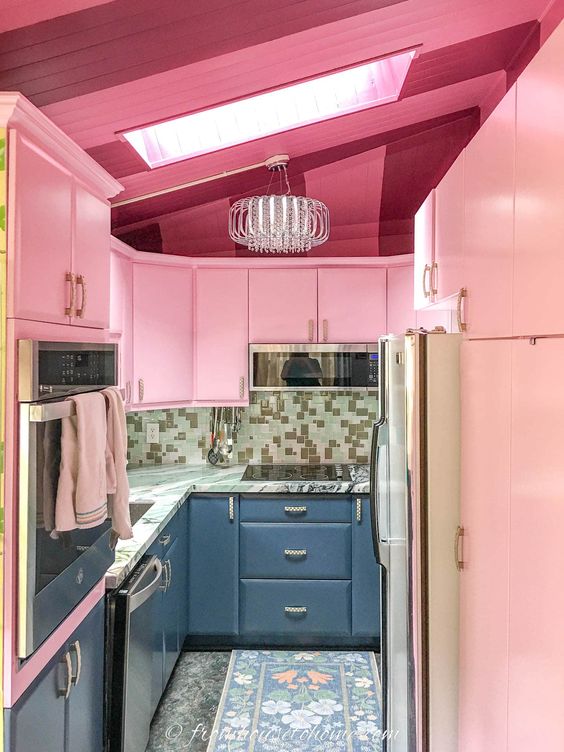 For a perfect Barbie-styled theme, you can add a tinge of purple and pink to your kitchen spaces. It looks all girly and feminine. The purple and pink undertones also lend a classy appeal to the overall decor. You can add purple to the sink countertop tiles. Add a dash of pink to the hob and the stove area. You can have a purple and pink table with flower vases painted in a similar way. This is a stunning design for your L-shaped kitchens.
16. Multi-Colored Designs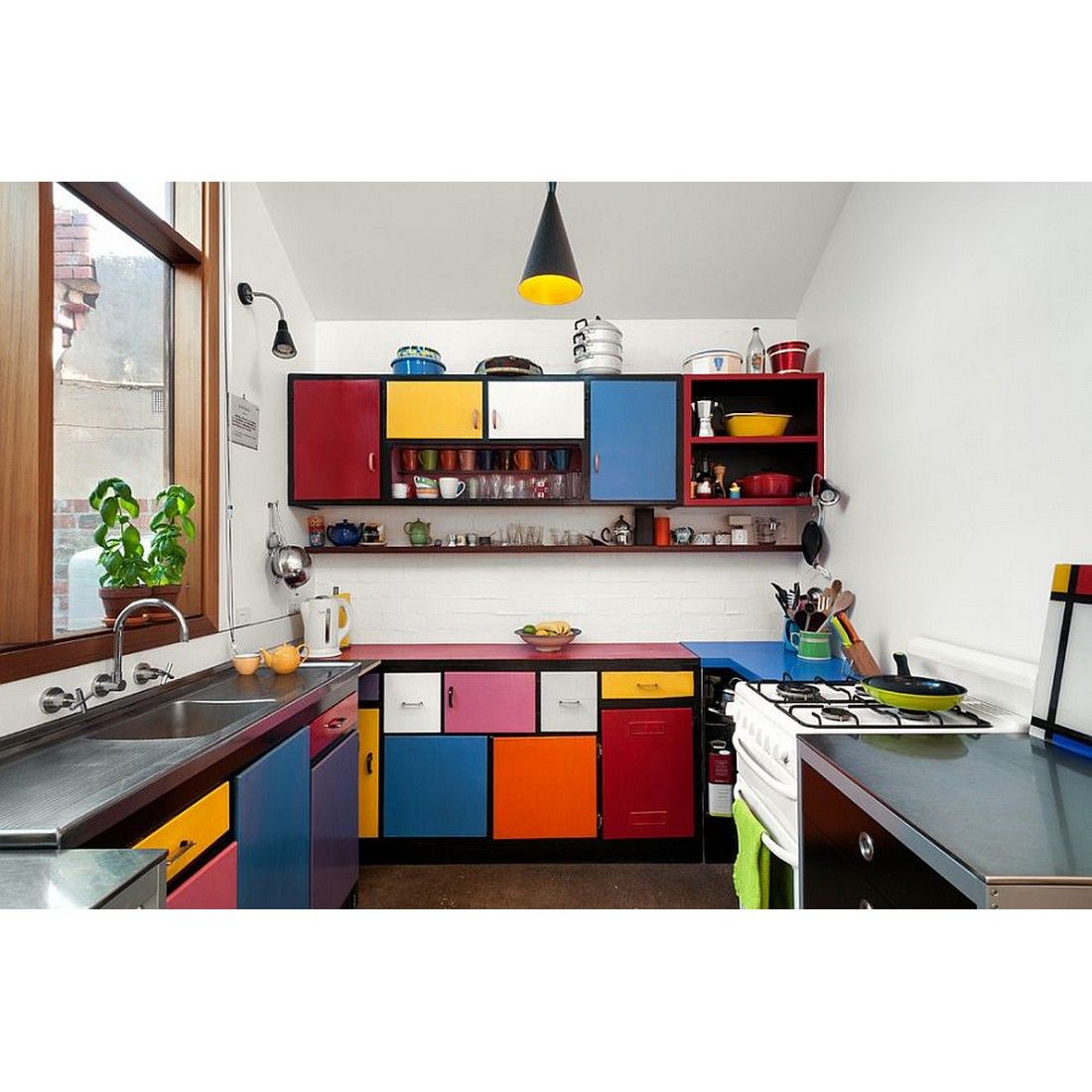 You can give an eclectic look to your kitchen space by including a variety of hues under the sun. You can include multi-coloured tiles to add a rave look to your kitchen space. Multi-coloured kitchen decor can add to a retro look in an effortless manner. You have potted plants placed near your French windows. This can keep your kitchen cooler and well-lighted too. The kitchen stove has a convenient rack where you can hang the wipe cloth in. This is a suave kitchen design that is here to stay.
To Summarize
These are 16 fascinating L-shaped kitchen designs that look great and viable. You can customize a design that suits your charm and attitude. You can therefore incorporate these kitchen designs for your homes as well as commercial spaces you plan to take up. This way, you can organize your storage spaces with the kitchen cabinets and sink countertops in a spaced-out manner.
There are so many other variations you can go in for. For instance, marble countertops can be replaced with plush panel designs. You can add kid's friendly rugs or carpets to help your baby girls fall in love with your kitchen spaces. You can try a spray painting theme for your kitchen tiles.
Likewise, you can wear your creative hats to try out a number of unique D-I-Y designs for your culinary hubs. The sky is the limit for you to try out different kinds of themes that suit the style and attitude of your family members when you want to design fascinating kitchen spaces.