Do you want to unlock the gateway to a world of endless possibilities? Then step into the realm of DIY shed door ideas, where imagination meets craftsmanship and practically merges with style. Picture this: you gaze upon your humble shed, surrounded by the lush greenery of your backyard. It is a haven for your tools, gardening supplies, and hidden treasures. But something is missing, something that will elevate your shed from mere storage space to a charming sanctuary or inspiration. It is a custom-made shed door. This missing outdoor piece serves its purpose, reflects your unique personality, and adds a touch of whimsy to your outdoor oasis.
How about a rustic barn door, weathered and worn, beckoning you to enter a world of old-world charm? Or perhaps a vibrant, colorful door adorned with floral patterns, a celebration of nature's beauty that sets your heart aflutter every time you approach? Whether you are a seasoned DIY enthusiast or just dipping your toes into the world of craftsmanship, these 21 DIY shed door ideas are here to inspire and ignite your creativity. So grab your tools, don your creative cap, and let the adventure begin.
Your shed's door is not just an entrance but a portal to a world where imagination knows no bounds.
21 DIY Shed Doors Ideas to Try Now
1. Cedar Shed Door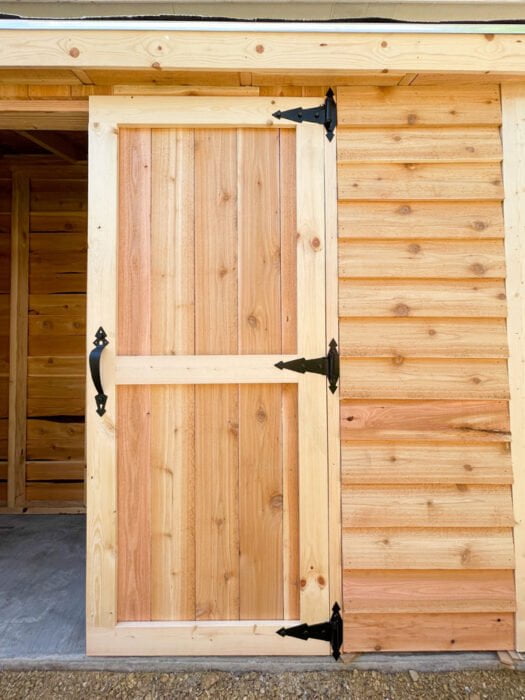 One of the fascinating shed door designs is this board and batten door. As a result, it offers the same strength as a typical board and batten door. There is a shortcut, though. There are numerous how-to videos on YouTube. The door will add character and function if it is braced and framed. After that, you can construct it using robust 1″x3″ and 6″ wooden boards. The shed door should be sheathed with plywood. It needs to be waterproofed and stained to finish the aesthetics. Also, think about including a gate latch.
2. Shining Rustic Shed Door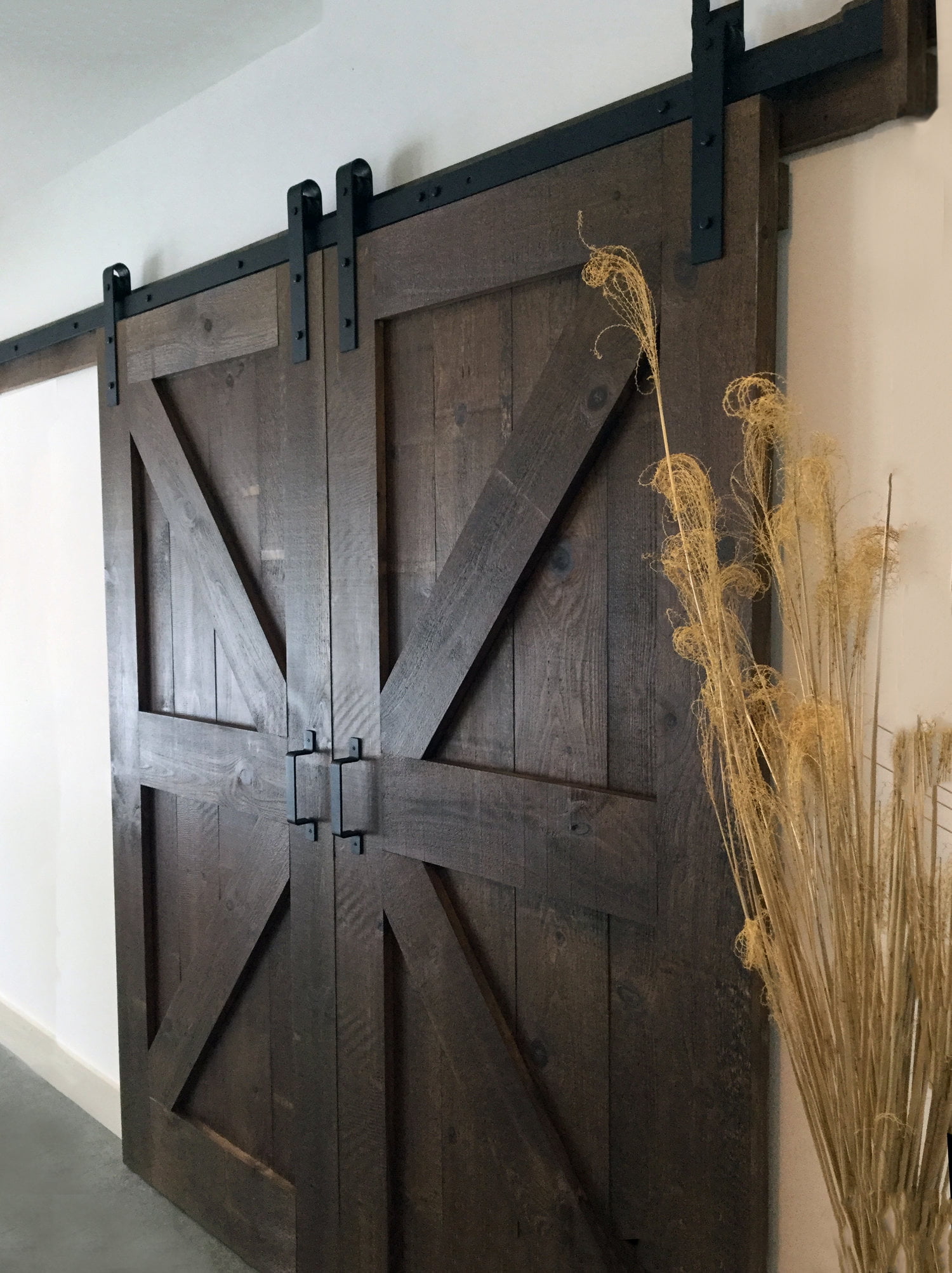 Designs for shed doors, like the one on this door, are rather intriguing. This door has a type of "ray" look rather than the typical X shape on the lower half. There are many handy YouTube videos that explain everything to you in plain language. It is simple to put together and doesn't take much time. To make it, you will need to understand how to use a cutting tool like a circular saw, but that's about it.
3. Seamless Shed Door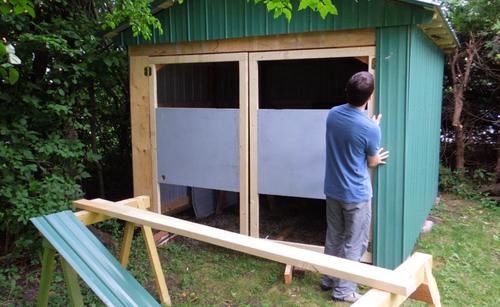 Here, plywood panels are used to construct the door frames. Bridle joints are then utilized for string connections. Next, they are covered with corrugated metal to create a seamless appeal. As a result, you may make these amazing doors by following a step-by-step guide. Additionally, you can also search for videos that can assist you in finishing this amazing job. However, you will need to be rather handy as several stages require excellent DIY abilities.
4. Board and Batten for Extra Strength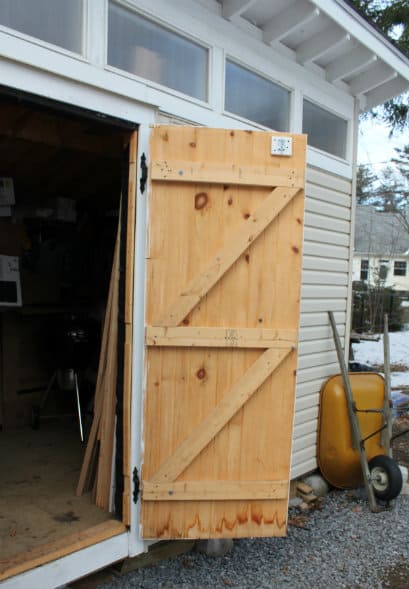 Plywood cannot be found on a board and batten door. Instead, you will build your base out of solid wood slats. Additionally, the cool "ray" effects of the previous designs will still be present. It is a lot more durable than the shed doors made of plywood that we previously discussed. Even a novice can put it together, which makes this design idea even better! This design is successful since it not only explains the "how', but also the "why" of each action and component.
5. Lightweight Shed Door Plan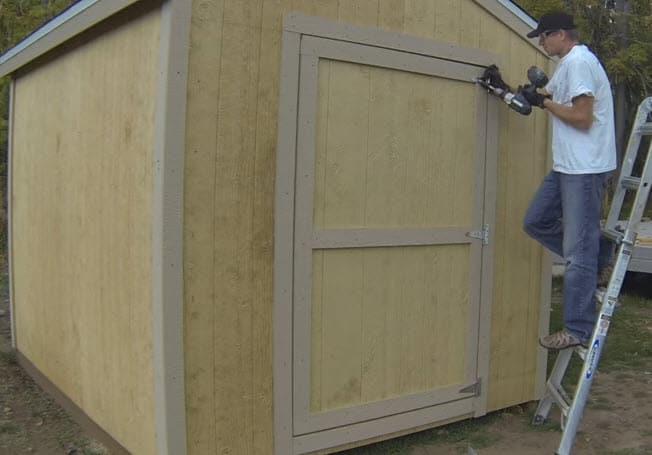 This thin shed door idea requires T1-11 exterior siding. It not only makes the garden shed, but it also conveys a false feeling of continuity. You must first build the frame for your do-it-yourself shed. The door frame should then have plywood planks and outside siding attached on both sides. This completes the overall look of it.
6. Easy Board and Batten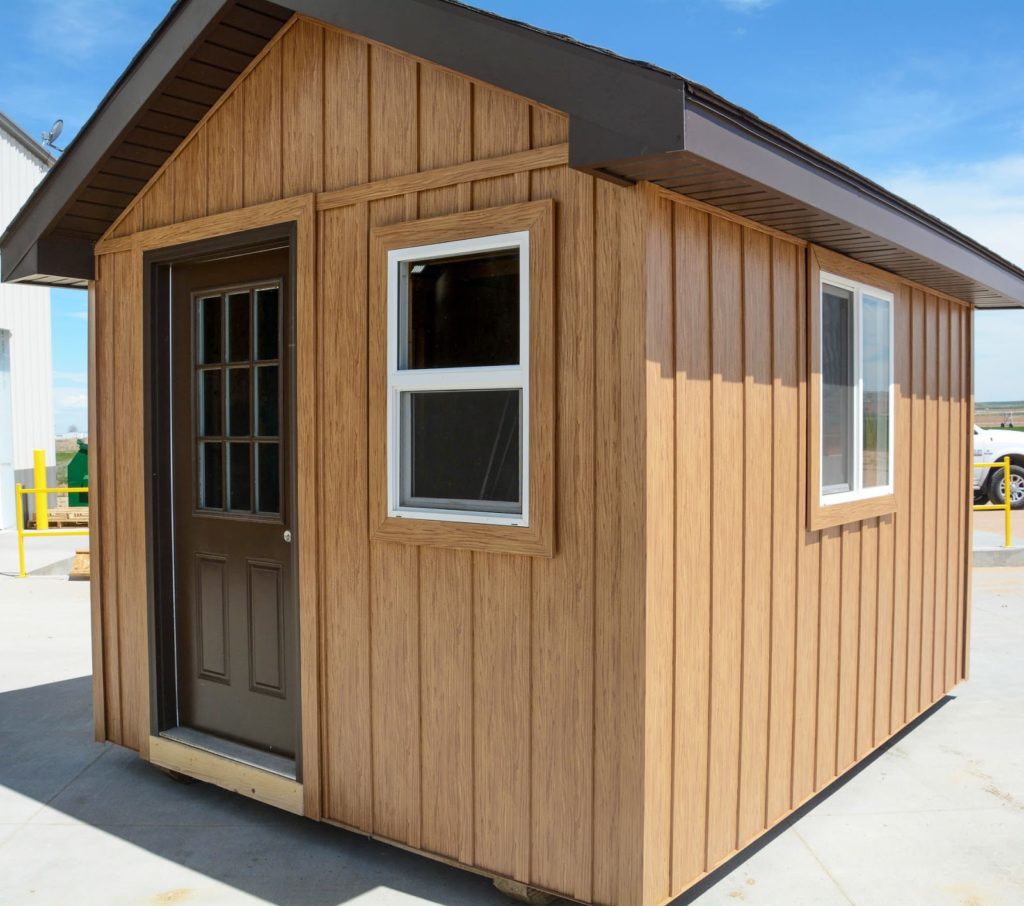 This particular door design by TwoFeetFirst combines elements from different shed door ideas to create a truly impressive result. It inherits the sturdy characteristics of a board and batten shed door while incorporating a clever shortcut. If you are seeking a distinctive and visually appealing option that doesn't require extensive labor, this door is an excellent choice. TwoFeetFirst provides valuable suggestions on wood preparation and accompanies each step with detailed photographs to guide you through the process.
7. Rustic Barn Shed Door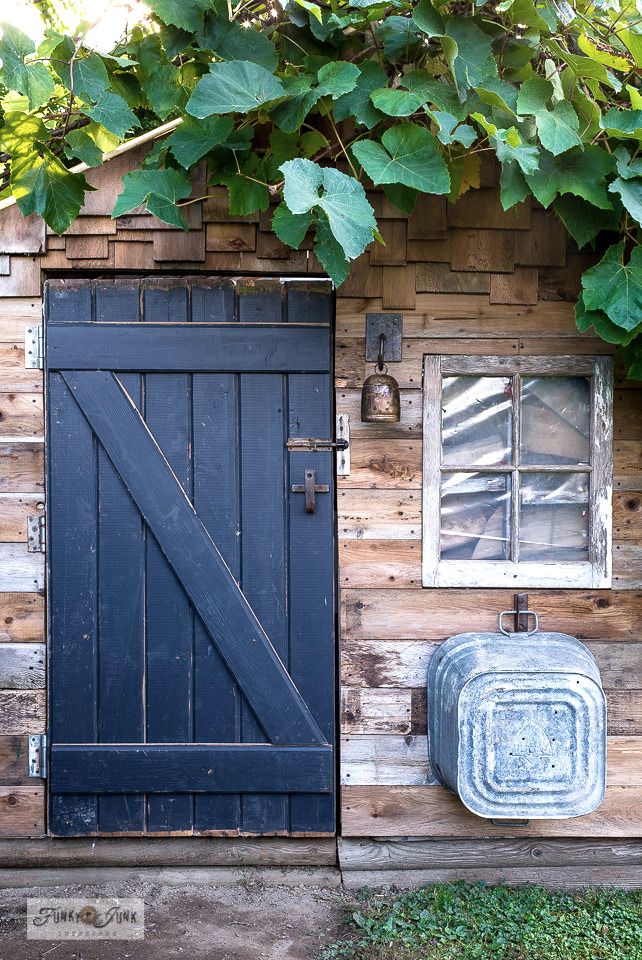 Build the door frame for this extra-tall barn door with 1×3, 1×6, and 1×12. Along with external plywood, 13 and 12 are used to create the rear part of the door. Adapt the designs and resources provided by Ana White. You may also paint the single shed door whatever color you choose, from turquoise to pink. It enables you to determine which door color best compliments your shed.
8. Shortcut Shed Door with Refreshing Continuity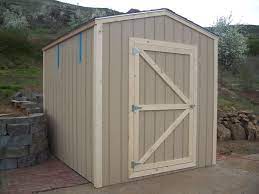 To implement this seamless shed door idea, there are tutorials demonstrating how to use your T1-11 external siding. Shotcut shed door is a practical means of preserving continuity and reducing materials costs. If you're building a new opening for this door, you will need to be a bit more skilled. The good news is that when utilizing T1-11 siding, you can fit the door in between two studs
9. Homemade Shed Door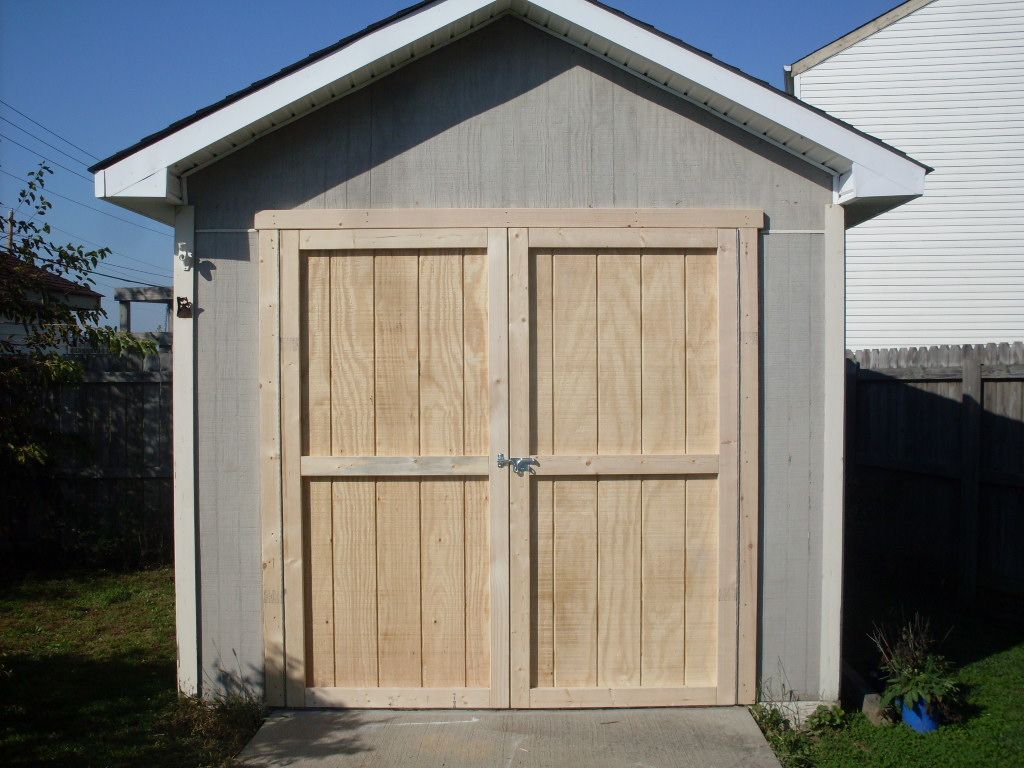 AmplifyDIY provides a comprehensive tutorial on constructing a garden shed entirely from the ground up, including a thorough demonstration of door construction. Notably, he presents the required materials alongside the site-by-step instructions. To replicate the door successfully, it is advisable to start by creating a detailed plan. Once the door frame is ready, proceed with adding the siding. The project necessitates hinges, 2×4 lumber, OSB sheets, and siding boards as essential components.
10. Hollow Continuity Shed Door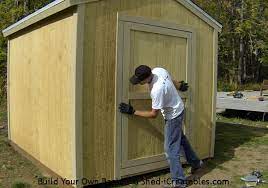 The majority of this door's instructions are proven in photos if reading the text's manuals bores you. Another illustration of how T1-11 external siding may make your door match the rest of the shed is in this case. For this one, you first construct the door frame before attaching the sliding and plywood to either side of the frame. This is ideal if you want a hollow food door that is lightweight.
11. Solid Shed Door Plan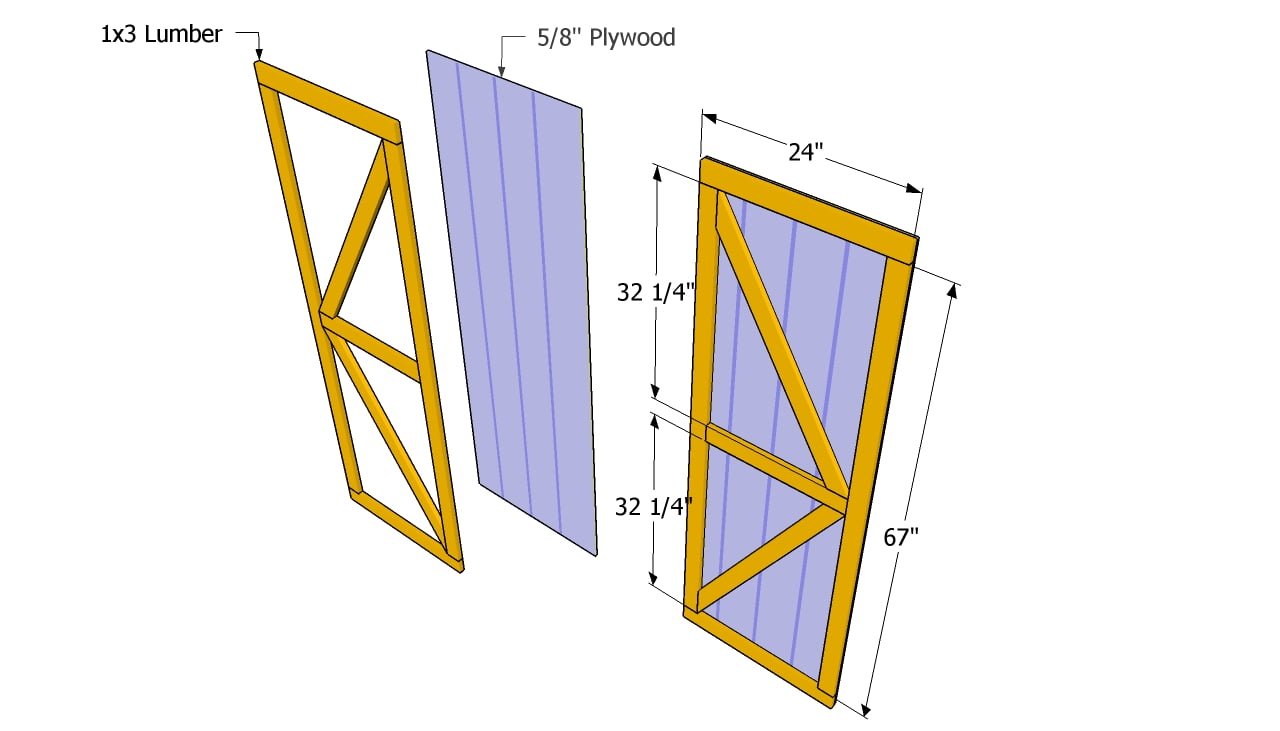 Unlock the secrets to crafting a formidable shed door idea with this ingenious plan. MyOutdoorPlans presents a treasure trove of invaluable tips to enhance the robustness and resilience of your DIY creation. They ingeniously incorporated double studs on either side of the rough opening along with the liber utilization of cripple studs. The tutorial, designed for DIY enthusiasts of skill levels, ensures a hassle-free experience in constructing the shed door.
12. Weather Protection Shed Door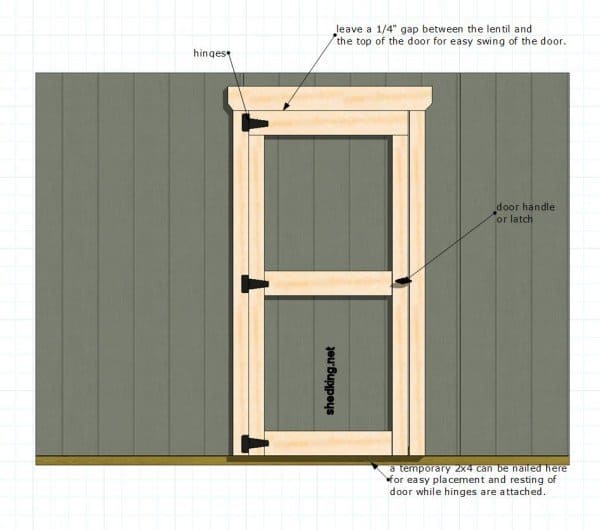 ShedKing does a fantastic job of describing how to make this one. They simplify things by avoiding common language and provide thorough photographs and instructions; additionally, they highlight typical issues that you encounter and provide options for prevention. The additional panel that protrudes past the floor sheeting should be left with one and a half to two inches remaining. By doing this, you are further weatherproofed.
13. Pine Shed Doors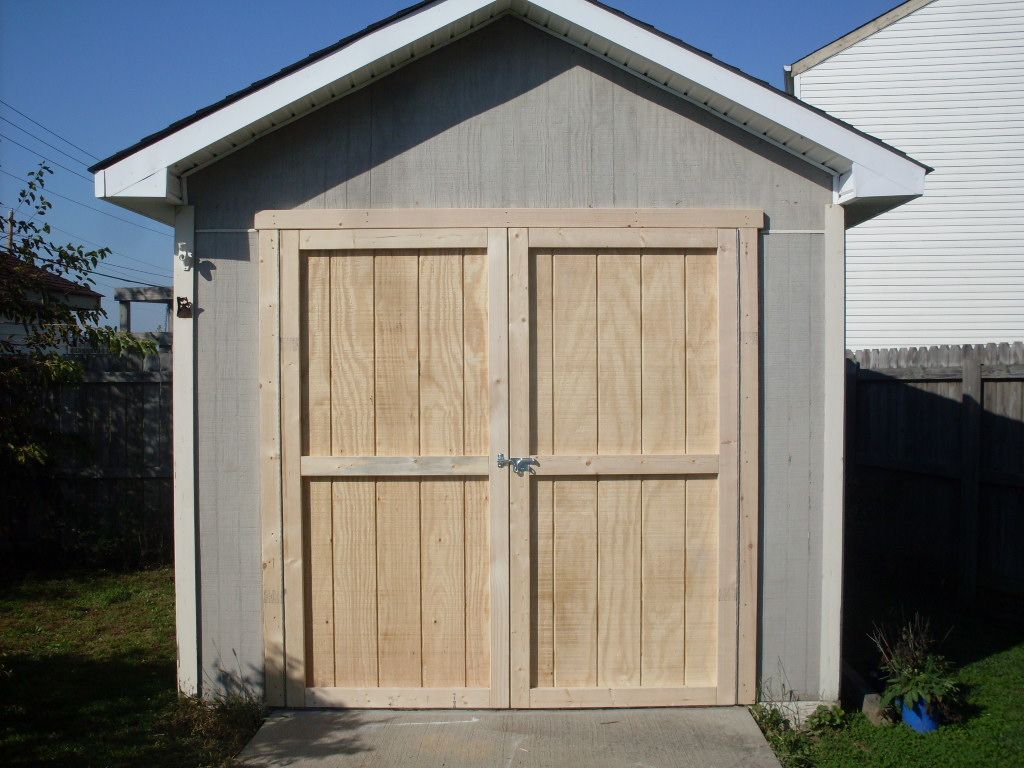 Wes Hamstra takes you on a journey through the intricate construction of his remarkable pin doors. From the initial stages of cutting the wooden boards to the final installation of these exquisite shed doors, Wes shares every step, leaving no detail unexplored. In pursuit of a durable wood connection, Wes Hamstra turns to the reliable Kreg concealed fastening system, infusing strength and stability into the doors. As a final touch, the addition of antique fasteners adds a touch of vintage allure, elevating the doors to a whole new level of elegance and charm.
14. Location-Based Door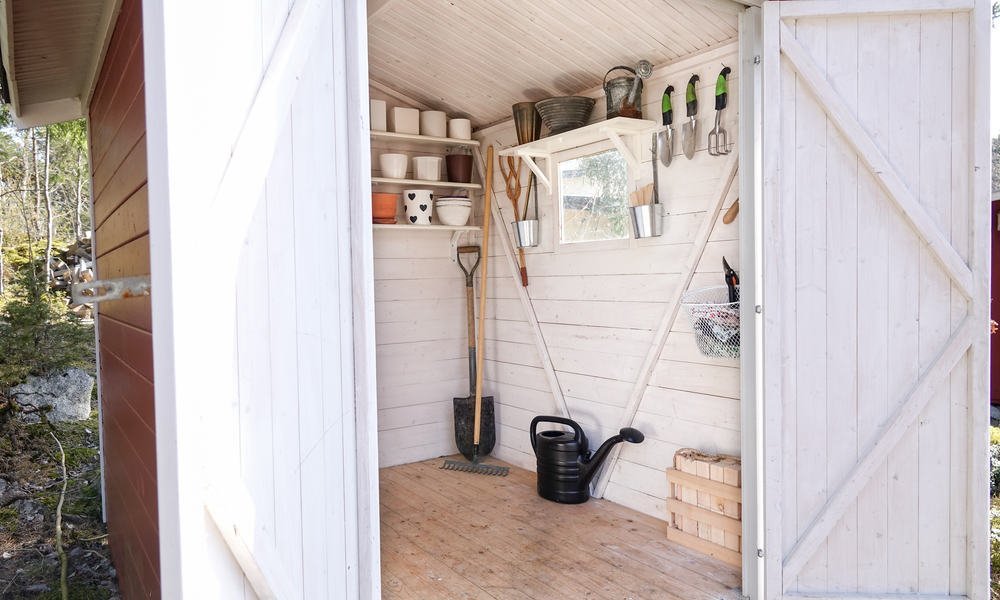 Do you already know on which wall you'll mount the shed door? You may not realize how significant this is. You must choose the placement of the shed door before installing it. For instance, the sidewall or gable end wall are suitable places to hang your door. Different planning is undoubtedly required for different locations. It takes different planning to install it on the gable side as opposed to the sidewall.
15. Shed Dutch Door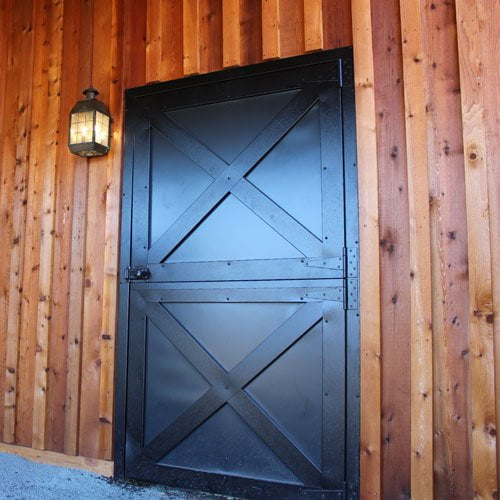 Remodelaholic presents a wonderful door design in a lighthearted and enjoyable manner. This door is a Dutch door. Thus, the top and bottom parts work independently. We think using this door style as a baby gate for the stairs is a very good concept. You might use it for your shed door idea to keep dogs out while still getting a pleasant breeze.
16. Wooden Dutch Door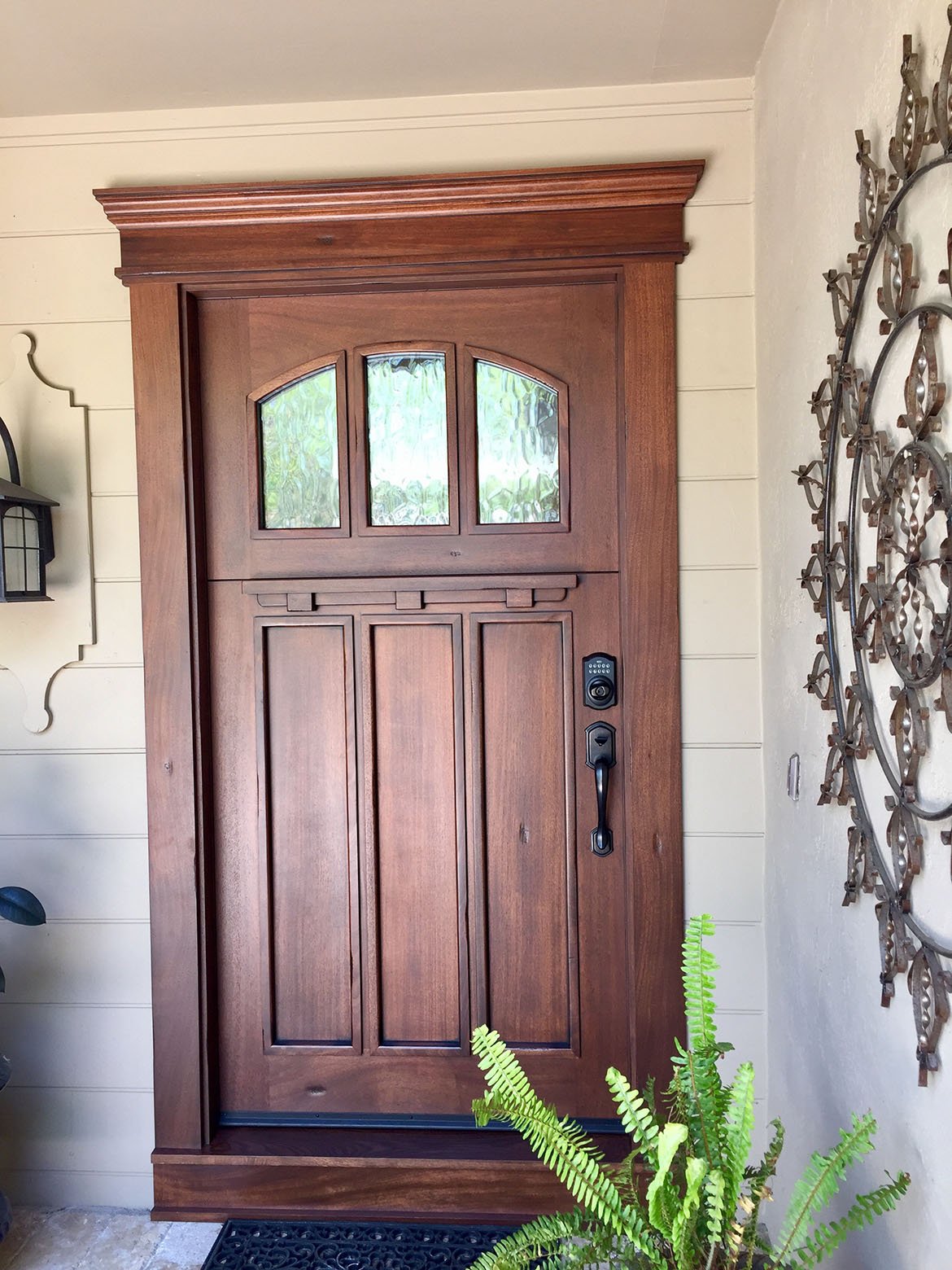 Use the Barn Toolbox's instructions if you enjoy Dutch doors. Since everything is available in PDF blueprints, their design is excellent. The PDF document is simple to grasp because it doesn't utilize complex terminology. Additionally, it has four pages. Simple-to-follow directions, plans, and supplies were provided by Barn Toolbox.
17. Budget Shed Door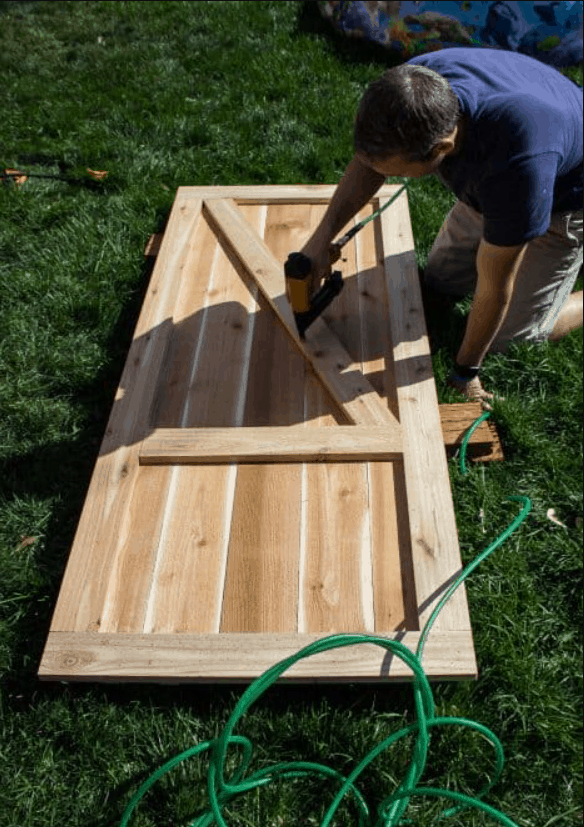 If you want to enter and exit your motorbike storage, shed conveniently, but you're on a tight budget, why not create some new shed doors? This door's construction costs are less than $100. The step-by-step instructions are very simple to follow. A Kreg Jig, circular saw, sander, and drill are all that are required. Although it's not a challenging assignment, knowing how to use these tools will be useful.
18. Tongue And Groove Shed Door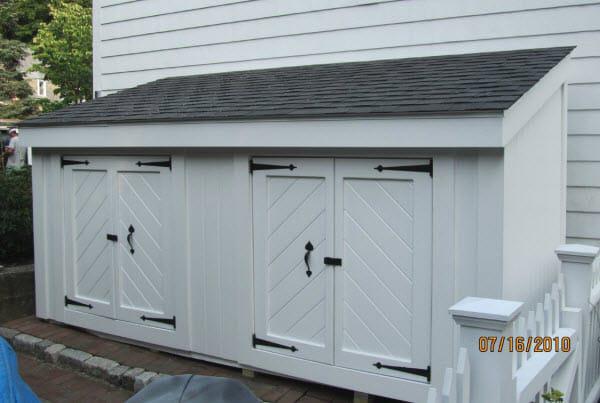 The tongue and groove doors seen above were created by A Concord Carpenter. Compared to board-and-batten ones, they are stronger and more compact. These doors take a little longer to build, but they are worthwhile. The instructions could be a little lacking.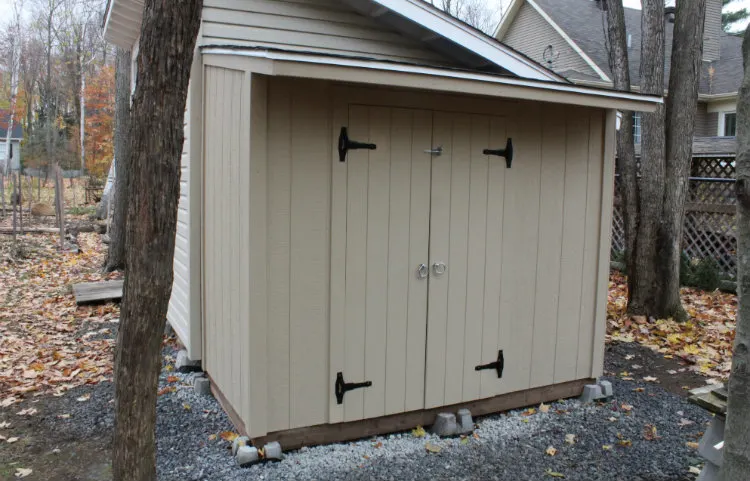 These twin doors will give your shed an intriguing personality. They have an old, rural appearance. I enjoy the "no fastener" appearance. A thorough inventory of the supplies, fasteners, lumber measurements, etc., on the other hand, would be helpful.
20. Sliding Shed Door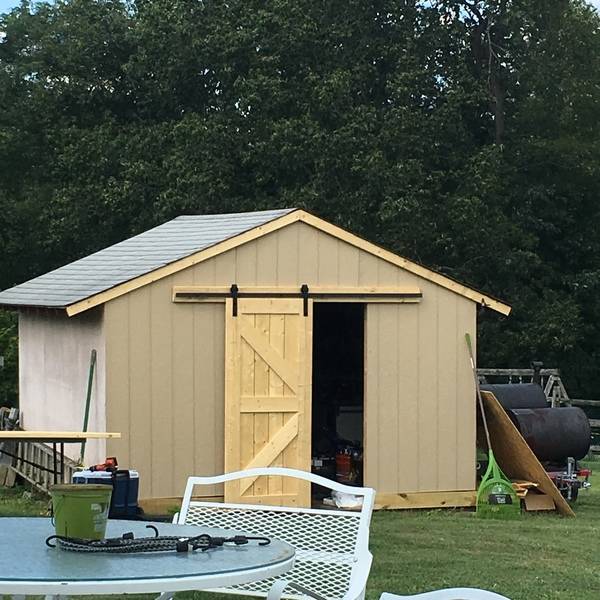 Sliding shed door ideas offer a practical and space-saving solution that can enhance the functionality and aesthetics of your shed. With their smooth gliding motion, they provide convenient access while optimizing the available space. The versatility of sliding shed doors makes them suitable for various shed styles and sizes. Whether you have a small garden shed or a larger storage space, sliding doors can be customized to fit your specific needs.
21. Sliding Shed Door with Skateboard Wheels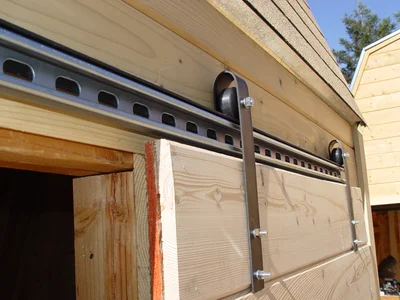 Consider creating a double door, but focusing just on how to create a sliding mechanism using skateboard wheels and bearings. Without a doubt, you can succeed! The entire price of the sliding hardware, when it is finished, is $95. Not inexpensive, but far less expensive than even the most cost-effective commercial sliders. Any garden shed door you make from the top would look beautiful with these added sliders.
How to Build Shed Doors?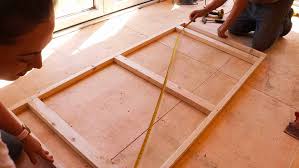 A minimalist door with clean lines and a leek finish can make a bold statement, showcasing the elegance of simplicity itself. With a pop of contrasting color or a modern twist in the form of geometric patterns, you can transform your shed door into contemporary work of art.
Subtract 12 mm (0.47 in) from each side of the door frame when measuring from one side to the other. You require this additional room to open the door properly. On a piece of paper, jot down the doorframes' length and width.
Make a choice and buy the materials for your door. The T1-11 siding, which replicates wood paneling or plywood sheathing, can be used to build the door. The purchase of bead boards, which are interlocking boards, is an additional choice. To ensure that the door complements the design of your building, use a material that matches the siding of the shed.
Purchase boards for your frames that are the same length as the height of the doors. Make sure you have enough wood to build the complete frame. Buy boards that are a foot or two longer than the height of the door, and cut them down afterward.
On the wood paneling, doodle a door outline. Measure the area on your wood paneling that matches the measurements you took, subtracting 1 millimeter (0.47 in) on each side.
Using a flat edge as a guide, cut along the lines using a saw. Use a circular sawor miter saw to carve out your door for more accurate cuts.
Attach the strips with glue to the door's left and right edges. After applying over the whole length of the boars, position both boards so that the right ad left edges are parallel. The boards must be flattened on the surface of the door by applying pressure to them.
Drive screws into the frames' corners using an electric screwdriver. To cut the wood to size, use an electric or handsaw.
Use 1.25-inch (3.2 cm) long screws to secure the board's four corners while the glue is still wet. To further secure the board, insert extra screws spaced 6 inches (15cm) apart along its length.
Your door should have hinges. To see if it works, open and close your door. Now, your shed should have a door that can open and close. You might need to slightly lower the size of the edges by sanding them if the door keeps getting stuck on the frame when you try to open it.
These are the general guidelines you must follow while working on your shed door ideas. Make sure to have all the tools that you will need.
Summing It Up
All in all, the realm of DIY shed doors ideas offers a treasure trove of creativity and practicality for those seeking to elevate their outdoor spaces. With a myriad of options to choose from, it's easy to find the perfect door design that suits your style and requirements.
From the timeless elegance of Dutch doors to the rustic charm of antique-inspired doors, the possibilities are endless. Embrace your inner craftsman and embark on a DIY adventure, transforming humble materials into remarkable entrances that make a statement.
The beauty of these DIY shed doors lies not only in their aesthetic appeal but also in the sense of accomplishment that comes with creating something with your own hands. Each door becomes a unique reflection of your style and ingenuity.
With helpful tutorials, detailed plans, and a little bit of effort, you can bring your shed doors ideas to life. So, grab your tools, gather your materials, and embark on your DIY journey. Happy crafting!