Are you looking for floating shelf ideas for adding extra storage space to your room? Then you have come to the right place!
Lack of storage space is probably one of the most common reasons why we cannot organize our homes neatly. But this matter can be easily solved if all the available space in a room is efficiently utilized. The easiest way to do this is to set up some floating shelves on the walls that are otherwise blank. In this way, you can have extra space for storing miscellaneous items that would otherwise be a source of clutter. Setting up shelves on the walls may sound like a task for professionals but in reality, it is quite simple and can be done by yourself with little to no help.
21 Best DIY Floating Shelf Ideas
Here is a list of 21 DIY ideas for building floating shelves that you should check out.
1. Square Floating Shelf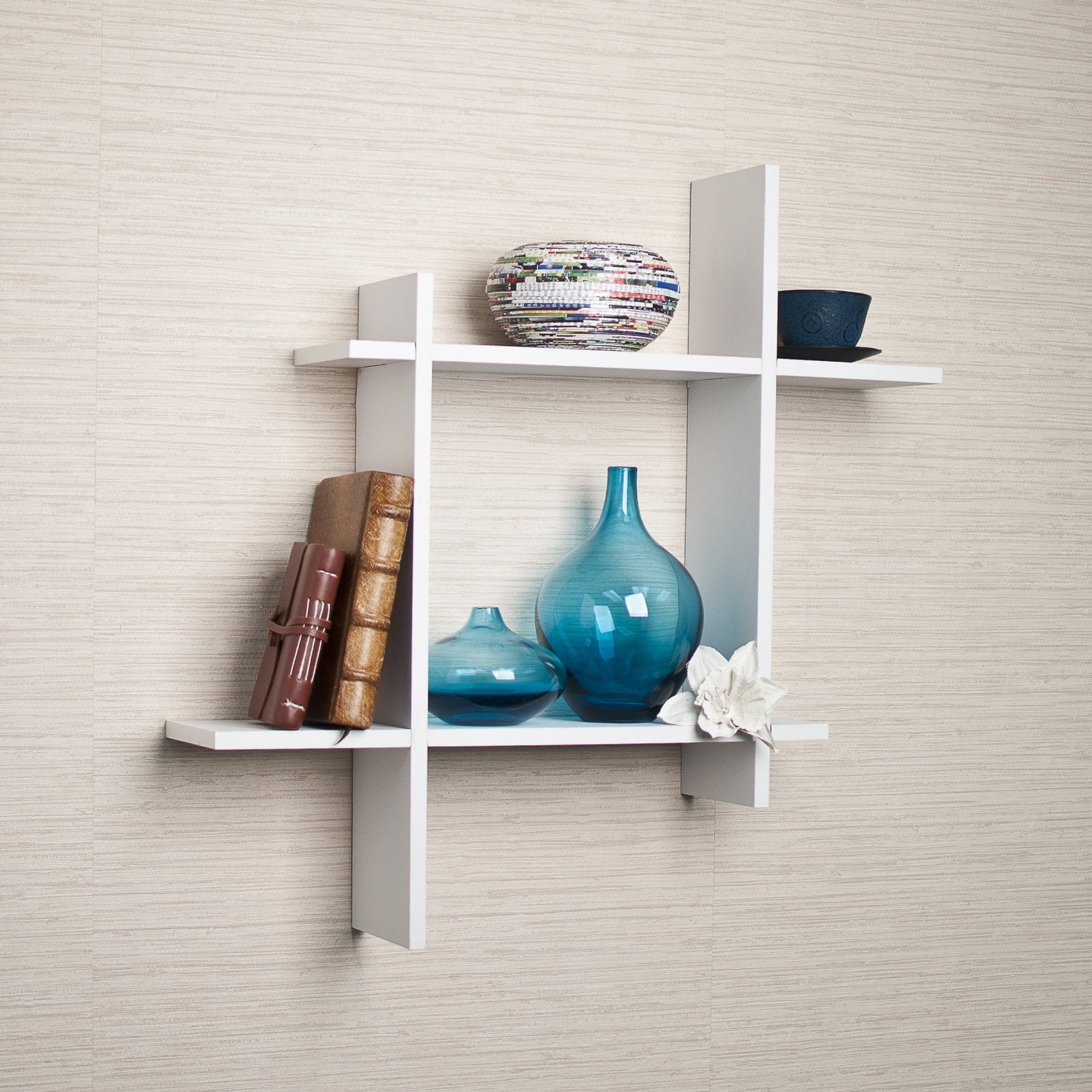 Right off the bat, let us start with one of the most unique floating shelves ideas.In this DIY design, you need four wooden planks, which will be your shelves. Place two horizontally and two vertically, but the placement does not have to be symmetrical. The horizontal shelves have to be placed parallelly with the lower, a little left from the upper. Similarly, for the vertical shelves, one has to be placed a little lower than the plank on the right. This will create a square in the middle which will be your main shelf space. The protruding plants on the diagonal corners can also be utilized. While this idea is ideal mostly for placing decorative show-pieces, you can choose to place books here instead and make them a DIY bookshelf.
2. Parallel Floating Shelf
A simple yet classic among various floating shelves ideas, this is ideal for places such as your bathroom or study. All you need is three of four similar wooden plants to build this DIY shelf. They can be nailed in your blank wall space parallelly, one above the other. It is a simple way to put up floating shelves but is immensely practical because it offers maximum shelf space. Storing washroom supplies, such as skincare and haircare, as well as sanitary items and extra towels, can easily all be accommodated on three or four rows of shelves. Shelves like these also come in handy in areas such as the study, where a lot of miscellaneous items cannot all be easily kept on the main table but still needs to be stored in a place where they can easily access them.
3. Horiontal Zig-Zag Floating Shelf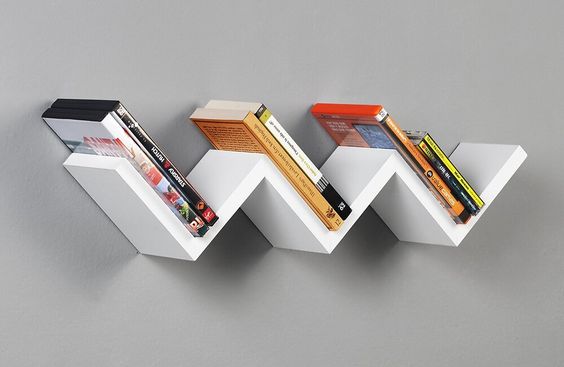 Zig-zag shelves, which are attached to the wall horizontally, are ideal for placing books in them because the lack of a flat space cannot hold anything else. To execute this idea, you need 2 square wooden boards or planks for making each shelf holding area. They have to be placed at an angle to each other so that there is a V-shaped space being formed in between where the books will be placed in a slanted manner. You can build multiple of these helps instead of buying a full-sized bookshelf. Items like CDs, musical albums, cassettes, and records can also be placed on shelves like this one.
4. Curved Wave Floating Shelf
For those who are into modernistic home decor ideas, this floating shelf idea should be of use to you. In most cases, people opt for streamlined shelves, but what if you could tweak the style to get something completely new and interesting? In this idea, the main focus is the 'S-Shape' of the shelf but with lighter curves. To hold the items on it without them tumbling down, you will have to install vertical dividers. The area between the dividers can be used to place stuff according to their size and shape. It is fun and creative to make a DIY shelf as you get the same shelf space as in a regular horizontal rack but in a stylish and unique version.
5. L-Shaped Corner Shelving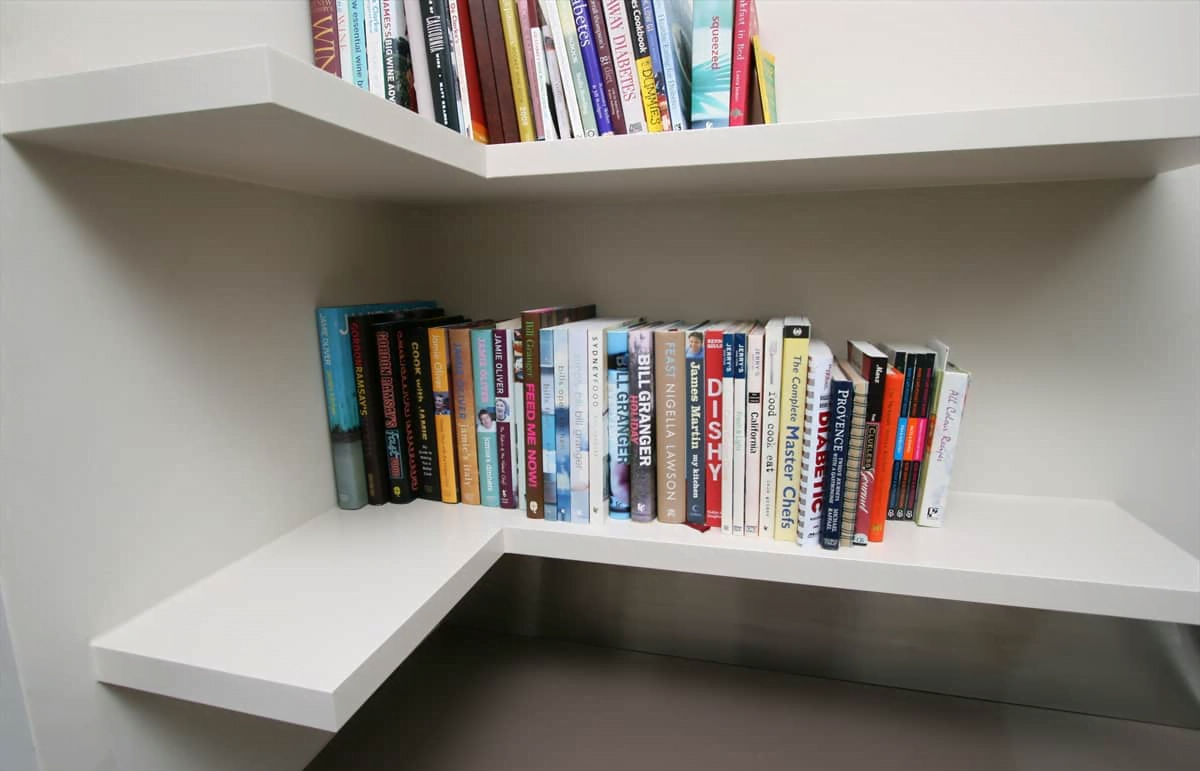 A good home decor idea always incorporates ways to utilize every inch of space available without causing any clutter. Therefore, it will be a real waste not to use the corners of rooms, especially when you can install floating shelves there. There are many kinds of corner shelving available, but if you want to go for the most common type and still give it a touch of novelty, then the L-shaped ones are the perfect choice for you. What is different about these shelves is that one of the sides is shorter than the other one, and when you attach them in a parallel manner in the corner, it creates a trendy and chic-looking floating shelf.
6. Thick Wooden Floating Shelves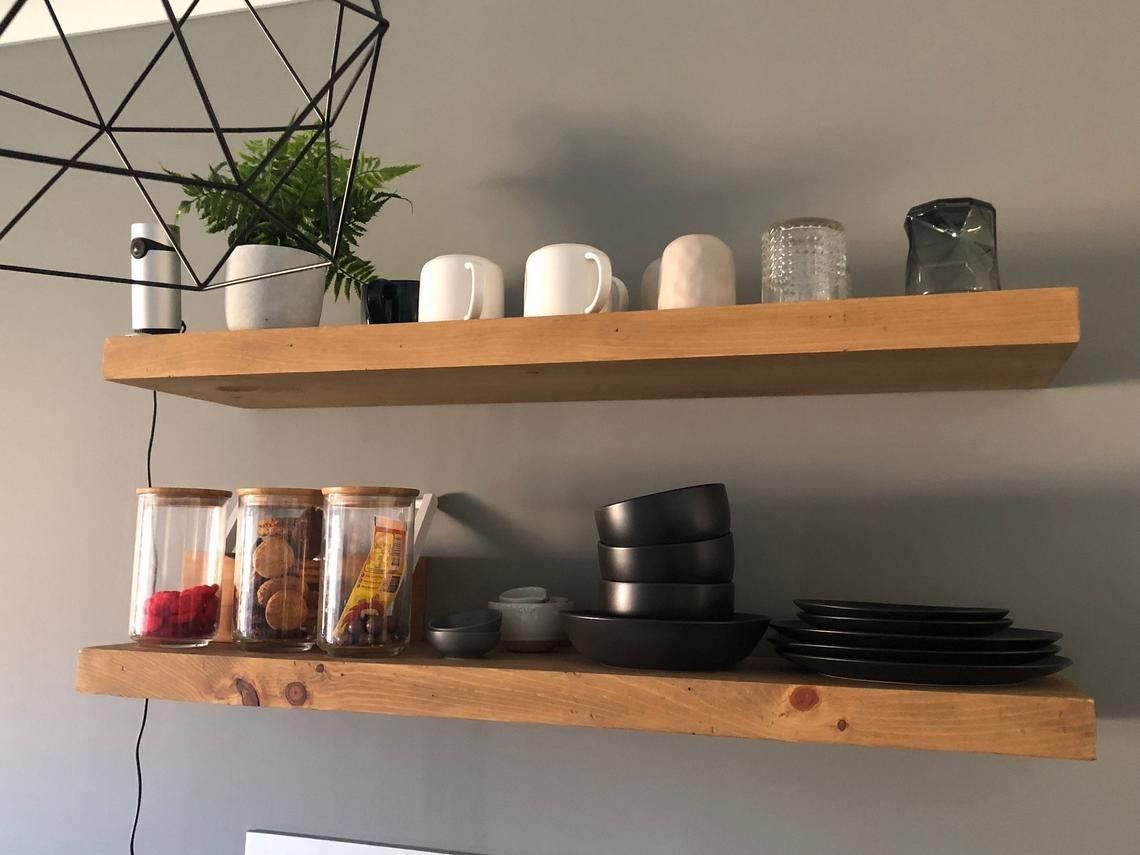 These are not very different from your regular wooden shelves, except they are thicker and have a bolder visual appeal. Planning what to place on a particular shelf can increase the aesthetics by a lot, so use these thicker shelves for storing your delicate pottery for display. Also, add a plant tub or two for contrast. If you are planning these shelves for the main living space, where it will be in full view, then consider using the shelves for both functional storage and decorative purposes, as simply loading the shelf with essential items may make your living room look shabby.
7. Floating Shelf for Your Precious Treasures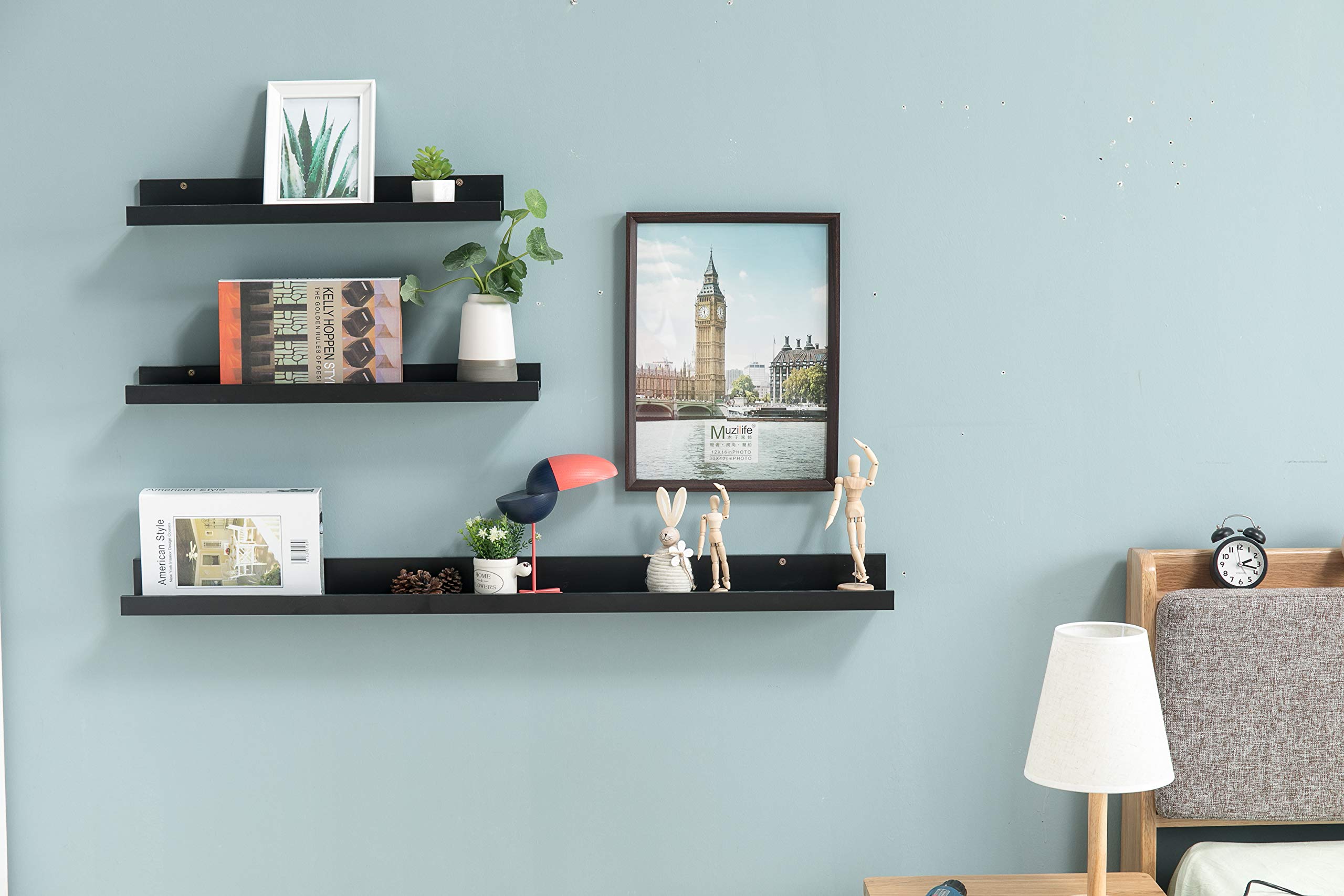 Rather than a shelf, the correct terminology for this item is wall ledges. These are perfect for when you want to display expensive or priceless items that can easily break if they fall. That is why the edges of these shelves are raised, which serves as an extra layer of protection for the items placed on the ledge. Additionally, these happen to be perfect for displaying reassured memories and photo frames as they can be rested against the raised edges and kept perfectly in their place. Ledges can also be bought in different materials, such as glass and iron. You should go for the ones that are most suitable for you
8. Hanging Shelf with Leather Strap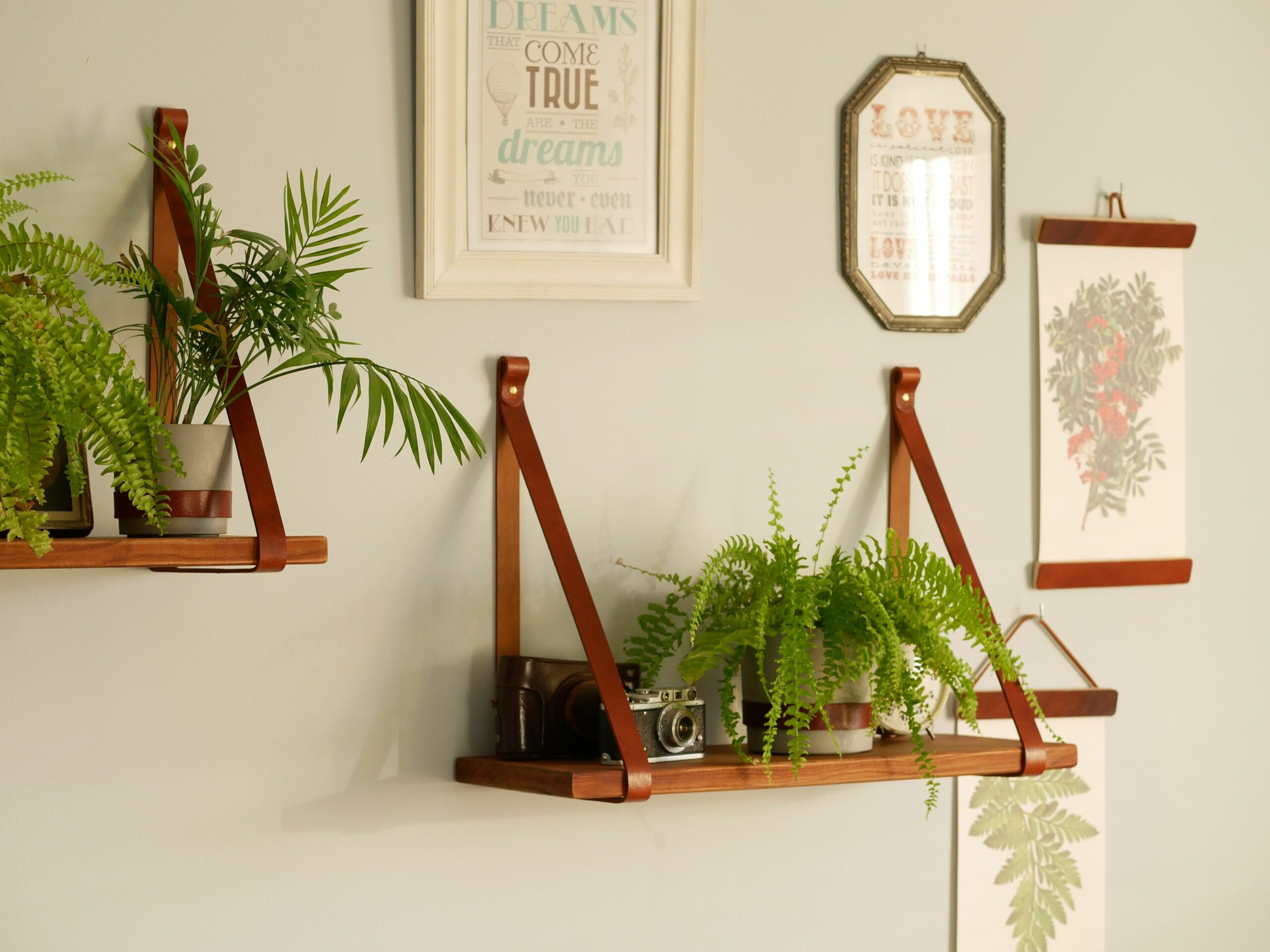 This is a very interesting design among the various floating shelves ideas, and the whole credit for that goes to the leather straps. It may look like the shelves are being held in place by these straps, but they are merely added accents that change the complete look of these simple shelves. It gives the illusion of the shelves being hung from the straps. Usually, tubs containing plants go very well on these hanging shelves. Attach them to the wall near your balcony by placing one or two tubs on them and decorating the rest of the space with other items. Placing a row of smaller tubs with plants of less foliage will also look just as good. Consider cactuses and other short plants for this purpose.
9. Floating Shelf Above the Bed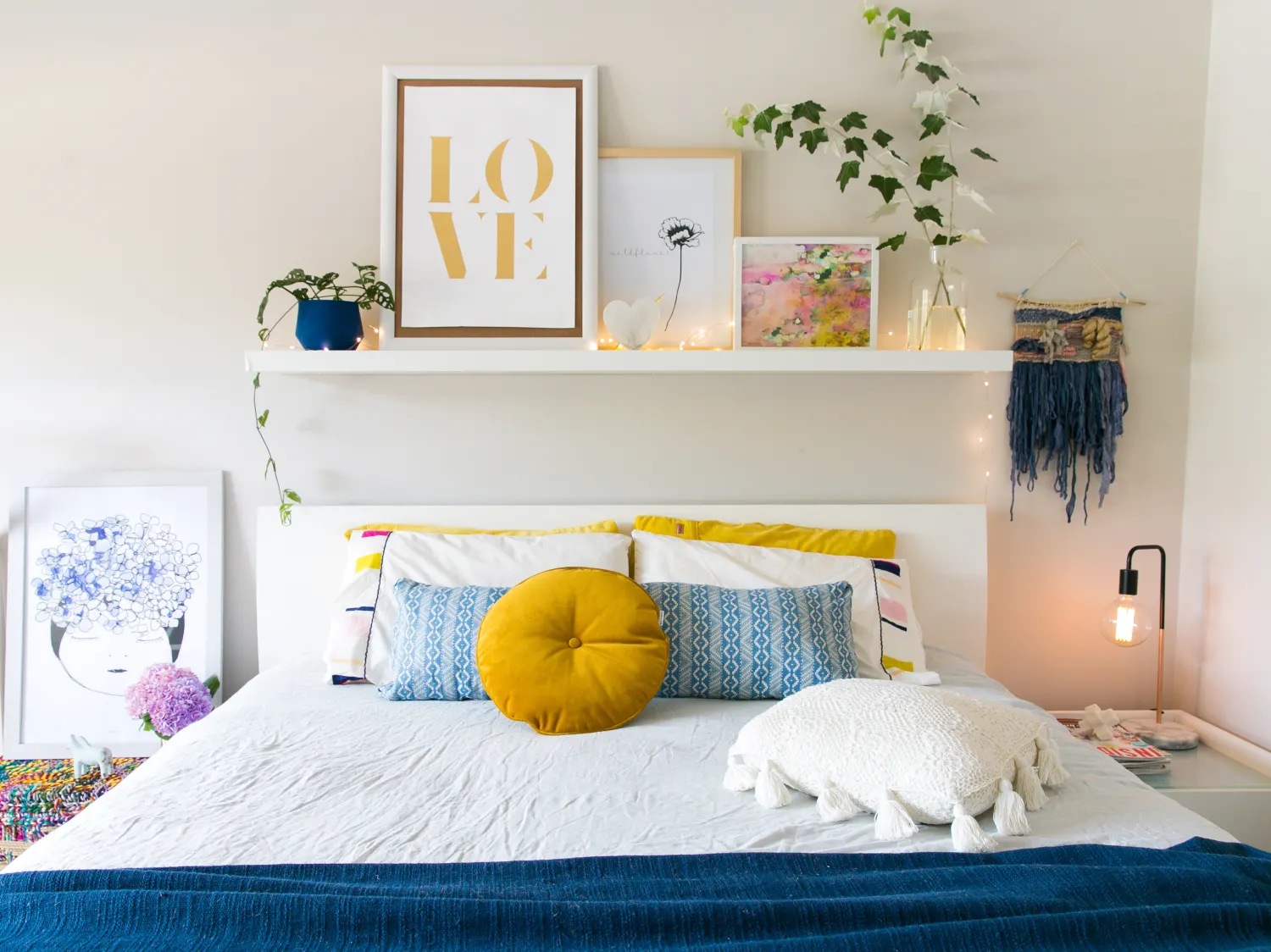 The focal point in any bedroom is the bed. Therefore, it would make sense to display items that are close to your heart, such as photos and albums, somewhere in the same line of sight as the bed. But in most cases, places such as the bedside and side walls are chosen for this purpose. But you could always get a floating shelf or two installed above the bed where you can display these precious memories and photographs. You can even use the space for keeping artwork, posters, and, more importantly, the stuff you may need to access from your bed, such as your glasses or your phone. Rooms that do not have enough space for a bedside table can also benefit from such shelves above the bed
10. Hexagonal Floating Shelves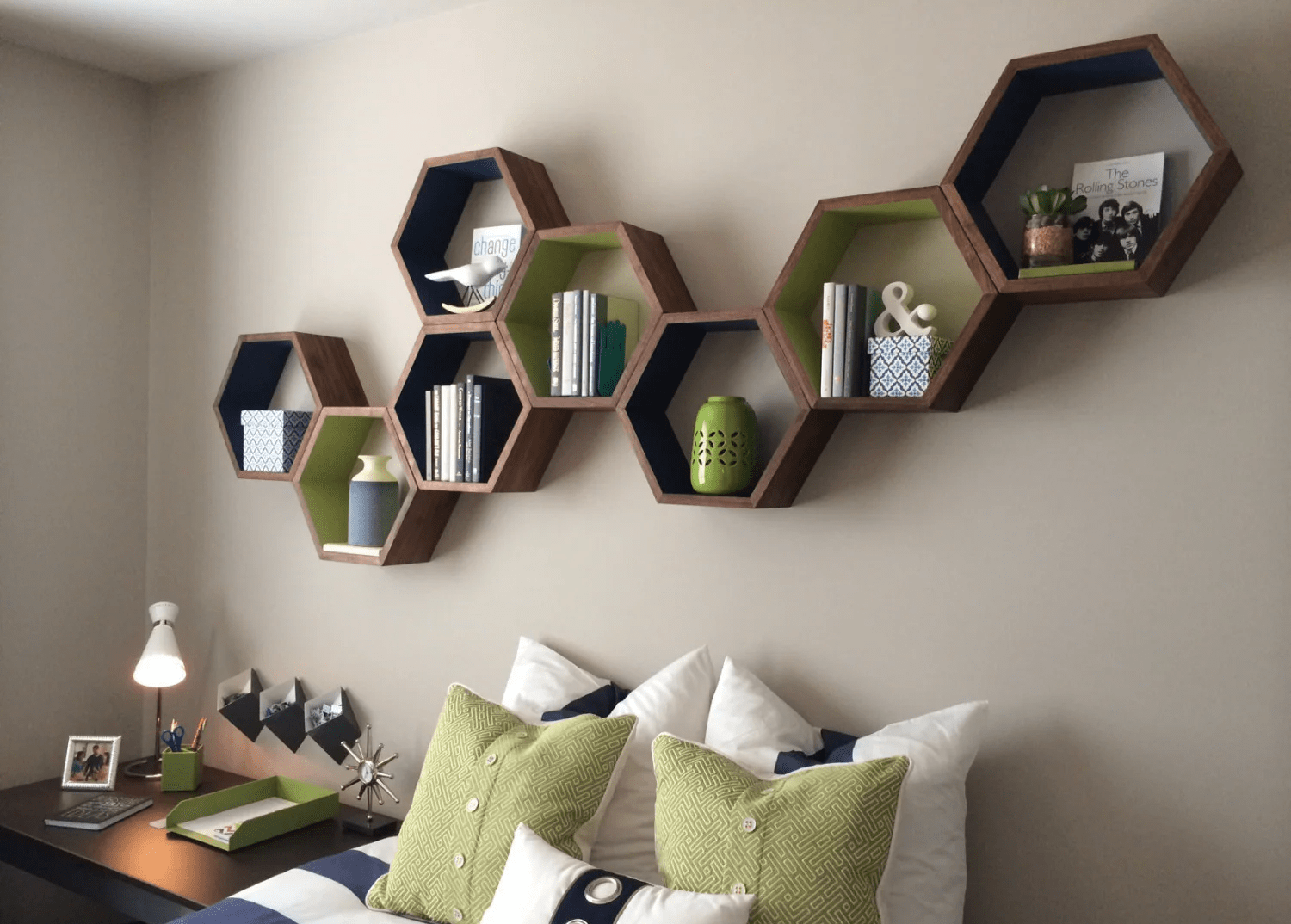 If you are looking for floating shelves ideas that are simple to execute yet look endlessly elegant and stylish, then you should be having a look at this. The design is simple yet charismatic and can be spread across an entire wall, depending on how much shelf space you require. Since the main storing-area is limited on each of these shelves, you have to choose wisely what items to display on these. Rather than using these for bulk storage purposes, consider placing items such as books, plants, vases, and pottery on these hexagonal shelves to bring out their contemporary charm.
11. Kitchen Bar with Open Floating Shelves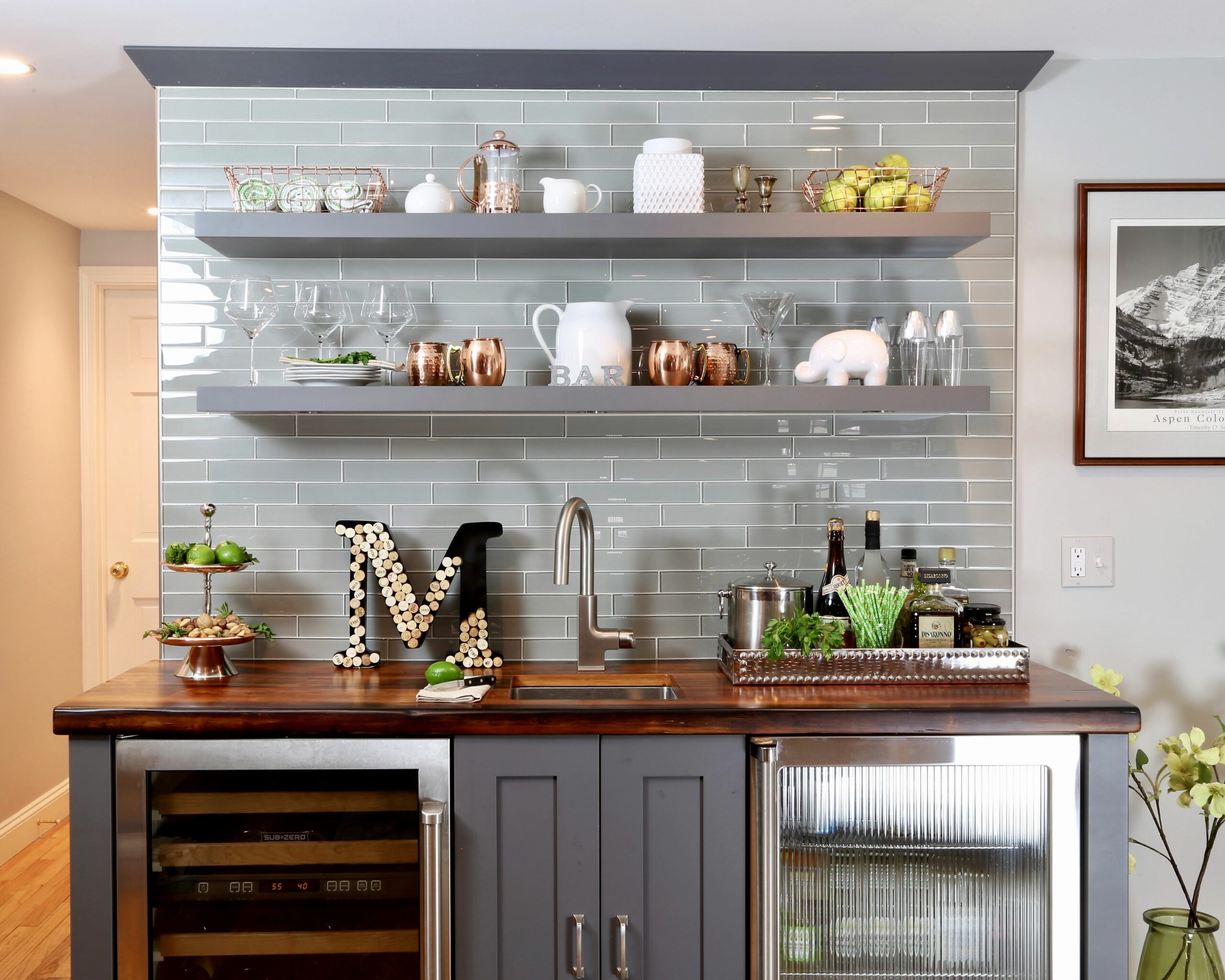 The kitchen is one place where you can never get enough storage space as new ingredients, utensils, etc., that you add on one after the other need to be kept in an organized manner. An unusual but clever spot for creative extra storage space is the area above the kitchen bar if it is placed against the wall. Install two or three such shelves above the kitchen bar, depending on how much blank space the wall has. Objects that are used daily, such as certain plates, cups, and glasses, can be stored here. If the sink is also installed in the bar, then the lowermost shelf can be used to keep clean washcloths and dish soap, etc. Throw in a plant at the very edge of the shelf to make it more aesthetic.
12. Floating Shelf Desk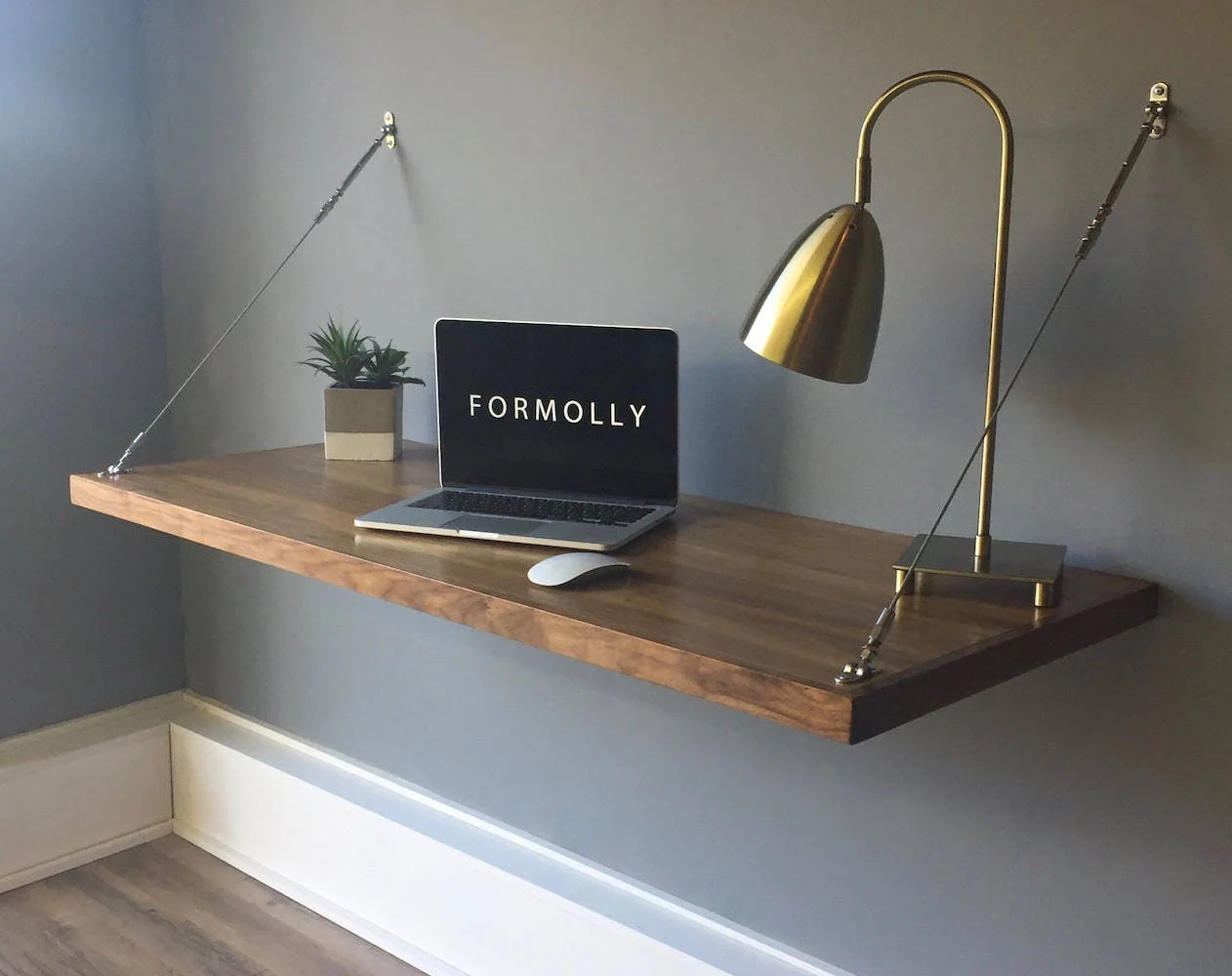 Buying a full-sized desk to add to your room can be a space-consuming issue, as well as a matter of coordinating different items to the new desk so that it does not look out of place. A simple alternative is building a floating shelf below lower to sitting eye level to make it a mock desk. But the primary requirement for this is to have a niche that is already built-in so that the sides can be used to nail the shelf in. After this is done, all you need to do is add a chair before your newly made shelf cum desk. The same thing can also be built on a flat wall without a built-in niche, but you will need to install brackets underneath or straps above the shelves for added support.
13. Open Cabinetry in The Kitchen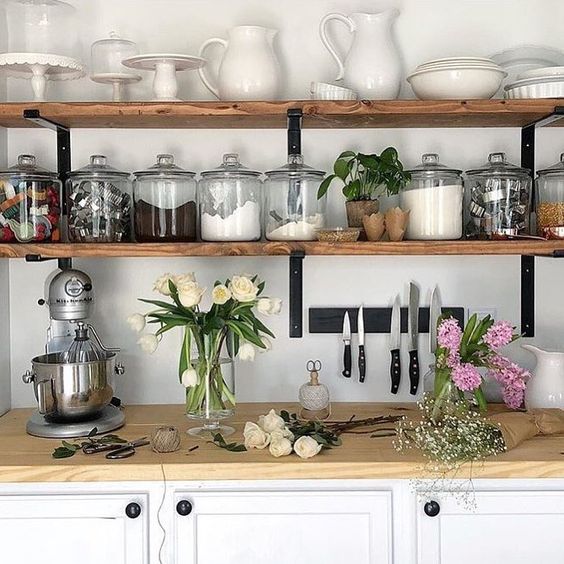 Another of the most useful floating shelves ideas that can be effectively executed in the kitchen is to install floating shelves in place of closed cabinets. You cannot really do without cabinets in a kitchen where the number of items to be stored is never limited. And closed cabinets on all sides may end up stunting the dimensions of the kitchen. So consider going for either a completely open type of cabinetry by getting floating shelves instead, or you can also opt for a blended style where the open shelves are used for housing utensils, glasses, etc., while the closed cabinets can be your pantry.
14. Oval Criss-Cross Floating Bookshelf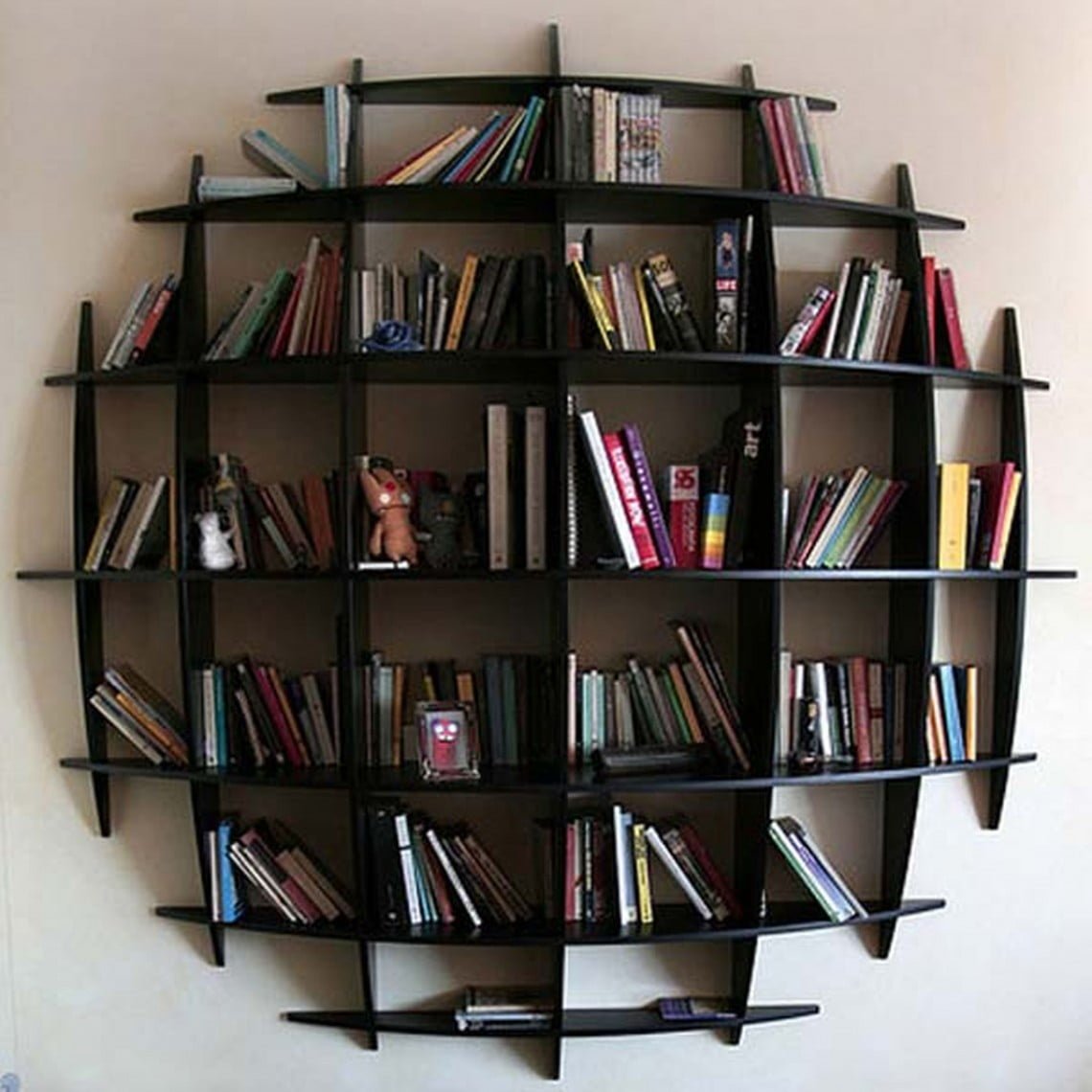 For the book lovers out there who keep buying new volumes without planning out storage first, this is one of the floating shelves ideas that will interest you greatly. In this shelf design, wooden planks with one straight side and one curved side and placed in increasing and decreasing order of sizes in both horizontal and vertical positions to create a singular bulging oval shelf on the wall. The squares that are formed by the intersection of the wooden planks are used for housing the books. It is a very unique and rare design that can easily become the most eye-catching detail of your room.
15. Tree Branch Bookshelf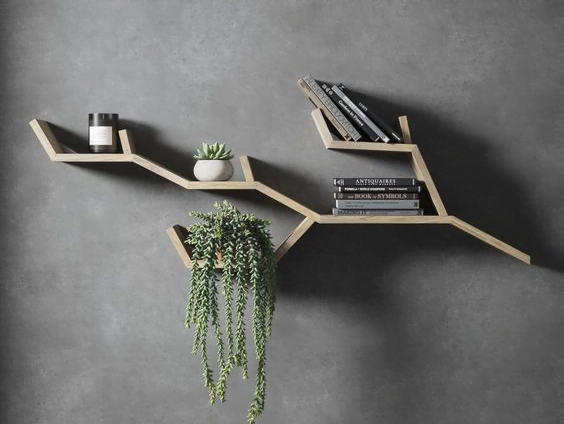 This idea to use a floating shelf for storing books is both creative and symbolic. Knowledge is like a tree that grows forever, and what better way to store your books than in a floating bookshelf that is built in the shape of a blooming tree branch? This is also a design that can be done at home with some basic knowledge of woodworking and carpentry. The shelves have to be nailed at various angles and tilts on the walls to achieve this shape, and you can always refer to the image for assistance. The resultant floating shelf will not only be an ingenious piece of attraction in the room but also functional. Besides, it is a great decor idea, so do give it a try.
16. A Floating Mantel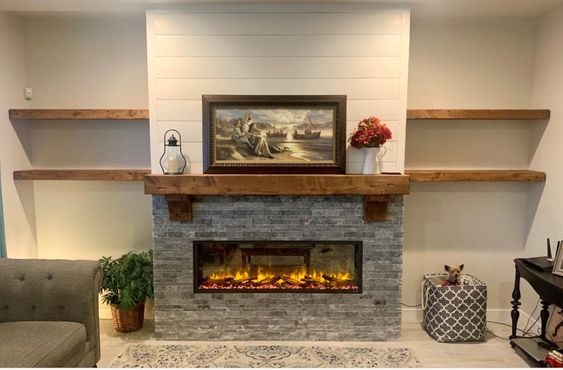 Having a fireplace in their houses often remains a dream for many because of the heavy renovation and repurposing required to build one. However, what if you could build yourself something very similar with only minimal installations? Yes, you could do that by getting a wood stove or electric furnace and installing a floating shelf above it to imitate a mantel. All you need is a suitable place to carry out this idea, and you will have a design that is functional, modern, and stylish.
17. Floating Shelf with Hanger for The Nursery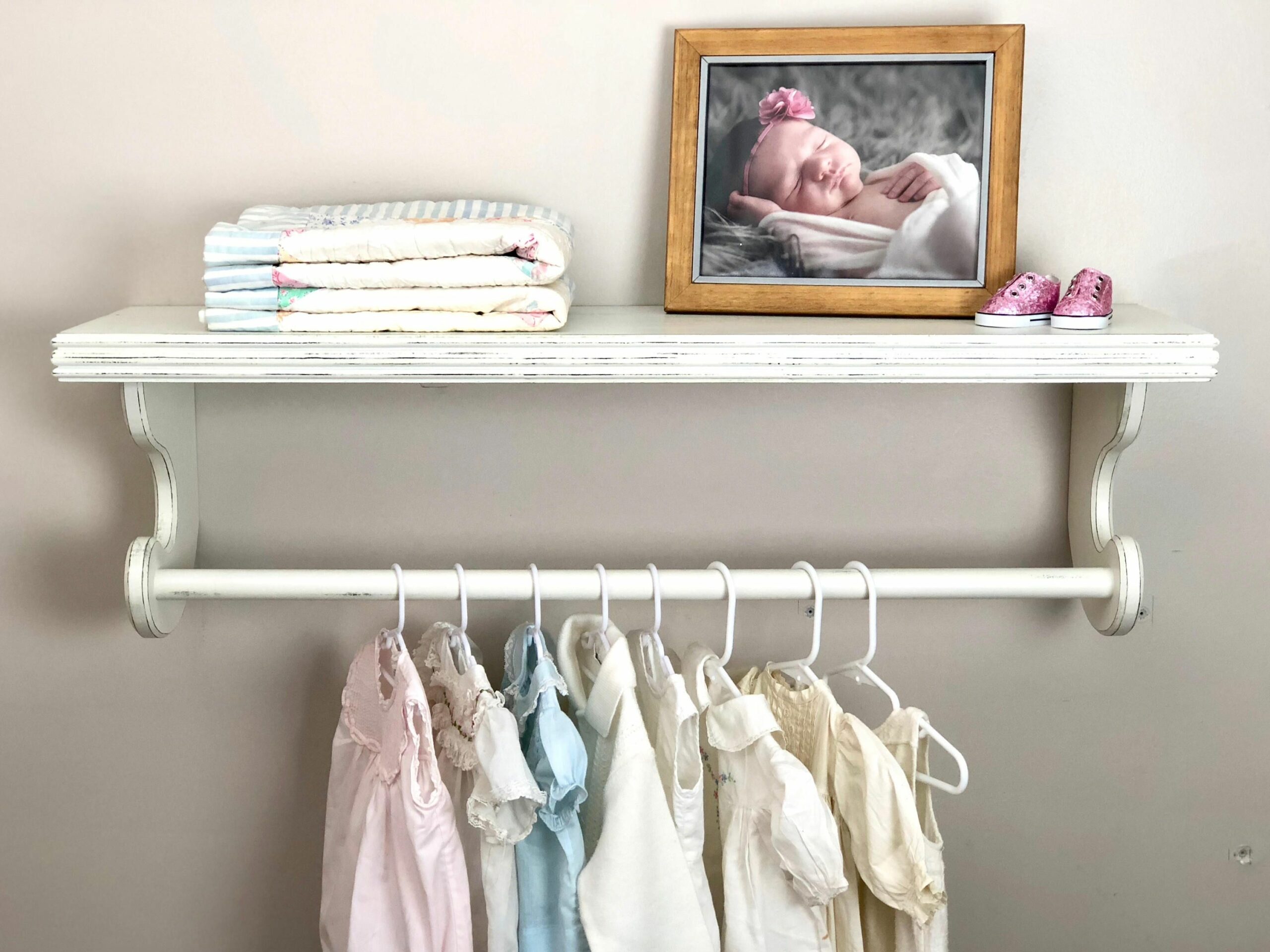 Installing floating shelves with hangers is the best way to open up storage in a baby's nursery. That is a room where the baby not only sleeps but also is fed, groomed, and cared for. And to do this t a lot of items are required, which need organized storage for easy access. For parents who care for their baby singlehandedly, finding stuff such as burp clothes, nappie, clothes, etc., with ease can be immensely helpful, and that is exactly why essential storage for nurseries should be kept open. You can use the main shelf area to keep diapers, towels, toys, etc., while the hanger underneath can be utilized for keeping the baby's daily needed clothes.
18. Bedside Floating Shelf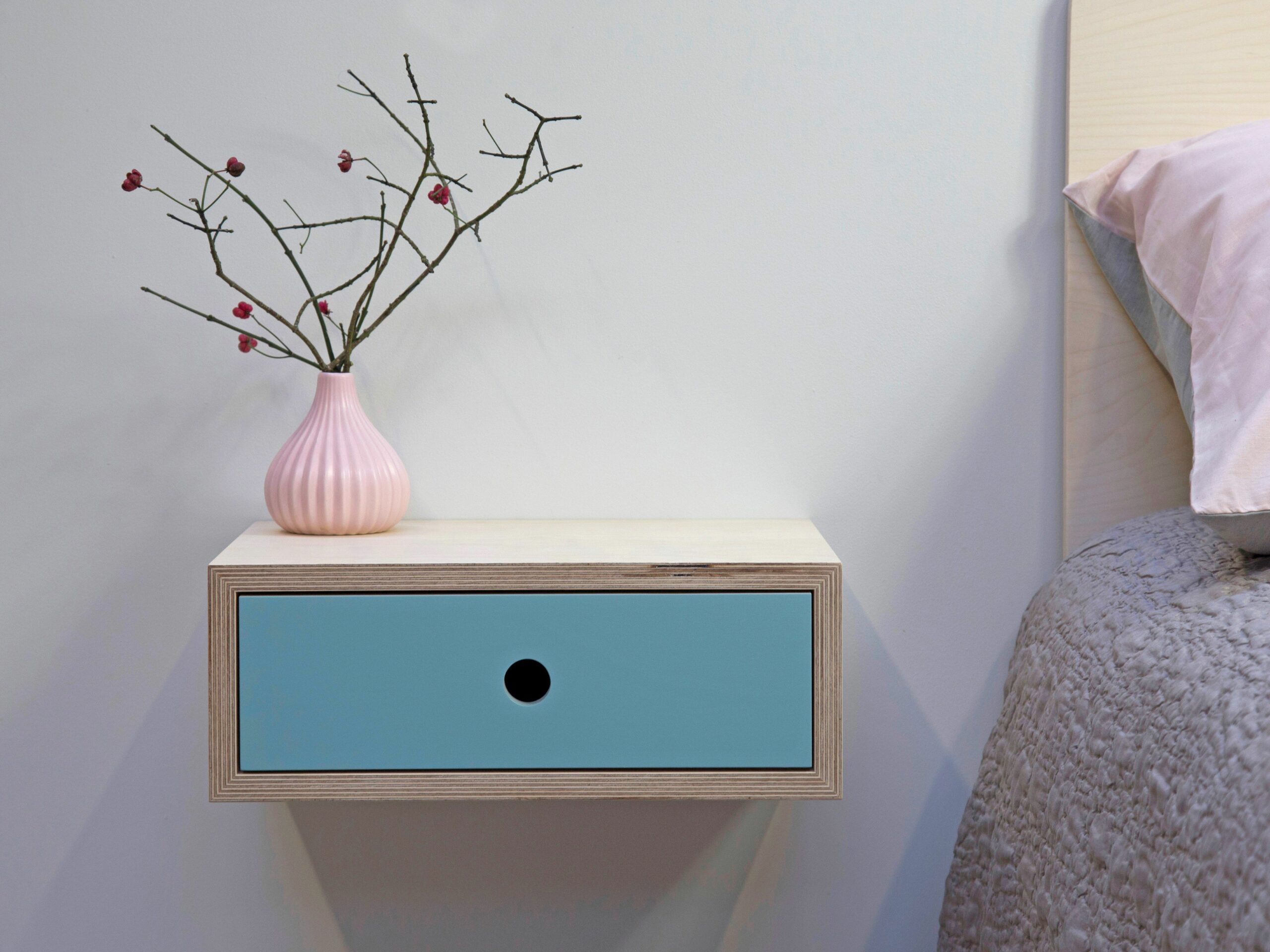 Having a table by the bedside is immensely convenient. Even if not used for decoration purposes, that is where people keep the essential medicines that they will have to take on waking up, their glasses and the book they went to sleep reading, their phone, and the list goes on. But adding a full-sized bedside table may not always be the best option for the room. A more minimalistic alternative is to nail a single wooden floating shelf beside the bed and make it a table. This is a relatively simple option and can be done DIY. However, a little better version of this will be to add a floating shelf with a drawer which has more space for storage and looks more put-together.
19. DIY Bathroom Vanity with Floating Shelves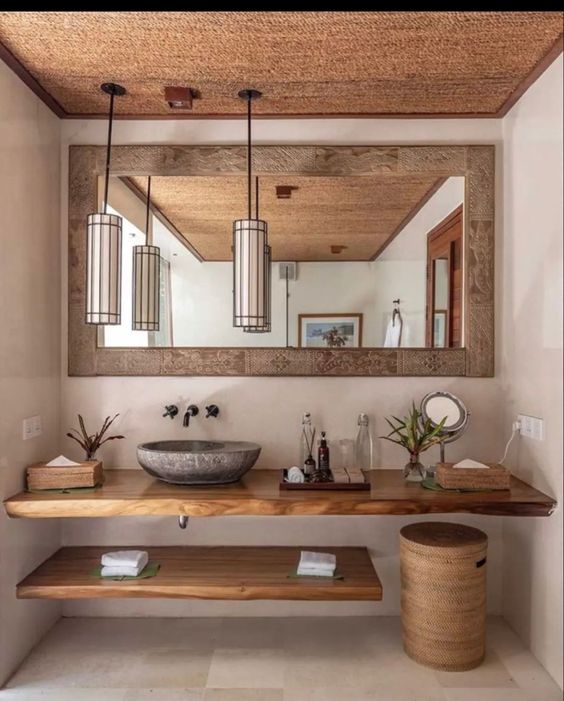 Do you really want to install a vanity cabinet in your bathroom but do not have the budget or space to execute it? Then this floating shelf idea is definitely perfect for you. Install natural wood shelving under the sink area to create an expansive storage shelf. This will be your very own modern and minimalistic take on a vanity cabinet. Depending on what kind of decor your bathroom has, do take care to add a similar type of shelving so that the floating shelf looks one with the rest of the room decor.
20. Arched Built-In Floating Shelves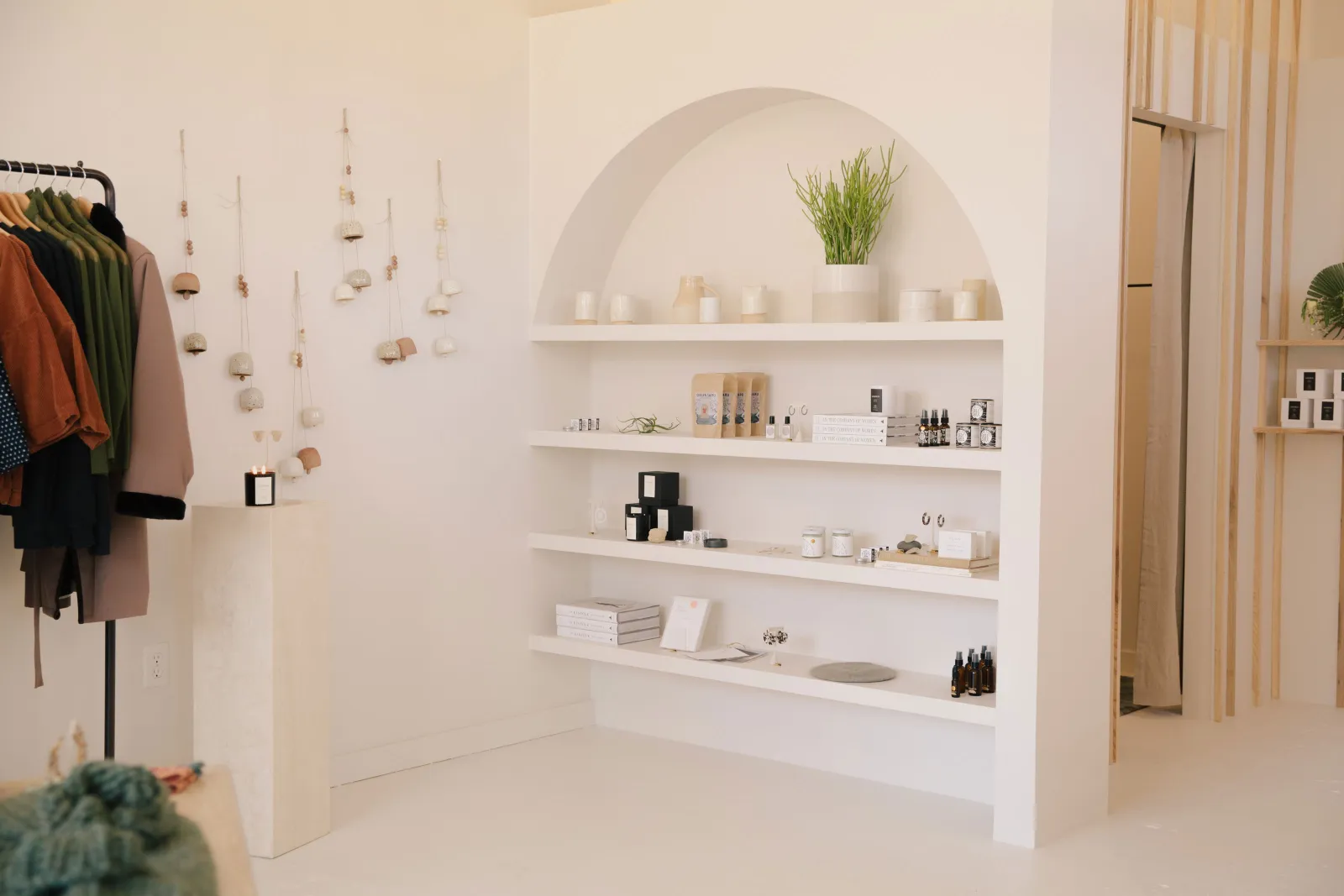 Finding niches with an arched top was kind of rare in the architectural scene a few years ago. But thankfully, this style is making a comeback. And if your home has a couple of these arches, then you should strongly consider getting built-in floating shelves installed in them. Arched niches are a perfect spot for display purposes because they do not consume any extra space in the room. You can use this perfect spot to exhibit your action figurines, collectibles, books, medals, mangas, photos, and whatever is precious to you.
21. Home Bar Floating Shelf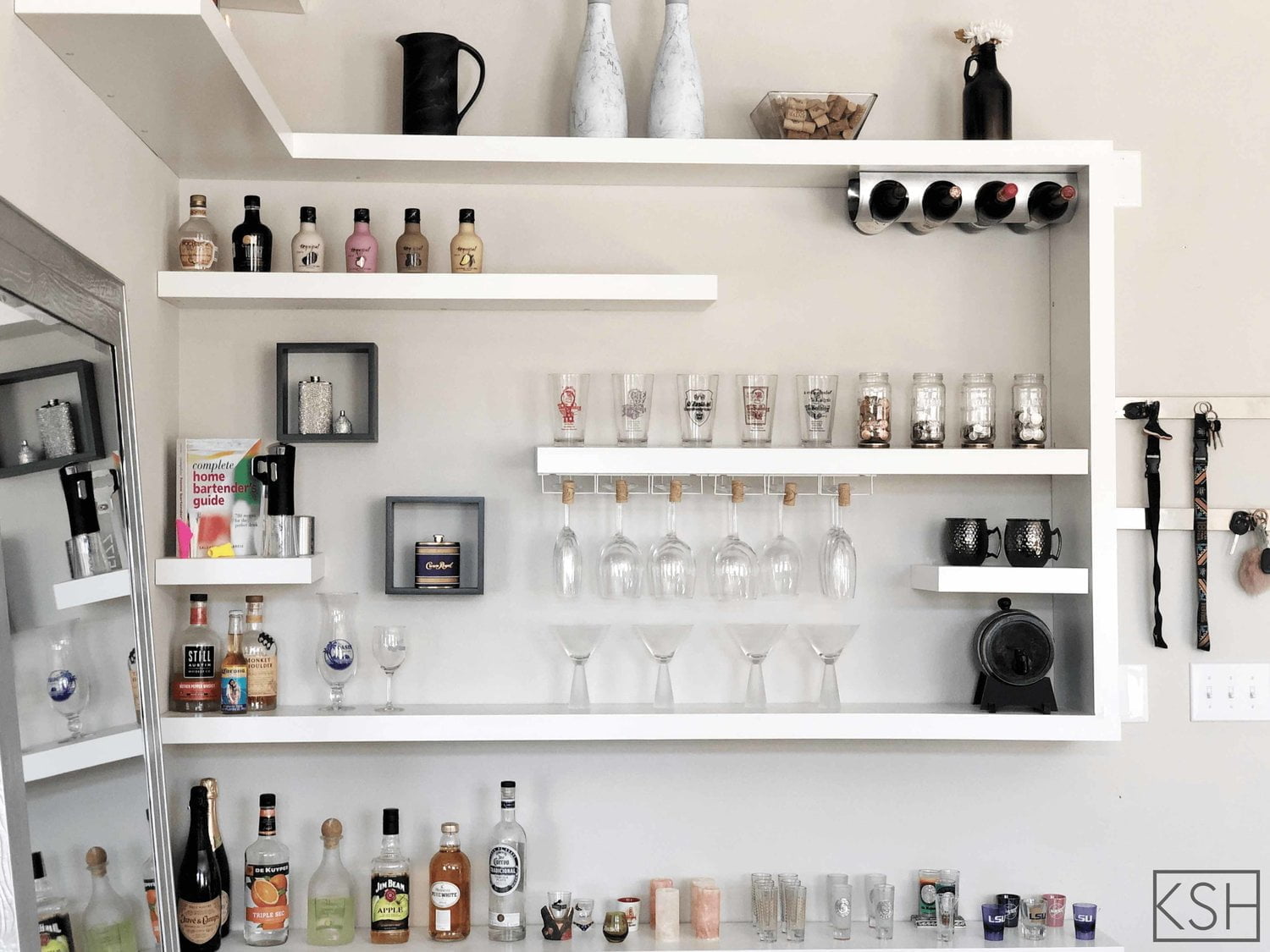 The lovers and connoisseurs of some well-aged wine will always like to have a dedicated spot for storing their favorites, along with fancy wine glasses. This can be easily achieved with his floating shelf idea, where two rows of shelves are installed, with the one underneath carved with ridges to hold wine glasses in space. The number of shelves can always be customized depending on how much wine you wish to hoard. This is a good shelf design to incorporate in your kitchen or, even better, the basement, where the wine can age without being disturbed.
Summing It Up
All in all, floating shelves are an incredibly efficient solution to storage issues, and they also happen to be functional as well as stylish. These also save a lot of space and thus are perfect for homes that have little space to begin with. And with the rise in minimalist architecture, even homes with a large floor plan incorporate floating shelves into their home decor for an elevated and chic aesthetic appeal.
The installation process is also not complicated as all the ideas on this list can be made into a DIY project, given you have sufficient knowledge about woodworking. So why not include a floating shelf in your home and organize the clutter in your room in a very stylish and aesthetic way?