Bohemian style is a vibrant and eclectic approach to home decor that embodies a relaxed and carefree lifestyle. The boho bedroom ideas offer an exciting option to fill your space with colorful patterns, aesthetics, and a touch of playfulness. In present times, bedrooms with this style maintain a balance between simplicity and boldness, combining layers of textures with neutral palettes to create a personal space. From quirky decor accents to oversized cushions, lighting, and every element contributes to the comfortable atmosphere of your serene retreat.
While the essence of this style encourages breaking the rules of home decor design, experts suggest starting a neutral base and adding intentionally collected items for a broad yet balanced feel. With an emphasis on mixing patterns, colors, and textures, boho decor may seem like a challenge. If mastered, this style offers a vibrant and eye-catching setting.
So, whether you are a boho enthusiast or considering this boho bedroom idea for the first time, get ready for an inspiring journey that will transform your bedroom into a relaxing and pleasant room setting adorned with patterns, plants, rugs, and accessories.
1. Get Your Room a Touch of French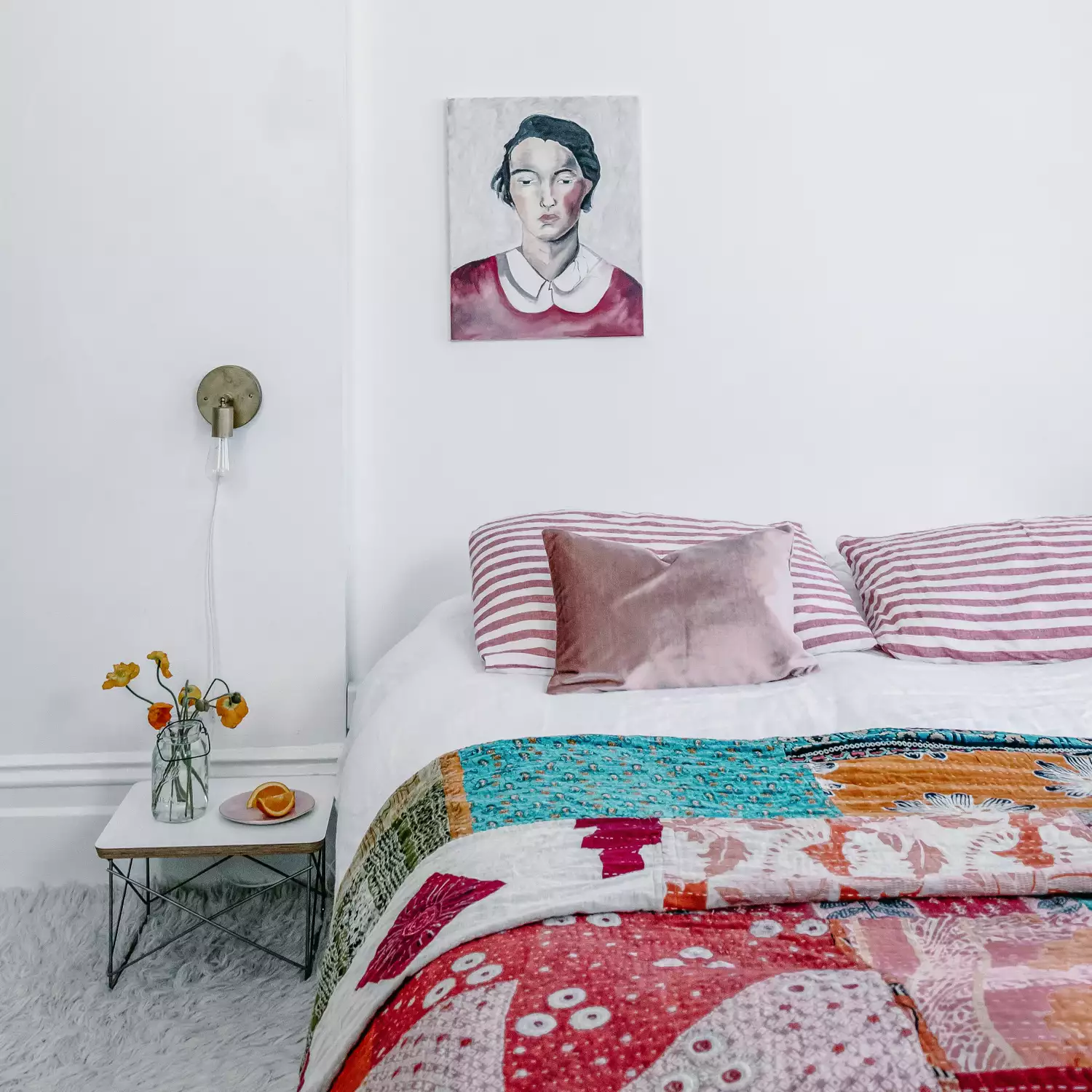 You can skillfully combine the white walls with nostalgic old items to create a bohemian-style design that is described as fresh, quirky, inviting, and simple. You can layer an antique Kantha throw, a striped linen pillow cover, a delicate silk blush pink pillow, and 1960s style shaggy rug to add a touch of French Flair. The pleasant and unique environment will be complete if you decorate it with a painting on the wall.
2. Create a Surrounding with The Design Emanating Calmness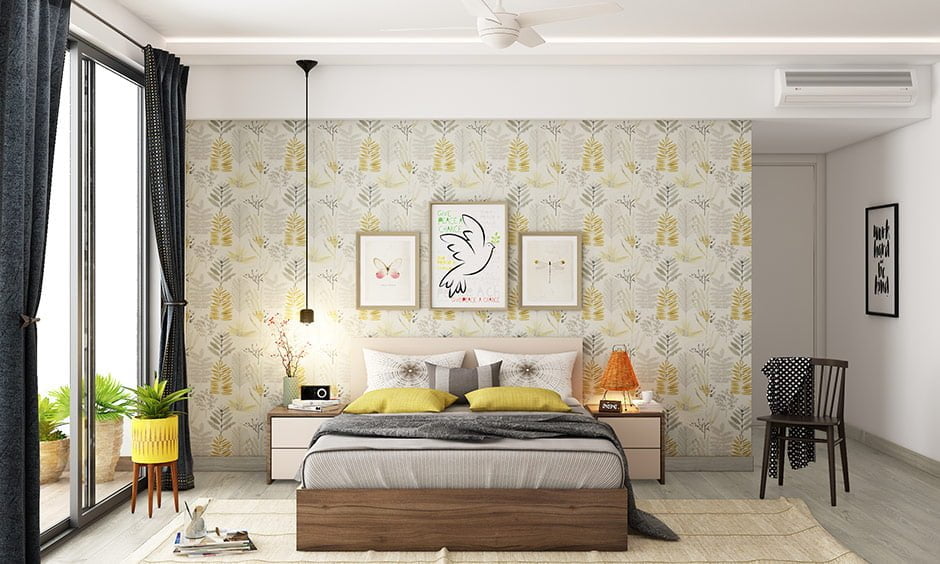 Contrary to popular assumption, loudness and boho style are not mutually exclusive until they complement one another. Boho bedroom ideas emphasize a holistic approach rather than focusing exclusively on brilliant colors, embracing a blend of natural textures combined with Scandinavian designs. You can also add an eye-catching wallpaper as its centerpiece. The bed's fabric, which is soft, faded blue color, gives the room a decent look. Throws, pillows, and a brilliant green plant brings liveliness to the space and further the homely atmosphere.
3. Include a Woody Touch in Your Bedroom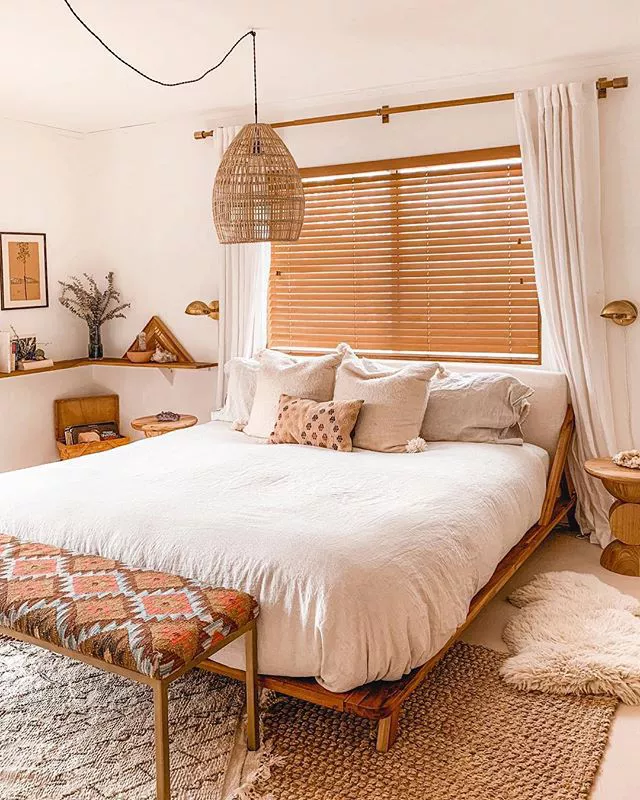 Nothing is more alluring in the world of boho design than an all-white color palette combined with the organic warmth of wooden accents. The oak finish smoothly assumes the function of a secondary color on everything from the curtain rod to the nightstand to the bed frame and bookshelf, effortlessly achieving the desired look you long for. Your boho bedroom ideas for home gain depth, thanks to the contrast created by the clean white and earthly wood tones.
4. Incorporate Some Natural Feel Into Your Boho Bedroom Ideas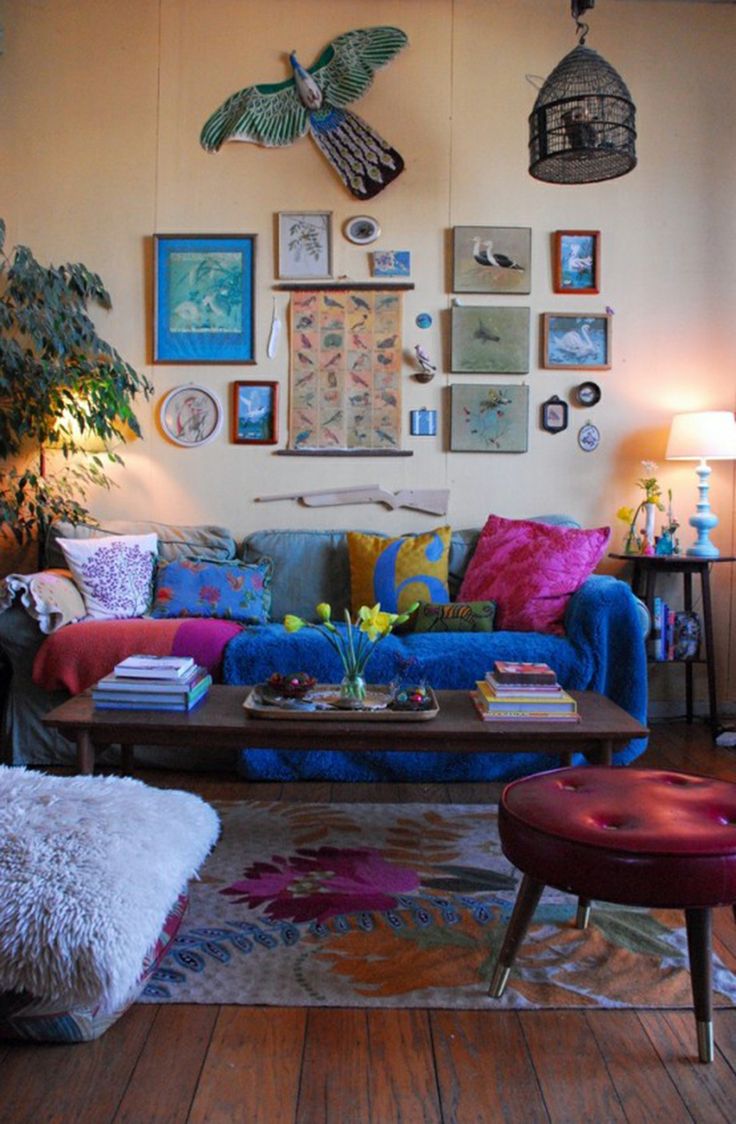 The room's jeweled-tone spring green walls, along with touches of grey and warm browns, radiates a dynamic mood and create a multi-layers visual experience. The bedding features bohemian elements blending cozy materials, delicate colors, and a fun animal theme to provide the children with both comfort and a hint of adventure. This area fully reflects the vibe of a colorful, creative bohemian style that is meant to encourage and nurture young children's imagination.
5. Boho Bedroom Ideas for Giving the Effortless Look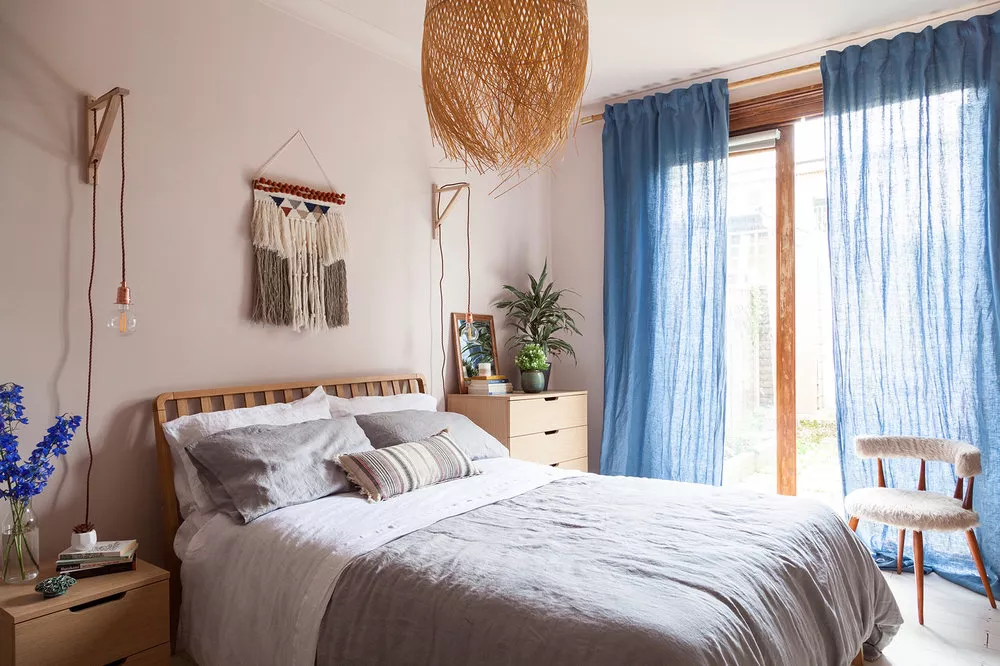 You can create a bedroom by decoring the interiors, which can look like you have done it with the least effort. The space can effortlessly be combined with decor components with a boho aesthetic using a calming neutral color combination with a small splash of blue. The area over the bed is elegantly decorated with a charming woven pendant lamp and a beautiful macrame wall hanging. By fusing boho elements with a soothing color scheme, these carefully and effortlessly designed boho bedroom ideas foster a sense of peace.
6. Feminine Touch Also Works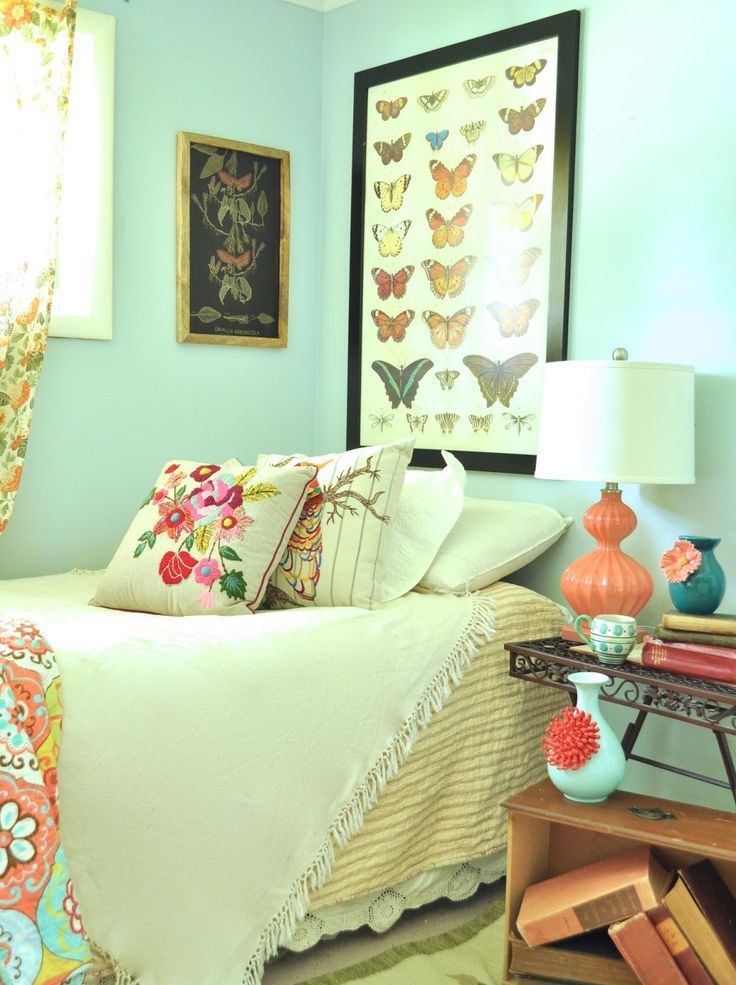 You do not have to give up femininity if you choose a boho look and include some boho bedroom ideas. You can easily add a hint of delicacy to the space by adding pink accents and keeping cream as the neutral foundation color. While keeping the space's overall bohemian look, these minor decisions quickly provide a sense of femininity. Coral tones dispersed among the cream foundation produce a beautiful blend that gives the space an air of sophistication, elegance, and grace.
7. Airy and Bright Boho Bedroom Ideas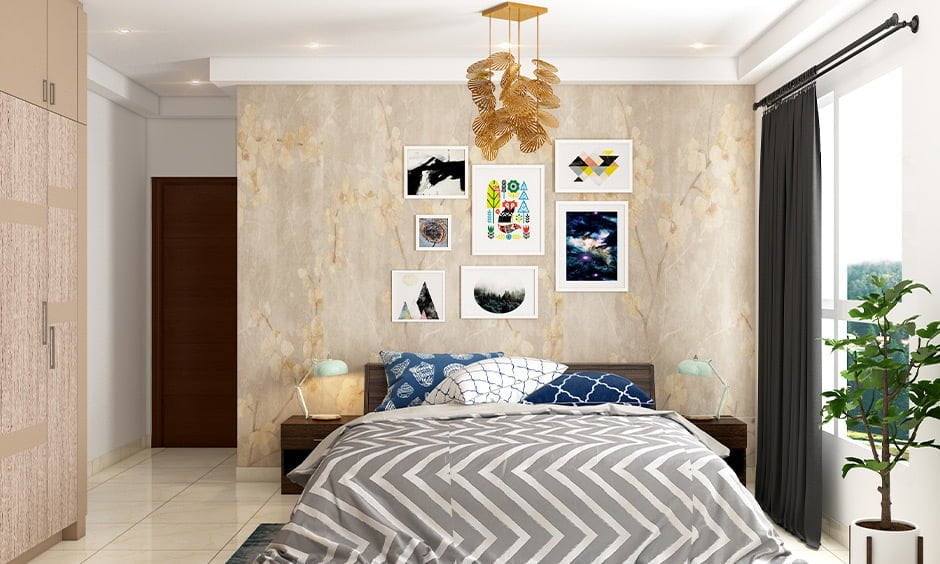 This charming boho bedroom idea is brought to life with vibrant yellow wallpaper and light wooden flooring. The warm neutral background sets the stage for colorful accents such as cushions, throws, and a jute rug, adding a playful touch to the space. Drawing attention in the room can be done by planting the yellow plants, which would provide a bold pop color amid warm earthly tones. Add a contemporary flair, a delicate pendant night lamp gracefully over the side of the bed, and incorporate a modern twist into this inviting and delightful bedroom.
8. Boho-Bedroom Ideas Using Mix Lights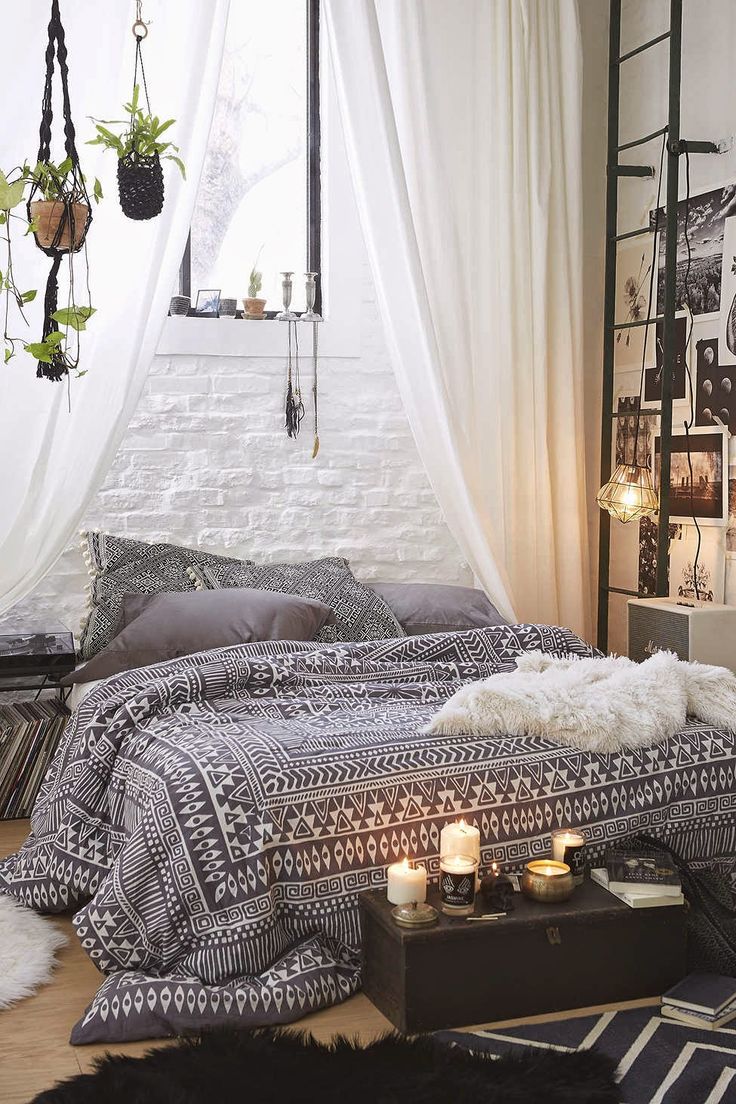 Lighting is one of the many tine touches that may make all the difference when it comes to creating a bohemian look, including a variety of various light sources that gives the room depth and interest. Utilizing natural light, with romantic candles for a warm glow, and adding an industrial pendant creates the ideal surrounding. The varied and beautiful environment that is produced by this arrangement of lighting components perfectly matches the boho style and gives the room a magical feel.
9. Provide the Room with a Feel of Sunset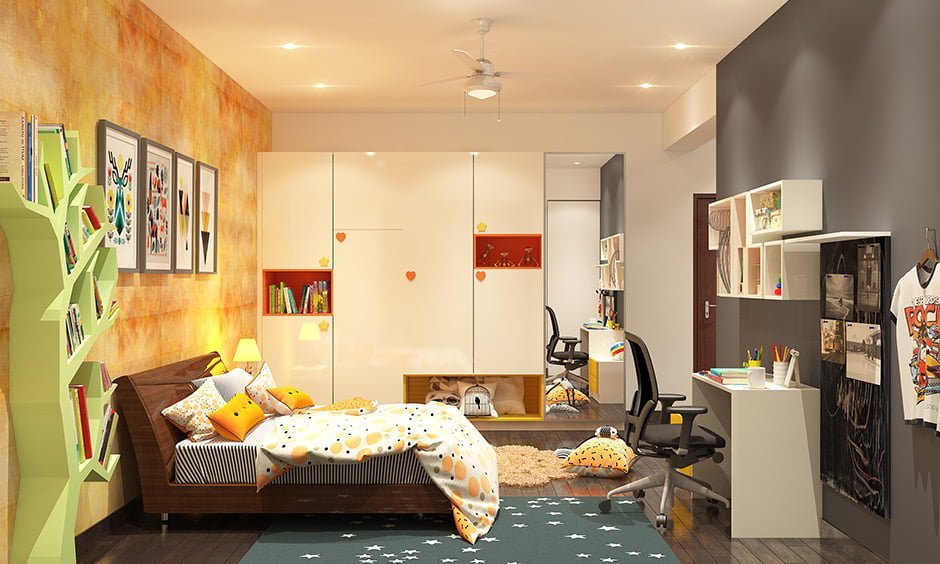 Discover the bright attraction of this boho-style bedroom, where a rainbow range of colors commands attention. This room is a wonderful blend of colors, from the attractive wallpaper to the bright carpeting, from the fun pillows to the tastefully chosen furnishings. Layers of eye-catching patterns are created with striped bed linens, a starry area, lemon-yellow pillows, and a parrot-green bookshelf. A painted white wardrobe with red and orange undertones adds a cheery contrast. The oak floorboards and matching beds complete the romantic mood with their appealing refinement.
10. Classy and Modern Boho Bedroom Ideas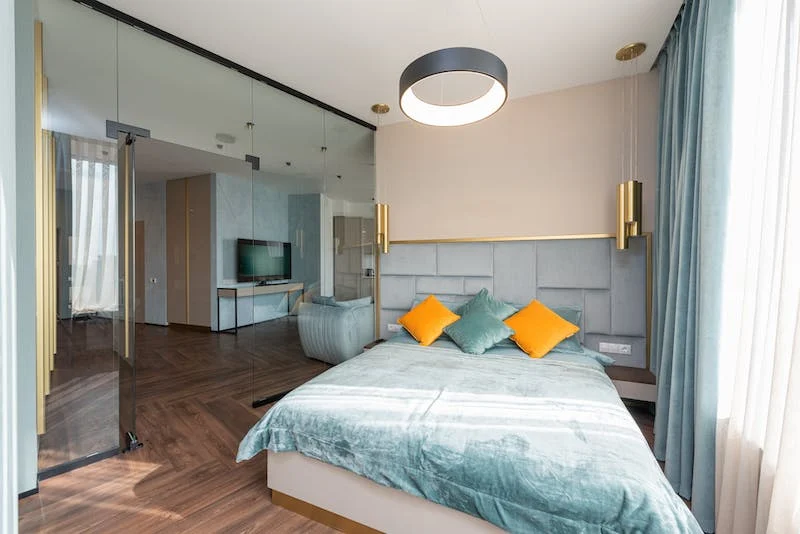 Enjoy the calm setting with the boho bedroom ideas, which offer a vacation-like vibe and simple decor. With the stylish blanket and nicely piled pillows, the space encourages relaxation. Well-defined decor components, such as a hexagon nightstand artwork over the bed and a floor-length mirror, create a sense of elegance. Without overpowering the room, a canopy draped over the bed offers a touch of bohemian appeal.
11. Think About Adding Layers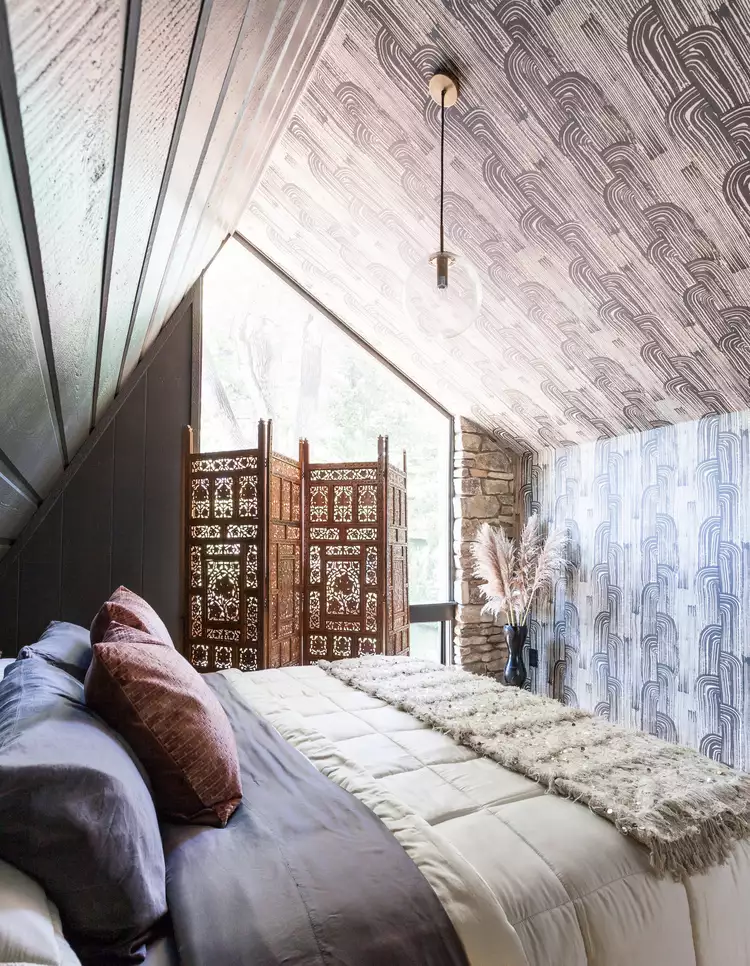 You can transform your A-frame primary bedroom into a mesmerizing boho paradise with a gloomy ambiance. The walls and ceiling are decorated with patterned wallpaper and dark paint, which sets the mood. Also, you can use of Moroccon-style room divider made of carved wood, a wedding blanket covered in Moroccon handira, and a vase filled with tall pampas grass. These all add depth and textures to the space and create a lovely layered aesthetic.
12. Give It a Vintage Appearance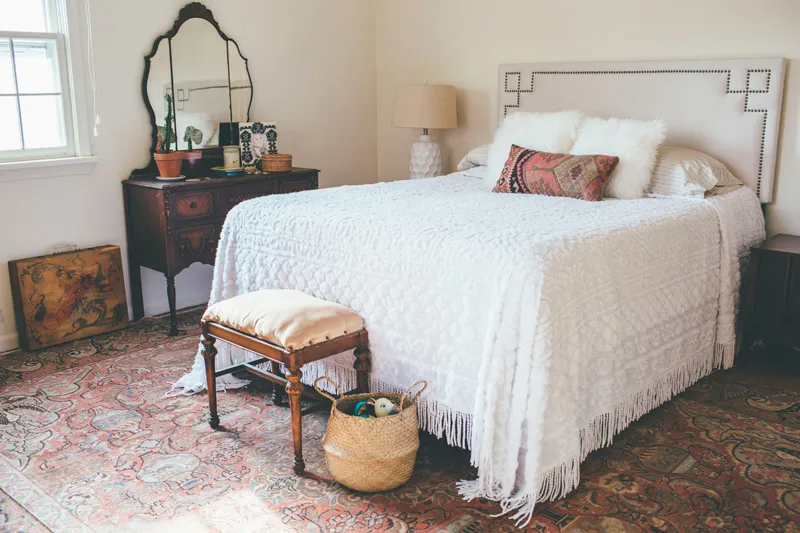 The excitement of exploring street markets and charity shops in desire for unusual antique finds is a crucial component of the bohemian styles. These remarkable artifacts from the past are what give a space its true boho vibe. Consider this room divider that was cleverly transformed into a headboard for a bedroom. You can create a room that embraces the spirit of bohemian style, full of character and uniqueness, by adding such magnificent old treasures.
13. Use of Textiles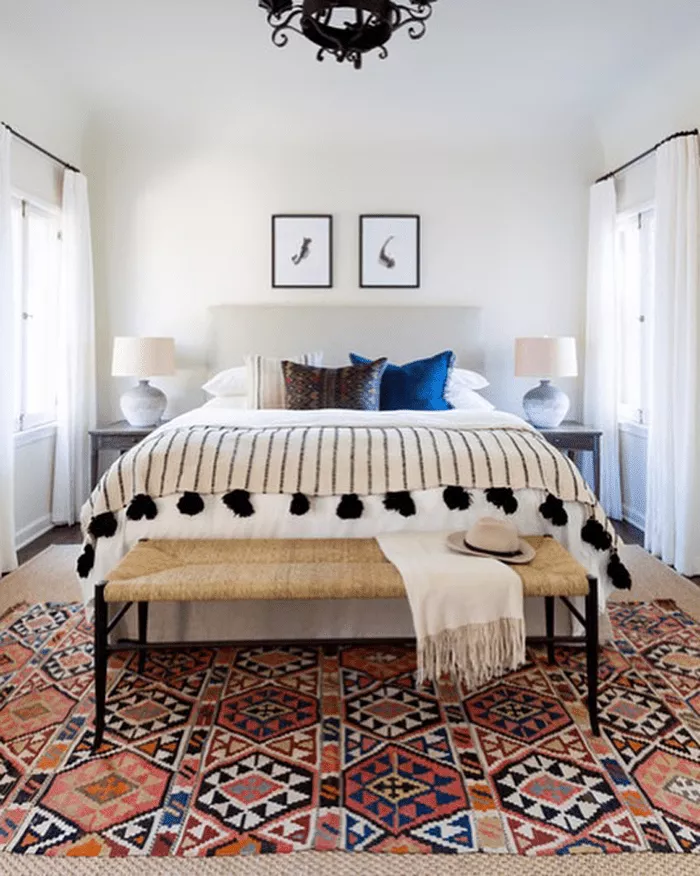 Utilizing layered textiles is a crucial part of the decorating process when embracing the boho style. A printed rug is layered on top of a neutral one in this room, demonstrating the skillful blending of various textures to create a warm and inviting ambiance. Throw blankets with amazing tassel textures complete the boho bedroom ideas style. This room reflects the bohemian aesthetic while offering comfort and style through the expert layering of materials.
14. Transform Your Vintage Camper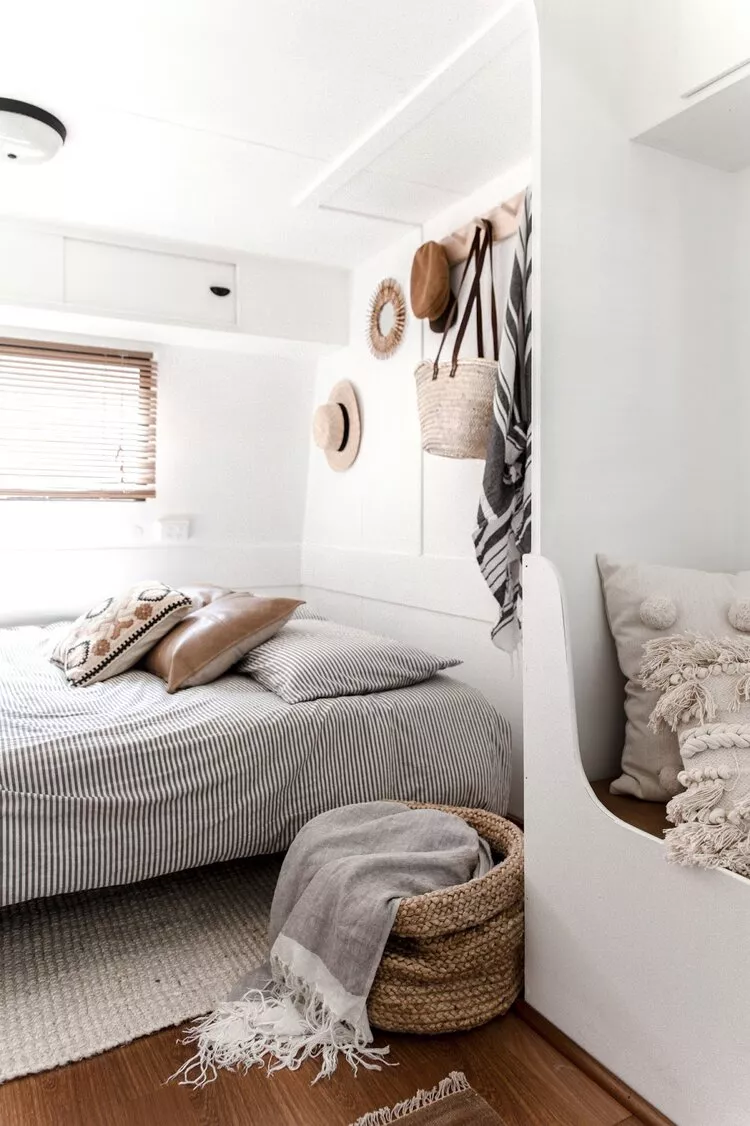 You can transform your vintage camper into a tranquil modern haven with a sleeping area that equals a full-sized bedroom in terms of aesthetics. The camper has pleasant mid-tone wood floors and crisp white walls that are decorated with lots of soft neutral materials. A variety of leather, embroidered cushions, a cozy blanket, a beautiful woven basket, and stylish straw hats and bags displayed on the walls are just a few examples that you can incorporate into your bedroom to give it a boho look.
15. All-White Tone Shades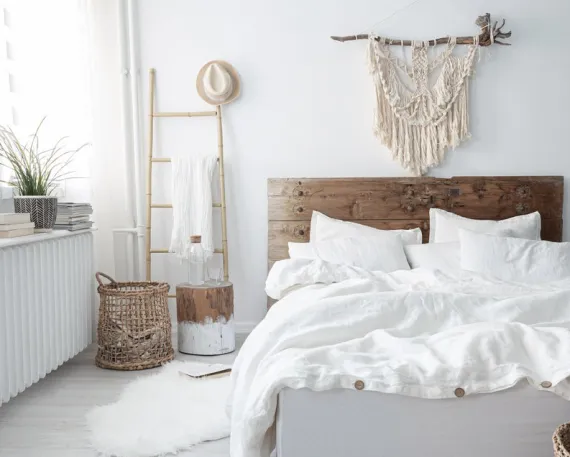 By using delicate old linens in various shades of white, you can decorate your bedroom in a beautiful boho style. Position an antique French chair, an elaborate chandelier, and a rustic wooden bench at the foot of the bed all provide visual interest to the space. A light and airy atmosphere can be created by the white ceiling, walls, and transparent white curtains. Straw hats are casually hanging over the bed as a special touch, cleverly taking the place of a conventional headboard.
16. Put Cool Tones in Your Boho Bedroom Ideas
There is a myth that the boho style of decoration for your bedroom has boundaries, but actually, there is no such thing to believe. This space challenges expectations by showing a cool-toned atmosphere that roves the value of blues for creating a carefree look, going against the idea that boho decorating has no boundaries. The combination of different-lookin' items simply captures the sense of bohemian style, although having a little modern touch.
17. Combine The Boho with Modernity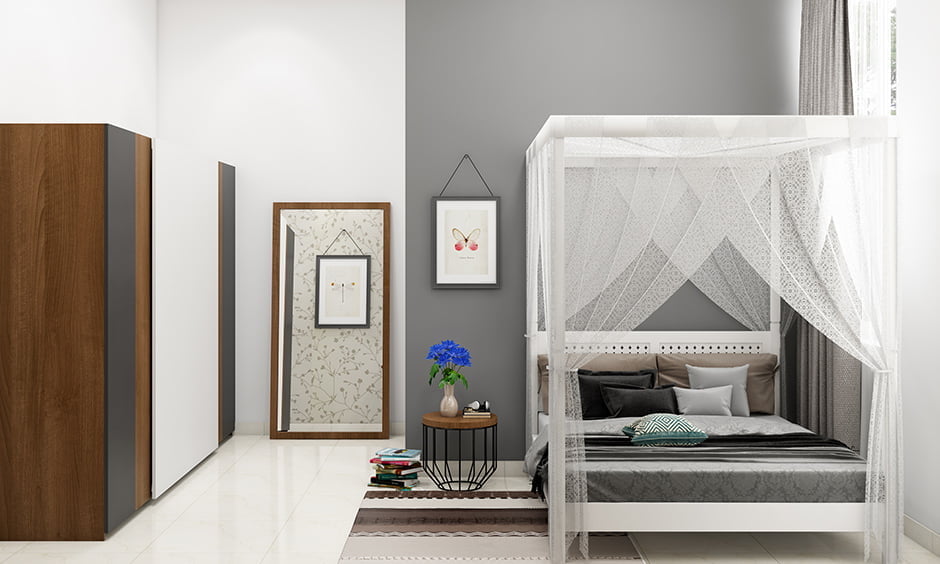 This is one of the boho bedroom ideas where you can combine modernity with the boho style. If you have ever wondered the bohemian way of life might incorporate modern black walls, let this be the definitive proof. The addition of natural textures, such as a leather headboard, a plush fur blanket, and lush flora, perfectly pairs with the room's deep color to produce a complete boho atmosphere.
18. Use the Accessories Appropriately and Accordingly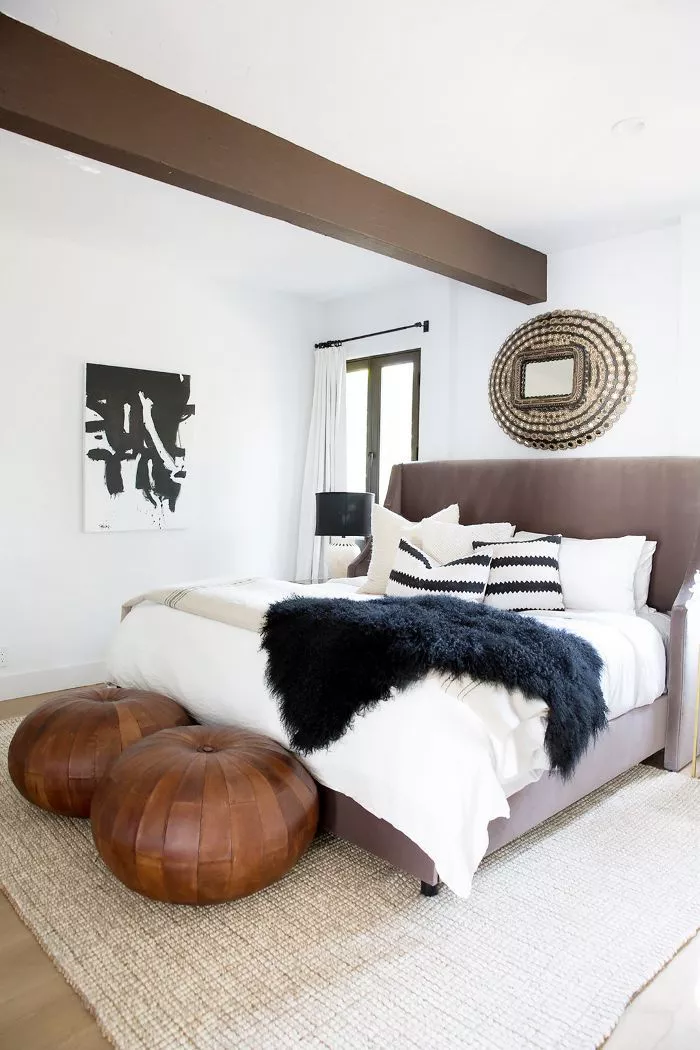 To change the look of your bedroom, you do not have to redo the entire space, buy all new furniture, or even start from scratch. Strategic styling allows you to update the area while maintaining the original elements. A tribal mirror, faux fur throw, jute rug, and leather poufs will provide a boho touch to the space with little effort and a big impact. Incorporate these boho bedroom ideas to accessorize your room and give it a touch of elegance.
19. Mix More than Just One Style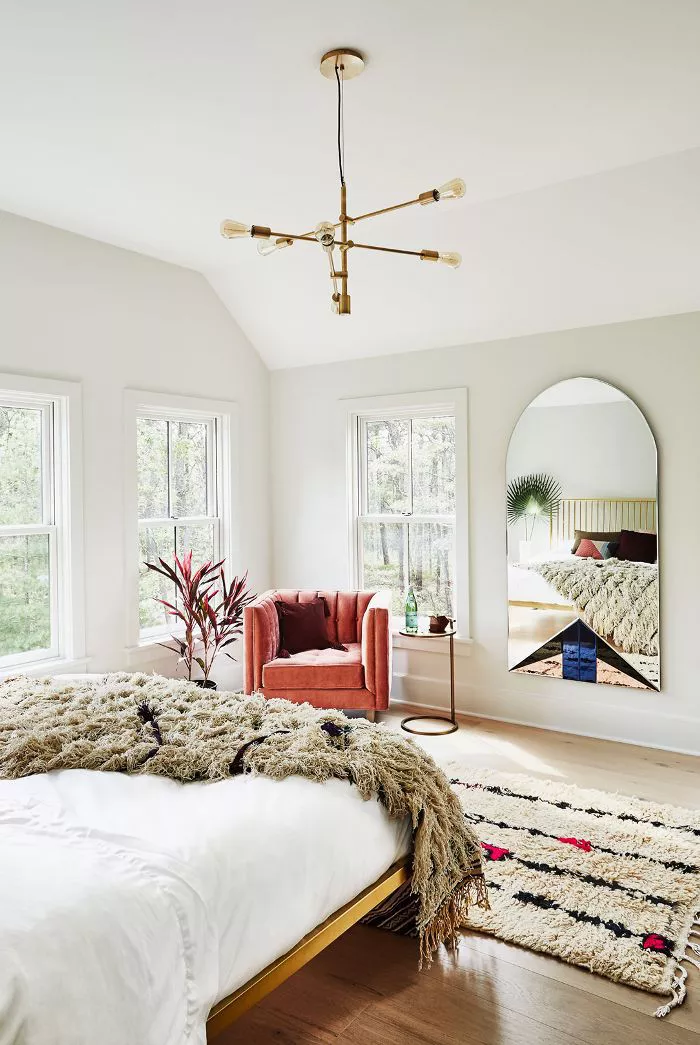 Finding a look that works over the long run might be difficult for those who like to experiment with various decor trends. However, the bohemian aesthetic gives you the chance to combine inspiration from other aesthetics, enabling you to develop your own personalized style. Do not be afraid to include features from other design trends. This bedroom elegantly showcases the adaptability and creativity that comes with embracing a bohemian-inspired setting by fusing boho chic with mid-century modern and glam elements.
20. You Can Also Keep It as Simple as You Want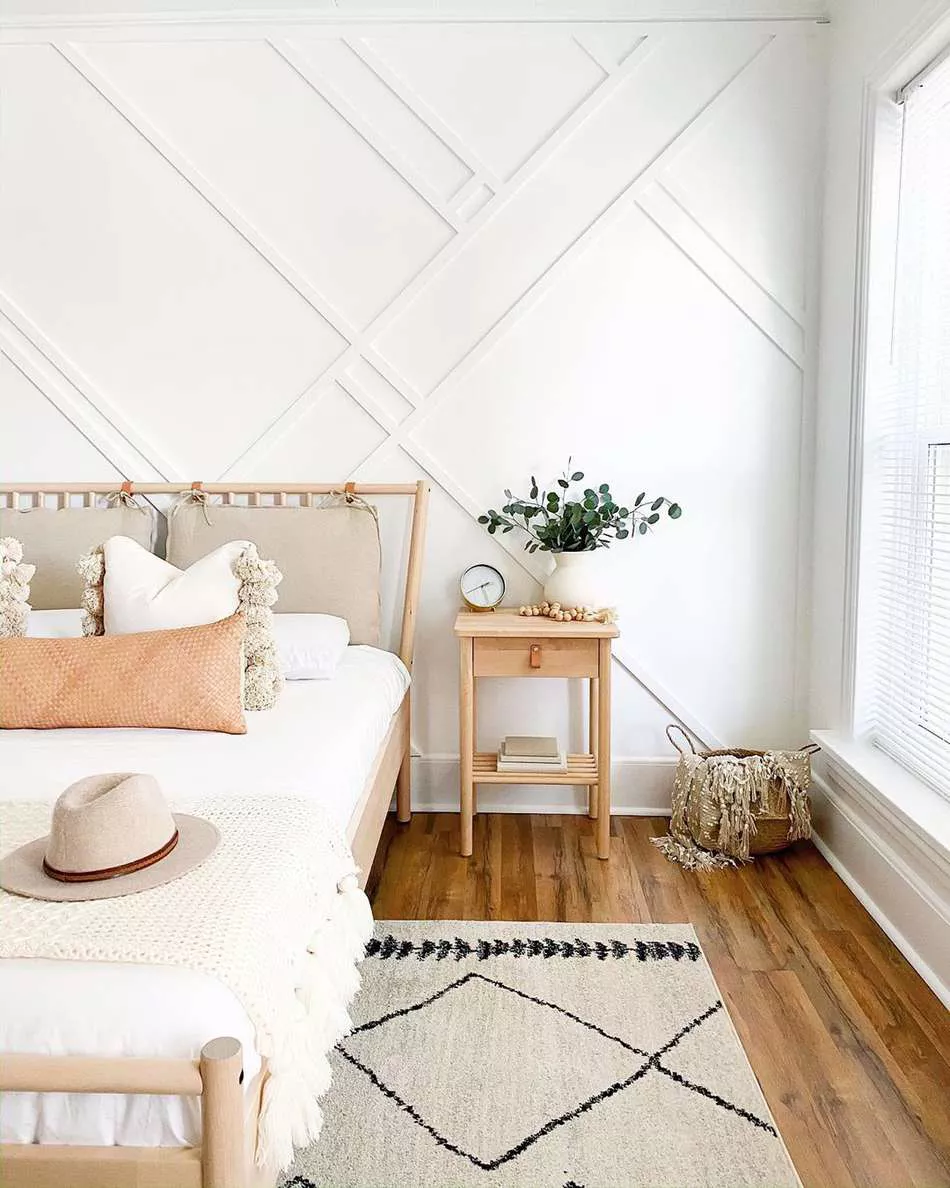 While many bohemian settings are renowned for their profusion of visual stimulation, including wall hangings, layered carpets, and diverse collections, a minimalist approach can still end up in a cozy look. You may achieve the desired style while retaining a clean and simple decor by including natural textiles, plenty of natural lights, and warm wood accents. While retaining the feel of boho styles, this minimalist take on the bohemian style radiates peace.
Final Thoughts
All in all, Bohemian design aesthetics or boho bedroom ideas open up the world of opportunities for building different and welcoming homes. It encourages a diverse and free-spirited ideology that promotes self-expression and uniqueness.
The boho style may be adjusted to your personal preferences, whether you want a more minimalist and calm atmosphere with natural textures and a modest color palette or bold and bright colors, rich patterns, and a variety of decorative elements.
The use of layered fabrics is one of the essential elements of boho design since it gives space depth and visual curiosity. Combining and contrasting various textiles such as carpets, pillows, and throws produces a warm and welcoming room setting.
The bohemian atmosphere is enhanced by including natural materials such as plants and wooden accents, which bring a bit of outside within. The versatility and capacity to meld with diverse design aesthetics are other boho-inspired room that reflects your distinct personality and tastes.
You can incorporate elements from a variety of styles. It all comes down to establishing a calming and appealing space. The boho bedroom ideas also promote freedom of creativity.
This idea offers limitless options for transforming your room into a personal haven full of warmth and energy as well.
Frequently Asked Questions
What Elements Can I Use to Make My Room Look Bohemian?
You can use layered textiles, such as rugs, pillows, and throws. Also, you can use natural materials like wood and plants and mix and match patterns and colors. Add decorative items like macrame, wall hangings, and vintage pieces.
What Type of Style Is a Boho Style?
The boho style means a free-spirited design that blends elements from various cultures and eras. This style embraces vibrant colors, layered textiles, mixed patterns, natural materials, etc., to create a unique and artistic look that celebrates uniqueness and creativity.
What Principles Does This Boho Design Follow?
This design follows the principle of self-expression and a carefree spirit. It prioritizes a relaxed and comfortable atmosphere by including materials that are natural and handmade. This helps in realizing the sense of personal style to create a unique and bohemian-inspired bedroom.