Ceilings are no longer a secondary concern in interior design; they are now a significant part. Elaborate patterns like stenciled, high-gloss finishes and the ever-popular shiplap ceilings now determine the appearance of a room. Any room is quickly made elegant, beautiful, and appealing by adding shiplap to the ceilings. Do not forget the ceiling while choosing the paint shades, carpeting, and furniture. The ceiling is considered the fifth wall of a room.
Without taking up any floor area, a statement ceiling transforms a space. The rustic appeal and texture of the wood beams, paneling, or shiplap lend warmth to the space. These illustrations, suggestions, and stylistic advice for wood ceilings will help you whether you have an existing wood ceiling or are starting from scratch. Wood ceilings can be rustic or modern, and they go well in a variety of spaces, such as the living room, kitchen, bedroom, and bathroom. Wood ceilings can be painted to match a variety of design themes or can also be left natural.
These 20 breathtaking wood ceiling rooms will make you crave one in your own home.
1. Go with a Unique Shiplap Ceiling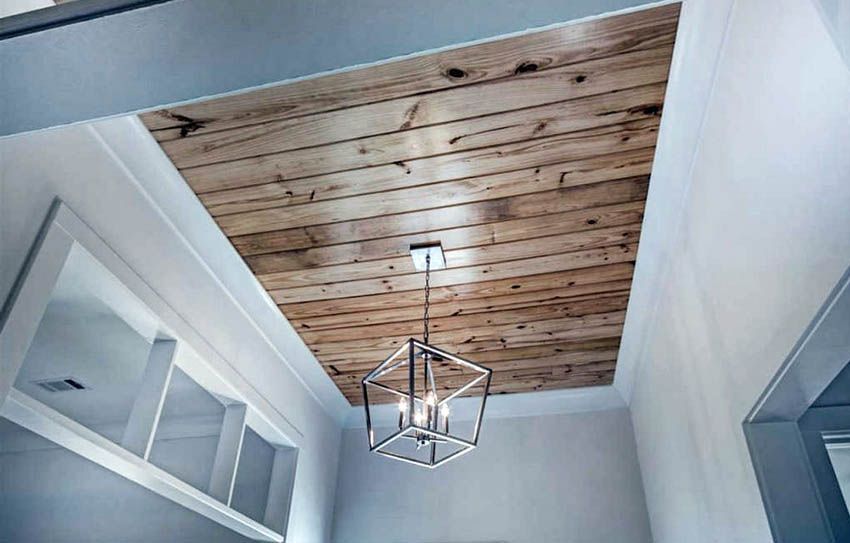 Why adapt to a shiplap ceiling that is painted white? Accept the unique qualities of shiplap ceilings made of a warm, natural feel by the visible grain patterns and warm brown color, which also gives it a touch of warmth. The ceiling and hardwood flooring work in harmony to create a smooth and cohesive image.
2. Bold Wood Beam Contrast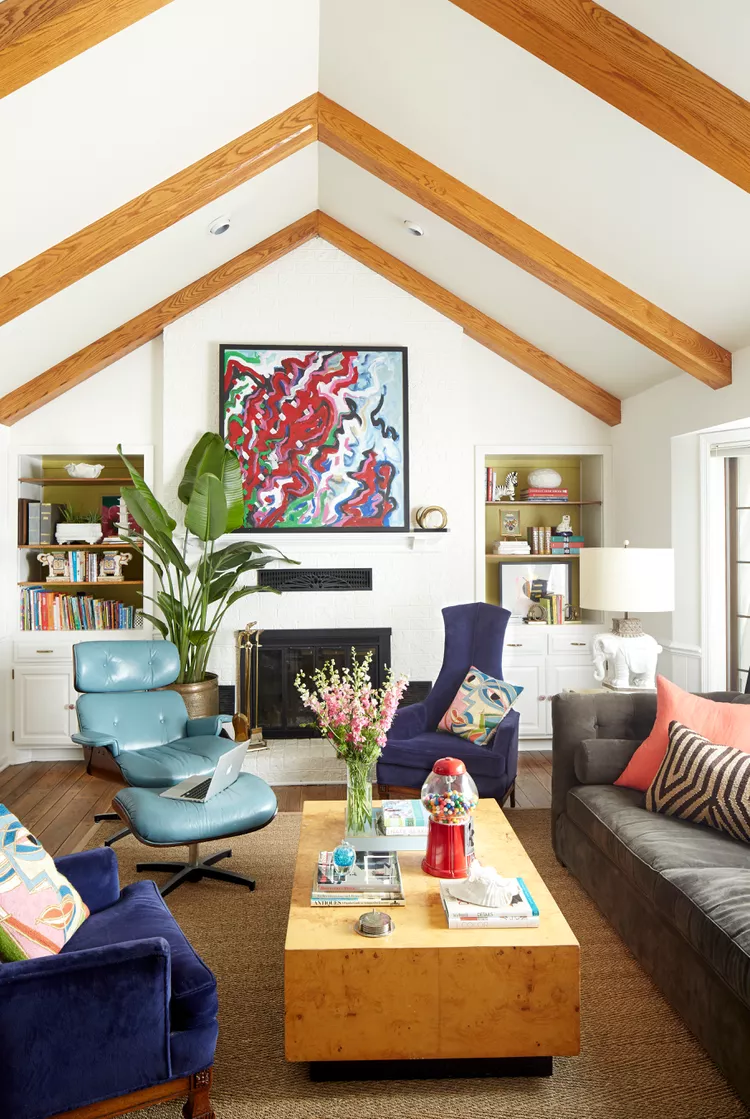 Choose a white color and add two or three evenly spaced wooden beams throughout the room to get the softwood accent on the ceiling. This approach is particularly suitable for spacious areas as it allows for cost savings on wood which are appropriate for large spaces. Moreover, maintaining the majority of the shiplap ceiling in white creates an illusion of increased size and brightness in your room or home.
3. Shiplap Ceiling for Your Bathroom
Bold colors and prints are not always necessary to create a quirky and amusing bathroom. You can provide your room with an ideal illustration with the use of a neutral color combination. The combination of white hexagonal ceiling tiles and stained wood shiplap visibly separate the shower area from the wash basin area instead of using the customary glass or curtain enclosure. This architectural decision not only divides the two spaces but also significantly improves the bathroom's overall appearance.
4. Incorporate Wood Ceilings Into Your Kitchen Space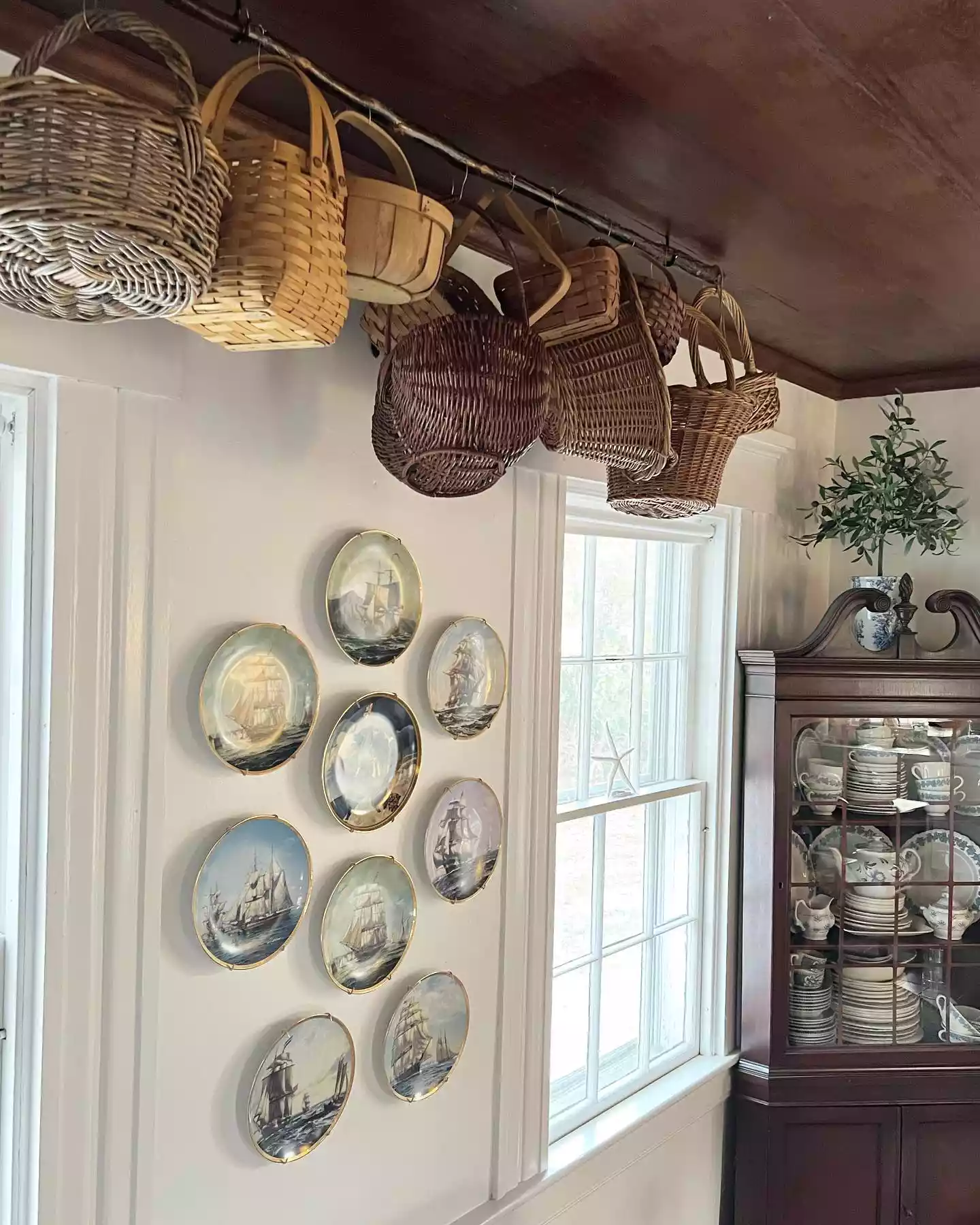 Without hesitation, accept the notion of installing a hardwood ceiling in your kitchen. A properly installed wood ceiling may improve and wonderfully match the cabinetry, giving the room a wealth of visual warmth and improving the overall kitchen design. In this particular environment, the addition of a woven baskethanging from the ceiling would draw the eye upwards and give the area a unique look.
5. Vaulted Shiplap Ceiling, including Wooden Beams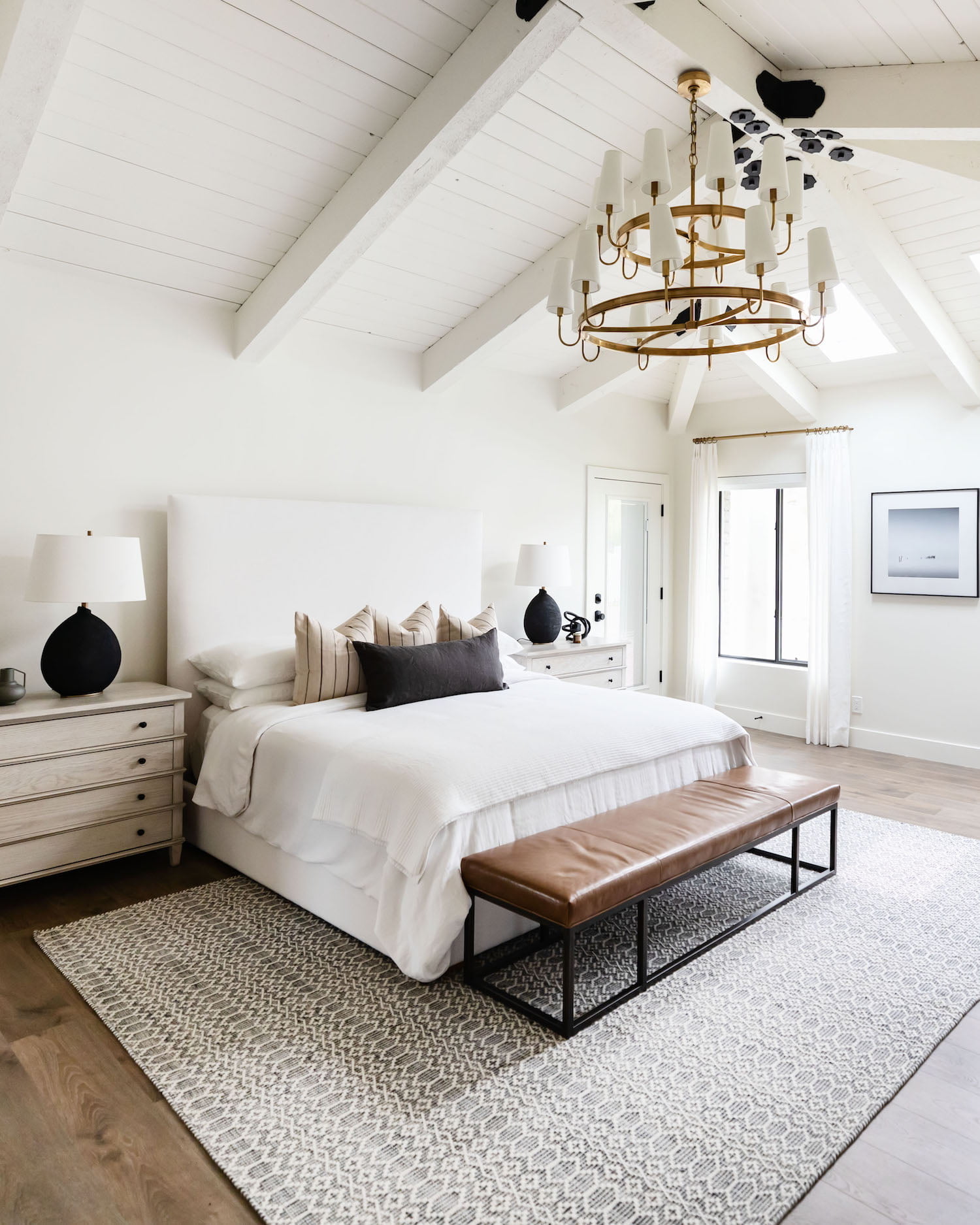 A black and grey chandelier hangs from a white shiplap vaulted ceiling with beams in a beautiful bedroom. You can put a vintage rug made of white and grey beneath a bed with combined wood and beige color schemes, and the chandelier casts a glow over it. The bed can be elegantly furnished with clean white bedding, which gives the space a calm and welcoming atmosphere.
6. The Idea of The Shiplap Ceilingas Well as The Walls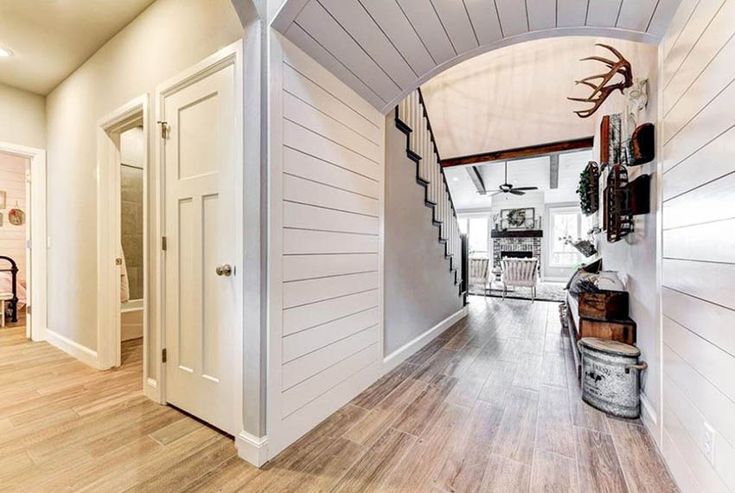 You can install wooden rafters or beams if you want to break up the monotony of the all-white shiplap ceiling in your home. The wood panel in this area could draw attention to the ceilings. They also provide an otherwise neutral environment, a decorative flair, and a cozy burst of color as well. With this idea, you can create a decent-looking house by still giving it a woody house look.
7. Use Some Tricks Now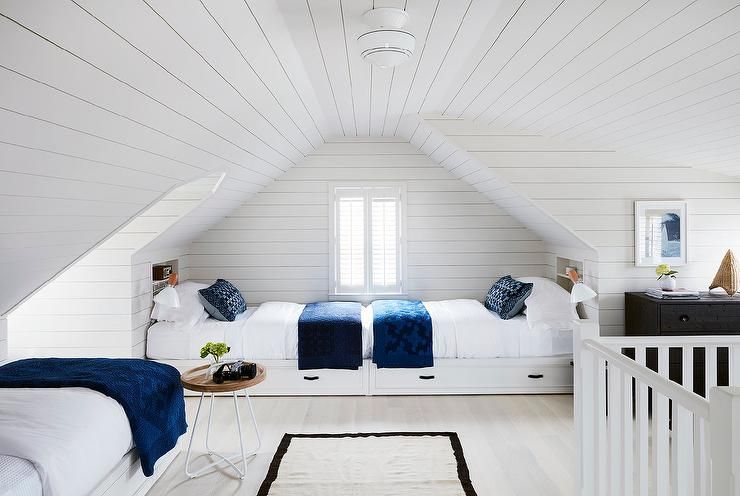 Follow this attic room's lead and paint a small white space to maximize the appearance of the space. The use of horizontal brilliant white shiplap on the walls and ceilings gives the feeling of a larger room, making the bedroom appear larger than it actually is. This decision also creates an airy, light ambiance that would add to the room's sense of openness and brightness.
8. Cottage Style Ceiling Decor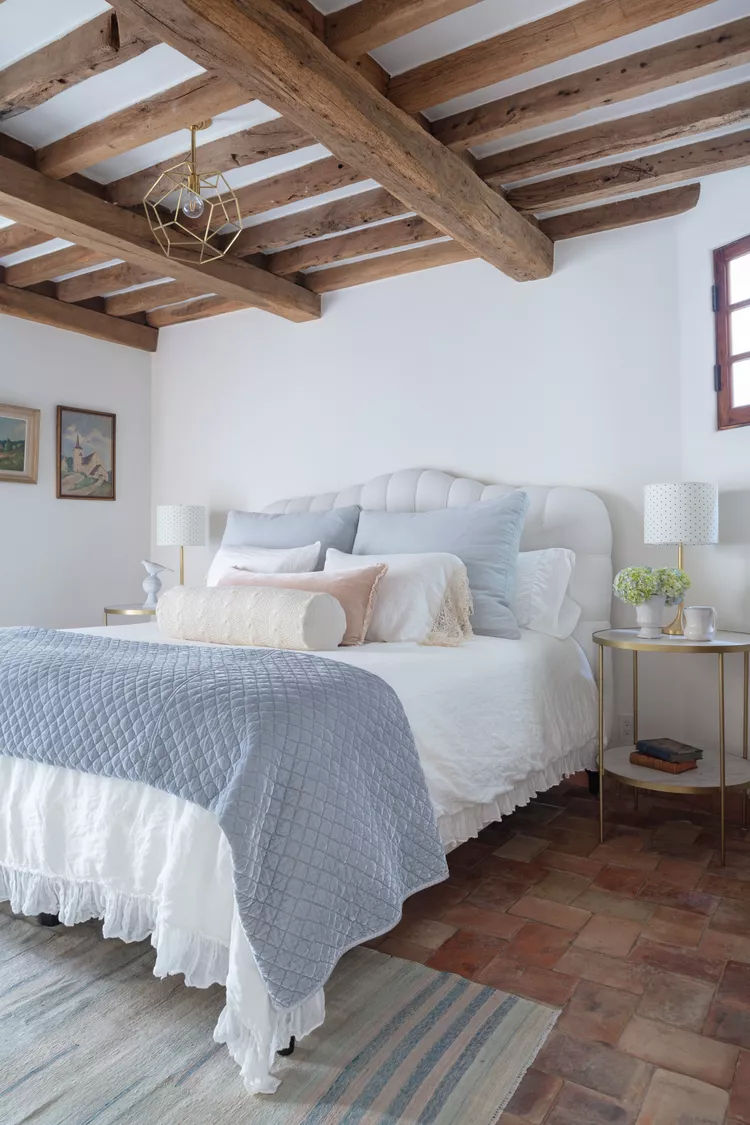 You can embrace the relaxed and rural atmosphere of the cottage style in design. The beautiful exposed beams in this bedroom's driftwood-inspired design give a romantic touch and work in harmony with the room's soft, feminine headboard and bedding. With its rustic feel and well-balanced appearance, this combo perfectly expresses the essence of cottage core.
9. Infuse Toughness with Concrete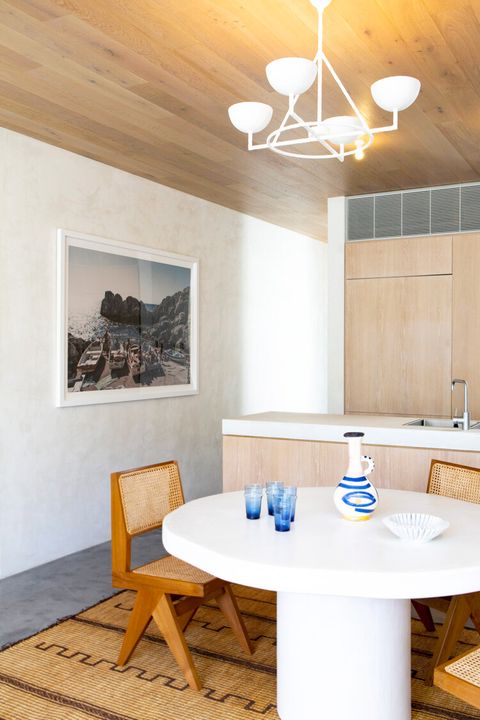 With a variety of textures, including plaster walls, wood-paneled ceilings, and polished concrete flooring, you may design an eye-catching open concept for the dining and kitchen. A beautiful balance between modern and sharp styling can be achieved through the clever blending of raw materials, which is matched by a serene color palette and furniture while still preserving a traditional beach atmosphere. A textually rich refuge of comfort and sophistication, this area offers both.
10. Horizontal as Well as Vertical Pairing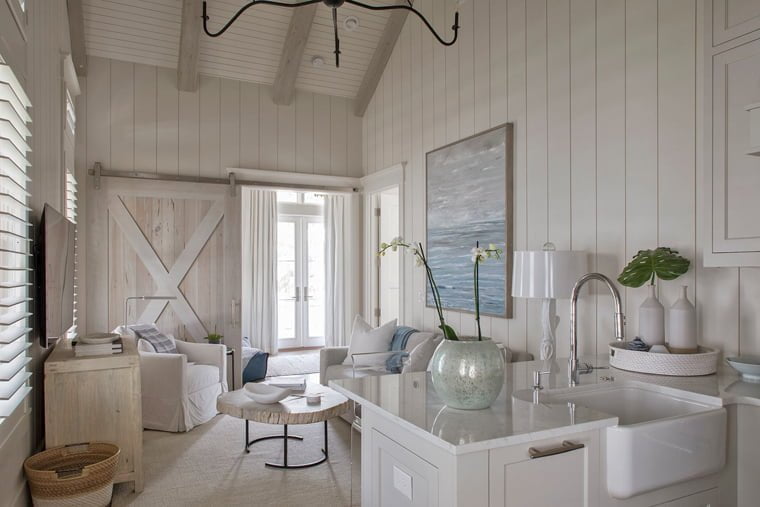 You can extend the use of shiplap to your walls from just the ceiling. Combining horizontal shiplap from the ceiling with vertical shiplap for the walls adds a welcome variety that has an unexpected but harmonious effect. This method gives the area a distinctive and captivating aspect while also giving it a surprising twist.
11. You Can Also Consider only Horizontal Style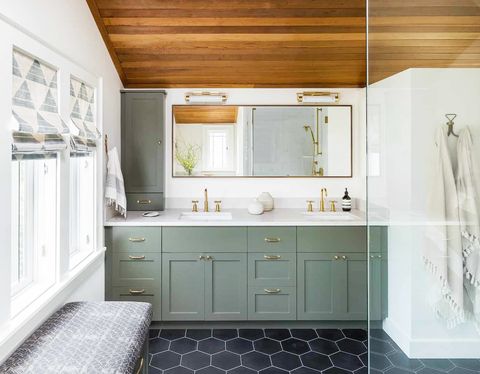 Vertical wood panels might give the impression that the ceiling is taller, but horizontal gives the idea that the room is bigger. This approach excels in cramped areas like toilets. With a slanted wood ceiling, mossy green cabinets, and charcoal floor tiles, this design pays homage to the natural surrounding. The clever placement of the wood panels and the well-considered color schemes improve the room's overall look.
12. Slanted Shiplap Ceilings in a Sunroom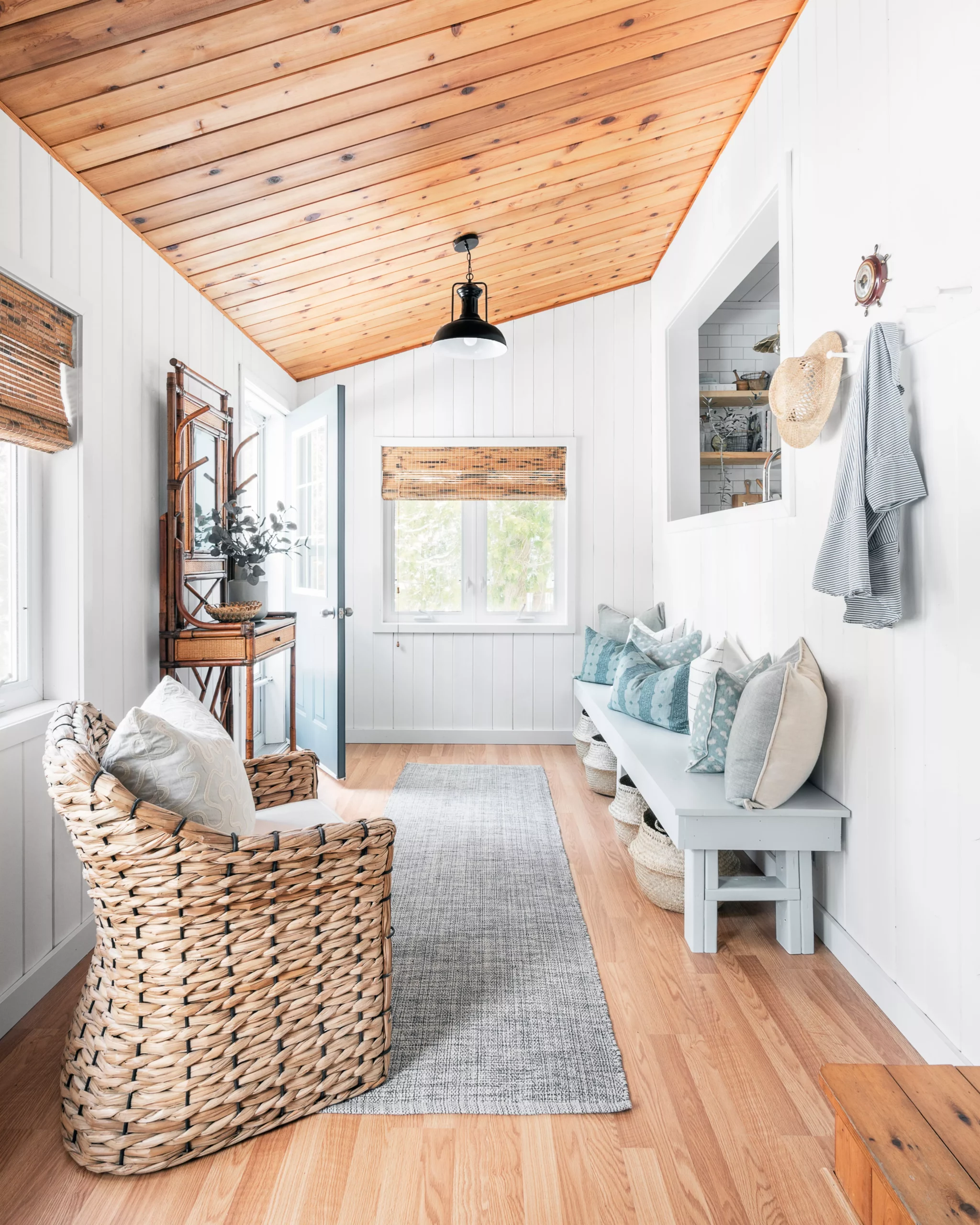 A sunroom is a lovely addition to any house, providing a practical entrance or a peaceful shelter. It is important to coordinate the sunroom's decor with the rest of your house, even the ceiling. This example's sloping ceiling, with its elegant wooden panels, stands out strongly against the bright white walls. The sunroom will go perfectly with the style of your room, thanks to the attention to detail.
13. Unique Finishing with Wooden Touch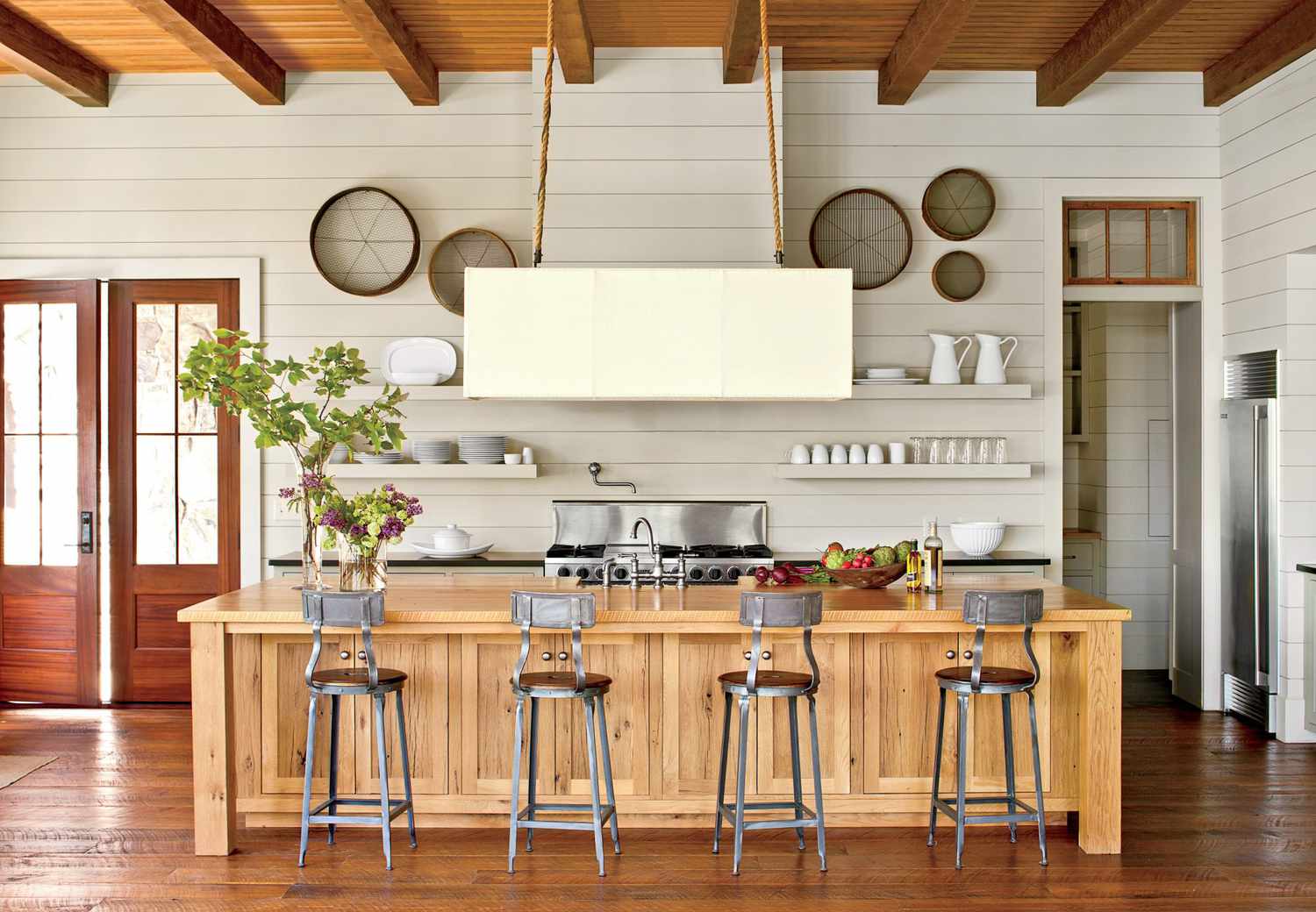 It is important to take varied sizes and finishes into account when using shiplap on both walls and ceilings. The thick white shiplap walls remain quite sharply against the thinner natural wood shiplap ceiling panels. The open shelves and the warm tones of the ceiling create a harmonious and well-designed appearance. The lovely shiplap ceiling elevates from a side effect to the center of this kitchen, seeking interest with its attractiveness and complementing the design as a whole.
14. Surround Yourself with Shiplap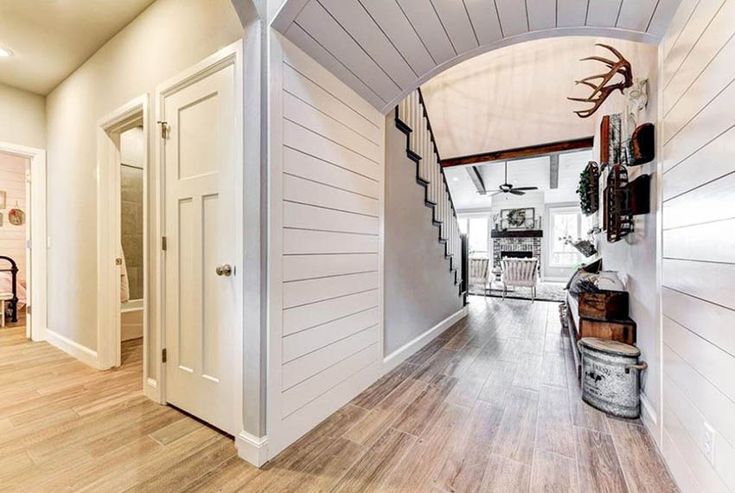 For a harmonizing monochrome effect, go all-out and install white shiplap on your ceilings, hardwood flooring, and walls. Because the eye does not have to concentrate on the ceiling, wall, or floor when these elements are combined, the eye is guided to land on your decor. The open shelves and the wooden chandelier, in this instance, immediately catch our eye and become the centerpiece of the space.
15. Go for Multiple Patterns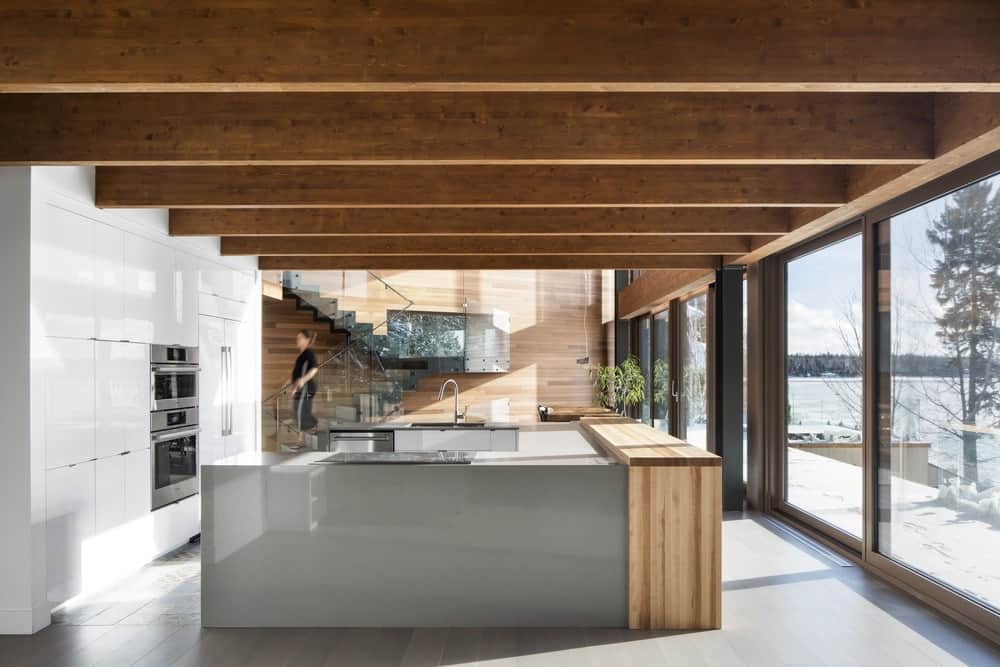 Uniquely patterned plywood ceilings and massive wooden beams assist in visually differentiating the living area and kitchen in your farmhouse-chic setting. Since the walls and the cabinets are similarly white, combining these two will give visual curiosity and the temptation to prevent the look from becoming too bland and boring. This is the reason you must also include this as one of the ideas in your list.
16. Decorate Wooden Beams with Murals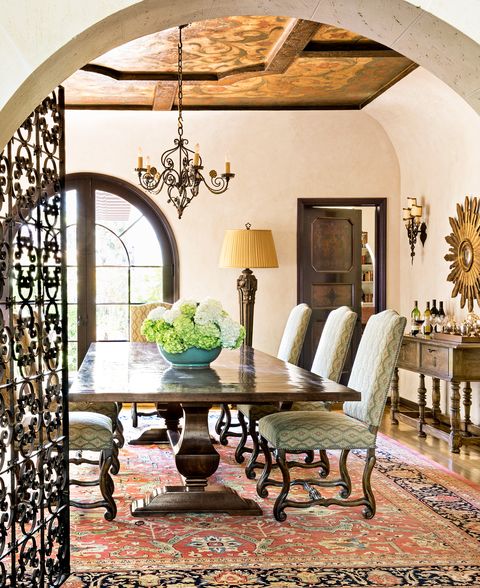 With the elaborate exposed beams framing the ceiling mural in Mediterranean style, the dining room would outshine the elaborate cast-iron door and chandelier, grand dining table, and bright ancient carpet in terms of detailed beauty. The ceiling may add to the carpet's alluring presence and give the room a sense of containment, giving it a jewel box-like feel. The space's outstanding design would create an alluring atmosphere that would be ideal for private dinners and stimulating conversations.
17. Paint Your Shiplap Cielings with Colors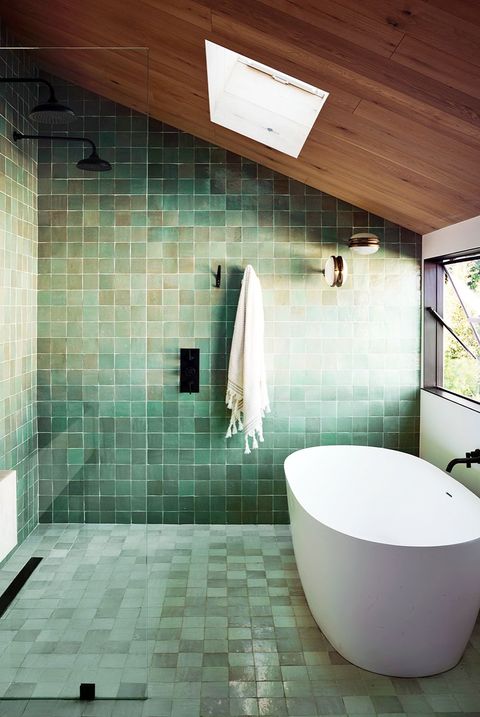 With its wood panel ceiling and emerald green zellige tiles, the bathroom exudes an ultra-modern and earthly style. This combination not only gives the area a refreshing and soothing vibe but also guarantees the room's whole durability. All bathroom fixtures are water-resistant thanks to the floor's tough wall-to-wall green tiling. This systematic design process successfully combines modernity with a homely atmosphere to produce a dynamic yet practical setting.
18. Shiplap Ceiling on The Porch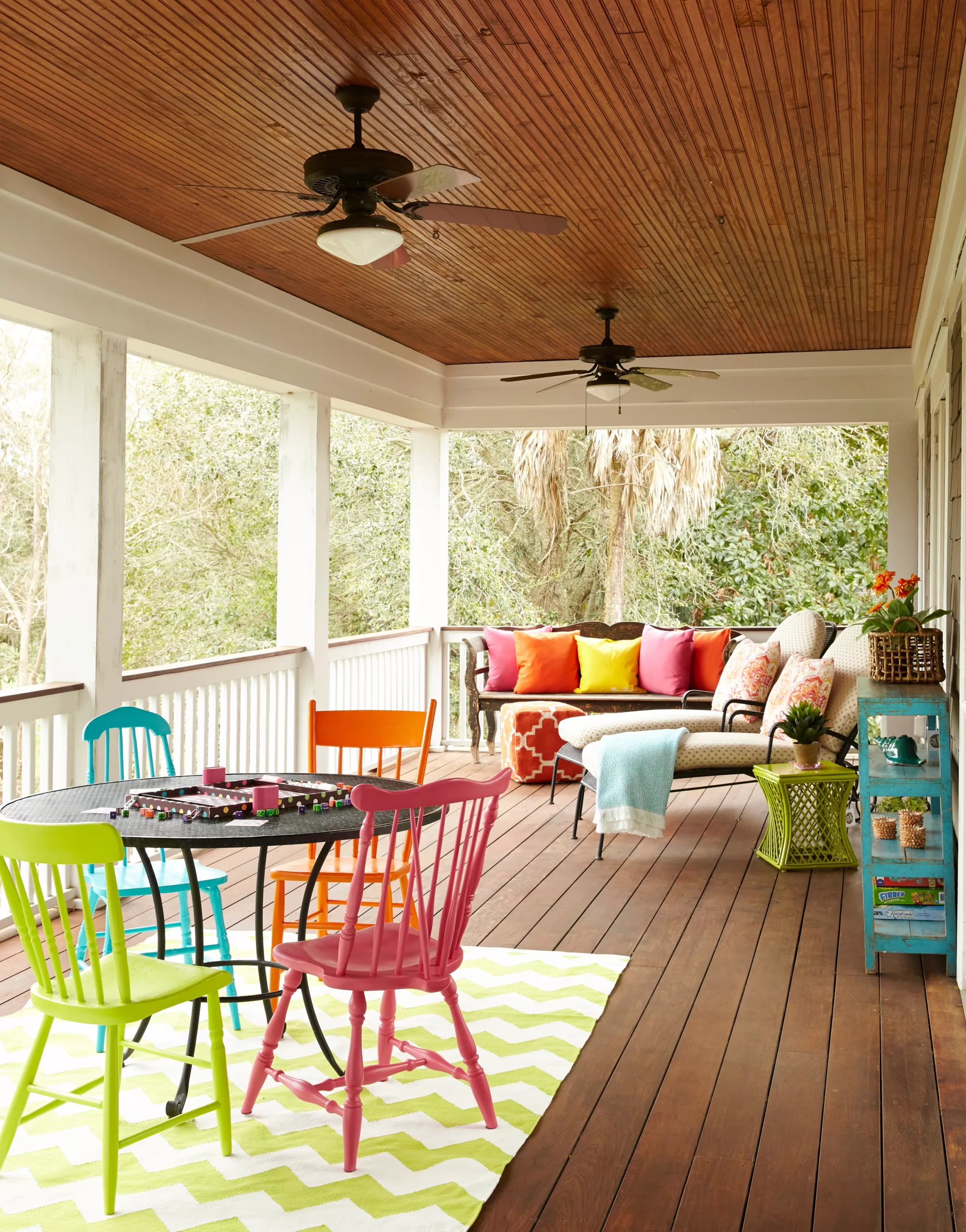 Since a porch or patio is a component of your house, your outdoor ceiling should be designed with the same care as the rest of your home. A wonderful backdrop for the outdoor ceiling fans that will keep you cool even in the warmer months is a beadboard ceiling in a wood tone. So, treat your porch as an extension of your home by giving equal design attention to the outdoor ceiling.
19. From Tip to Toe, Go Wooden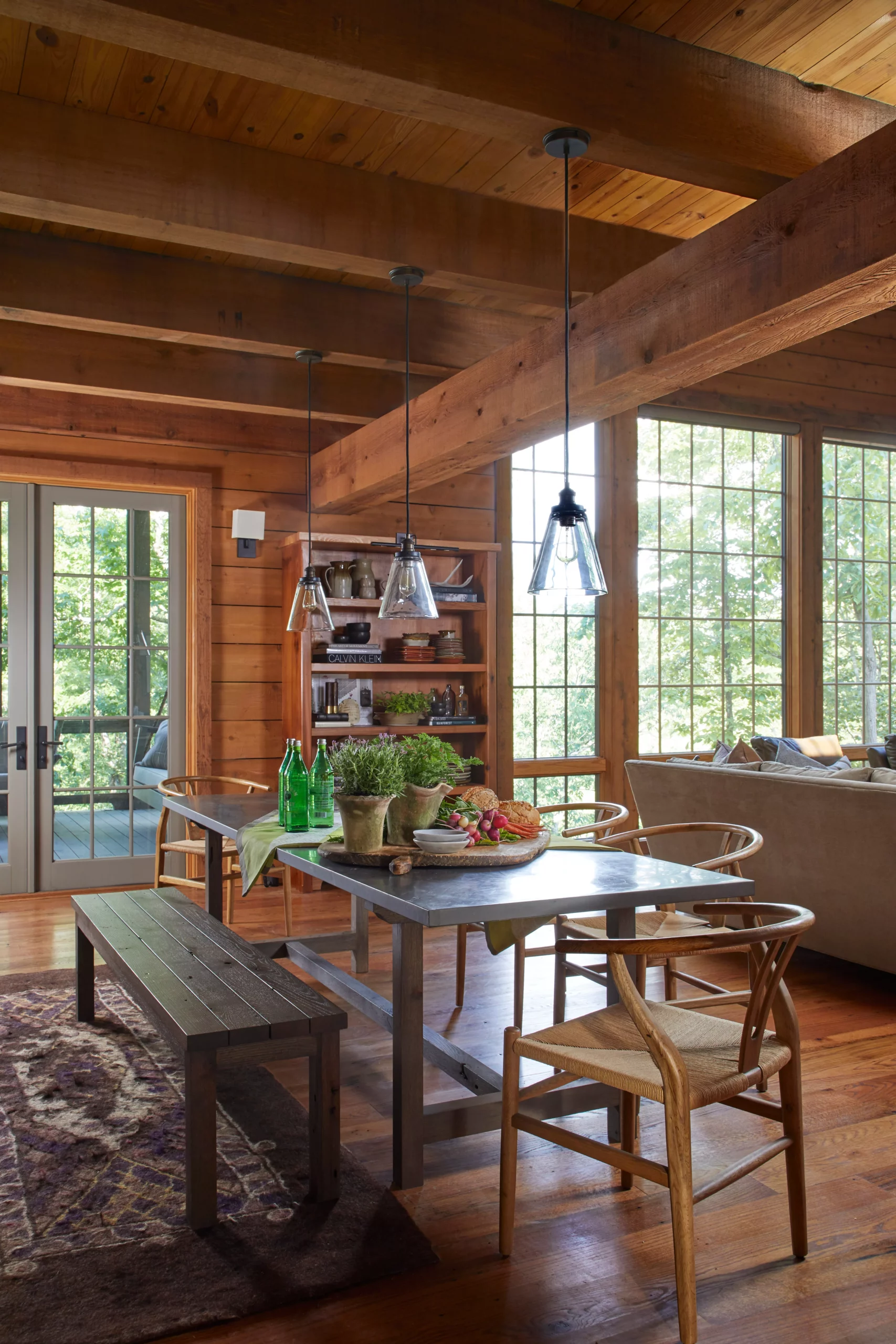 The main point is a beautiful rustic wood-paneled ceiling with visible cross beams that draws attention to its attractive design. The entire design of your living and dining space is improved by extending the wood throughout the floor and down the walls. This intentional use of wood produces a warm and welcoming atmosphere that is symbolic of a cute vacation lodge. Visitors will surely feel at ease and relaxed in this warm environment which creates the idea of a peaceful retreat.
20. Keep It Subtle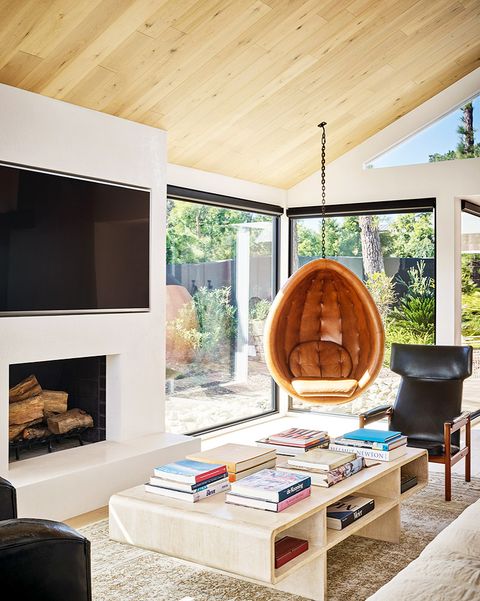 This living room's clean lines and large floor-to-ceiling windows draw emphasis to the alluring outside scenery. The design's simplicity does not imply that it is uninteresting. The hanging leather chair and sculptural coffee table inject the room with an amusing appeal by adding a dash of fun and creativity. Combining these materials results in a subtle yet dynamic canvas that complements the local natural features and provides a relaxing room experience.
Summing It Up
All in all, the design and treatment of ceilings have evolved significantly, with increased attention and creativity being devoted to this often-neglected aspect of interior spaces. Ceilings are no longer just functional elements; they have become an important part of the oral design and setting of the room.
There are several solutions available to improve the aesthetic appeal of ceilings, including shiplap ceilings, wooden beams, contrasting materials, and different styles. Shiplap ceilings can add elegance and appeal to appeal to any room, whether they are painted white for a clean, bright appearance or left in their natural wood tone for a touch of warmth and nature.
Warm tones and apparent grain in wood offer a cozy and welcoming setting, especially when combined with complementary features like rustic decorations or hardwood flooring.
They can produce a magnificent focal point that lifts the eye and gives a space depth. Ceilings may enhance the overall appearance and add a sense of character and flair by including intentional design features, such as exposed beams, distinctive textures, and attention to detail.
Whether it is a modern, rustic, coastal, or minimalist mood, the choice of materials, colors, and finishes can help create the desired environment.
Frequently Asked Questions
What Do You Mean by Shiplap Ceiling?
A shiplap ceiling is a style where wooden boards or planks, known as shiplap, are installed horizontally or vertically to create a decorative and pleasant look. The boards are typically overlapped and fitted together to create a different pattern between each plank.
Is It a Good Idea to Use Shiplap on The Ceilings?
Using shiplap or wooden planks on the ceiling can be, in fact, a great idea as it adds textures, visual interest, and a touch of rustic charm to a space, making it a popular choice for many interior designers.
Is the Shiplap Ceiling Idea Still in Trend?
Yes, this idea remains in trend as it continues to be a popular choice for adding character and warmth to interior spaces. Its versatility allows it to complement various styles of design, making it a timeless option for those seeking a stylish and modern ceiling installation.
Is Shiplap Ceiling Installation Expensive?
The cost of installation on the ceiling can vary depending on factors such as the size of the space, the type of wood used, and the complexity of the installation. Compared to the other ceiling treatments, shiplap is generally considered a more affordable option, making it accessible for many of the customers' budgets.
What Material is Exactly Used in Shiplap?
It is typically made from solid wood, such as pine, cedar, or poplar. These materials are commonly used due to their durability, natural beauty, and ability to create the distinctive overlapping groove pattern that defines shiplap.