A decked-up room looks alluring; among the factors that play a role in amping up the room is the paint plays a pivotal role. The right kind of paint can elevate the look of the room. Several options are available in the market, but choosing the right paint brand assures you the best result. Sherwin-Williams is a trusted name among the different brands available in the market. Neutral shades like white, beige, and cream create a peaceful ambiance.
However, choosing the right quality paint is significant. Sherwin-Williams is a trusted brand known for its exclusive range of color pallets. If you are also planning a home renovation, consider incorporating Dover White Sherwin Williams. The best part about white shade is that it gives you the leverage to experiment and create the aesthetics you desire.
The following segments will take you through 21 ways to useDover White by Sherwin Williams.
Quick Overview of Dover White Shade
At a glance, you may feel that Dover White is just the standard white shade, but the fact is that it is a different hue. It is a warm-tone color with LRV 82. Coming to its appearance, it falls in the spectrum of off-white. It has a yellow undertone, so when you create a contract by partnering it with shades of tan or beige, the yellow shade will be more evident.
Many brands can provide you with this shade, but if we have to make the best pick, our choice narrows down to Sherwin-Williams. It is a Cleaveland-based company that manufactures and sells pain, floor coating, and professional painting-related products. The interior designer prefers the Dover White Shade of this brand for its quality, luster, and longevity. Now that you understand how this shade will look, we can move to the next segment, highlighting 21 ways to use Dover White Sherwin-Williams.
Dover White Sherwin Williams Paint Color Ideas
1. Perfect Canvas for Your Living Room with Dover White Shade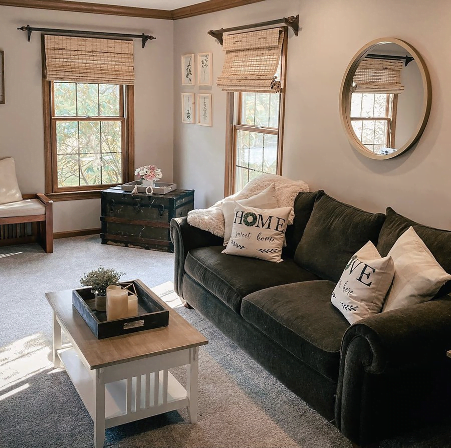 Dover White exudes a sense of calmness, simplicity, and sophistication. If your personality resonates with these adjectives, having this shade in your living room is a perfect way to create a place that reflects your personality. Also, if you look forward to creating a sense of contract in your space, Dover White will justify your requirement. Dover White has a higher LRV, which absorbs light and is a perfect choice for painting the entire room. If you are planning home staging for sale, consider adding this shade, as it will help highlight the architectural elements of your space. You can team it up with tan and brown to create beautiful and eye-pleasing contrast.
2. Create Timeless Elegance in Your Kitchen with Dover White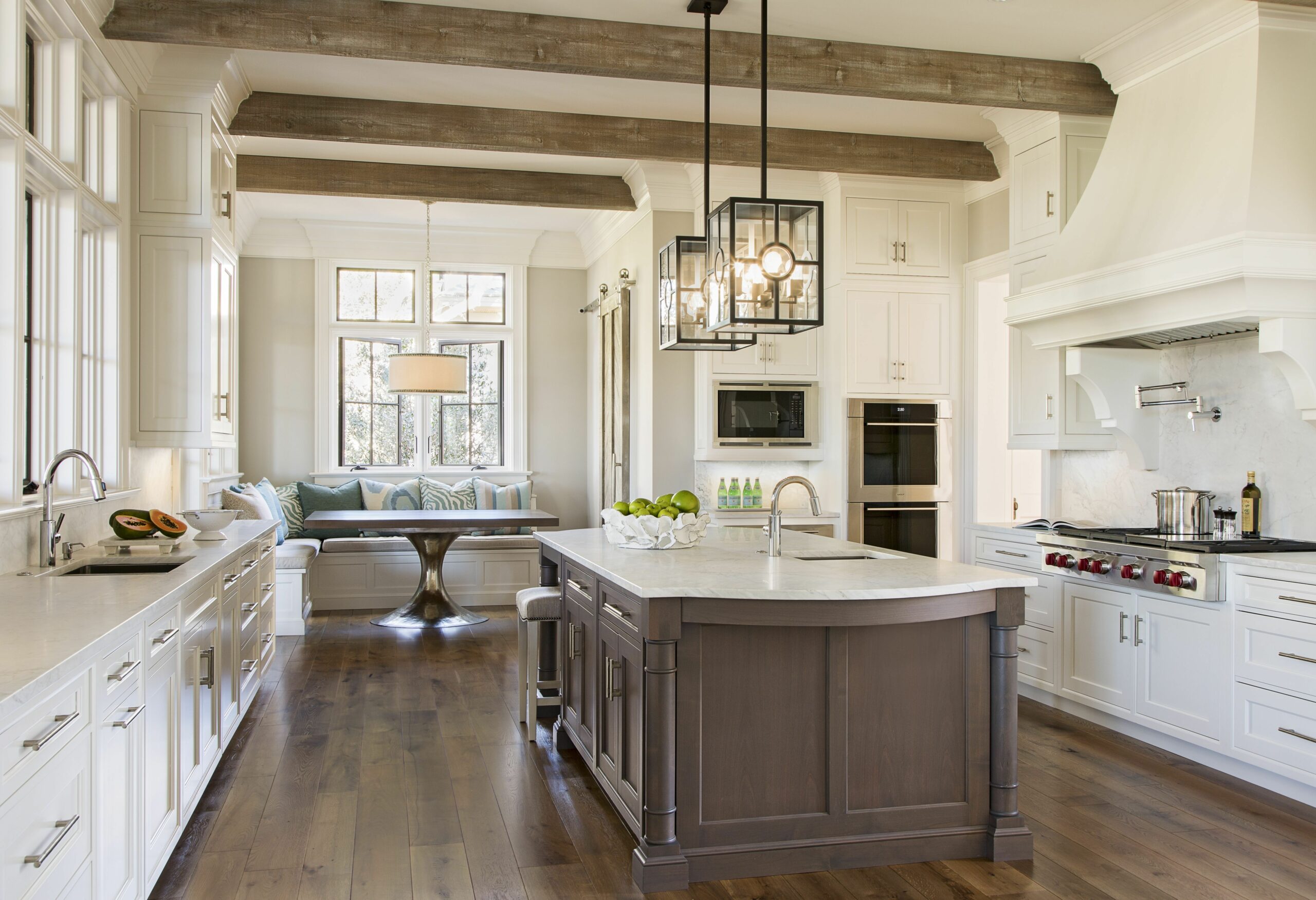 It won't be an overstatement to state that the kitchen is the powerhouse of the home. Over the years, kitchens have evolved from a space to cook to a place where we create memories. And when it is a place of such high significance, exuding the same energy level is imperative. With the right kind of paint, you can easily bring forth the aesthetic element of your kitchen. Playful use of colors and adding texture will do the job. Consider adding Dover White to create a perfect backdrop, team it up with darker accents like hardwood cabinets and black accessories, and deck it with LED lighting.
3. Bring the Luxury of Spa to Your Bathroom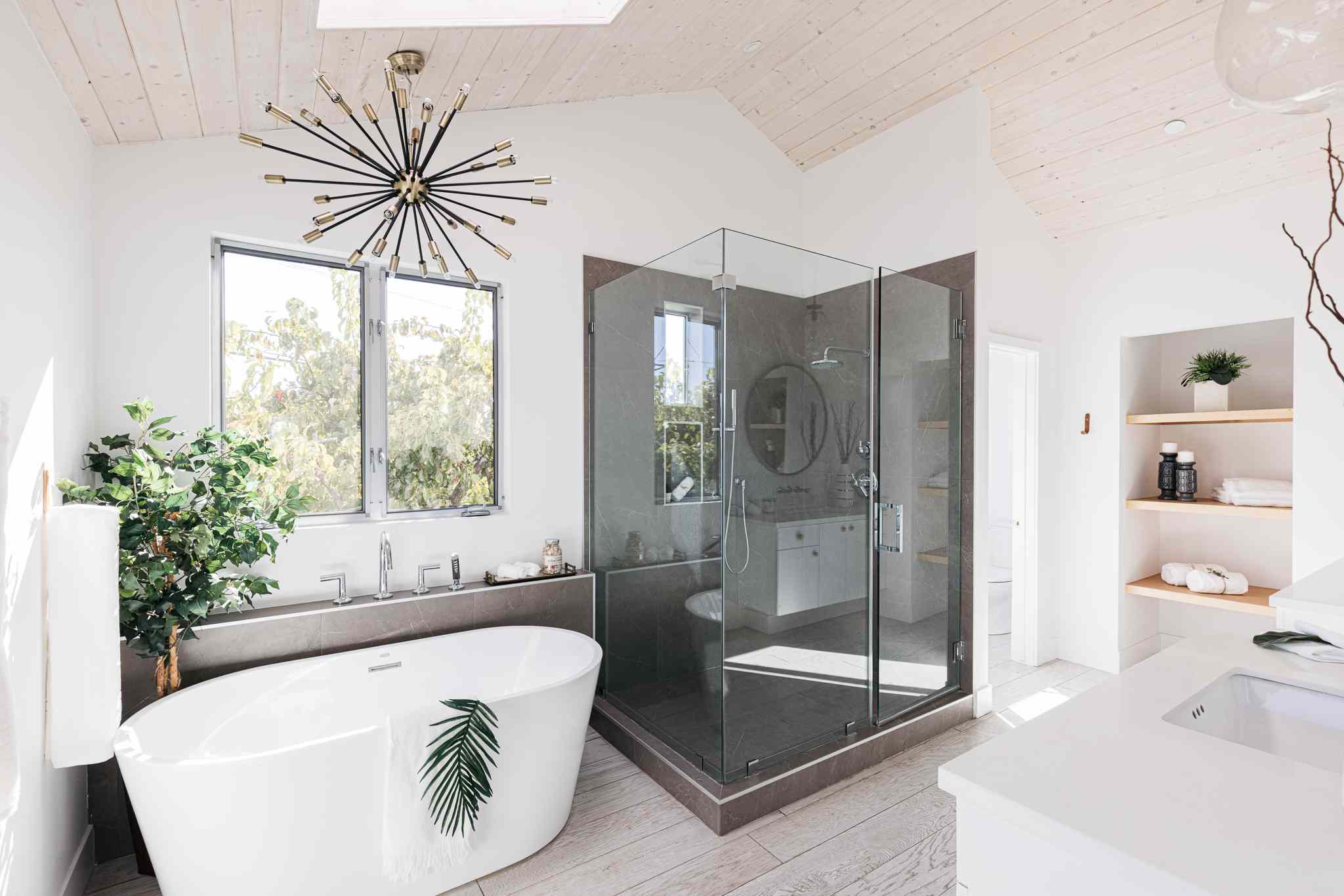 Create a perfect combination of class and elegance with Dover White Sherwin Williams. This color from the pallet of Sherwin Williams is highly versatile. The white shade makes it ideal for your rooms, kitchen, and bathroom. We have previously discussed how to use Dover White Sherwin Williams for your living room and kitchen, and now we will be focussing on how it can amp up the glam quotient of your bathroom. The clean and crisp Dover White shade can instantly elevate the look of your bathroom. One way to use this shade would be to create a contrast in your bathroom. For example, you can choose white for the walls, and for the flooring, you can consider black marble in a herringbone or honeycomb pattern. Finally, you can couple it with golden faucets. You can also consider adding a contrasting shower panel. The monochromatic effect of white will give an element of elegance to your bathroom.
4. Create Your Private Sanctuary of Tranquility in Your Bedroom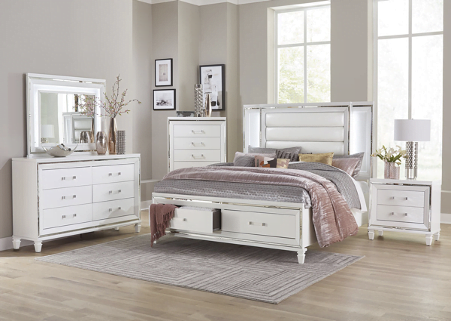 After a long tiring day, you would want to be in your bedroom. It should provide you with comfort and relaxation as you end your day. Hence, every element of your room should exude a sense of peace and tranquillity. What better way than to add the charm of white hues? With Dover White Sherwin Willaims, you are not adding a complete white shade to your room. Instead, its warmer undertone gives it a yellow shade. Moreover, this color gives you a greater scope to experiment with contrasting colors. To create a cozy and comfortable space in your bedroom, you should consider adding Dover White. Combining it with tans, browns, and beige creates a classy combination that will add royalty to your room.
5. Recreate Hues of Elegance in Your Dining Space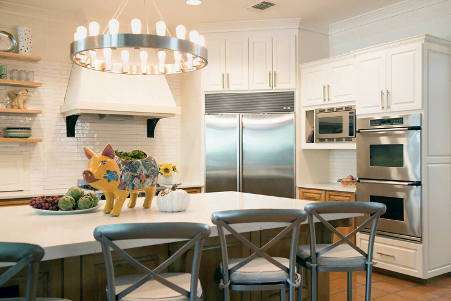 One of the unique features of the white shade is that it helps enhance the space. So, if you have space constraints but want to give your room an appealing look, you should consider adding Dover White Sherwin Williams. The creamy white paint oozes luster and shine. It easily harmonizes with the space while making it look more alluring. To outshine it, you can create a contrast with dark wooden furniture. It makes a timeless appeal. Consider adding wainscoting or chair railings to your dining space. This creates a patterned backdrop that amps up your dining space.
6. Use Dover White to Create a Welcoming Foyer Design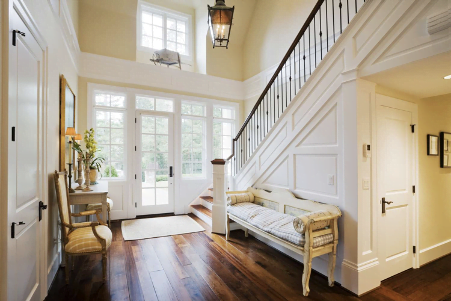 Creating a warm and welcoming space for your guests is essential. It lets them feel welcome. You can use Dover White shade to create a bright and welcoming ambiance. Another way of using this shade by Sherwin Williams is to highlight architectural features like wall molding and wainscoting. Don't miss to couple it with a pendant light or chandelier. Adding a rug and a seating area in contrasting colors will further amp up the look of the space. Adding more vibrant hues, you can add a pop of color to the entryway. Adding a splash of rainbow elements will further enhance the look of your foyer.
7. An Eye-Catching Appeal with Accent Wall in Dover White Shade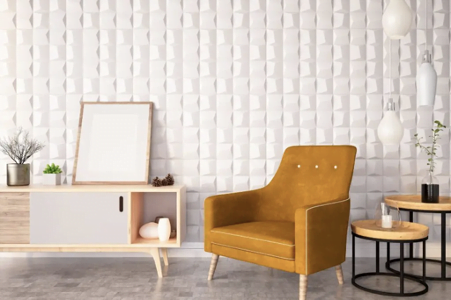 Dover White is the trending color of the season. Its unique appeal makes it one of the best choices for your room. However, if you don't want to go in a completely white mode for your room, you can consider creating a textured accent wall using Dover White. Select the wall where you want to create a focal point to start the process. Begin with cleaning the wall, followed by adding a coat of paint. Once ready, deck it with some artifacts, or create a textured element like the picture.
8. Take the Whites to The Exterior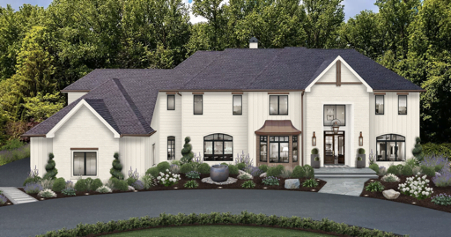 The exterior of your house is a reflection of the people who reside in it. Hence, it must be stylish, classic and make the house stand out. One of the ways to enhance and accentuate the house's looks is by playing with the architectural elements. To strengthen it further, you can choose the right kind of paint. Dover White from Sherwin Williams can be a great choice here. It pairs well with natural green, stone, wood, and brick. Adding black windows and lighting can create a beautiful contrast.
9. Experiment to Create a Nautical Theme with Dover White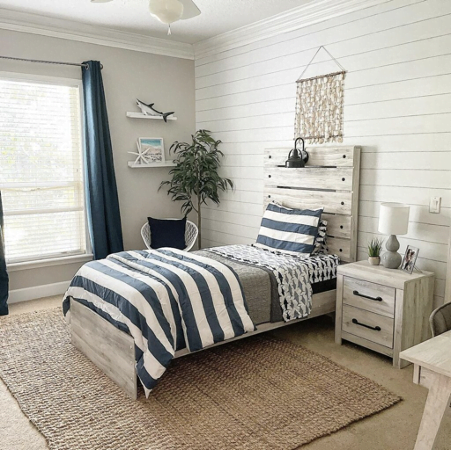 Are you experimenting with the look of your room? Trying to bring the nautical hues to your place? Consider adding Dover White as the backdrop. You can add elements of blue to create a perfect match. If you don't want to spend too much on painting, add furnishings in shades of blue, like striped or nautical print cushion covers or bedsheets. Sheer blue curtains are also perfect for making your room look like a reflection of a scenic beachside. Yet another element that you can add here is a coastal theme-inspired artwork or figurines.
10. Dover White for Kid's Room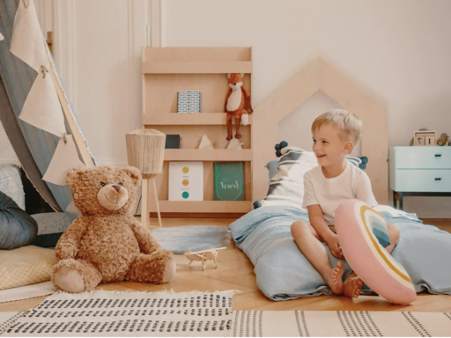 Designing the kid's room can be tricky. From choosing the right kind of accessories to the color choices, everything should come together to create a vibrant and lively ambiance. Dover White can be a good choice for kids' rooms. You can use it for the entire room or build an accent wall. The white shade can be coupled with other hues like pink, blue, peach, tan, and brown to create a playful atmosphere in the kid's room. The white shade exudes a sense of peace and tranquillity, making it a perfect choice for your little one.
11. Create a Feminine Glamor with Dover White and Soft Pink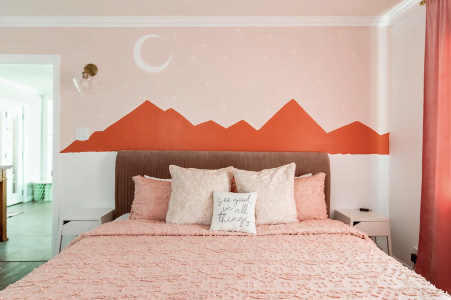 If you are looking to create a refreshed look in your home and want to experiment but don't want to take things overboard, in that case, you can play with the colors. For example, if you're giving a more feminine appeal to your room, you can consider mixing Dover White by Sherwin Willaims with a soft pink shade. The pastel pink shade is the best choice. The other option you have is peach or lavender.
12. Bring a Breath of Fresh Air with Dover White and Blue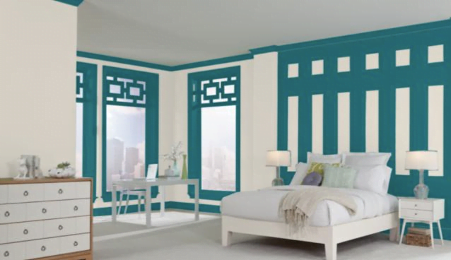 We have already mentioned the nautical hues in your room. Consider contrasting white and blue if you want to add some fresh air to your place. Instead of keeping it sublime by adding a minimal blue shade, you can create a balance of two colors, making it look like an ocean. It looks appealing and is perfect for the summer. We recommend it start small and then take up the project for the entire house.
13. Extraordinary Hues Using Dover White for Cabinetaries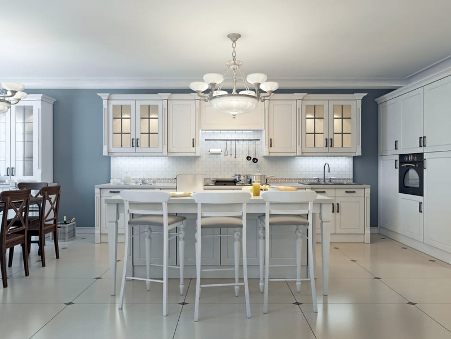 Cabinets are integral for any house. These are perfect organizers and also enhance the aesthetics of the space. The excellent part about cabinetries is that they are available in different styles and designs. However, if you want some added sophistication, consider Dover White by Sherwin Williams to paint the cabinets. Mounting it on the darker backdrop will create an appealing contrast and give your space a more defined element. You can even choose subtle shades of blue and gray to create this contrast.
14. Create Boho Vibe Using Dover White by Sherwin Williams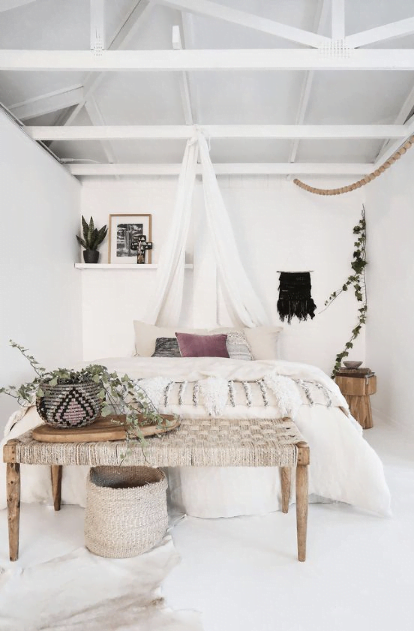 If you are willing to add a vibe of vibrance to your room and want to give it a boho vibe, consider adding a Dover White shade. It creates an incredible backdrop you can easily decry with vibrant accessories and artifacts to make it look more eclectic and appealing. You can pair the Dover White shade with an assortment of textures, like adding a macrame wall hanging, and you can also choose macrame lamps or a woven bench to create a warm appeal. To give it that extra oomph factor, consider adding pops of color with vibrant throws, pillows, and patterned curtains. All this comes together to create a beautiful boho vibe in your room.
15. Use Dover White to Highlight the Details of Trims and Moldings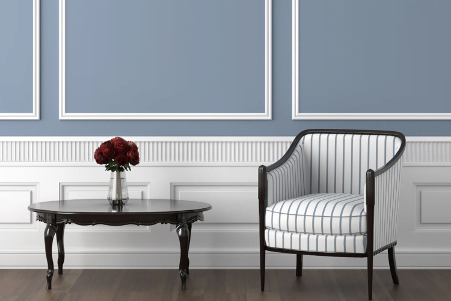 While the above pointers would have given you an insight into how we use Dover White by Sherwin Williams for your rooms, you can also use this shade to highlight specific details of your room. Dover White can be the shade of your interest to create a focal point in your room. The clean white shade is perfect for highlighting the intricacies of the trims and moldings. You can use this for door casing, baseboard, and wainscoting. The white color enhances the intricate designs, thus making them look more alluring.
16. Layer It Right Using Dover Whites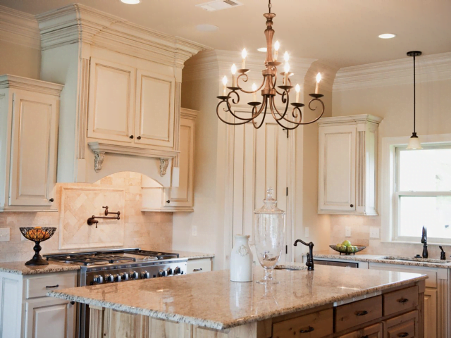 Yet another way to experiment with Dover White shade is to use it for layering. It adds an element of glamor to your space while keeping the classy appeal in place. You can use the Dover White shade for trims and molding, followed by adding darker shades to highlight the architectural element. It creates more depth and makes the place look highly versatile. You can replicate this idea in your room, foyer, or kitchen.
17. Bring the Element of Peacfulbess and Tranquility with Dover White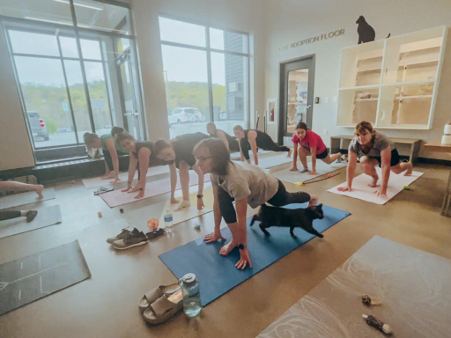 Yoga and meditation play an essential role in enhancing physical and mental well-being. People often prefer to have a dedicated room for this. Using the right toe of color helps in bringing peacefulness and improves concentration. The Dover White Shade exudes a sense of calmness and tranquillity. It creates a perfect atmosphere where you can focus and relax. The soft and neutral tone helps in adding an element of relaxation. It boosts the ability to focus, thus making it a perfect choice for a yoga or meditation room. You can also use it for your library or study room. Don't miss adding earthy elements to the room to complete the look.
18. Create a Perfect Office and Workspace Using Dover White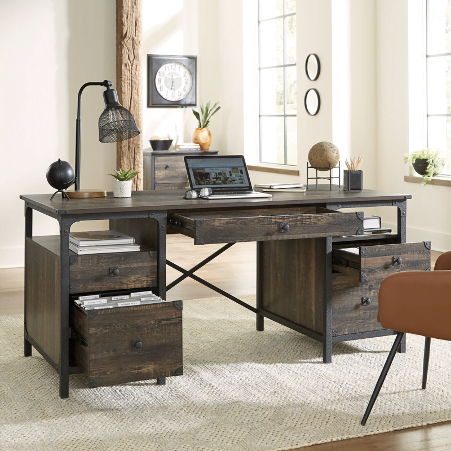 As working from home is becoming a norm, and most people are now willing to continue working from home, you, too, can create a space for yourself. Dover White is the right shade to make your home office. You can create a productive work environment using the combination of rose pine and grays along with Dover White. Don't miss adding the proper lighting to make your room look lit.
19. Showcase Your Artistry Using Dover White by Sherwin Williams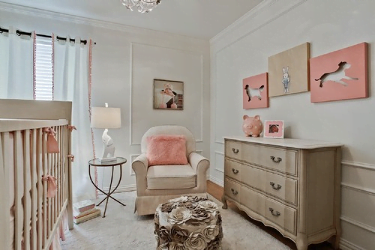 Dover White by Sherwin Williams will create a beautiful canvas if you love art and want to showcase your skills. The neutral shade doesn't overshadow the artwork. Instead, it highlights the same. In addition, you should also focus on adding the proper lighting to enhance the overall look and appeal. The right kind of lighting can significantly impact the room's overall look.
20. Transform Your Outdoor Oasis with Dover White Sherwin Williams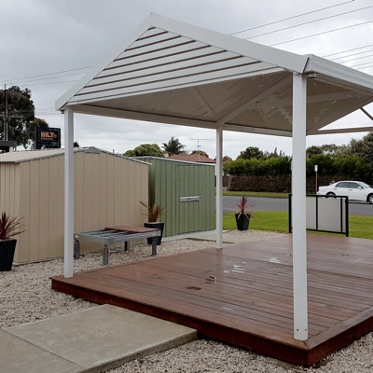 The patio is not just an extension of your house, but at the same time, it also enhances the value of the property. Using the right shade of color, you can instantly accentuate the look of the patio. The white color can create a solid base to add decorative elements. You can easily accommodate plants, furniture, and other accessories that will enhance the look of the patio. Moreover, you can add colors like vibrant rugs, throws, pillows, and planters to make it look more appealing.
21. Illuminate the Ceiling to Create a Spacious Vibe in Your House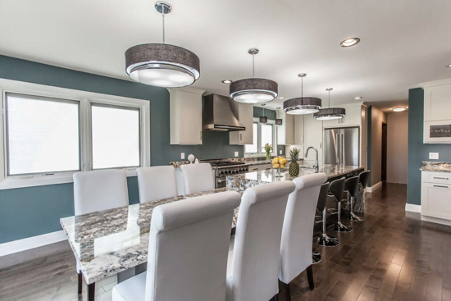 The Chris and clean Elegance of the white shape is unparalleled. You can use this shade to highlight at eliminate the feeling. The warmer tone of the Dover White by Williams is an excellent choice to highlight the ceiling. Moreover, you can also use it to highlight the trim and accent on the ceiling. Thus it gives a more regal appeal.
Wrapping It Up
All in all, choosing the white shade for your space is your preference. However, the yellowish undertone of the Dover White by Sherwin Williams makes it a perfect choice for your home. If you want to illuminate the ceiling to deck up your living room, you can consider adding this shade of white. Dover White by Sherwin Williams is a versatile color, and you can easily create a contrast using shades of tan, brown, or gray. Moreover, you can also use a combination of cyan, lavender, or pink with Dover White.
Make sure that you hire a paint professional for this task. They ensure the color application is apt, and you can get the desired look. Moreover, with the Dover White shade, you can create timeless elegance.
Frequently Asked Questions
Is It a Good Idea to Use Dover White for Small Spaces?
Dover White by Sherwin Williams is a trusted color choice by professional painters. Although it belongs to the white shade, it has a tint of yellow undertone. Thus making it appear to be on an off-white or cream tint. This color is higher LRV, making it a perfect choice for painting the entire room. If you have a smaller space, consider adding a Dover White shade. The lighter color makes your room look more spacious.
Is Dover White a Good Choice for a Farmhouse Style Room?
The farmhouse-style room looks cozy and lavish. With the right choice of paint, you can easily enhance the aesthetics of your place. Add Dover White paint and accentuate it with contrasting accessories or highlight the architectural pieces to make your farmhouse look even more extravagant.
Is Dover White a Good Choice for Exterior Walls?
The house's exterior plays a very significant role in enhancing the home's overall aesthetics. Choosing the white shade and creating a contrast with stone or brick gives it a classy and elegant appeal The right kind of color can instantly amp up the look of the entire house. Also, ensure you hire trained and qualified professionals for this task.