Dogs love their freedom to run, move and walk. When you get a pet as a dog, they somehow lack playfulness, even if you take them on regular walks. Hence, finding the right way for them is to get a dog fence for your yard. You can easily build your own yard at home or get it customized by outside vendors.
If you have a yard or a small garden outside your house, then getting a dog fence for your yard is a must. It will not only protect your dogs from getting stolen or running away, but you can also keep them in place when you have guests at home. No matter you have a small house or a big one, you can easily build something safe for your dog at the house.
Hence, if you are looking for a safe space for your little furry friend, then this article is for you. We are here with 18 dog fence ideas for your yard that you and your fur baby will love.
18 Dog Fence Ideas for Your Yard
Dogs are one of those creatures who love running around freely. However, it can get difficult to keep them loose because they can run away from you or get stolen. Some can even get a little aggressive and bite your neighbors. Hence, getting a dog fence will help you give them a comfortable space to play and enjoy their time around. You can DIY your dog fence, or you can get something online.
Here is a list of 18 dog fence ideas that you can use in your yard.
1. Temporary Dog Fence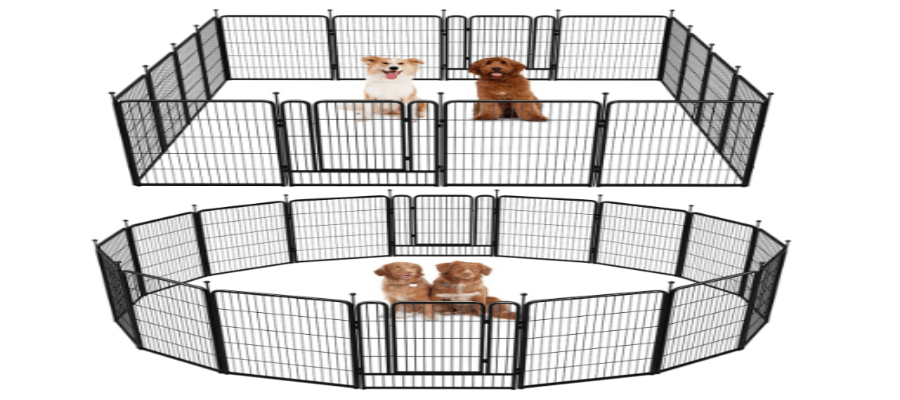 A temporary fog fence is a great option for pet owners who live in a rented house with big yard space. It is easy to put up and take down and can be switched conveniently. The temporary dog fence gives you the security to let your small to medium-sized dog roam freely in the backyard without stress. If your furry friend is a little aggressive or too playful, don't be afraid to invite guests because this will help you to keep them in check. If you are looking for a temporary dog fence idea, then you can invest in this FXW Rolling Dog Playpen. It is available in various sizes and panels. You can buy the one as per your need. It is easy to assemble and comes in handy.
2. Wooden Dog Fence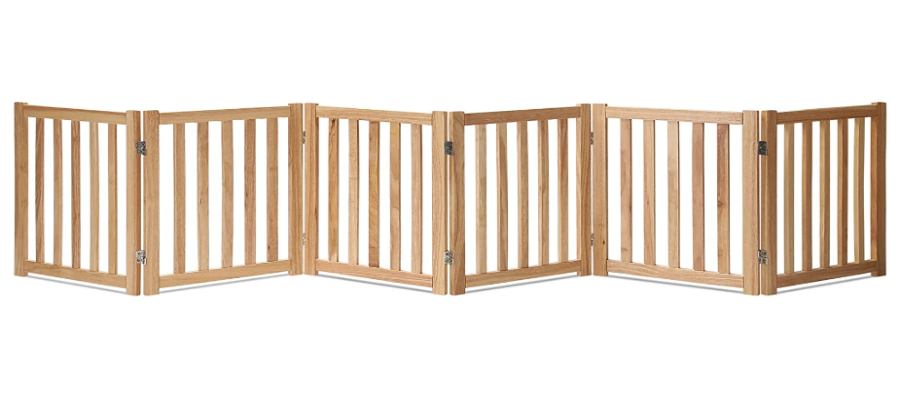 If you are not a big fan of metal and metal fences, you might be interested in a wooden dog fence idea then. A good wooden fence will not only protect your dog from stray dogs and wild animals but also from traffic and cars. It is a great way to keep your dog outside in the yard and not compromise on anything. You can easily make it open or marrow, depending upon the size of your open space. Getting a wooden fence is a great thing to have in your yard, and if you are planning to get one, then the LZRX Oak Wood dog fence is available. It can be easily used and made from solid wood.
3. Wooden Dog Fence with a Peek-a-Boo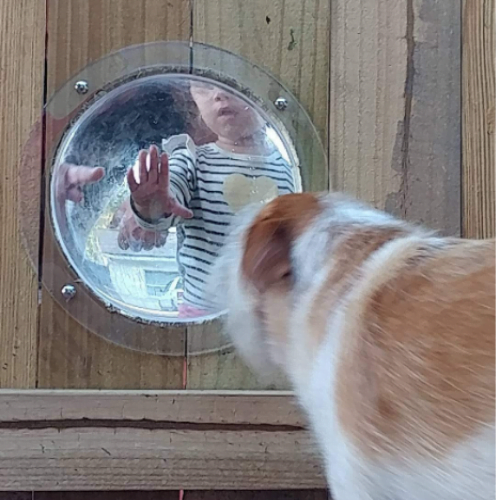 If you don't want to restrict your dog to a closed fence, then an option for a peephole dog fence idea is best. It will not restrict your pet and can take great exposure to nature. You can adjust the opening as per your need, but make sure to keep a check on the size of your dog. So that it can easily stick its head out safely and comfortably. A wooden dog fence with a peek-a-boo is quite a deal to find, but for you, we have found EXPLORER 2-Pack Dog Fence Window. It is a perfect window for your dog to see outside the fence.
4. Chain Link Dog Fence Idea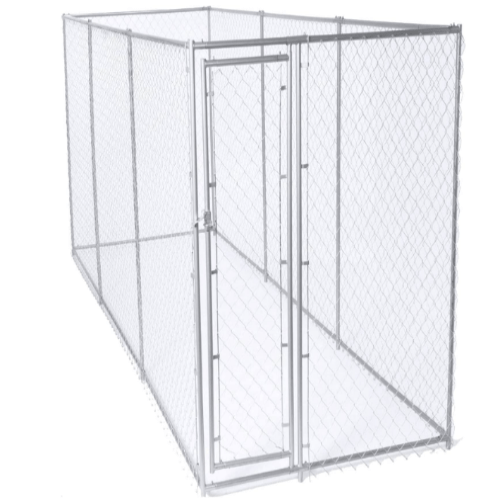 Unlike regular wooden fences, chain link fences are great for dogs who are curious to look at people outside. Chain link dog fence ideas are quite affordable and available all over the country. It is also available in various sizes and colors. The best part about buying a metal fence for your garden is it is low maintenance and has a long life. However, even if you damage the fence, repairing it is quite easy and quick; you can even do it yourself. Lucky Dog 61528EZ 10′ x 10′ x 6′ Heavy Duty Outdoor Galvanized Steel is a perfect chain link dog fence idea for you. It is made with good stainless steel that is durable.
5. Fences for Small Dogs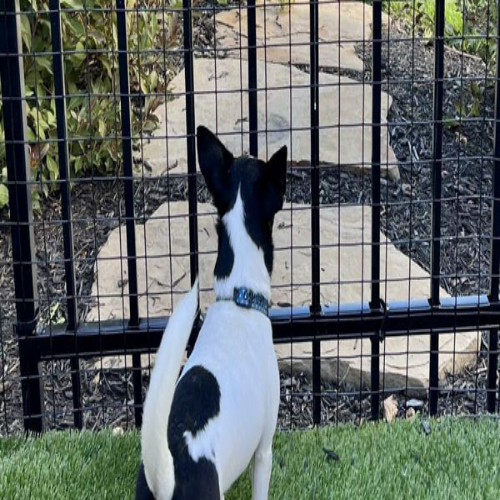 If you have a small fur baby at your house, then buying something huge like a prison is not appropriate. This dog fence idea gives any small to medium-sized dog plenty of room to play while gardening and doing household chores. Also, if you are afraid of pooping on your lawn on Driveaway, this fence will allow your dog to play outside without getting hurt or biting someone. The right fence for your small furry friends is Lucky Dog Fence which will keep them in a safe space.
6. Affordable Dog Fence Ideas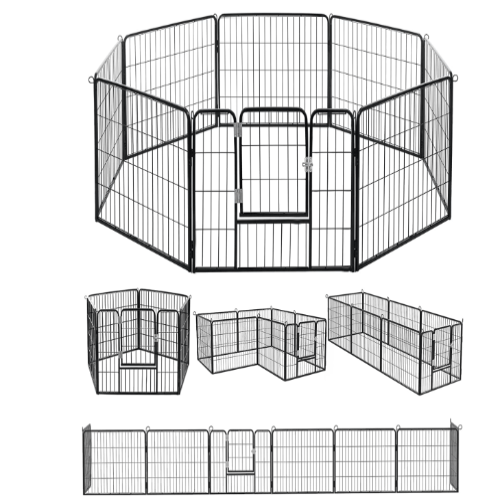 Are you also low on budget? No problem! This netting is cheap and flexible and can be moved anywhere. You can easily set it up during the summer and take it off when it is winter season. This is quite perfect for small to medium-sized dogs as theft don't excessively chew or dig and will be away from predators. Lastly, netting is widely available, and you don't have to burn a hole in your pocket even if it gets damaged. PUKAMI Dog Fence for Dogs is an affordable dog fence idea if you are tight on your pocket. It is quite sturdy and comes under 70 USD.
7. Patio Dog Fence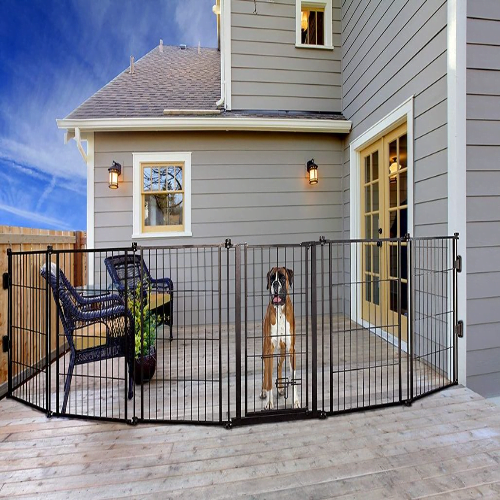 Want something that's indoor and outdoor-friendly only for dogs, then this patio dog fence idea is for you. By using a patio dog fence, your pet can enjoy the outdoors without getting his paws dirty and still go inside to stay in touch with family. It also prevents stray animals from entering your garden. Also, if you have small children at home, then it is a great option as it will not get them injured. You can shop for a patio dog fence if you want to keep your dog safe. It is a perfect dog fence to fit in your outdoors and provide your dog's security and fun.
8. Wire Dog Fence Idea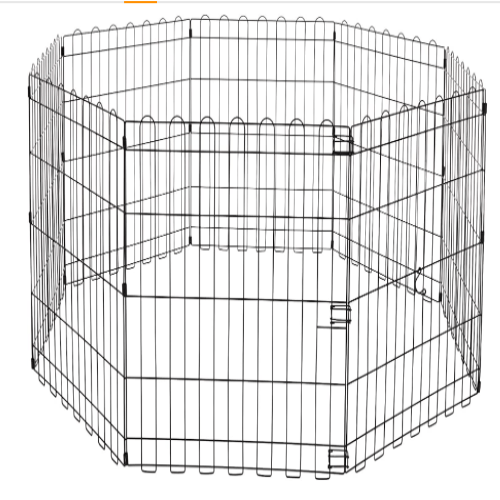 Wire dog fences look great on overgrown yards and make them look nearly untouched. In wooded areas where wildlife can attack your property, you can be assured that your pet will be safe. The transparent design allows your dog to warn you of trespassers who might be dangerous to you and your family. If you are planning to get a wired dog fence, then this one from Amazon Basics is a perfect fit.
9. Metal Dog Fence Ideas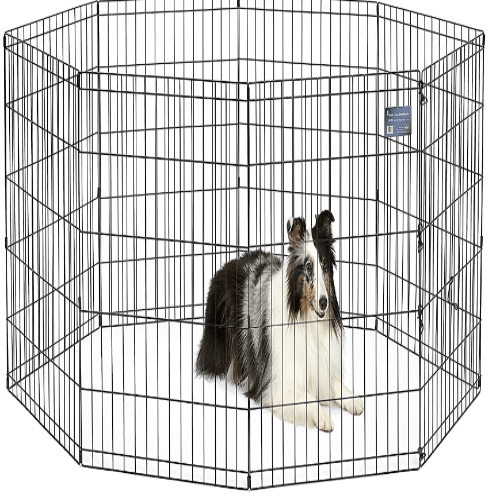 Having a huge and hyperactive dog at home can be a little risky. Hence, for that reason metal dog fence will work great for you. If you want to save money and want something that stays for a long time, then this is the most durable option. No matter how hard your dog tries, he will not be able to escape the metal dog fence. It will stay even in high sun exposure and rain so you don't have to worry for a long time. MidWest Foldable Metal Dog Exercise Pen is a perfect option for a metal dog fence as it is quite sturdy and solid.
10. Lattice Dog Fence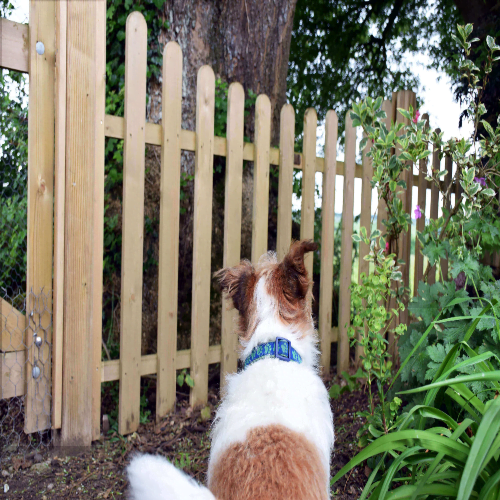 If you have a simple outer fence around your garden and don't want to ruin your garden but want something aesthetically pleasing, then you are at the right option. The mesh dog fence idea gives you the freedom to keep your garden looking stylish while protecting your dog from neighbors and trespassers. LATTICE FENCE 4 Pc is a beautiful white-colored outdoor fence that comes in 4 pieces set.
11. The Picket Dog Fence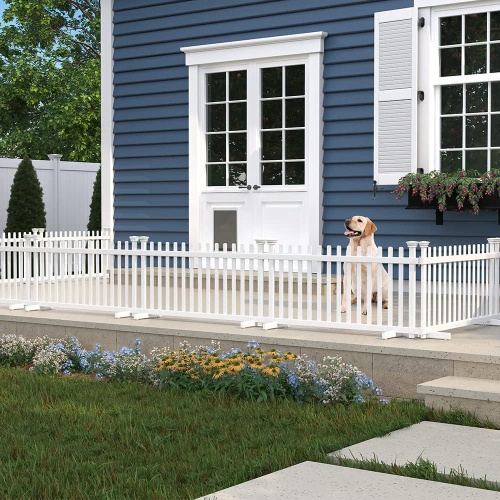 Nothing represents your home as beautifully as good fencing. A dog fence can sometimes destroy the overall look of your house. But this one will complement it beautifully without compromising your dog's safety. Also, visitors might not be able to recognize that you have a dog enclosure until or unless they see or hear your dog. If you are looking for the right picket dog fence for your dog that not only looks beautiful but also offers safety, then this one from Patio Vinyl is the perfect choice for you. It comes with easy installation and looks beautiful in white shade.
12. Portable Dog Fence Idea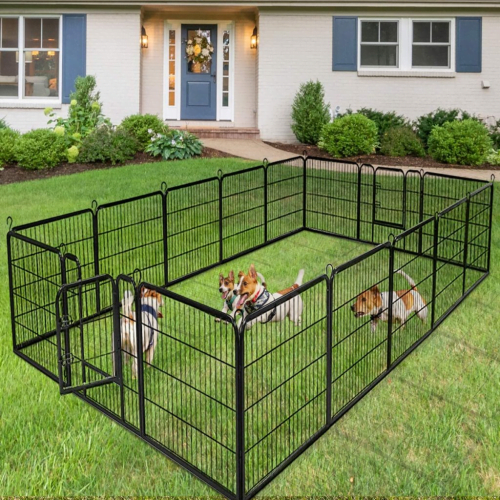 It is quite similar to the temporary dog fence, but it is way smaller. However, it still follows the same protocol of keeping your dog safe. If you are planning on going on holiday or visiting someone near or dear and want something that can take your dog along with you, then this one is a must for you. It is a safe portable enclosure that can be carried with you. If you are looking for a portable dog fence idea, then you can invest in this MR Ironstore Portable Dog Fence.
13. Invisible Dog Fence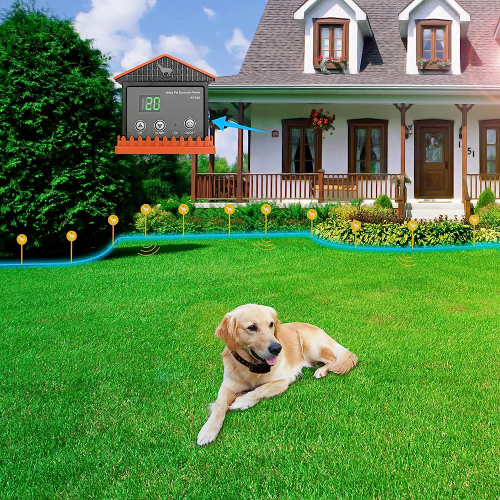 If you like the concept of an open garden but still want to keep a check on your dog, this is the perfect dog fence idea for you. If your dog tries to cross the boundary, his collar will deliver a safe and gentle electric shock warning. This will help you to teach your dog to confine himself to an area and not going to forward. The invisible dog fence is widely available in the market, but this Underground Electric Dog Fence comes with easy installation and a manual. It is a little expensive.
14. Traditional Dog Fence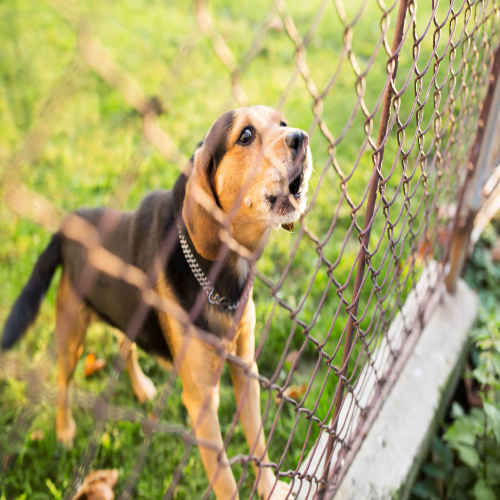 There is a lot of hype around the invisible dog fence, but nothing can beat the age-old method of the traditional dog fence. These are designs to keep your dog and small children in and everyone else out. The best thing about this dog fence idea is that you can customize them as per your design and color. You can create your own theme for your yard that enhances the overall look.
15. Tall Dog Fence Ideas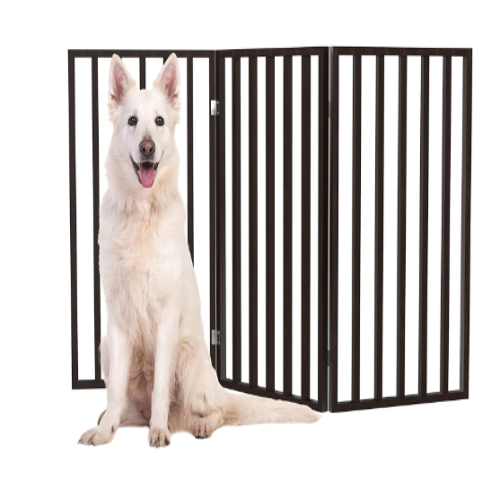 If you have a huge dog at your house, a regular or basic enclosure will not be enough to keep him where you want him to be. Some dogs are capable of standing on their hind legs and running faster than their owners. In this case, they would easily climb a backyard fence. However, do not to your worry; there are many taller fences specifically made to keep large dogs safe. We recommend you install something at least 5 feet tall, but if you can get 7 feet taller fence, that will be safer. They don't look very appealing, but they are quite affordable in the pocket and keep your pet safe.
16. No Dig Dog Fence Ideas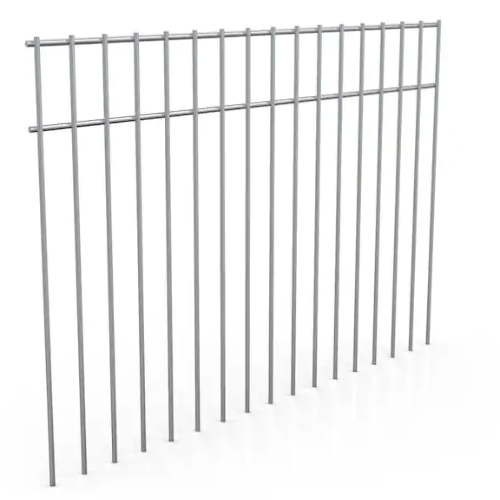 This type of fence usually is dug at the bottom. Hence, all you have to do is to dig them down into the ground. They are available in variants like wood, vinyl, and metal, and most are pre-designed and ready to install. It is perfect if you want a portable metal core and a central courtyard perimeter fence. All you got to do is assemble this mental fence and install it in the desired location. Vinyl ones in this dog fence category are best because they are elegant, classy, and durable enough to keep your dogs indoors. Make your lawn a beautiful dog area by using this kind of fence.
17. Flower Bed Dog Fence Idea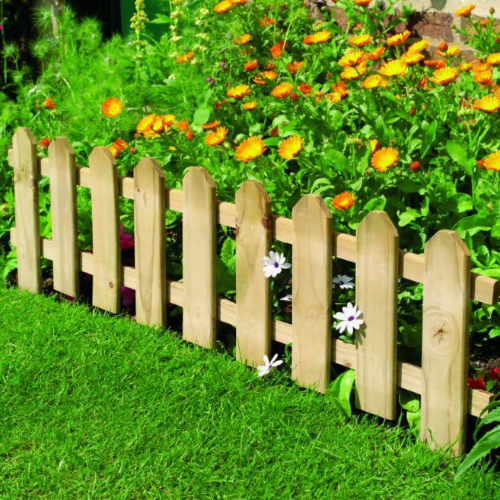 Pots and flower beds are a useful way for dogs to keep in the garden. Energetic dogs tend to destroy plants, so it's a great way to create flower beds to keep them out. You can also put lockable wood to make sure that your vegetables are safe. Also, use a strong fence that can keep them out. A wooden mesh dog fence mesh would keep the dogs safe. It is tall enough to keep them out but with spaces in between to satisfy the dog's curiosity, especially when there are animals crawling around.
18. Bubble Window Dog Fence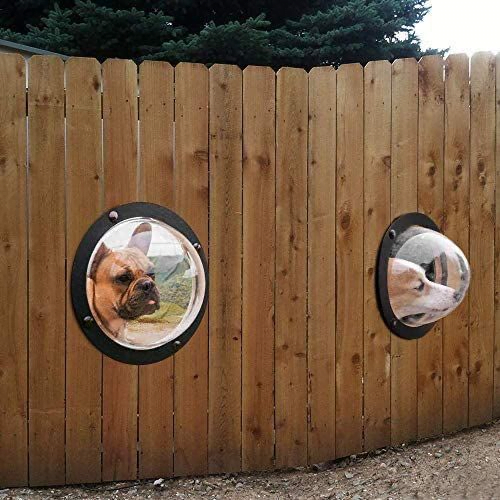 A bubble window dog fence is a perfect idea if you want to keep your dog protected in a closed frame yet want him to see the world. It has a bubbling hole around the fence so that your dog can see the outside world and warn you about trespassers and enemies. It is easy to install and completely safe for the dogs as well as the new visitors coming to your home.
Build a Dog Fence at Home: Step-By-Step Guide
Before building a dog fence, you need to keep a lot of things in mind. It is not only about execution but getting everything right is important. A step-by-step guide for the same is mentioned below.
Planning: The very first step in any DIY is to plan it beforehand. So visually plan where you want to keep the fence and then start planning where you want to keep posts. Make sure to keep one post away from another five feet away.
Ranking: The next step on the list is to rank the area. Where your house is located is essential to get a fence. Some will require a simple fence, whereas some will require a bed full of leaves and plants to keep it covered. You can also add stones for a playful area.
Staking: Once you clear the area where you want to keep your dog fence. Start by digging the stumps inside the ground. Make sure you maintain a clear distance of 5 feet and then dig another one. Create an area by doing this.
Netting: Once your stumps are inside and you have an area perimeter, start by placing your net and tying it generously. Make sure you do it nicely so that it does not get easily torn. Lastly, add some anchor hooks and cable ties to make it solid.
Summing It Up
All in all, getting the right dog fence idea can help you keep your dogs safe and protected. It will not only help them get a free space to play but also an outdoor exposure. They will have an open ground to play and spend time on. Also, if you were always stressed before inviting friends and relatives to your house just because they are scared of your dog, then this time, you don't have to worry. Invite them freely without any stress. Furthermore, there are also some portable options available that you can use to travel with your dog.
Hence, no matter what your dog's problem is, we have given you the best 18 dog fence ideas to implement and solve your problems.