Teal is a soothing blue-greenish color whose name is derived from the colored area around the eye of the common Teal bird. Mostly, this color is associated with shades of cyan, although there are certain subtle differences. Cyan mixed with a green base can result in Teal. For obtaining shades of lighter and darker shades of the color, required amounts of gray and black, respectively, can be added to it.
It is a popular shade often chosen for interior decor purposes because of its versatility, and there is also the fact that the colors that go with teal are also many. Depending on the kind of decor and the color chosen with teal, the result can be anywhere between classy – elegant, and modern-minimalistic.
21 Best Colors that Go Well with Teal
If you are on a quest for some inspiration with this color, then here is your chance to grab it. Below listed are 21 fantastic colors that make a perfect pair with teal for the ultimate home decor look.
1. Gold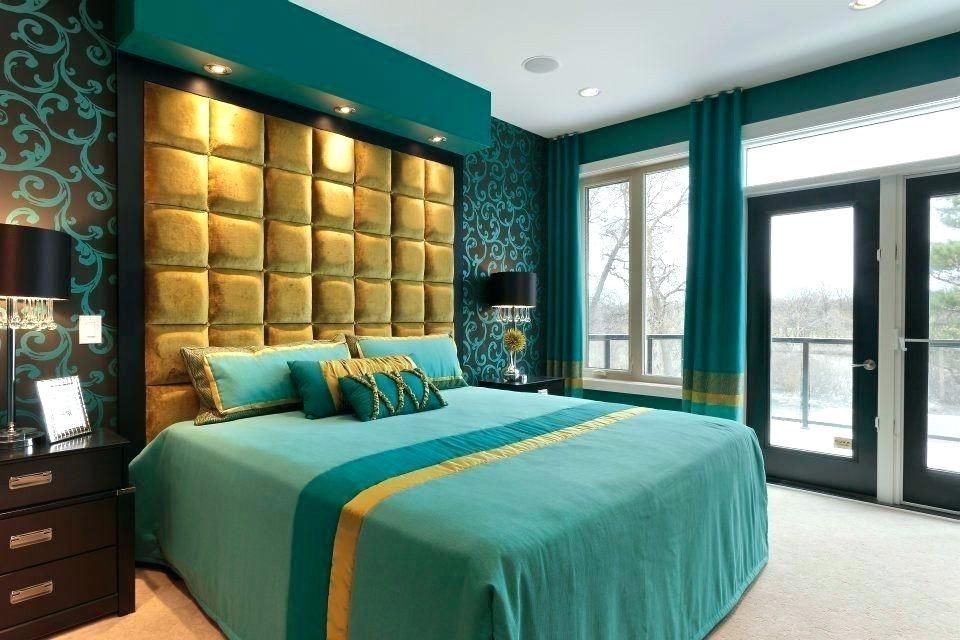 Gold is the color of luxury. Adding touches of gold is the best way to elevate the visual appeal of a room. Gold with teal is an excellent combination as the teal somewhat tones down the overbearing effect gold can have. That is to say that gold on its own may seem too over the top, and a clever way to add color to your home is to pair it with teal. Both colors complement each other in a way that also adds a splash of elegance to the whole decor. As for how you put the two together- be sure to go for teal walls, while you can add the golden in complementary spots such as the wall border, gilds of furniture, miscellaneous decorative items, such as vases,clocks, etc. For bedroom decor, you could go for a golden headboard with a teal bedspread and curtains.
2. Brick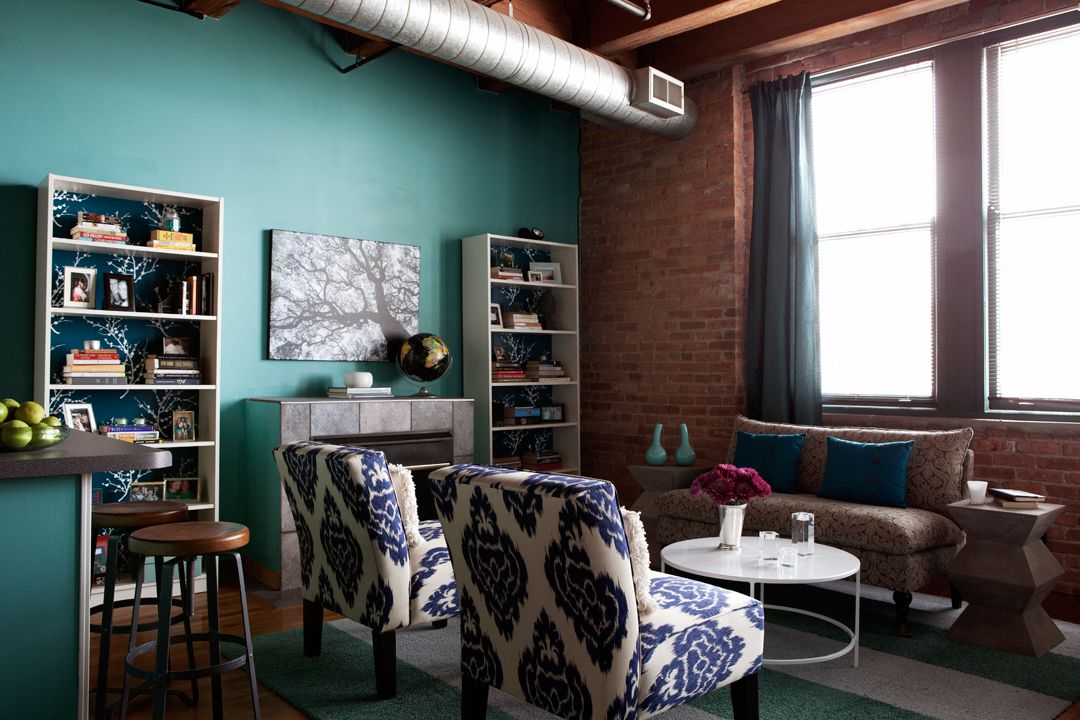 Well, we know what you are thinking. "Brick is not a color." To be fair, the more accurate terminology here is brick red, but that is what we are looking for. The goal here is to match teal with exposed brick surfaces to bring about a unique contemporary look to the house or room. So, if your home has an exposed brick wall or walls, then do not be in a hurry to paint over it. Adding bulky furniture in darker shades of teal will make the brick walls pop as well will lend a loft-like charm to the space.
3. Green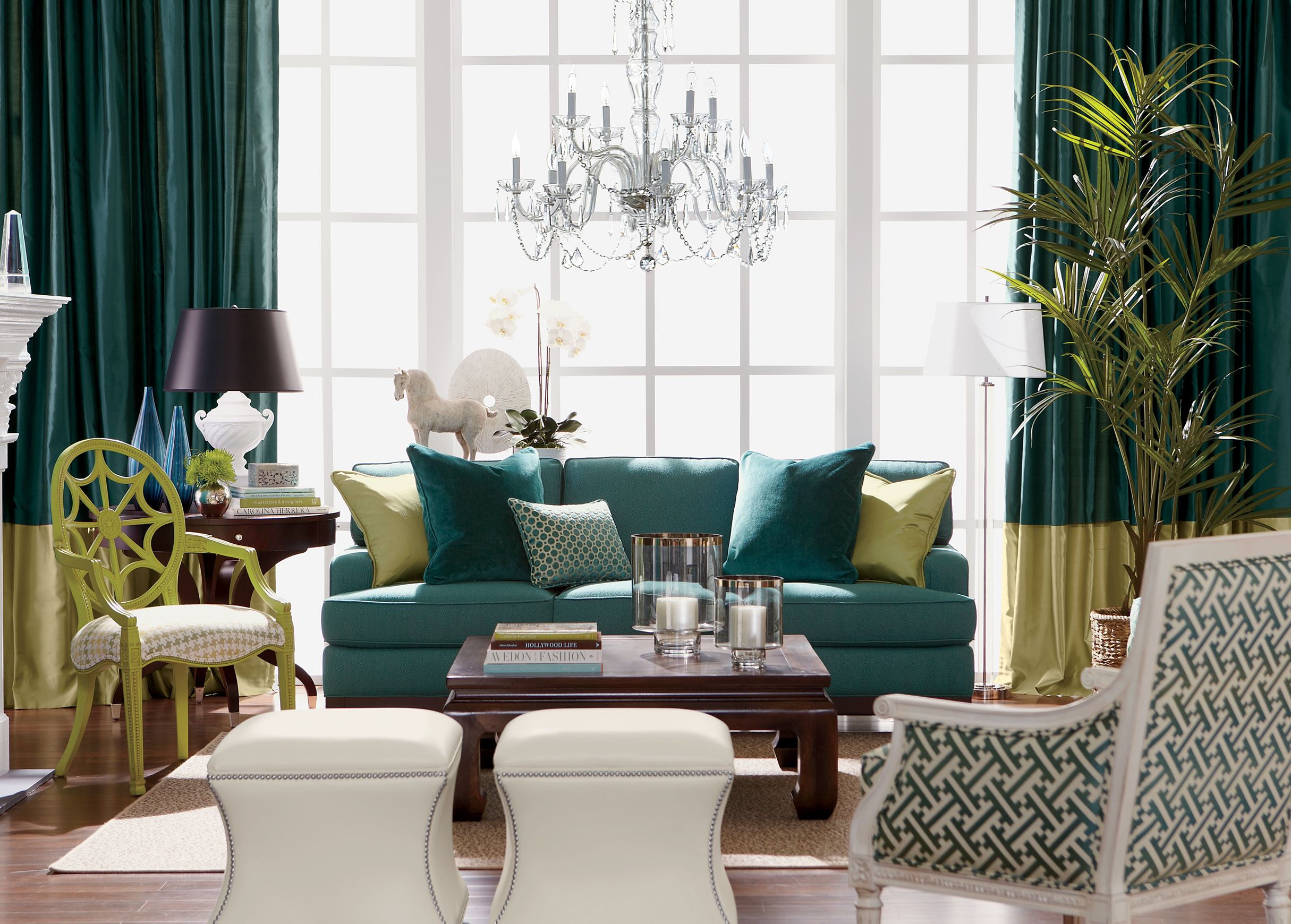 Some will tell you that teal belongs on the blue spectrum, but others will argue that teal is a variation of green. For argument's sake, you can consider teal as close to the green and apply this knowledge to your home decor idea. Darker shades of green are among the colors that go with teal, as they don't look out of place beside each other. You have to pair darker teal with light green or the other way around to make the combination really stand out. In a way, putting green and teal together maintains a sort of consistency to the interior of the house and is perfect for those who are not fond of surprising bouts of color in their homes.
4. Yellow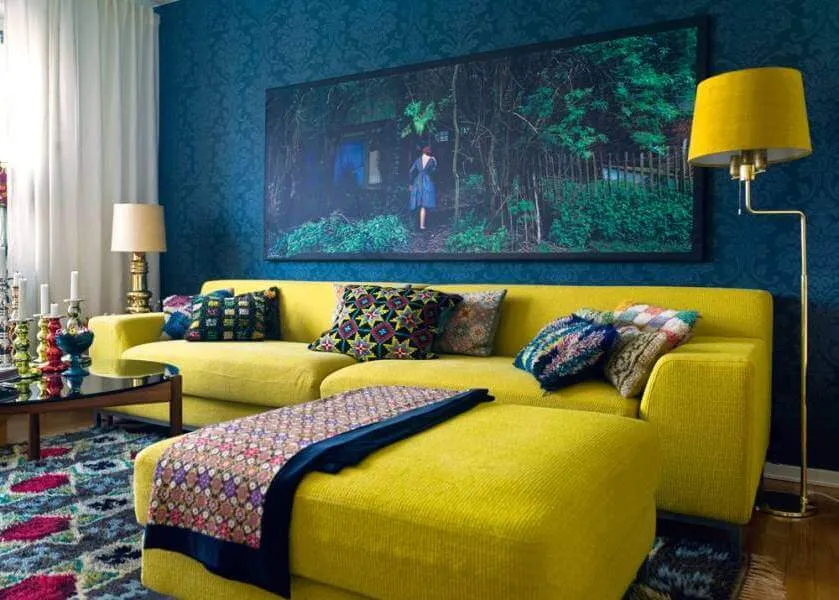 Yellow is not a color that you would imagine besides teal because it is quite loud, no matter its shade, as compared to teal, which is more subtle and muted. But this flashiness of the color yellow is exactly what makes it one of the colors that go with teal. For homes with a modernistic and artsy decor, this combination is perfect as adding a sudden splash of yellow in the form of a couch in front of a wall of a monotonous wall of teal is both adventurous and aesthetic. It is a good choice and gives the room a character of its own.
5. White and Gold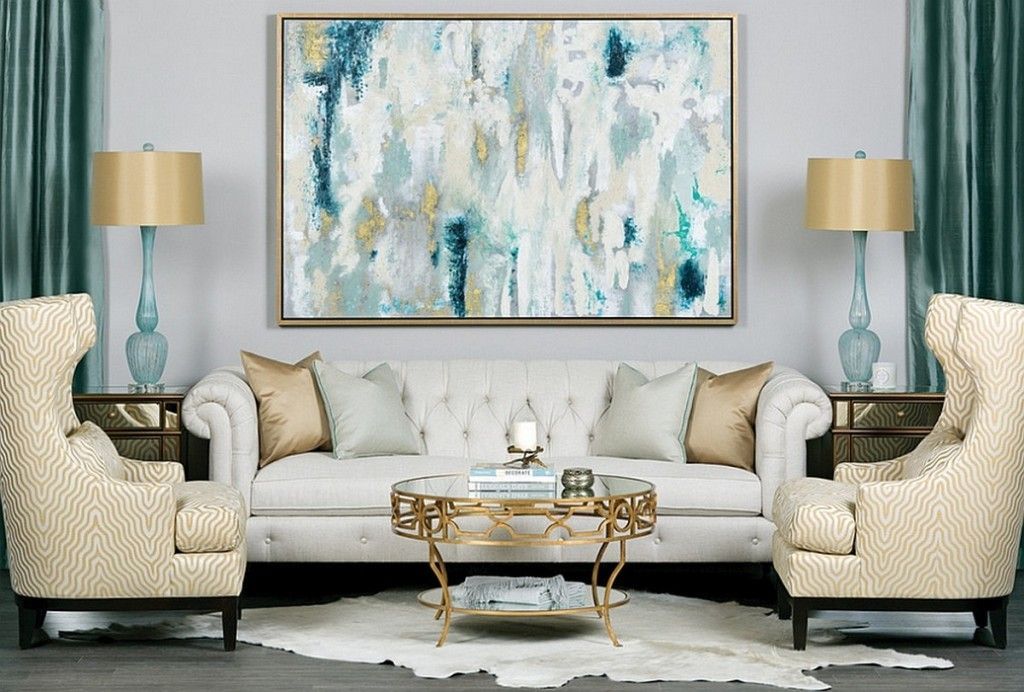 We have already mentioned gold and its compatibility with teal. But this time, another color will be thrown into the mix, and that is white. White can add a dainty and fancy grace to any color palette and goes well with almost all existing colors. This also pairs very well with teal and gold, as both white and teal bear the responsibility of being sophisticated but subtle, while gold is added to show off the refined beauty of this home decor idea. You can use this by either going for a white ceiling or one white wall while the remaining ones are colored teal. Gold can be added via accessories and furniture.
6. Beige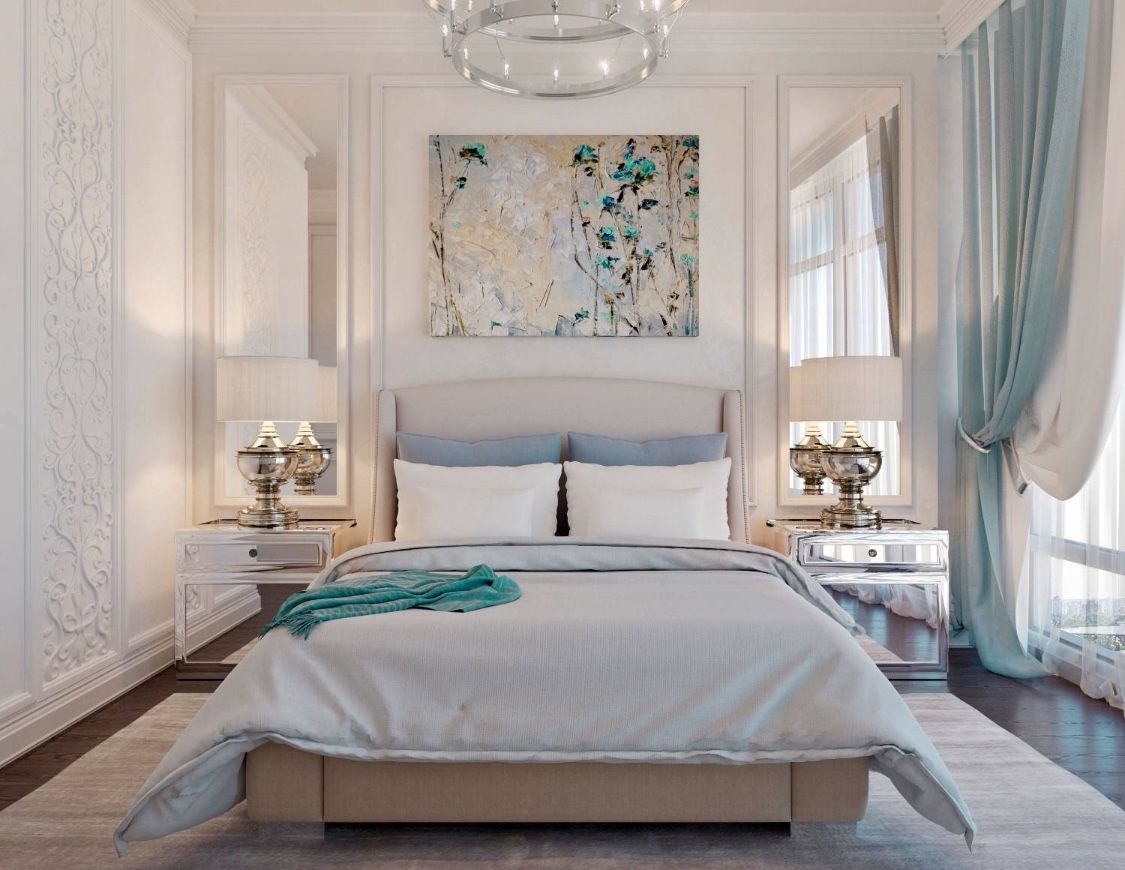 Are you looking for a color combination that is warm and calming but also chic? The beige+teal is the dealmaker for you. Beige is among the colors that go well with teal because it is a neutral shade, while teal commands attention. The two colors, when used together, create a perfectly harmonious picture where one supports the other in standing out. Beige is also a very agreeable alternative to white, which happens to be kind of overused in the domain of interior decor. Using beige with teal will preserve the subtle elegance of a neutral shade while also being eye-catching and glorious.
7. Orange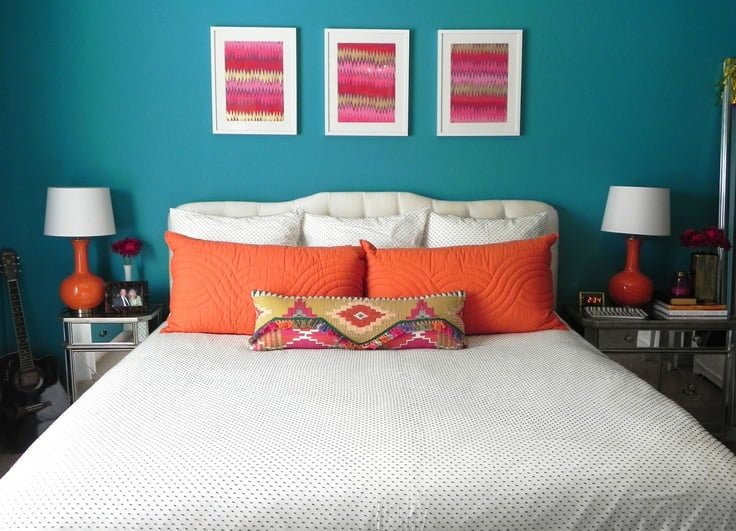 Orange is another one of the colors that go with teal and will add a touch of unexpected vibrance to a room. Both these colors are eye-catching and thus will add greatly to the liveliness of a room. Since orange is a loud color, consider going for pops of orange in an otherwise teal-based decor. Making the majority of the surfaces orange will not be appealing at all. The secret to a good balance between colors is to know the right proportion for each of them, and in this particular combination, the orange needs to be minimal and used as a crutch support to the main star of the show- teal.
8. Brown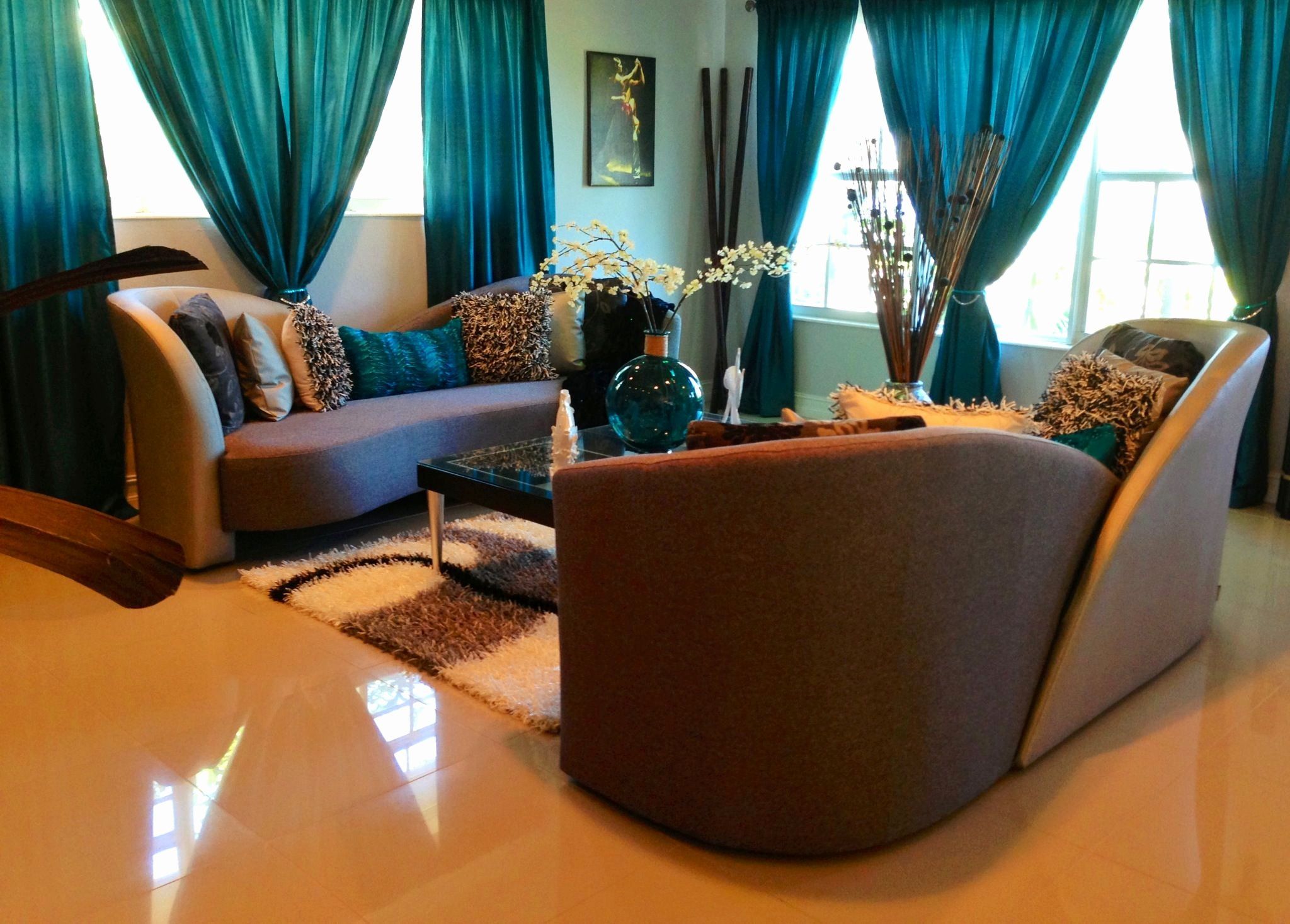 Usually, the color brown is associated with formality and discipline, as often found in office spaces. This is why you will find so much brown furniture in professional arenas. But with a touch of teal, this dreary color can be transformed into a homely one. Wondering how? Think teal curtains,brown couches, and a lighter shade of brown on the floor. The picture you imagine is not at all bad, right? If not the curtains, then you can also for a teal rug. Teal and brown are such a perfect combination because the two colors are polar opposites in terms of the aura they give out. The freshness of teal thankfully cancels out the stuffy brown.
9. Gray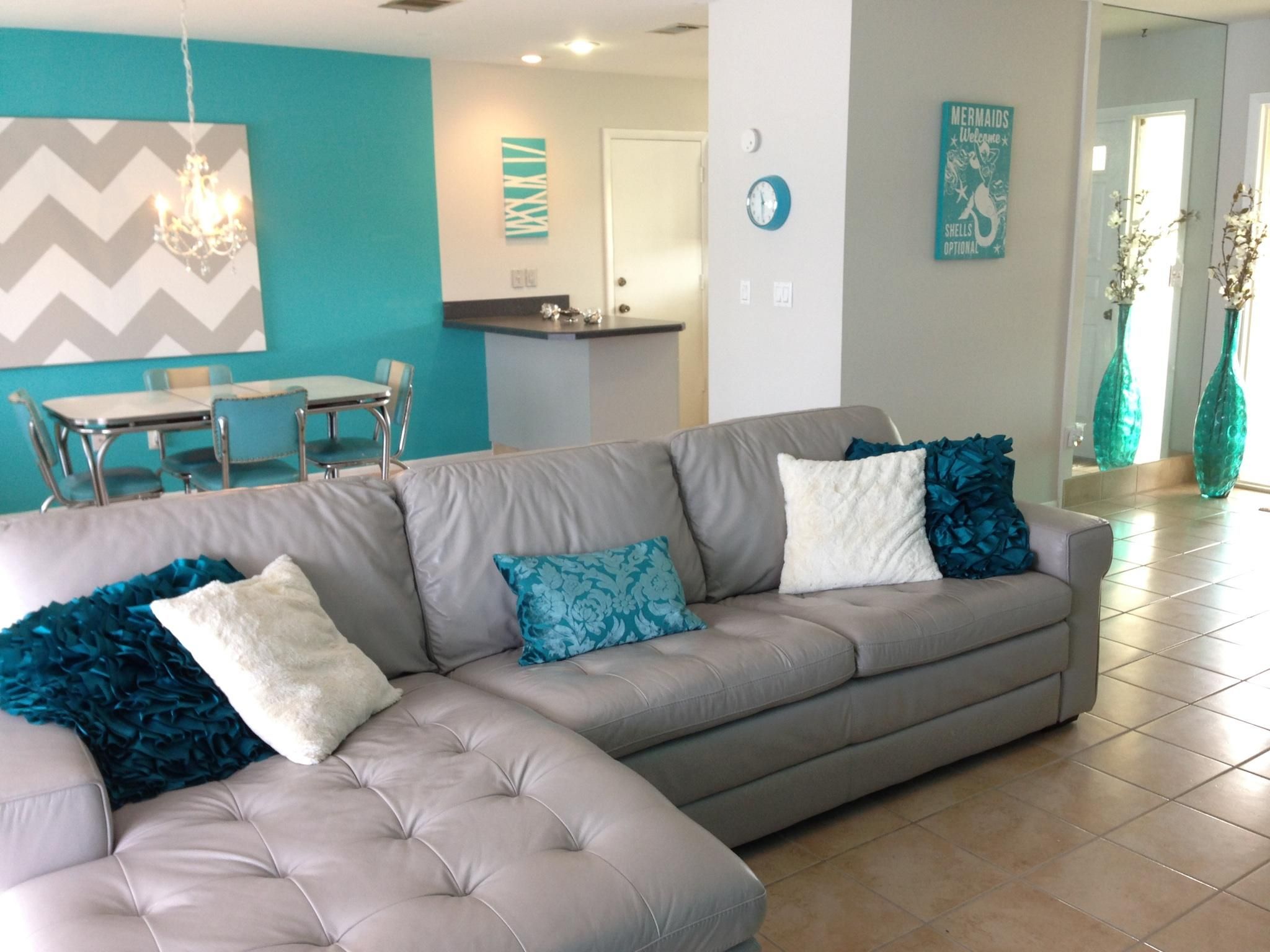 Gray by itself is the color of boredom and gloom. And if you apply this to an interior decor idea, it will hardly have the look and feel of a home. But hear this out, what if your paired teal with gray? The outcome will be this chic and posh combination that is minimalist as well as lively. You can paint three walls gray and go for a teal accent wall. In this combo, the vibrant potential of the teal color is brought out by none other than the gray. Go for furniture and decor items that will complement this combination to get a unique home decor look.
10. Pink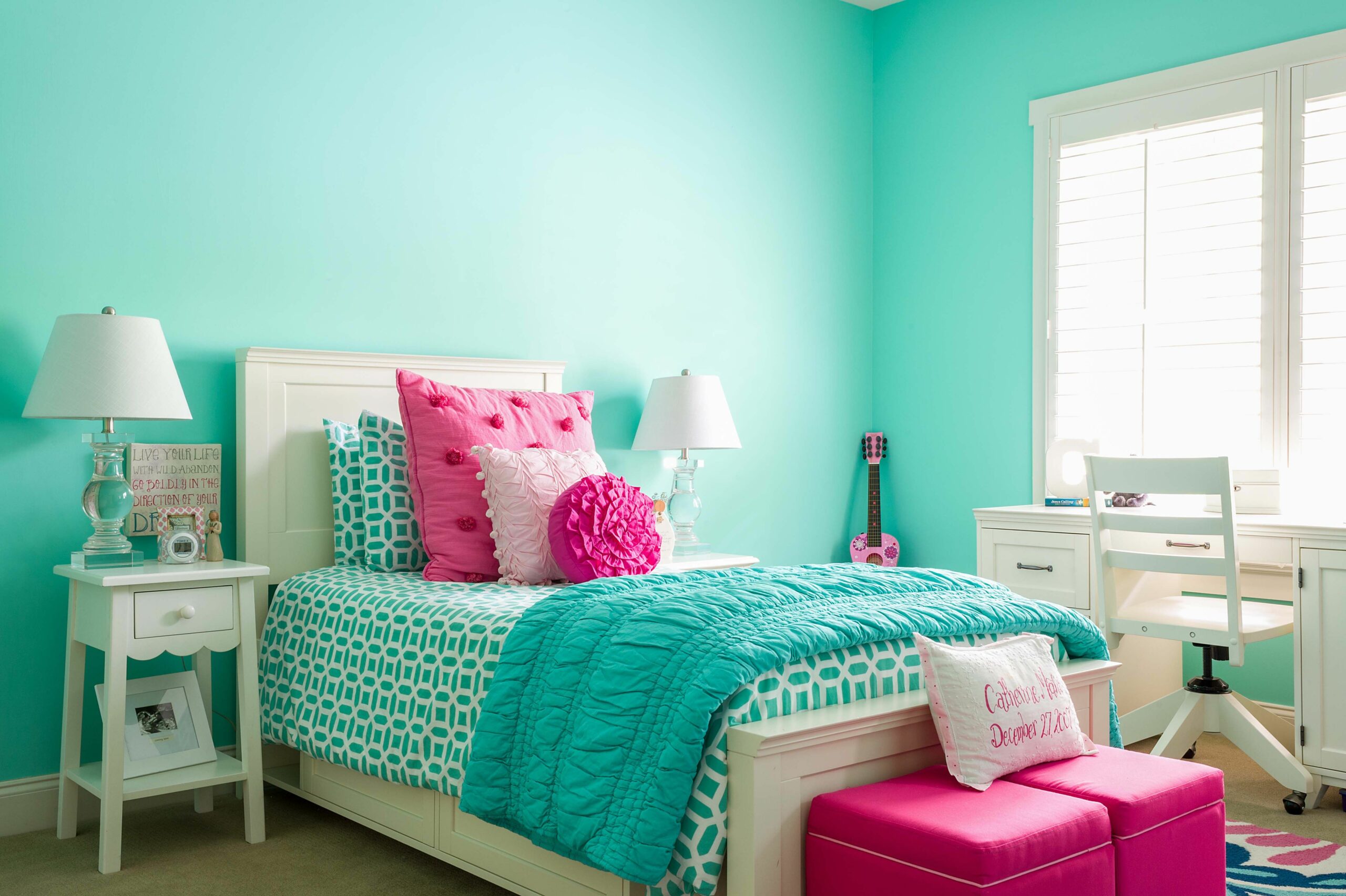 Among the colors that go with teal, pink would probably occupy the least important spot in your mind. But what if you are told the two would make a pleasant duo? Well, it might not seem so at the start, but if you use both colors in a well-balanced proportion. The perky energy of pink is controlled by the somber and dignified teal. For a serene and calming decor idea, consider getting lighter shades of both colors with some warm-toned neutral colors thrown in. For example, if you are looking to decorate a bedroom, then you can use solid and textured teal on the bedspread with pink pillows.
11. Red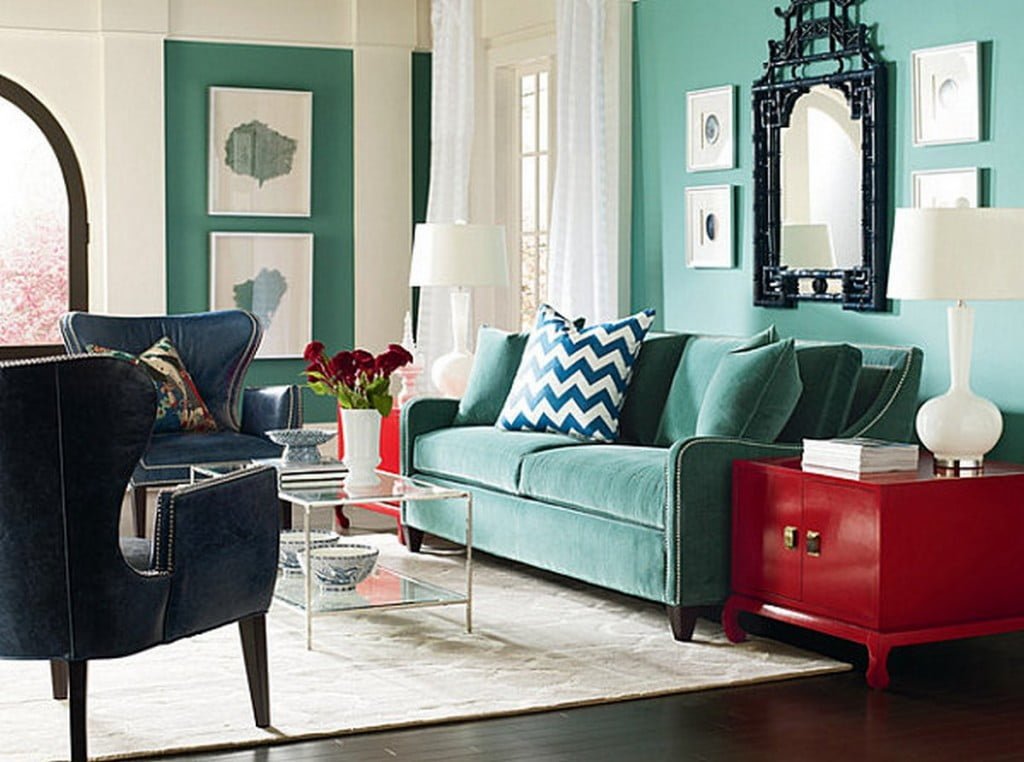 Teal and Red are an unlikely duo, but when paired together, they vibe well. Visual symmetry is formed when the two colors are together. On a base of teal, you can throw pops of red such as an upholstered accent chair or red curtains. A red statement rug will also go a long way in uplifting the decor of a room from simple to sophisticated. For this to work, there needs to be a deep teal accent wall, while the other walls have a neutral shade, preferably white. Likewise, in a bedroom setting, you can throw red pillows in an otherwise teal bed to make the color stand out.
12. Navy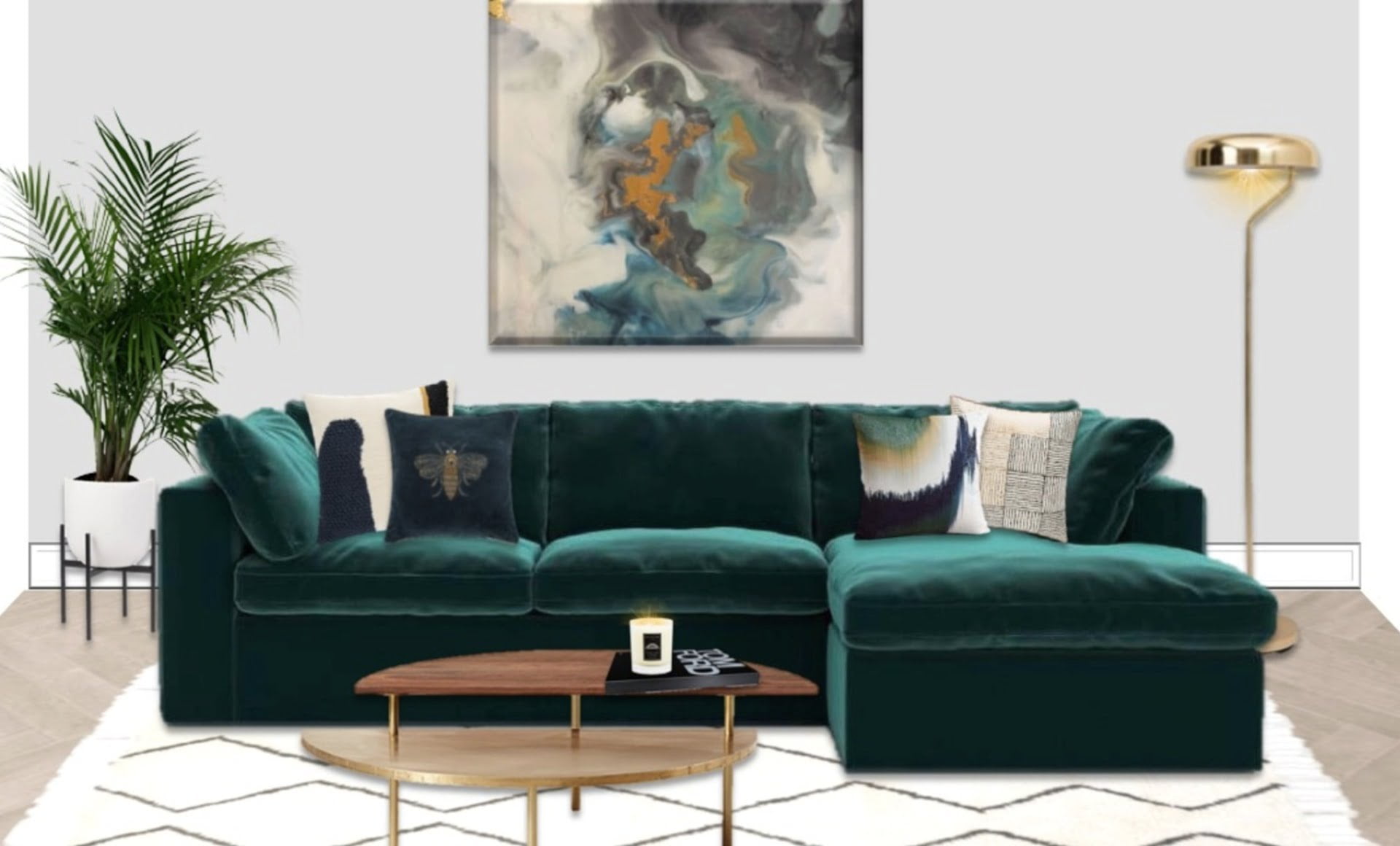 Navy is one of the somber colors that go with teal. By itself, the navy can add an intense look of sophistication and formality to a space. But given that a home is a place that should not look too serious, navy is best combined with a more lively color like teal. By doing this, you won't be adding a very intense pop of color like yellow or pink and yet cancel out the severity of navy. Teal+navy is a perfect example of a subtle but charismatic color combination. Add a portrait with splashes of teal on a wall of solid navy. Or go for light teal furniture to place before a navy wall. The idea here is to make navy the base and add pops of teal to brighten up a moody space.
13. Wood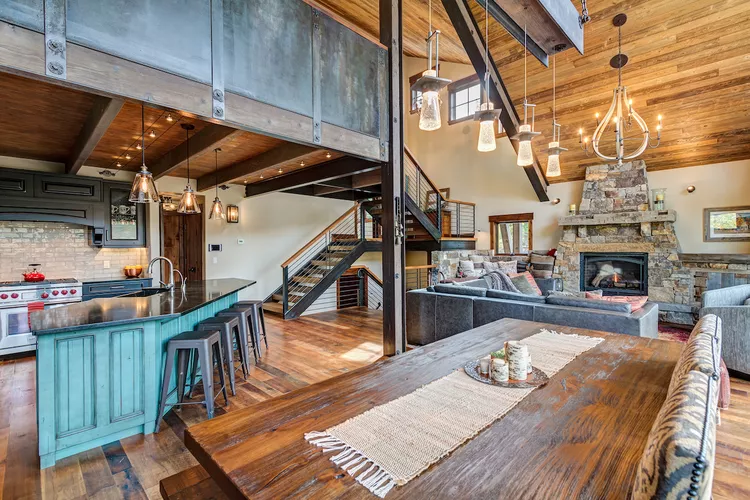 This is an ideal decor idea for a rustic but modern living room. The wooden surfaces can be any in number, ranging from the island tabletop to widow panes and hardwood floors. The best thing about this color duo is that you can bring in different types of wooden surfaces. And teal will work its magic by adding uniformity to the different shades of wood. You can also apply this to your kitchen by keeping the wooden floors intact and opting for teal cabinets, a kitchen island, etc.
14. Royal-Blue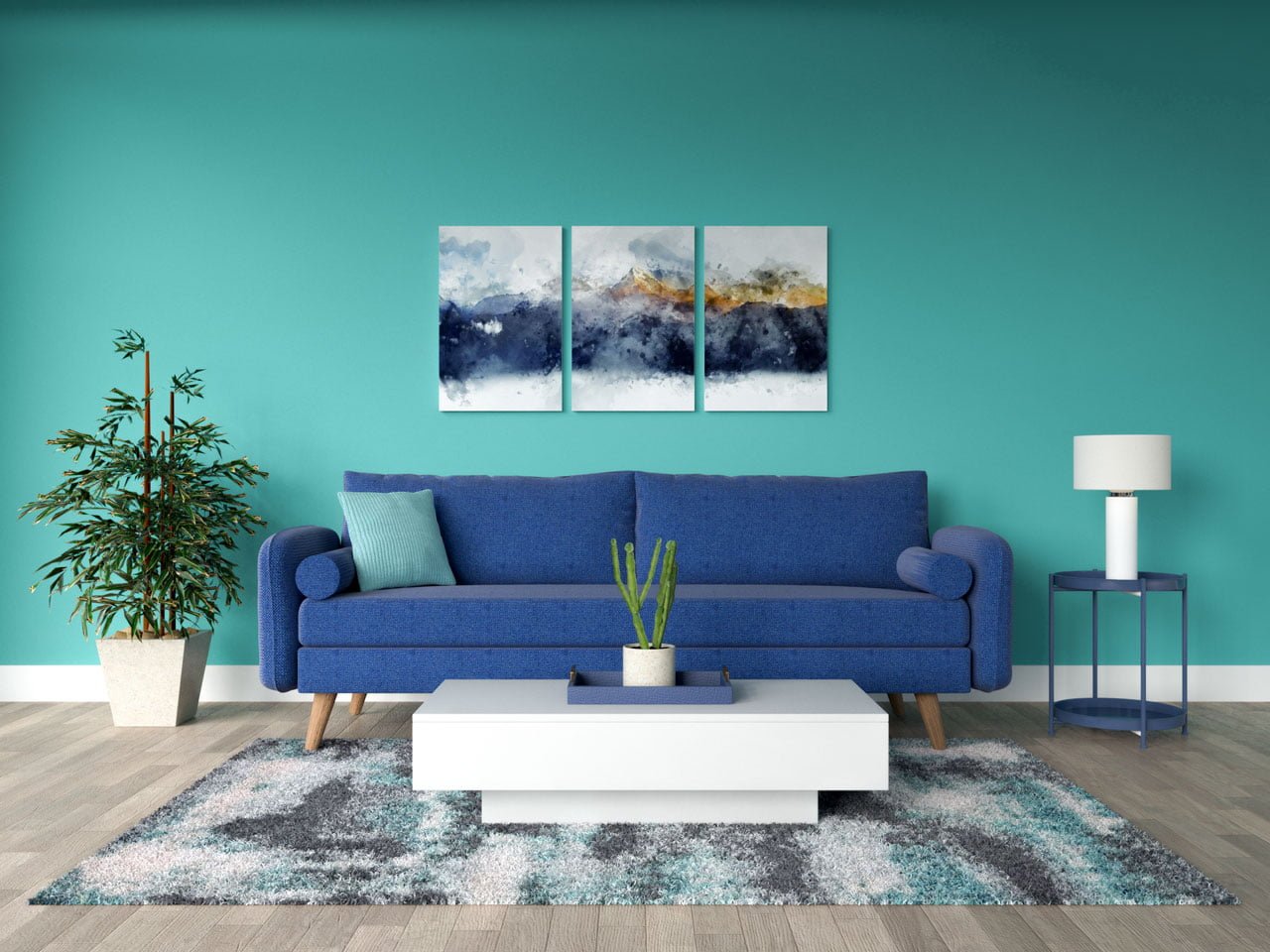 Remember how we were talking about the color teal being considered to be a part of the blue or green family and that there is no fixed consensus about this? Green has already been discussed, so now let us look at how compatible blue is with teal. To be specific – Royal- blue. This shade is rich in intensity and hue and is one of the deeper colors that go with teal, especially a lighter shade of teal. Royal-blue furniture, such as a bulky seating area against an accented light teal wall, is a refined way of utilizing this combination. Similarly, for bedroom decor, you can go for a teal headboard and buy royal-blue comforters and pillows while using white bedsheets. A neutral white will balance out both Royal-blue and Teal.
15. Lime Green and White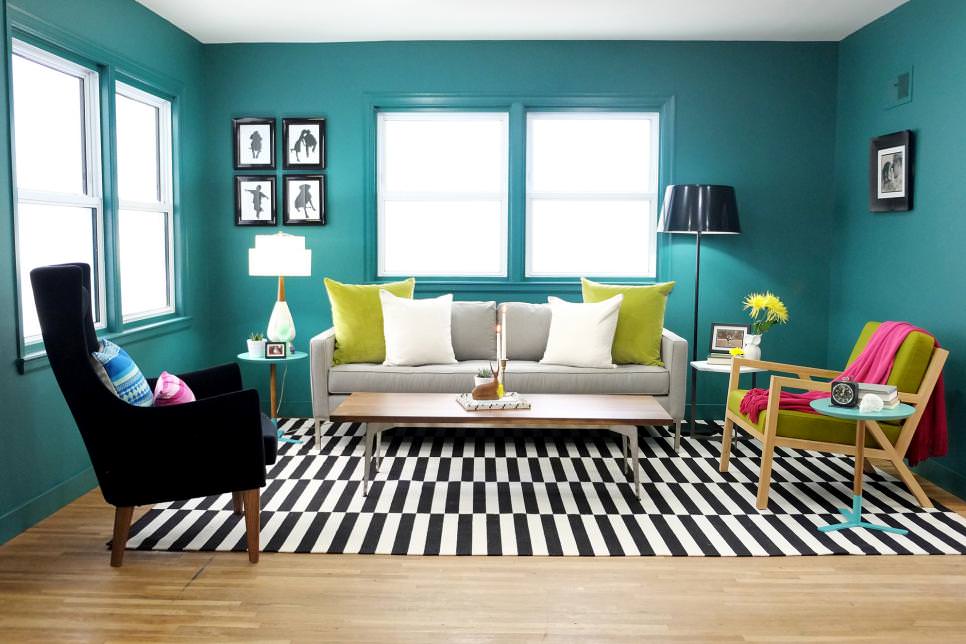 Adding pops of lime green to a room, mostly consisting of teal and white, is a nice way to add an interesting and fun element to the decor. It is an unusual combination, and you will be praised for your choice for sure. However, using lime green as a base color might change the look you are going for, considering it is a very loud and eye-catching color. This is why the better and more popular alternative is to keep and teal and white base for a subtle yet elegant look and pops of lime green in cushions, wall art, vases, etc.
16. Black+Gray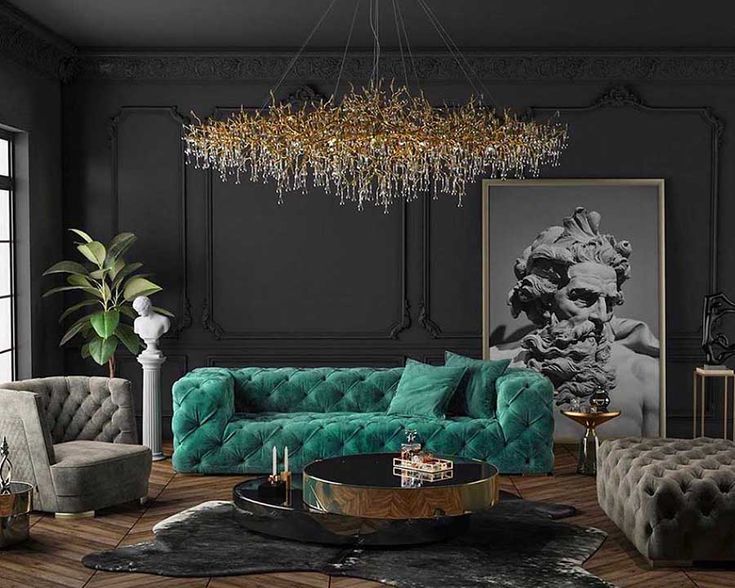 Black is not a color that we immediately think of when looking for home decor ideas, but this color has more potential than you know. The colors can be used together to create a one-of-a-kind ultra-modernistic look. In a room consisting of mostly black and gray tones, teal can be used to add a touch of splendor and artsy taste. Think velvety teal sofa against a background of matte black walls and a gray statement rug. To avoid decorating the room with too much, gray can be added strategically in layers around the room.
17. Taupe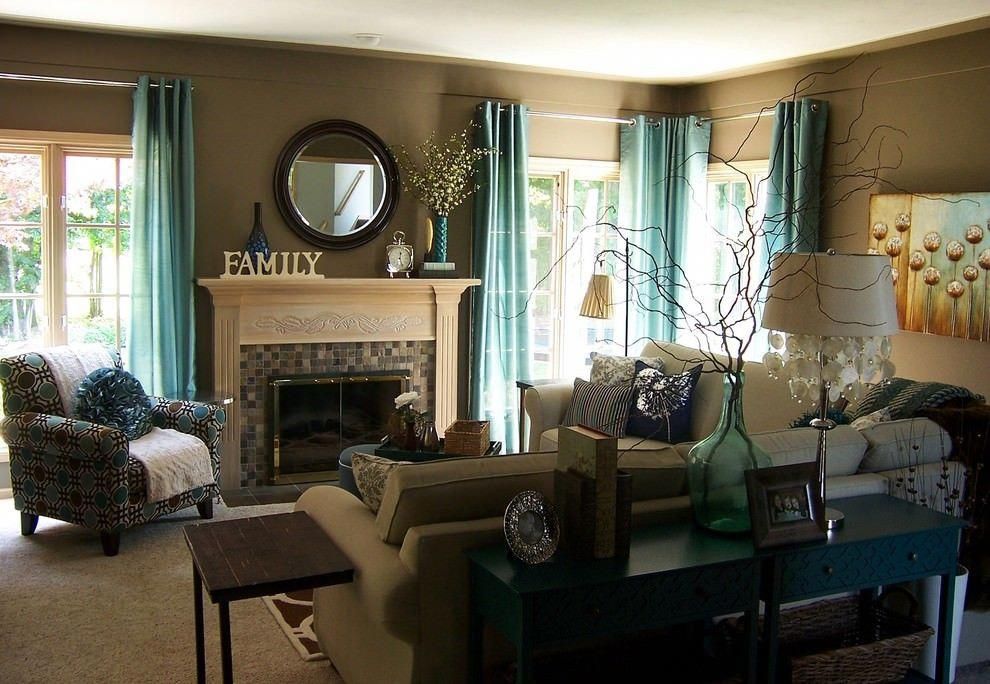 Taupe and Teal are a great combination. One color balances out the energy of the other and tones down the look of being over-the-top. Taupe is a color that is generally found in furniture as it is a deeper shade of brown, so taupe furniture can be contrasted with a teal rug or a teal couch. However, if you do find taupe flooring, then you can go for teal walls. For bedrooms, the bedspread can have variations of teal with textures and shades while the floor is kept taupe and the walls white.
18. Turquoise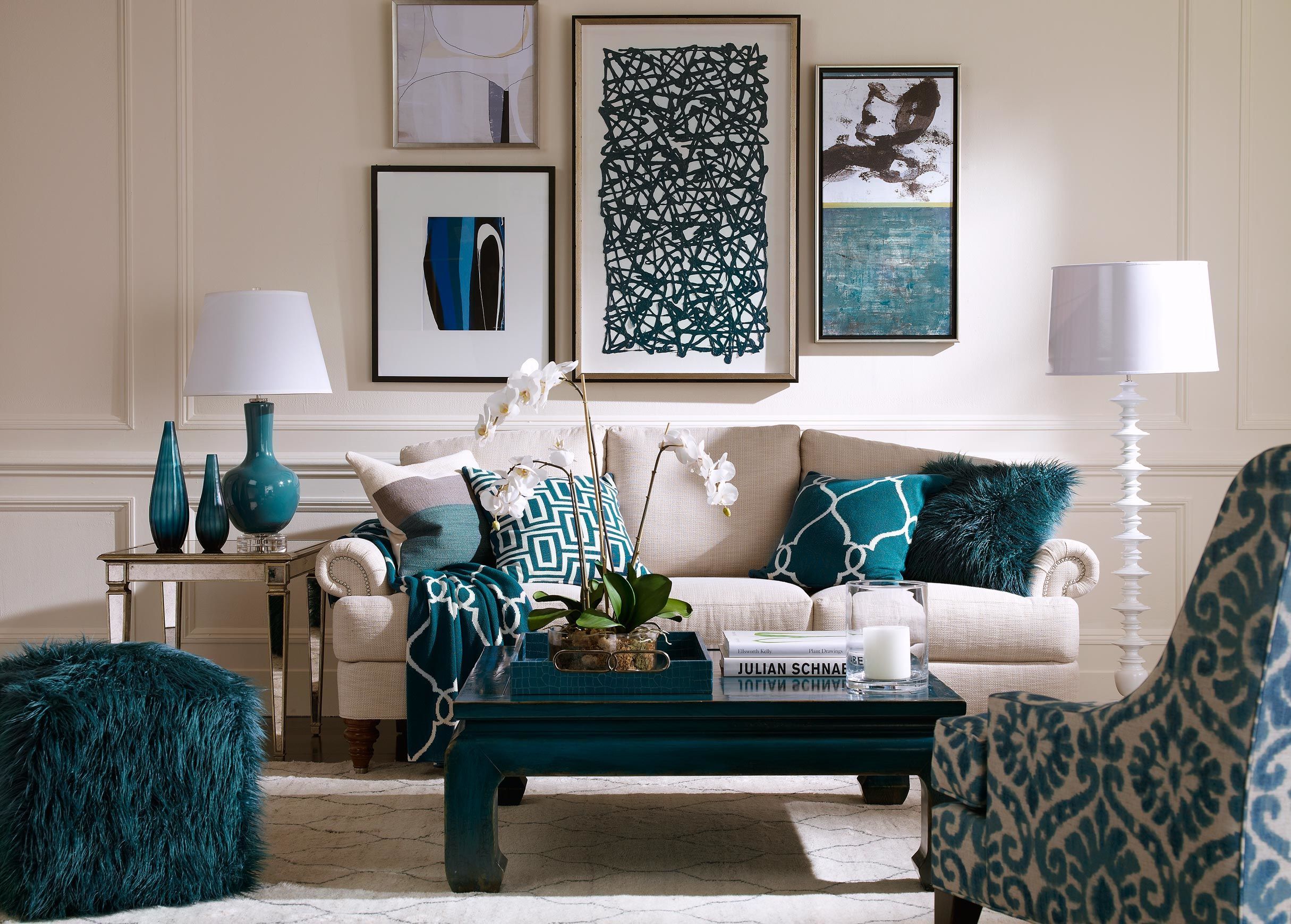 It is easy to get turquoise and teal, but you might get confused for one color because they have similar undertones of blue and green. However, this is also the reason why turquoise can be counted among the colors that go with teal. It is a much lighter shade than teal and can be thus used with a deep rich teal base to add a bright and energetic element to the room. Accent one wall with turquoise or add turquoise furniture against a background of teal. Include a mirror with copper guilds on the wall for a more dramatic touch.
19. Silver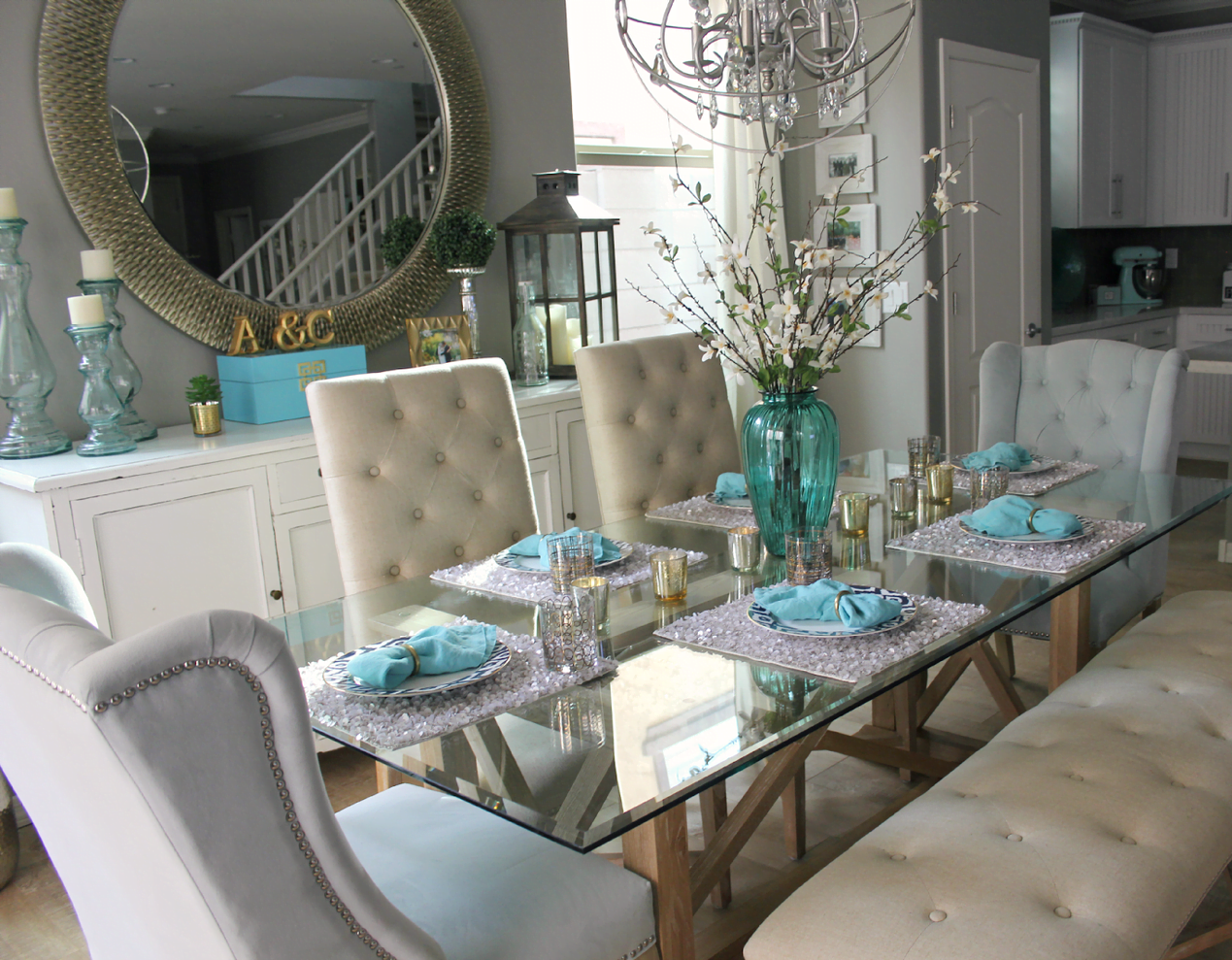 Silver is a metallic color with a cool undertone. And teal generally pairs well with metallic shades. Try this color combination in the eating area to get the look and feel of fine dining. In a room with teal walls, consider adding central overhead lighting with silver as the main color. On the side, add a silver gilded mirror. On the table, combine a white cloth with a teal runner. Another effective method to combine this is to have a teal tablecloth against a largely silver or gray wall. The silver light fixture stays the same. In any case, you will be making your dining room into a regal and royal-looking space.
20. Lavender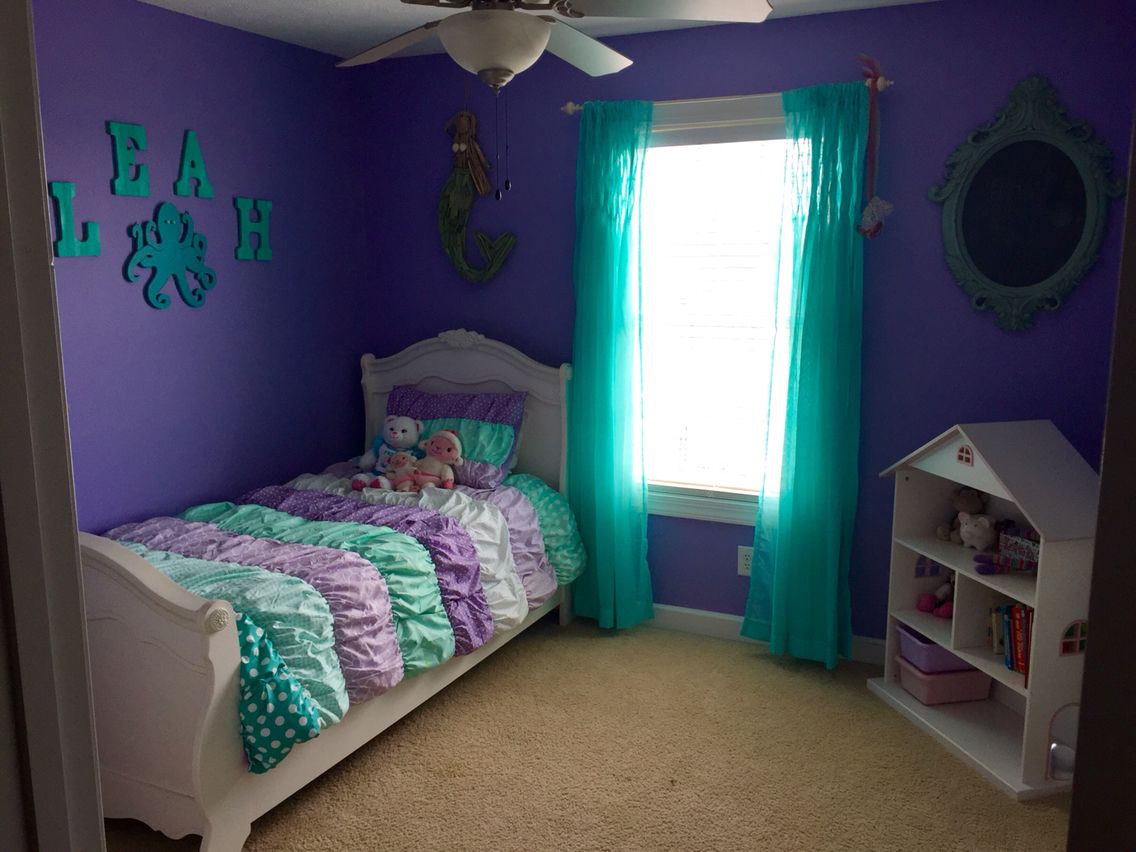 Lavender is a very delicate and soothing color that looks very agreeable on walls. Given that teal and lavender, both have cool undertones, they may seem like a bad pair, but when the two are put together, it looks like both are grounded but lively. Because of its vibrance, lavender is perfect for a child's bedroom. Contrast lavender walls with lacey teal curtains and a teal comforter on the white bed. Other rooms can also use this color. The two colors have a very good harmony which is ideal for patterns, so you can look for items such as teal and lavender patterned rug to brighten up a dreary room.
21. Cream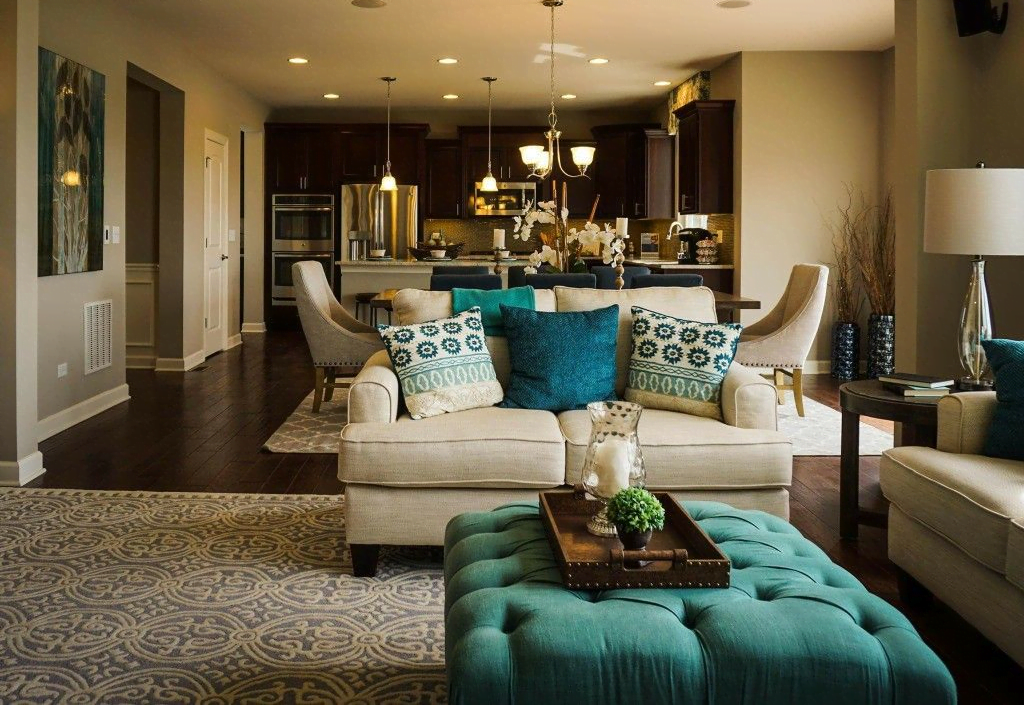 In most cases, we see teal being paired with white. But what if you get a neutral shade but also add some well-deserved warmth to the cool undertones of teal? You could do so with Cream. It is a great color to paint your walls with as it only goes very well with teal but also makes the room expansive when open sunlight falls on a cream-colored wall. For a teal-heavy room, the seriousness can be lightened with a cream rug. A Cream wall behind velvety teal curtains is also another good way to apply this combination. Cream-colored throw cushions on a teal sofa work just as well. For a room with mostly cream walls, go for pops of teal in an ottoman, a chair, or teal cushions on a cream sofa.
Wrapping Up
Teal is versatile enough to be paired with many different shades. For color palettes where a high-energy color is included, teal can be a calming presence. Contrastingly, when we are talking about a dull and serious color, teal can add a touch of fun and vibrance.
The perfect mixing of blue and green in the color teal provided a soothing balance between tranquility and energy. Teal is often associated with a claim and reflective mood because of this very reason, and this is not just speculation because it is scientifically proven colors like blue and green quieten our minds and help us relax, giving us needed soulful harmony.