The Breakfast Bar may have started as a trend, but the idea has now become an attraction in each individual's house. Even within smaller places, the idea of having a breakfast bar is ever-evolving, as not only is it aesthetically pleasing, but it serves great functional features too.
Breakfast bars are well-blended with kitchen islands or peninsula-style designs, giving a sense of relaxing, friendly surroundings. They also work as a great addition to your kitchen for bigger gatherings and extra storage space for preparing larger meals.
So, if you are planning to add a breakfast bar in your kitchen for sharing fun conversations over drinks and food with your family and friends, these 15 Stunning Breakfast Bar Ideas will help accomplish your goal.
Designing your Kitchen
Before reviewing the breakfast bar ideas, let's start with the perfect way to design your kitchen and understand what you are looking for.
Small or Big
A breakfast bar's primary purpose is to serve various dishes and drink options to keep all the members happy. So, understanding how many people will be sitting on those stools, one should determine whether they need a smaller or bigger bar table.
Simple yet Stylish
The aim is to keep it simple and comfortable and not to overwhelm your guests. However, it doesn't mean you cannot be creative about it. Experiment with different styles and ideas until you find the one.
Natural Elements
Using natural tones and materials will highlight your space even more. It will give away a modern and elegant look, making a great impression on your friends and family.
Once you have decided on the theme of your kitchen, let's move on to the incredible breakfast bar ideas.
Breakfast Bar Ideas You Don't Want to Miss Out On!
1. Colour Pop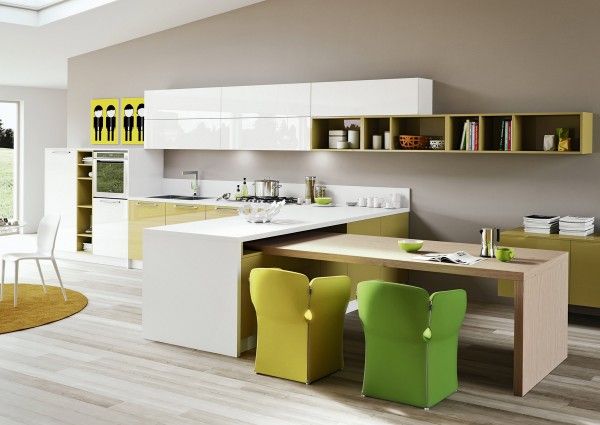 Building a breakfast bar provides extra seating and utilizes the kitchen space smartly, but why not add a splash of colour to make it pop a little? You can do so by either opting for neon or brightly coloured stools or going for coloured marble material. Both of these options will lighten up the area, and you can even add some modern lighting to set the mood of the kitchen. Moreover, the patterned tile's surface could look strikingly good with the brightly-coloured breakfast bar if you find an easy-going colour-coordinated scheme to match the kitchen's ambience. If it's too much of a hassle, simply buy lightly-coloured rugs instead, and you are set.
Sale
Leopard Bar Stools, Modern PU Leather Adjustable Swivel Bar Stool with Back, Set of 2 (Orange)
Dimension: 16" W x 14.5" D x 24.5"-32.5"H; Seat back dimension: 16"W x 11.4" H; Cushion dimension: 16" W x 14.5" D; Chrome base diameter 15.15"
The bar stools with a built in 360 degree swivel; Quilted, seat upholstered in faux leather; Constructed with polished chrome base and footrest
Easily adjusts from counter to bar height, Air-lift handle for easy height adjustment, 24.5in to 32.5in height (From floor to seat cushion)
Suitable for kitchen, dining room, coffee room, resting room, entertainment centers and office, bring you more convenience and comfortable experience
Photo may slightly different from Actual Item in Terms of color due to the lighting during Photo Shooting or the Monitor's display
2. Pull-Out Stools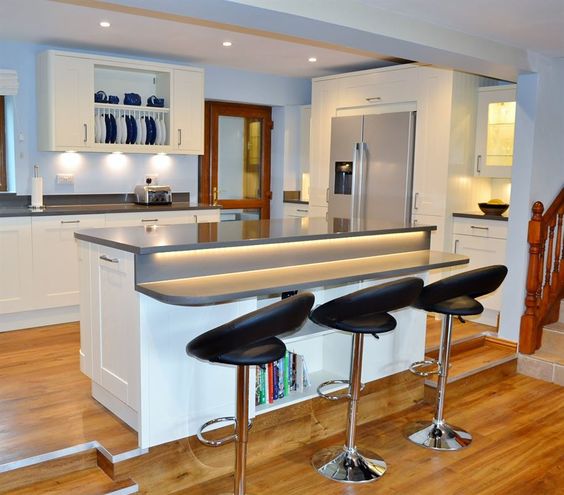 Using bar stools that tuck in perfectly under the breakfast table gives your kitchen an open and spacious look, as they hardly require any extra space, ultimately expanding the floor space. However, if you want to choose some unusual breakfast bar ideas, you can always go for big chunky, pull-out wooden drawers that will stay out of sight from the living room. For the island and worktop specifications, you can either go for a wooden setup or choose the Arabescato marble, a black and white marble stone, with some decorative items on top to make the kitchen appear more inviting.
Erste!Bravo Counter Height Stools Set of 2 White Bar Stools for Kitchen Counter 24 Inch Gold Backless Modern Barstools Industrial Upholstered Faux Leather Stools Farmhouse Island Chairs, White Gold
【Stain & Scratch Resistant Seat】- The backless seat of the counter height bar stool is made of stain and scratch-resistant PU leather with soft foam cushion. Quality anti-scratch PU leather keeps your seat protected. And also the stain & water-resistant feature made the barstool chair quite easy to care.
【Water Resistant & Comfortable Barstools】- The 3" thick soft padded cushion and build-in footrest of the barstool always provides people with more comfortable and relaxing sitting experience. Water resistant function make the bar stools quite easy to clean. Non-slipped foot pads of the kitchen stool protect the floor from being scratched.
【Gold Sturdy & Stylish Counter Stool】- Solid metal gold frame with built-in footrest makes the counter stools more sturdy, max loading capacity up to 330 pounds, and could be used for years without problem. Nicely stitched PU leather with gold steel base, the modern and minimalist design of the bar stool fits in with both contemporary and traditional decor.
【Ideal Space Saver Stools】 - Tuck & hide stool under counter, leg frame of the counter stool doesn't extend past the padded seat, so you can properly store these counter height stools. You can slide the stool right under the bar or counter in your apartment, loft, or college dorm room.
【Wide Application & Easy Assemble】 - 18.7"(L) x 15.7"(W) x 24"(H) counter height barstool, suitable for 34-38 inches height tables. Easy to assemble, includes all necessary hardware and installation manual in the package. Erste!Bravo bar stool's industrial modern design and counter height is perfect for any dining table, kitchen counter, island, or home bar. Multi-functional use in home, restaurant, bar, pub, bistro, coffee bar, bedrooms, cafe, etc
3. Converting the Corner Space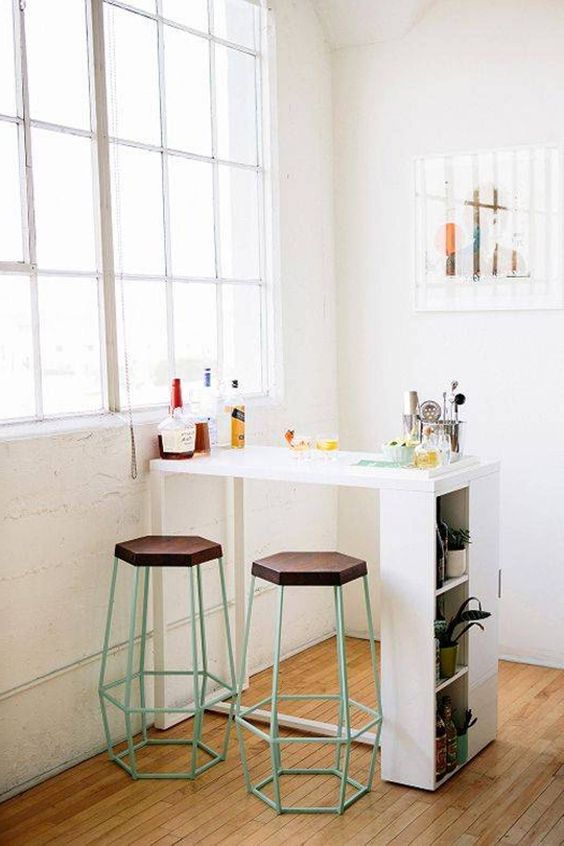 If you don't have any space in your kitchen area, choose your favourite corner where you like to sit and have a peaceful time and convert it into a standalone breakfast bar. Choose a table that appeals to you, add some comfortable stools and various decorative items, and you have yourself a spot to chit-chat with your friends. Make it a little functional with added storage above and below the table for keeping breakfast supplies and utensils. You can even coordinate the bar countertop with that of your kitchen to provide a sense of association.
Silicone cookware set,17 Pcs rose gold kitchen accessories,heat resistant silicone cooking utensils safe to use non-stick pans
【Versatile Kitchen Set】The 17-piece rose gold kitchen accessory set includes all the essential kitchen utensils for cooking, baking and serving, making it perfect for professional and home kitchens.
【Food Grade Material】Made of food grade silicone, BPA free and with a rose gold finish, these utensils are durable, rust resistant and safe for food preparation.
【Ergonomic Design】Each utensil has an ergonomic handle for a comfortable grip and ease of use. Hanging loops on each handle make storage and organization a breeze.
【Easy to Clean】These kitchen utensils are easy to clean and dishwasher safe, saving you time and effort in the kitchen.
【Sophisticated Kitchen Additions】These kitchen utensils feature a smooth rose gold finish that adds a touch of elegance and style to any kitchen decor. They are the perfect gift for weddings, housewarming parties and other special occasions.
4. Volcanic Marble Stone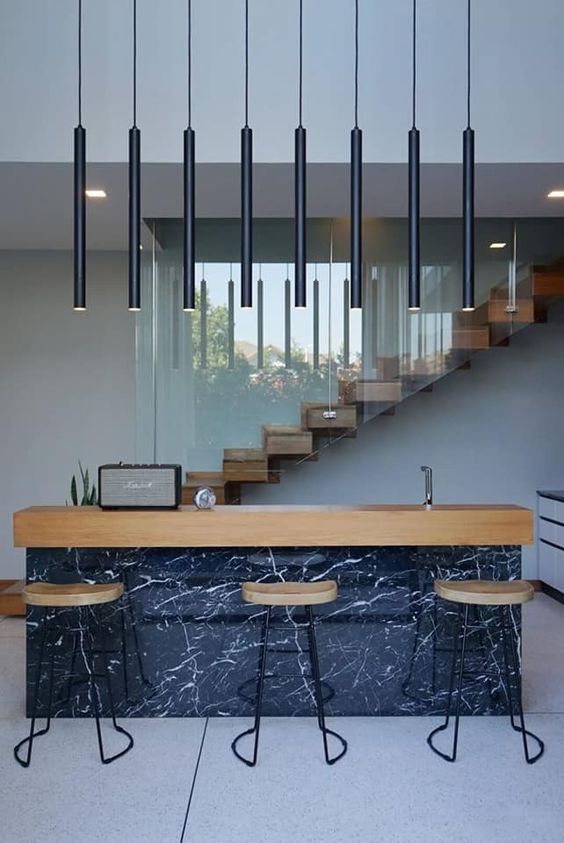 Volcanic Stone is considered to be the star of the kitchen islands. And, if you want to impress your guests, volcanic marble certainly holds the wow factor. The marble surely weighs heavy, but if you look closely, you can spot the minor detailing of fossils being used; the shape it is built in and the rocky look say it all. For a much cleaner look, the storage spaces can be fully concealed behind the double-folding doors. Including bigger faux plants, lamps in the corner, or long-hanging lights from the ceiling could help brighten the place.
Artificial Hanging Plants for Shelf, 4 Pack Fake Potted Greenery Plant Faux Eucalyptus Vine, Mandala Vine, String of Pearls,Pea pod Leaves in Pot for Home Room Indoor Outdoor Shelf Decor
Value Pack: 4 pack different style artificial hanging plant with black pot. Our artificial floral accents will add a rich and elegant look to any decor.
Size: The pot size is 3.5 "x 3.2" (W x H). The overall length of the hanging plants is approx. 22" for eucalyptus leaves, 25.6'' for pea pod leaves, 25.6" for mandala leaves and 18.5" for string of pearls.
High Material: These plants are made of a polyester/plastic blend so it's durable and easy to clean yet it has a very realistic look and texture.
Indoor Decor: This delightful design arrangement is perfect for adding a natural touch to your decor without taking up table space.
Wide Application: You can hang it on the wall, doors, mirror, banisters, fences, windowsill, conduit pipe, exposed electrical wiring, stairs, TV wall, and anywhere as you like with this long artificial hanging plants.
Sale
PERMO Vintage Rustic Industrial 3-Lights Kitchen Island Chandelier Triple 3 Heads Pendant Hanging Ceiling Lighting Fixture with Funnel Flared Clear Glass Shade (Black)
E26, bulb NOT included. Compatible bulb Type: LED; Compact Fluorescent (CFL); Halogen; Incandescent. (60W max)
Black hanging cord, hard wired fixture. Cord can be professionally shortened to the desired length up to 78.7" (200 cm) for versatile placement options.
On/off switch located on socket. If you have a wall switch or dimmer already in place then just leave the twist switch in the on position and control it with your wall switch.
Straight bar ceiling plate length 33.5" (85 cm) x height 2.5" (6.3 cm). Shade diameter 7.3" (18.5 cm); Hardwired (Installation Required); Includes all mounting hardware for quick and easy installation.
One year warranty against defects in materials and workmanship. Replacement can be applied for any shade damaged or missing parts upon open box. For more spare replacement glass shade,please search ASIN: B073S3259Q.
5. Minimalistic Look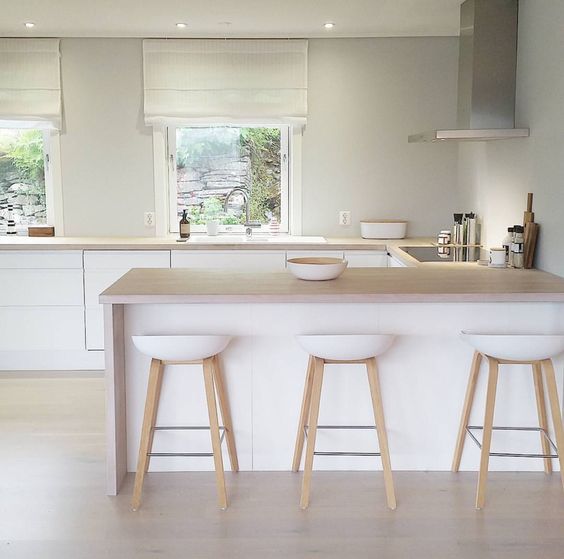 If you don't believe in adding flashy things and like things to a minimum, this look is undoubtedly made for you. Try using light grey shades or a white counter with brown or wooden stools, hanging ceiling lights, or even a skylight. You can choose mix-matched chairs or coloured lighting to liven up the space. You can consider marble tiles, which create a visually-aesthetic look and are easier to clean and maintain. Choose colours easily coordinated with other kitchen appliances for a cheerful atmosphere. Add decorative brackets or hooks to the back wall for an added effect.
Sale
6. Adding Benches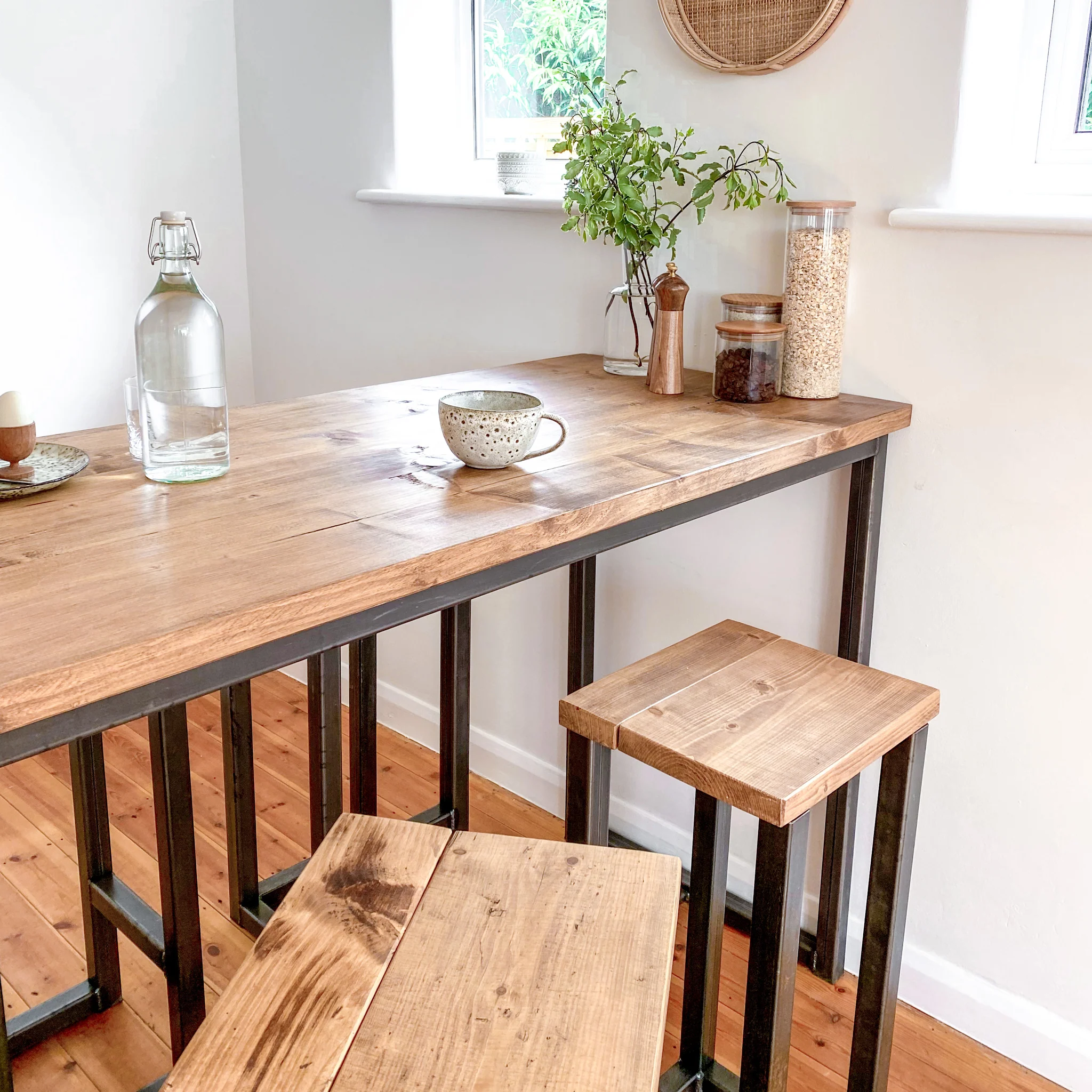 Instead of going for stools or chairs, choose beautiful benches. They accommodate more guests and work great for children's parties, and they take you back to those nostalgic school days when you were young and carefree. Its chic designs make for a lower breakfast bar table, so add on a few fluffy cushions or faux fur to complete the look of your cosy and comfortable Bar. Ensure that the benches you buy are heavier, solidly built, and appropriately placed, so they wouldn't fall off along with the kids when they are playing and running around.
7. Smaller Spaces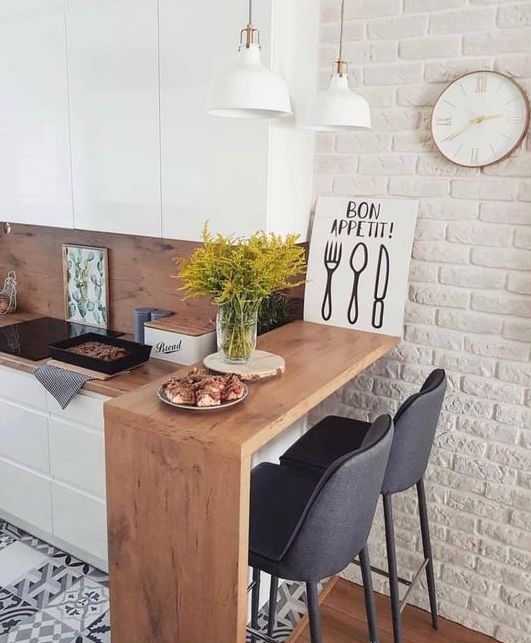 Designing breakfast bar ideas for smaller kitchens has to be done perfectly. One of the simplest ways to do so is overhanging the worktop on the front or end of the kitchen island. Choose two basic 60cm/24inches base units and a 90cm/35inches-deep worktop that will keep your ceiling intact. However, If your overhanging worktop doesn't have any additional corner supports go for a 30cm/12 inches-deeper worktop. This way, you don't have to worry about the load-bearing issues that may come later on. As for stools, select the tuck-ins or the wooden ones that can be easily managed according to your space.
8. Luxurious Breakfast Bar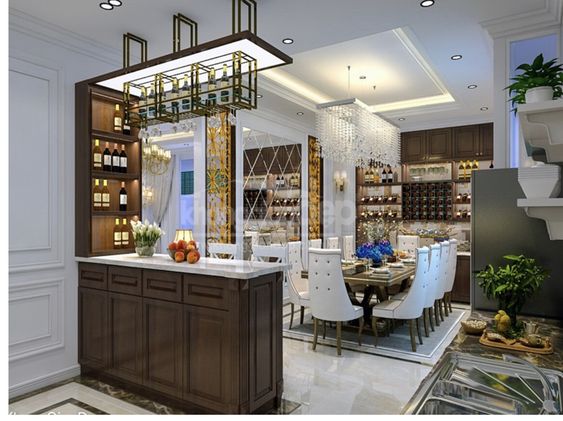 Nothing like a few luxurious breakfast bar ideas one should explore that will make their day. For turning your kitchen into a magnificent space, you can opt for a sleek modern look with black appliances with illuminated lights. Alternatively, try a monochromatic look with white appliances and luxurious bedding for your pillows or blankets. The idea is not to look rich but elegant. Shiny stainless steel appliances, a classic white breakfast bar, and some natural lighting from the large windows with plants on either side also sound like a grand and lavish idea one should try.
9. Building a Traditional Bar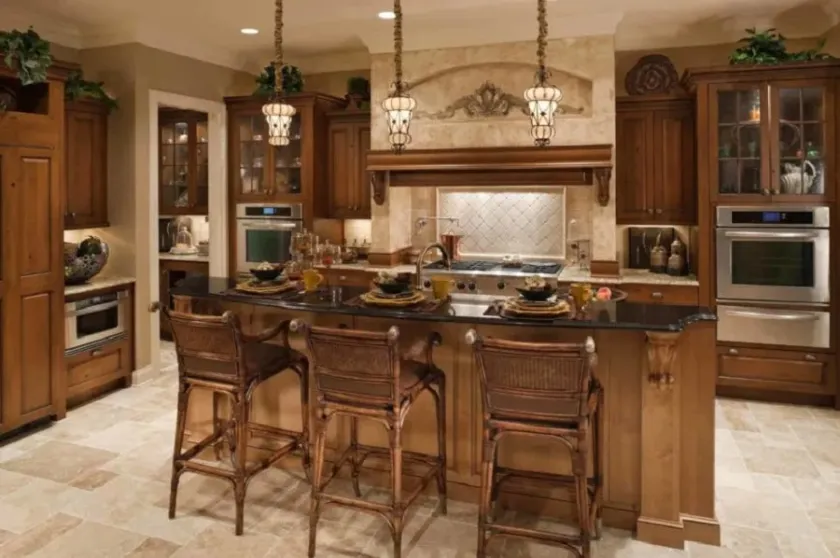 Traditional breakfast bar ideas are a fun way to showcase your personality in front of your guests. You can choose from various colours and patterns available that suit your persona. Selecting authentic accessories will also level up the charisma of your breakfast bar. There are tons of plates, bowls, cups, and other kitchen items you can choose from to add colour and flavour to your morning meals. You can consider colourful mugs or trays, beautiful crockeries, eye-pleasing hangings, storage containers, calendars, or family photo frames to go well with your Bar.
10. Faux Bricks Kitchen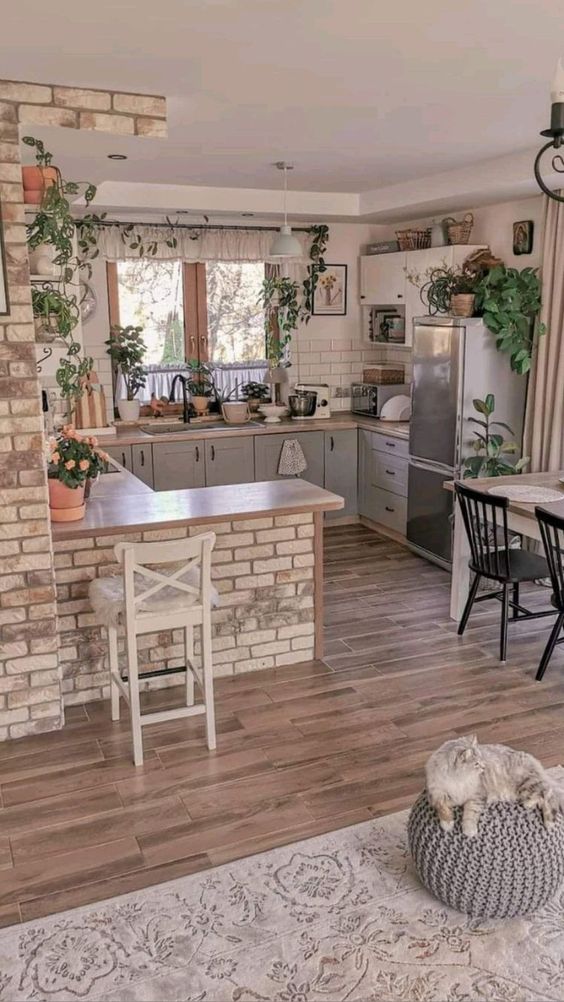 A solid surface countertop with a whitewashed faux brick panel all over and a wooden corbel accented kitchen is all you need for stylish and admirable dining. You can easily use wooden stools and hanging storage on the side to complete the aesthetically pleasing look and a conveniently comfortable place to have coffee in the mornings. You can even opt for a wraparound kitchen counter, it will go perfectly well with the faux bricks panel, and you'll have a modern, compact dining experience.
11. Airy Spanish Style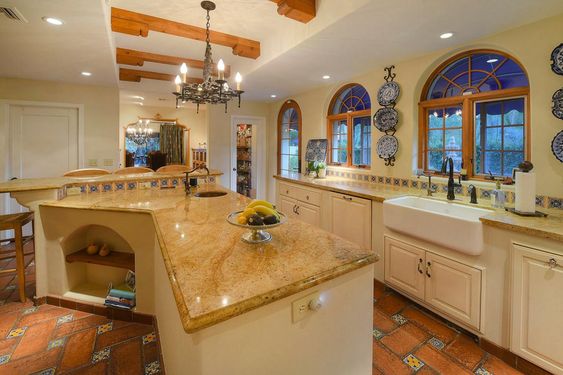 The airy Spanish style includes white background and bright colours making the space appear more open and airy. Hand-pick the beautiful antique-looking breakfast bar and stools to create a humble abode for your guests. Go for similar accessories to accentuate the place, like light-coloured rugs, pillows, plants, and art pieces. Add some pretty serving crockery, tall glasses, and crystal bowls to serve fresh fruits and drinks to complete your Spanish-style look. You can also opt for glass-hanging shelves to go behind the Bar's back wall or some ornaments to go with the theme of your kitchen.
12. Adding Greenery to the Bar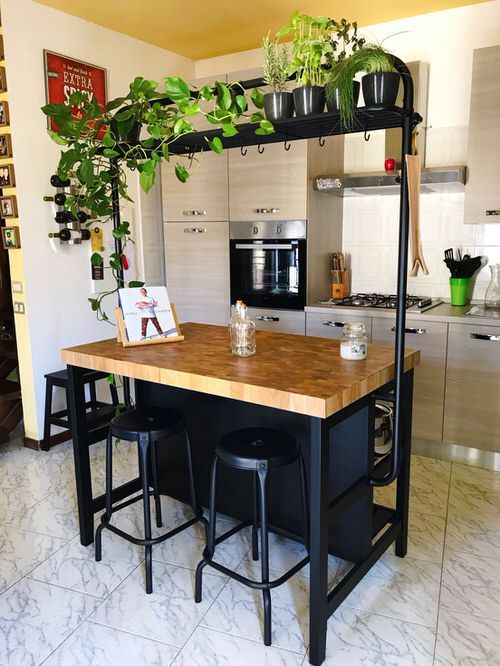 Imagine a whole white kitchen, a breakfast bar in the middle with a grey countertop, two white stools tucked in, and small, vibrant plants on the top. Meanwhile, the entire kitchen is surrounded by your favourite soothing longer plants. If you can imagine yourself sitting in such a picturesque landscape painting-like kitchen, you should undoubtedly go all out on it. In addition, you can hang cute posters or signs that go great with white cabinets with windows on the doors showcasing your aligned crockery sets, and throw in some bright hanging lights to finish off the look.
Leader Shell Back Bar Stools Set of 2, Adjustable Bar Stool with Back, Swivel Barstools (White)
[ Dimension ] The dimension of the shell back bar stools is 17"W x 15.2 "D x 24"-32.5"H, chrome base diameter 15.15"; the back and the seat cushion are the shell design
[ Adjustable Height -Adjust From 26" to 34.5" ] The bar stools are easily adjust the height from 26 inches to 34.5 inches, which can fit your kitchen, table or bar counter; Air-lift handle for easy height adjustment; NOTE: Remember to remove the black cap on the gas lift mechanism before assembly the bar stools, so that the bar stools can adjust the height;
[ 360 Degree Swivel - Easy to Rotate ] The bar stools with 360 degree swivel, which is easy to rotate and onvenient to communicate with your friends or relax
[ Shell Back Design ] Special back design, more novel and give you a comfortable sitting experience; The seat cushion is made by PU Leather and Sponge, comfortable enough; Easy to assemble, will take less time to assembly the bar stools with the instruction; Each Set with 2 Bar stools
[ Using Area ] The bar stools can use in your bar area, living room, kitchen, dining room, coffee bar, entertainment area and even your bedroom, all parts and instructions included, check all parts before assembly the bar stools
13. Black and White Themed Bar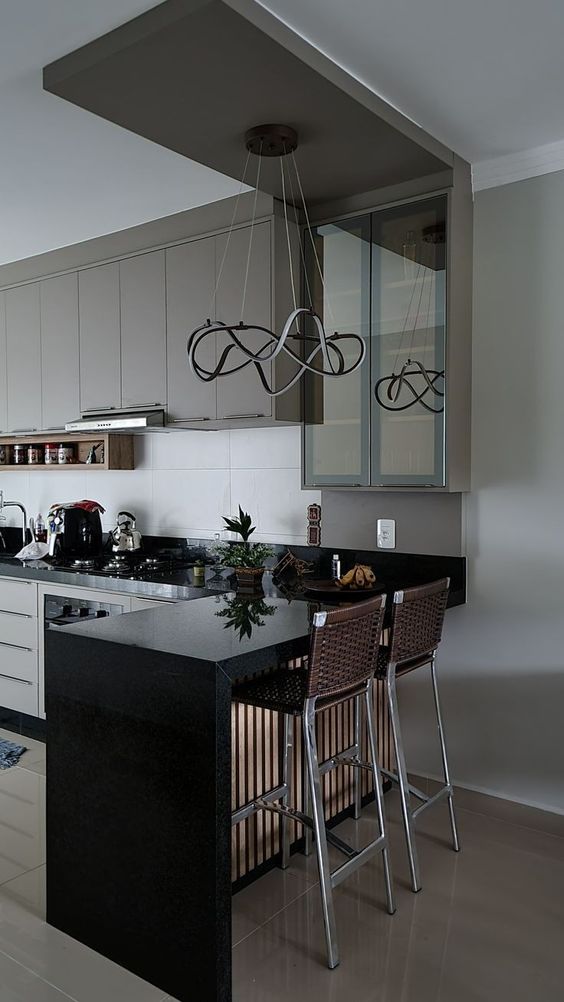 You can never go wrong with an all-black-and-white theme. Pick four metal stools to sit under a black breakfast bar with a shiny white countertop. If you have a brighter-coloured kitchen, this combo will work like a charm, or if you have dark-themed walls, you can go for the white Bar with a black countertop. To enhance the effect, hang gold pendant lights dropping from the ceiling in the shape of domes, along with some potted plants, glass vases or bowls. You can also stack up your wooden shelves with lovely ornaments and kitchen necessities.
14. Vintage Bar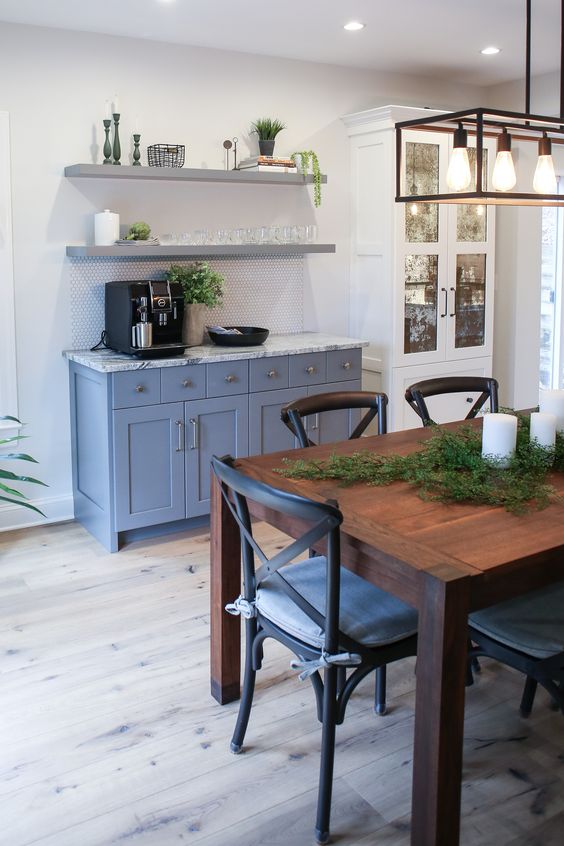 You don't need fancy bars or accessories and even much space to pull off the vintage breakfast bar ideas. The best part about a vintage bar is that you can build one at any corner of your house or kitchen. Measure the finalized wall's length, pick out a wooden shelf, add two long-legged stools below the Bar, and you are done. Add some scented candles, a jar of wildflowers or indoor plants, antique frames, an oval mirror, and vintage paintings to make the Bar look more exciting. Throw in some cushions or blankets to give a homely finish.
15. Farmhouse Feels
Bringing back the farmhouse-style kitchen with a touch of modernization to it. Consider a breakfast bar that helps expand your cooking space, keeps you organized, and makes breakfast entertaining for everyone. To pull off the look, get a breakfast bar with the focal point being the island or the countertop, and use the rest of the space as storage. Keep the whole ambience neat and well-maintained with neutral colour accessories to decorate and vintage farmhouse chairs or some decorative ornaments to add a persona to your kitchen.
Conclusion
A breakfast bar is basically an informal spot in your kitchen where you can just pull up a stool and have your morning breakfast on the Bar. It can be an oversized bar table with 4-6 seats or a small shelf attached to the wall with two wooden stools.
From a decent kitchen perspective, the potential of adding finer decorative makes the place much more elegant. And remember the cheerful lights as they bring about extra glam to the space.
Those considering redecorating their kitchen or looking for inspiration should definitely play around with these breakfast bar ideas.
Do tell us in the comments which idea was simply perfect for helping you build your dream kitchen breakfast bar.
Frequently Asked Questions
What Things Should You Consider Before Adding a Breakfast Bar to Your Kitchen?
Finding a suitable space or corner is a must so you can plan the whole thing accordingly. Measure the area and look for specific dimensions of the island to find the accurate size of the Bar. Regarding materials, go for smooth, easy-to-clean, and durable surfaces.
What Is the Correct Height of a Breakfast Bar?
There's no such thing as the correct height of a breakfast bar. Simply evaluate the space and inspire yourself with these remarkable breakfast bar ideas, ready to be implemented.
Are Kitchen Islands Popular These Days?
Yes, kitchen islands are still famous for all the extra space they provide and act as an attraction to your kitchen.
How to Make My Kitchen Look Elegant?
Use brighter accessories, functional furniture, and some fancy decorations, and your kitchen will be the highlight of your house.
Is It a Good Idea to Have a Breakfast Bar?
Breakfast bars are a great addition to your kitchen in terms of taking up less space, offering more seats and storage, and ultimately livening up your space.