Hey there! Have you ever wondered where you go to unwind after a long day? Well, for some people, it's their bathroom. Yep, you read that right! Many individuals find solace in their bathrooms and consider them to be a sanctuary for relaxation and rejuvenation. And if you're someone who loves a touch of elegance and luxury in your personal space, then why not consider adding some gorgeous gold bathroom faucets to your vanity?
Not only do these stunning faucets add aesthetic appeal to your bathroom, but they also enhance functionality, making them an essential component of any vanity. That's why we've put together a guide that features 11 elegant gold bathroom faucets, each designed to transform your bathroom into a luxurious space.
So, let's dive in and explore these shimmering faucets. Get ready to be inspired and take your bathroom to the next level of sophistication!
1. Single Handle Arc Single – Hole Faucet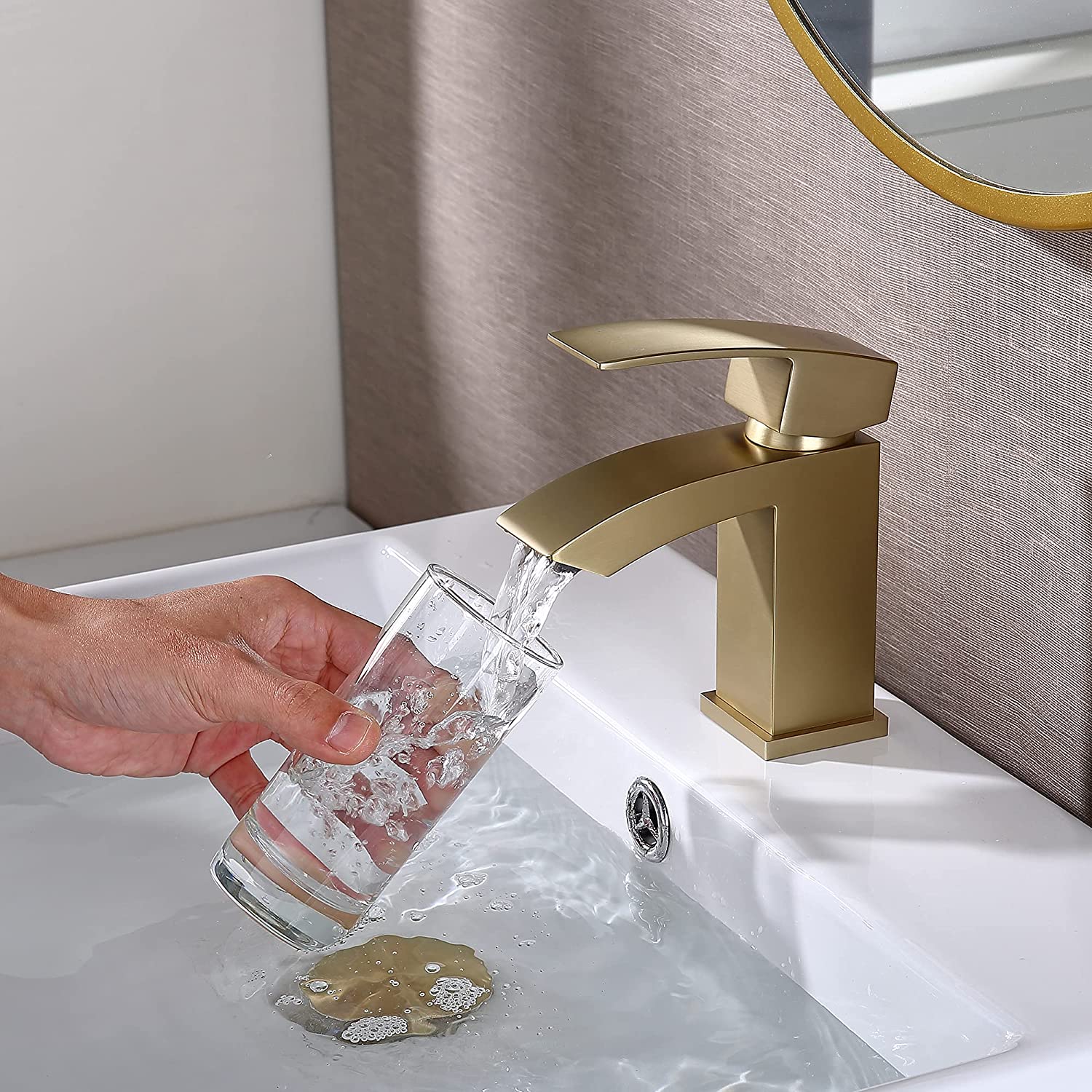 Whenever you use this faucet, the flowing water will give you a peaceful and enjoyable feeling. To provide a remarkable water experience and enhance your daily routine, you may want to consider installing this faucet in your bathroom. Its single handle is easy to use and controls the water temperature and flow. The square design with an arc and immaculate finish of this gold bathroom faucet matches the style quotient of most bathrooms.
2. Waterfall Single – Hole Single Handle Faucet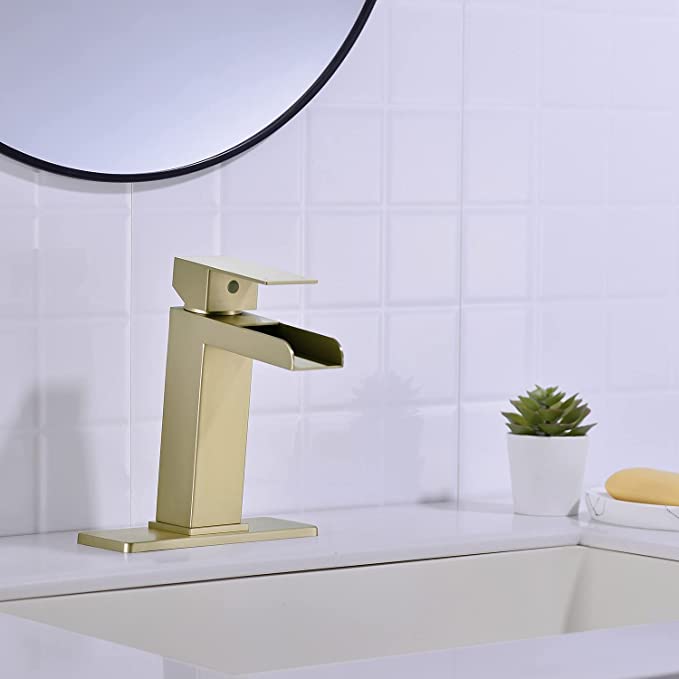 Single-handle, single-hole waterfall gold bathroom faucet is a minimalist addition to your bathroom vanity. Its low lead solid brass body ensures longevity and a great water experience. The faucet features a clear and steady laminar stream, effortless flow and temperature control, and an antique gold finish that complements any bathroom decor. The water efficiency of this faucet has been designed to meet high standards while ensuring that the water pressure and overall performance are not compromised. This gold bathroom faucet has a waterfall spout and is easy to install.
3. Single – Hole Single – Handle Faucet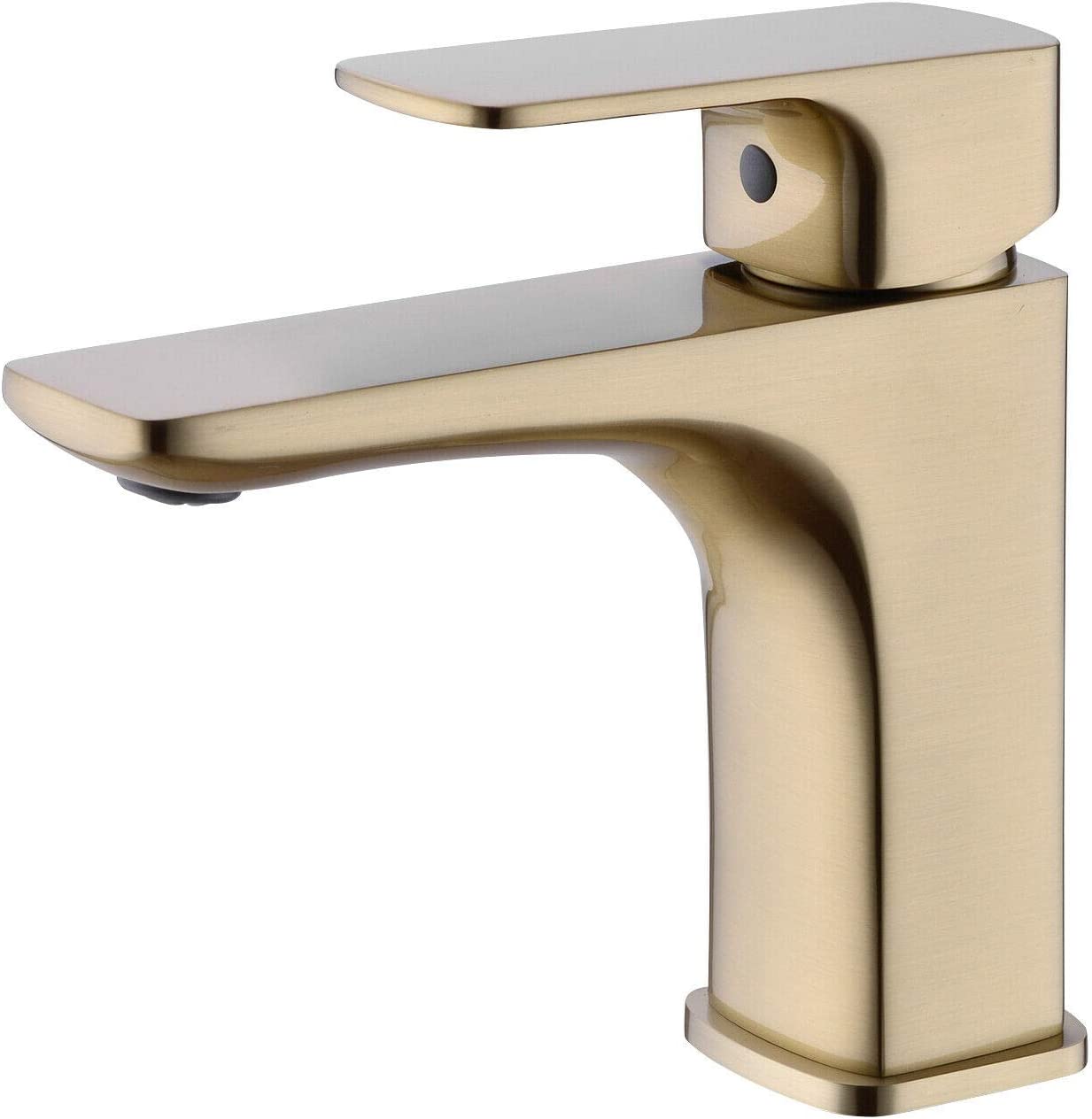 Enhance the look of your newly renovated or updated bathroom with this elegant faucet, which will complement the modern design of your vanity units and add a sophisticated touch. Its metal lever handle allows for simple control of water volume and temperature, while the push-up and push-down drain assembly add convenience to the design. Its single-handle functionality ensures precise temperature control with one hand. Ideal for everyday washup tasks, like brushing teeth, washing hands, and washing face. Installing the faucet is hassle-free. This metal construction comes in a premium matte gold finish and ensures durability and reliability.
4. Wall-Mount Faucet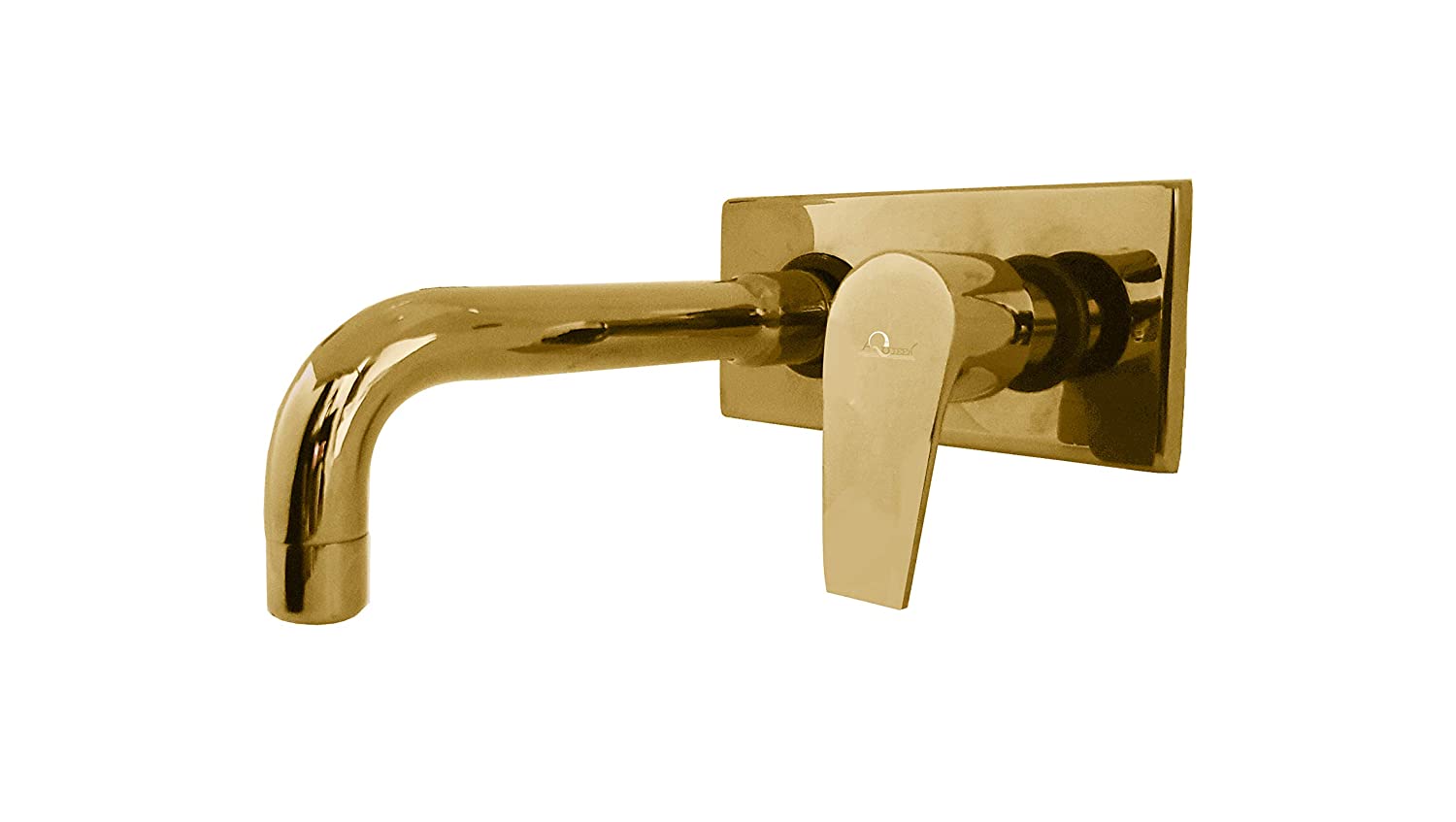 Using solid brass, the wall-mount gold bathroom faucet is crafted to last for a long time while maintaining its pristine appearance. Its functional design adds a touch of modern elegance to any vanity unit, thereby freeing up the counter space. Its single-lever design allows it to take hold of temperatures and flow. The premium gold finish resists corrosion and tarnishing, making its maintenance hassle-free.
5. Wall Mount With Dual Lever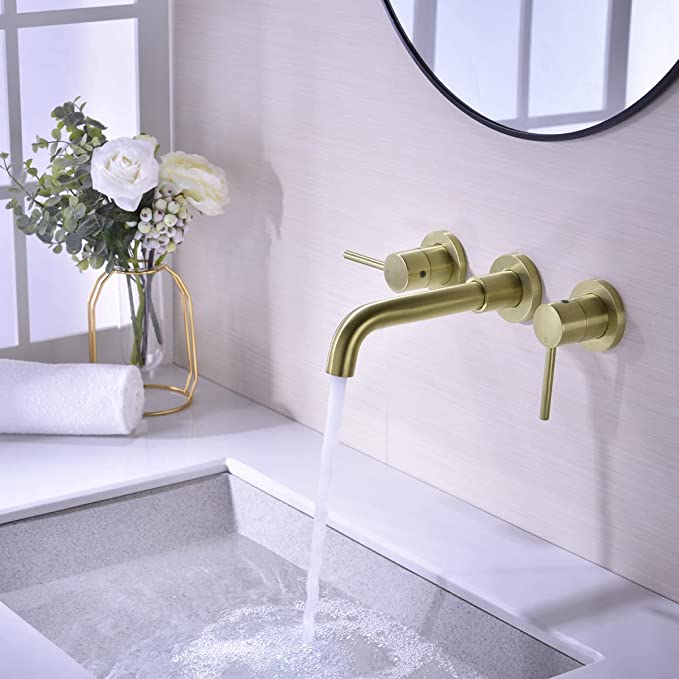 Looking for a stylish and resilient addition to your vanity? Here you go. Constructed in solid brass, this wall-mounted gold bathroom faucet comes in a premium gold finish, is resistant to rust, corrosion, and tarnish, and is easy to clean. Its dual handles (hot/cold) allow effortless control over the volume of water and its temperatures. The faucet's sleek and slender spout delivers a streamlined flow of water, bringing elegance to the overall design. Its space-saving design makes it a practical choice for the vanity of your bathroom.
6. Automatic Sensor Faucet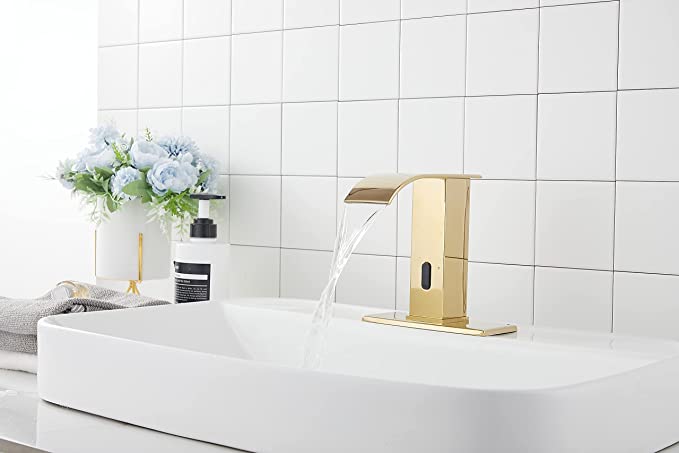 Crafted from premium zinc alloy and brass, this faucet is highly resistant to rust. The faucet's weight and gold finish gives it a sophisticated and modern look that is impressive. This touch-free bathroom faucet offers a hands-free water supply, which stops flowing as soon as you move away, effectively reducing water consumption without compromising water pressure. By eliminating the need to touch the handle after washing your hands, this faucet provides a hygienic and easy-to-clean solution. Water flow will automatically stop when your hands leave the sensor range, preventing soap residue from accumulating on the handle.
7. Single-Handle Vessel Faucet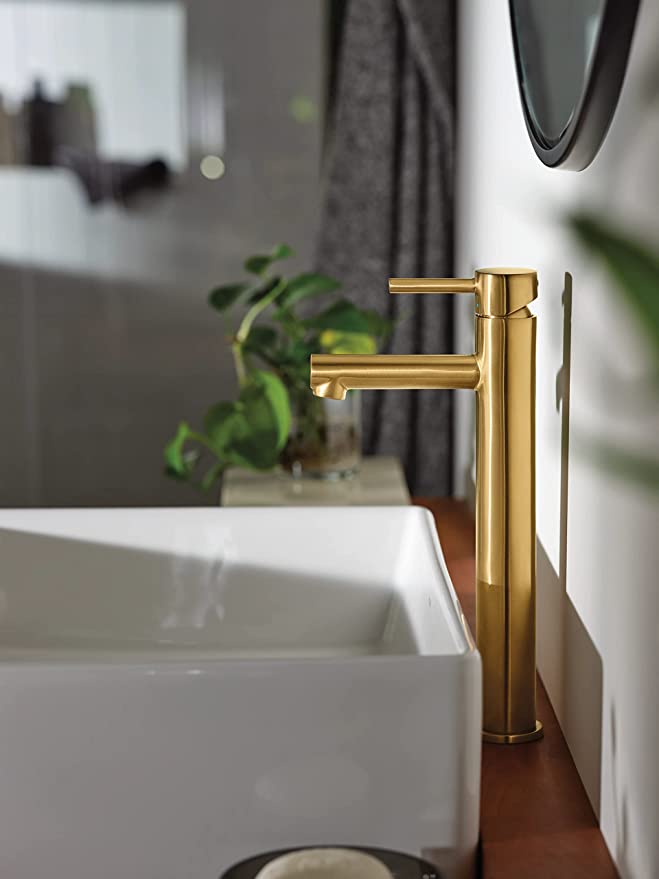 The vessel bathroom faucet is crafted from solid brass and comes with a gold finish. It has a premium ceramic disc cartridge that ensures smooth and drip-free operation. The single-handle lever provides precise temperature and water flow control. This superb faucet strikes the perfect balance between exceptional quality and innovative design, which makes it a must-have accessory for your bathroom vanity. The single-hole mount of this gold bathroom faucet creates a cleaner look and complements other faucets and accessories in the bathroom.
8. Widespread Faucet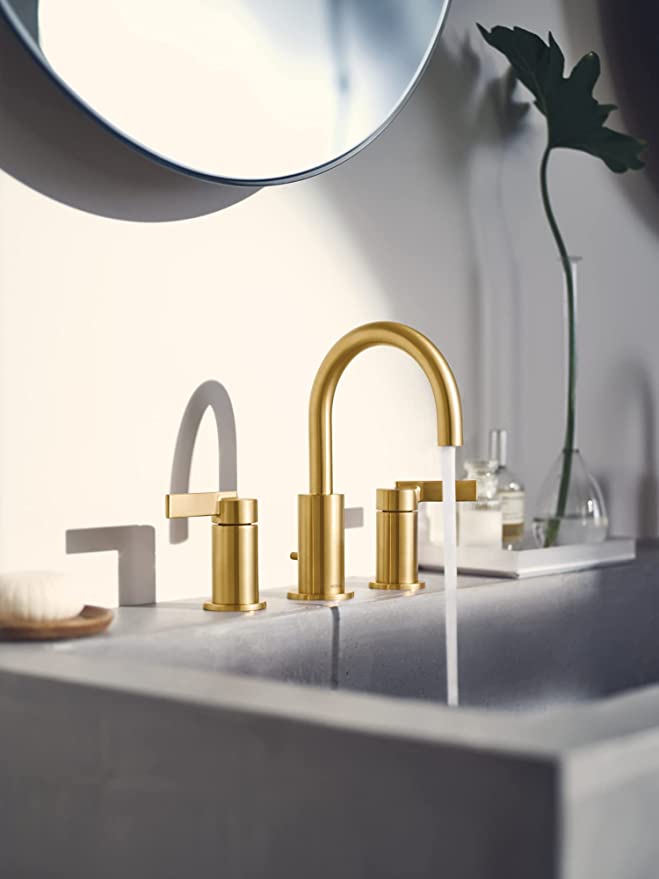 This faucet is an ideal choice for both personal and commercial bathrooms due to its longevity, low maintenance requirements, and timeless design. Made of solid brass, it is highly resistant to rust, corrosion, and tarnishing. The brushed gold finish adds a touch of luxury to your bathroom, and the high arc faucet spout offers ample space for washing hands. Its sturdy construction ensures long-lasting leak-free performance and perfect water flow. Widespread faucets have a unique and stylish design. They have separate handles, and none of them connects to the base. The gold bathroom faucet has been designed by experts to allow for a customizable and widespread installation. Moreover, it has water-conserving features that do not compromise its performance.
9. Single Handle Waterfall Vessel Faucet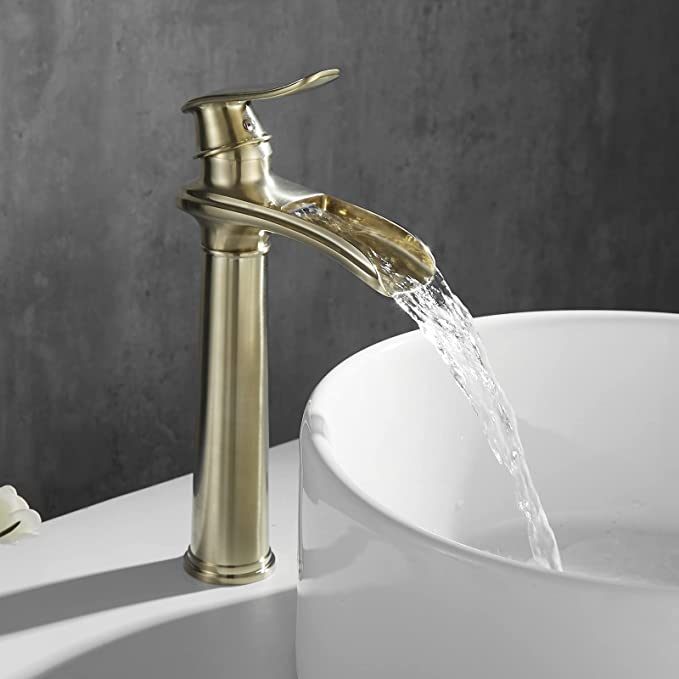 The Single-Handle Waterfall Vessel Sink Faucet has a modern style that gives a sleek and elegant look of contemporary design. The vessel sink faucet features a waterfall spout that produces a clear, smooth and even flow of water, creating a stunning water display. Its single-handle design allows for easy adjustments to a powerful waterfall stream and comes with a pop-up drain without overflow. The brushed gold finish gives this bathroom faucet an antique appearance, while its durable construction and modern design make it a perfect addition to any bathroom decor. This single-handle bathroom faucet and its design prioritize water efficiency without compromising water pressure or overall performance. The faucet also comes with hot and cold water hoses and accessories.
10. Centerset Faucet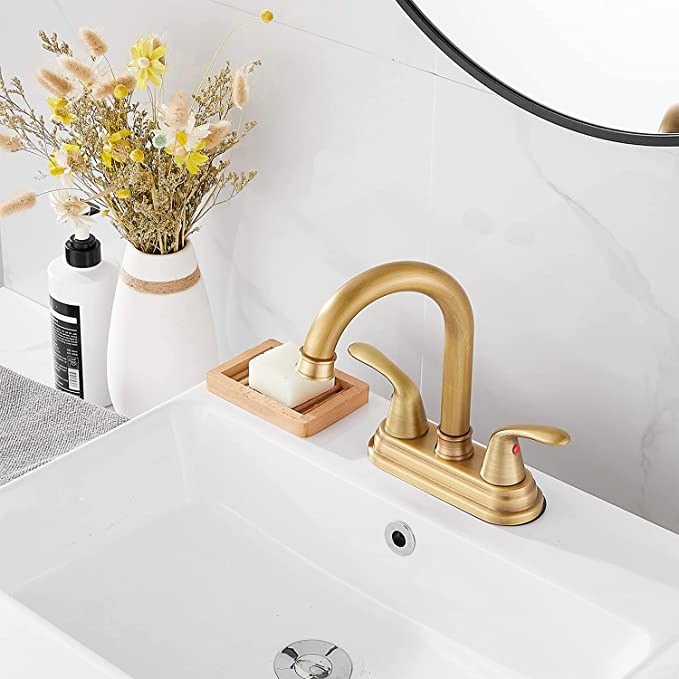 The centre-set bathroom faucet boasts a brushed gold finish and a two-handle lever design that makes adjusting water flow a breeze. The faucet itself is made of solid premium brass construction with an antique brass finish that resists tarnishing and corrosion from daily use. This gold bathroom faucet is deck mount type. Its 4" three-hole centre set design allows for easy installation. The aerated flow is perfect for everyday bathroom tasks, such as brushing teeth and washing hands, keeping in mind water conservation and no sacrifice in performance.
11. Luxury Gold Swan Faucet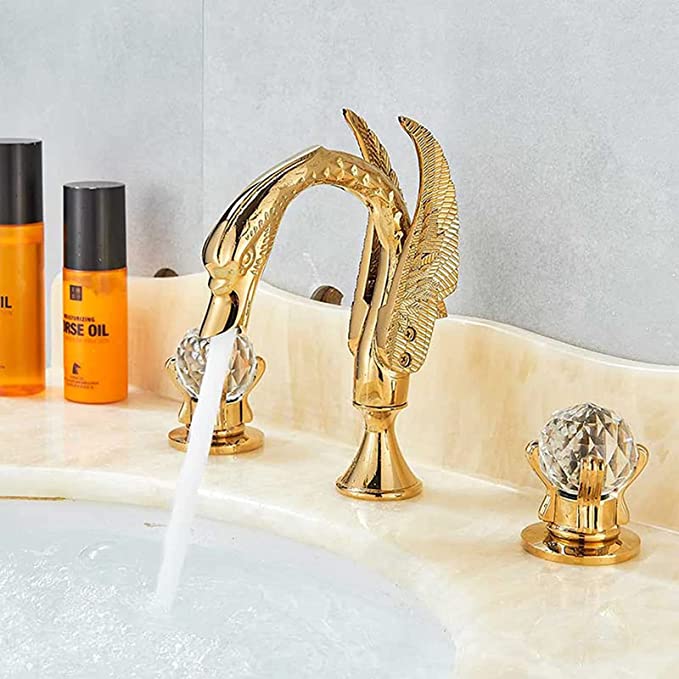 The Luxury Gold Swan Basin Faucet has a striking forward stance that invites exploration of new design possibilities. The faucet is modified, and its tailored design seamlessly complements countless interior styles, making it a versatile choice for any bathroom. With its clean, modern elegance and visually engaging angularity, this faucet makes a statement. It is deck mounted and features a ceramic valve core material, a brass faucet body and spout material, and a zinc alloy faucet handle material. This dual-handle faucet is mounted on a single hole and requires three holes for installation.
Conclusion
We have seen 11 elegant gold bathroom faucets, which will elevate your vanity to new heights of luxury. With an array of styles and designs to choose from, you can find the perfect faucet to match your unique aesthetic and preferences.
Whether you prefer a sleek and modern look or a more traditional design, these faucets offer both form and function, with durable materials and efficient water usage. Upgrade your bathroom by installing one of these luxurious faucets, and turn it into a sophisticated and indulgent oasis.
Every time you use the faucet, you'll feel a sense of indulgence and luxury.