Are you a purse person looking for effective ways to store them? Regarding fashion accessories, everyone has their favorites that they love the most. For some, it can be shoes, while for others, it can be handbags. Also, some people love purses over anything else. So, if you are too a purse lover, you will admit that finding a cool and convenient way to store them is difficult.
However, there are multiple benefits to storing your purses properly. It can help you organize your closet, free up space, and you can easily access any purse you want on the go. Having your purse piled at the corner of your wardrobe damages them, and you will soon forget those at the bottom.
So, keep reading, as here we will discuss the 19 best purse storage ideas you can DIY or buy.
Best Purse Storage Ideas
When you are looking for some practical ways to store your purses, you can find a lot of beautiful purse organizers to buy as well as to do it yourself. Whether you have a couple of bags or thousands of different styles, having good purse storage is inevitable for your wardrobe.
1. Over-The-Door Purse Organiser
The door purse organizer is quite popular and looks chic. You can buy over-the-door purse organizers from convenience stores or online shopping sites like Amazon. They usually come with two racks containing up to 20 purses. This over-the-door purse organizer also has an adjustable hanger that can fit different sizes of purses easily.
2. Over-The-Door Chain DIY Purse Organizer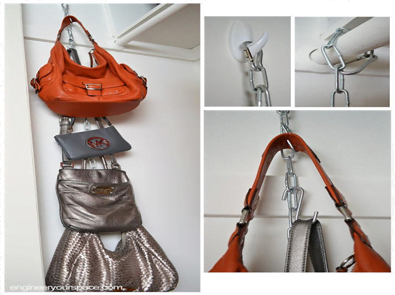 You can also DIY it with a wall command hook, some 'S' hooks, and a heavy-duty chain. This no-tool DIY over-the-door purse organizer is easy to make and looks great. Attach all three items to your door. Now align the S hooks with the chain, and it is ready to hold your purse.
3. Hanging Purse Storage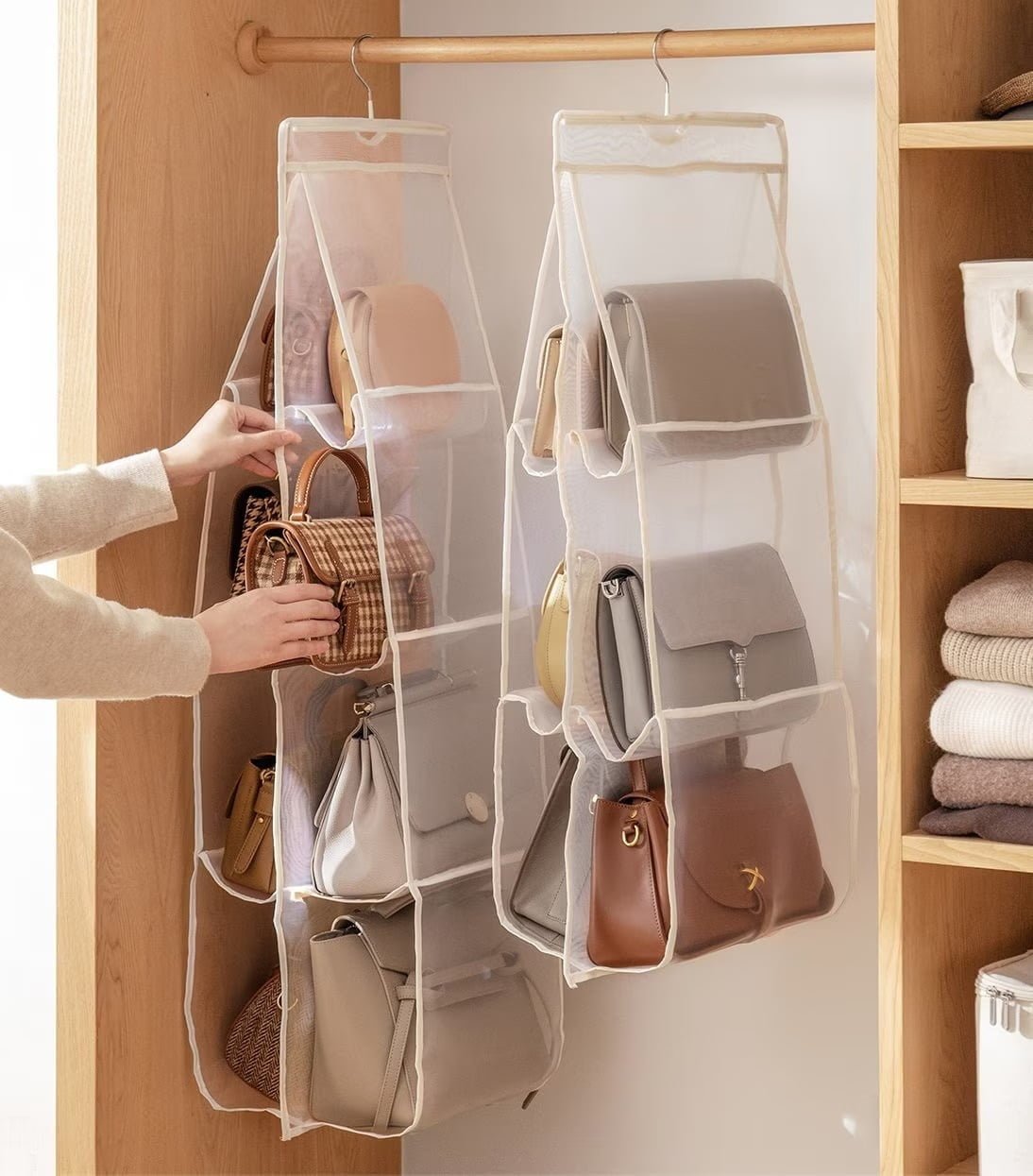 Hanging purse storage is also one of the popular purse storage ideas that you can try to organize your purses. They are easy to use, hassle-free, and keep your purses organized. You can buy them from any online store. Most of them come with multi-size plastic pouches that will hold different sizes of handbags easily. The plastic pouches will protect your purses from external harm like dust, stains, scratches, etc. Also, the plastic pouches are transparent, so you can quickly locate the purse you need with a simple glance at the purse storage.
4. DIY Hanging Purse Storage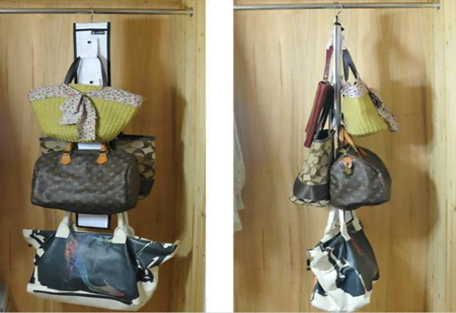 You can also DIY your hanging purse storage to make it more artistic and personal. Use coat hangers and put the shoulder strap of your purse over the hanger's neck. Also, if you have multiple strap detachable purses, you can detach and hang them on the crossbar of each hanger. Now take all of these hangers and put them into your closet. It will keep your purses organized and safe.
5. Purse Dividers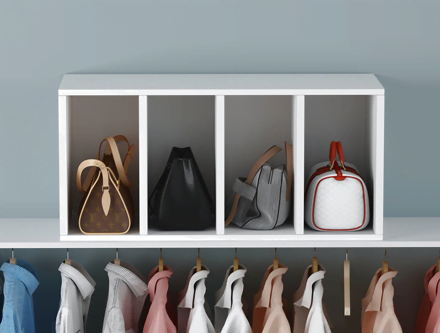 Purse dividers are also one of the 19 best purse storage ideas that look elegant and help you organize all your purses and handbags in one place. You can buy purse dividers with different storage sizes and easily fit clutches to crossbody sling bags. Plus, the dividers are made with clear and thick acrylic sheets. It helps you identify purses quickly by glancing at the storage.
6. DIY Cardboard Purse Dividers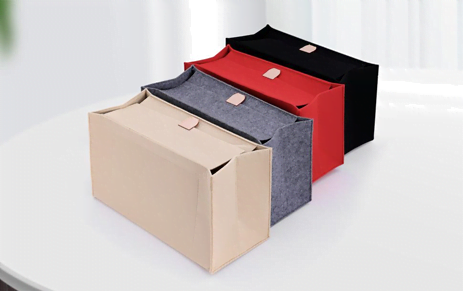 You can make similar purse storage on your own. Multiple DIY divider-purse storage ideas are available, and the easiest one is using cardboard accordion organizers. If you have a spare office cardboard accordion organizer, you can use it to create your purse divider. It is pretty simple, slide your purses into each readymade division of the accordion and place the accordion at an easily reachable place. Also, you can take snaps of the purses and stick them on the holder's wall for easy identification. It is mainly because the folders are not as clear as the purse dividers available.
7. Purse Wall Hooks
If you want cool purse storage ideas, you might love purse wall hooks. You can create a statement with cute, artistic purse wall hooks in online shopping stores like Amazon. They look stunning and come in various shades. Purse wall hooks generally come with a four-piece combo of different colors. And you can hang them anywhere in the bedroom, mudroom, or closet. Whether they are packed in your purse or not, they look amazing on your walls.
8. DIY Wall Purse Storage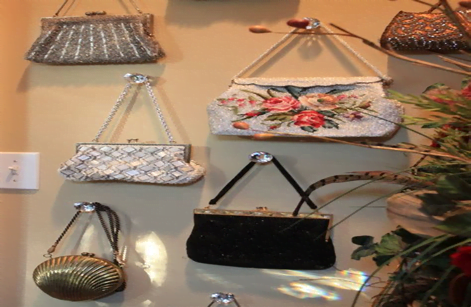 Besides the purse wall hooks, you can also make your unique DIY wall purse storage. If you want some beautiful purse storage ideas, then you must try the DIY pegboard wall-purse storage. If you have a spare pegboard, you can utilize it to make an attractive DIY wall purse storage. Cut the pegboard into your suitable size and paint it with a color that matches the environment. Now place it in your bedroom, hallway, or living room, and add as many hooks as you want in any pattern you like. Use those hooks to hang your purses, sling bags, and semi-handbags.
9. Purse and Shoe Organiser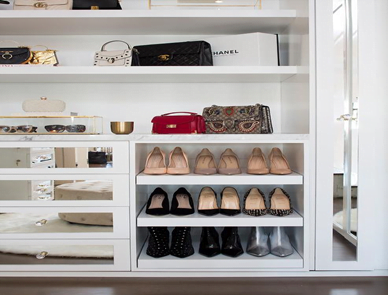 Do you love to organize your shoes and bags together? And looking for some beautiful purse storage ideas, the purse and shoe organizer is the ideal option. The purse and shoe organizer allows you to store your purses and shoes in pairs and help for easy styling. The best part of using a purse and shoe organizer is creating a walk-in closet or displaying your purse collection in any preferred room. Also, you can fill your purses and handbags with newspaper or brown paper to keep them in the right shape. It will also make the look beautiful and worth displaying.
10. DIY Purse and Shoe Organiser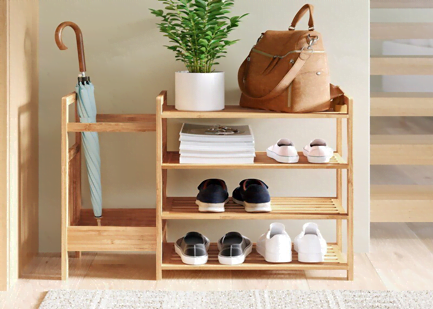 If you want shoe and purse storage hacks that you can make easily at home, this DIY purse and shoe organizer may interest you. You need a bookcase, a few baskets, and acrylic boxes to create the organizer. Put little baskets and acrylic boxes on them to create different spaces for your purses and shoes. It is an effortless and cost-effective way to organize your handbags and shoes together without spending much money. Also, if you are worried about how to keep your handbags and shoes, you can buy clean balls for the task. They are low-cost yet highly effective tools to clean your purses and shoes within the storage.
11. Wall-Mounted Multi-Hook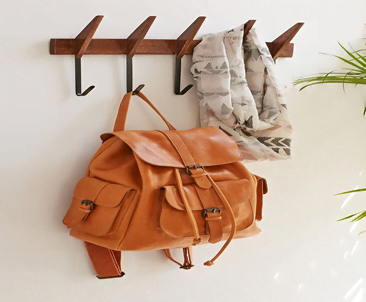 If you are looking for some purse storage ideas that are easy to install. Wall-mounted multi-hook purse storage can be an excellent choice for you. The wall-mounted multi-hook purse and handbag storage is quite popular in current times. They are hassle-free, and you can easily install them in your bedroom, closet, or anywhere you like in your home. Find a suitable place or wall screw, fit the hook into the wall, and you are ready to use it. The wall-mounted purse storage has multiple hooks, and you can hang up to 6 different purses and handbags on a single wall-mounted multi-hook.
12. Over-The-Door Belt/Strap Purse Storage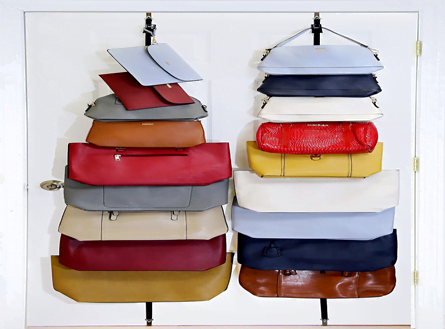 The belt or strap purse storage is one of the popular over-the-door purse storage methods that you can use. If you run out of space in your closet, the belt/ strap over the door purse organizer can greatly help you. You can purchase the belt or strap over-the-door purse organizer from any convenience store or online store. They can hold various shapes and sizes of purses and handbags and look pretty.
13. Multi-Size Storage Bins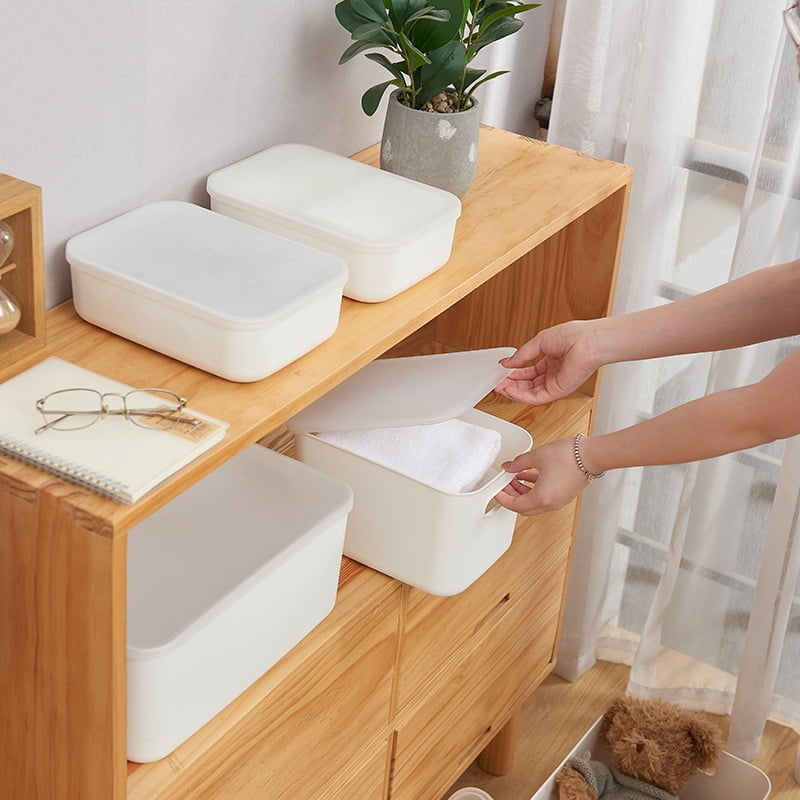 The multi-size storage bins are also one of the best purse storage ideas that you can try to organize your purses and other handbags. This purse storage has multiple containers of different sizes. It helps to store different types and sizes of purses and handbags easily without any problem. Here you can keep your compact clutches to big sling or tote bags. Place the bin into your closet and store all your bags in it. It will free up your closet space and make it look organized and tidy.
14. Whole Range DIY Wall-Mounted Handbag Storage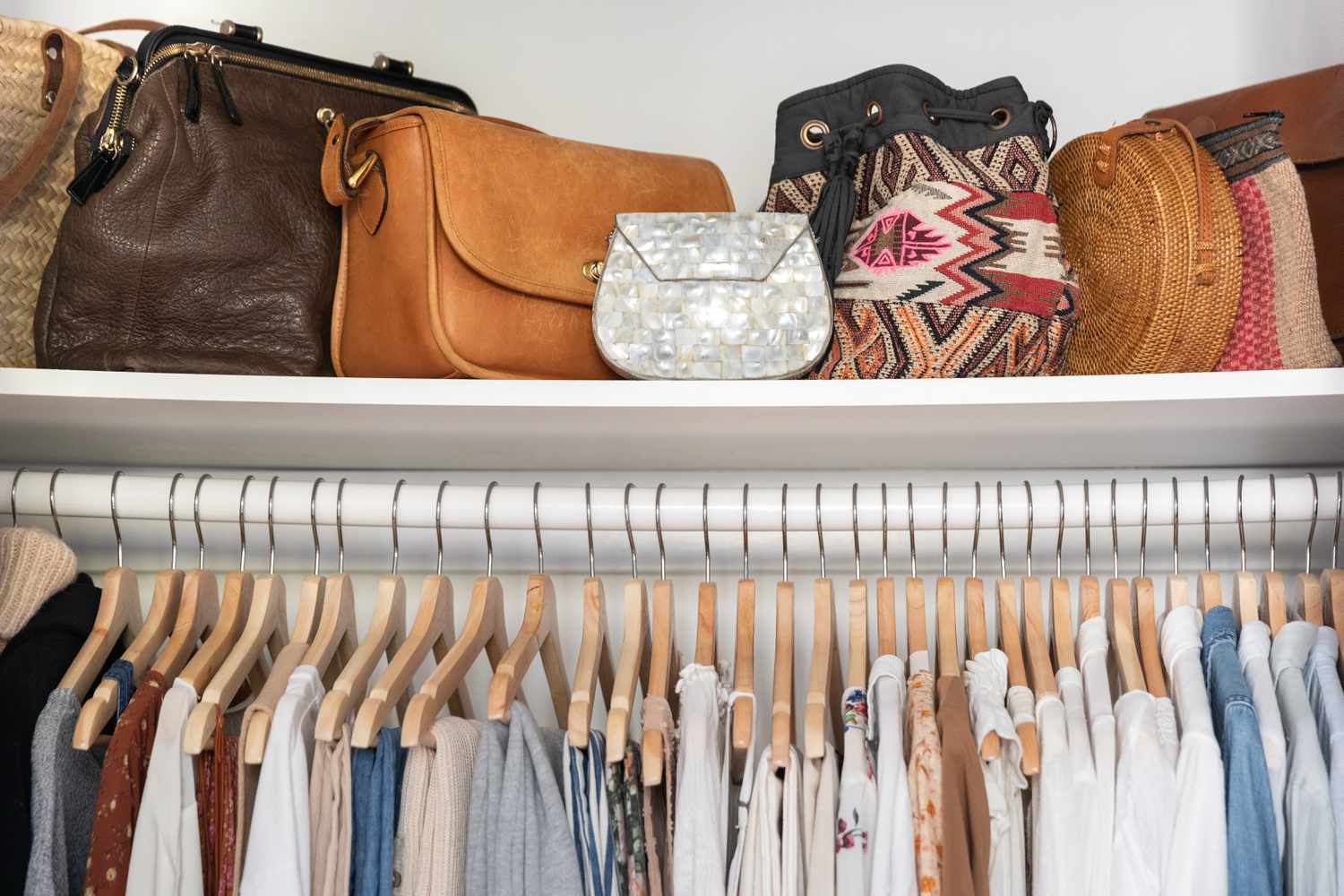 If you are looking for purse storage ideas that can hold your handbags, this full range of DIY wall-mounted handbag storage ideas can be a great option. Currently, the full range of wall-mounted handbag storage comprises several types of wall storage, from clear acrylic shade to clear medical folders and wood racks. You can customize the DIY wall-mounted handbag storage and store your purses, clutch, handbags, and even shoes.
15. DIY Purse Hung with Curtain Hooks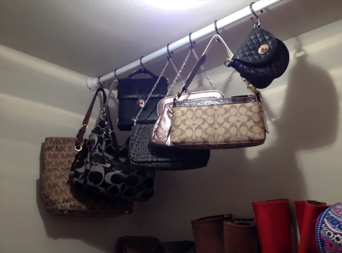 Various DIY purse storage ideas are easy to make and look fantastic. And the DIY purse hung with curtain hooks is one among them. They are super easy to make and do not require complex tools or materials. All you need is an expandable clothing rod or rack and some curtain hooks. Attach those hooks on the rod and place it in your closet or on the wall, and it is done. You can hang your purses and handbags with the hooks, and it will save up your space.
16. Magazine Filers to Store Clutches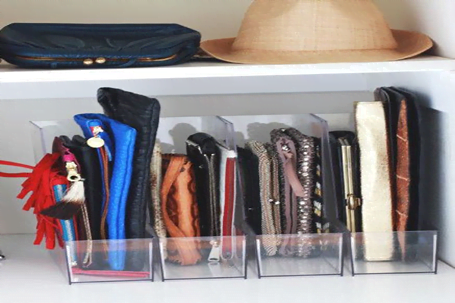 Another Popular DIY hack that can be useful for organizing your purses is the magazine filers. If you have some old magazine filers (especially transparent ones), you can turn them into beautiful clutch holders. Place your magazine filers on the table or yourself and store your purses and clutches into them. It will give you a chic look, and you can easily pick your purses on the go. Though it is not mandatory, you can paint the walls of your magazine filers to give them an artistic appearance and add a personal touch.
17. Hanging Bag Storage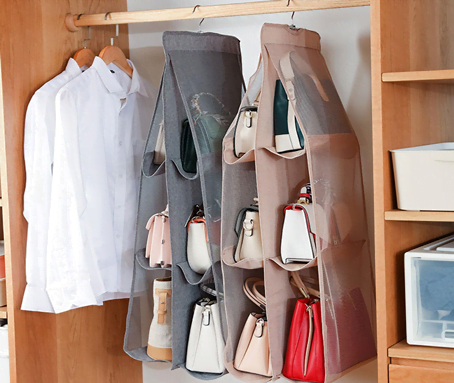 The options are endless when you look for some cool purse storage ideas, and one such is hanging bag storage. The hanging bag storage is a popular bag organizer. You can quickly get them from online stores or convenience stores. They look simple yet elegant and add a classy look to your wardrobe. There are multiple pockets in the bag hanger in different sizes. So, you can use it to store your purses, handbags, and other bags easily. Most of them come with four cube bins and six side pouches; you can organize your bags according to your preference.
18. Cube Storage System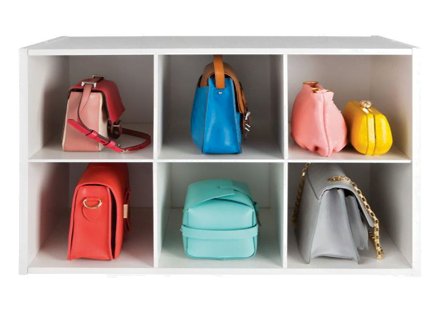 The cube storage system is one of the chic purse storage ideas you would love to try. The cube storage system is a very simple and convenient option for storing your purse. They are easy to install in your closet and can store various items. The cube storage system is a multipurpose system that you can use to store anything from toys, shoes, and even purses and handbags. You can get them in different sizes and numbers. They look similar to kitchen organizers but work excellently to store bags, handbags, or shoes.
19. DIY Wine Wall Rack for Purse Storage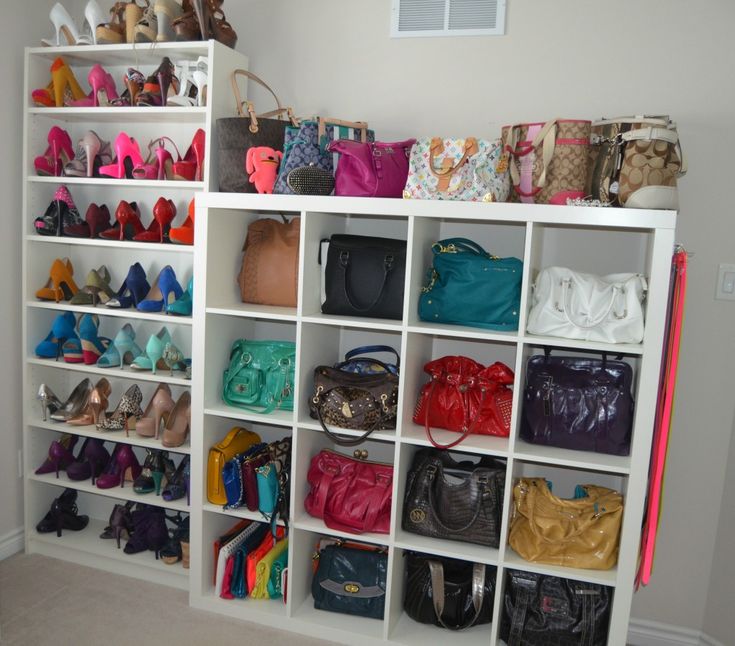 The DIY wine wall rack for purse storage is ideal for people who have a rustic room environment or love vintage style. This wine wall-mounted rack looks elegant and can easily fit different sizes of purses and handbags. They can also hold clutches and small-size purses easily. If you have an old wine wall rack, you can utilize it and turn it into a wall purse storage. It looks beautiful, and you can place it anywhere you want to display the wine rack and your purse collection, like the living room, bedroom, or hallway. You can add some wall-hanging plants, bookshelves, or paintings near the purse storage to complete the look. However, you must remember that other items you add to the wall must match the theme of your wine wall-rack purse storage. It is because if they do not go well, the entire concept will be ruined.
Summing It Up
All in all, a purse is an essential item when you walk out of your home. But for some people, they are more than just an accessory. Purse lovers cannot stop buying one purse after another whenever they find something unique. Whether you love to collect purses or have a couple of purses and handbags, you must keep them properly.
Therefore, using a purse organizer is essential to keep your purses and handbags safe and in order. Also, when you use a purse or bag organizer, you can prevent dust, scratch, and squeeze-related damages and easily identify your purses. Above, we have listed the 19 best purse storage ideas you can buy or DIY.
So, are you ready to revamp your closet? Try these bag storage ideas today.
Frequently Asked Questions
Why Do I Need a Purse Organiser?
Purse organizers are essential to keep your purses and handbags safe and healthy and increase lifespan. Also, you can forget about the bottom ones when you have too many purses and pile them in your closet. But if you use a purse organizer, you can quickly identify all your handbags. In addition, when you use a purse organizer, you can style up your closet or use them to display in an open room.
Are Purse Organisers Expensive?
Some modern and versatile purse organizers can be a bit pricey. But all purse storage or organizer doesn't need to be expensive. In fact, you can have plenty of beautiful and sustainable purse organizer that also comes at affordable prices. Plus, if you wish, you can utilize some house utilities to create your unique organizer without spending a penny.
Can I DIY a Purse Organiser?
Yes, of course! You can DIY a purse organizer easily and create beautiful and stylish organizers alone. You can have thousands of purse storage/organizer DIY ideas online. For example, you can transform simple household items such as shower curtain hooks, wine wall racks, or pegboards into beautiful purse storage.
Buy or DIY Purse Organisers – Which Is Better?
Both purse organizers are available in the market to buy, or one can DIY looks beautiful and works great. However, it is up to you which is suitable for you. You may prefer buying if you are not much into craft or DIY. But if you are a pro in DIY, you may find DIY purse organizers more interesting than the others.
Which Is the Most Common Way to Organise Your Purses?
The most common place to put a purse organizer is behind the door, over the door, closet, or over the shelf or tablet. And some of the most common ways to organize your purses are hangers, hooks, belts, baskets, or cases. Most people like to place their purse organizer on the wall, over the door, or on the shelf or tablet. You can DIY or buy various purse organizers according to your needs.