Do you think your dining room looks too shabby? Or want to upgrade the space with some beautiful wall decors. Then you are at the right place. The dining room is known for great conversations and good food. It is an essential part of every home. Most people like to gather in the dining room and spend time with family and friends. So, keeping it well-decorated with beautiful and eye-catching decorations can brighten up the space and strike more conversations.
Whether you have an elegant dining table with a formal setup or a small banquet with a cozy dining table, you have multiple suitable wall decor options. You can install a wall gallery, and statement lights, repurpose old furniture, add a centerpiece to your dining table, and coat the wall with trendy shades.
Here we have listed 21 unique dining room wall decor ideas, including small installations to complete the look.
21 Unique Dining Room Wall Decor Ideas
You have endless options when it comes to upgrading your dining room with wall decorations. It can be as simple as painting the walls with beautiful shades or hanging a new set of lights. The most important part is to identify the right solutions.
1. Try Patterns to Brighten up The Walls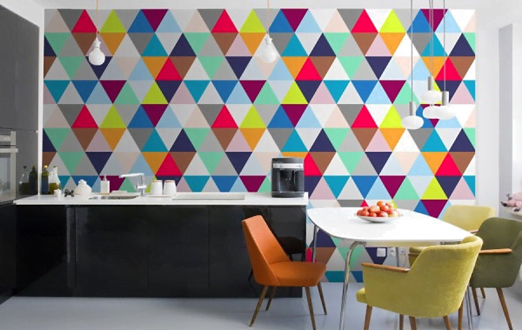 Patterns improve any interior and work well for dining room walls. Patterns can help you make your dining room stand out if you are looking for some simple yet effective dining room wall decor ideas. Adding a color pattern helps to bind the entire dining room together and gives a simple, elegant look. For example, if you want a cool texture, opt for ocean blue and off-white, and if you want something bold, you can try black and white (a timeless combo) and pair suitable dining tables and lights to make the most of it.
2. Use Floral Wallpapers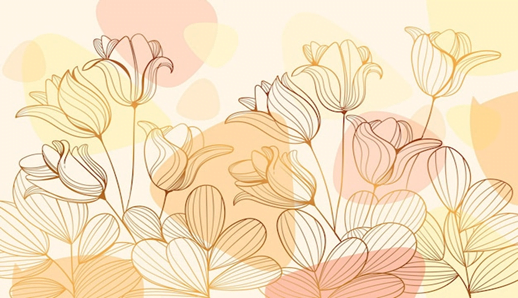 Searching for ideas for dining room wall decor that display a floral design? To add a beautiful floral touch, you can try floral wallpapers for your dining room walls. Floral wallpapers can come in various attractive patterns and shades. So, choosing a floral wallpaper that goes well with your dining room interior is easy. You can also select a floral wallpaper and pair a suitable light piece or tabletop to complete the look. Adding floral wallpaper as a dining room wall decor option will help you get a lively and joyful ambiance. QnySpace Bird Floral Peel and Stick Wallpaper are beautiful, stylish, and soulful for dining rooms.
3. Try Black and White Photo Frames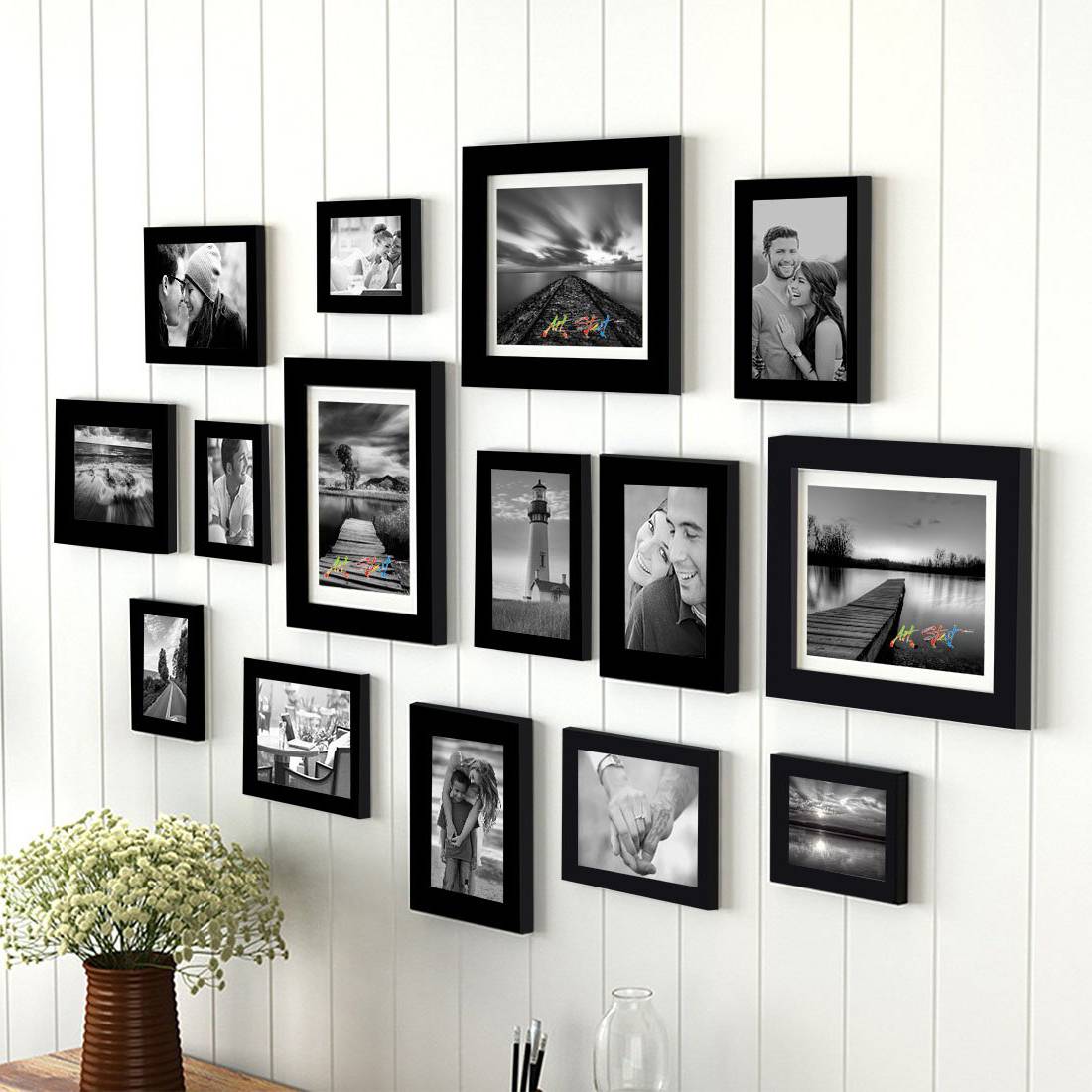 Thinking of some formal and elegant dining room wall decor ideas? Then our next wall decor idea can amaze you. Black and white is one of the most common casual color combinations that give a sober yet gorgeous vibe. So, if your dining room walls have white and gray colors, just pair some beautiful black and white photo frames to create a statement. You can place your family photos in black and white or try flower or structural pictures to get a classy look.
4. Try A Painting to Create a Statement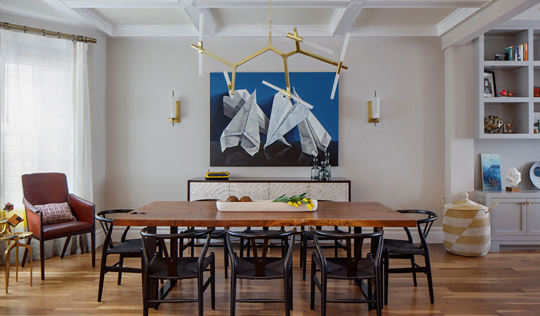 Painting can be a great dining room wall decor option if you are looking for something artistic and expressive. If you love painting or have an artistic soul, what can be better than adding a beautiful painting at the back of your dining table or in the middle of a blank wall to make it a center of attraction? You can also color-coordinate your dining table setup while leaving the walls in white or any suitable solid color. It will add depth to the room decor and help the painting to stand out. Try Zoinart Hand-painted Black and White Abstract Painting at the center of your dining room wall for a dynamic look.
5. Use a Mirror to Reflect the Natural Lights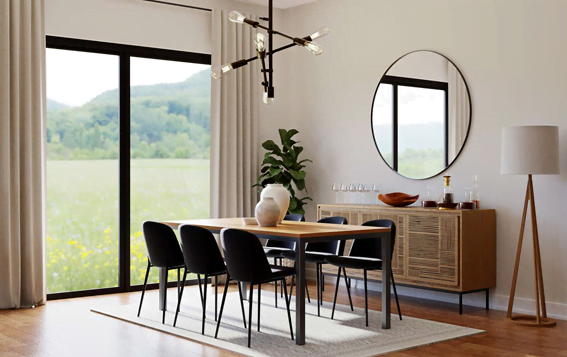 Do you want something minimalist and natural for your dining room wall decorideas? Try incorporating a mirror for your dining room walls to have a modern twist. You can try various styles of mirrors, from elegant frames to no-frame, depending on your dining room's interior. Mirrors can suit different types of room interiors. For instance, if your dining room setup is minimalist and simple, you can try a no-frame mirror using a traditional white frame that will be great for a floral background or an old-themed interior. Chende 39″ X 39″ Large Mirror for Wall Decor gives your walls a gorgeous look.
6. Use a Tapestry
You can also use a tapestry if you want something creative and unique for your dining room wall decor. You have more options than paintings or photo frames when it comes to getting an artistic touch for your dining room walls. Adding an abstract tapestry with colors and textures to your dining room wall helps you achieve a modern look. You can also pair a plain oak wood table with a wooden chair and bench to make your dining room simple and casual. Tapestry can go well with the city apartments as well as cottage-style dining rooms. Sevendec Vintage Planks Wall Tapestry can be a great choice to brighten your dining room.
7. Uplifting Canvas and a Touch of Green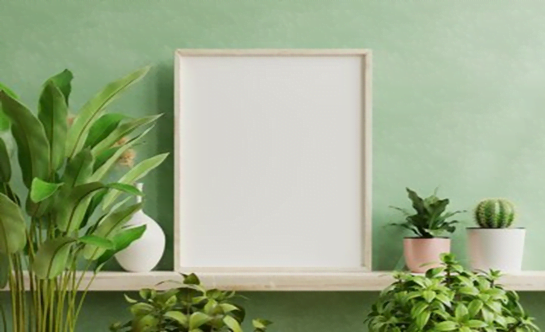 Do you love minimalist designs? Or want to keep your dining room mostly occupied. Then an uplifting canvas with some touch of green can make it work for you. People often do not realize the power of an uplifting canvas with some green planet on the wall or tabletop can stir up the soul of a space. For instance, if you have all-white walls with a black minimalist dining table, you can add an off-white or beige-colored canvas on the wall and some tint of greenery in the room. You can put some hanging plants on the wall and place a fern pot on the table to see the magic.
8. Try a Symmetrical Setup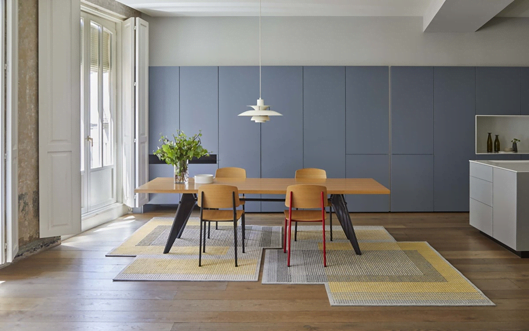 Creating a symmetrical setup for your dining room can be a great way to upgrade the space and reflect your aesthetics. However, it will be easy if you have a commentate dining room architecture. Keep your wall blank with simple tones like gray or ash, and symmetrically add some art price or photo frames. It will create a minimalist design for your dining room. Also, if you want to get more creative, add a bold black light stand or a black frame for your pictures to play with strong colors.
9. Do a Splash with a Color Palette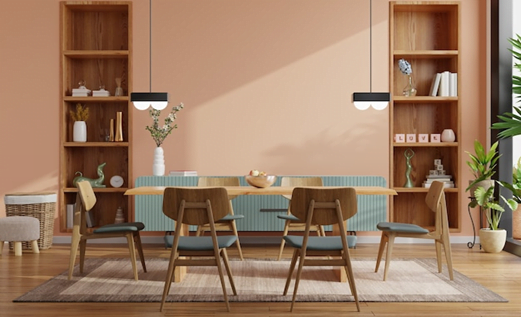 If you like to focus on the colors for your dining room wall decor, there can be an excellent opportunity to make a splash with your color palette. Wall art has a crucial role in decorating your dining room. But playing a little with the color palette can make a huge difference. For instance, when you add tangerine, bright orange, and white colors on walls and floor and pair a cozy orange dining table at the center, it makes the entire environment joyous and happy to share warm conversation and good food with family and friends. Or use lavender, fuchsia pink, or powder blue shades for a breezy and flowy look.
10. Go All-White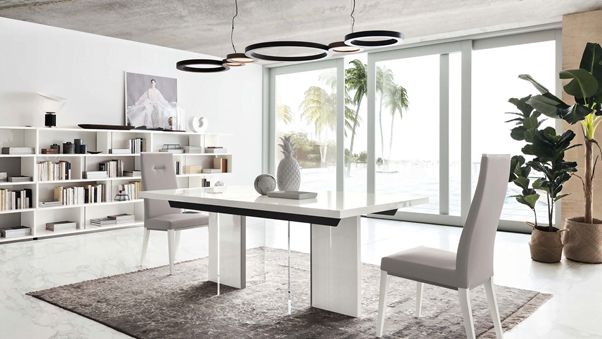 Sometimes all you need is a pure white shade without any additional color or decoration for your dining room. If you are a fan of minimalism or love white color, you can try our next dining room wall decor idea. People often underestimate the power of white and think of it as cold or empty. But you can see the magic when you use it in a proper manner. Leave the walls blank with a simple coat of white paint. Then add a simple black dining set with an oversized light holder at the center. It will create a beautiful cozy look.
11. Paint It Black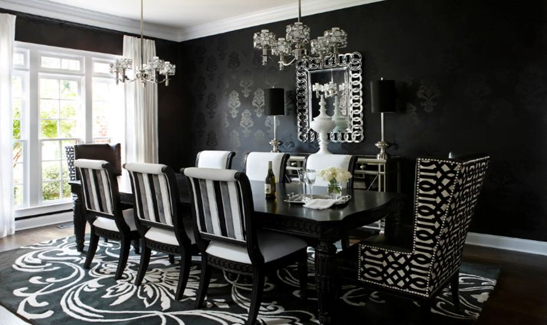 Black is a color that never goes out of trend. So, you can try a theme black for your dining room wall decor ideas. Black can help you highlight the primary features of your dining room and add visual depth. Also, the color is very relaxing and promotes a calm and harmonious environment for everyone to enjoy their meals in a peaceful environment. But do not forget to balance it with white, wood brown, or even metal gold-like accents. For instance, you can place a white or brown dining table, leave the ceiling white, and keep the floor wood brown.
12. Match Wallpaper and Curtains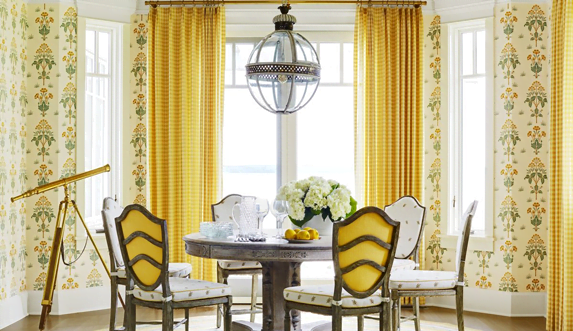 Do you want to upgrade your dining room walls and want something creative? You can try to match the wallpapers with your dining table drapers. It will help you bind the entire dining room together and create a theme. Also, it is straightforward to install the same pattern or printed wallpapers and curtains with the help of professionals. Also, you can shop for the same patterned curtain and wallpaper and do it yourself. Today various online sites sell wallpaper and curtains in the combo. You can buy anyone you want according to your wall.
13. Focus on The Fifth Wall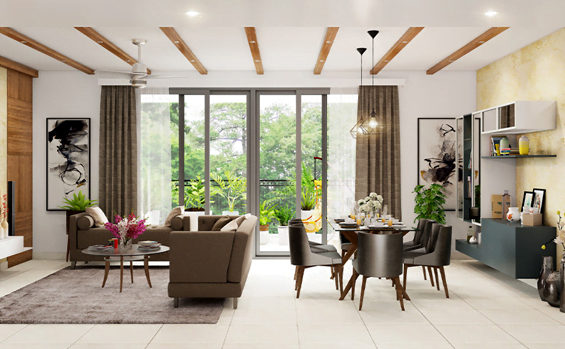 Most of us focus on the four walls when we want to upgrade our dining room. But we miss out on the fifth wall or the ceiling in this process. Today many modern interior designers begin to focus on the fifth wall to get creative and out-of-the-box solutions. Also, shifting the focus to the ceiling can help you get a unique look at the room. For example, keep four walls minimal with some sort of picture or wall art and use wallpapers (similar color palette) on the ceiling for a dynamic view.
14. Try Patterns for Wallpaper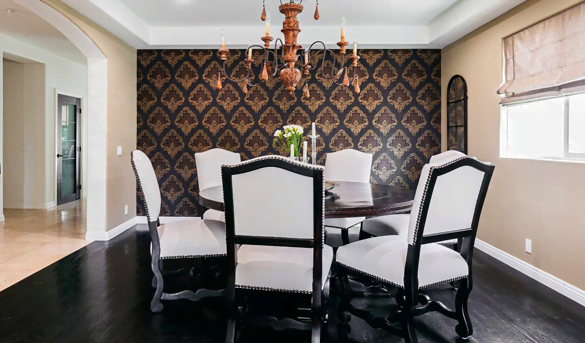 If you want a simple and elegant look for your dining room, you can try our next dining room wall decor idea. Many people like to use wallpaper, and if you love wallpaper, you can try patterns for your dining room walls. Also, covering your dining room walls with patterns can help you create a modern look. Place a solid color table and add a light piece to complete the look. For instance, if you use yellow or blue with white for the wallpaper pattern, pair a white table and light stand to give it a new dimension. WENMER patterned wallpaper can be a good choice for your dining room walls.
15. Try Pop-Out Painting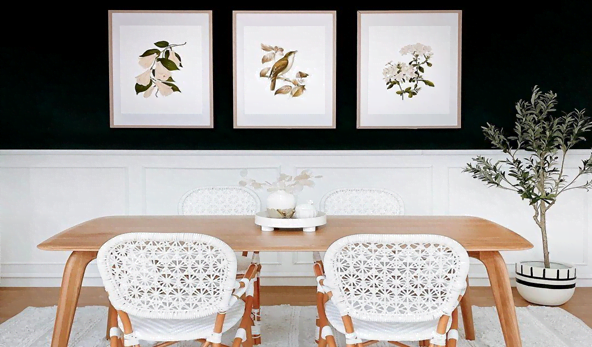 Another exciting idea for your dining room walls is the pop-out painting method. The painting pop-out method brings a fantastic look and increases the charm of your dining room. Also, applying painting pop-outs for your dining room wall decor is quite a simple and cost-effective approach to style up your space. To make a painting pop out, first, paint your wall with a dark solid color like black and add some contrasting paintings in pale pink or white. It will help the painting pop out against the background.
16. Choose Asymmetry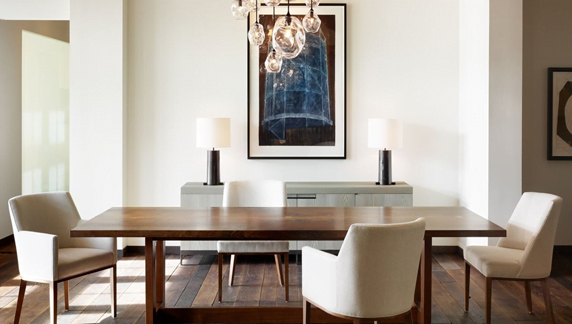 Do you want a modern setup for your dining room? Then asymmetry is the ideal option you can try. Asymmetry has a unique charm, and you experiment with elements. You can produce asymmetry by putting visual weight to a side of your dining room inside of balancing it in the center. Also, asymmetric wall decorations will create a minimalist modern look and work great for city-style apartments or luxury homes.
17. Install a Full Wall China Cabinet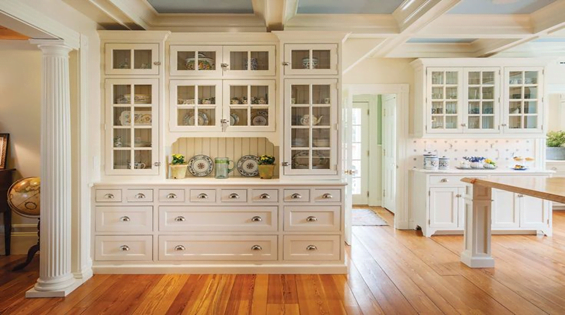 Adding a full-wall china cabinet is another great way to revamp your dining room and make the wall decor classy and practical. China cabinets are made with durable wood and have glass panels for display. They also look elegant and add visual weight to your blank wall. You can install the cabinet on the center wall and leave the side walls empty to create a sense of balance.
18. Plant a Living Wall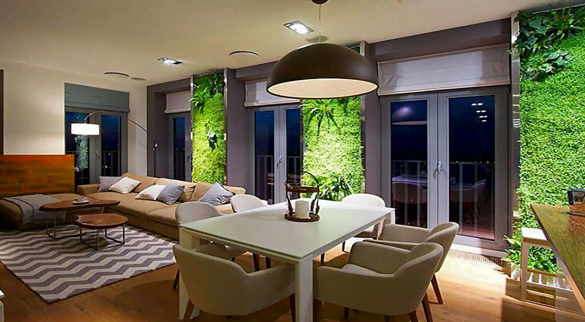 Do you love greenery or want to add freshness to your dining room walls? Then our following dining room wall decor option will interest you. Also, adding a living wall helps you take a sustainable step and improve your dining room environment. Cover your center dining room wall with ferns, moss, and grass. It will help you get an outdoor vibe inside your dining room. But if you do not have enough budget to install a full-wall plant, you can also try patches of green with preserved ferns and grass-hanging pots to create a similar environment.
19. Convert All Walls Into A Gallery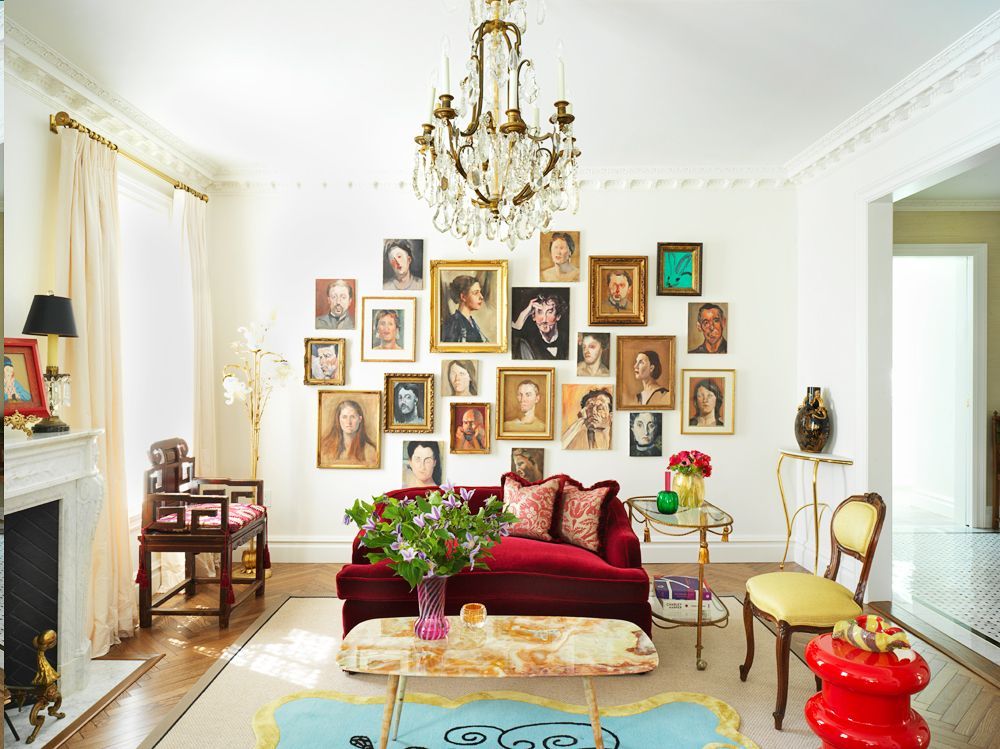 Do you feel your off-duty dining table is empty? Or just want to improve the overall look to make the space enjoyable. You can convert all your dining room walls into a mini art gallery and give your family and friends time to admire the wall art and converse with each other while the meal has not arrived. You can add family photos, children's art, or beautiful paintings on the wall and cover the entire space. Moreover, you can also combine all of them to keep it interesting.
20. Try Suspension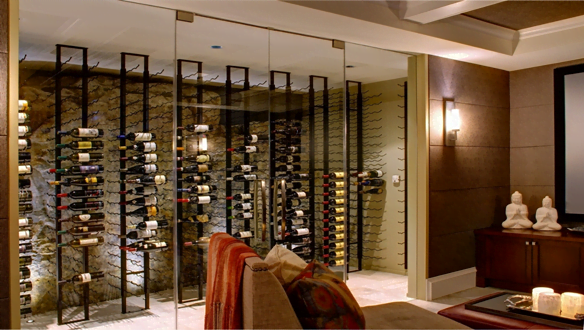 Are you looking for something innovative and valuable for your dining room? Try suspension racks to create a contemporary look with a touch of mystery. Also, they help you keep it minimal and focus on one part. Install a suspended wine rack with wire threads. But always remember to take professional help in the safe installation of suspended wine racks for your dining room.
21. Hang Some Decorative Plates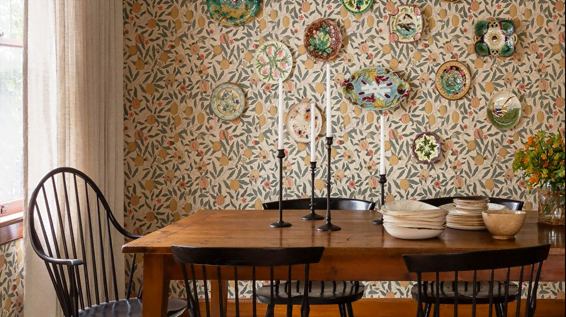 Decorative plates painted with beautiful and vibrant colors can be an excellent option for your dining room wall decor. You can hang plates symmetrically or asymmetrically on the center wall to make them the room's highlight. You can keep the wall blank or paint with contrasting shades to help your decorative plates stand out and give a NY home vibe.
Summing It Up
All in all, a dining room is where you spend time talking with family and friends and enjoying your meals. So, when you revamp the space, you can make it more exciting. Also, adding some wall art or painting them with beautiful shades is an easy way to upgrade your dining room. You can even install cabinets, mirrors, or paintings to upgrade your dining space.
In addition, improving your dining room walldecor is a great way to showcase your choice or aesthetics. For instance, if you love minimalist design, you can try asymmetric and all-white themes. Above, we have mentioned 21 unique dining wall decor ideas you can try.
Do you like any of these wall decor plans? If yes, roll up your sleeves and redefine your dining room.
Frequently Asked Questions
Can I DIY My Dining Room Wall Decor?
Yes, Of course! Multiple options are available for dining room wall decoration that you can DIY. For instance, you can paint your dining room on your own or install a piece of handwoven art on your wall. Also, you can repurpose some old cabinets and install them on your dining room wall to get a classy look. But if you want a professional finish, it would be wise to seek help from experts.
How Can I Make My Dining Room Walls Artistic?
You can have various options to make your dining room walls artistic and reflect your creative soul. You can install an abstract tapestry or painting at the center of your dining room. Also, you can install your kid's artwork or a mural on the wall or convert the entire dining room walls into an art gallery to make your place artistic.
Which Is the Most Cost-Effective Option to Decorate Your Dining Room Walls?
When looking for cost-effective dining room wall decor ideas, you can have more than one option. You can hang handmade tapestries or wall decorations, which will not cost much if you make them. Also, you can try half border or black-out theme wall painting that does not need much money yet creates effective solutions.
Why Do I Need to Use Wall Decor for My Dining Room Walls?
Adding wall decorations in your dining room has multiple benefits. It helps to enhance the beauty of the space and makes the environment more inviting and warm. Also, installing a new wall decor in your dining room gives a soul to the place and makes it more likable. Adding wall decor is also an excellent opportunity to reflect your aesthetics and choice and give it a personal touch.
Are Suspension Wine Racks for Dining Room Walls Expensive to Install?
Installing a suspended wine rack is a popular dining room wall decoration idea appropriate for modern homes. But they are also quite expensive and require skilled professionals for a safe and proper installation. If you have a tight budget for dining room renovation, try a center or one-line suspension rack inside the whole wall, which will give the same feel.