Creating a personalized and enjoyable kitchen environment is essential, considering the significant time we spend in this space each day. While the timeless elegance of all-white kitchens remains popular, designers are now embracing the infusion of color into the home's central hub. The kitchen remodeling landscape is evolving with a growing trend of incorporating various hues into the overall design scheme.
Fortunately, adding color to your kitchen does not require extensive renovations or construction; a fresh coat of paint or vibrant fixtures and hardware can work wonders. Whether you prefer subtle accents or bold statements, there is an abundance of options available to help you discover the perfect kitchen colors that align with your style and preferences. Here, in this article. We will go into the realm of modern kitchen cabinet colors, offering inspiration, ideas, and shopping tips to help you transform your kitchen into a polished and inviting space that reflects your vision.
Get ready to embark on a colorful journey toward your dream kitchen.
1. Incorporate Dual Colors
Combining matching colors for the top and lower cabinet is an eye-catching way to add flair and attention to your kitchen. This trend has withstood the test of time and remains popular. The contrast of white and black cabinets mixing traditional wood features with colored cabinets is a timeless combination. This combination has a fascinating aesthetic impact that can improve any kitchen space.
2. Vintage White for Modern Kitchen Cabinet Colors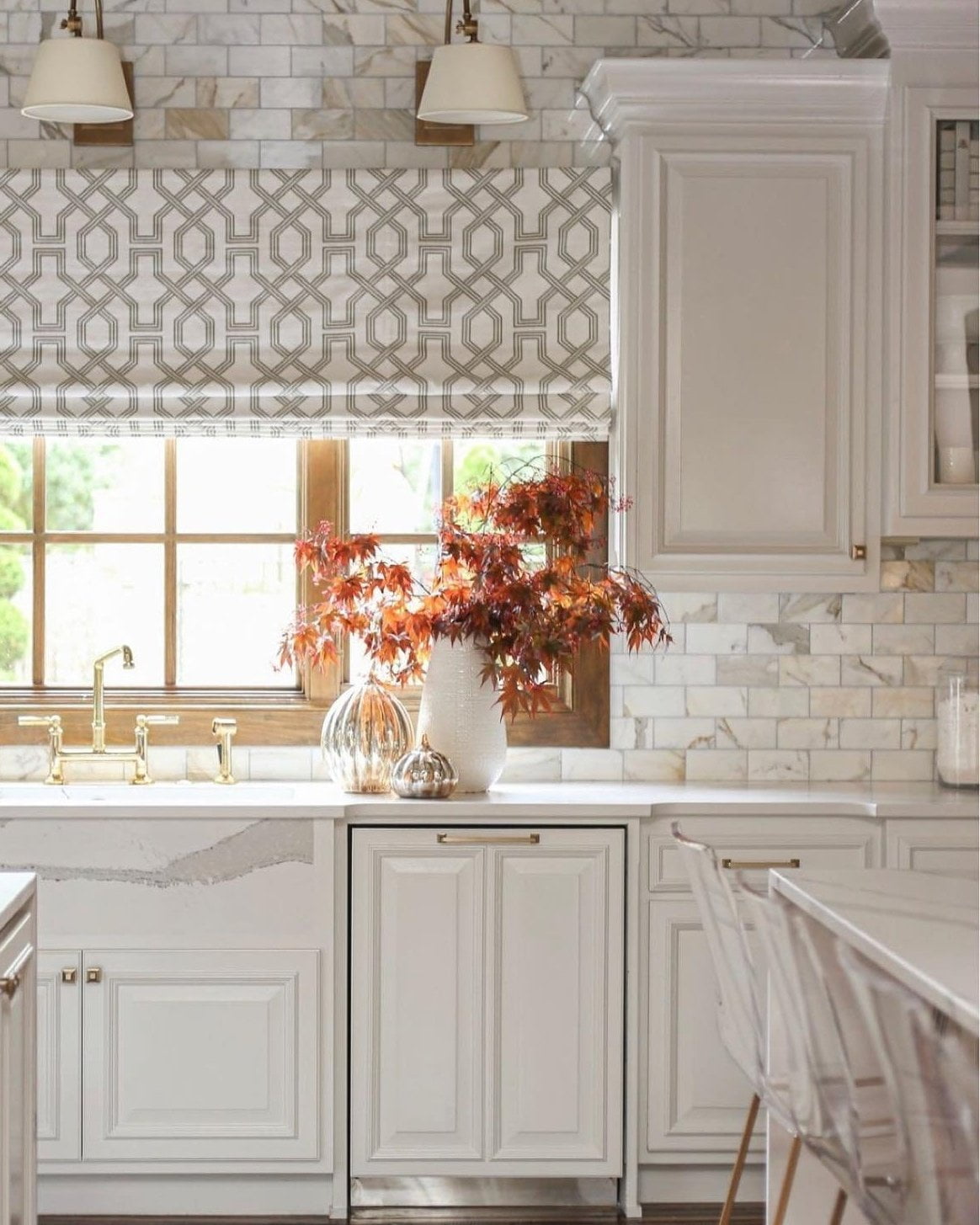 A White kitchen does not have to be flat. Embrace your artistic side with unique kitchen paint ideas like utilizing an antique white shade, which has a softer and less stark appearance than current applications. Incorporate lovely hardware and classic details such as cookie jars and a golden tap to create a vintage-inspired look. These additions will transform your kitchen into a welcoming and warm room that truly embodies the heart of the home.
3. Combine Olive Green with Warm Wood Color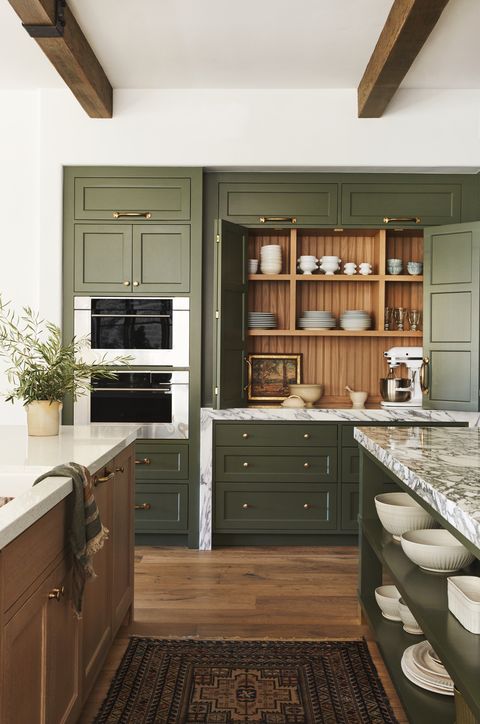 While several designers advocate for hiding appliances and kitchen necessities behind closed doors, they also make a persuasive case for using vivid paint colors that pay respect to nature. By choosing these colors, you can add a touch of vibrancy to your kitchen while maintaining a sleek and organized appearance. With this approach, you can also create a space that not only hides clutter but also celebrates the beauty of nature through colors.
4. Make Your Kitchen Appealing with Dove Gray and Gold Tone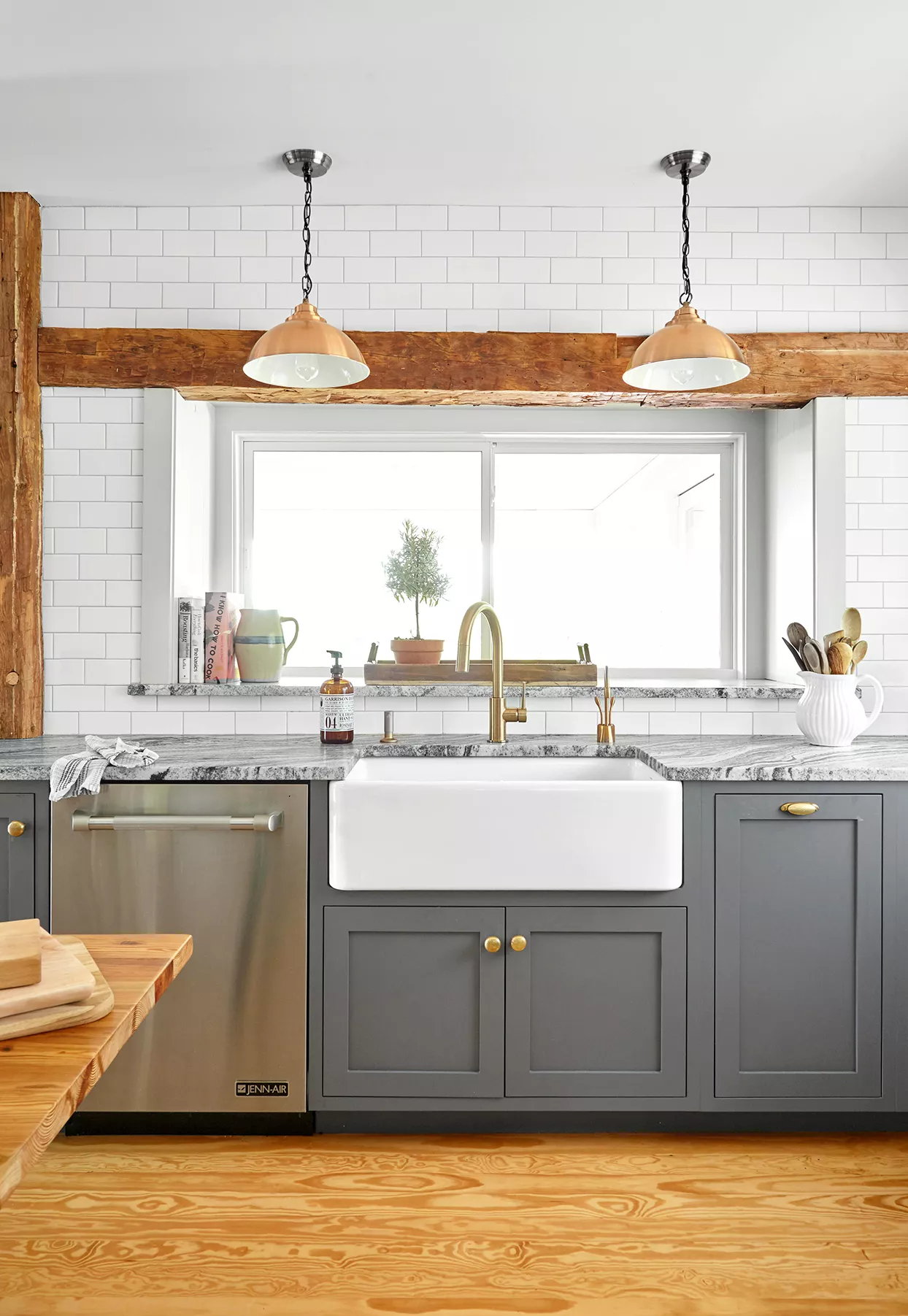 Natural textures are introduced by the light maple floors and rustic wood beams, which create a charming contrast with a modern subway tile backsplash and finely veined marble countertops. The plain gray cabinets serve as a backdrop for the aged brass hardware, which adds a sense of elegance. To add visual appeal, dual pendants with copper shades provide another metal element to the mix.
5. Matte Black Tone to The Kitchen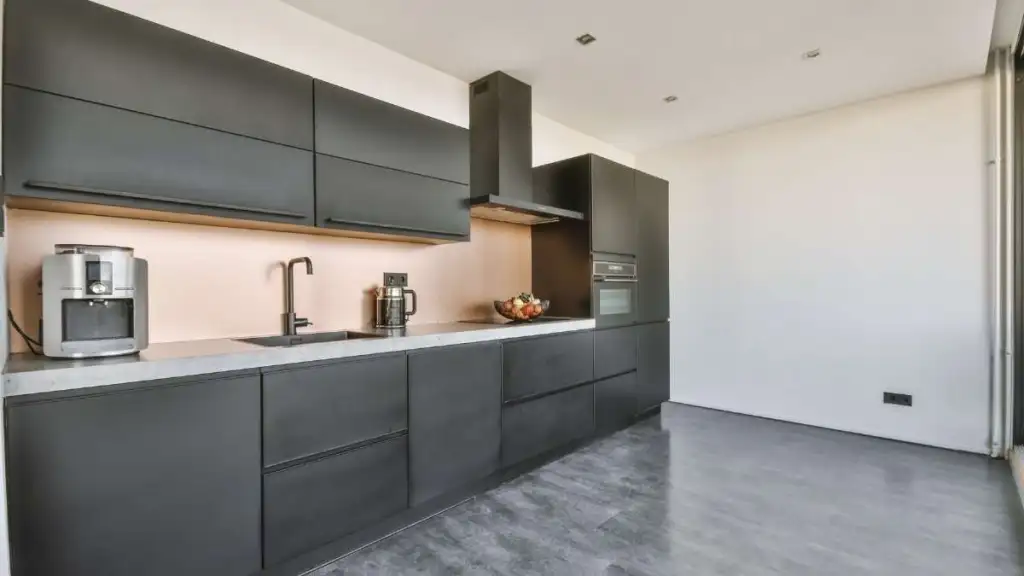 If you want to avoid the usual all-white kitchen cabinet paint colors, why not try the polar opposite? Using matte black paint on your kitchen cabinets can produce a stunning and attractive style. The use of black and white creates a classic style that will bring a wow element to your kitchen. Consider this beautiful impact of black cabinets against the white backdrop if you are ready to make a big statement and build a kitchen that truly stands out.
6. Kitchen Cabinet of Light Blue Tone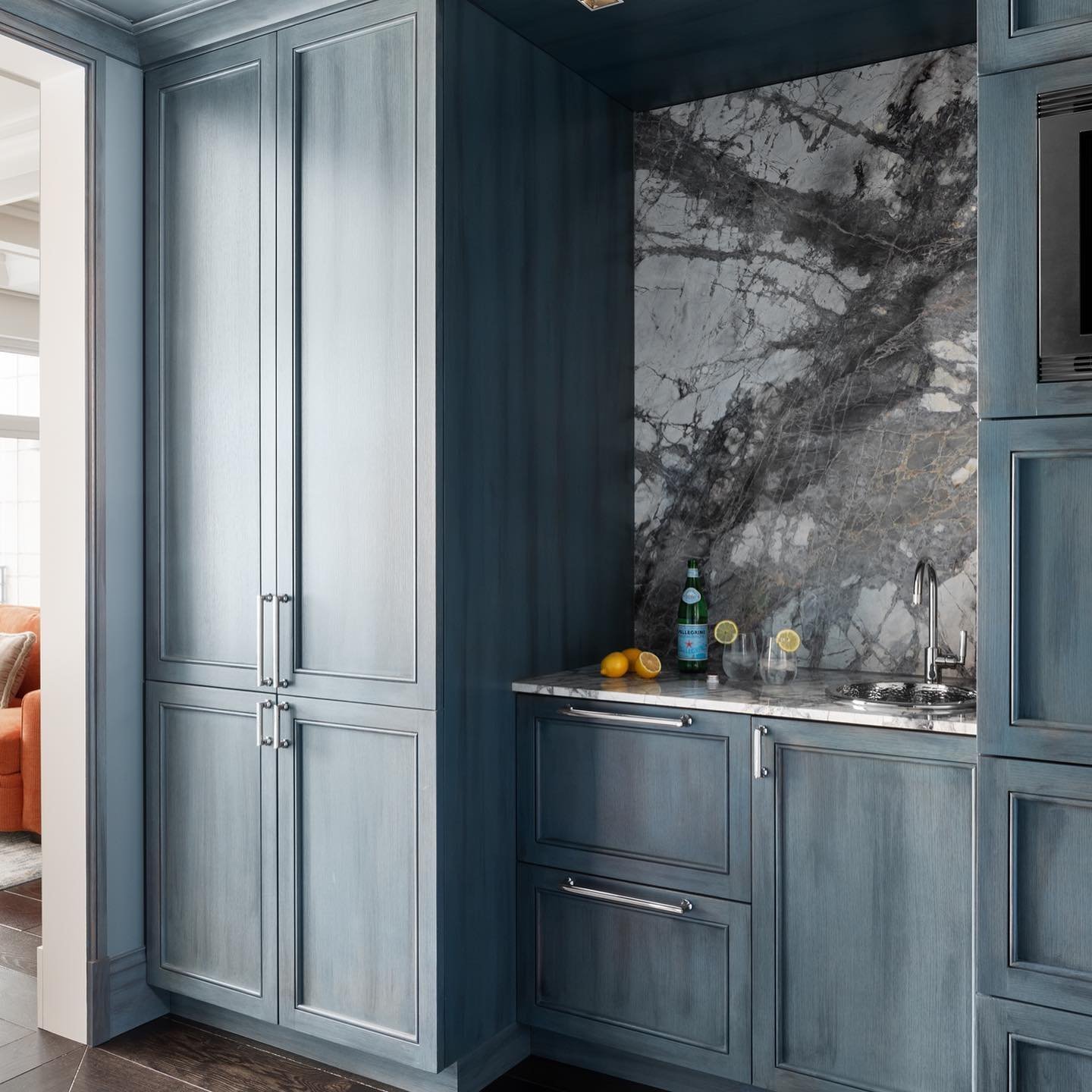 This is another modern kitchen cabinet color for you. Let's start with an example; if blueberries are a regular part of your breakfast, introducing a splash of blue paint might be a great way to express yourself. Deeper tones of blue with a glossy texture might provide a sense of drama for individuals looking to make a larger statement. Pastel blues provide a calming effect, whereas greyish blues have a sea-like atmosphere.
7. Charcoal Black Tone Idea for Your Kitchen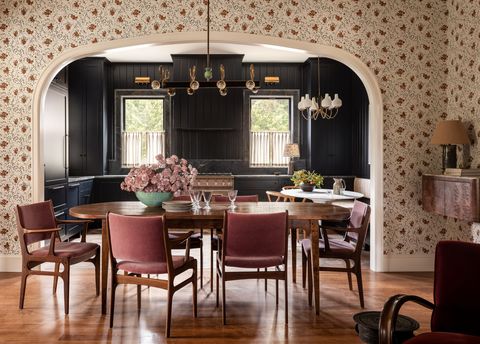 To establish separation, a distinct color palette was used because the kitchen is only divided by an archway. The wood-paneled walls are painted a stunning black giving the area depth and character. A charcoal-hued natural stone material is employed as a backsplash to increase the visual impact offering a fascinating contrast against the black walls. As a result, you get to apply modern kitchen cabinet colors in your kitchen along with the smart use of materials.
8. Choose Berry Color and Make It Bold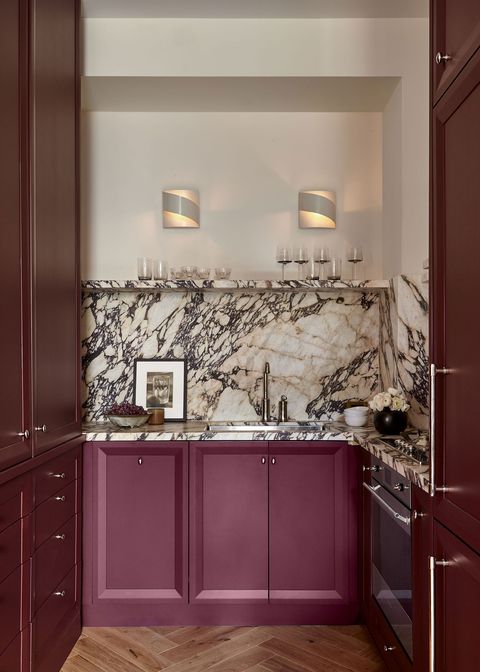 Pinks and Purples are not typically used as modern kitchen cabinet colors. However, with more time spent at home, many people are making more daring decisions. Various design firms have also recognized the popularity of these colors. For example, Viva Magenta has been described as a color of joy and can be used to emphasize kitchen cabinets. It can be a bold accent against dark wood or a compelling contrast when used with metals and glass.
9. Combine White with Blue and Green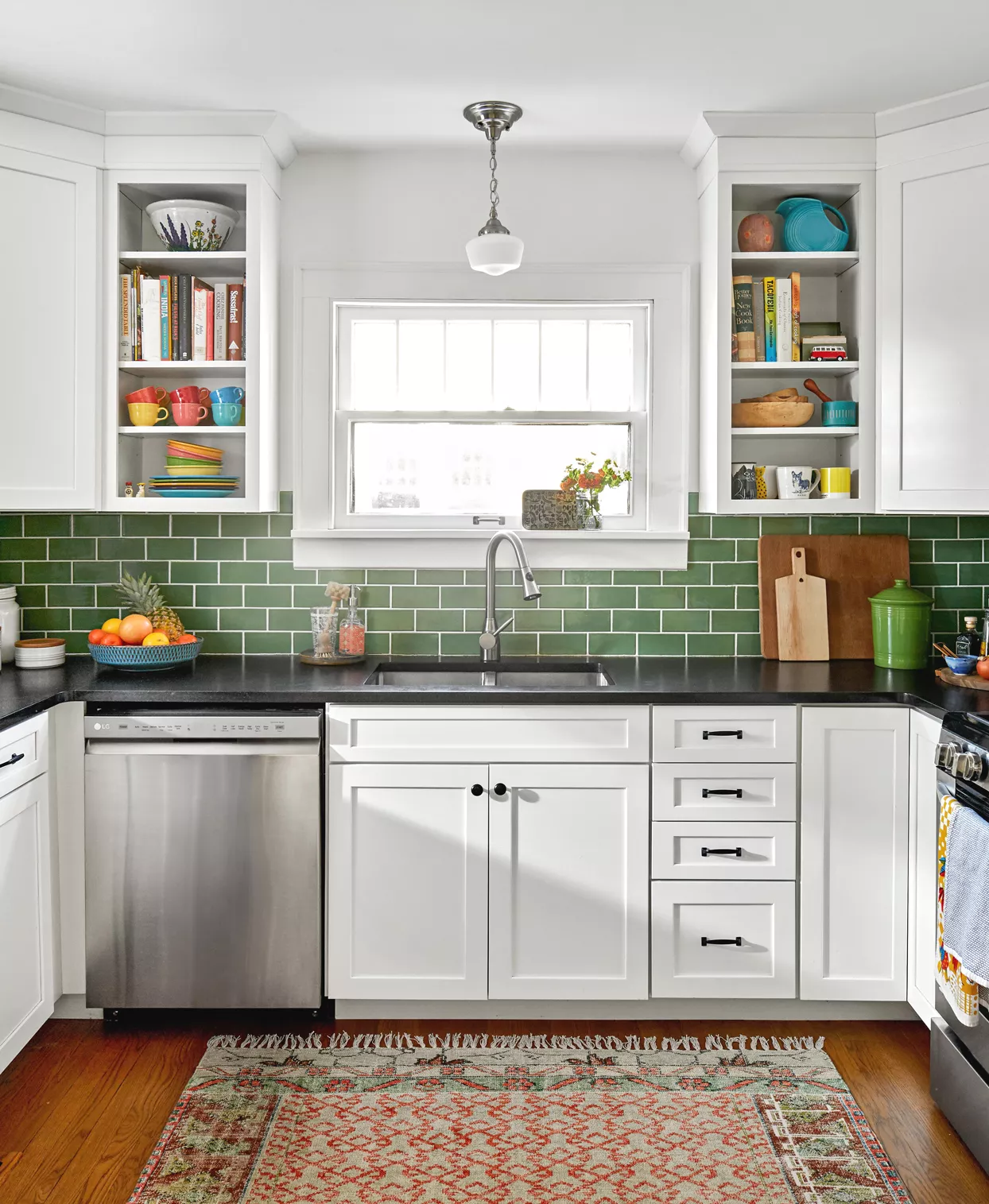 Colorful tile backsplash may give a white kitchen a refreshing personality boost. A glossy green subway tile is employed in this design to provide a lovely touch to a transitional-style kitchen. To add to the visual appeal, open cabinet shelves exhibit multicolored dishes bringing an extra splash of color to the space. This combination of white, colorful tile, and bold dishware provides an energetic and inviting decor and charm in the kitchen.
10. Simple Pink to Consider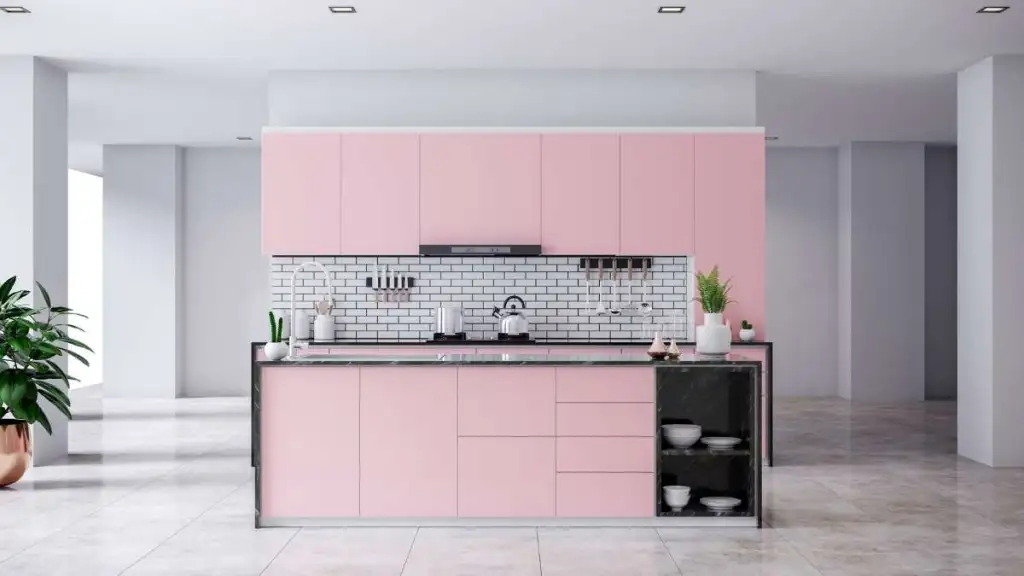 Pink modern kitchen cabinet colors are a daring and unusual choice, but they may bring a unique and compelling beauty to your kitchen. Millennial pink is recognized for its feminine appeal, and it may add brightness to your design. There are other options, too, to choose from if you want a different shade of pink. Pinks, like blush pink or dusky rosy, can still add color and elegance to your kitchen design. Whether you pick millennial pink or other tones of pink, integrating pink cabinets can provide a refreshing touch.
11. Dark and Sultery Color in The Kitchen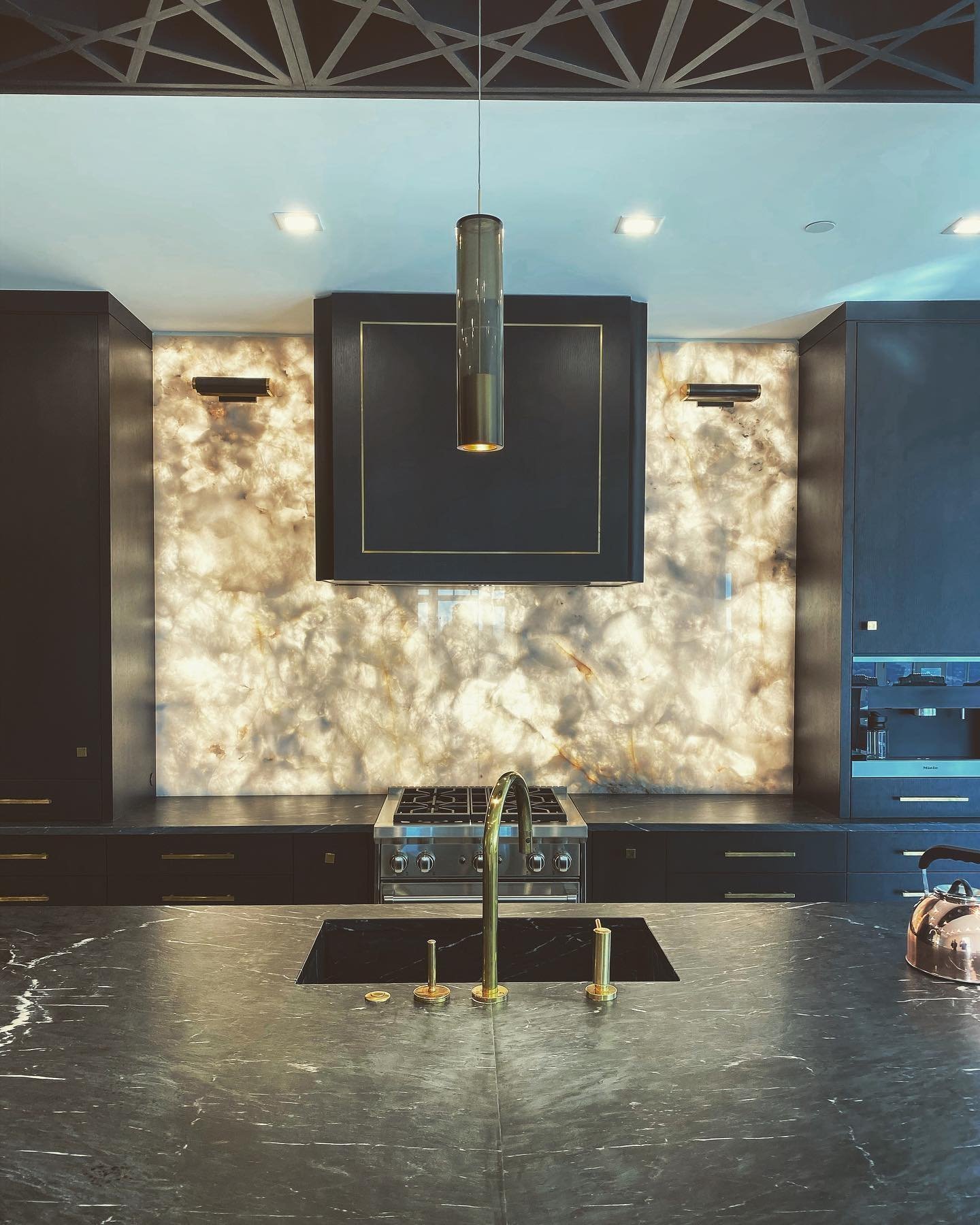 Consider using dark tones as modern kitchen cabinet colors to create a dramatic and warm mood in your kitchen color schemes. Maroon, navy, dark brown, and even black may turn your area into a classy and beautiful environment appealing to a formal dining experience. Adding pendant lights above and under cabinets can improve the mood even further by producing a muted and elegant glow that complements the entire style.
12. Combination of Black and White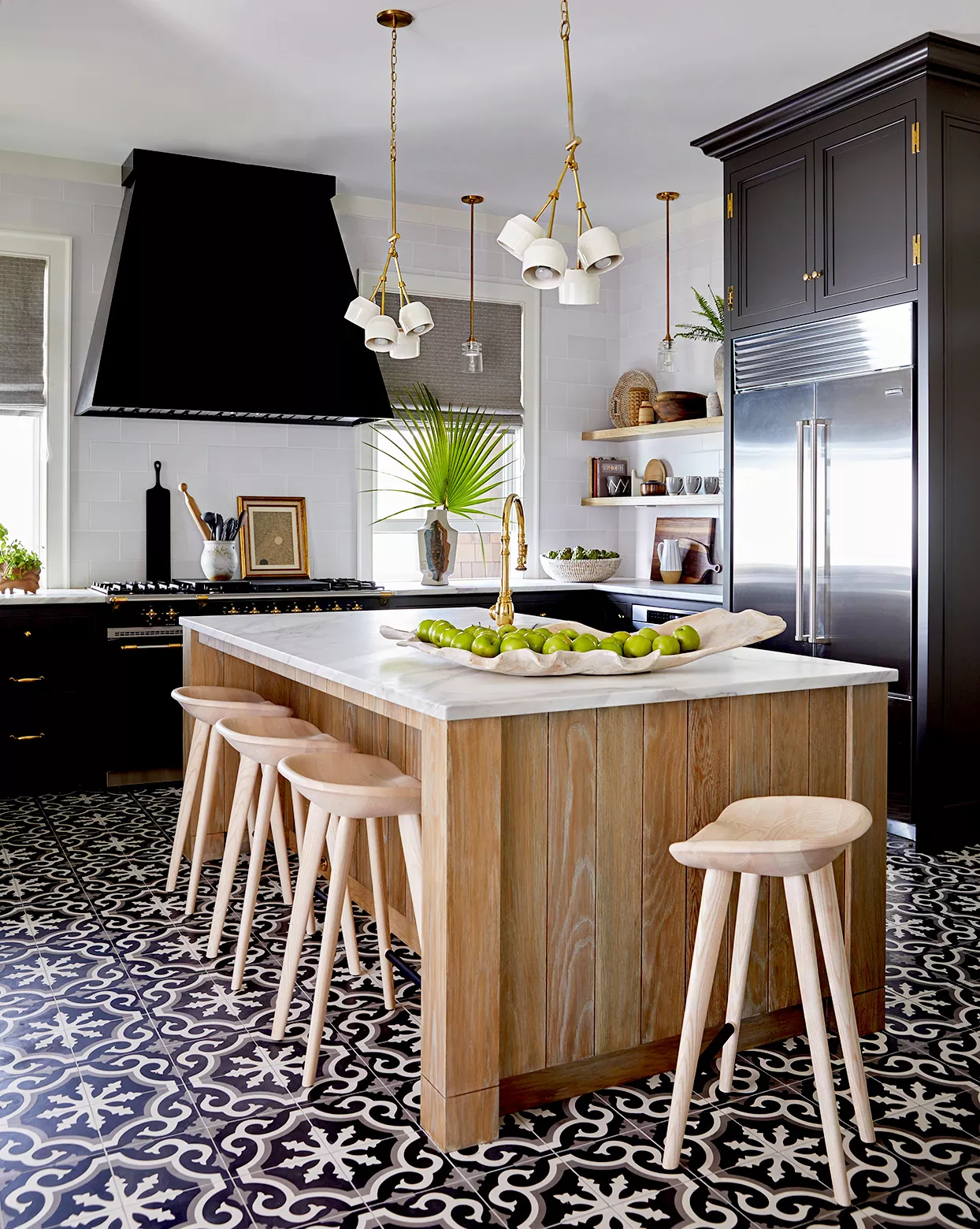 By contrasting beautiful black cabinets with a warm wood island, this kitchen achieves a timeless aesthetic by combining classic and modern kitchen cabinet colors feature. White-tiled walls and marble counters offer a sense of consistency, connecting the various pieces. Brass cabinet hardware and fittings are used to offer a bit of brilliance and contrast to the dark cabinet paint color, producing a subtle shine that improves the entire appearance.
13. Think About Normal Green Color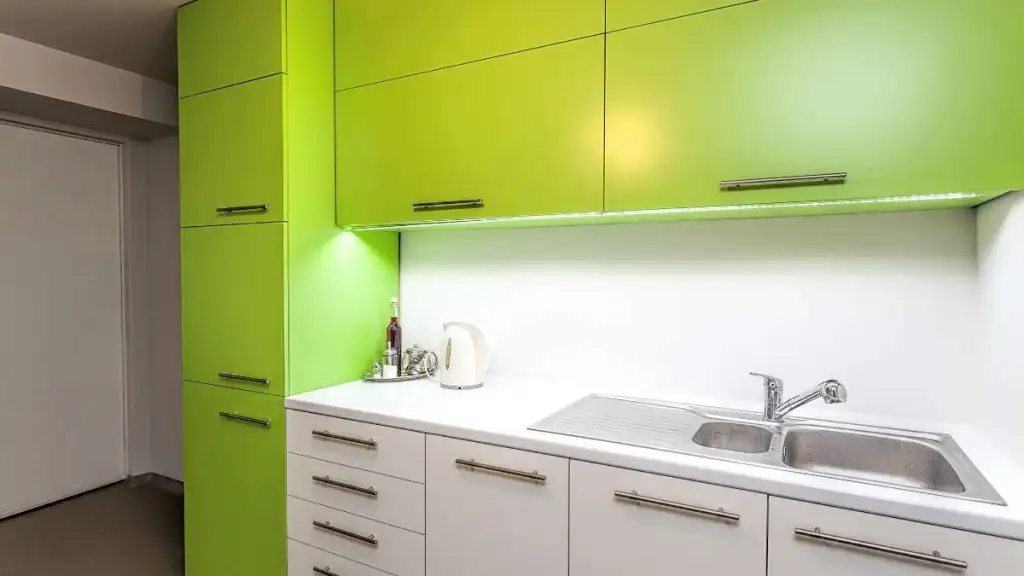 Green is a compelling color that adds visual appeal as well as a link to nature in your kitchen. Green kitchen cabinets help to create a relaxing and pleasant ambiance. Consider using contrasting colors for the walls to add beauty to your kitchen. The mix of green cabinets and complementing hues for the surrounding items provides depth to the overall design of it. Adding green to your kitchen cabinets may instill a refreshing and serene feel in the space.
14. Flora and Fauna Color Theme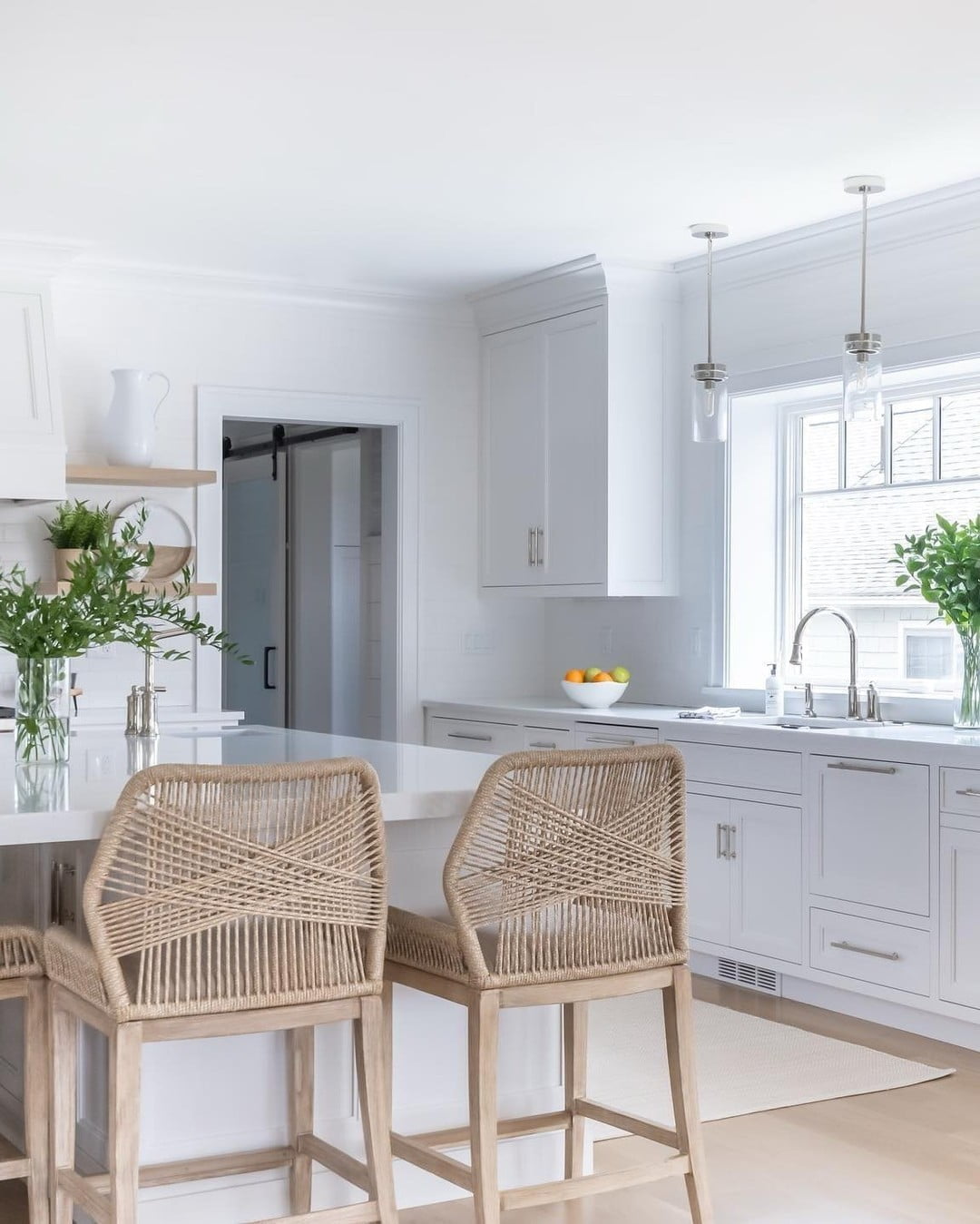 The clean and composed atmosphere of the modern white kitchen can be enhanced with accents of color that do not overshadow the serene setting. Incorporating fresh flowers, herbs, and colorful fruit into the environment is one way to accomplish this. Consider visiting your local farmer's market to buy the freshest fruit and flowers based on your mood for the week to personalize your kitchen color ideas further. This practice not only adds a personal touch to your kitchen but also infuses it with brilliant and ever-changing hues.
15. Beautify Your Kitchen with White and Sleek Gray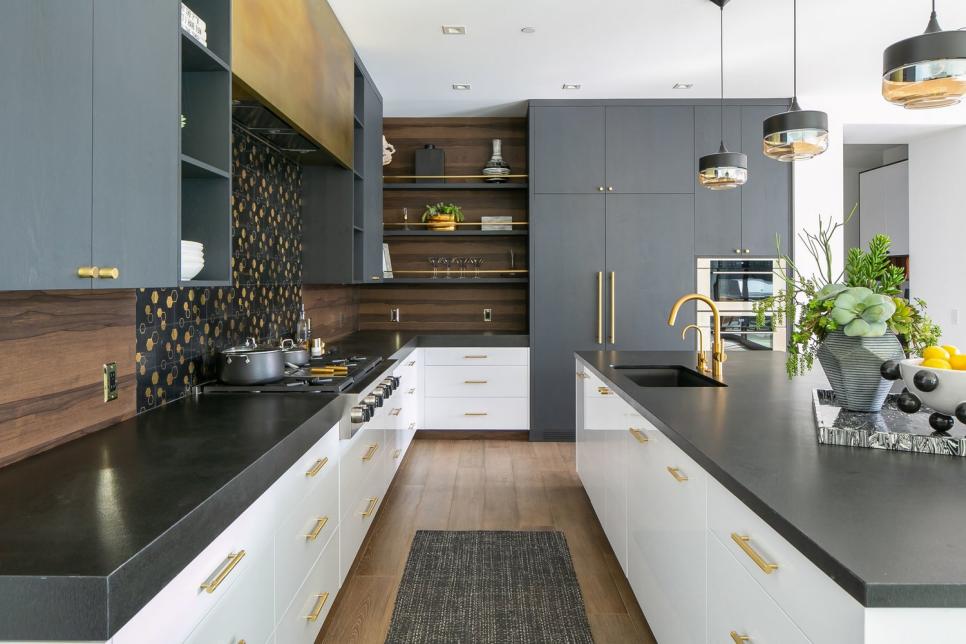 Choosing the current tone as one of the modern kitchen cabinet colors to suit modern cabinetry is important. The use of gray and white in the kitchen space produces a sleek and contemporary look. The gray and white color combination creates a clean and basic backdrop for the cabinetry, allowing it to take center stage. The matte surface provides a hint of elegance to the overall design, while the brass hardware adds a glamorous aspect.
16. Add Gold with Gray and Navy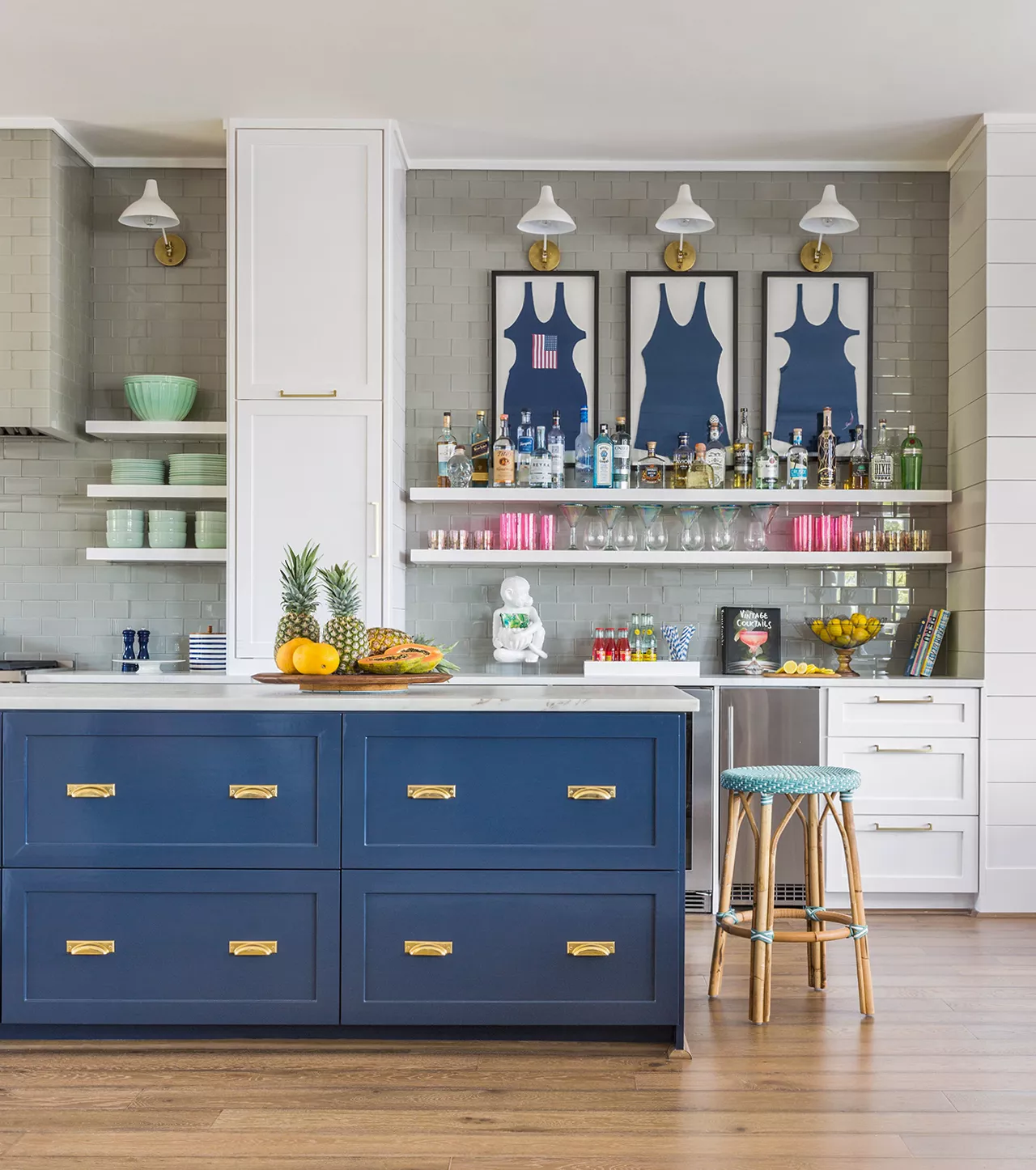 Navy blue and gold create a style that is bright and a significant modern kitchen cabinet color combination. To accomplish this lively color combination, use navy blue for the kitchen cabinets, highlight gold over the handles, and grey can be used to create a subtle backdrop, enabling the colorful kitchen to center stage. Framed artwork can also be used to bring the combination of colors in the kitchen together and improve the overall effect. The end effect is an exciting and stylish kitchen with contrasting navy blue and gold tones.
17. Pastel Modern Kitchen Cabinet Colors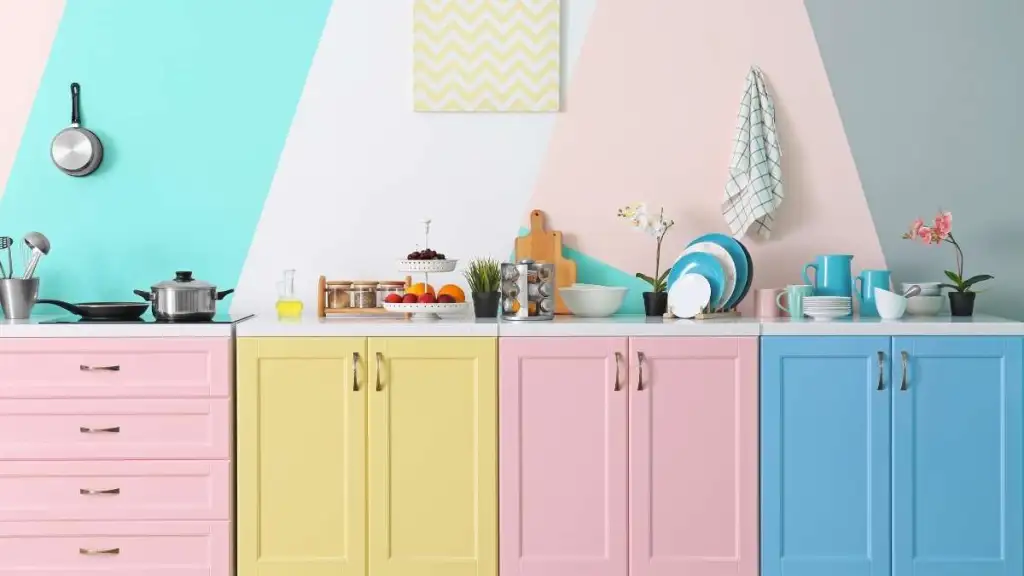 Pastel Colors is a wonderful choice for a kitchen redesign when it comes to creating a peaceful setting. Baby blue, peach, and lavender are all excellent choices for painting your kitchen cabinets to create a relaxing atmosphere. Combining these pastel cabinets with white walls adds to the relaxing impact while also producing a clean and fresh appearance. White is a neutral color that wonderfully complements pastel tones, creating a calm and serene kitchen setting. You may create a kitchen that arises peace and gives a serene shelter within your house.
18. How About Pale Yellow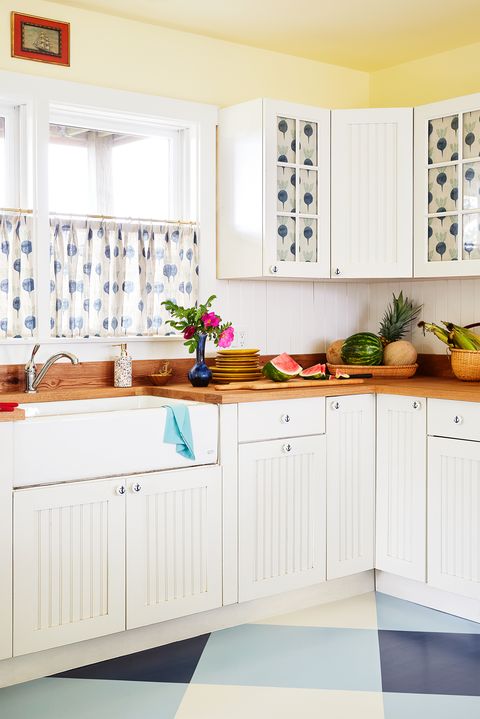 You can paint the wall and ceiling with a delicate shade of yellow, giving the room a cheery and sunny feel. This soft color contrasts nicely with painted blue floors, giving visual interest and bringing out the beach concept. The pastel yellow and blue color theme brings the seaside beauty and peace wonderfully. Colors can be used thoughtfully in such designs in order to add warmth and cheerfulness to your overall kitchen setting of yours.
19. Combine Green with Stainless Steel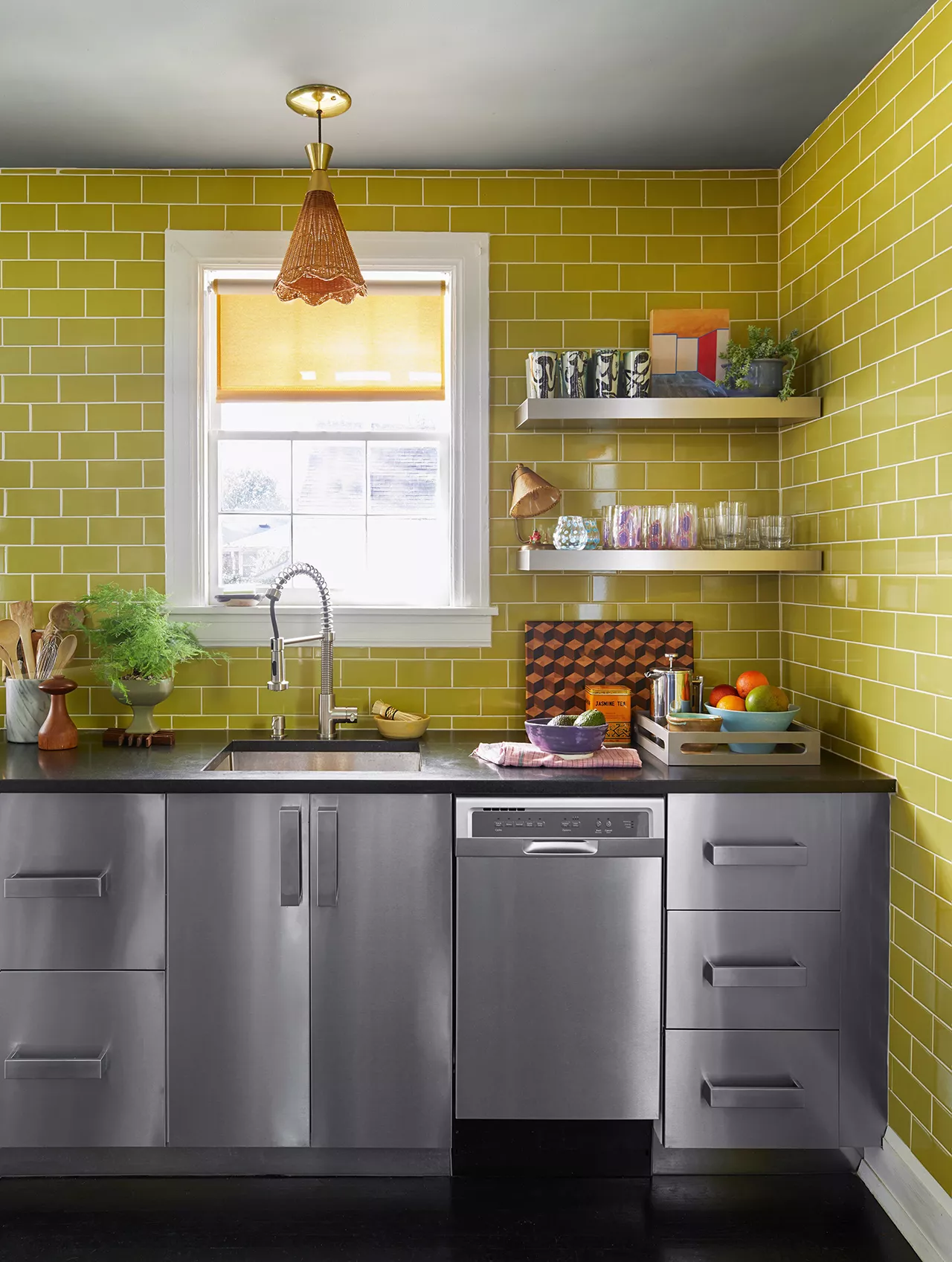 Combining yellow and green as modern kitchen cabinet colors gives a vivid and energetic lemon color and gives an impact. Subway-tiled walls highlight the electric tone in this design, bringing a throwback touch to the space. Lower cabinets and appliances have stainless-steel fronts adding to the sleek and modern look. Black stone countertops can also be used to create a grounding aspect. The gray-painted ceiling has a higher shine that mimics the luster of stainless steel surfaces.
20. Incorporate Multiple Colors Inside Your Kitchen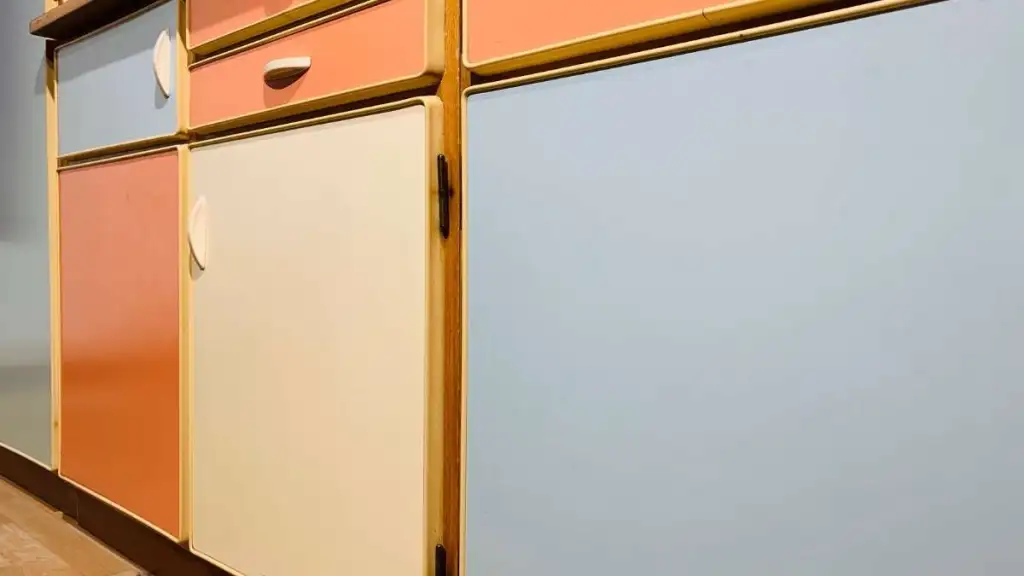 A great method is to choose cabinets that contain several modern kitchen cabinet colors. You may design an engaging and unique space by choosing complementary colors and painting each cabinet in a distinctive way. Another choice is to give them various colors based on what is inside them. This method not only gives your kitchen a feeling of individuality but also improves its overall appeal. Your kitchen will stand out and be a monument to your own style if you choose cabinets of multiple colors.
21. What's More Beautiful Midnight Blue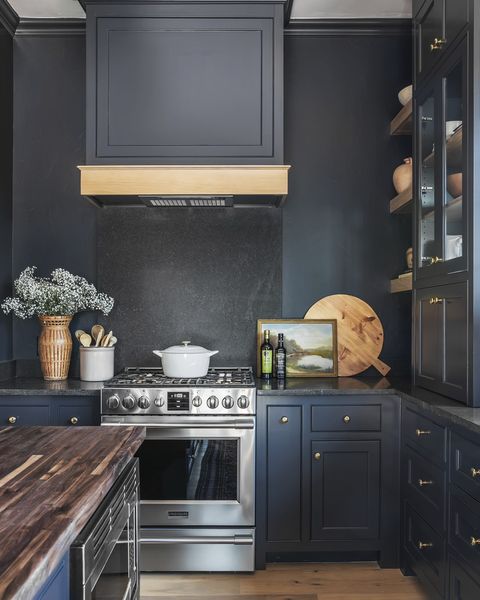 Utilizing charcoal grey for the countertops is a wise design decision that can be made for your kitchen. The goal is to contrast the dark paint used on the walls and cabinets with a smooth, practically invisible appearance. The cabinets are a dark blue color, yet under certain lighting conditions, they can appear black. You can develop a unified and visually outstanding design by carefully choosing and balancing these components. The design plays with the perception and lighting to create a perfect setting in the kitchen.
Summing It Up
All in all, the world of modern kitchen cabinet colors has expanded beyond the traditional all-white, allowing for a various range of options to enhance the heart of your home. Designers are embracing the use of colors to create stylish and unique kitchen spaces. Whether you choose bold colors, soothing pastels, or a combination of complementary colors, the possibilities and outcomes are endless.
From the timeless elegance of black cabinets to the calming effect of green or the energy of lemon color, each of these brings its own quality and atmosphere to the kitchen. Incorporating contrasting colors, like navy blue and gold or yellow and green, adds vibrancy and quality to your space. In addition to paint colors, the choice of materials, such as granite or marble countertops, can further enhance the overall aesthetic and create a cohesive design.
You have to pay attention to the details like hardware, backsplashes, and lighting fixtures to add the finishing touch to your modern kitchen cabinet color scheme.
Frequently Asked Questions
Which Color Is Considered the Most Popular for The Kitchen Setting?
White is considered the most popular color for kitchen cabinets due to its elegance, ability to create a clean and bright aesthetic, and ability to match various other colors and styles. It goes perfectly with every interior.
How Should I Choose a Color for My Kitchen?
You should consider your personal preference and the overall style you want to achieve. Think about the atmosphere you want to create, consider the existing elements in your kitchen, test the samples in your kitchen lighting to see how they look, etc. Select a color that reflects your personality and creates a space you will enjoy spending time in.
What Are the Colors that Never Go out Of Style?
Colors that can never go out of style are white, grey, beige, and navy blue. These are the timeless colors that provide sophistication and a sense of calmness to any space and area. You can find these colors in most homes now!
Which Color Is Easy to Maintain in The Kitchen?
Neutral colors like white, beige, and light gray are generally easier to maintain in the kitchen. They tend to hide dirt, strains, and scratches more effectively than darker colors. Additionally, these colors are versatile and can easily be paired with various styles.