Gone are the days of thoughtless and bare minimum kitchen settings and decorations. With the advancement of the Architecture and Design industry in the last few decades, every other huge and tiny aspect of architecture and interior design has grown wide with a sense of functional and magical touch.
One such undeniable aspect is the aesthetics of the kitchen setting and the color scheme followed for the interior of the same. The humongous progress and availability of any other materials in the industry have pretty much made the idea of making a statement of your own a one-step lesser hurdle.
In this article, we shall look at 21 stunning color combinations for modern kitchen cabinets of 2023.
1. Strokes of White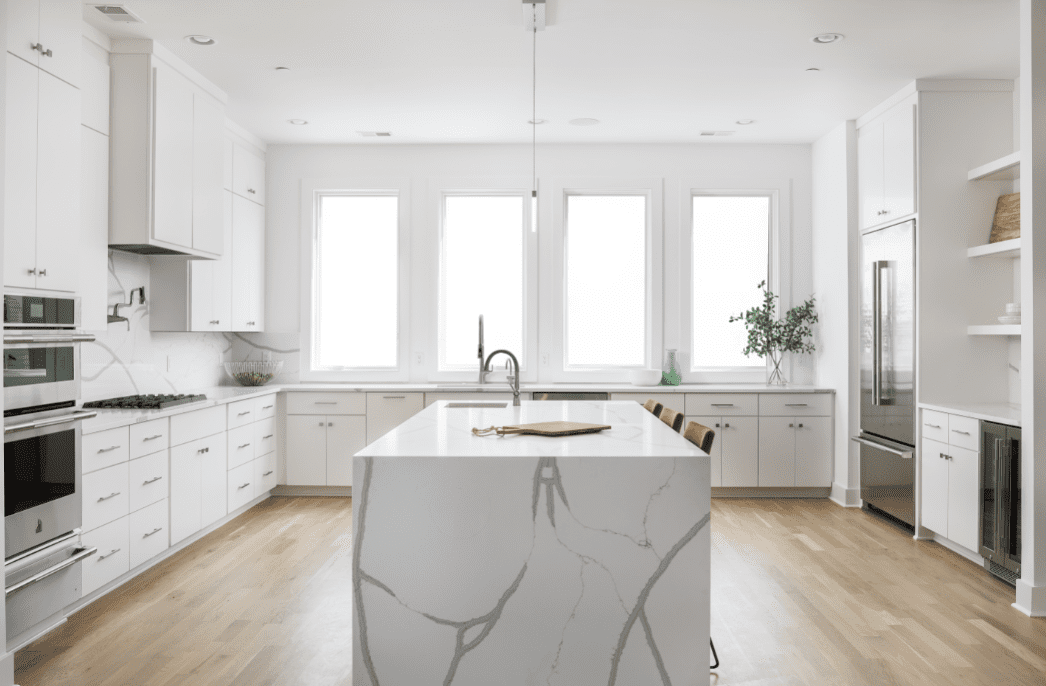 Strokes of white can never go wrong when placed right and taken care of with precision and radiance of glow. White shades always put forth the concept of sheer elegance irrespective of the place it tries to fit in. Shades of white are definitely a safer yet aesthetically appealing pick for your modern kitchen cabinet. It further adds to quite a wider space to pair up with any bold and subtle statement marking accessories to enhance the overall interior outlook of your modular kitchen cabinet. Its easiness and flexibility to get along with any other contrasting and matching shades make white hues a preferable option of color for kitchen cabinets.
2. Berry Bold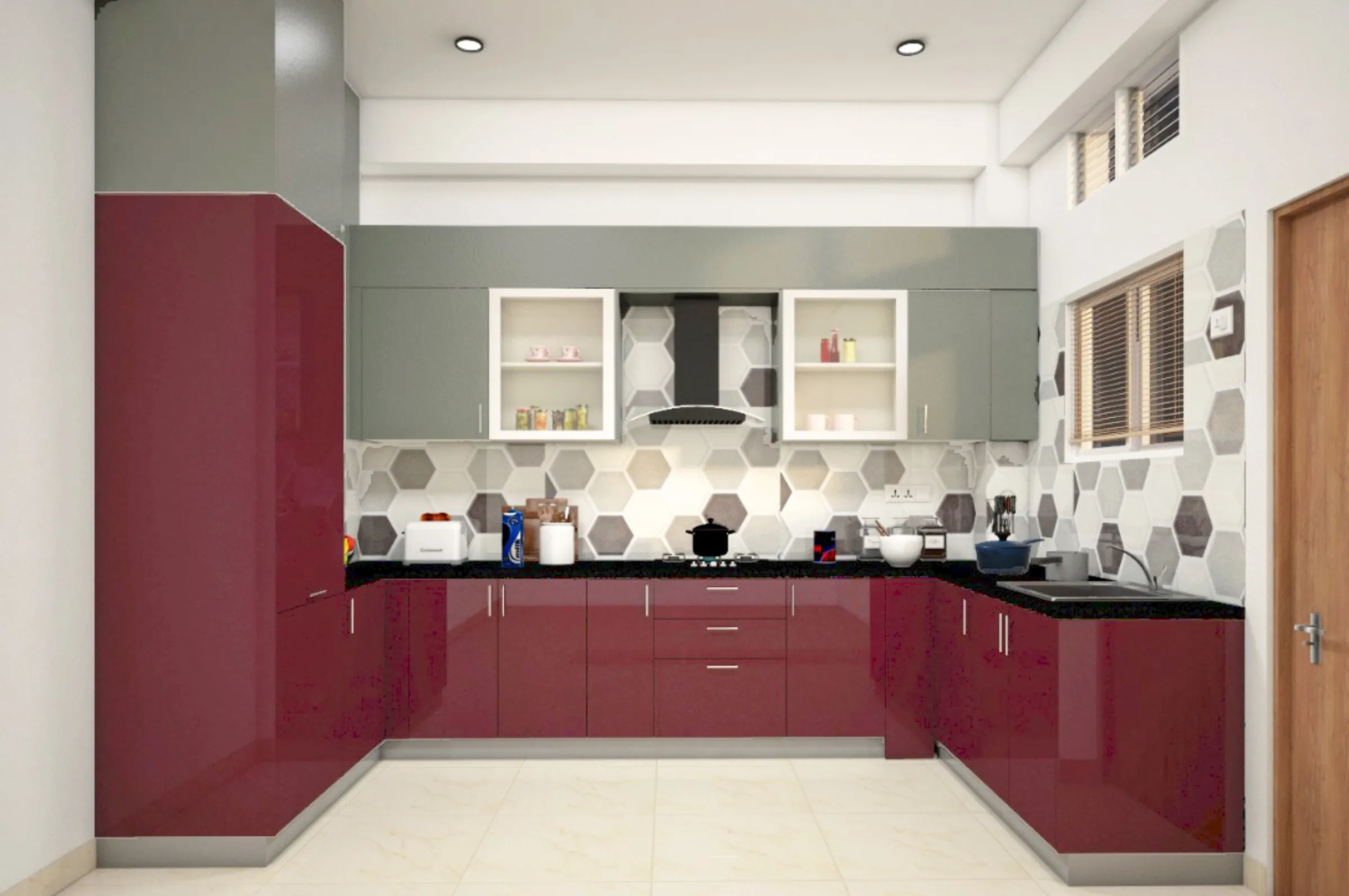 If you are someone looking forward to adding a bit of sass into your modular kitchen cabinets, yet with a bold statement of your style signature, then these shades of berry are an amazing option to consider. Darker shades of berries add an optical illusion of compactness to the whole setting, whereas lighter shades of berries bring a pleasant happy atmosphere to your kitchen. By being a bit cautious about the type and color of accessories used inside the kitchen, the statement color of berry bold can bring in notable changes worth attention to your kitchen space.
3. Black and Classy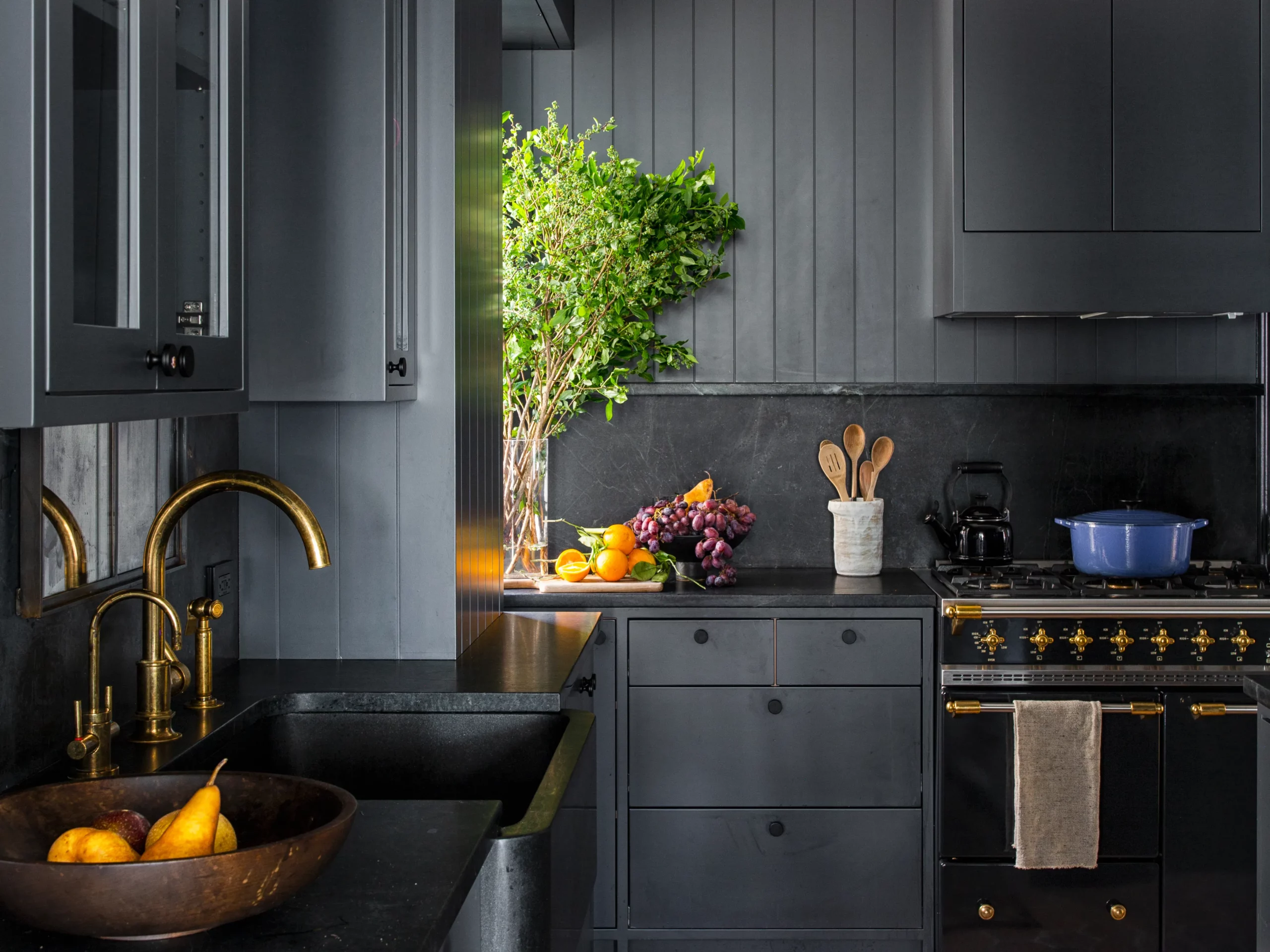 Be it any time and peak of the era, black is a class and has got a gigantic fan base for its efficiency in transforming anything from mediocre to a supreme state of luxury. A little bit of creativity, when paired with the color theory of interior design, always results in nothing less than stunning, and the same is the case here too. Being able to choose the right type of material and resourcing assures nothing less than a spectacle, classy black interior statement for your modern kitchen cabinets.
4. Neutral Shades of Green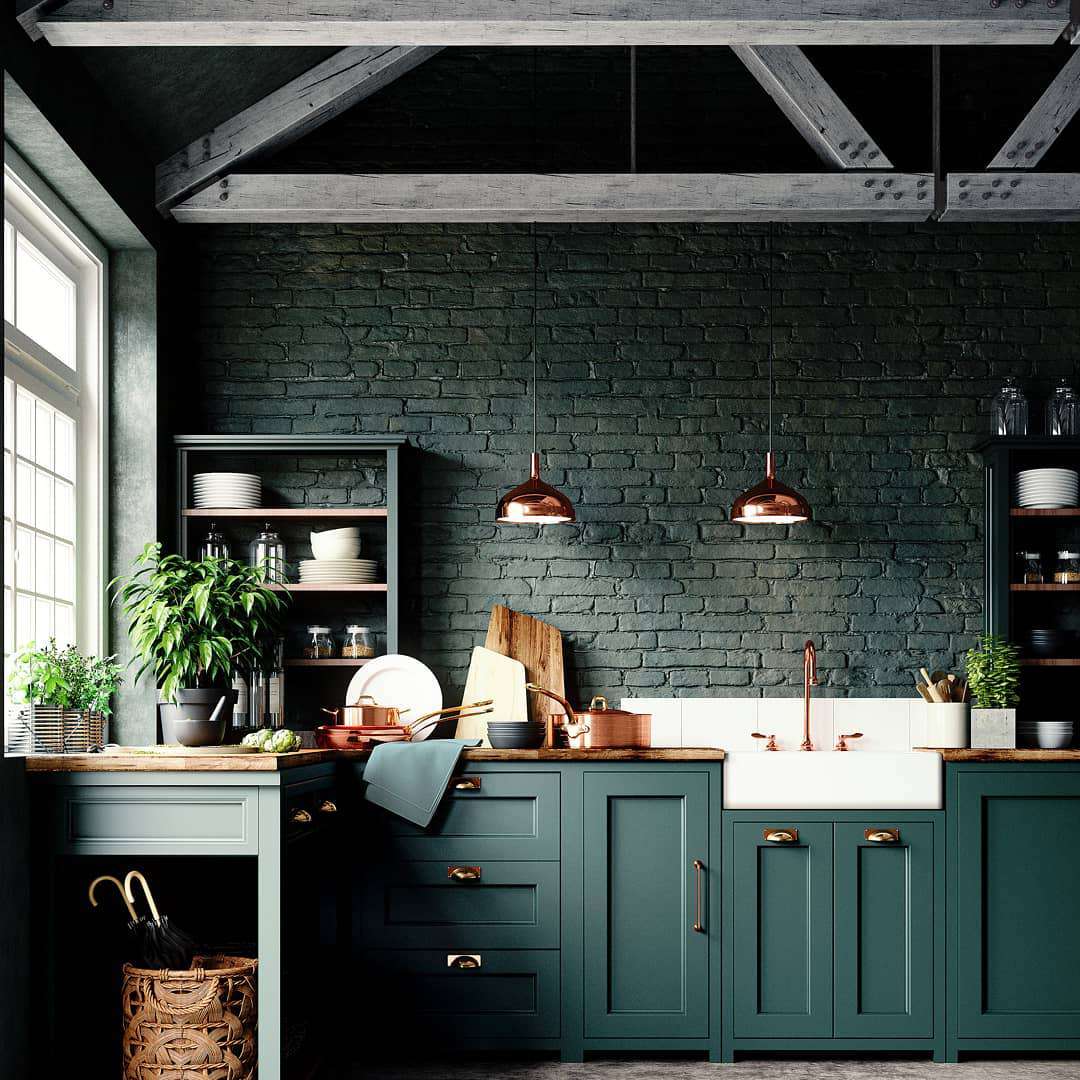 Green is a lovely color, and also the same shade needs to be taken care of with fine precision for the desirable outlook. Understanding the interior theme and tone of the kitchen is the first step that needs to be followed while selecting the variant green color for the modern kitchen cabinet. Neutral shades of green among the larger set are indeed the best and safest option that gets along pretty well with most of the interior decor elements and accessories. Give a touch of nature with these neutral shades to your kitchen space in no time.
5. Hues of Blue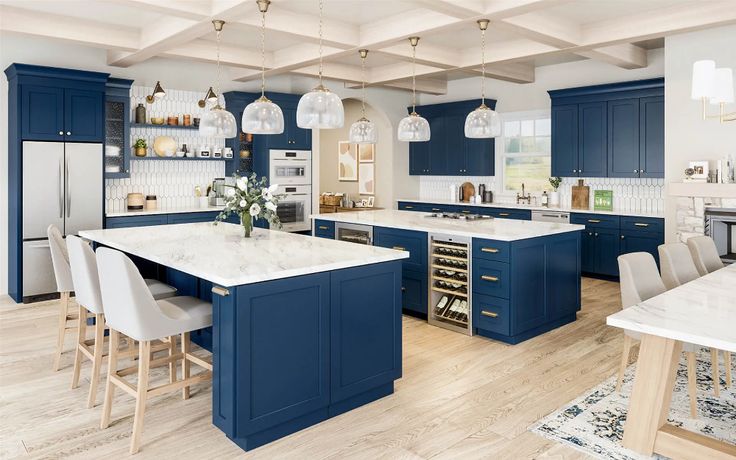 The world's most loved color, blue, does the perfect work for a kitchen, from escalating the entire set from mediocre to flamboyant. Hues of blue evoke a hope of happiness and cool down the atmosphere around them. Picking the right shade of blue in alignment with the interior design allows you even efficiently to bring your signature style to your interior space. Further, blue has always been a shade of class and elegance, and this, in fact, makes your job a lot easier.
6. Shine in Yellow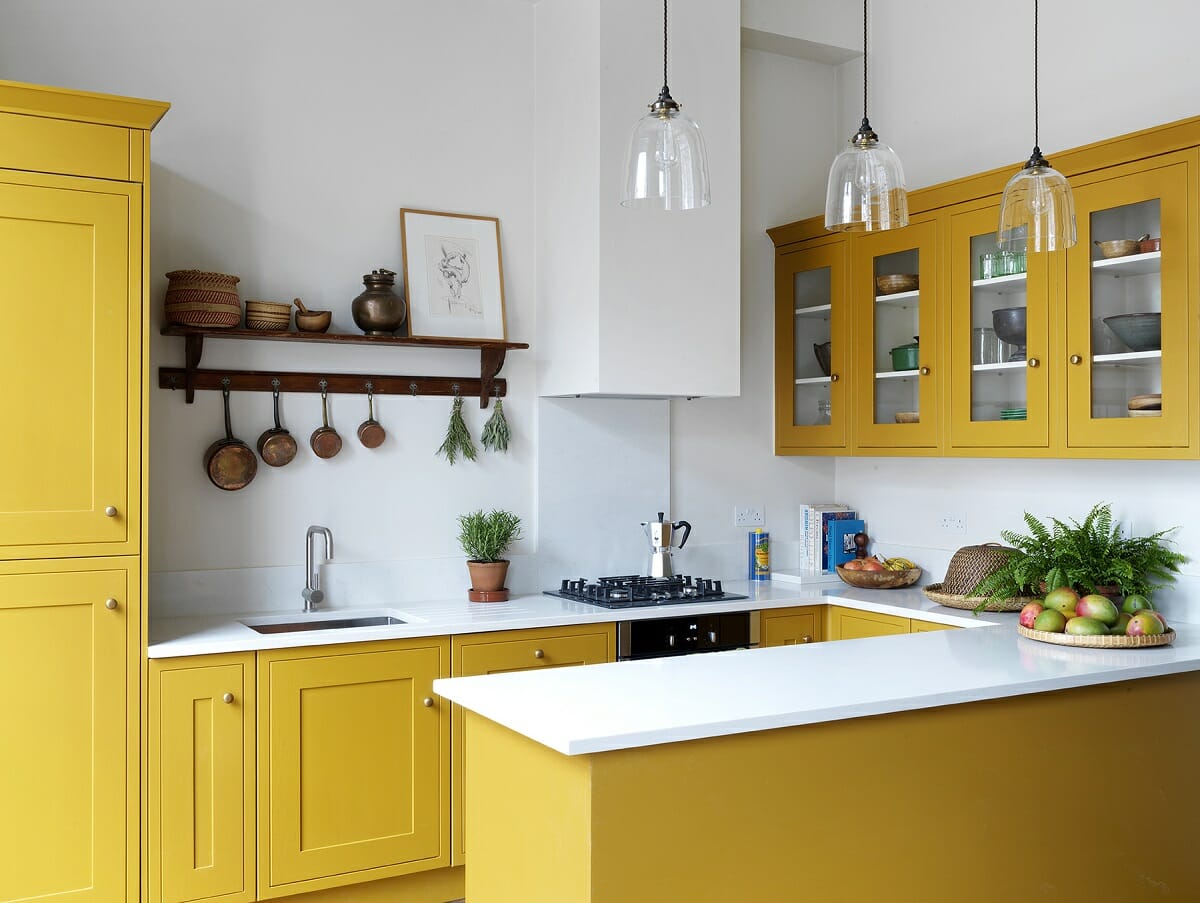 Color theorists say there is never a color as happy as yellow, and apparently, it's true that yellow can never go wrong. There pass by not a single day without using the kitchen and so why not spread some happiness? So, what are you waiting for? Get all ready and paint that wall yellow; after all, who does not prefer a bright interior on a long-term basis? Strokes of yellow can be incorporated on both table surfaces and storage compartments. Here, the key hack is about choosing the right variant of yellow, something that soothes your sight and not causes pain.
7. Red Wine for The Win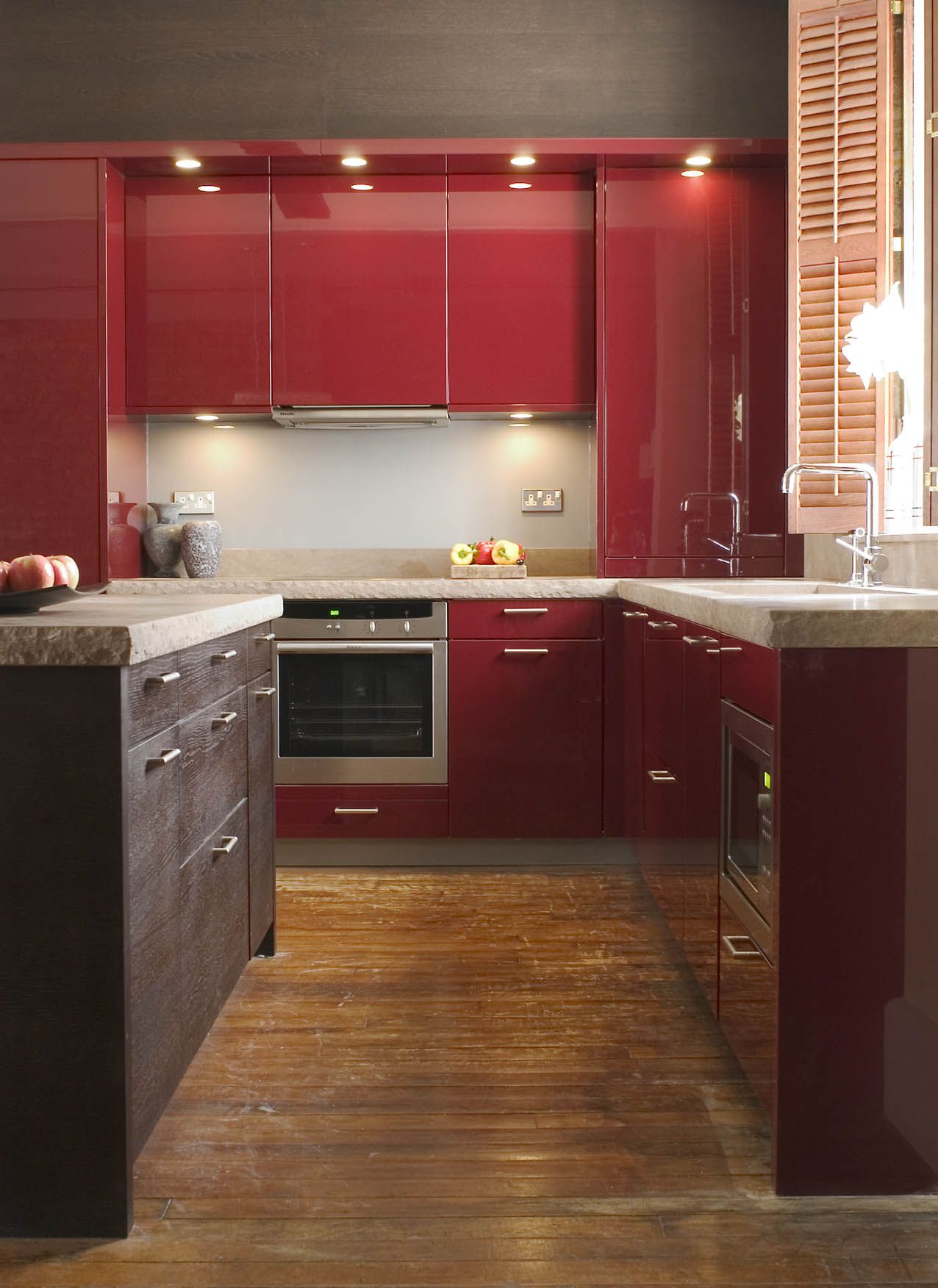 Just like how classy the red wine is, these red wine-shaded cabinets are elegant and super easy to pair up with any kitchen accessories and decor elements. If you are someone who wishes to add colors but is not so showy and glaring in nature, then here is your right shade of choice. Here is a small secret to all the clueless people out there, a little shade of red wine never goes wrong, and so this is indeed your go-to style for any interior design theme.
8. Earthy Tones of Rust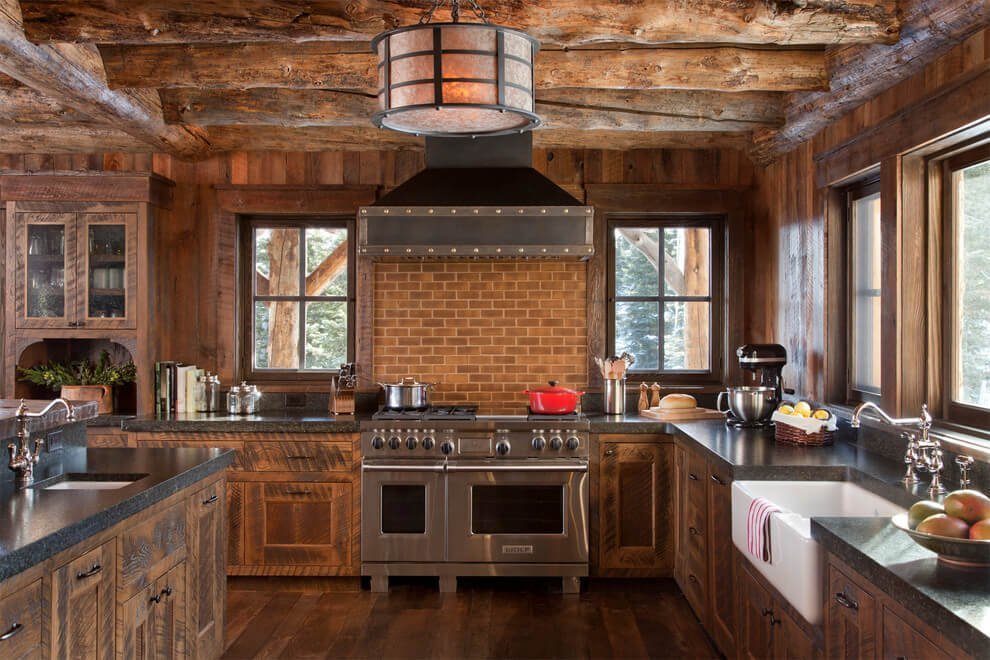 You can never get enough of earth, and for the same reason, earthy tones in the kitchen are an experience worth executing. The whole atmosphere keeps you closely connected to mother earth, and the radiance of glow is definitely nothing less than a pleasant experience for your five senses. Go-for-earthy tones are apparently the religious ritual any other interior designer worships, irrespective of millions of other modern kitchen cabinet color ideas.
9. Sage Green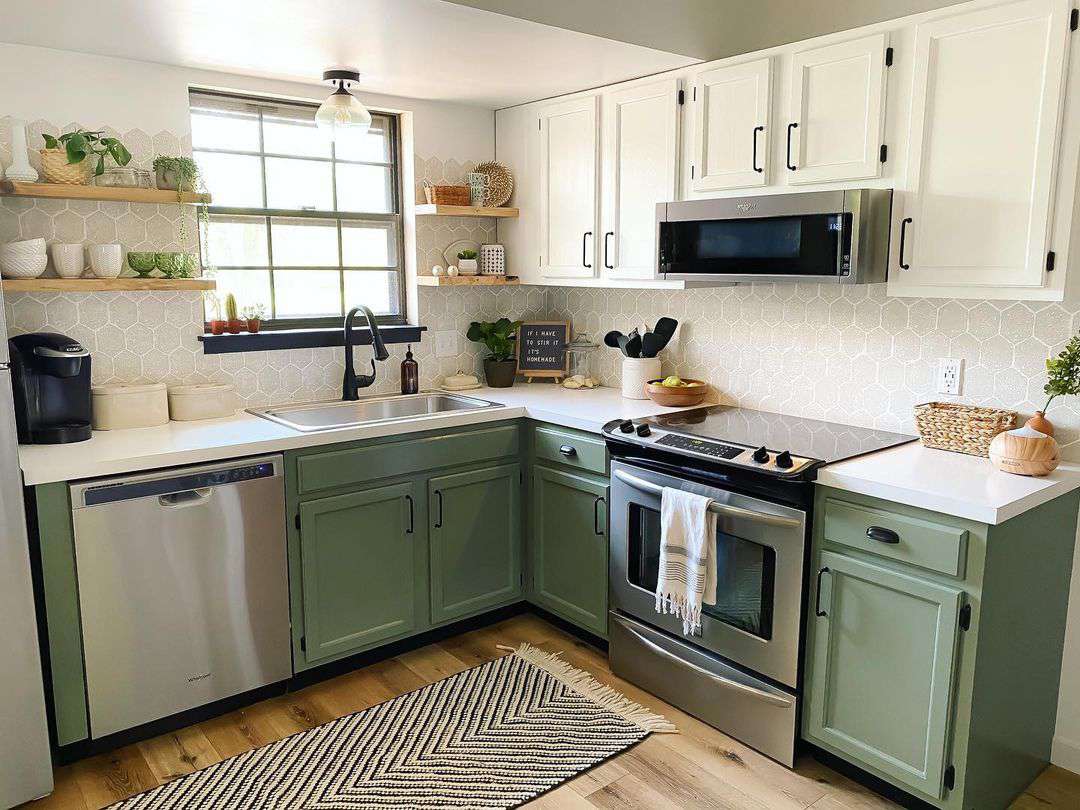 Sage Green always had a separate fan following for the soothing and calming experience the shade is capable of portraying. Sage green shade for your kitchen cabinets is always a safe and functional option for the elegance it delivers in no time with efficiency. Sage green kitchen cabinets, when paired with white walls and neutral decor, come up with nothing else but a dream combo of perfect color codes.
10. With The Woods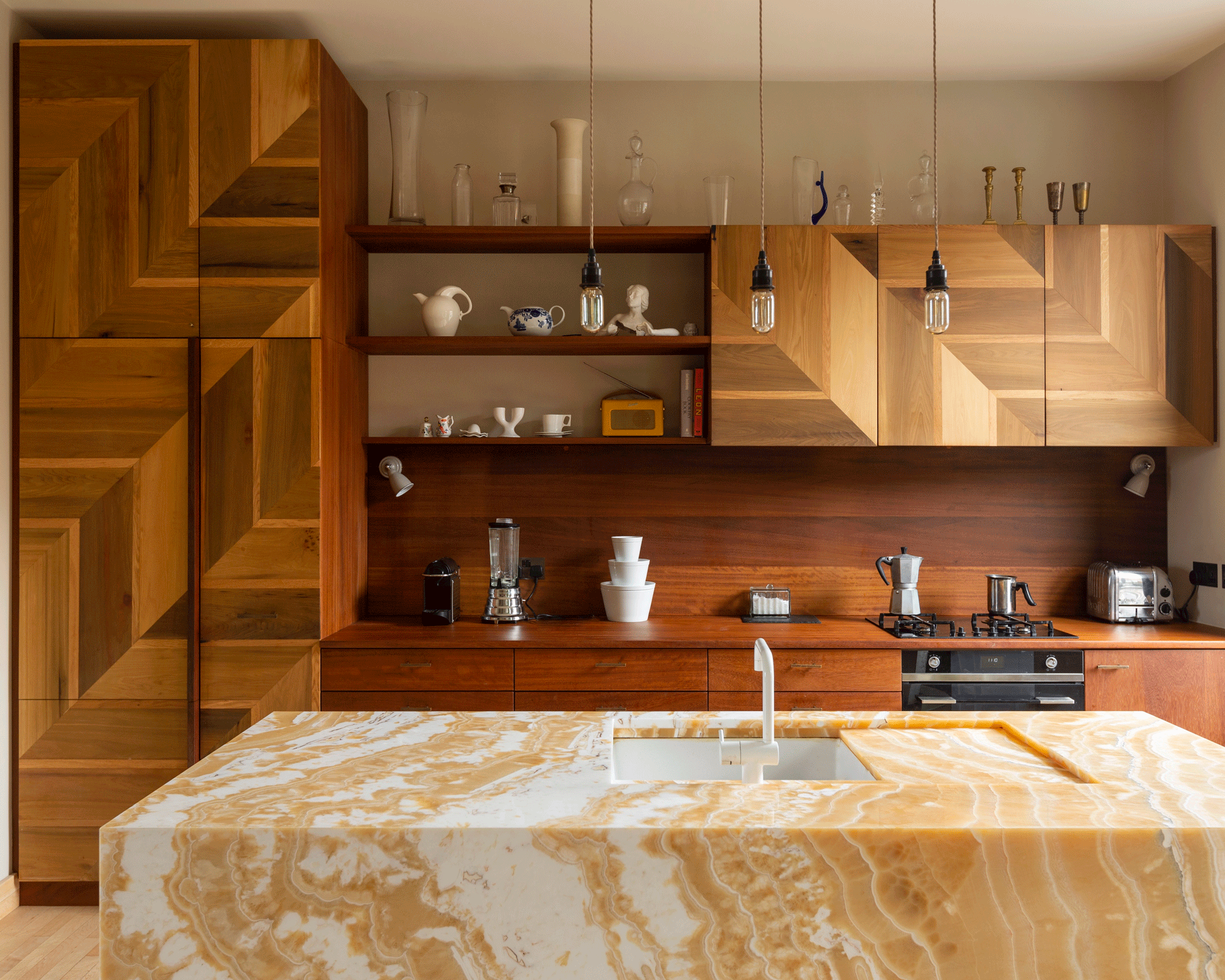 Woods and white shades are combinations no one can ever resist. The luxury of wood, when paired with the greenery of plants and white-shaded walls, the result is never anything further than exemplary. From evoking a sense of class to offering the best of everything, going with the woods is an amazing option to consider while checking materials and shades for your kitchen cabinets.
11. Picky Dual Tones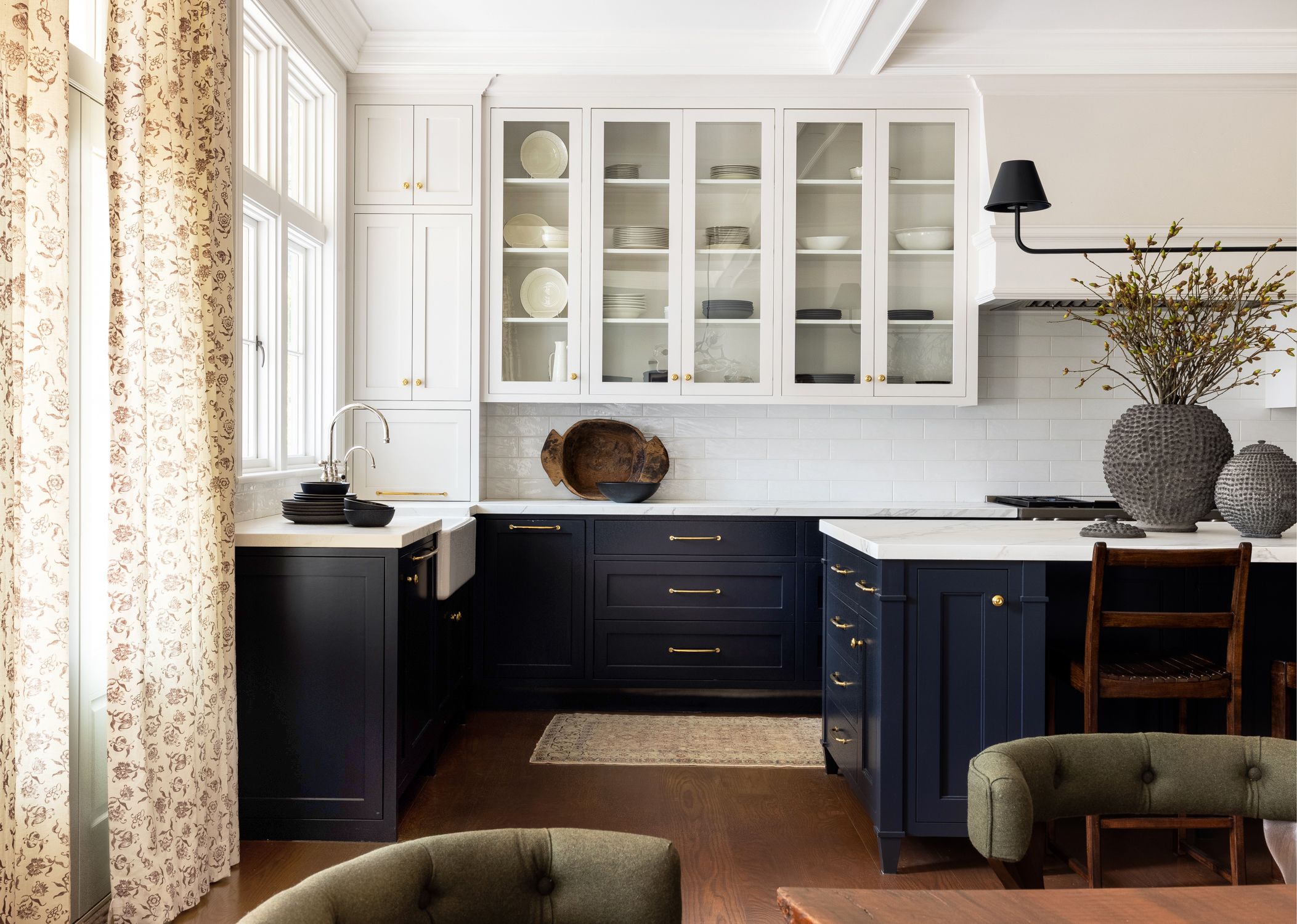 When you have access to multiple shades and textures, then why not play with some and find the best for your kitchen cabinets and give the best style statement for your overall outlook of the kitchen? Playing around with two shades and bringing in the luxury of dual tones are promising stunning results when paired and executed well with the design. Putting your color scheme sense and creativity into good use is the potential to create a master class.
12. Wooden Textures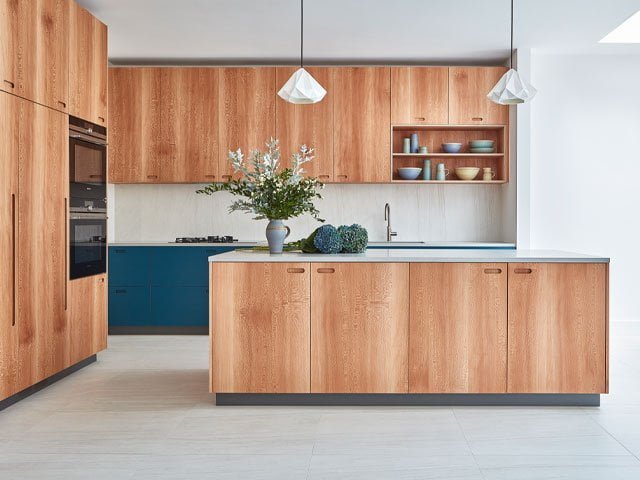 Can someone ever get tired of wood and its textures? Unfortunately, there has never been a substitute for wooden cabinets matching and catching the real elegance. Being picky and playing around with wooden textures for your modular kitchen cabinets helps you to showcase your best choice in no time. Well, interior designers of the present era say that there is nothing as amazing as going back to the roots, and wood is nothing shorter but the primary getaway to the idea of going back to the roots. Further, wooden materials and textures come up with the added benefits of natural beauty and extended longevity of materials, thereby saving your pocket in the long run.
13. Marbles and Granite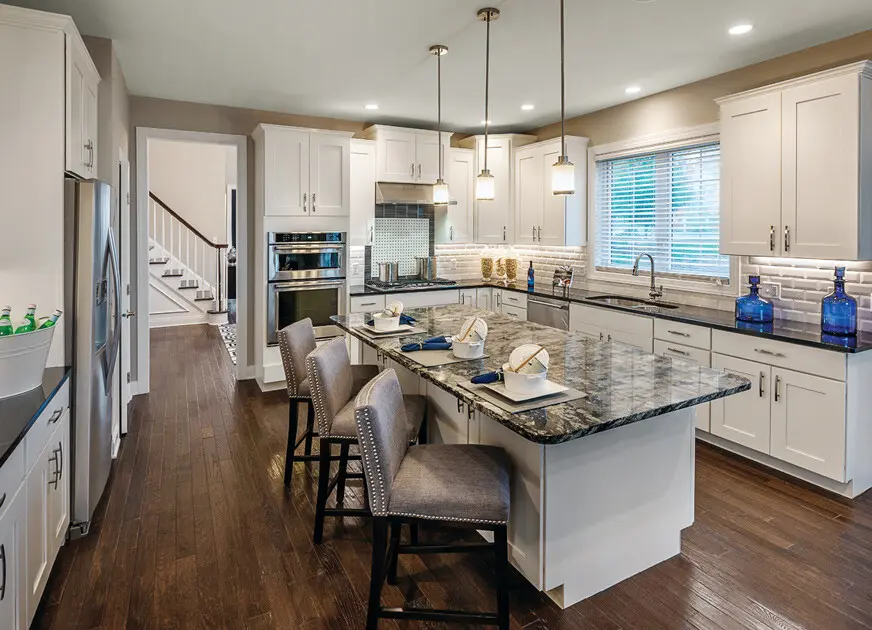 Old like gold, marble, and granite are nothing but a promising any-day and everyday choice for your kitchen cabinet shade. Be it even for the kitchen wall shade, these shades of grey make it the best of all the other confusing choices. Mixing and matching with different kinds of marble and granite is definitive of bringing out stunning results so effortlessly. Both granites and marble have been in active use for ages, and the same reason accounts for the tag that they are here to stay forever for their beauty and elegance. There is something always about granite and marble; it is highly evident throughout history if you closely observe the historical notes and monuments.
14. Shades of Grey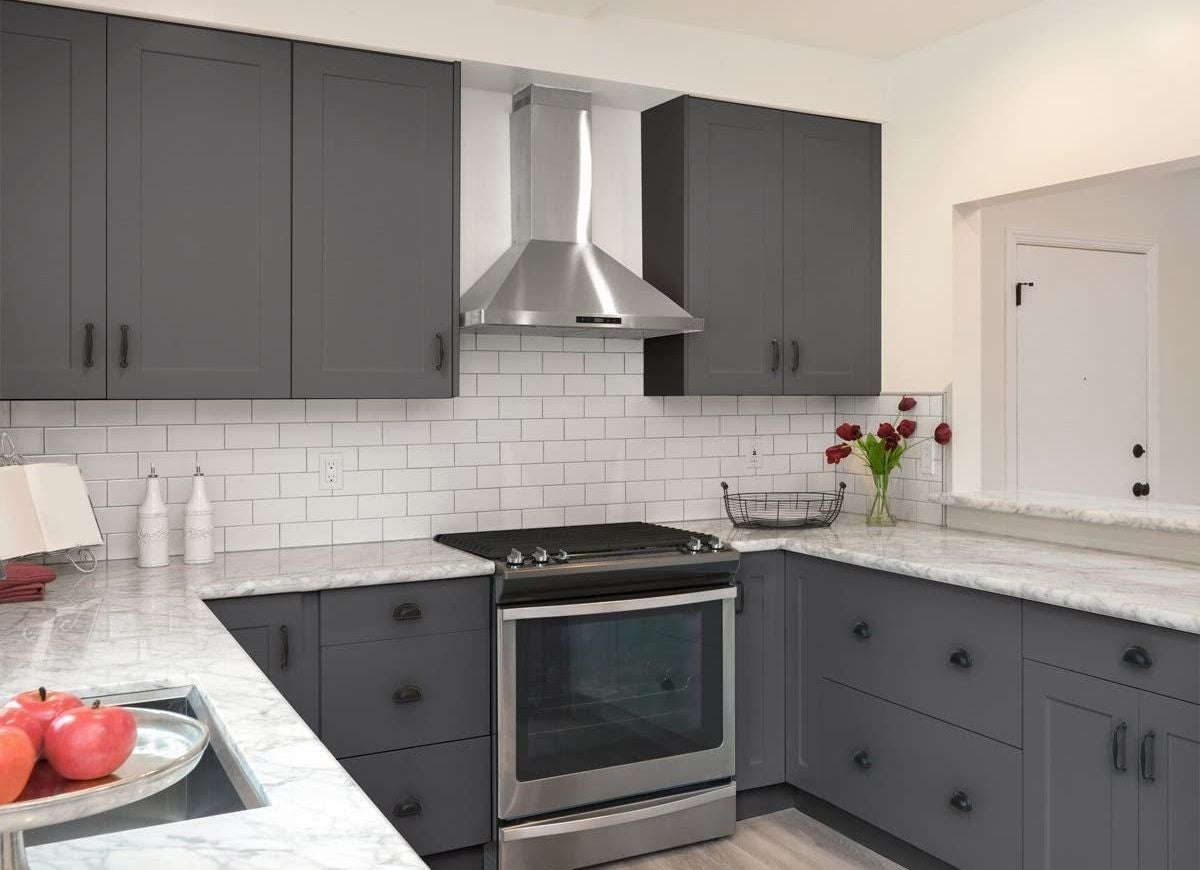 There is never a thing that shades of grey cannot fix! From giving your the ultimate clean and sleek look to the added matter finish beauty, grey is undoubtedly a perfect choice of color for your modern kitchen cabinets. Grey color indeed goes well with every other shade, thereby making the further planning and procedures for styling and designing your kitchen a relatively easier experience.
15. Cool Mint and White Undertone
If you are someone looking for cool yet subtle shades for your kitchen design and modern cabinets, then a cool mint shade with a white undertone is nothing less than a perfect shade for your right and fruitful pick. This cool mint shade not only gives a chill and clean experience but also plays a big role in evoking the feel of elegance and compactness in no time. It rather also puts forth the outlook of extreme cleanliness for its sleek and subtle color. Cool mint shades are definitely the right color choice for your kitchen cabinets if simple and impactful is your go-to-demand.
16. Classic Warm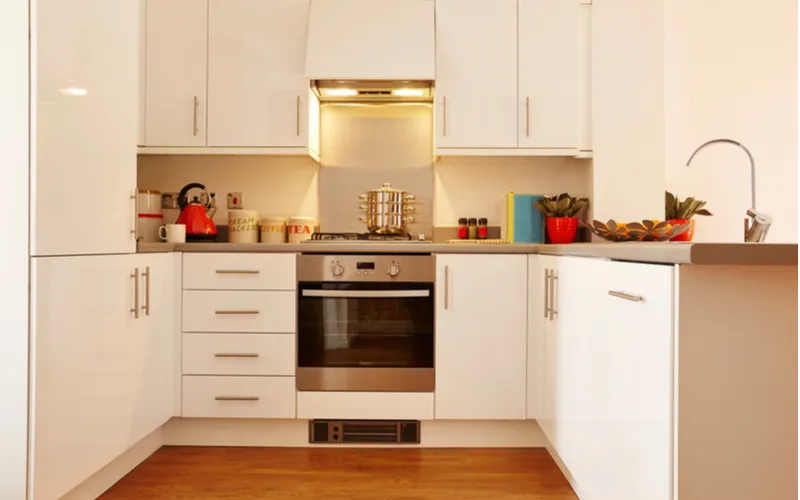 Though colors do a great job of uplifting and enhancing the whole interior setting, let's also not forget the fact that "not everyone like colors that are bright in nature." A warm undertone modular kitchen cabinets are nothing less than a statement of elegance for your kitchen experience. Just like how the warmth of a place makes the whole experience cozy, these classic warm shaded beige, cream, off-white, and hues of cream always add up to the aesthetic beauty of your interior setting.
17. Radiance of Orange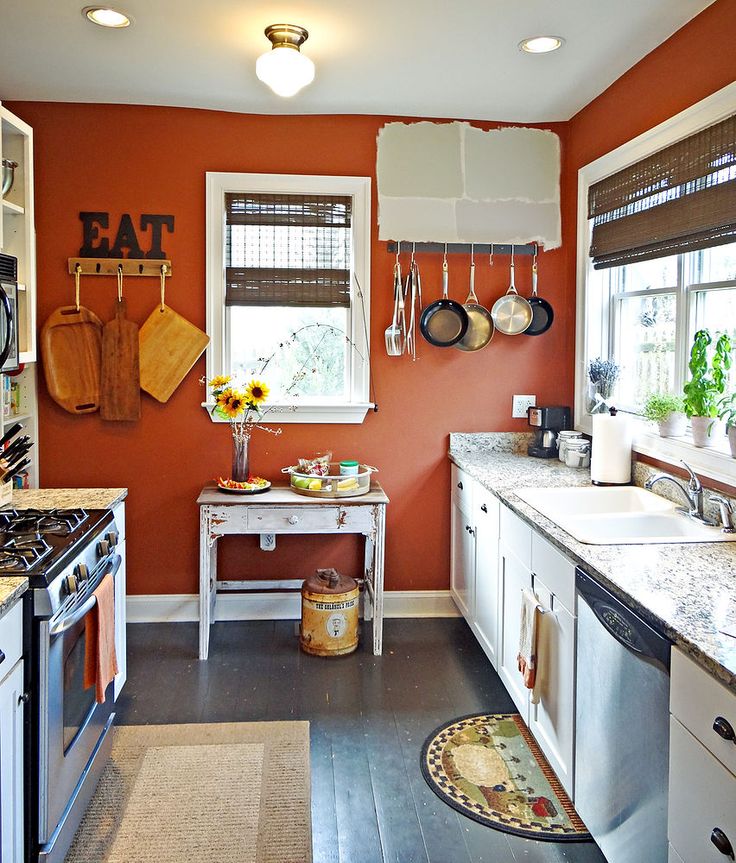 Orange shade is believed to be optimistic and uplifting in nature. After a long tiring day's work, when all that you wish is to make that hot coffee, who will ever want to go to a kitchen so dull and dark? Well, these orange color for your modern kitchen cabinets not only just elevates the whole mood of the space but also evokes a sense of harmony in no time. The radiance of orange is nothing less than powerful when it comes to designing a bright and warm kitchen space. Undoubtedly, these radiant orange tone goes well with most of setting and accessories when planned with an eye for creativity with precision and care.
18. Off-White and Mustard Yellow Themed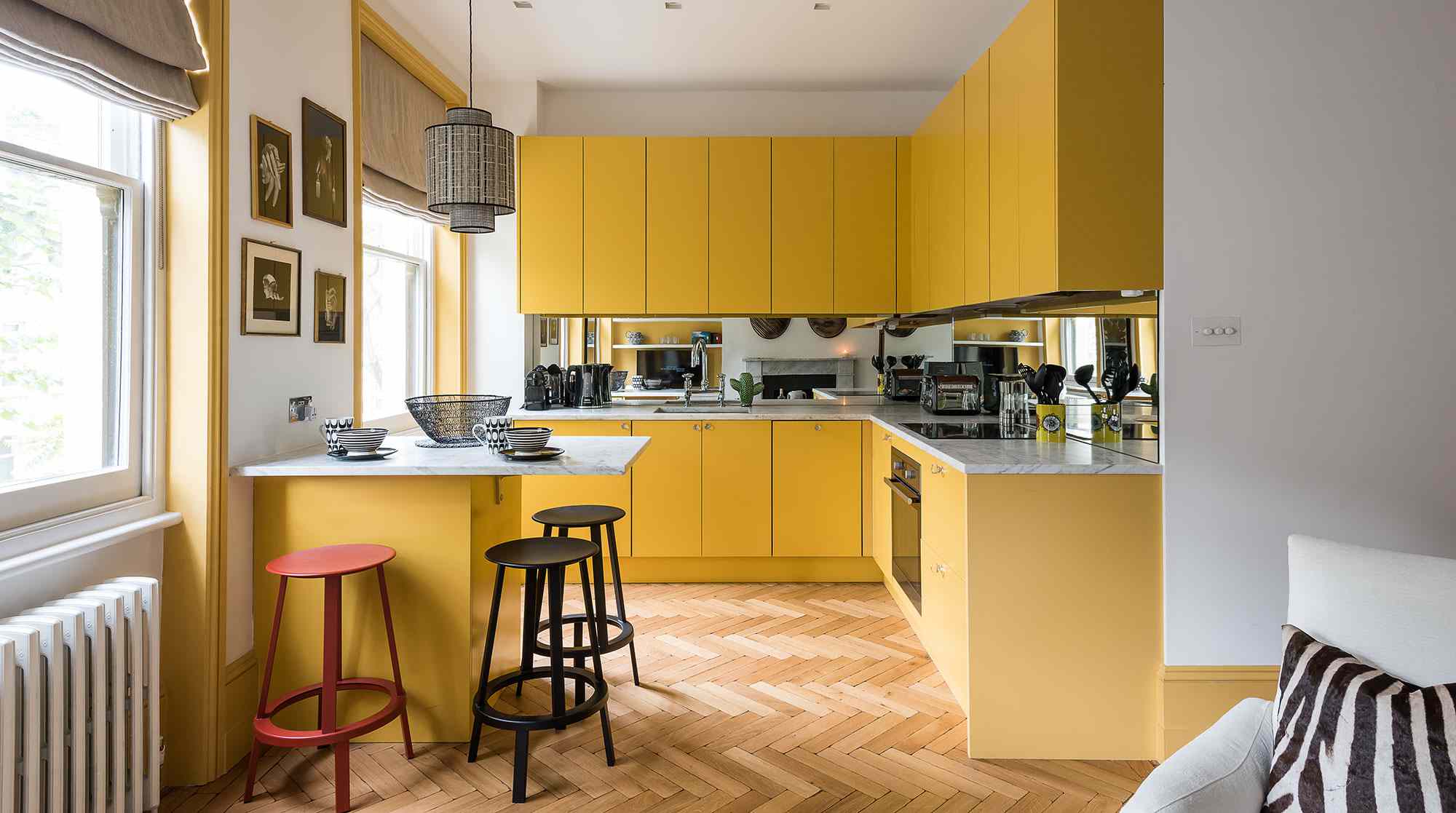 It is not just a belief, but it is true that yellow can never go wrong, especially when paired with white and off-white. These two pleasant colors, along with a creative design, promise nothing less than an extravaganza of beauty for your kitchen. The kitchen is where food is made with love, and so an added pleasant experience with these shade themes helps to bring in all the bright and positive outlook to your kitchen space. Just like how every other part of your deserve care and intricate planning, your modern kitchen cabinets are deserving of brilliant colors.
19. Multishades and Fun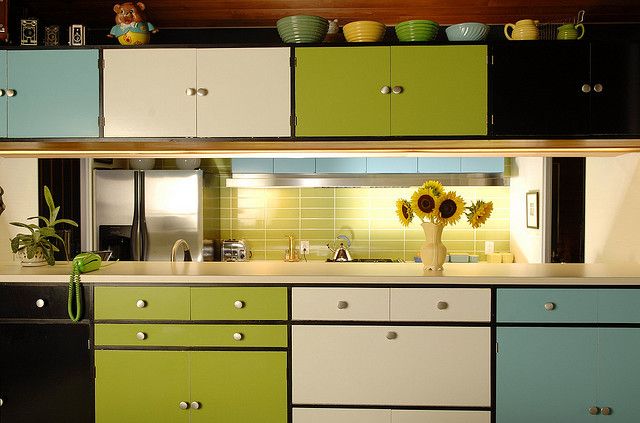 There is no barrier that a good interior designer cannot overcome. Also, there is never a thing like a bad color. When mixed and matched the right way, every other color is a match made in heaven for your modern kitchen cabinets. One must agree that having good knowledge about the various colors is always a plus, as just a bit of color pops can elevate the setting from mere nothing to everything closer to absolutely stunning. Colors are wonderful things, and the right color scheme of multi-shades is promising for escalating your kitchen interior so conveniently in no time. So next time when you feel like selecting a set of colors instead of a single tone, go ahead with no doubt, as multi-shades are always a fun thing to design and execute.
20. Fine Touch of Vibgyor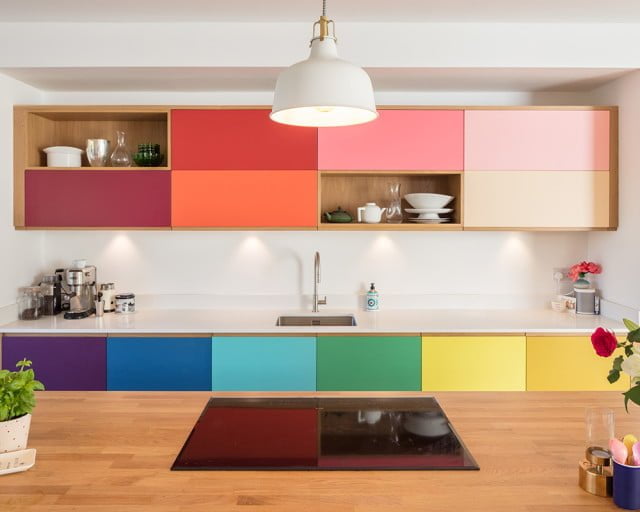 If you are someone who resonates with joyous things in life and wishes to bring the same to your home, this subtle fine touch of VIBGYOR is something that you will fall in love with. With the right amount of color pops and the right resourcing of materials can bring in the best of VIBGYOR shades to your modern kitchen cabinets so effortlessly that the kitchen is now all set to kill dullness and spread happiness through these vibrant colors.
21. Neutral Tones of Shine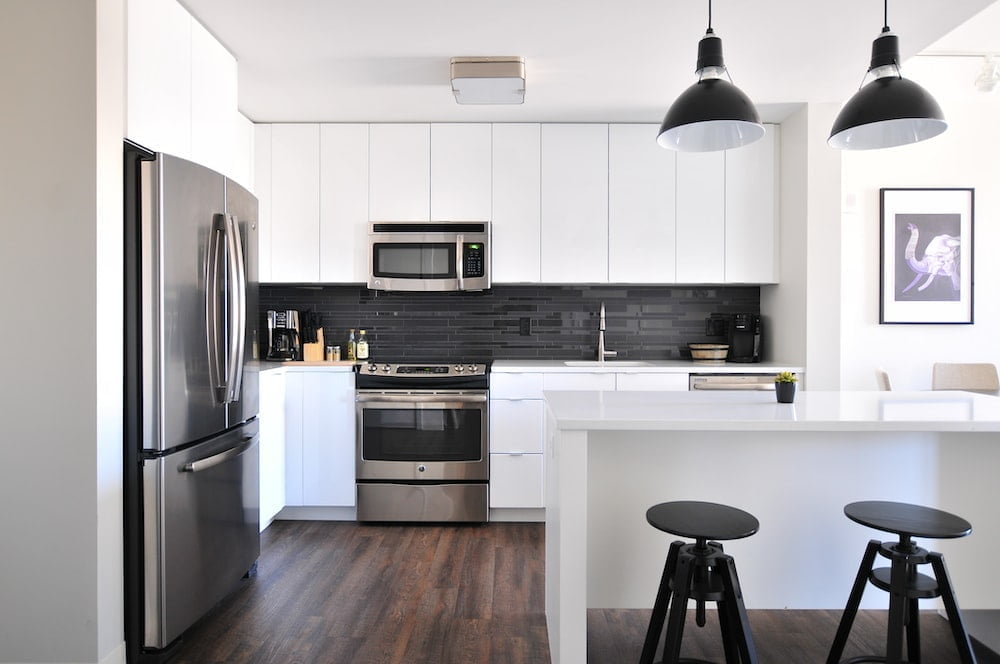 Neutral tones of shine are never out of the form when it comes to modern kitchen cabinet design. By neutral tone, it is inclusive of all the soothing colors with both warm and cool under-touch shades. These neutral tones for your kitchen cabinets come with the added advantage of going well with the majority of the shades and elements in terms of kitchen decor and articles inside. For people who are so confused but yet would like to go for something similar to that of a game changer, neutral tones are definitely your safest and most promising option to consider.
Summing It Up
It is pridefully evident that the present generation's independent houses and apartments take extra care and design not just the kitchen but the entire space with intricate detailing. To add on, a house/home is where your supreme most comfortable nest is, and for the same reason, your house needs to be pleasant to your eyes, too, for the comfort of living.
Thanks to the advancements in the spectrum of architecture and design, additionally in the evolution of color schemes and theories. A pre-designed version brought to your understanding with the help of software and other technical advancements further helps with effective resource-saving and costing for you to make your dream kitchen space a physical reality.